Are you going tenting with your dog and not sure which tent is the best choice for you and your best friend? I know there are a lot of choices and it can be daunting to pick out the right dog friendly tent. After frequent camping trips with my now 9 year old dog, Ayla, I've been through a few different tents and I've definitely come to a conclusion of what I think is the best tent for camping with dogs.
Obviously, there are many factors that play a role in which tent to choose, so I will go through the main factors you should look for in a pet friendly tent and the pros and cons with different tents so that you can make a sound decision based on your dog, camping habits, and needs.
Disclosure: This post may contain affiliate links. That means that if you make a purchase through one of those links, I will get a small commission at no extra cost to you. If you have any questions about these services or products, feel free to ask me.
How to choose the best tent for camping with dogs
There are a few things you need to consider before choosing the best tent for camping with dogs. First of all, do you want the dog to sleep inside the tent or not?
The first years I camped with Ayla, I had a tunnel tent and she slept outside in the front department. Later, I got a larger tent and chose to take her inside and we both love it! Now, I would never leave her outside again.
I'll go through the pros and cons of having your dog inside or outside the tent to help you make the best choice for you and your dog.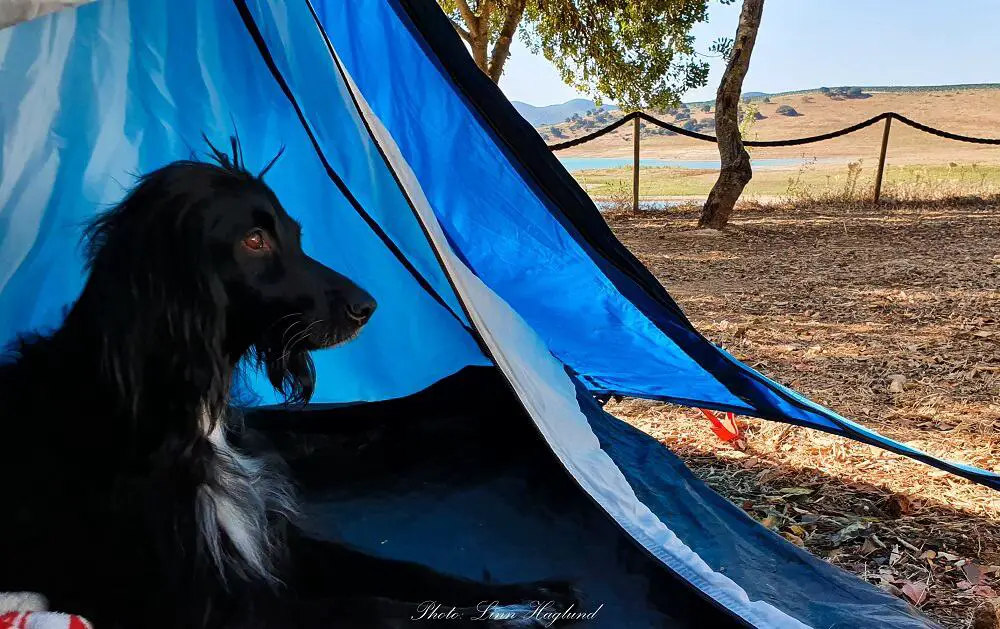 ---
RELATED: Best eco friendly backpacks
---
Advantages of having the dog inside the tent
One major advantage of having your dog inside the tent is that it can't wander off at night if it becomes curious of something. This means you don't have to get up at night to chase it.
Even though the dog is in a leash, I find that they tend to slip out of their harness if they really want to.
As a result, you get a better sleep and your dog gets a more relaxed night without having to protect the tent from the outside world.
Another advantage is that it's so cozy to have your furry friend next to you. I really noticed a big difference on Ayla once I let her come inside the tent and sleep on her blanket in her own corner. She was proud, happy, and very relaxed. Opposed to before, she now sleeps through the whole night.
Having your dog in the tent also makes it easier to leave the tent when you go to the shower or bathroom. Dogs are usually more calm when they have smaller areas to protect so the tent is the perfect place.
If it rains outside, it can be a disadvantage to have your dog sleeping on a mat on the ground as it can get wet, which in turn isn't very comfortable. Inside the tent you know it's dry and comfortable for your pet.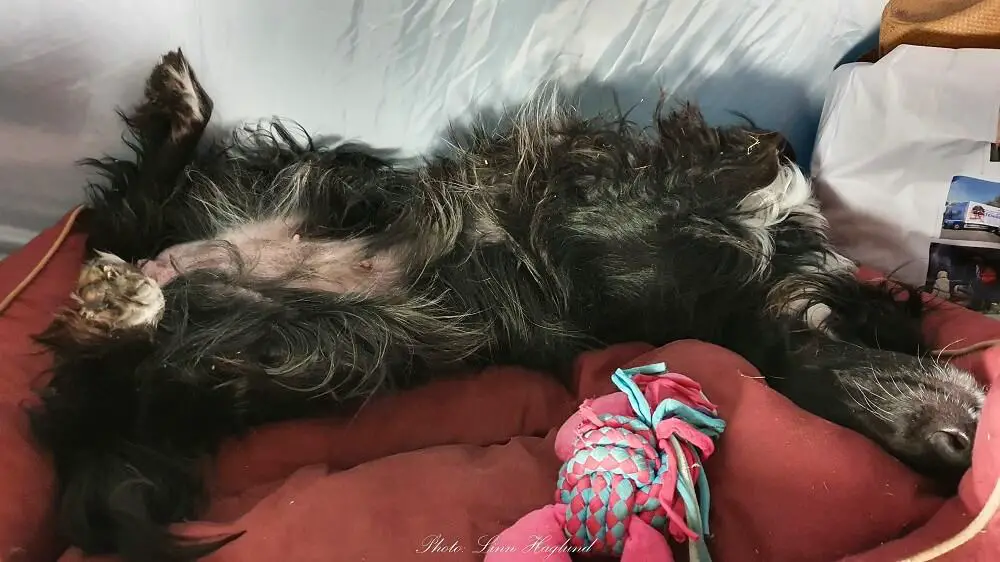 Disadvantages of having the dog inside the tent
First of all, if your dog sheds like mine, you'll get a large amount of dog hair inside your tent. If you usually have your dog in the bed, then you probably don't mind, so it won't be a problem.
The other thing that could be a disadvantage is if it rains or your dog gets wet from bathing before entering the tent, it will get humid but can also smell like wet dog, depending on the breed.
On the other hand, you know that your dog is not laying on wet ground outside.
Finally, I can imagine it's a pain to have a super active dog inside the tent if it can't lay still and keep spinning around. Personally, I haven't had this problem with Ayla, as she's a very calm lady.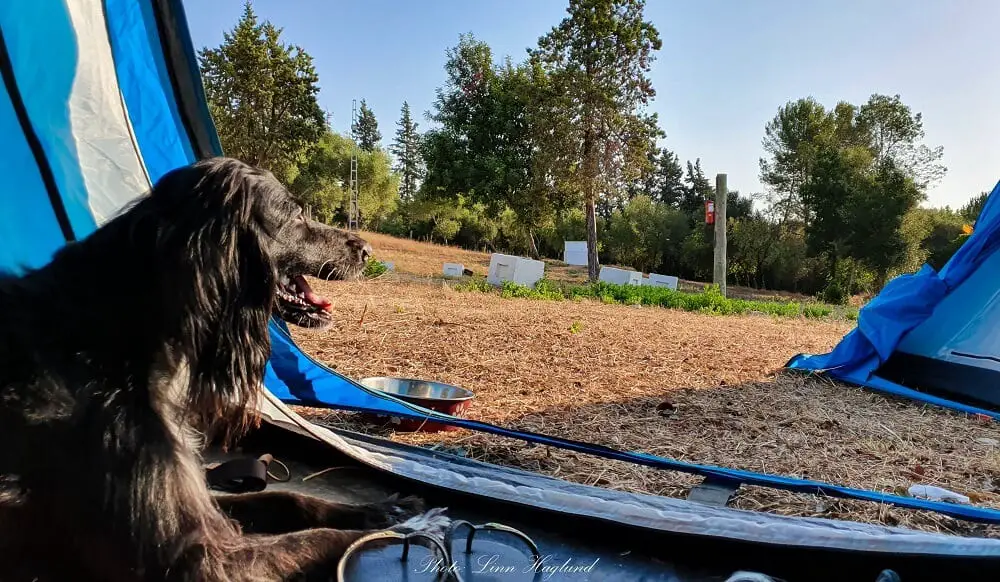 ---
YOU MIGHT ALSO LIKE: How to travel locally: A responsible guide to local travel
---
Features to look for in a dog friendly tent
Now that you've hopefully made a sound decision on whether to have your dog inside or outside the tent, let's have a look at dog-friendly tents for you and your furry friend.
I have listed a few features I think a pet-friendly tent should have (or not have) from my experience of camping with Ayla before we look at the best tents for dogs.
The less tent cords the better
I've had a couple of hiking tents and mountain tents with a lot of cords to help the tent stand properly and it might be my clumsiness (they also say the dog resembles its owner), but both Ayla and I found ourselves stumbling in the tent cords in more than one occasion. In the worst case scenarios, this has resulted in a partly collapsed tent.
Needless to say, I'm not a big fan of tents that need a lot of cords to stay erected and I profoundly believe that the best tents for camping with dogs are the ones with fewer cords.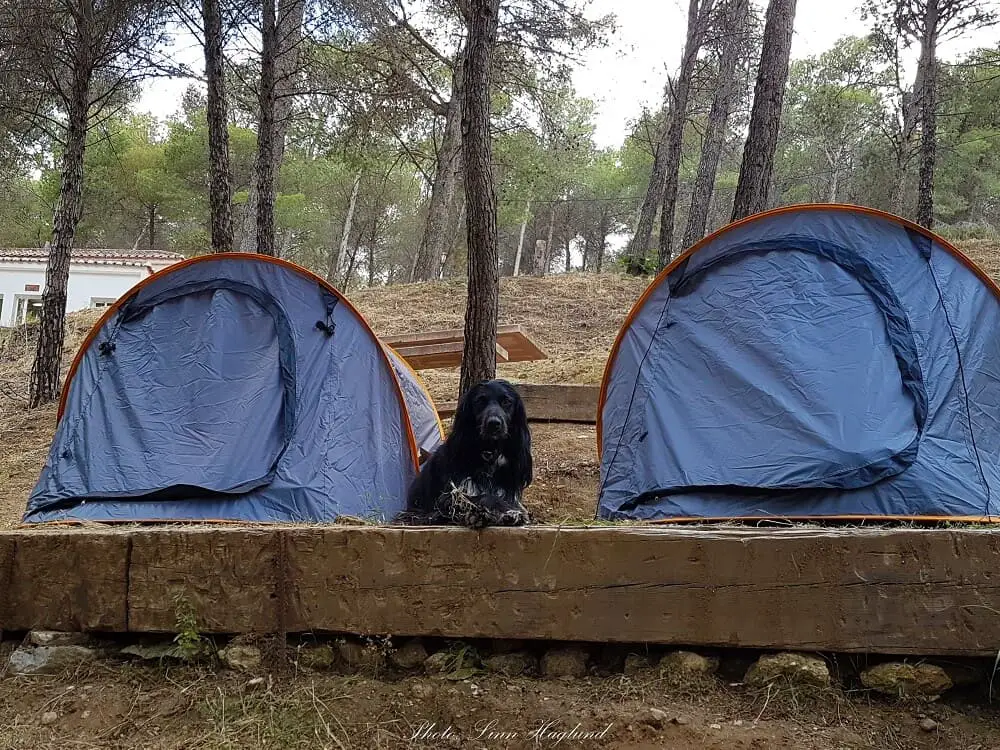 Easy access in and out
Easy access to go in and out of the tent is essential when tent camping with a dog. My first tent wasn't a very dog friendly tent. It did have a front department where she slept in her bed or blanket, but the tent was small and low.
A 2-person Bergans tunnel tent, perfect for hiking and spending the night in extreme and windy weather in the mountain.
If I had taken Ayla hiking over several days and had to carry the tent in my backpack, I'd definitely use this tent! But not for car camping.
For me, it's also an important matter that Bergans is a sustainably conscious outdoors brand, striving for a more sustainable production chain.
The one I have now, is excellent. There is no front department, but it's easy and straight access in and out which means fewer chances of disaster from an eager dog.
I also found a larger tent (3-4 person) with front department is easier to navigate with Ayla around, both because of the height but also because there is generally speaking more room.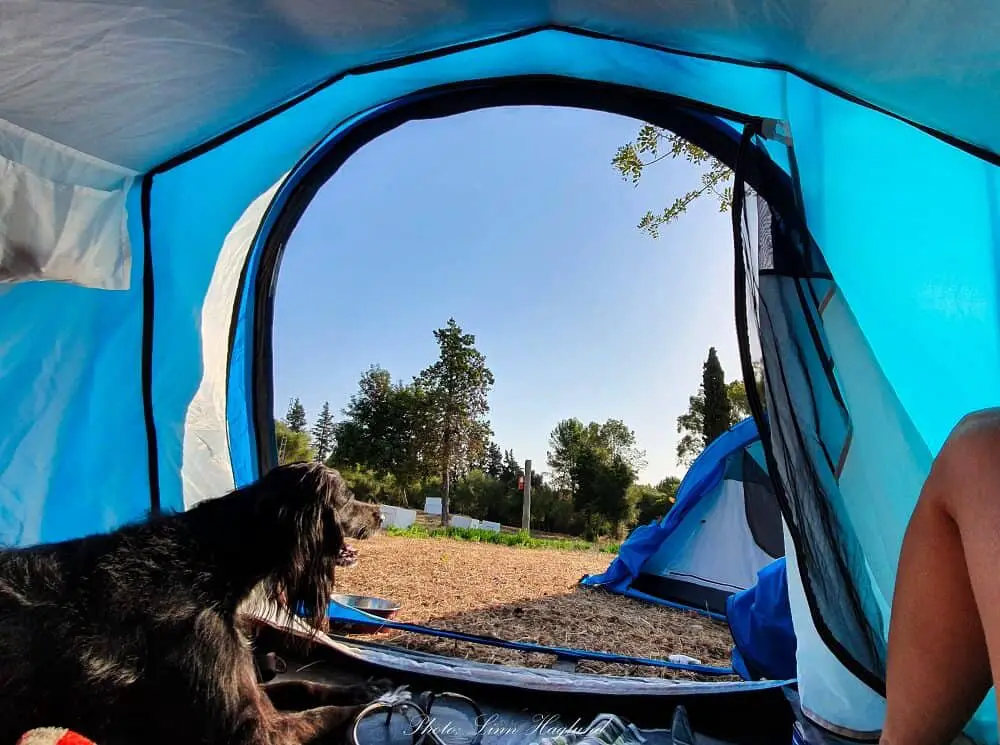 Easy access to water
It's important that your dog has easy access to water. If you have the dog in the front department of your tent, it's possible to leave a bowl of water there so the dog can drink during the night.
If you opt for having the dog inside the tent, you need to make sure there is a water bowl outside the tent opening so you can let the dog out and drink before bed time and as soon as you wake up. This is especially important in warmer weather conditions.
When I go camping with Ayla during Spanish summer, I often give her water if I wake up in the middle of the night too.
To summarize this, you don't want to have a tent where you have to get through several tent openings before you can get to the water.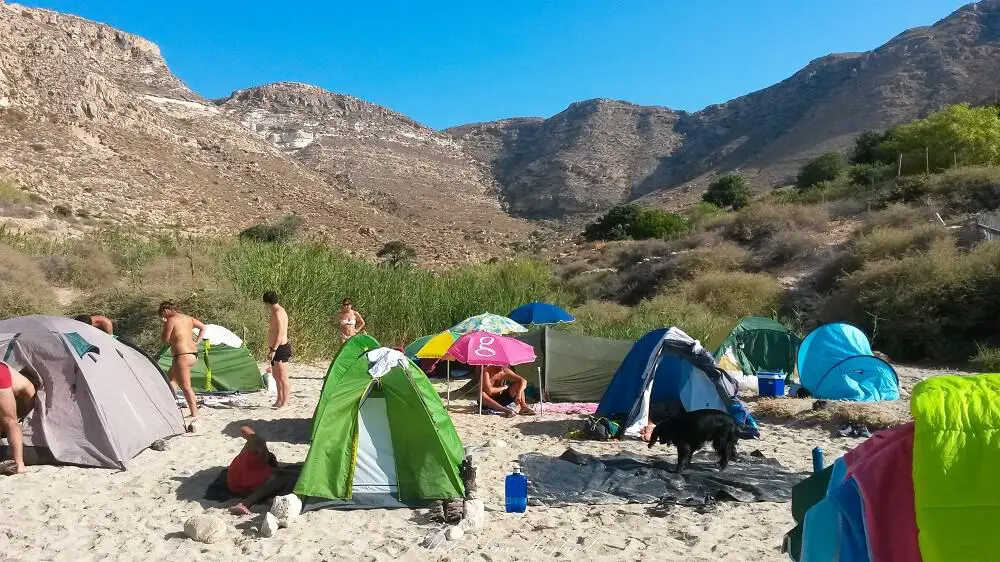 ---
RELATED: Eco friendly camping gear (including dog camping gear)
---
Best tents for camping with dogs
Based on the above and my experience, I have picked out a few top dog friendly tents to help you pick the best tent for camping with dogs based on your needs.
Vaude Campo Compact XT dome tent
Vaude has this great dome tent which has a spacious front department if you opt for letting your dog sleep outside. It does have space for a blanket or a small dog bed so that your pet can sleep comfortably.
With the front department, it's easy to have water accessible for your dog all night.
Vaude is one of the leading outdoors brands within sustainability and the majority of their overall materials are vegan.
The only down side with this tent, are the tent cords. Otherwise, this is without a doubt one of the best tents for camping with dogs on the market.
This tent weights 3 kilos and can be packed up for shorter hikes too.
---
Get a Vaude Campo Compact XT dome tent here
---
The North Face Stormbreak tent
This tent from The North Face is a great pet friendly tent. Easy to set up, it is the perfect tent for camping with dogs.
It's easy to get in and out and you don't have tent cords either you or your dog can stumble in, which makes it a much better experience.
There is a small front department where you can leave a bowl of water. there is room to leave your dog outside as well, depending on the breed.
What I love about this tent, is that it's easy and with only 3 kilos for the 3-person tent, you can carry it on small hikes too. The 1-person tent (which might be tight if your dog is bigger than a Chihuahua) only weights 1,4 kilos.
---
Get The North Face Stormbreak tent here
---
Quechua 2 seconds pop up tent
My current tent is this Quechua 2 seconds pop up tent, which is super handy. It seriously only takes a few seconds to pop it open. No tent poles needed, which means Ayla can't walk on top of the tent and make a mess while I try to put it together.
When there's no wind, you don't even need to peg this tent to the ground, which makes it even quicker to get up and to pack. I also find a lot of camp grounds have hard soil or even pebbles where you pitch your tent and unless you have a hammer or huge muscles (which I definitely can't brag about), it's impossible to peg the tent.
This tent is spacious and easy to get in and out of both for you and your pet. I always leave a water bowl for Ayla outside, and when I wake up, I open up so she can stick her head out and drink. It's also waterproof, which I've unintentionally tested by spilling a whole bottle of water over the top.
The only thing I have to pick on when it comes to this tent, is that my friends and I had problems packing it up the first few times and had to ask for help from other campers. This summer, though, I magically found the trick and now I can't understand that I ever had a problem with it.
Note that the packaging is not suitable for hiking as it packs up really big, though perfect for car camping.
Except from being the less sustainable tent I've used so far, Quechua's pop up feature goes a long way in being user friendly and the fact that you don't need cords or pegs makes this the best pop up tent for camping with dogs.
---
Get a Quechua 2 seconds pop up tent here
---
Conclusion
Rounding up this post on the best tents for camping with dogs, I hope you have the information you need to make a sound decision on what are the best pet friendly tents for you and your dog.
If you have any thoughts, questions, other recommendations you think I should consider in this post, feel free to drop me a comment below.
Happy dog camping!
Other necessities when taking dogs camping:
---
READ NEXT: Benefits of sustainable tourism
---
Did you like this? Pin it for later!