The magical Algarve coast in southern Portugal is one of the most popular summer destinations in Europe and with good reason. With a rugged coastline interrupted by mesmerizing beaches that are met by the deep blue Atlantic Ocean, the Algarve towns are set in a paradise location.
But even so, it's just as amazing to explore Algarve in the winter months as you avoid the crowds and can enjoy these beautiful towns in a slower pace.
I've traveled this area of Portugal extensively the last few years and I've found so many enchanting places. The friendly locals, cute tiled houses, the boardwalks, the islands, the water sports, and I could keep going. There is so much to add to your Algarve itinerary. In this post I'll show you the best towns in the Algarve so you can find the perfect place for your next trip.
Disclosure: This post may contain affiliate links. That means that if you make a purchase through one of those links, I will get a small commission at no extra cost to you. As an Amazon Associate, I earn from qualifying purchases.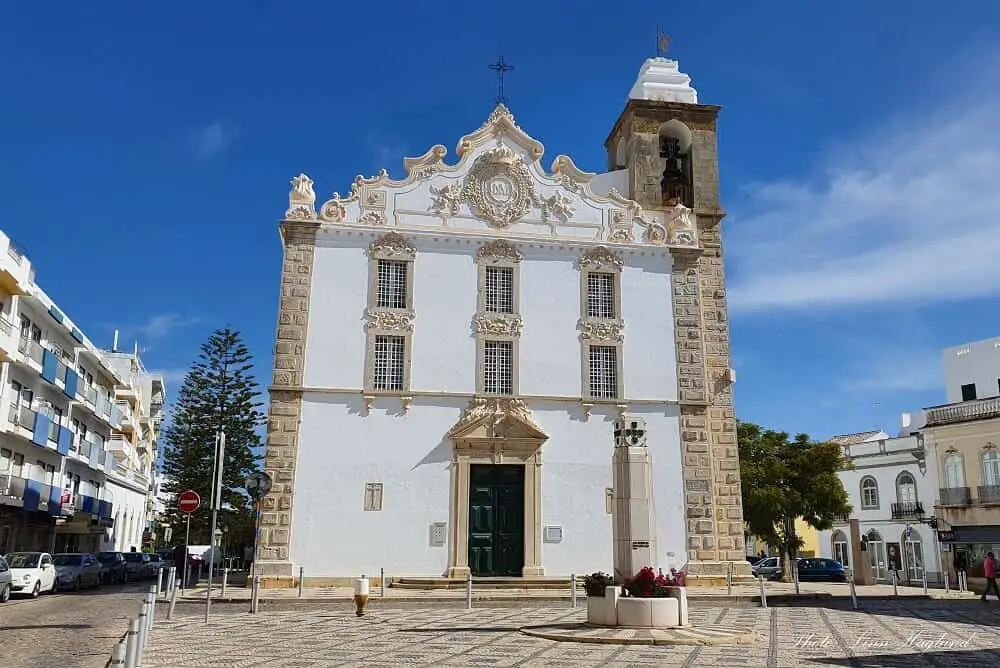 ---
The best way to explore the Algarve is by car. Book your rental car here!
---
Best towns in the Algarve Portugal
Tavira
Tavira is one of the most underrated and beautiful towns in Algarve with its charming streets, traditionally tiled houses, and vibrant old town. Set on the east coast by the Ilha de Tavira and Rio Formosa Natural Park there is a lot to do in Tavira.
First of all, make sure you explore the old town. The astounding Moorish castle ruins and gardens are set right next to Igreja Matriz and Camara Obscura, which is set in an old water tank.
Make sure you visit Igreja de Santa Maria do Castelo, the church that was built where the old mosque was in Moorish times. The square of Praça da República is the center of any walk in Tavira and is situated by the old bridge taking you over to a magnitude of great restaurants.
But no visit to Tavira is complete without exploring the Ilha de Tavira and the beach in the natural park. You can walk or take the train over to Praia do Barril where you can visit the fascinating anchor cemetery.
Getting to Tavira from faro airport takes about half an hour by car. There are also buses and trains, but no direct ones so you'll have to change and the trip can take anywhere from one to two hours.
While the Algarve isn't exactly Portugal off the beaten track, Tavira is a lovely getaway on the otherwise busy coastline.
Where to stay: Al-Gharb Tavira Eco GuestHouse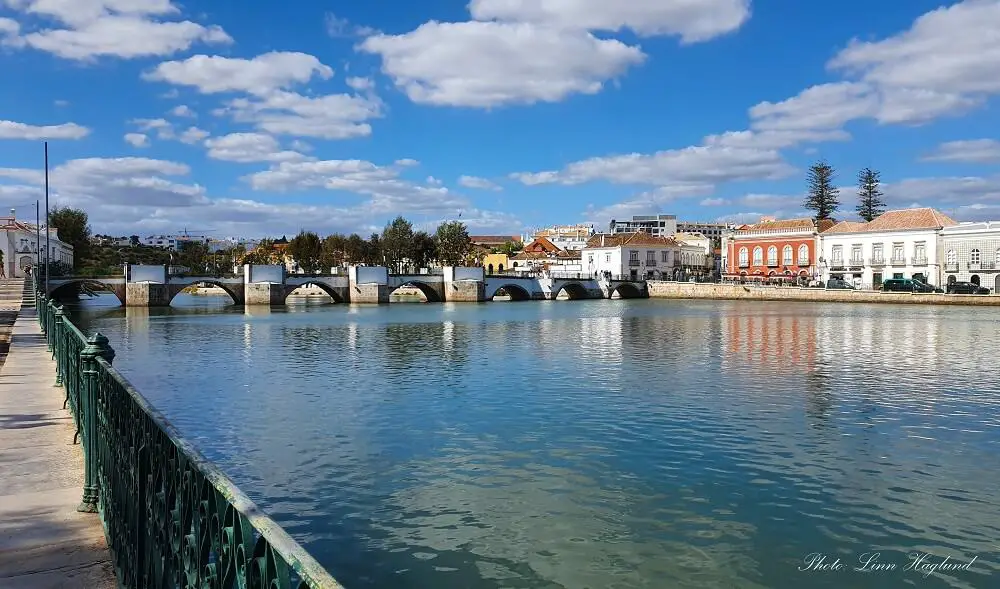 Lagos
Lagos is another of my absolute favorite towns in Algarve with so much fun to do. Loved by backpackers and surfers, the chill vibe is contagious. Jam-packed with small restaurants, cafes, and live music venues this is a great base for your stay on the coast.
Among the top things to do in Lagos are all the water sports like scuba diving, surfing, SUP, and snorkeling. But there are also spectacular beaches like Camilo beach to explore.
One of my favorite places to explore next to Lagos is Ponta da Piedade with its astounding rock formations. You can drive or walk there from Lagos town, but you can also hop on a boat trip to explore this amazing piece of coast.
Lagos is an easy one hour drive from Faro Airport. If you travel by public transport, take the bus no. 16 from the airport to Faro bus terminal and from there you find interurban and express buses leaving frequently. I recommend taking the express bus though, as it only take two hours, otherwise it can take some time.
Where to stay: Lagos City Center Guest House & Hostel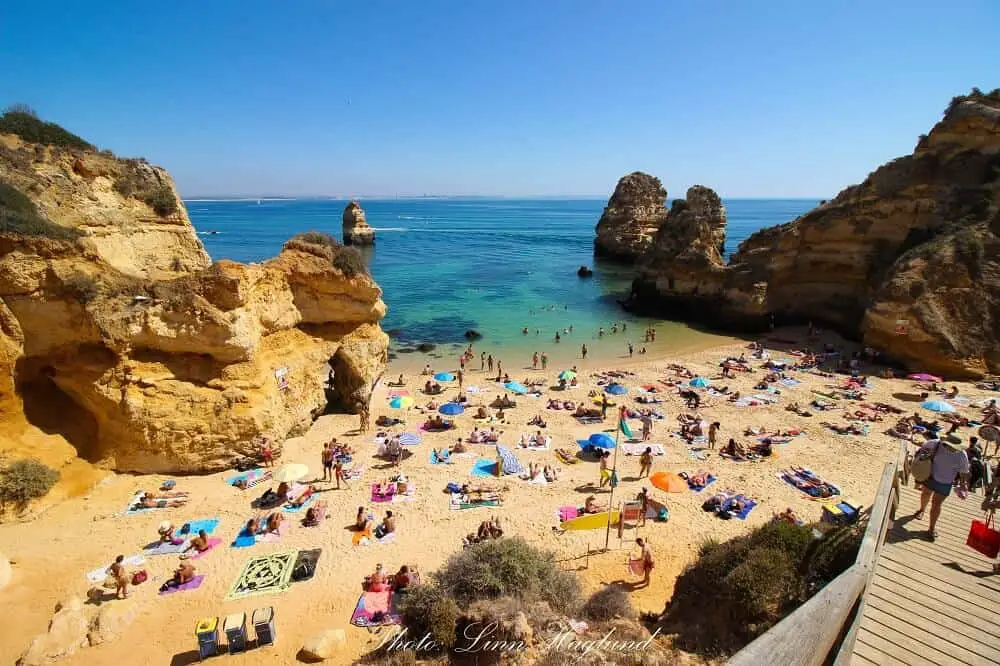 Albufeira
NOTE! Avoid the Zoomarine! You can read more about why here and here.
One of the best towns in Algarve is without a doubt Albufeira. A popular vacation destination with pumping nightlife and a lot of activities to do. The beaches that are just walking distance from the old town are spectacular and you can do several water sports from there to discover the cliffs and caves along the coast.
Albufeira old town is extremely charming, though you notice that it's been heavily touristic for a lot longer certain other towns in Algarve. It's still got its charm, though. Albufeira is set on the cliffs and winds down to the beach so there are quite a few steep streets and epic viewpoints to cover.
You can easily get a boat trip to the famous Benagil Cave from here or explore the water by kayak or SUP if you want to do it in your own pace.
Faro Airport to Albufeira is only about half an hour's drive. Like with the rest of the Algarve, the public transport isn't excellent. Both the train and bus stations are far from the center and stop running quite early, so you might be better off taking a shared taxi if you don't drive yourself.
Where to stay: Maria Guest house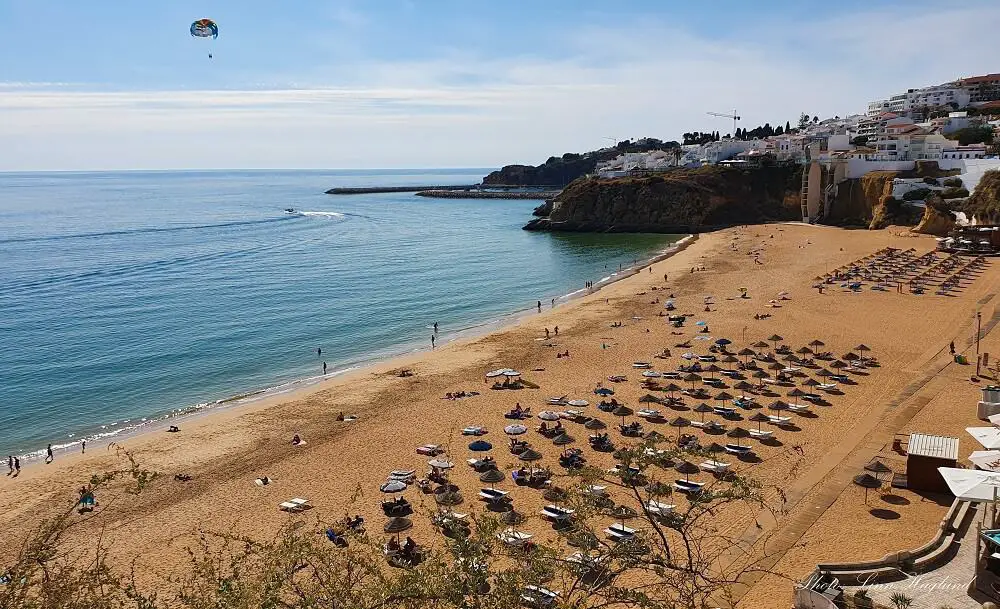 ---
YOU MIGHT ALSO LIKE:
Best things to do in the Algarve
---
Olhão
Olhão is such a surprisingly pleasant town with far less tourists than other nearby places. The many narrow streets create small labyrinths behind the main street by the port. Hiding small squares and tiled houses it's a wonder to get lost there.
The town is also set by the Rio Formosa Natural Park, just a few kilometers east of Faro. It's a perfect base for exploring the islands of the natural park and there are daily boats taking you out to explore Ilha da Culatra and Ilha da Armona. Both astounding places to walk around with long white beaches.
Olhão has a huge food market and if you walk up the streets from the marina you'll discover a street full of street art telling the fishing history of the town. This is truly a unique place to visit if you want to avoid the most touristy places and take advantage of the natural park.
Faro Airport is just over a 15-minutes drive from Olhão so it's not too expensive to take a taxi. The train travel from Faro Airport to Olhão is only a 10-minutes trip and probably the easiest way to get there. The buses are more infrequent and take longer time.
Where to stay: Alojamento Bela Vista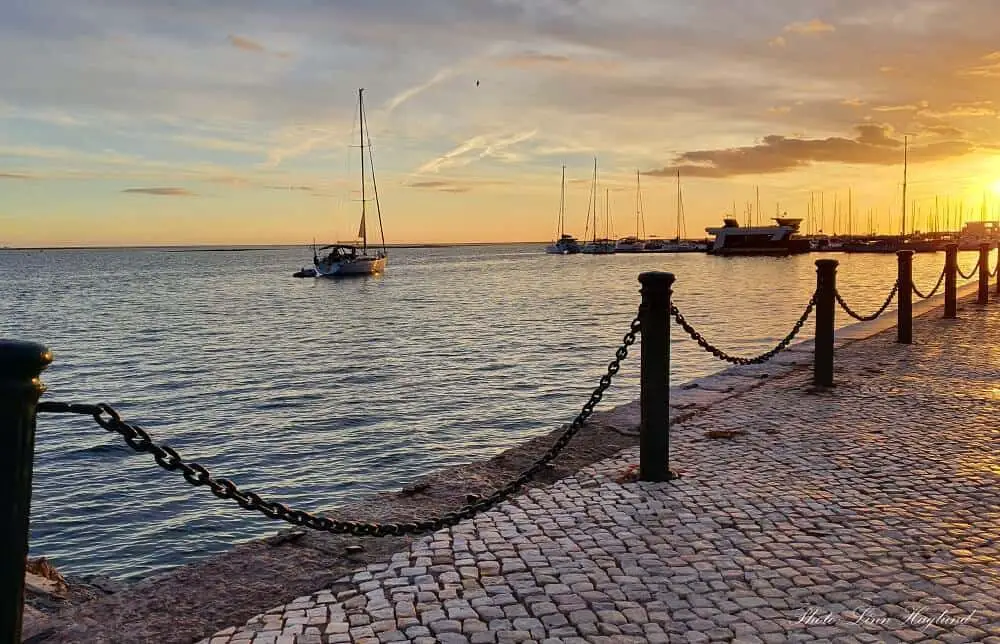 Carvoeiro
Carvoeiro is one of the most charming little towns in the Algarve with vibrant streets and full of restaurants and bars. Yet, it's got a peaceful atmosphere to it and a lot of nature scenes to explore in walking distance. Make sure you walk Carvoeiro boardwalk to Algar Seco where you'll discover a natural pool and stunning caves with natural windows to the Atlantic.
From Algar Seco you can even continue to one of the best hikes in Portugal. The 6 hours return hike of Seven Hanging Valleys Trail is a must for outdoor lovers and as it takes you down to Benagil Beach, you can rent a SUP or kayak and explore Benagil Cave while you're there.
The trail takes you across the cliffs along the mesmerizing coastline and ends up at one of Portugal's renowned beaches, Praia da Marinha, which has been nominated among the most beautiful beaches in the world more than once.
Carvoeiro is about a 50-minutes drive from Faro Airport. Again, taking the bus is a hassle. You'll have to take the bus into Faro, change in Lagoa, and finally go to Carvoeiro. This excursion could take a couple of hours or the double.
Where to stay: Villa Welwitshia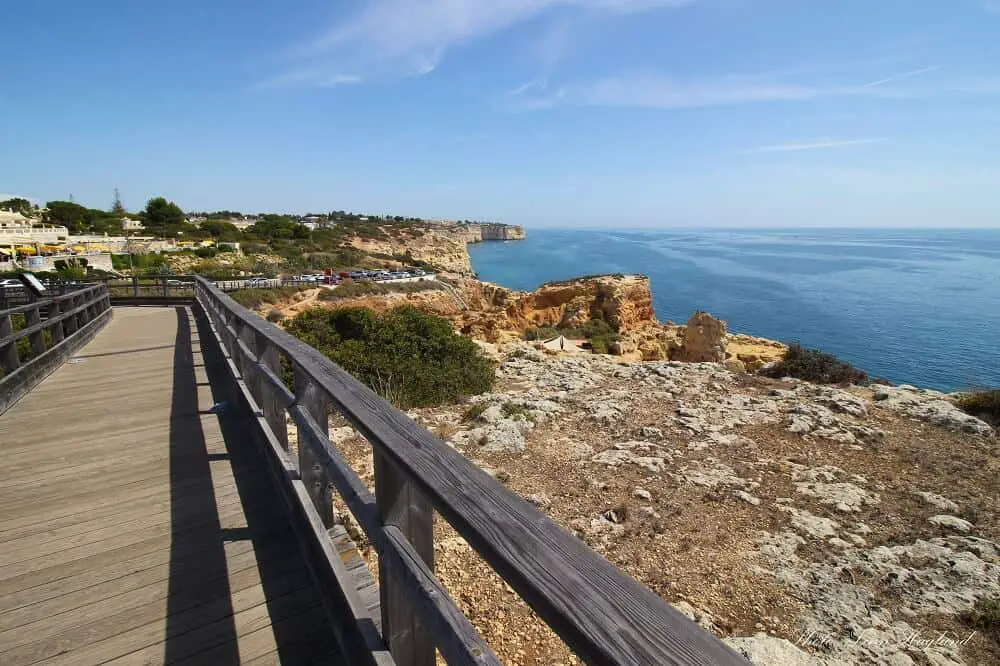 Sagres
At the farthest west corner of the Algarve you find the remote coastal town of Sagres. A paradise for surf enthusiasts, there is a multitude of surf shops and some of the best surf sites in the country starting from Sagres and up the country's west coast.
Sagres is famous for the jaw-dropping tall cliffs that meet the Atlantic Ocean, waves, and astounding beaches. Walking along the cliffs at sunset is true magic!
You can also get boat trips from Sagres to explore the spectacular coastline from the water. It's truly worth it. At the very tip of the Algarve, you find Sagres Fort. It was built to protect the town from the enemy attacks from Africa. Now it's one of the most frequented tourist attractions in Sagres.
Driving from Faro Airport to Sagres takes an hour and twenty minutes. By public transport it's a lot more, as you might guess by now, there are no direct buses. You'll need to change buses in Faro and in Lagos.
Where to stay: Sagres Sun Stay – Surf Camp & Hostel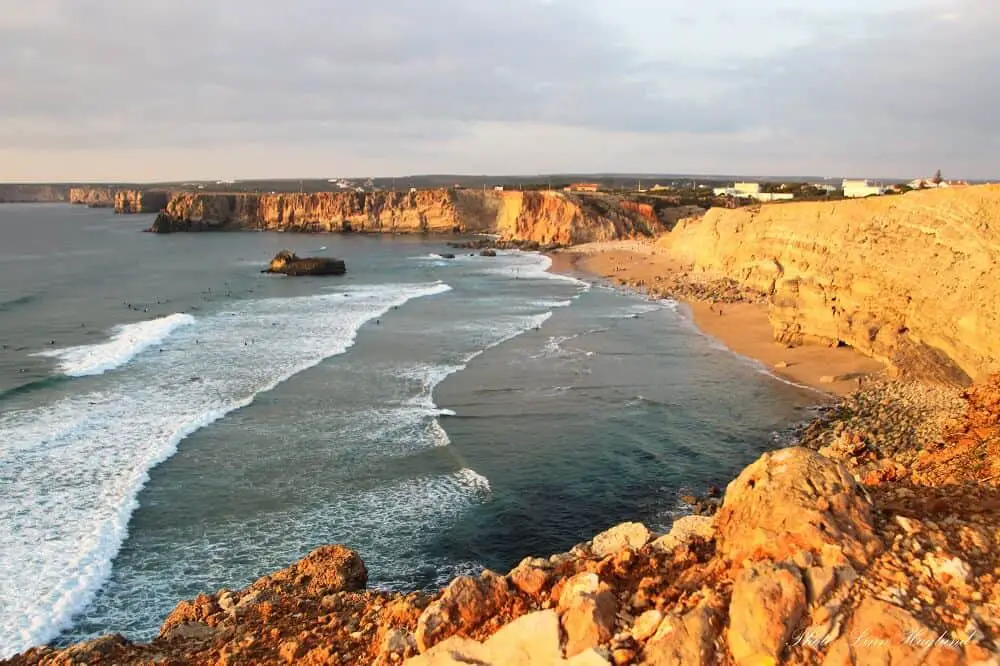 Aljezur
One of the best Algarve towns is the lesser-visited town of Aljezur. With it's stunning location about an hour north of Sagres, it's cobble stoned streets through whitewashed houses are truly enchanting. Make sure you climb the 10th Century Moorish castle for spectacular views.
The biggest drawing point of Aljezur is Arrifana beach which attracts surfers but also beach dwellers. It's stunningly situated at the bottom of the cliffs and the view of the beach from above is picture perfect. There are also other surf beaches further north where the sand dunes meet the beach.
There are also bewildering walking routes on top of the cliffs in Sudoeste Alentejano e Costa Vicentina Natural Park that you can reach from the town, perfect for those remote sunset walks.
Driving from Faro Airport to Aljezur takes about an hour and fifteen minutes. There are no direct buses (surprise!) but it can take several hours with the transfers you'll need to take, so I highly recommend renting a car if you head up to Aljezur to save yourself the hassle.
Where to stay: Vicentina Hotel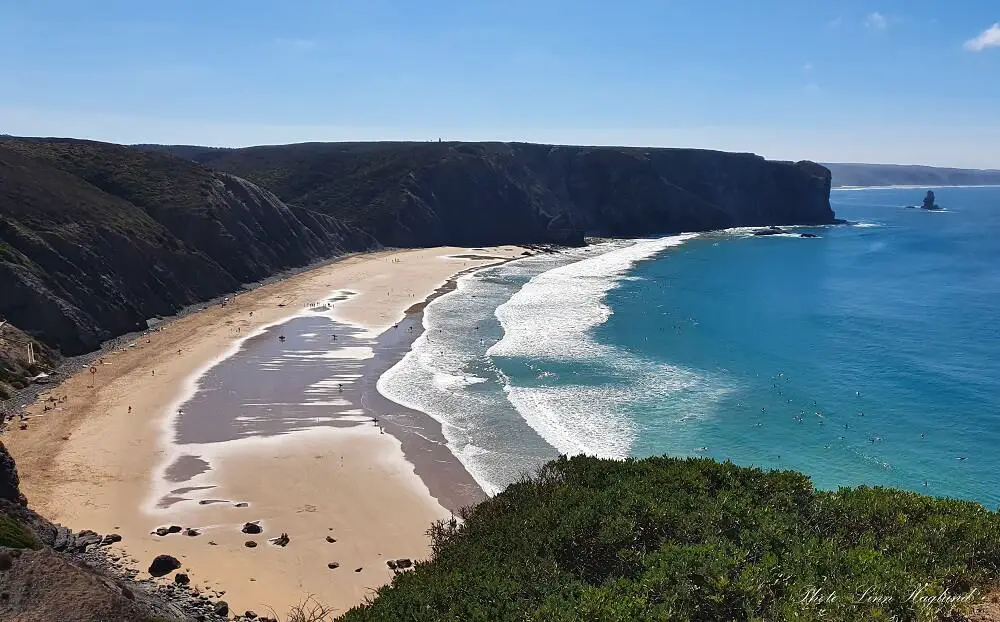 Portimão
Portimão is one of the largest towns in the Algarve and boasts staggering beaches like Praia da Rocha and Praia do Vao. To learn about Portimão's fishing and canning history make sure you visit Museo de Portimão. But if you're into older history, you'll love the remains of the 5000 years old Megalithic Monuments of Alcalar.
Worth visiting is the 17th Century church, Igreja do Colégio. Walk along the Ribeirinha esplanada, lines with palm trees and people watch at the Praça Manuel Teixeira Gomes square. Another monument you should see is the Fortaleza de Santa Catarina where you'll get stunning views.
Portimão is also great for water sports and boat trips to explore the cliffs and caves along the stunning Algarve coastline.
The drive from Faro Airport to Portimão is about 50 minutes. There are both buses and trains from Faro, so you need to take the bus from the airport to Faro and change there. These are frequent with 3-4 buses an hour throughout the day. The train from Faro takes one and a half hours, but they stop running quite early at night so if you have a late flight you'll have to stay the night in Faro. The bus takes about one hour and forty-five minutes.
Where to stay: DART Boutique Hostel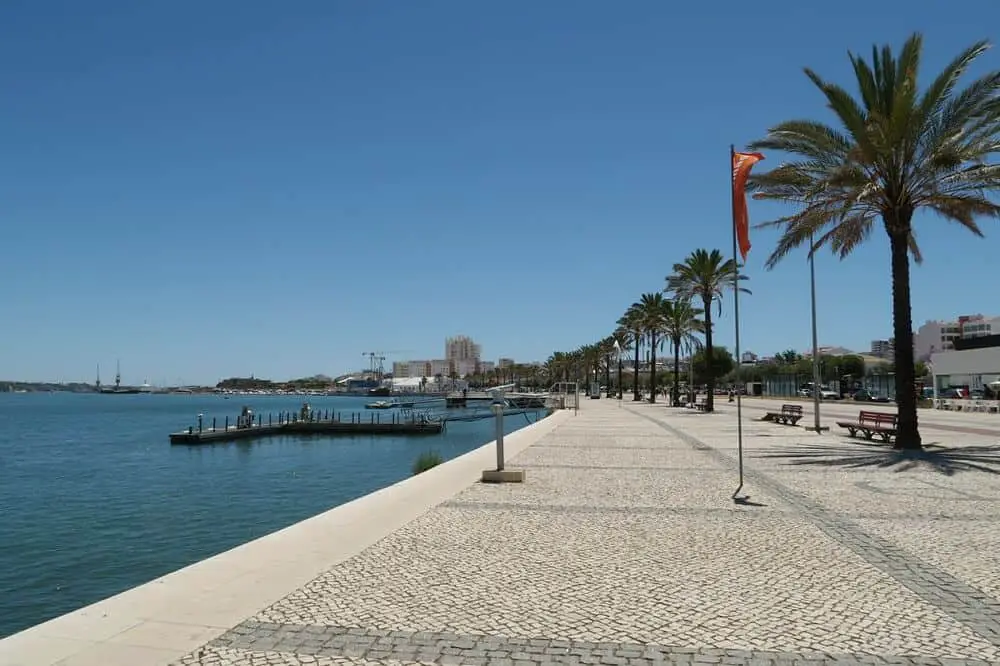 Reflections on Algarve towns
There is no doubt the towns in Algarve Portugal are worth a visit. And there are towns for everyone, whether you like to party, surf, explore, or just chill at the beach. If you have the time, I suggest you go on an Algarve road trip to see a few of these charming places on your trip.
Finally, make sure you follow these responsible travel tips so that you help preserve this beautiful corner of the world. That includes avoiding the Zoomarine in Albufeira where you disturbingly can swim with captive dolphins. Read more about unethical animal tourism to avoid here.
Other cute towns in Portugal:
Pin it for later!