Bohol is one of the more frequently visited islands in the Visayas, and not without reason. With breathtaking waterfalls, lush rolling hills, abundant coral reef, and steep underwater walls, there is a lot to do both on land and underwater. This post includes the best things to do in Bohol.
Bohol Province consists of 75 smaller islands. Bohol is the largest and also the main island in the province. Its growing popularity among travelers is much due to its famous geological formations, the Chocolate Hills and the possibility to observe one of the smallest primates, the Tarsier.
Disclosure: This post may contain affiliate links. That means that if you make a purchase through one of those links, I will get a small commission at no extra cost to you. If you have any questions about these services or products, feel free to ask me.
How to get to Bohol
First, let's have a look at how to get to Bohol. You can get there either by plane or by boat. The easiest and closest is to travel from Cebu, though you can get there from other islands.
By plane
Bohol has an airport in Tagbilaran City where you easily can get to from Manila Airport or Cebu Airport. The latter is the closest international airport. There are daily flights to Tagbilaran City from both airports.
By Boat
If you are on a budget, here is how to get to Bohol by ferry. There are frequent ferries to Tagbilaran City Pier from both Manila and Cebu.
From Manila
There are ferries several times a week between Manila and Tagbilaran City. It takes 30 hours or more one way but is much more budget-friendly than flying if you have the time. You can find timetables and rates with AFerry. It is recommended to book in advance, and since the ferry ride is long, maybe you want to think about the comfort on the ferry as well.
From Cebu
I't easy to get from Cebu to Tagbilaran City in Bohol with daily ferries. They usually take about two hours. There is no need to book in advance as there are several ferry companies running all day. You just need to show up at the port and line up in the ticket office to get on the next ferry.
Why you should NOT swim with whale sharks in Oslob
There are day trips from Bohol to Oslob to swim with whale sharks. Before we continue looking at things to do in Bohol, I would like to emphasize the importance of staying away from this activity. In Oslob.
I am sure meeting these giants is on many people's bucket list as it was for me until I finally swam with whale sharks in Madagascar last year. It is absolutely an experience I recommend you to explore! But make sure you do it in an ethical place. That's why I want to mention Oslob.
Whale sharks are strictly protected in The Philippines, and the country has strict rules on how to interact with them. It is strictly prohibited to harass them. In fact, if you break the rules, you will get a large fine.
This means you are not allowed to touch the animal as it will harm them.
Physical injuries appear on the whale sharks in Oslob as people touch them. According to a study that was monitored by LAMAVE, they recorded an equivalent of 29 touches an hour of the whale sharks.
Fishermen figured out the whale sharks liked what they used as bait, something they call uyap (sergestid shrimps). when local diving companies found out, they started hiring fishermen to attract the whale sharks to secure the tourists experience.
Now, what is wrong with feeding the whale sharks and keep them staying at a certain area?
First of all, it interrupts the natural migration route the whale sharks follow.
Secondly, mal-nutrition becomes a problem due to poor variety and contamination of the food.
Finally, when we look at the study mentioned above, we see that 89% of the interactions causing injuries on the whale sharks come from fishermen pushing the animal away from the boats.
There are many more details and following problems with the way whale sharks are treated in Oslob. You can read more about it here.
---
Read more about unethical animal tourism and what to do instead here
Now, let's have a look at the best things to do in Bohol.
Best things to do in Bohol
Chocolate Hills
Chocolate Hills is definitely the biggest tourist attraction in Bohol and one of the most incredible natural landmarks in southeast Asia. On an area of about 50 square meters, there are somewhere around 1500 hills sticking up above the trees. Their height varies from 30 to 120 meters.
The hills are covered with grass, and as the grass turns brown in the dry season, it actually looks like round chocolate balls covering the otherwise green landscape, thereby the name Chocolate Hills.
To get to the top viewpoint, you have to climb 214 steps, so make sure you bring enough water. But in case the walk up the stairs doesn´t take your breath away, the view from the top will.
There is a stunning 360 view of perfectly shaped rolling hills above lush green forest and rice fields.
There are plenty of activities to do around the Chocolate Hills. Among them, you can explore the area by quad bike.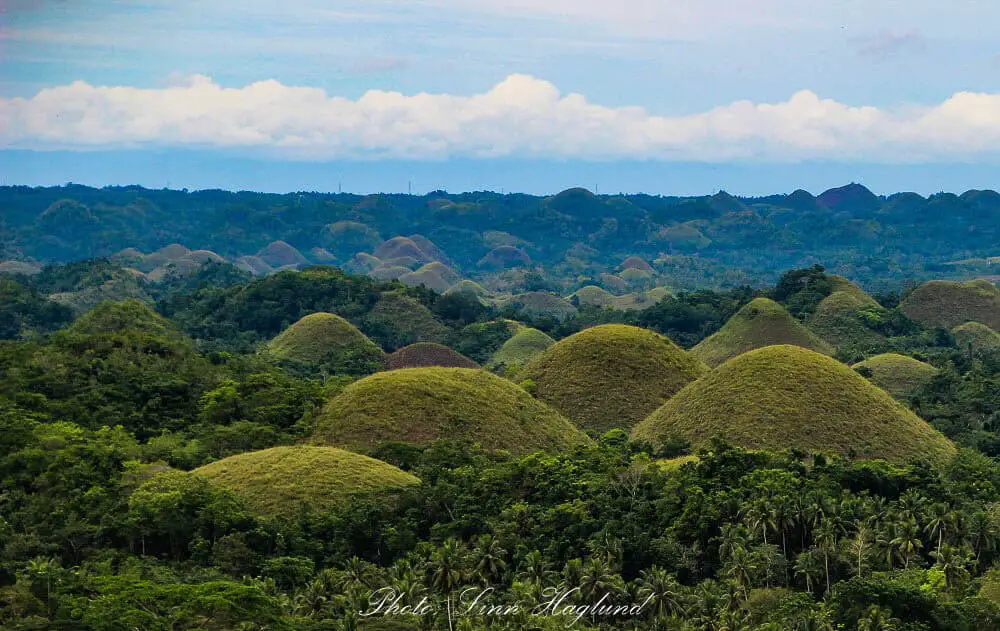 Pahangog waterfall
Although Pahangog waterfall is not usually on tourists' radar, it's probably the most beautiful waterfall on Bohol and definitely worth visiting. Easily accessible by motorbike, this waterfall is well hidden between the dense jungle.
Getting to the waterfall requires a bit of an effort and you will have to climb down quite a few stairs. I recommend bringing some comfortable shoes. However, once you'll reach Pahangog you'll be amazed by its beauty.
The waterfall has actually two streams and you can swim at the base if you want to refresh yourself. Bring your swimming suit on you since there are no toilets or changing rooms. Also, make sure to bring some water and snacks since the only shops are in the villages nearby.
If you're feeling adventurous, you can try cliff jumping. If not, just sit back, relax and enjoy the serenity of this place. Make sure to have your camera ready. I'm sure you'll want to take thousands of pictures.
Contribution: Aurelia from Daily Travel Pill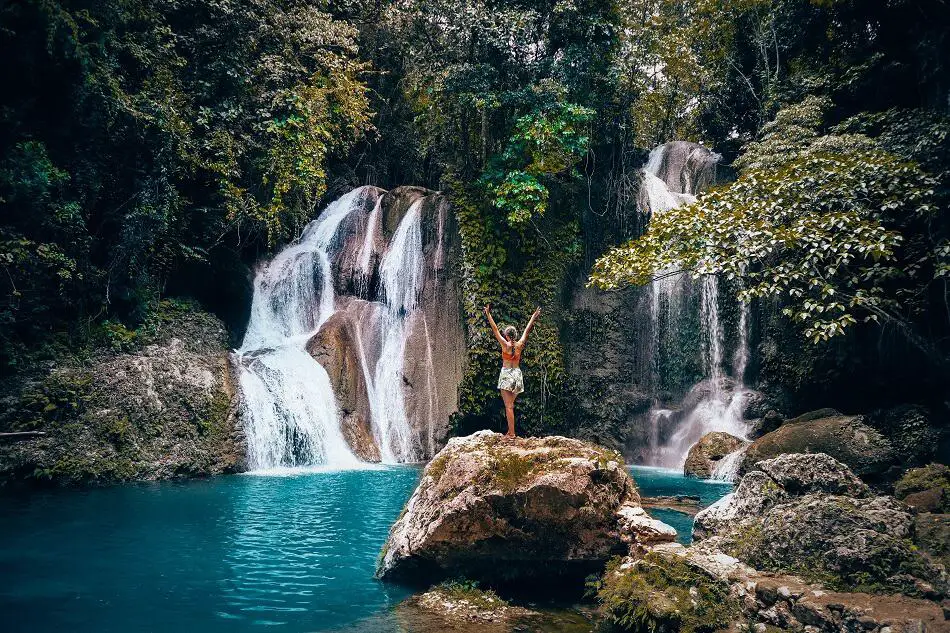 ---
You might also like: Beautiful waterfalls in the Philippines you shouldn't miss!
Pangas waterfall
Pangas waterfall is a waterfall with a short but wide fall, and the strength in the falls is unbelievable. The fact that you might just be the only one there makes it even more unique.
To get to the waterfall, you have to walk down a set of stairs from the main road. Once down by the waterfront, there is a wooden walkway going above the vivid pool that is formed by the waterfall. There are a couple of huts with shade where you can sit down and enjoy the sound and the view of this natural beauty in the shade.
As most natural places in the Philippines, you will be able to spot beautifully colored butterflies roaming around the heavy waters.
You will, without doubt, leave this amazing place with wet camera lenses and a content smile. Also, as it is not one of the popular hot spots in Bohol, you might even have the luxury of being here all alone.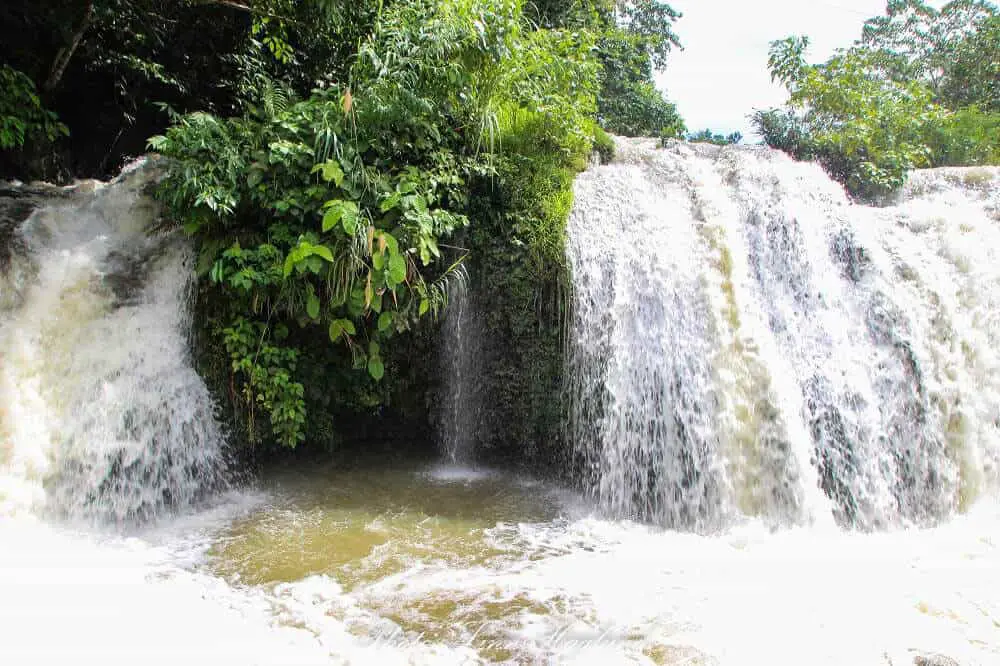 Alona beach
Alona beach is one of the most popular tourist spots in Bohol. A 1,5 kilometer stretch of white sand beach, a picture-perfect beach for anyone who wants to enjoy a day at the beach, great snorkeling or a stroll by the waterfront. Alona beach is not on the main island of Bohol but on the neighboring island Panglao. The two islands are connected by a bridge so cars can cross easily.
There are plenty of restaurants along the beach where you can have food with a sea view and sand between your toes. To not mention some excellent fruit shakes. In the evenings you can enjoy a breathtaking sunset over the horizon and live music in one of the beachfront bars.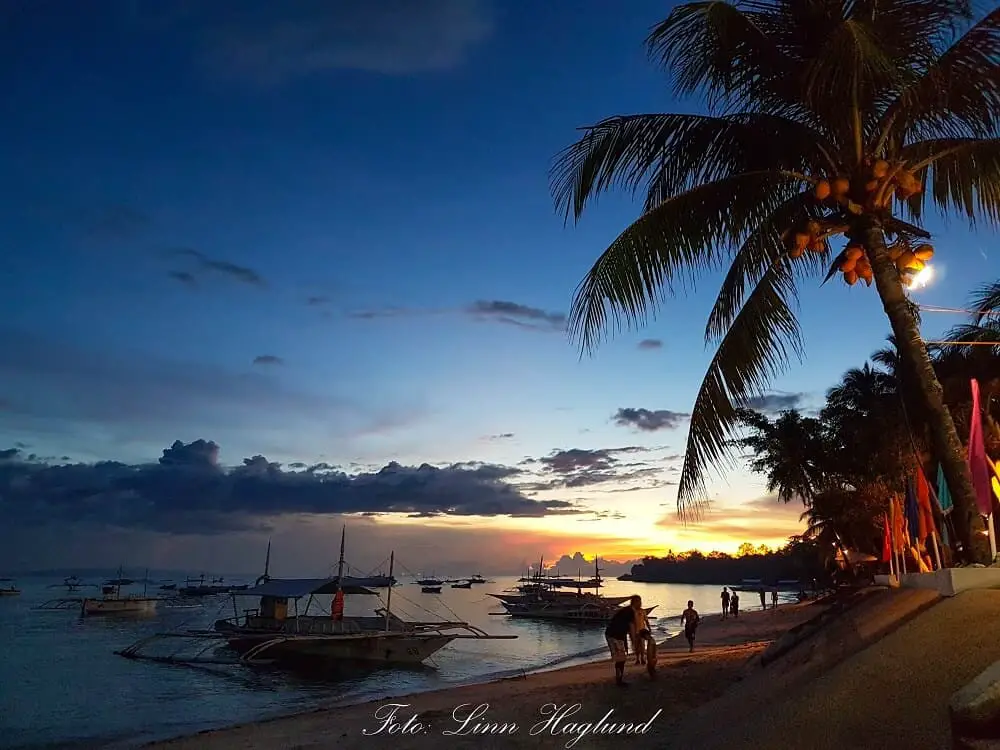 Snorkeling at Balicasag Island
One of the highlights of my time in Bohol – and in fact, my time in the Philippines – was my morning spent snorkeling at Balicasag Island.  This island is a small one south of Panglao, which is home to the popular Alona Beach.  Balicasag snorkeling is famous for its sea turtles, and I'll say it right away – I spotted two when I went!
Snorkeling at Balicasag is most easily done by booking a tour from Alona Beach.  You will have no problem booking this tour with one of the tour operators because you do not even have to go looking for them; they will come to you – the beach is that busy!
The morning started with an early wake-up because we were to meet on the beach at 6 am for departure.  Amid the dozens of boats, I boarded mine: one that was proudly operated by twin brothers.  After an hour on their motorized boat, we arrived at Balicasag island.  From there, I got onto a tiny canoe with a different local operator who rowed us out to the good spots.  Snorkels and masks were provided.
Our guide didn't brief us on any rules like "don't step on the coral", but it seemed like everyone in my group knew that already.  He did get in the water with us and helped search for the turtles.  In the meantime, we had a whole new underwater world to discover.
The water was very clear and warm.  Aside from the two turtles, we were surrounded by schools of fish, sea cucumber, sea stars of an electrifying blue color, and one tiny jellyfish.
In total, we had about 30 minutes in the water with the local guide.  We stayed another 30 minutes on the beach while the second group was in the water before journeying back.
Contribution: Alexandra from The Adventure Classroom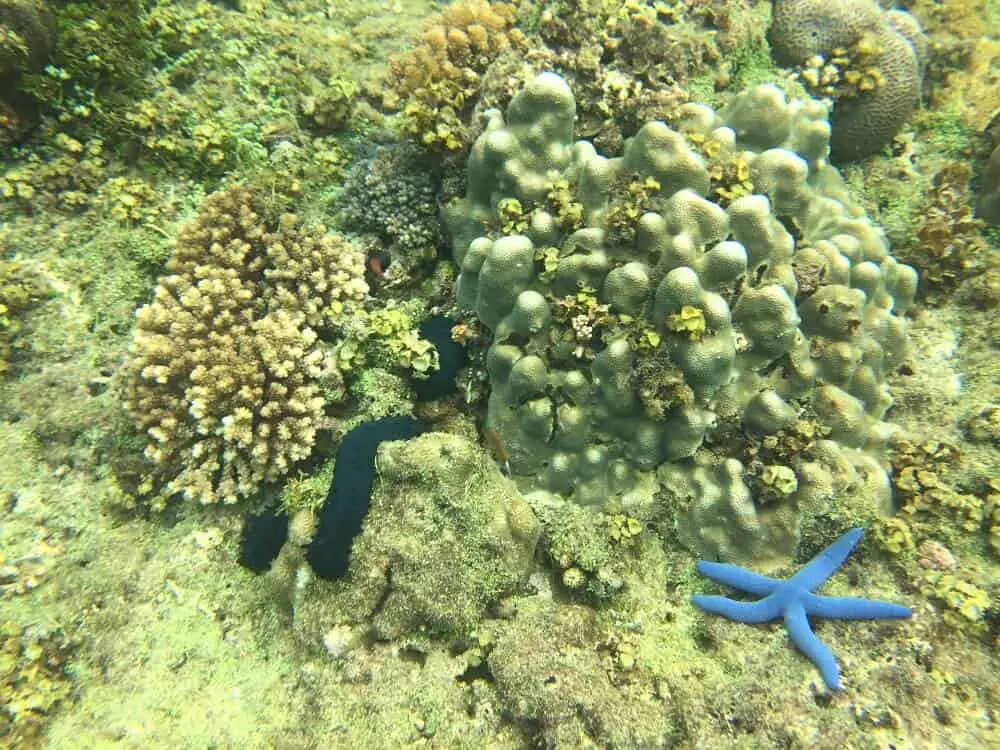 Zipline in Loboc
The zipline in Loboc is definitely something you should try out on your trip to Bohol. The views of the forest and the Loboc river are amazing. It is 120 meters high and takes you 520 across the river and straight into the jungle on the other side.
There are two lines next to each other so you can ride next to your friend to really share the fun. This way you can also make use of your sports camera.
There are two different ticket options; Zipline one way and then return in a cable car or zip line both ways. The cable car takes 5 people and runs 100 meters above the river.
Hanging bamboo bridge
These two 40 meter long bridges have become a major tourist attraction in Bohol. They cross the Sipatan River, one to go and one to return. If you have vertigo, maybe the bamboo bridge isn´t the place for you to visit. The bamboo bridges are solid, but you will notice some wear in them. As a result, some people are afraid of crossing. However, even small motorcycles cross the hanging bridges, so there is no reason to be concerned.
Originally there was only one bridge built so that locals could cross the Sipatan River. Though as it grew to become a tourist attraction they built one more so that traffic would only go one way on each bridge. This way it doesn't sway as much as it used to with people walking both ways.
Once you cross to the other side there are a few souvenir shops where you can also buy some snack and drinks if you want to hang out before you return.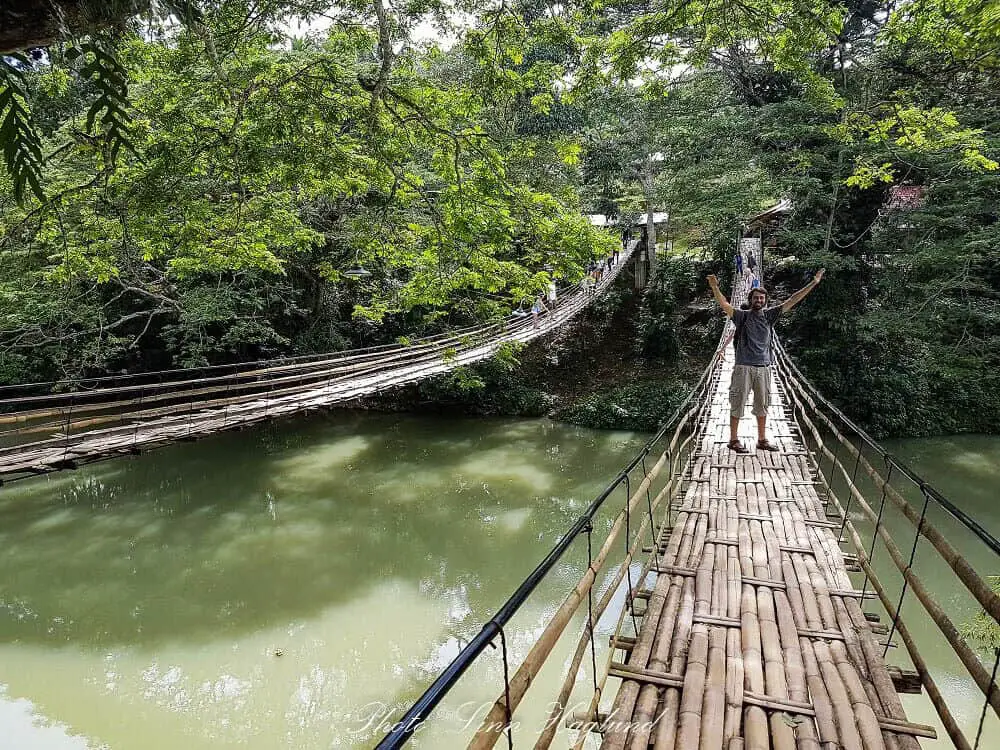 Corella Tarsier sanctuary
Corella Tarsier sanctuary was built to protect the smallest primate on earth and is maintained by a non-profit organization called the Philippine Tarsier Foundation.
There are mixed feelings from people visiting this sanctuary, and reviews on TripAdvisor make me wonder if Corella Tarsier sanctuary is as ethical as they say they are.
The Tarsier is an endangered species, and unfortunately, there are other sanctuaries and many locals that keep them in captivity that earn money on tourists taking selfies with the tiny creatures.
A sad but true fact about the Tarsier is that they commit suicide when in captivity, and unfortunately, the tourism business around these animals leads to their deaths.
Our driver told us he used to have a pet Tarsier in a cage in his home. His kids played with it and he used to drive tourists home to take a picture with the tiny primate in their hands. His pet Tarsier had died.
Visiting Corella Tarsier sanctuary is a great way to become educated on the endangered species. There are loads of easy-to-read information on the way into the center.
Once inside the sanctuary, you will follow your guide in silence as he points out the Tarsiers. The primate is a night hunter, and therefore at sleep during the day, and shouldn't be disturbed.
A visit to the sanctuary is absolutely one of the best things to do in Bohol. Not only because you get to meet the cutest little creature, but also because it is such an educational experience.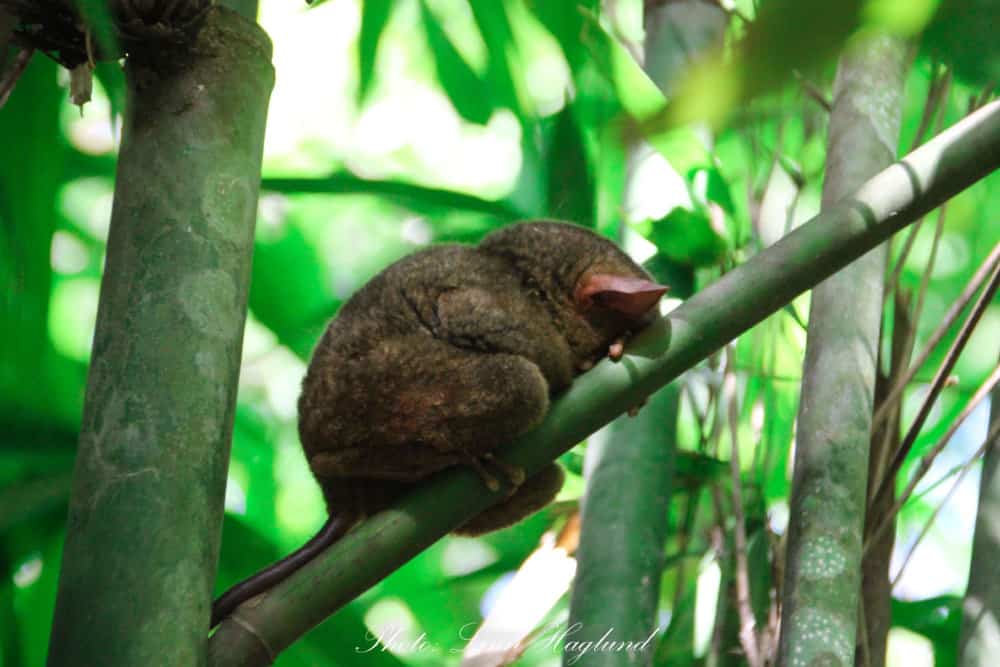 ---
You might also like: Unethical animal tourism: land animals and birds
Scuba diving
Scuba diving around Bohol is becoming more and more popular. There are several dive sites and more and more diving centers crowding the beaches, competing for customers.
Most of them are situated in Alona beach on the small Island of Panglao that has a bridge connection to the south of Bohol. There are some stunning wall dives both during the day and night, and the corals are abundant.
I seriously expected to see more damaged coral in such a Typhoon frequented place than vivid corals in all shapes and colors, both hard and soft corals. The waters offer all from funny frogfish to charming seahorses and tiny bioluminescent plankton that light in the dark.
Both for beginners and more experienced divers there is plenty to explore. If you haven´t tried scuba diving before, this is a good place to start exploring the underwater world.
You can chase sea turtles for entire dives, watch the gigantic creatures how they swim and how they eat. Explore the alien-like features and their big eyes as they calmly live their life.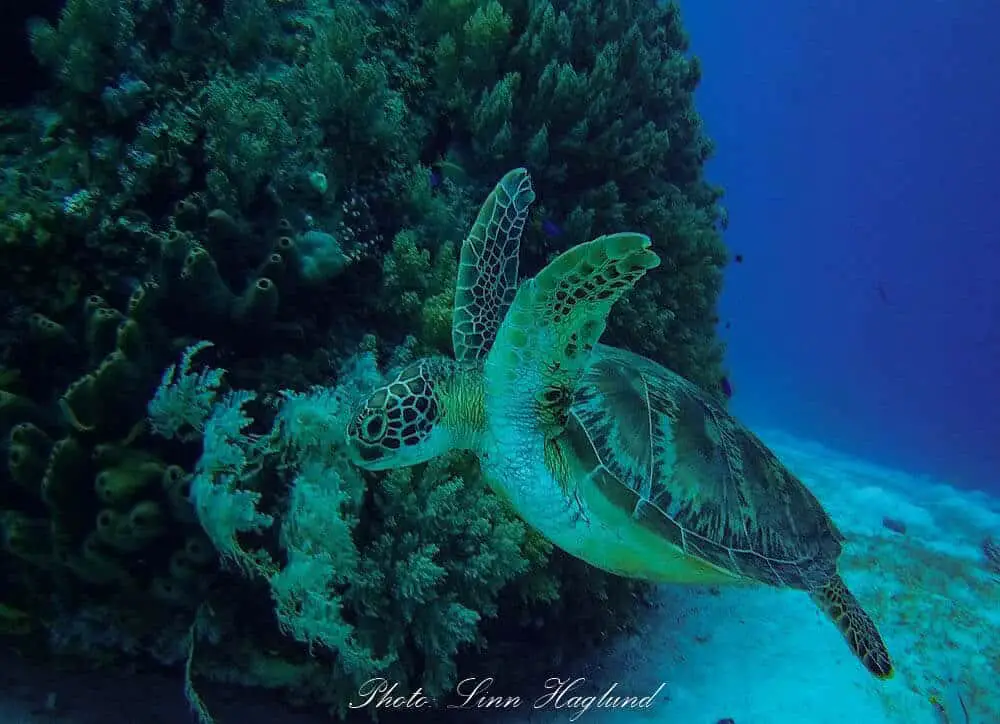 Just remember to respect all marine life. Don´t hazard the turtles by trying to touch them or hang onto them.
Don´t touch the corals nor kick them with your fins. They take years to rebuild any little scratch you cause them by mistake. The corals are as essential for marine life as the soil is essential for human life.
When is the best time to go to Bohol
Bohol has pleasant, tropical weather all year round, though you might be met by heavy rain during the rainy season.
The best time to go to Bohol is probably between November and April. Temperatures are around 28 degrees Celsius. This is the period of the Northeast Monsoon, though there are usually only short, warm rains during otherwise sunny days.
However, late December is peak season for local tourists, so crowds and prices rise accordingly.
The South West Monsoon is between August and October and heavy showers are more frequent.
The hottest, but also the dryest period to visit Bohol is between May to July. I addition to an average of 32 degrees Celsius you can expect a lot of humidity.
Where to stay in Bohol
Rene's Diverslounge Resort
Rene's Diverslounge Resort is a relaxed and cosy family run hotel. Staff is extremely friendly and helpful and the rooms are clean.
They have cute bungalows with garden view. The restaurant has beach view. You can enjoy the beach below the hotel and there is a rel chilled atmosphere. Anything you'd like from the Philippines.
There are beautiful dive spots you can go diving with Rene whether you're a beginner or an experienced diver.
---
Book your stay at Rene's Diverslounge Resort here
---
Loboc River Resort
Recommended by Sharon of Dive Into Malaysia.
The Loboc River Resort is the perfect place to experience the jungle during a vacation in Bohol. While it can be tempting to head to the beaches, a stay here is unique and so much fun.
Accommodation is in beautiful wooden chalets either over the river or next to the river depending on the time of year. They are very private with great views and there can be fireflies on the balcony at night time.
During the day, there are tons of activities. These include watching monkeys, going on jungle hikes, taking a boat ride, fishing, feeding wild chickens or riding a water buffalo. If that sounds too active, take it easy and relax in the pool surrounded by jungle or eat in the great restaurant on site.
Prices start at US$40 which is an incredibly great value.
---
Book your stay at Loboc River Resort here
---
Start planning your trip to Bohol
First of all, how long time should you spend on Bohol? To get the most out of your stay and make sure you get time to enjoy the best things to do in Bohol without a rush, you should try to spend at least a week on the island. Especially if you want to go scuba diving and explore the underwater world. Otherwise, if time is scarce, you sure can get through quite a lot on a couple of days with a tour of the island. Check out more beautiful places in the Philippines here.
If you have any doubts if The Philippines is safe to travel to? Personally, I experienced it as the safest Southeast Asia country I have visited. Read more about safety in the Philippines.
Get your travel insurance with World Nomads here.
My favorite guidebook for traveling has always been and still is Lonely Planet. I traveled a month through the Philippines with Lonely Planet Phillippines, and it took me several off the beaten path places. It is a great resource when traveling by bus or by boat or when you randomly take a Bangka 2,5 hours from one island to another with no idea where to go next.
Book your accommodation directly on Booking.com to make sure you get the accommodation you want.
Do you have any experience with Bohol or maybe some other cool recommendations for travelers that want to go to the island? Please share in the comments; I would love to hear your advice.

Pin it for later!