Asia is such an immense and diversified continent that never ceases to impress. People, culture, nature, and religious buildings all create an intriguing impression that sinks deep into your bones and makes you never want to leave.
It seems like the more you travel in Asia the deeper you want to explore it and the amazing Asia landmarks don't make it any easier to leave this part of the planet.
Here are some of the most captivating landmarks in Asia from famous to lesser-known monuments.
Disclosure: This post may contain affiliate links. That means that if you make a purchase through one of those links, I will get a small commission at no extra cost to you. As an Amazon Associate, I earn from qualifying purchases.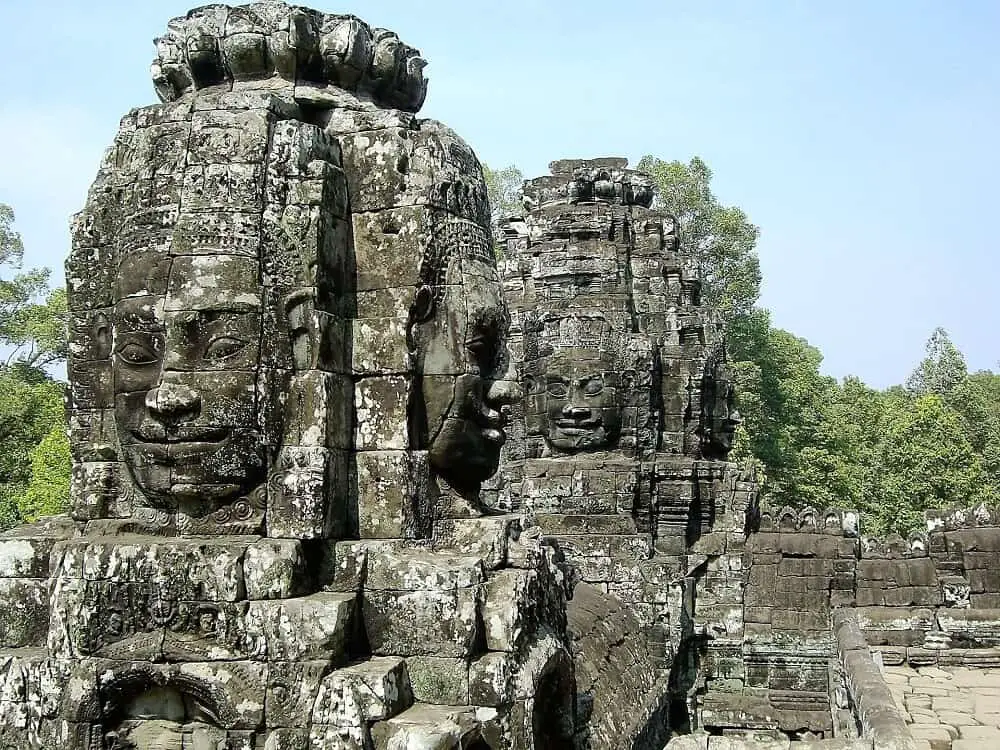 Natural landmarks in Asia
Chocolate Hills, Philippines
On the Philippine island of Bohol, you'll find one of the most amazing landmarks in Asia. The Chocolate Hills are around 1500 hills ranging between 30 and 120 meters in altitude spread across an area of 50 square meters.
In the dry season, the grass-covered hills turn all brown and look like chocolate balls, thus the name. Visiting Chocolate Hills is the one of the most popular things to do in Bohol and you can easily access the sight by scooter, taxi, or organized tour.
There's a lot to do around Chocolate Hills other than walking the many steps up to the viewpoint, like exploring them by quad or zipline.
If you go on an organized tour, avoid tours that include any unethical activities like taking selfies with Tarsiers (the smallest primate on earth.) You can read more about the Philippine Tarsier and why you shouldn't hold them here.
You can get to Bohol by ferry from the neighboring island, Cabu, that has its own airport.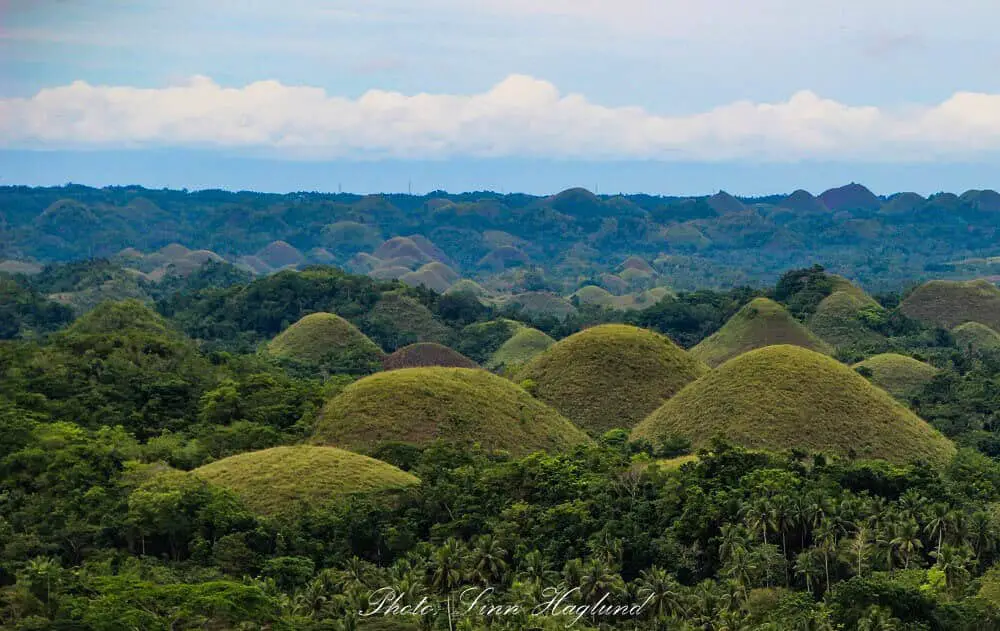 Mount Damavand, Iran
Mount Damavand (5610 masl) is one of the most impressive and underrated natural landmarks in Asia. It's not only the highest peak in the Middle East, but it's Asia's highest volcano.
The iconic peak towers as a majestic backdrop to Iran's busy capital city, Tehran. Dominating the imposing Alborz mountain range it's a true Asia bucket list experience to climb Mount Damavand.
Thousands of hiking enthusiasts head out every year to reach its summit in anything between 3 and 5 days. There are various tour guides offering organized hikes from the capital and surrounding mountain villages.
Railay Beach, Thailand
One of the most astounding southeast Asia landmarks is without a doubt Railay Beach and highly worthy your Thailand bucket list. In fact, it's not just a beach, it's a whole peninsula off Krabi that you can only reach by boat.
The beach is impeccably beautiful with soaring limestone cliffs rising from the turquoise water. This is truly one of the best places to visit in Thailand for first timers.
The beach is lined with longtail boats ready to take you out exploring them from the sea and go snorkeling among colorful corals and fish. Railay Beach is perfect for relaxation but also a paradise for active travelers as one of the top spots in Thailand for rock climbing.
There is no denying Railay Beach is a favorite destination in Thailand for a relaxed and adventure fusioned vacation or break during a longer backpacking trip. You can also explore some of the most epic dive spots in Thailand from Railay.
There are frequent boat trips to Railay Beach from Krabi and Ao Nang and even though it's not an actual island, you can only reach by boat, so many travelers include it in their Thailand island hopping trip. You can fly to Phuket or Bangkok, though the latter is a long bus drive to get to Krabi.
Make sure you only support sustainable tourism in Thailand.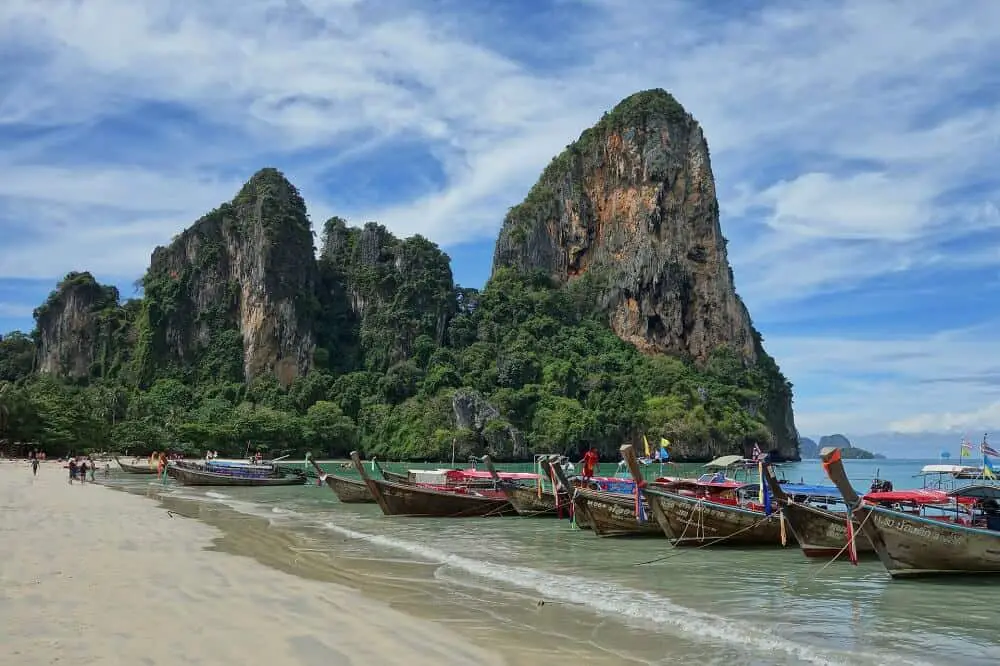 Sohoton Natural Bridge Natural Park, Philippines
One of the most astounding natural Asian landmarks, yet off the beaten path in the Philippines, is the spectacular Sohoton Natural Bridge National Park.
An abundant natural scene of jungle, waterfalls, and limestone caves diverged by "The Golden River", which turns golden in the rainy season.
The main attractions are the Panhulugan Cave and Sohoton Natural Bridge. From the cave, you can only venture farhter by kayak.
Only about an hours travel by bus from Tacloban in Samar, and you can embark a boat from Sohoton Visitor Center and Eco-Lodge through a golden river through the national park.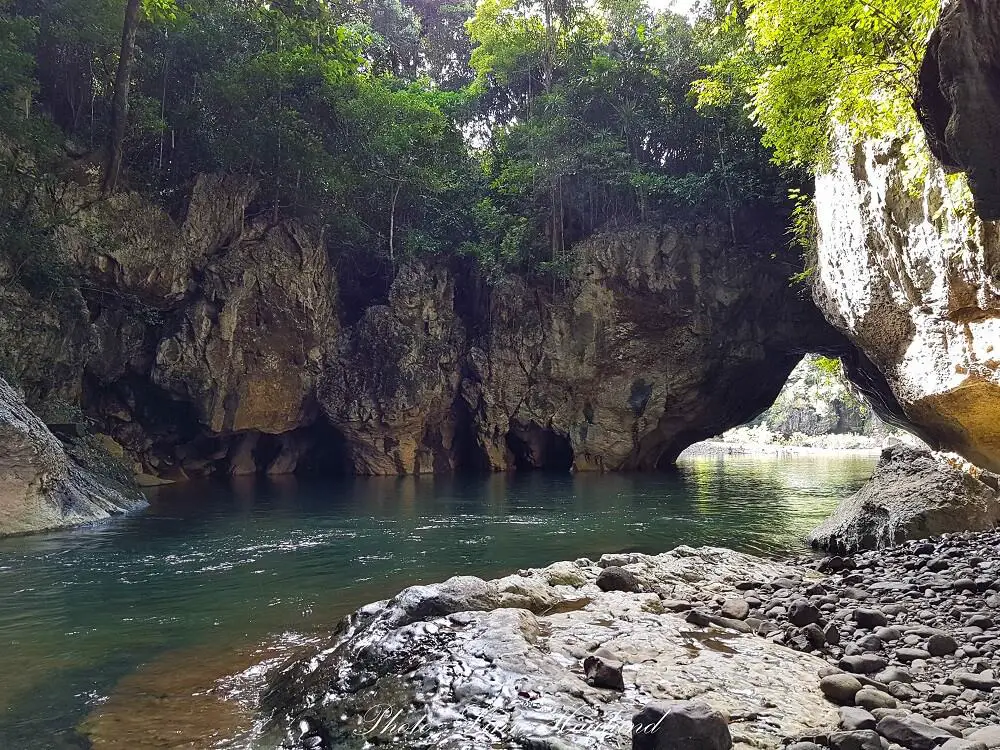 Kerala Backwaters, India
Kerala Backwaters, mostly referred to as Alleppey Backwaters, have turned into a popular natural landmark, and a must addition to your Kerala itinerary. Combining a network of more than 900 kilometers of calm canals, lagoons, rivers, and lakes separated from the Arabian Sea by a strip of land, travelers from all over the world come here to spend a night in a houseboat. To leave all the hustle and bustle that's India behind.
To relax and read a book, rewind on the calm water while cruising through narrow canals wrapped by dense palm tree jungles, opening up to more open areas where all you can hear are the birds flying by.
The easiest way to get to Alleppey is to fly into Fort Kochi and take a bus or private car the final hour.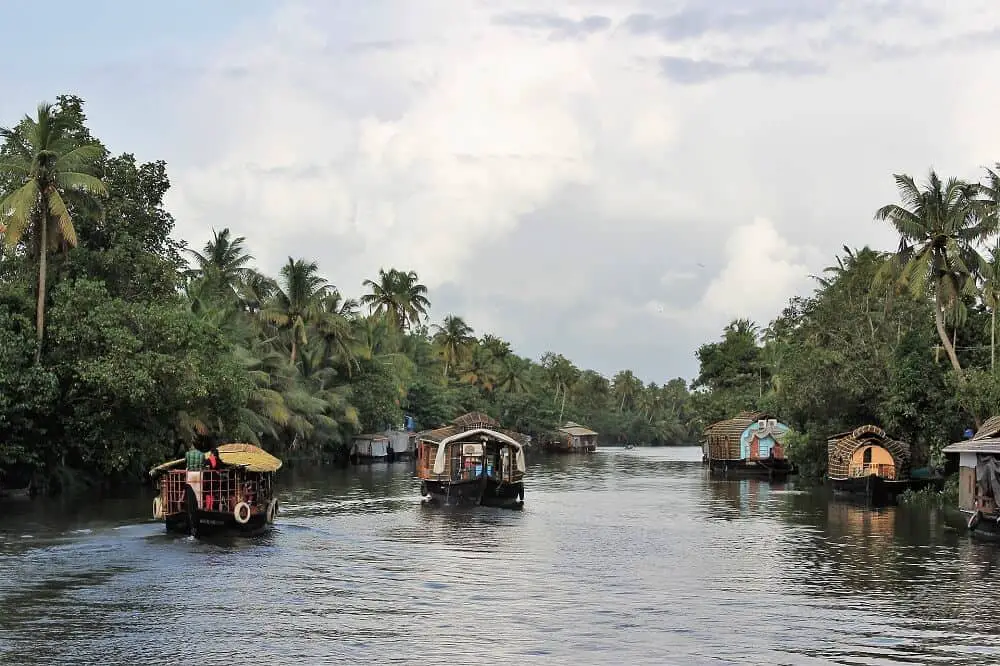 Yehliu Geopark, Taiwan
Recommended by Dea of How She Wanders
Yehliu Geopark is one of Taiwan's most scenic natural attractions. Situated on a strip of land in the north coast of Taiwan, this nature's masterpiece stretches about 1.7 kilometers into the sea. It's famous for rock formations that are crafted by nature through erosion and weathering. The rock formations resemble a variety of objects with which they were named after.
Some of the remarkable rock formations include the Mushroom Rocks, Sea Candles, Ginger Rocks, Fairy Shoe, and the most iconic one — the Queen's Head. All of them have been given names based on their shapes. These unique geological formations along a picturesque cape have been attracting large amounts of tourists from around the world.
Due to the constant erosion, the rock formations are in a sensitive state of transformation. Especially the Queen's Head having a fragile neck that may soon become too thin to support the head. That's why visitors are not allowed to touch the rock formations and should stay behind the painted boundary lines.
To get there, take a bus from Kuo-Kuang Bus Terminal at Taipei Main Station bound for Yehliu Geopark. The journey takes around 90 minutes. Tourists can also join group tours that cover multiple destinations including Yehliu Geopark. It's a bit remote, but well worth the effort to visit.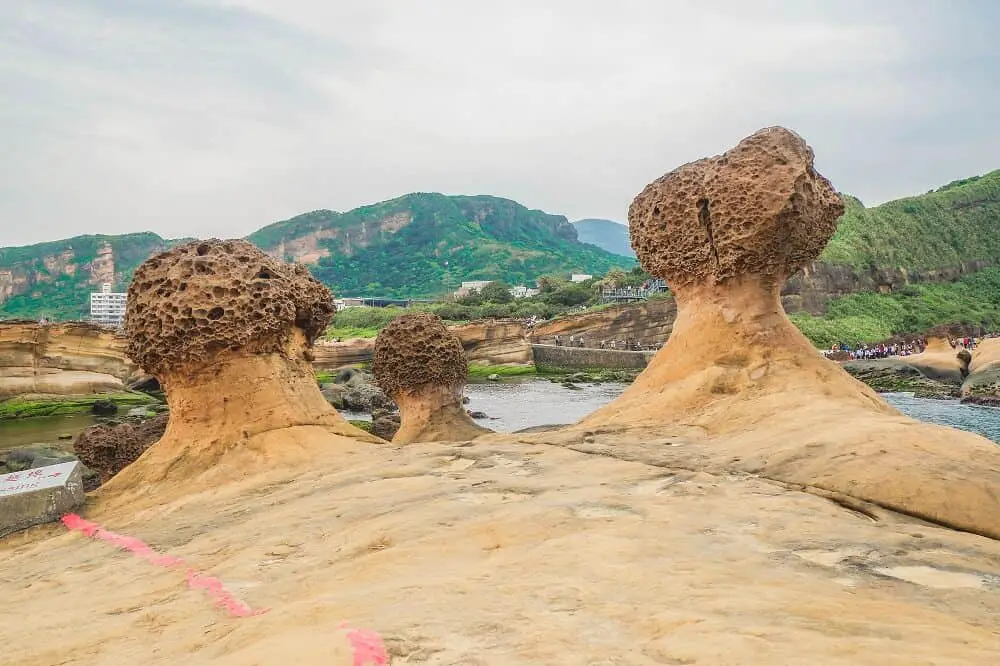 Big Lake Almaty, Kazakhstan
Recommended by Bec of Wyld Family Travel
If you're looking for an astounding landmark in Asia and planning for a day trip from Almaty in Kazakhstan, then look no further than Big Lake Almaty.
This stunning teal blue lake is a natural reservoir located high in the Ili Alatau mountains. Not only is the color what draws people to visit the lake. The peaks that sit so wonderfully behind it make for brilliant pictures in any season.
Getting to Big Lake Almaty is easy. Located only 15 kilometers out of Almaty you can choose to do a guided day trip from the city of Almaty or you can do an independent trip. Alternatively, you can hire a Yandex (Kazakh Uber) and have the driver take you up there. You do have to pay them to wait for you and then they will bring you back to Almaty.
Many people spend time at the lake taking pictures and walking down to the water on an independent trip to Big lake Almaty. If you go on a guided tour you may be able to go for some short hikes with your guide to places that are not well known.
Remember to take any rubbish back to Almaty with you as rubbish bins are hard to find or full up there. There is a small stall that sells drinks and some small snacks but you would be better off taking some with you as well to assure you don't go hungry.
The drive up is just as beautiful as the lake itself although it can be bumpy and a tad windy so if you get car sick then you may want to make sure you have some medication with you or a Chucky bag.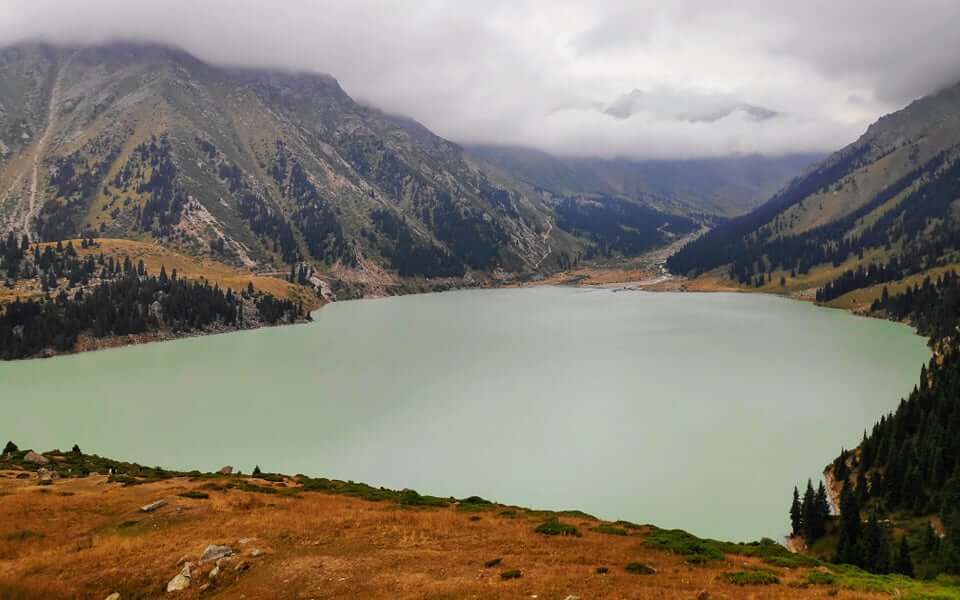 Hallasan Mountain, South Korea
Recommended by Joel of In My Korea
An interesting fact about South Korea is that it actually has an active volcano with hundreds of thousands of people living around it – Hallasan Mountain.
This mountain also holds the record of South Korea's tallest mountain with its 1950 meters. Hallasan erupted from the Yellow Sea 2 million years ago to create one of the 7 New Natural Wonders of the World – Jeju Island.
This imperious mountain dominates the view wherever you are in the island and takes up most of central Jeju Island, providing travelers with not only breathtaking views, but also an abundance of hiking trails, nature, and lookouts across the island.  
It's possible to hike to the top of Hallasan Mountain and back within a day. Brave souls who do so will be rewarded with astounding views of Jeju's sandy beaches, many oreums (small volcanic hills) packed with swaying reeds, and the deep blue of the Yellow Sea on all sides.  
Despite being an almost tropical island, with palm trees lining the streets, Hallasan Mountain provides an incredible opportunity to hike through deep snow during the winter months. This is definitely something worth trying on Jeju Island in winter.
Start on a sandy beach and be knee-high in snow within a couple of hours, before hiking back down to enjoy some mouth-watering local delicacies.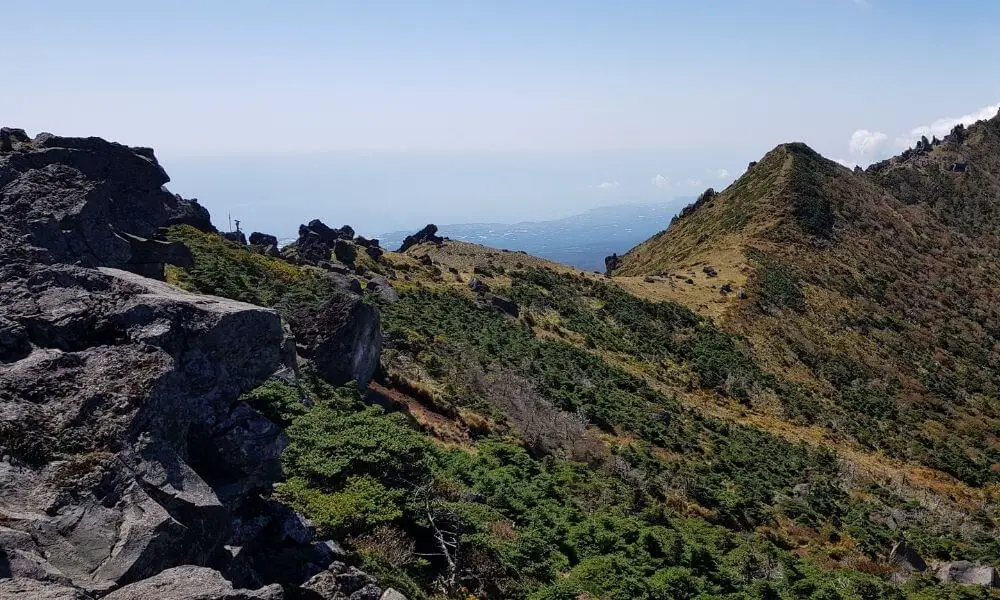 Charyn Canyon, Kazakhstan
Recommended by Ellis of Backpack Adventures
The Charyn Canyon is often referred to as the Grand Canyon of Kazakhstan. Although not as big as its famous brother in the US, Kazakhstan's Charyn Canyon is certainly as beautiful. As you drive through the vast Kazakh steppes, the red rock formations come as a surprise. A drastic change of scenery from the surrounding landscapes. 
The Charyn canyon is the result of thousands of years of erosion formed by the Charyn river that originates in the Tien Shan mountains. The canyon is about 150 kilometers long and is now a National Park. Not only to protect its unique flora and fauna, but also its geological wonders. 
Part of the Park is open to visitors. Along the highway are several viewpoints, but the best place to appreciate the strange and unusual rock formations is the Valley of castles. A 3 kilometer hiking trail guides you through some of the most spectacular sceneries of the park. It ends at the Charyn river where you can spend the night in a yurt.
The park is best visited from Almaty. It's best to have your own transport. Otherwise there are plenty of day tours to the Charyn Canyon that bring you to the valley of castles.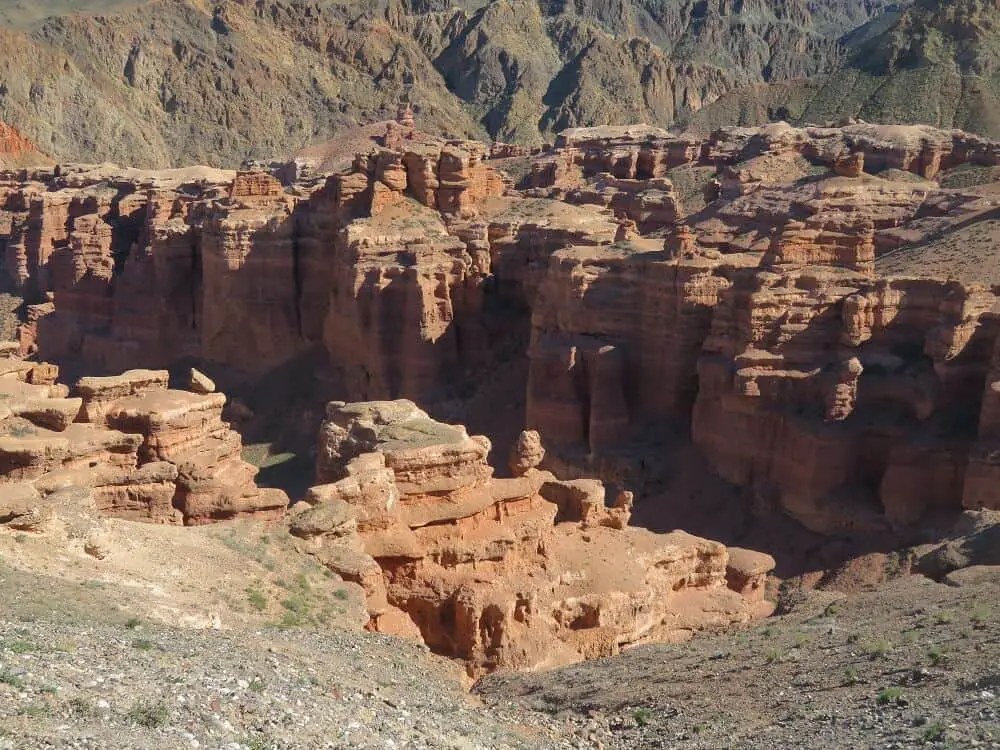 Wadi Rum, Jordan
Recommended by Nina of Lemons and Luggage
Wadi Rum is a breathtaking valley in the south of Jordan. It's located near the port city of Aqaba which has its own airport. From there, you can find a driver to take you to Wadi Rum or take the bus.
Due to its spectacular beauty, Wadi Rum has been a shooting location for various films from Lawrence of Arabia to The Martian. The landscape is often used in science fiction movies because it creates the feeling of being on another planet.
But don't worry, Wadi Rum is very real and can easily be visited. The best thing to do is stay overnight in one of the different Bedouin camps where you also learn about the local culture and get to enjoy the local food, including vegan Jordanian food for dinner and breakfast. One of the Bedouin guides will take you through the area on a jeep depending on how many hours you choose to book.
In order to make the most of your trip, it's best to book at least a four-hour jeep tour and stay overnight. The sunset in the desert and the stargazing opportunities at night are absolute musts when visiting this beautiful landmark.
Victoria Peak, Hong Kong
Recommended by Martha from May Cause Wanderlust
The city of Hong Kong covers over 200 islands as well as the mainland Kowloon peninsula – but the historic core of it's Hong Kong island. And the center of Hong Kong island is the magnificent Victoria Peak. At 552 meters high, Victoria Peak is the highest hill on Hong Kong island and the views from the top are nothing short of epic! 
To get there, go to Kennedy Road in the Central district of Hong Kong and take the historic Peak Tram, which is a funicular railway that will carry you up the steep mountainside. Even the ride itself is exciting, as you rise above the tall buildings which have been towering over you at ground level and the view starts to open up.  
From the observatory at the top of Victoria Peak, you can enjoy looking down on the skyscrapers of Hong Island, and beyond them, to Kowloon. You can also walk the Peak Circle Walk, to take in the views from all around the island. It takes approximately 90 minutes.
Top tip: Go towards the end of the afternoon so you can see the city as the light changes. There's nothing like Hong Kong's skyline at night.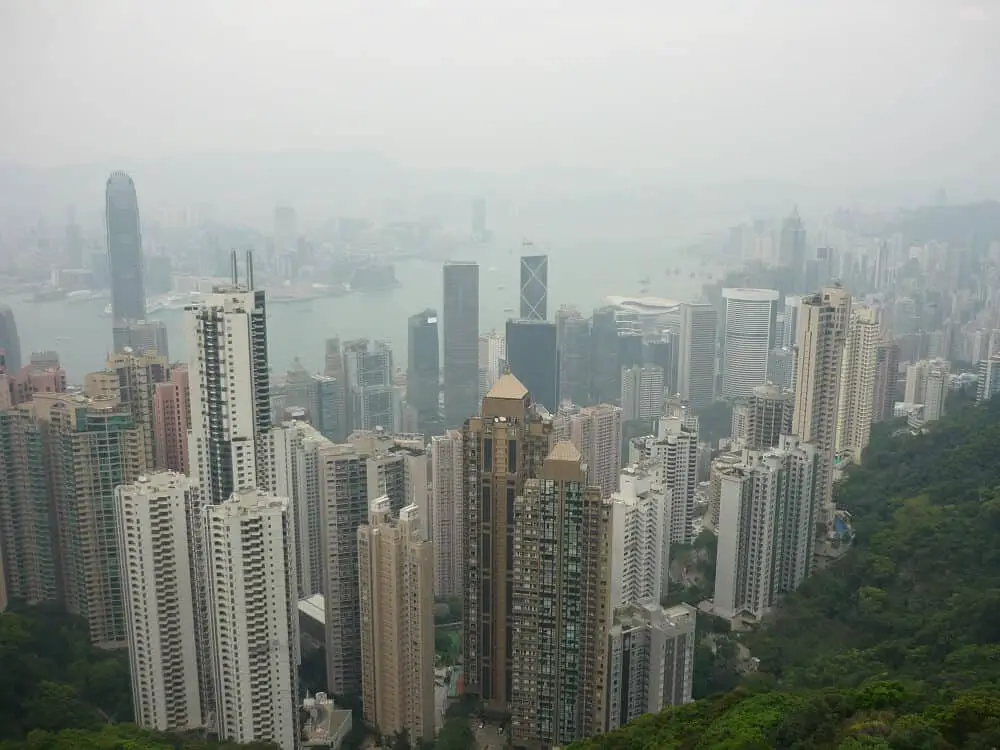 Hunza Valley, Pakistan
Recommended by Marco of Monkey Rock World
Set like a crown of snow-capped mountains in the extreme north of Pakistan, the Hunza Valley separates the far northern reaches of the Islamic Republic from the Xinjiang Province of China. The 4,693 meter-high Khunjerab Pass between the two nations is the highest land border in the world.
Pakistan's security situation has improved pretty much since 2018, and it's now much easier to get an eVisa and travel to the country. The Hunza valley is actually one of the safest areas of Pakistan.
Hunza's main call to fame is being crisscrossed by the mighty Karakoram Highway, which links Islamabad to Kashgar in China. Perfectly paved, it passes right by Hunza's incredible sights, such as the meeting point of the Himalayas, the Karakoram, and the Hindukush mountain Ranges, the shiny iced facade of Mount Rakaposhi, and the iconic Passu Cones, near which swings the hanging Hussaini Bridge, touted as the most dangerous in the world.
Near the village of Passu one can't miss the Passu and Batura glaciers. Hunza is also a springboard for journeys to other nearby valleys like Hopper (with a beautiful glacier), Shimshal, and Chapursan.
Inhabited by relaxed Ismaili Muslims, Hunza's main settlement is Karimabad, where most traveler accommodation is, and from where frequent mini buses travel to and from Gilgit-Baltistan main center of Gilgit. It's a long 18-hour bus trip or a direct flight to Islamabad, the first major city with an international airport.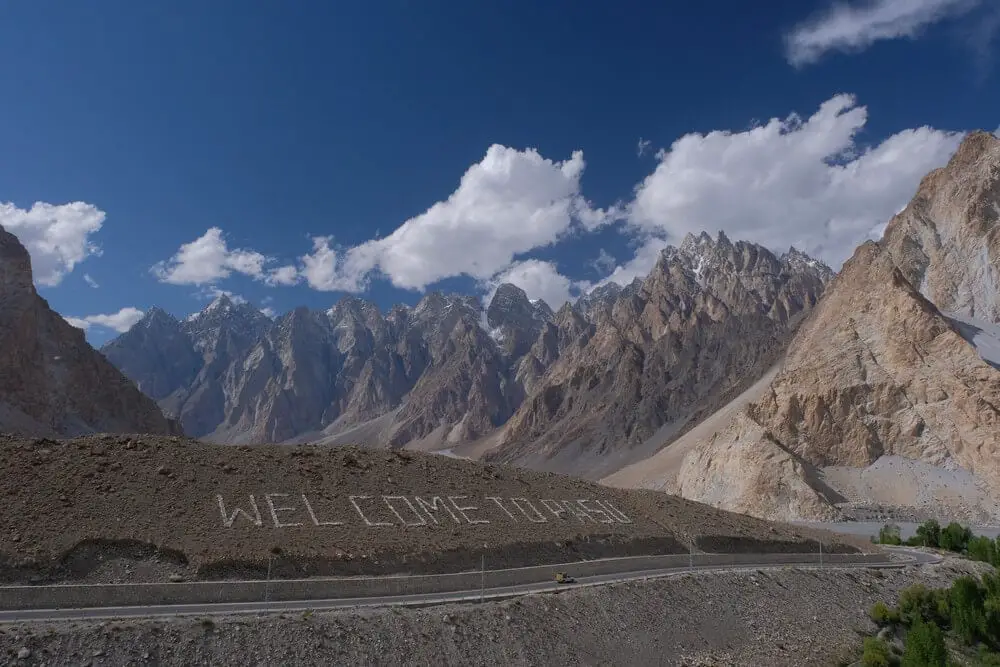 Kelingling Beach, Indonesia
Recommended by Stephanie of Let's Venture Out
Located off the east coast of Bali, Nusa Penida boasts many natural attractions. But the most popular one is Kelingking beach which is without a doubt one of the most beautiful landmarks in Asia!

To get there, you'll need to take a ferry from Bali to Nusa Penida and then rent a car or motorbike from Toya Pakeh harbor. Entrance is free but you'll need to pay IDR 5k for the parking fee. 
Enclosed by a huge T-Rex-shaped cliff, the beach features turquoise waters and a long stretch of powdery white sand dotted by rows of palm trees. Most tourists only visit the viewpoint area for a quick photo op but it's definitely worth hiking to Kelingking beach if you want to skip the crowds.
The steep trail goes along the T-Rex spine and is only recommended for those without a fear of heights.  Note that the waves are pretty rough so swimming isn't advisable. You can instead relax under the shade of palm trees or explore the small beach cave.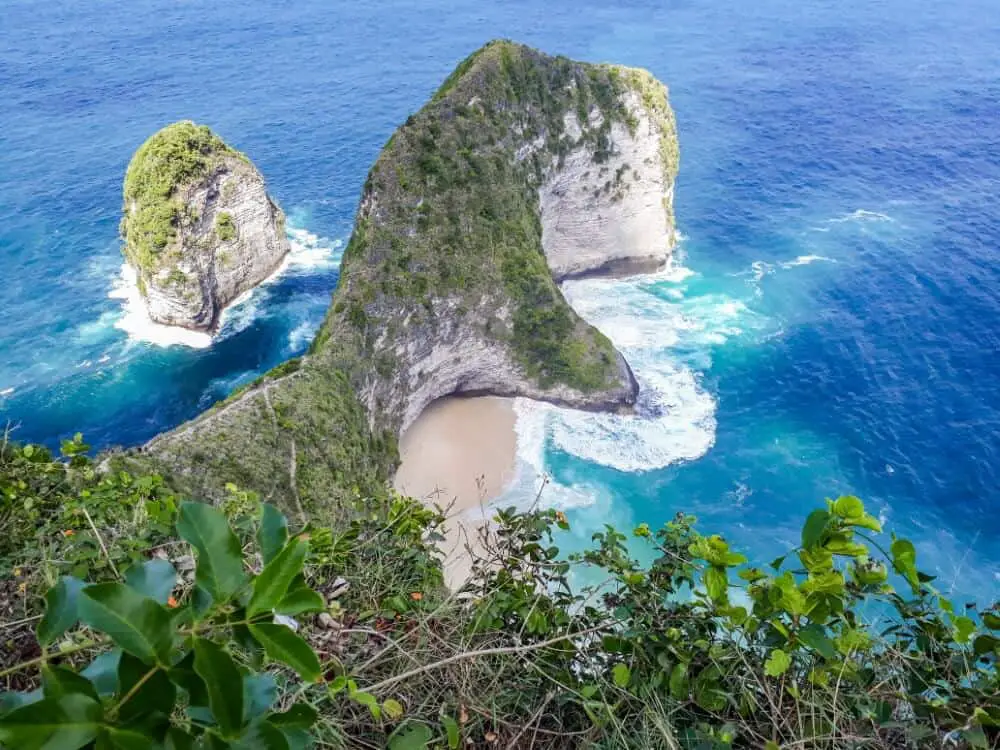 Mount Kinabalu, Malaysia
Recommended by Martina & Jürgen of PlacesofJuma
One of the most beautiful Asia landmarks is certainly Mount Kinabalu in Malaysia. This spectacular mountain is located in Sabah (Borneo) and is the highest mountain in the country with a height of 4,095 meters.
Since the year 2000, this natural landmark has been on the UNESCO World Heritage List and so tourists as well as hikers from all over the world come to climb the top of this unique natural landmark in Asia.
You need to plan 2 days for a hike to the summit, which is only allowed in guided groups starting mostly from the city Kota Kinabalu. Anyway, for that tour you don't need any special mountaineering skills, but you should have a certain basic level of fitness.
The special thing about a visit is definitely the ascent to the summit, where you can watch a spectacular play of colors just in time for sunrise.
In addition, a hike takes you through different landscapes and vegetation. For example, one marvels at deep jungles, discovers carnivorous plants, and on the top, enjoy a rocky rocky summit with the most incredible mountain views.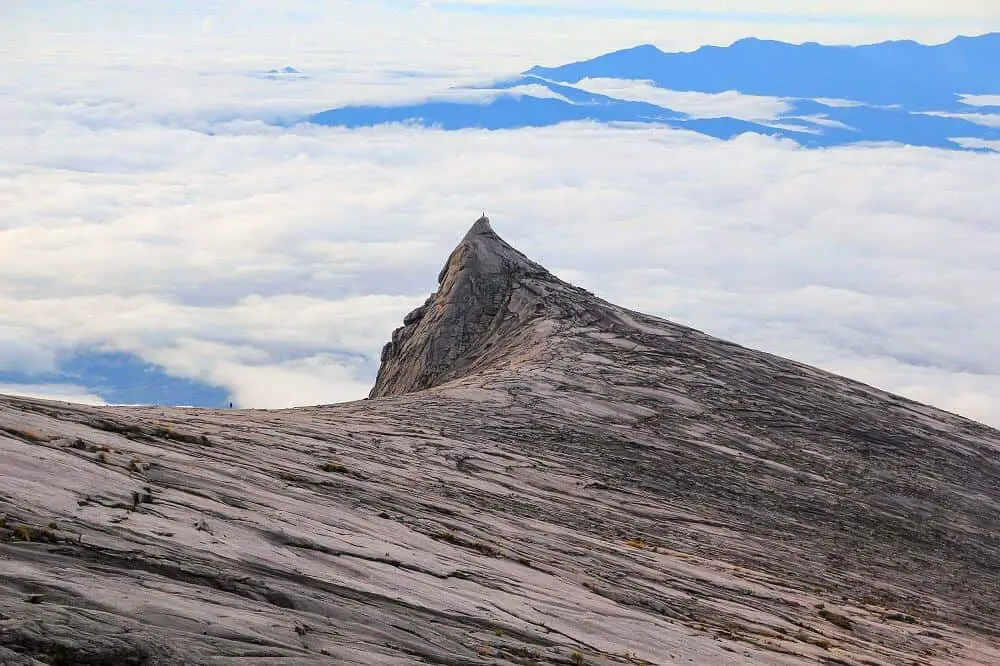 Tam Coc , Vietnam
Recommended by Shimona of Sidecar Photo
Tam Coc is a beautiful area, often called the Halong Bay on land, thus one of the best photo spots in Vietnam. Giant karsts rise above swaying paddy fields and ancient temples.
To get there, head to the town of Ninh Binh, only 2 hours out of downtown Hanoi. From the small town of Ninh Binh, it's easy to rent a bicycle to see a number of locations in town and explore the grand karsts. But to reach Tam Coc, it's better to rent a car due to the distance.
Once there, take a rowboat with one of the local boaters, through various cave formations in this fascinating area.
Finally, climb the mountain atop the Hang Mua Caves for incredible views of the river winding through the karsts. It's a bit of a walk but the views are spectacular, and it's worth waiting for sunset for this hike.
Gaze the other way for views of a little temple atop a mountain of stairs. Either way you look, it's seriously stunning and a definite must-see if you spend some time in Hanoi.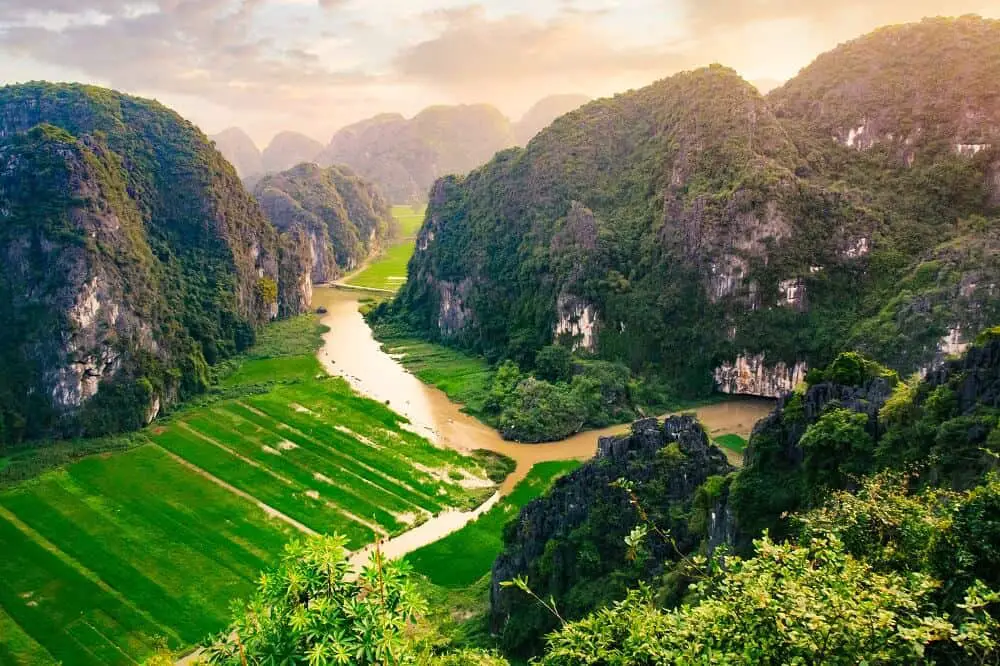 Zhangjiajie National Forest Park, China
Recommended by Ashley of Jetset Jansen
One of China's most breathtaking natural landmarks is the Zhangjiajie National Forest Park. The jagged rock columns jutting up through the forest are what inspired the remarkable landscape from the movie, Avatar.
The formations are truly unique whether you're staring up at them from the forest floor or taking a gondola through the columns that disappear in a cloud of mist.
Zhangjiajie is located in the central part of China in Hunan Province. Taking a flight into Zhangjiajie is your best option, but this area of China is definitely more remote to travel through. 
You can spend several days just exploring the park's trails and formations. There are lots of different areas to explore, including several with fear-inducing heights, like a see-through glass walkway with a plummeting drop.
But even if you choose to stay closer to the ground, you'll be able to experience the lush scenery and wild monkeys throughout the park. It's a definite highlight to see while traveling through China.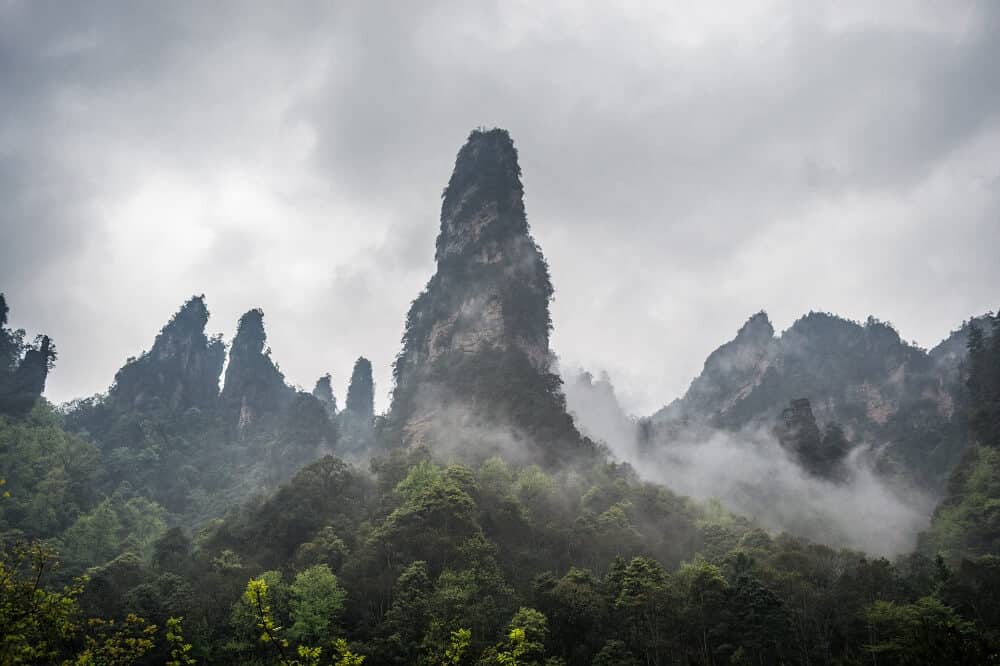 Mount Fuji, Japan
Recommended by Anne of Pretraveller
One of the most iconic places to both view and visit in Japan is the towering Mt Fuji.  Located only a short distance west of Tokyo, you can see it on a clear day from the high rooftops in Tokyo.  You should plan to get up close and personal during your visit to fully appreciate Japan's tallest mountain.
There are an endless number of viewing locations to view Mt Fuji, however the most popular destinations for tourists are on the eastern side of the mountain.  The northern town of Kawaguchi, where you can view Mt Fuji over the Five Lakes and locations such as Fuji Q Highland Theme Park.  The Kawaguchi landscape is very flat so you can see Mt Fuji from almost any location when the weather is clear.
Alternatively, another great option is to visit the southern region of Hakone – which by contrast is very mountainous and is a great area to have many other great experiences such as natural onsen baths, viewing the local volcanic action at Owakudani, art galleries and much more.  You can only see Mt Fuji from the northern and western parts of Hakone, including Lake Ashi.
If you are keen to actually climb to the top of Mt Fuji, the climbing season each year goes from 1 July to 10 September – you can either climb independently or do a tour.
There are many options to get to Kawaguchi and Hakone.  Local transport options include bus and train, as well as many day tour options to visit and view Mt Fuji from Tokyo as it's so close.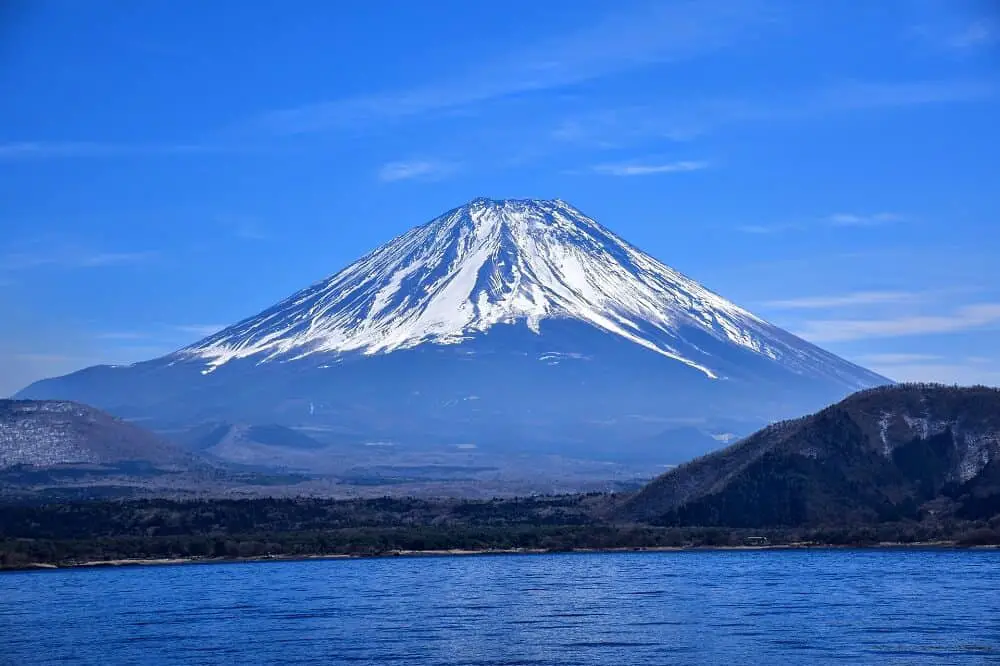 Rann of kutch, India
Recommended by Nilu of TheTravelingCA
The Great Rann of Kutch is one of the largest salt deserts in the world, yet a lesser-known landmark in Asia. It can be visited only during the winter season- November to February.
Located in Kutch, Gujarat, it's best visited on a full moon day to experience the moonlight reflecting off the salt & giving it that mirage look. The best time to visit these salt pans is in the morning or evening.
During the peak season, an entire township of Dhordo is set up with luxury tents, marketplace, cultural shows, travel arrangements etc.
Alternatively, you can stay in traditional mud houses called Bhungas – recreated for the modern traveler. Of course, the regular hotels are always there for the risk averse.
Bhuj is the nearest city with an airport & train connection. The Rann is about a 2-hour drive from there. It can also be reached via Ahmedabad, which is a bigger city. Mumbai city is an overnight journey & easy to connect to for the Rann of Kutch.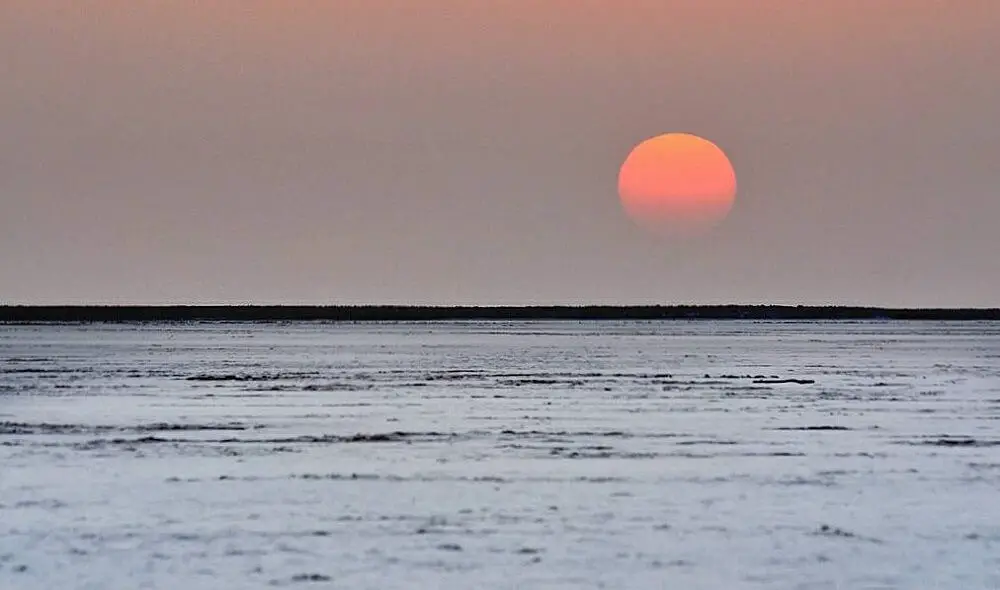 Humanmade Asia landmarks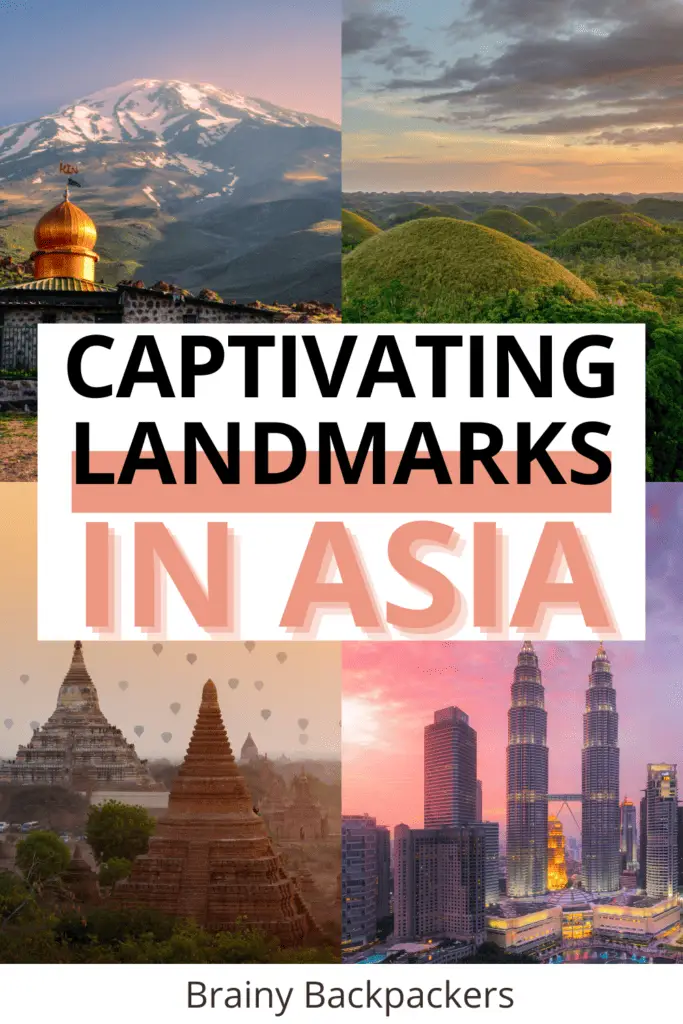 Angkor Wat, Cambodia
One of the most famous landmarks in Asia is without a doubt Angkor Wat in Siem Riep in Cambodia. It's also the world's largest religious monument, with over a thousand temples spreading across an area of more than 400 acres. It was built at the beginning of the 12th century and dedicated to Vishnu, the Hindu God. But by the end of the same century, it was made a Buddhist temple.
One of the temples, Ta Prohm, was filming location in the famous movie Tomb Rider. It's a temple overgrown by giant trees.
You should spend at least a whole day in Angkor Wat and it's recommendable to go by Tuc-Tuc to get around efficiently. Alternatively, you can rent a bike. But if you want to see more than the main sites, you should opt for a 2 or 3-day pass, though considerably more expensive.
The price for a one-day pass in 2021 was 37 USD. You need to keep your pass with you at all times as there are checks around the large temples.
Opening hours: 05:00-18:00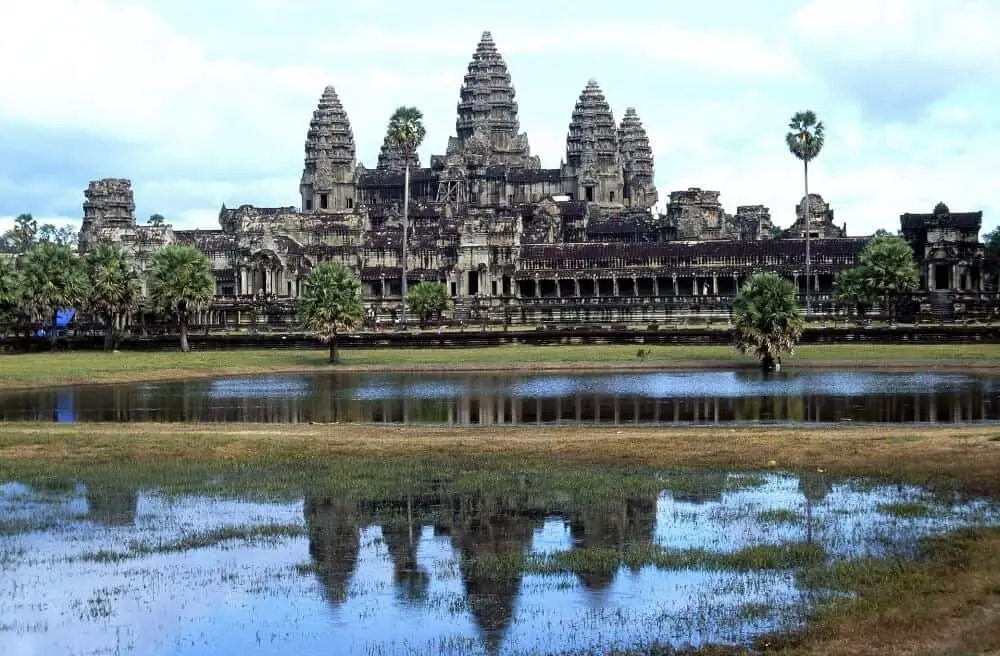 Bagan, Myanmar
Another famous landmark of Asia is the breathtaking Bagan in Myanmar. The UNESCO World Heritage Site expands over 104 square kilometers dotted with over 2200 remaining pagodas and temples, once 10 000.
Between the 9th and the 13th century, this was the capital of ancient Myanmar, then named Pagan Kingdom. For many years Myanmar (Burma) was closed to tourists, but in later years, this offbeat destination has started to bloom and now you can even see the site from above in a hot air balloon.
There are plenty of hotels and restaurants in Bagan and it's recommended to spend at least 2 or 3 days exploring the temples. It's best done by bike or electric bike. And the sunset is breathtaking from the pagodas!
There is now an entrance fee of 25 000 Kyats.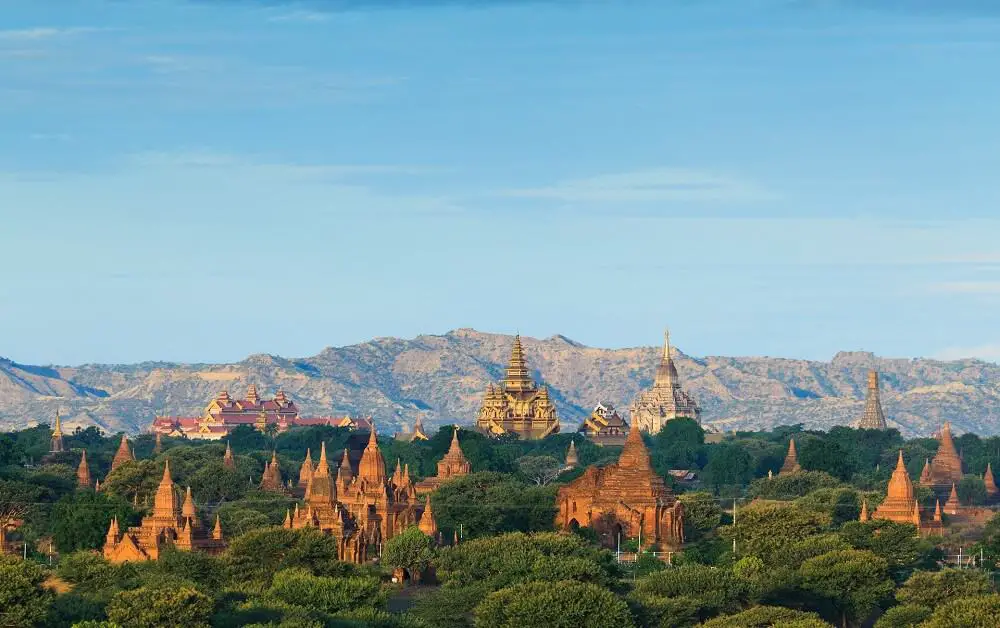 Batu Caves, Malaysia
Batu Caves are some of the most impressive natural monuments in Asia yet really easy to access by bus from Kuala Lumpur.
Guarded by a majestic, golden Buddha statue, the caves are reached by ascending a set of 272 stairs. In 2018, they were repainted in vibrant colors.
Once you enter the cave, you'll forget the climb up the stairs. With a 90-meter tall ceiling surrounding the remains of old buildings carved into the rock walls, and numerous Hindu shrines. At the end of the cave, up a short staircase, the ceiling opens up and lets bright rays of light in where the Sri Valli Deivanai temple is found.
Besides the Temple Cave at the top of the stairs, you can go on guided tours of the Dark Cave halfway down on the right side. This is a fun adventure with headlamps where you'll most likely see bats and maybe even some other smaller cave residents.
At the bottom, by a green Hanuman statue, there's yet another cave filled with shrines and statues.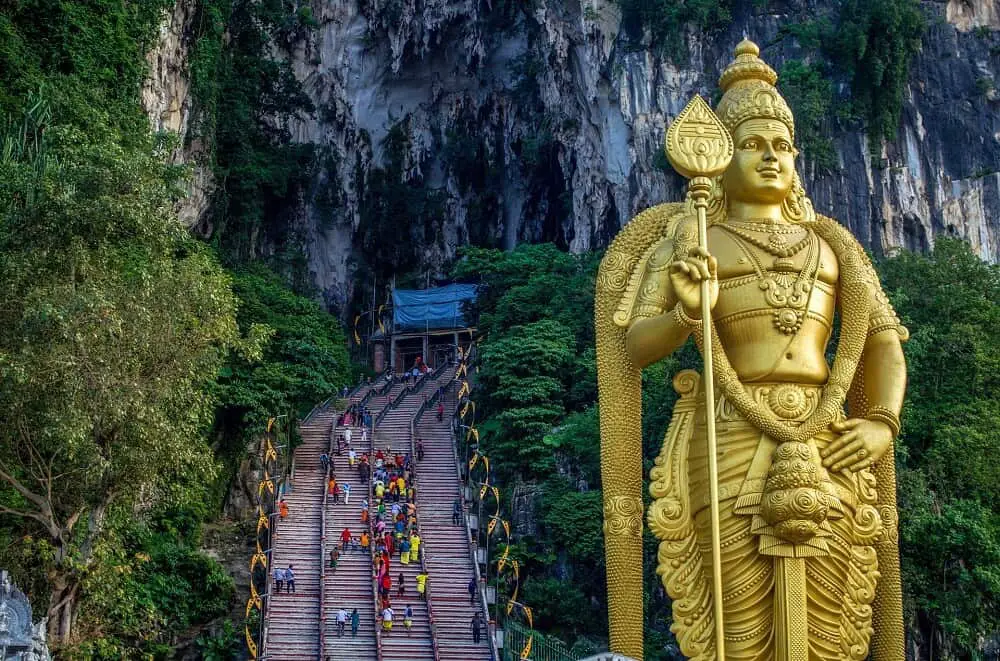 Taj Mahal, India
Taj Mahal is an Asia landmark that everyone has heard of and most people will have it on their Asia bucket list. The mesmerizing white marble mausoleum was declared a UNESCO World Heritage Site in 1983 and attracts millions of visitors each year.
The construction of the Taj Mahal started in 1631 and was finished 17 years later by the Mughal emperor Shah Jahan. The masterpiece was built in memory of his favorite wife where both her and his tomb are found.
Taj Mahal is situated in Agra, a city of Agra, about 210 kilometers south of New Delhi. You can get there by train in anything between 2.5 hrs and 3.5 hrs. Alternatively, you can book a car to drive you.
Once you arrive at Taj Mahal, there's a ticket booth where you can buy tickets. They cost about 1050 INR for foreigners and an additional 200 INR to enter the main mausoleum.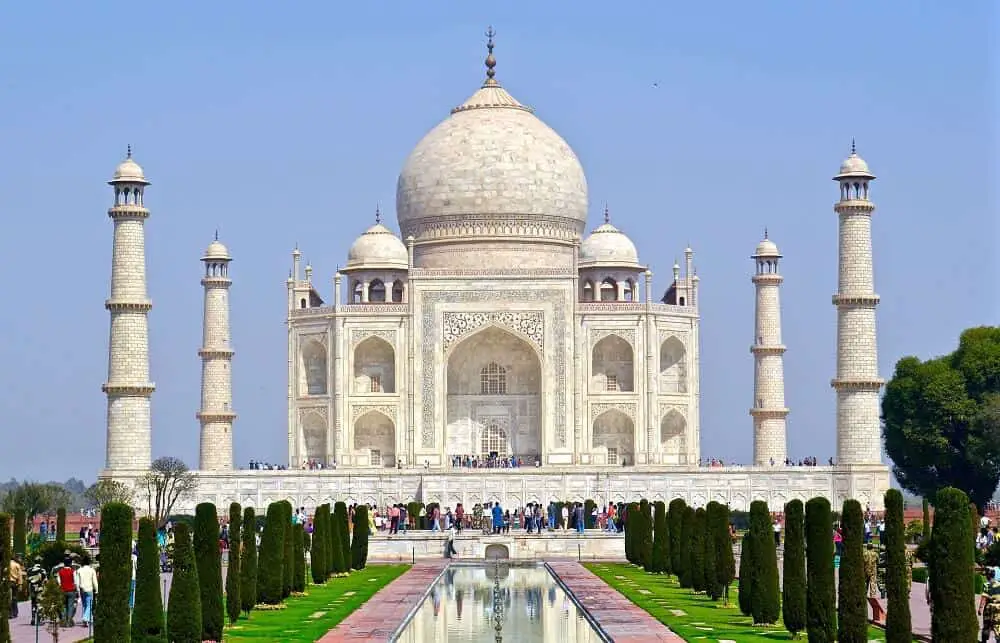 Grand Palace, Thailand
The Grand Palace is one of the top landmarks in Asia and a visit is one of the must-things to do in Bangkok. The massive building complex set in the heart of Thailand's capital started off as the residence of the King of Siam when it was built in 1782. Later, it became home to the Thai King and the Royal Court, as well as the royal government – for more than 150 years.
Now it's mainly a tourist attraction, though they do have ceremonies there on occasion.
To visit the Grand Palace, you need to respect the dress code where men have to wear long pants and women must cover their shoulders and have knee-long skirts or pants.
It costs 500 Baths for foreigners to enter the Grand Palace and it opens at 8:30 with the last entry at 15:30. It's recommendable to start the day at the Grand Palace once it opens to avoid the crowds that accumulate throughout the day.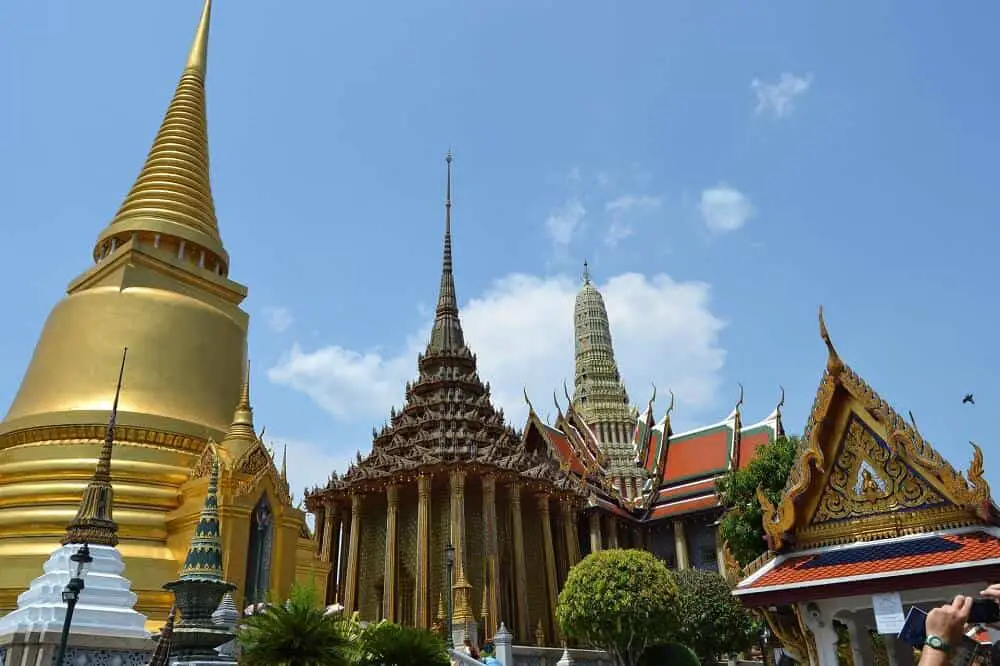 Naqsh-e Jahan Square, Iran
Naqsh-e Jahan Square in the heart of Isfahan is yet another impressive UNESCO World Heritage site. With it's 160×560 meters it's one of the world's largest squares and while it might not be one of the most famous landmarks Asia stands for, it's definitely a must-visit on your Iran itinerary.
Many of the best things to do in Isfahan are centered in and around the square. You'll find the impressive Shah Mosque towering on one end, beautifully decorated blue and gold. On each side, you find the Sheik Lotfollah Mosque and the Ali Qapu Palace.
Opposite of the Shah Mosque, is the main entrance to the Gheysarieh Bazaar. In a side alley through the bazaar, you can indulge in sweet tea in one of the most famous tea houses in the city, Azadegan Tea House. The busy place is jam-packed with antiques hanging on the walls and off the ceiling.
To get to Naqsh-e Jahan Square you can either take a bus or you can grab a Snapp! (equivalent to Uber) or a taxi. You can read everything you need to know before traveling to Iran here.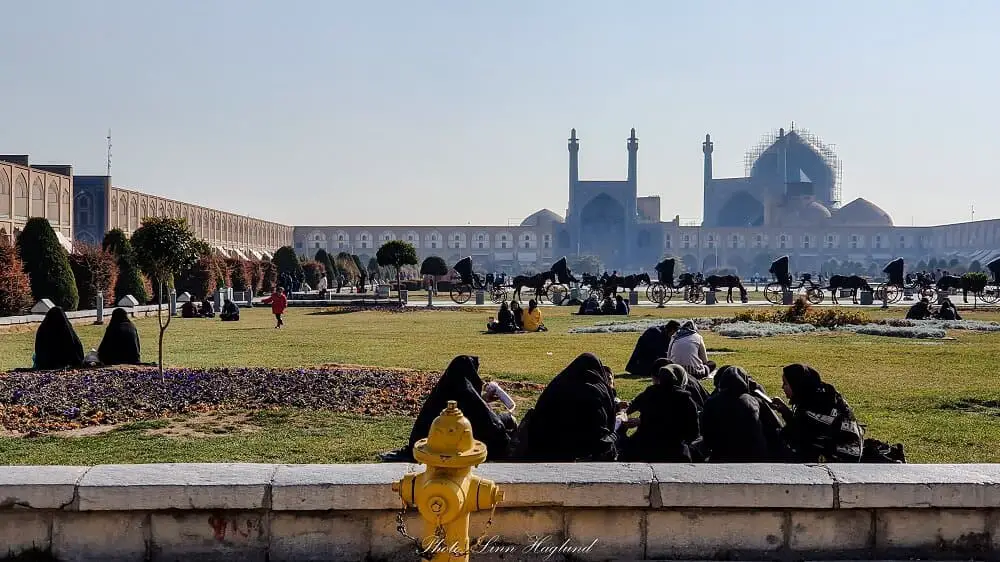 Sukhothai Historical Park, Thailand
Sukhothai Historical Park is part of a UNESCO World Heritage site about 445 kilometers north of Bangkok. The park contains more than 70 ruins, the remains of what used to be a huge kingdom, and in 1300, much bigger than today's Thailand.
It was the king of the Sukhothai Kingdom that introduced the same monarchy and Buddhism form that Thailand practices today. So Sukhothai is pretty much the foundation of today's Thailand. Exploring the temples and Buddha statues throughout the park is a must on any north Thailand itinerary.
There's no denying, with the influence it's had, Sukhothai Historical Park is one of the most important landmarks in Thailand. The 72 square meter is best explored by scooter or by bike. Either can be rented in Sukhothai right outside the park entrance or you can book a guided tour to learn more about the site.
Sukhothai has a small airport with daily arrivals from Bangkok. Alternatively, you can take the bus from most major cities in Thailand. The entrance fee to Sukhothai is 500 bath for admission to the whole park.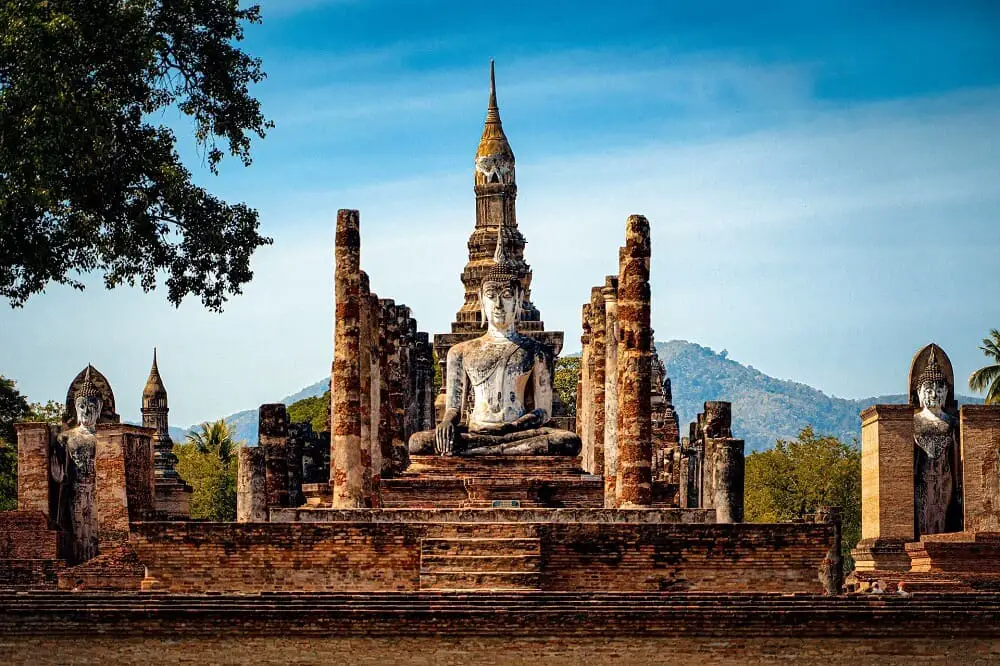 Petronas Twin Towers, Malaysia
The iconic Petronas Twin Towers in Kuala Lumpur are without a doubt some of the most famous buildings in Asia. Between 1998 and 2004, the 88-story towers held the title of the world's tallest buildings with their 451,9 meters.
They are to date still among the most popular tourist attractions in Malaysia's capital city. The towers are built in a postmodern architecture style featuring Islamic design due to the major Muslim population in the country.
On the 41st floor, they're connected with a 58-meter-long double-decker bridge that can be visited by tourists. You can visit the observation deck on the 86th floor for amazing city views and see a digital exhibit of the towers' history.
Don't miss out on seeing the towers at night when they beautifully light up. There are several restaurants and bars within walking distance from the tower that you can go to after you've soaked in their grandeur at night.
Opening hours: 09:00-19:00. Friday it's closed from 13:00-14:30 for prayers.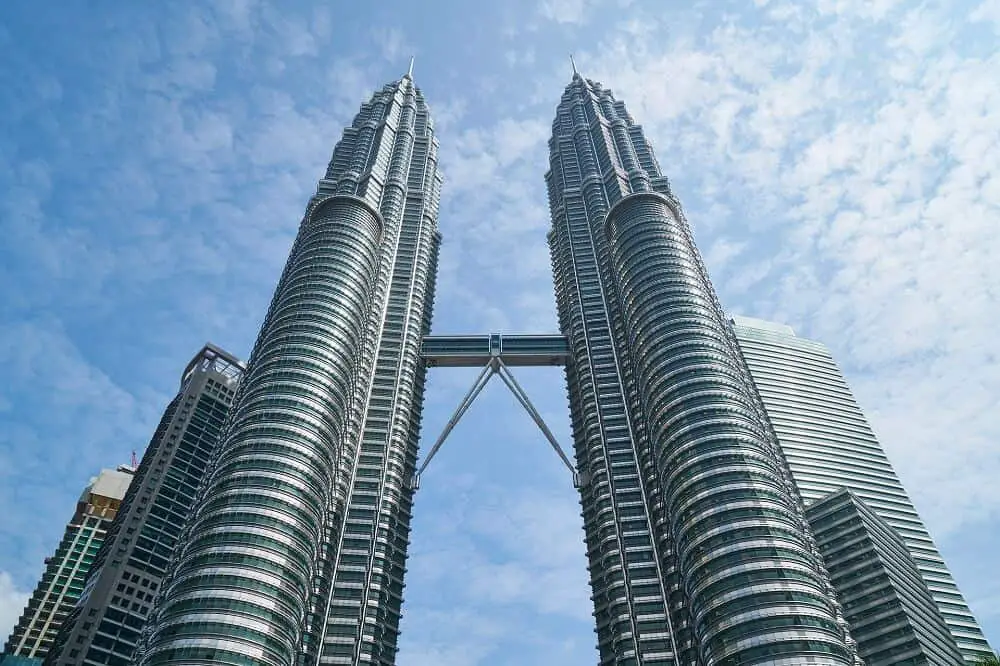 Shah-i-Zinda, Uzbekistan
Recommended by Daniel and IIona of Top Travel Sights
The Shah-i-Zinda in Samarkand is one of the most beautiful landmarks in Uzbekistan. The oldest mausoleums in this complex date back to the 11th century, and for 800 years, the inhabitants of Samarkand added more ritual buildings and tombs.
The blue mosaics and tiles make the Shah-i-Zinda one of the most outstanding sights in Asia. To respect local traditions, make sure to cover your knees and shoulders when visiting. For many visitors, the necropolis is an important religious pilgrimage site.
The legend goes that Qusam ibn-Abbas, a cousin of Prophet Muhammad, rests in these mausoleums. He brought Islam to the region in the 7th century but, according to the tale, was beheaded for his faith. Instead of dying, Qusam picked up his head and walked off into the Garden of Paradise, where he still lives today.
You can find the Shah-i-Zinda close to the center of Samarkand, around 2 kilometers from the Registan. Walking takes approximately half an hour. If you visit in summer, consider arriving as early as possible to escape the heat.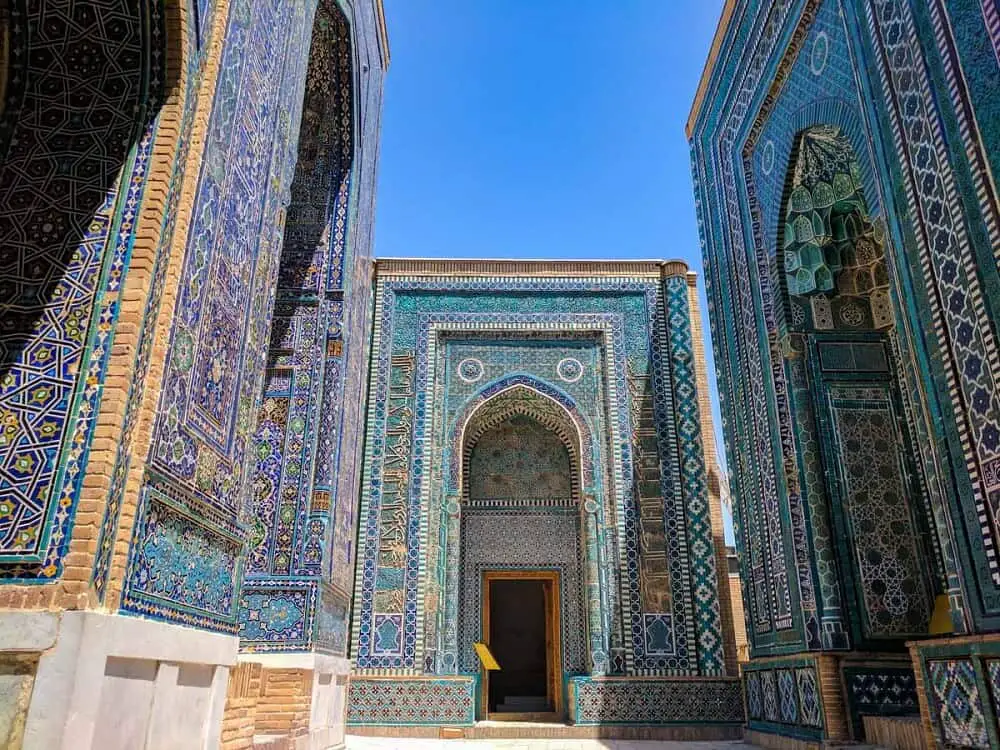 Sheikh Zayed Grand Mosque, United Arab Emirates
Recommended by Matilda of The Travel Sisters
The Sheikh Zayed Grand Mosque in Abu Dhabi is a must see when visiting the United Arab Emirates. The gleaming architectural marvel is one of the world's largest mosques and a stunning place to explore and take photographs both in the daytime and evening.
The breathtaking mosque is known for its bright white marble exterior (including 4 minarets and 82 domes of different sizes), its massive courtyard featuring one of the largest marble mosaic artworks in the world, surrounding blue-tiled reflective pools, and thousands of columns decorated with intricate floral mosaics and gold.
The interior is also impressive with notable features including huge Swarovski crystal chandeliers and the world's largest hand-woven carpet in the main prayer hall.
Although it's a major tourist attraction, the Sheikh Zayed Grand Mosque is a functioning place of daily worship. Visitors are expected to adhere to the mosque's rules including the dress code, not speaking loudly, and being respectful when taking photos.
Visiting the mosque is easy as it's located on the outskirts of Abu Dhabi close to the airport. While there is a bus service within walking distance, it's more convenient to drive or take a taxi or ride-sharing service.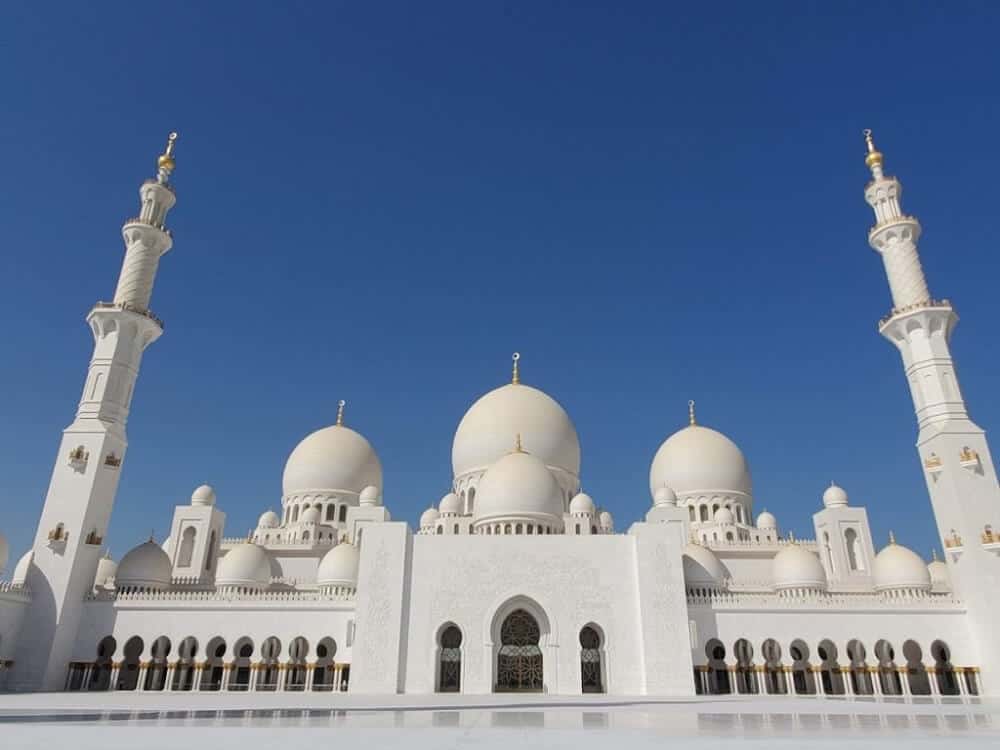 My Son Sanctuary, Vietnam
Recommended by Ingrid of Ingrid Zen Moments
As you make your way through the jungle of Central Vietnam, you'll get a first-hand taste of rural life and authentic settlements. Tucked away in the middle of the jungle, literally forgotten for hundreds of years, lies My Son Sanctuary, a UNESCO World Heritage Site, dating from anywhere between the 4th to the 13th centuries.
The sanctuary has Hindu roots and has been built and inhabited for centuries by the Champa civilization who have used it for religious ceremonies and as a burial place for royalty and national heroes.
At first sight, the impressive structures might make you think of Angkor Wat, and for good reason since the settlements are linked to the same civilization. Stroll through the hot and humid forest and admire the structures devoted to Hindu gods and goddesses, and step back in time to a whole different world.
You can get there easily from Da Nang or Hoi An, either by riding a motorbike or by booking an organized tour.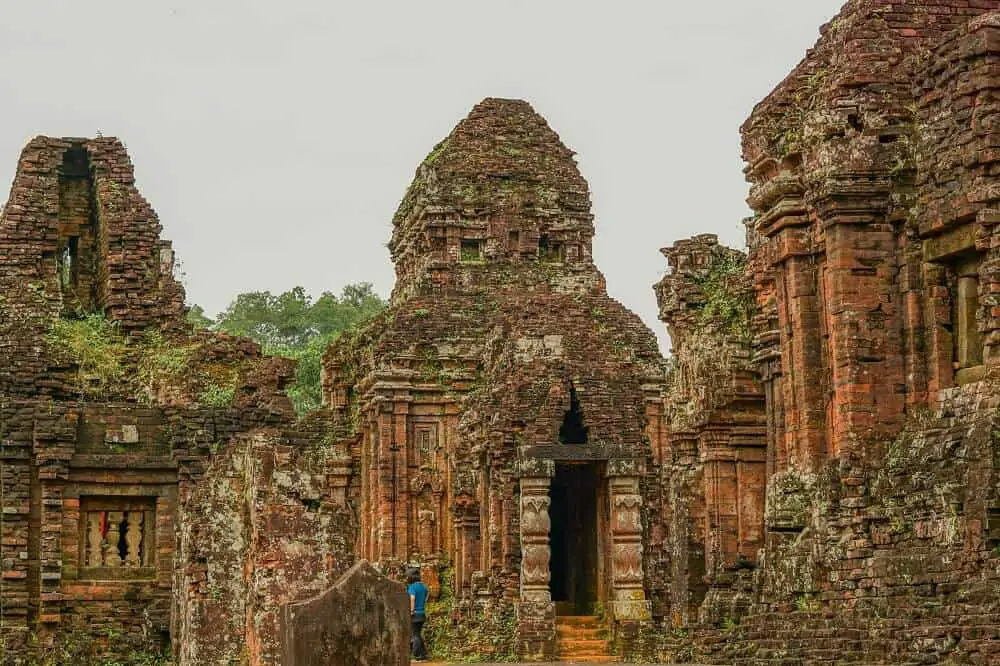 Tiger's Nest, Bhutan
Recommended by Pooja of Fairytale Studios
Paro Taktsang, popularly known as the Tiger's Nest, is a Buddhist monastery located on the outskirts of the Paro district in Bhutan. The monastery sits on the edge of an impossibly steep and rocky cliff 800 metres above sea level.
You have to hike for about 3 kilometers one way on a terrain that's dotted with colorful prayer flags and blooming rhododendron trees. After about 1.5 hours of hiking, you reach a viewpoint from where you get a fantastic view of the clinging white monastery with a red and gold roof.
The Tiger's Nest monastery features four Buddhist temples, eight caves, and residential quarters for monks. Make sure that you dress appropriately in fully covered clothes, or else you won't be allowed to enter the Paro Taktsang.
Once inside, you can explore the nooks and corners of the monastery and spend as much time as you like. There are a few viewpoints from inside the monastery that offers stunning views of Paro Valley.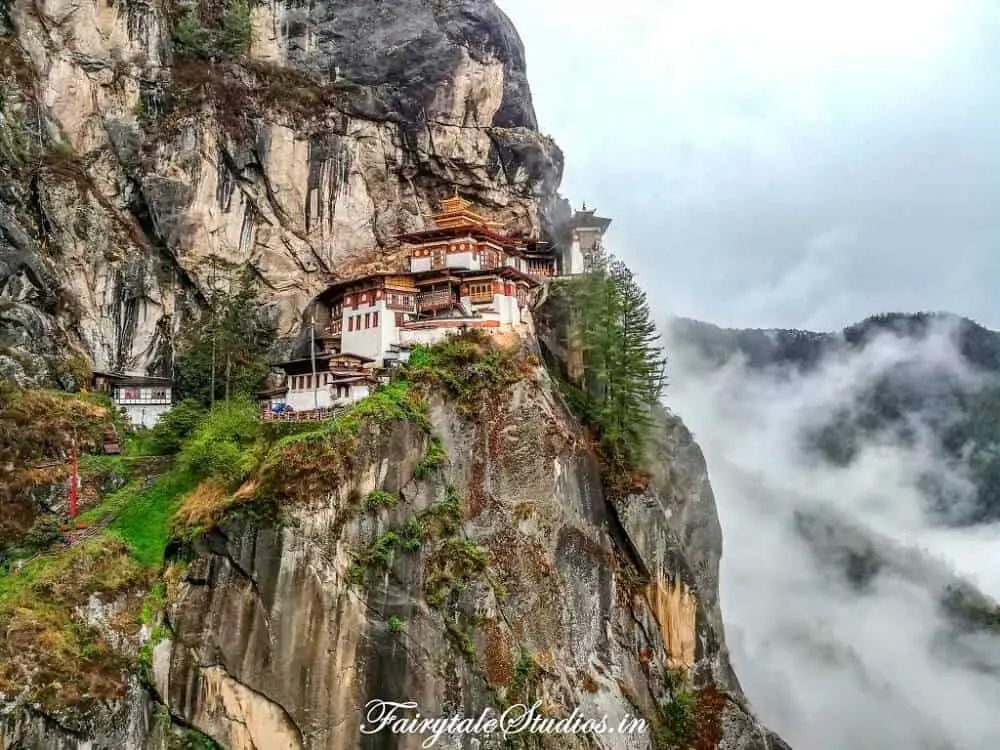 Sigiriya Rock, Sri Lanka
Recommended by Kerry of VeggTravel | Adventure Awaits
If you're visiting Sri Lanka, you must make a journey to see the beautiful Sigiriya Rock (Lion Rock). Once an old fortress, Sigiriya Rock is now a UNESCO World Heritage Site and one of the most beautiful monuments of Asia.
Standing at over 349 meters tall, it's no easy feat to get to the top of the rock. There are several staircases and steps to climb, winding in and out of interesting rock shelters and caves.
About halfway up, you'll encounter the remnants of a brilliant lion which signifies the gateway to the King's palace and is the symbol from which this rock was named.
The higher you get, the more you'll see colorful and enchanting frescoes from the old palace. When you reach the top, you don't just have amazing views, you'll also have an ancient kingdom and historical monetary to discover.
Sigiriya Rock is in the Matale District near the town of Dambulla in the Central Province. If you've rented a car, you can drive here easily from several locations. Otherwise, a public bus from Dambulla will take about an hour. A private driver or organized tour is also an option.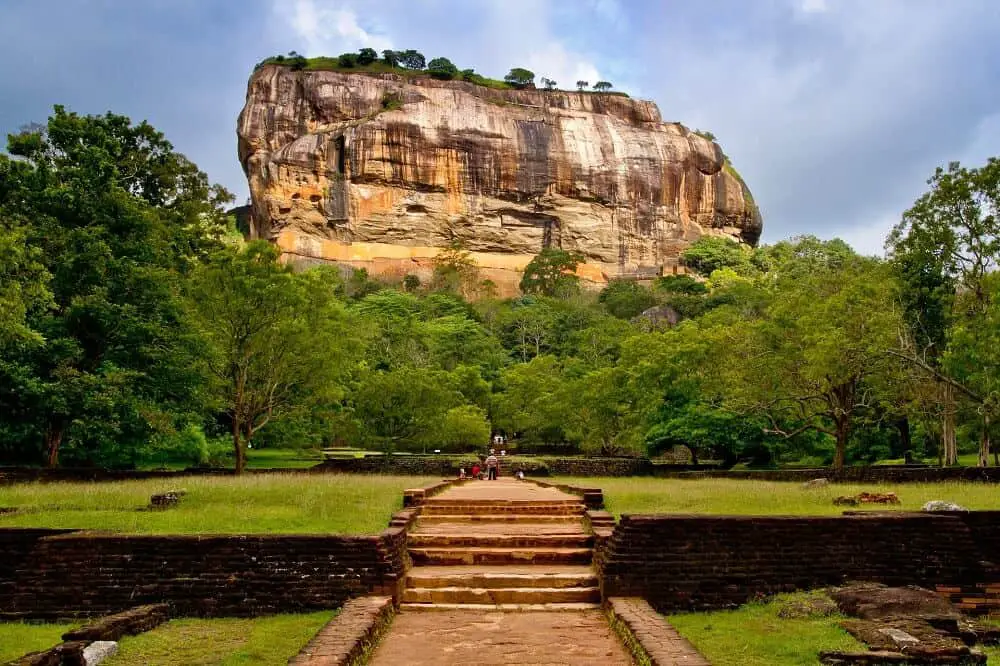 Terracotta Army, China
Recommended by De Wet & Jin of Museum of Wander
The Terracotta Army near the city of Xian is an incredible sight to behold. It's one of the most popular places to visit in China, and visitors wishing to see one of the most famous landmarks in Asia should definitely not miss it.
The clay army contains thousands of life-sized soldiers, horses, and chariots. As impressive as the numbers are, the fact that each soldier has individual facial features, clothing, and hairstyles are mind blowing. And to think that all of this was created more than two thousand years ago!
The Terracotta Army is an exact replica of that of Emperor Qin Shi Han who ruled over China around 259 BC. As the emperor who united China, he wanted to show a united country. The result is a funerary army showcasing one army, made up of various tribes and clans accompanying the emperor in his afterlife.
It's easy to visit the Terracotta Army independently from Xian. Blue buses (Terracotta Warriors written in English on the sides of the bus) leave regularly from outside Xian railway station. It takes about an hour to reach the army from Xian. Alternatively, join a guided tour.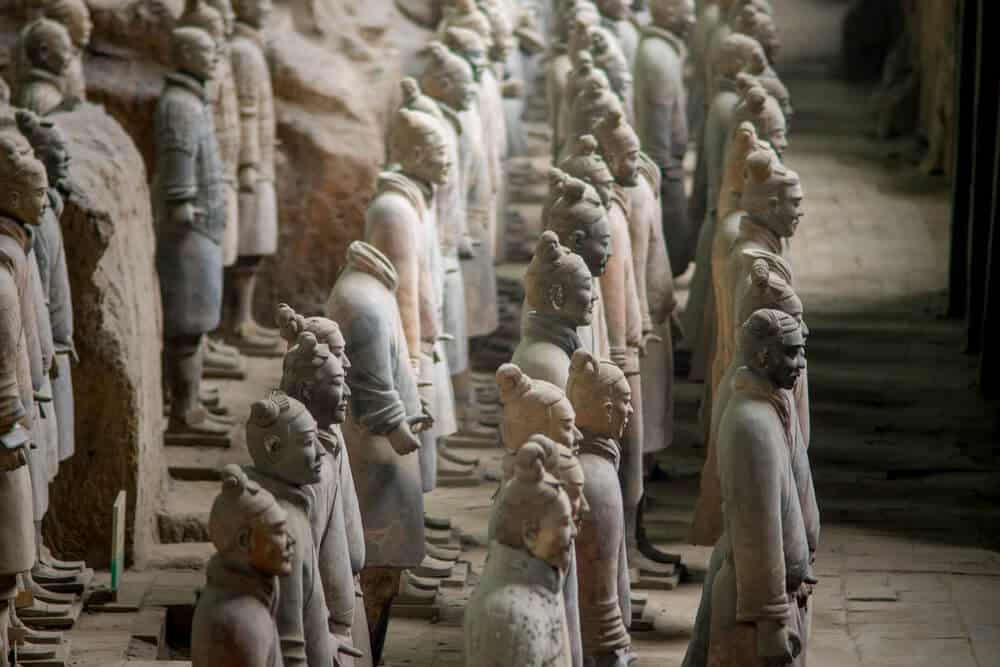 Grand Torii of Miyajima, Japan
Recommended by Alyse of The Invisible Tourist
One of Japan's most iconic scenes is a vermilion torii gate floating gracefully upon the waters of Hiroshima Bay. Although it's not the original, this very spot on Miyajima island has been home to a Grand Torii since 1168 AD. The torii belongs to the ancient Itsukushima Shrine, which dates back to 593 AD.
The beautifully preserved shrine complex is a UNESCO World Heritage Site and its torii is one of the most photographed landmarks in Asia. The shrine also appears to float at high tide, seemingly separated from the land.
Visiting the Grand Torii is considered one of the most worthwhile things to do in Hiroshima because of its sacred history. Only 45 minutes on a direct ferry from Hiroshima Peace Park, its close proximity to the city makes it a great day trip.
While some may argue it's a must to visit during high tide, there is a benefit to journeying to Miyajima even if the tide has gone out. This opportunity allows for viewing the Grand Torii up close, with the ability to walk beneath it and admire its beauty.
Despite being customary to leave coins at the shrine, in recent years tourists began wedging coins into the torii's delicate wood. This caused significant damage. It's highly advisable to leave any coins in a collection box at the shrine instead of on the torii itself.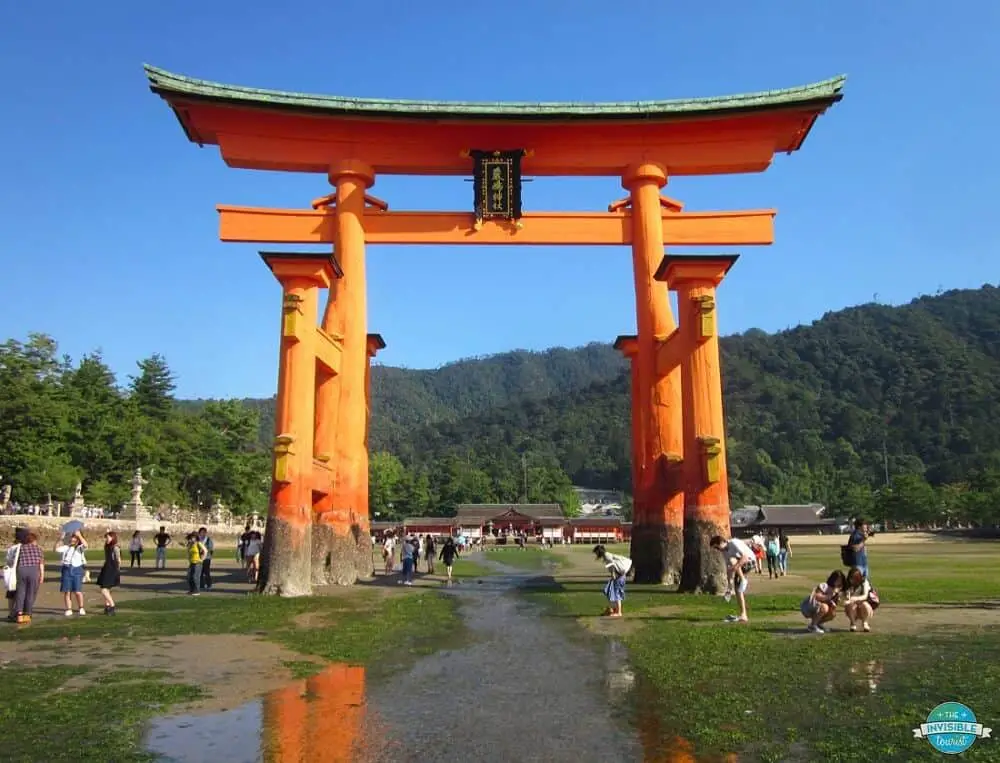 Tegallalang Rice Terrace, Indonesia
Recommended by Roxanne of Faraway Worlds
The Tegallalang Rice Terrace is a UNESCO World Heritage site where rice paddies cascade down the hill and are worked by local rice farmers, using the traditional Subak irrigation techniques.
The terraces provide a beautiful setting and are very photogenic, framed by the jungle in the distance. As a result, they can also become very crowded with visitors and there are a number of people selling souvenirs or encouraging photos for a small fee.
Exploring the rice terrace takes a couple of hours, with trails through the paddies, as well as jungle swings and a zipline. The famous "Love Bali" swing is also on this terrace and is usually surrounded by people waiting to take a photo on it.
For a quieter experience on the rice terrace, visit before 9 am in the morning or have lunch at one of the restaurants on the north side of the terrace. They are generally relatively quiet and still have stunning views over the rice paddies.
The Tegallalang Rice Terrace is a 20-minute drive north of Ubud and is an easy outing during a holiday or yoga retreat in the area.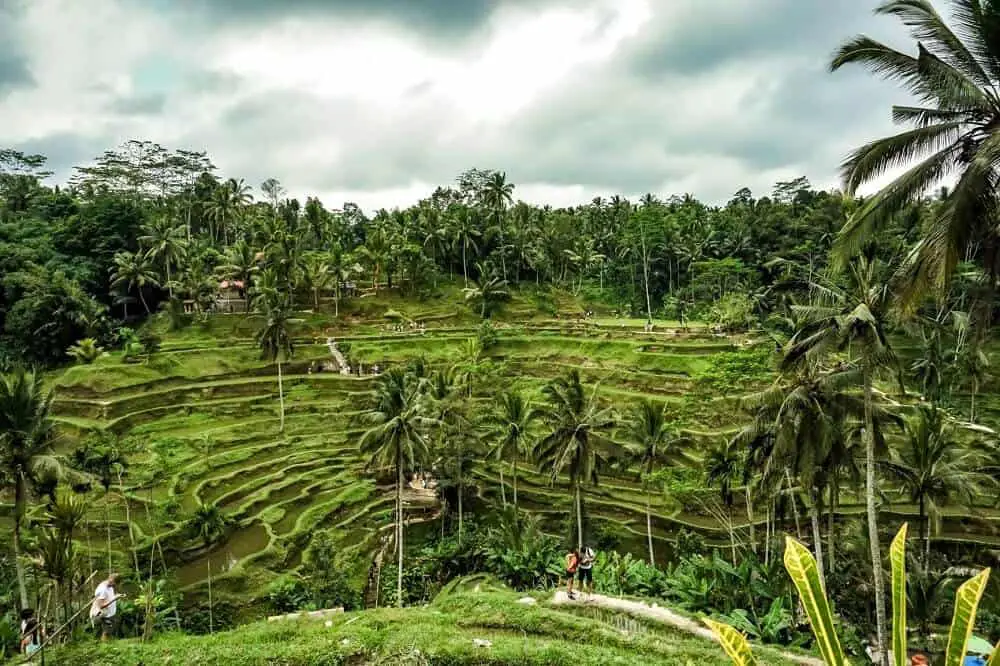 Gardens by the Bay, Singapore
Recommended by Sunetra of Globetrotting Su
Another famous landmark in Asia is the Gardens by the Bay in Singapore, showcasing the futuristic and awe-inspiring Super-trees overlooking the famous Marina Bay Sands.
These sustainable vertical gardens are designed to harvest solar energy while housing thousands of species of plants. At night, these gigantic Super-trees transform into a magical fairyland with an enchanting display of light and sound.
Spanning over 250 acres of reclaimed land, Gardens by the Bay has several attractions and boardwalks across the garden that will mesmerize every kind of traveler.
With innumerable photo spots in Gardens by the Bay, this is also the most favorite landmark among photographers in Singapore. Some of the beautiful, must-visit places include Supertree Grove, Cloud Forest, Flower Dome, and Floral Fantasy.  
Although a few attractions in this garden require an entrance fee, Gardens by the Bay is overall free to visit and open daily between 5 AM and 2 AM.
It's situated in the heart of the city and hence very well connected with all modes of transportation like taxis, buses, and subway (MRT). Do not miss the free musical show called Garden Rhapsody that takes place every evening at Super-tree Grove.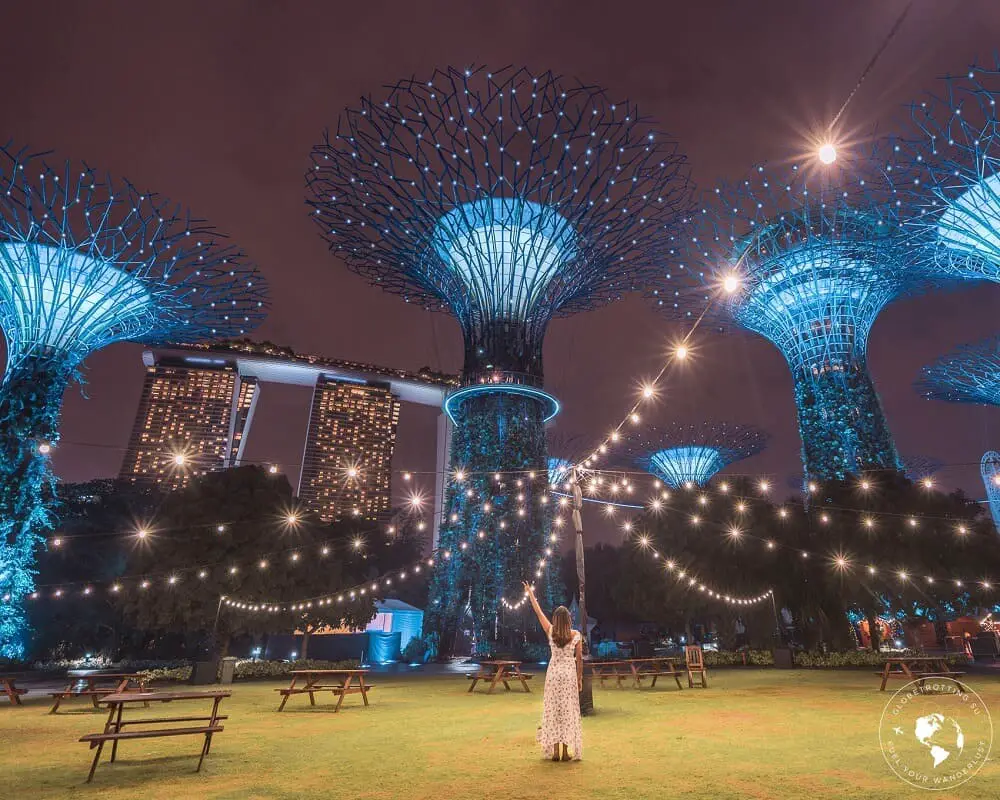 Ancient City of Polonnaruwa, Sri Lanka
Recommended by Soumya of Stories by Soumya
One of the most beautiful yet lesser-known monuments of Asia is the ancient city of Polonnaruwa in Sri Lanka.
Polonnaruwa was an illustrious capital city between the 11th – 13th centuries and also a thriving center for Buddhism. Many stunning monuments including the Sacred Quadrangle, the Gal Vihara, and the Royal Palace were built during this time.
Parakramabahu, a famous Polonnaruwa king, also built a massive reservoir called Parakrama Samudra to deal with Sri Lanka's water crises. Even today, this water reserve forms the lifeline of the area around the ancient city.
Life in Polonnaruwa was prosperous. Trade, agriculture, and religion flourished.
Today, you can catch a glimpse of the glorious times through the ruins of the ancient city that were declared a UNESCO World Heritage Site in 1982.
Be sure to check out the Vatadage (an impressive circular shrine) in the Sacred Quadrangle and the monumental statues of Buddha at Gal Vihara. Also, drop in at the museum for a deep dive into Polonnaruwa's history.
The archaeological site is open between 7 am – 5:30 pm every day. It's highly recommended that you visit early in the morning or later in the day because midday can get super hot in Central Sri Lanka.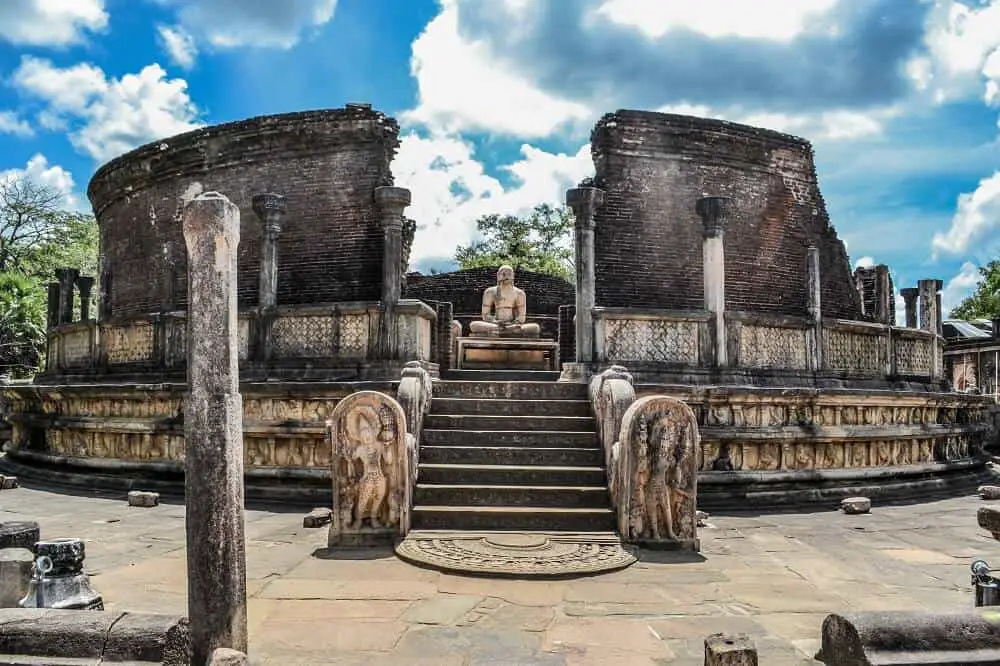 Al-Shaheed Monument, Iraq
Recommended by Christian of Unusual Traveler
In Baghdad, the capital of Iraq, you find one of the most impressive monuments in the Middle East. A monument that was off-limit for foreign tourists for years, but after the security situation in the country has improved recently, tourists can once again visit the Al-Shaheed Monument (Martyr's Memorial.)
The monument, which opened in 1983 in memory of the Iraqi soldiers who died in the Iraq-Iran war from 1980-1988, is built in the middle of a small lake.
The two halves of the 40-meter tall split blue dome hold an eternal flame in the middle together with an Iraqi flag.
Underneath the monument, there's an artificial waterfall and a small museum in memory of the Iraqi soldiers who died during the eight-year war between Iran and Iraq.
The Al-Shaheed Monument is a highlight on all trips to Baghdad, while it's open for everyone these days, it can take a bit of persuasion from the local security guards to let you inside as security in Baghdad is still pretty tight.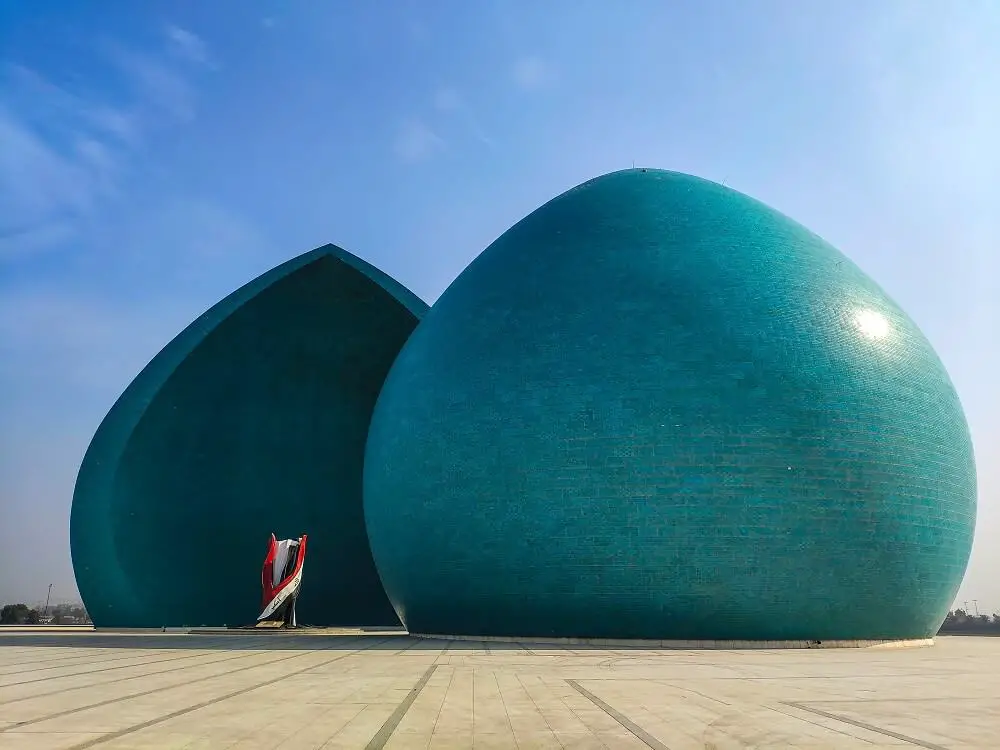 Make sure you pin it for later!