With more than 7000 islands, many of them covered in lush green jungle, there is no doubt there are a lot of incredible waterfalls in the Philippines. You are likely to stumble over one or two breathtaking cascades no matter which island you find yourself on, and there is no denying some of the most beautiful waterfalls in the world are in the Philippines.
Personally, I fell in love with the waterfalls of one specific island, but there are so many more to explore so I wanted to make it easier for you to choose where to go if you love chasing waterfalls just as much as I do.
I asked some travelers to pick out their favorite waterfalls in the Philippines too, and the results are amazing. Get ready to explore!
Disclosure: This post may contain affiliate links. That means that if you make a purchase through one of those links, I will get a small commission at no extra cost to you. If you have any questions about these services or products, feel free to ask me.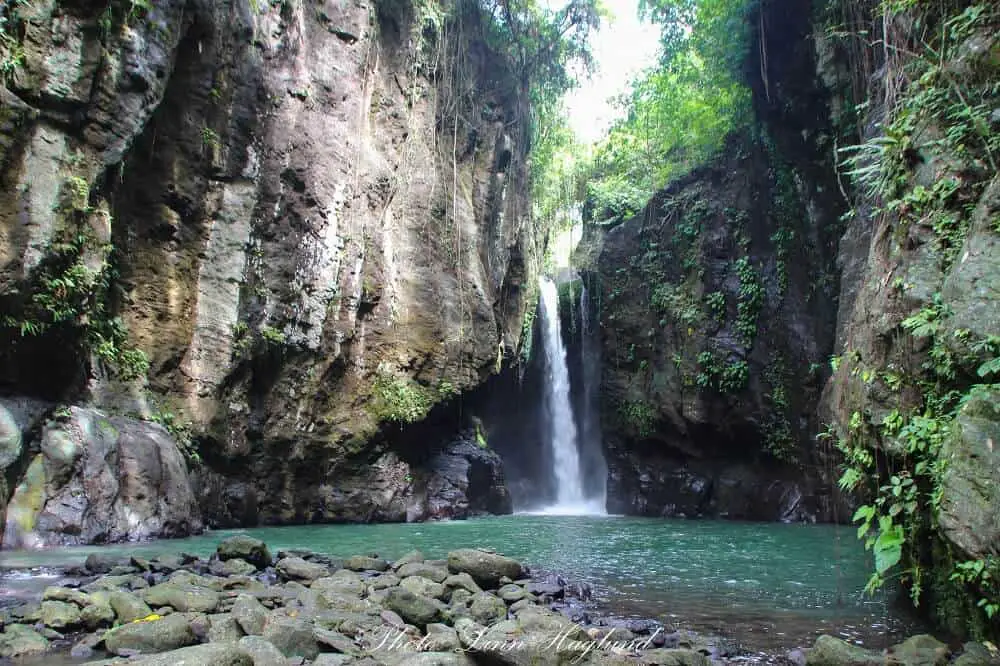 Beautiful waterfalls in the Philippines
There are so many beautiful waterfalls in the Philippines that is is hard to know where to start. I totally fell in love with the waterfalls in Biliran and will start with a couple of my favorites from the island before I leave the word to fellow travel bloggers.
Bagongbong Falls, Biliran
Nestled deep in the jungle in Biliran, you find Bagongbong Falls, probably some of the most beautiful waterfalls I have been to. It definitely wins the prize of the best waterfalls in the Philippines if you ask me. Mainly because of the incredible walk to get there and the fact that there were no other tourists around when I visited. In fact, there were no locals to be seen either.
You need a scooter to get there and once you park it, there is about half an hour to walk through thick jungle. The path ends in a staircase leading down to the waterfall. The pool is surrounded by tall cliff walls on three sides while the water continues down the river below where it disappears into the lush green jungle.
Bagongbong waterfall is an incredible piece of paradise on an off the beaten track Philippine island.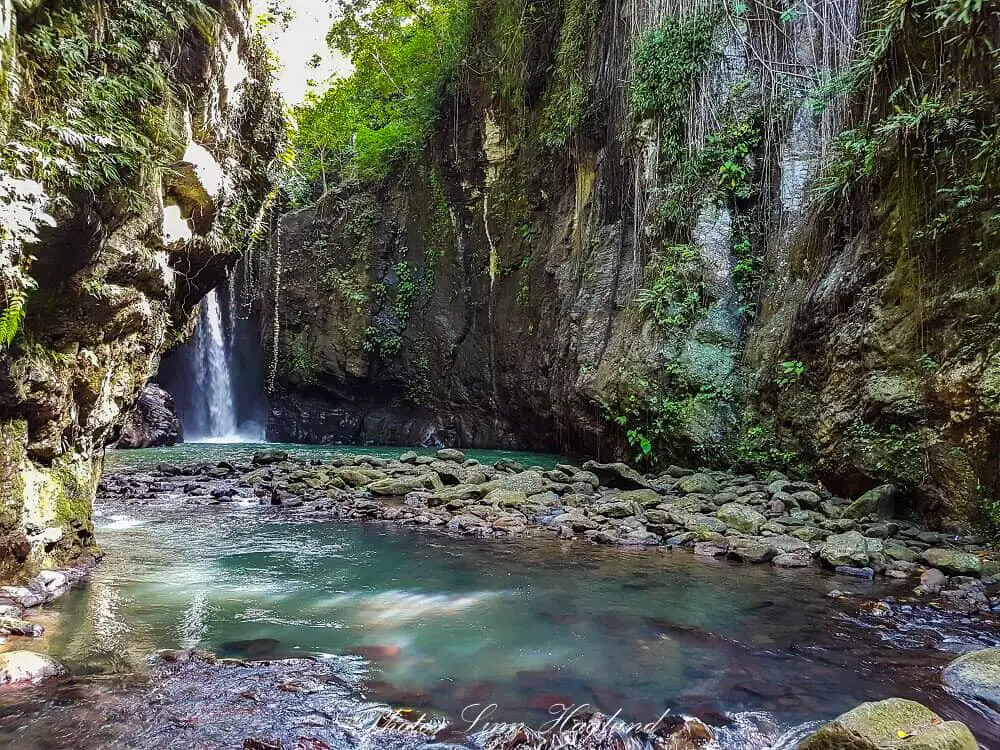 Tinago Falls, Biliran
Tinago Falls is another beautiful spot on Biliran Island. Though it is easier to get to and way more popular than Bagongbong Falls, it still deserves being up there among the best waterfalls in the Philippines. Ironically enough, Tinago means "hidden" in Visayan.
There is a small parking fee if you go by scooter as well as an entrance fee of about 20 PHP. From the parking, you walk down a paved walkway until you get to the falls.
The best about these falls is the small natural slide from the first pool. You need to be careful as the current is strong, but it's so much fun! You can also jump from the wall by the waterfall if you dare to climb.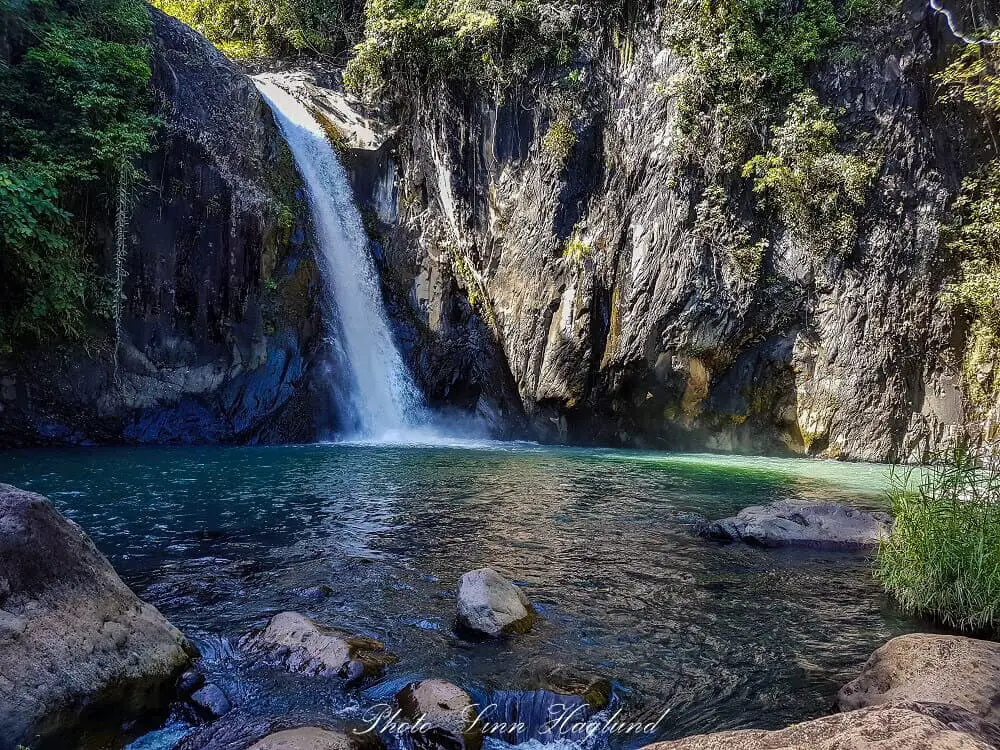 You might also like: Akchour waterfall – Morocco's hidden gem
Malabsay Falls, southern Luzon
Contributed by Wendy from The Nomadic Vegan
Malabsay Falls is a beautiful waterfall on the slopes of Mr. Isarog, an active volcano 20 kilometers from the city of Naga. It's located inside a national park in a protected area. 
The cascade drops 40 feet (12 meters) into a wide pool, and the best part is that you can not only admire it from afar but also swim right under it. Of course, it can't compare to world-famous falls like Iguazu or Victoria, but if you try to stand directly underneath the waterfall you'll see that it's actually quite powerful!
If the water is too cold for your liking, there's also a hot spring resort within walking distance in Panicuason. I recommend doing both for a fun day out!
At the entrance to the Mt. Isarog National Park, you will need to register and pay a small entrance fee. The park staff is working hard to make sure this place stays pristine and have started collecting an "environmental deposit" from all visitors. If you don't bring your trash out with you as you leave, then you don't get your deposit back!
To get here from Naga, take a Panicuason-bound jeepney from the terminal next to Metro Bank. From Panicuason, you can either take a motorbike taxi or walk. I recommend walking, as it's a lovely hike through forest and rural areas where you may see water buffalo. Wear sturdy shoes, as the trail can sometimes be slippery and muddy.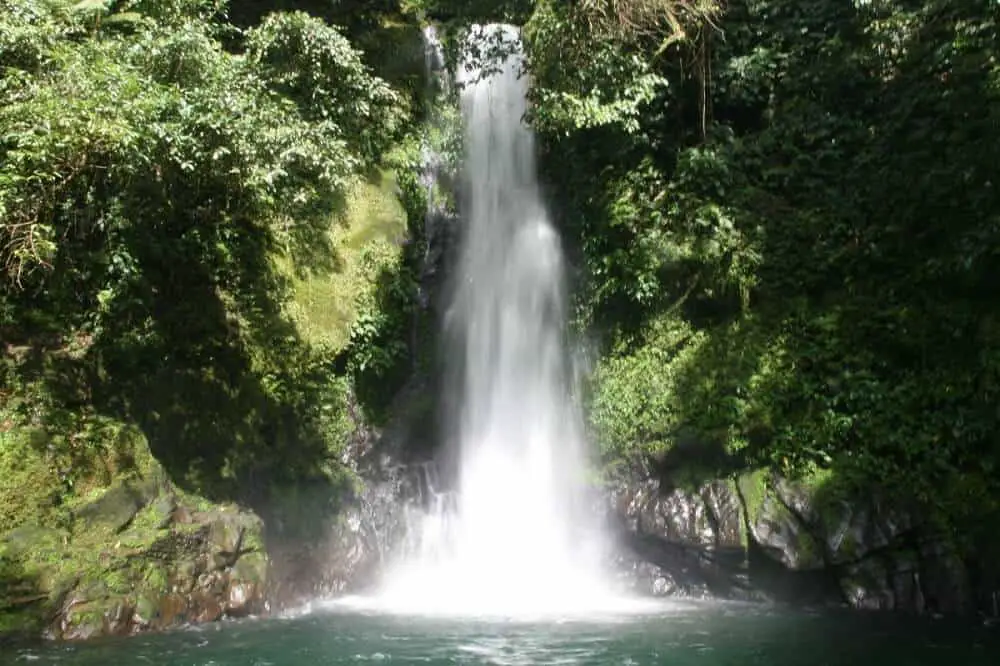 Dao Falls, Cebu
Contributed by Breanna from Chalkie And The Chippy
One of the most aesthetically pleasing waterfalls in the Philippines is Dao Falls. Having over one thousand waterfalls on the island, it is no wonder Cebu has many hidden gems like Dao Falls.
Located in southern Cebu, Dao Falls is easily accessible by scooter or tricycle from either Moalboal or Oslob. It costs 60 PHP to enter the falls, and 20 PHP for motorbike parking.
In addition, it is also compulsory to take a guide with you, and customary to tip them afterward between 100-200 PHP. It is an adventurous 20-minute walk down to the falls, and you will need to wade through water, climb over rocks and through trees. What makes this waterfall amazing is the "Gatorade" blue color of the water.
The closer you get to the falls, the more beautiful and bluer the water becomes. At the end of the beautiful walk, is the swimming hole and waterfall of Dao Falls. It is a perfect reward to cool off at the end and admire the beauty of the white rock faces and bright blue water.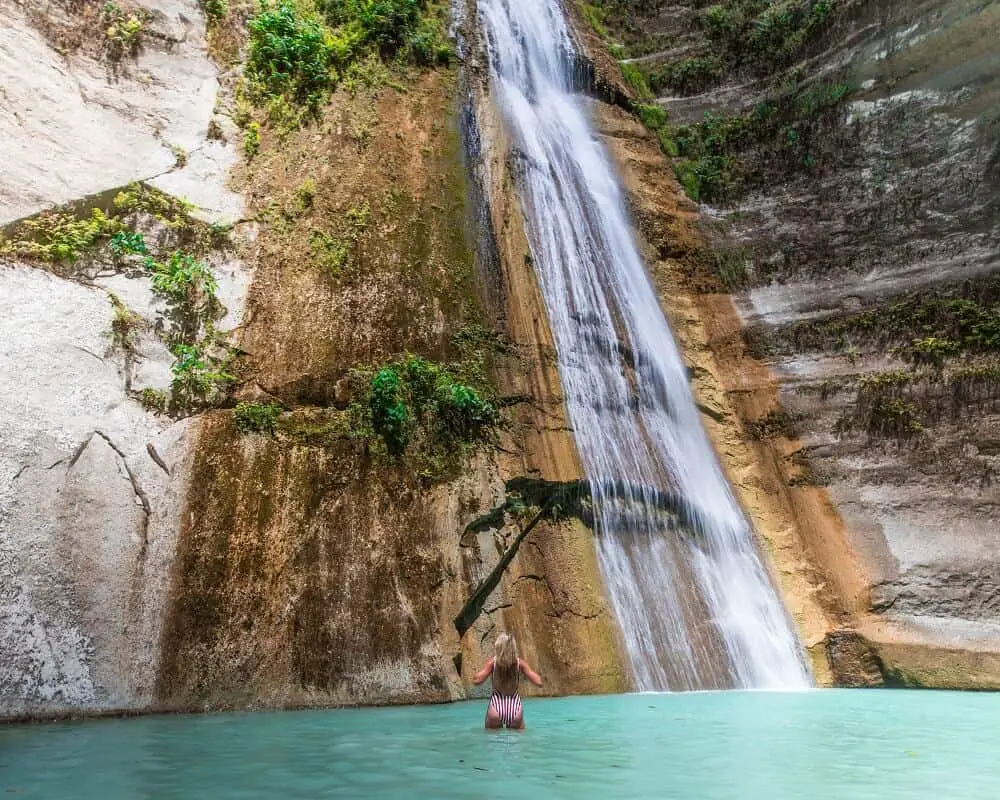 Read: Vegas Grande waterfall – a magical getaway
Tumalog Falls, Cebu
Contributed by Cat from Walk My World
The island of Cebu in the Central Visayas region of the Philippines is home to many stunning waterfalls, but Tumalog is one that really stands out. This wild waterfall is one of the easiest to get to and makes for photo opportunities that seem otherworldly. Many people compare it to the planet Pandora from the Avatar movie as the whole area is fringed by dense jungle where you feel a million miles from civilization. It's an absolute must for your Cebu itinerary. 
Tucked in the hills by Oslob, Tumalog Falls is characterized by a huge rocky cliff from where the milky blue water flows down into a shallow pool at the bottom. It is isn't deep enough to swim in, but you can paddle and cool down from the heat in this little patch of paradise. If your feet are in need of some TLC a fish pedicure is thrown in for free as the pool is full of little fish which will be constantly nibbling. 
The easiest way to visit Tumalog Falls is as part of a tour from Oslob or Cebu City. The more intrepid can hire a motorbike to get there (the road in is very, very steep) or hop on the public bus which goes around the island ring road and then walk the last few kilometers or take a motorcycle taxi.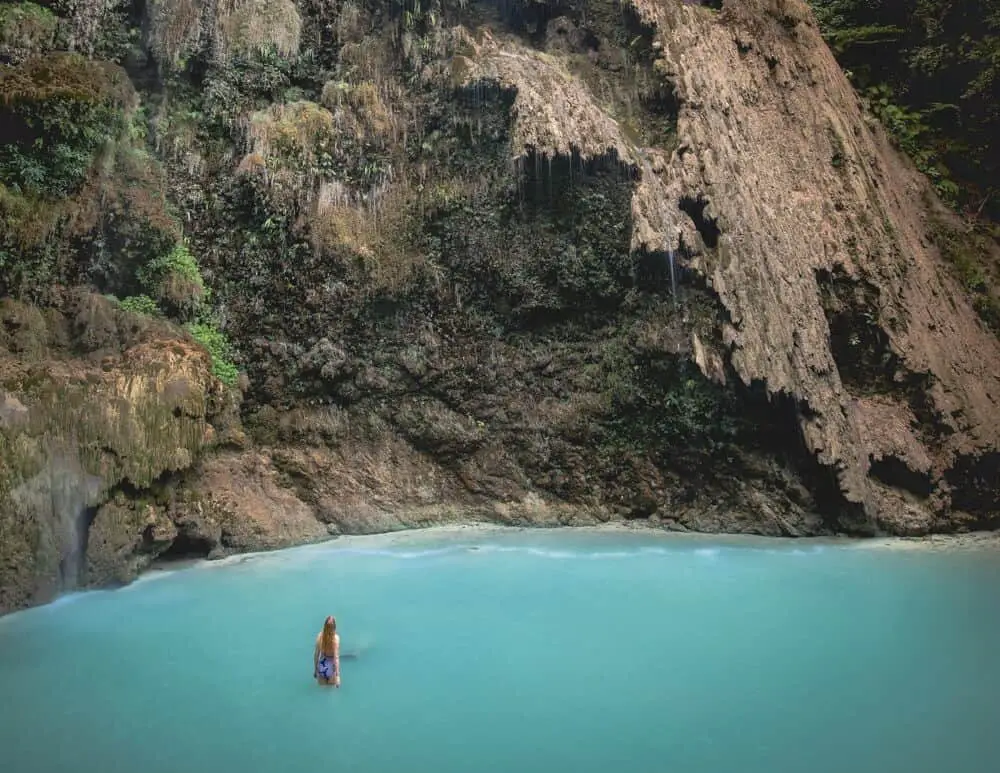 Order your Lonely Planet Philippines guidebook now!
Cambugahay Falls, Siquijor
Contributed by Sam from Survival Fitness Plan
Cambugahay Falls is a "must visit" if you go to the island of Siquijor.
The water is a lush blue and with 3 tiers of decent-sized pools, there is plenty of room to swim and play.
Entrance is only 10 PHP and for a small fee, you can make use of the rope swings, rubber tubes, water massage, life jackets, trampolines, snack stalls, and more.
To get to Cambugahay Falls there is a 90-120 minute drive from the port. You can rent a scooter for under 500php/day or hop in a tricycle. If getting a tricycle, it will be better value to book a day tour of the whole island. For those of you who decide to rent a scooter, there is a 20 PHP parking fee.
Once at the parking area, it is an easy 5 to 10-minute trek down to the falls, a bit over 100 steps.
The island of Siquijor is a great place for a short stay and is easy to get to via ferry from Dumaguete. You can see all the island's main attractions in a day if you really want to, but I suggest staying a few nights so you are not so rushed.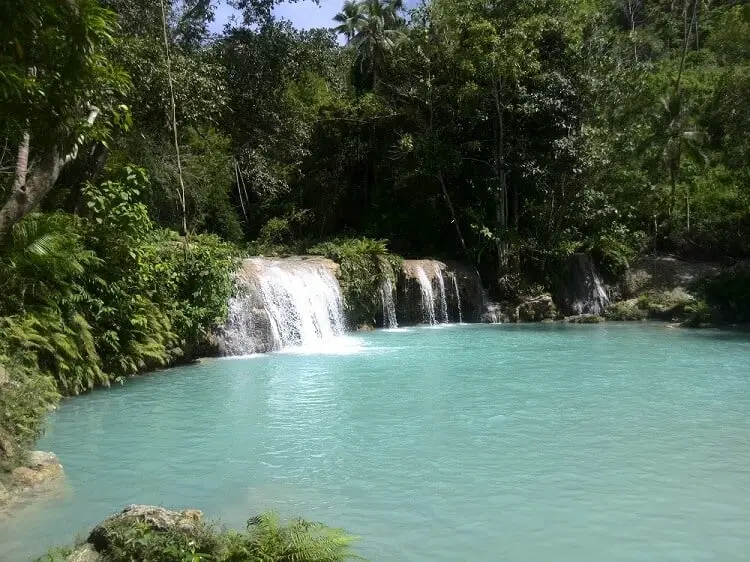 Casaroro Falls, Dumaguete
Contributed by Aaren from What Do You Sea
Are you searching for a secluded, jungle paradise with unmatched beauty? Casaroro Falls might just be your next favorite waterfall in the Philippines! This waterfall stands over 100 feet in a jaw-dropping, tunnel-like tropical dreamland that will make leaving this place very, very difficult! One of the best parts about this waterfall is that there are relatively no people here on a consistent basis ever since a typhoon hit back in 2011. So not only do you get to witness this waterfall in all its glory, you may even get it all to yourself as I did!
To get there, you need to begin your journey in Dumaguete. You can get there by plane or by taking a ferry from Liloan Port in Cebu. From Dumaguete, you need to take either a tricycle, scooter or habal habal to Valencia. If you put "Casaroro Falls" into your GPS, it'll take you right to the trailhead of the falls. You'll know you've arrived when you come to a small parking lot with the 300 steps leading down to the falls next to the small pavilion on the right. Once you take all the stairs, you're going to make a right to get on the actual trailhead. Unfortunately, back in 2011, Typhoon Sendong blazed through this region of The Philippines and destroyed the trail, but there are spray-painted arrows to lead you in the right direction. Follow the arrows and you'll be just fine!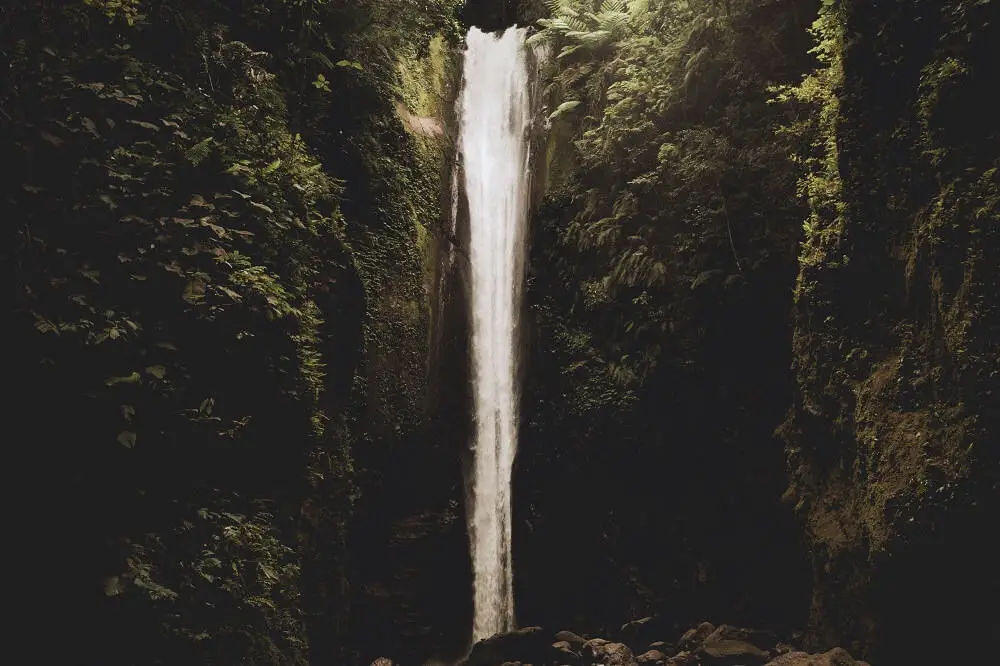 Kawasan Falls, Cebu
Contributed by Sam and Natalia from Something Of Freedom
Kawasan Falls is one of the most popular waterfalls in the Philippines, and for good reason. Located on Cebu Island, the waterfall is surrounded by dense jungle and has stunning turquoise water.
One of the best things about Kawasan falls is the chance to swim in the waterfall itself, which is the perfect way to cool off from the heat. It's hard to find a more beautiful spot anywhere in the world to go swimming! 
The easiest way to get to the waterfall is from the small town of Moalboal. From there it's possible to reach the falls by bus, scooter/bike, or tricycle. The journey from Moalboal to the waterfall entrance should take around 30-40 minutes. 
If you're feeling adventurous then it's possible to go canyoneering at Kawasan Falls. Canyoneering trips should cost around 1,500 pesos per person and give you the chance to journey through the jungle to the falls.
These trips give you the chance to go cliff jumping into river pools from up to 30 feet (9 meters), before making your way down to the lovely Kawasan Falls.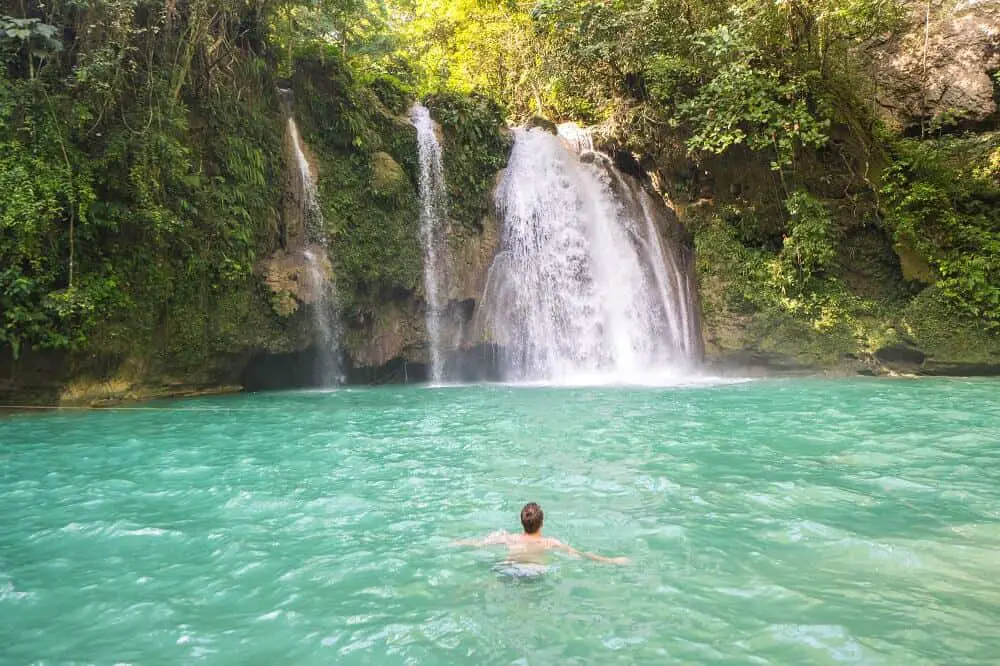 Nagkalit-Kalit Falls, El Nido
Contributed by Hannah and Adam from Getting Stamped
If you find yourself in El Nido, there are waterfalls you must check out, as they are some of the best in all of the Philippines. Deep into the lush forest, you'll find the Nagkalit-Kalit waterfalls. The falls used to be a local secret, but over the years they have become more popular with travelers eager to visit. And we can see why!
It's not an easy path – you'll definitely have to work for the payoff. You can get there by foot as we did – it is roughly an hour hike each way. As you cross a few rivers, you'll see two falls and right between them is a pool that you can even take a swim in! It's the perfect place to relax and enjoy the refreshing waterfalls and air. 
Pro tip: We do not recommend hiking out to the waterfalls during the dry months, as the falls aren't flowing as much.
Nangoloan Falls, Central Luzon
Contributed by Rai from A Rai Of Light
Nangoloan Falls, known locally as Anghalo Falls, is located in Barangay Feria, San Felipe, Zambales. Made up of three levels, each boasting their own appeal and size, locals and visitors flock to visit the falls, especially during holidays and more so during the rainy season.
The months of August to November is the best time for a visit as this waterfall, categorized as a stream waterfall, dries up during summer. However, during its peak, the pool builds up to eight feet deep. It is a quick ride on a tricycle from the national road of San Felipe and a 7-minute trek or a 5-minute ride on a carabao cart.
Don't forget to admire the panoramic view of the mountains as you make your way to the falls and be thrilled by the therapeutic sound of gushing water, signaling your nearness to it. If you're brave enough, be sure to jump in. The cold waters are sure to make for a memorable visit.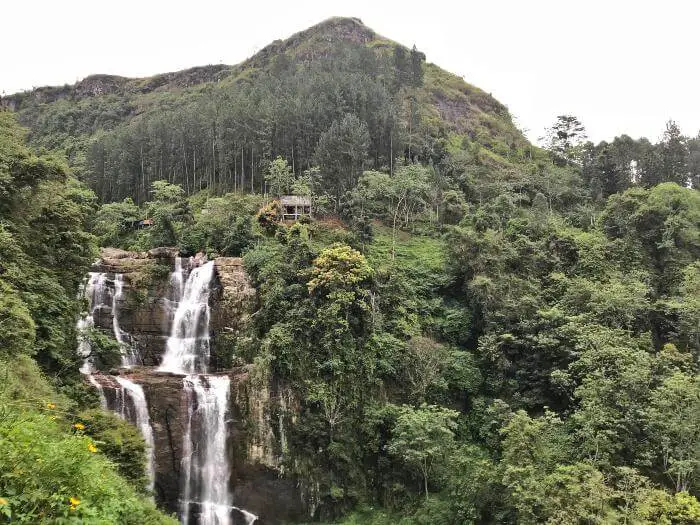 Ulan-Ulan Falls, Biliran
Did I say Biliran is full of breathtaking waterfalls? You can't visit this incredible island without going to Ulan-Ulan Falls. You need to walk about half an hour on a marked jungle trail to get there. You hear it before you see it but once you start the walk down the stairs to the waterfall, it will leave you breathless. As the bottom waterfall of two, it is the most majestic waterfall. The pool is perfect for swimming.
There was no entrance fee when I was there, though they were working on the trail to make it more accessible so this might change. It is possible to walk further past Ulan-Ulan Falls up to Recoletos Falls, which in itself is a small fall, but the waterhole is fantastic.
To get to Ulan-Ulan Falls you can either take a habal habal or a tuc tuc to the trail start, or you can rent a scooter and drive there yourself. By following a map and asking the locals you can easily find your way or you can be more modern and plot it straight into your GPS and it will lead you there.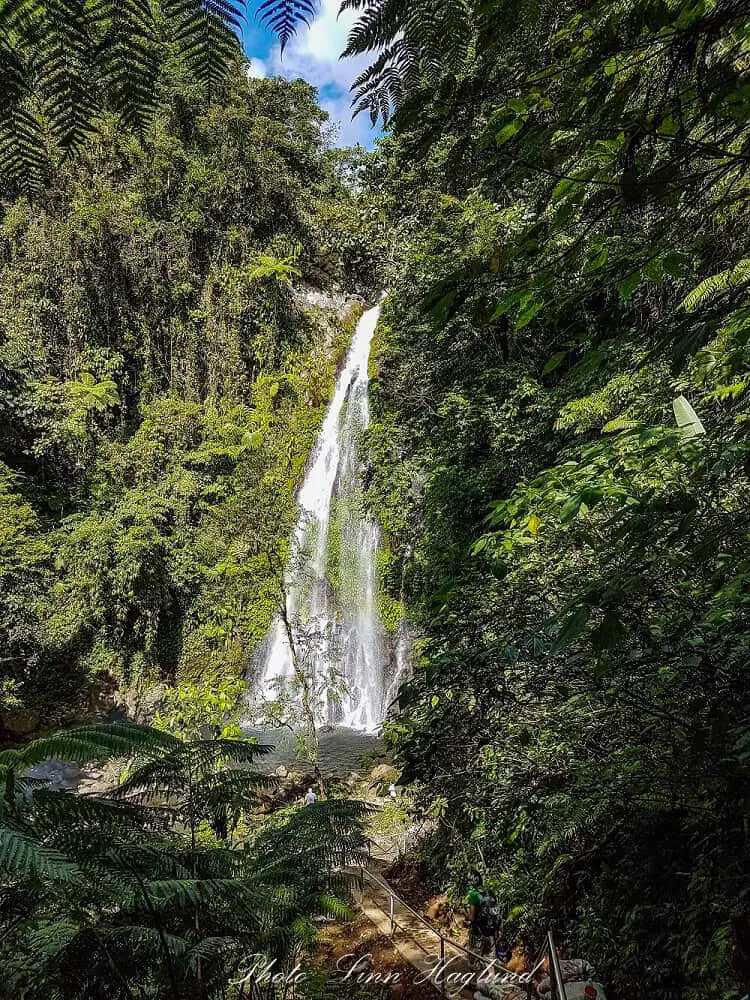 Responsible tourism when visiting the waterfalls in the Philippines
To keep the waterfalls in the Philippines as attractive as they are, make sure you act like a responsible traveler when you go. Make sure you don't leave any waste in nature whether it is a remote waterfall without vigilance or a popular waterfall with entrance fee and available rubbish bins. No one will pick it up after you – most likely.
To make a difference, skip the single-use water bottles and get a filtered water bottle instead.
Make sure you always respect the locals and the fees applied. And no nude bathing, please, at least not unless you are completely sure to be totally alone. The locals just won't appreciate it.
And finally, why not bring an eco-friendly backpack on your adventure?
I hope you found inspiration to visit waterfalls in the Philippines by reading this post. If you know about a waterfall that should make the list, don't be shy – write me a comment below!
---
Haven't booked your flight to The Philippines yet? Do it now!
---
Pin it for later!