For being such a small country, there are a whole lot of exceptional hidden gems in Portugal. Everyone seems to head to Lisbon, Porto, the Douro Valley, and the Algarve.
But there is so much more to be seen in this fabulous country. If you're a little bit like me and prefer traveling off the grid to explore off the beaten path travel destinations, Portugal is a great location to go on a Portugal road trip to uncover those unknown treasures the country hides.
Pristine beaches, unique villages, and lush forests, Portugal has it all. So let's uncover the lesser-known of the southwest corner of Europe. Here are the best Portugal off the beaten path destinations!
Disclosure: This post may contain affiliate links. That means that if you make a purchase through one of those links, I will get a small commission at no extra cost to you.
Portugal off the beaten path
Pegadas de Dinossáurios da Serra de Aire Natural Monument
One of the most epic hidden gems Portugal hides is the dinosaur footprints in Serra de Aire Natural Park, Pegadas de Dinossáurios da Serra de Aire Natural Monument.
I accidentally came over this site a couple of years back on a Lisbon to Porto road trip and was absolutely mesmerized. Walking along the world's largest lines of Sauropod footprints that were carved into the limestone rock over the last 175 million years is just insane.
The tracks are 147 meters long and you can see them by walking on a path that crosses the quarry where they were discovered.
The site is situated only a 10 minute's drive from the pilgrim town of Fatima and is reached by car. The best place to stay in Fatima and the Hotel Dom Goncalo & Spa.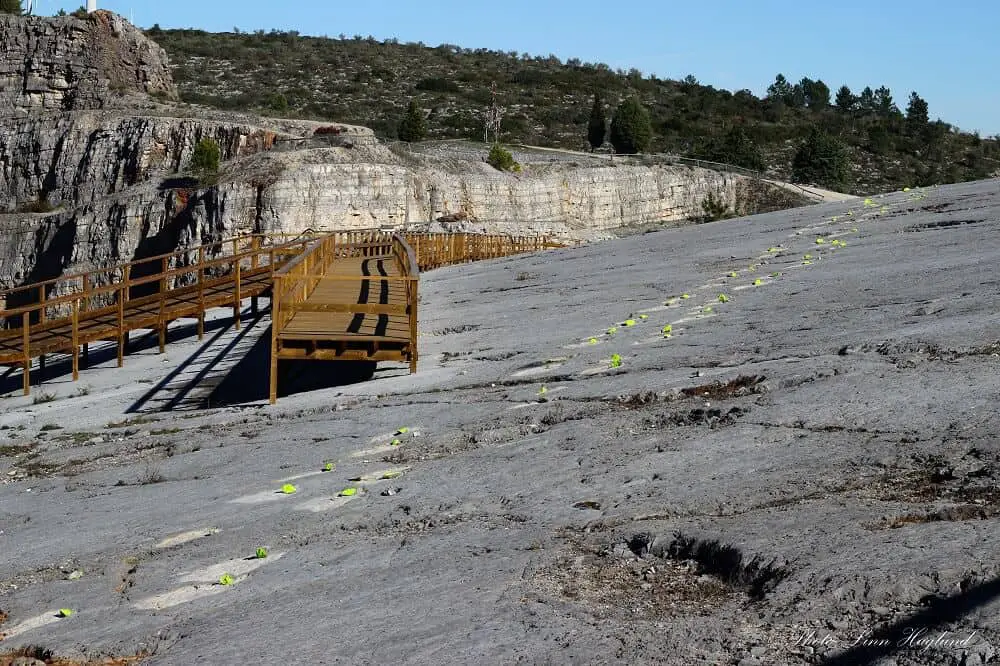 Rio Maior
One of the best Portugal off the beaten track destinations which is only a day trip from Lisbon is the tiny settlement of Rio Maior, tucked away in the foothills of the Serra de Aire Natural Park.
There is a wealth of things to do in Rio Maior exploring sites like the Medieval Oven of Alcobertas, the spectacular Gruta de Alcoberta, Dólmen de Alcoberta, and Salinas de Rio Maior.
The salt pans are particularly beautiful around Christmas as they convert the little wooden shacks that sell salt into a tiny Christmas village, which makes it perfect to explore if you travel to Portugal in winter.
You will need a car to explore the whole area as most of the sites are outside town – except for the Roman ruins that were newly opened to the public.
The area is fantastic for anyone looking for road trips in Portugal off the beaten path.
Stay at the Casa Do Foral for a comfortable stay.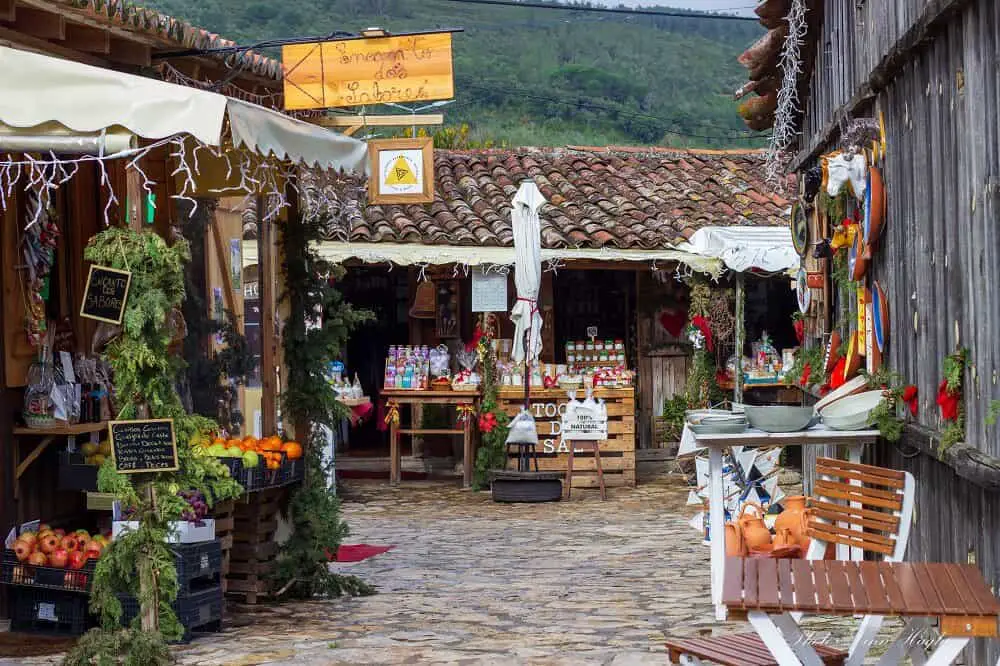 Monsanto
Recommended by Leah of Officer Travels
Voted the most Portuguese village in Portugal, Monsanto is a picturesque village in the Castelo Blanco region close to the Spanish border and a truly off the beaten path Portugal destination.
Renowned for the unique mix of natural beauty and historical architecture, this charming village is a real hidden gem that offers visitors a glimpse into an authentic Portuguese way of life in years gone by.
Human history here dates right back to the Paleolithic period (roughly 2.5 million years ago!!) but today, the biggest draw is Monsanto castle which was built by the Knights Templar in 1165 and still sits, in part, towering over the village all these years later.
For those who prefer scenery over history, you'll enjoy meandering through the tiny narrow streets, admiring the quirky way in which the houses here have been built using the giant boulders which couldn't be moved as support, walls, and even ceilings.
Given the heritage status of Monsanto, the area is protected from changes or remodeling and therefore is home to very few tourist shops or hotels.
Instead, you'll find boutique cafes, family-style B&Bs, like Casa do Guardado, and the occasional artisan shop which only adds to the charm of this historical Portuguese village.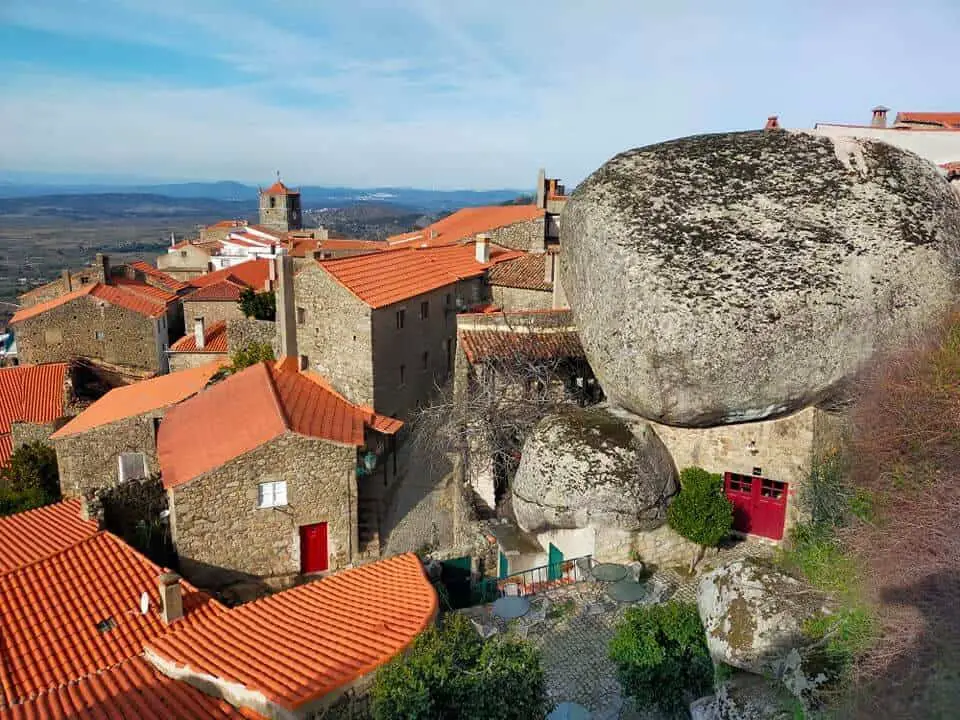 Buçaco Forest
Recommended by Emily of Pets Around the World
Buçaco Forest is a unique and breathtaking destination that offers visitors a chance to immerse themselves in the natural beauty, cultural heritage, and outdoor activities all in one place. This breathtaking place is a true secret Portugal destination for those wanting to discover something different.
Since Buçaco Forest is about 2 hours from Porto, it is a little far for a day trip but perfect for an overnight or weekend getaway.
To get there, you can either drive or take a train from Porto to Pampilhosa where you hire a taxi to make the final 15-minute into the mountains. While the journey can be a bit challenging, it is well worth the effort all year round unless it is raining.
One of the unique features of hiking through Buçaco Forest's lush trails is its collection of plants that were brought back from Portuguese explorations from around the world.
These include California redwood trees, Mexican cypress, and Australian ferns, which you won't find in combination with each other anywhere else in the world.  So, it is a must-visit destination for nature enthusiasts. Dogs are allowed on the hiking trails making it a great option for a Portugese day trip with your pet. 
Buçaco Forest is a relatively isolated destination, with limited accommodation options. Unless you want to pop over to nearby Coimbra with a variety of choices, there is only one place to stay – the Bussaco Palace Hotel. 
The hotel is in a historic palace with a complex past that resulted at the end of the Portuguese monarchy, adding an extra layer of intrigue to your stay. The beautifully landscaped gardens surrounding the palace, make it an idyllic location for a peaceful and romantic retreat.
Whether you're looking for ethereal hikes, meditative garden walks, or majestic architecture with tons of history, Buçaco Forest is the perfect destination.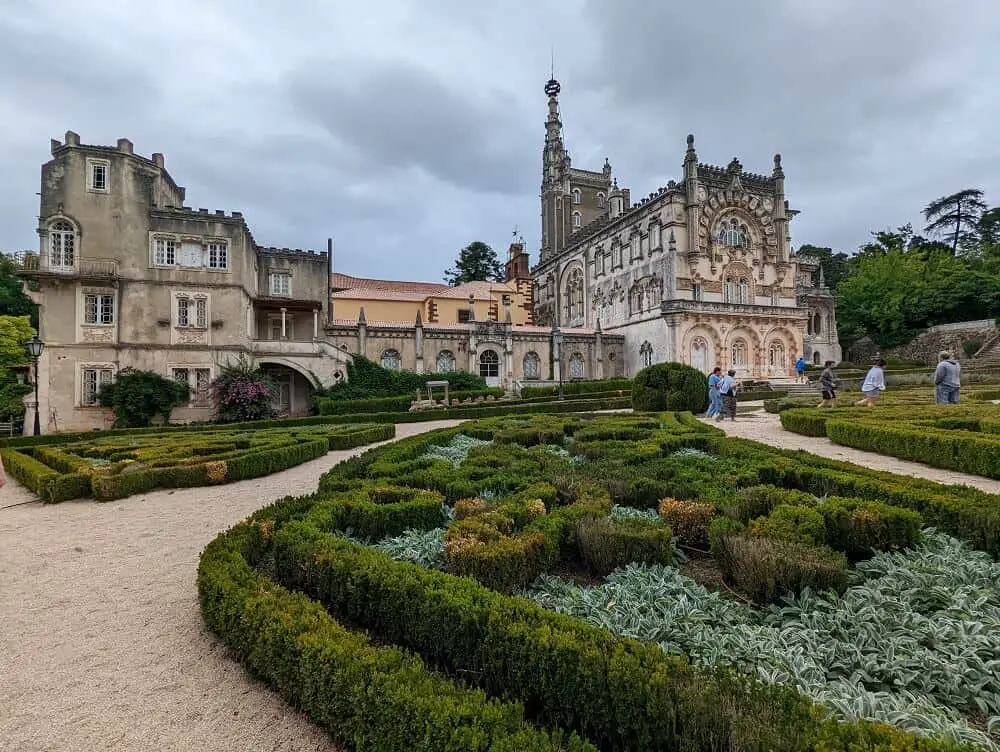 Almograve
Recommended by Deirdre of Build and Board Travel
Almograve is a small parish located in the southwest corner of the Alentejo Region, and truly an off the beaten track Portugal town. With under 2500 residents, this charming seaside town is a perfect escape from the ever-popular and sometimes crowded Algarve region. 
Almograve can be reached from Lisbon by car or public transit. It takes approximately 2.5 hours by car from Lisbon and 3-3.5 hours by bus. Alternatively, Almograve can also be reached from Lagos, which is a 1 hour and 20 minutes drive. Unfortunately, there is no direct bus from Lagos to the small beach town.   
The parish can be visited in any month, as it has a Mediterranean climate. For endless sunshine and little rain, plan your visit between early spring (March-May) and late fall (September to November).  
The most popular thing to do in Almograve is to explore its many beautiful beaches. Praia do Brejo Largo, Praia do Almograve, and Praia da Foz dos Ouriços are some of the most scenic beaches around the area, boasting golden sands and crashing waves.  
Almograve is also one of the many stops along the world-famous Fishermen's Trail, which is one of the best hikes in Portugal. This multiday trek brings thousands of visitors through the village and region every year.  
The Almograve Beach Hostel is an affordable option to stay at. Homecooked breakfasts and private rooms are available. It's conveniently located a short distance from local shops and beaches as well.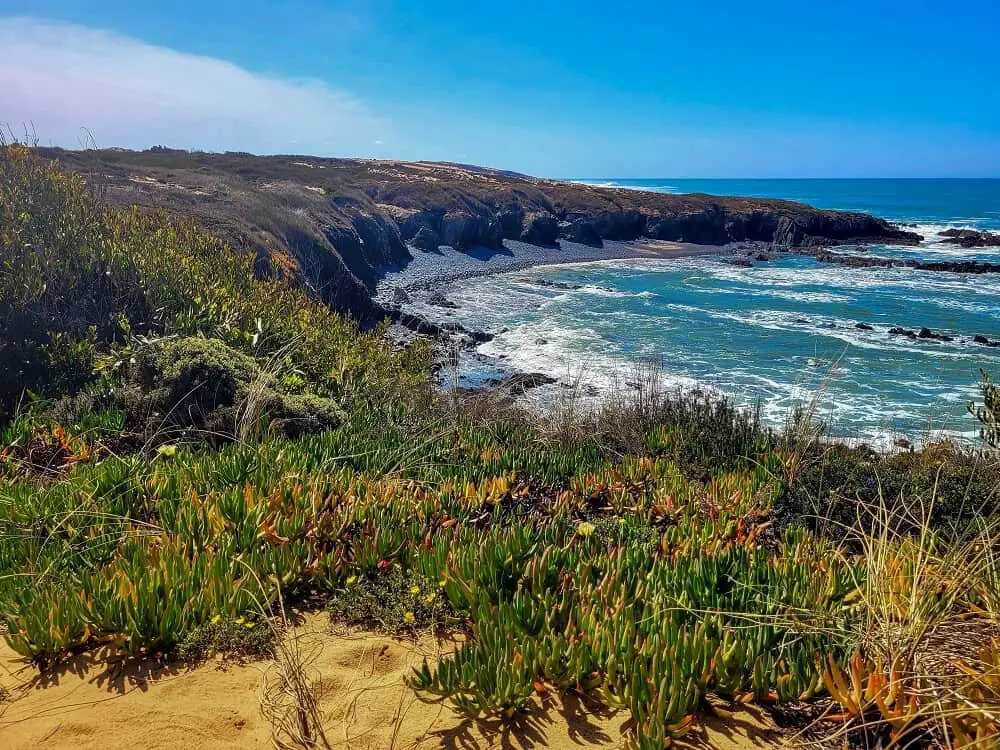 Azenhas do Mar
Recommended by Ausra of The Road Reel
Less than an hour away from the capital Lisbon, the petite seaside town of Azenhas do Mar is a delightful hidden gem in Portugal and one of the most charming coastal towns near Lisbon.
Characterized by whitewashed houses stacked in layers on top of a cliff, the postcard-perfect Azenhas do Mar translates as "Watermills of the Sea".
This dreamy coastal town of only 800 inhabitants, once made its fortunes by utilizing sea-powered windmills. The remaining few can be seen in the village.
You can visit Azenhas do Mar as a day trip from Sintra or Lisbon, or choose to stay overnight. There are several wonderful things you can do in Azenhas do Mar and around.
First and foremost, admire the magnificent panorama from the viewpoint located south of the village. Furthermore, make your way down to the beach under the cliffs where you will find a natural sea pool, and a waterfront restaurant serving fresh fish.
Also, explore the maze of alleyways inside the village and its typical Portuguese white houses decorated with "azulejos".
Last but not least, explore the surrounding area. Go on mini hikes to nearby beaches of Praia das Maçãs or Praia do Magoito, or even trek the coastal route all the way to Cabo da Roca- the westernmost point in Europe.
Azenhas do Mar can be reached by public bus departing from Sintra bus station. However, the most convenient to reach the town is by driving. Having a car will give you the freedom to get around easily.
To enjoy the beaches, visit in summer, after all, this is one of the most picturesque beach towns in Portugal. Early autumn or late spring are also great times for visiting Azenhas do Mar.
Where to stay: Um Lugar ao Sol Beach House.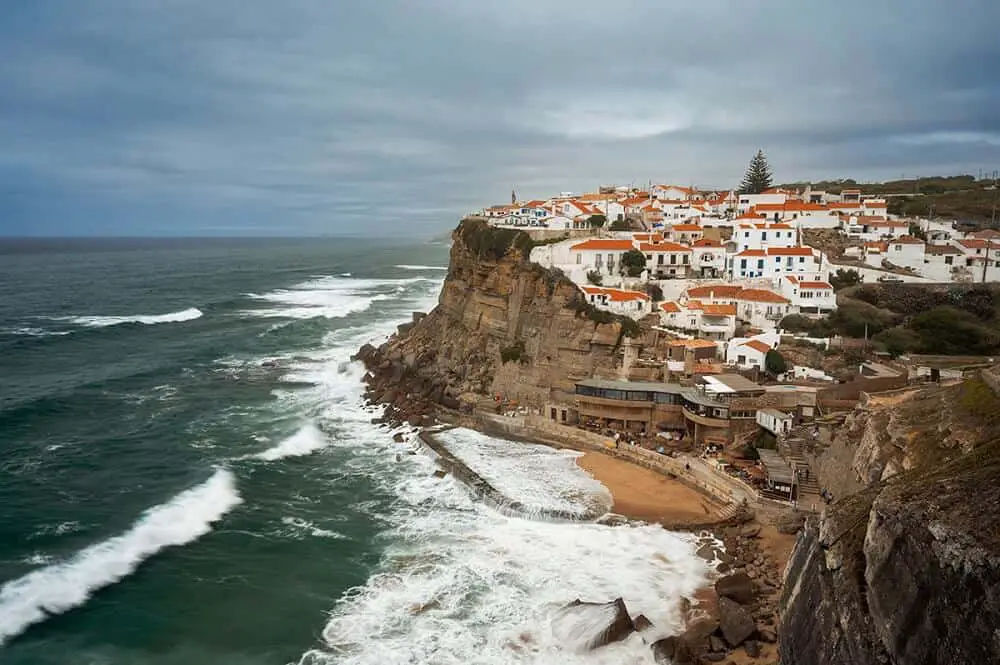 Ponte da Barca
Recommended by Sonia & Wojtek of Happy Little Traveler
Ponte da Barca is a very charming small town in the Alto Minho region in Northern Portugal that sits at the foot of Peneda-Geres National Park and on the banks of the Lima River.
There is no better place to go off the beaten path in Portugal than Ponte da Barca.
Although it's located in close proximity to bigger and more popular cities like Viana do Castelo or Braga, it's still an unknown destination for many, thus without a doubt still can be called a true Portuguese hidden gem.
There you'll be able to enjoy plenty of beautiful landscapes, green areas perfect for walking or relaxing, a charming old town, tasty food, and of course the famous Vinho Verde…
Places you simply cannot miss in Ponte da Barca are its 15th-century stone bridge and its old town, in which you'll find points of interest like Igreja de São João Baptista, Igreja da Misericordia, and Jardim dos Poetas with the town's pillory.
The best time to visit is spring or autumn because then you can admire it with beautiful blooming flowers or colorful trees which you'll find plenty around.
The most convenient way to get to Ponte da Barca is by car, but you also quite easily can get there by bus. Unfortunately, there is no train connection.
A great place to stay in Ponte Da Barca is Recanto Tia São Magalhães. This lovely small house is located on the town's outskirts in a very quiet area and offers truly amazing views from its balcony.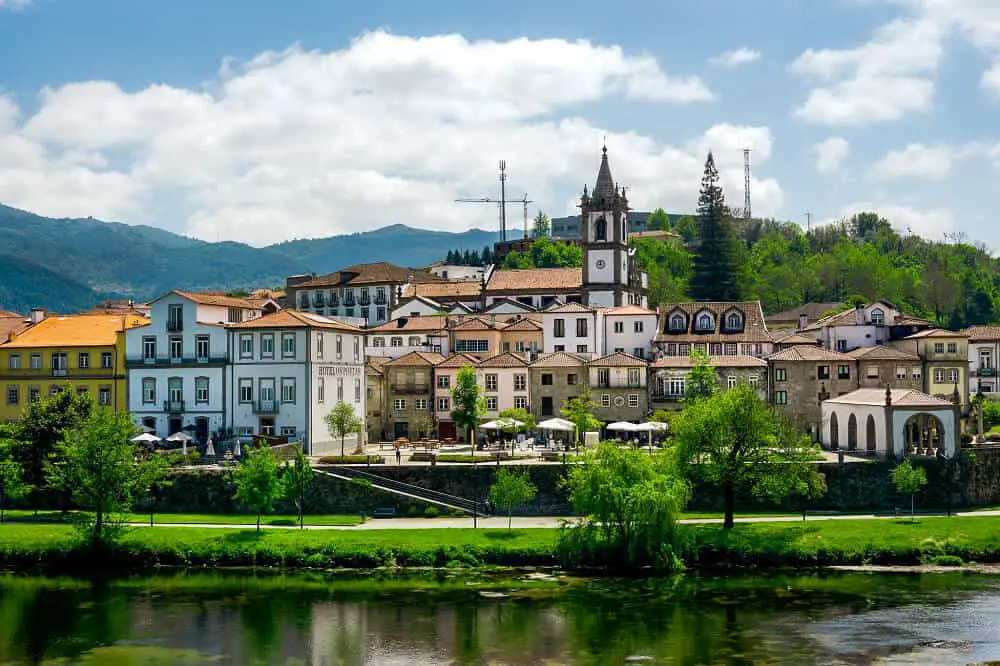 Sado Estuary
Recommended by Marga of Discover Portugal
Are you looking to escape the city for a few days to spot bottleneck dolphins? From Lisbon, it's only a 40-minute drive to reach the Sado Estuary, one of Portugal's hidden gems.
In summer, boats depart Setúbal multiple times daily to spot this unique colony of dolphins. Another option is to go kayaking to enjoy the Sado Estuary beauty.
Also, there is plenty to see in winter, as the river and wetlands are favorite places for birds! Bring binoculars or a camera, and you might spot flamingos, spoonbills, or other exotic creatures. 
The Sado river in Portugal is unique; it's the only river flowing upwards! The river springs in the town of Ourique before ending in the Sado Estuary and, ultimately, the Atlantic Ocean.
The landscape contains mostly marshes, salt pans, and sandbanks, and as the terrain is flat, it's perfect for easy hikes and cycling. You can visit the nearby Arrábida Natural Park for a more rugged landscape. The Serra da Arrábida is a mountain range with lush green mountains and paradise beaches.
Do you prefer to stay the night? Then sleeping in the town of Setúbal is a recommendation. One of the cutest places to stay the night is Cafofos da Zeta.
It's not only close to the historic city center, but also nearby the beach! With such a short drive from Lisbon, the Sado Estuary makes a perfect day trip in nature from bustling city life.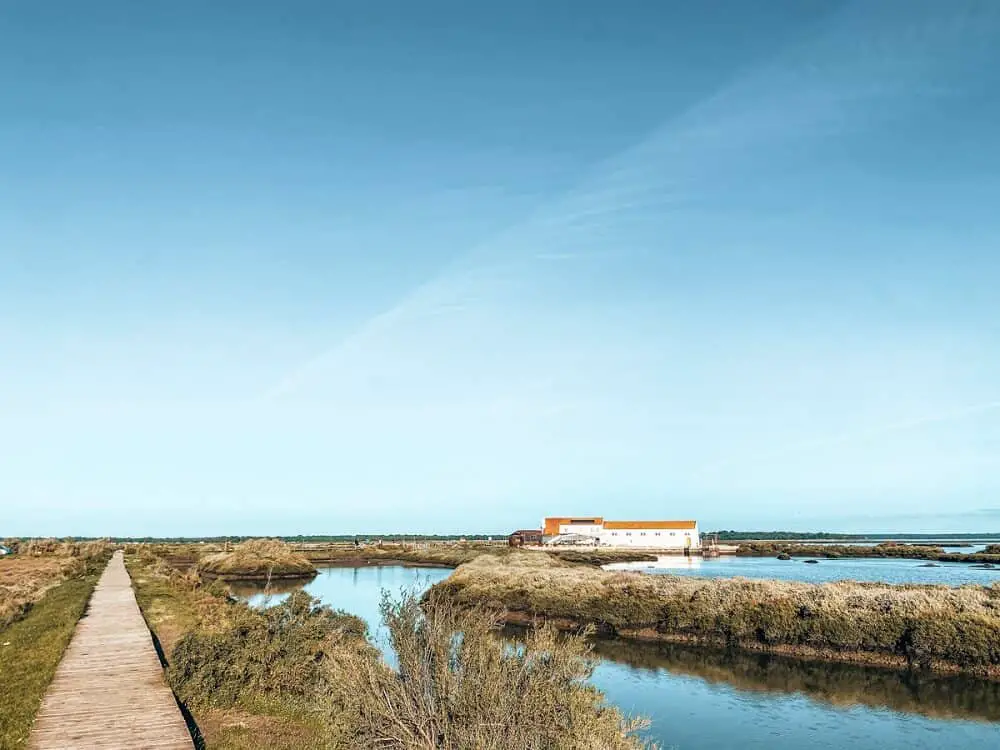 Elvas
Recommended by Cynthia and Alexander of Travel Your Memories
Elvas is a small town in Portugal, located close to the Spanish border. It is home to several historic sites and well-preserved architecture, making it a great destination when you want to know more about Portuguese culture.
When visiting Elvas, there are some great things to do in Elvas, like visiting the UNESCO World Heritage Site of the Fortaleza de Nossa Senhora da Graça.
You can visit this largest fortress in the world by yourself or via a guide. Next to the fortress you can take a drink at the central square of Elvas or walk through the historical center and enjoy all the colorful buildings with narrow streets. Also, in the center, you find the castle of Elvas which is worth visiting.
If you love eating local food, go to Taverna & Restaurante Portal do Tempo, where you can order Portuguese tapas.
A great place to stay is Hotel Sao Joao De Deus by RIDAN Hotels. There you stay at an old monastery with comfortable rooms.
The best time to visit Elvas is during spring or autumn when the temperatures are milder than in summer. Getting to Elvas is easy, as it has a train station so you can take for example from Lisbon.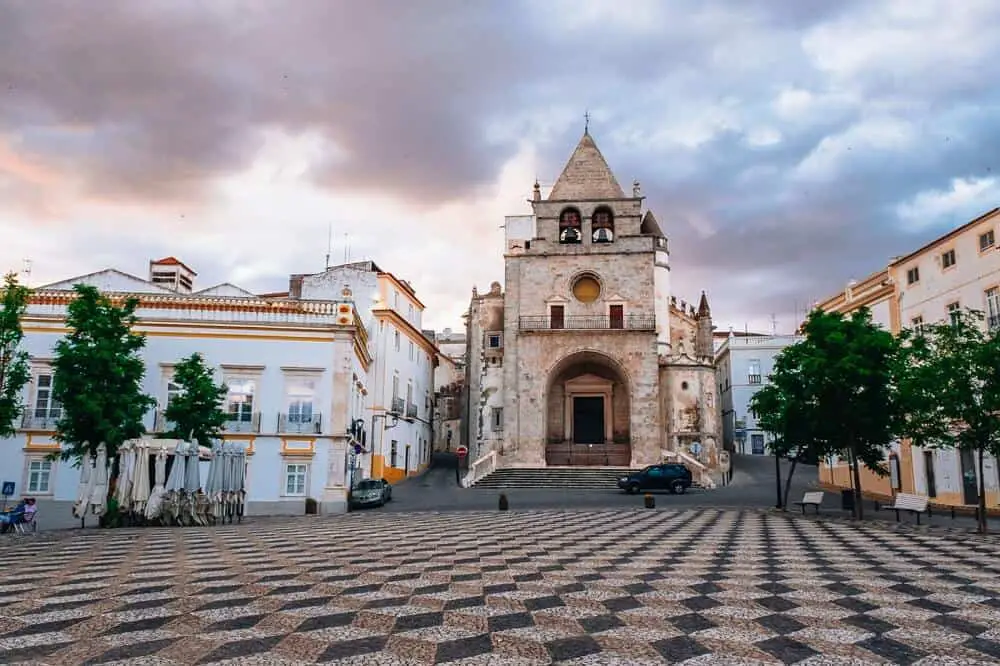 Alcobaça
Recommended by Sarah of Life Part 2 and Beyond
Alcobaça is a lovely old town to visit at any time of the year and one of the most charming hidden gems in Portugal. Located around 90 minutes north of Lisbon and two hours south of Porto, it's an excellent place for a stopover when traveling by bus around Portugal or going on a road trip from Porto to Lisbon.
The town is most famous for its impressive 12th-century monastery, which dominates the city. The monastery's interior is stunning and a must-see.
Inside the monastery, you will find two intricately decorated tombs belonging to King Dom Pedro and his murdered mistress Dona Inês- a true Romeo and Juliet love story. 
On the square just outside the monastery, there are several bakeries serving delicious cakes. Pastelaria Alcôa comes highly recommended. 
Stepping away from the monastery, take a stroll through the back streets, admire the street art, visit the Garden of Love, then walk up to the ruins of the medieval castle of Alcobaça that overlooks the town. 
Are you interested in doing some souvenir shopping? Alcobaça has some lovely shops selling ceramics that are unique to the region, and also it's a great place to find genuine handicrafts made from cork. 
The Montebelo Mosteiro de Alcobaça Historic Hotel is a beautiful hotel with an indoor pool right in the heart of the town.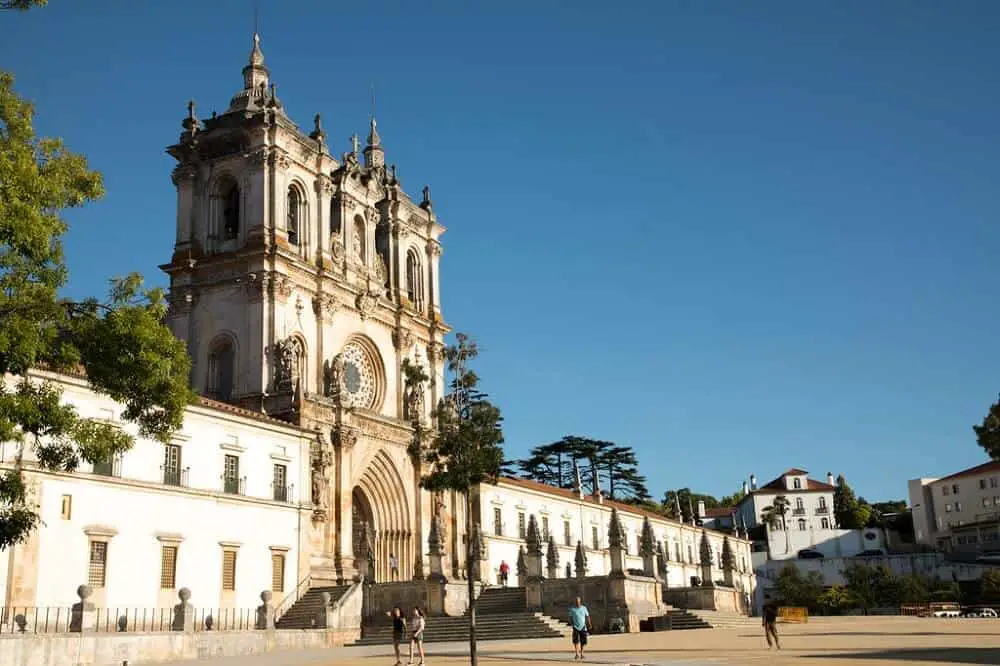 Sesimbra
Recommended by Laura of A Dynamic Life
Located in Central Portugal on the Setubal Peninsula, Sesimbra offers a wonderful escape from the city heat with beautiful beaches, excellent seafood, and world-renowned wine. This makes it one of the top hidden gems Portugal tucks away.
The fishing town and resort destination is about 40 km south of Lisbon, a 40-minute drive or alternatively accessible by local bus.
This coastal fishing port boasts abundant fresh seafood, served at the many local restaurants and available at the town's fish market. Sesimbra lies at the foothills of Porta do Sol, a 13th-century Moorish castle. The site, now in ruins, is free to enter and offers spectacular views. 
Sesimbra is a summer destination, best between May and September, with several beach options. These include Praia da California, a long golden sand beach with sun loungers, easy access, facilities nearby, and resort-style accommodations, such as Sesimbra Hotel and Spa, lining the beach. 
Nearby is Praia do Ribeira do Cavalo, another sandy beach cove amidst rock formations. Access to this protected beach requires a short hike and a scramble down rocks.
Sport climbing, guided coasteering adventure tours, kayaking, boat tours, and dolphin tours are among the ways you can experience this stunning coastline.
Other points of interest near Sesimbra include Parque Natural da Arrabida, a protected land with a vast variety of indigenous vegetation and hiking trails, and the local vineyards of neighboring Setubal, a wine region famous for Moscatel de Setubal and Castelao.
Stay at the fabulous Sesimbra Hotel & Spa where you can indulge in the pool with sea views.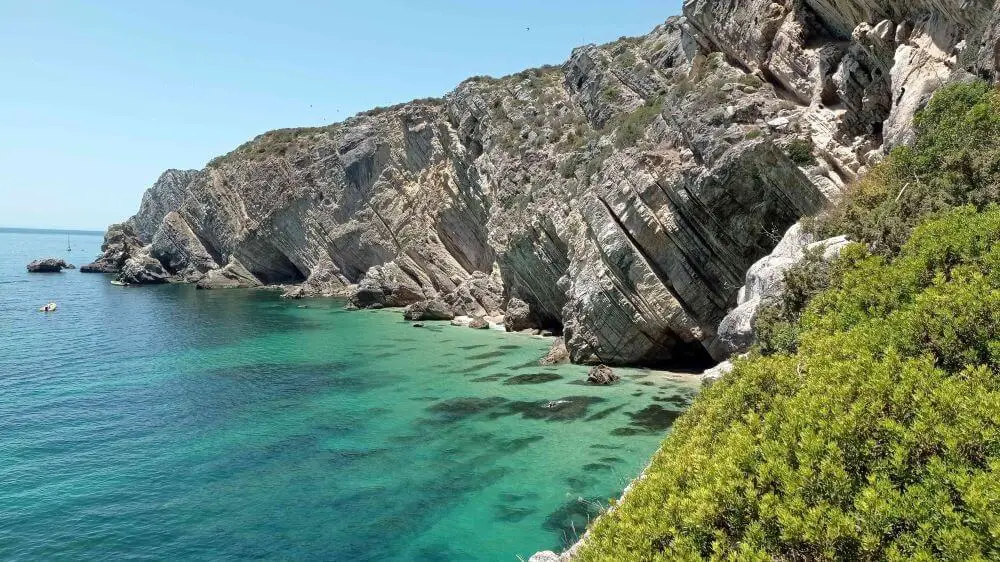 Ribeiro Frio, Madeira
Recommended by Helen of Helen on her Holidays
Ribeiro Frio is a tiny village on the Portuguese island of Madeira and a lovely hidden gem in Portugal. Madeira is a dramatic, volcanic island, covered in mountains and lush forests, crisscrossed with narrow water channels called levadas.
Hiking along Madeira's levadas is one of the best things to do on the island all year round, and Ribeiro Frio is one of the most beautiful places to do it.
Ribeiro Frio means "cold river" in Portuguese, and the first thing you'll see is the river, which runs right through the village in a series of small waterfalls.
The first building in the village is the pretty trout farm, where baby trout grow in a series of picturesque stone-walled tanks until they're big enough to be released into the river.
The main reason for visiting Ribeiro Frio is the two levada walks that start in the village. For dedicated hikers, there's an 11km route along the Levada do Furado which ends in a waterfall.
For a quicker, very easy levada walk, there's a 3km walk along the Levada da Serra do Faial which ends at the fabulous Balcoes viewpoint. At Balcoes you can see from Madeira's highest peaks, all the way to the island's north coast.
Ribeiro Frio is around 10 miles north of Madeira's capital city, Funchal. You can get there from Funchal by car or by taking one of the public buses. You can stay overnight in Ribeiro Frio at Casa do Ribeiro Frio, but as the village is so small, most visitors prefer to stay in Funchal.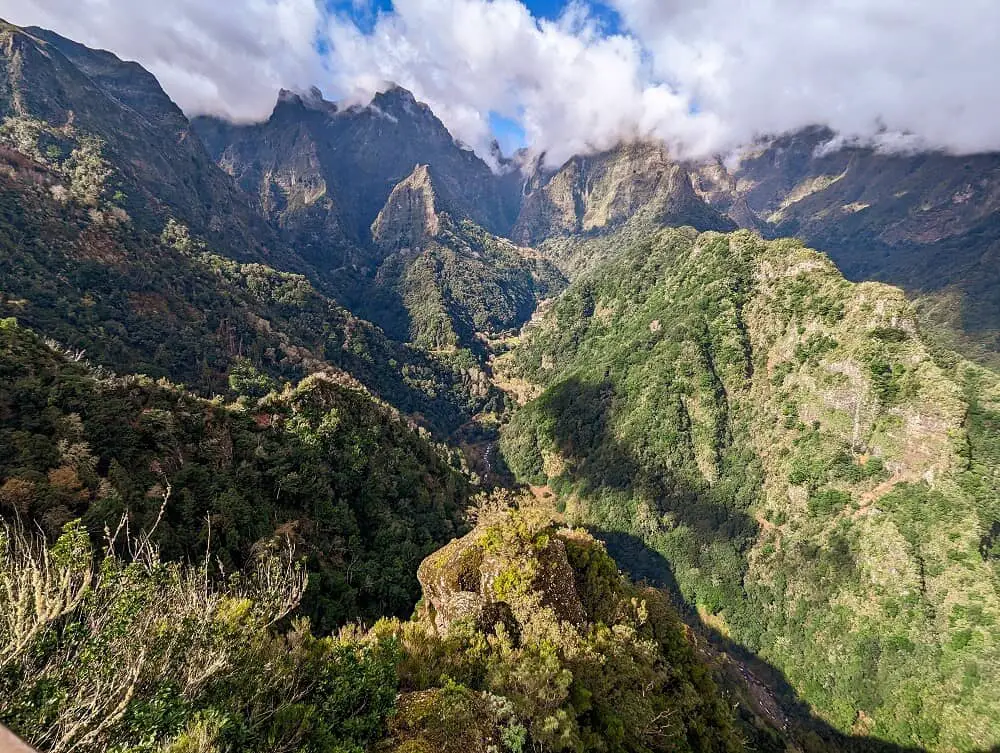 Tomar
Recommended by Stephanie of History Fangirl
Tomar is a village tucked between Porto and Coimbra that often gets overlooked because of the sheer volume of excellent day trip options from Porto.
The Convent of Christ Tomar is a UNESCO World Heritage Site, and it's worth coming out to Tomar to see the convent, even if you don't have time to explore more of the town.
The Convent of Christ, or the Convento de Cristo or the Mosteiro de Cristo in Portuguese, was originally founded by the Knights Templar during the era when the order held significant military and political power within the Catholic Church. 
If you have time to spend a full day here exploring, make sure to see the 17th-century aqueduct (Acueducto de los Pegões), stroll the Rua Serpa Pinto in Old Town, and visit the main town square Praça da República. 
You can take a guided tour to Tomar, though renting a car and driving will give you much more flexibility and allow you to spend as much time at the Convent as you need to take in its overwhelming beauty. 
If you do choose to stay overnight, check into the Hotel Republica, which is located right on the main square and has exceptional reviews.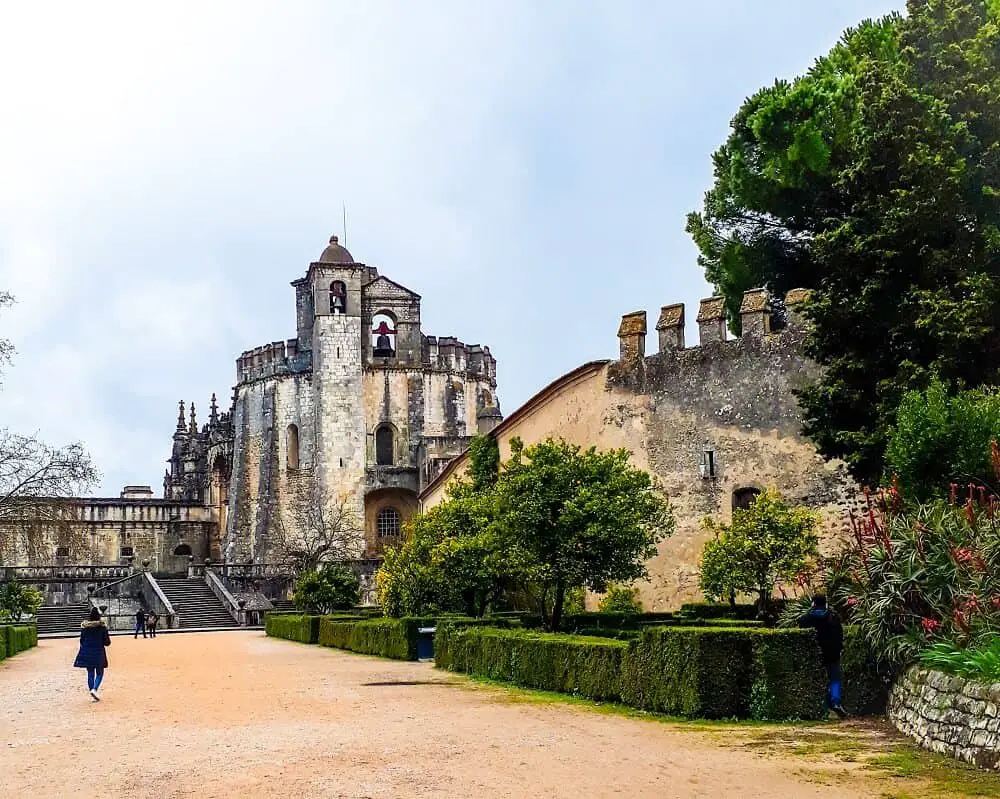 Ponte de Lima
Recommended by Alison of Alison on Foot
Ponte de Lima is a beautiful medieval town in the north of Portugal. It makes an easy day trip by bus from Viana do Castelo on the coast, or you can drive there from Porto in less than an hour. It's also a popular stopping point for pilgrims walking the Central Route of the Camino Portugues to Santiago de Compostela.
Avenida dos Platanos, a wide, sycamore tree-lined avenue runs along the banks of the Rio Lima, and at the end of the avenue is the town's main square with its ornate fountain. From here you can explore the ancient cobbled streets of the old town with its many churches and, if you're a wine lover, you shouldn't miss a visit to the museum dedicated to Portugal's famed Vinho Verde.
Crossing the medieval bridge which gives Ponte de Lima its name leads you to Igreja de Santo Antonio da Torre Velha which, like most churches in Portugal, has a beautifully tiled façade.
Also on the left bank is the delightful Parque do Arnado and, further downriver, a statue of a Roman Captain on horseback. Look back across the river and you'll see his troops lined up on the other side.
Between May and October every year, Ponte de Lima hosts an International Garden Festival where the town is awash with color, which makes these months a great time to visit.
For an overnight stay, Terraco da Vila offers simple accommodation in the old town and is close to many bars and restaurants.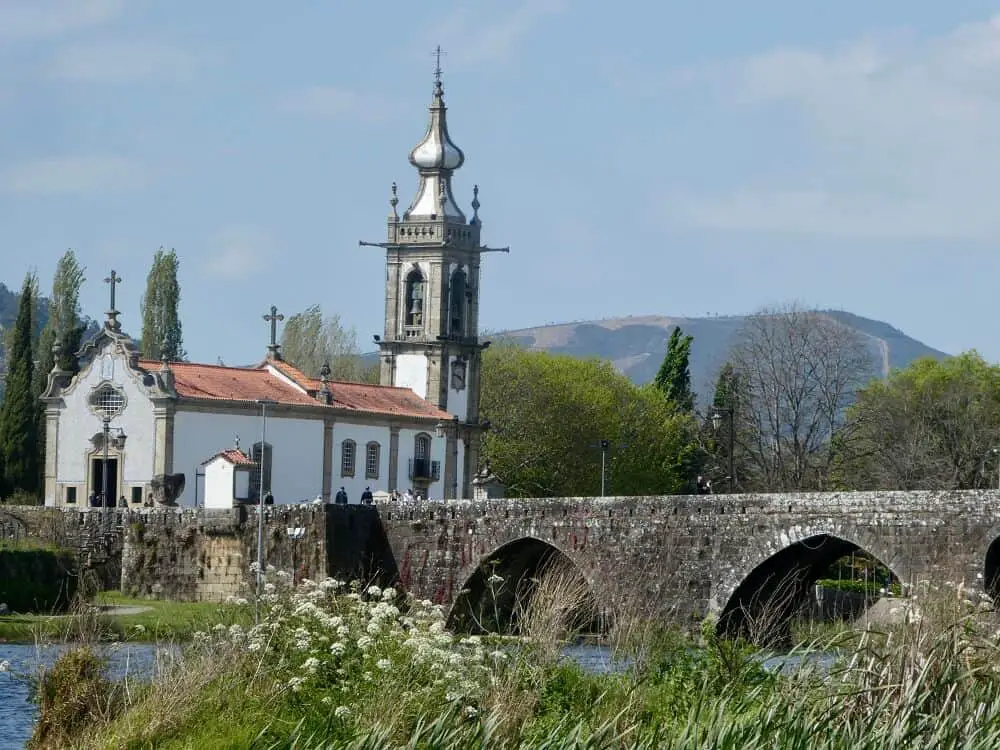 Bragança
Recommended by Inês of RandomTrip
It's impossible to talk about the history of Portugal without mentioning one of its northern gems: Bragança. Walking through the city's historic center is getting closer to more than five centuries of history.
Essential visits include Bragança's medieval castle, one of the most well-preserved in the country that rewards those who dare to climb one of its towers with impressive views of the city and the Domus Municipalis, from the 12th century, a unique example of Romanesque civil architecture.
And if the citadel and its monuments take us back to the Bronze Age, outside the citadel's walls, a more recent Bragança welcomes you.
Here you can enjoy some cultural plans either outdoors, enjoying the best street art, or indoors, in the "Museum's Street" (5 museums with 300 meters!), or try a chestnut craft beer in Marron.
On the outskirts of the city, it becomes clear that this municipality is part of Unesco's Biosphere Reserve of Meseta Ibérica and its Natural Parks.
There, you can embrace adventure on biodiverse trails where to spot deer, wolves, and hundreds of species of birds, and get lost in beautiful towns like Rio de Onor or Montesinho.
Enjoy some of Bragança's best gastronomy in Solar Bragançano or a more modern approach in Taberna do Javali. Rest in Hotel de São Lázaro to enjoy the magic views of the illuminated castle by night.
The best time to visit Bragança is spring or autumn (it's too cold in wintertime and too hot in the summer) but if you feel like enjoying the city when it's more culturally alive, don't miss the "Festas dos Rapazes" (between Christmas and January), the Carnival in February and the local festivities in August.
Since the city is not connected by train, the best way to get there is either by bus or by car (bear in mind that the nearest airport is Porto, 2h15 distance away).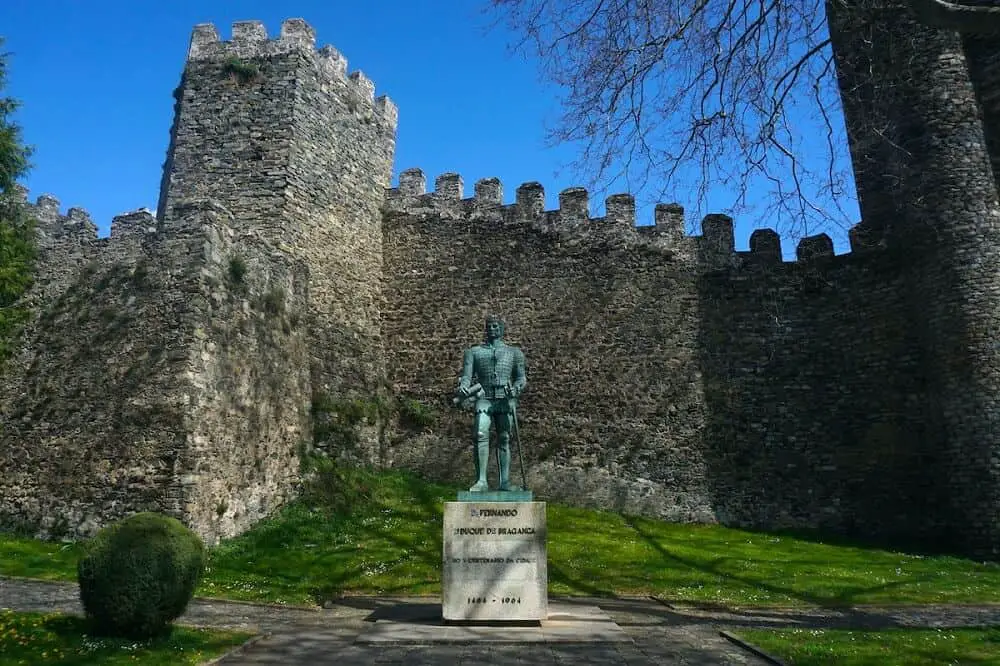 Seixal
Recommended by Marjut of The Smooth Escape
Seixal is a picturesque seaside village on the Portuguese island of Madeira. Situated on the island's dramatic north coast, the village boasts a breathtaking natural setting amid magnificent green mountains and volcanic cliffs. 

Although popular among locals, Seixal has remained relatively undiscovered by foreign tourists. Therefore, if you want to get off the typical tourist trail and experience the island's authentic rugged beauty, be sure to include this hidden gem in your Madeira itinerary.

One of the biggest attractions in the village is Seixal Beach. With its fine black sand, turquoise water, and views of towering mountains, it is undeniably one of the most beautiful beaches on the island. 

Other must-visit places here are the ethereal Véu da Noiva Waterfall and the Seixal Natural Pools, where you can swim in tidal lava rock pools surrounded by volcanic formations.

As Seixal is quite remote, the easiest and quickest way to get there is by car. The drive from Funchal, the capital of Madeira, is very scenic and takes about an hour. The best time to visit Seixal is between May and September since that's when the weather is at its driest and warmest.

If you'd like to spend a night in the village, consider staying at Seixal Sunny Villa. It is a beautiful rustic holiday home with a garden and jaw-dropping views of the coastline.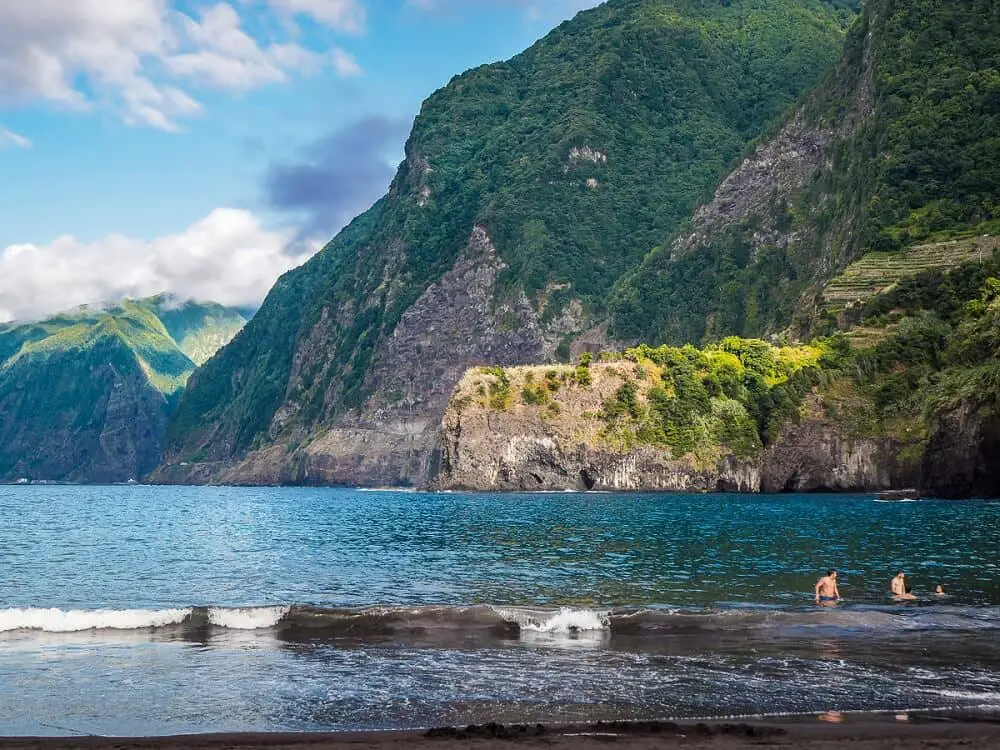 Roman ruins of Conimbriga
Recommended by Soumya of Stories by Soumya
If you are keen to venture off the beaten path in Portugal, then head to the Conimbriga ruins in Central Portugal. Located just 11 miles from Coimbra, Conimbriga is easily explored on a half-day trip from the university town.
Once a prosperous Roman city that housed more than 10,000 residents, Conimbriga is now home to some of the best-preserved floor mosaics of the ancient world.
Be sure to check out the mosaics at the House of Fountains, the House of Cantaber, and the House of the Swastika. They are filled with colorful patterns and images of birds and animals that depict life from the 1st and the 2nd centuries. The mosaics at the House of Fountains are the most vibrant.
Other highlights at Conimbriga include public baths, the Roman forum, an aqueduct, and an amphitheater. Do not miss the on-site archaeological museum which is an amazing treasure house of Roman pottery, statues, coins, and other artifacts.
Since the ruins are almost like an open-air museum, the best time to visit is in spring or fall when the temperatures are perfect to be outdoors.
Plan to stay for a night in Coimbra – the Sapientia Boutique Hotel is a great place to stay – and visit the Roman ruins on a day trip.
The cheapest way to get to Conimbriga from Coimbra is by Transdev buses that run only twice a day. The journey takes around 40 minutes. Alternatively, you can drive (takes only 20 mins) and park at the entrance to the ruins.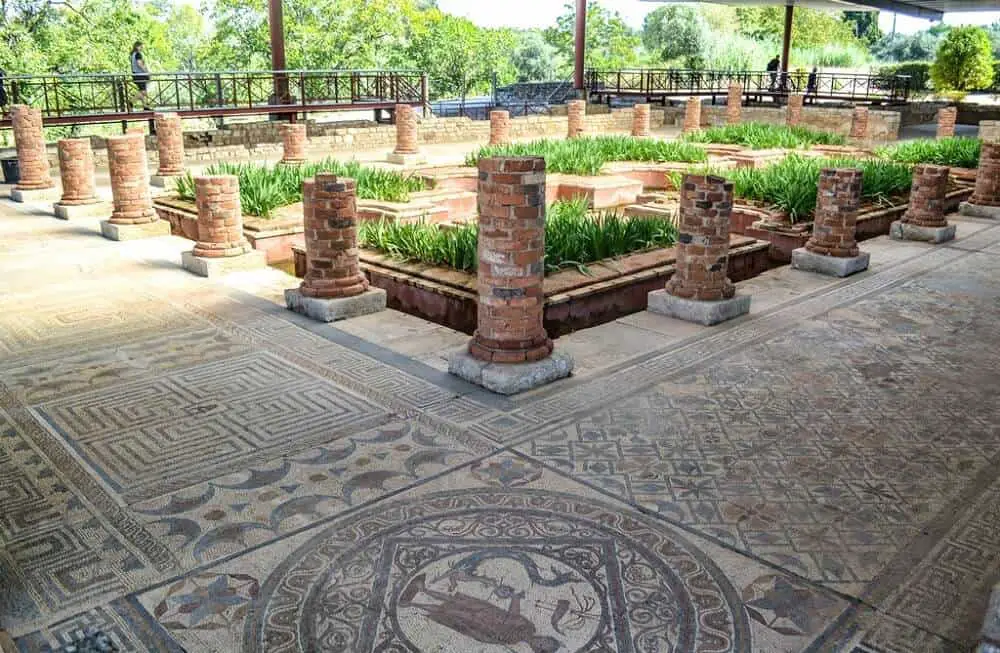 Foz do Arelho
Recommended by Jenifer of The Evolista
One of the prettiest hidden gems in Portugal can be found right on the beach. Foz do Arelho is sure to wow you. The stunning white sand beach showcases the ocean on one side and the Obidos Lagoon on the other.
There are plenty of fun things to do in Foz do Arelho and water sports top the list. Choose from swimming, surfing, stand-up paddle boarding, kayaking, and more. Or you can opt for parasailing to take in views of the stunning landscape from above. 
Prefer to stay on land? Take a hike to a gorgeous viewpoint, cycle around the Obidos Lagoon on the bike path or sit at one of the seaside cafes and have lunch or a refreshing drink while enjoying the beach vibe. This former fishing village also has a cobblestone street town that is nice to explore.
Just 1.25 hours north of Lisbon on the Silver Coast of Portugal between the more famous towns of Peniche and Nazare and only 20 minutes away from Obidos Castle, Foz do Arelho is definitely worth a visit. The most popular time to go is during summer (though it's quite beautiful year-round) – and you can get the beach mostly to yourself!
Combine your visit with a stay in a Quinta, a traditional Portuguese farmhouse. Quinta da Foz has spacious rooms on a beautiful property. It will give you a chance to learn more about the history of the area and make friends with the resident peacock.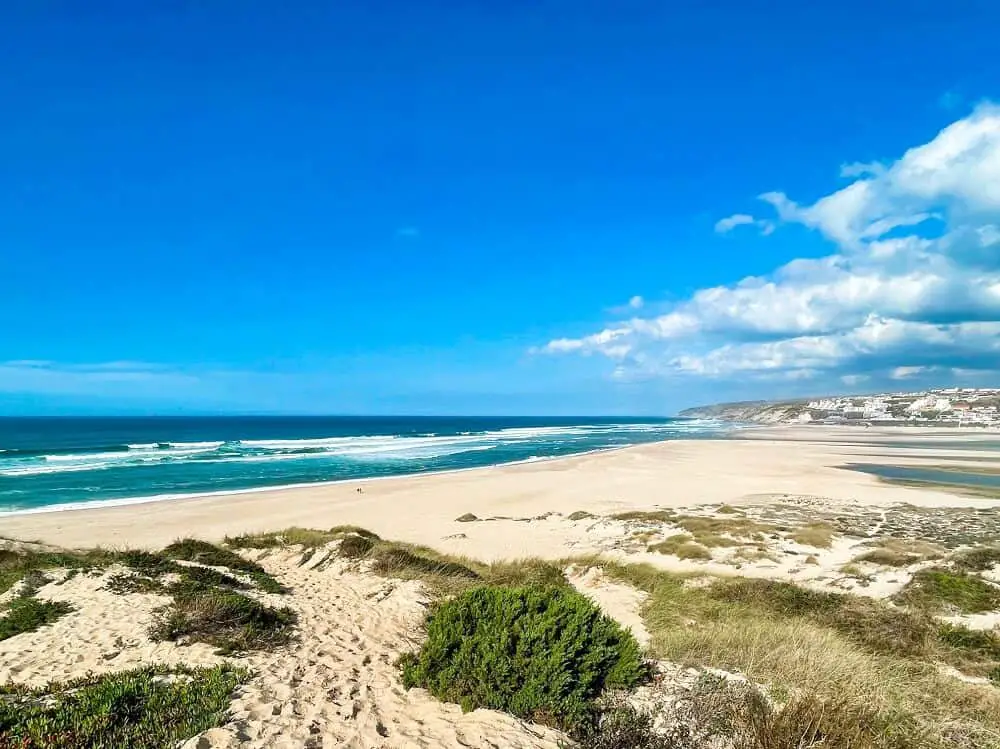 Reflections on Portugal off the beaten path
There is no doubt Portugal hidden gems are plentiful and the above places are truly worthy of your Portugal bucket list. Make sure you step into any hidden gems in Portugal or any other country with respect and care as you want to preserve their beauty and authenticity.
I highly recommend adding one or more lesser-visited places to your Portugal itinerary so that you can spread your tourist money throughout the country and put less pressure on the main tourist spots which are Lisbon, Porto, Douro Valley, and the Algarve coast.
Nonetheless, I wish you an epic trip to Portugal, travel responsibly, and most importantly, have fun!