Going on a day trip to Braga from Porto might be on your bucket list, and it is well worth it. Braga was in fact voted the best city to visit in 2021. Whether you agree or not, I'm sure you will find a lot of joy in going on a day trip to Braga.
The city is one of the oldest religious places in Portugal with majestic sanctuaries in the hills overlooking the city and ancient churches and cathedrals in the city center.
Together with Fatima, Braga might just be one of the most important pilgrimage destinations in Portugal, but it is so much more than that.
Braga has a bustling city center with vibrant cafés and bars and a great historical heritage, so there are a lot of fun things to do in Braga.
In this post, I'll go through everything you need to know to go on a day trip from Porto to Braga.
Disclosure: This post may contain affiliate links. That means that if you make a purchase through one of those links, I will get a small commission at no extra cost to you.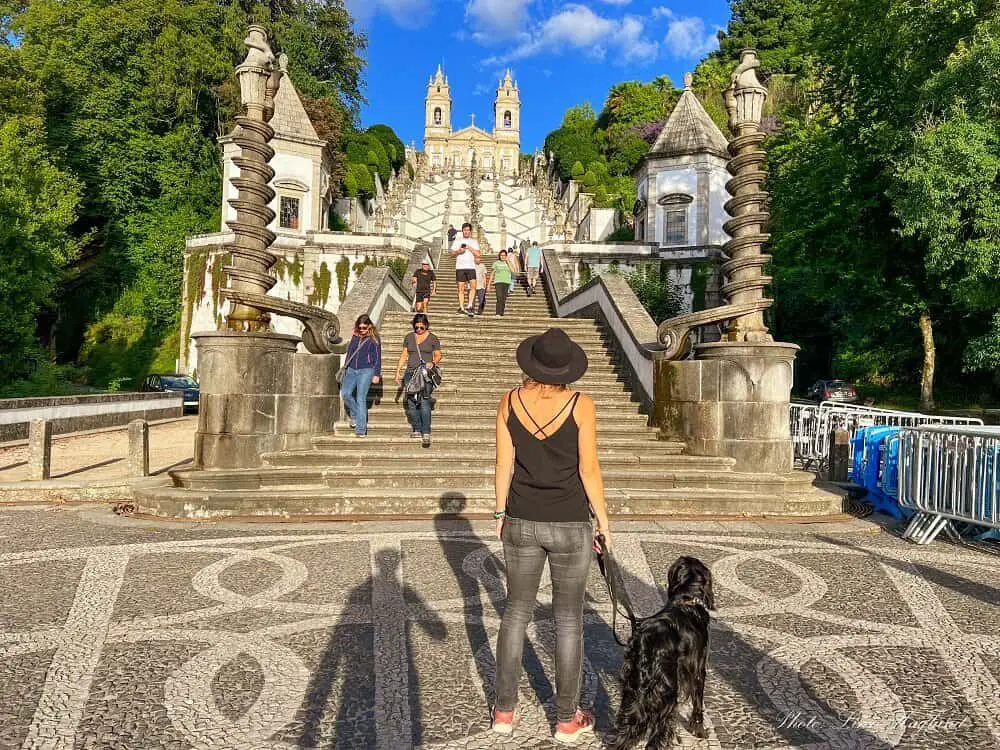 Getting from Porto to Braga
Braga is situated just about 50 kilometers north of Porto and it is easily reached by car, bus, and train. If you prefer the convenience of a guided tour, there are options for that too.
I'll go through each transport option with you here so that you can figure out the best way for you to go on a Porto to Braga day trip.
By car
The short distance from Porto to Braga makes it only an hour's drive which makes it an easy day trip to do by car. There is also free parking only a 15-minute walk from the city center if you want to avoid the paid parking.
Visiting by car means you can add in one or two sanctuaries on your Braga day trip which I highly recommend!
If you need to rent a car, it is best to book it as early as possible to get the best deals.
Check prices and availability here
By bus
The bus journey from Porto to Braga can take anything from 45 minutes to 1 hour and 15 minutes for a direct journey.
The buses leave regularly all day from Estação de Campanhã.
By train
There are some train departures between Porto and Braga too. The direct train from São Bento or Campanhã train stations in Porto to Braga usually takes 37 minutes.
However, there are trains that take up to one and a half hours approximately with a change of trains in Nine.
Make sure your end stop is Braga when you book and not Ferreiros to avoid an extra 10-15 minute taxi ride to the center.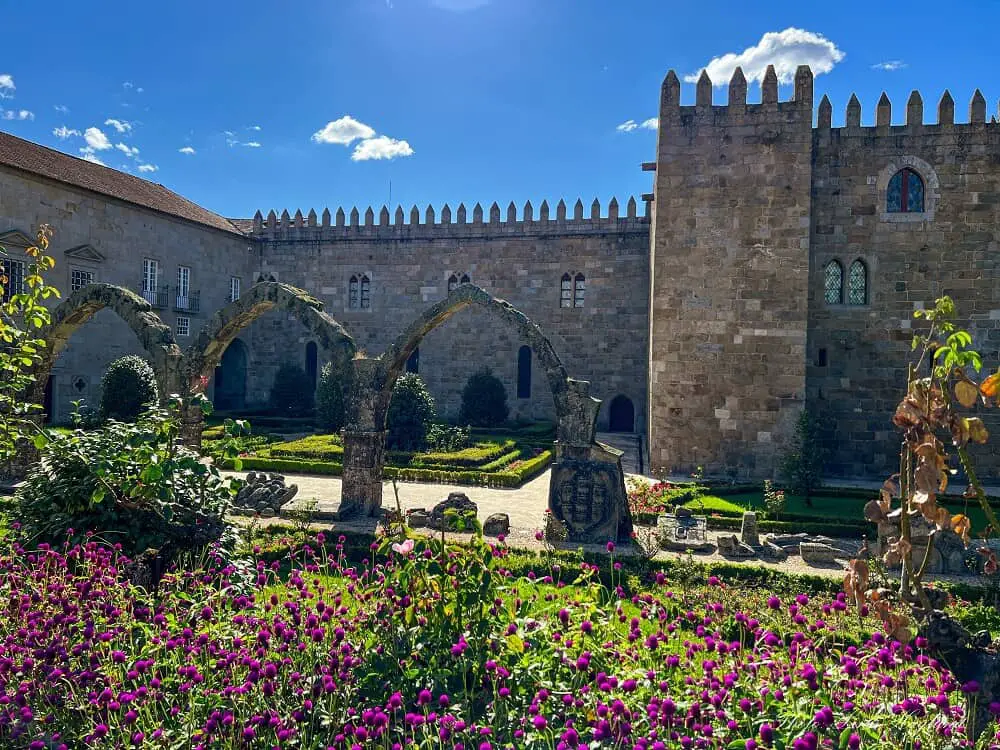 Braga tours from Porto
If you prefer the commodity of a guided tour to Braga with pick-up and drop-off at your hotel, there are a few options that all include a stop in the UNESCO town of Guimarães.
Here are my top picks whether you want to go on a group tour, a small group tour, or a private tour. All these tours have the option of lunch at a typical Portuguese restaurant included.
From Porto: Braga and Guimarães Full Day Tour with Lunch – this day tour from Porto to Braga takes you to the Sanctuary of Bom Jesus do Monte and a walk around Braga and the cathedral before visiting Guimarães and its castle on the way back.
Braga and Guimarães with Lunch Included – Small Group – Full Day – if you prefer a small group tour, this is a great budget option to get more intimate with your group and guide. You will be spending half the day in Braga and visiting the Sanctuary of Bom Jesus do Monte before heading to Guimarães to see the castle.
From Porto: Wonders of Braga & Guimaraes Private Day Trip – a great option if you want the luxury of a private day tour to Braga from Porto. This also includes a visit to Sanctuary of Bom Jesus do Monte and Guimarães.
MORE FROM PORTUGAL:
Hidden gems in Portugal
Best beach towns in Portugal
Lisbon 2-day itinerary
Best hikes in Portugal
Things to do in Aveiro
Things to do in Ericeira
Things to do in Algarve
Best towns in Algarve
Things to do on a day trip to Braga from Porto
Take a picture with the Braga sign
Start your one day in Braga itinerary by taking a picture at the Braga Sign. It is situated right in front of the Holy Cross Church, which is also worth a peek inside.
Behind the sign, there is a nice square with the stunning façade of the Hotel Vila Galé Collection Braga on the opposite side.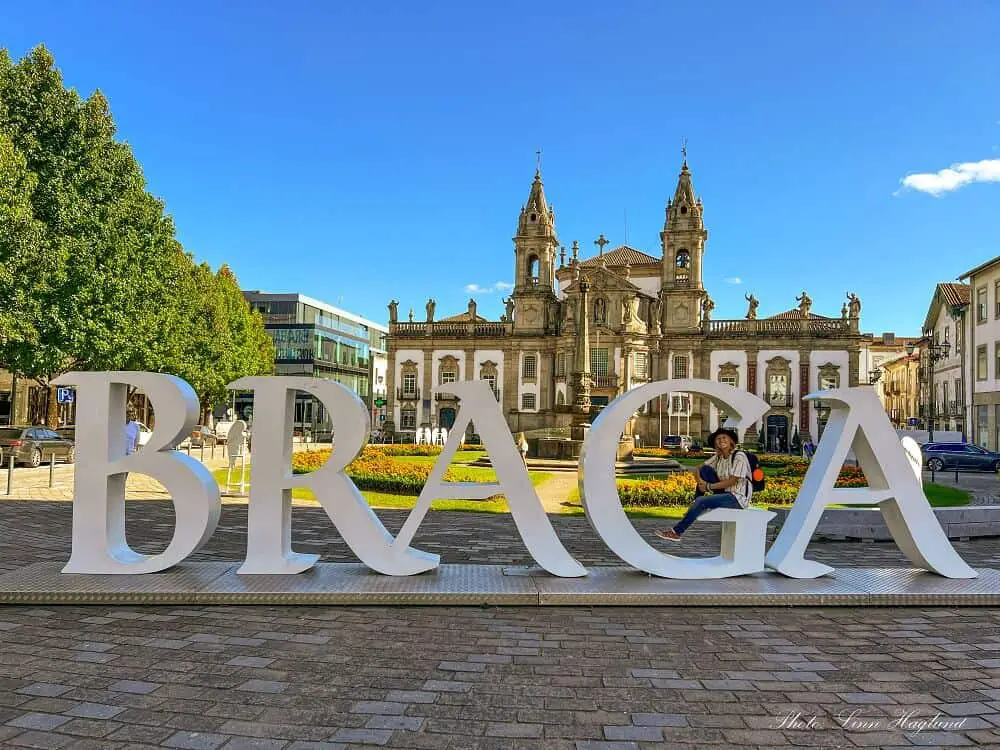 Palacio do Raio
One of the most opulent Baroque palaces in Braga is the Raio Palace. Particularly noteworthy for its blue tilework on the front of the building, it also boasts one of the most impressive entrances in Portugal.
Pay attention to the beautiful balcony above the door.
It was built in the 18th century as a private residence for the nobleman Joao Duarte de Faria and is one of the greatest Portuguese Baroque structures.
You can visit the palace on guided tours to explore the amazing architecture and the museum's items re-telling 500 years of history.
Praça de La Republica
Praça de La Republica is one of the most energetic squares in Braga where you can stroll around or sit down and people-watch.
There are often street performances on the square, including traditional dances which is pretty cool to observe during a day in Braga.
There is a large fountain at one end and colorful flowers and plants decorate the square while trees give some shade on a hot day.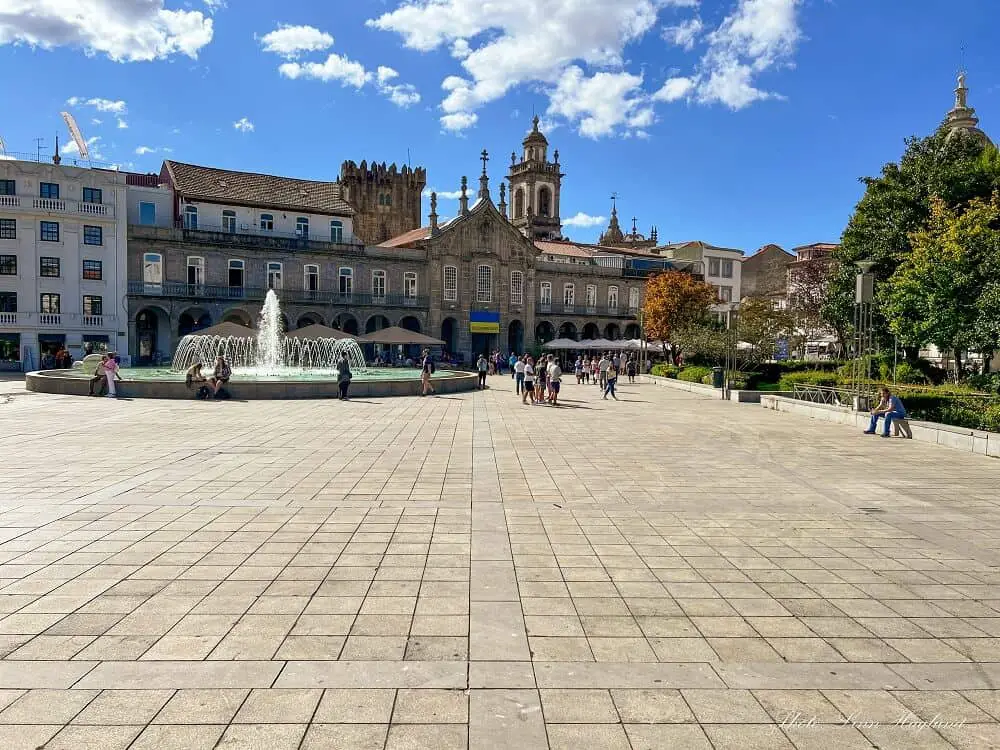 Braga Cathedral
Braga Cathedral is the oldest cathedral in Portugal and is recognized as a National Monument. The cathedral dates back to the 11th century and is a lot larger than the modest façade lets you think.
Of particular interest are the organ, treasury, and crypt, where the first king of Portugal's parents are buried. The cathedral is the seat of the Archbishop of Braga.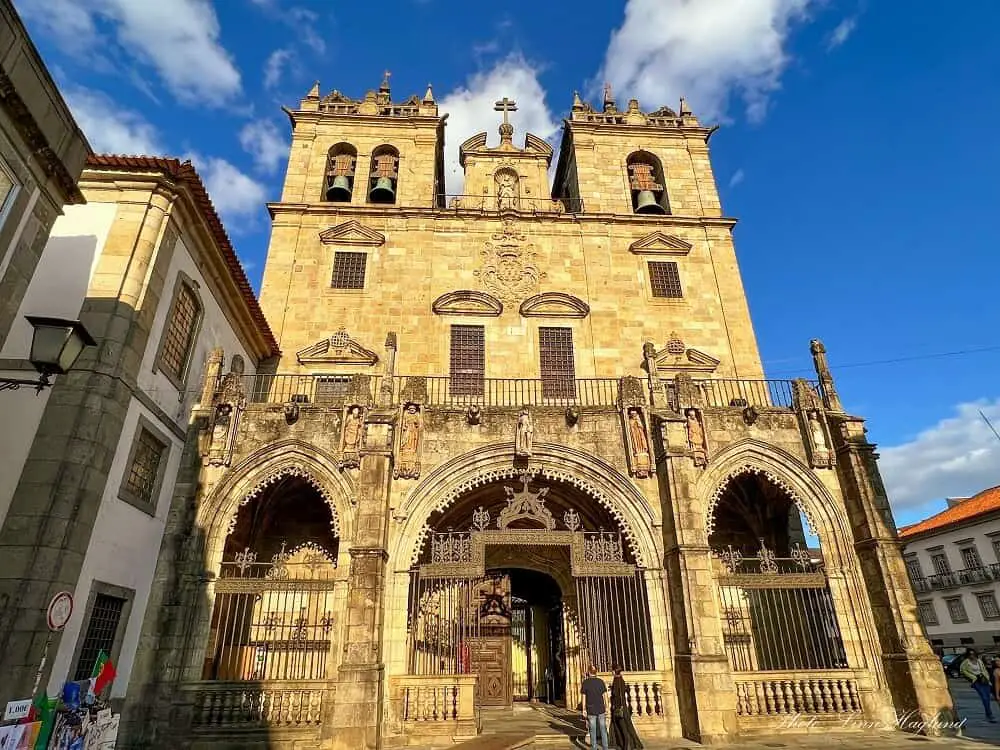 Lunch
We had lunch right in front of the cathedral at pPlace – Restaurant & Cocktail Bar for convenience and were happy with the food, drinks, and service.
But there are many other restaurants in the area where you could go if you want something different. Yet we enjoyed the view of the cathedral on the vibrant square.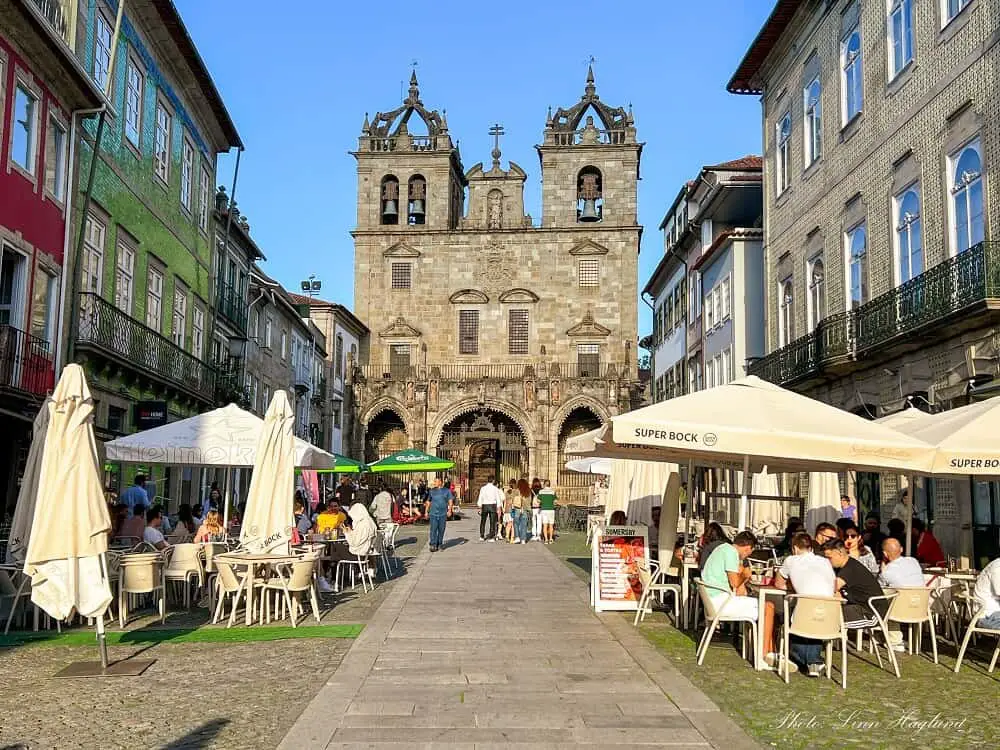 Walk through Arco da Porta Nova
One of the main entrances to the historic town of Braga is the Arco da Porta Nova. It is a beautiful Baroque gate dating back to the 18th century.
Though you basically will stay within the historic center all day, it is close to Braga Cathedral, so you won't have to worry about going too far to see it.
Town Hall and Public Library
Walk to the Town Hall and Braga's Public Library. The Town Hall has been the seat of Braga's government for centuries and it's worth admiring the beautiful façades dating back to the 18th century.
The library was founded in 1847 and is one of Braga's most important cultural institutions. Whether you decide to walk inside for a peek or just admire the buildings from the outside, it is worth a stop on your Porto to Braga day trip.
Jardim de Santa Bárbara
This beautiful, manicured flower garden was a delightful surprise in the heart of Braga. A wonderful color splash in a city we found a little gray.
Being a sucker for old ruins, it also helped that it is situated right behind the City Hall and Library where there are ruins of some old arches in the garden.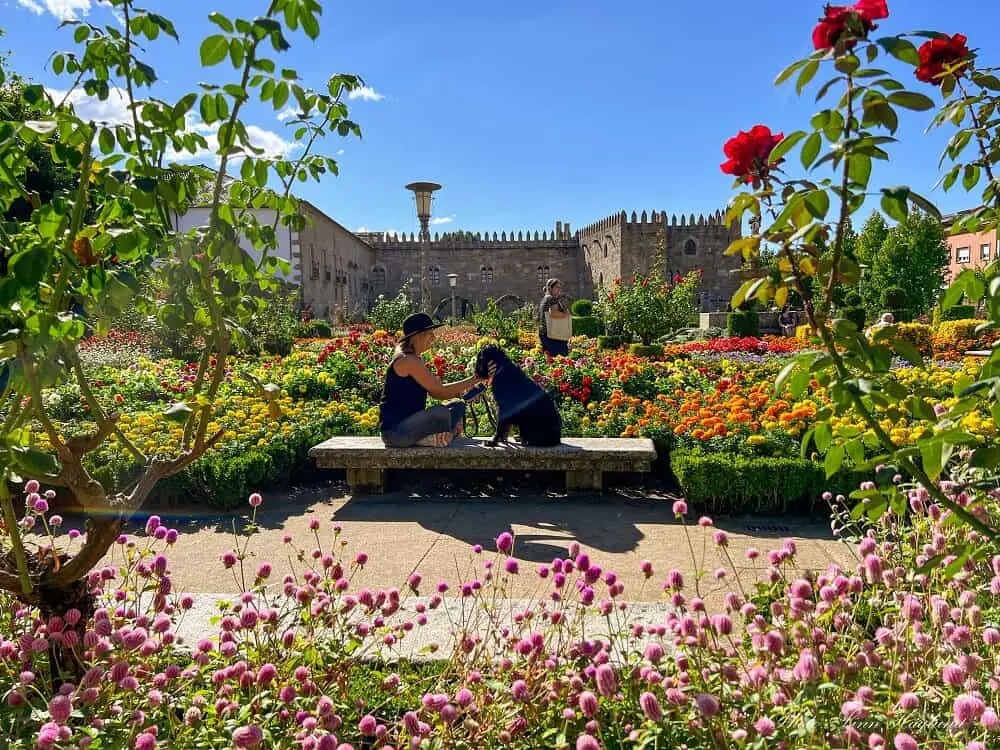 Sanctuary of Bom Jesus do Monte
If you drive, you should not miss out on the Sanctuary of Bom Jesus do Monte – if you travel by public transport, you might take a taxi.
This was in my opinion the most beautiful part of my Braga day trip from Porto. It is situated a short 15-minute drive from the city.
The sanctuary is one of Braga's UNESCO sites and is recognized by the 577 elegant steps leading up to the church that dates back to 1784.
Inside, you will be met by beautiful chapels, columns, and frescoes depicting different scenes from the bible.
If you prefer, you can take the funicular to the top. It runs every 30 minutes and only costs a couple of Euros.
In the case you take the funicular up, I highly recommend walking back down. Otherwise, you would miss out on the beautiful artwork on the stairs, the fountains and sculptures, and not to mention the scenes leading up to the crucifixion of Christ that you can see on your way.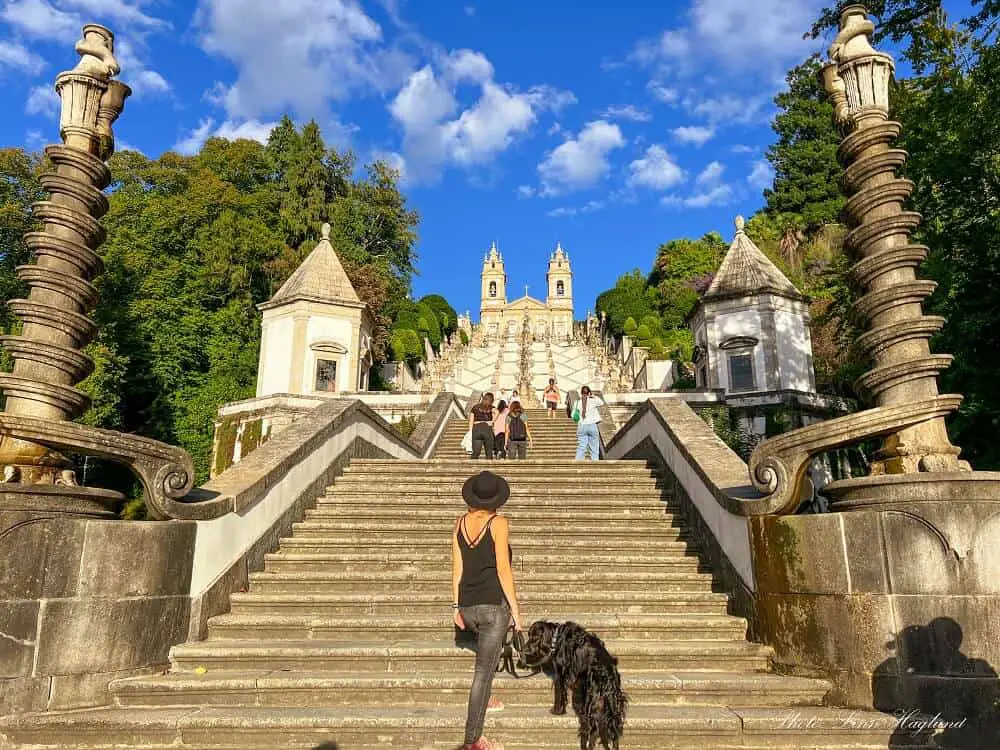 Reflections on a day trip from Porto to Braga
A day trip to Braga from Porto is surely worth it with so many interesting things to see and do. That said, there are only that many things you can fit into a Braga one day itinerary.
If you have more time, I recommend spending a couple of days. This way, you can uncover more of the impressive churches in Braga and visit some of the other sanctuaries around the city.