If you're planning a trip to Malta but not quite sure where to go, look no further. After spending a month and a half in the country, I've explored the island extensively.
In this post, I'll share the most picturesque cities and towns in Malta so that you easily can pick the ones that appeal the most to you for your vacation.
Malta is jam-packed with historical buildings and sites so you won't be bored. Here you'll find anything from enchanting fisherman's villages to quaint medieval cities. Whether you travel to Malta in the winter or summer, there are wonderful destinations to be explored.
Disclosure: This post may contain affiliate links. That means that if you make a purchase through one of those links, I will get a small commission at no extra cost to you. As an Amazon Associate, I earn from qualifying purchases.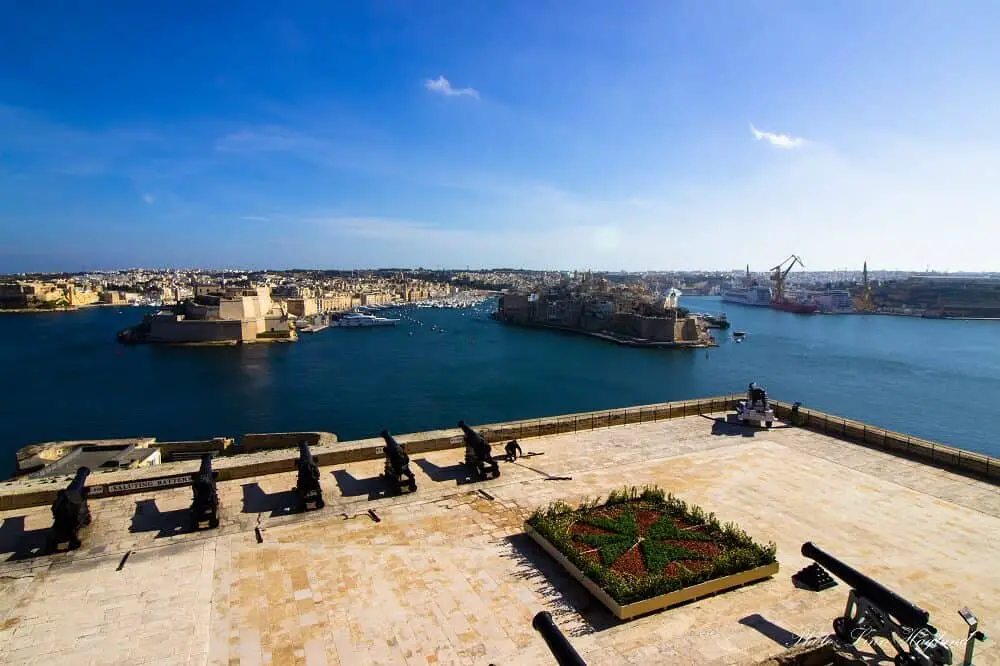 Towns in Malta
First, let's dive into the best towns in Malta that you'll want to add to your bucket list. If you are wondering if Malta is worth visiting, make sure you read my post about the top reasons to visit Malta.
Mellieha
No list of towns in Malta is complete without mentioning Mellieha. The enchanting town boasts a large parish church and a sanctuary which are the center of attention. You can also venture down the steps to Our Lady of the Grotto, which is said to make miracles come true.
In Mellieha, you can also enter the 500 meter long World War 2 shelter which gives you a haunting feeling of how it must have been to live down there while the bombs exploded above.
You can also venture down to the stunningly long beach at Mellieha Bay. Among the top things to do in Mellieha is to explore the Red Fort or take the bus to Popeye Village.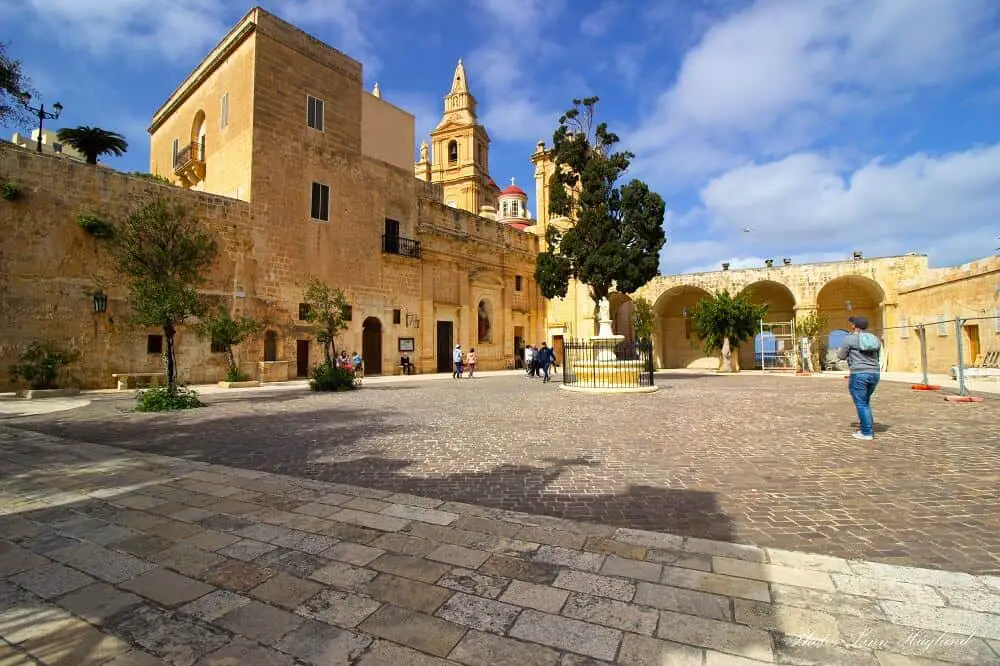 Marsaxlokk
Marsaxlokk is a charming Malta fishing village in the south of the island. Famous for its Sunday market, it's also one of the towns where you can maze at the traditional, wooden fishing boats dipping up and down with the sea.
If you want to go for a stroll through traditional houses, peek inside the cathedral, and enjoy local food at a restaurant, this is the perfect place to visit.
Marsaxlokk is also close to the popular St. Peter's Pool and other cool rock formations.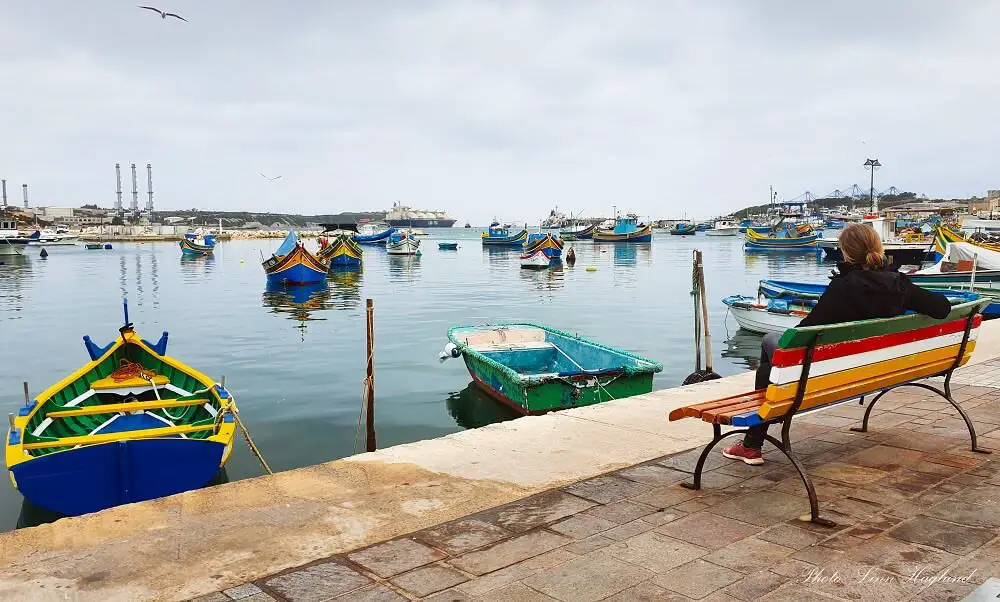 Rabat
Often overseen by its next-door neighbor, Mdina, Rabat is one of the Malta towns that truly deserves your attention. Getting lost in the narrow streets gives you so many cute backdrops for pictures and you'll find wonderful places to eat and drink.
Particularly interesting and the main tourist attraction in Rabat are the St. Paul's and St. Agatha's catacombs. Used until the 4th century AD, St. Paul's catacombs are the earliest archaeological evidence of Christianity on the island.
Check out the museums of Casa Bernard and the Wignacourt Museum taking you back in time for a peek at representatively Maltese noble life and the Chaplain life.
The Domus Romana is also well worth a visit. You'll find one of the oldest mosaics finds from Roman times in western Europe.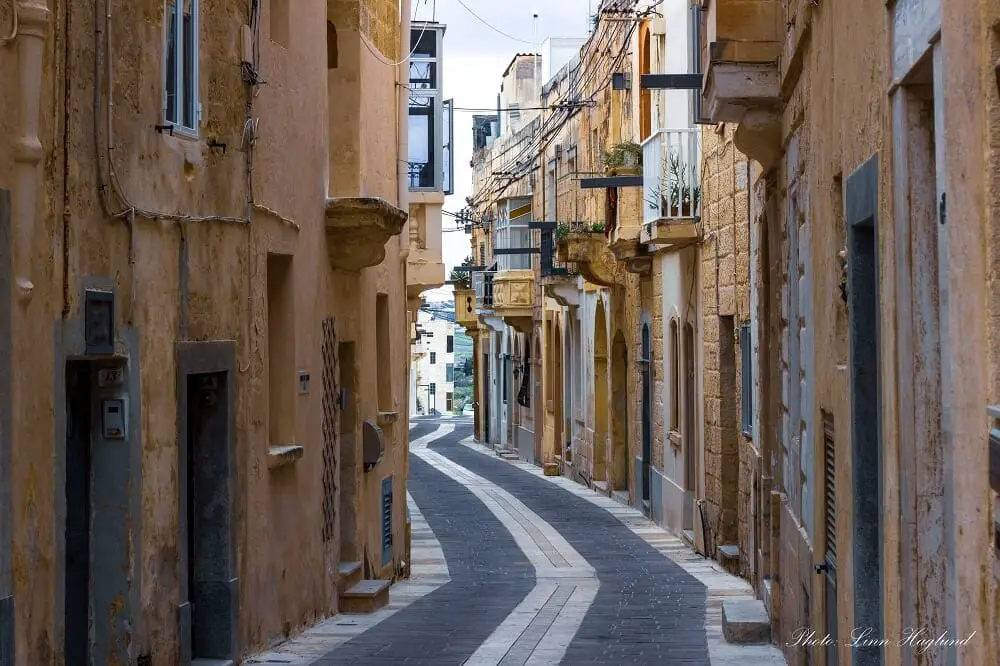 Zurrieq
Zurrieq might just be one of the most underrated towns in Malta but nonetheless, it's well worth a visit. As one of the oldest towns in Malta, Zurrieq has incredibly charming streets and remains all the way back to the Bronze age has been found. But you can see remains from Roman, Knights, and British times scattered through the town.
Particularly worth seeing are the Matrix Parish Church of St. Catherine of Alexandria and the Xarolla Windmill.
Right outside Zurrieq, you'll find one of Malta's most visited natural tourist attractions, The Blue Grotto. If you plan to hike in Malta, this area is full of spectacular hiking trails.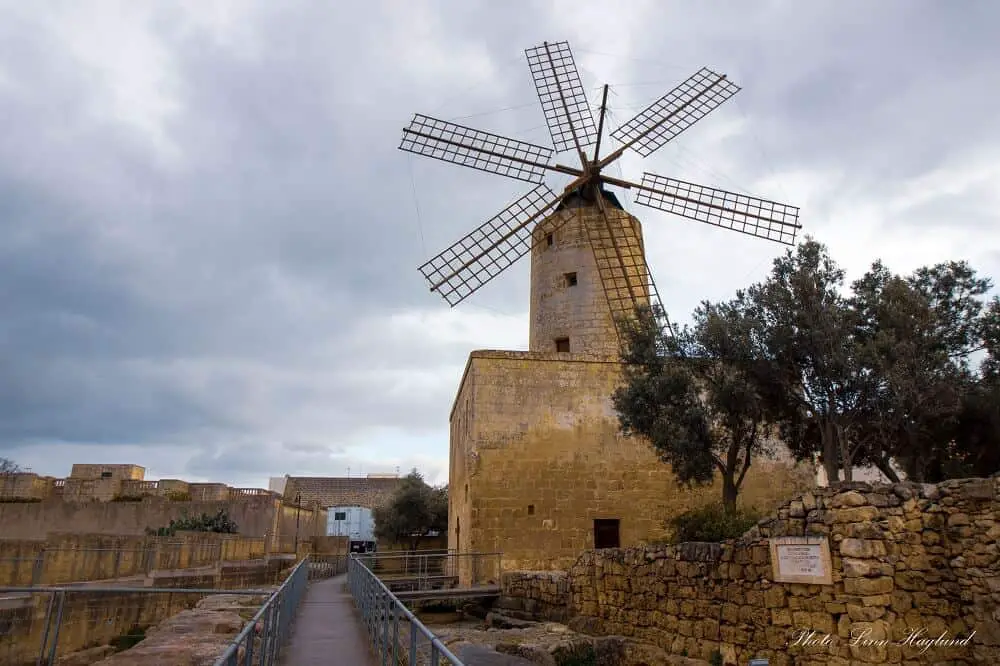 St. Julian's
Likely the most popular town in Malta for backpackers and expats is St. Julian's. Home to the best party district on the entire island, Paceville – aka Partyville, you won't have any problems shaking your booties off in St. Julian's.
The promenade in St. Julians is beautiful and you can literally walk to Valletta if you like. It will take you a little more than an hour. If this isn't your jazz, take the ferry over. It's super close.
While St. Julian's isn't your typically charming Malta town, it has its charm in the chaotic architecture that features old and new thrown into the same street while something else is halfway built.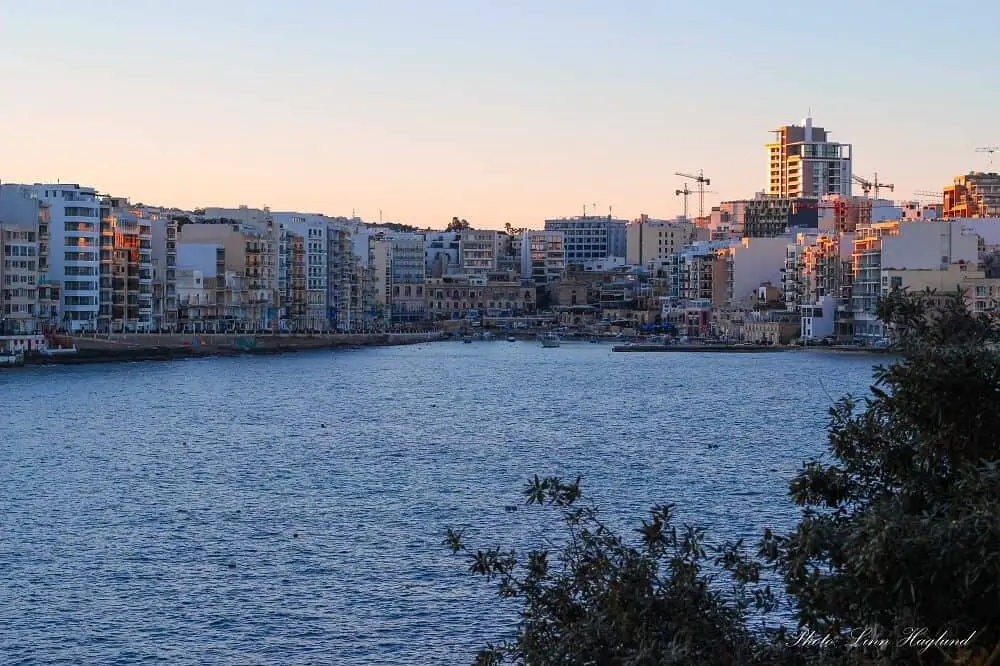 Cities in Malta
Valletta
The breathtaking UNESCO-listed capital city of Malta can not go by without a mention. Valletta is like no other city. History is written on the walls of the ancient houses along the narrow streets crossing back and forth through the city. Malta has no other place like it.
One of the best things to see in Valletta is the majestic St. John's Co-Cathedral which truly reflects the wealth of the Knights of Malta. While it costs you an arm to get in, it's well worth it as one of the most spectacular cathedrals in Europe, in my opinion.
Stroll around the Lower and Upper Barrakka Gardens and enjoy the spectacular view of the Three Cities. Make sure you take the ferry over to the Three Cities once you've walked around Valletta. They deserve at least a day, but if you only have a few hours it's still worth the trip.
Valletta is truly among the most beautiful cities in Malta if not one of the best European city breaks you can take.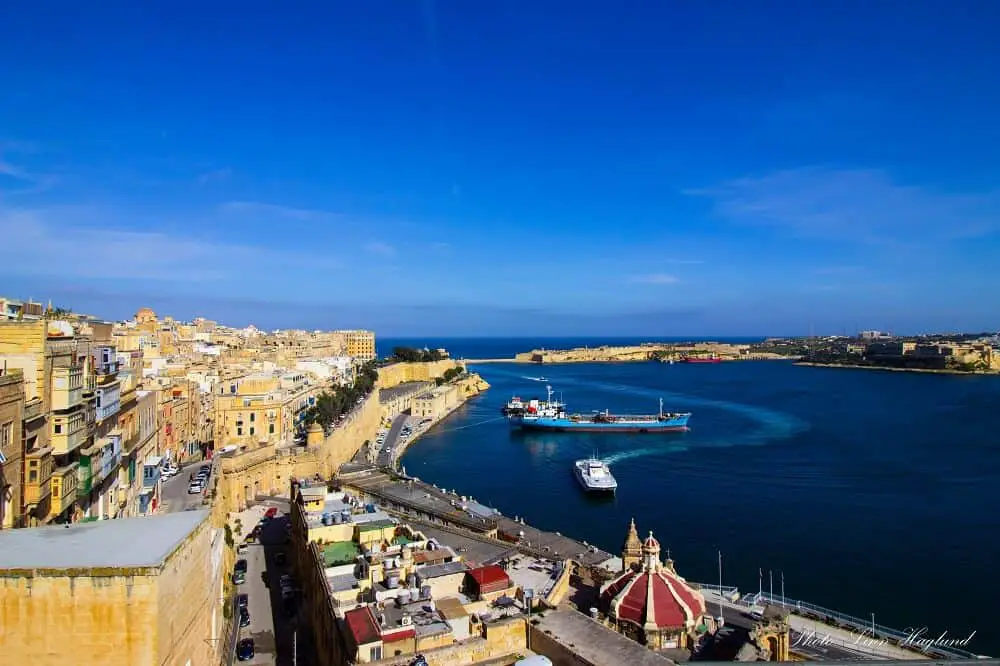 Mdina
The walled city of Mdina is no arguing one of the best cities in Malta to wander around and be amazed. There are endless things to see in Mdina so your best bet is to just walk through the ancient gates into the walled city and lose yourself.
The tranquil feel of walking the narrow streets is unique in itself and you'll walk onto something grand on every corner.
St. Paul's Cathedral is one of the top attractions and well worth entering. Next to the cathedral, head to the St.Paul's Museum where you among other things can find sacred art, an old coin collection, Roman artifacts, and a collection of fine paintings.
You should also make it to the bastion views where you can see across the island. The square makes a perfect place to slow down with an ice cream or a drink.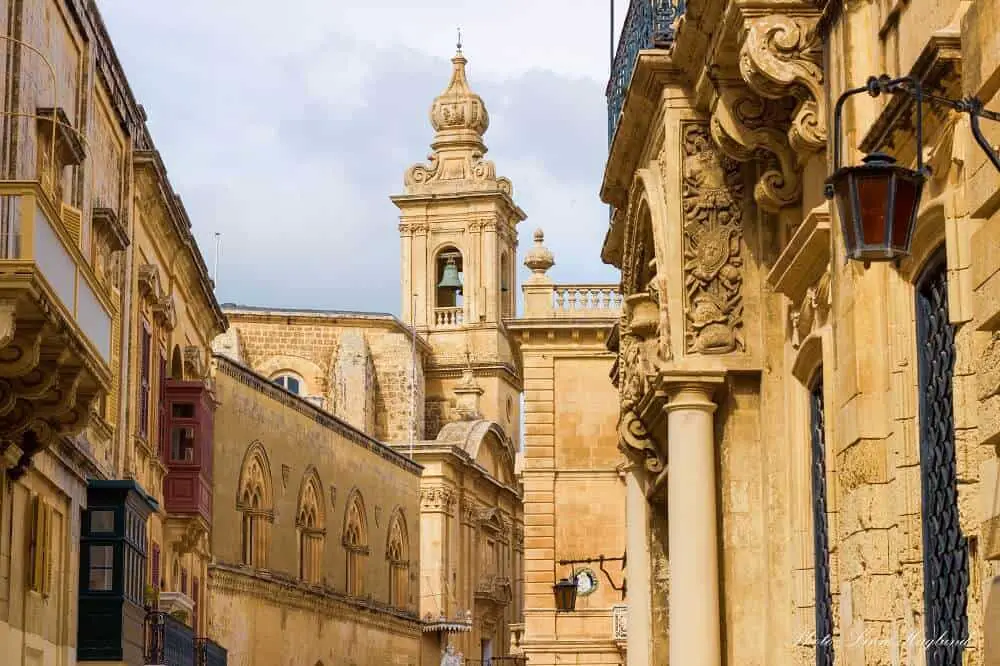 Mosta
No list of Malta cities can go by without mentioning Mosta. The stunning city with the holy Rotunda Basilica. During World War Two, a bomb fell through the basilica's roof but did not detonate.
You can enter the extravagant basilica and climb the stairs to the top of the dome for sweeping city views. It's also possible to pay an extra few Euros to enter the World War Two shelter beneath.
Mosta is an enchanting city to walk around with plenty of cafés and restaurants to try local treats – definitely worthy of a day trip!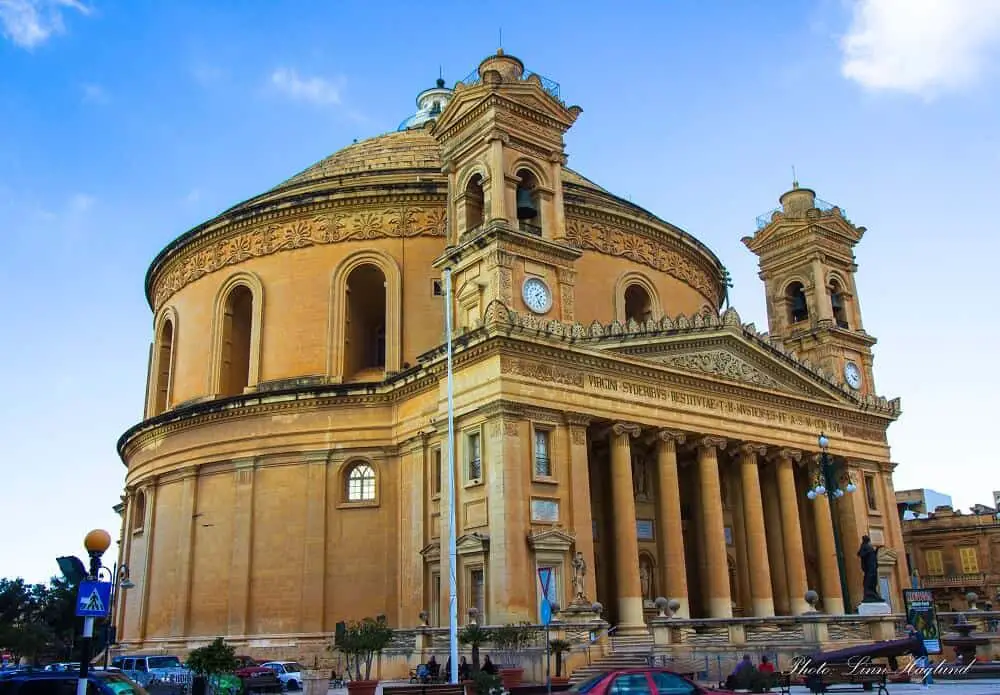 Victoria, Gozo
One of the most charming cities of Malta is found on Gozo island. Victoria will capture your heart no questioning. With its cobblestoned streets winding past small shops and restaurants, it makes for the perfect place to stroll around and soak in the wonderful Maltese atmosphere.
Walk the medieval bastions of Victoria's Cittadella and browse the many churches and cathedrals that are spread around the center.
Victoria is the perfect place to base yourself if you want to explore the rest of Gozo.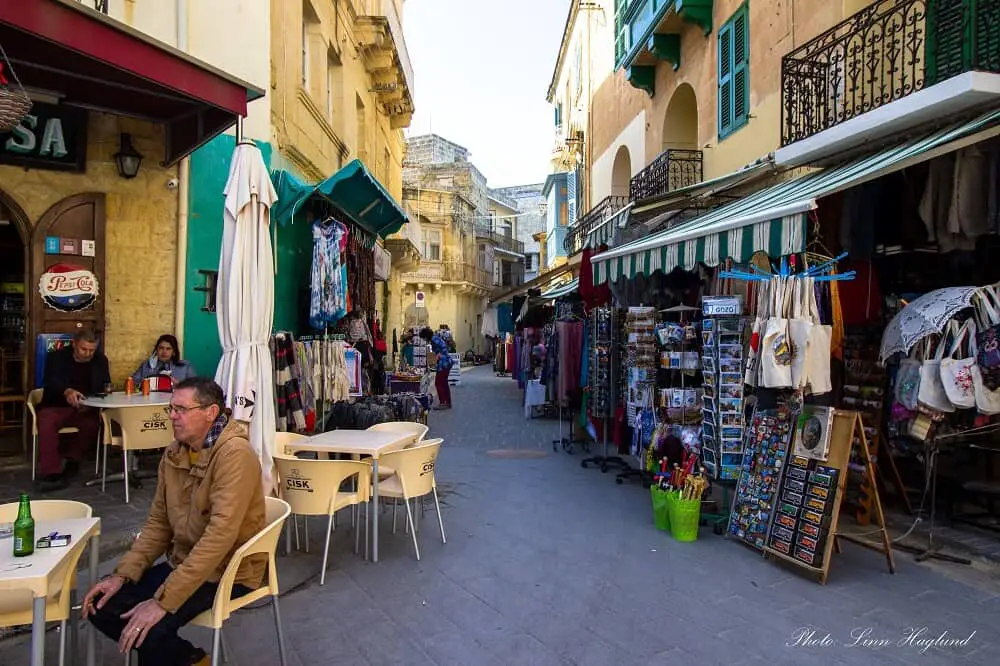 Reflections on the most beautiful towns and cities of Malta
With these Maltese cities and towns, you should have an idea about where you want to go on your trip to Malta. There is so much beauty and amazing places to visit in Malta and many of these towns and cities make for great bases for your Malta itinerary.
There's so much intriguing history throughout the islands and slow traveling through them is one of the best things you can do.
Make sure you leave no trace if you go hiking in Malta and that you only practice responsible tourism when visiting the country.
Happy travels!