If you're looking for an epic nature adventure in one of rural Madagascar's national parks, look no further than hiking the Tsingy de Bemaraha National Park in western Madagascar.
A combination of rising groundwater and erosion from rain and wind has resulted in a forest of sharp imposing limestone spires covering a total area of 152 000 ha of strict nature reserve protected by UNESCO.
Between the limestone towers, lush trees and plants give life to unique wildlife such as unique bird species and lemurs.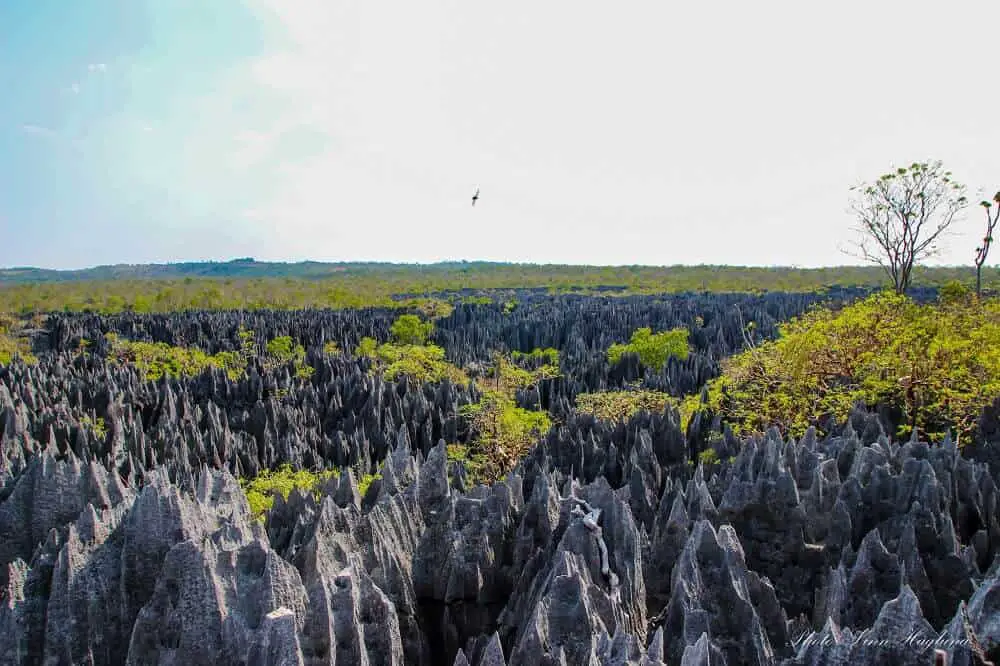 Before 1998, the Tsingy de Bemaraha wasn't yet a tourist trail. Tsingy, meaning "walking on tiptoe" in the local language, indicates how it would be pretty much impossible to walk on the beyond stunning razor-sharp limestone landscape for untrained travelers.
I did get a good taste of the unpleasant ground as the sole of my only shoes loosened enough that I had to rip them off completely to assure I wouldn't stumble over. And that was on the first day of two adventurous days balancing on top of the spikiest landscape I've ever walked.
The Tsingy de Bemaraha National Park includes two limestone plateaus known as the Little Tsingy and the Great Tsingy. An adventure to the park should definitely include both of these.
In this guide, I'll share everything you need to know to hike the Tsingy de Bemaraha and have an adventure of a lifetime.
Disclosure: This post may contain affiliate links. That means that if you make a purchase through one of those links, I will get a small commission at no extra cost to you. As an Amazon Associate, I earn from qualifying purchases.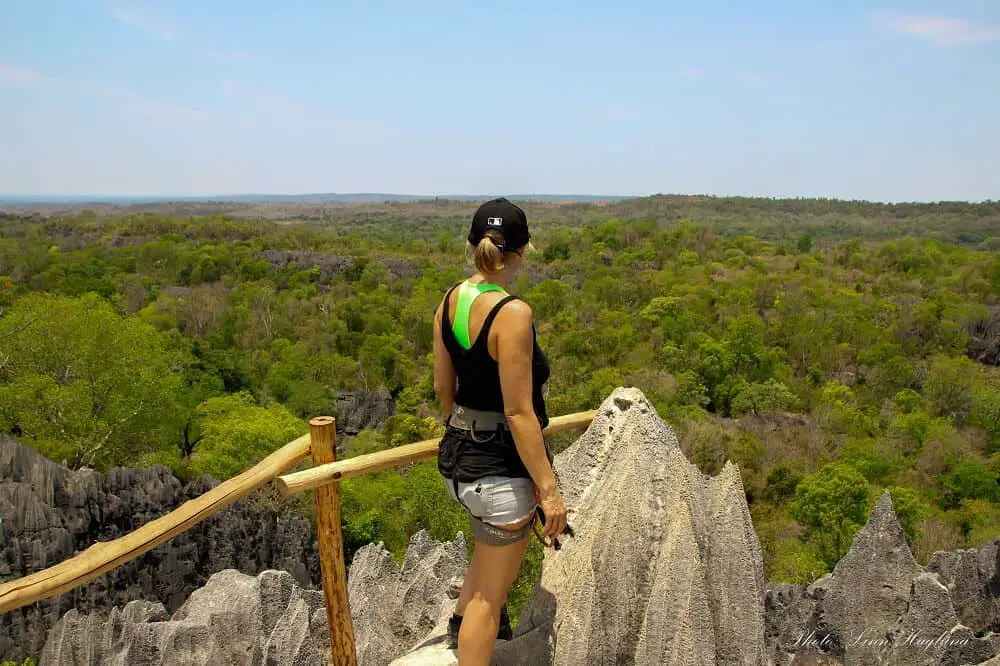 When is the best time to hike in Tsingy de Bemaraha National Park
Tsingy de Bemaraha National Park in Madagascar is only open in the dry season between April and November and the Great Tsingy area is only open from June to November.
For this reason, I recommend going between June and November, as the Great Tsingy is the greatest adventure in the park.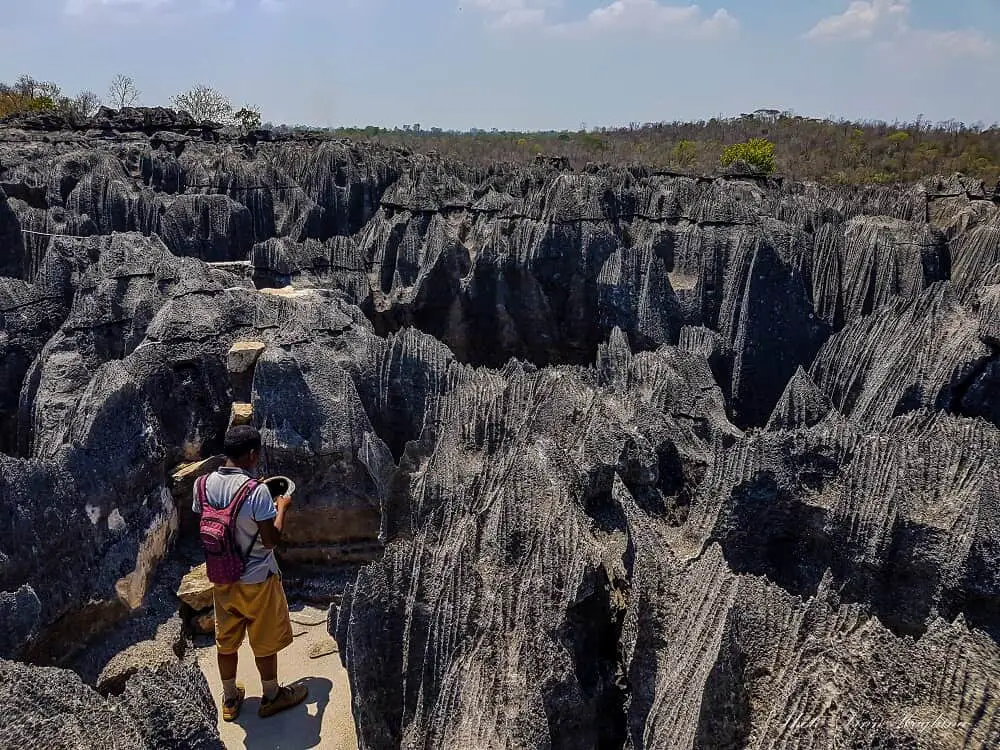 How to get to Tsingy de Bemaraha National Park
Getting to Tsingy de Bemaraha is surely not the easiest thing you'll do on your Madagascar itinerary. From Morondava, which is the nearest city and place with an airport/bus station, it easily takes a day to travel along rural dirt roads and a river crossing that you'll remember forever.
You'll drive by iconic Baobab trees, including the famous Baobab Alley and the Sacred Baobab, and numerous rural villages where children run after your car in plain delight! They will also most likely ask for plastic bottles to collect honey.
Your best option, if you don't have a rental car, is to book a tour at the tourist office that includes a driver. I booked a driver from Morondava at the tourist office in Antananarivo that picked me up at the bus station when I arrived.
However, I met several other travelers that had a rental and loved the experience. If you opt for a rental, make sure you book early to secure an apt car.
Drive the RN8 to Belo-sur-Tsiribihina and continue to Bekopaka village where the park's headquarters are, and where you must pay the national park fee and get a guide.
Check availability for rental cars here.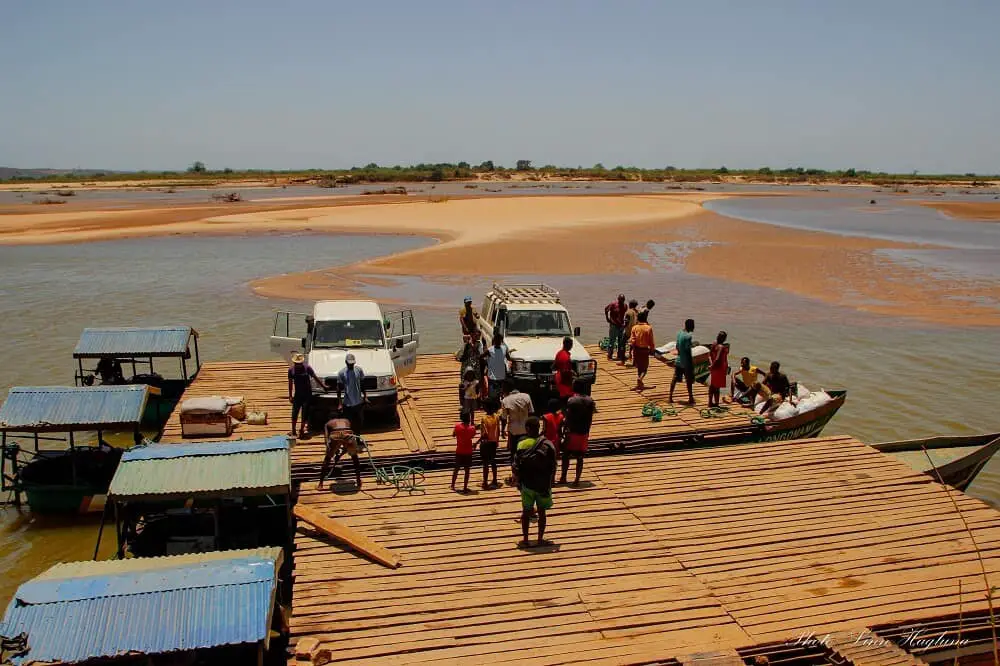 Where to stay
There are a few great resorts where you can stay when hiking the Tsingy de Bemaraha. Here are a couple of alternatives that will secure you a great stay.
Olympe de Bemaraha – This is a wonderful choice offering cute bungalows with bathrooms inside. They offer a big continental breakfast and have a restaurant where you can have dinner. There is also a nice outdoor pool surrounded by jungle vibes, perfect for relaxing after a day of hiking. If you don't have a private driver or renting a 4WD, you can take advantage of their airport pickup at Morondava airport.
Hotel Orchidée du Bemaraha – An eco-resort with bungalows and an outside pool to relax after a long day out in nature. Also this resort has a restaurant where you can have breakfast and dinner.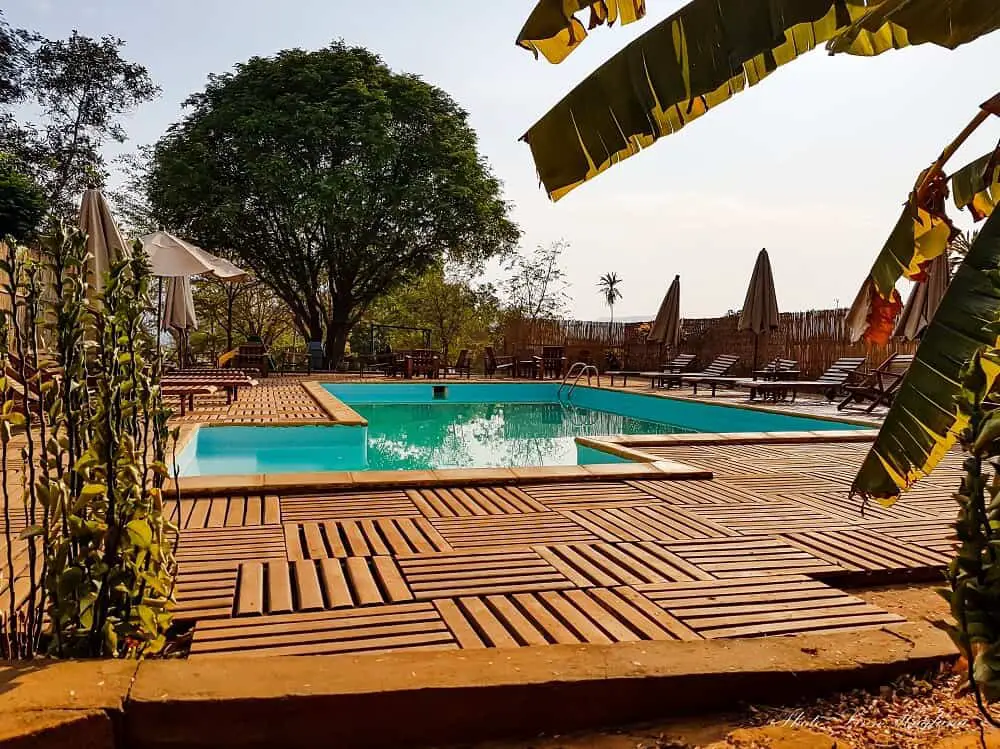 What to pack
Hiking Tsingy de Bemaraha is going to be hot. Very hot. So I suggest you pack your eco-friendly backpack with at least the following items, as well as wearing good shoes and a cap or a hat to cover your head from the sun.
Sunscreen
A lot of water
Snacks (nuts and dried fruit for keeping energy levels high)
Lunch
Camera
Extra camera battery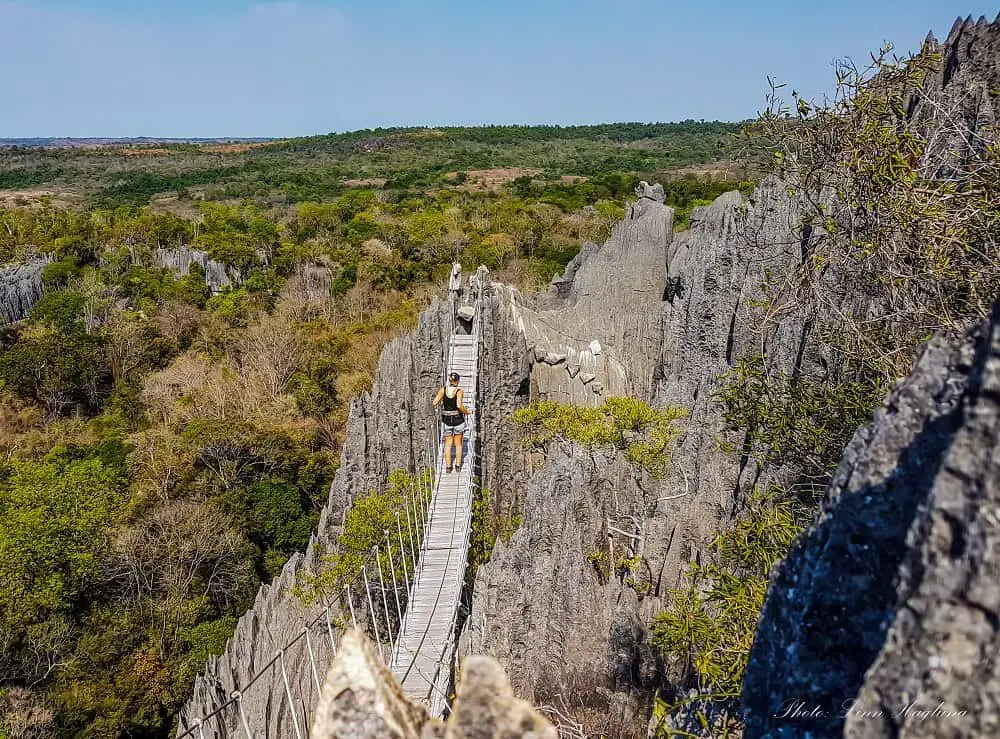 Day 1: Hike the Petit Tsingy
On the first day, it's recommended to start with the Little Tsingy, called Andadoany. It's about 1,6 kilometers long and takes approximately 4 hours to do.
The day starts with a canoe tour through the Manambolo River, stopping by a limestone cave along the way. It's definitely one of the most unique experiences to be had in Madagascar to ride a traditional wood-carved boat. The boat driver will move the boat by pushing the river bed with a long, wooden stick.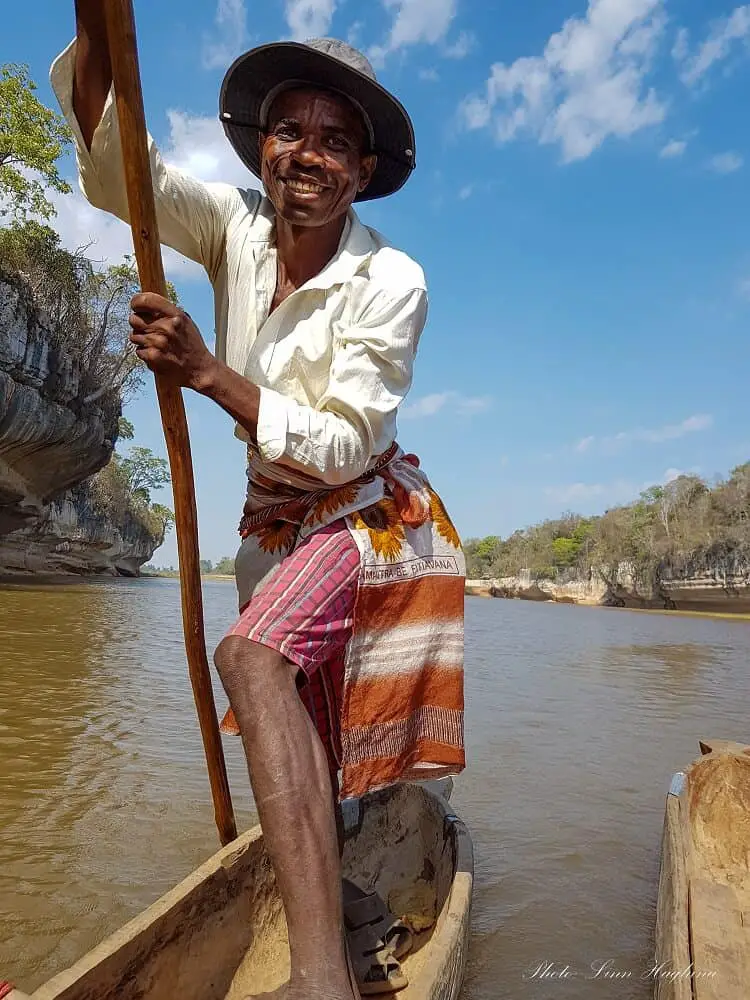 After a tranquil trip on the river, you'll be dropped off at the start of the trail. The Petit Tsingy, or Little Tsingy, is about 20 meters tall.
Wooden paths and little bridges connect the limestone pinnacles and you should have a head for heights to maneuver it comfortably.
From the top of the Little Tsingy, you'll get spectacular views of the Manambolo River and the rest of the limestone forest. With some luck, you might even spot a group of lemurs balancing the razor-sharp edges of the Petit Tsingy.
Your guide will tell you the history of the Tsingy de Bemaraha and how Madagascar's first human settlements lived in this seemingly barren area 2500 years ago when they immigrated from Indonesia.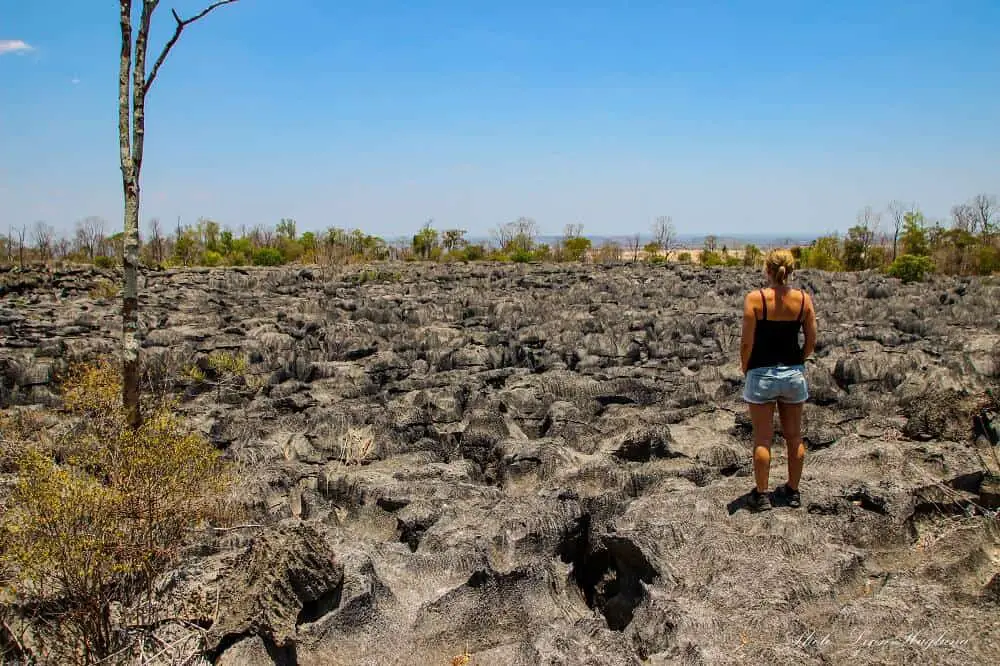 Day 2: Hike the Grand Tsingy
On day two, you'll be hiking the Grand Tsingy, which is called Andadoany-Ankeligoa. This route is 5,6 kilometers long and takes 5 hours to complete.
You'll start the day by strapping on your harness so that you can handle the via ferratas along the way taking you from the bottom of the 100-meter tall rock forest and up to the top by pressing through claustrophobic tunnels, crossing petrifying, wooden hanging bridges, balancing on top of razor-sharp limestone rocks, and climbing up vertical ladders.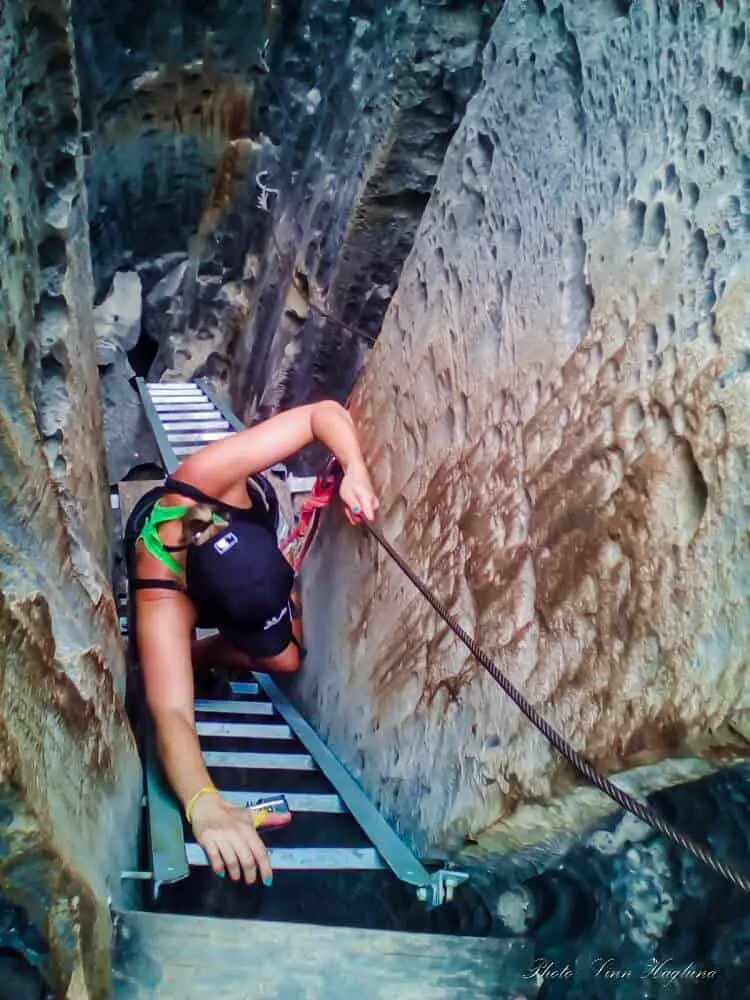 They say that the way to the top is the fun part of a hike, and for the Grand Tsingy, this is surely true. That said, all the sweat and vertigo are quickly forgotten the moment you reach the top of this other-worldly natural amusement park.
An endless forest of needle-edged limestone interrupted by green treetops lay in front of you. This is truly one of the most spectacular views I've experienced and suddenly made it worth the agonizing 13-hour bus trip from Antananarivo to Morondava followed by another day by jeep to get there.
If you thought the Little Tsingy was scary, you might ask your guide to take the easy way up the Big Tsingy which doesn't include a harness. This is also a good alternative if you have slight problems moving lightly or struggle with knee or back problems.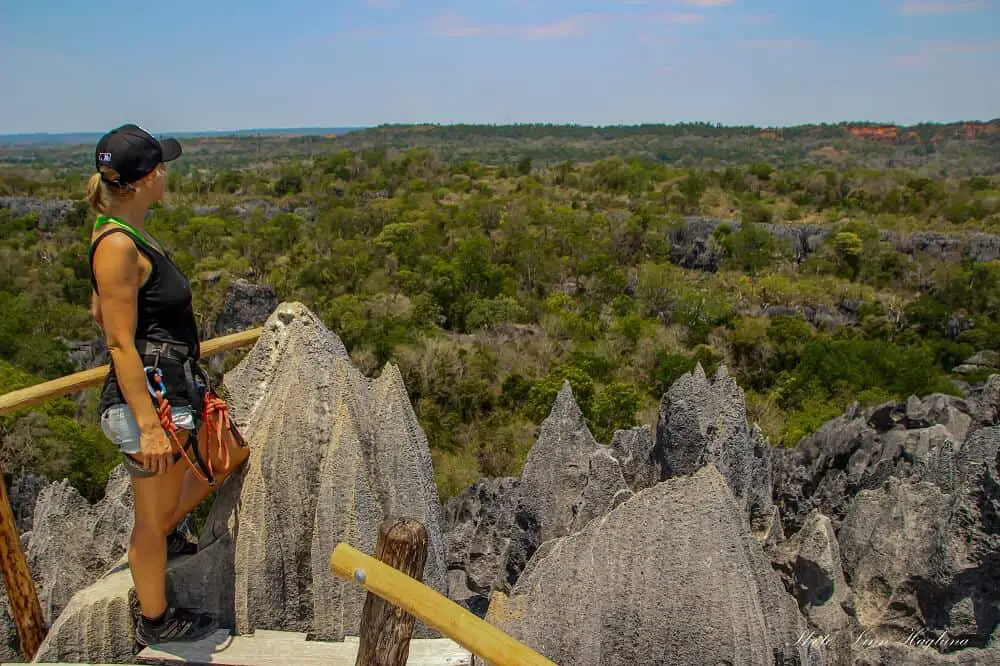 Reflections on responsible hiking in Tsingy de Bemaraha
Make sure you follow the Leave No Trace Principles when hiking in Tsingi de Bemaraha National Park. In my experience, the guides are well aware of the importance of protecting and preserving nature. Our guide was smoking but took the butts with him.
Though there shouldn't be any waste on the trails, always pick up any pieces of plastic or other waste you might find to dispose of it properly when you return to your accommodation.
Whatever you do, follow the guide's guidelines, and when you spot wildlife watch them respectfully from a distance without trying to feed them or getting closer to them. Madagascar is a country where you'll encounter a lot of unethical animal tourism due to the high poverty rate in the country.
Luckily, the national park services do their part in protecting the species that live within the parks. For this reason, you'll also experience unique wildlife encounters in Madagascar while practicing responsible tourism.