If you want to experience epic national parks, West Coast USA is the place to go! In fact, there are so many incredible national parks on the West Coast that it can be hard to decide where to go.
To make it easier for you, I've listed some of the best national parks on the West Coast according to outdoor and travel experts.
Whether you're planning on visiting national parks in winter or summer, there are incredible options for you on the west coast and there's no denying some of the most spectacular sceneries in the county are found in the west coast national parks.
Between the snow-covered landscapes in Alaska in the north and the heat of the desert in California in the south you'll find giant sequoia trees, deep canyon lands, captivating rock formations, and some of the most challenging hikes in the USA.
There is so much to see and do which makes the national parks in West Coast USA rank among the best places to visit in the United States.
Read on to uncover the best national parks on the west coast and get inspiration for your next adventure!
Disclosure: This post may contain affiliate links. That means that if you make a purchase through one of those links, I will get a small commission at no extra cost to you.
MORE FROM THE UNITED STATES
Best national parks on the west coast
Channel Islands National Park
Recommended by Janelle of Make the Trip Matter
Channel Islands National Park is one of the most unique places in all of California and truly one of the best national parks on the west coast.
Comprised of five different islands – San Miguel, Santa Rosa, Santa Cruz, Anacapa, and Santa Barbara – the park offers visitors a variety of unparalleled experiences. 
The islands offer a unique view of some of California's most well-preserved and untouched natural landscapes including unique animals, plants, and archeological finds that aren't found anywhere else on Earth.
From stunning beaches and incredibly unique diving opportunities to boating between the islands and spectacular hiking, there is something for everyone on the Channel Islands. 
History buffs can get their fix learning about the park's almost 13,000 years of human history. And Santa Cruz Island in particular is a world-class kayaking destination with one of the largest sea caves in the world to view.
Plus, there are incredible views, nature, and wildlife to take in no matter how you choose to experience the park.
Each island has at least one established campground where visitors can stay overnight to really take their time exploring all that this amazing place has to offer. Otherwise, many people explore the Channel Islands as a day trip from Santa Barbara.
The most popular ways to access the islands are to depart from either Ventura Harbor or Santa Barbara Harbor. Once on the islands, there are no cars or bikes allowed, so you will be exploring this epic west coast park on foot.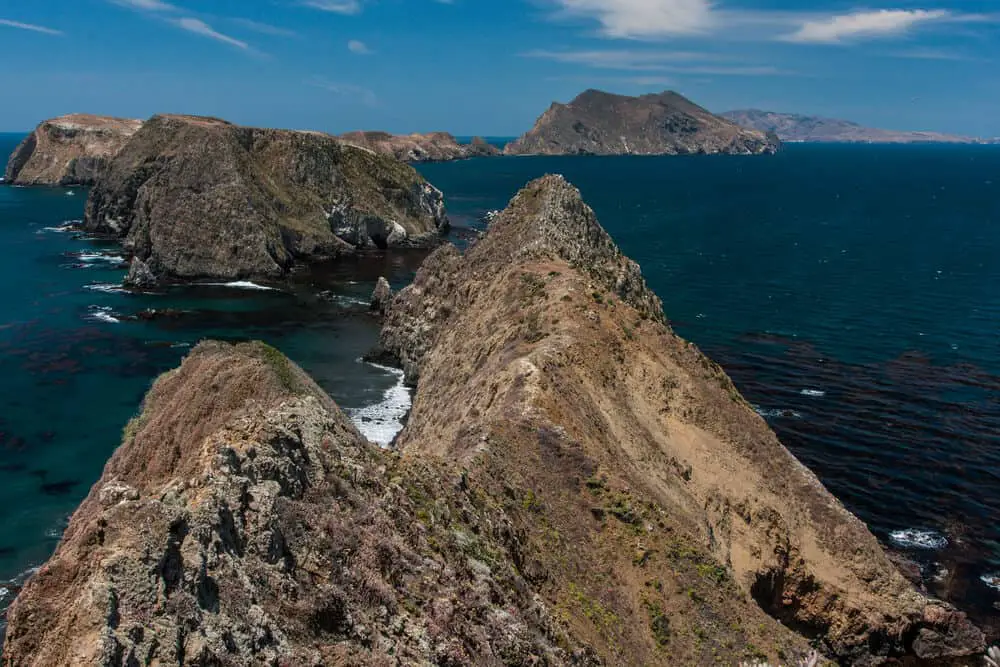 Denali National Park
Recommended by Mike of Live Travel Teach
If you're looking for an epic adventure in one of the USA's west coast national parks then look no further than Denali.
Many people forget that Alaska is in fact part of our western coast but most people have heard of the tallest mountain in North America, and its namesake national park, Denali.
You'll want to fly into either Anchorage or Fairbanks in order to get to Denali.  You can rent a car or take the train to the park entrance where you'll want to take one of the "big green bus" tours with national park rangers/drivers.
Normally you can't have any guarantees about spotting wildlife but Denali is a special place and you are very likely to see moose, caribou, and bears. The park is also home to wolves, porcupines, golden eagles arctic hares, arctic foxes, marmots, and more.
Backcountry enthusiasts will need to attend a bear safety talk by the rangers and put their food and fragrant gear in a bear bin but these excursions are well worth it! 
Groups of two have more options for backcountry permits and if you want to experience the backcountry but aren't a savvy outdoors person you can always hire a guide. 
There are plenty of campsites in the front country of Denali and you'll want to reserve those ahead of time.  If you head to the park in the late spring and early fall you'll also have a chance to see the northern lights! 
My favorite time to visit Denali is the early fall when the tourist season has slowed down and the tundra turns into a beautiful rainbow across the land and into the mountains.
Most of the year you are only allowed to drive private vehicles a few miles up the road and have to take an aforementioned bus tour but, for a few days every year, Denali opens the road to a lottery.
You should start planning ahead and enter the Denali Park Road lottery since it's often highly competitive. Note that a road washed out in a landslide near Polychrome Pass last summer and is expected to reopen in 2024.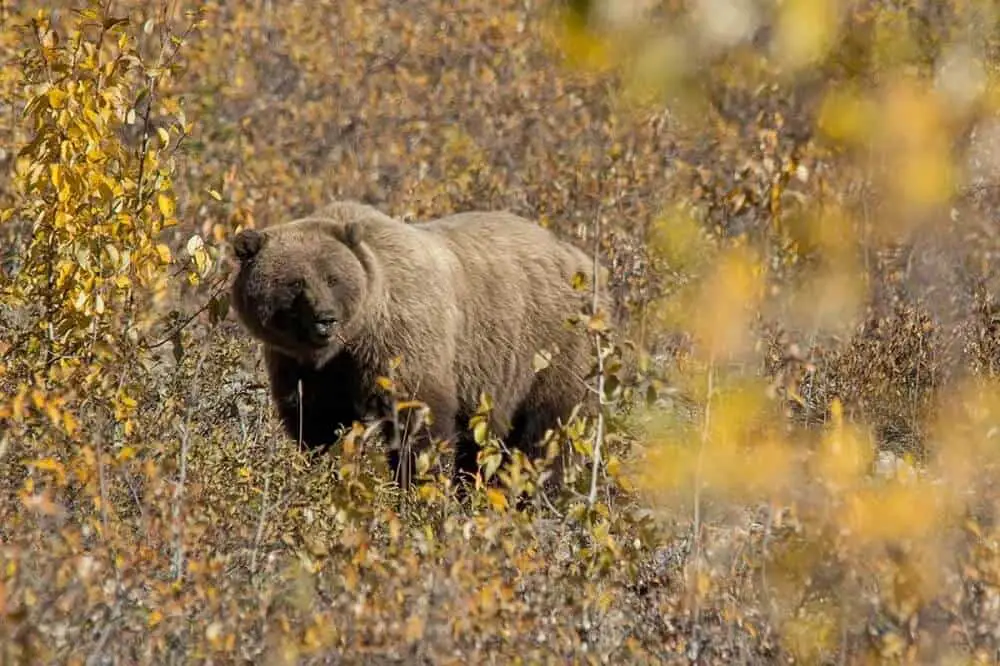 IF YOU'RE CAMPING…
Glacier Bay National Park
Recommended by Michele of Slow Traveling Cat
Looking to get far off the beaten path? Glacier Bay National Park, located in southeastern Alaska is so far off the road, you'll need an airplane to get there!
The entire park sits in and around Glacier Bay, which is a series of inlets located on the southern end of the Gulf of Alaska. The closest town is Gustavus, which is only accessible by plane or ferry.
Once you arrive at the regional airport or ferry terminal, you can catch a free shuttle into the park. 
Upon arrival at the park, you'll have two main activities to choose from hiking or exploring by boat. The Glacier Bay Boat Tour, operated by the National Park Service, is well-acknowledged as the best way to see this park.
Lasting approximately 6 hours, this narrated tour provides in-depth information on the area's famous tidewater glaciers as well as the local flora and fauna.
Being a protected area, it's not unusual to see whales, bears, seals, and sea lions during the tour. If you have time, make sure to also check out some of the hiking trails through the park's temperate rainforest, located just outside of the main lodge.
Aside from the park itself, the Glacier Bay Lodge offers some of the best in-park accommodations in the National Park System. Built so that every room has at least a partial view of the water, this hotel is well worth the cost to stay there. 
Between its unique accommodations, high potential for wildlife sightings, and remote nature, Glacier Bay easily floats to the top of any national park enthusiasts' bucket list.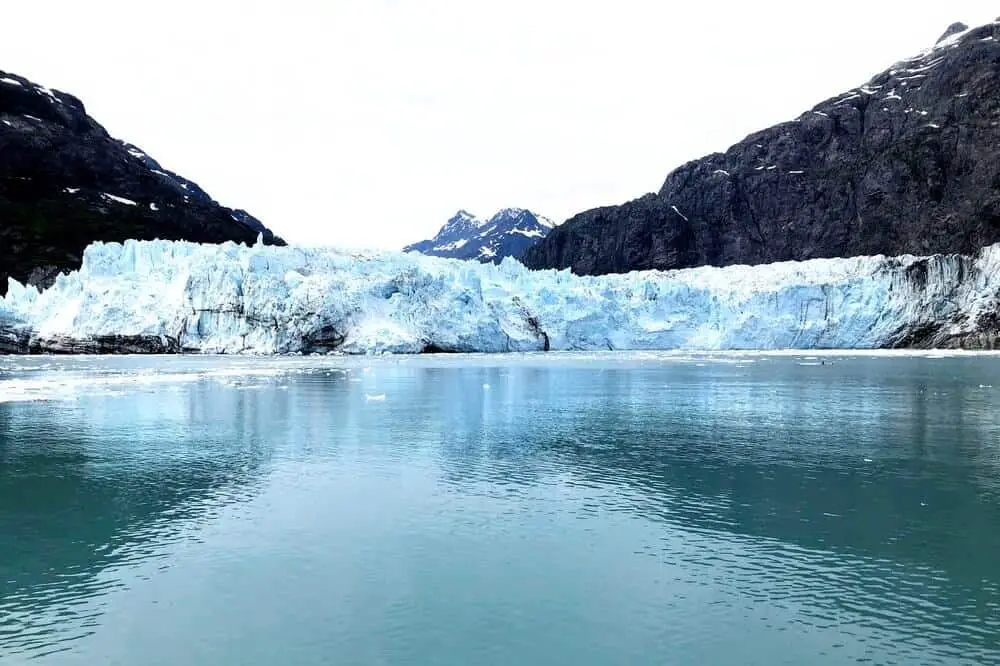 Arches National Park
Recommended by Stephanie of The Unknown Enthusiast
Arches National Park is an incredible western national park, and has some of the most dramatic and stunning scenery you'll ever experience. 
The most famous spot in Arches is Delicate Arch – an impressively completely free-standing arch. This hike is only 3 miles round trip, has moderate difficulty, and is so cool. It's a popular hike, especially at sunset, but there is a lot of space at the top to spread out. 
You can also hike to Landscape Arch – being approximately 300 feet long, this is the longest arch in the world! Landscape Arch is also part of the Devil's Garden area, where you can continue hiking to see another 5+ arches along with beautiful formations, and even wildlife. 
One of the coolest hikes in Arches is the Fiery Furnace hike – this hike requires a permit and a very limited number of permits are available every day. If you're able to nab one, though, you'll get to hike through a maze of pillars, fins, and canyons, going off trail to explore all sorts of nooks and crannies. 
There are also plenty of overlooks and viewpoints if you don't want to do much hiking – for example, Balance Rock is a super interesting rock to view from the parking lot, as is the beautiful Park Avenue Viewpoint.
Arches National Park is located in the northern part of southern Utah, so it's easily accessible from Salt Lake City. Denver and Las Vegas are also only 5-6 hours away as well. The Aarchway Inn is a great place to stay in the city of Moab, which is about 5-10 minutes from the national park.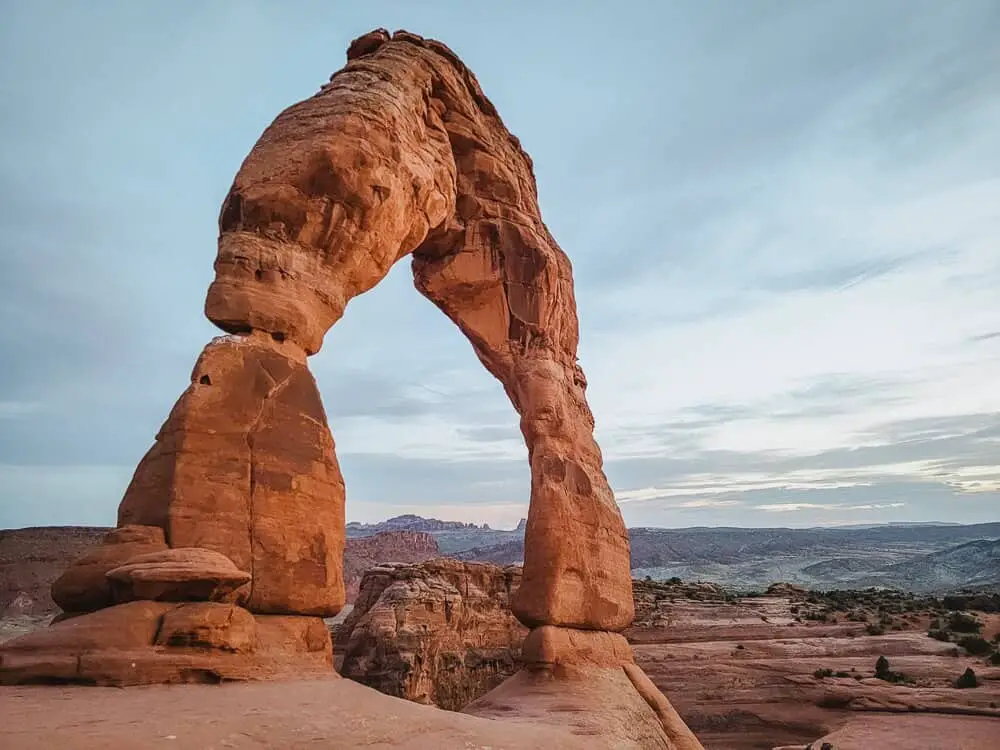 EVERYTHING YOU NEED FOR A NATIONAL PARK ROAD TRIP
Yosemite National Park
Recommended by Lori of Southerner Says
A peaceful valley, surrounded by mountainous granite, legendary sequoia trees, and thundering waterfalls – Yosemite National Park may have been the third named national park in the United States but its raw beauty has been inspiring people for centuries.
In 1912, outdoor advocate John Muir declared "no temple made with hands can compare with Yosemite. Every rock in its wall seems to glow with life".
Hands down, Yosemite National Park is one of the most epic national parks on the west coast and should be at the top of anyone's must-see travel list.
Yosemite National Park is located in east-central California, surrounded by national forests and backed by the Sierra Nevada mountain range. If you are planning a California national park road trip, Yosemite is a must for your itinerary.
The park is open year-round (weather permitting) and has several entrances. The western entrances are the easiest to get to from west coast cities like Los Angeles and San Francisco.
However, in warmer months, the drive across the Sierras on the Tioga Pass, to the east entrance is simply amazing. 
Once inside the park, Yosemite Village in the Valley should be one of the first stops for a ranger program and a quick peek at the visitor center.
Ditch the car and hike, bike, or just take a stroll on a few of the numerous trails while searching for the best views of Half Dome and El Capitan. Lower Yosemite Falls is an easy trek that almost anyone can do.
However, if you are up for a challenge, you can plan to hike Half Dome or Upper Yosemite Falls trek which are among the most epic hikes in northern California.
For accommodations, Yosemite National Park is home to several historic hotels and has numerous park campgrounds although well-thought-out advance planning is absolutely necessary for an overnight stay inside the park.
Outside the park, Narrow Gauge Inn in Fish Camp is a good option. Alternatively, there are a lot of excellent places to find free camping near Yosemite.
Don't forget plenty of water, comfy shoes, and an America the Beautiful park pass before heading to Yosemite.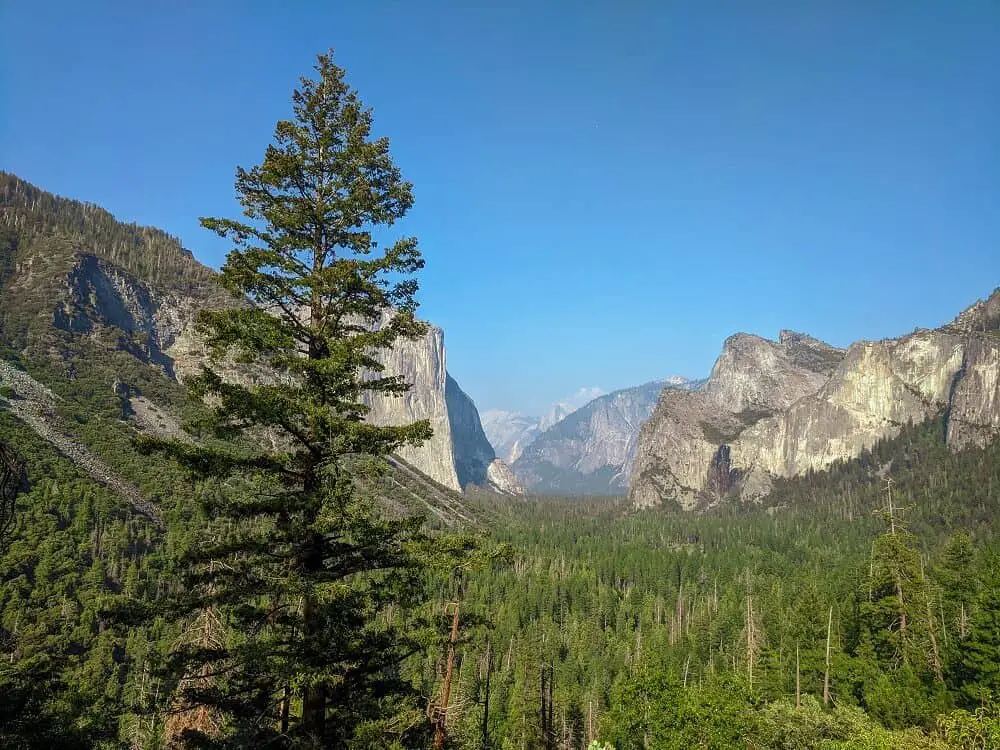 Crater Lake National Park
Recommended by Karen of Earth Jubilee
Crater Lake National Park is one of the most popular national parks in the western United States. And for good reason – it's absolutely stunning!
Crater Lake is a pristine, deep blue lake that lies in Oregon. It's fed by rain and snowfall alone so it has no inflowing streams to affect its water quality which makes this naturally beautiful body of water even more incredible.
This is the deepest and clearest lake in the United States, with clarity down to 100 feet. The deep blue color is unreal.
Crater Lake is home to some of the most breathtaking views in the country. Whether you're looking at the lake itself, or the surrounding cliffs and mountains, there's no shortage of beauty to take in. On a clear day, you can even see Mt. Shasta in California!
In addition to simply taking in the scenery, there are plenty of other activities to keep you busy at Crater Lake. There are numerous hiking trails of varying difficulty, as well as opportunities for biking, boating, and picnicking. There's also a historic lodge that offers tours and educational programs.
Crater Lake is located in Southern Oregon, just a few hours' drive from major cities like Portland, Seattle, and San Francisco.
A great place to stay at Crater Lake is the Aspen Inn. They have different size rooms including family bungalows with kitchen.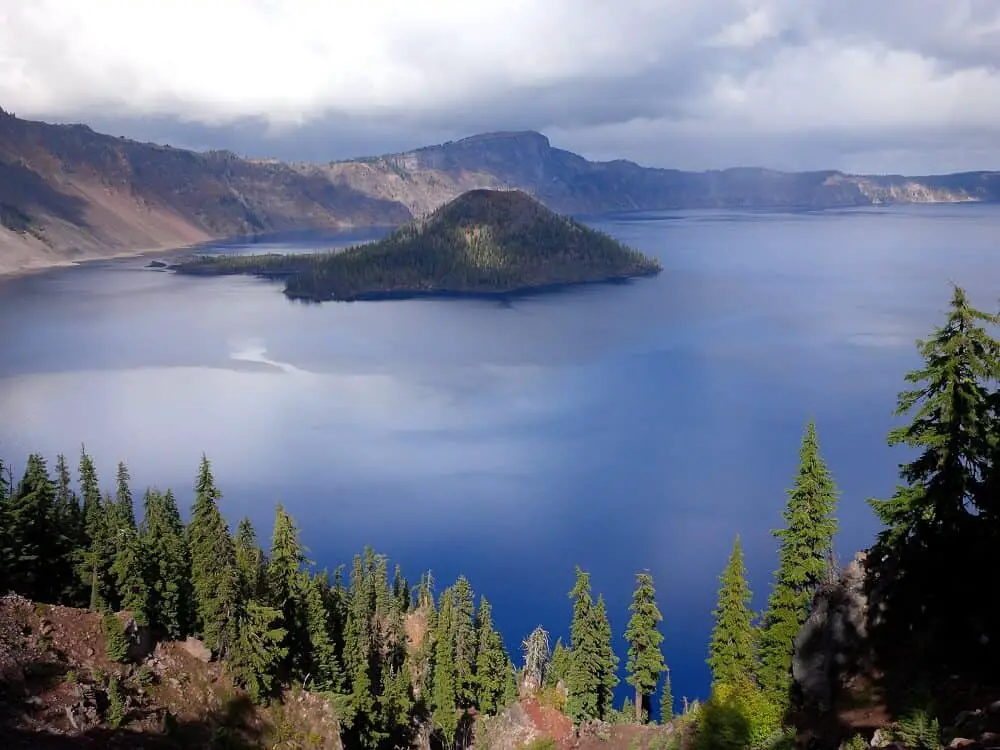 Death Valley National Park
Recommended by Sam of Find Love and Travel
Death Valley National Park is easily one of the best west coast National Parks. Not only is it the largest National Park in the lower 48, but it also has a unique and diverse landscape. Death Valley is located in California near the Nevada border. 
With just one day in Death Valley, you can see a lot of main attractions. This includes Mesquite Sand Dunes, Zabriskie Point, Devils Golf Course, and The Badwater Basin Salt Flats. Death Valley also has a handful of hikes to enjoy. 
Visiting Death Valley is best during the Fall through Spring. As the name suggests, Death Valley during the summer can be brutally hot with temperatures over 100 degrees.
There are several hotels and campsites located inside the National Park. With very few accommodations outside the park, staying in the park will be your best bet.
The Ranch Oasis at Death Valley is a great option located near Furnace Creek and Zabriskie Point. During peak season, the pricing can be steep, and rooms go fast, so booking in advance is important. 
Death Valley is best explored by car. It is an easy road trip from Las Vegas, Los Angeles, and even Joshua Tree National Park.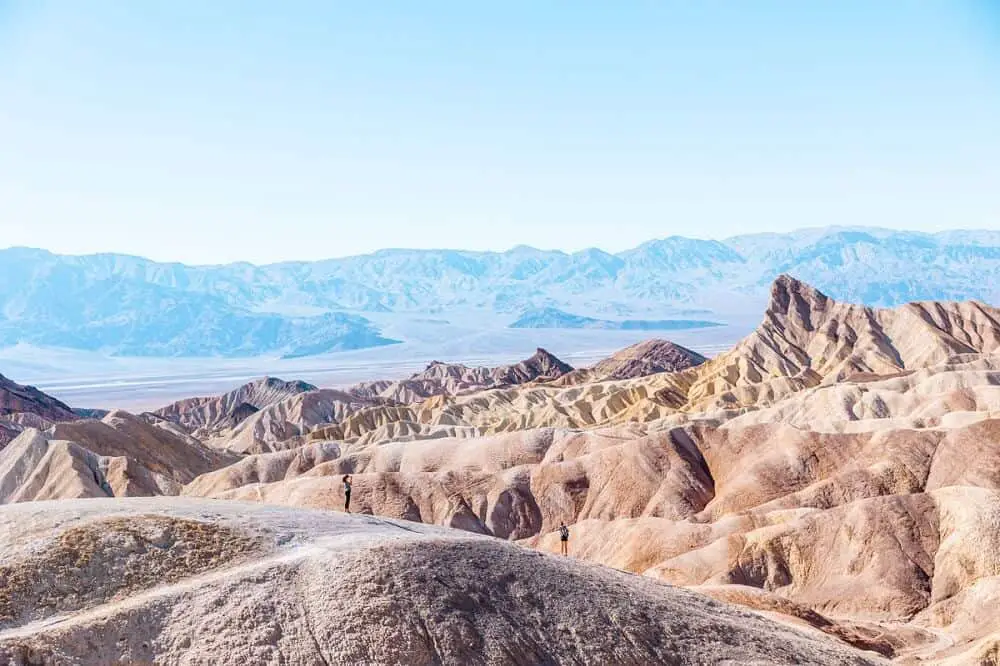 Mount Rainier National Park
Recommended by Kassidy of The Hiking Helper
As the home to Washington's tallest mountain, Mount Rainier National Park is one of the best national parks in the Evergreen state for hiking and adventure.
Located just about 2 hours south of Seattle and 2.5 hours north of Portland, this park is found in central Washington and is fairly easy to access from the international airports in each city.
With beautiful views of Mount Rainier and surrounding mountains in every direction, this park proves to be one of the best national parks in the west.
During your visit, plan to do some hiking, including Mount Fremont Lookout, where you might even catch a mesmerizing cloud inversion.
Other popular hikes include the Skyline Trail and Naches Peak Loop, both of which also showcase the majestic Mount Rainier.
Wildlife such as bears, marmots, and mountain goats call this park home and can often be spotted on hiking trails, so be sure to keep an eye open!
Many visitors also enjoy visiting the Crystal Mountain ski resort, which isn't too far away, and riding the gondola for some pretty epic views.
When you're ready to call it a night, book a stay at the Nisqually Lodge, located in Ashford, about 5 miles from the southern entrance.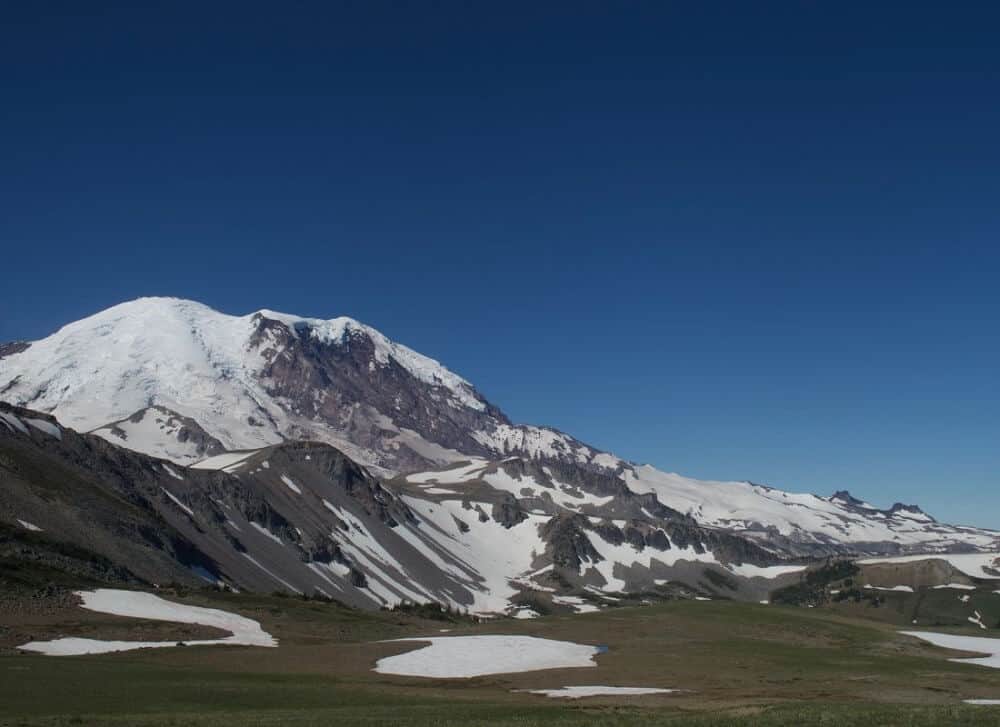 Glacier National Park
Recommended by Emilie of Love Life Abroad
Glacier National Park in Montana is one of the most stunning national parks in western US. In fact, there are more than 3 million visitors each year and it has become so busy that a timed-ticket entry pass is now required.
Glacier National Park is located in Northwest Montana at the border of Canada. Together with Waterton Lakes National Park in Canada, it forms the Waterton-Glacier International Peace Park.
The closest airport to Glacier is Glacier Park International Airport (FCA) located in Kalispell. Otherwise, Missoula and Great Falls are not too far and may offer more flight options.
When visiting Glacier National Park in the summertime, from May to September, it's important to get timed entry tickets. They are available 6 months in advance or at 8:00 AM the day before.
Since the park is really popular and busy in the summertime, tickets go away really quickly. It's possible to visit the park without timed-entry tickets by staying at one of the hotels within the park or by entering the park after 4:00 PM.
There are many things to see and do in Glacier National Park, but driving along the Going-to-the-Sun road is definitely a must-do. This 52-mile highway is breathtaking.
There are many stops to do along the way, so an ideal plan for an entire day to complete. The most popular stops are Lake McDonald, Trail of the Cedars, Avalanche Lake, Logan Pass, and St. Mary Falls.
Take your time while in the park to get the chance to see wildlife such as bears and mountain goats.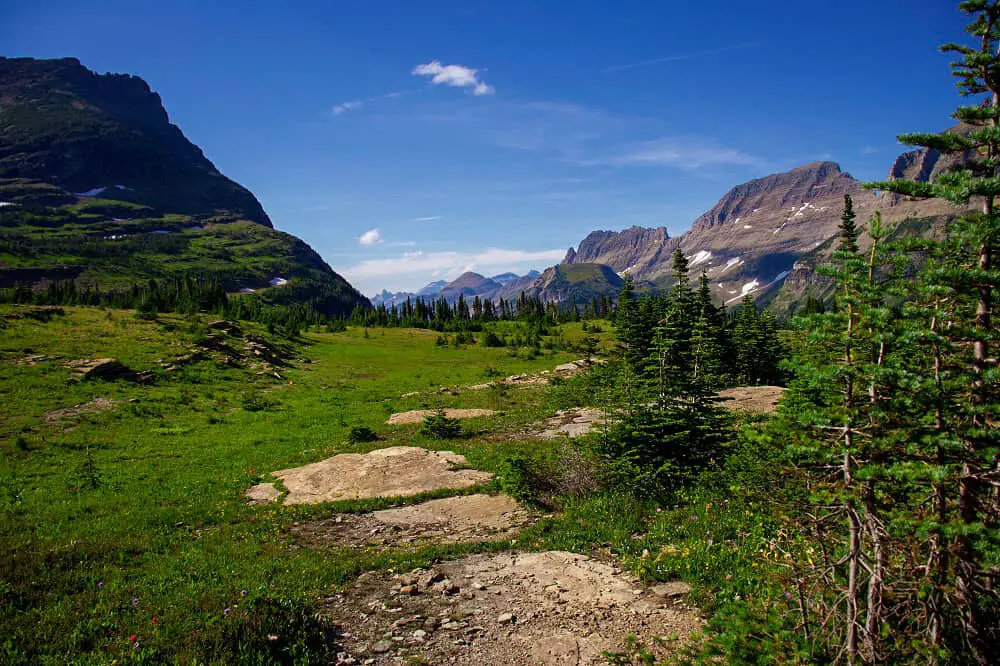 Bryce Canyon National Park
Recommended by Kristen of Bearfoot Theory
Bryce Canyon National Park is a must-see destination in the US. It's famous for its hoodoos – sculpted sandstone spires that dominate the landscape – with the largest concentration of them found anywhere on the planet.
You'll also find scenic hikes of all levels and easily accessible viewpoints of this unique, crimson-colored landscape.
To get to Bryce Canyon National Park, fly into Las Vegas or Salt Lake City and rent a car for the 4-hour scenic drive.
There are two campgrounds in the park – North Campground and Sunset Campground – as well as a lodge. Outside of the park, Ruby's Inn is the main hub with additional lodging options, a grocery store, a diner, and more.
Once in the park be sure to visit Sunrise Point, Sunset Point, and Inspiration Point for epic views, especially at sunrise and sunset as the names imply.
Hike the Navajo/Queens Garden Loop Trail (2.9 miles) for a walk through a dreamlike section of the canyon, Peekaboo Loop (4.5 miles) where you can see different stages of hoodoo formation, or the gorgeous Fairyland Loop (7.4 miles) if you're looking for something longer with a little less foot traffic.
Located at 8,000 ft, the temperatures at Bryce Canyon National Park can vary from very cold at night to hot during the day so be sure to check the weather and pack layers.
If visiting during the warmer summer months, start your days early so you can enjoy the scenery outside the peak heat of the day. Get ready to explore one of the most epic national parks in the western US.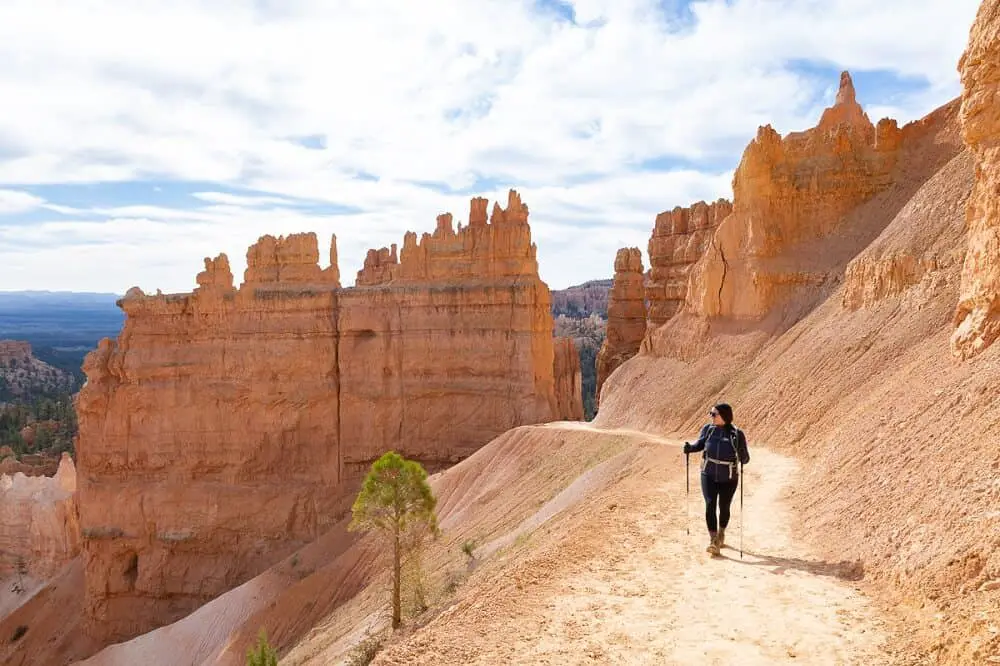 Zion National Park
Recommended by Clare of I Live 4 Travel
Zion National Park is located in Utah just 2 and a half hour's drive from Las Vegas along the I-15. It is the second most visited National Park in the US, with over 5m visitors in 2021.
It is very easy to get around as there is a park shuttle. Being one of the best National Parks west coast USA has on the shelf, Zion is famous for the steep red sides of Zion Canyon and the amazing views.
You can hike to the top of the canyon when you do the Angels Landing hike and you can hike through the river that flows through Zion canyon on The Narrows hike. Both of these are quite tough hikes and you now need a permit to hike the chains section of Angels Landing.
There are other beautiful hikes in the park that are easier, The Riverside Walk to the start of the Narrows, Emerald Pools, and the Canyon Overlook Trail, so there is something for everyone.
Within the park you can stay at Zion Lodge, it is the only noncamping accommodation within the park and was originally built in 1924. There is also a restaurant and café on site.
This is the start of the Emerald Pools Trail and is only half a mile from the start of the Angels Landing Trail, the daring trail that put Zion on the map among the best national parks on the west coast.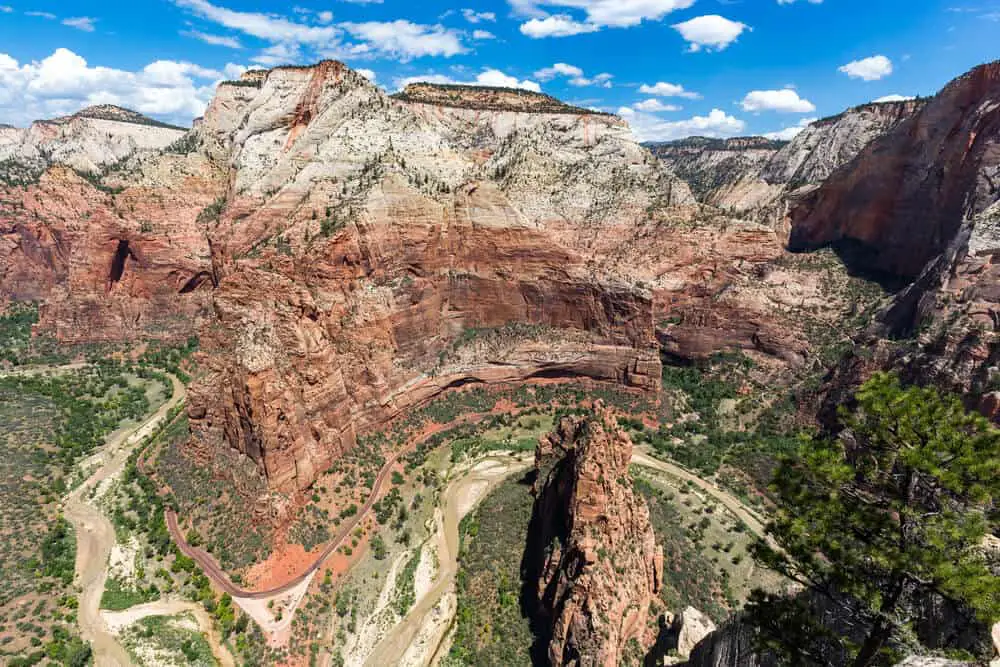 Sequoia National Park
Recommended by Jolayne of simplyjolayne
One of the biggest draws in Sequoia National Park is the General Sherman Tree in the Giant Forest. It is the "big" star of the show.
If you are visiting at peak times during the summer, you may wish to get an early start as traffic and parking can be an issue.
However, tourists are coming and going pretty regularly so if you choose to drive into the General Sherman Tree Main Trail and Parking Lot, you might get lucky with a parking spot. Otherwise, ride the shuttle from the Lodgepole Visitor Center or the Giant Forest Museum.
Hiking down from the parking area to the General Sherman tree will be along a paved path; though the pathway can be quite steep. You will want to wear good footwear and note the signs that try to prepare you for the steep climb back up!
Since the General Sherman Tree is so popular, you may have to stand in line for your turn for a picture. Have your camera ready to go if you are hoping to capture a picture without tourists.
The Congress Trail, near the General Sherman Tree, is a 2.7-mile loop through the grove of Sequoia trees and one of the best hikes in southern California. Along the way, you'll pass the President's tree, the Chief Sequoyah tree, the Senate trees, and the House trees.
There are limited accommodation options within the national park and the surrounding area. If you want a truly exclusive experience, book your stay at Wuksachi Lodge.
The lodge is located within the heart of the national park just 4.4 miles from the General Sherman Tree. You may wish to note that the lodge is remote with limited WiFi access. But hey, you're coming to see a unique west coast national park with amazing trees.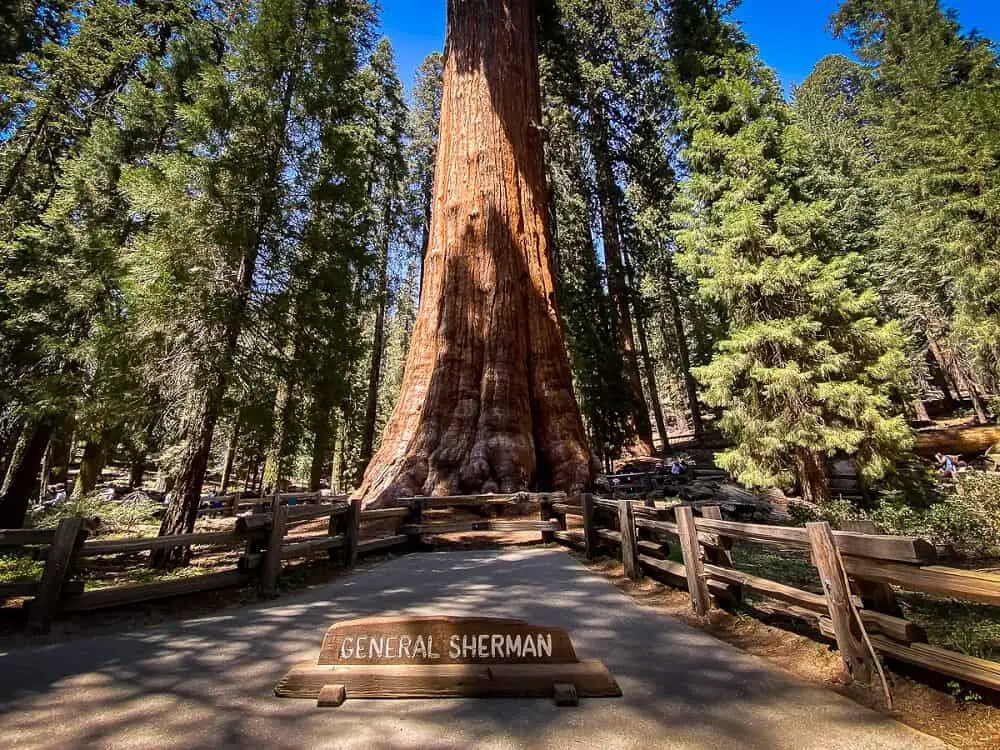 Olympic National Park
Recommended by Kim of Stuffed Suitcase
The beauty of the Pacific Northwest is perfectly captured within Olympic National Park. From beaches with crashing waves to mountain peaks filled with wildflowers, nature puts on a display within the park. There is no doubt Olympic National Parks rank among the best national parks on west coast USA.
Some of the most popular things to do in the park are hiking to Hurricane Ridge near Port Angeles where you'll be able to see the park's namesake Olympic mountains.
Working your way around the ring road of the park will bring you to other popular attractions including the crystal-clear Lake Crescent, Sol Duc Falls & Marymere Falls waterfalls, Rialto and Ruby Beach, and of course the famous Hoh Rainforest.
Olympic National Park is also home to Forks, the city made famous in the Twilight books and movies series.
When you're looking for places to stay, I highly recommend booking national park lodges very early as they fill up fast. If you miss booking at one of the national park lodges, look at some of the hotels in Port Angeles such as the Red Lion Hotel Port Angeles Harbor. Further into the park check out the Woodland Inns cabins in Forks.
Getting to Olympic National Park is fairly easy as it's located near Seattle, Washington. The park is a peninsula, so you have to drive around from Tacoma or Olympia, both south of Seattle. Or, consider driving across via ferry, one of the unique public transportation options for the region.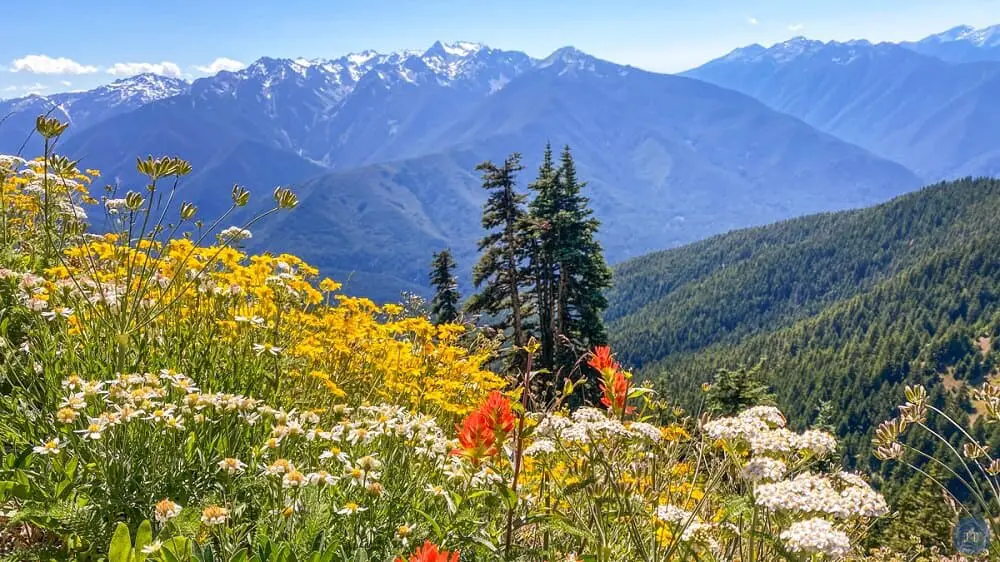 Wrangell-St. Elias National Park
Recommended by Heather Kasvinsky of This Noshtalgic Life
If you're looking for a bucket list off-the-beaten-path adventure, consider a visit to Wrangell St Elias National Park in southeastern Alaska in the summer. The park is 13.2 million acres and is America's largest National Park and one of the most incredible west coast parks.
A drive to McCarthy, Alaska will land you at the edge of the Kennicott River with parking specific for visitors. You can access McCarthy and Kennecott (where old mill buildings and other structures are open to the public) via shuttles that take you across the river. Tours of Kennecott are available and highly recommended.
This area is home to breathtaking glaciers and boasts stunning mountain scenery. There are endless outdoor activities to enjoy here, including hiking, backpacking, ice climbing, and kayaking. Flightseeing is also an option!
While in town a stay at Ma Johnson's is a perfect choice. It's like a step back in time where you will be immersed into this small town of McCarthy that lies in the largest protected wilderness on earth. You can take a short walk down the road to enjoy the best food in the park at The Potato.
Wrangell-St. Elias National Park has something for everyone, but a highlight will be visiting Kennecott and the Root Glacier. The Root Glacier is accessible by foot for hikers and offers up views that are out of this world.
If you're looking for a challenge, consider one of the many steep hikes in the area that lead to old mine ruins, such as Jumbo or Bonanza Mine.
It's important to note that the road to McCarthy is a 60-mile dirt road known for its challenges, so be well prepared! It is an 8-hour drive from both Anchorage and Fairbanks, AK. While flights to McCarthy are available they are not within the budget of most travelers.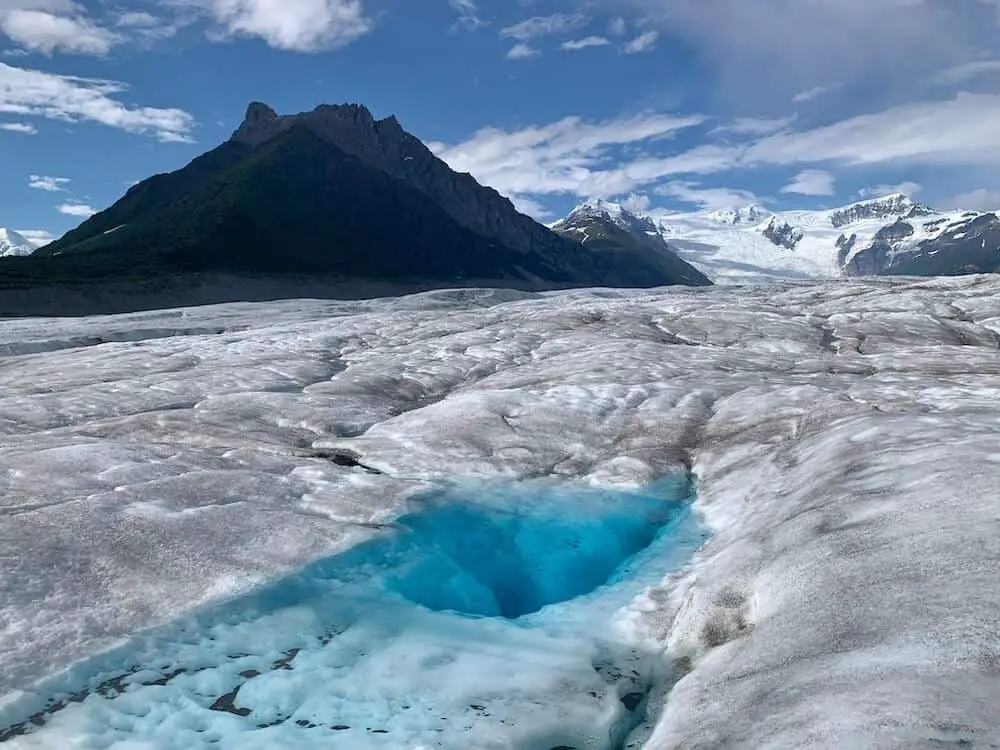 Redwood National Park
Recommended by Emily of The Mandagies
For an incredible west coast national park experience, make Redwood National Park a priority. This Northern California park is open year-round, but most people often visit in the summer season for the best weather.
The easiest way to get to the park is by car. It's a 5-hour drive north of San Francisco, California, and a 5-hour drive south of Portland, Oregon.
Hiking and scenic drives are some of the most popular things to do in Redwood National Park. The iconic Avenue of Giants, Enderts Beach, Road, and Bald Hills Road are all excellent routes for a leisurely drive through the park.
For hiking, take a walk among the giant redwood trees at Tall Tree Grove (permit needed), Lady Bird Johnson Grove, or Boy Scout Tree Trail. For some beach time, head over to Gold Bluff's Beach to see the waves, and take the trail to Fern Canyon Trail nearby (permit needed).
The nearest accommodations to the park are campgrounds. Jedidiah Smith, Mill Creek, and Elk Prarie are developed campgrounds in the park. They are very popular, and you need to book them ASAP!
Sue-Meg State Park is also a convenient campground close to amenities like gas and grocery stores. If you love time in nature amount giant trees, lush ferns, and dreamy coastal scenes, this is the park for you!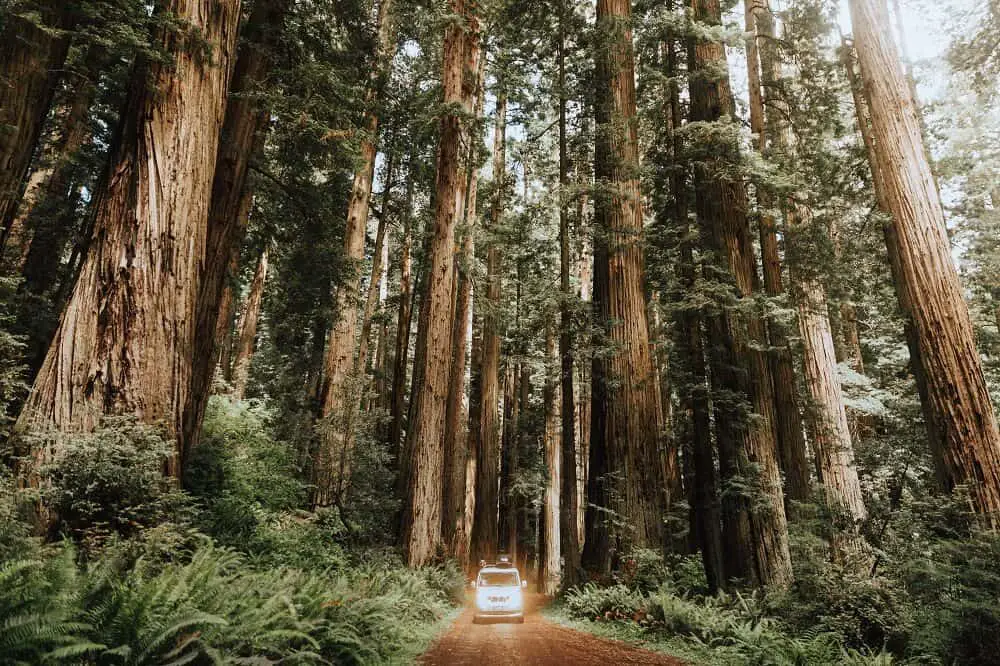 Reflections on the US west coast national parks
As you can see, there is no shortage of epic national parks in western United States to visit. No matter if you're an avid hiker or you prefer to explore spectacular sites near a car park, you'll find it in the parks in the west.
The USA truly has some of the most splendid and dramatic landscapes on the planet and visiting the national parks in the west cover a huge number of US bucket list adventures.
READ NEXT: Best national parks on the East Coast