If you're looking for epic east coast national parks to visit on your next adventure, but not sure exactly where to go, I totally understand you. There are so many exciting options to choose from and it can be hard to know where to start.
The best national parks on the east coast boast everything from majestic mountainous areas to pristine beaches, and exotic wildlife. Whether you're looking for US national parks to visit in winter or during the summer, the east coast has something for you.
Get ready to explore stunning natural territories with incredible east coast hikes, canoeing opportunities, and picturesque drives for your next road trip in the USA.
The best national parks East Coast USA features are a wholly different kind than what you can expect from the west coast national parks, yet they offer a substantial contrast in natural scenes and available activities.
Following, you'll discover the best east coast national parks according to travelers and outdoor lovers so that you can start planning your next adventure.
Disclosure: This post may contain affiliate links. That means that if you make a purchase through one of those links, I will get a small commission at no extra cost to you. As an Amazon Associate, I earn from qualifying purchases.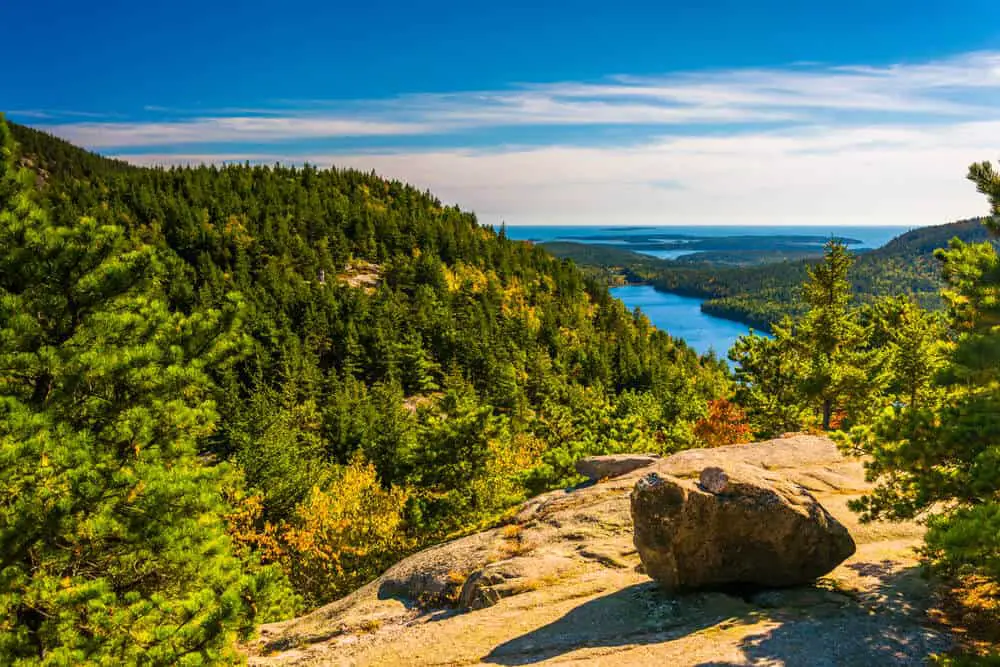 Useful posts when visiting the best national parks on East Coast USA
Best National Parks on the East Coast
Dry Tortugas National Park, Florida
Recommended by Victoria of Florida Trippers
If you're looking for one of the best national parks on the east coast of the United States then you can't beat Dry Tortugas National Park in Florida.
See, this incredible oasis of mesmerizing coral reefs, pristine beaches, deserted islands, and stunning beaches is located 70 miles west of Key West.
In fact, it covers an area of 100 square miles and includes seven distinct islands that can only be reached by either seaplane or ferry.
Therefore, this is one of the least visited parks in the country, with only around 60,000 visitors annually. 
So, if you really want to get back to nature and enjoy a bit of solitude then hop aboard the Yankee Freedom III ferry at Key West and enjoy a two-hour trip to the park. 
And while tickets are expensive at around $190 per adult, they include lunch and breakfast. Therefore, no need to worry about bringing food to the park. 
Then, upon arrival, be sure to visit historic Fort Jefferson before going for a swim at South Swim Beach. In particular, this spot is great for families since the waves are small and the water is clear. 
Next, try snorkeling near Moat Wall since you might be able to spot a couple of inquisitive sea turtles here before heading back to Key West and relaxing inside a room at the Hyatt Centric Key West Resort & Spa. 
It's an all-around centrally located, incredible 4-star hotel that overlooks the Gulf of Mexico and that comes with a pool and spa on-site.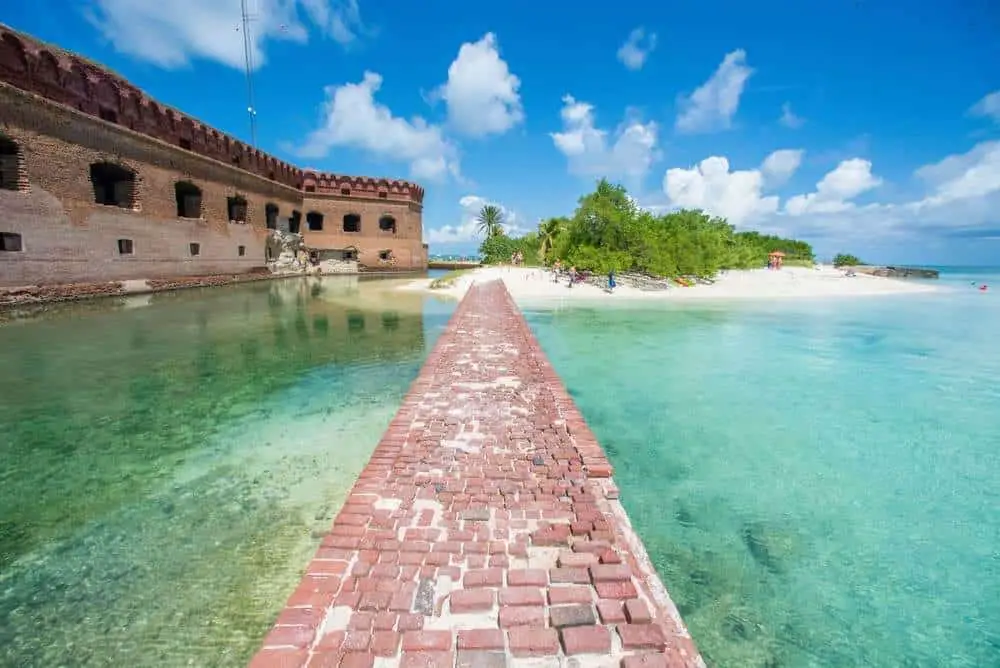 New River Gorge National Park
Recommended by Taylor of Brown Eyed Flower Child
One of the best and most underrated national parks on the east coast of the USA is New River Gorge in West Virginia. It's located around an hour from West Virginia's capital city of Charleston, which has an international airport.
New River Gorge National Park & Preserve is also a great spot to stop at during a USA road trip! You can easily get to the area from many Interstate highways.
The best town to stay in outside of New River Gorge National Park & Preserve is Fayetteville, West Virginia. It boasts great restaurants like Wanderlust Creative Foods, shops, art galleries, yoga studios like New River Yoga Studio, and live music venues like Southside Junction Tap House.
A great accommodation to stay at in Fayetteville is Lafayette Flats. It's a cozy, art-filled, and boutique vacation rental property that is in the heart of downtown Fayetteville and is within walking distance to a lot of the area's hot spots.
Overall, there are a lot of epic things to do in Fayetteville, West Virginia, and New River Gorge National Park! There are numerous hiking trails for all levels throughout the park. Either enjoy a full day hike on the Kaymoor Trail or take in the breathtaking views on the easier Canyon Rim Boardwalk.
If you're looking for more thrilling adventures in New River Gorge National Park, you must do the Bridge Walk over the New River Gorge Bridge.
It's the longest steel arch bridge in America and it stands at 876 feet tall, making it the third tallest bridge in the U.S. If you visit in October, make memories at Bridge Day, where you can watch BASE jumpers jump from the bridge and into the gorge.
Another fun thing to do in New River Gorge National Park & Preserve is to take a mountain bike lesson at Arrowhead Bike Farm. While you're there, enjoy craft beers and Bavarian bratwurst at The Handlebar + Kitchen!
If you visit New River Gorge National Park during the summer, you cannot miss out on doing whitewater rafting. It is some of the best in the United States.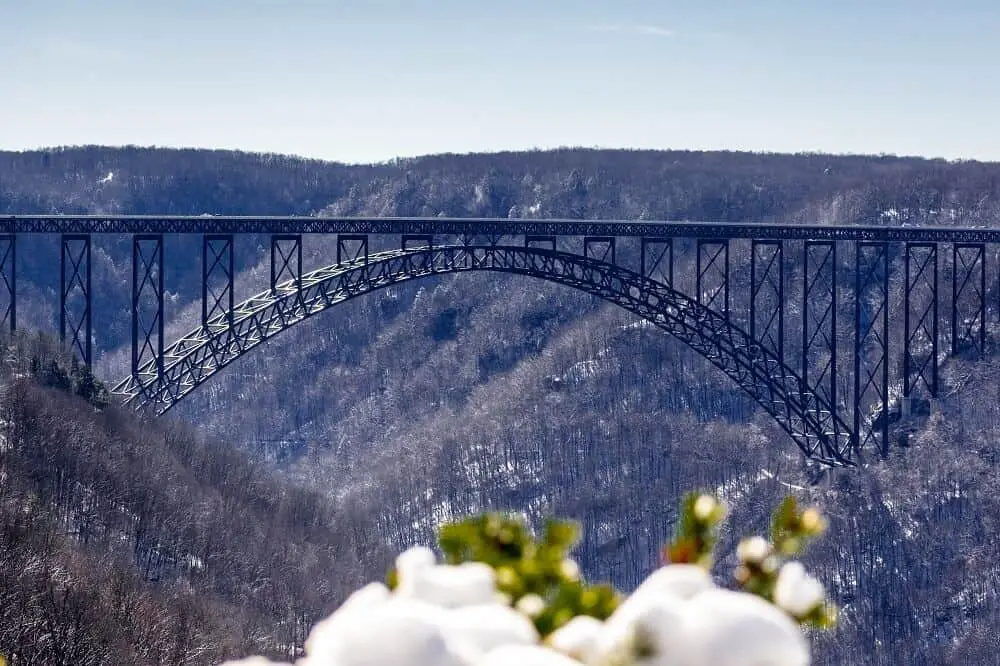 Great Smoky Mountains National Park
Recommended by Maggie of Pink Caddy Travelogue
Great Smoky Mountains National Park is undoubtedly one of the best national parks on the East Coast. It's one of the most ecologically diverse places in the country, filled with gushing waterfalls, lush green forests, and abundant animal life (including bears, deer, bobcats, and one of the few elk herds on the east coast).
Together with many preserved early American homesteads and over 850 miles of hiking trails, there's something for everyone of all ages to appreciate.
You can hike to the top of the tallest man that the Appalachian Trail crosses, Clingman's Dome. No visit is complete without visiting a waterfall – consider Laurel Falls, a short and easy hike to one of the most picturesque falls in the park. If hiking isn't your thing, drive through Cades Cove, one of the earliest and best-preserved mountain settlement towns.
There's no lodging within the park, but nearby Gatlinburg and Pigeon Forge have tons of great options, like the scenic Inn on the River.
The park straddles the Tennessee and North Carolina state border. The closest major airports are Knoxville on the TN side and Asheville on the NC side. But the park is within a day's driving distance from Washington DC, Atlanta, and Nashville.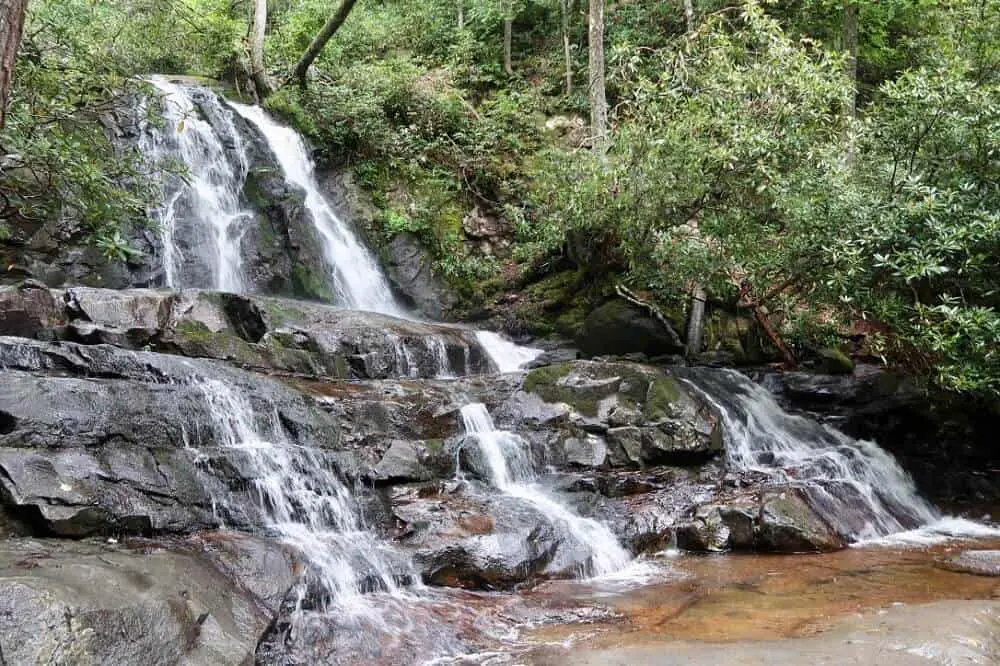 Shenandoah National Park
Recommended by Megan of Virginia Travel Tips
One of the most famous national parks in the east coast for good reason, beautiful Shenandoah is bursting with things to enjoy. It boasts over 200,000 acres of land, full of meadows, wooded hollows, breathtaking vistas, waterfalls, woods, and wildlife.
For easy access to amazing views, cruise down Skyline Drive, where there are lookout points to stop at and marvel at the spectacular views.
There are many fantastic trails to hike in Shenandoah, ranging from easy to difficult, including 101 miles of the Appalachian Trail. Some beloved hikes are the Old Rag Mountain, Dark Hollow Falls, Rose River Falls hikes.
You can also spend your time biking, fishing, and stargazing. The park is full of wildlife, including many bird species, deer, and black bears, so it's great for wildlife viewing.
Further, the park is also very pet-friendly, with most of the trails permitting pets, which makes it an attractive east coast national park for dog owners.
Be sure to stop at the Visitor Center to get tips and recommendations from the park rangers. And don't forget to see what ranger-led programs are happening during your visit, which often includes guided hikes, wildlife talks, star parties, and Junior Ranger programs.
To get to the park, most people fly into Washington, D.C., Charlottesville, or Shenandoah Valley airport and drive to one of the four park entrances.
Consider camping or staying at one of the park's cabins or lodges, like Skyland or Big Meadow, to wake up to amazing views just outside your door.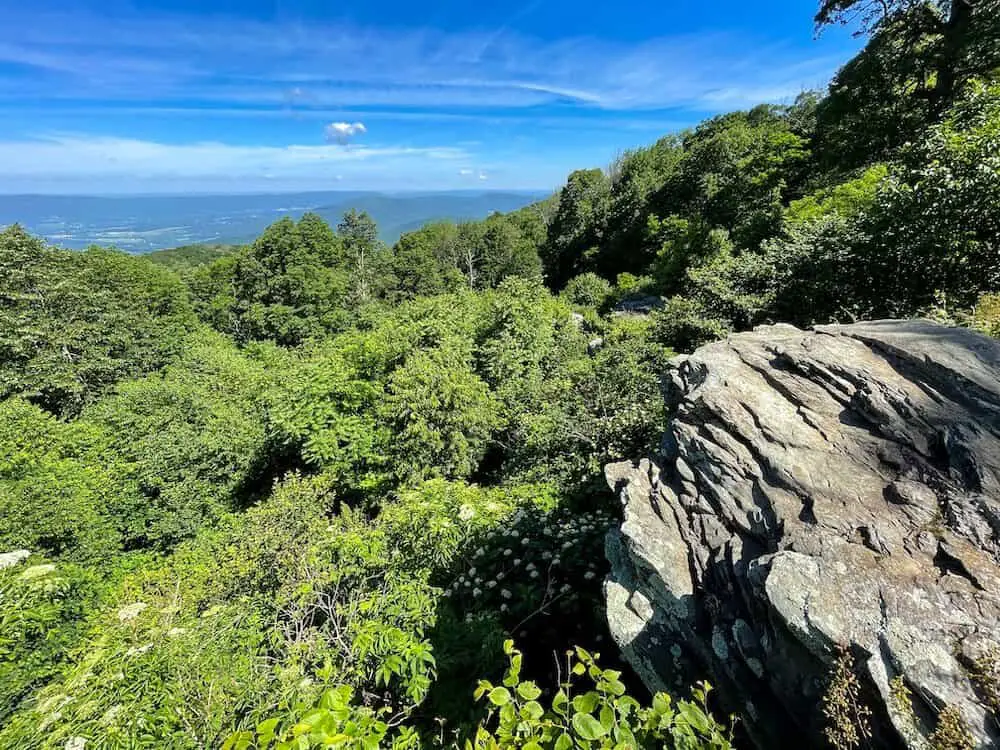 Everglades National Park
Recommended by Lori of Naples Florida Travel Guide
Stretching nearly the entire width of the southern Florida peninsula from Naples and the Ten Thousand Islands in the west to Homestead in the east, the Florida Everglades is one of the most unique ecosystems in the world.
In fact, the sub-tropical wilderness is the largest in the United States and a UNESCO World Heritage site as well.
From hardwood hammocks and mangrove estuaries to sawgrass marshes and tropical savannahs, the region and its crowning jewel, Everglades National Park, is an outdoor lover's dream. No wonder it's one of the most unique national parks on East Coast USA.
If your time in the park is limited, start your visit at Shark Valley (equidistant from both coasts) where you can explore on foot, bike, or take a 90-minute eco-tour on a covered open-air tram. And don't miss the elevated overlook, a dramatic structure that offers panoramic views.
Most visitors explore the National Park on foot or paddle the shallow waterways in a kayak. There are miles of hiking paths along elevated boardwalks and low grassy trails no matter where your starting point is.
Kayak trails are also well-marked, and many of them lead to remote places where you can camp overnight on elevated chickee huts.
For the thrill of a lifetime, take an airboat ride and skim along the water at lightning speed. You'll see plenty of alligators, wading and nesting birds, dolphins, and even manatees in the water, making this one of the best places for sustainable tourism activities.
Most accommodations around Everglades National Park are campgrounds for tent and RV camping, however, Flamingo Campground in Homestead also offers comfortable eco-tents for year-round glamping experiences.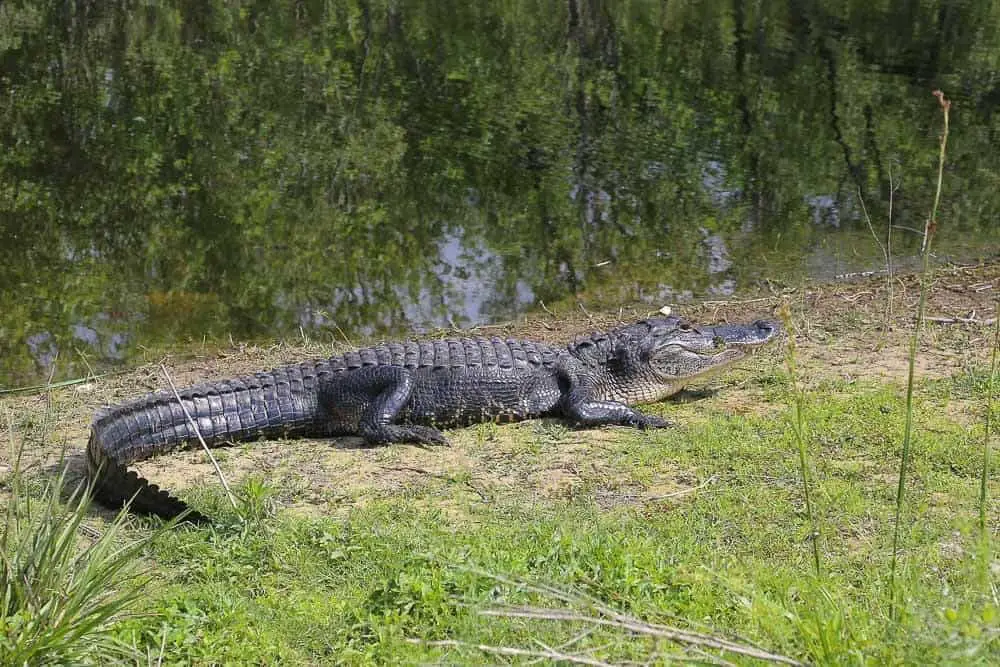 Acadia National Park
Recommended by James of Parks Collecting
When in search of epic national parks in East Coast USA, look no further than Acadia National Park. With miles of pink granite rocky shorelines, wooded hills, and islands dotting the surrounding seas it's easily one of the best places to visit in New England.
The park straddles part of Mount Desert Island, the Schoodic Peninsula, and the tiny Isle Au Haut on the coast of Maine. You can fly into nearby Bangor Airport, or to Boston and drive north from there.  
One of the main things to do in Acadia is to hike. There are dozens of trails, but the most famous are the 'iron rung trails', the Beehive being the most popular.
These trails involve climbing up iron rungs that have been embedded into the side of cliffs, as well as walking along exposed narrow ledges in part, so they are not for those with a fear of heights, but the hikes are thrilling and the views from the tops of mountains are stunning.   
There are easier trails, too, including the Ocean Path, which runs alongside the coast and includes a stop at Thunder Hole where, when the tide is right, waves make sounds like thunder as they hit the inside of a hole in the rocks.  
Acadia is also famous for its historic carriage roads. Built at the behest of Rockefeller in the 1930s, these gravel roads are great for hiking and cycling. You can rent a bike and set off through the woods and over dozens of beautiful bridges through this incredible national park on East Coast USA. 
A visit to Acadia wouldn't be complete without popovers (local muffin-like pastries) at Jordan Pond House, where you'll enjoy stunning views of Jordan Pond and the Bubbles hills in the background while enjoying delicious popovers covered in lashings of butter and jam.  
The nearest town, Bar Harbor, lies just outside the main section of the park, so it is a super convenient place to stay.  There are plenty of places to choose from, but a favorite is the Bar Harbor Inn.
Right on the ocean with views of the Porcupine Islands, it has several buildings and room types and is also home to the elegant Reading Room restaurant.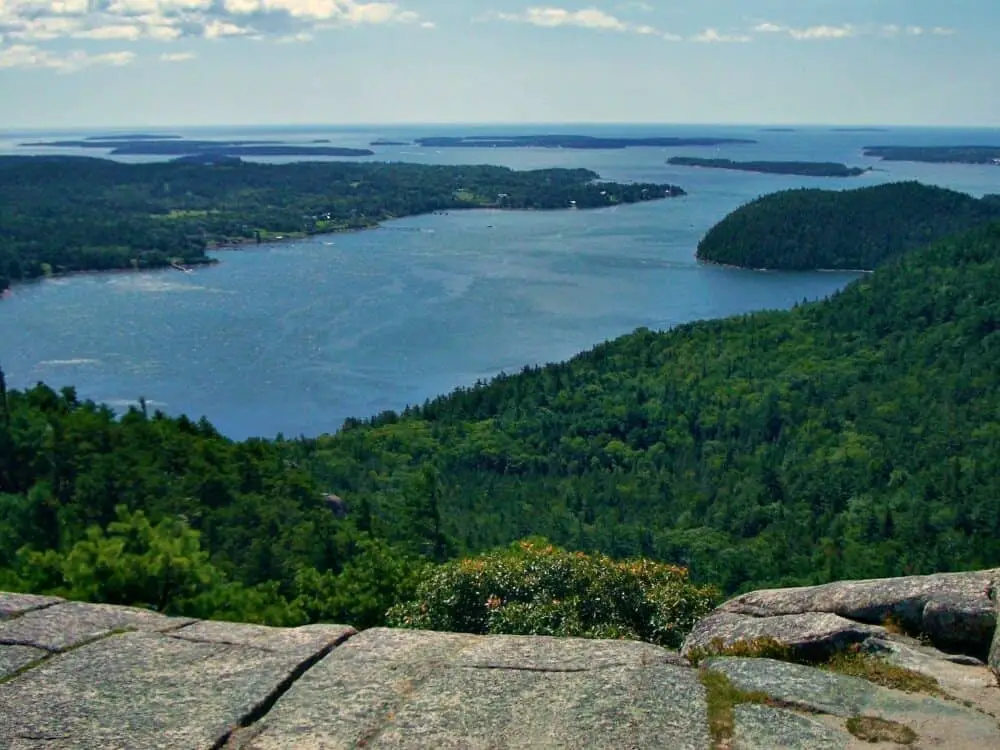 Biscayne National Park
Recommended by Candice of CS Ginger
Biscayne National Park is located in southern Florida and consists mainly of mangrove forests, the Florida Reef, Biscayne Bay, and key islands. Biscayne National Park is located just south of Miami, Florida.
This unique park is 95 percent water. Visitors can drive or take public transportation to the park. The nearest airport is Miami International Airport (MIA).
The most popular activities in this park are boating, fishing, and snorkeling or scuba diving. There are fantastic reefs and shipwrecks that people love exploring while scuba diving.
If snorkeling or scuba diving is not your thing, boating and checking out the keys are great activities. Many people love to hang out and relax, taking in the great views and beautiful water.
If you are looking for a great place to stay in the area you will definitely want to check out Silver Sands Beach Resort. The resort is beautiful and it gives you lots of access to the surrounding adventures, including jet skiing in the ocean. If you want to do some camping you can stay in the park at Boca Chida Key Campground.
Biscayne National Park is a must-visit destination for anyone looking to enjoy the outdoors and a beautiful, unique National Park.
Its convenient location just south of Miami, Florida, visitors can easily get to the park and enjoy its many activities such as boating, fishing, hiking, camping, snorkeling, and scuba diving.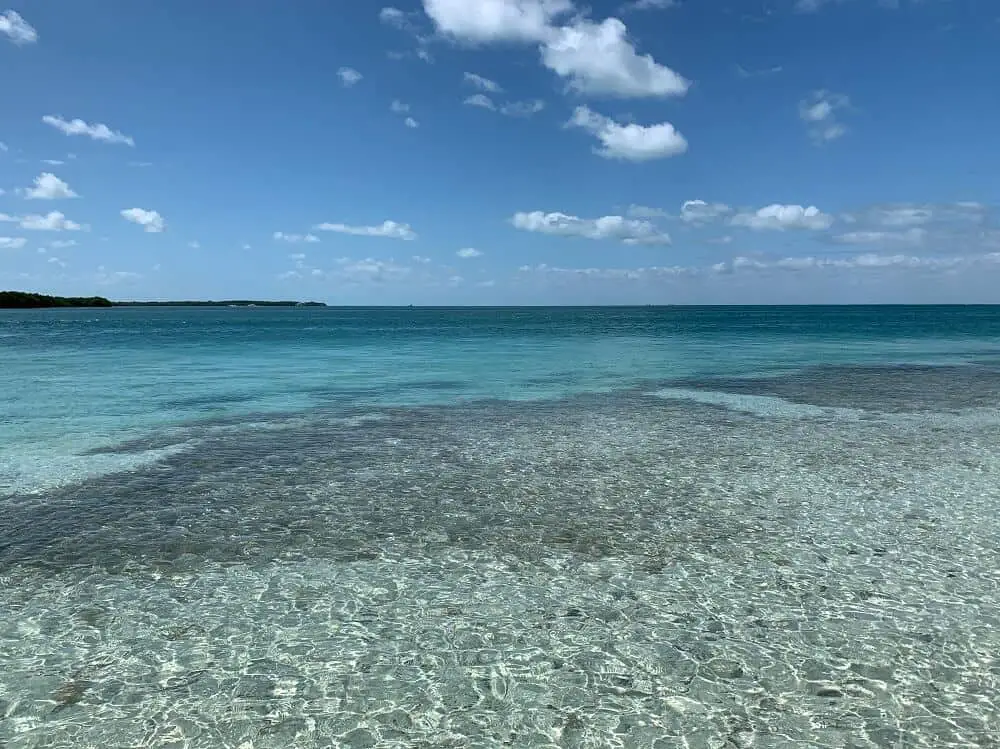 Congaree National Park
Recommended by Darcy of Plan, Ready, Go
Located in central South Carolina, Congaree National Park is one of the newer national parks eastern US has to show for. The park offers visitors the chance to hike, paddle, and camp in the heart of one of the tallest old-growth hardwood forests remaining in North America.
You'll find Congaree about 20 miles southeast of the state capital of Columbia, South Carolina. The nearest major airport, Charleston International Airport, is approximately 100 miles from the park (about a 2-hour drive). 
With over 25 miles of hiking trails ranging from easy to difficult, there's something for all hiking experience levels.
The easy and popular Boardwalk Loop Trail is a top choice among those who want to explore hiking Congaree National Park and experience the beauty of this old forest up close.
Canoeing or kayaking Cedar Creek through the park is also a popular option. Camping is available in the park at either the Longleaf or Bluff campground, and backcountry camping is allowed with a permit.
The best times of year to visit Congaree National Park are in the spring and fall when the weather is milder and the infamous mosquitoes are less of a problem than during the heat of summer.
Flooding in Congaree is quite common and can happen without warning because it lies within the Congaree River floodplain. Make sure to check on water levels prior to your visit to avoid disappointment.
If you're looking for a fun-filled day trip or a camping adventure, Congaree National Park should definitely be on your radar.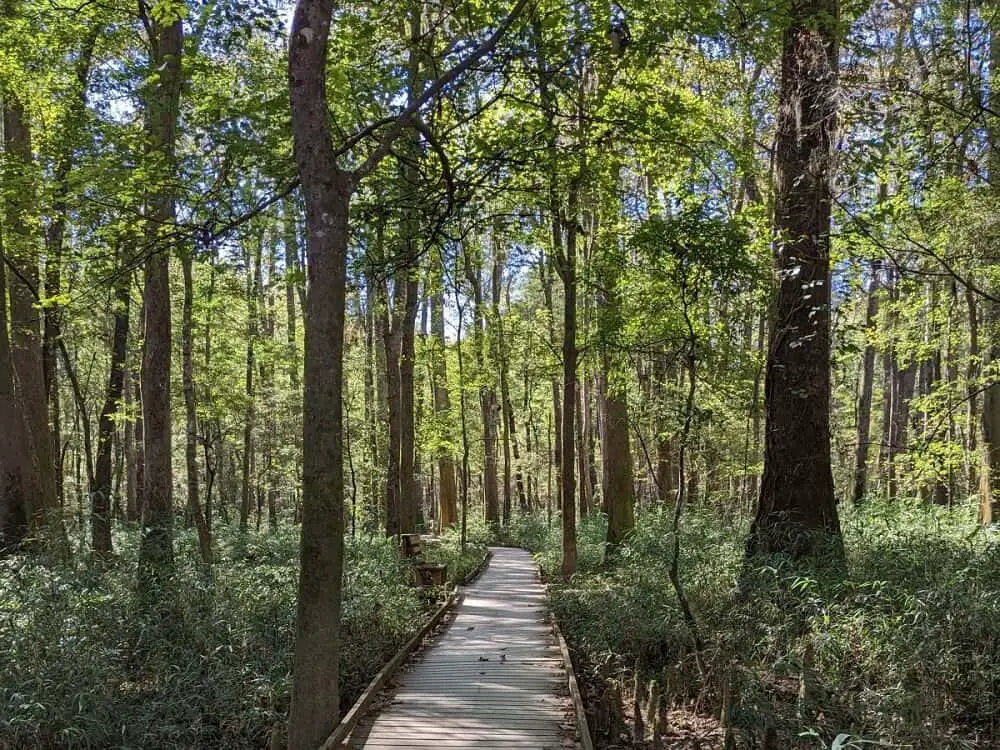 Cuyahoga Valley National Park
Recommended by Anwar of Beyond my Door
Established in 1974, Cuyahoga Valley National Park in Ohio preserves the rural landscape along the Cuyahoga River between Akron and Cleveland. It's truly one of the top national parks East Coast USA has to show for.
The area has maintained a lot of its charm and it feels alive with small villages within the park boundaries (where visitors can shop and eat) as well as a train that moves through the park and by which visitors can explore different areas of the valley.
There's a network of hiking trails and waterfalls for visitors to explore including Brandywine Falls, Ledges Trail, Bridal Veil Falls, and Blue Hen Falls.
One of the top sights in the park is Szalay's Farm & Market which sells fresh fruit, vegetables, and locally prepared foods. The market is also popular with Ohioan locals who come regularly to shop and eat.
The park is located about 15 miles south of Cleveland and about 10 miles north of Akron, both of which make great bases for exploring the park.
Cleveland also has a lot of great restaurants to patronize in the city as well. For those who want to stay close to the park, the Inn at Brandywine Falls is a great option and is conveniently adjacent to the waterfalls as well.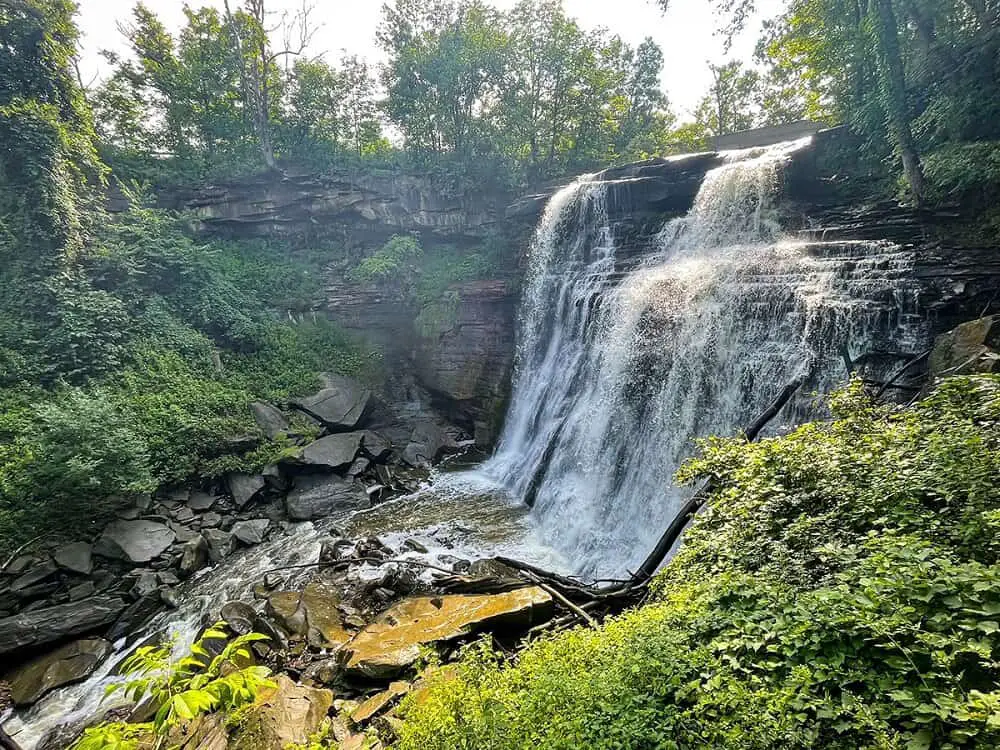 Blue Ridge Parkway in NC & VA
Recommended by Bret & Mary of Blue Ridge Mountains Travel Guide
A highly impressive unit of the U.S. National Park System, the Blue Ridge Parkway is also the most popular to visit.
The world-renowned scenic route through the Blue Ridge Mountains of North Carolina and Virginia attracted nearly 16 million visitors in 2021– more than popular parks like the Grand Canyon, Yellowstone, and Yosemite combined!
The winding mountain road stretches nearly 470 miles, from the entrance to Shenandoah National Park in Waynesboro VA to the entrance to Great Smoky Mountains National Park in Cherokee NC (which is the second most visited park in the US).
Along the way, the remarkably scenic route takes you to beautiful mountain towns such as Blowing Rock, Boone, Little Switzerland, and Roanoke, showcasing small-town Americana at its finest.
The BRP was created by President Franklin D Roosevelt as part of his groundbreaking New Deal, which helped to create millions of jobs and improve the nation's infrastructure in the years after the Great Depression.
Construction began in 1936, and the majority of it was completed in 1966. But the picturesque 7.7-mile stretch that takes visitors along the Linn Cove Viaduct around the iconic Grandfather Mountain wasn't completed until 1987.  
Surrounded by breathtaking views and protected natural areas, the road takes you through unimaginably picturesque parts of the Blue Ridge Mountains, with stunning summits, verdant valleys, rushing rivers and creeks, wondrous waterfalls, and hiking trails (including long-distance treks along the Appalachian Trail and Mountains-to-Sea Trail) that make it easy to explore.
You could drive the entire distance in 15 hours (the speed limit is 45 mph) if you didn't make any stops along the way, but that would totally defeat the purpose.
There are more than 200 scenic Blue Ridge Parkway overlooks that beg you to stretch your legs and take a gander at iconic landmarks such as Mount Mitchell (the tallest summit east of the Mississippi River), Pisgah Mountain, the Linville Gorge, and Humpback Rocks.
You can also explore popular BRP attractions like the Oconaluftee Visitor Center, the Southern Highland Craft Guild's Folk Art Center, the Orchard at Altapass, and Mabry Mill.  
The best time to explore the BRP is also the most popular time to visit: In autumn, all of these sights are surrounded by green, gold, orange, and red leaves gleaming like gems in the sunlight, with the cool, crisp mountain air providing the perfect climate for apple-picking, hiking, and an endless array of other outdoor activities.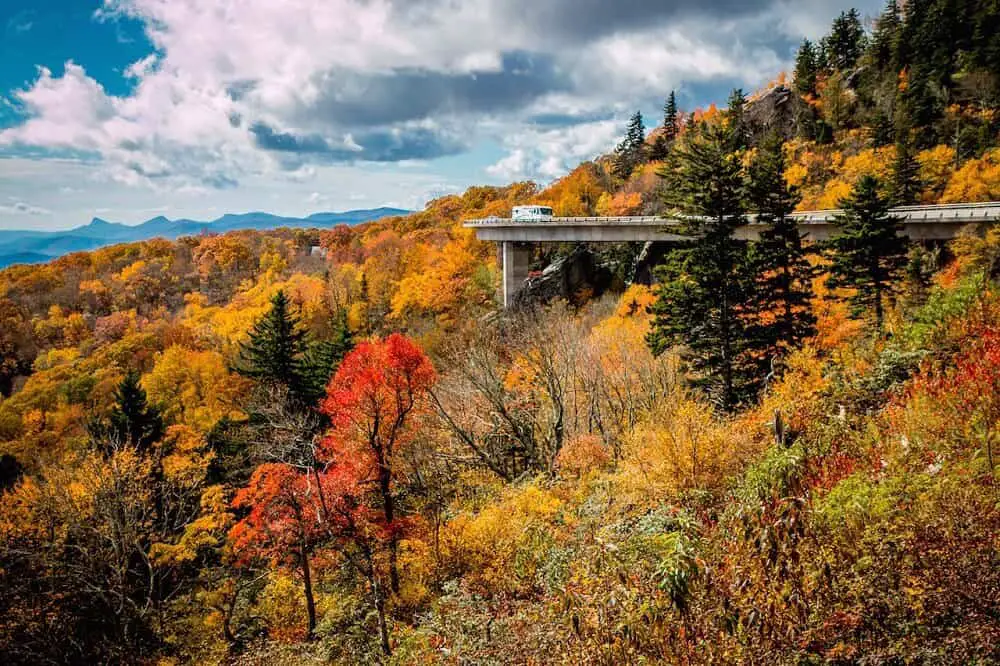 Reflections on the best East Coast National Parks
As you can see, the national parks in eastern US are nothing but spectacular. There are fun outdoor adventures awaiting any type of traveler so you can't go wrong.
There are so many benefits of being in the outdoors too, so any vacation set to the eastern US national parks is doomed to fill you up with energy and good vibes!
Choose a warm destination for the winter months to escape the cold, hit the forests in fall to take in the incredible fall colors, or go in summer to kayak and snorkel in the wonderful protected waters. Whatever your preference, I'm sure you'll enjoy one of the best national parks on the east coast on your next vacation.
Happy travels and always practice responsible tourism!