If you ask yourself "Is Bologna worth visiting?" you're in the right place. I've traveled to Bologna multiple times and there are so many reasons to visit Bologna Italy.
With tall towers, hidden canals, and intriguing porticos, you can easily spend 2 days in Bologna and it makes for a great weekend break in Italy. It's also a haven for foodies, but isn't Italy a foodie haven altogether?
While it might not be the top choice for everyone (unless you're like me – a sucker for Italian cities,) you should be able to make a decision on whether you think visiting Bologna Italy is something for you by the end of this post.
So with no further ado, let's get this question answered: Is Bologna Italy worth visiting?
Disclosure: This post may contain affiliate links. That means that if you make a purchase through one of those links, I will get a small commission at no extra cost to you.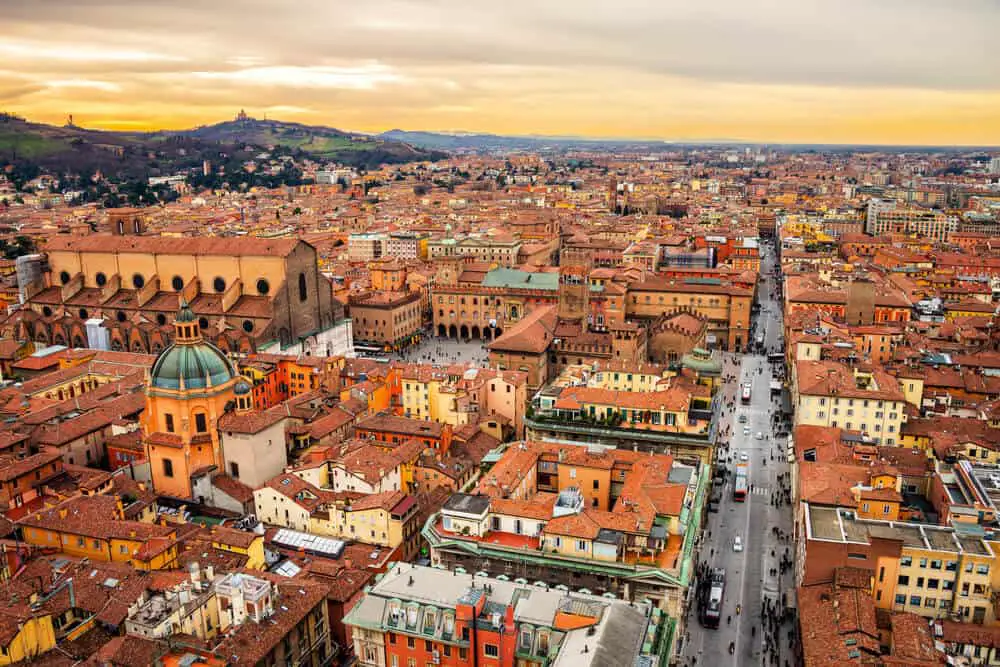 Reasons to visit Bologna
Excellent location
Due to its central location and is well-connected by train to other cities and towns. You can easily go on day trips from Bologna to nearby cities like Venice, Verona, and Florence.
Not only that, but if you're in any of the surrounding cities you can also go on a day trip to Bologna from Florence or any other nearby city or town.
Bologna also has an international airport that sometimes can be cheaper to fly into than other airports nearby.
Once, I was going to a concert in Padua and found way cheaper tickets to Bologna. This was my first introduction to the city – but not my last.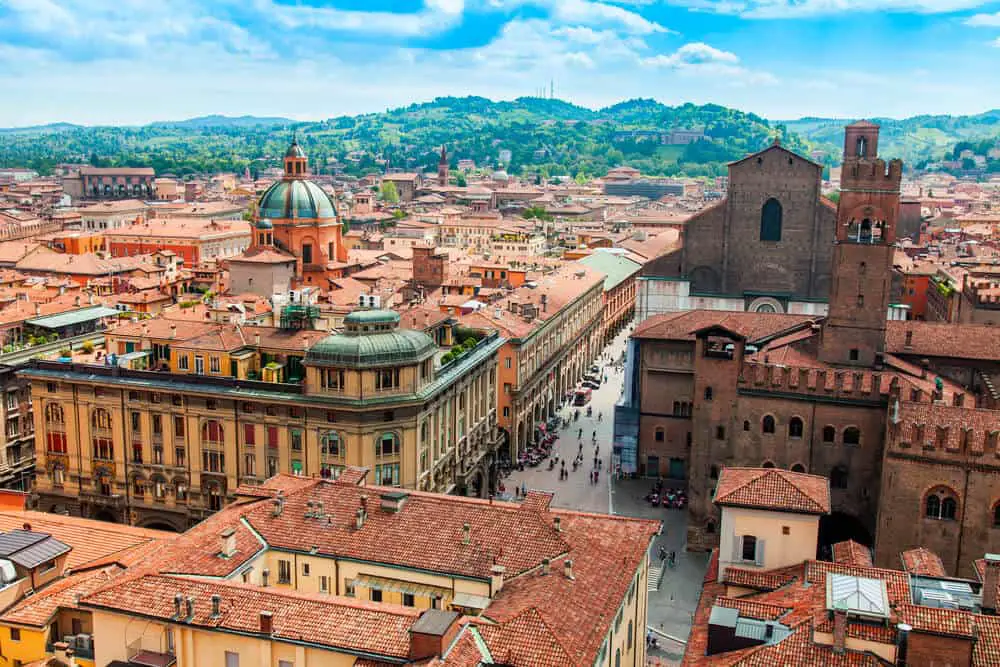 Climb the Asinelli Tower of Bologna
You've probably heard of the Leaning Tower in Pisa. But did you know that Bologna has two leaning towers that are taller than the one in Pisa?
You can climb the 11th-century Asinelli Tower which takes you more than 97 meters above the ground for sweeping views of Bologna.
Worth visiting for sure, but be aware that there are 498 steps to climb!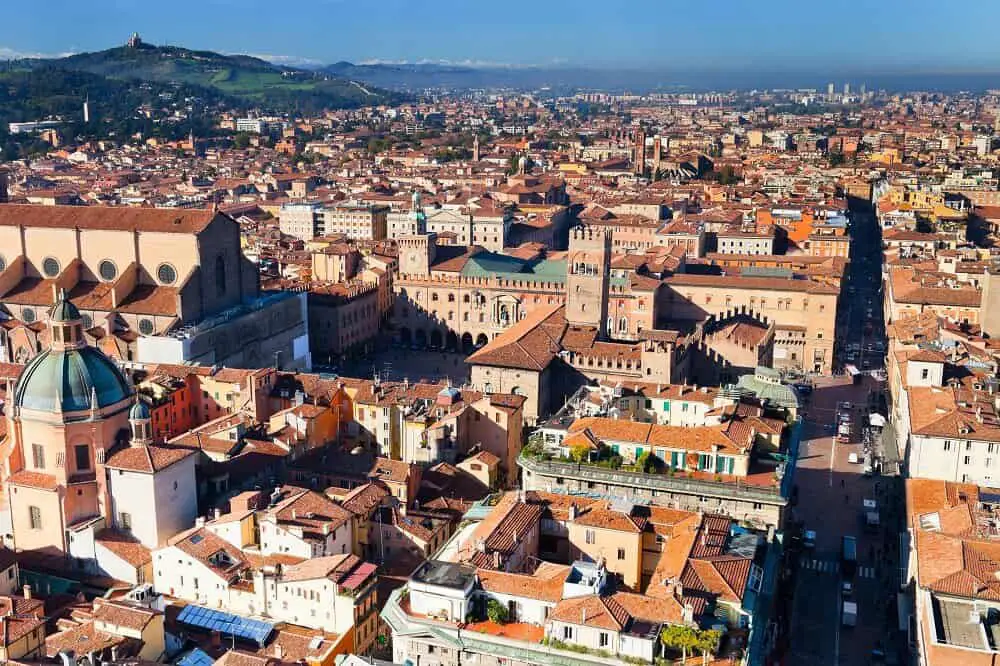 Amazing food
Ok, so we're back to Italian food. As an Italian, I can say that it doesn't get better than in Italy and Bologna does not disappoint!
There are plenty of restaurants to choose from, and I love that there are also quite a few vegan joints in the city. That said, much of the Italian food is naturally vegan and you should be able to find pasta and pizza without cheese with no difficulty.
Botanica Lab and Canape Incontro are great vegan places to mention a couple. Otherwise, Pizzartist offers a good variety of pizzas without cheese or meat.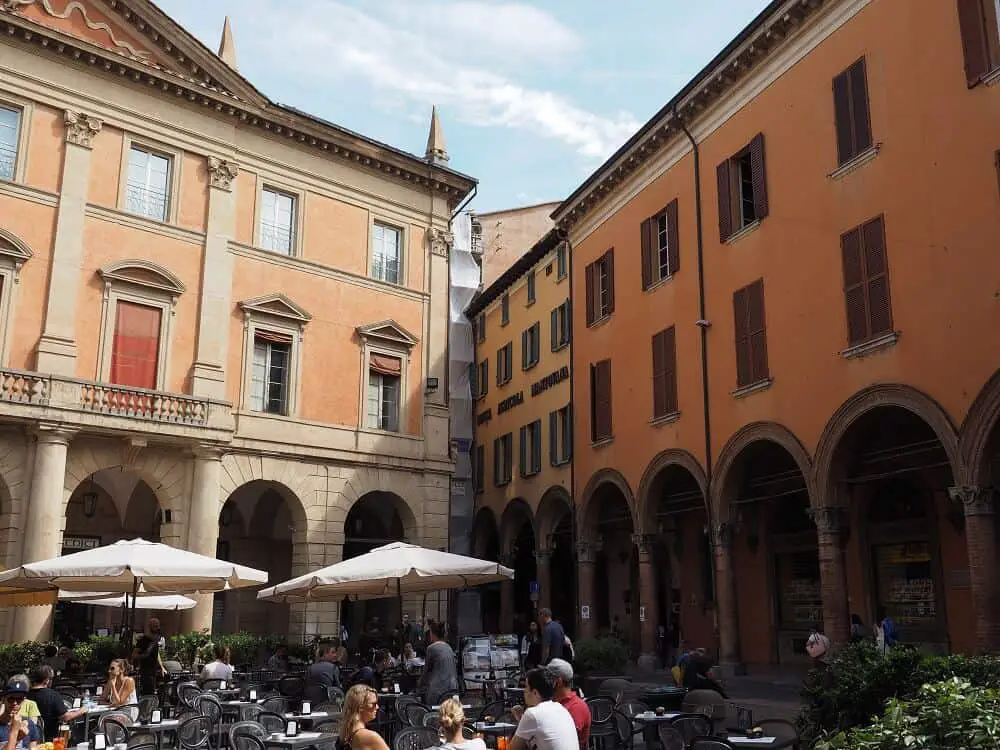 The Porticos are stunning
No Bologna visit is complete without walking the stunning porticos. If any one thing that separates this city from other Italian cities it's the porticos and Bologna is worth visiting just for them alone.
All through the historic center, there are porticos giving shelter to restaurants, shops, cafés, and bars. Some of them have beautiful frescos on the ceiling while others are quite simple.
These splendid porticos are protected by UNESCO and are the icon of Bologna just as the canals are a staple of Venice.
There are hidden canals
Talking about canals, Bologna has its own canals too. Hidden mostly, you must look for them. The most popular, once a hidden gem, is the Finestrella on Via Piella.
Basically, it's a window (Finestrella meaning small window) in the wall that gives you a view of the canal lined with colored houses.
This is actually a spot I didn't discover on my first visit and though it's turned into more of a tourist attraction now, it's really worth seeing.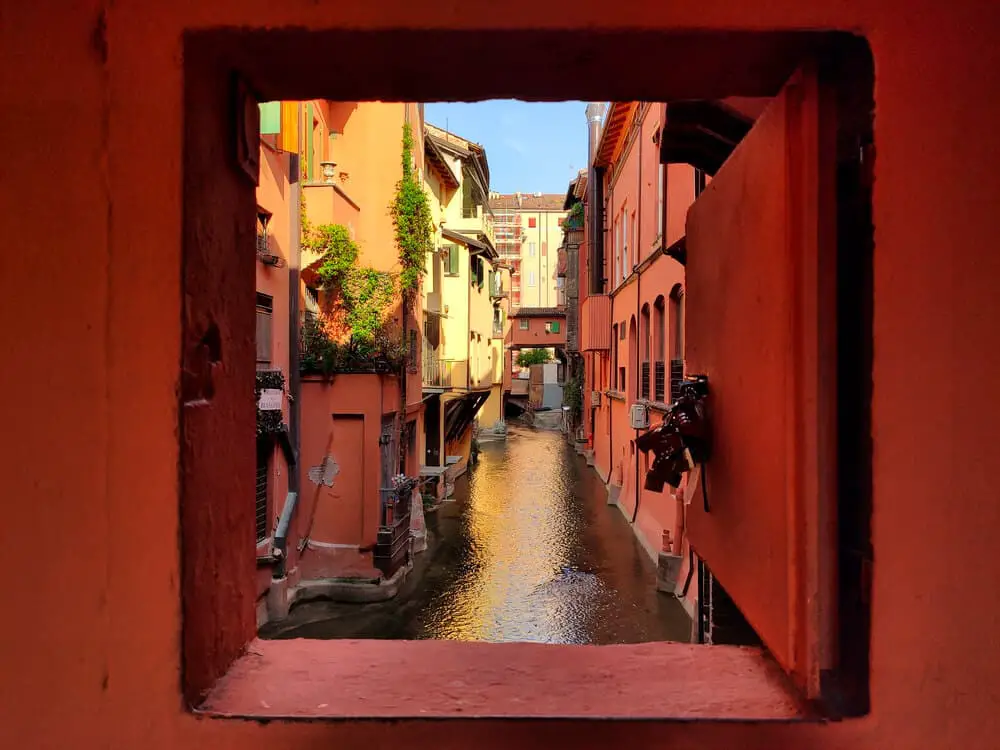 Magnificent green spaces
If you travel with children or are like me and just need to retreat to a green space once in a while, you'll love the fact that there are several great parks in Bologna.
Worth visiting is Montagnola Park, which is Bologna's oldest park dating back to 1664. It's a wonderful haven with fountains, a lake, and a magnificent staircase at the entrance.
Giardini Margherita is another city park worth strolling around with lush fountains and statues decorating the green space.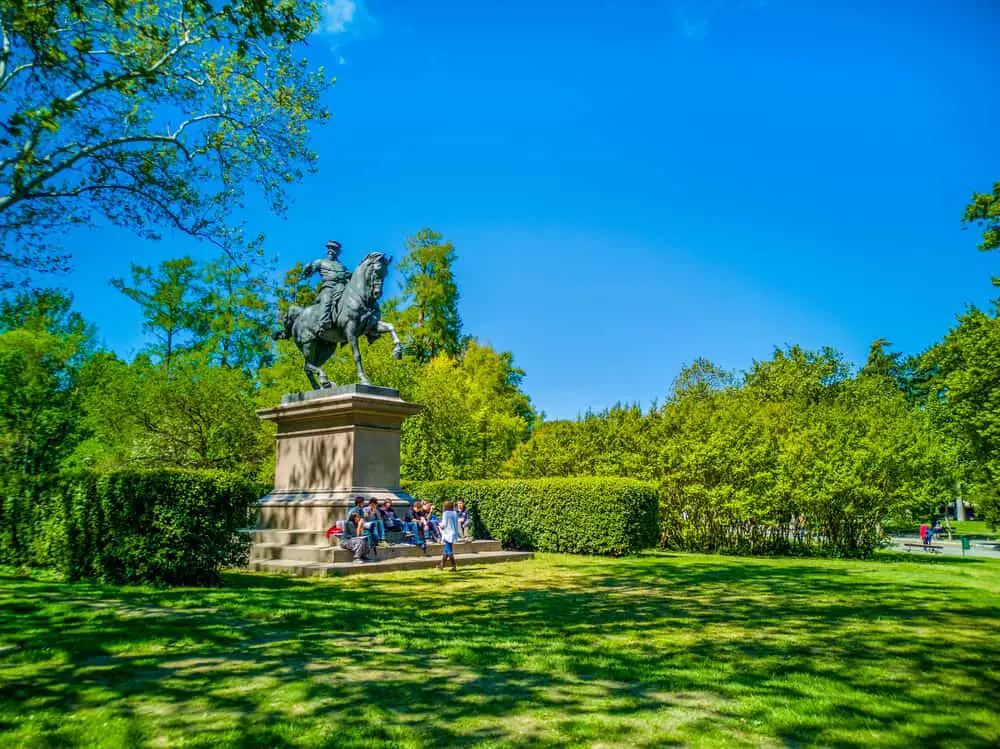 (Nearly) the home of balsamic vinegar
Ok, so balsamic vinegar comes from Modena, but as the capital of the Emilia-Romagna region, Bologna gets its say.
No visit to Bologna is complete without tasting the balsamic vinegar and trust me when I say it's sooo good!
You will likely get it served in any restaurant, but you can also buy a bottle as a souvenir from any gift shop or supermarket.
Foodies will love this as a gift too, so if you're looking for a travel gift for someone back home, this is a great idea (just make sure you pack it properly before your flight so you don't get all your clothes covered in balsamic vinegar.
So, foodies, is it worth visiting Bologna or what?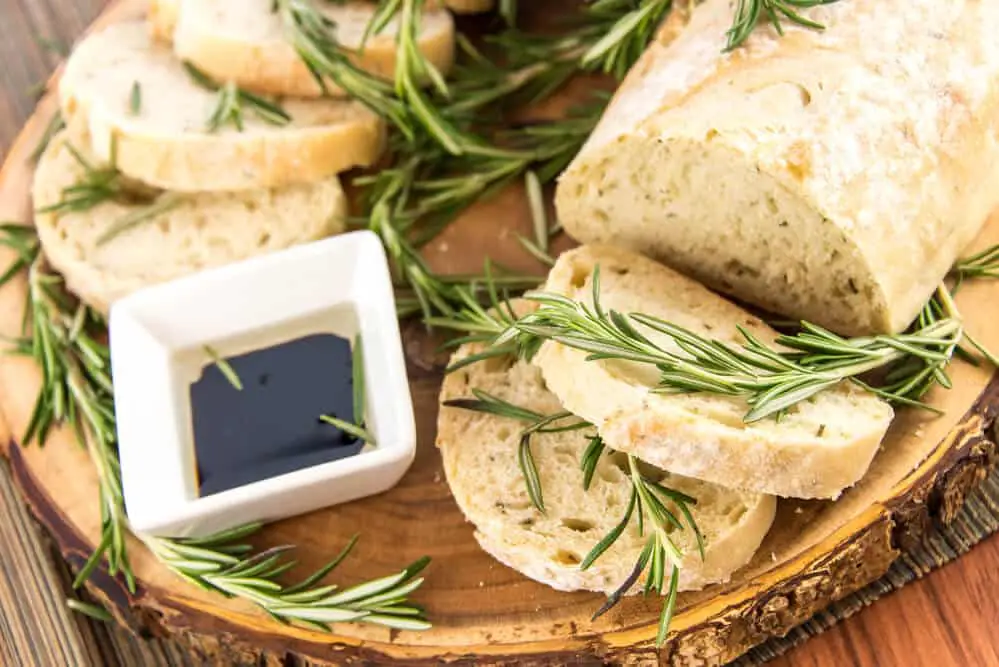 The churches are stunning
Don't get me started on the churches. Italy is my favorite place on earth to discover churches and no other country has yet impressed me much.
This means, visiting Bologna must include a visit to a few churches. Especially, the Basilica of San Petronio is worth a visit. It's the main basilica located in Piazza Maggiore.
The 14th-century church is still not finished, but yet impressive with its arches held up by majestic columns and ornate chapels.
Besides a number of other churches in the city, don't miss out on Santuario della Madonna di San Luca, which is perched on a hilltop outside the city center with epic views of the city.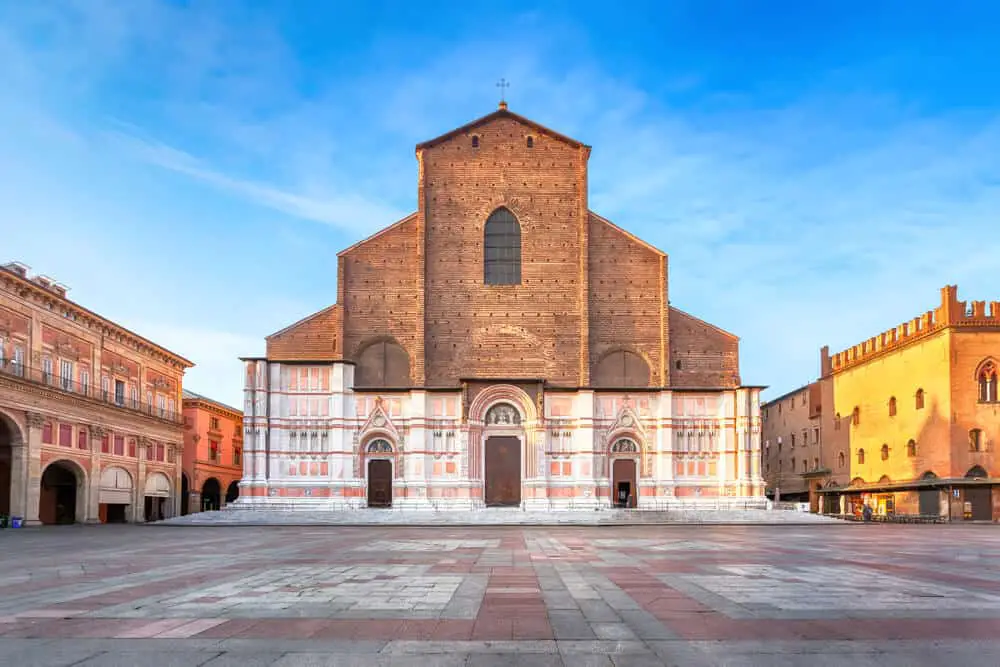 Less touristy
Compared to other Italian cities, Bologna remains a lesser-visited destination, though not completely a hidden gem in Italy.
This means that most of the crowds you experience in Bologna are locals and Italian tourists. So, is Bologna worth a visit? Oh yeah!
It's so lovely to visit a fabulous destination that still isn't captured by the monster called overtourism. But this doesn't mean there are no people. It's actually heaps of people in Bologna making it a bustling city with a great atmosphere.
If you ask yourself: "is Bologna a nice place to visit?" and you like to explore places with a little bit of elbow room, you have your answer right here.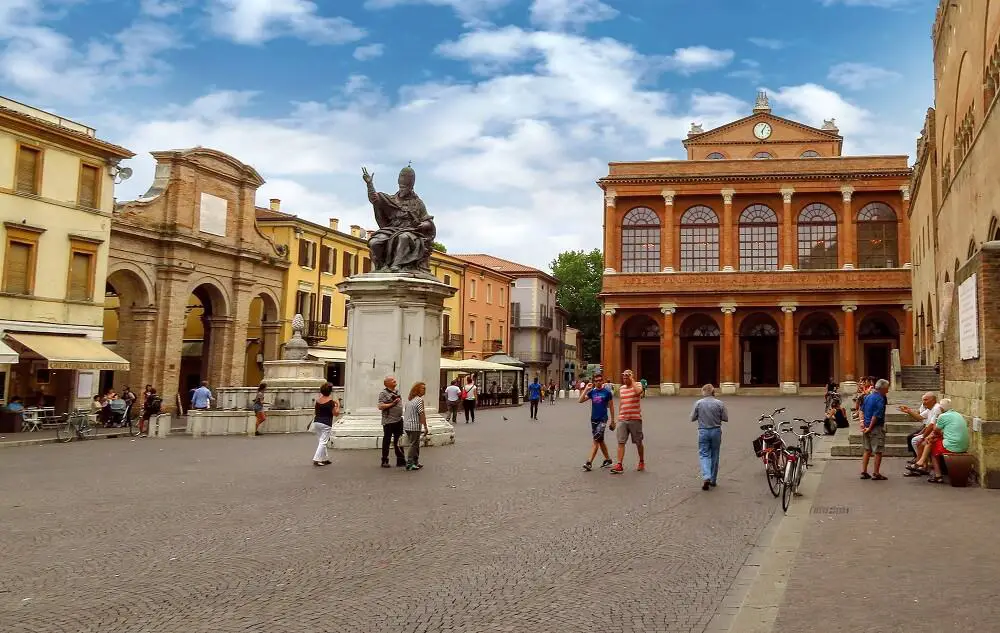 The lively Piazzas
The Piazzas in Bologna are generally full of life bustling with both locals and tourists chattering and hanging out in bars and restaurants.
The main square is Piazza Maggiore where you find the Basilica of San Petronio and several palaces. This is a must-visit even if you only have one day in Bologna.
But there are plenty of other squares and the best way to find hidden corners of the city is to walk around letting yourself get lost in the streets (just make sure you find your way back to the hotel.)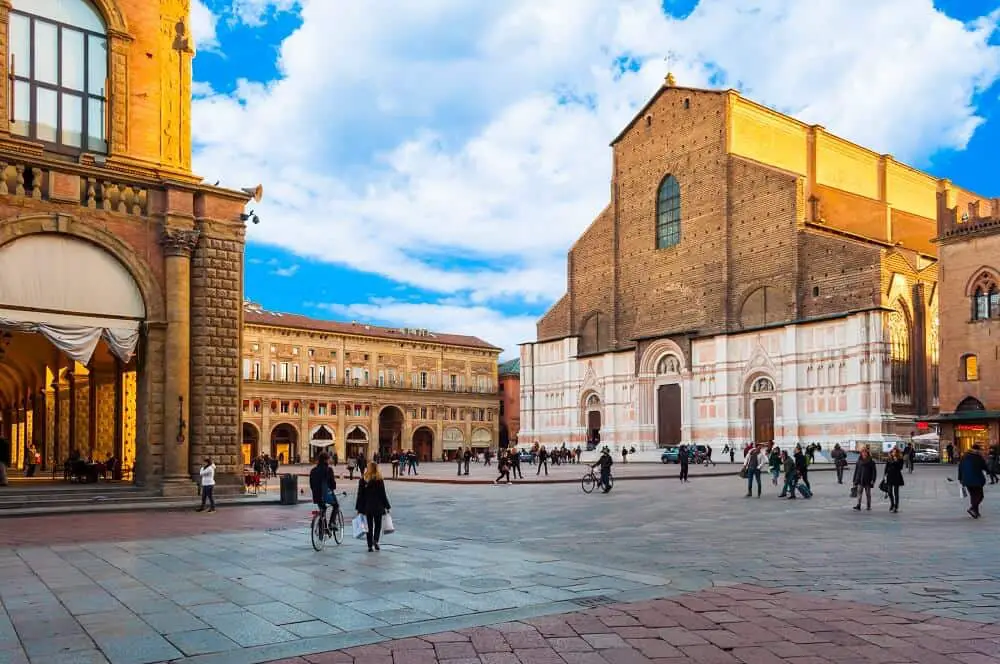 Conclusion: Is Bologna worth visiting?
So, is Bologna worth visiting? You already know I might be slightly biased, but I definitely yell out a big YES! There is so much history, culture, and incredible architecture in this city.
It's a true medieval old town pulling you in with plenty of yummy food and pretty alleyways tucking in old, historical buildings.
If you're anything like me, you'll love visiting Bologna Italy, so what are you waiting for?
Happy travels!