Italy has long been a favorite destination among tourists from all over the globe and unfortunately, certain destinations like Venice and Cinque Terre have had to pay the tremendous price of overtourism.
The masses seem to always move to the same places, while there is so much more to the country than the main sights.
That's why I think you should consider traveling Italy off the beaten path. I have compiled a list of 20 destinations that would like to see more tourism in the future – in a responsible way.
Remember, traveling off the beaten path in Italy is all about spreading your tourist money around the country, to support a wider range of small local travel businesses. And of course, for unforgettable travel memories!
One of the biggest benefits of sustainable tourism is actually the interhuman connections that you make on your trip.
Can you imagine a local in a destination where the locals are pressed out of their own town by tourism being willing to make connections with travelers?
The chances that locals will take the time to know travelers are so much bigger once you get off the tourist trail. And Italy is a country with great personalities waiting to get to know you.
Disclosure: This post may contain affiliate links. That means that if you make a purchase through one of those links, I will get a small commission at no extra cost to you.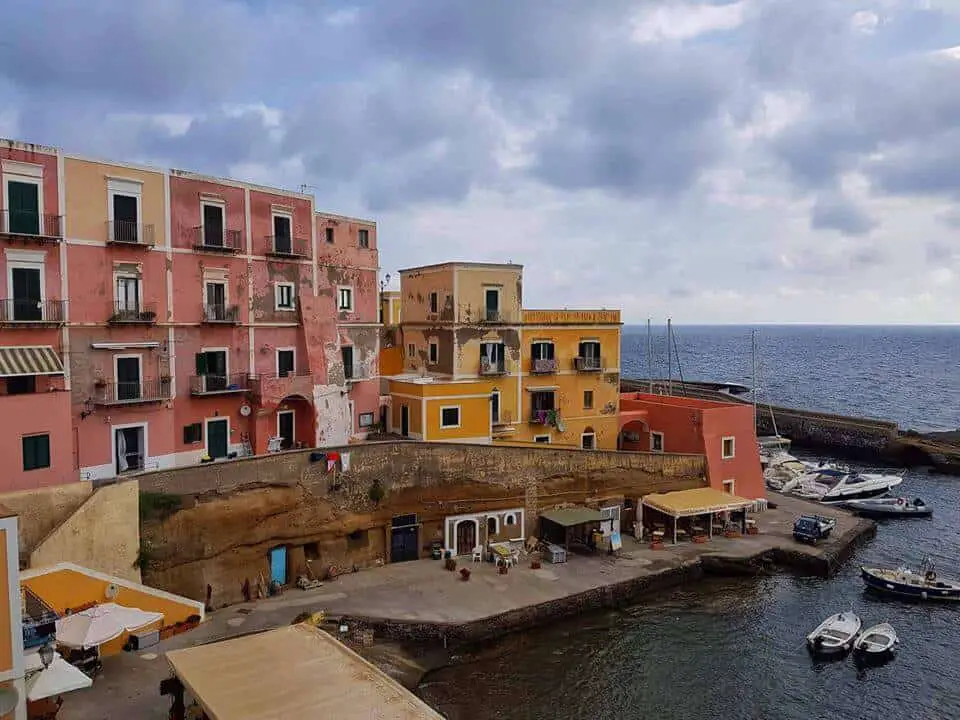 Responsibility of finding hidden gems in Italy
Finding small hidden gems in Italy, like anywhere else in the world, brings great responsibility. Remember, if you travel Italy off the beaten track and find small secluded places that are treasured by the locals you don't always have to share your location with the world.
If the place can't bear large numbers of tourists, leave it as it is. You don't want to put pressure on locals and natural resources that can't handle the large numbers of (often inconsiderate) tourists.
Just remember what happened to "The Beach" in Thailand. It was a beautiful natural hidden beach, but it had to close for years due to the destruction mass-tourism had caused.
Not every place is for Instagram, but if you do choose to share, just don't tell your audience where you are.
Now, let's have a look at the incredible Italy off the beaten path travel destinations!
Italy off the beaten path
The majority of people that visit Italy don't make it to the following destinations so make sore you care about them and travel responsibly when visiting.
If you're heading to Rome, there are lots of hidden gems to explore there too away from the crowds. Check out my top picks here.
Ventotene Island
Being the smallest inhabited island of the Pontine Islands, Ventotene Island doesn't have much international fame.
However, it's a popular summer destination among Italians. If you are looking for a true Italian summer holiday destination, with pastel-colored houses, and natural beauty, this is a great place to spend a few days.
Ventotene has a small beach and a lot of great cliffs to jump from. Only a stone's throw away, you see the small island of Santo Stefano.
This used to be a prison and today, you can go on guided tours of the prison island as part of boat trips around Ventotene.
The two islands are part of a Nature Reserve to protect, but also promote activities that are congruent to the conservation of the area.
One of the activities you can enjoy is scuba diving in the Marine Reserve, where you can explore the underwater caves and even a couple of sunken ships. But there is also great snorkeling around the cliffside.
You can get to Ventotene by boat from Formia. There are several departures daily in the summer months. There are also daily trains from Rome to Formia. Another option is to take the boat directly from Naples, though they are not as frequent.
For spectacular views and location, stay at Hotel Isolabella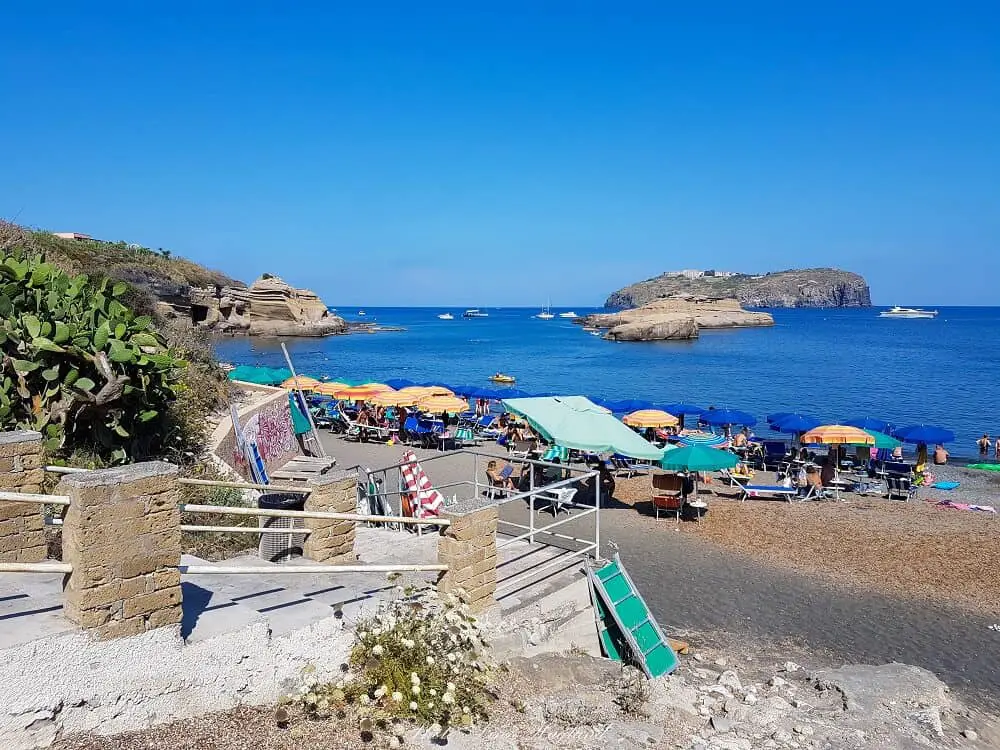 Ovindoli
Ovindoli in Abruzzo is a wonderful mountain village in the Apennines mountains. In the summer months, it is a wonderful hiking paradise but also popular for cycling and horse riding. In the winter months, it turns into a vibrant ski resort with slopes up to 2000 meters of altitude.
There are a lot of fun things to do in Ovindoli and most of them include outdoor activities. Hike up the steep hill to Pizzo di Ovindoli for epic views of the town nestled in picturesque mountains.
Nearby, you can visit the glacial and karstic plateau of Piani di Pezza where you can either take on one of the many hiking trails or just watch a beautiful sunset.
But one of the most famous walks is Gole di Celano, a 5-kilometer gorge hike said to be the most beautiful in Abruzzo, and I am not going to argue with that!
Walk around the village itself to enjoy the mountain village vibe with old houses, narrow streets, wonderful views, small boutique shops, and bars serving lovely Italian coffee. Ovindoly surely makes a wonderful weekend getaway in Italy.
Book your stay at Fiocco di Neve, residence Magnola
Noto
By Veronika of Travel Geekery
Noto in the Southeast of Sicily is a unique Baroque gem. Together with other towns in the Val di Noto region, such as Catania, Modica, or Ragusa, its Baroque architecture granted it a listing on the UNESCO World Heritage List in 2002.
Noto had to be rebuilt after a devastating earthquake in 1963, and its location was moved away from the original site, which is referred to as Noto Antica.
The large Noto Cathedral is the no. 1 sight in the town. But anywhere else you stroll in the Old town, you'll come across wonderful Baroque structures, many of them being churches.
Café Sicilia is Noto's most famous café and it even appeared on a Netflix show. It's right here where you can taste the most delicious artisan granita (a special Sicilian sorbet-like dessert) with a brioche.
Noto can be best reached by car from Catania – it takes only an hour to get there. If visiting Noto on a day trip from Catania is not enough for you, you can stay at a highly rated Gagliardi Boutique Hotel, just a stone's throw away from Noto Cathedral.
Book your stay at Gagliardi Boutique Hotel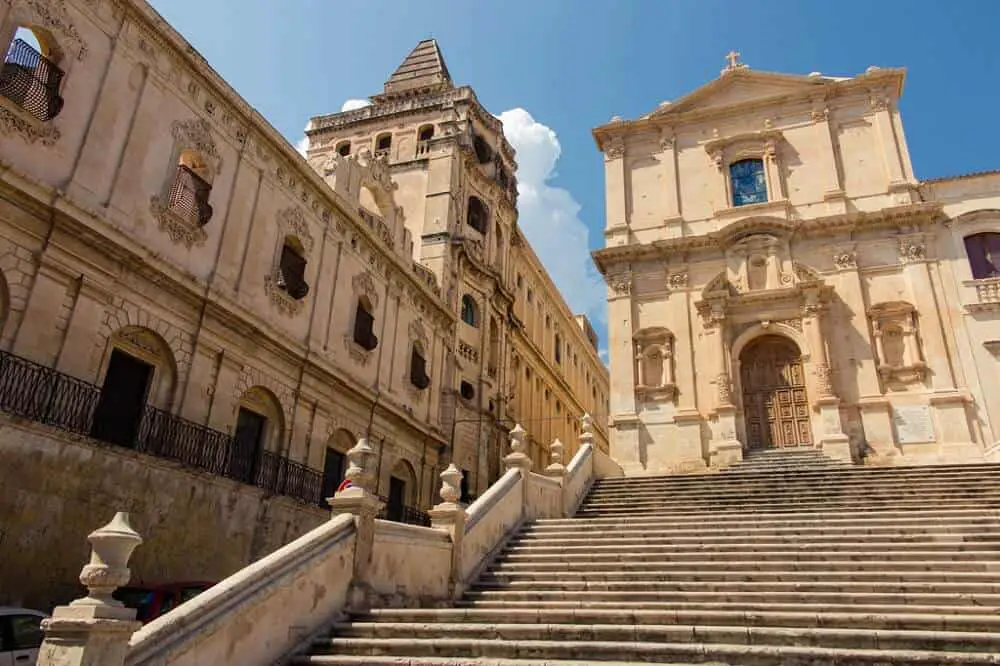 Barbarano Romano
By Jade of The Migrant Yogi
Barbarano Romano is a small, medieval village with only 1,000 inhabitants.  This idyllic spot is found in the region of Tuscia about 50 kilometers north of Rome.  Barbarano Romano is the quintessential Italian medieval village dating back all the way to the thirteenth century.  
To get an idea of just how old the village really is, check out the main church of S. Maria Assunta.  On the doorway, you can see an original marble plaque that dates 1280. 
While there are not a large number of restaurants, there is a small bar to have a cappuccino, or a glass of wine in the afternoon or evening.  The workers at the local markets are friendly and warm, but don't expect any English to be spoken here.  A pizza ristorante is situated a few hundred meters down a hill just outside the city walls.
The main draw of Barbarano Romano is its stunningly-preserved buildings and abundance of nature.  Pack some charcuterie, formaggio, bread, and wine to enjoy a leisurely lunch outside in the green areas surrounding the village.
In fact, Barbarano Romano is situated at the center of a protected regional area.  So, if hiking is your thing, this village is perfect for you.  The Marturanum Regional Park is famous for its numerous Etruscan necropolis and caves.  From the center of the village you can even enter the park, and hike through to neighboring villages!  
Barbarano Romano is best reached by rental car, however, if that is not in your plan, it's doable via public transportation.  Viterbo and Vetralla offer the most convenient options for reaching the village, and it's two hours by train outside of Rome.
A chance to explore Barbarano Romano and the other hidden gems in Tuscia is well-worth a day trip from Rome.
Where to stay: Villa Rosalba camere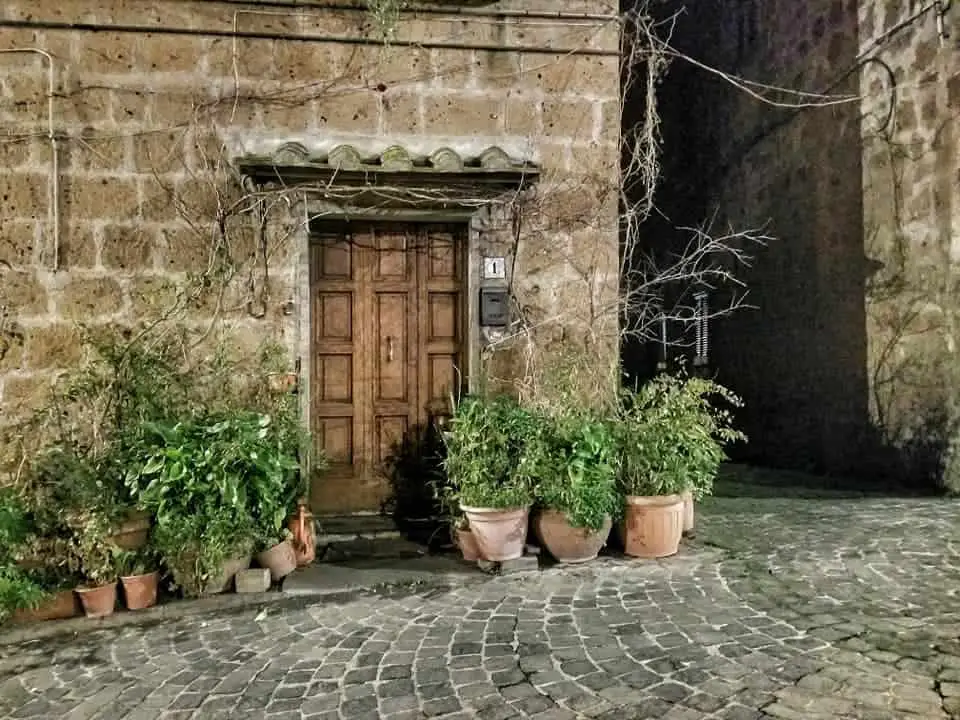 Scanno
By Izzy and Phil of The Gap Decaders
Scanno is a small town set deep in the wild and beautiful Abruzzo mountains. At first glance, Scanno may appear unremarkable, a typical Italian hill village. But look deeper and you'll find a wonderfully well-preserved medieval town with a fascinating history.
Scanno has been immortalized by some of the greatest photographers of the 20th century, Cartier-Bresson and Giacomelli amongst them; capturing the women of the village in their traditional dress, still widely worn today, and the medieval alleys and corners where honeyed stone rises to meet blue skies.
Visit the higgledy-piggledy, tiny Museo della Lana to understand the photographic history of Scanno.
Scanno's other major attraction is Lago di Scanno, a mesmerizing heart-shaped lake in the shadow of the Apennine peaks and on the doorstep of the town itself.
In summer, you can stay in your campervan by the lake and swim and paddleboard in the emerald waters. Visit the iconic Church of the Madonna de Lago, which hangs on the edge of the lake and where the altar is hewn from a rock wall.
Come in August for the best weather and the three-day festival and firework extravaganza held on the lakeshore every year.
Where to stay: Il Palazzo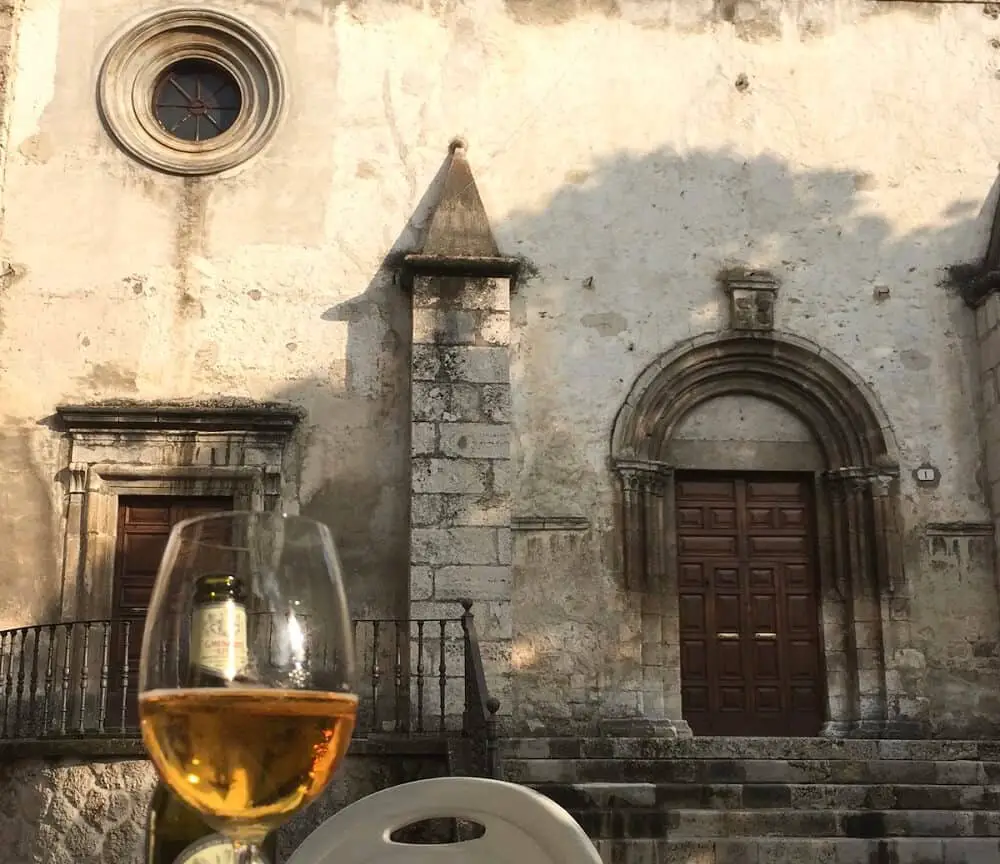 Tre Cime di Lavaredo
By Kat of Wandering Bird
If you're looking for a spectacular location off the beaten path in Italy, head to Tre Cime di Lavaredo in the Italian Dolomites. 
Tre Cime means '3 peaks' and it's easy to see why- these spectacular rock formations can be seen from miles away and they're even more breathtaking close-up.
To get up to the Tre Cime parking area, you need to pay for your vehicle or go up on a bus. We went up in our motorhome, but there's also a rifugio available which you can book. It's not cheap, but it's worth every penny. 
Other than the rifugio, there are toilets and a cafe at the top. There are several hikes, including the Tre Cime loop. This route is about 10km and takes around 3 hours (depending on how often you stop to take photos!)  It's well-signposted and the views from pretty much everywhere along that route are just breathtaking.
Also, pay very close attention to the weather. We were swamped by thick mist twice whilst we stayed up there- you couldn't see more than 2ft in front of you! But it cleared quickly and the spectacular views came out again. 
We highly recommend staying up there at least for one night so you can watch the sunrise over the mountains- it's one of the most incredible things we've ever seen! 
Where to stay in nearby Auronzo di Cadore: Hotel Centrale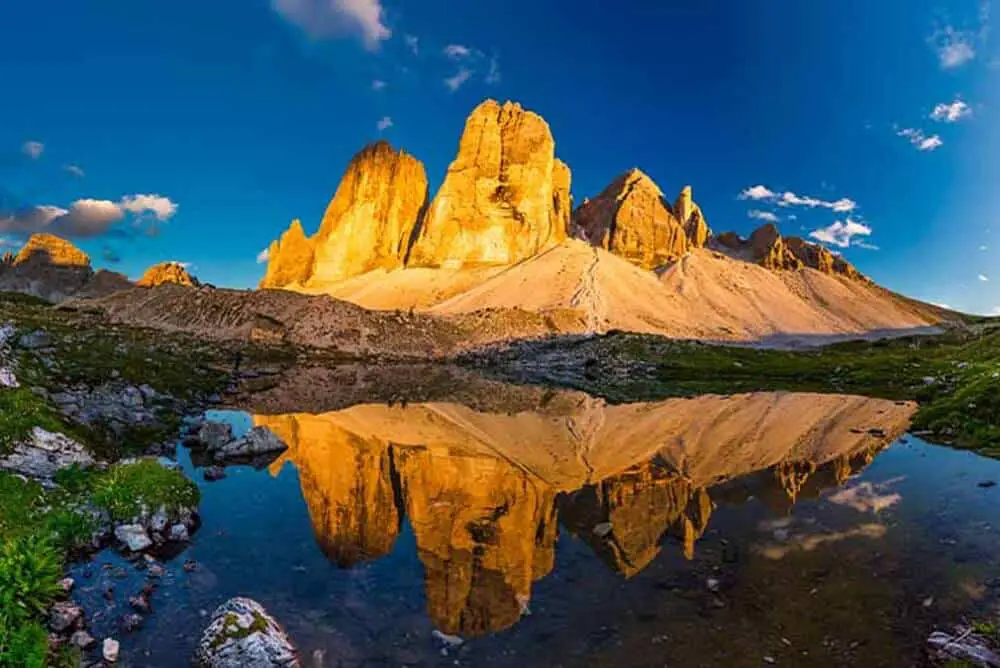 Mount Etna
By Matěj of Czech The World
Hiking to the top of Mount Etna is simply an amazing experience and should definitely be added to your Sicily itinerary. The 360-degree panorama of Sicily is just stunning! If you are lucky enough to be above the clouds, you will feel like being in heaven! At the top of the volcano, you can smell Sulphur vapors and sometimes even see some smaller explosions.
If you want to reach the absolute peak, you need to take an organized tour. You can either take more expensive tours, which start directly from Catania or Taormina or cheaper ones, which start at the bottom cable car station (Rifugio Sapienza).
For those on a tight budget, you can climb it all by yourself. However, you are not allowed to climb past 2900m without a guide.
If you want a true adventure, I highly recommend climbing Mount Etna in winter. The climb takes longer, however, you can ride it down on skis, snowboard or anything else. 
Book your stay at Rifugio Sapienza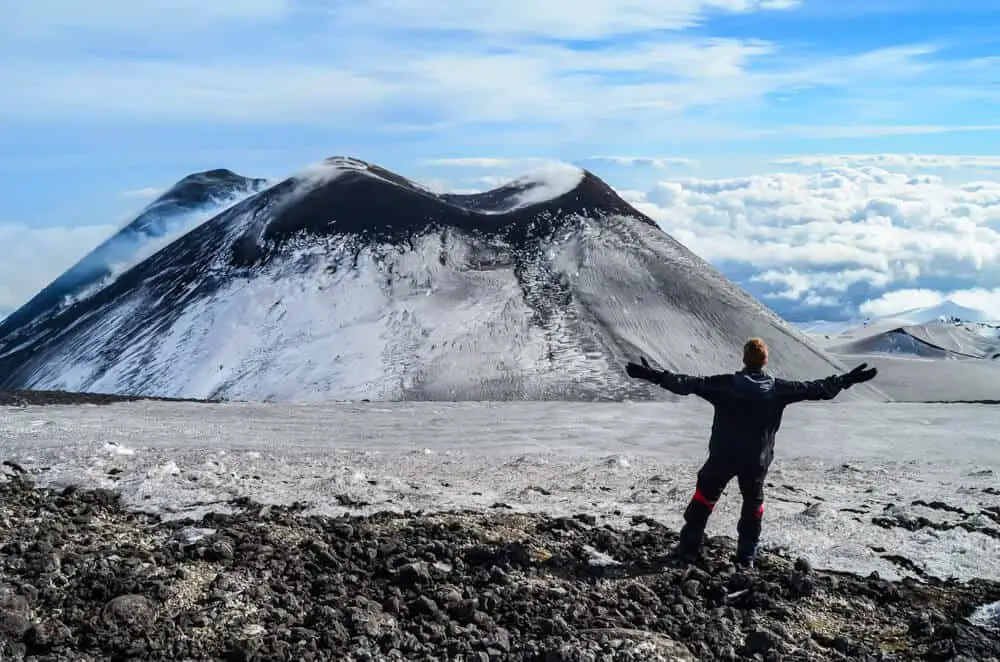 Enna
By Annabel of Smudged Postcard
Located midway between Palermo and Catania in the heart of Sicily is the city of Enna. It's worth the drive across Sicily to reach this hidden gem, particularly if you visit Enna at Eastertime. Standing on a particularly high rocky outcrop, Enna is Italy's highest regional capital.
Wander along the streets of Enna and you'll come across the elegant Gothic cathedral where locals congregate during Eastertime when the streets are full of traditional religious parades and processions.
Continue through the town and you'll eventually reach Enna's crowning glory, the Castello di Lombardia, a 13th century castle with incredible views across the valley below. Admission to the castle is free and once inside visitors can explore the ruins, covered in wildflowers.
The highlight of the castle is climbing one of the towers, Torre Pisana, to enjoy the views of Sicily's wheat fields which are a lush green in springtime.
Enna is best reached by car, it's around 100 kilometers from Catania and 160 kilometers from Palermo. There are few places to stay in Enna itself so it's worth staying at a nearby agriturismo just outside the city. Agriturismo Pollicarini is a particularly good one with distance views of Mt Etna from its grounds.
Book your stay at B&B Domus Enna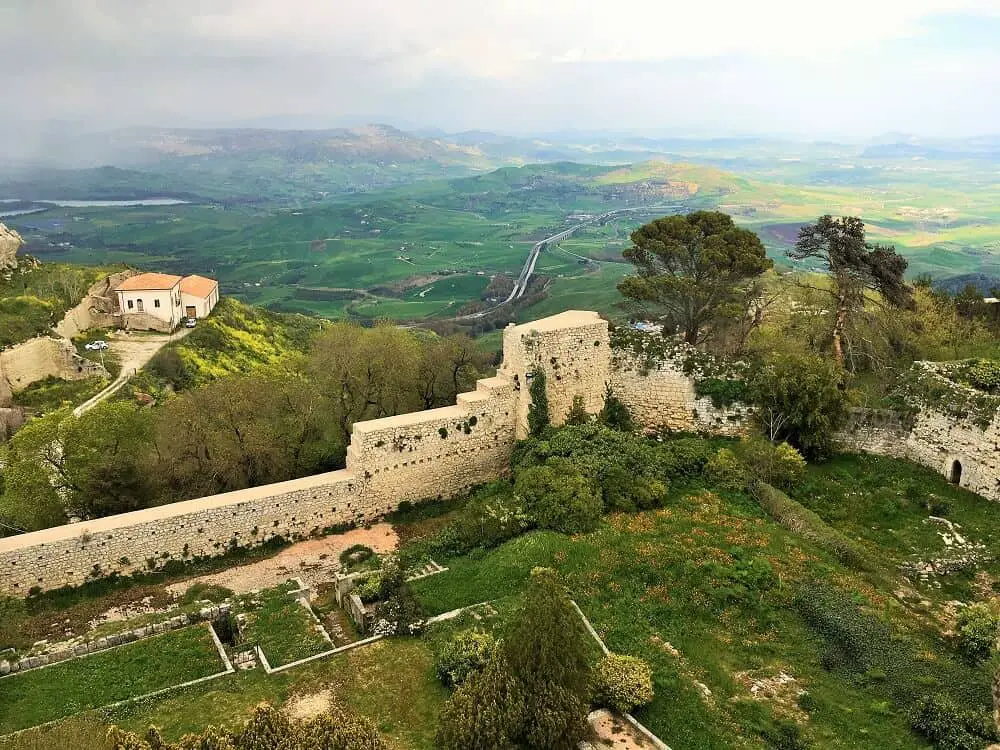 Monte Isola
By Eniko of Travel Hacker Girl
Monte Isola is a scenic, little jewel in Lombardia that isn't overrun by tourists yet. It might be due to the fact, that there are some famous attractions nearby, like Lake Garda, Milan, and Venice.
Monte Isola is the largest lake island in Europe. It is beautifully nestled on Lake Iseo, surrounded by mountains.
There is a regular ferry service from many lakeside towns. The ferries can transport bikes as well.  As soon as you step foot on the island, you will feel like you traveled back in time.
Monte Isola is a car-free place. The locals get around by bikes or scooters. In fact, cycling is a great way to explore the island. The 9 km circular route can be done in about one hour.
However, you can also make a detour to the 600 m hilltop, where a Sanctuary stands. This is a great place to see the area from above. The 360-degree views are definitely worth the struggle of cycling up the hill. On a hot summer day, you can go for a swim at one of the many beaches to cool off.
Stay at Casadina or Castello Oldofredi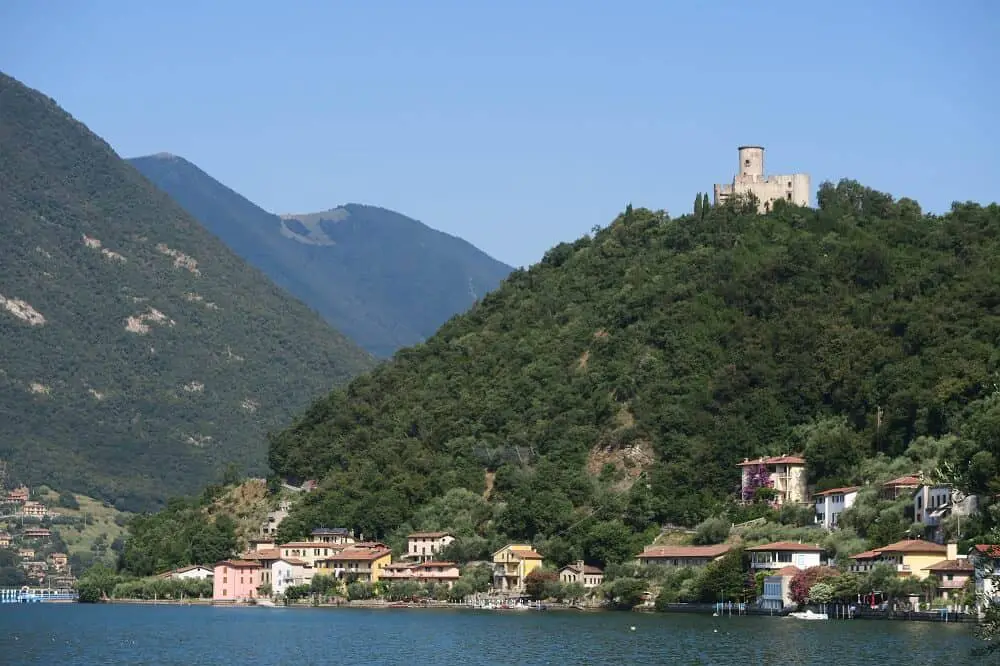 Ferrara
By Dhara of It's Not About the Miles
If you are looking for off-the-beaten-path destinations for your next trip to Italy, consider Ferrara, a historic town in the Emilia-Romagna region of northeastern Italy.
Though it's not on the popular tourist trail, there are plenty of fun things to do in Ferrara! Conveniently visited on a day trip from Bologna or Venice, Ferrara is also a nice place to spend longer if you can afford the time.
Under the rule of the House of Este in medieval times, art and architecture flourished in the city. Right in the historic center, the Castello Estense is the major attraction in Ferrara.
Complete with moat and drawbridges, the castle features four towers, dungeons, and fabulous interiors. The town's cathedral right next door is also worth a visit.
Spend time walking around the centro storico to take in the marvelous Renaissance architecture, and also walk the narrow cobbled streets of the older Jewish Ghetto.
The town's Palazzo Diamanti, with a facade made entirely of diamond-faceted stones, is simply gorgeous.
While in Ferrara, make sure you taste capellacci di zucca, pasta stuffed with butternut squash: it is delightful!
You can drive to Ferrara if you have a car, or take the train from major cities such as Bologna or Venice.
Where to stay: Hotel Touring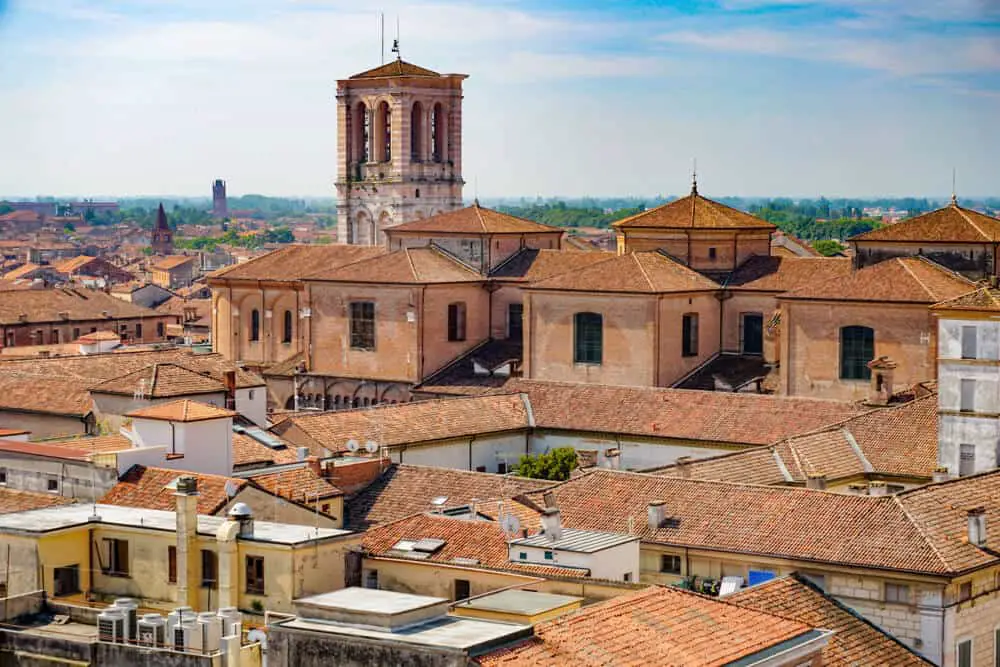 Cave settlements of Ginosa
By Chrysoula of Travel Passionate
The cave settlements of Ginosa in the Puglia region of Italy are a truly fascinating destination as not only do the caves show evidence of human habitation from as far back as the Palaeolithic Era, but they also provide an insight into the many different iterations of colonialism that this region has encountered over the past millennia.
Visitors can explore the caves as part of a tour strolling through the ravine settlements with an informative guide giving you details about the various dwellings, churches, squares and systems in place.
The cave houses are spread over five levels and are carved directly into the rock face creating cool safe abodes for their Middle Ages' residents. On the eastern side of the settlement lies the cult cave system with vestibules and frescoes showing their use as places of worship.
To reach Ginosa, visitors will want to travel down from the city of Bari (approx. 1 hour 15) or from Naples (3.5 hours) and it's best to travel by car so you have the freedom and flexibility to explore at your own pace. I would recommend visiting Ginosa along with a combined trip to other destinations in Puglia such as Latera, Mottola, Massafra, and Taranto. This way, you can stop off at different towns each night to get a real feel for the places.
Where to stay in Ginosa: Borgo Valle Rita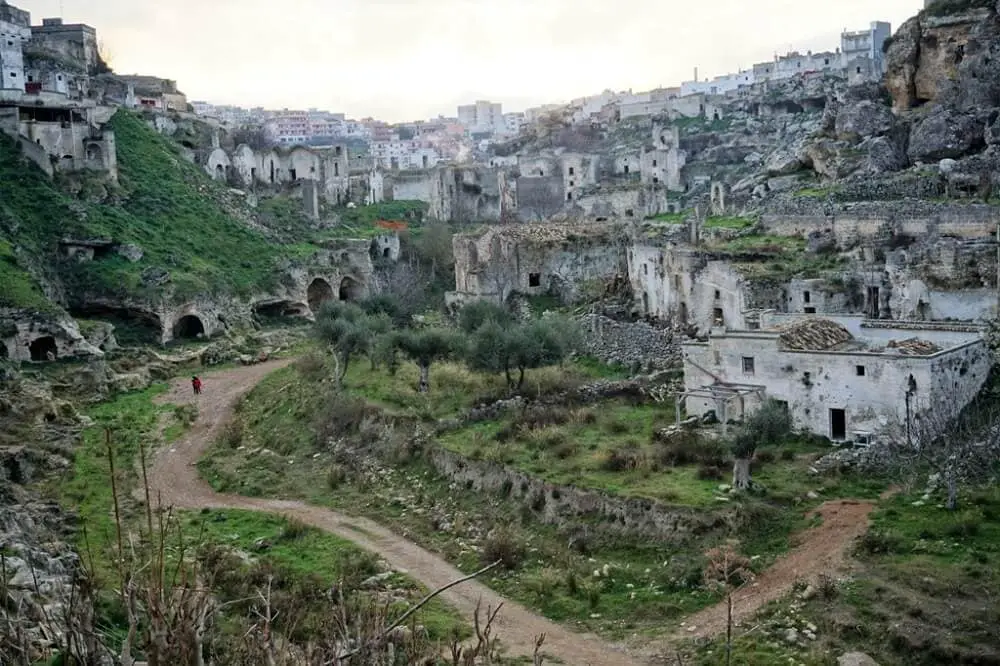 Saturnia Thermal Baths
By Sara of WanderMoore
Located in southern Tuscany, these amazing thermal baths are one of the largest public hot springs in Italy.
The water seeps up through the Earth's crust creating waters that are rich in mineral deposits, especially Sulphur. On your visit, you may notice an eggy smell- this is the Sulphur! The water is nice and warm- running at about 37.5 degrees Celsius (99°F). The warm water mixed with the rich minerals make the waters therapeutic and relaxing.
The Saturnia thermal baths are a great place to relax, swim, or have a picnic! However, there is no changing area so make sure to wear your bathing suit or be prepared to change in your car.
I recommend you wear water shoes or sandals- the area near the baths are very rough and there is no lifeguard on-site so you better be careful! However, there is a small snack shop/bar on-site with limited seating where you can get something to drink.
The best way to get there is by car along curvy roads. Parking is free but it is limited so make sure to get there early.
Where to stay: Agriturismo Quercia Rossa Rural House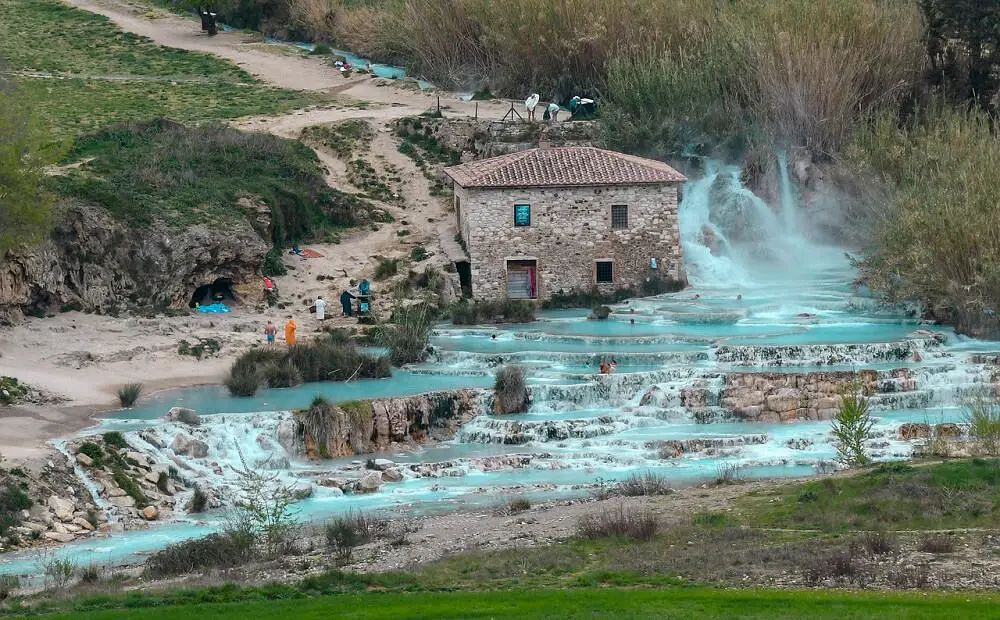 Cagliari
By Claudia Tavani of Strictly Sardinia

Cagliari, the capital of Sardinia, is a truly beautiful place to visit – yet still somewhat undiscovered. Although the city is well connected to mainland Italy and to the rest of Europe via main as well as budget flights, Cagliari doesn't nearly get the number of visitors that other cities of a similar size receive in other parts of Italy. 
As it is perched on the hills but facing the Mediterranean Sea, this is a city with splendid views – which can be appreciated from one of the many viewpoints in town. 

When it comes to strictly touristy things, there are many things to do in Cagliari. Among the must-sees there is the Roman Amphitheater, which is located in the center of town and a good witness to just one of the many layers of Sardinian history.
Another place to visit is the historical quarter of Castello, where you'll find the well-curated Museum of Archeology, the two watchtowers, the Cathedral, and many terraces to admire the views of the city. The best ones are from Via Santa Croce, from where you can enjoy a spectacular sunset over the roofs of Stampace, another historical quarter.
Cagliari is a fantastic destination for nature and beach lovers too. Easily reached from the center of town, Poetto beach is a fantastic place to hang out, run, go for a walk, or just spend a day in the sun and swimming. From there you can access Molentargius Nature Park, where you'll find a lagoon that is a nesting place for pink flamingoes.
For yet more views of the gulf, hike up Sella del Diavolo. The trail departs behind Calamosca beach (another urban beach) and in a short time takes you to a fabulous viewpoint. It's incredible how a small city can offer so much in terms of entertainment!
Where to stay: Bluemoon Sardinia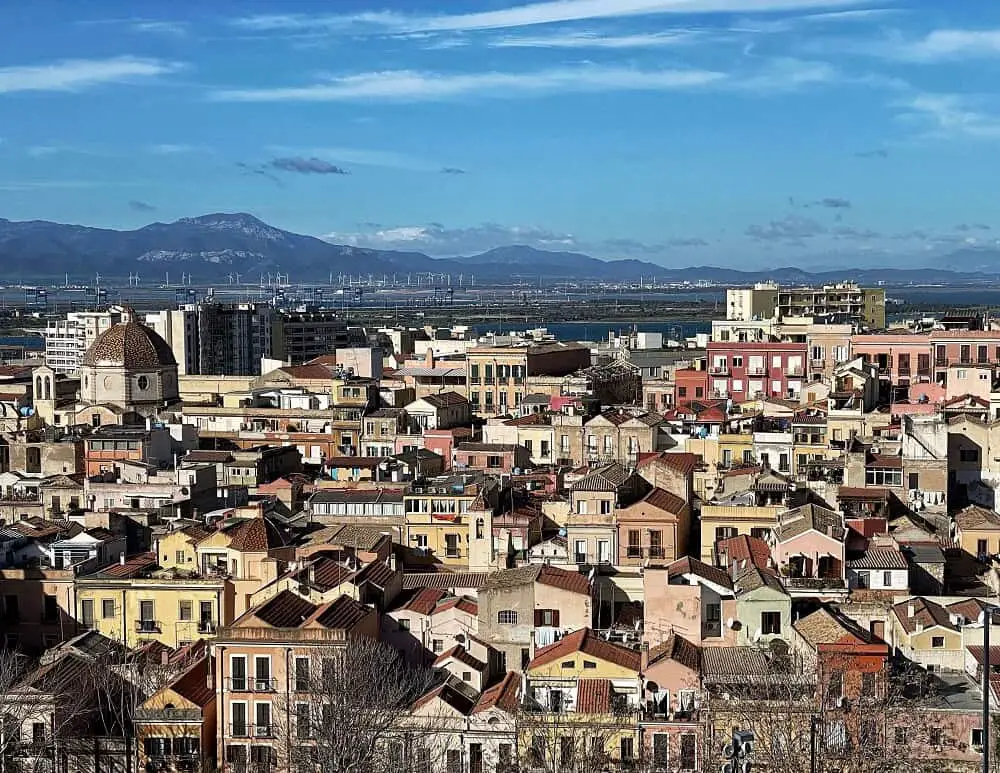 Agrigento
By Alexandrina of Earthosea
Agrigento is a small Italian city located in the southern part of Sicily and is usually overlooked by tourists. However, it is home to one of the most well-preserved Greek temples in the whole world.
They are located in the Valley of the Temples in Agrigento, which consists of 7 Greek temples dating back to the 6th century BC.
The easiest way to get to the Valley of Temples is to get bus 1 or 3 from the main bus station in the city. It will lead you directly to the entrance of the Valley of the Temples, where you can start your journey back in time.
The first temple you will encounter is that of Castor and Pollux or what is left of it. However, going further you will find the temple of Zeus and then that of Hercules, which is one of the biggest temples in the valley.
If you continue further you will find the most well-preserved temple of them all – The Temple of Concordia. It was built in the 4th century BC and nothing has really changed its structure since then.
However, during the persecution of pagans, it was turned into a Christian basilica, which saved it from destruction for previously being a pagan place of worship.
Continue further and you will end up in front of the Temple of Juno, the goddess of marriage and families. Last but not least, stop by the museum of the archeological site and check out the most fascinating artifacts from that ancient period.
If this breathtaking archaeological site got your attention you might want to stay for longer. Thus, I would suggest the Colleverde Park Hotel, which is a small hotel near the Valley of Temples with incredible views over the Mediterranean Sea and the Valley of the Temples.
Book your stay at Colleverde Park Hotel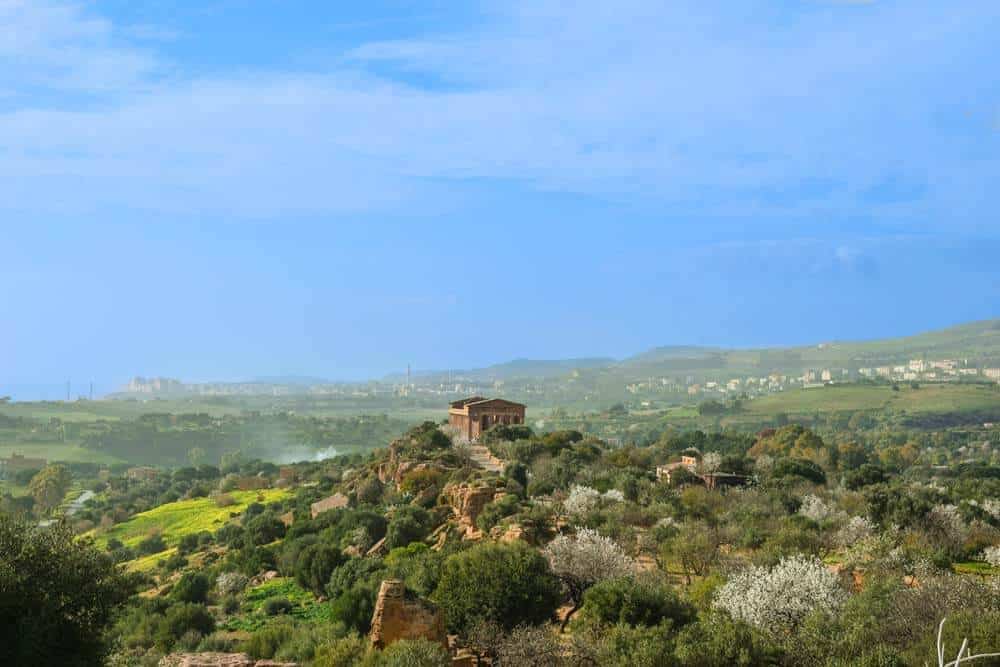 Lago di Sorapis
By Darek of Darek and Gosia
Italy is full of amazing places – from stunning beaches, picturesque towns to amazing cities. But if you are looking for less touristy places to visit, head out to the Dolomites.
In the northeast of the Dolomites, most of the tourist traffic is concentrated in the picturesque town of Cortina d'Ampezzo, where there are plenty of cable cars going up to the nearby passes and peaks. However, there are many hidden gems accessible only on foot.
One of them is Lago di Sorapis, a lake with mesmerizing turquoise water. It is without a doubt one of the most recognizable and spectacular places in the Dolomites.
The hike to the lake takes just over 2 hours. Initially, the trail leads through the forest, and then the surroundings become more rocky – the views are amazing!
The hike is semi-challenging if you are not an experienced hiker, but the prize is worth every drop of sweat!
Where to stay in Cortina d'Ampezzo: Hotel Meuble Oasi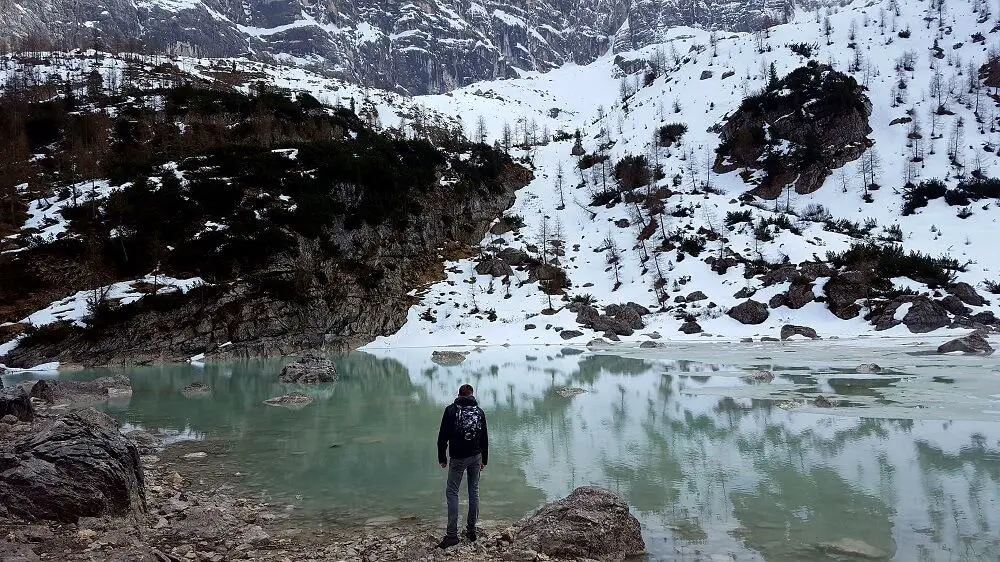 Bologna Apennines
By Lori of Travelinmad
If you love Italy but are ready to get off the tourist trail, go a bit deeper, and discover a more authentic part of the country, consider slow traveling the Bologna Apennine mountains.
Running the length of Italy from Liguria into Sicily, the Bologna Apennines lie between Emilia Romagna and Tuscany. It offers a wealth of natural landscapes to explore, from craggy and mountainous forests to breathtaking waterfalls and lush rolling hills.
But tucked between these hills and valleys are dozens of small towns, or borgos, that still reflect the history and very local culture within each one. Don't miss Borgo La Scola or Tole with its quirky murals painted around the town.
Equally incredible are the unexpected places you'll find like stunning modern architecture, medieval castles like Rocchetta Mattei, local markets, B&Bs, and even Michelin-star restaurants that make you shake your head and wonder why there aren't more adventurous travelers around.
Don't miss dining at Michelin-rated Trattoria Amerigo 1934 in Savigno, for an authentic Italian dinner, then stay the night in their locanda.
Exploring the Bologna Apennines is for the traveler who isn't afraid of not speaking the language or knowing exactly where they're going. While a good GPS is essential, this kind of authentic travel makes you fall in love with a place like Italy even more.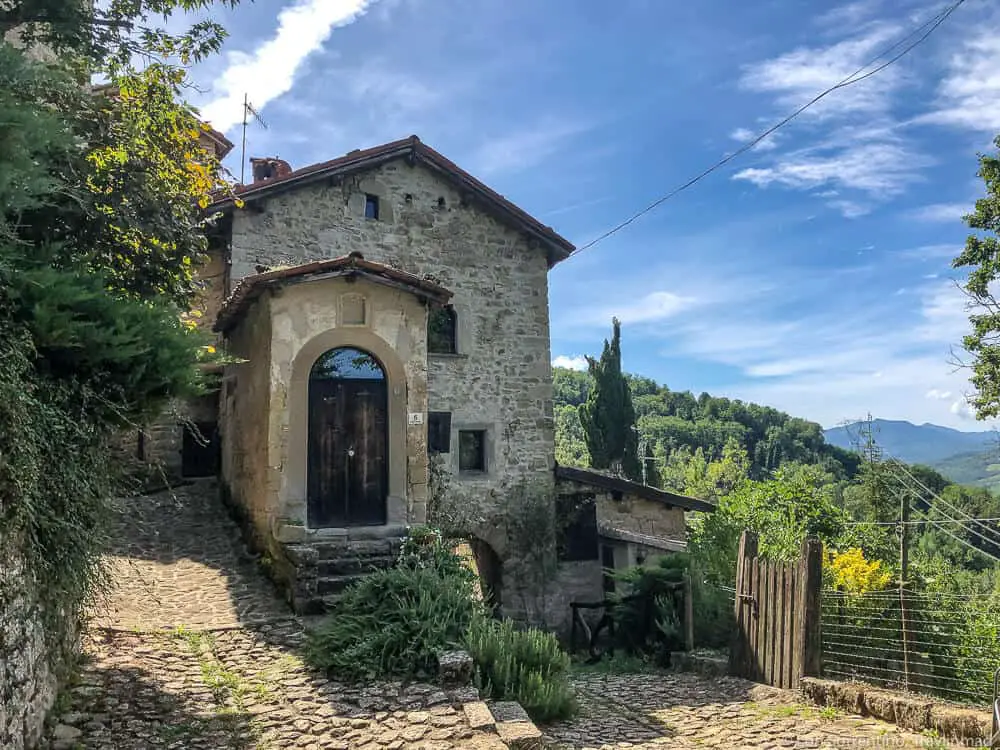 Bagni San Filippo
By Merryl of Merryl's Travel & Tricks
Bagni San Filippo is a beautiful town tucked away in Castiglione d'Orcia in the province of Sienna in Tuscany. The town is named after the natural thermal baths that are located in the town. Set against the backdrop of green woods, these natural thermal pools make for the perfect relaxing spa day amidst nature.
The Baths of San Filippo are situated in a park in the heart of the little town. A small downward hike brings you to some of the most stunning natural pools in the country. The water flowing into these pools comes from various sources and is rich in Carbonate-calcic. Along the flow of these mineral rich waters, the deposits have formed huge formations. Amongst them, the Fosso Bianco and The White Whale are the most stunning.
The best way to get here is to drive it from Rome or Florence. I recommend staying in the town of Montepulciano which is close by. You can also find a few buses from Montepulciano to Bagni San Filippo throughout the day. Just make sure to check the timings before you plan your day
Where to stay in Bagni San Filippo: B&B Il Fosso Bianco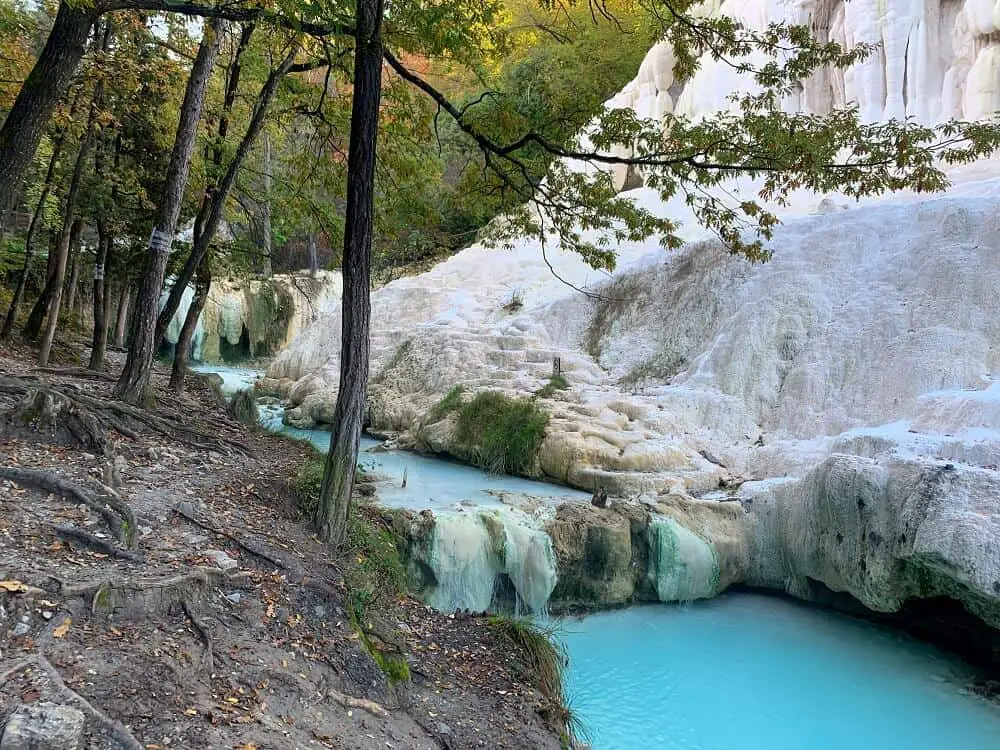 Polignano a Mare
By Merryl of Merryl's Travel & Tricks
Polignano a Mare is a picturesque town in the region of Puglia in southern Italy. This beautiful town redefines the typical Italian charm. The city center of this town is straight out of the movies with its narrow cobblestoned streets and beautifully decorated houses.
While the city center oozes old-world charm, the main attraction in town is the beautiful Cala Porto beach, which is a stunning pebble stoned beach with emerald green waters.
The narrow beach is right outside the city center and surrounded by high cliffs on either side.
There is a beautiful cave above this beach which has been converted into one of the most unique restaurants in the country. Dining in Palazzese cave restaurant is surely a once in a lifetime experience. But make sure to call in advance and make a reservation! 
The nearest airport to the town is the Bari International Airport. From there, Polignano a Mare is just a short 30-minute train ride away. You can choose to visit the town as a day-trip from Bari or you can choose from the many hotels and Airbnbs in the heart of the city. 
Where to stay: Hotel San Giovanni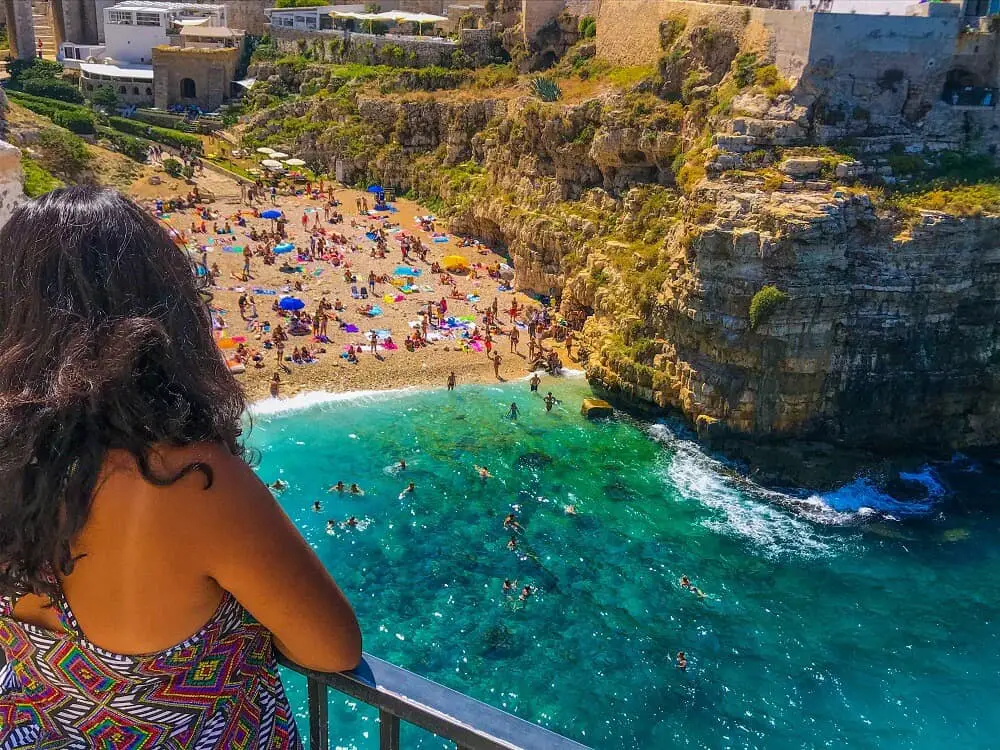 Camogli
By Elisa of World in Paris
Camogli is a small coastal town near Genova, in the Italian region of Liguria. It has a picturesque and colorful architecture, very similar to that of Cinque Terre or Portofino, and it is a beautiful place to explore. Despite that, Camogli is not as touristy as its neighbors and only sees locals.
Camogli is a popular Sunday trip destination for people living in Genova. People like to leave the hustle and bustle of the city for a while and Camogli is very nice to walk around, take beautiful pictures, and enjoy the sea breeze. The Castle of Dragonara and the lighthouse, are particularly picturesque.
After the walk, there are a couple of restaurants to enjoy traditional cuisine with a view and I recommend tasting the trofie al pesto or pasta al sugo di noci paired with local wines.
Of course, in the summertime, people like to enjoy the beach which is small but never too crowded.
Camogli is located only 20km east of Genova.  Trains from Genova leave from Brignole train station and the journey to Camogli – San Fruttuoso takes only  20 minutes.
Where to stay: B&B Frugis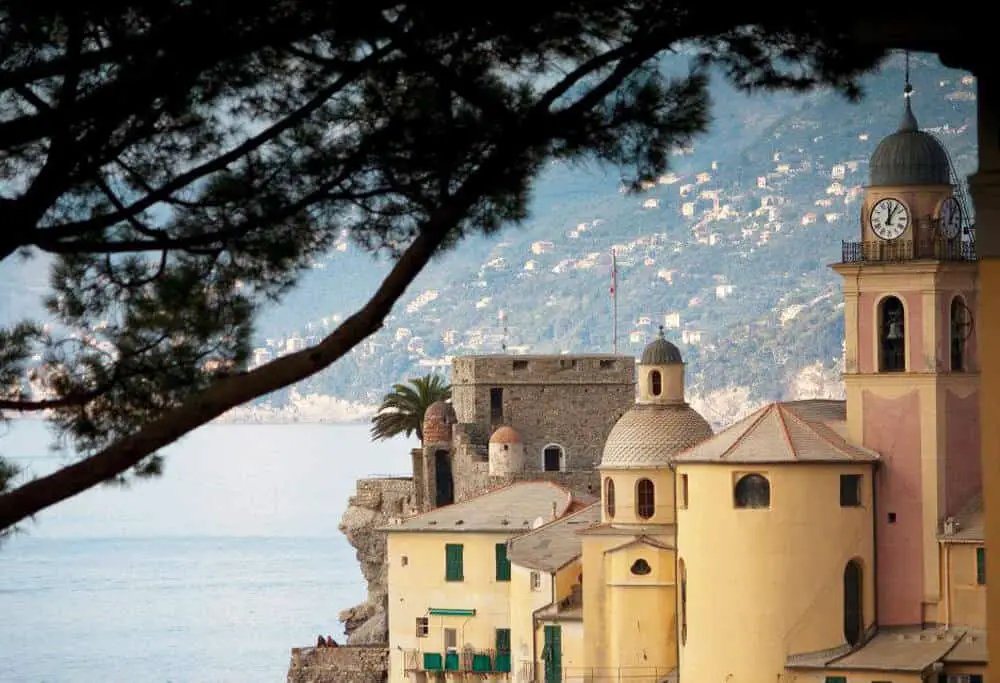 Ostuni
By Nadine of Le Long Weekend
Puglia's "White City" (La Città Bianca), Ostuni, is a beautiful hilltop town near the Adriatic Coast of Italy's heel. Perched above the rugged agrarian landscape of olive trees and ancient stone bories, it makes a wonderful contrast to the earthy tones that surround it.
Venture into the city and you'll find an authentic and charming old town center, where not much has changed since it was rebuilt by the Greeks following the Punic Wars.
It's this Hellenic past that gives the town its distinctive "Greek Island" feel, with its whitewashed buildings adorned with colorful shutters.
The best way to enjoy the town is to simply wander at leisure through its myriad of streets, enjoying the sights and sounds as you go. Be sure to pop into a trattoria for freshly prepared pasta on your way, and sample the local speciality, Orecchiette. Also, pop down to the Saturday markets to pick up the freshest local produce.
For a taste of luxury within the old town center, stay at the well-appointed La Sommità Relais & Chateaux.
Book your stay at La Sommità Relais & Chateaux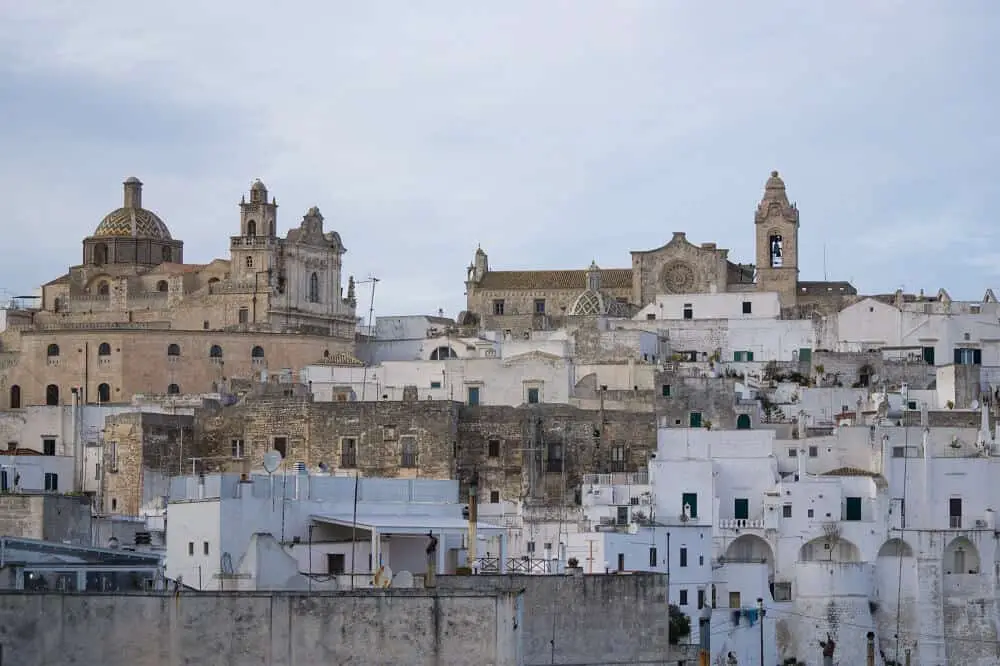 Varese
By Megan of Megan Starr
One of the best places I've visited in Italy that remains off the radar of most tourists is the city of Varese.  Located in the north of the country and the perfect Milan day trip, Varese has quite a bit to offer travelers regardless of their interests. 
One of the main things to do in Varese is to head to the hills to the city's UNESCO World Heritage Site, Sacro Monte di Varese. Located in the Campo Dei Fiori regional park, the significant site consists of 17th-century chapels situated on a renowned road and it shares similarities to nine other sites in the northern Italian region.  

Varese is imaged by large villas and beautiful parks.  I loved wandering the old streets and stumbling upon breathtaking sights on every corner and turn.  For a nice meal, you can head to Al Gambero Da Patrizia, a family-owned establishment specializing in seafood dishes.

You can reach Varese easily by train from Milan by heading to Milano Porta Garibaldi station where you can find frequent trains that take an hour and are about 7€.  I highly recommend staying at the wonderful Invilla B&B when you're there.  They offer true Italian hospitality in this fantastic city.
Book your stay at Invilla B&B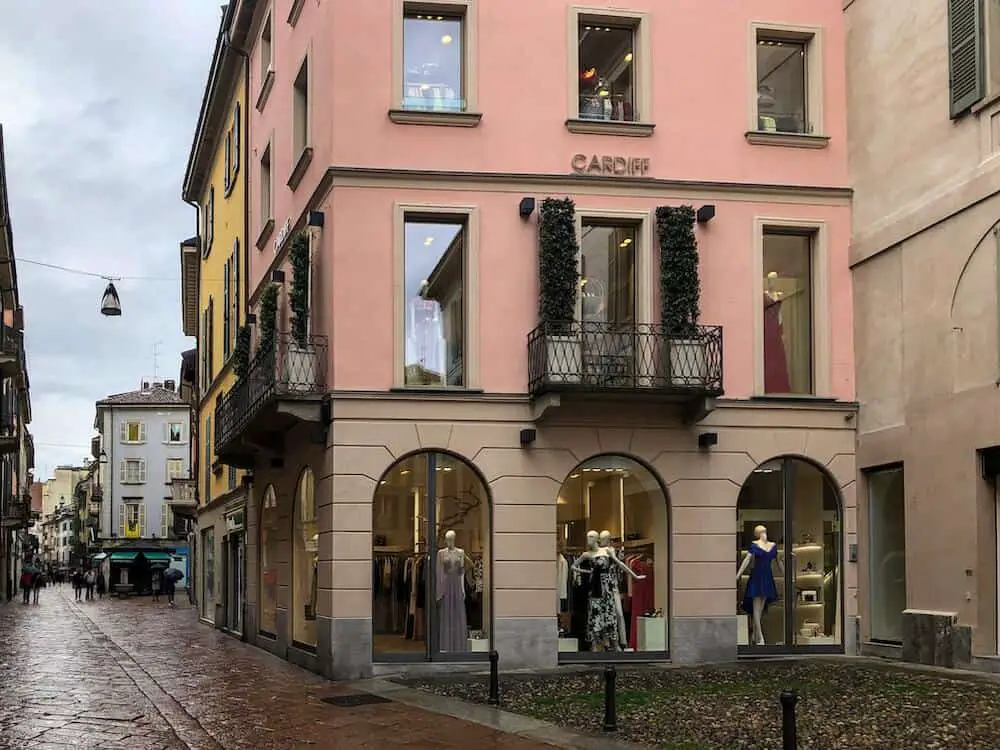 Travel responsibly off the beaten path in Italy
I already mentioned how important it is to respect the hidden gems in Italy and elsewhere in the world so they don't get ruined. However, there are a few other basic tips for responsible tourism you should think of when visiting the above places.
Do your best to leave no trace when you travel. Respect marked trails and no littering. The obvious relly.
Make sure you bring a reusable water bottle. The water in Italy is usually drinkable unless they have stated otherwise by the tap. But a filtered water bottle can be a great companion when you travel through off the beaten path Italy destinations. I like the filtered water bottle from Brita when traveling in Europe.
And finally, respect people and wildlife. Ask before you take photos of people, respect culture and customs, be curious, and learn from the locals. And of course no feeding wildlife.
Find the best sustainable backpacks for your trip here
I hope you'll have an awesome trip! I'd love to hear your experiences in the comments!
Did you like this? Pin it for later!