Get ready to skip past persistent cows in narrow blue-painted alleyways, press your way through colorful saris, and walk in the king's footsteps in the magnificent Mehrangarh Fort overlooking the Blue City. We are in Jodhpur, the second largest city in colorful Rajasthan, "the land of kings".
While I will recommend a minimum of a 2 days Jodhpur itinerary to get the most out of your visit, I will also give a suggestion for places to visit in Jodhpur in 1 day. This way you have an option in case you don't have the opportunity to stay longer than a day.
Rajasthan is said to be the most colorful state in India and tremendously popular among travelers. In fact, it was the first part of India I ever visited. And I loved it!
What to expect from Rajasthan? Buzzing North Indian street life, pushy sellers, incredible fortresses, endless desert land, working camels, colorful saris, and Indian travelers shoving you into their family photos as if you are a life-long friend. There is so much beauty in Rajasthan!
What to expect from Jodhpur? All the above plus a lot of blue. Lots and lots of blue buildings.
Also, expect getting lost, eating way too spicy food, scamming attempts, and sore feet from all the walking. Hold on to your valuables, put on your best smile, and keep your finger on the trigger of your camera at all times and you will have an unforgettable time!
Disclosure: This post may contain affiliate links. That means that if you make a purchase through one of those links, I will get a small commission at no extra cost to you. If you have any questions about these services or products, feel free to ask me.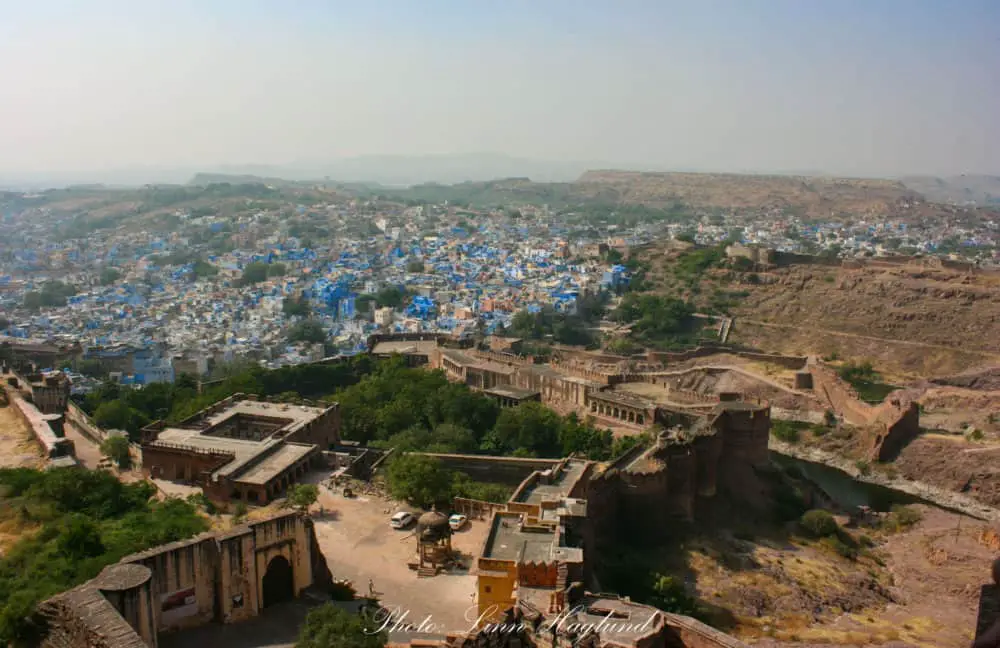 Travel safety in Jodhpur
Before we look at the Jodhpur itinerary, let's talk travel safety. India is, in general, a country known for scams, pickpockets, and group violence. So why should you even want to go to India? And even more so, why should you want to go to the second largest city in Rajasthan?
India is a country of diversity. So, for all the bad and evil you might meet, you meet just as much kindness. Or even more. Generally, a lot more.
In my experience, India is a place to take precautions, keep your eyes open, respect the local norms, and speak to the locals for advice. And Jodhpur is no exception.
You will have to choose who you trust, so make yourself a favor and talk to people openly and fearlessly while you listen to your gut. If your gut says "mieeh?", then talk to someone else that your gut shuts up around.
Also, as in any other crowded city, keep your valuables close and make sure you don't leave your bag unattended.
Always agree on any price for transport upfront.
Note: If a bicycle taxi or Rickshaw gives you an incredibly cheap price, it means they will stop by a shop on the way. They get a commission from the shop if you go in and look. That means the cheap price is for a shopping trip and spending way more time to get to your destination. If you are ok with that, fine, but if you want to get to your destination directly, you will have to talk about a different price.
Read: Is it safe to travel as a woman to India?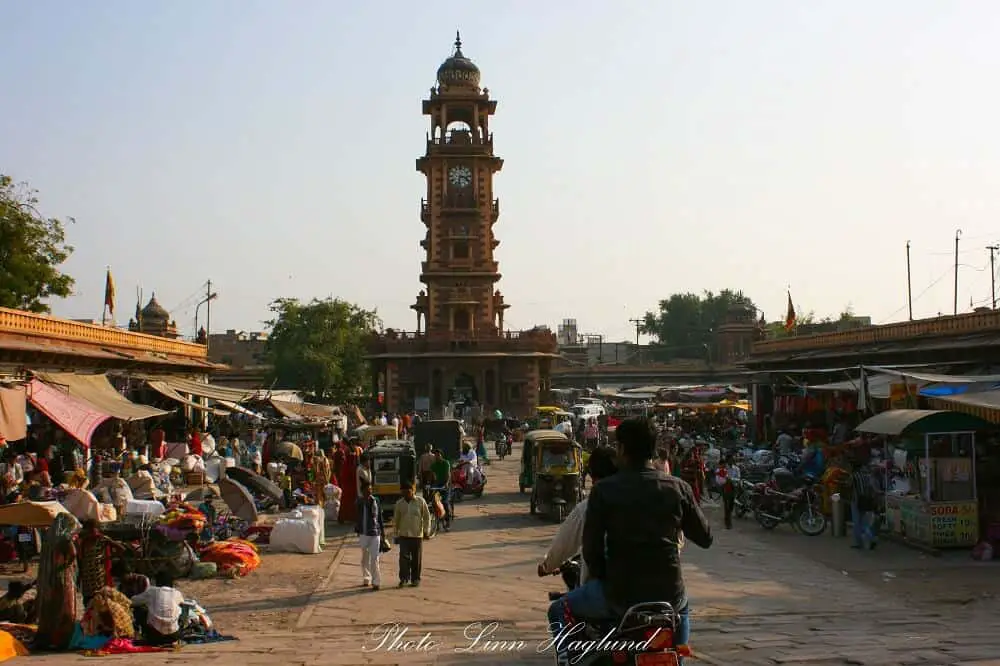 Get travel insurance
I highly recommend getting your travel insurance even though you don't plan to get scammed or robbed. Also, I highly recommend not being scammed or robbed at all.
However, in case something should happen, you are not alone. I always use World Nomads as I find them easy to deal with all the way from getting a quote, understanding the quote, and contacting for assistance.
There are plenty of good travel insurance companies out there, but World Nomads are definitely my first pick!
Get your quote with World Nomads here.
Best time to go to Jodhpur
October to March are the coolest months and normally around 20+ degrees Celsius in the day time. It is the absolute best time of year to go sightseeing and on any desert safari.
May to June are the hottest months and temperatures can rise above 40 degrees Celsius in the day time. If you decide to travel in this period, remember to drink a lot of water and use sunscreen all day.
July to September sees lower temperatures and higher humidity. This is the low season in Jodhpur and while you can avoid the crowds, you can also save a lot of money on accommodation.
Find the best flight deals to Jodhpur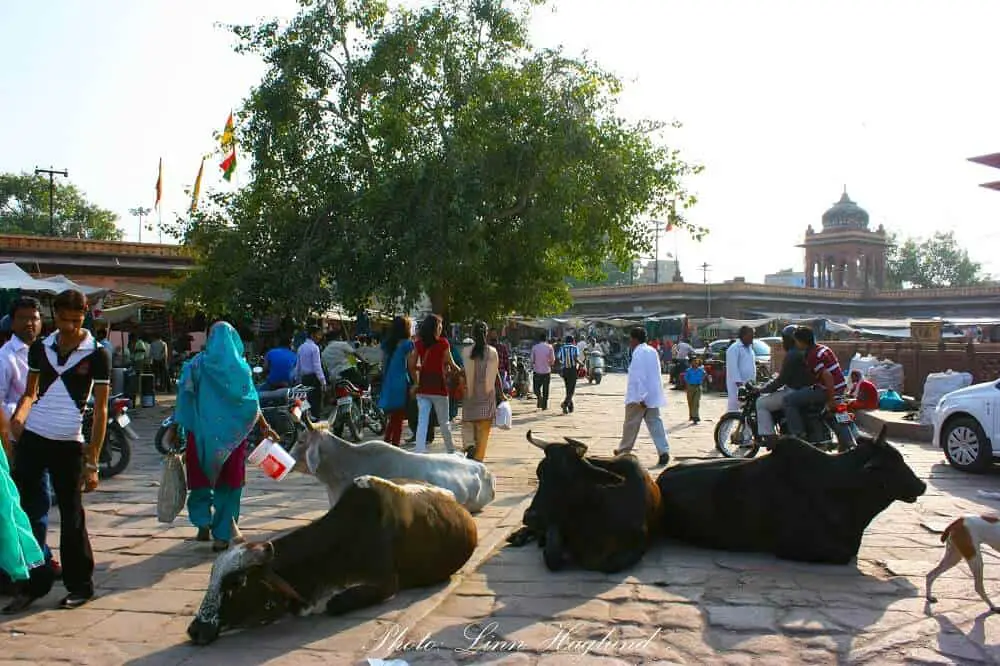 Where to stay in Jodhpur
Around the Clock Tower
The best place to stay in Jodhpur for a night or two is definitely around the Clock Tower. The Clock Tower is a main landmark constructed a century ago in traditional architecture. Surrounded by the Sardar Market twisting through narrow streets with strongly smelling spices, colorful textiles, loud vendors, running children, and the odd cow chewing something from the ground that wasn't grass.
The animated square is only a 20 minutes' walk from the main attraction in Jodhpur, the Mehrangarh Fort. It is also central to other attractions and close to the airport.
Paota
Paota is a good option to the central Clock Tower, and only a 10 minutes' drive away. You find both a central train station and bus station in Patoa so you get easily around from there.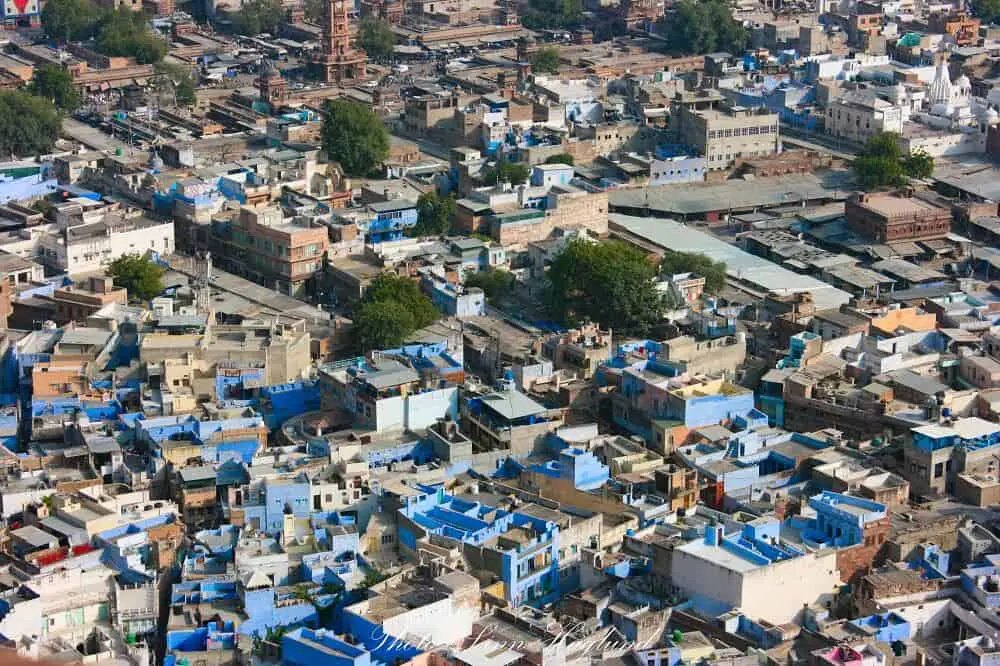 If you want to make a difference
Durag Niwas Guesthouse is a welcoming guest house that has also funded a charity organization, Sambhali Trust. They empower women and children in underprivileged communities and have a shop at the premises too where you can buy handmade clothes and little cotton animals. Everything is handmade by the women in the supported communities.
The guest house is situated close to the Gaushala Stadium, 4 km from the Mehrangarh Fort and 4,2 km from Umaid Bhawan Palace. It is central enough that you can walk around if you don't want to get a Rickshaw everywhere.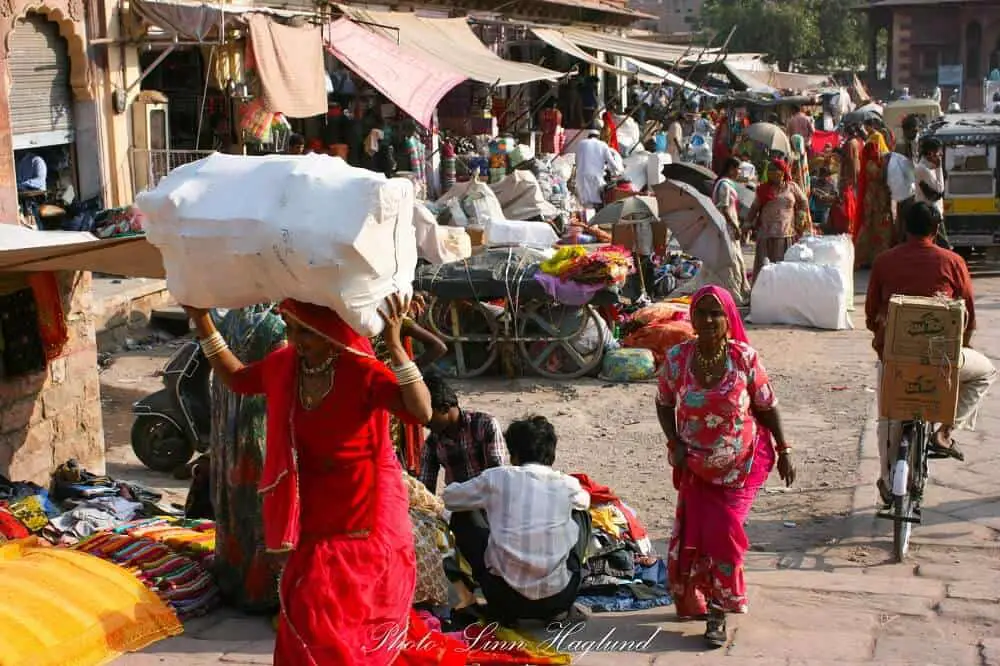 Now, let's look at a Jodhpur itinerary for 1 day and for 2 days. If you only have one day, feel free to pick from either day beneath. Anyway, I have tried to put what I think is the most important tourist attractions in the first day to make sure you get the most out of your 1 day in Jodhpur.
Places to visit in Jodhpur in 1 day
Mehrangarh Fort
09:00-12:00
Opening hours 09:00-17:00
Entrance Fees:
Indian visitors: 100 Rs.
Foreign visitors: 600 Rs.
Camera: 100 Rs.
Video camera: 200 Rs.
I recommend that you have your breakfast before 9:00 so that you get to the fortress for when it opens. You should spend a maximum of 3 hours in the fort so that you get the most out of your day in Jodhpur.
With only one day in Jodhpur, you should definitely start off with visiting the majestic Mehrangarh Fort. Sitting on a 120 meters high cliff and spreading across 5 kilometers in the heart of the Blue City it cannot be missed.
Dating back to 1438, the fort is protected by its 35 meters tall and 20 meters thick walls. Canons are situated on the wall, though today they are mainly there for tourists to photograph in front of the implausible view of the blue-painted city.
There are several palaces and temples situated inside the fortress, as well as a museum with artifacts from Rajasthan kings and the Mughal dynasty.
If you have time for the Jodhpur itinerary over 2 days, you can take a ride on the zip-line from the north side of the fort. Find the ticket office for Flying Fox to get your tickets. It is a circuit that takes about 90 minutes with 6 different zip-lines and really worth the ride.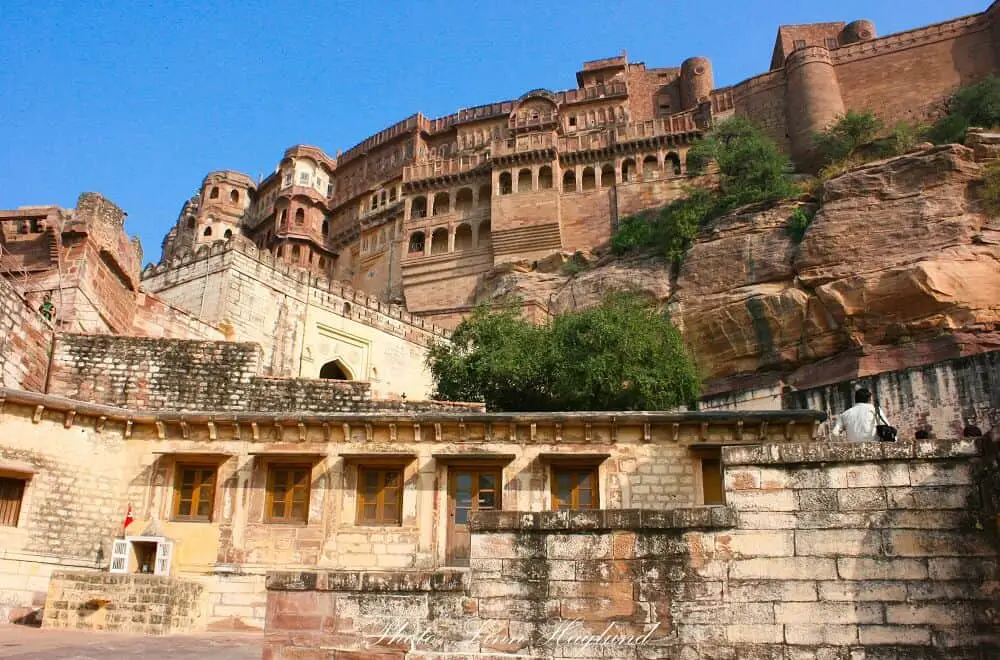 Make time for lunch after visiting the fort. There are several restaurants in and around the fort.
Take a rickshaw to the Umaid Bhawan Palace, it only takes about 15 minutes from the fort, depending on traffic.
Umaid Bhawan Palace
14:00-16:00
Opening hours 10:00-16:30
Entrance fees:
Indian visitors: 30 Rs.
Foreign visitors: 100 Rs.
Children (5-11 years): 10 Rs.
 Umaid Bhawan Palace was fully constructed back in 1943 after 14 years of building. The massive structure became one of the largest residents in the world. Today, it is the main home of the former Royal Family of Jodhpur with a total of 347 rooms.
One part of the palace is managed by Taj Hotels while another part is a museum for visitors that shows the history of the Jodhpur Royal Family. You can also see an incredible collection of classic cars outside the palace.
Get a rickshaw back to the Clock Tower by Sardar Market. This is only a 10 minutes' drive by rickshaw depending on the traffic.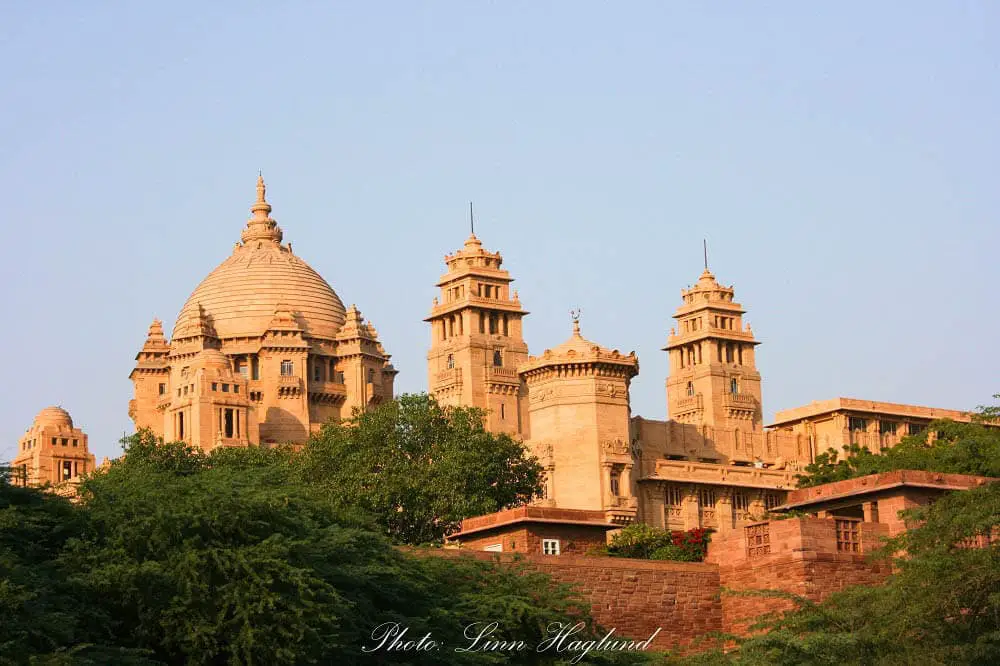 Clock Tower and Sardar Market
17:00-late
The rest of the day you should walk around the Sardar Market. It is probably one of the best things to do in Jodhpur, just to experience the everyday life at the market. Also, walking through the narrow streets is a great way to explore the fusion of smells and colors this city has to offer. Don't get surprised if your path gets blocked by a massive cow. They have first priority always!
When you get hungry, you can find a few restaurants nearby for dinner.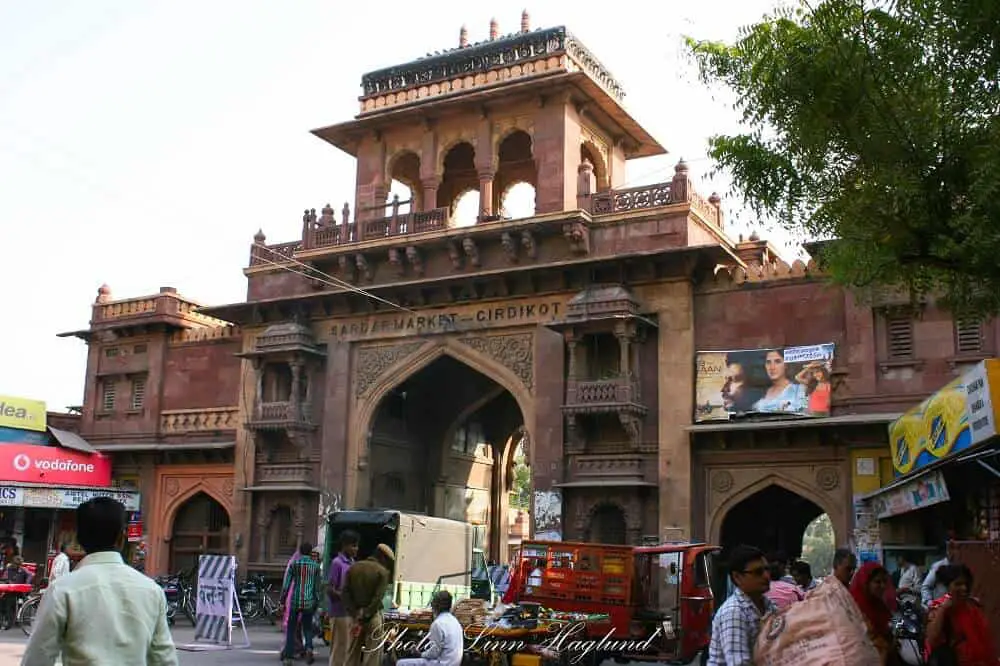 Jodhpur Itinerary – day 2
If you did the zip-line day one and didn't get the time to do everything, feel free to change any attraction of day 2 so you get to experience what you want to.
Rao Jodha Desert Rock Park
08:00-10:30
Opening hours April to September: 07:00-18:30
Opening hours October to March: 08:00-17:30
Entrance fee:
Adult: 100 Rs.
Guided walk: 200 Rs.
Get your breakfast before 08:00 so you can get to the park at 8:00. This way you will get the most out of the day.
Next to Mehrangarh Fort, the large, rocky wasteland of Rao Jodha Desert Rock Park spreads across 70 hectares. The rocky wasteland was newly cleared of intrusive plants that were brought from Central America nearly a century ago. Now, the native desert plants get a chance to grow back. The park was founded in 2006 to protect the area and is now a beautiful place to walk around.
To get from the Rao Jodha Desert Rock Park to Jaswant Thada you can take the 15 minutes' walk down Rajputana Rd. and turn left into Jaswant Thada Rd. Or you can take a Rickshaw that will be there in 3-5 minutes.

Jaswant Thada
11:00-13:00
Opening hours: 09:00-17:00
Entrance fees:
Indian visitors: 15 Rs.
Foreign visitors: 30 Rs.
Camera: 25 Rs.
Video camera: 50 Rs.
Also known as the Taj Mahal of Mewar, Jaswant Thada is a must-see marble structure surrounded by lush green trees by the lakeside. Inside the carefully carved white building, there are beautifully decorated memorials with dedicated artwork and paintings of the former Mewar rulers.
The memorial house was built by Maharaja Sadar Singh in 1899 and named after his father, Maharaja Jaswant Singh II. The royal cremation ground sits just next to the building.
While at the Jaswant Thada you can also appreciate the nearby lake.
After visiting Jaswant Thada it is time for lunch. If you want, you can take a Rickshaw directly to Mandore Garden and find a restaurant around there. It takes about 20 minutes.
However, you also have the time to take a rickshaw towards Gulab Sagar Talab Lake where you find quite a few restaurants nearby.
I definitely recommend trying a thali while in Jodhpur, which is normally the cheapest way of eating. It consists of one big plate with several small dishes and sauces. Often, they come and top up while you eat. This way you can try traditional Indian food the local way.
Mandore Garden
15:30-17:30
Opening hours 08:00-20:00
Entrance Fee: 100 Rs.
Mandore Garden is located 9 kilometers outside the city, though one of the most beautiful places to visit. It should definitely be on your Jodhpur itinerary if you have two days to spare.
Mandore used to be the ancient capital of the Pratiharas who ruled the region back in the 6th Century AD before Mehrangarth Fort.
The green gardens are spotted with ancient ruins and cenotaphs and calm lakes.
In the evening you can explore Mandore and get your dinner there, or you can take a Rickshaw back to the clock Tower for a stroll and dinner in the nearby areas.
Responsible tourism in Jodhpur
Jodhpur is, without doubt, full of impressions and new experiences. However, there are a few things you should keep in mind as a responsible tourist to the Blue City.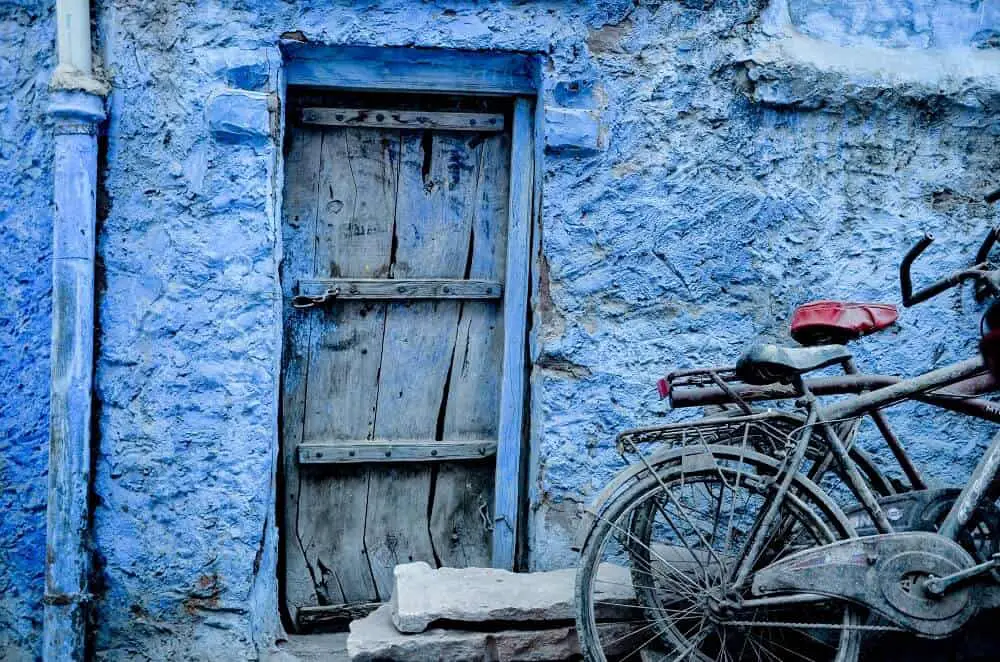 Photographing people
Before you take photos of people, no matter how colorful and traditional looking, remember that they are people, just like you and me. Ask them if it is ok for them that you take their photograph. Especially children, you should always get consent from an adult family member.
Animal tourism
I can't stress this enough! Never give money to people performing with animals. Never take photos with animals. Also, don't ride animals. The animals deserve being free, and as long as tourists pay people for anything related to animals, they will keep being maltreated, malnourished, and used for our amusement.
In Jodhpur, you might see cobras in baskets, you might be offered a camel ride or a selfie with a monkey. There is also a zoo in the city. Instead of spending money on these activities, look up a way to see these animals in the wild in an ethical way.
Waste management
Waste management in India is probably non-existent. Anyway, I recommend that you throw your rubbish in a bin instead of the street. At least you have done your part.
I also suggest you bring your own filtered reusable water bottle like a LifeStrawGo.
---
Get your LifeStrawGo filtered water bottle here
---
I hope you get an incredible experience in Jodhpur!
Read Next: What to do in Varkala, South India
Pin it for later!