Covered up in lush green jungle the crystal-clear river runs by the footpath and forms the odd swimming hole to cool down in. The path joins the river where two impressive waterfalls show their strength and invite you in for a refreshing swim. You are at El Nicho waterfalls in the outskirts of Topes de Collantes National Park in Cuba. A favorite day trip from Cienfuegos both for Cubans and tourists.
Whoever I asked in Cuba where I should go told me to go to El Nicho. So, I went. And it was undeniably a place you should put on your Cuba itinerary! Even in the low season, it is full of Cuban families enjoying a day out in nature.
As it is a popular spot, they restrict the numbers of visitors in the high season, so if you travel during that time, I recommend you get up really early.
Disclosure: This post may contain affiliate links. That means that if you make a purchase through one of those links, I will get a small commission at no extra cost to you. If you have any questions about these services or products, feel free to ask me.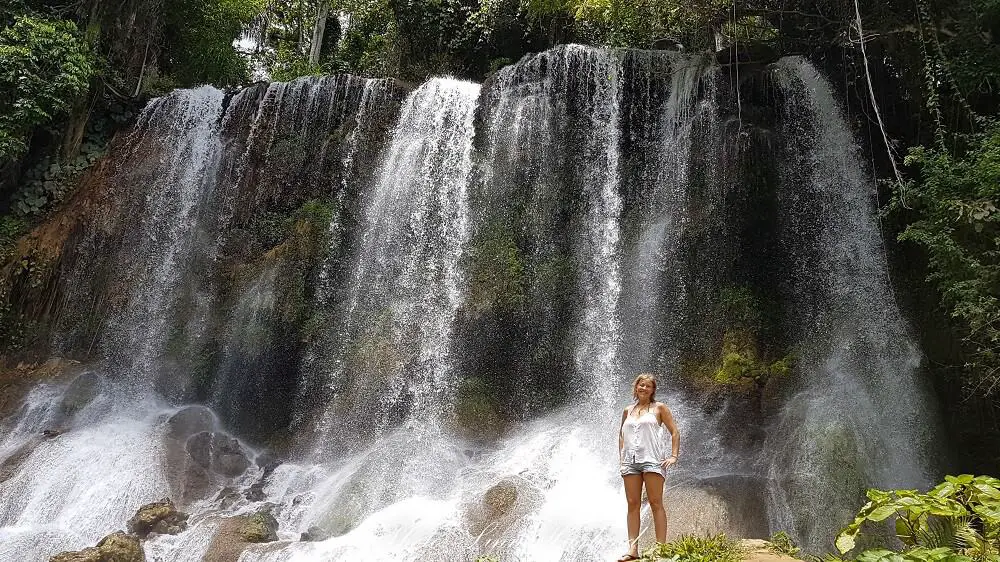 Read: The effects of overtourism
Travel safety in Cuba
Cuba is known to be an extremely safe country to travel in with a close to non-existent crime rate towards tourists. However, you should be careful with so-called friendly scams where people ask for more money than they should or they show you somewhere and ask for money afterward.
Cuba is a relatively safe country concerning diseases, though there are risks of Hepatitis A and Typhoid through food and water according to Centers for Disease Control and Prevention. You should always check with your doctor if you need any vaccinations before you go to Cuba.
It is recommended with travel insurance for any of the above risks, but also in case of lost luggage, canceled flights or natural disasters that could prevent you to board your flight. Cuba can easily be affected by hurricanes in the season.
Find out why I choose World Nomads travel insurance here.
Make sure you book your travel insurance
When is the best time to go?
November to April: This is the most pleasant time to travel to Cuba, but also the high season with most people. However, it is dry season and pleasing temperatures so there is no doubt it will be a good time to visit El Nicho waterfalls.
May to July: This is the beginning of the rainy season when temperatures start rising towards the unbearable. It is still not usual with rain all day long, though my experience is that if it rains, it rains in the afternoon or evening. Therefore, I recommend going early to El Nicho waterfalls as you get a bigger chance of nice weather in the morning.
August to October: This is the period with the most rain and most chances of hurricanes and tropical storms. Humidity is immense.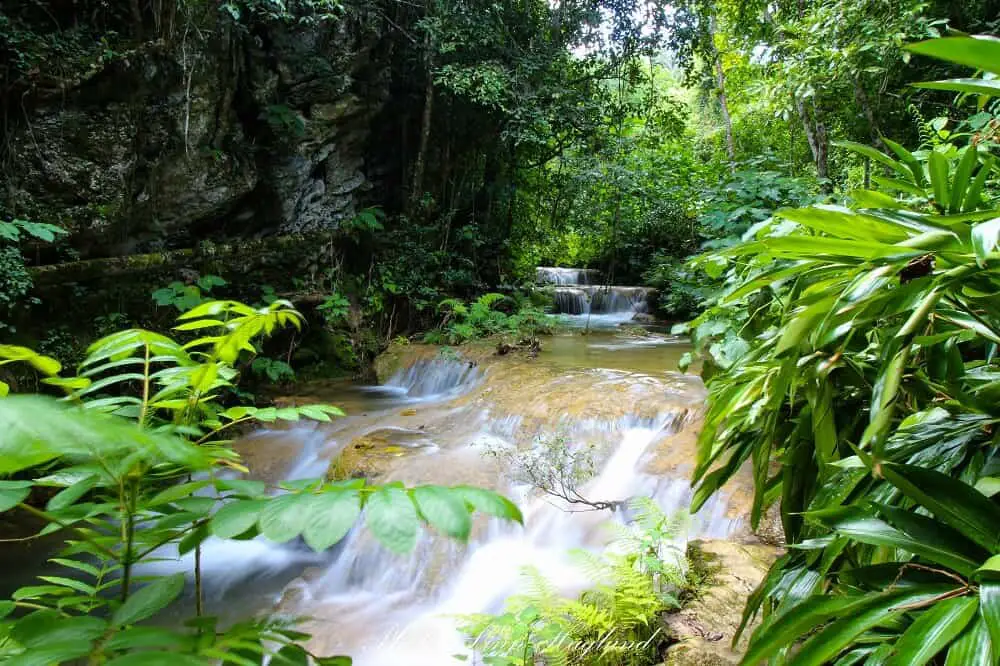 YOU MIGHT ALSO LIKE: La Batata Hike
How to get to el Nicho
From Cienfuegos
There is an international airport in Cienfuegos. Find cheap flights here.
The easiest way to get to El Nicho waterfalls is by shared taxi from Cienfuegos. It takes 1 hour to drive. The driver will wait for you at the parking to take you back. Prices vary, so ask at your casa Particular if they can call a shared taxi to ask the price.
From Trinidad
You can fly to Trinidad from all over the world. Find your flight here.
It is also possible to get to El Nicho waterfalls with a shared taxi from Trinidad. The drive takes approximately 1 hour and 30 minutes. The shared taxi normally waits for you to come back from the walk.
From Santa Clara
Santa Clara also has an international airport. You can book your flight here.
It takes approximately 1 hour and 30 minutes to drive from Santa Clara to El Nicho. The best way is to take a shared taxi that waits for you at the parking until you are finished with your walk.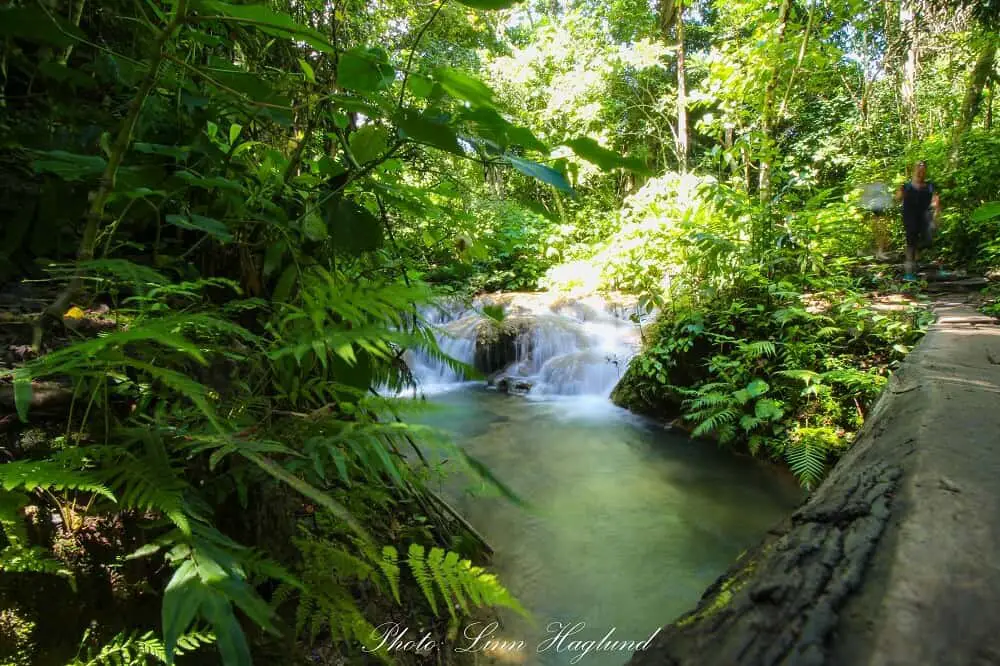 You might also like: Unique things to do in Cuba
What to bring for a day trip to El Nicho falls
To make sure you get the most out of your trip to El Nicho falls, I have made a list of essential things to bring. Even though it is not a tough hike, it is still quite steep up the last bit with large steps made of rocks and several parts can be muddy when it has been raining.
Good shoes
Swimwear
Towel
Sunscreen
Mosquito spray (there are lots of mosquitos!)
Hat/Caps
Waterbottle (I use LifeStraw filter bottle)
Cash (both to the taxi driver and for the entrance as well as if you want to buy anything in the restaurant)
Camera with fully loaded battery
Suggested reading: Things to bring to Cuba
El Nicho waterfalls
El Nicho waterfalls is an incredibly popular day trip for Cubans and the place is usually full of people. Even though there are a lot of tourists, it is quite nice to go somewhere where the locals hang out and you get a sense of the outdoors culture of Cubans too.
The walk up to the top waterfall takes about 20 minutes and might be one of the most popular short hikes in Cuba. However, you should count in some photo stops on the way. Also, there is another amazing fall on the way up as well as a few refreshing water holes to go for a swim.
Even though there are a lot of people, the top water hole is large enough that you can find a corner for yourself and enjoy the beauty of this natural wonder.
There is also a path going downwards from the ticket office. This trail leads to another water hole where there are usually fewer people. It is quite different though incredibly beautiful. If you want to go for a more relaxing swim, I recommend taking this walk down after you have been to the waterfalls.
Is it worth going to El Nicho? Absolutely!
Note: The entrance fee is 10 CUC. There are toilets just past the ticket office to the left as well as a restaurant where you can get food or drinks.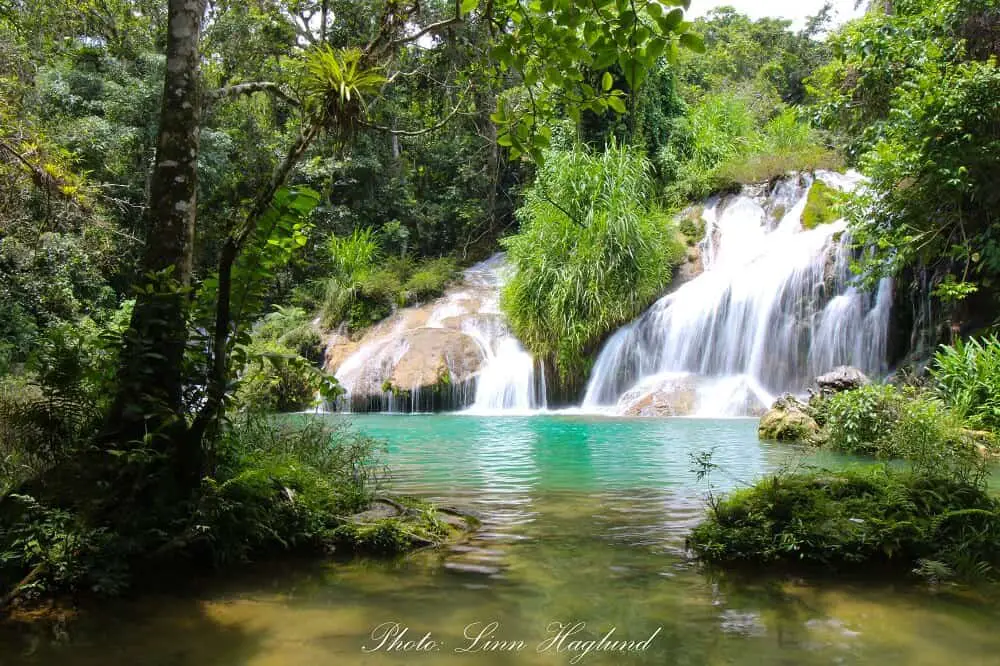 Thought for responsible travel to El Nicho
As El Nicho is an extremely popular day trip for locals as well as tourists, it is important that we all take our part of the responsibility to keep the nature clean and don't leave any trash behind.
This is also a great place to connect with people. You can easily make new Cuban friends by talking to others in the pools and maybe offer to take their family picture if you see they have their camera out. Even if you don't know much Spanish, a smile and sign language go a long way to make a good experience for yourself and the people around you. Cubans are extremely friendly.
I recommend taking a private owned shared taxi. That way you can help the Cuban people directly. The taxi drivers that drive for the government gets monthly paid which is near to nothing as the government keeps most of the earnings.
You can read more about how the locals say it really is to live in Cuba and why it is so important to support the local and privately-owned businesses here.
Bring a reusable water bottle with a filter to reduce single-use plastic. My favorite travel partner is LifeStrawGo with a filter. It is fantastic because you can fill it up wherever you want. I did a refill in the toilets both on the way up and down and didn't spend a penny on water.
In addition to not wasting single-use plastic, when you buy a LifeStraw product you also support a project supplying clean water to people that need it. As an example, when I bought mine, I also gave 1 year of clean water supply to a child.
Get your LifeStraw filter bottle here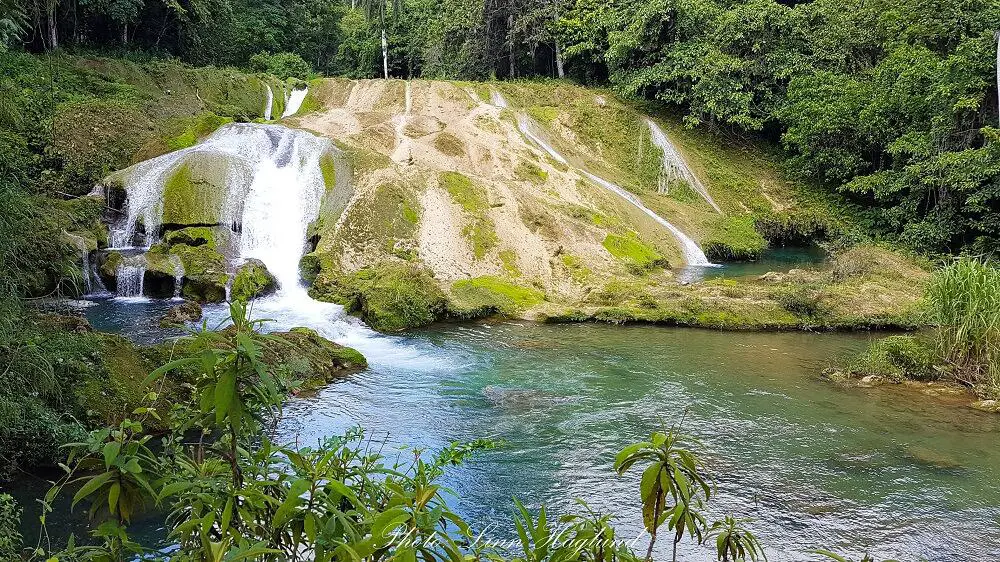 Read Next: Vegas Grande waterfall
Pin it for later!