Koh Phi Phi, a group of islands off the coast of southern Thailand, is a favorite vacation destination for a good reason. Everything about Koh Phi Phi's natural landscape is breathtaking.
The Phi Phi Islands have a powdery white beach, crystal clear water, and verdant palm groves that characterize postcards from tropical island paradises. This easily makes it one of the best places to visit in Thailand for first timers.
There is a wide variety of things to do on Koh Phi Phi. One of its top attractions is the unique marine life in the seas of the Phi Phi Islands, including friendly leopard sharks.
I've returned to Phi Phi multiple times throughout the years and though it has changed a lot since the first time I backpacked the country, it has kept its allure.
If you're wondering what to do in Phi Phi island, you're in the right place. Travelers can do different water sports, snap unforgettable photographs, and explore the deserted islands while enjoying crazy parties and delectable cuisine.
To know more about this wonderful place and why it's still a favorite among backpackers, here's my list of top things to do on Koh Phi Phi.
Disclosure: This post may contain affiliate links. That means that if you make a purchase through one of those links, I will get a small commission at no extra cost to you.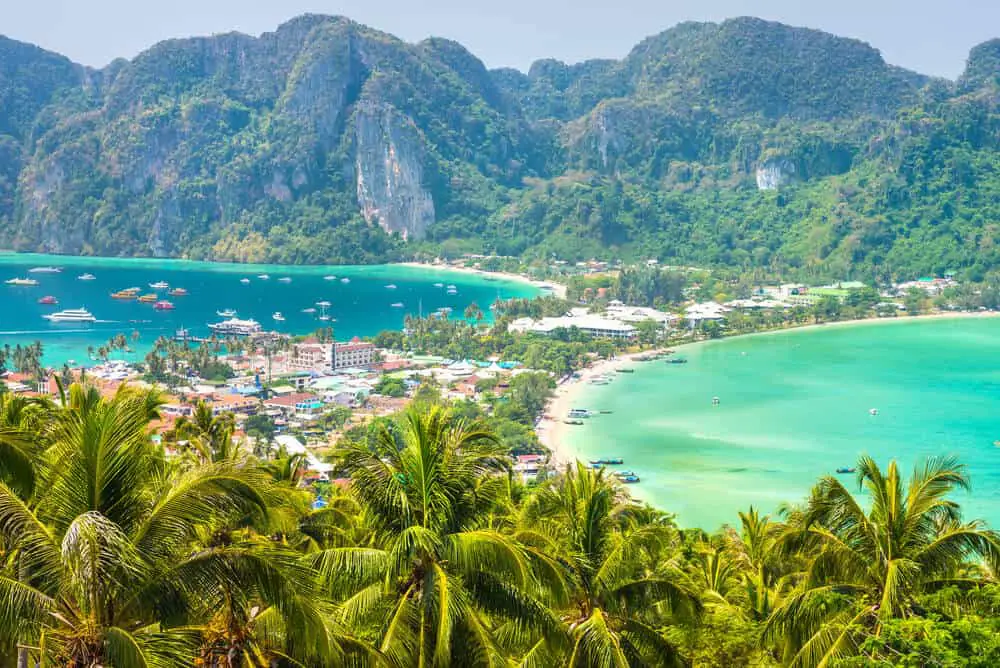 About Phi Phi Islands
Six individual islands make up the Koh Phi Phi archipelago. Koh Phi Phi Don is the only populated island in the chain. Though it's the largest of the six islands, this one is still less than 10 square kilometers in size.
Koh Phi Phi Don is the only island where tourists may stay, and it has a wide variety of lodging options, dining options, nightlife venues, and sightseeing opportunities.
Great snorkeling spots, beautiful beaches, and tranquil lagoons can all be found on Koh Phi Phi Leh, the country's second-biggest island.
Limestone cliffs, tropical vegetation, and a few beaches make up the other four Koh Phi Phi islands: Bida Nok, Bida Nai, Koh Young (Mosquito Island), and Ko Mai Phai (Bamboo Island).
A visit to Phi Phi Islands should without a doubt be on your Thailand bucket list!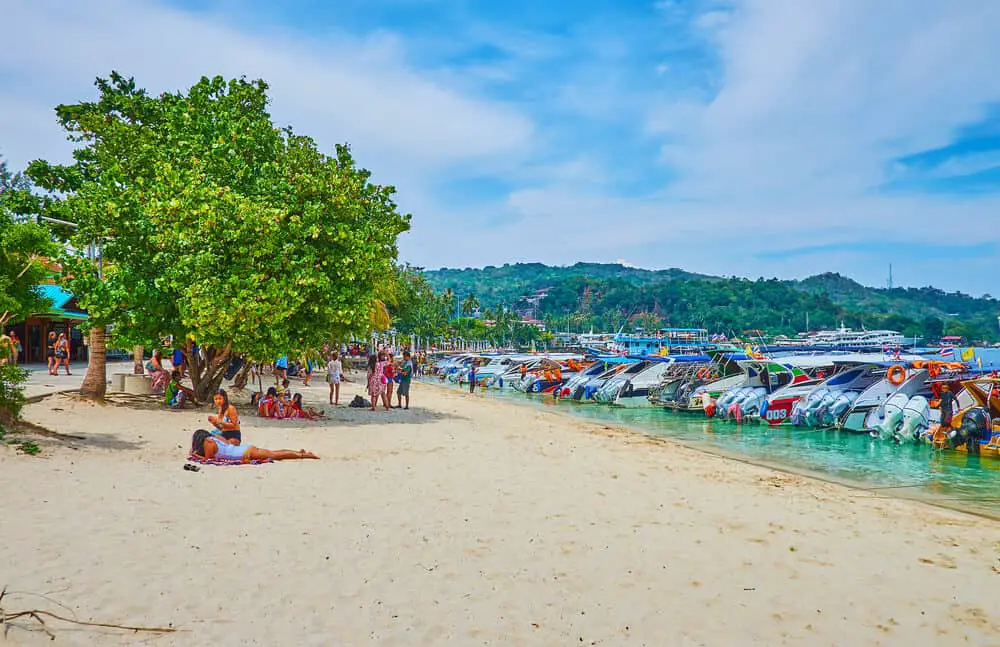 Getting there
To reach the Phi Phi Islands from elsewhere in Thailand or Southeast Asia, you may take an airplane, ferry, or train to Krabi or Phuket first. Traveling to Phuket from any of these locations is a breeze.
From Chalong Pier in Phuket, speedboats will get you there in under an hour. The speedboat ride from Krabi takes around half an hour. By comparison, the trip on a regular boat will take roughly two hours from Phuket and just 90 minutes from Krabi or Koh Lanta.
Book your preferred boat transfer to Phi Phi:
Ferry from Phuket to Phi Phi
Speedboat from Phuket to Phi Phi
Ferry from Krabi to Phi Phi
Speedboat from Ao Nang to Phi Phi
Speedboat from Koh Lanta to Phi Phi
Things to do on Koh Phi Phi, Thailand
You need several days to fully appreciate Phi Phi Island's beautiful surroundings, crystal clear seas, and white sand beaches.
To help you plan your activities on Koh Phi Phi, I've compiled this list of exciting things to do on Koh Phi Phi.
TOP RATED BOAT TOURS ON PHI PHI ISLAND
Go Kayaking
When wondering what to do on Phi Phi Island, kayaking naturally comes to mind. Kayaking around Koh Phi Phi Island is a ton of fun. Just picture yourself cutting through the azure sea, seeing the exotic fish swimming under you, and the enormous cliffs and rainforests rising above you.
Many tourists advise spending half an hour kayaking to Monkey Beach. The beach got its name because monkeys often play around on it.
You may either hire a guide for a kayaking trip or rent a kayak and go out on your own. You can hire kayaks at most beachside hotels and tour businesses for about 100 baht per hour, but make sure to shop for the best deal.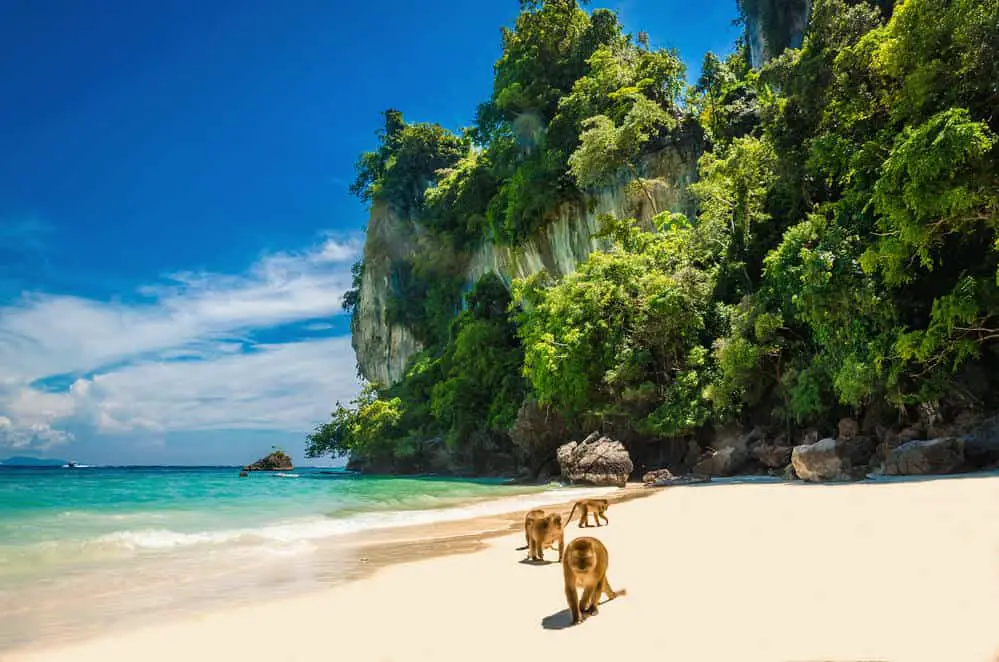 Relax at the Beach
The beaches of Koh Phi Phi are among the most beautiful in the world. Each one is like a tropical paradise from your imagination, only better.
Phi Phi island activities include taking a picnic, a blanket or towel, and some refreshments to the beach to enjoy the natural light and see the sky's colors reflected in the ocean. Laem Tong Beach and Nui Bay Beach are Koh Phi Phi Don's finest destinations for unwinding.
The beautiful Loh Dalum Beach may be found in the island's geographic center. On Loh Dalum Beach, the water is shallow and warm all the way out to where the tide comes in, and you can leisurely walk on the shore or just chill and relax while the sun sets.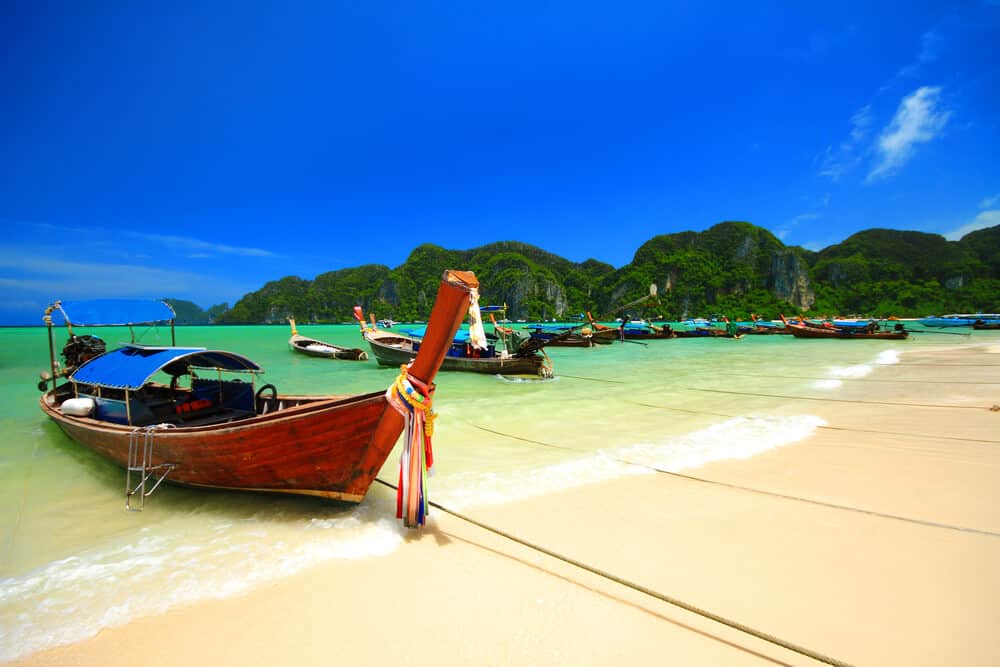 Take a Boat Tour 
Getting on a boat cruise to explore the Phi Phi Islands, is one of the most popular things to do on Koh Phi Phi.
Maya Bay, made famous by Leonardo DiCaprio's "The Beach," is only one of the attractions of Koh Phi Phi Leh that is included in most excursions.
Ao Poh Beach and Laem Tong Beach are two more breathtaking beaches that can only be accessed by boat. Both are on Koh Phi Phi Don, but you'll need to take a long-tail boat to reach them. Since these shores are far from civilization, you may expect relative silence and serenity.
Ao Toh Ko and Long Beach are two more fantastic beaches on Koh Phi Phi Don. Getting a spot on Tonsai Beach in Tonsai Bay may be challenging, but it is well worth the effort and should be on your list of things to do in the Phi Phi Islands.
TOP RATED BOAT TOURS
Go Scuba Diving
Underwater marine life on Koh Phi Phi is unique, colorful, and fantastic, adding to the island's already stunning natural splendor.
The Phi Phi Islands are among the best places to go scuba diving in Thailand since there is a plethora of marine life on the islands' nutrient-rich reefs and seamounts.
From January through April, the waters off Koh Phi Phi Island are at their most transparent and most inviting for scuba divers. However, I've often traveled to Thailand in December, and the diving in Phi Phi Island has been fabulous every single time!
With low humidity, and crystal-clear water which characterizes the dry season. The rainiest months on Koh Phi Phi are June through October, so if you want to go diving, it's best to avoid those months.
The King Cruiser Wreck, Anemone Reef, and Shark Point are three of the top diving spots in the region. When diving, make sure you leave no trace, don't touch the reef, and all in all focus on responsible tourism. You can read more about sustainable tourism in Thailand in this post.
Koh Phi Phi is one of the top places to learn how to scuba dive and one of the exciting things to do in Phi Phi Island.
If you plan on taking the PADI open water certificate, you can check availability or book it in advance here.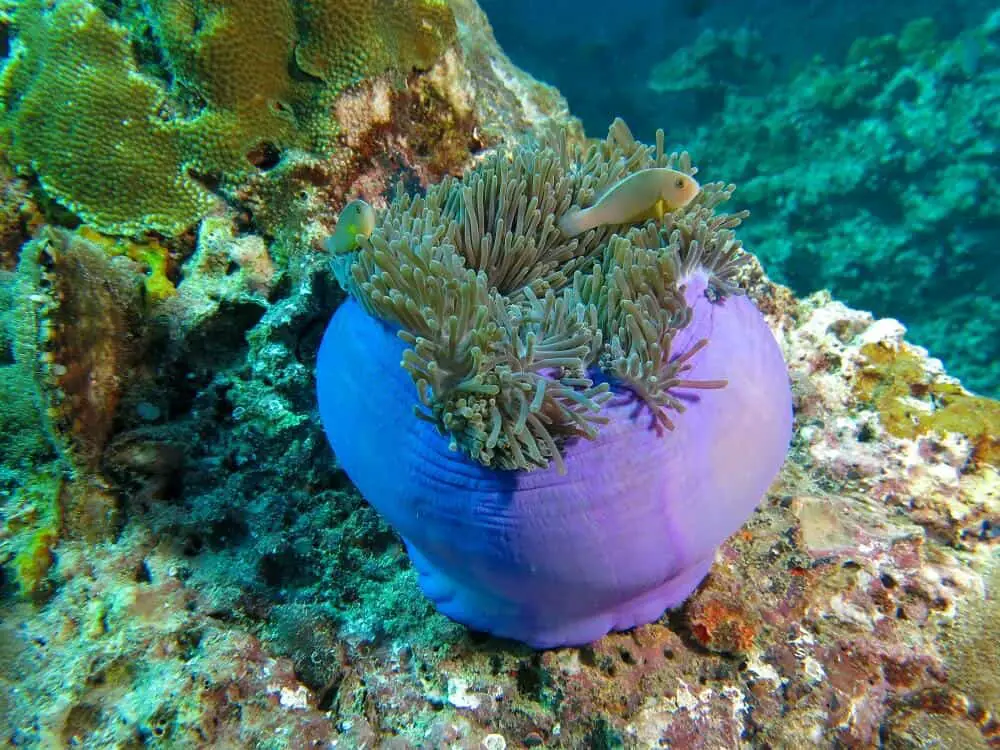 Hike to Phi Phi Viewpoint
Among the best things to do on Phi Phi is getting a fantastic bird's-eye view of the rounded contours of Koh Phi Phi Don, which gives the island its dumbbell form from the Koh Phi Phi Viewpoint.
The island's population and infrastructure are concentrated along its central spine, with mountains and palm groves occupying the outer borders.
Your Phi Phi island things to do list should include walking up the steps to the lookout, which takes about 20 minutes to an hour, depending on your pace and fitness.
Tonsai Bay's deep blue seas and Loh Dalam Bay's bright teal waters are separated by Tonsai Village, making for a breathtaking panorama from above. When visiting Phi Phi Island, this should be included in your list of things to do on Koh Phi Phi.
From Tonsai Village, go west toward the designated "Viewpoint" destination. It is open 24/7, daily. An early morning visit is recommended to avoid crowds and take advantage of optimal lighting conditions for photographs. You should expect to pay roughly 30 Baht for it.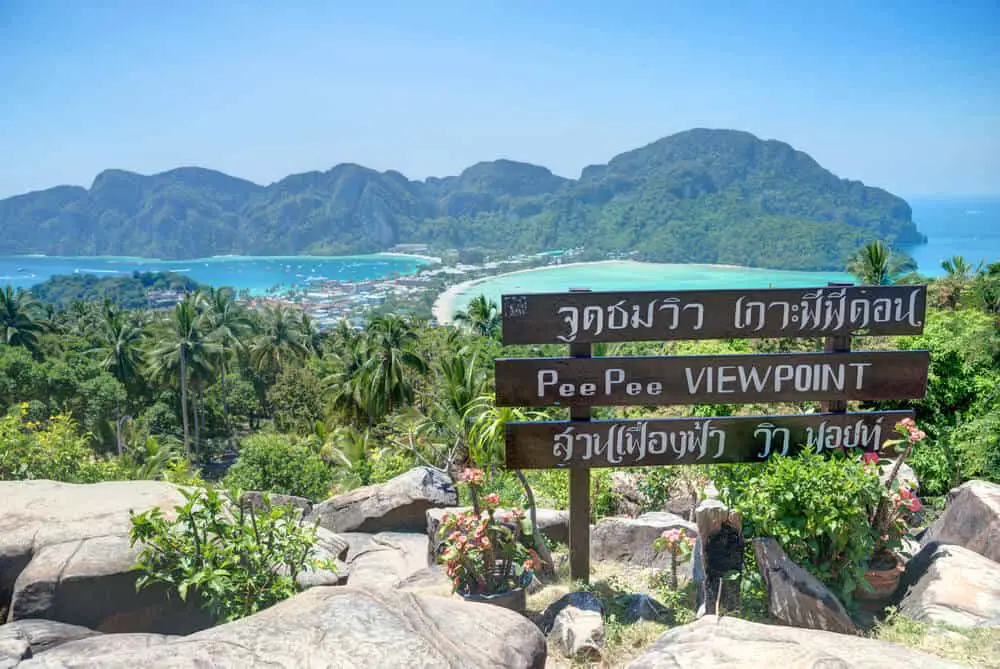 Check out the nightlife.
Koh Phi Phi Don is famous for its rowdy nightlife. But if you want to have a good time eating, drinking, playing games, dancing, and mingling, one of the finest things to do in Phi Phi is to check out the nightlife.
For a relaxing beer and sports viewing experience, either Jordan's Irish Pub or Indie Sports Bar will do the trick. As opposed to the quiet, subdued nightclub that Stockholm Syndrome is, which is entertaining only if you want to dance.
Live music and a relaxed atmosphere can be found at Kong Siam Bar, while Carlito's Beach Bar and Nightclub is one of the island's oldest and most popular nightlife destinations that should be included in your things to do in Koh Phi Phi list.
Koh Phi Phi things to do should include finding additional spots to party on Koh Phi Phi Don; just follow the sound of the music and get a bucket of the world-famous Thai alcoholic beverage, Singha.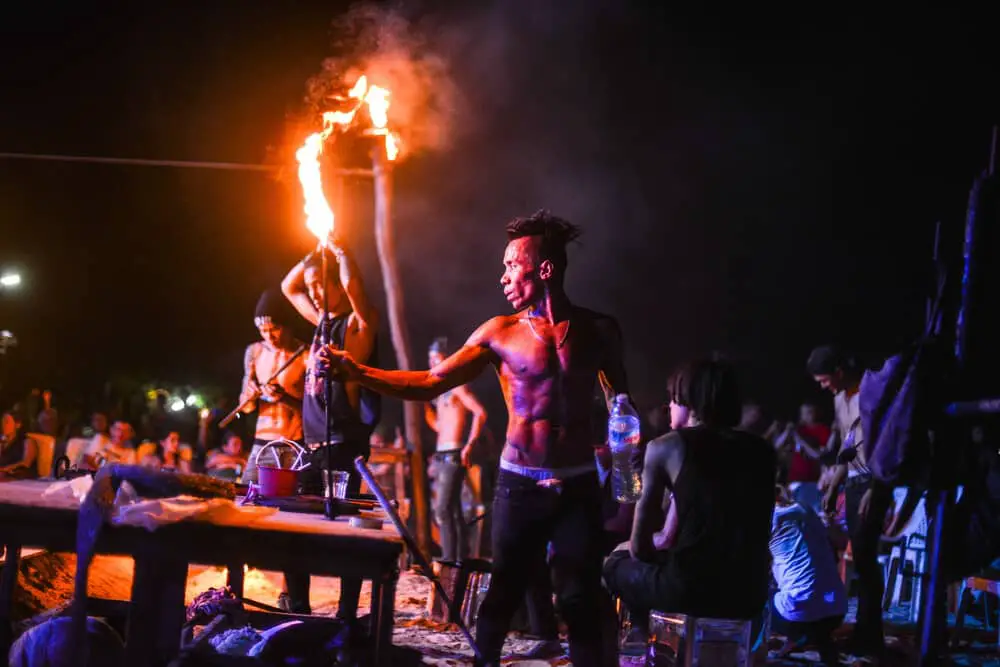 Go Snorkeling
Some of the most incredible places to visit in Phi Phi island are the best snorkeling grounds in Thailand which can be found off the coast of Phi Phi, so if you're in the country, you should get some gear and go exploring.
Among the best places to go snorkeling around Koh Phi Phi Don are Secret Beach, Ao Toh Ko, and Phak Nam Bay.
Booking a trip to snorkel with reef sharks or going out at night searching for bioluminescent plankton are some exciting things to do on Koh Phi Phi lists inclusions that can elevate your experience to a new level.
Snorkeling in the Phi Phi Islands is one of the highlights of a trip to these beautiful islands and should be included in your top things to do Phi Phi island list.
Visit Maya Bay
Not only does Maya Bay have a beautiful white sand beach, but it also has excellent snorkeling and is a popular place to visit on the Phi Phi Islands.
You can only get here by taking a boat tour to Koh Phi Phi Lee, and many of those tours include a stop at Maya Bay so you can go snorkeling.
When snorkeling here, you can see sea snakes, barracuda, parrotfish, clownfish, and many more species. You could possibly catch sight of some stunning blacktip reef sharks if you keep your eyes peeled while exploring Maya Bay.
You can only get in by boat, but once you are there, you can jump in for some of the most incredible snorkeling on Koh Phi Phi. Even though snorkeling equipment is often included on boat tours to Maya Bay and the surrounding Phi Phi Islands, double-checking before booking is always a good idea. 
Private long-tail boat tours are highly recommended and should cost roughly 1800 baht for two persons for three hours.
Those traveling from outside Thailand must pay an admission charge of 400 baht if they want to access Maya Beach. If you plan to go snorkeling in the vicinity, be aware that jellyfish are in the water.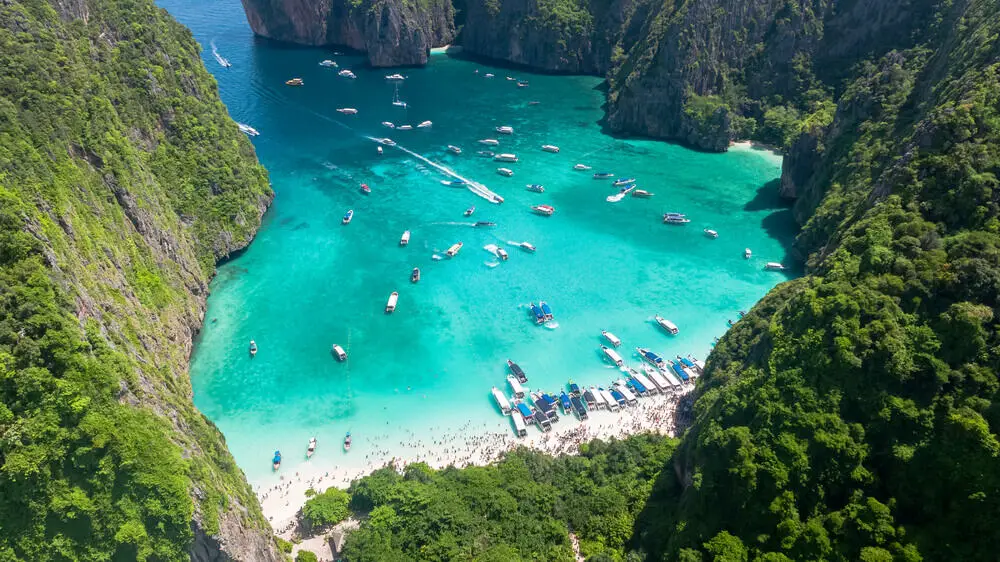 See Viking Cave
One of the best things to do on Phi Phi Island is to visit the Viking Cave. From Tonsai Bay, it takes about 30 minutes to get to the bottom of a steep limestone cliff on the island's northeast side by a long-tail boat.
The murals on the cave's eastern and southern walls, called Tham Phaya Nak by the locals, give it its English name, Viking Cave.
The name comes from the fact that one of the boats looks suspiciously like a Scandinavian Drakkar (Viking ship). According to legend, ancient sailors took shelter here during a storm and painted these murals.
When you go to Viking Cave, you can learn that collecting swiftlet birds' nests is one of the most profitable businesses in the area.
These tasty nests are highly valued because they are thought to have medicinal and rejuvenating properties. Bird's nest hunting is dangerous because hunters have to climb bamboo scaffolding in the dark to get valuable nests.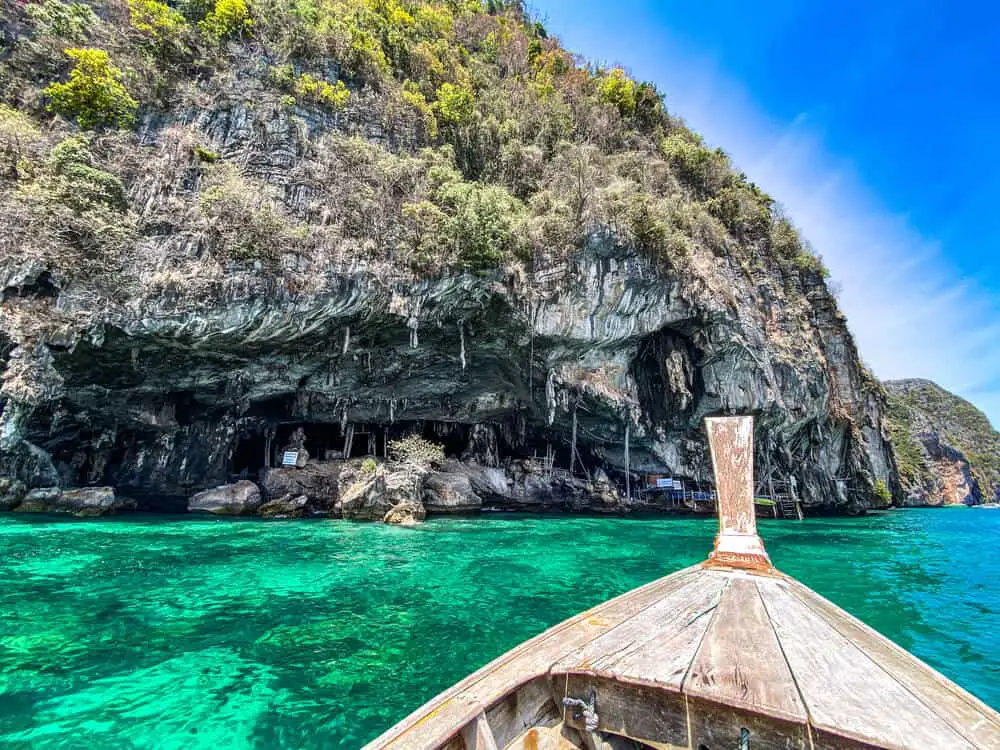 Go Island Hopping
Phi Phi Island is a great starting point for going island hopping in Thailand. It is often the first stop for travelers coming to Phuket and a great start on an island hopping itinerary taking you down the islands of the Andaman Sea.
A natural next stop is to Koh Lanta, an island with no shortage of things to do, particularly famed for its beautiful beaches and vibrant beach bars. But also for Mu Ko Lanta National Park.
From there, you can explore Koh Mook and the mesmerizing Emerald Cave and continue to one of the hidden gems in Thailand, Koh Ngai – an uninhabited paradisiacal island with a few resorts – to wind down.
If you want to continue south, make sure you make it to Koh Lipe, one of my favorite islands in Thailand, though it has changed much the last few years, just like Koh Phi Phi has since I visited the first time in 2007.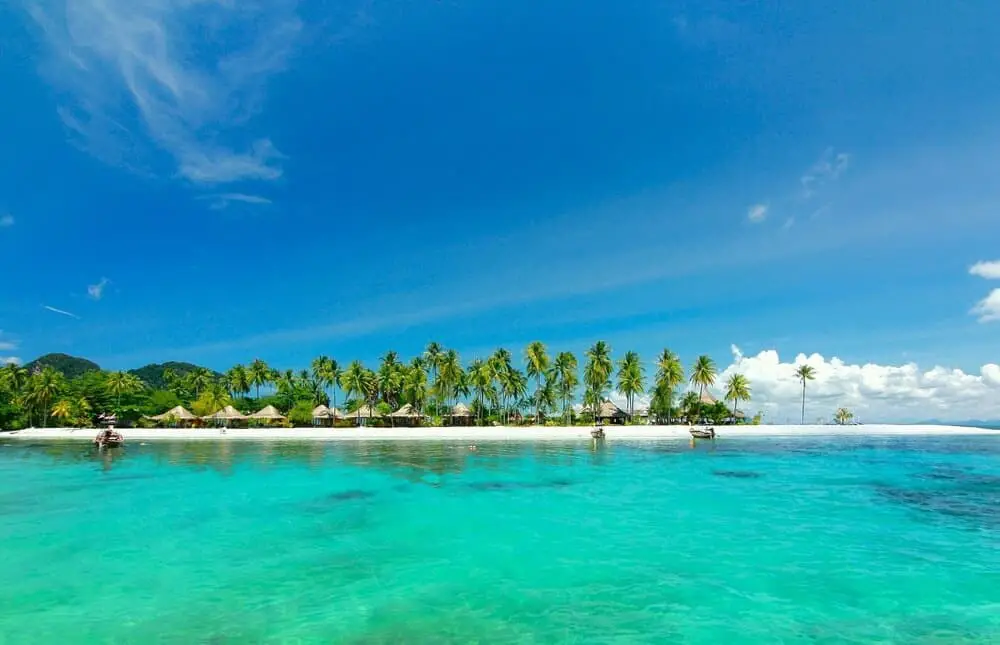 Reflections on what to do on Phi Phi Island
There is no doubt there are a lot of fun things to do on Phi Phi Island. I might be biased as it was the first Thai island paradise I visited and I have returned time after time.
A lot has changed, and it is definitely nothing like traveling off the beaten path in Thailand. Yet, it has got everything an island vacation needs. Fine beaches, beach bars, beautiful beaches, snorkeling, scuba diving, boat trips, and fabulous food.
There is so much to do and if you are new to Thailand, Phi Phi is a great place to start.
Happy travels!