Tucked away in the southwest corner of the Iberian Peninsula, once regarded as the end of the world, Portugal is one of the most beautiful countries in Europe.
If you're considering going in the summer months, you'll most likely be chasing the best beach towns in Portugal to combine beach and small-town feel.
Portugal is famous for its golden cliffs and rugged coastlines with epic surf. But there are also a whole lot of incredible beaches in Portugal that are perfect for a relaxing beach vacation.
After traveling the country excessively, I've visited a multitude of Portugal's coastal towns from the far south to the northern part of the country.
In this post, I will share with you some of the absolute best coastal towns in Portugal so that you can start planning your itinerary.
Disclosure: This post may contain affiliate links. That means that if you make a purchase through one of those links, I will get a small commission at no extra cost to you.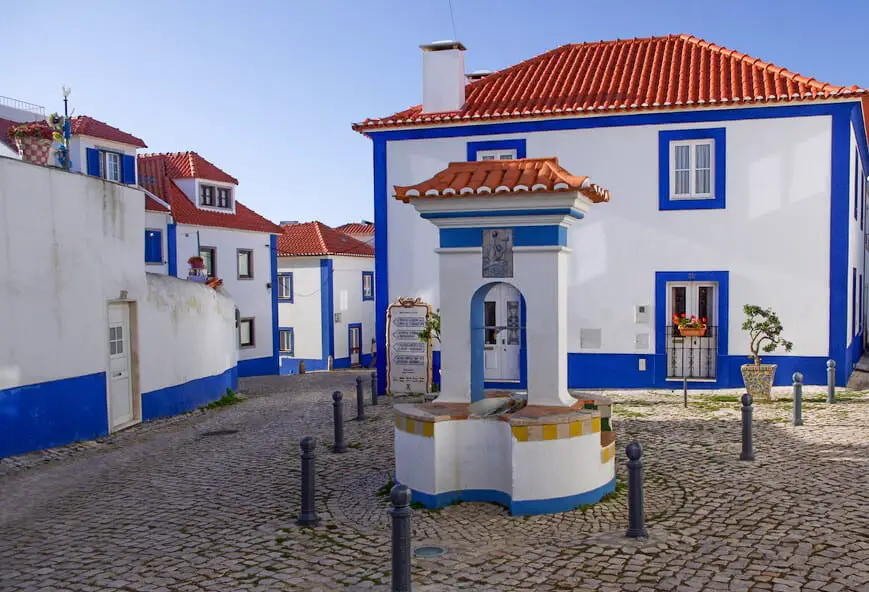 Best beach towns in Portugal
Lagos
One of the beach towns in Portugal that I return to time after time is Lagos in the western Algarve. The quaint old town is such a charm and on top of a historic and cultural experience, there are so many fun things to do in Lagos that you can easily use it as a base to uncover the best towns of the Algarve.
Around Lagos, you find some of the most spectacular beaches in the country, like Dona Ana Beach and Camilo Beach. The staggering rock formations of Ponta da Piedade will blow your mind away. You can explore the rugged coastline either on foot on top of the cliffs or by water.
Rent a paddleboard or go on a boat tour to explore hidden beaches and sea caves, as well as rock formations that have been named by local fishermen.
Where to stay: Merry's House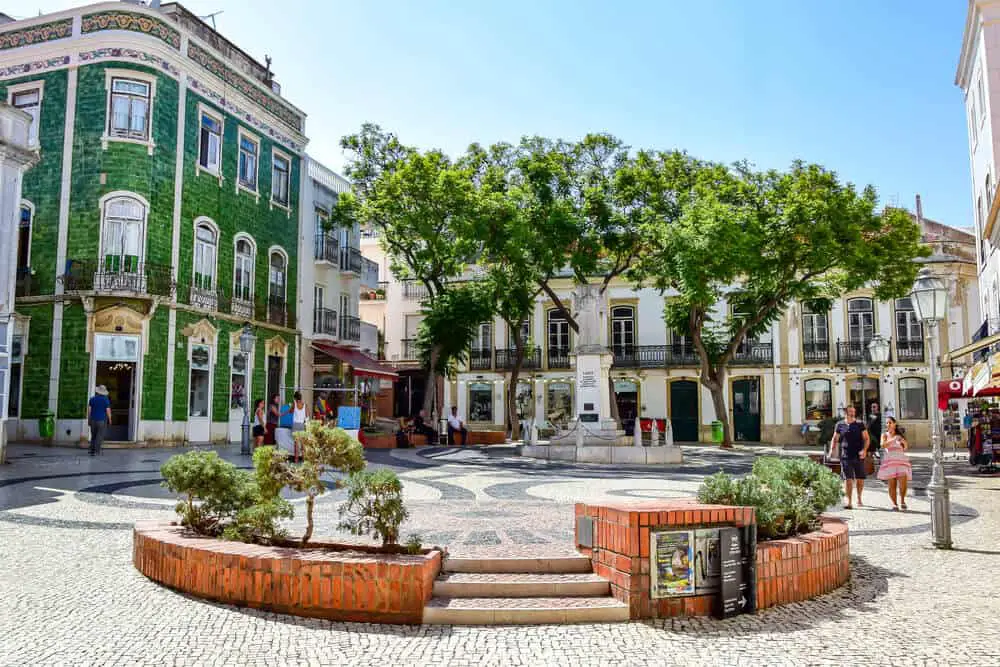 TOP ACTIVITIES IN LAGOS
Albufeira
Albufeira is one of the most popular southern Portugal beach towns and a great place to base yourself if you want a combination of party and water activities.
There is a wealth of fun things to do in Albufeira for everyone. Go kayaking or paddleboarding to explore the coastline's hidden gems or go dolphin-watching. You can go scuba diving to uncover an intriguing underwater world or stay above water while parasailing.
There is a stretch of beautiful beaches and a quaint old town to be discovered too. Albufeira is strategically placed in the central Algarve with easy access to the western Algarve's golden cliffs and surf beaches as well as the eastern Algarve's natural park and relaxing atmosphere.
Where to stay: Maria Guest house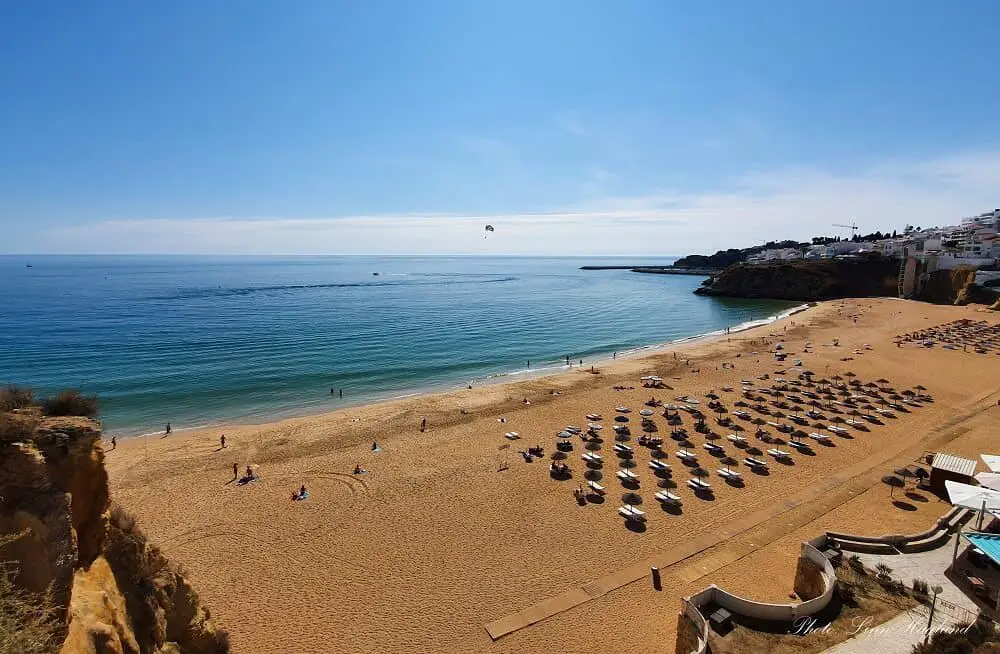 TOP ACTIVITIES IN ALBUFEIRA
Ericeira
One of the most charming surf beach towns in Portugal is one of the most sustainable tourism destinations since it was declared a World Surfing Reserve.
Though it is a top surfing destination, there are a lot of things to do in Ericeira for non-surfers too. Walk the rugged coastline, have a cold drink while watching seasoned surfers ride the waves in front of you, or take in the rock art on the coast.
Ericeira is a charming town to walk around the cobbled streets between white and blue-painted houses where the laundry hangs in the sun outside the windows. There are also a whole lot of cute coffee shops and restaurants. Ericeira is also one of the best day trips from Lisbon.
Where to stay: Chill in Ericeira Surf House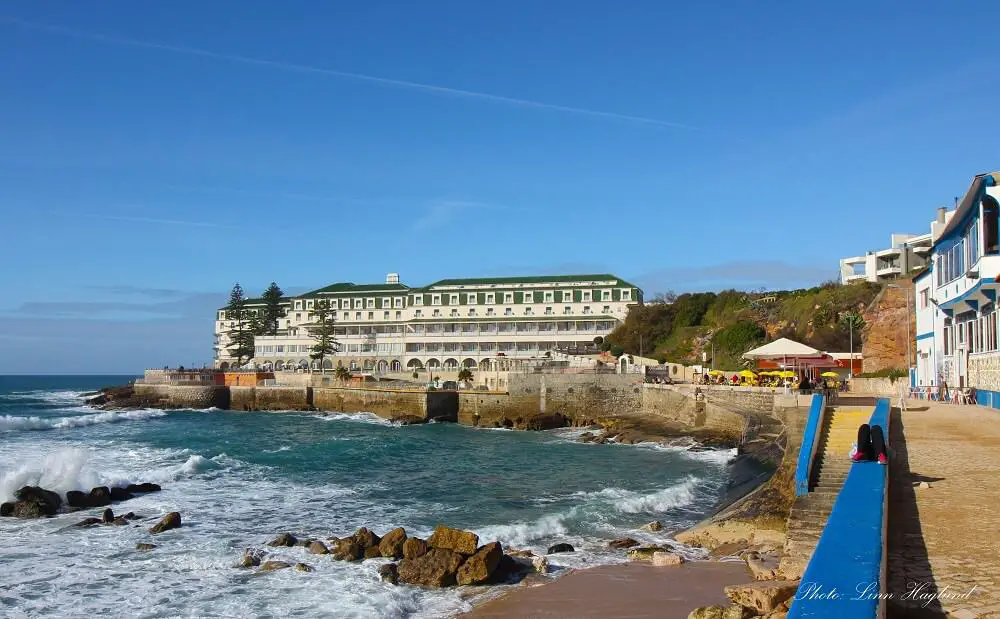 Cascais
One of the most picturesque Portugal seaside towns and one of the most popular beach towns near Lisbon is Cascais, only half an hour from the capital city.
For this reason, most people only spend one day in Cascais but trust me when I say that this place deserves more time.
There are a whole lot of things to do in Cascais from museums like the Museu Condes de Castro Guimarães and the Santa Marta Lighthouse and Museum.
One of the top highlights in Cascais, however, is Boca do Inferno which is a short walk from the town center. Cascais is blessed with beautiful beaches right off the town and you find a multitude of coffee shops and restaurants.
Where to stay: The Albatroz Hotel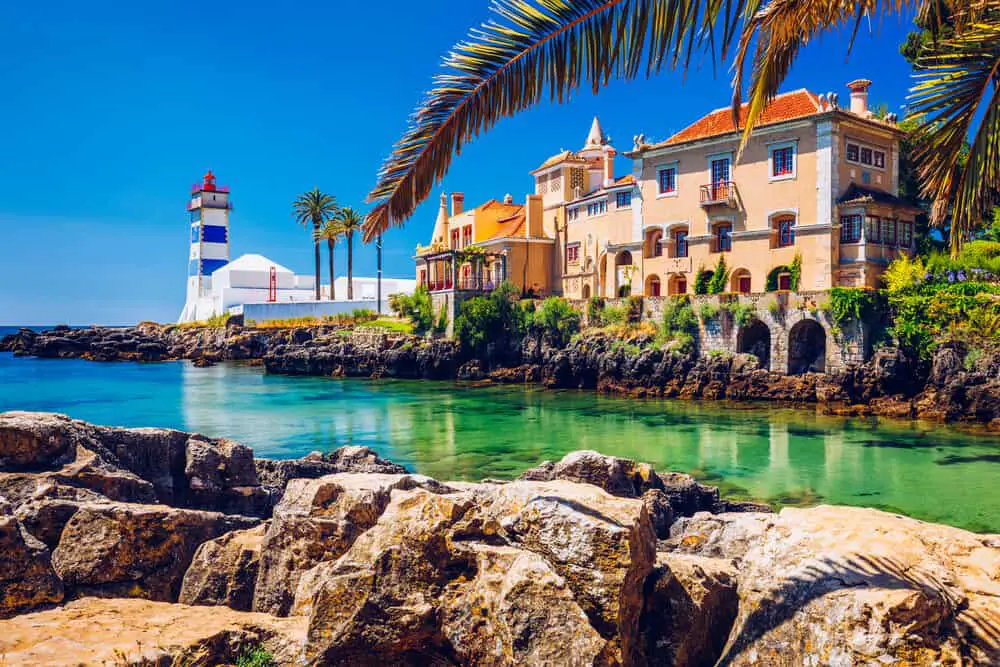 Nazare
One of the coolest Portuguese coastal towns is the big wave surf town of Nazare. Home to some of the biggest waves in the world, Nazare is the place to see big wave surf competitions during the winter months.
Among other things to do in Nazare, take the Ascensor de Nazaré to the upper town and enjoy the breathtaking views of the beach and lower town from Miradouro do Suberco.
Worth seeing is also the 14th-century Santuário de Nossa Senhora da Nazaré, the 16th-century Forte de São Miguel Arcanjo, and Igreja da Misericórdia da Pederneira.
Where to stay: Feel Nazaré – Boutique Apartments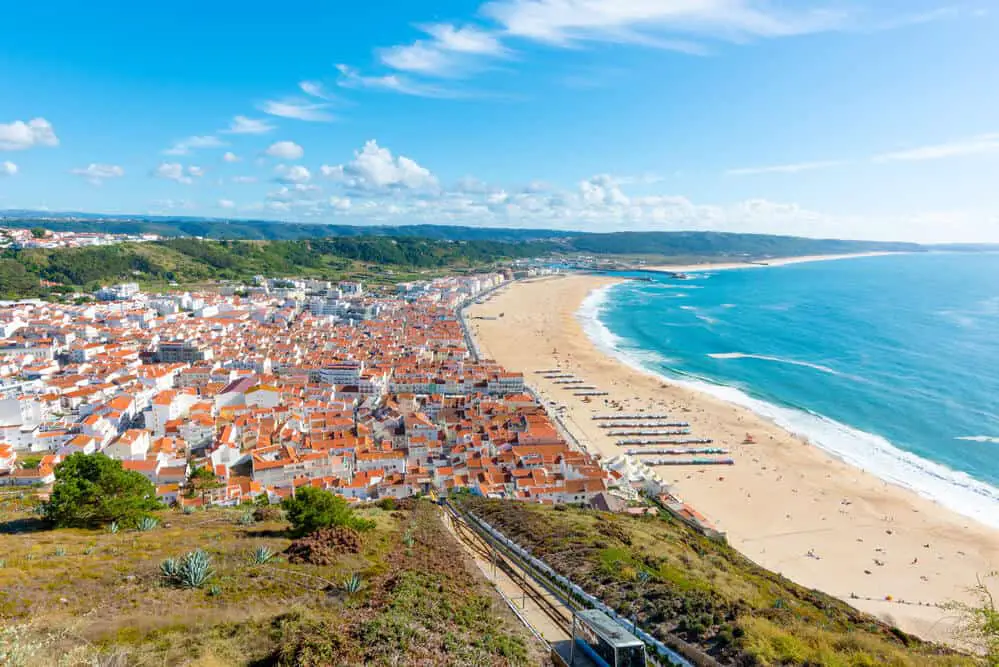 Carvoeiro
The charming coastal town of Carvoeiro is one of the more quiet places on the Algarve with a lovely vibe. While the town itself is small, it has an iconic beach recognized by the whitewashed houses spilling down on it.
But the village is situated around some of the best things to do in Algarve, like walking the Carvoeiro boardwalk to the epic rock formations of Algar Seco where you can walk through tunnels and natural caves.
One of the best hikes in Portugal also starts close to Carvoeiro, the stunning Seven Hanging Valleys Trail taking you across the golden cliffs, past Benagil Cave, the natural arches, and to Marinha Beach.
Where to stay: Villa Welwitshia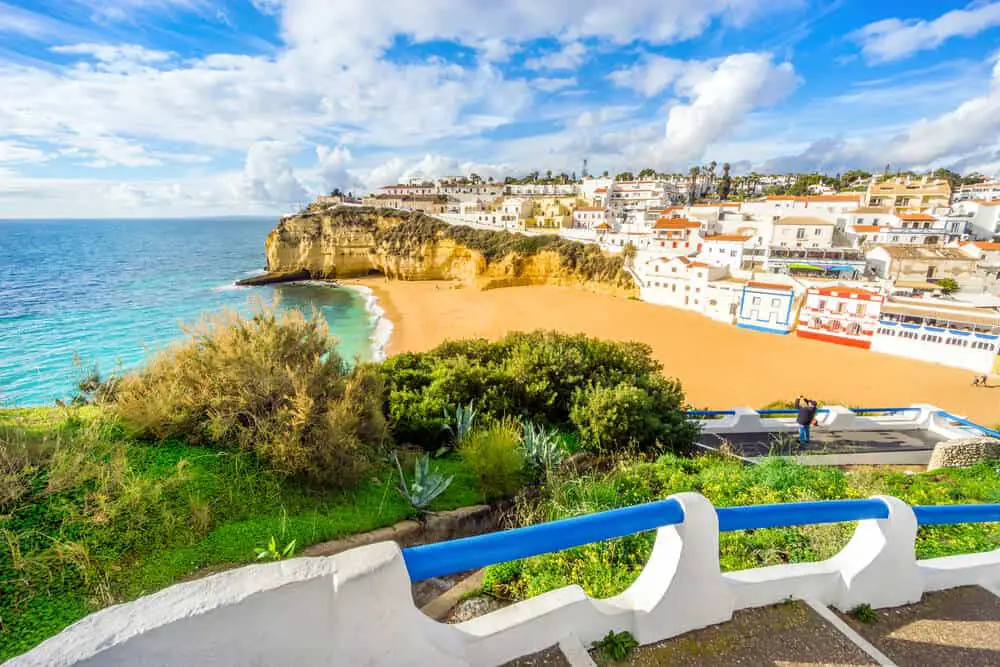 Sagres
Famous for its 60-meter tall vertical cliff walls diving straight into the furious Atlantic Ocean, Sagres is one of the best coastal towns in Portugal for surfers.
The dormant fishing village has mostly nature to show for, but that's not little. Sagres and the westernmost tip of the Algarve, Cabo de Sao Vicente boast the most dramatic cliffs in the country and are truly worth visiting.
The lighthouse is one of the best-lighting lighthouses in Europe with a 60-meter reach and you can visit the lighthouse and the museum.
You might also want to visit Sagres Fortress which is one fortified wall while the other three sides are protected by the 60-meter-tall cliff walls. This is also a lovely spot for sunset.
Where to stay: Mareta Beach House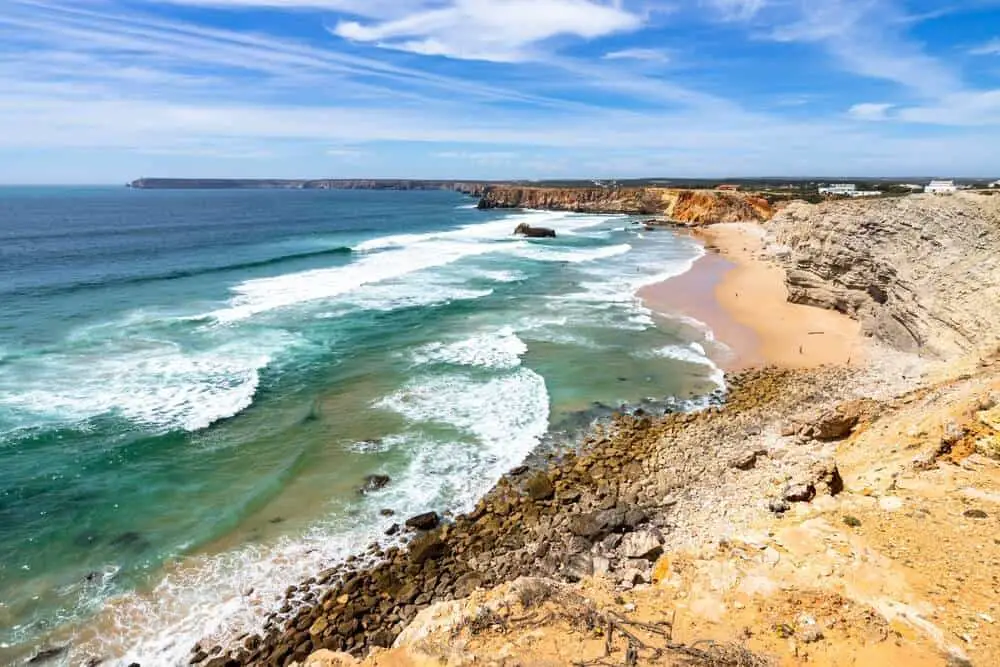 Olhao
Olhao on the Algarve is no doubt one of the most underrated coastal towns in Portugal. Situated right off the barrier islands of Ria Formosa Natural Park, you can take boat trips from the marina to discover them all.
There, you can walk on white-sanded beaches and swim in calm waters, which is quite unusual for Portugal's Atlantic beaches.
In the high season, I recommend booking a boat trip in advance to secure a spot. Check availability here.
But Olhao is more than boat trips and beaches. There are a number of incredible murals painted from old pictures depicting the history of Olhao as a fishing village.
On the marina, you can find a replica of the Bom Sucesso boat which was used by fishermen to sail to Rio de Janeiro in 1808 to warn King João VI that they had defeated the enemy and it was safe to return home.
Next to it, is one of the most famous food markets on the Algarve housing two red brick buildings where you find fresh produce and numerous local restaurants.
Iff you are looking for hidden gems in Portugal, I can highly recommend Olhao.
Where to stay: Pure Formosa Concept Hotel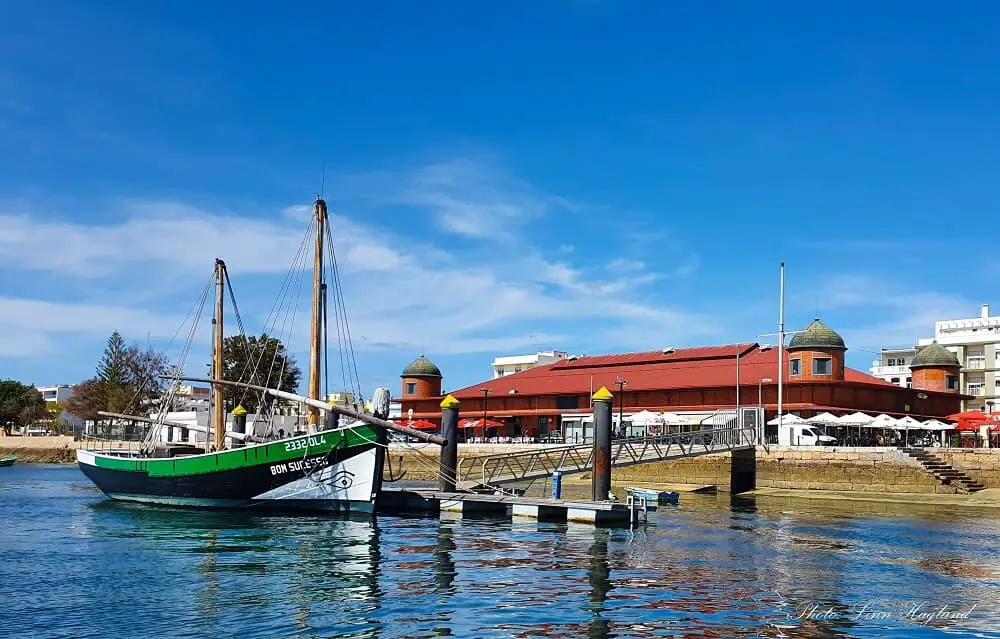 Faro
Faro is one of the best seaside towns in Portugal bordering Ria Formosa Natural Park. You can basically walk straight from the city to the natural park where you can see a multitude of birds, and even flamingos.
It has a lovely old town and houses a number of museums and a beautiful cathedral. But the most famous attraction is probably the Bone Chapel which is ornated with thousands of human bones.
Faro Beach is long with golden sand and you can enjoy a cold drink and nice lunch in any of the hip beach bars.
Where to stay: Casa Saudade luxury rooms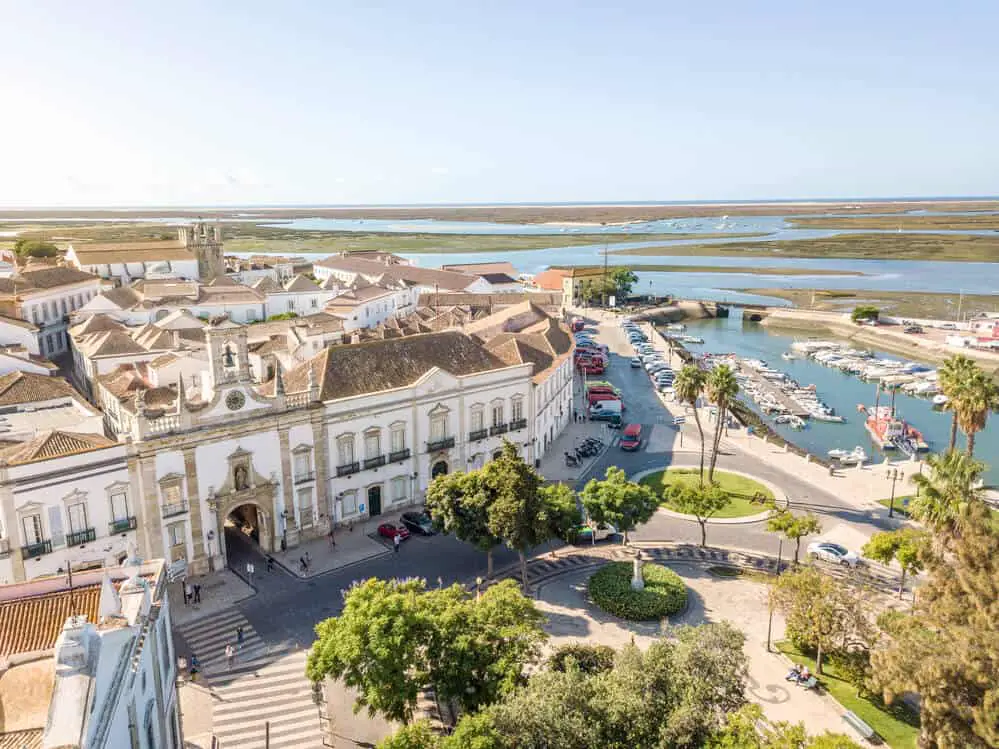 TOP ACTIVITIES IN FARO
Tavira
Even though Tavira technically speaking doesn't have a beach, I have listed it among the best beach towns in Portugal as it is easily connected to Tavira Island both by ferry/speed boat and by foot.
Tavira Island is one of the barrier islands of Ria Formosa Natural Park and the only one you can walk to across a footbridge. Once you cross, you can either opt for the tourist train or walk the remaining 1.3 kilometers to Barril Beach.
There, you will also find one of the most quirky attractions in Portugal, the Anchor Cemetery where some 200 anchors are lined up in the dunes in front of the beach.
If you take the boat over, you will reach Tavira Beach. Both beaches have umbrellas and sun beds for rent and beach bars and restaurants sell refreshments and food.
Tavira town is also lovely and well worth spending a few days in. It has the relaxing eastern Algarve atmosphere that I love so much.
Where to stay: Formosa Guest House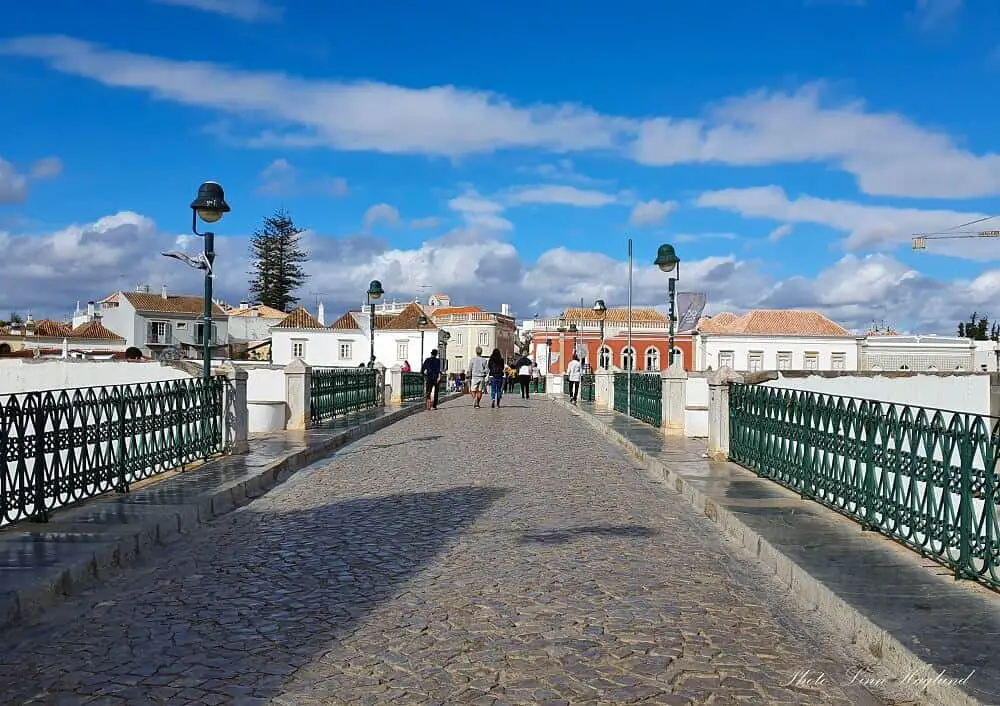 Santa Luzia
Santa Luzia is one of the cutest fishing villages in Portugal, situated right outside Tavira on the way to the footbridge taking you across to Tavira Island.
There is not too much to do in Santa Luzia, so most travelers visit from Tavira, but you can easily combine it with a visit to the Anchor Cemetery and take advantage of the village vibe.
Traditional, wooden fishing boats are lined up in the water and the fishing cottages are still in use by local fishermen. There are several restaurants and bars in Santa Luzia too.
Where to stay: Mare Cheia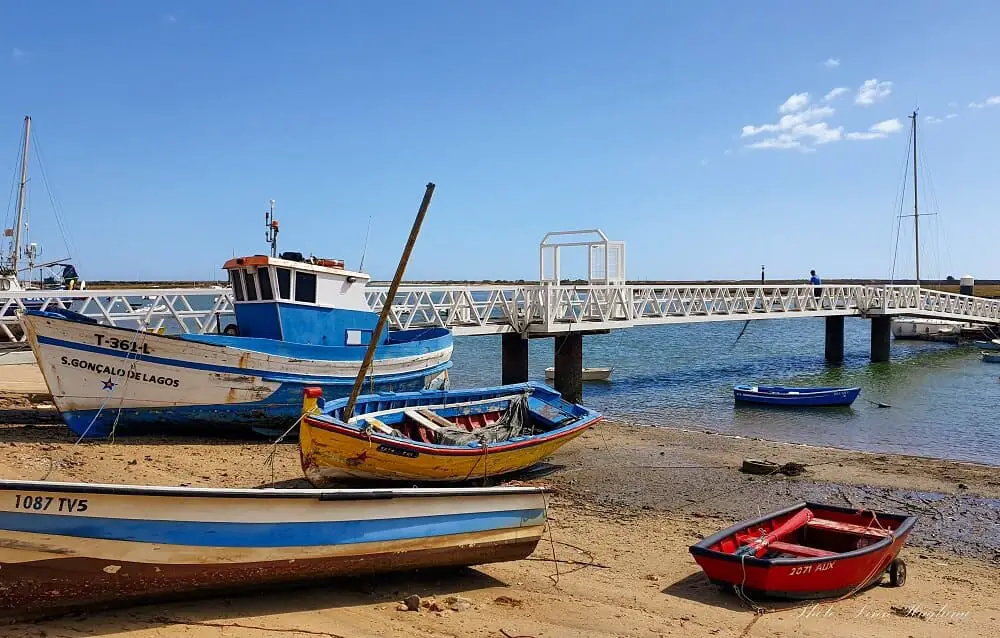 Costa Nova
Costa Nova is one of the most unique small coastal towns in Portugal with its iconic striped cottages. While most people list it among the best things to do in Aveiro, which is situated only a 15-minute drive away, there are a lot of things to do in Costa Nova and it's worth spending a couple of days there.
Besides photographing the beautiful cottages (which I remind you belong to people, so respect the fences and gates and don't walk on people's porches to take selfies,) relax on the long beach, grab a beer at a beach bar, or visit the lighthouse.
The marina is wonderful for a sunset stroll with the sailboats contrasting with the pink sky. If you feel like a longer walk, head to Passadiços Ria de Aveiro where you can walk the boardwalk as long as you please, watching birds, and talking in the peace and quiet of the surrounding nature.
Where to stay: Costa Nova Hotel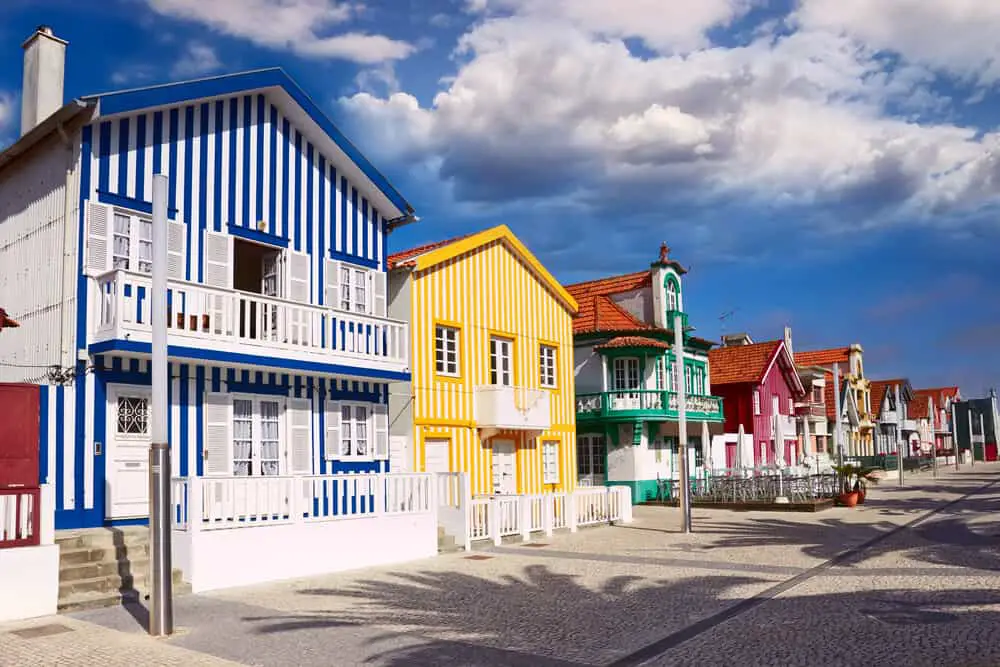 MORE FROM PORTUGAL…
Aljezur
Aljezur is one of the small coastal towns in Portugal that are mostly frequented by surfers as it is situated right next to Arrifana Beach, one of the most beautiful surf beaches in the Algarve.
But there are also amazing hiking opportunities to take on in the winter months on top of the cliffs. You can enjoy incredible views from there.
In Aljezur, you can also walk to the castle ruins for stunning views, though there isn't much left after it got destroyed in the 1755 Lisbon earthquake.
Aljezur has a few lovely restaurants and bars where you can enjoy long summer nights.
Where to stay: Praia do Canal Nature Resort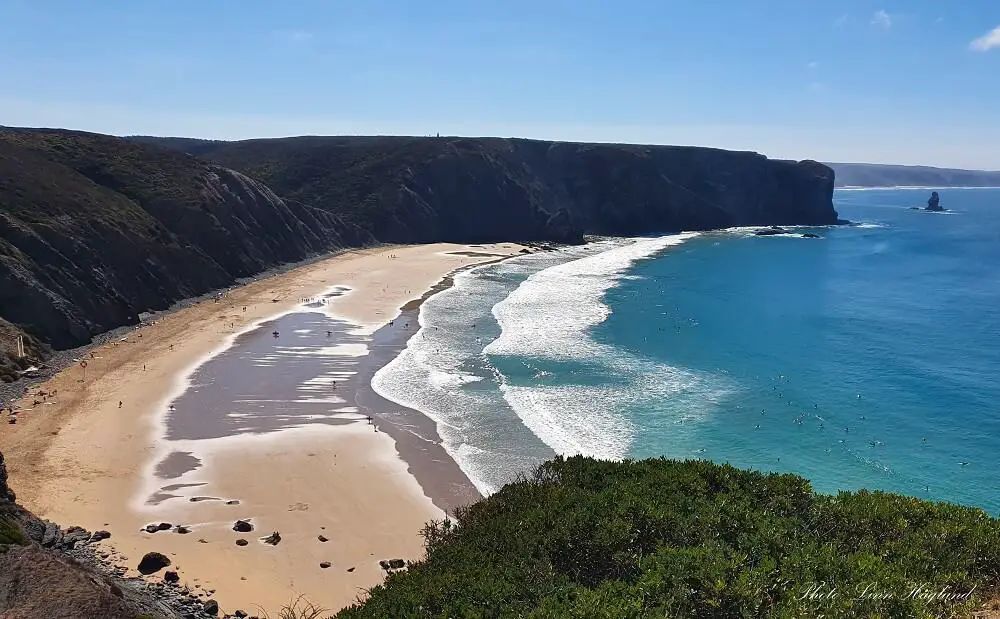 Alvor
Among the cheap beach towns in Portugal, you find Alvor in the Algarve. Nestled between Portimao and Lagos, it somehow doesn't get the attention it deserves.
Super cute streets wind through the old town where you can enjoy small shops with handicrafts and the beaches are spectacular.
Somewhat a sleepy fishing village compared to the surrounding towns, Alvor is an amazing beach town in Portugal that I often find myself in when traveling across the Algarve.
Where to stay: Pestana Alvor Park Hotel Apartamento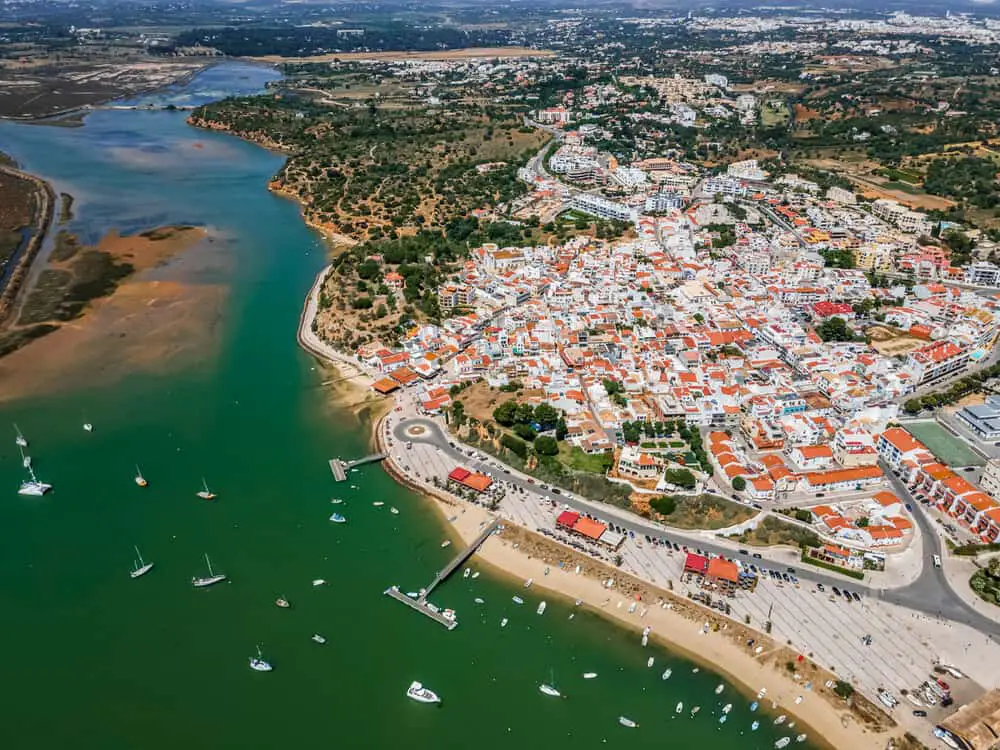 Portimao
Portimao is rated among the best beach towns in Portugal time after time for its shopping, golf courses, and beautiful beaches, just check out Praia da Rocha.
In my opinion, it is not the best coastal town in Portugal, but if you are looking for a lot of things to do and a vibrant nightlife (plus golf – I don't play golf, so I don't get a say!) this is the place to be.
Near Portimao, you can explore the 5000-year-old necropolis of the Megalithic Monuments of Alcalar and a whole lot of cool museums.
Portimao is also a great place for water sports like diving, boat trips, and paddleboarding.
Where to stay: Hotel da Rocha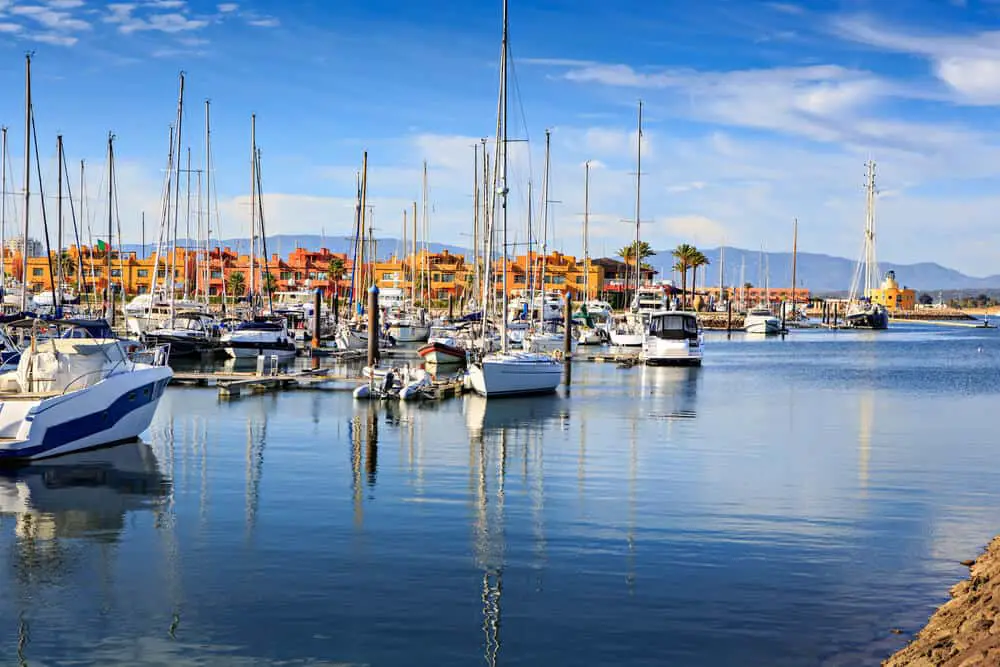 Reflections on Portugal coastal towns
Portuguese beach towns are so many and so lovely I find it hard to choose which ones to pick when asked which ones are the best. Among the most affordable beach towns in Portugal, you also find the lesser visited. That said, Portugal is generally an affordable country.
No matter if you prefer sleepy towns or fast-paced holiday destinations, Portugal's coastal towns have something for you. I hope you found a few places to add to your Portugal bucket list.
Happy travels!