Paris is a dream destination for many and there is so much to do and see there, but if you're staying for a while, you might want to get out of the city for a few days to explore other parts of this astounding country too. There are a lot of amazing weekend trips from Paris that you can enjoy either traveling by train or by renting a car. From fairytale villages and towns to wonderful beaches. There is something for everyone and in this post, you'll get an insight into the best weekend getaways from Paris worthy of your bucket list!
Disclosure: This post may contain affiliate links. That means that if you make a purchase through one of those links, I will get a small commission at no extra cost to you. As an Amazon Associate, I earn from qualifying purchases.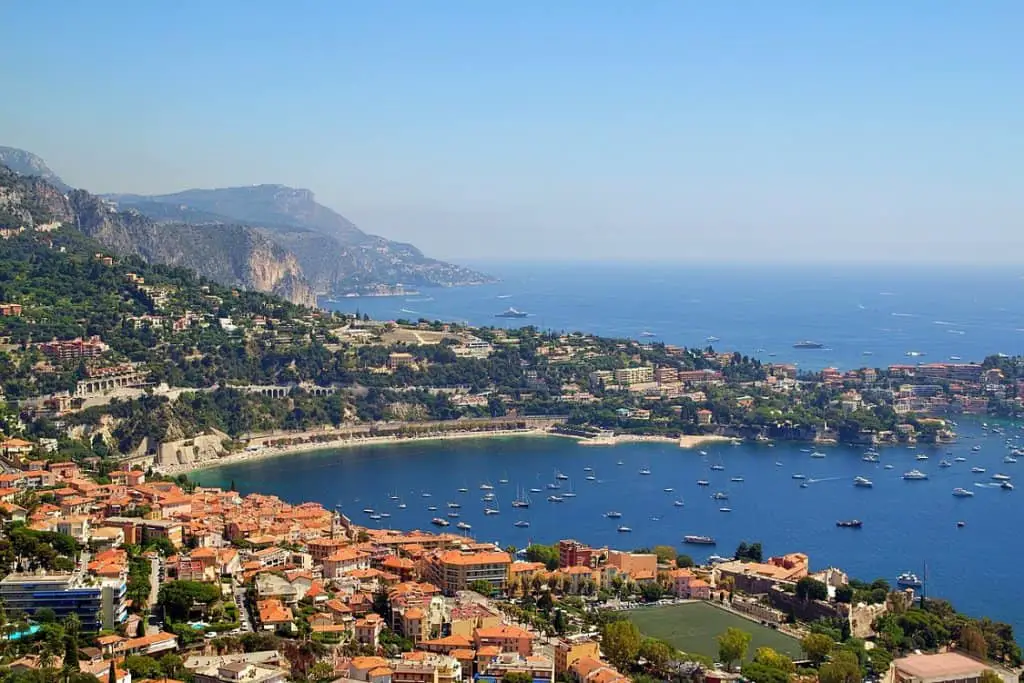 How to get on weekend getaways from Paris
Paris is well connected to the rest of the country by public transportation as well as by road. Yet, some destinations are faster reached by train than by car. Especially considering start and end destinations being busy cities that it can take hours to drive around in. I'm talking of experience!
Here is a list of the train stations in Paris:
Gare du Nord
Gare Saint-Lazare
Gare de l'Est
Gare de Lyon
Gare d'Austerlitz
Gare de Montparnasse
You can buy tickets in the ticket office on the train stations or in the ticket machines. If you prefer buying online up front, you can do so here.
The roads in France are quite good so it's not hard to drive if you prefer a France road trip. But make sure you book a rental car early so you don't risk that they're all booked out. Check out rental car deals here.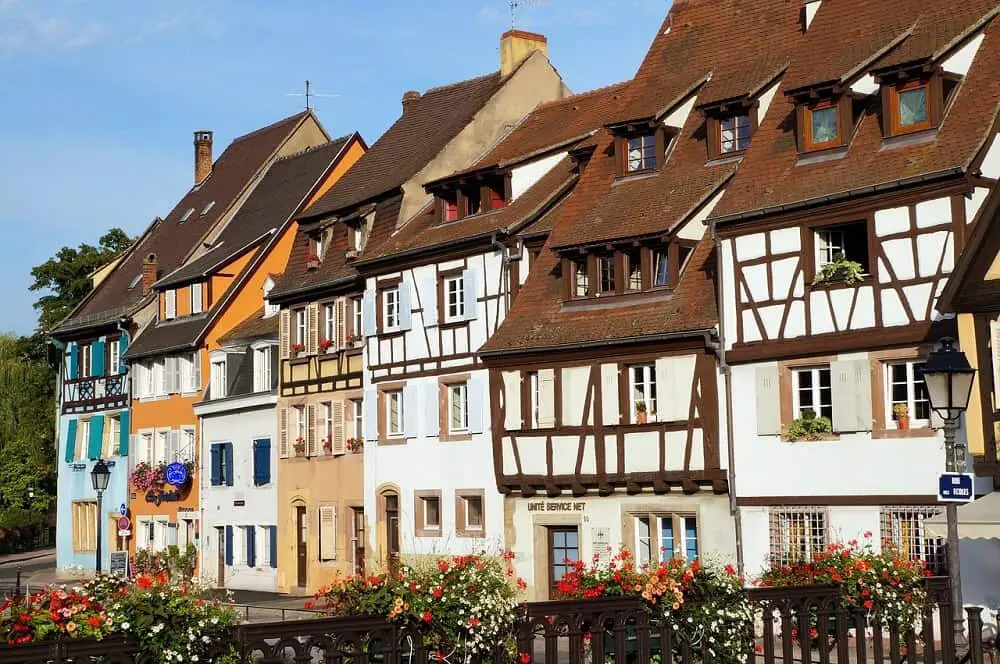 Top Amazon picks for a weekend trip to Paris:
Weekend trips from Paris
Metz
One of the top weekend trips from Paris is to the historic city of Metz, only an hour and a half away by train from the capital city and 3 hrs 30 min by car.
The most prominent landmark is without a doubt Metz cathedral, one of the tallest in Europe, and a great example of Gothic and Renaissance architecture.
Another structure not to miss, is the Porte des Allemands, a medieval fortification where you can cross an ancient stone bridge and stroll around learning about the history from the strategically placed information boards. From there, walk through the nearby cobblestoned streets and discover cute boutiques.
One of the must-things to do in Metz, is to take a stroll through the park and to old town where narrow cobbled streets are lined by pastel houses.
If you love museums, you shouldn't miss out on the Centre Pompidou-Metz where you can admire artwork dating back to 1905 as well as present-day pieces.
One of the oldest churches in Europe is also to be found in Metz, the basilica of Saint-Pierre-Aux-Nonnains. The ancient building dates back to Roman times where it was part of a spa before it became a religious building.
Hôtel de la Cathédrale Metz is a great place to stay centrally and right next to Metz cathedral.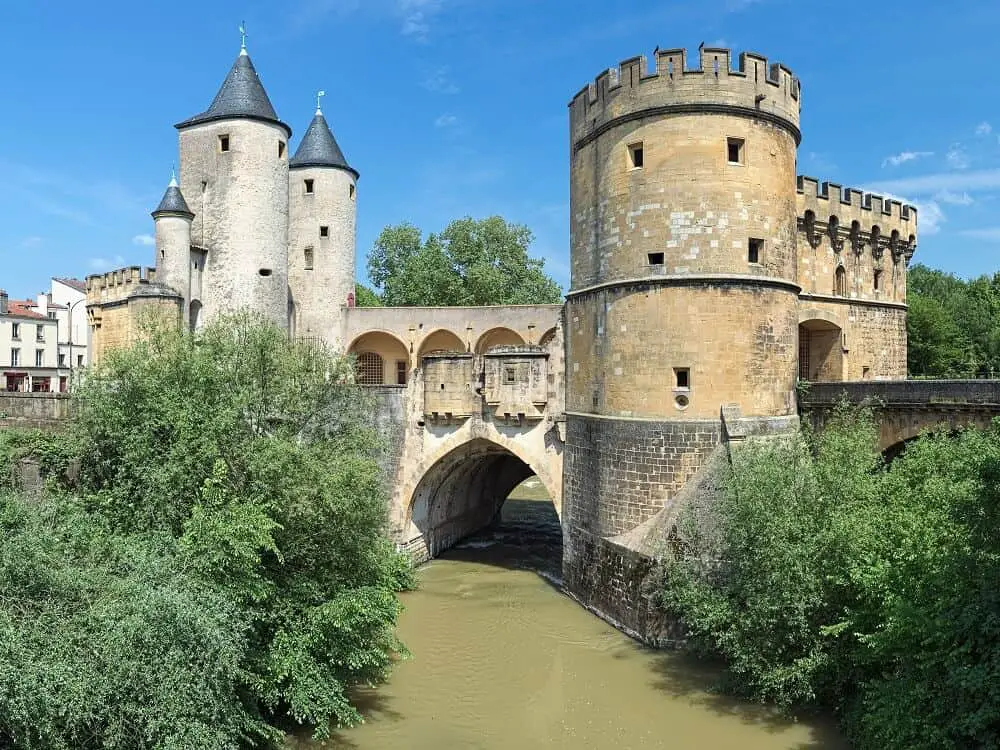 Opal Coast
Recommended by Nichola of Family Hotel Expert
The Opal Coast is an ideal weekend getaway from Paris. This area of northern France, which stretches from Calais through to Boulogne is often seen by travelers passing through having taken the ferry or Eurotunnel from the UK to France on a bid to reach warmer climes.
So already it's much less crowded than other regions of this great country. It's a very easy drive from Paris though, less than three hours by car, and ideal for feeling as though you've got away from the world with walks along the often deserted beaches.
The stretches of sand at Hardelot and Berck-sur-Mer are absolutely beautiful and with ice cream-colored beach huts lining the walkways, it's incredibly picturesque. When the weather takes a turn there are plenty of places to enjoy indoors like the museums and World War Two fortifications around Calais.
The Opal Coast is perfect for family holidays in northern France and a wonderful getaway from the busy city life of Paris.
Stay at Najeti Hôtel du Parc which has an outdoor heated pool, fun playground, and three tennis courts. This place will help turn this trip into even more of a holiday and relaxing break.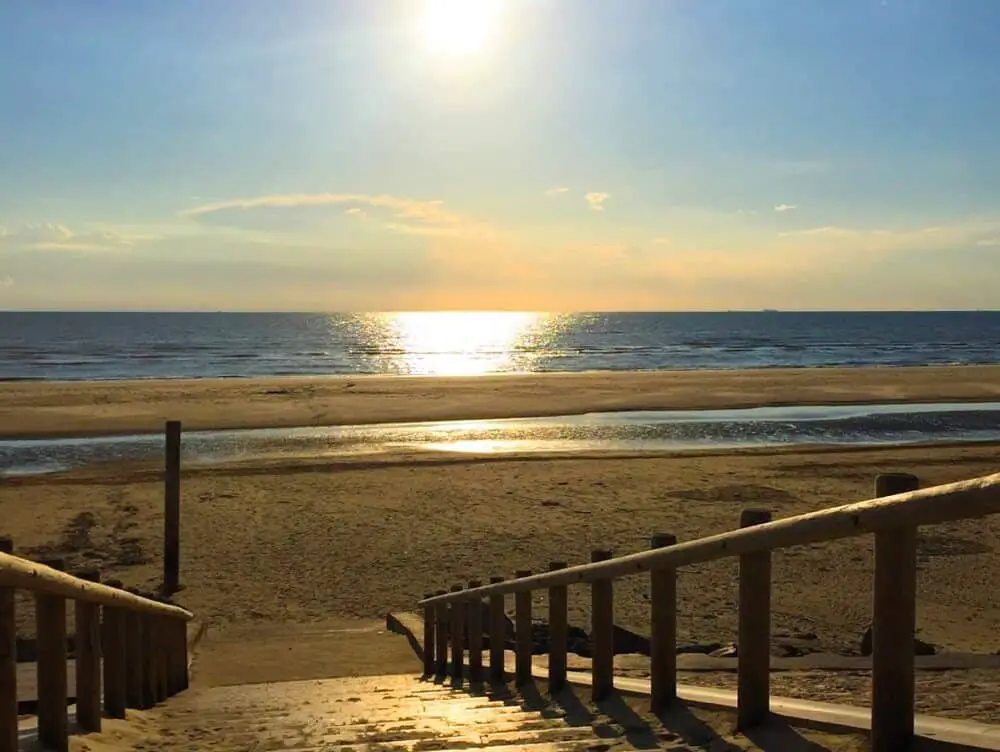 Normandy
Recommended by Michela of She Goes The Distance
Normandy is the scenic region of northwest France, a culturally and historically significant place just a couple of hour's drive or train ride from Paris.
It boasts an abundance of cozy French towns to explore, from Bayeux and its grand Notre Dame Cathedral to Rouen with its ancient clocktower.
The best way to do a weekend trip to Normandy is to have a car and make one city, like Roeun of Caen a home base to reach other destinations.
For the best views in the city center of Roeun, stay in the Best Western Plus Hotel Litteraire Gustave Flaubert. In Caen, the Best Western Plus Le Moderne is steps away from its most famous sites, like the Abbey Aux Hommes.
From these cities, Normandy's coast is easily accessible for a seaside getaway. The cliffs and beaches of Normandy are vast with must-see natural structures like Étretat.
If you love history, spending a weekend in Normandy is a must-do. Experience World War II history firsthand by visiting the D-Day memorial on Omaha Beach, the pristine Normandy American Cemetery, or the Mémorial de Caen.
For those partial to ancient history, head to the island fortress of Mont St. Michel. At low tide, walk across the pastures to reach the walled city and follow the path that pilgrims used to reach the abbey at the hilltop.
Overall, as a weekend getaway, Normandy is a breath of fresh air from the city of Paris and has a plethora of beautiful cities and historical monuments to visit.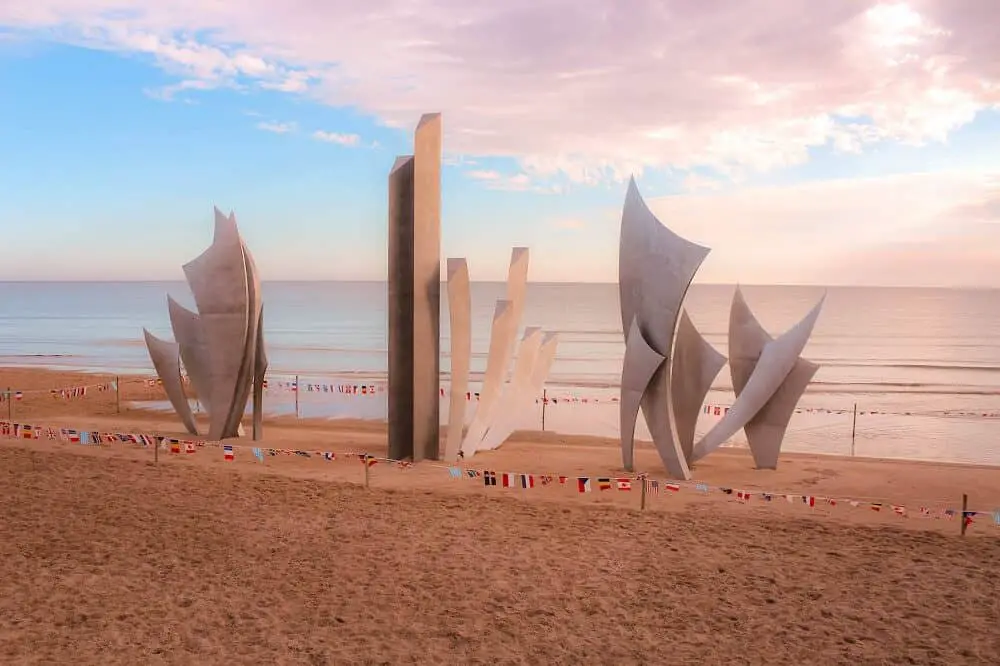 Epernay
Recommended by Casandra of Karpiak Caravan
Epernay is a popular destination for wine lovers, as the city is well known for its champagne production. Famous Champagne houses such as Moët & Chandon and Veuve Clicquot are found in Epernay and it's only a 1-hour and 10-minute train ride to the Champagne vineyards from Paris.
The first thing you should do when arriving in Epernay is to head straight for the Avenue de Champagne where the town's most magnificent architecture is found, in the shape of stately 19th-century mansions built for the many Champagne houses lining its streets.
When you walk down Avenue de Champagne, it's quite the feeling to know that beneath your feet are miles of chalk tunnels housing countless racks of champagne.
Epernay is pure paradise for champagne lovers as you can spend whole days walking from Champagne house to Champagne house as you taste your way down the Avenue. Many of the Champagne houses have wonderful courtyards where you can sit and enjoy a glass of bubbly.
Mercier House has an amazing tour, starting with a self-guided audio tour before descending down to the massive tunnels below and boarding the trains. Moet & Chandon, Perrier-Jouët, and Veuve Clicquot are all recommended tours and will not disappoint.
If you are looking for more of a cultural experience than just champagne tasting or eating at one of the many excellent restaurants, head to De Castellane to browse its Museum of Champagne Tradition. You can also scale the neo-renaissance tower for a stunning panorama of the Avenue de Champagne and Épernay.
Champagne lovers know that Epernay is a must-visit destination and a perfect stop on a Normandy road trip. With so many champagne houses to choose from in the city, it's hard not to find something you love.
If you're looking for a weekend trip from Paris and want easy access to all the wine tours and vineyards, then this should be your next stop.
There are many wonderful places to stay in Epernay but the most popular accommodations are La Mignonette, Le 25bis by Leclerc Briant, and Les Suites du 33.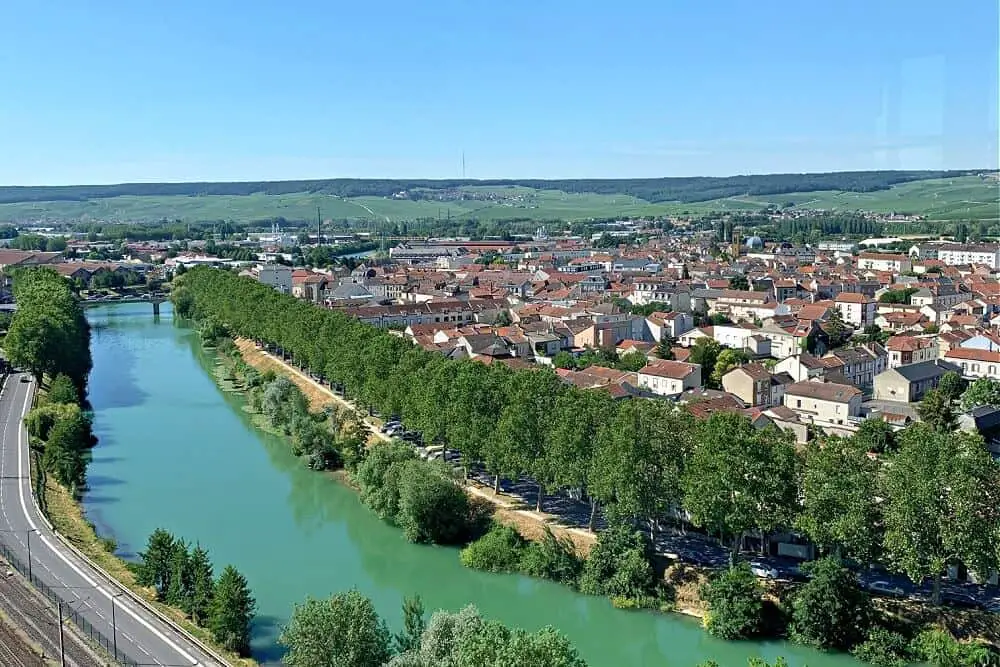 Lyon
Recommended by Smita of My Faulty Compass
Located at the junction of the rivers Rhône and Saône, the city of Lyon is not only beautiful but it's also steeped in history and culture. Located about 470 km or a 4-hour drive from Paris, Lyon is one of the most perfect weekend getaways from Paris! 
Visit Lyon to marvel at the historical and architectural landmarks which have found a place on the UNESCO World Heritage List.
The city of Lyon was founded by the Romans in 43 BCE, on Fourvière Hill, which has now become an iconic part of the city. Two ancient theatres are located on Fourvière and while you can see their remains at the site, you can also take in a performance at the Nuits de Fourvière drama festival every June and July!
Also located at Fourvière is the Fourvière Basilica, a majestic building with beautiful, rich interiors, and a bird's eye view over the city. The Old Lyon district is located between Fourvière Hill and the Saône. Its renaissance streets will allow you to travel back in time – just grab a crêpe and wander the cobblestoned streets!
Lyon is known for its gastronomy and is home to several Michelin starred restaurants. Head to the Presqu'île district to enjoy Lyon's shopping, the bustling nightlife and fantastic restaurants.
The Presqu'île district is also a wonderful area to stay in – it's close to everywhere you would want to visit while in Lyon! The Sofitel Lyon Bellecour Hotel is one of the best hotels in the area – French luxury, with great views over the Rhône.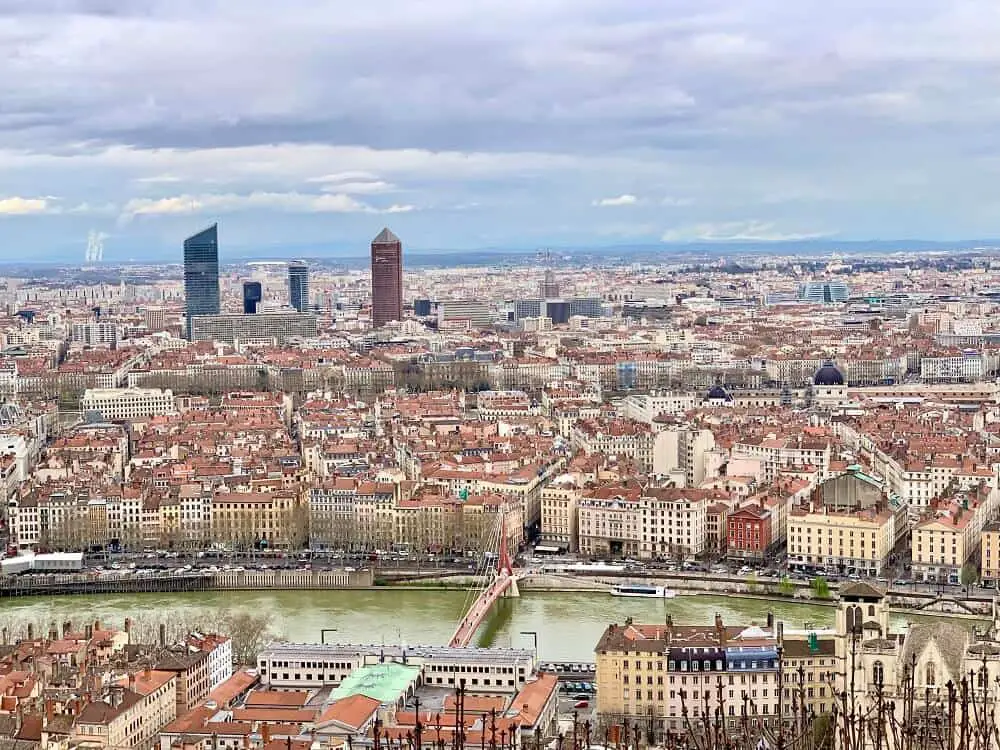 Loire Valley
Recommended by Ophelie of Limitless Secrets
The Loire Valley is the perfect place for a weekend getaway from Paris! This region is located in the center of France, to the southwest of Paris. It has a lot of assets!
On the one hand, this historic place is famous for its gorgeous castles. The Loire Valley features a large quantity of stunning Renaissance Châteaux that you will love to explore! On the other hand, this region is gifted with beautiful landscapes and the Loire River.
The most interesting thing to do in the area is to visit a few châteaux. For example, you can go to Château d'Ussé. This castle inspired Charles Perrault for his famous tale of the Sleeping Beauty.
The Château d'Azay-le-Rideau should also be on your list as it's the perfect example of the "dream Renaissance". If you like to wander in some gorgeous gardens, take a look at the ones in Chateau de Villandry.
Besides the castles, you can visit all the historic cities and towns in the area. The city of Tours, for example, was the capital of France between 1422 and 1528. And you'll also enjoy the cities of Orléans, Blois, Amboise, Chinon, and Angers.
You can take a train from Paris to one of the cities listed above, it'll take you 1 or 2 hours depending on where you stop. And by car, it's around 1h 30 min to 3 hours.
If you want to treat yourself, you can stay in the Château du Rivau, an amazing medieval castle!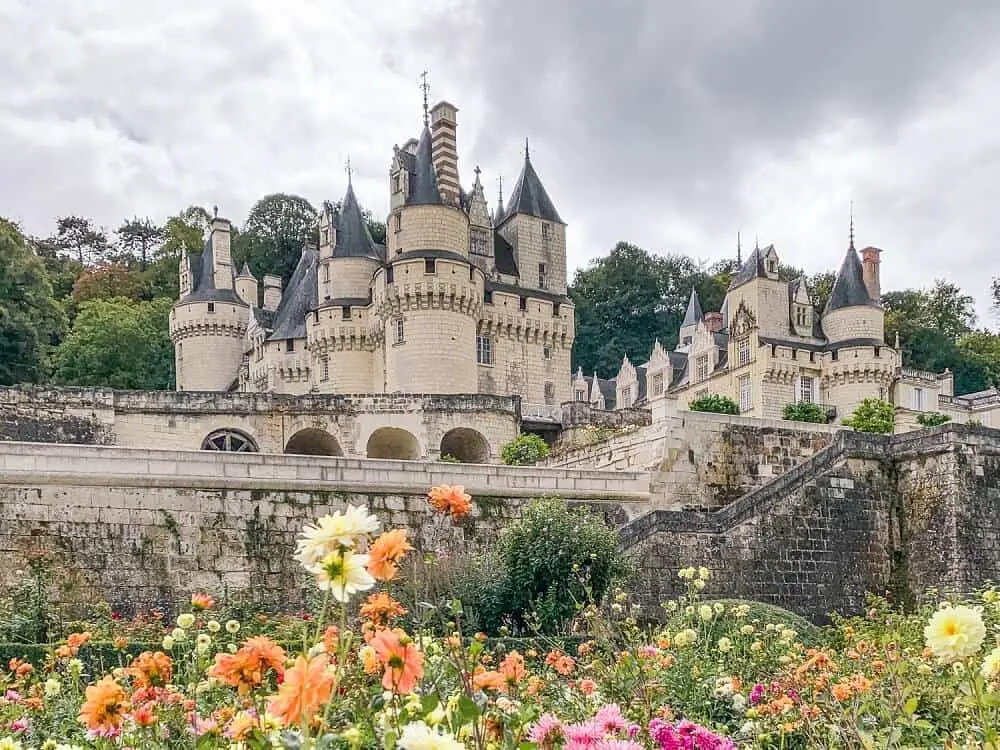 Etretat
Recommended by Zoe of Together in Transit
For a seaside weekend away from Paris, Etretat is the perfect unique location. Getting there is an easy 2 hours 40mins drive by car or similar expected time with train and bus combined. 
Etretat is a popular destination in mostly Autumn, Spring, and Summer, but luckily there are many campsites, hotels and cute B&Bs in the whole area to choose from.
As a recommendation, check La villa 10 hotel – it's located perfectly between the cliffs and walking distance of the center of Etretat. They have super friendly staff for helping with anything!
Nature is the top highlight at Etretat, with the photo showing just how beautiful Etretat cliffs are. You can walk along the cliffs on the coastal walk, allowing you to visit the Chapelle Notre-Dame-de-la-Garde.
However, there are also more things to do, such as visiting the Benedictine Palace and the Etretat Gardens. Here you can take your time exploring the open space before heading back to the city center for some local cider and French crepes.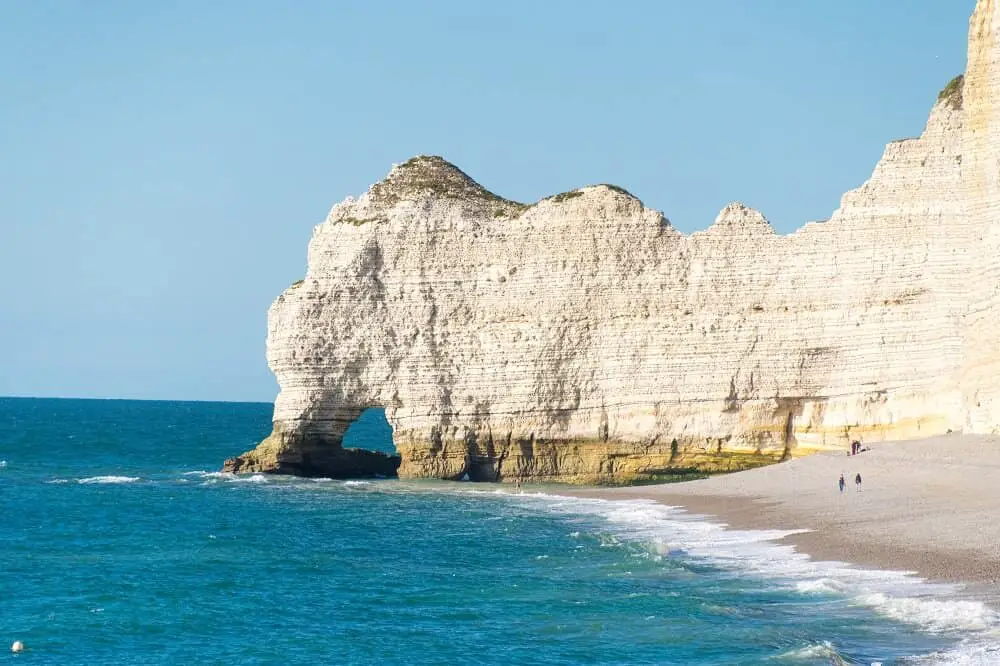 Cap-Ferret
Recommended by Cecily of Groovy Mashed Potatoes
An hour west of Bordeaux you'll find Cap-Ferret, a chic beach town that Parisian city dwellers like to escape to for the weekend. The laid back town is perfect for a nature escape with its wild Atlantic beaches that are excellent for swimming or surfing.
There are many fun things to do in Cap-Ferret for a relaxing weekend. During the daytime visit the Cap-Ferret Market filled with tons of vendors selling beach blankets, housewares and fashionable clothing. Afterwards, go for a bike ride through the pine-covered peninsula to the town of L'Herbe for a seaside lunch. It's refreshing sipping a cold glass of French white wine in the sun.
In the evening, have a sunset picnic on the beach and watch the surfers surf into the sunset. Finish your night off with cocktails on the outdoor patio at Bar Le Tchanque.
To get to Cap-Ferret from Paris, first take the 2.25 hour high speed train to Bordeaux. From Bordeaux, rent a car for the hour drive west to Arès and down to the southern tip of the peninsula to Cap-Ferret.
Stay at Côté Sable, a boutique hotel with a Clarins spa in the heart of town. It's just steps away from boutique stores, restaurants, and the beach.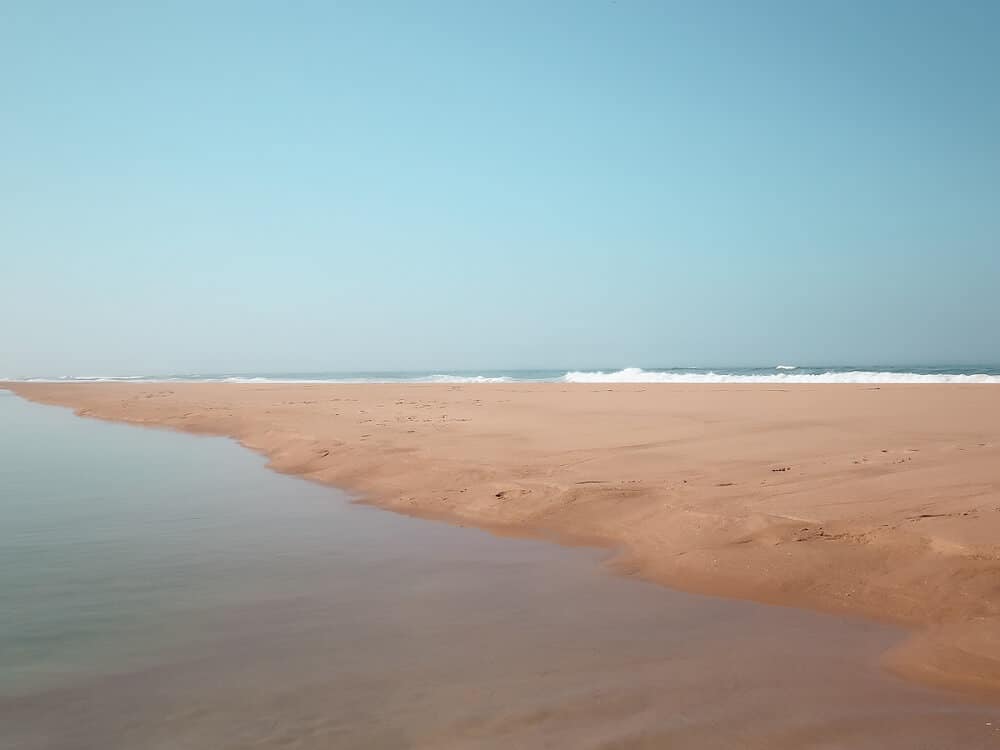 Aix en Provence
Recommended by Haley of Haley Blackall Travel
Aix en Provence is renowned as being the center of aristocracy in the Provence region of Southern France. Impressive palaces and manicured trees line the streets of this charming Provencal town making it one of the best weekend getaways from Paris. You will find intricately carved stone fountains on almost every corner, earning its nickname 'City of a Thousand Fountains'.
Aix en Provence is recognized for being the food capital of this region, and has a lot to offer in regards to local delicacies. But, what makes it special is the daily markets that bring this town to life. Peruse the various stalls full of vintage finds, freshly cut flowers, linens, fresh produce and more. 
You can't visit this town without a stop at Atelier Cezanne. This museum was the home of the famous 19th-century post-impressionist painter Paul Cezanne, and is a point of pride for locals. See how the man lived and captured his beautiful home region of Provence.
The easiest way to get to Aix en Provence from Paris is by plane. The trip will take a short 1.5 hours and will land in Marseille Airport. A 25 minute taxi ride will take you the rest of the journey. Alternatively, you can take the train directly into Aix en Provence TGV in under 4 hours. 
Located in the centre of Aix en Provence is Maison Alberta. This self catered apartment comes with one spacious bedroom and bathroom, kitchenette and free wi-fi. Explore everything this beautiful town has to offer right outside your door.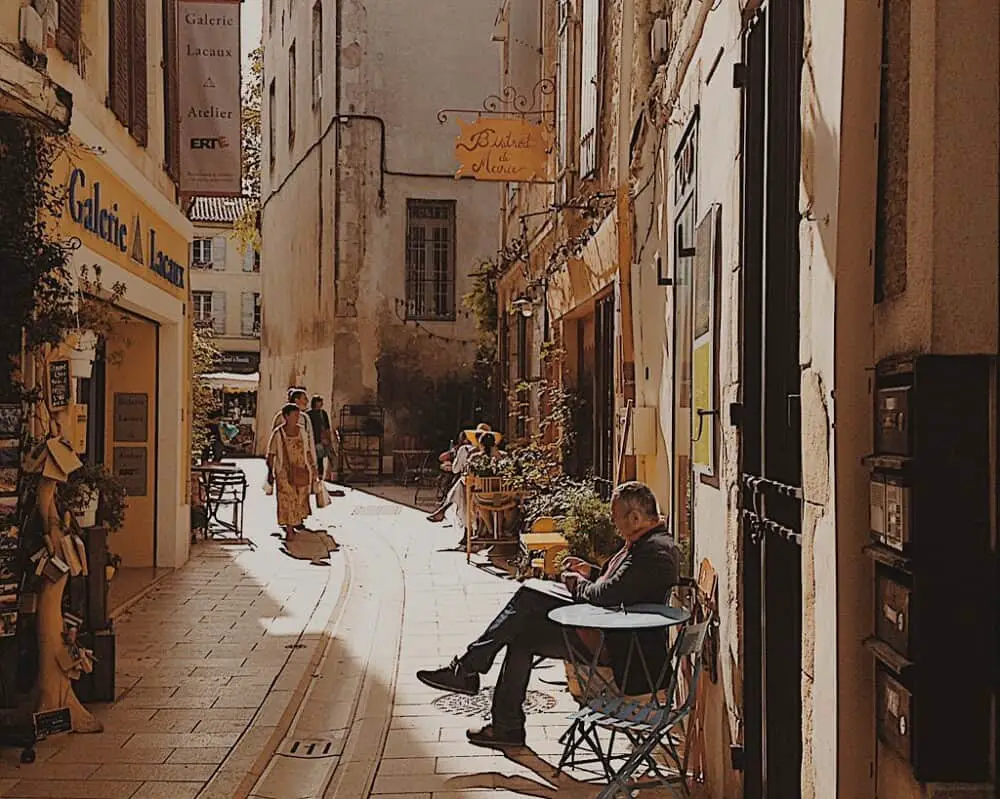 Nice
Recommended by Jackie of Jou Jou Travels
Nice is one of the most beautiful towns along the French Riviera in Southern France. It's a great base if you want to explore all the captivating surrounding areas.
From Paris, you can get there by taking the TGV train and arrive in 6 hours, or alternatively, you can fly into the Nice Côte d'Azur Airport.
Nice is perfect in the summer when the weather is warm and you can visit the beach with rocks instead of sand! There are breathtaking views if you climb to the top of Castle Hill where you can see the whole landscape of the Promenade des Anglais.
The prettiest sunrises and sunsets can also be witnessed here. Don't miss the waterfall at the top too which is such a unique place to see.
Other must-see things to do in Nice include visiting the OId Port, where you'll find various places to eat and see the shipping dock.
The Old Town is also a lovely area to stroll along and see the colorful architecture and picturesque piazzas. Stop by the Cours Saleya Market to shop for local food and cheese.
In Nice, you'll find some of the best food so be sure to come hungry and try one of the best restaurants like Ganoka or Chez Acchiardo.
Hôtel Du Centre is a great place to stay right in front of the cathedral and walking distance to many of the city's attractions.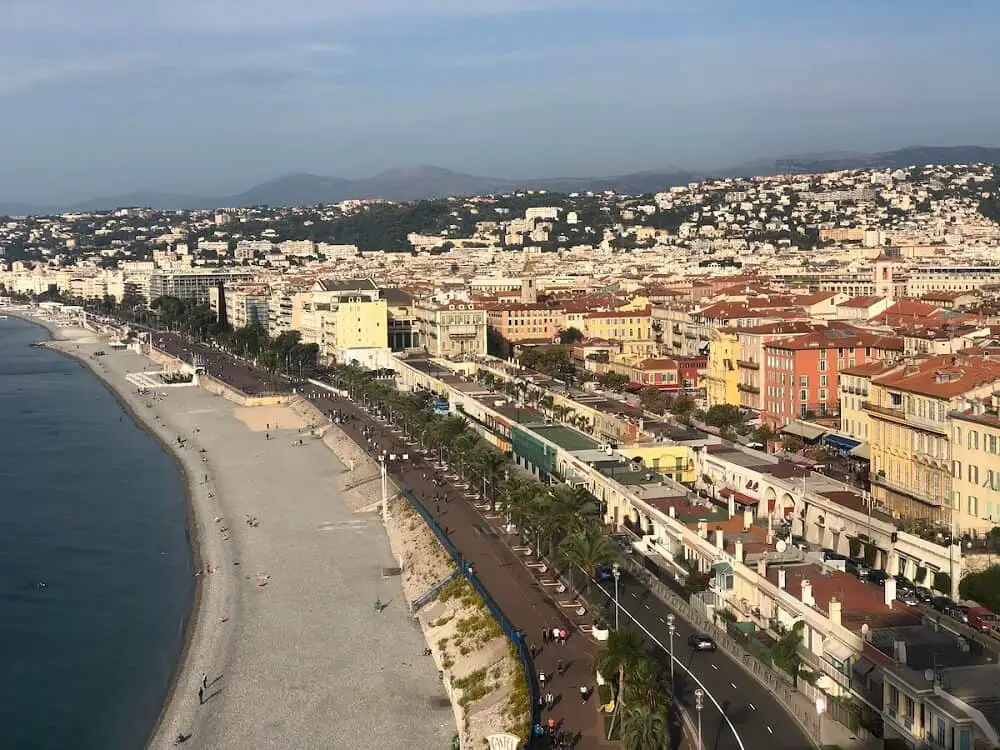 Colmar
Recommended by Mark of Wyld Family Travel
Colmar is one of the most popular destinations in the Alsace North East France. Colmar is 493 kilometres from Paris and 64 Kilometers from Strasbourg, This picturesque village borrows heavily from both France and Germany, with the German Border only 20 minutes away.
Home to fairytale houses with their bright and attractive colors and its little Venice area. Traditionally, the area where Merchants lived, is today the most picturesque neighborhood in town that draws tourists from all across Europe and beyond.
It's not surprising that Colmar and the surrounding villages were the inspiration for the setting of Beauty and the beast. Wander the cobblestones of the old town, visit the oldest public building in France, drink local wine, and try some of the amazing regional cuisines.
The indoor market hall provides a great space to try regional foods and drinks. Take a gondola ride through the citie's canals, visit a world-famous gallery, or explore one of the town's markets, you can even see the Statue of Liberty.
Starting in late November, Colmar comes into its own when the annual Christmas market overtakes the whole town. Colmar France embraces the Christmas market spirit better than most towns across Europe. The market in Colmar is not just in one place, it's dotted all over the old town area.
Colmar is one of the most popular destinations in all of France and makes the perfect weekend trip from Paris taking only 2,5 hrs by train and 5,5 hrs driving. Luxury hotels in Colmar include Les Suites du Cygne and La Maison des Tetes.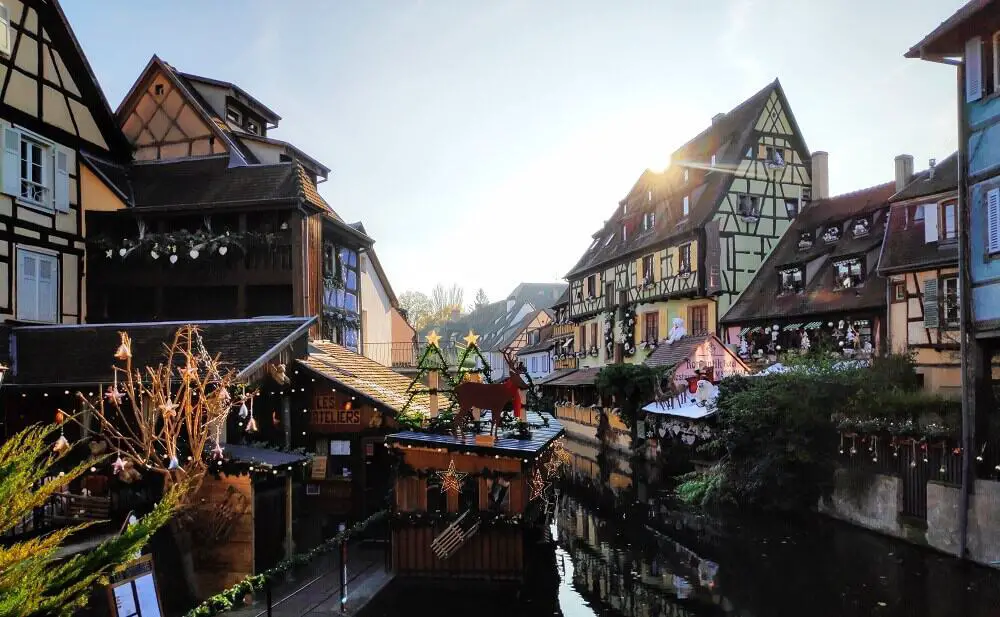 Strasbourg
Recommended by Elisa of France Bucket List
Strasbourg, in Eastern France, is one of the best weekend getaways from Paris. The capital of Alsace and the new region of Grand Est is a lively city with beautiful architecture and interesting history.
What's more, Strasbourg is straightforward to reach by train, with several daily connections from Paris Gare de l'Est. Count it on taking two hours one way.
Strasbourg is a very walkable city, and you can explore its top sights on foot. The rental of a bike on-site is also a fun way to explore the city, and it allows you to cover more ground in a single day.
The list of best things to do in Strasbourg includes the Gothic-style Cathedral, the historical area of La Petite France with its picturesque canals, the dams designed by Vauban, a river cruise, and the European Neighborhood.
The European neighborhood hosts important European institutions like the European Council or the European Court of Human Rights.
The city also has various arts and history museums worth visiting, and the Musée Historique, in particular, makes an excellent introduction to the city.
For your stay in Strasbourg, it's recommended to stay central. Hotel Suisse is a family-run hotel not far from the Cathedral that always has good ratings.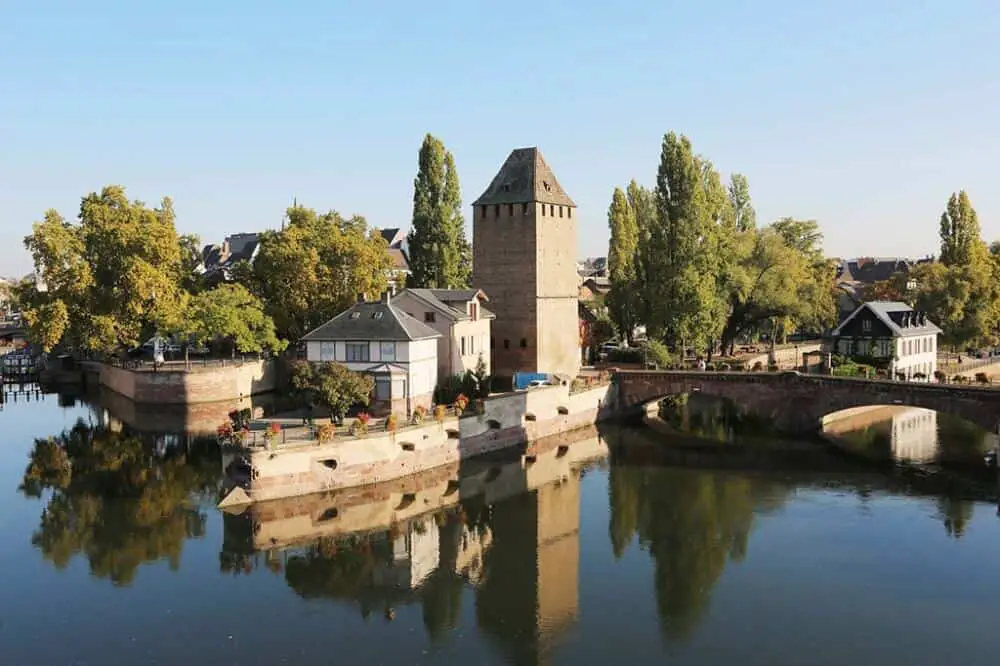 Bordeaux
Recommended by Victoria of Guide Your Travel
Bordeaux is a beautiful mid-sized city located around 600 kilometres south of Paris. You can drive to Bordeaux from Paris in around 6 hours or take a train which takes only 3 hours. Taking a train is definitely highly recommended as it's quick and easy and can be quite affordable if you book early enough.
Bordeaux is a stunning historic city that is often overlooked by tourists. It lies on the river Garonne and has a lot to offer.
Visit the Place de la Bourse for some iconic architecture and beautiful views of the city. The nearby Quais de Bordeaux, the waterfront, is considered one of the most beautiful in France.
Take a walk along the riverbank or have a picnic in the late afternoon. Of course, no trip to Bordeaux is complete without a wine tasting.
This area of France produces some of the best wines in the world and is world famous for its beautiful vineyards and wineries.
One of the best spots is Saint Emilion which is a little village located just outside of the city of Bordeaux. It's the perfect spot too go sightseeing and exploring. There is a little tourist train that takes visitors around the vineyards and to different wine tastings.
Stay at the Quality Hotel Bordeaux Centre to stay close to Saint-André Cathedral and easy access to all of Bordeaux' attractions by train.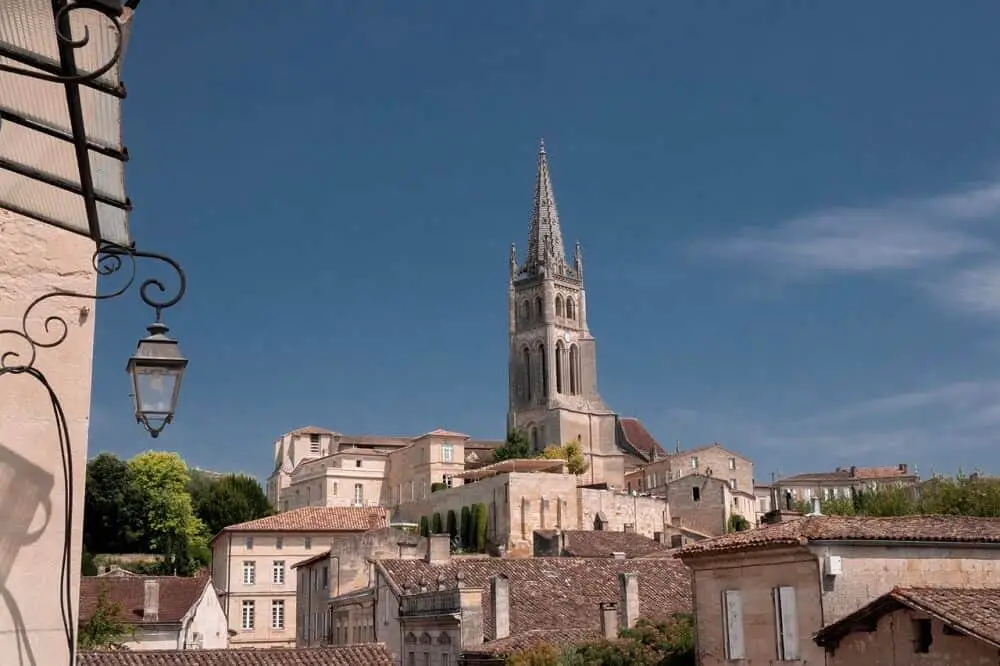 Versailles
Recommended by Tanya of My Right Sock
It's hard to find a Paris travel blog or guidebook that doesn't dedicate a page or two to Versailles. The city, especially its iconic palace, has become a tourist staple for visitors coming from the French capital to the neighborhood and most visitors come on a day trip from Paris. However, located only 21 km away, Versailles makes an ideal weekend getaway from Paris.
Like so many places in Europe, the most time- and cost-effective way to get from Paris to Versailles is to take the train. A round trip on the RER C train line cost a humble 7 Euros and takes about an hour from the Paris central station. It brings you to the heart of Versailles, at the palace.
Chateau de Versailles is a crowning jewel of French Baroque architecture and draws nearly 10 million visitors every year from all over the world. Built originally as a modest hunting lodge in the 17th century, King Louis XIV and his successors turned it into a palace embodying grand extravagance.
The palace has 700 rooms, two floors, 2,000 windows, and 67 staircases. The entire estate spreads over a whopping 2000 hectares. Chateau de Versailles feels like it is plucked straight out of a magical, dreamy fairytale.
Given the popularity of the Chateau, weekends aren't really the best time to go, so plan your trip for later in the day as afternoons are less busy, and get those skip-the-line tickets.
Besides the palace, save some time to visit the Versailles Gardens and the Palaces of Trianon (Grand and Petit) as well.
Also worth visiting is the Versailles Cathedral. Built in 1754, this Baroque cathedral suffered significant damage during the French revolution, but was restored later. In addition to a uniquely domed roof, the cathedral has vintage interiors, a stunning altar and ceiling frescos.
After visiting Notre-Dame de Versailles, a small church built in 1686 in vivid Neoclassical style, you can head to the nearby Market of Notre Dame to pick up fresh and local produce, or even grab a quick meal.
For a central an wonderful stay, check in at Hôtel la Residence Du Berry.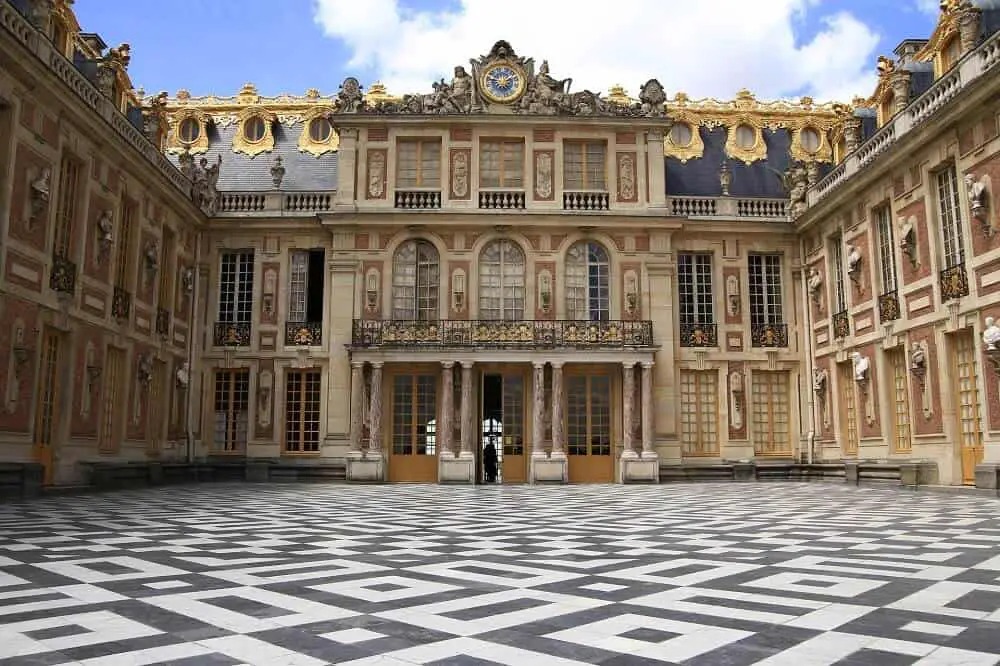 Chantilly
Recommended by Utkarsh of Journeys from Heart
Chantilly is one of the most beautiful weekend trips from Paris if you're looking for a town with great scenic beauty. Lying in the northern part of France,you can easily reach it by train in around 30 minutes. By car it takes 1 hour 30 minutes.
Chantilly is an old town dating back to the 16th century and having prominence of the French revolution.
You can admire great paintings, old souvenirs, and ancient architecture. Places like Domaine de Chantilly are a popular visit for all history lovers and anyone that appreciates art and culture.
Other places worth mentioning are Horse Museum, which is one of Europe's largest stables dating back to the 18th century, Chantilly race course, which is famous for its magnanimity and elegance, Chantilly library, known for its huge collection of books whereof some date back to medieval times, and Chantilly Gardens, which are known for the great design and statues.
There are plenty of accommodation option available. A favorite is Hyatt Regency Chantilly which provides a very comfortable and luxurious stay.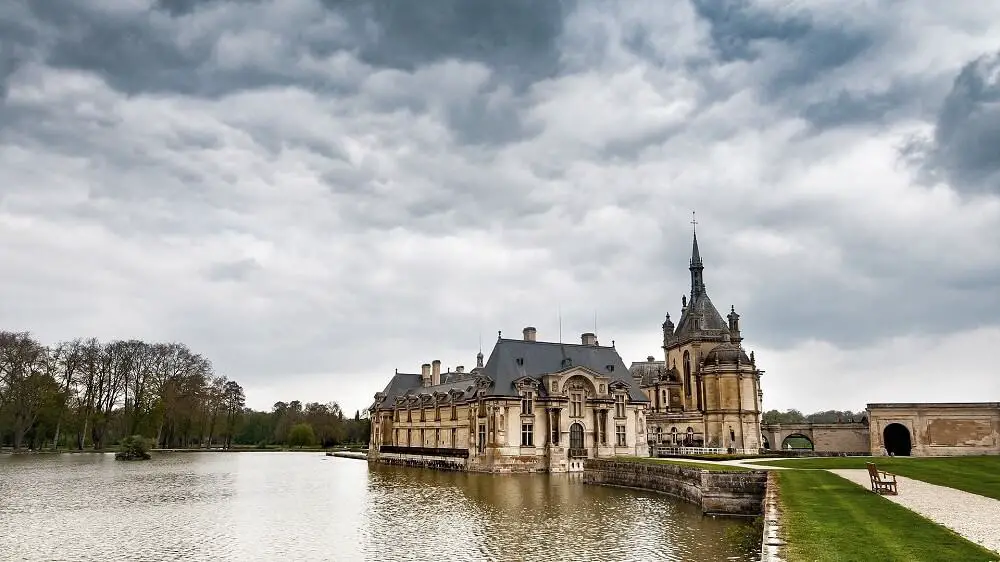 Nantes
Recommended by Ruma of The Holiday Story
Nantes is one of the best weekend trips from Paris. It's on the banks of the Loire River in the Upper Brittany region of western France. The port city has been the industrial center for a long time and is one of the main metropolitan cities of the country.
Nantes is a colorful city where the past and present melt together attracting tourists from all over the world with wonderful historical architecture. The authentic French cuisine is another reason why it's a popular weekend destination among city dwellers.
While in Nantes, the historical establishments of Les Machines de l'Île and Château des Ducs de Bretagne is a must. The city is also home to some beautiful churches and cathedrals. Each of these churches has wonderful unique features like bell towers and particularly large windows. 
The Jardin des Plantes is another exciting place. The park includes various plant species right in the middle of the city. Anyone can enter and relax here while enjoying the green space. There are also interesting museums to visit in Nantes, like Musée des Beaux-Arts de Nantes and Muséum d'Histoire Naturelle.
Reaching Nantes is pretty straightforward. The international airport Nantes-Atlantique, receive regular flights from Paris. Furthermore, it takes only 2 hours to reach Nantes from Paris via train. 
Accommodation here ranges from pocket-friendly options to expensive five-star ones. Okko Hotels Nantes Château and Ibis Styles Nantes Centre Gare are two excellent hotels that both provide quality service within an affordable budget.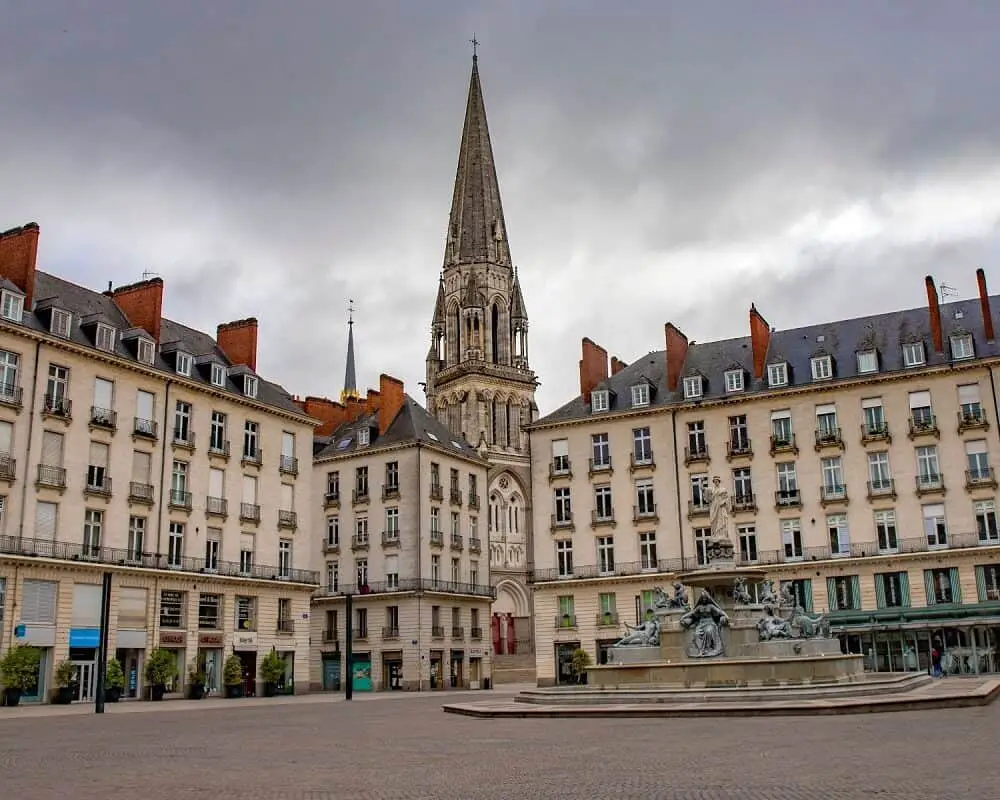 ---
READ NEXT: Discover France off the beaten path
---
Reflections on weekend getaways from Paris
I hope you got inspired to go on any of these amazing weekend trips from Paris. There is so much to explore throughout France and with the good, fast train network, you can get quite a bit around even without a car.
Whether you like villages, cities, or beach, there should be something for you to enjoy a weekend away from Paris.
---
Still need a rental car? Make sure you book one now before it's too late!
---
Pin it for later!