Jam-packed with history, astounding architecture, and culture, Germany boasts a number of incredible cities. Whether you're off on a city break in Europe or on a road trip through Germany, you should visit at least some of the most beautiful cities in Germany on your next trip.
There are so many options and you will find places to explore all year round in this incredible European country. Get ready to explore what travelers have rated the prettiest cities in Germany!
Disclosure: This post may contain affiliate links. That means that if you make a purchase through one of those links, I will get a small commission at no extra cost to you. As an Amazon Associate, I earn from qualifying purchases.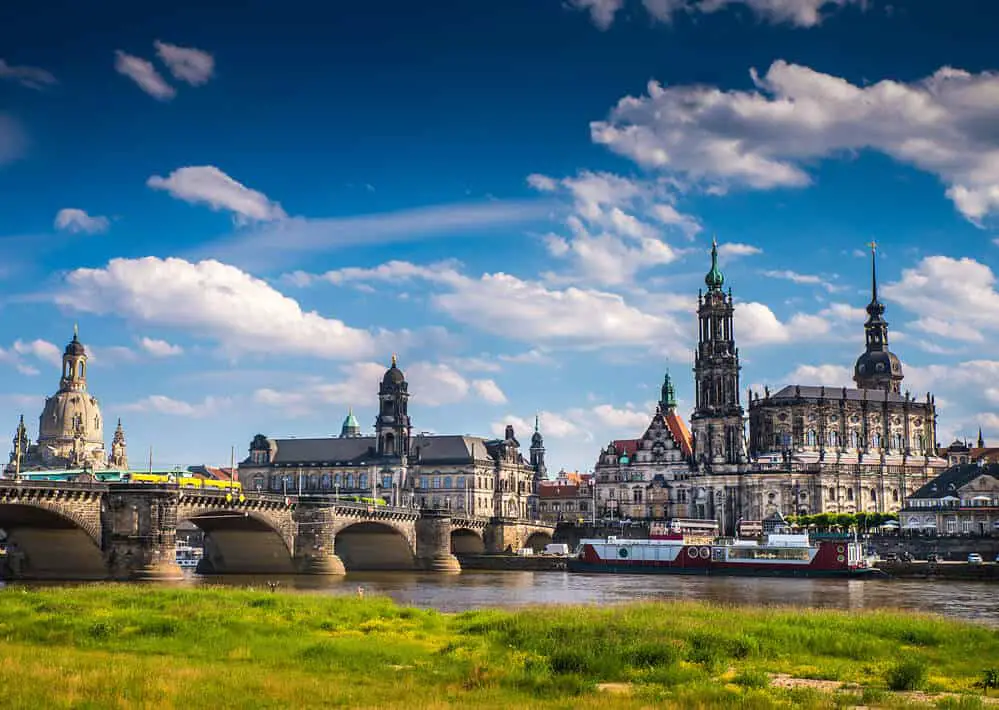 Most beautiful cities in Germany
Without any further introduction needed, here are the most beautiful cities of Germany.
Dresden
Dresden was one of the German cities that got closed to demolished during World War Two. After the war, the most important buildings were re-built close to the original structures and today it's one of the most beautiful German cities to visit.
Whether you stay a day or a week, there are plenty of things to fill your Dresden itinerary with. But most importantly, make sure you hang out in the city's old town.
Dresden Cathedral is a must-visit and close to the astounding Zwinger Palace and gardens where you'll find multiple museums showcasing artifacts from different parts of the world.
Nearby, you'll find the unique 102-meter long wall-mosaic, Fürstenzug. It was originally painted on the wall – a massive piece featuring 35 rulers of the House of Wetting. But later, it was redone into a mosaic to survive the harsh weather conditions.
A peaceful stroll along the beautiful Elbe river is a must and close to the old town. Other sights you shouldn't miss out on are Dresden Opera House and Frauenkirche on the quaint Neumarkt Square.
Getting to Dresden is easy from all around Germany, but also from the nearby Czech Republic and Poland where public transport is frequent and roads are great for driving.
A wonderful and sustainably recognized place to stay is NH Collection Dresden Altmarkt which is centrally located in Dresden.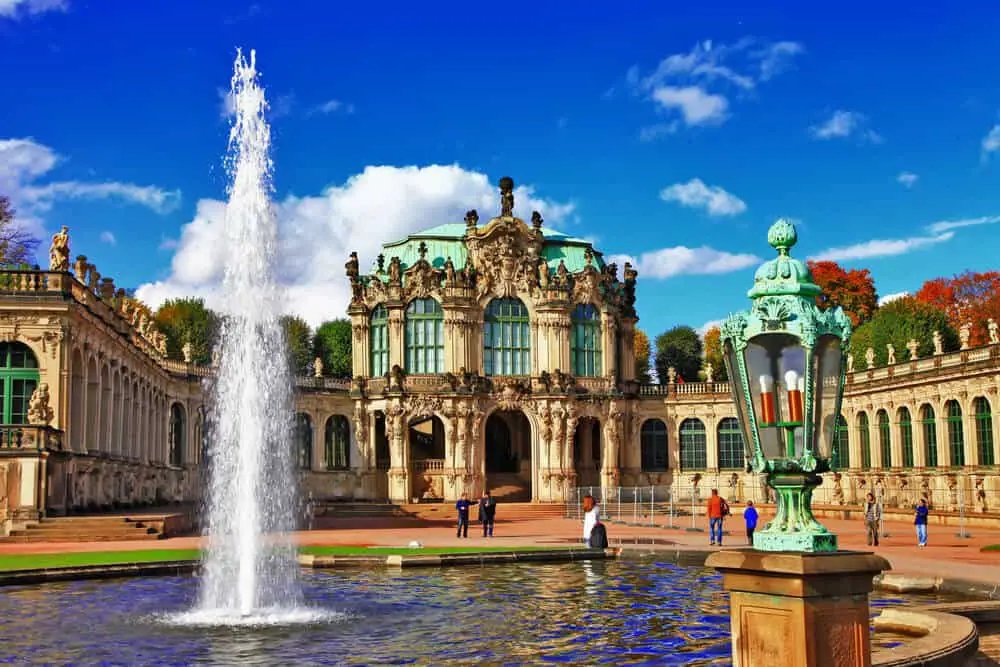 Düsseldorf
As a popular university city boasting high-end shopping, a vibrant art scene, and green parks, Düsseldorf is situated by the Rhine. This makes it the perfect destination for a boat trip.
It's particularly beautiful if you manage to go at sunset. But even a relaxing stroll along the river on the Rhine Embankment Promenade is worthy of your Düsseldorf itinerary. There are cafes and restaurants to stop at as well as little shops and galleries.
The main shopping street in Düsseldorf, Königsallee, is lined with trees mirroring in the clear water in the middle – mostly impressive when it's lit up at night.
But also Düsseldorf's old town makes a wonderful place to saunter the cobbled streets, hang out at the Marktplatz as well as check out St. Lambertus Church, the Castle Tower, or one of the many museums.
But also the Düsseldorf-Kaiserswerth neighborhood is interesting to take your time walking around. The old Baroque buildings make out one of the oldest parts of the city.
Düsseldorf is an easy communication hub reached by public transport, plane, as well as by car from all over Europe.
Me and All Hotel is a lovely boutique hotel with sustainable status situated in the city's Japanese quarter with walking distance to the city's attractions.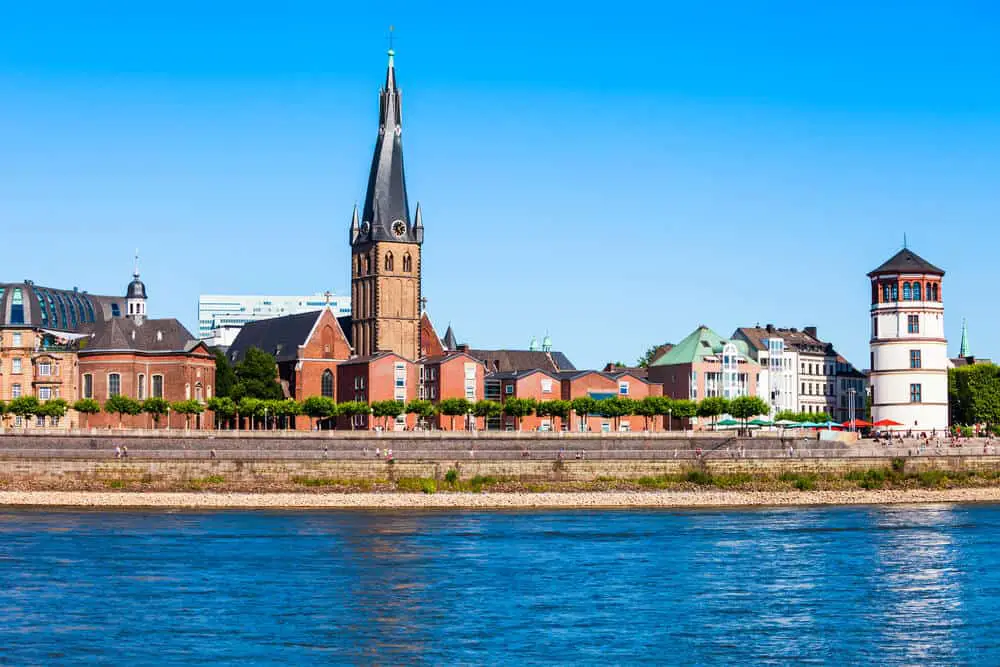 Cologne
A particularly wonderful city to visit is Cologne. Famous for its astounding cathedral and UNESCO World Heritage Site, which is northern Europe's biggest Gothic cathedral towering 157 meters high.
But Cologne has so much more to it. The enchanting old town is perfect to meander around as you take in the cobbled streets with pastel-colored houses – be aware that this was smothered during World War II.
The restorations of the astounding Groß St. Martin church lasted until the 1980s, but it revealed that the foundation dates back to Roman times. Don't miss the iconic view of the church towering above the narrow colored houses.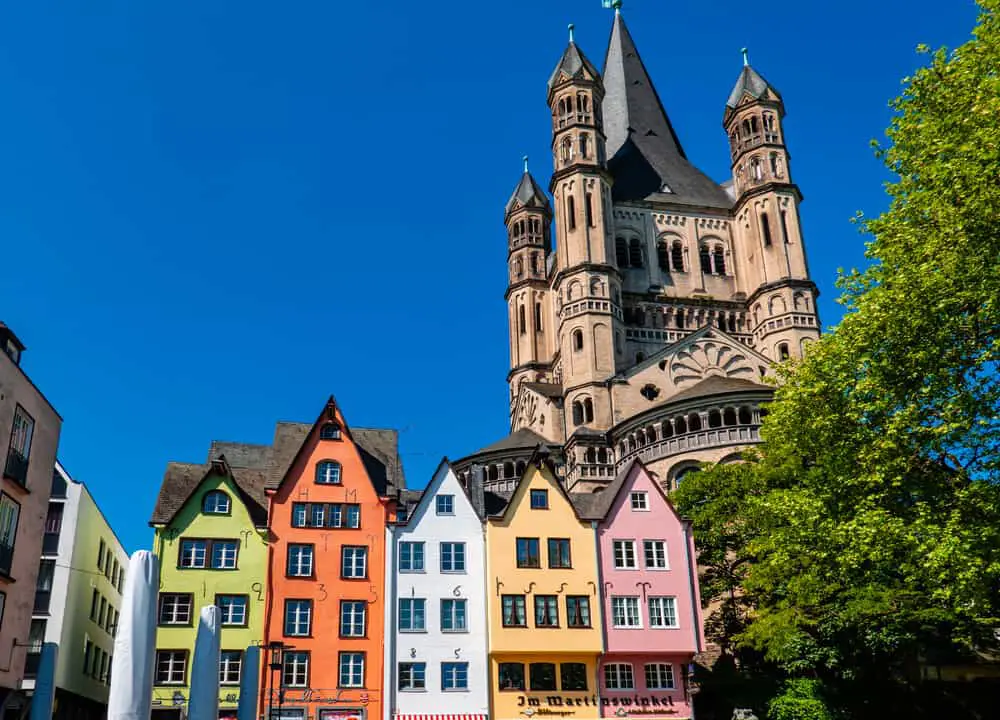 The 209 meters long Hohenzollern Bridge is iconic to Cologne and leads right to the cathedral. It's only open for trains and pedestrians.
The bridge has been yet another victim of the famous "love padlocks" and though the bridge seems to handle the 2 tons of extra weight as of now, I wouldn't recommend attaching them. It goes well until it doesn't, so I always recommend responsible tourism by thinking of the consequences before acting when you travel.
There's also a zoo in Cologne. I recommend you read my post about unethical animal tourism before you consider it.
Other than that, there are a myriad of museums in Cologne and even a Chocolate Museum! Hello Chocolate lovers!
Maison Marsil is a wonderful boutique hotel situated in the heart of Cologne old town, marked as a sustainable property.
Recommended in Cologne:
Würzburg
Recommended by Raluca of Travel With A Spin
Würzburg is a small city in Franconia that has only 120.00 inhabitants, but a lot of history and attractions. Fortunately, it's not on everybody's radar yet, so one can still see its authentic charm. 
First of all, it's set on the Main river, in a hilly region covered by vineyards. This makes Würzburg the main city of an important wine region in Germany, known mostly for dry white wines.
All these vineyards around also mean a picturesque landscape that one can enjoy from the Marienberg fortress that watches over the entire area.
A small fortification was built on top of the hill in the 7th century and since then new extensions were added. As a result, the current castle harmoniously combines Romanesque, Renaissance, and Baroque styles.
But this is not the only architectural masterpiece in the city. One can also visit The Residenz, a late baroque palace from the 18th century that was granted UNESCO status.
The court church inside is probably the most important example of baroque architecture in Germany. At the same time, its gardens, even if small, can be compared in beauty to those of Schönbrunn and Versailles.
However, a trip to Würzburg is not all about castles and palaces. The best of all is the atmosphere and there's no better way to enjoy it than on the pedestrian stone bridge in the old town with a glass of white wine in your hand. 
Würzburg can easily be reached by train from Nuremberg, Bamberg, Frankfurt, or Münich in less than two hours. A good accommodation option is Central Hotel Garni, right in the middle of it all.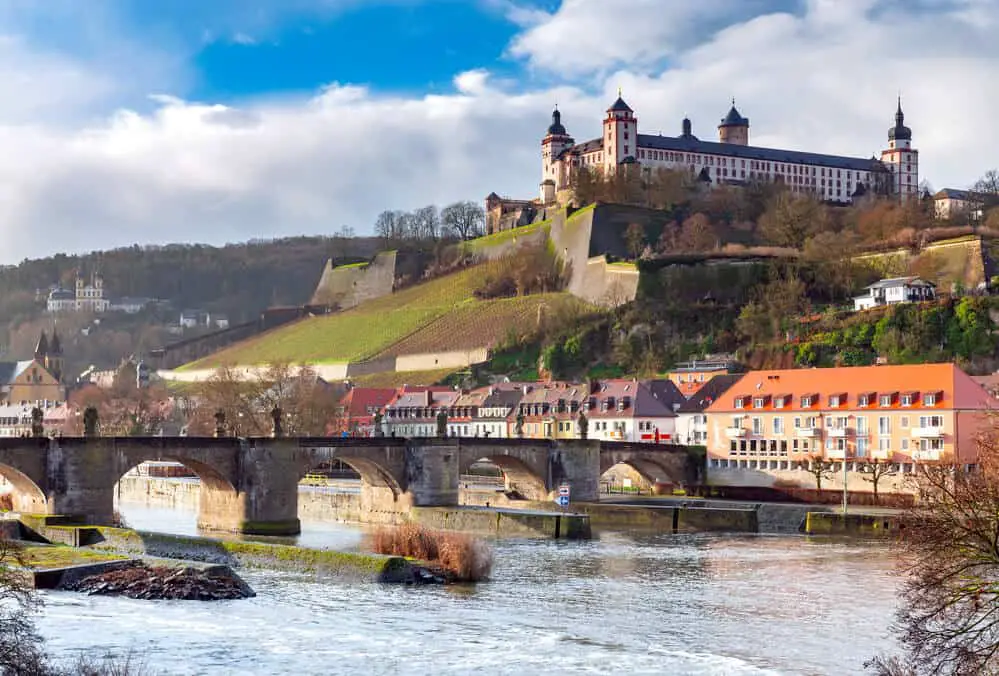 Trier
Recommended by Emma of Forever Lost in Travel
Trier might not be a city on many people's radar, but it should be. This historic gem in southwestern Germany is 2-3 hours from Bonn or Frankfurt.
However, it is most accessible from neighboring European country Luxembourg – only an hour by train and costing less than 5 EUR. Trier can easily be visited in a day from Luxembourg but staying longer is recommended.  
Germany's oldest city is bursting with fantastic sites to visit. Most impressively are the large number of places linked to the Romans who conquered Trier almost 2000 years ago.
Especially worth seeing are the Porta Nigra city gate and the 2nd Century Roman Amphitheater. Take time to explore the tunnels under this former gladiator combat arena.
The city center has a beautiful medieval market square surrounded by colorful buildings. It's here you'll find Trier's annual must-visit Christmas market and a great central hotel, the Park Plaza Trier.
The marketplace also has a lovely local wine stand – grab a drink at the open-air bar and do some people-watching.
Dom Trier Cathedral is just off the main market square and shouldn't be missed. As well as being a spectacular building, it also houses the supposed Holy Tunic – said to be worn by Jesus shortly before his crucifixion.
Round off your trip with a visit to the quaint home of former Trier resident Karl Marx, an interesting place to learn about the man himself and the history of communism.
Stay centrally right next to the Porta Nigra at Hotel Porta Nigra.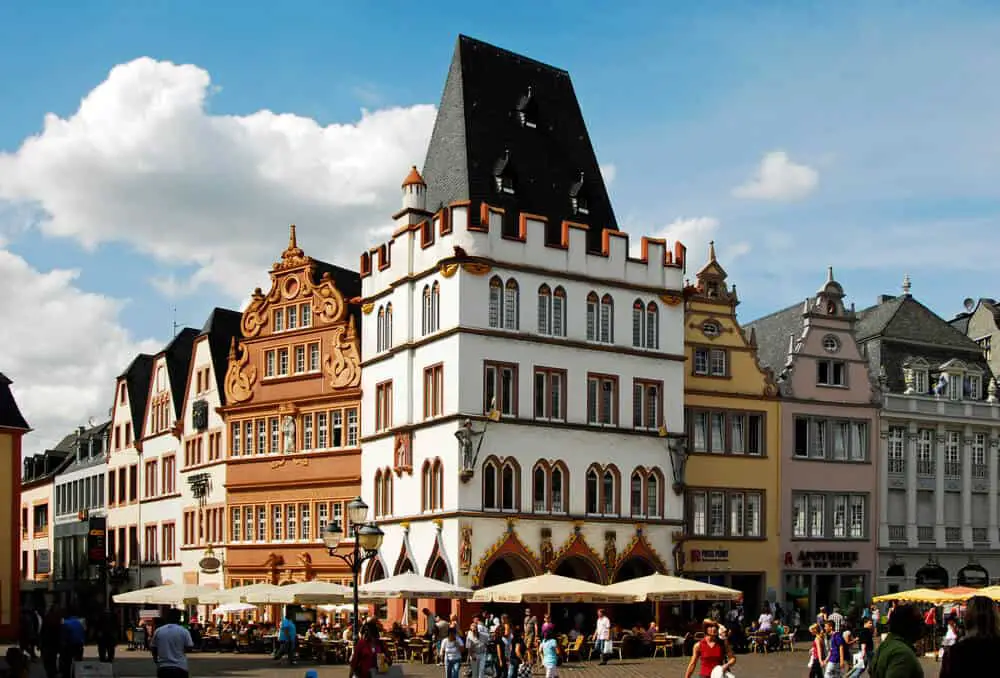 Tübingen
Recommended by Soujanya of The Spicy Journey
Tübingen is a university city in the Baden-Württemberg state of southwest Germany. Despite being slightly off the tourist radar, it's one of the most beautiful cities Germany has to showcase, situated along the banks of the Neckar river.
The Tübingen old city market square is both unique and charming. Taking a long walk through this Altstadt (old city) is one of the best things to do in Tübingen.
Another place to visit there is the bridge next to the Altstadt to see the iconic view of the colorful buildings of Tübingen.
River punting on the Neckar river is both a university tradition and fun activity to do. Additionally, the Neckarinsel garden is a small but charming garden located on a small island on the river Neckar, overlooking the Altstadt, whereas the Botanical Garden is new and located close to the Tübingen University.
The Hohentubingen Castle is another great attraction, just a 10-minute walk from the market square, that offers panoramic views of the entire city.
Because Tübingen is a university city, there are numerous budget-friendly places to eat. Though most visitors go there on a day trip, for those wanting to stay overnight, Hotel Meteora is a clean, modern hotel just 1 km from the Altstadt.
To get here, the best option is to take a 30-minute bus or train ride from Stuttgart, which is the closest major city to Tübingen.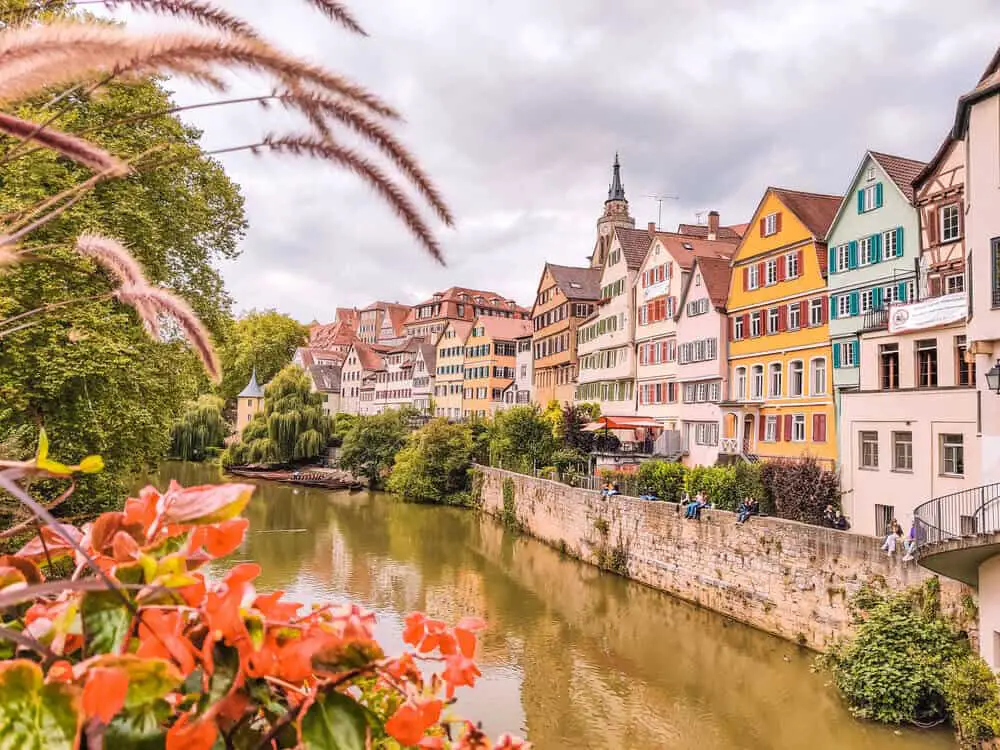 Kassel
Recommended by Maartje & Sebastiaan of The Orange Backpack
Kassel is one of the most underrated, but beautiful cities in Germany. It isn't the typical historical city you might be looking for when visiting Germany. But that's exactly what makes Kassel unique and worth a visit.
The city of Kassel has suffered immensely from the bombings during the Second World War, destroying the old historical city center it once had.
The new post-war city center isn't as pretty as the usual historical town you might expect in Germany, though Kassel is full of stunning buildings if you know where to go.
The absolute highlights of Kassel are its unique city parks, creating a green oasis you wouldn't expect in a city. Park Karlsaue is a landscape park in the heart of the city. It's full of ponds, bridges, green lanes, and highlights like a flower island, a Roman-style temple, and one of the most beautiful buildings in Kassel: the Orangerie.
This eighteen-century greenhouse and summer palace is a beautiful sight in the lush green park and is now used as a restaurant.
A second park is just outside Kassel: the UNESCO-protected Bergpark Willemshöhe. This park has cascades, waterfalls, ponds, and fountains, creating a unique but man-made landscape.
Highlights in the park are Castle Willemshöhe for the former princely family of Kassel, Castle Löwenburg for the prince's mistress, and the Hercules Monument on a hilltop.
And if you're finished visiting the lush green parks and historical monuments, make sure to take a look at the stunning Kassel street art as well.
You can find the most stunning public artworks in Kassel Nordstadt, like a modern version of Snow White (Schneewittchen, in the Hollandische Strasse) or one depicting Stephan Hawking and a goldfish (in the Mortizstrasse).
There is a free street art itinerary, leading you past the best works and providing more information on each work.
One of the best places to stay in Kassel is Renthof Kassel, a sustainable property within walking distance from many of the main attractions and museums.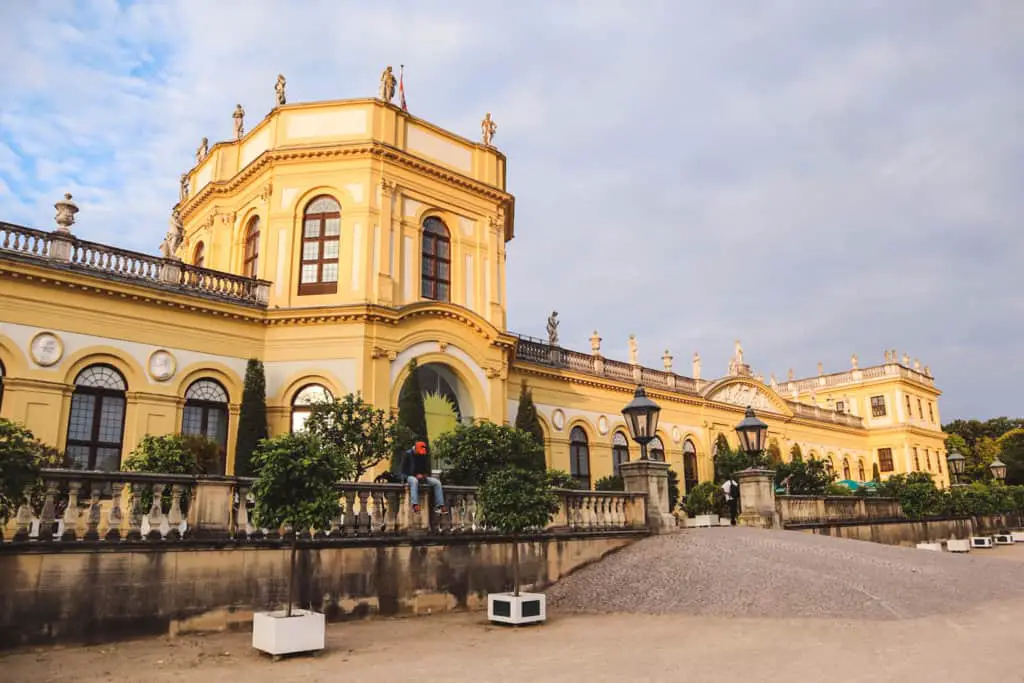 Schwabach
Recommended by Martina of PlacesofJuma

The beautiful Schwabach is a real insider tip among the most beautiful towns in Germany. This city of 40,000 inhabitants became famous for the production of gold leaf. This is sold worldwide and many buildings in the old town are decorated with it.
Several companies still specialize in the traditional craft of gold beating and delivering worldwide. Famous landmarks such as Buckingham Palace in London and the Sultan's Palace in Brunei have already been decorated with Schwabach gold leaf.
One of the most important attractions in Schwabach is the historic old town. Of course, this is decorated with gold: especially beautiful is the old historic town hall with its golden roof.
Worth seeing on top of that is the Golden Hall, which was decorated with 14,000 sheets of Schwabach gold leaf. You can also marvel at the famous Schwabach gold leaf on the high altar of the town church.
Another must-see in Schwabach is the city museum, where there are interesting exhibitions on various topics. Here you can also marvel at the largest egg exhibition in Europe with over 10,000 specimens. The part with the model trains is also great and the exhibition about the history of the city and the goldbeater craft is also interesting.

Beautiful and the central meeting point is the cozy marketplace of Schwabach, where you can find many stores and good cafes in the beautifully restored half-timbered houses. In the center is the 300-year-old fountain which essentially contributes to the pretty townscape.

Getting to Schwabach is easy. The city of Nuremberg with an international airport is only 20 minutes away by train. A great place to stay is the sustainable hotel 24Seven Hotel Schwabach.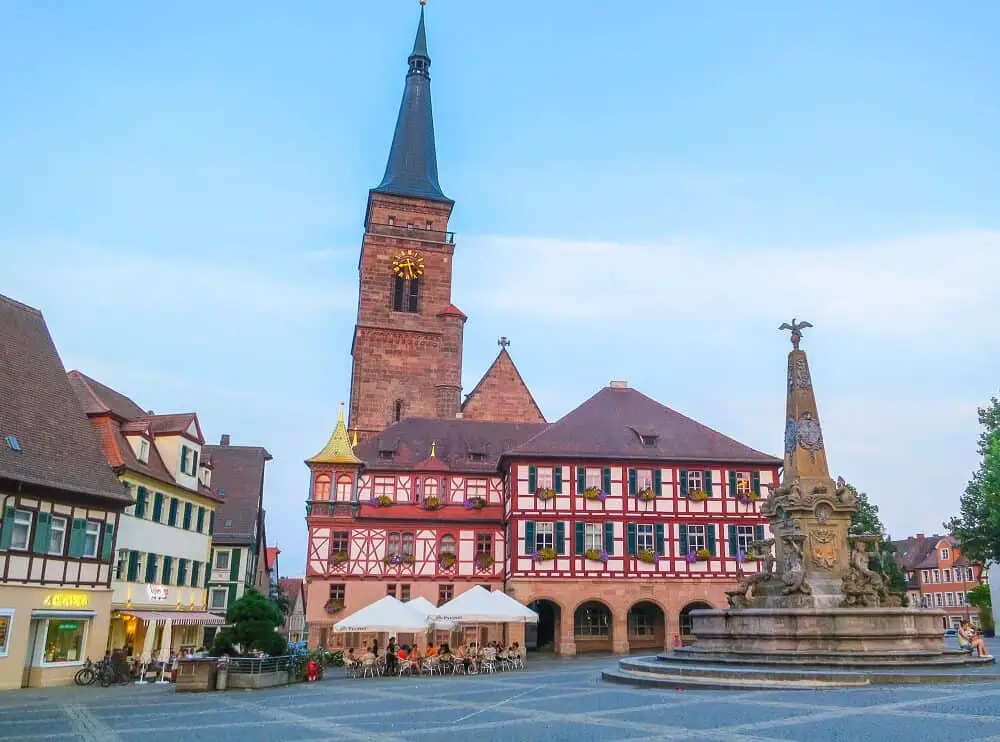 Bonn
Recommended by Nicola of Family Hotel Expert
Bonn is one of the most beautiful German cities, sat on the edge of the Rhine it's somewhere well worth exploring. The center is particularly picturesque and also the location of the house where Beethoven was born, which is wonderful to feel the history of – with its creaking floorboards and characterful rooms.
Bonn is also a great place to take a trip down the Rhine and boats run throughout the summer season which is a fantastic activity, especially when the sun is shining.
If you're on a family holiday in Germany, make sure you explore Haribo's factory shop. The gummy bear was invented in Bonn in 1920 (the name takes inspiration from its inventor and the city – Hans "HA" Riegel "RI", Bonn "BO".)
You can step into one of the shops here to discover more about the history of the famous sweet. All ages will love Bonn's Natural History Museum which is jam-packed with artifacts.
There are fantastic train connections to Bonn making it an ideal city to explore from other German locations. Stay at the Maritim Hotel which is opposite the tram line making transport into the city center really easy, it has its own pool which is a great way to relax after being out and about seeing the sights.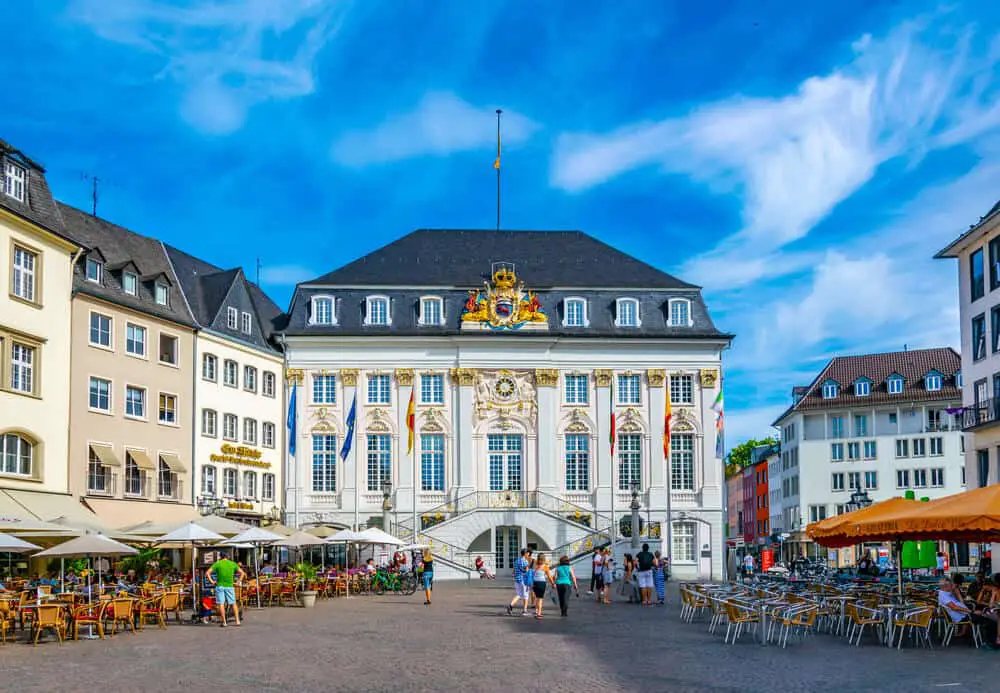 Lübeck
Recommended by Renata of Bye:Myself
Lübeck is definitely one of Germany's best-hidden gems – although it has a very rich history that includes major parts of the European continent.
After all, the so-called Queen of the Hanseatic League was the most important trading city in northern Europe during the Middle Ages.
Right here, merchant circles installed the Hanseatic League to maintain the guilds' economic interests, diplomatic privileges, and protect the trade routes in 1159.
The best way to learn about the heyday of this League is a visit to Lübeck's fantastic European Hansemuseum.
With wealth comes beauty. To this date, Lübeck's wealth is reflected in the beautiful townhouses built alongside narrow cobblestone alleys.
Nicknamed the City of Seven Spires, there are amazing medieval churches like St. Mary's, the epitome of the classic North German Brick Gothic. It actually set the standard for about 70 other churches in the Baltic region.
One of the most alluring features, however, is Lübeck's cute corridors and courtyards. Due to lack of space, they were constructed in the backyards of the posh residential buildings to house the poorest city dwellers. But since they are so picturesque, today, they are sought-after living spaces.
So with all this beauty at every corner, it's no wonder the "Altstadtinsel", the Old Town Island, has been listed as a World Heritage Site since 1987 – and Lübeck earns its status as one of the most beautiful cities in Germany.
This island forms a hill between the rivers Trave and Wakenitz. On the Trave, ferries carry passengers all the way to the seaside resort Travemünde.
Hence, during Summertime, a visit to Lübeck can be easily combined with a trip to the beach on the Baltic sea.
Lübeck can be quickly reached by car from Hamburg. However, there is a regional train going every 30 minutes and it takes less than an hour.
Radisson Blu Senator Hotel is a fabulous sustainable hotel on the riverfront with a pool.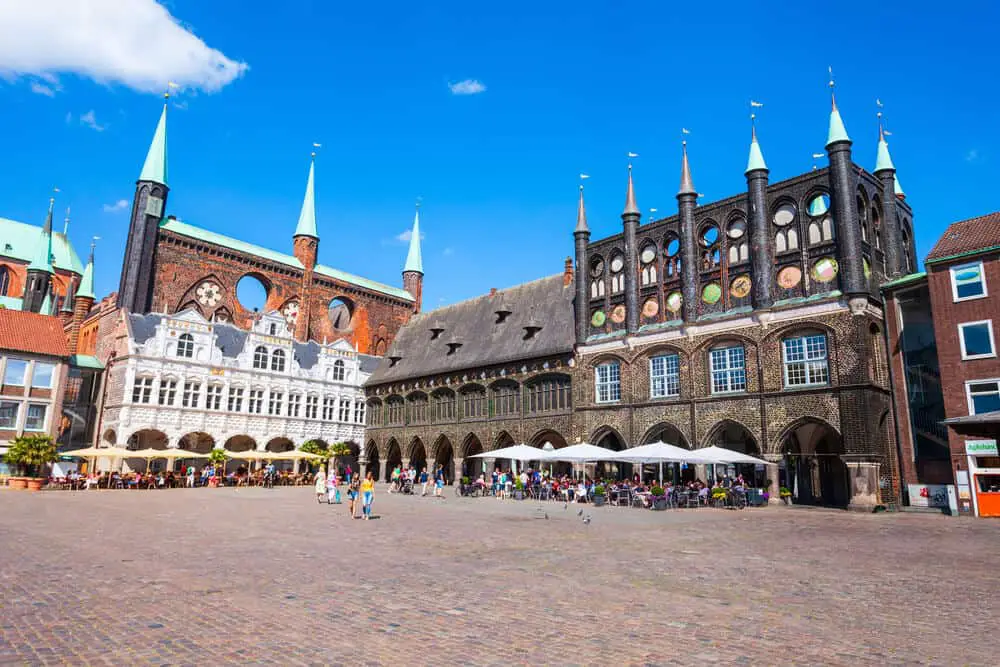 Bremen
Recommended by Smita of Smita Bhattacharya
Bremen is a delightful little city—quaint and picture-perfect—blessedly ignored by tourists and thus relatively uncrowded.
The city is located by the Weser River in northwest Germany and is a four-hour bus ride from Berlin on the Berlin-Amsterdam bus route.
There is a popular fable associated with Bremen—the Grimm fairy-tale—the Musicians of Bremen. The city makes good use of the fairy tale with the four statues of the 'Bremer Stadtmusikanten' at the Townhall as well as postcards and fridge magnets everywhere.
These days, even the traffic lights have them! Believe it or not, they also have a musical hole that cries out with a crowing cock, a cat's meow, a dog's bark, or a donkey's hee-haw if you throw a coin in.
There are several interesting things to do to fill your day in one of the coolest cities in Germany.
Go to the old market square and experience what it feels like to journey back in time. Soak in the grandeur of the UNESCO world heritage sites of 'Bremer Rathaus' and Roland statue; the imposing St. Peter's Cathedral; the Schütting or the Chamber of Commerce; the unusual red-bricked architecture of Böttcherstraße; and the Stadtmusikanten.
Gorge on delectable handmade dark chocolate truffles at Hachez and tour the oldest repository of German wines in the 'Ratskeller'.
Lose yourself in the by-lanes of Bremen's oldest fishermans' quarter—the 'Schnoor'—lined with pretty little-timbered houses dating back to the 15th century. You can also while away some time by the seaport of Bremerhaven.
Magic is all around you in Bremen. And the Christmas market in Bremen is quite something else. Stay in Bremen in the Steigenberger Hotel, a charming mid-range choice with a great view of the Weser River, and marvel at one of the most beautiful cities of Germany.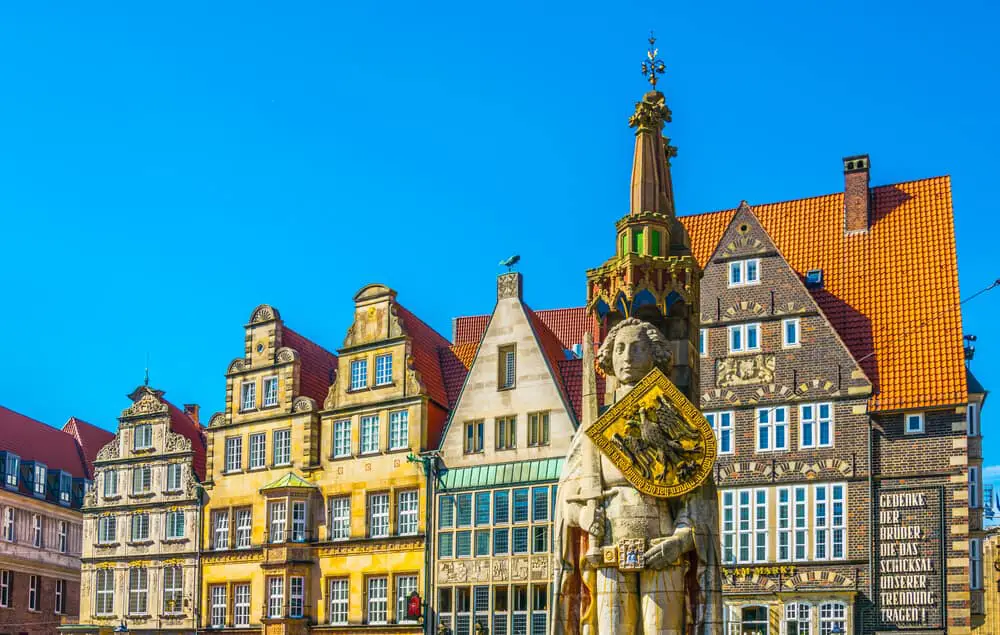 Berlin
Recommended by Victoria of Guide Your Travel
Berlin is Germany's best city known for its vibrant nightlife, historic significance, and culture. The city is well connected to the rest of Germany and the rest of the world with a popular international airport and fantastic train connections.
If you're traveling through Europe anyway, definitely make sure to add Berlin to your list of places to see.
Of course, no trip to Berlin is complete without seeing the iconic Brandenburg Gate. Not too far from the famous landmark, you can see remnants of the former Berlin Wall which are scattered all throughout the city.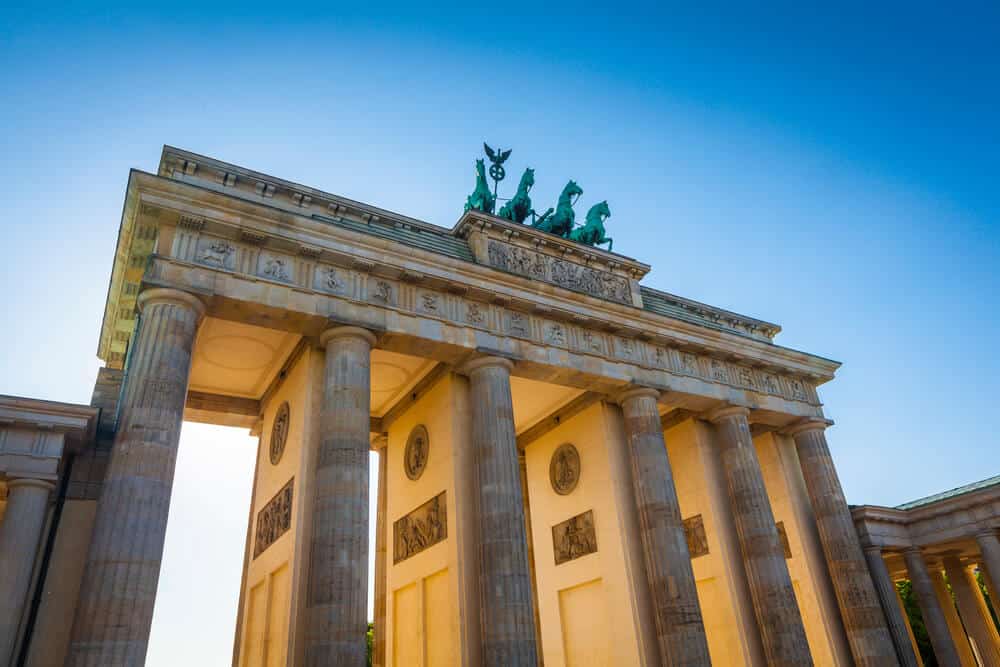 It's highly recommended to join a historic walking tour of the city to truly learn about the fascinating history hidden around every corner.
Another must-do is seeing the Reichstag, Germany's most important political location. You can even join guided tours through the building and watch live sessions of the German parliament meetings from afar.
The building itself is more than impressive though so even just walking past and snapping some photos is highly recommended.
In the evening you need to go out for some drinks or to a club if you're feeling up to it. Berlin has incredible nightlife and especially during the summer months, there are lots of festivals and events to experience in the city.
For a fabulous, sustainable hotel stay, try Schulz Hotel Berlin Wall.
Recommended in Berlin:
Regensburg
Recommended by LeAnna of Wander In Germany
Regensburg, while not completely off the beaten path, is absolutely an underrated gem and one of the best cities Germany can provide. The old town has traces of history almost 2000 years old.
As you walk through the beautiful Innenstadt, you can find beautiful, pastel-colored buildings that are 800 years old. The entire town is like walking back in time and is gorgeous any time of year.
Since Regensburg was an incredibly wealthy town with strong ties to the Holy Roman Empire, you'll find Italian influences all throughout the city's architecture.
You won't know if you're walking the back alleys in some small Italian village or if you're still sightseeing in Germany, but either way, you get the best of both worlds and ambiances.
Most people head to the Bavarian city as a day trip from Munich or Nuremberg and there is plenty to do for one day in Regensburg.
It's an easy city to get to by train and is also right off the Autobahn if you find yourself driving in Bavaria.
Just wandering around the cobblestoned streets is a charming experience in itself. Of course, you must walk across the Old Stone Bridge, pop into the gorgeous Gothic Dom Cathedral, or grab a Wurst at the "Oldest "Fast Food" Restaraunt in the World."
There are plenty of really charming places to stay, such as Hotel Orphee.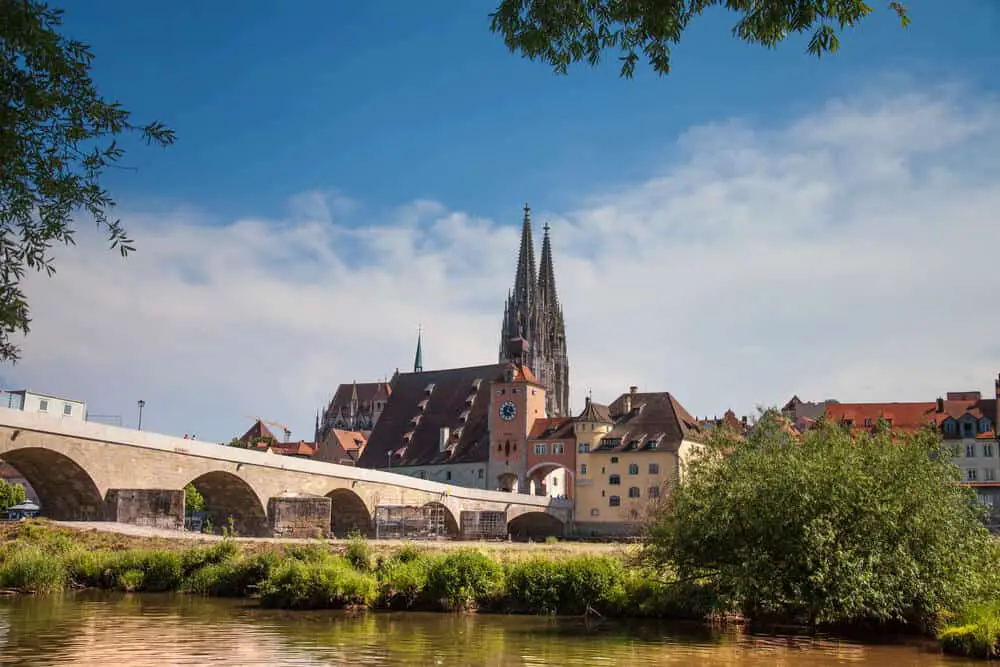 Freiburg im Breisgau
Recommended by Nisha of Nerdy Footsteps
Nestled amongst the mighty Black forest, Freiburg im Breisgau is a quaint but beautiful city in Germany. This student city is full of picturesque alleys and impressive old buildings.
The world-renowned Black forest cake is the specialty of the region. Chocolate cake, with multiple layers of cream and liquor-dipped cherry, what's not to like?
Another reason to visit Freiburg is Europa park. One of the biggest and most exciting adventure parks in Germany is pretty close to Freiburg.
It's further divided into different sections like Greece, Russia, Italy, etc where each section has local food for the area. It makes for a very comfortable day trip.
Fun fact: Freiburg is full of medieval age water-filled runnels/gutters. Once they were used to avoid fires and cool down the city, but they have been kept for historical reasons and of course for kids to splash out water and play with paper boats.
Freiburg is conveniently located in the southwestern part of Germany. While it's easily connected with other German cities by trains and buses. If you have more time, you should definitely plan a weekend in Munich.
Freiburg is quite close to the Switzerland and France borders. In fact, the closest airport to Freiburg is the Basel airport in Switzerland.
Colombi Hotel makes for a comfortable stay in the city center. This exquisite hotel boasts an indoor pool, spa, and a grand buffet breakfast.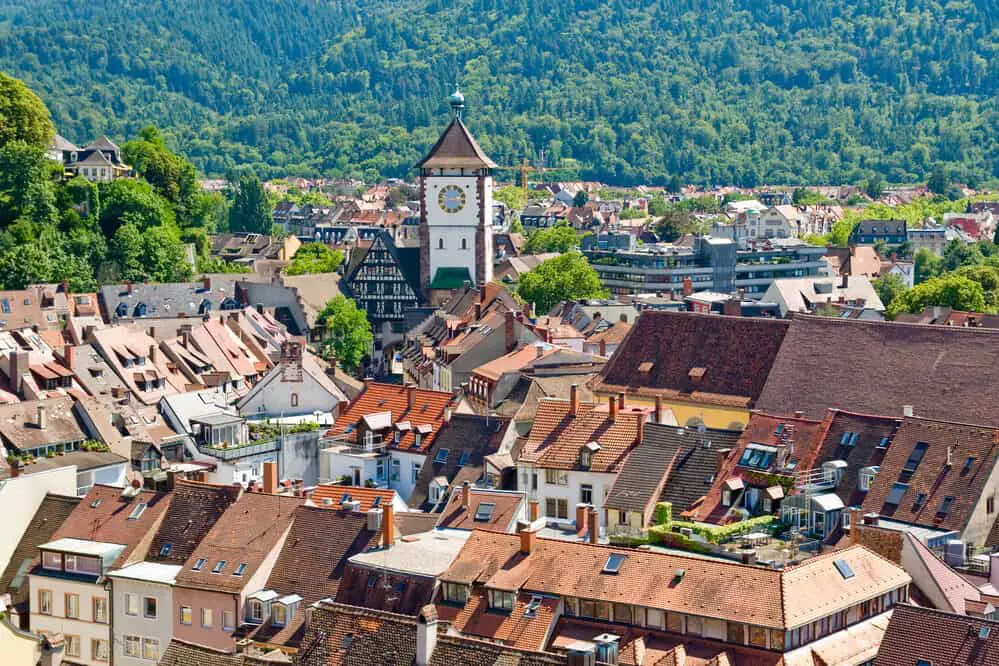 Reflections on the prettiest cities in Germany
If you weren't sure if you wanted to head to Germany for a city break, I hope you've made up your mind about it now. There are so many cool German cities, especially if you're into history.
It's hard to pick out the most beautiful city of Germany with so many candidates, so hopefully you can visit more than one to really soak in the different vibes these places radiate.
READ NEXT: Most beautiful towns in Germany
Pin it for later!