San Diego is a popular tourist destination for a reason. There's something there for everyone, whether you're traveling solo, as a couple, or with the family. If you have a limited amount of time, you'll certainly find plenty to do to fill one day in San Diego.
The only problem with only a day in San Diego is that you'll likely be wanting more once all is said and done. Check out these tips on how best to spend your day in America's finest city with this San Diego itinerary.
If you stay in the area for longer, you find some of the best hikes in southern California close to the city. In fact, California is also home to many of the most impressive national parks on the west coast, so there are plenty of adventures to have nearby!
Disclosure: This post may contain affiliate links. That means that if you make a purchase through one of those links, I will get a small commission at no extra cost to you.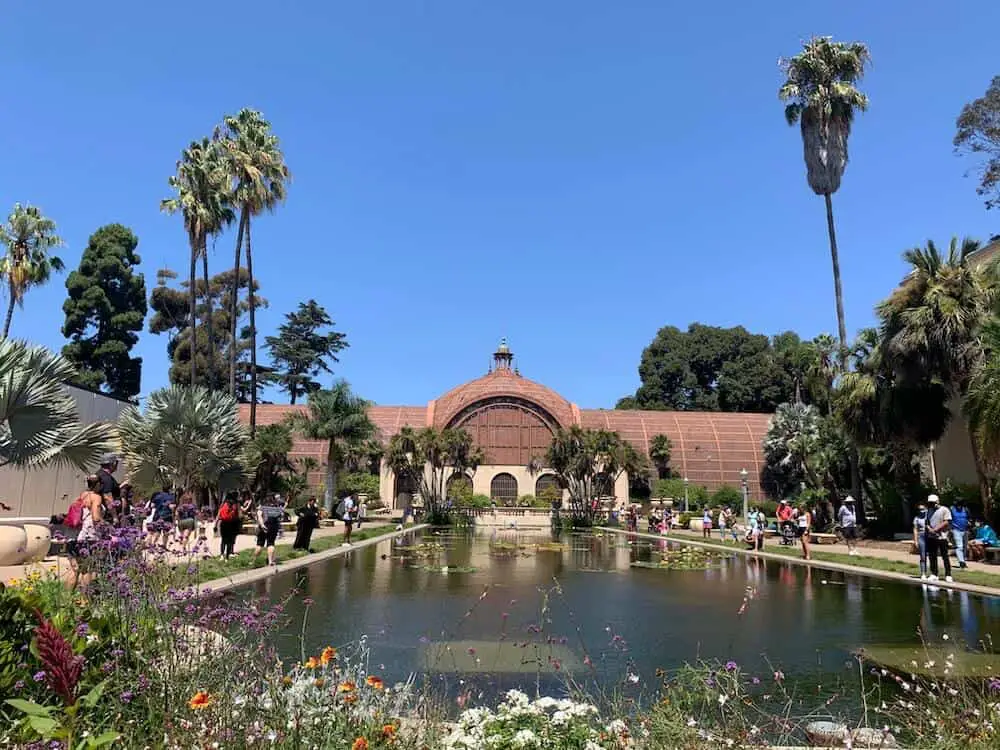 How to Get to San Diego
There are direct flights to San Diego's international airport from most of the big transportation hubs throughout the United States. Unfortunately, it isn't always easy to find a budget flight, as it is such a popular tourist destination. 
For your best chance at saving money on flights, search for flights outside of the summer months and school holidays, when families descend on the city to explore San Diego's best family-friendly experiences.
Whether you're on a day trip to San Diego from elsewhere in California or visiting the city as part of a longer road trip, once you're in San Diego, you'll likely need to rent a car to get around. 
Relying on the city's trolleys and system of buses will work if you're focused on hanging out downtown, but travel becomes much more efficient with a car if you're doing any beach exploring, or want to explore areas that are a bit off the beaten path. 
Paid lots are easily accessible in neighborhoods with heavier traffic. But you really should have no trouble finding street parking, even at the beach, as long as you're patient and willing to search a bit for a walkable spot.
---
---
Where to Stay in San Diego
San Diego has a variety of accommodations at a variety of budgets. If you want to stay at a historic property, consider the Hotel del Coronado, especially if you'll be spending time in Coronado anyway to visit the beautiful beach there.
Budget-savvy travelers should consider the hotel chains around Hotel Circle in Mission Valley. You'll still be within a short drive of the city's main sights, and save some money staying away from the main tourist hubs.
For the easiest access to the city's highlights, especially if you're doing San Diego in one day, consider staying downtown near the bay.
The hotels there boast beautiful views of both the bay and the city lights downtown at night. You'll be within walking distance to some of the best eateries in the city, too.
There are plenty of beach cottages to choose from, as well, if you'd like to stay near the water. Consider Airbnb for these, as the hotel and motel options there have seen some wear and tear thanks to the city's visiting surfer crowd.
Search for hotels in San Diego here.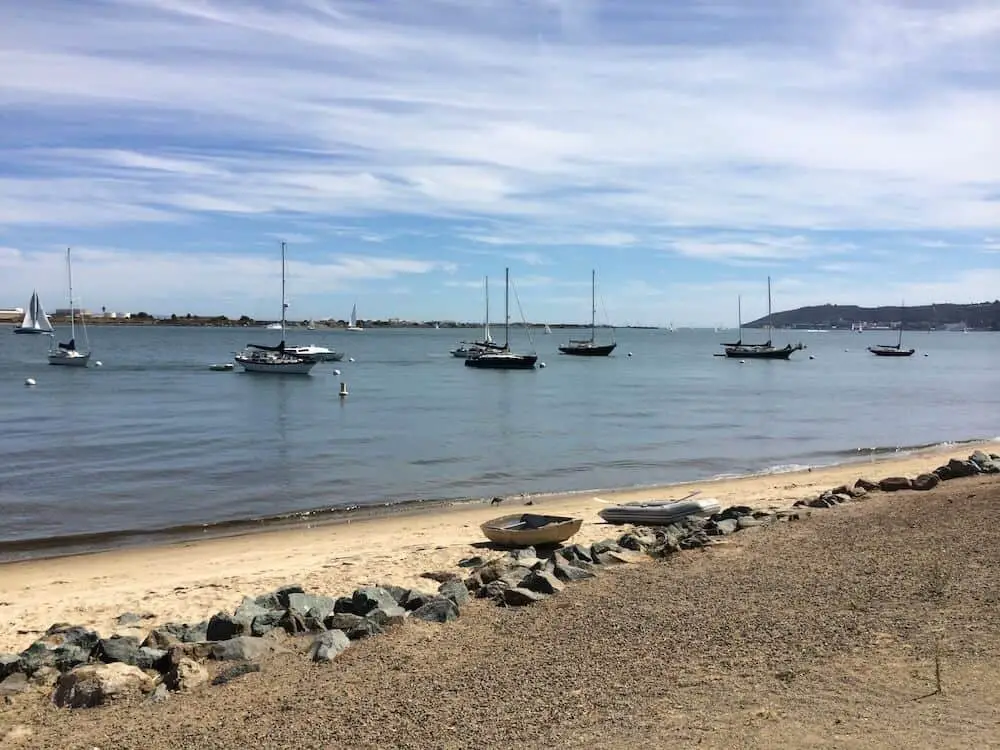 What to do in San Diego in one day: During the morning
Kick things off with a light breakfast before packing a bag for one of the city's spectacular beaches, an essential stop on any one day in San Diego itinerary.
With California being one of the top vacation spots in the USA, San Diego's beaches are no exception! The city is actually one of the best destinations for a spring break in California.
If you're staying downtown, consider the Spoiled Vegans Cafe, a popular brunch choice in the East Village. Their claim to fame is vegan takes on popular breakfast fast food, like McMuffin-style breakfast sandwiches.
The cafe's a great takeout option, too, if you'd like to take your eats to the beach.
The San Diego Beaches
Choosing just one beach can be difficult, but there's a beach for every personality in San Diego. 
Coronado and Pacific Beach are ideal for all of the traditional beach times: splashing around, building sandcastles, and burying each other in the sand. No doubt a winner among the things to do in San Diego with kids.
If you're traveling with kids who are insistent on doing some swimming, the water will be warmest during the month of August, although even then, it's never really that warm. 
Locals will tell you May Gray and June Gloom tend to ruin beach time in those months, but that morning fog burns off more often than not, leaving sunny skies. 
If you don't need to get in the water, you'll find the most beautiful seaside vistas in Bird Rock, which sits within the borders of La Jolla, and Sunset Cliffs Natural Park in Ocean Beach.
Those interested in some water sports will find great surfing in Ocean Beach, which has a nice long pier for surfer observers if you're not interested in hitting the water, and the beaches of La Jolla, namely Windansea and the La Jolla Shores. 
While in La Jolla, don't miss out on the wildlife spotting at La Jolla Cove and the Children's Pool, popular spots to see seals sunning themselves after their mid-morning fishing expeditions. 
Just pay attention to available signage wherever there's the potential for wildlife. There are certain times of year where tourists aren't allowed onto the beaches there because of seal pupping season. Be a responsible traveler!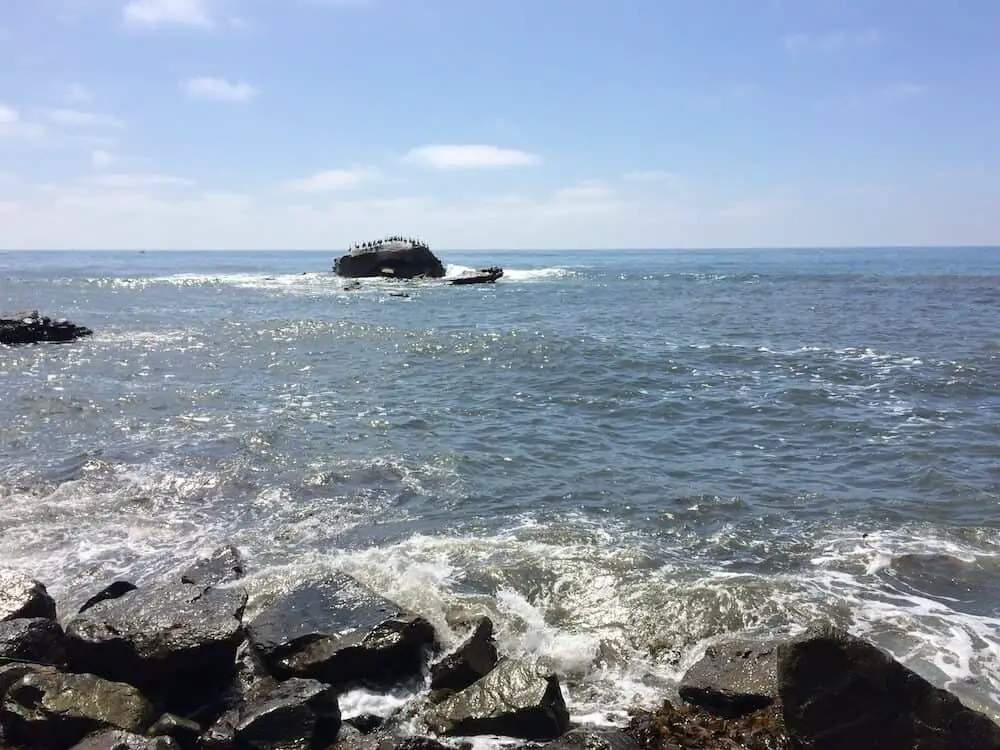 One day in San Diego itinerary: What to do in the Afternoon
Tired of all of that sun? Take in some of the best people-watching in the city in Balboa Park, home to San Diego's museum complex, great dining options, and numerous botanic gardens.
But first, have some lunch!
Balboa Park is a perfect place for lunch. The WorldBeat Cafe has a variety of flavorful vegan meals to satiate an adventurous palate. Think Jamaican pastries, curries and gumbos, in addition to several fresh juices that will rejuvenate you for the rest of the day.
The nearby Donna Jean is known for their vegan pizza among all pizza-lovers, not only vegans. The menus there are seasonal, so expect fresh, local ingredients.
As an alternative, you can head to Queen Califa's Magic Circle in Escondido.
Things to Do in Balboa Park
If you want to do any museum hopping, Balboa Park is where you'll do it. Choose from one of 17 museums in the museum complex. The most popular are the San Diego Natural History Museum, the Museum of Us – which was up until recently known as the Museum of Man – and the San Diego Air & Space Museum. Most of the museums have rotating exhibits, so check out their websites before you go in case there's something that sounds interesting to you.
Flora enthusiasts won't want to miss the botanic gardens that offer many opportunities to find some solitude in Balboa Park, even on a busy weekend. Choose between several desert gardens, including the historic 1935 cactus garden, the California native plant garden, and several memorial gardens of flowering plants.
The Botanical Garden and Lily Pond is a must-stop on any Balboa Park visit. In addition to the more than 2,100 plants inside the scenic building, this is one of the most photographed spots in San Diego, and for good reason. It's beautiful, and changes with the seasons.
For a more relaxing visit, Balboa Park also boasts lots of opportunities to sit back and watch the people go by. Find a view of the fountains, and cool off with a beverage. It doesn't get much better than that.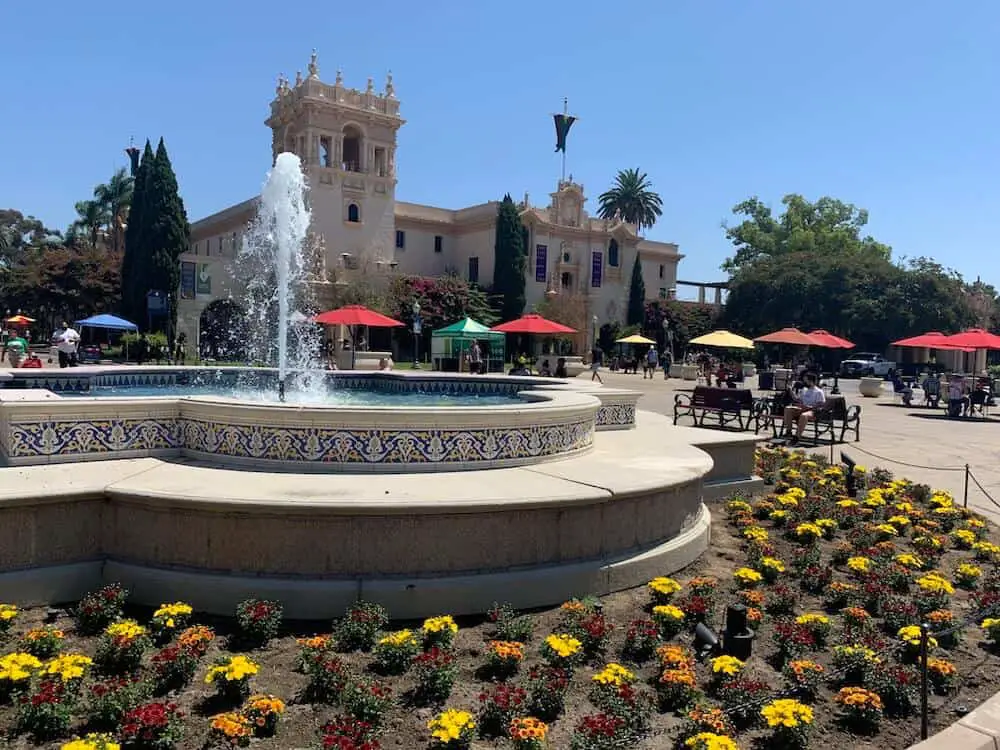 San Diego itinerary: What to do in the Evening
Take in the city's local history and finish off with a meal in Old Town, the perfect end to your San Diego one day trip.
Things to Do in Old Town
Start off with a taste of local history in Old Town, known for not only the city's oldest sites, but as the birthplace of California.
If you're in San Diego during the Halloween season, or just like spooky stops, the Whaley House Museum has been named as one of the most haunted sites in the United States. The more skeptical visitor will still enjoy a Whaley House tour there anyway, as it's the site of the city's first commercial theater.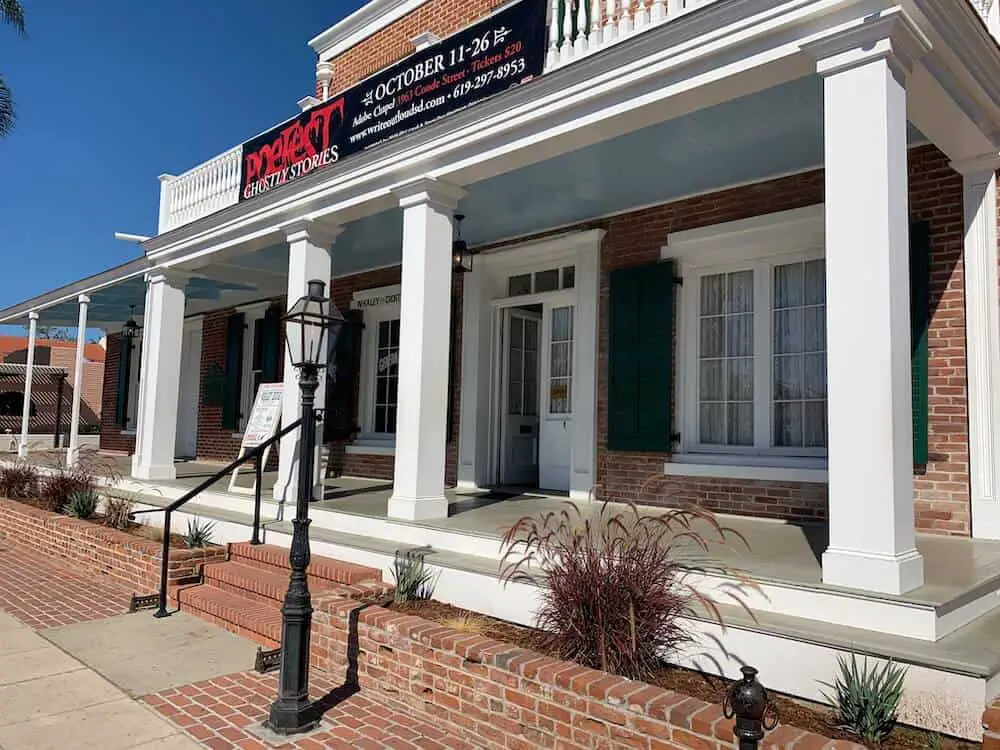 Continue your historical tour with a look at the Mason Street School, California's first public school, Casa de Pedrorena, an 1854 adobe house, and Casa de Carillo, built in 1921. The Casa de Carillo is the oldest building in California. 
Before finding some food, take a stroll through Heritage County Park, home to several lovely restored Victorian homes. Visitors with more time should consider a traditional tea time at the Coral Tree Tea House, complete with sweet treats.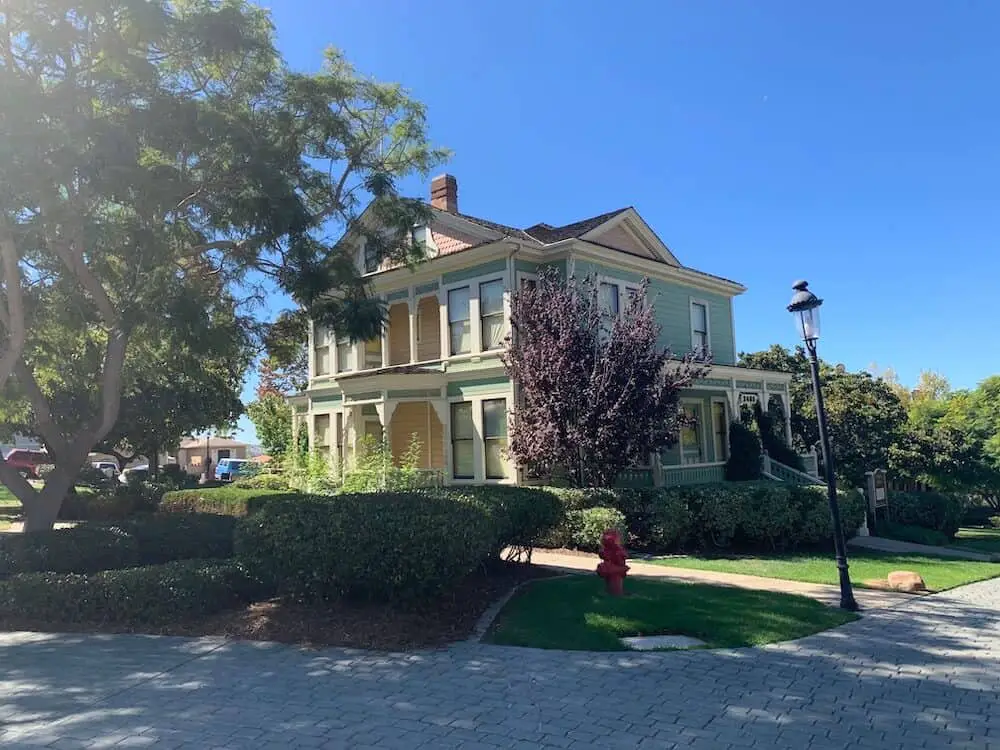 Where to eat in Old Town San Diego
Old Town is known for its Mexican food, and authentic Mexican food to boot. You'll find that most of the colorful restaurants you'll pass have vegetarian menus, with menus posted outside at the host stands. Choose one that sounds delicious. You really can't go wrong!
If you're feeling like something sweet after your meal, or want to take something home with you, stop at Old Town's Nibble Chocolate. The chocolate shop sells organic, vegan, sustainable treats that will not only meet your chocolate cravings, but you'll feel good while supporting this business. Try the bourbon-infused variety if you're feeling fancy.
Looking for more Vegan options?
If you want what many consider the city's best vegan cuisine, or just not feeling Mexican food for dinner, head back to the car and drive over to South Park, a very cute part of town in its own right.
It's here that you'll find Kindred. If you're traveling with a meat eater, suggest the Memphis BBQ Jackfruit, Kindred's take on pulled pork. Otherwise, pick a few options from their small plates menu. Their popped corn, hearts of palm and cosmo knots – spiced puff pastries – are all special.
Be a responsible traveler on your day trip to San Diego
If you're lucky enough to be in San Diego on, oh, any day of the week, really, take advantage of the city's wealth of options when it comes to its farmers' markets. 
Little Italy's Saturday market, the Little Italy Mercato, is perhaps the city's most well-known option. You'll find everything from crafts to fresh fruits and vegetables to prepared foods, all from local vendors.
It's a great way to taste San Diego's local flavors and support the local community. What better way to see the best of San Diego?
OTHER ADVENTURES IN CALIFORNIA YOU MIGHT LIKE:
Pin it for later!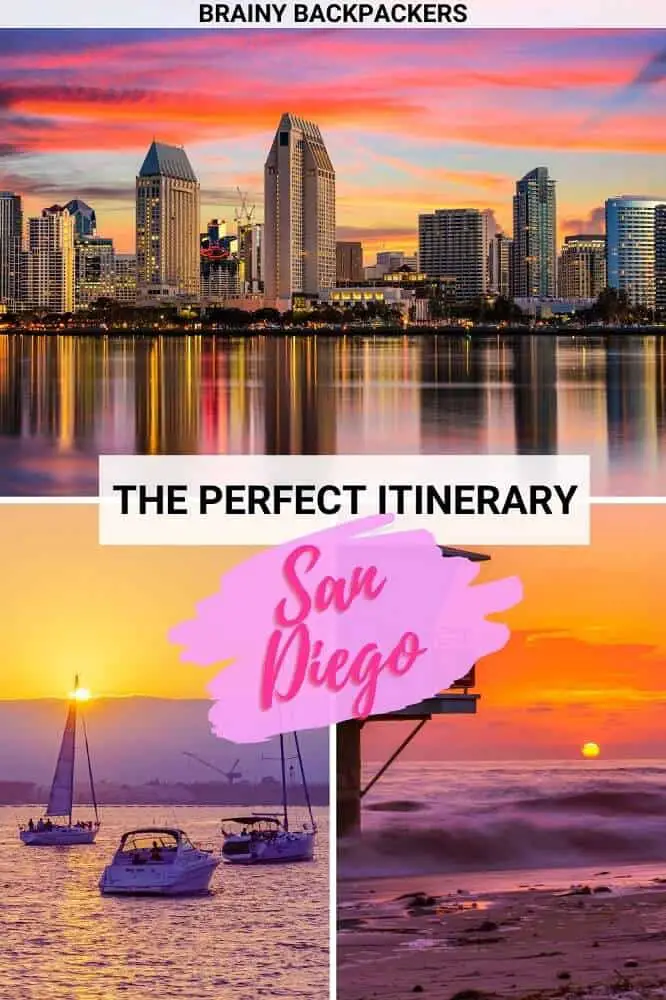 ---
Author Bio
Agnes Groonwald is a regular person behind Travel on the Reg, a travel blog focused on sharing her collected wisdom and (hopefully) amusing truths about travel when it's done in a regular way. Travel can be messy, awkward and amazing, sometimes all at the same time. She's here for all of it. A Chicago native, Agnes moved to San Diego, America's Finest City, in 2014, and has been enjoying the sunshine ever since. You can frequently find her on the road, exploring all that her adopted state of California has to offer, and abroad, in more far-flung destinations. She loves it all.
---