Half Dome trail is one of the more adventurous (and dangerous) hikes in northern California, if not the entire USA.
Yet, the views and adrenaline rush from scaling up the giant Dome rock are definitely worth the risk.
Although hiking Half Dome in Yosemite is quite difficult, if you're up for it, there are ways to prepare to make sure that you have a safe hike and trip to the national park.
Yosemite National Park is the nation's 3rd official national park. It was actually the first land set aside by the USA for preservation and protection because of its beauty. 
If you're looking for a more active vacation and a brush with nature, then a visit to Yosemite will be the highlight of your trip to California.
Disclosure: This post may contain affiliate links. That means that if you make a purchase through one of those links, I will get a small commission at no extra cost to you. As an Amazon Associate, I earn from qualifying purchases.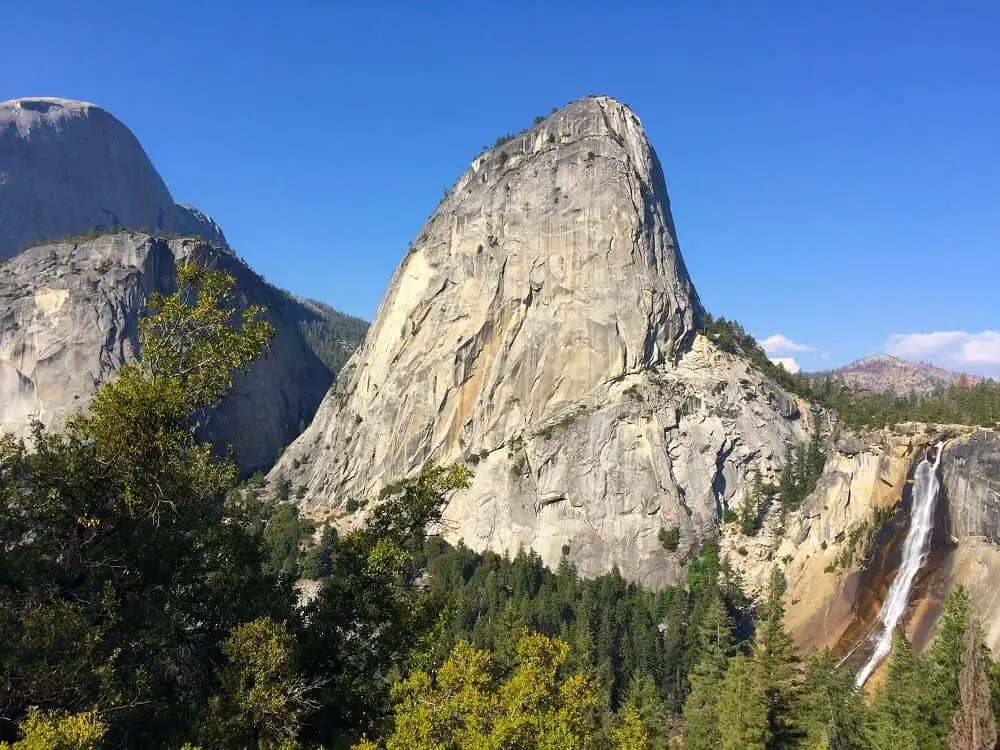 How to get to Yosemite
Getting to Yosemite is about a 5-hour drive from LAX or 3-4 hours from the San Francisco Airport. Like most places in America, you'll need to rent a car to be able to visit.
The Yosemite National Park entry fee is $35 per vehicle (no per-person fee). You can pay in advance, which is actually preferred by the park, or you can pay upon arrival but you'll need to pay by credit card.
There are 4 different entrances into the park depending on which direction you are coming from. This is important to plan so that you can know which area of the park you'll want to stay in and how far away from the hike you'll be.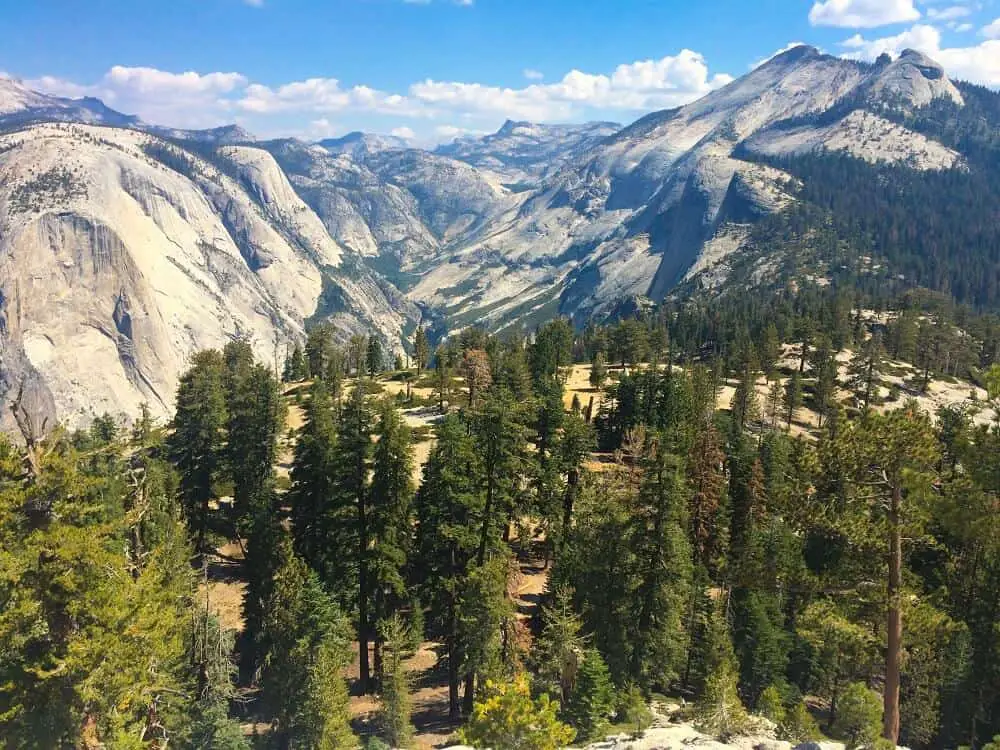 Where to stay
The best and cheapest way to stay in Yosemite National Park is by camping. However, some of the rules have changed on how early you need to book a campsite.
In most cases, you need to book your campsite a year in advance. Campsite bookings open in March but you can check throughout the year for any cancelations if you are trying to book less in advance.
The best place to stay is in the valley, which is close to Half Dome Village. The four best campsites in this area are:
Camp 4
Upper Pines
Lower Pines
North Pines
All of these campsites will get you close to the start of the hike for an early start. Most other campsites are about a 30-minute drive to the start of the trail.
If you're not familiar with camping or haven't been in a while, make sure to avoid making these Beginner camping mistakes. You'll also want to make sure you pack everything you need for Yosemite.
---
CAMPING? MAKE SURE YOU READ THE FOLLOWING POSTS:
Complete sustainable camping packing list
Best instant tents for camping
Best tents for camping with dogs
---
Difficulty level of the Half Dome hike
The hiking trail to Half Dome is about 14-16 miles long and has 4,800 feet of elevation gain in just the first half of the hike that leads up to Half Dome.
The second half is all downhill and very steep which can be difficult for people with bad knees. Even if you don't have bad knees, you want to be careful as it can be easy to damage your knees while walking downhill (like I did when hiking the GR52 in France and had to hike downhill for almost 2 days straight!)
Hiking to Half Dome is considered strenuous and it's rated "Extreme." You definitely don't want to underestimate the difficulty of this hike as well as how dangerous it could be. The hike takes about 10-12 hours but could take longer.
In order to get up to the top of the Dome, you will walk straight up the rock while holding onto chains. You will not be strapped in or connected so if anything goes wrong, there is the potential risk of falling.
If you're afraid of heights then this is definitely not the hike for you. Once at the top of Half Dome, you have to be incredibly careful not to get too close to the edges of the rock as there is nothing to stop you from falling.
There are many cautionary tales and you should be aware that gusts of wind can throw you off your balance.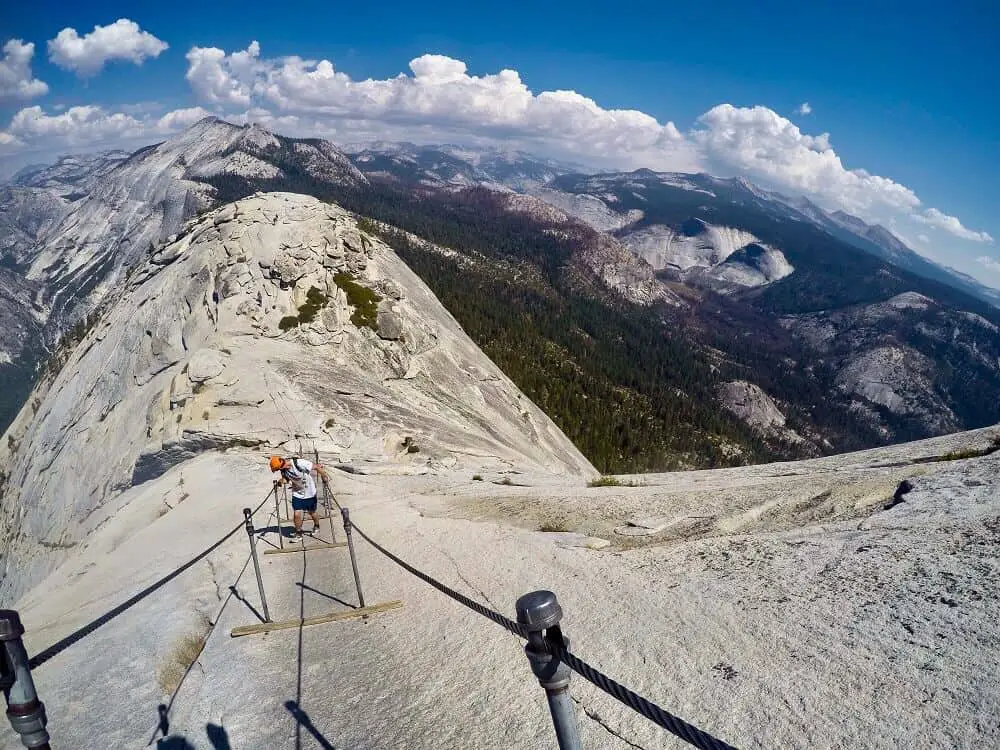 How to get a Half Dome permit
In order to keep everyone safe and not have too many people on the trail at the same time, there is a lottery every day that decides who gets to hike Half Dome.
In order to join the Half Dome Lottery, you'll pay a $10 fee.
There are two different lotteries, the Pre-Season Lottery and the Daily Lottery. If you are planning far in advance, you'll buy a Pre-Season Lottery ticket in the month of March and you can only apply for 6 people at a time.
If you miss that period, then you'll need to apply for the Daily Lottery. According to the Half Dome Permit website, you will need to apply for your hiking permit two days prior to your hiking date and you will receive a notification late at night by email or text.
You must apply two days before your hiking date and the application period is only open from midnight to 1 pm Pacific time.
After your permit gets accepted, you will need to pay $10 per person. There is a 47% acceptance on weekdays and 24% on weekends.
You can enter the lottery here and get information about the lottery here.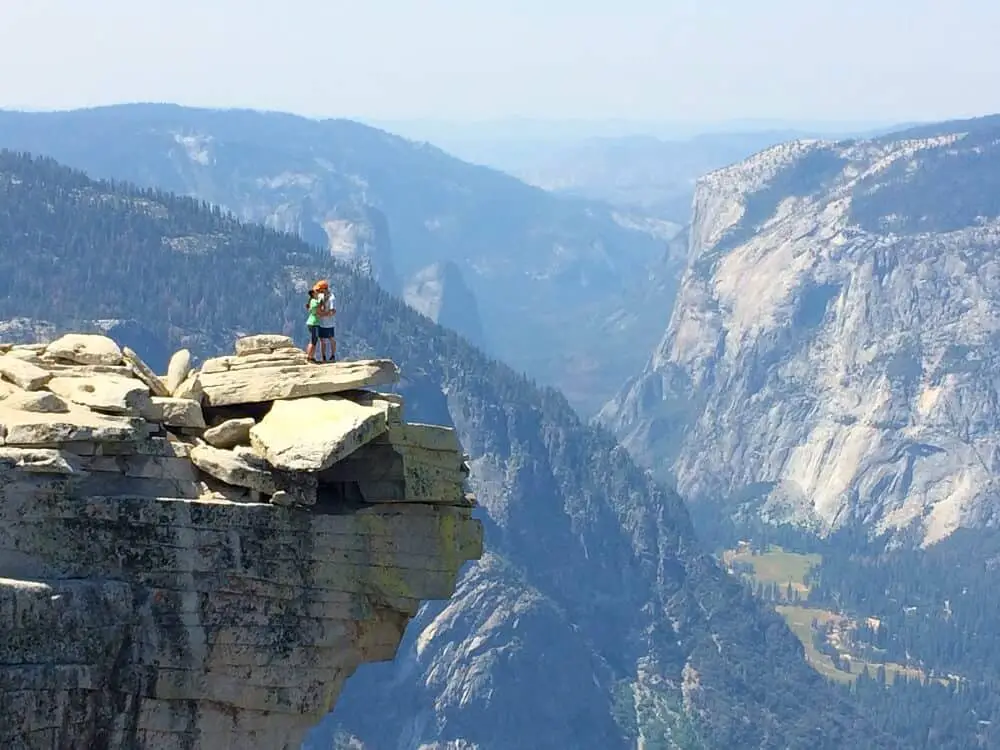 Best time of the year for a Half Dome day hike
Anytime that the park is giving out permits is a great time to hike Half Dome. However, you should definitely make sure to check the weather and avoid hiking if there is a chance of rain.
In 1985, 5 hikers decided to hike Half Dome even with a storm coming in and 2 of them died by a lightning strike. The book, Shattered Air, covers this sad and cautionary story.
---
YOU MIGHT ALSO LIKE: Best hikes in southern California
---
How to prepare to hike Half Dome in Yosemite
Since this hike is considered extremely difficult, you don't want to go into it unprepared.
Make sure to go on a few practice hikes before hiking Half Dome, at least 1 month before the hike.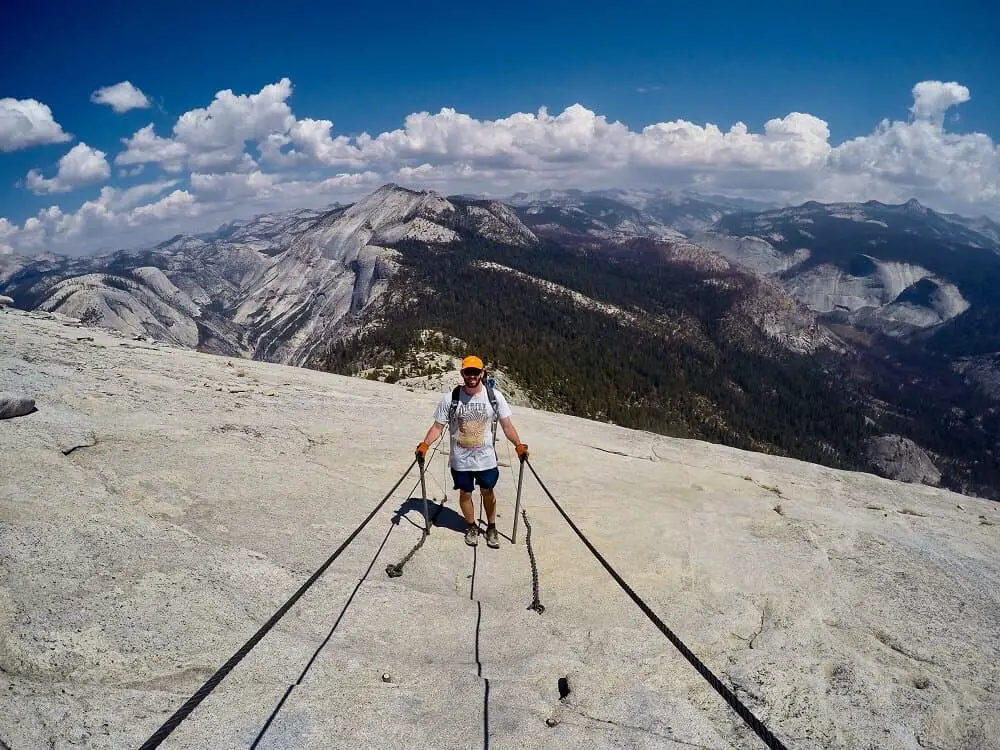 What to bring on the hike
The biggest mistake that you can make (besides hiking when there is a possibility of rain) is to hike without enough water.
You will need at least 4-5 liters of water per person, which may sound like a lot, but this is incredibly important. You should also bring water purification tablets in case of emergency.
To speak from personal experience, I tried to hike Half Dome with less water than recommended and ran out at the top, which made for a miserable hike down.
The last place to get water is at Little Yosemite Valley Campground, which is about halfway up and halfway down.
Also, beware of leaving your water and food unattended as squirrels and chipmunks are not afraid to steal them.
You should pack at least 400 calories per hour of hiking per person. The hike takes 10-12 hours.
Make sure to bring some electrolytes, gloves for the cables, shoes with REALLY good traction (the cables are almost vertical), a hat, sunblock, a backpack, a waterproof jacket, hiking shorts or pants (zip-off), an athletic breathable T-shirt, toilet paper, and hiking poles for people with bad knees.
If you don't have gloves, people sometimes leave theirs at the foot of the cables. However, I definitely recommend bringing your own as it would be incredibly dangerous to try to ascend without them.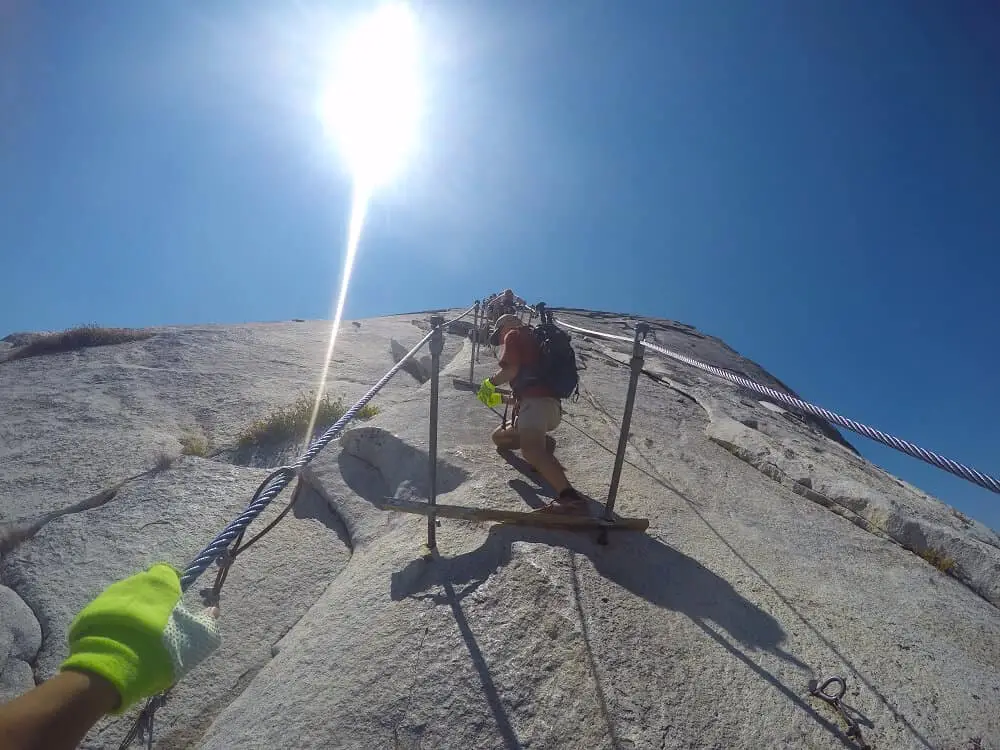 When to Start the Hike
Since the hike is 14-16 miles, you'll need to start quite early in the morning. Try to start around 5 am.
Yosemite Valley Trailhead Parking is where you park to begin the hike and the start of the trail and the parking is free. Don't leave any food in the car since there are lots of bears in Yosemite. The trail is very well marked.
---
READ: San Diego itinerary
---
Sites to see along the Half Dome trail
There are a few sites that you definitely won't want to miss as you hike to Half Dome:
Vernal Falls
Clark point
Nevada Falls
Sub Dome (view of the valley and the cables from afar)
Even though this hike is incredibly difficult and not for the faint of heart, it's a huge accomplishment to conquer Half Dome. As long as you prepare ahead of time, you'll be checking Half Dome off your bucket list before long!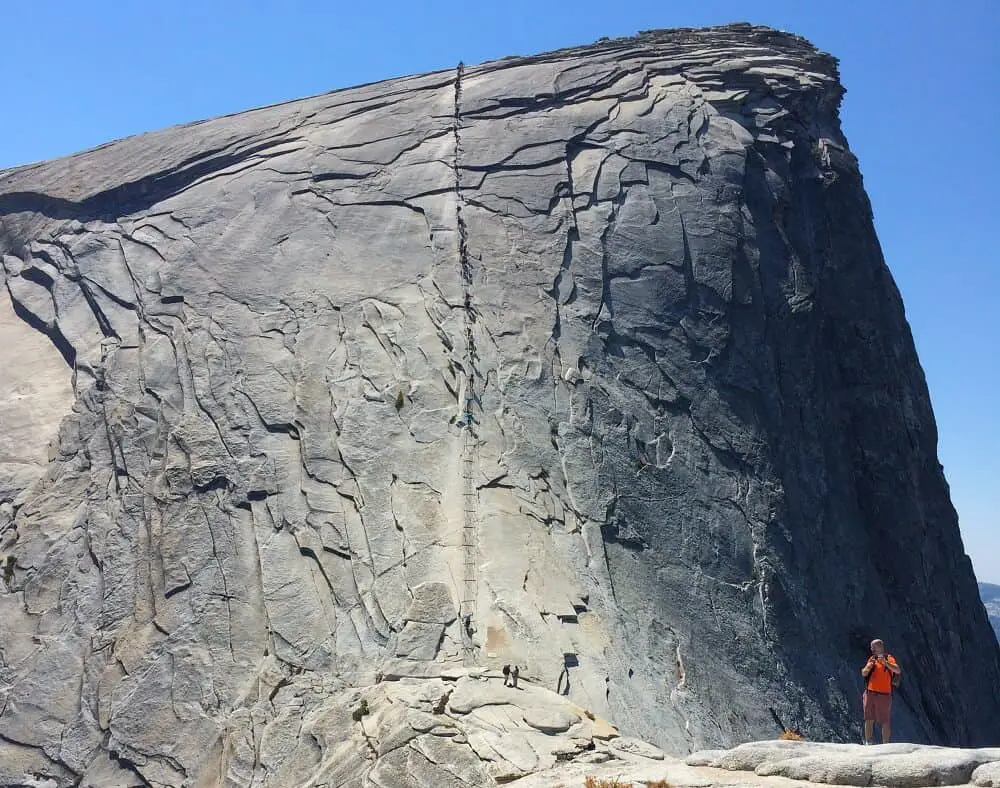 Sustainable Half Dome hiking tips
Stay on the Trail  
To protect the plants and wildlife in the area, make sure that you stick to the marked path. The trail to Half Dome is well-marked. Yet, any time you are hiking you should be careful to stay on the path so you don't get lost or harm the area you are hiking in.
Pack Out What You Bring In
It may be obvious but still needs to be said, don't litter on the trail! Whatever you bring on your hike you need to take out with you or dispose of it in a trash can.
There aren't many on the hike, so you will probably be keeping your trash in your backpack until you get back to the bottom. This includes packing out toilet paper if you go to the bathroom along the hike.
Bring a Ziploc bag to keep your used toilet paper in so that you can leave no trace on your Half Dome day hike. There are some bathrooms along the way if you want to avoid doing this. 
Avoid Hiking on the Weekends or High Season
If you have the possibility to choose to hike on a weekday, you should try to. It will help to prevent overcrowding which protects the vegetation and trail overall and it will also be a better hiking experience for you in the end. 
Pack Reusable Water Bottles and Use Water Tablets 
Instead of bringing plastic water bottles on your hike that you'll need to throw away, try bringing some light-weight reusable bottles or a water bladder. You can fill up once during the hike and then use your water filter tablets to get clean water from rivers along the way. 
Reflections on hiking Half Dome Yosemite
Although hiking Half Dome is quite extreme and incredibly adrenaline-inducing, those are the exact reasons why you should consider doing it!
The hike itself is gorgeous and very challenging, but you'll find that you are stronger than you thought. As long as you come prepared, Half Dome won't only be something you check off your bucket list, it will also stay as a memory of what you are capable of for the rest of your life.
Enjoy the hike!
READ NEXT: Best waterfall hikes in Brevard NC
Pin it for later!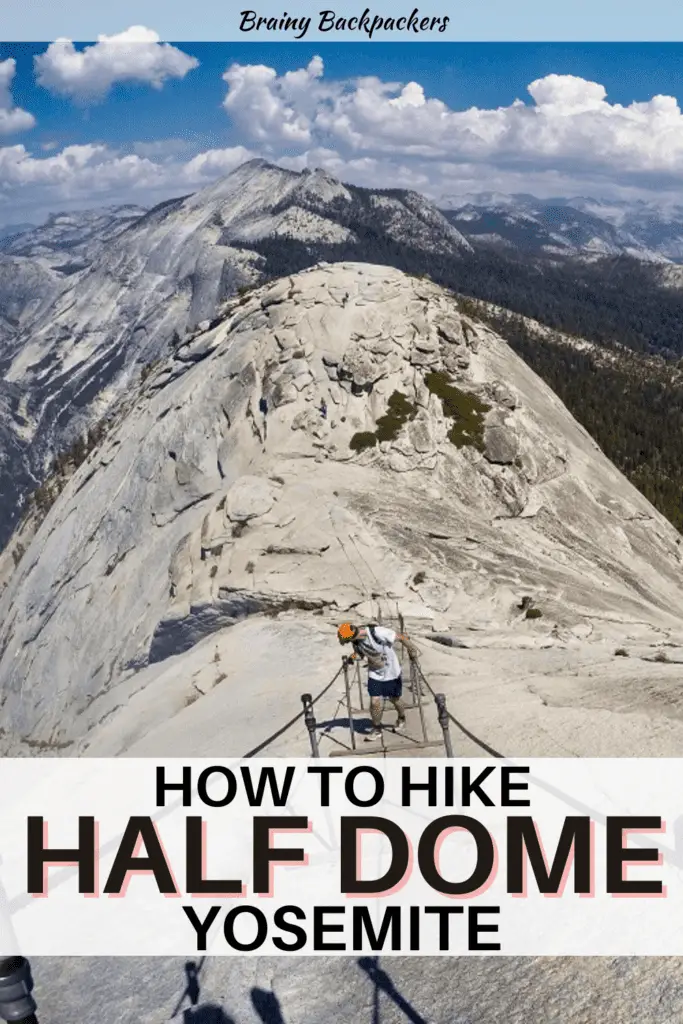 About the author
Dayna Brockbank is a budget-crazy travel blogger at Happily Ever Travels. She has lived in 8 countries, has gotten lost in every single one, and somehow still has miraculously never broken a bone even after scootering around Southeast Asia for 2 years. She speaks 3 languages and is weirdly obsessed with Duolingo.