Travel slow and fly less has become more normal than ever in 2020. But for most, not by choice. Others, like Jonah Estanislao, founder of Nomad Ecoplate, has been conscious about this much longer and try to make as little impact on the environment as possible. She's traveled large parts of Asia over land and focuses on ecological food and human connections throughout her travels.
In this inspirational interview you'll get to know her more and find out how this makes her travels more sustainable and how you can do the same.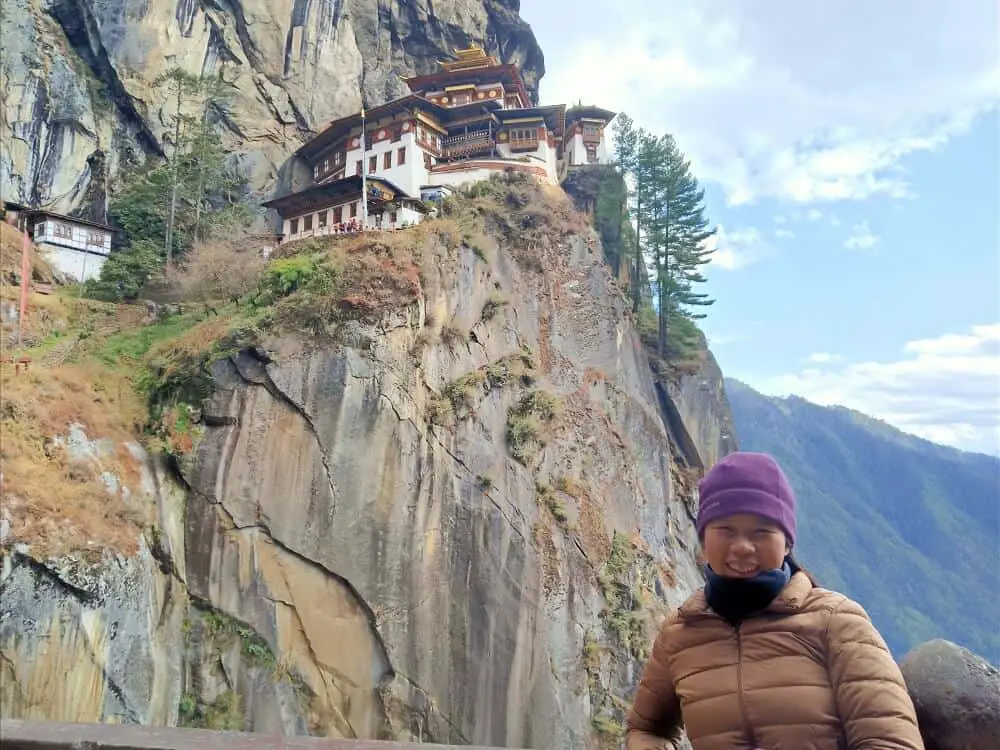 Meet Jonah Estanislao
Jonah Estanislao is a full-time traveler and digital nomad together with her partner Thirumal Motati. They come from different countries, cultures and backgrounds. Jonah is a holistic nurse from the Philippines. She writes about her love for food, health and human connection on her blog, Nomad Ecoplate. Thirumal is from India with a background in IT. He writes about visas for travelers with weak passports. They first met in Thailand 3 years ago, became travel buddies, fell in love, and now they travel full-time as a couple advocating for sustainable travel.
Interview with Jonah Estanislao
What does travel mean to you?
Traveling for me is about exploring different cultures and experiencing human connection. There are people that never travel, yet judge others based on what they were told. People constantly told me not to go to this country or that country because "it's not safe!"
Interestingly, what I have experienced is the opposite of that. It was not only safe but I have also met the most incredible people.
Over a year ago, I went through depression and decided to travel full time. That's when I realized the importance of human connection in my travels. The kindness and generosity of strangers impacted me the most. It helped me heal myself without any medications.
Travel has helped me become less judgmental, more open-minded, and look at things from a global perspective.
What does responsible tourism mean to you?
For me, responsible tourism is about traveling consciously and mindfully. I focus on minimizing my impact on the environment and economy. I try to leave a smaller carbon footprint, produce less waste and make sure my money goes directly into the locals' pockets.
I also stay away from activities that exploit animals and indigenous tribes. It disheartens me.
When did you first start to be conscious about the way you travel and the effects your travels have on your destination?
I am guilty of some activities in the past like swimming with whale sharks or collecting shells from the beach. But in 2017, through Facebook groups on responsible travel, I became aware of my actions in the past. I started to travel more responsibly from then onward.
I ventured on my first solo international trip in 2017. I made sure every action of mine was responsible. I researched well and I travel ethically and sustainably. I stayed in eco-friendly places, shopped at local businesses, hired local guides and tours. I made efforts to interact with locals, experience their culture and travel like a local.
In 2019, my partner and I made a conscious decision to lessen our carbon footprint. Since then, we have been traveling by land as much as we could. We have traveled Thailand, Laos, Myanmar, India and Bhutan all by land. It was one of the most challenging trips we have ever done.
That trip has taught us many things. These days we also educate travelers on how to efficiently travel by land, cross borders and manage visas while reducing their carbon footprint.
Have you traveled to a specific destination that you found especially sustainable that you would like to recommend to other travelers?
Yes! Bhutan.
Bhutan emphasizes on minimizing tourism impact on environment and culture. A good portion of tourism money goes into providing free services to their citizens such as education, healthcare, electricity and building and maintaining infrastructure.
70% of Bhutan's land is dedicated to forest making them the ONLY carbon negative country in the world. Farming is done organically and pesticide-free. Sale and production of tobacco products are completely banned.
The air feels so fresh and clean everywhere in the country. In my opinion, Bhutan may be a small country but a great example to the rest of the world.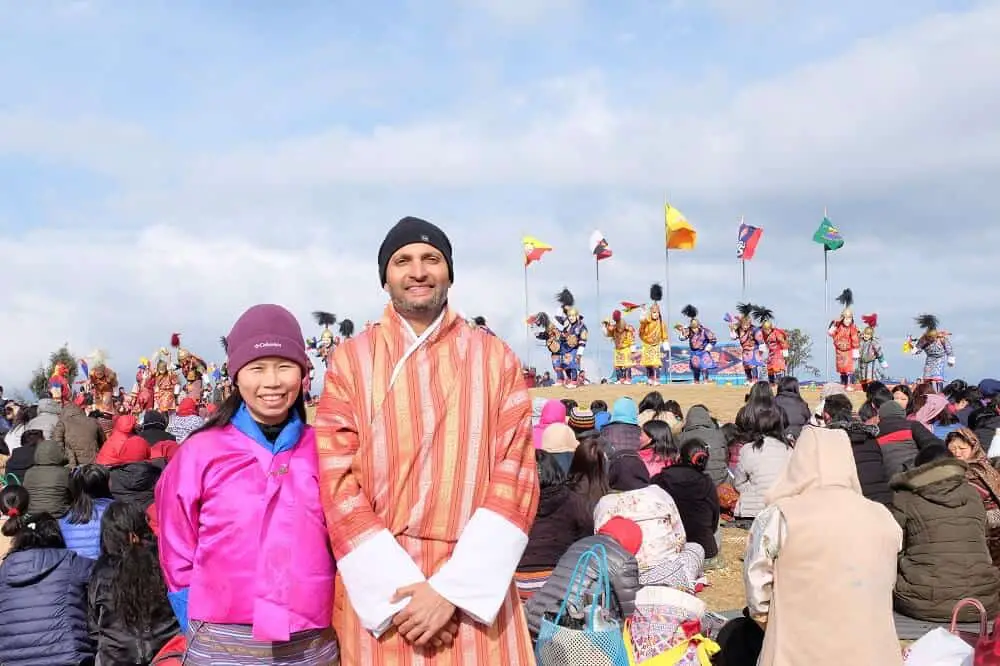 What do you do to travel responsibly?
I use flights as little as possible. Instead, I travel by land and use public transportation. I prefer to bike or walk over renting motorbikes or cars.
I always carry my reusable water bottle, coffee cup, cutlery, grocery bags, and takeaway containers with me. I also use reusable sanitary napkins, reusable bottles for liquid soaps and use reef-friendly sunscreen.
I prefer to stay with local families at homestays. I shop at locally owned businesses, farmers' markets, and use local tourist guides and agencies. I prefer to eat and work in eco-friendly cafes and restaurants.
Also, I avoid tours and places that exploit animals and indigenous tribes for entertainment.
As a nurse, I often make efforts to help the sick and volunteer at hospice centers.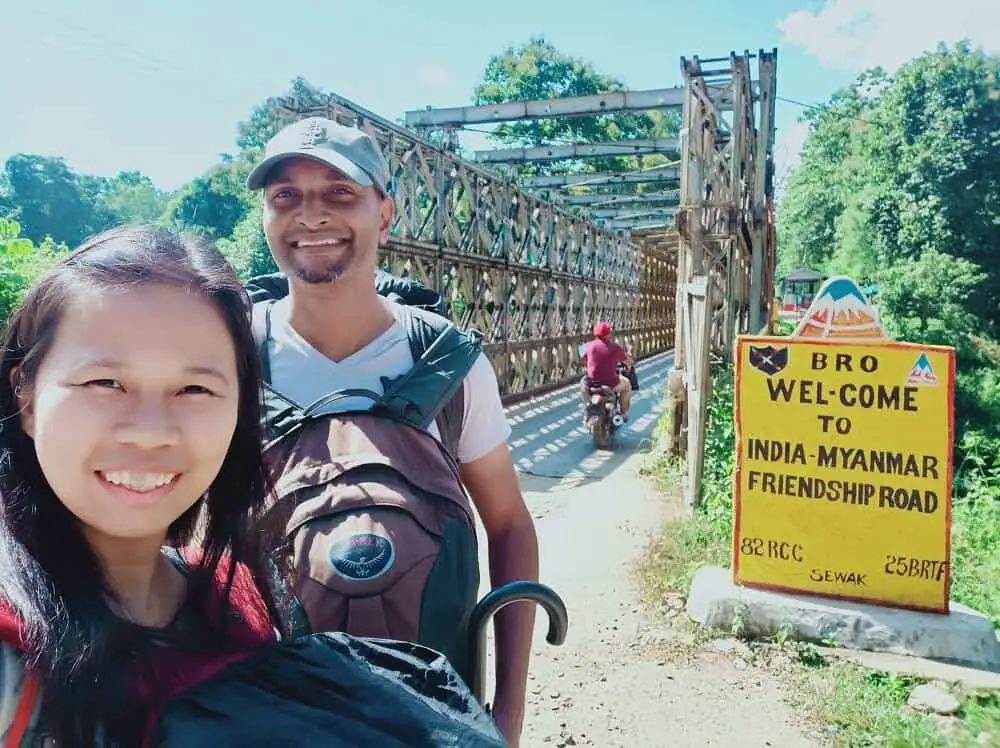 What are your top 3 advice to travelers that want to travel more responsibly?
Travel slow. Be it flying less or avoiding plastic, traveling slow gives you ample time to minimize your impact on the environment.
"Take nothing but memories, leave nothing but footprints." – just like the quote says, don't take anything from nature and don't leave anything that does not belong there.
Respect and immerse yourself in local culture. Learn a few basic words in local language such as "Hello", "Thank you" and "Goodbye". Locals highly appreciate your efforts in learning their language. It makes them open their hearts and make your visit worthwhile.
See more from Jonah
Did Jonah inspire you to travel more consciously? She definitely inspired me! Bhutan just jumped far up my bucket list for when Asia travel is an option for me again.
Make sure you follow her on social media to know what she's up to and check by her blog, Nomad Ecoplate.
Tag along on Facebook, Instagram, and Pinterest.
---
You might also like these interviews:
Minimize your negative impact when traveling: An interview with Sandy and Vyjay Rao
Explore your own country: And interview with Rosie Julin
Support local economies: An interview with Kesi Irvin
Pin it for later!