Southern California is so much more than beaches and surf. There are huge mountain ranges, lakes, and vast forests. In fact, California holds many of the best national parks on the west coast which makes it a hiker's paradise!
There are so many trails to choose from so it can be hard to know where to start, but here you'll find some of the best hikes in southern California to make it easier to choose the right one for you.
Whether you prefer a short hike of 2-3 hours or you want to go on a multi-day hike, backpacking in southern California, there are opportunities. And who better to present them than hikers themselves? Get ready to explore some of the most astounding hikes in California, if not the United States.
Disclosure: This post may contain affiliate links. That means that if you make a purchase through one of those links, I will get a small commission at no extra cost to you.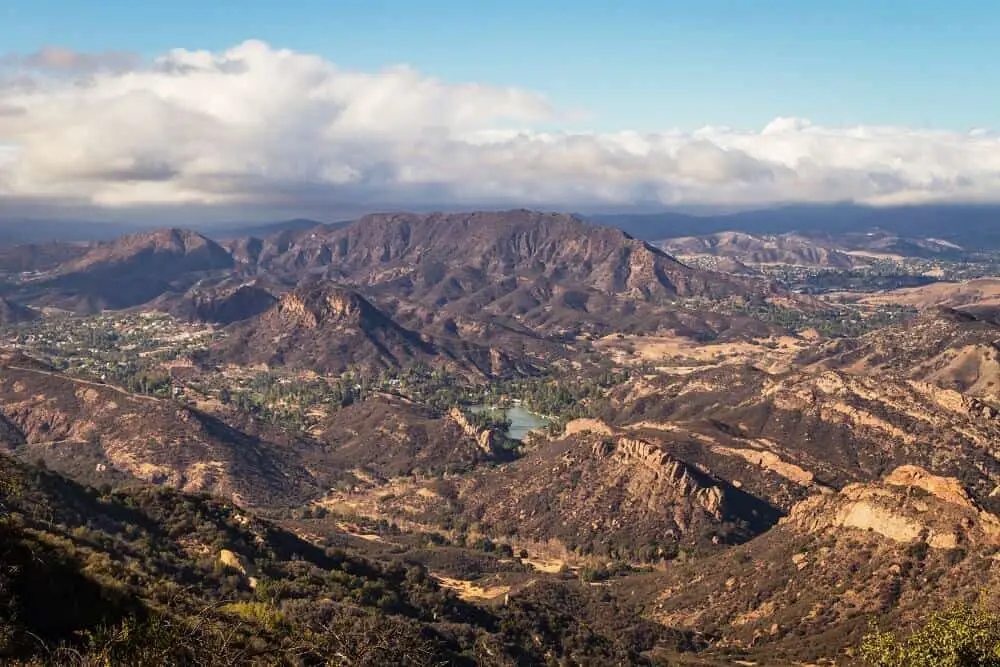 What to pack when hiking in southern California
Weather and temperatures can change quickly when hiking in southern California, so make sure you bring enough layers of clothes for wind, cold, and hot weather, depending on the time of year you're going. You should especially be prepared if you plan to explore the US national parks in the winter. You'll also need good hiking boots.
You find a great roundup of eco-friendly backpacks here. If you opt for a multi-day trek make sure you go zero-waste camping and leave no trace. I have a complete eco-friendly camping gear checklist here.
If you plan on going on day hikes and base yourself on a campground, a pop-up tent is a great option. You can also check out my top picks for tents for camping with dogs here.
Following are the essentials you need to put in your backpack when hitting the southern California hiking trails:
Water bottle (Bring lots!)
Caps/hat
Food
Snacks (nuts, deeds, dates, fruit, energy bars, etc.)
Camera
Layer of clothes
Flashlight (in case it gets dark before your return)
---
RELATED: Best hikes in northern California
---
Best hikes in southern California
Now that you're all set to go, let's have a look at some of the absolute best hikes in southern California for all levels.
Skyline Trail to Aerial Tramway Top Station Trail
By Jordan of Inspired By Maps
The Skyline Trail to Aerial Tramway Top Station Trail is one of the best hikes in southern California. It is a tough 9.6 miles (15.6 kilometers) point-to-point path that takes you from the valley floor of the Palm Springs Valley / Colorado Desert's Coachella Valley (next to the aerial tramway station) up to Mt San Jacinto State Park. 
The hike is tough and recommended for seasoned explored but offers unparalleled views, spectacular wildflowers, and an incredible workout.
The trail is mainly used for hiking from March to September, and timing is essential for this walk because the top of the hike can be frozen and/or snowy during the winter months.
After a heavy snowfall, the skyline trek is significantly longer and probably not as enjoyable. If you want to attempt, you'll need to be well prepared. In the summers, the temperate differential is still rather extreme — so take care to bring plenty of water.
This is a rough climb, but use caution, take a power pack, snow walking gear, and poles – and you'll be rewarded with a demanding, yet satisfying hike in southern California that will never be forgotten.
It is a linear hike, and you can catch the tram back down from the top for USD 13. Just be careful as the tram is closed in September for 2-3 weeks, generally for maintenance.
We left at 7 am and got to the top at 4 pm, with plenty of breaks. This cannot be overemphasized; this trail is a 7-11 hour affair. And hard. There is no shade, but wildlife and views make it one of the best things to do in Palm Springs.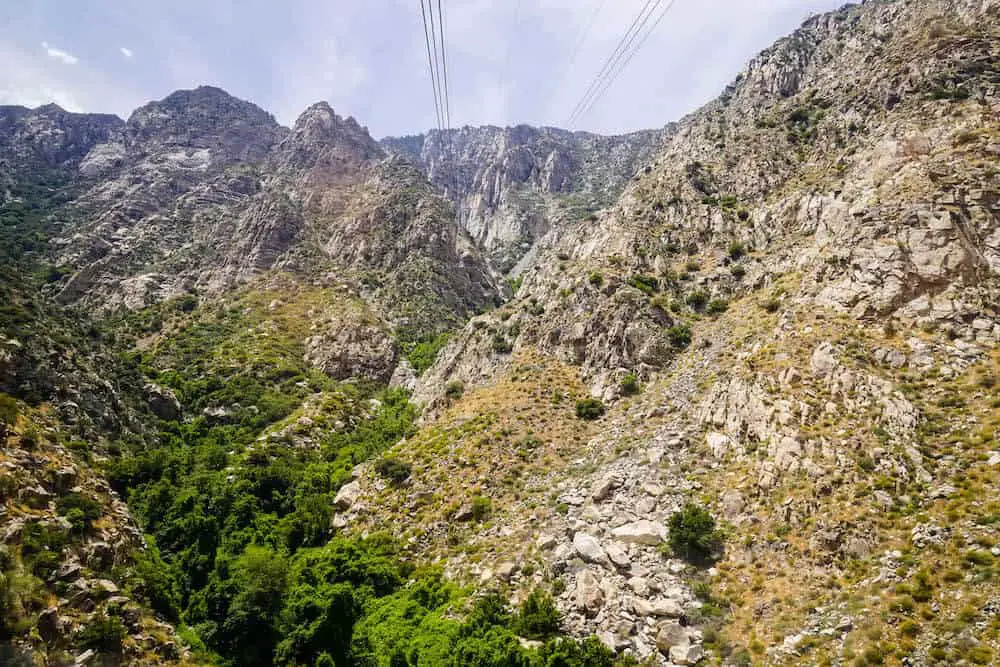 ---
YOU MIGHT ALSO LIKE: Complete guide to hiking Half Dome in Yosemite
---
Cowles Mountain Trail
By Nikki of Attractions of America
The Cowles Mountain is the highest point of San Diego, and one of the best places to hike in southern California. Also, it is an ideal hiking destination to get a panoramic view of Orange County to Mexico. 
It has a height of 1,593 ft, which is a perfect height for beginners. The best thing about this hiking trail is that you can go any time of the year, take your dog with you on a leash, and also it is kids friendly.
The west side of the mountain is generally more crowded. So, try to start hiking from the East side of the mountain. In this way, you can get to enjoy more of nature and less of people.
It takes almost 3 hours to complete the hike. The trail is sunny, and you should carry at least 2 liters of water to keep you hydrated. You can go hiking in this trail with regular activewear.
There is no need for special hiking gear for this trail. Another great thing is hiking here is free. The parking is free, so try to park your car close to the trail. There is are toilets in the park before the trail starts.
Also, follow the signs along the way, so you don't get lost. The trail is circular and you can enjoy a majestic view of the Cowles Mountain all along your hike. Always carry a compass and a paper road map to keep yourself on track.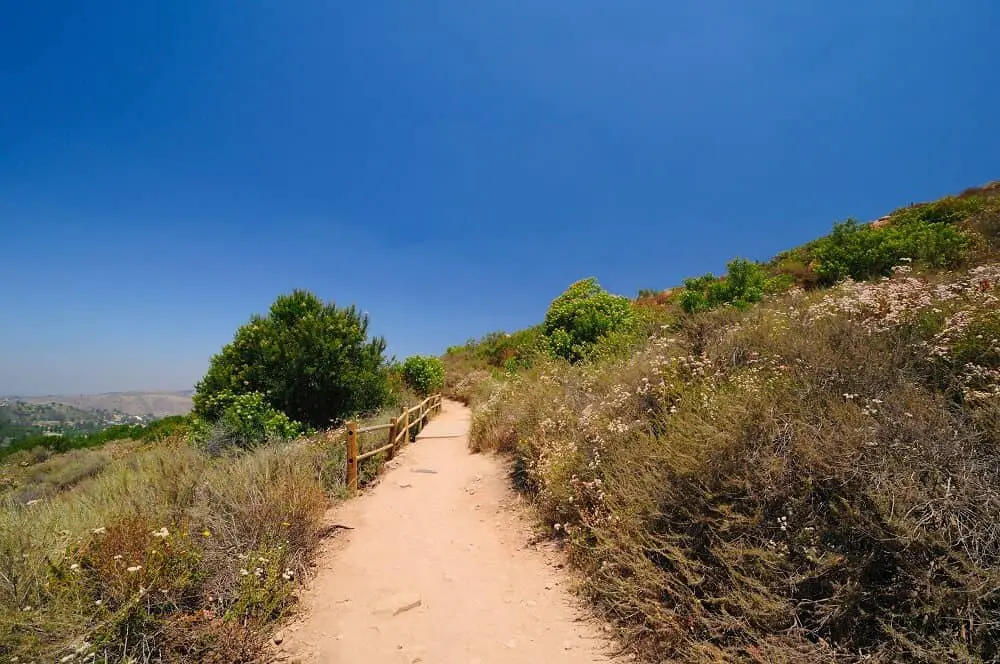 YOU MIGHT ALSO LIKE: The perfect San Diego itinerary
Echo Mountain Trail
By Alanna of Periodic Adventures
Los Angeles, famously known for beaches, fabulous shopping, and extensive food choices, actually has incredible hikes that are frequented by locals!
The Echo Mountain trail (also called the Sam Merrill trail) is a 5.4 mile challenging out-and-back hike that ascends 1,400 ft. It takes approximately 3 hours total and at the top, you are rewarded with an awesome area to explore.

Atop Echo Mountain once stood a hotel that was frequented by guests via the Mount Lowe Railway, which was built in 1893 and was in operation until 1938.
Now, you can still enjoy the views of the mountains while exploring what's left of the Railway and hotel. There are ruins, including old fireplaces, steps, and reservoirs.
Be sure to check out the replica echo phone, which is directed at an opposing mountain across a valley. If you yell into it, you can hear your echo bouncing off the mountainsides!
Pack your lunch for a picnic at the picnic tables at the top and be sure to bring lots of water, especially in the summer months when the temperature can reach the 90's.

Other tips:
Dogs are allowed on leash.
The address is 3302 Lake Ave, Altadena, CA 91001.
You can park for free along the streets near the entrance. There is no formal parking lot.
Get ready for one of the most beautiful trails in southern California!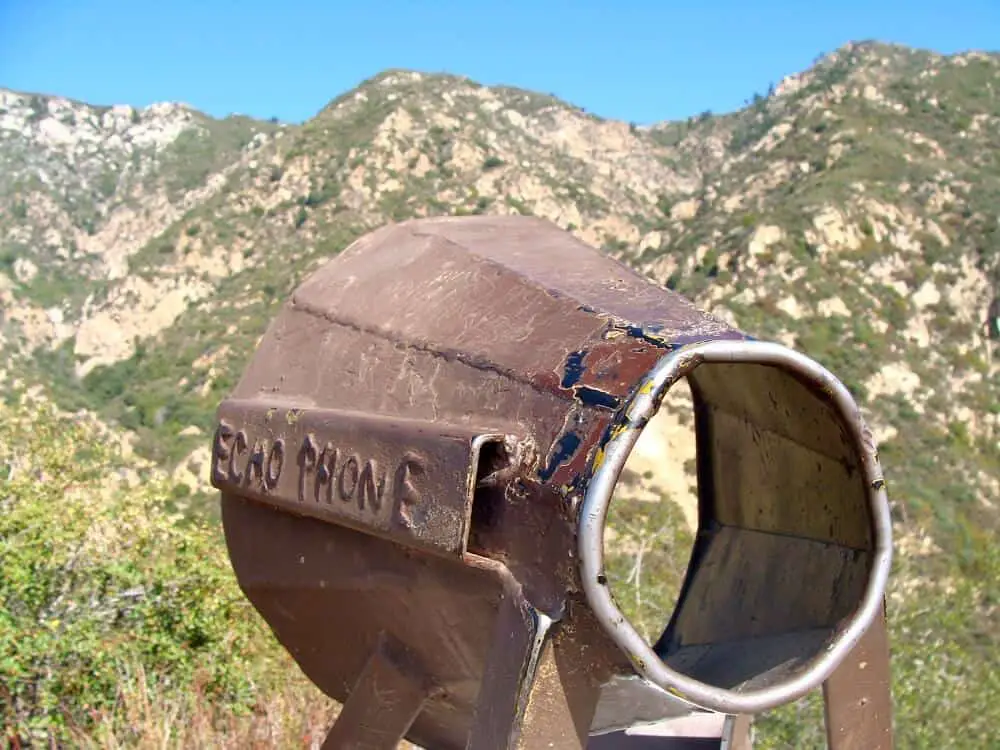 Congress and Circle Meadows Loop Trails
By James of Travel Collecting
There are multiple interconnected trails in Sequoia National Park, so it's easy to turn a short hike into a much longer trek.  A great starting point is the General Sherman Tree, which is the largest tree on earth. From here, there is a large network of some of the most beautiful hikes in southern California.
This is an easy 0.5 miles each way out and back walk from the General Sherman Parking Lot, along a paved trail that goes through a tunnel carved into the trunk of a sequoia that fell across the path and, at the end, a dip down to the tree. 
From there, take the Congress Trail.  This 2-mile, easy loop trail goes past many of the biggest trees in the national park and even the world. 
Many of them have been named after political and historical figures including the Chief Sequoya Tree, the President Tree, the McKinley Tree and the General Lee Tree. 
Two small groves of big trees are called the Senate and the House.  It is worth taking a detour on the connecting Alta Trail about 0.5 miles round trip to see the Cloister and the Lincoln Tree. 
Make the trail longer by adding the Circle Meadow loop.  The moderate trail starts to the left just after the Senate, circles around the meadow, passes the abandoned historic Cattle Cabin and rejoins the Congress Trail at the intersection with the Alta Trail. 
Backtrack down the Congress Trail to visit The House group of tall trees. The total length of these three trails combined is 4.2 miles and takes 2-3 hours depending on how often you stop to admire the trees. 
You can lengthen them even more by adding the Huckleberry Meadow Trail or part of the Alta Trail.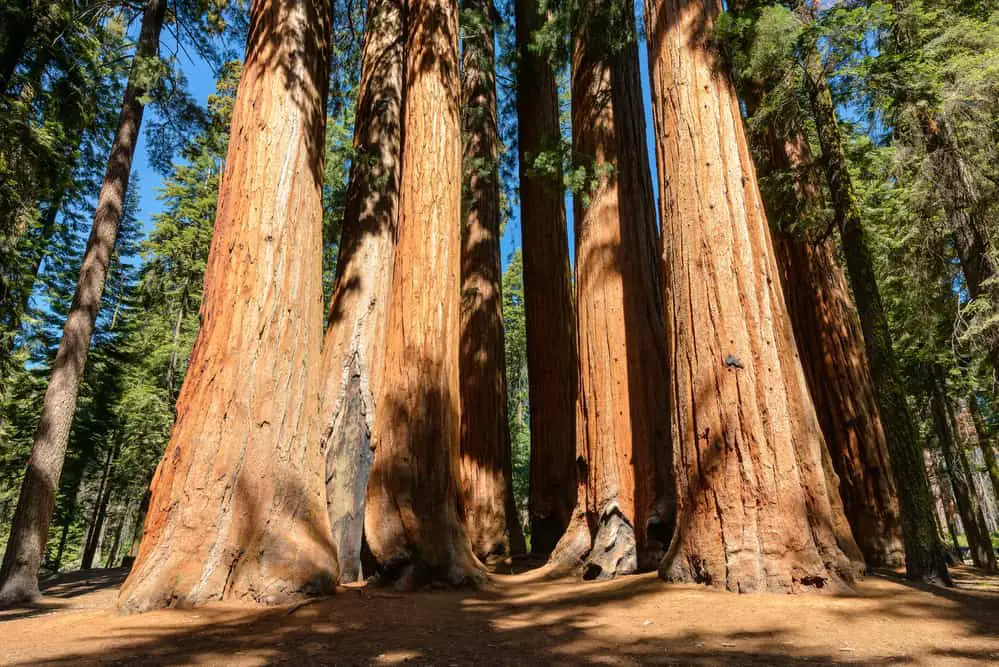 ---
READ: Best waterfall hikes in Brevard NC
---
Big Pine Lakes
By Lauren of Ready, Set, PTO
Big Pine Lakes is a perfect destination hike if you're looking for an adventurous weekend trip exploring one of the best hiking trails in southern California! 
About a 4-hour drive from Los Angeles, the Big Pine Lakes trail leads to 7 beautiful glacier-fed lakes.
This hike can be done either as a day hike or an overnight backpacking adventure, however, you need a permit if you wish to stay the night.
To get a backpacking permit, go to Recreation.gov and search for "Inyo National Forest Wilderness Permits" and then snag permits for "Big Pine Creek North Fork".
The Big Pine Lakes trail is dog friendly. The hike is rated as difficult and is about 16.2 miles round trip, with 4,051 feet of elevation gain.
The first half of the hike is exposed with lots of switchbacks, but the views are incredible. Make sure you pack enough water and sunscreen!
It will likely take you about 4 hours to reach the first lake, and once you arrive, the view of the lake is absolutely breathtaking. The first 3 lakes are known to be the most scenic, and they are each only about a ½ mile apart from each other.
If you're backpacking, I recommend setting up camp at the second lake with the iconic Temple Crag in the background!
The best time to visit is July- mid-October, when the snow has melted from the previous season.  I recommend hiking Big Pine Lakes in October for the chance to see some colorful fall leaves along the trail!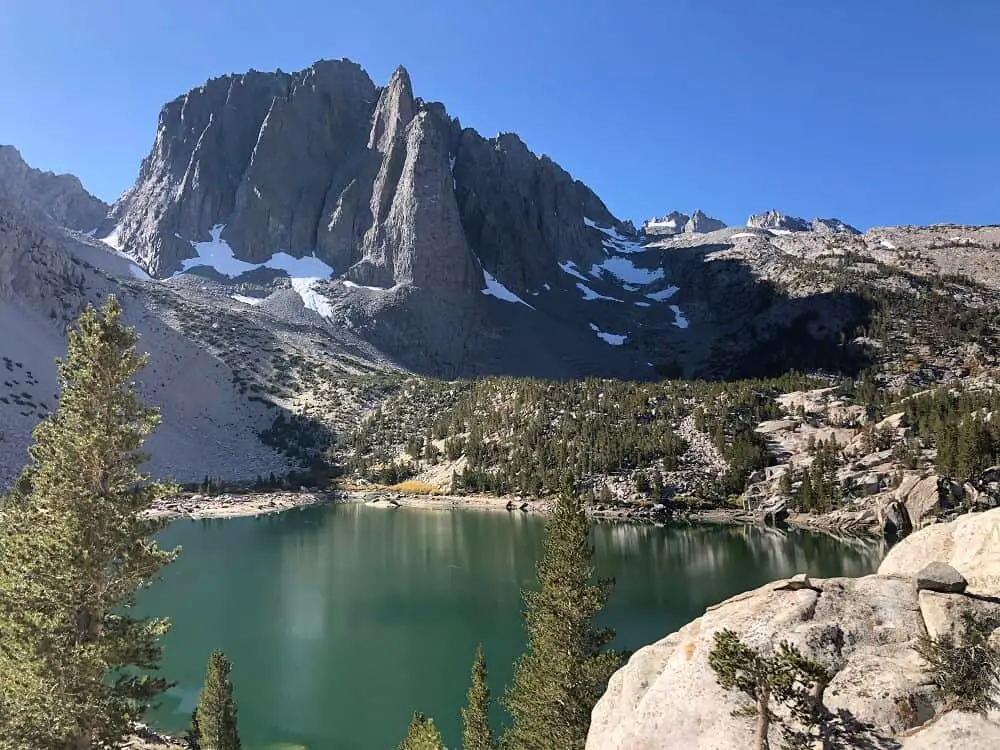 Mt. Whitney
By Jenny of Campsite Vibes
At 14,505 feet, Mt. Whitney is the highest point in the lower 48 states and without a doubt, the best hiking southern California has to offer. This is truly a bucket list hike for any hiker.
There are several trails that lead to the top, including the John Muir Trail and the High Sierra Trail, but the shortest route is 22 miles round trip with 6,656 feet of elevation gain.
This isn't an easy trail, but with proper training, planning, and acclimating for Mt. Whitney, this is a doable hike or backpacking trip.
One of the best ways to experience this hike is at sunrise. The entire mountain glows pink as the sun rises from the East.
The best time to hike Mt. Whitney is from mid-July through September. The mountain is usually still covered in snow through June and early July, which makes the summit hard to achieve without proper mountaineering experience.
But in the summer months, the trail is fairly easy to follow and doesn't require any technical training outside of fitness training and preparing for the altitude and the duration of the hike.
The best way to hike Mt. Whitney is to break it up into a 2 or 3 day backpacking trip. It can be done as a long day hike, but breaking it up gives you more time to acclimate and makes the hike overall more enjoyable. 
Permits are required for day hiking and multi-day treks in Mt. Whitney. The permit system first runs a lottery early in the season. After the lottery, the remaining permits go on sale through recreation.gov.
If you don't get permits in the early season, keep checking! There are always last-minute cancellations.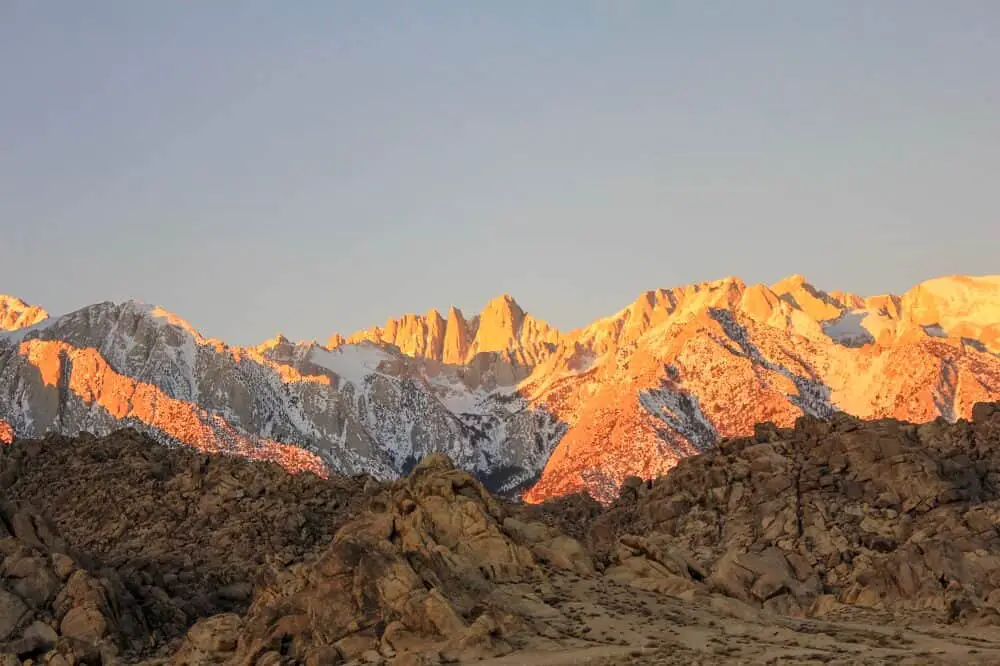 Mosaic Canyon
By Dhara of Roadtripping California
Hiking Mosaic Canyon is one of the most exciting things to do in Death Valley National Park in Southern California. This canyon features walls that look just like polished marble and a natural mosaic made by nature. It's a fascinating lesson in geology!
The out-and-back hike is 4 miles in total and is rated moderate to difficult. You gain about 1,200 feet of elevation over the course of the hike, and it will take you about 3 hours to complete, with a few stops for photos.
The good thing about this hike is that the marble and mosaic come up pretty early into your walk into the canyon, so if at some point you feel like the trail is too difficult to continue, you can turn back.
To get to the trailhead, you have to drive up a 2.3-mile dirt road in Stovepipe Wells, just opposite the campground. The road is pretty bumpy, but it is generally doable in a sedan. Park at the parking lot and you will see the entrance into the canyon.
The first mile or so is easy walking within the narrow walls of the canyon. But at that point, you come to a wall of boulders, and you have to crawl through them to continue.
You have to navigate two more sets of narrows to reach the amphitheater at the end, where you will see a vertical dryfall. This marks the end of the trail, and to return, you simply have to retrace your steps.
This hike is best done early in the day in the cooler months of the year. Carry lots of drinking water!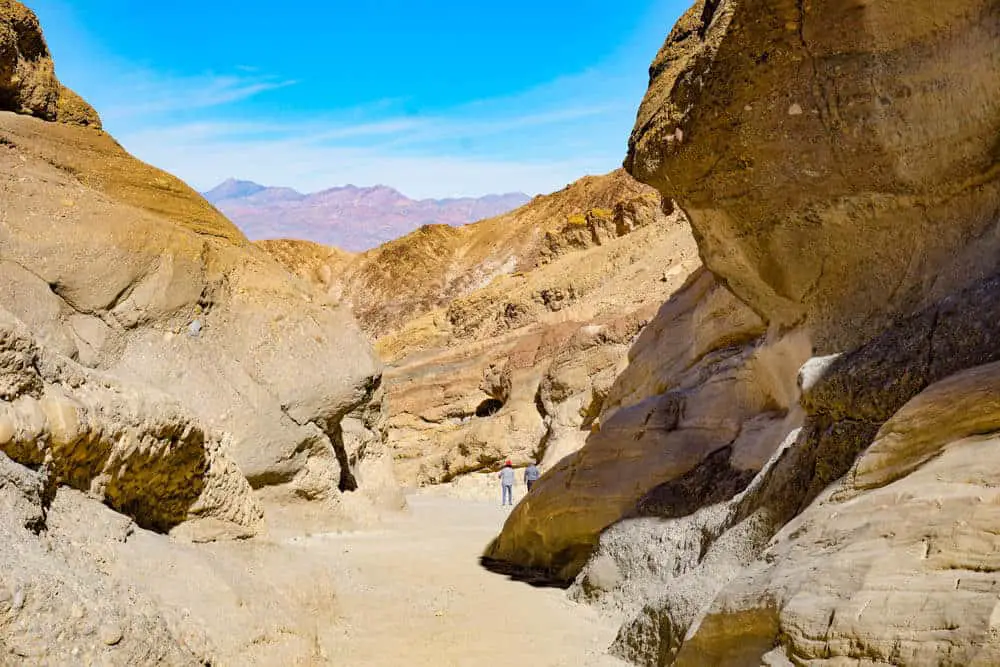 Hollywood Sign hike
By Francesca of Homeroom Travel
When in Southern California, the Hollywood Sign hike is one of the coolest hikes to go on. The Hollywood sign sits atop Mount Lee in the Hollywood Hills. Not only is it a moderate hike good for pretty much all levels, it offers awesome views of Los Angeles.
There are two different trails to choose from that will take you to the top of the sign. Both of them are out and back trails. The hike should take you 3-5 hours depending on which location you start from and how long you stop at the top. 
The quickest way to get to the top of the Hollywood Sign is the 4-mile Canyon Drive Trail. This is the most popular starting point, so parking can fill up quickly.
If you put Camp Hollywoodland or Brush Canyon Trailhead into Google Maps, it will take you to the parking lot. From the lot, there is a slightly paved and dirt trail that you follow up the mountain to get to the top of the Hollywood sign.
At the top, you get an awesome view of the back of the Hollywood Sign and 360 degree views of Los Angeles. If you want a more challenging option, you can take the 6-mile trail from Griffith Observatory. 
Plan to hike this trail on a cooler day, but no matter what, make sure to bring plenty of water and snacks with you as many parts are not shaded. If you want to avoid the crowds, hike the trail during the week when the trail is less busy.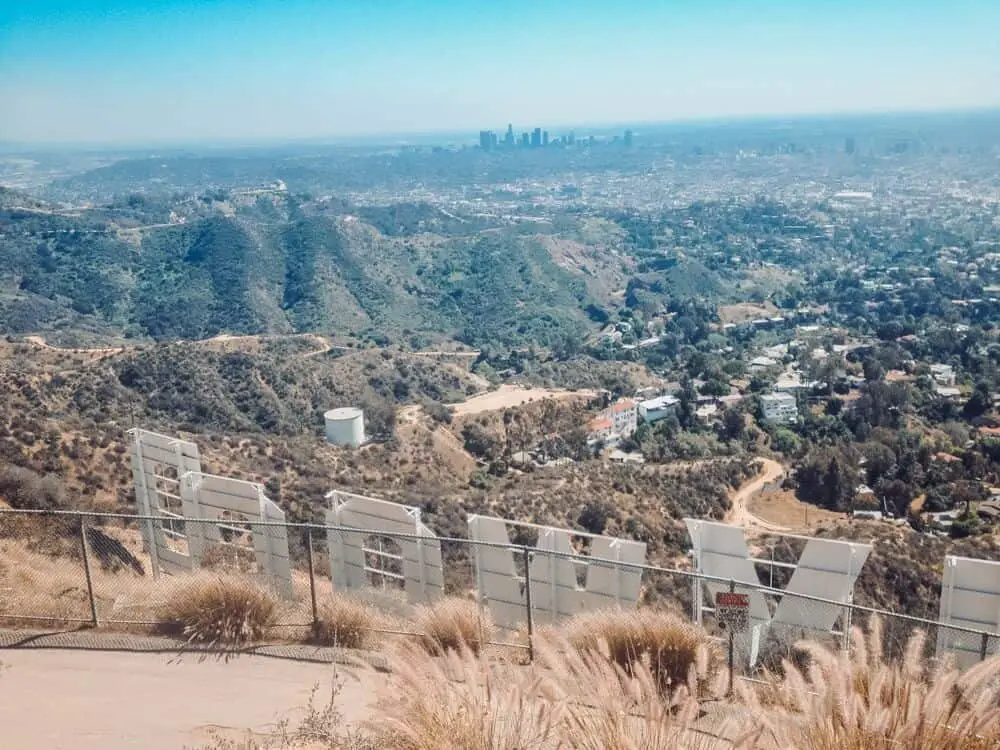 South Fortuna Trail & Fortuna Saddle Trail Loop
By Maria of San Diego Explorer
Mission Trails is one of the top hiking spots in San Diego County and locals as well as tourists flock to this San Diego Park for lots of outdoor fun.
The regional park was started in 1974 and with over 8000 acres, it is one of the largest urban parks in the United States.
With a total of over 60 miles of trails, you can pick, choose, and combine trails to make the perfect hike for your stamina and skill level. 
As a local in San Diego, I love to go to Mission Trails. My favorite hike there is South Fortuna Trail combined with the Fortuna Saddle Trail Loop.
This 5.8 mile hike is considered moderate to moderate-hard and you will definitely get a good workout in.
Some of the inclines are STEEP and the stairs will really get your blood pumping.
For a moderately fit person, this hike should take about 2.5-3 hours, but take your time and enjoy the views.
The trail starts and ends at the visitor center of Mission Trails Park, which makes parking easy. Bring plenty of water, as there is little shade, and don't go during the hottest part of the day. 
If you go early or late in the day, it will be much less crowded and you might see quite a bit of wildlife.
During the summer, beware of the rattlesnakes and tarantulas. In the spring, you'll see stunning wildflowers and might have to cross the seasonal river, so bring a towel to dry your feet off after crossing. 
Mission Trails park is the perfect nature getaway for San Diegans and if you like hiking, you should definitely put it on your bucket list.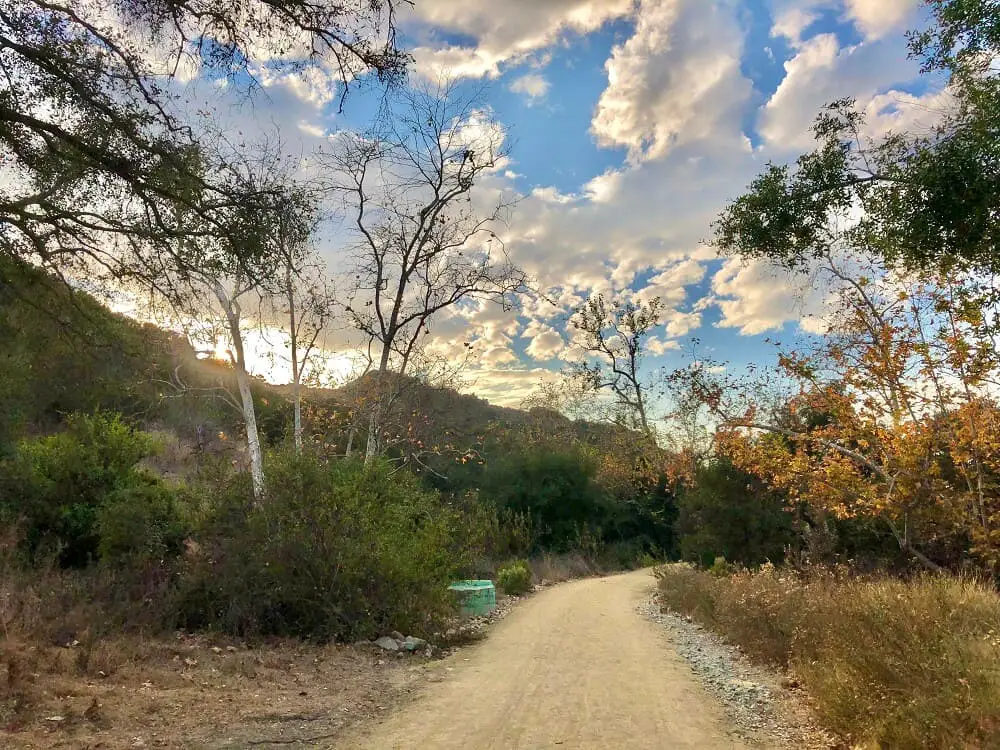 Leave no trace on the southern California hiking trails
When hiking in southern California, as anywhere else in the world, it's so important to leave no trace. A good idea is to always bring an extra bag for waste so you can bring your own back, but also pick up after others if you see anything laying around.
It's also important to stay on the marked trail so that you don't interfere with the natural fauna. I know Instagram has become a big thing, but please, don't risk nature for that perfect Insta shot. It's just not worth it.
Being a responsible hiker means you need to think about the consequences of your actions and if the consequence is imbalance or destruction of nature, then the answer is simple, don't do it.
By being respectful when out in nature, we contribute to a beauty that can be there for many future generations to enjoy.
Heading to the East Coast next? Check out the best hikes here.
Did you like this? Make sure you pin it for later!