Poland in winter is so underrated. After going there several times over the winter months, I highly recommend going there this time of year to experience the warmth of the people, their hot winter drinks, and see wonderful cities and nature.
Since I haven't been everywhere yet, I got some amazing recommendations from fellow travelers and bloggers to compile a list of the best places to visit in Poland in winter. Whether you like cities, nature, or castles, you'll surely find somewhere to add to your Poland bucket list.
Disclosure: This post may contain affiliate links. That means that if you make a purchase through one of those links, I will get a small commission at no extra cost to you. As an Amazon Associate, I earn from qualifying purchases.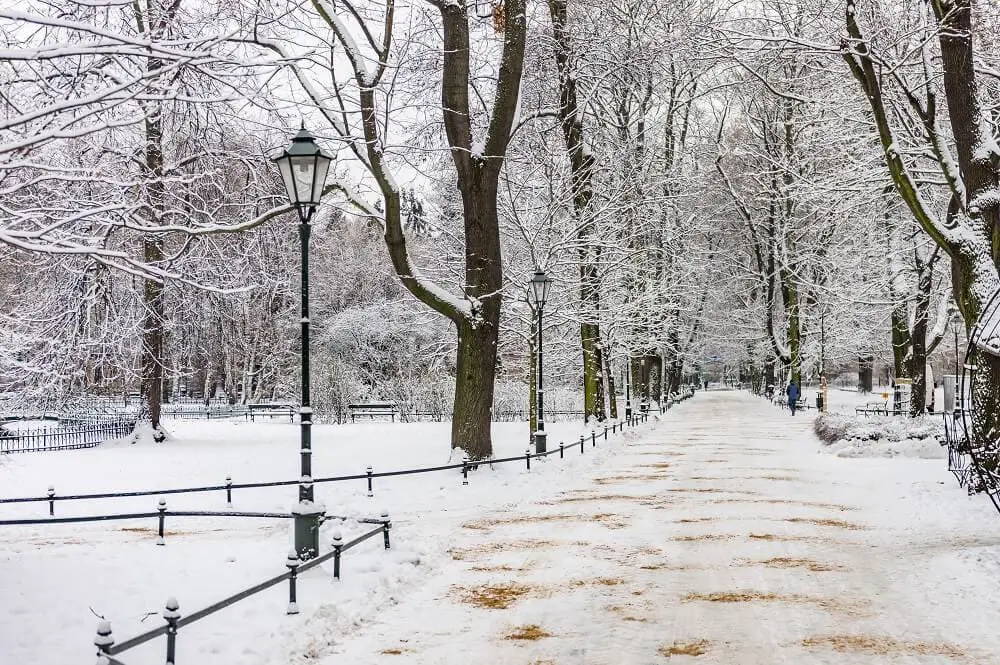 What to expect from winter in Poland
Poland is a big and varied country with mesmerizing mountains and charming cities where they embrace hot winter drinks and you can expect it to cover up in a blanket of snow.
There is no denying you're heading for a winter wonderland and there are so many stunning places to visit in Poland in winter.
Temperatures can easily get down to around 0 to -5 during winter in Poland, but it also depends where you are. If you're heading to the mountains it can even drop down to -20 on a cold day!
Prepare to bring a good warm jacket, gloves, scarf, and a beanie for your winter holidays in Poland and you will have a wonderful time!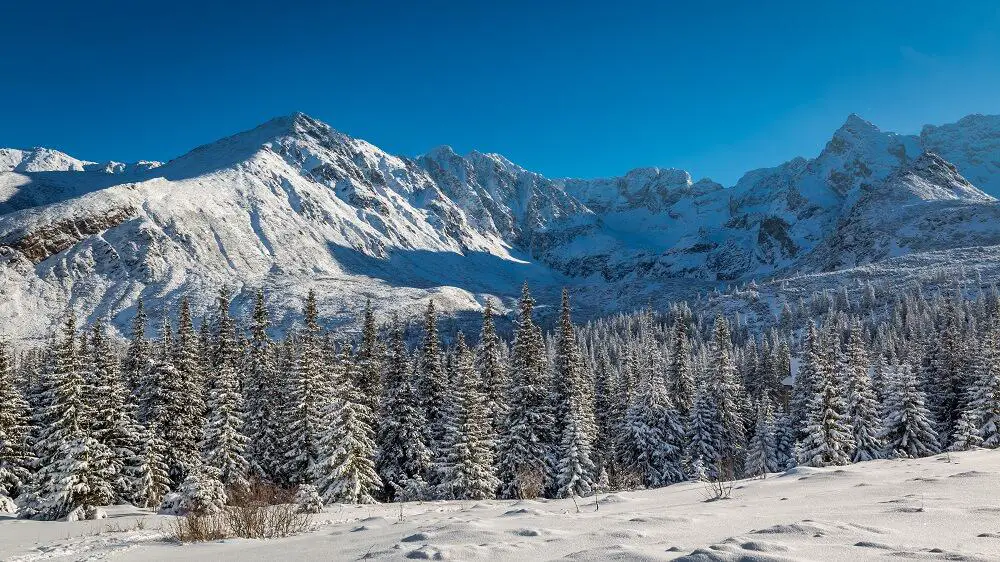 Places to visit in Poland in winter
In addition to where I've been, I asked a few travel blogger friends that also enjoy visiting Poland in winter for their favorite place so you can choose where to go on your Poland winter holidays.
Gdansk
Gdansk in winter is nothing but magical. With pastel colored houses contrasting to the white snow. The Motlawa River partly covered by a layer of ice, and the Christmas lights decorating the city.
Before Christmas you can stroll around cozy Christmas Markets and warm up with mulled wine and other hot local specialties.
Strap on your skates at the ice rink or head to the little skiing slope outside the city where you can have a little winter fun.
But there are a lot of other things to do in Gdansk. The city was ground zero for the Second World War, which makes it rich in war history. You can learn more at the many museums, but also by heading to Westerplatte memorial site where the first shots in the war were executed.
Most of the city was totally destroyed during the war, so the majority of the old town is rebuilt as similar as possible to the original structures. There are some exceptions, though, like Neptune's Fountain, that the inhabitants took apart and hid during the war, and now have put back up again.
Where to stay: Holiday Inn Gdansk – City Centre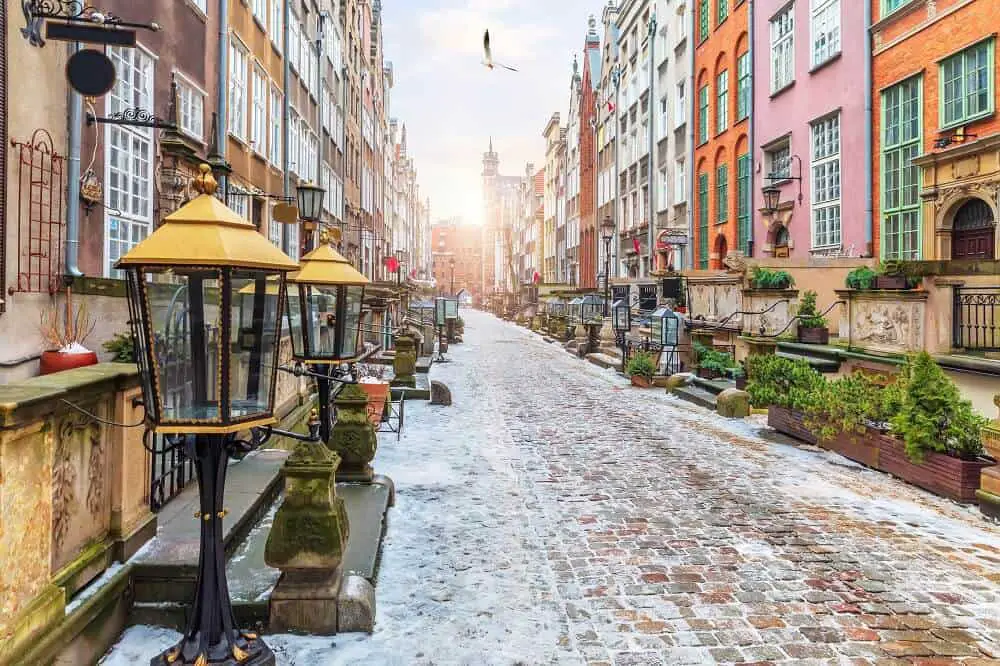 Krakow
Krakow is the place to go for Christmas Markets and cozy underground bars serving local hot drinks like mulled wine. If you want to go local, try their specialty – hot, spice infused beer with floating fruit. The ice skating rink in Krakow is also worth going to for a romantic winter experience.
But there are loads of things to do in Krakow in winter. The main attraction is the Wawel Castle, famous for the legend of the dragon that lived beneath the castle.
To escape the cold, see a show at the Juliusz Slowacki Theater or explore the 13th century Wieliczka Salt Mine. The most beautiful church in Krakow, and a must-visit, is the Saint Peter and Paul Church.
Finally, no Krakow itinerary is complete without a visit to Auschwitz concentration camp. A depressing and dark part of history, but important to experience. You should clear off a whole day for the concentration camp to see it all. You can go by bus or get a private driver.
Where to stay: Hotel 32 Kraków Old Town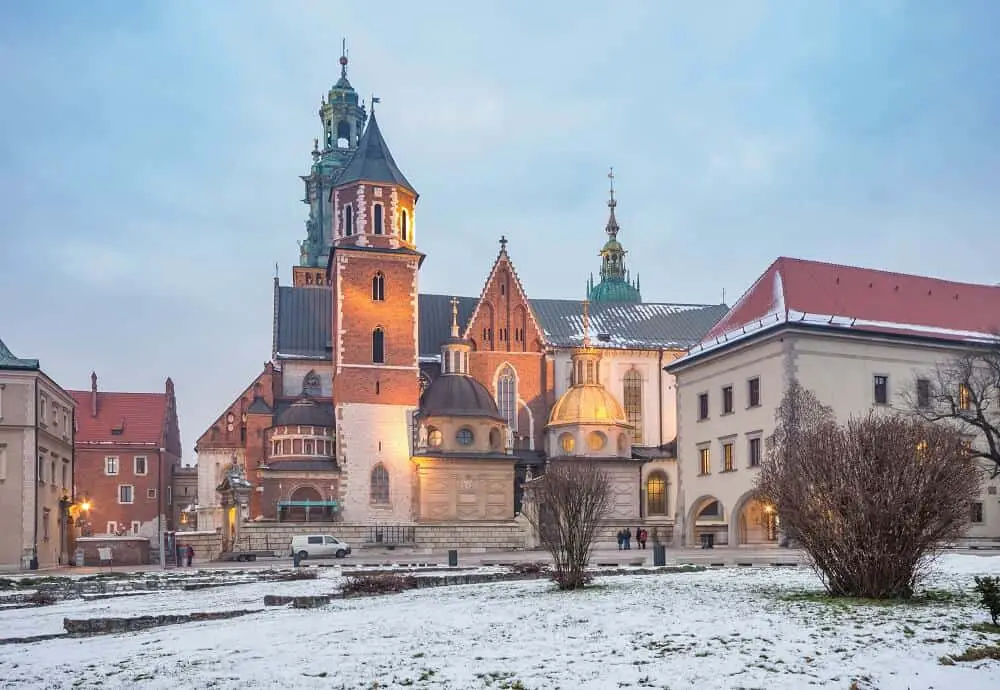 Warsaw
Your Poland itinerary would not be complete without a trip to the capital city, Warsaw. It's actually a great city to visit in winter. The charming old town dating back to the 12th and 13th centuries is surrounded by a 14th century fortified wall.
In winter it's all lit up at night with Christmas lights and a tree, making the otherwise dark season light up even on days where the snow doesn't cover the streets.
The Market Square is also where the Christmas Market takes place in December. Walk around with a hot drink to warm you up or go for a skate at the ice rink.
Warsaw also have a lot of interesting museums to hide from the cold or you could enjoy a warm meal and hot drinks in any of the traditional restaurants or cafes.
Worth adding to your Warsaw itinerary is also the cathedral. But in winter, the absolute highlight of Warsaw is to go to the Wilanów Royal Garden, which is lit up at night with giant lights sculptures. The light show is absolutely spectacular!
Where to stay: Warsaw Hostel Centrum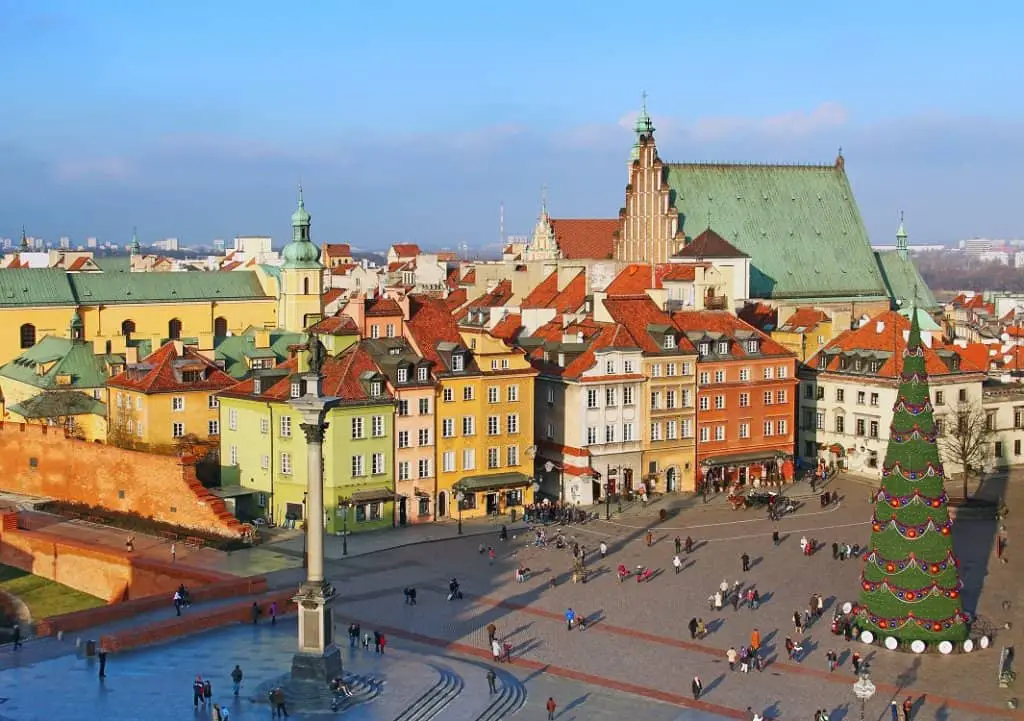 Białowieża National Park
Recommended by Holly of Four Around The World
UNESCO World Heritage Listed Białowieża Forest is located in North-Eastern Poland, on the border between Poland and Belarus. The primeval forest is home to Europe's heaviest land animals, the European bison. 
Aside from being a protection and breeding area for the endangered bison, Białowieża National Park is also home to hundreds of other species of plant and animal. 
Visit the Bison Show Reserve wildlife park and see bison, as well as many other unique animals. 
At the Nature and Forest Museum, learn about the history of Białowieża Forest and the flora and fauna. Then enjoy a delicious hot meal of traditional Polish food.
Take a walk through the park or go cross-country skiing. Equipment can be hired from Bike Cafe near the entrance of the Bialowieza's Palace Park.
Don't miss your chance to take a sleigh ride through the forest. 
Dress in your warmest clothes since the average daily high temperatures are below 4°C through winter, with February being the coldest month, with lows of -6°C and high of -1°C on average during the day.
You can get to Białowieża by car, train or bus from Warsaw, however, it takes several hours so you may want to stay overnight or visit from somewhere closer, such as Bialystok. 
Where To Stay: Hotel Żubrówka Spa & Wellness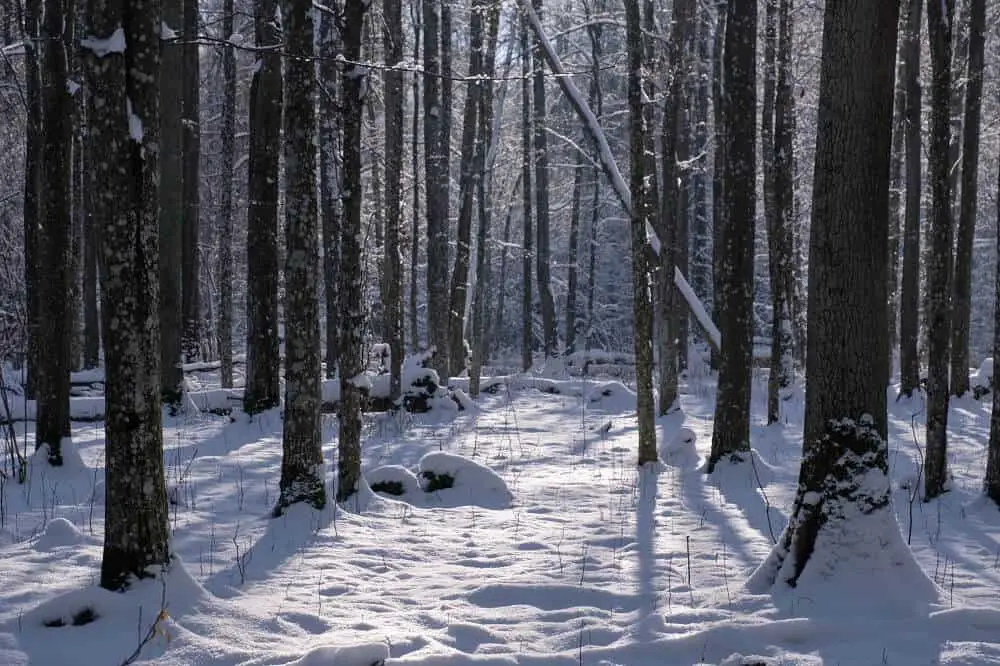 Zakopane and Tatra mountains
Recommended by Beata and Ela of Stunning Outdoors
The Tatra range are the highest mountains in Poland, so if you search for a winter wonderland these mountains and its capital- Zakopane should be on your list.
After a 2h bus journey from Krakow to Zakopane, you will find yourself in a town surrounded by the beautiful, rocky Tatra mountains with their white peaks.
Zakopane itself provides a lot of attractions such as typical highland architecture, museums and options for winter sports such as skiing or snowboarding. However, most visitors come to this corner of Poland to walk in the mountains.
The Tatra range offers numerous hikes suitable for people with all fitness levels, from beginner to seasoned walkers. The valleys are exceptionally beautiful when covered by snow and are suitable for your first winter hikes. If you look for more advanced trails you can hike Czerwone Wierchy ridge, or peaks at Western Tatra range.
To enjoy your time in Zakopane and the Tatra mountains, come prepared. As the temperatures often drop below zero, paths often are icy and days are much shorter than in summer, winter hiking equipment like mini crampons, polls, or even ice axe are essential.
Where To Stay: Willa Blanca Zakopane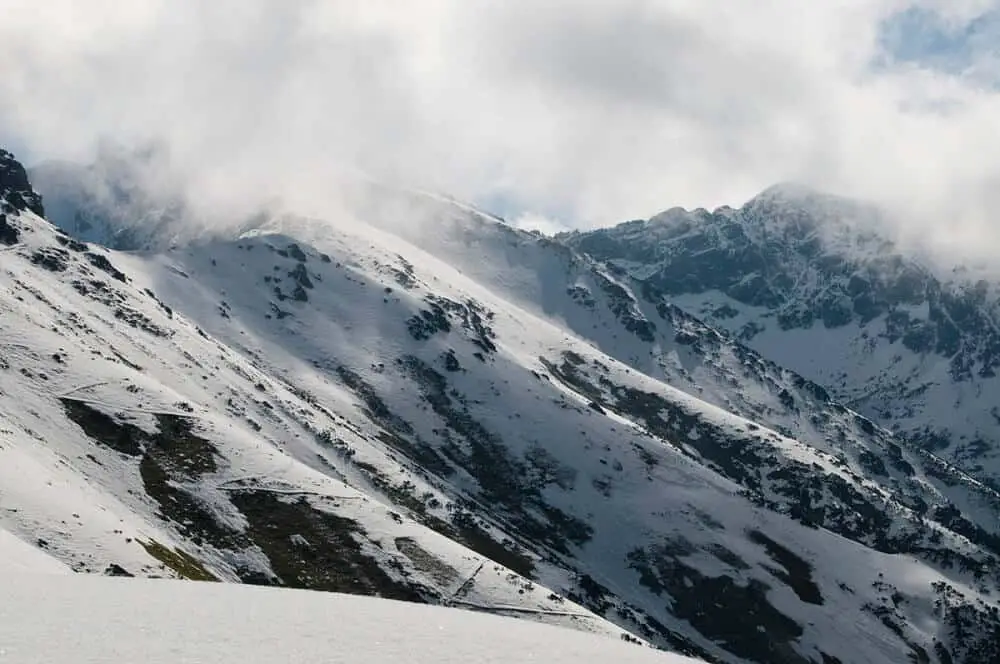 Malbork Castle
Recommended by Kamila of My Wanderlust
Malbork Castle is one of the most popular tourist attractions in Poland and it's famous for a reason. The spectacular Teutonic Order castle, a UNESCO World Heritage site, attracts thousands of tourists each day in the high season.
However, if you visit the place in the wintertime you can enjoy it without too many people around and actually see the castle properly.
Malbork Castle was built in a few stages, starting in 1278. Over the centuries the owners of the castle have changed but it always remained a truly incredible place. In fact, this is the largest castle in the world when measured by land area so better reserve the whole day for visiting it.
The place actually consists of three castles: The High, Middle, and Lower, all separated by dry moats and towers.
The interior of some of the rooms is truly jaw-dropping. You can see the Gothic architecture at its finest here. To see the castle in its full glory go to the other side of the Nogat river.
Malbork is an easy day trip from Gdansk (there are frequent train connections) but if you have more time you can stay here overnight as there are some interesting places near the city too.
Where to stay: Premium – Bed & Breakfast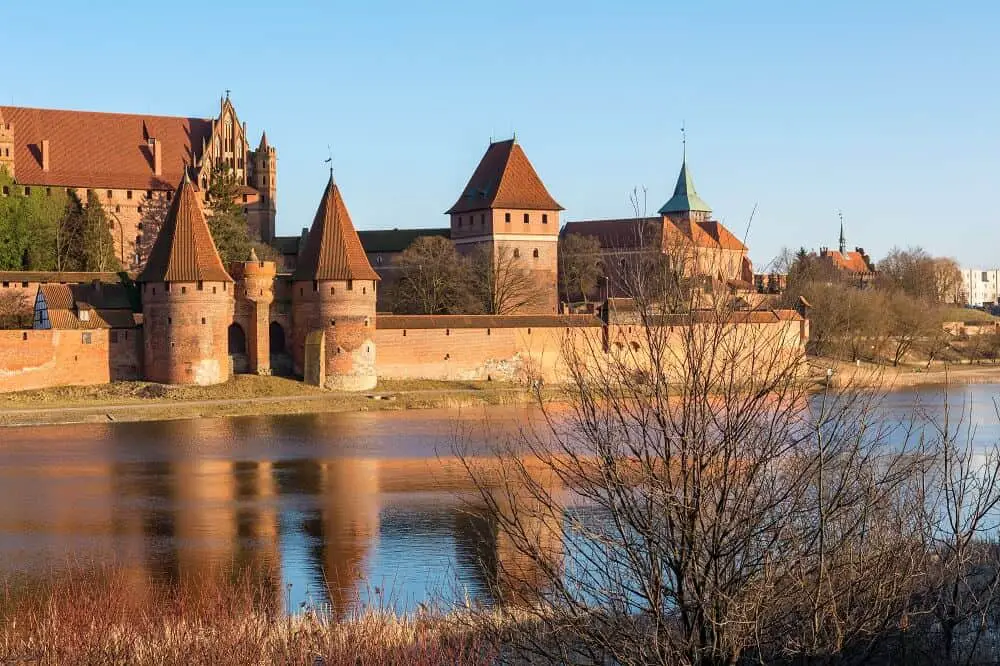 Lublin
Recommended by Ellis of Backpack Adventures
Lublin is one of the largest cities in Eastern Poland, yet receives few foreign visitors. There are plenty of things to do in Lublin though. With its charming old town, it is well worth a visit, especially in winter. Winters are cold in Lublin, but snow is almost guaranteed and is changing the city into a winter wonderland. 
It's the perfect time to wander through the cobbled stone streets of Lublins historic center. The thick blanket of white snow contrasts with the pastel coloured merchant homes that reveal the city's past as a wealthy and multicultural trade hub in the eastern part of Poland. Particularly picturesque in winter are the medieval Lublin castle and the Po Farze square. 
Another reason to visit Lublin in winter is the festive atmosphere in the city. It starts with celebrations for Saint Nicholas day in the beginning of December. Then comes the christmas markets throughout town with beautiful christmas decorations everywhere that last till January. Finally there is the three kings day procession that honours the three wise men that visited Jesus when he was born.
AS you can see there are plenty of reasons to visit Lublin in winter. The good news is that it is very easy to get to. From Warsaw it is a little over 2 hours by train.
Where to stay: Centrum Lublin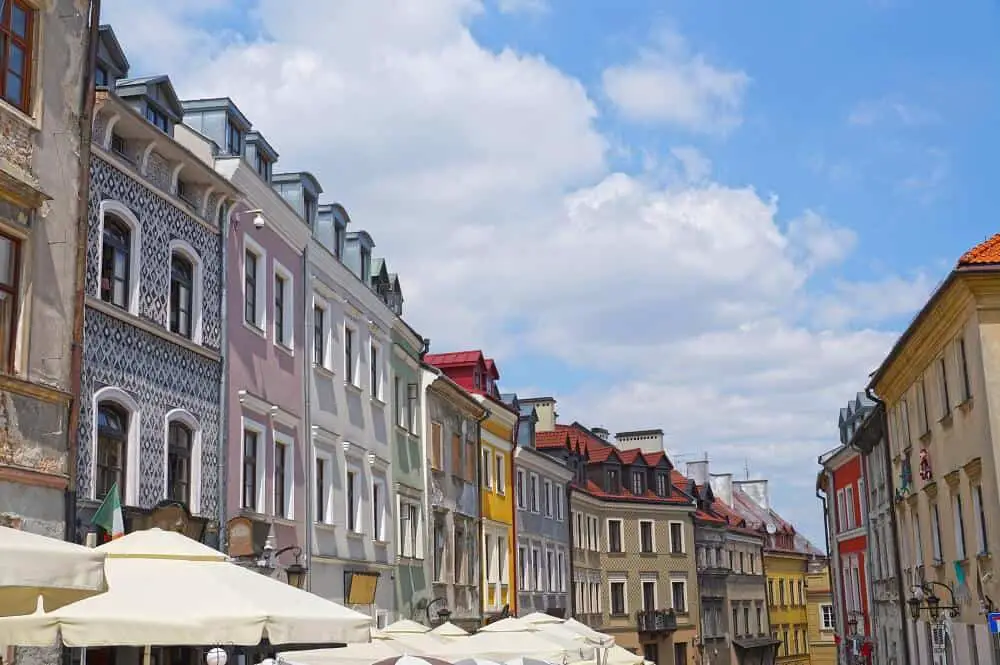 The Bieszczady mountains
Recommended by Agnes of The Van Escape
The Bieszczady mountains make the perfect Poland winter experience, covered with snow, presenting a fairy-tale scenery. Wandering through the slumbering forests and meadows of the Bieszczady National Park can feel like in the land of ice.
Winter hiking, despite frost and snow, is enjoyable because the Bieszczady peaks are rather gentle. For hiking, you have to put on winter clothes. Particular attention should be paid to footwear, as there may be icing on the trails, requiring crampons.
Winter temperatures can go down to –20°C. The average temperature in winter is from –3°C to –7°C.
The most interesting and beautiful winter trails are Połonina Wetlińska (1255 m above sea level). This is the place with the famous Bieszczady mountain hut called Chatka Puchatka (Hut of Winnie the Pooh) top.
Other great hikes are Połonina Caryńska and Smerek. Furthermore, some of the trails are also open to skiers.
The center of winter tourism is in the small town of Wetlina. It has an excellent location among the mountains and closes to the entrance to the most beautiful trails in Bieszczady.
There are also shops, bars, and restaurants. You can warm up with hot chocolate, wine or eat delicious dumplings.
Other places worth seeing or stopping are Cisna, Lutowiska, Ustrzyki Dolne, Ustrzyki Górne, Solina, Polańczyk.
Public transport to the Bieszczady Mountains is limited. The easiest way to get to Ustrzyki Dolne or Sanok is by train and bus from Krakow or Warsaw. Private buses run between towns and the most popular hiking trails.
Where to stay: Hotel Carpatia Bieszczadzki Gościniec
Zalipie
Recommended by Sasha of The Alternative Travel Guide
One of the most fascinating places to visit in Poland in winter is the village of Zalipie in Lesser Poland Voivodeship, in southeastern Poland. The village is the perfect destination for your Poland winter holidays.
Poles and foreigners alike, consider it the most beautiful village in Poland because it is a living museum.
Almost all the houses in the village are painted with flowers and ornaments.
Moreover, everything inside the houses is also painted: wardrobes, tables, chairs, and plates. Not professional artists draw these wonderful flower ornaments, but amateur painters from the village.
It's amazing how they find the time for this in their daily village labors. 
They create new paintings every year. The tradition of painting houses appeared in Zalipie back in the 19th century.
In winter, the air temperature in Zalipie is on average from 0°C to +8 °C. But also be prepared for sub-zero temperatures, although this is a relatively rare occurrence in southern Poland in recent years.
Therefore, you can easily walk around the village of Zalipie, look at the patterns and visit some of the houses that are open to tourists to warm up. The easiest way to get to Zalipie is by bus from Krakow or a rented car.
Where to stay: Przytulisko pod Strzechą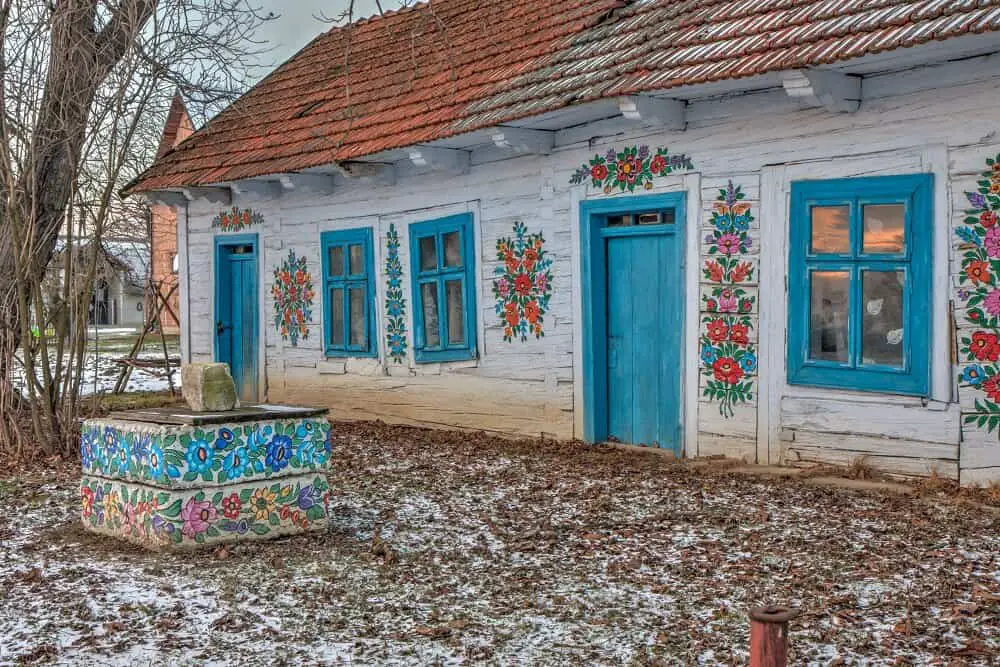 Wroclaw
Recommended by Fiona of Travelling Thirties
Wroclaw is the fourth largest city in Poland but is still a relatively hidden gem. Located in Western Poland, Wroclaw is situated on the Oder River and is known for it's beautiful market square.
Despite the winter temperatures, Wroclaw averages minimum temperatures of -5◦C and a maximum of 5◦C, there are still plenty of things to do in the city. One of the best things to do in winter is to visit the gorgeous Christmas Markets, they are some of the best markets in Europe. In December, the main square comes to life with beautiful wooden huts filled with unique gifts and foods, the town square Christmas tree is a must see.
To help keep yourself warm, see how many dwarf statues you can find on your tour of the city. From photographers to ice cream dwarf and everything in between there are 163 to be found around the city.
Make sure you head out to Cathedral Island to see the old traditional gas lamps – these lamps are still manually lit every night.
Where to stay: Puro Wrocław Stare Miasto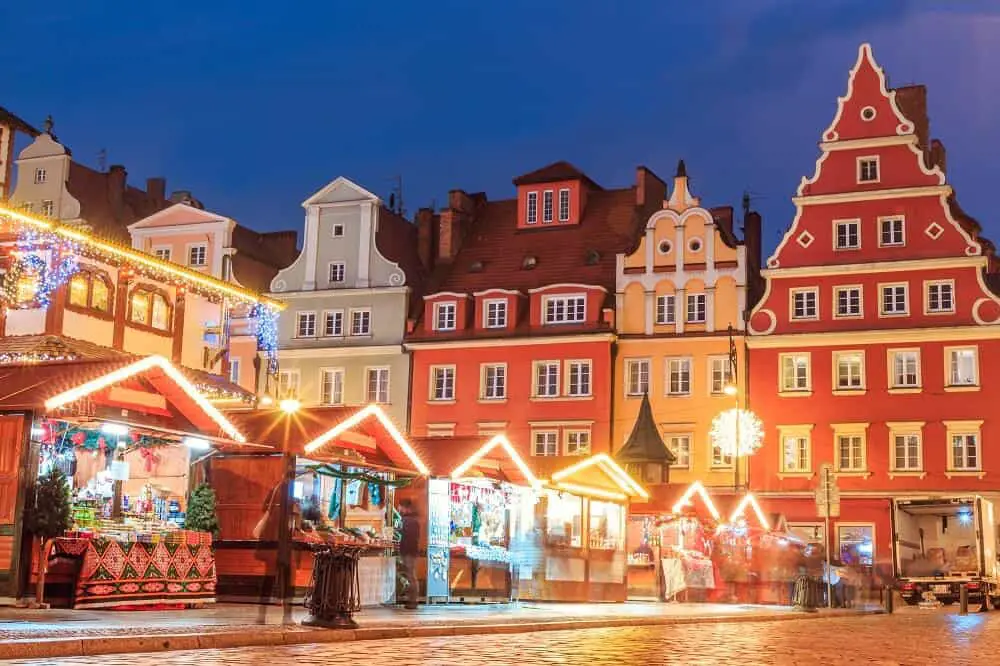 Reflections on traveling to Poland in the winter
There is no denying Poland in the winter is absolutely breathtaking. The cities have a completely different vibe to them and the Polish are experts when it comes to inventing hot drinks to keep you warm.
Whether you're sitting in a cozy cellar bar chatting to locals in Krakow, wandering the Christmas markets in Wroclaw, or hiking in the snowy national parks, your Poland winter holiday will become a success.
READ NEXT: The best winter city breaks in Europe
Pin it for later!