If you like climbing mountains, you should consider a Mulhacen hike next time you visit Spain. Mulhacen is a part of the Sierra Nevada mountain range and the highest mountain in continental Spain and the Iberian Peninsula with its towering 3479 meters. In fact, Mulhacen is the highest mountain outside the Alps in all of Western Europe.
Sierra Nevada National Park spreads across the provinces of Granada, Malaga, and Almeria in southern Spain. The mountain range is mainly known for its appealing ski slopes in winter. However, the summer months have an abundance of hiking routes to explore with some of the best views in Spain.
To conquer Mulhacen a hike can be done in two days, wild camping or spending the night in Refugio Poqueira. Or it can be done in a single day. I've both hiked it in a day and over two days and both hikes were extraordinary experiences. I will share everything you need to know to make your Mulhacen hike below.
Disclosure: This post may contain affiliate links. That means that if you make a purchase through one of those links, I will get a small commission at no extra cost to you. As an Amazon Associate, I earn from qualifying purchases.
READ: Best Day Trips from Malaga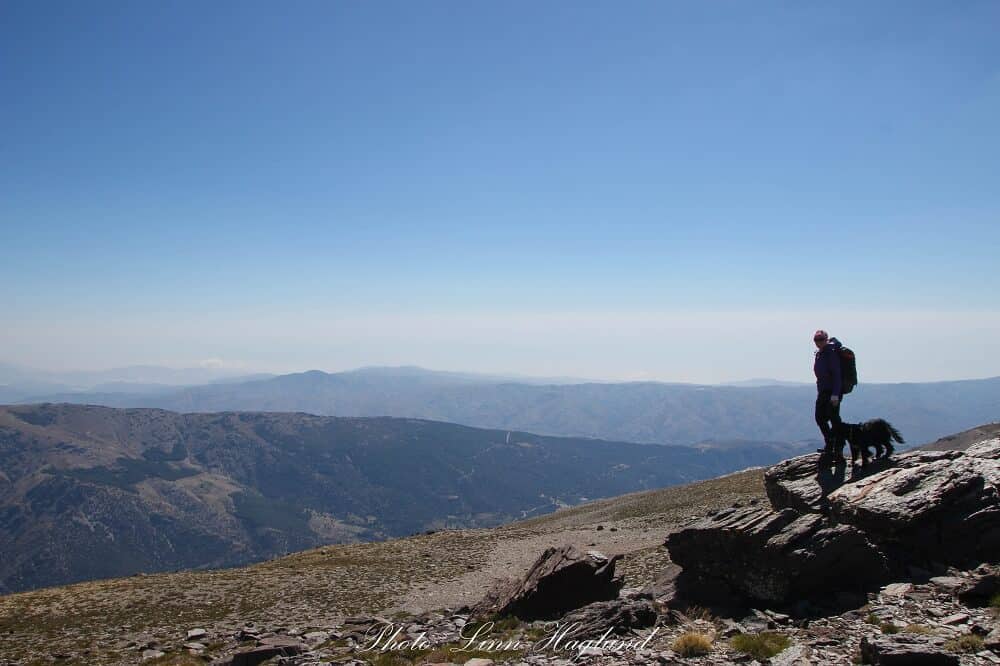 Let's start with one of my favorite mountain quotes describing Mulhacen perfectly.
"You never climb the same mountain twice, not even in memory. Memory rebuilds the mountain, changes the weather, retells the jokes, remakes all the moves."

Lito Tejada-Flores
History of Mulhacen
Mulhacen has got its name after the second last Moorish king that ruled in Granada in the 15th century, Abu I-Hasan Ali. In Spanish, the king is known as Muley Hacén.
The king fell in love with the Christian slave Isabel de Sólis and married her. She converted to Islam and changed her name to Zoraya. At the same time, Abu I-Hasan exiled his first wife Aixa. Unfortunately for the king, she was a direct descendant of the Prophet Mohammed, and the separation led to civil war in Granada.
Aixa defeated Abu I-Hasan Ali and took his new wife as a prisoner letting her live on one condition: the king had to give away the throne to her.
With time, the former king regained popularity among the people in Granada and was thus able to rescue the love of his life and gain power again before he died.
Legend says that Abu I-Hasan Ali was buried on the summit of Mulhacen.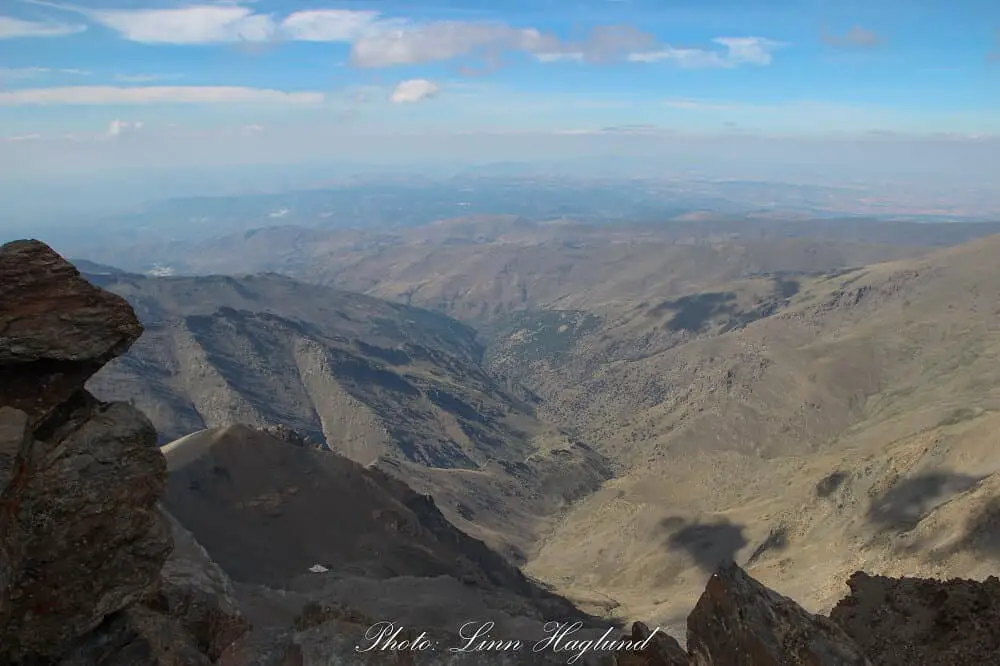 You might also like: Spain off the beaten path destinations
How to get to Mulhacen
For a day hike
To get to Mulhacen and hike in a day the best way is to get a bus from the mountain village Capileira up to Mirador de Trevelez. This is a bus service that takes you further than you are allowed to drive by private car.
The bus trip includes a local guide that will explain all about the National Park on the way up to the end stop. I highly recommend calling or sending an email to book your tickets in advance to make sure the bus is running, but also to assure your seat.
Be aware that this bus only goes during the summer months and early autumn. Because of the altitude, it varies when the snow disappears from year to year. Some years it might be nearly gone in mid-May and others it might still be snow in July. For this reason, it is important to check the weather conditions before you go.
From Granada, the bus to Capileira takes between two and two and a half hour, and by car, it takes one and a half hour.
From Malaga, it takes about two hours to drive to Capileira if you have your own car. Taking the bus from Malaga takes up to four and a half hour, so in case you choose this option you might want to spend the night in Capileira before you start the Mulhacen hike.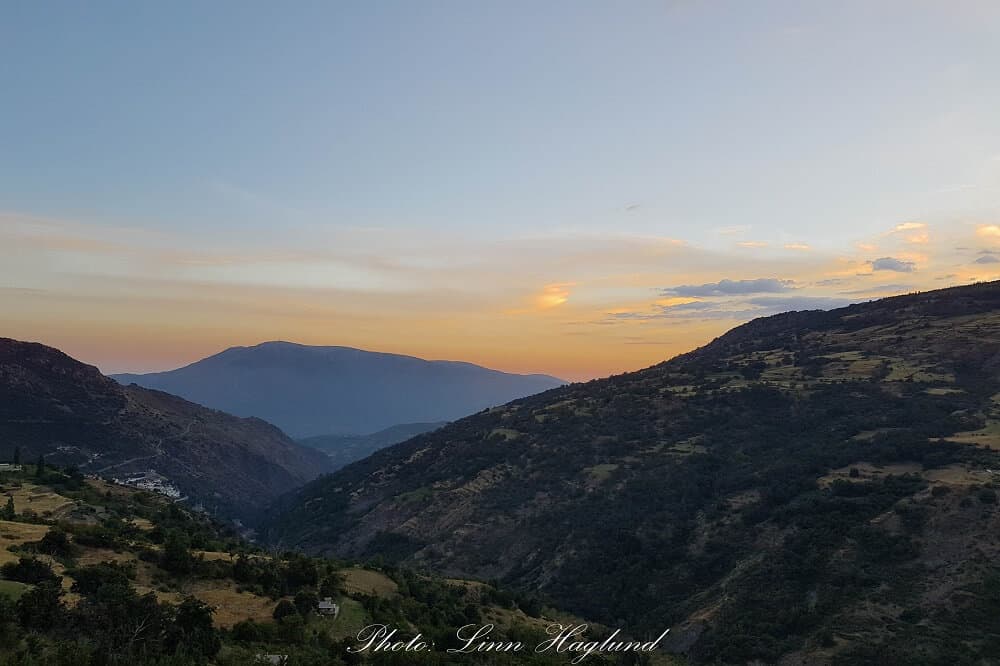 For a multi-day hike
For a multi-day Mulhacen hiking trip, you can start from Hoya del Portillo, at an altitude of 2145 meters, and the highest point it's allowed to bring a car.
This is about half an hours drive up winding dirt roads from Capileira village. There is a car park where you can leave your car for free at the trail head.
Whether you choose to hike in a loop or back and forth the same way, you'll still end up at the car park.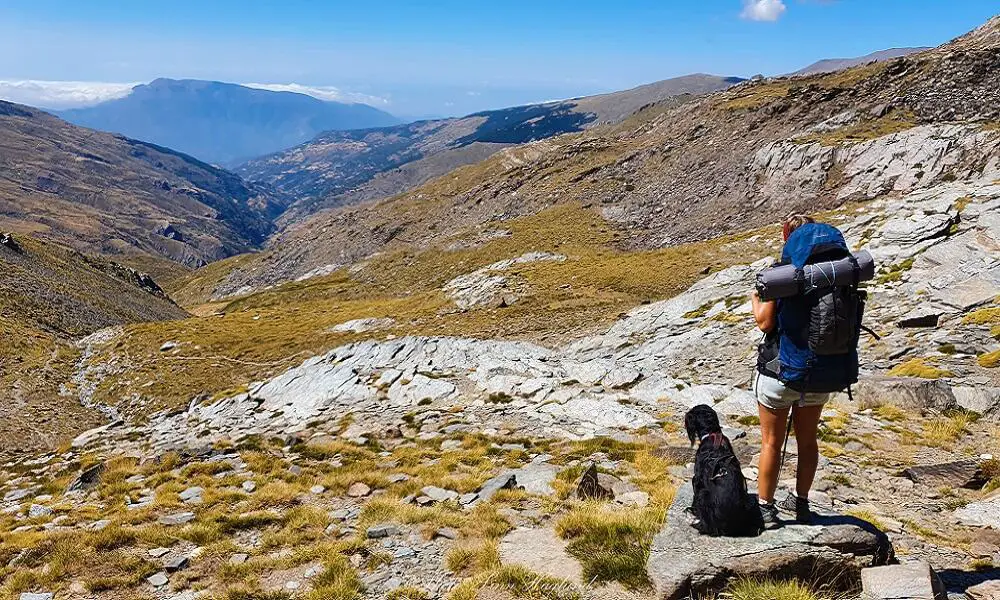 Closest airports
There are flights from most of Europe to Malaga Airport. There are also a few cities with flights to Granada Airport. I usually use Skyscanner to search for cheap flights.
Find the best rental car for you here.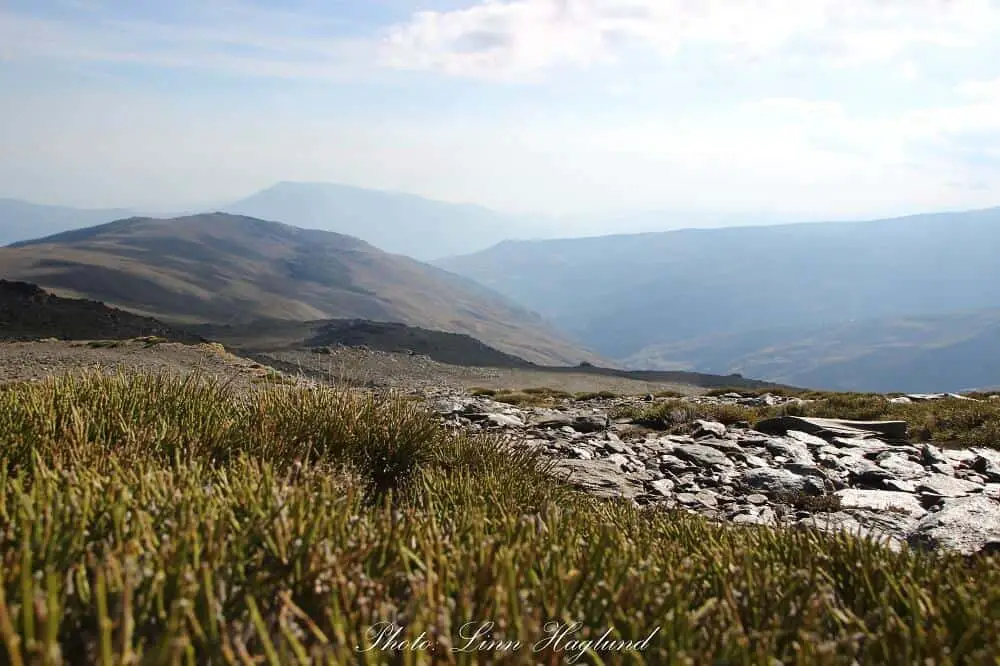 What to bring for a Mulhacen hiking trip
Because of the altitude, the Mulhacen hike may surprise with different temperatures along the walk. It is not abnormal with strong wind, and even on a sunny day, it becomes extremely cold. Though on a day with no wind at all, temperatures can be unbearably hot if you have too many clothes on.
For that reason, it is recommended to pack extra clothing and dress in layers to keep the heat when it is cold, but also to take off layers if it gets too hot.
Make sure to bring something for the wind, and even something to cover head, neck, and hands. Further, make sure to wear good hiking shoes.
As mentioned above, you should always check weather conditions before going, especially in the first half of summer in case there is still snow along the track.
Make sure you check night time temperatures too when backpacking, as they can drop to under zero. You'll need to bring a warm inner layer and woollen socks for the night. An emergency blanket is also a great lightweight addition to your packing list as it keeps you warm in case you don't have a warm enough sleeping bag.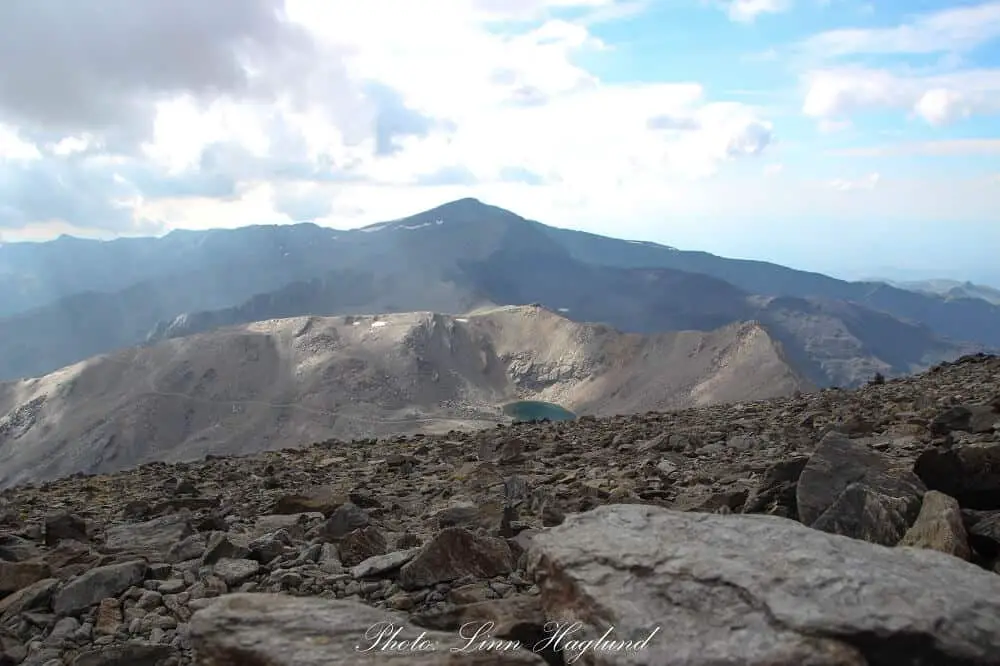 What to pack for a day hike
sunscreen
caps/hat
water (minimum 2 liters per person)
lunch
snacks (energy bars, nuts, fruit, etc)
camera
What to pack for a two-day hike
caps/hat
water (there are streams and waterfalls on day one where you can fill up water, but for day two you need to carry enough for the whole day – a camelback is a great choice)
water filter (for filtering water from the streams/waterfalls)
sheet (if staying at the Refugio de Poqueira)
cooking stove and utensils
food
camera
You can find my complete camping gear list here.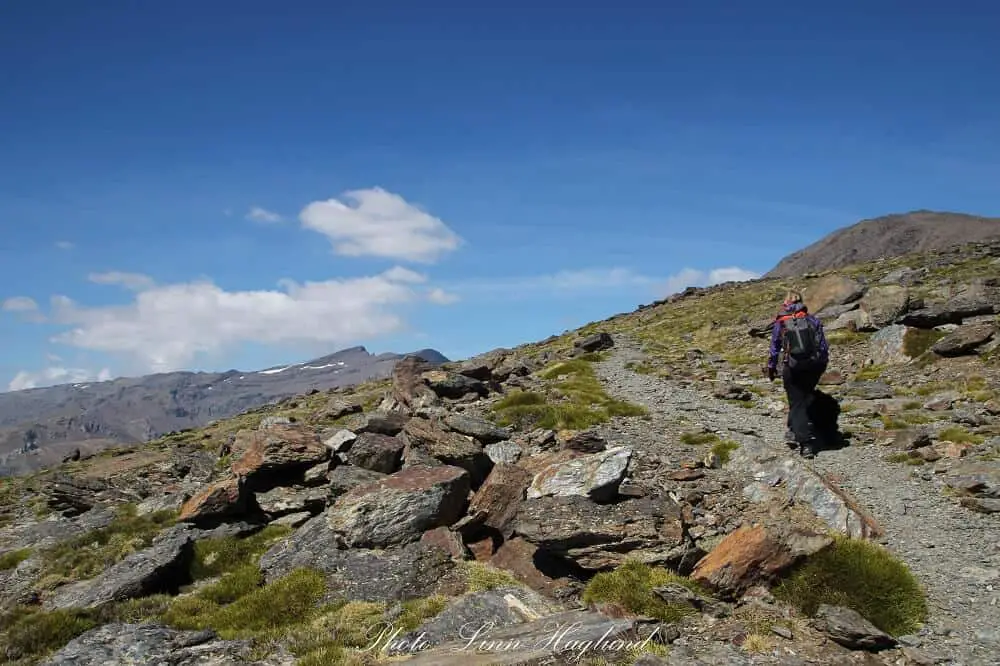 You might also like this hidden gem: How to hike El Saltillo Malaga
Mulhacen hike – in one day
Hiking from Mirador de Trevelez where the bus service leaves you is not a high-level hiking route. Mirador de Trevelez is at an altitude of 2700 meters, so the elevation of the hike is only 779 meters. However, you might notice the altitude as you get closer to the top. This might make it harder than expected to walk.
The bus will pick you up at the same place as it left you exactly 6 hours after drop off, so it is important to keep the time so you won´t be back late. In any case, this is plenty of time to return if you plan your breaks well.
The first couple of kilometers are on the same dirt road as the bus leaves you. When you get to the track, you take the one to the right. However, the guide on the bus will inform you about all you need to know to go the right way.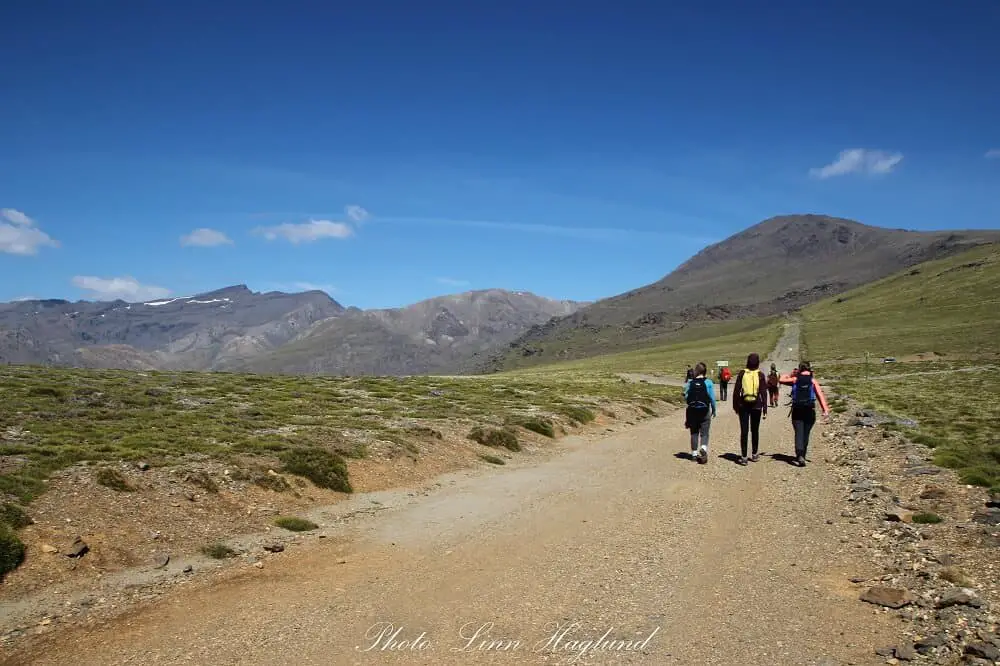 Once you start the ascent the treeless views become more and more astounding and clearly show the altitude you are at. The photography spots are countless and scenic places to eat your lunch are everywhere.
As you get closer to the peak, altitude starts hitting in and the path is slightly rougher and rockier. Make sure to follow the cairns to stay on the right track. I found it helpful to aim for the next cairn just to keep the focus on smaller distances as it got harder to walk. It is weird how your legs feel like rocks to move when the air gets thinner.
You can also be lucky and spot some curious mountain goats along the path; another good reason to stop to breathe and have some snacks and water.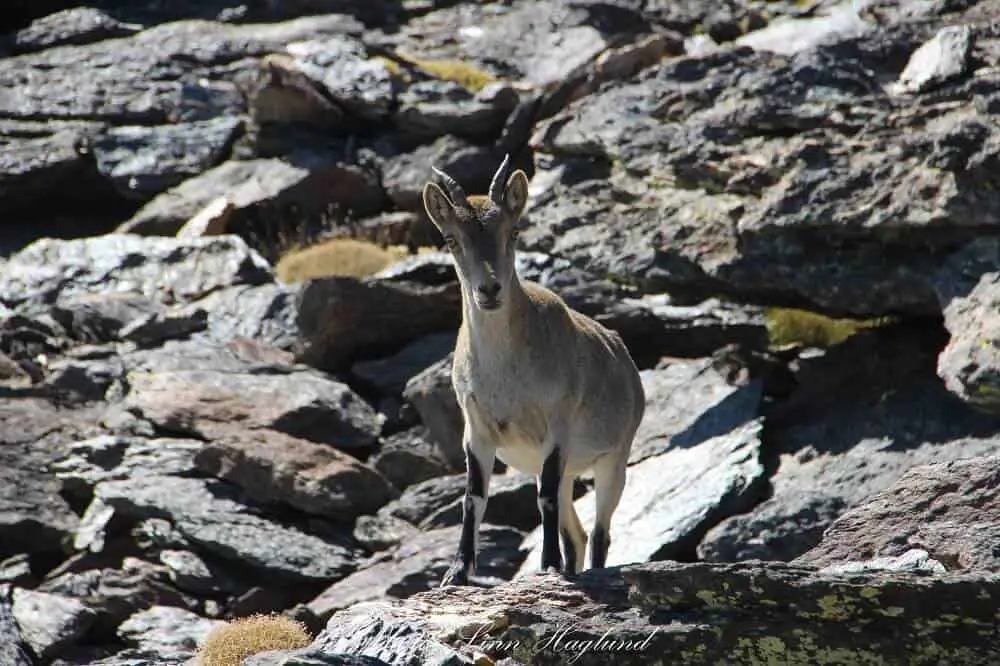 Mulhacen hike – in two days
Hiking day one
Starting from Hoya del Portillo at 2145 meters of altitude, the trail takes you up through the forest the first half an hour. Then it opens up and it's not long until you get to a cross road where you can either take a detour to a view point to your right or continue straight in direction Poqueira.
The hike takes you beautifully along a green valley with the views of majestic, picturesque high peaks alongside you the whole way. When the trail starts descending towards a farmhouse and meets a dirt trail, follow the road up to the right past the farm and continue until you get to the Refugio de Poqueira (2500 meters). It takes about 3-3,5 hours to get there, depending on the stops you do.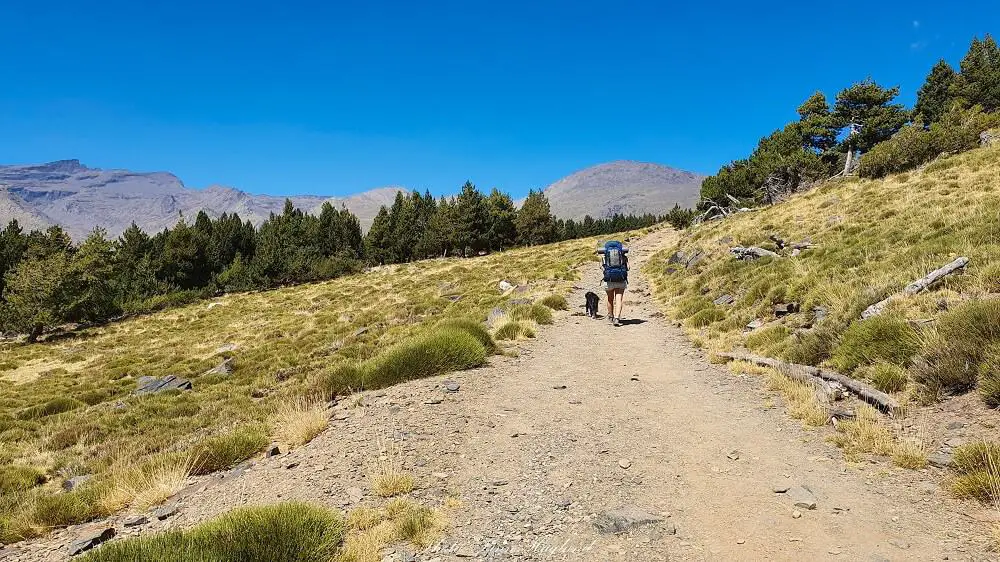 Where to sleep
You can stay the night at Refugio de Poqueira or you can keep on hiking past the Refugio along the river for an hour or so until you find a spot for pitching your tent.
For booking your room at Refugio de Poqueira, you find prices, phone number for booking, and more information here. They do not accept dogs.
There is also a free option, Refugio-Viviac de la Caldera at 3100 meters of altitude, just before you start the final, steep scramble up the peak. This is a completely empty building where you'll need to bring everything yourself and leave no trace. It houses about 14 people and can get filled up early.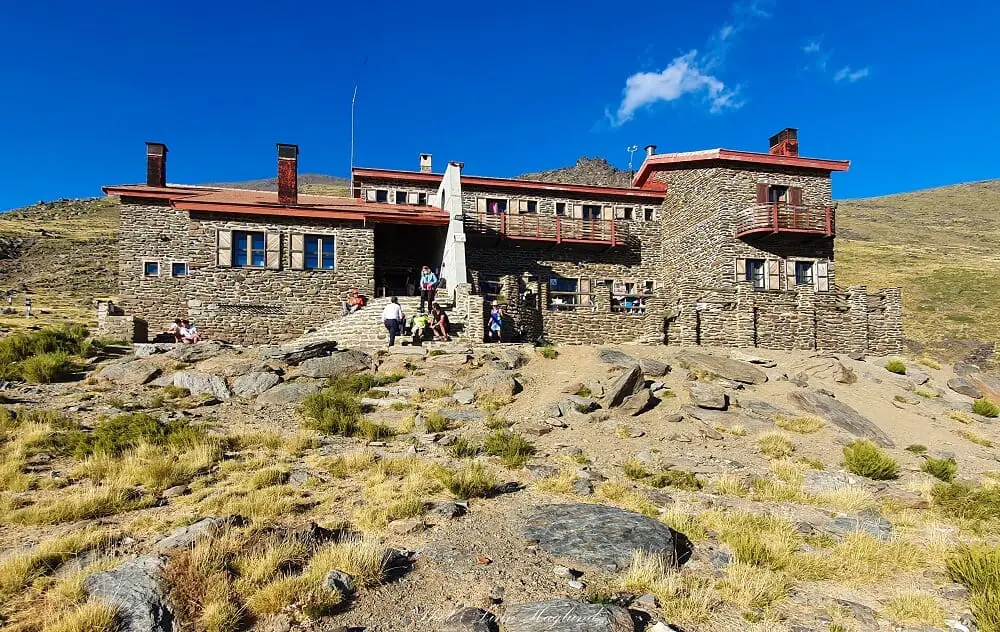 Hiking day two
Hiking from Refugio de Poqueira to the top of Mulhacen starts quite leisurely along the river with some steep parts. Then it opens up before you hit the last bit. This is an extremely steep and long part that seemed to me like it never ended. The narrow path winds its way through loose rocks so be careful not to slip.
Once you've conquered this massive rocky and somewhat hostile wall and I'm being kind) of Mulhacen, you've just got a few steps left and you're on top of the Iberian Peninsula!
You can either walk back the same way, or you can do a loop, walking down the easier part of the mountain towards Mirador de Trevelez. Instead of turning down the steep hill you came up from, continue straight on the path. When you meet the first wide dirt road that turns left about a kilometer or so from the peak) and the path starts going down, follow the cairns a bit further instead.
The path follows a rocky part at first before it becomes easier to walk on all the way down to the dirt road and later paved road. From there, you can either follow the road all the way to Hoya del Portillo or you can find the same path you ascended on the way to Refugio de Poqueira. The hike from the peak and back to the car will take about 4 hours this way.
Depending on where you sleep, you can expect day two to be a 6-9 hours hike, so I recommend starting early.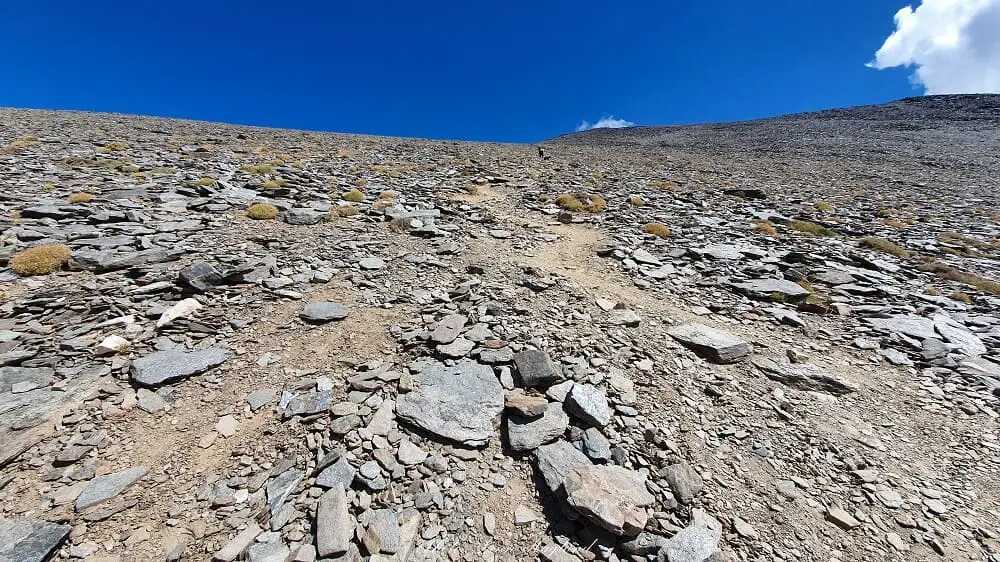 Permission to wild camp in Sierra Nevada
If you opt for wild camping, you have to inform the authorities of Sierra Nevada National Park up front. Simply send an email to the following address with the dates you plan to stay, how many people, how many tents, and where you plan to camp. pnsierranevada.usopublico.dtgr.cagpds@juntadeandalucia.es
They will then email you a form you'll need to send back which you also need to bring with you on the trek in case rangers ask for it. I didn't see any rangers on my two day trip, but on the day hike I did meet two of them.
They will also send you a lot of good information about sustainable camping in the park and the park rules.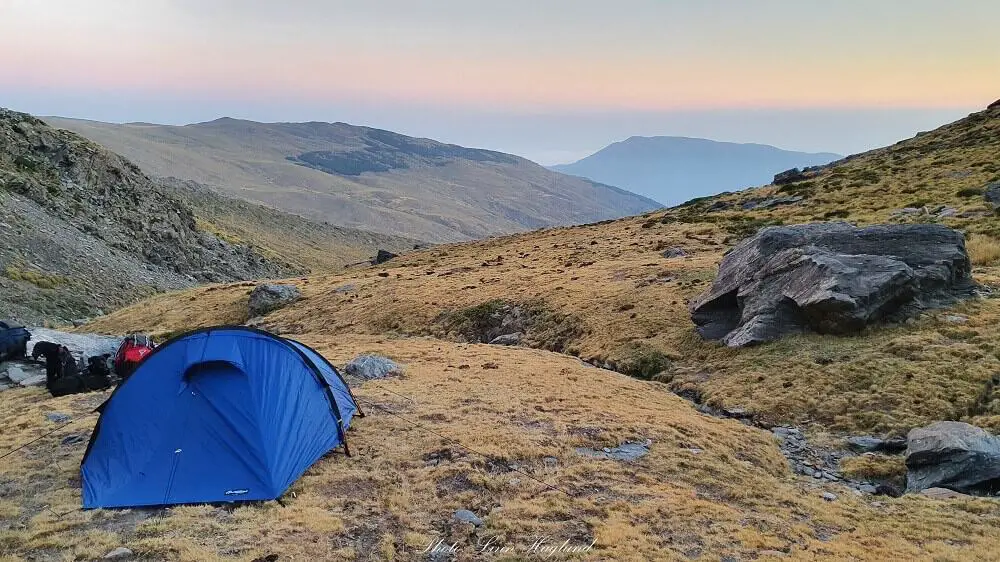 The top of Spain
Arriving at the top of Mulhacen, the top of Spain, all the struggling to walk the last kilometers will be forgotten in an instance. The views of the surrounding mountain tops are mesmerizing. So is the feeling of conquering another mountain top, it's simply not comparable to anything else.
The summit has some steep and fairly dangerous edges, so be careful where you go especially on windy days. Nonetheless, the peak is perfect to have your lunch. There is plenty of space for everyone to get a seat with a view. There's a big chance that a couple of mountain goats come by to stare at you as well.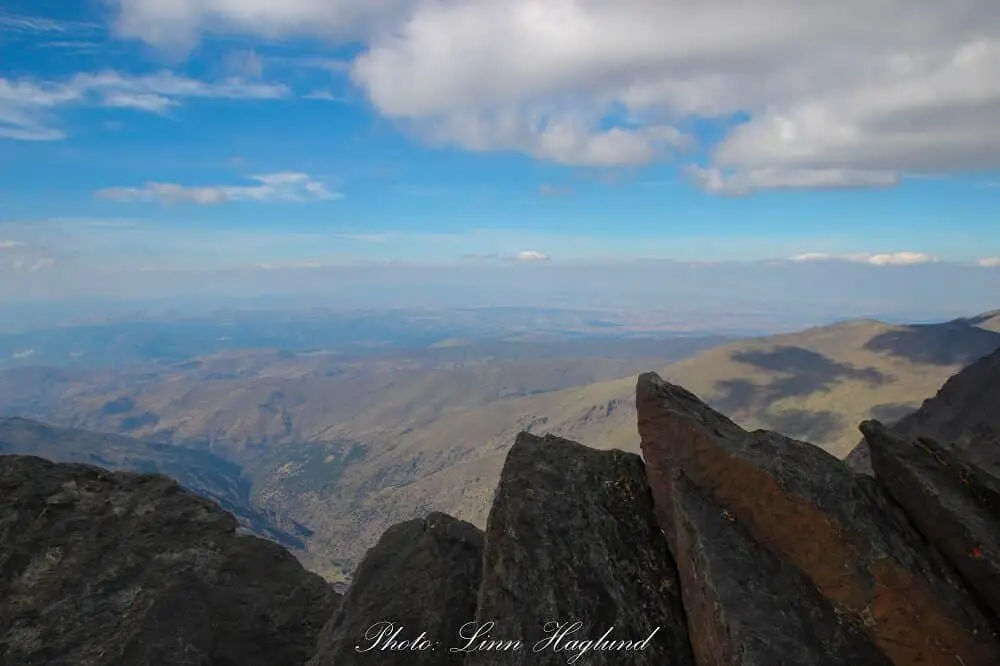 READ NEXT: The most beautiful towns and villages in Andalucia
After thoughts on hiking Mulhacen
Hiking Mulhacen is an amazing experience. However, it can be a tough hike. If you're not physically prepared for it, the climb up the steep part of the mountain on the two day trek can be hard. It's also difficult if you're scared of heights or carry a lot of weight, as I was.
However, the one day hike with the bus shuttle is a fairly easy hike if you're in a moderate physical condition. What I remember as the hardest part of the one day hike was the altitude. However, I didn't notice that on the two-day trek. I might have been more acclimatized as I slept on nearly 3000 meters of altitude as opposed to driving from the coast the same morning and straight up to 2700 meters of altitude.
Whatever is your kind of hike, I really recommend doing it.
Looking for more spectacular summer hiking in Spain? Check out Cabo de Gata beaches where you can hike from beach to beach. You might also fall in love with this hidden gem just off the sunshine coast, Barranco Blanco.
Pin it for later!