Most people think Barcelona, Madrid, Malaga, and Seville when you mention Spain. These are all breathtaking destinations, but so much tourism!
If you are a little bit like me, you like to get a little off the trodden path. Though Spain is among the most visited countries in Europe with over 80 million international tourists in 2018 and areas badly affected by overtourism, you can still explore Spain off the beaten path.
I understand you need to visit popular places too, there is a reason they are so popular. But at least, make sure you are a responsible traveler, to leave as little footprints as possible when you do.
However, in true Brainy Backpacker style, take a look beyond these iconic places too and seek some hidden gems in Spain on your next trip. There are plenty of destinations that would appreciate more (responsible) tourism!
After living a total of 8 years in the country, I have discovered quite a few secret places to visit in Spain. Nevertheless, to complete this off the beaten path Spain roundup, I've asked for the help of some other travelers that have been to some amazing places too!
Get ready to explore the best of Spain off the beaten track!
Disclosure: This post may contain affiliate links. That means that if you make a purchase through one of those links, I will get a small commission at no extra cost to you.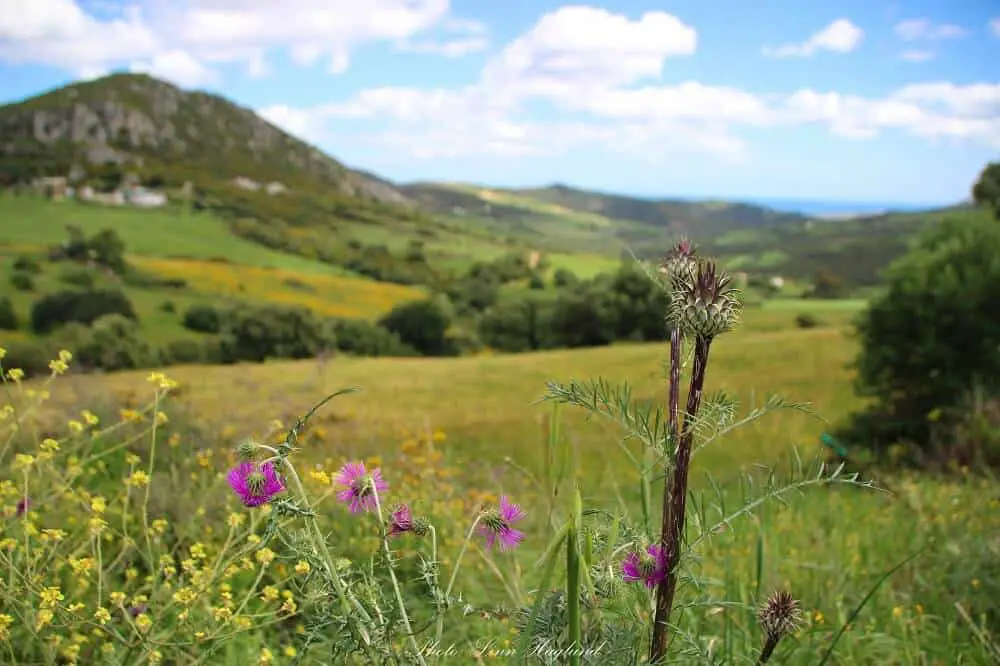 MORE FROM SPAIN
Spain off the beaten path
There are so many incredible places to choose from if you want to explore Spain off the beaten path! Here are our top picks including how to get there and where to stay!
Los Caños de Meca (Cadiz Province)
As part of El Ancantilado Natural Park, Los Caños de Meca is a tranquil bohemian corner of southern Spain in the province of Cadiz.
Once inhabited by hippies, this mesmerizing coastline, covered by long, white-sanded beaches, pine trees, and rocky coastline has come straight out of a painting.
Today, it's popular among locals, and especially kite surfers take advantage of the windswept Atlantic coastline. However, there is not much to the little strip that makes the village, Los Caños de Meca.
Most people choose to stay in nearby Barbate or Conil de la Frontera. Yet, the beach is one of the most beautiful beaches in Andalusia.
Surrounded by sand dunes and crystal clear water, the Trafalgar Lighthouse is evidence of the famous battle of Trafalgar.
Make sure you head to the rocky side too to make yourself a full-body treatment of natural clay!
There are beautiful footpaths along the rocky coastline with pine trees giving shade on a sunny day. You should definitely take your time to explore the natural park.
The best way to get to Los Caños de Meca is by car, though there are some buses going from Seville and you can take a bus from Cadiz or Malaga to Conil. However, if you want to go on a day trip from Cadiz or Seville, I recommend driving.
Where to stay: Hostal Las Acacias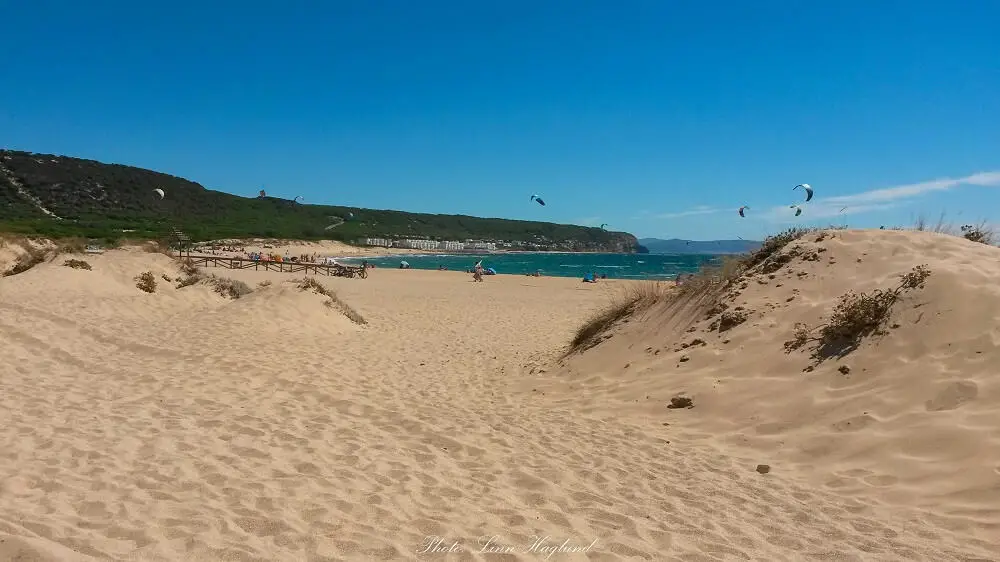 Carmona (Seville Province)
Only half an hour's drive from the grand city of Seville you find a small town full of history and character. Carmona is not on most tourists' radar when they visit Spain, though it's totally worth the detour or even a day trip from Seville.
The town has two main entrances, the Roman gates Puerta de Cordoba and Puerta de Sevilla. The latter is integrated with the Moorish Alcazar fortress which offers some of the best views of Carmona from its Tower of Gold.
You also find the breathtaking 15th Century Gothic church Iglesia de Santa Maria de la Asunción right next to the gate.
There are many things to see in Carmona and you could without a doubt spend a whole day wandering the streets, have tapas and drinks at Plaza del Mercado de Abastos, and discover the historic layers of one of the oldest towns in Europe.
The ancient church, Iglesia de San Pedro, is a good example of the mosaic of cultures and different ages that have reigned in Carmona. Make sure you climb the tower of the church, the Giraldilla, which is named after its big brother, the Giralda in Seville.
You can easily get to Carmona from Seville by bus or by car. If you opt for staying a couple of days or more to really soak in the layers this interesting town has to offer, you can stay at either Convento Madre de Dios de Carmona or Hospedium Posada San Fernando.
Book your stay with Hospedium Posada San Fernando here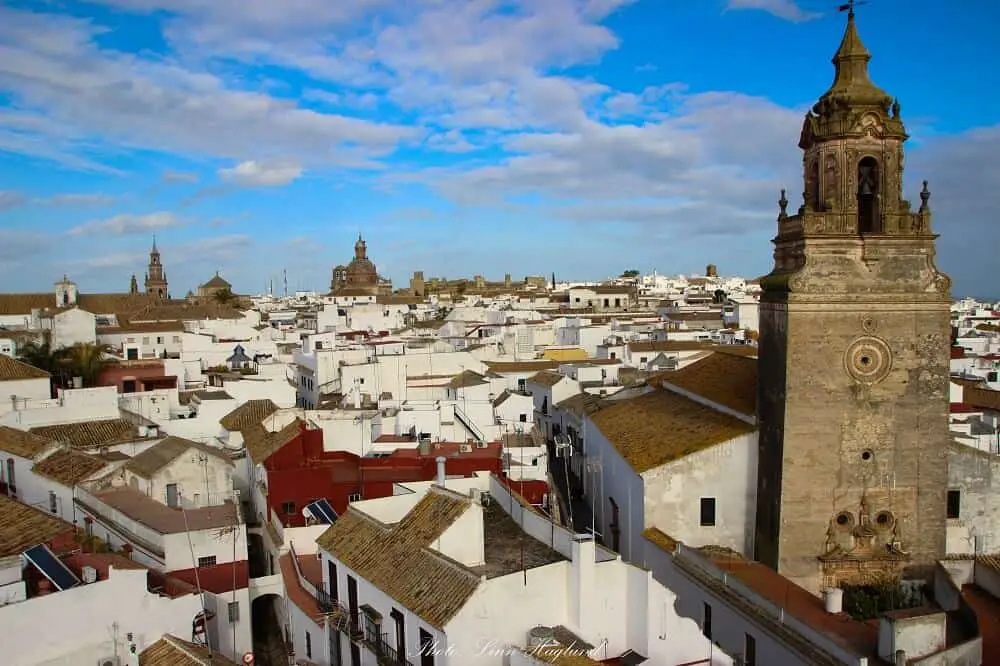 Minas de Ríotinto (Huelva Province)
Minas de Ríotinto is a small mining village in the inland of the province of Huelva and one of the best hidden gems in Spain. The village itself doesn't have much to it other than a mining museum. One day is enough and you can probably even stay in any of the small villages around which will be nicer.
But you should definitely visit Minas de Ríotinto. If not for the village, at least for the river. It's called Rio Tinto for the same reason it's called Vino Tinto. Yes! You got it right! The red color!
This unique red river that flows past the village gets its color from high levels of minerals like copper and iron in the water. When I first saw a photo of this place I thought it wouldn't be close to that cool in real life. You know all the stuff you can do in Photoshop.
Anyway, I wanted to go check it out for myself. To my surprise, the river is actually that red!
By visiting the mining park, you can join a train ride that takes you along parts on the old mining route. The train was originally used to transfer miners between sites. The train will also stop by the river so you can see it with your own eyes.
Hostal Atalaya is a 2-star hotel in Minas de Ríotinto which is fairly cheap.
Book your stay with Hostal Atalaya here
I stayed in Aracena which is only half an hour away by car. If you choose to stay in Aracena, make sure you visit the mesmerizing Cave of Aracena.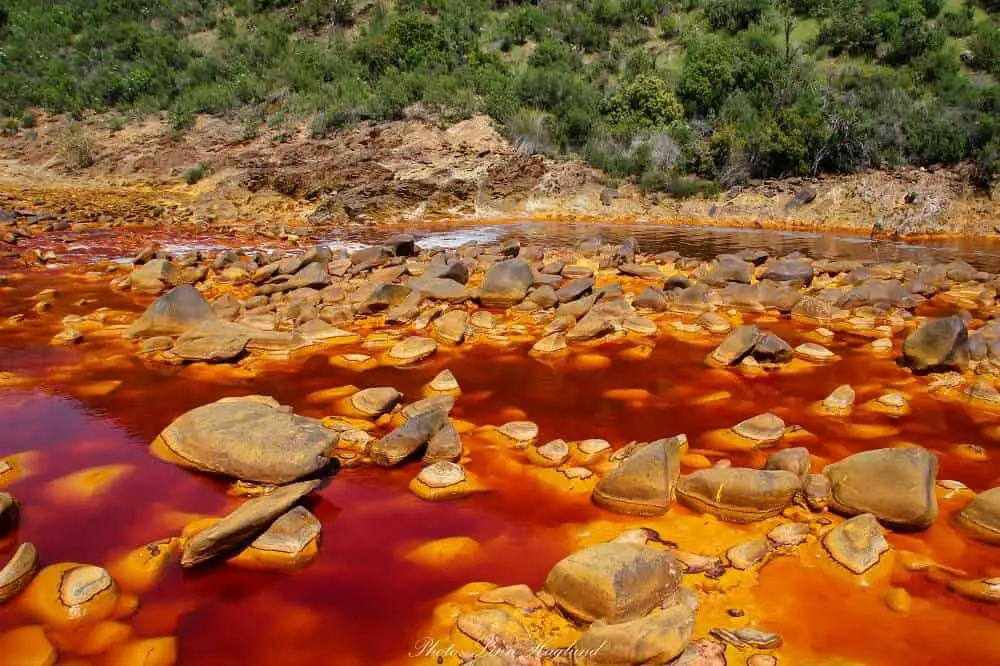 Mérida (Badajóz Province)
One of the most impressive cities in Spain off the beaten path is the UNESCO city of Mérida. Situated less than an hour from the Portuguese border in the Extremadura region, the city boasts a wealth of Roman heritage.
In fact, Mérida is the city with the most Roman remains, and them being the best preserved, in the entire country. Why this city is one of the most non touristy places in Spain is to me a mystery.
With an impressive archaeological area where you can see three of the main sites in one entrance, the Roman Theater, the Amphitheater, and the remains of a Roman Villa, you think you have seen it all. But this is just getting started.
Among the free things to do in Merida Spain, you can admire the Temple of Diana, see the Pórtico del Foro, witness one of the longest Roman Bridges in Spain, and admire a part of a once 10-kilometer-long aqueduct.
Merida is also home to a splendid Moorish Alcazaba and impressive medieval basilicas and in my opinion, it is one of the best places to visit in Spain for first timers.
Where to stay: Hotel Spa Adealba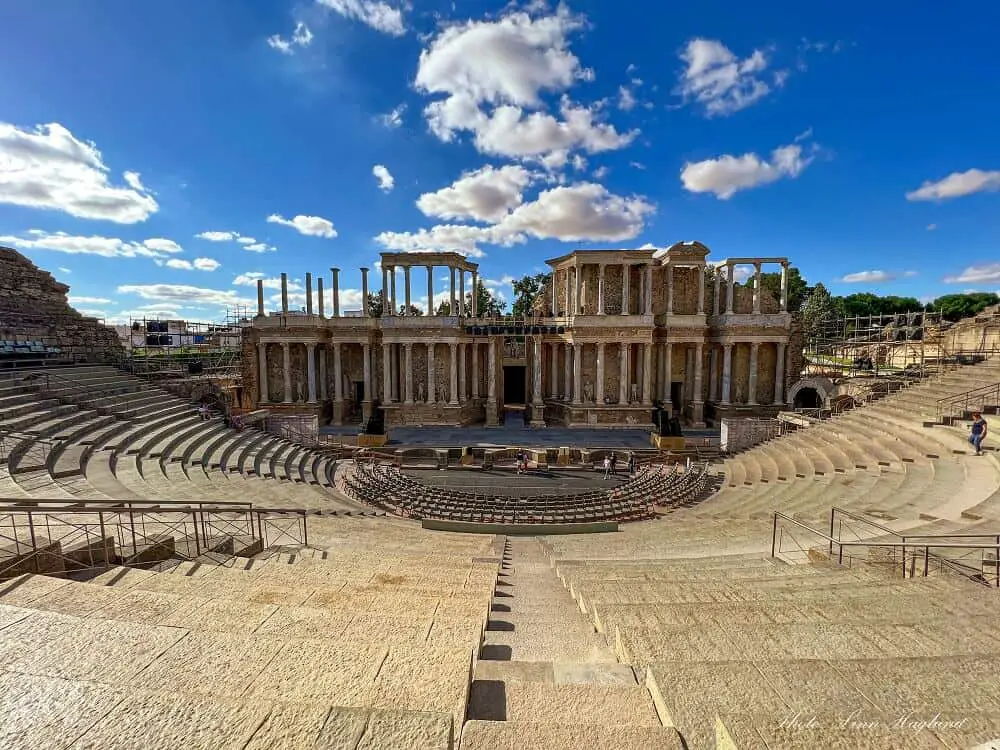 El Saltillo: "The Other Caminito del Rey" (Malaga Province)
Have you wanted to hike El Caminito del Rey? What about a smaller, more secluded, less crowded version where you don't have to wear a helmet or pay an entrance fee?
El Saltillo is definitely a worthy alternative! Starting in the village of Canillas de Aceituno it shares the same starting point as the route to La Maroma, Malaga's highest peak.
However, turning right in the middle of the stairs taking you up above the village, crossing olive groves, passing a concrete aqueduct gets you on the right path.
The trail follows the old water pipes all the way along steep hills. This is not a hike for anyone with vertigo. The path is extremely narrow in parts yet incredibly beautiful.
Towards the end of the trail, you get to the first of two suspension bridges hanging along the cliffside. The end of the linear route rewards you with a little waterfall to cool down before your return. One of the best off the beaten path hikes in Spain I've been on!
You'll need a car to get to Canillas de Aceituno and can easily be done as a day trip from Malaga. If you want to stay a couple of days to hike La Maroma too you can stay at Casa Bonita.
Book your stay at Casa Bonita here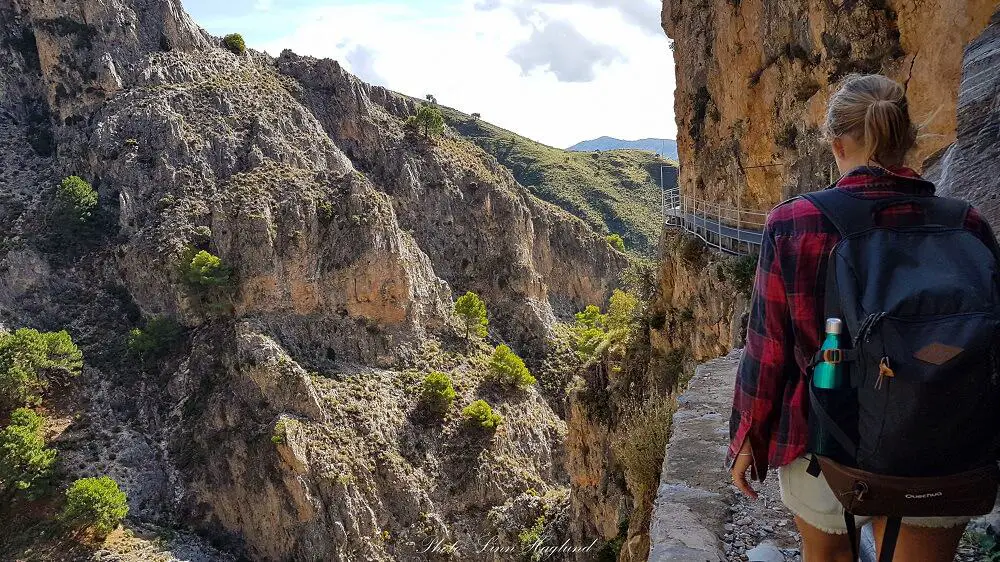 Cabo de Gata Natural Park (Almería Province)
One of my favorite places on earth is Cabo de Gata Natural Park! The desert area boasts a nature scene like nowhere else. Volcanic rock meets the glittering Mediterranean Sea and secluded beaches are nestled in-between.
Even the most popular beaches like Los Muertos Beach, Los Genoveses Beach, and Monsúl Beach leave plenty of space between people in high season. While these might be the most popular, there are other beaches in Cabo de Gata that only the most adventurous get to.
Cala de San Pedro is one of the few beaches in Spain where the police won't bother you for camping. With a hippie community that has inhabited the valley where the beach is, this is one of many beaches in the natural park where clothing is optional.
You can easily get to Cabo de Gata Natural Park from Almeria Airport. Though there are buses from the city of Almeria, I recommend going by car as the area is so big and secluded that you will miss out on the best spots without your own mode of transport.
My favorite place to stay is the camping Complejo Turístico Los Escullos San Jose. Make sure you bring the needed eco friendly camping essentials, I have a great list here.
However, if you prefer a hotel, Hotel Atalaya in the town of San Jose is a good option.
Book your stay at Hotel Atalaya here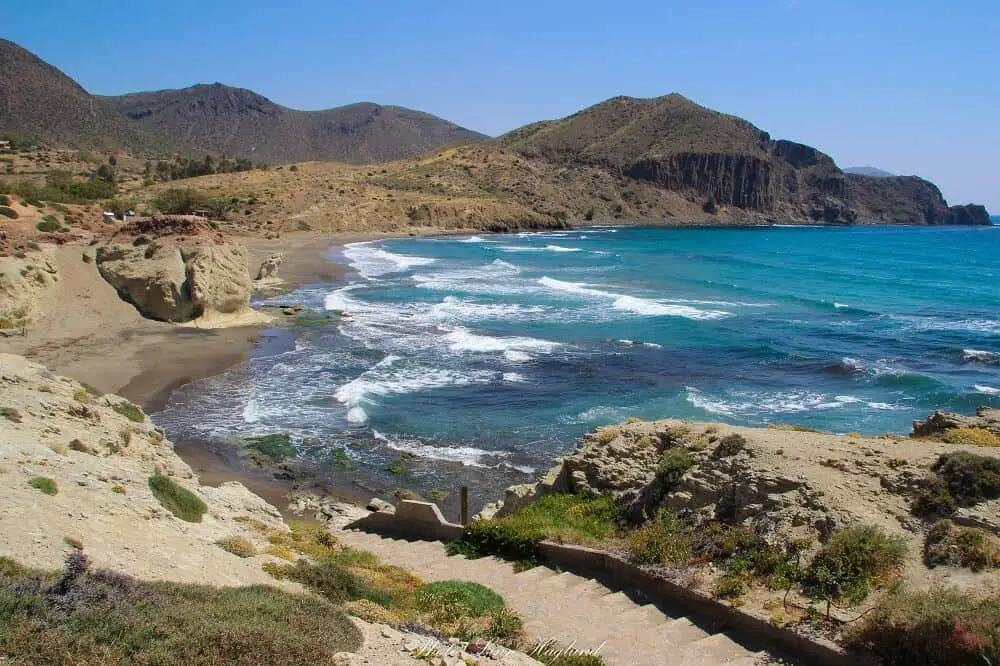 Ojén (Malaga Province)
Also called The Village of Lemons, Ojén is nestled between Sierra Blanca and Alpujarra above Marbella. The little village is not receiving as much attention as it deserves but is definitely one of the most beautiful white villages in Andalusia.
The natural caves alongside the village are interesting. Looking up at the houses sitting on the edge of the cave roof, makes you pray for it not to collapse. There is actually a small place of worship with a virgin in the cave.
Walking up the path along the caves takes you up above the village where you get the best views of the village and the faraway Mediterranean Sea. Walk up the steps on the other side of the road and you find yourself in a little cave where you can enjoy the views from a bench.
There are also a few enjoyable hiking routes going from the village itself. If you go early in the morning you can walk to La Concha or Cruz de Juanar from Ojén. However, I recommend driving up to Refugio de Juanar for these hikes as it will shorten them with more than 2 hours.
In the summer months, you can enjoy the refreshing river by Ojén and swim in the local natural swimming hole of Viñas.
Where to stay: Alojamientos Monteverde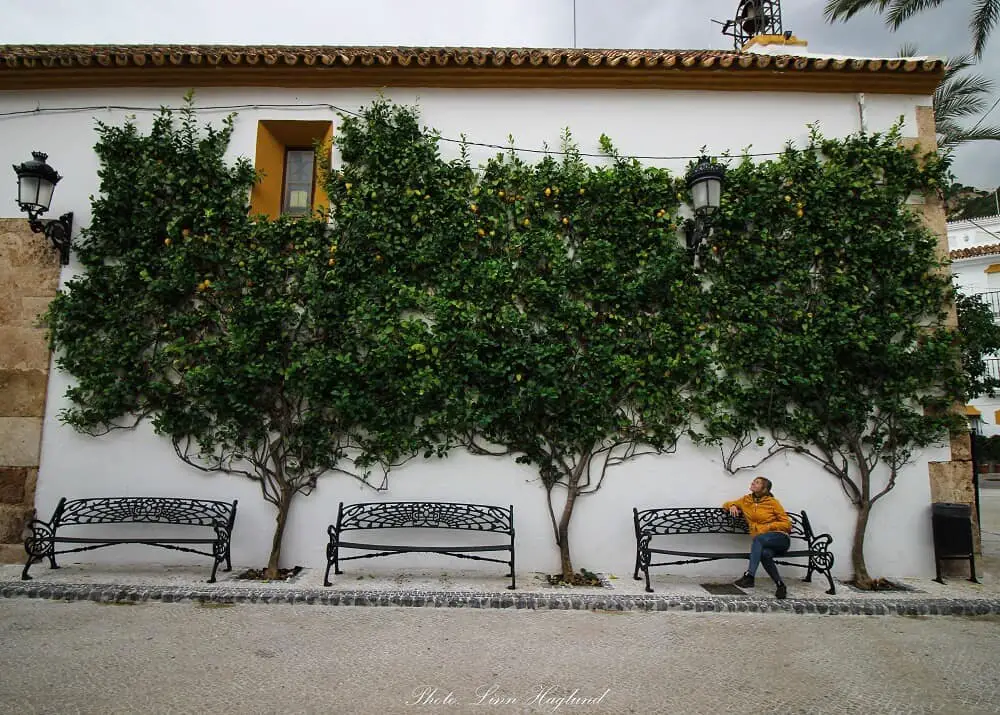 Guadix (Granada Province)
If you want to experience a typical cave house district, breathtaking nature, and one of the oldest human settlements in Spain, then Guadix is the place for you. As one of the best hidden gems in Spain, Guadix is situated in the province of Granada.
There are plenty of things to do in Guadix. The Roman Catholic cathedral is a masterpiece built in the span from the 16th to the 18th century. The Alcazaba of Guadix is maybe one of the best examples of Moorish culture in the little town while the seminary is one of the oldest in the country.
Close to the cave district, Barrio de Las Cuevas, you find a viewpoint of the city and surrounding mountains. However, if you want a truly natural view, head to Mirador del Fin del Mundo (End of the World View Point).
You can easily take the bus to Guadix from Malaga, Almería, and Granada. But the best way to explore the surrounding areas and get to do some hiking is if you have your own car.
When in Guadix you should definitely opt for staying in a cave! A good and reasonably priced option is Cueva El Jaraiz.
Book your stay with Cueva El Jaraiz here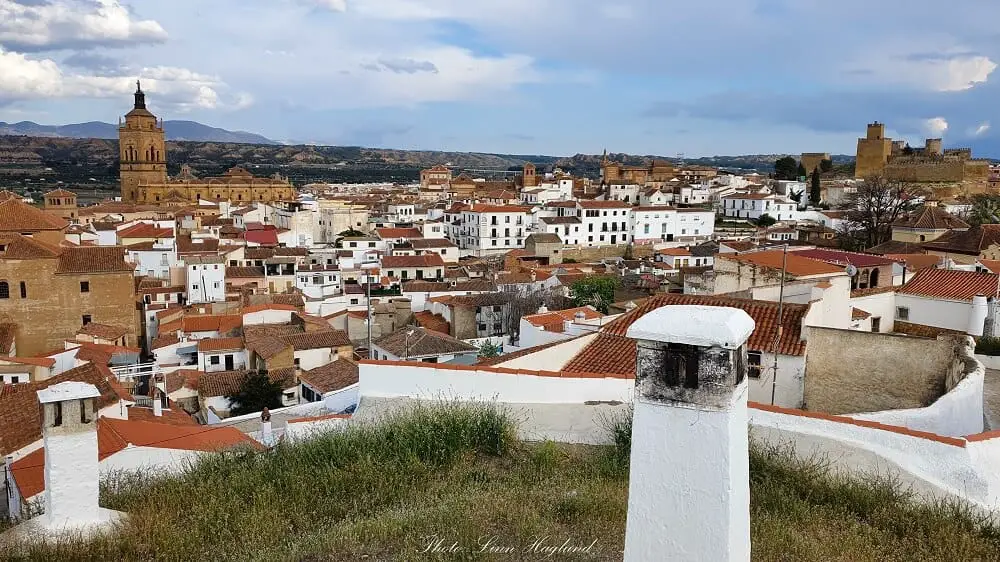 Sanabria Lake Natural Park (Zamora Province)
Sanabria Lake Natural Park is situated in the Zamora Province (Castilla and Leon). There are endless hikes to discover in the park with Peña Trevinca being the highest peak of 2124m. The lakes are popular among the Spanish in the summer months, but not many foreign tourists make it to this part of Spain.
You find the biggest glacier on the Iberian peninsula in the park which forms numerous glacier lagoons. The biggest of these is the Sanabria Lagoon.
Apart from the hiking routes and the lakes, there are many cute, small mountain villages dotted around the outskirts of the park, Puebla de Sanabria being the most important. Some of them are not even worthy the village title as they don't even have a supermarket, but super-charming.
Distinctive for the area are the old stone houses with chalkboard rooftops that haven't been changed in centuries. Sanabria Lake Natural Park is truly a great off the beaten path Spain destination which is only reached by car.
Stay in Puebla de Sanabria at Hostal Raices for a reasonable price.
Book your stay with Hostal Raices here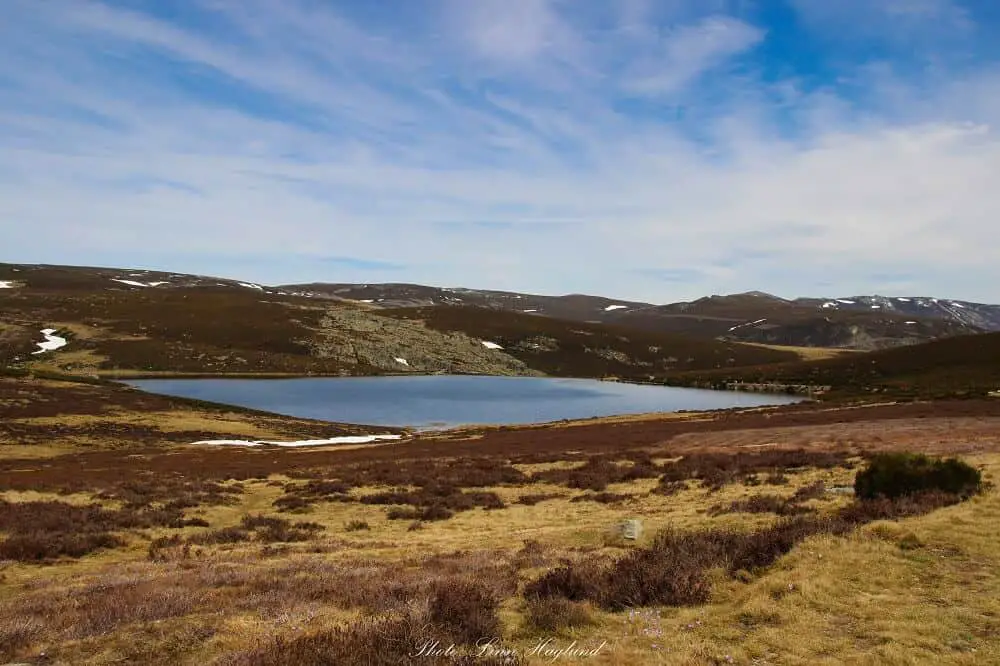 Cazorla Natural Park (Jaén Province)
Cazorla Natural Park is covering more than 2000 square kilometers and is the largest protected area in Spain. There are unlimited with trails and a mecca for animal lovers! The abundance in wildlife makes it easy to spot deer, wild boar, and fox among other species.
Endless forests, peaks to climb, and rivers to swim in, the natural park has something for everyone that loves nature.
There are a few small towns to stay in, Cazorla being the most popular. You'll need a car to get the most out of the park, but there are hikes going straight off the villages too. They are really just surrounded by nature!
Where to stay in Cazorla: Andalucía
For a unique experience, stay at Parador de Cazorla
Castril (Granada Province)
Sitting on the top of a rock in the middle of the rural parts of the Huescar Region in Granada Province, Castril is a superb off the beaten path Spain destination.
The steep cobbled streets are tightly walled by whitewashed houses decorated with wood and neat Arabic tilework leading up to Castril Castle. The strategically placed fort holds impeccable views of the surrounding countryside.
The main attraction, though, is the Sendero de la Cerrada del Rio Castril, which is a beautiful boardwalk talking you along the glittering river of Castril, crossing a suspension bridge and through a tunnel in the mountain before it ends by an old windmill which is now made into a restaurant.
The walk is only an hour one way, but to change the scenery, you can walk back to the village along a dusty dirt road through silver olive groves.
Castril is surrounded by the mesmerizing nature of Sierra Castril Natural Park and for hikers and bikers, there is enough to explore for weeks. Even with the proximity to Cazorla Natural Park, this is a natural heaven.
The easiest, if not the only way to get to Castril is by car. It is really off the beaten path in Spain but so worth the visit.
There are no hotels in the village. They are all spread around the natural park. You find a lot of incredible Casas Rurales, though good value for money and about the closest you get to Castril is El Maño I, only 12 kilometers from the center which makes it walkable.
Book your stay at El Maño I here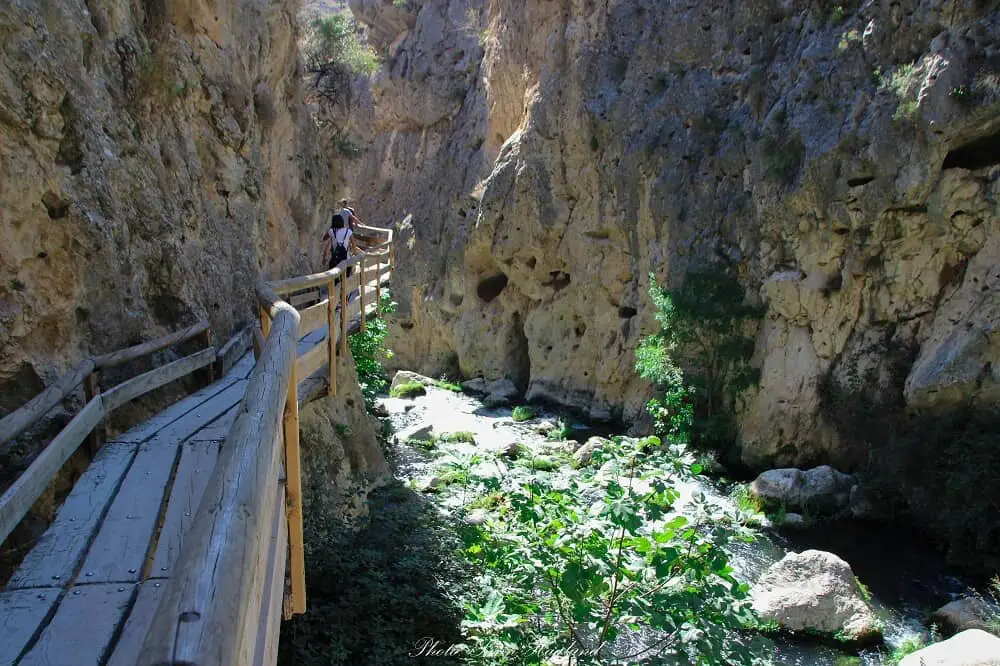 Gaucín (Malaga Province)
One of the first villages you find driving up the scenic hairpins of the Serrania de Ronda Wine route, Gaucín is also one of the most remarkable. The whitewashed village holds a turbulent history for its strategic positioning 626m above sea level with a straight view of Africa and Gibraltar.
Now, the village is popular among foreign artists who let themselves get inspired by the breathtaking surrounding scenery, green valleys turning into colorful water paintings with the seasons. The narrow streets boast local art galleries and the odd bakery.
The highlight of Gaucín are the ruins of Castillo del Aguila which stands tall above the village and offers magnificent views in all directions. The name means The Castle of the Eagle and it's not just because of the far-away views, but if you look for them, you will most likely see eagles patrolling the sky.
Gaucín is easily accessed by car from Costa del Sol, only an hour from Marbella.
Stay at Casa Nina or La Fructuosa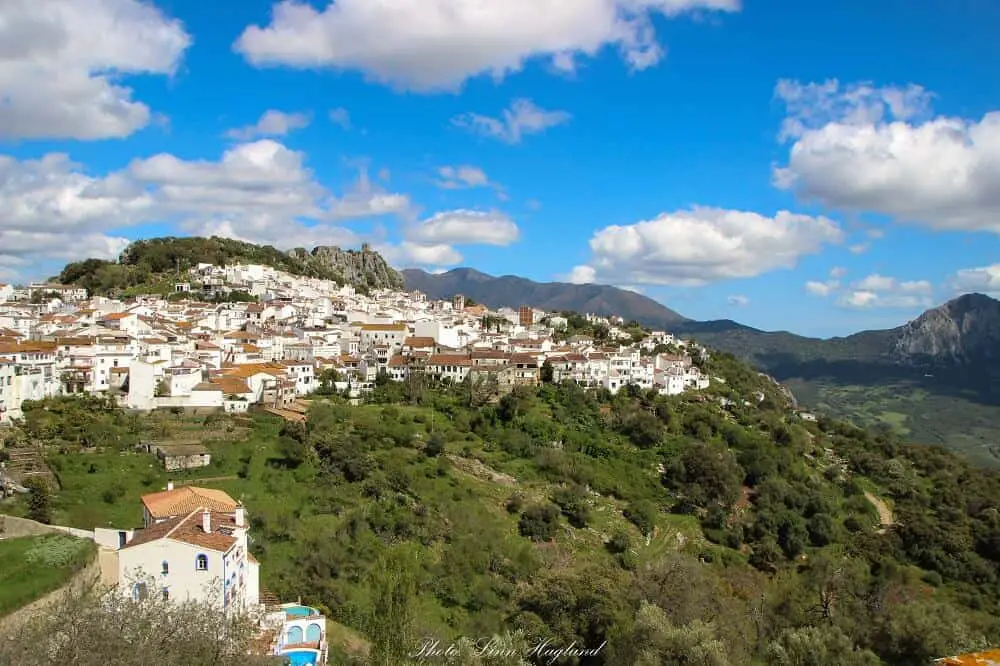 Santander (Cantabria Province)
By Derek and Mike of Robe Trotting
While the cities of Madrid and Barcelona, as well as the beaches of Southern Spain, get a lot of attention, one destination that should be on your travel bucket list is Spain's North Coast.
Specifically, consider a trip to Santander in Cantabria. This is one of the most beautiful coastal cities in Spain. The city serves up delicious pinchos, gorgeous beaches, and natural landscapes to explore.
Santander is easily reached by train from any major city in Spain and there is a small airport for air travel. If you're doing a road trip or backpacking around Spain, Santander can be enjoyed for a two or three-day stretch, but once you're there you may just decide to spend even longer.
While there are plenty of things to do in Santander, you can stamp out the highlights in two days and then save one full day for relaxing on the beaches.
The best beach to visit in Santander is Sardinero Beach. Since it's on Spain North coast, the water temperatures are cool and refreshing.
You can also try surfing, but the best surfing conditions are across the bay in a smaller town called Somo. You can reach it by ferry in under 30 minutes with a picturesque ride across the bay.
While the beach is a main draw, visitors also love Magdalena Palace, the former residence of the royal family. From the peninsula it's located on, you have sweeping views of the town and the lighthouse on Mouro Island.
Where to stay: Hospedaje Magallanes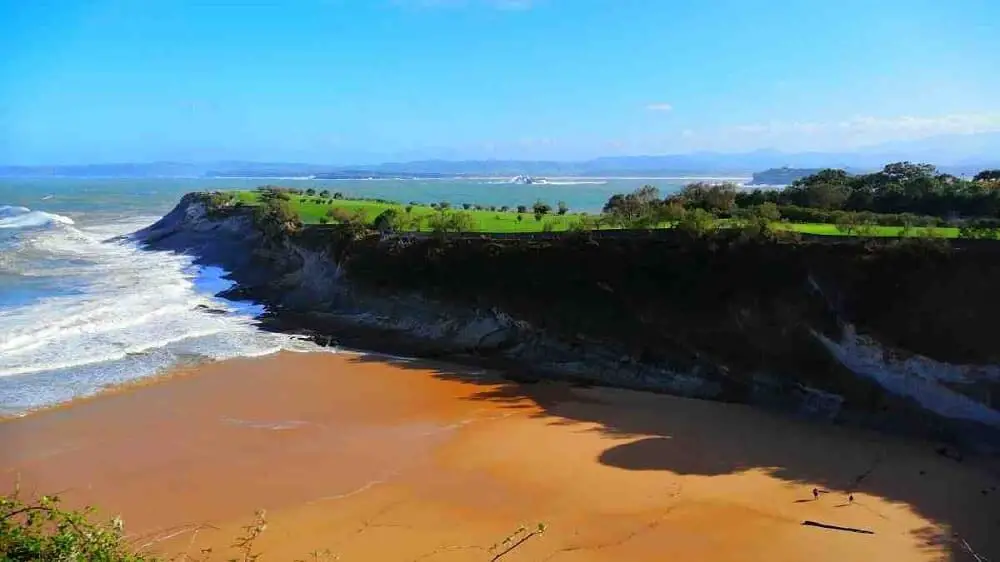 Plasencia (Cáceres Province)
By Wendy Werneth of The Nomadic Vegan
While Plasencia does get a handful of domestic tourists, most foreign visitors to Spain have never heard of it. Located in the remote Extremadura region in western Spain, it once held a very strategic position along the Silver Route, or Vía de la Plata.
Many of the Spanish conquistadors came from this part of the country, and when they returned from the New World with their plundered riches they built opulent palaces here for themselves and their families.
These palaces are now some of the most prominent attractions in Plasencia, in addition to its well-maintained system of fortified city walls. You can climb up one of the towers and enjoy the views from the ramparts.
While you're up there, be sure to visit the Interpretation Center of the Medieval City to learn more about Plasencia's illustrious past.
The Cathedral of Plasencia is another must-see attraction, and the Plaza Mayor is the place to go to enjoy a drink in the sun and hang out with the locals.
You can see all of Plasencia's attractions in a day, but it's worth staying overnight just for the experience of sleeping in the Plasencia Parador, located inside what was originally a 15th-century monastery.
Plasencia is about halfway between Cáceres and Salamanca and can be reached by bus from either of these cities. Trains heading from Madrid to Mérida or Badajoz also pass through Plasencia.
Book your stay at Parador de Plasencia here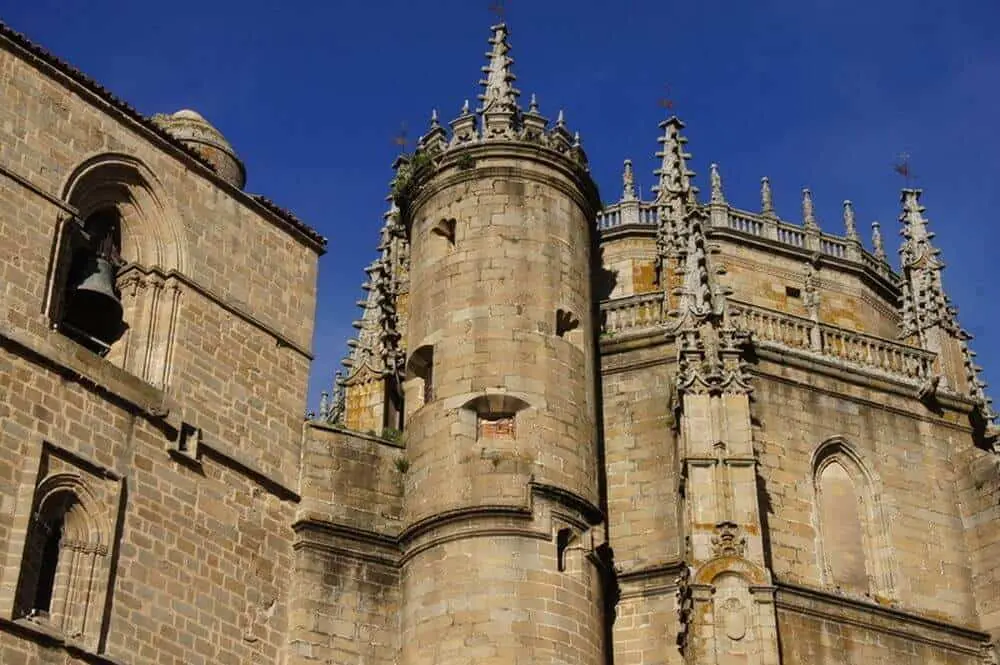 Zaragoza (Zaragoza Province)
By Vicki Franz of Vicki Viaja
For me, Zaragoza is definitely one of the most underrated cities in Spain. That's why every year, we spend at least a few days in the capital of Aragon. Certainly, Zaragoza has a lot of magnificent sights to offer. With the city's perfect location between Barcelona and Madrid, it is much more than just a convenient stopover during a trip around Spain.
Anyone visiting Zaragoza should spend at least one day in the city. However, we recommend at least 2-3 days to get to know life in the city better.
The most famous sights in the city are the Moorish Palace Aljafería and the Basílica del Pilar.
This impressive basilica, which counts as the largest baroque church in Spain, is one of the most significant sights in the whole country. With its location in the center of Zaragoza, it is the most visited place in the city.
The Plaza del Pilar, where the basilica is located, is also a popular attraction for Zaragoza's visitors. In addition to the globe, the Fuente de Hispanidad, which has the shape of South America, is a real eye-catcher.
If you would like to have an even better view of the Pilar to admire this impressive church in its entirety, the bridge "Puente de la Piedra," which is located directly behind the Plaza del Pilar, is an excellent viewpoint.
Where to stay: Hotel Inka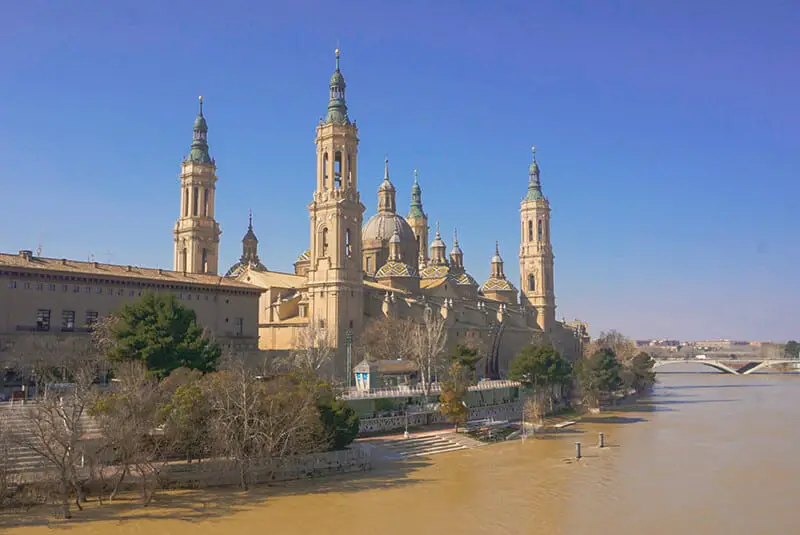 Banyalbufar (Mallorca – Balearic Islands)
By Clemens of Travellers Archive
When thinking about the island of Mallorca, most people have Palma in their mind, but there is definitely more that needs to be explored there.
My favorite village in Mallorca is Banyalbufar. It is located on the Western coast of the island and not far away from the stunning Tramuntana mountains.
However, it is mostly the location right on the coast that makes it special, in fact, it might even be considered one of the best coastal towns in Spain.
With its restaurants and their picturesque rooftop terraces, you always find a perfect spot to watch the romantic sunset.
Also, the bay in Banyalbufar is super unknown and mostly "used" by locals to swim off the 40 degrees summer temperatures. Still, it is perfectly clean with turquoise water and dreamy cliffs.
For anyone who is just here for a shortstop, you can easily see everything in Banyalbufar within half a day. However, I find Banyalbufar to be the perfect base for road trips along the Westcoast of Mallorca, especially if you want to really explore Mallorca off the beaten path.
I stayed at the hotel "Can Busquets Turismo de Interior". The hotel is a family business and only has a couple of individually decorated rooms. Breakfast is served in a tiny little courtyard and prepared by members of the family themselves. This was one of my favorite hotels I stayed in – ever!
Book your stay with Can Busquets here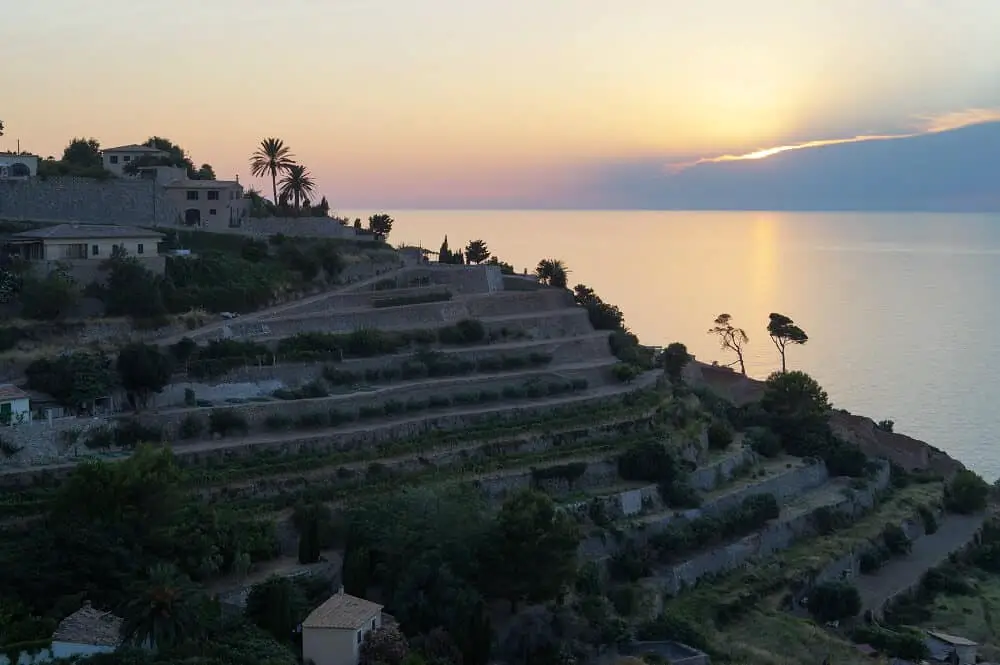 Ainsa (Huesca Province)
By Izzy and Phil of The Gap Decaders
Ainsa, known as one of the most beautiful pueblos in Spain, is a delightful medieval hill town in the ancient region of Aragon. At the foothills of the mighty Pyrenees, Ainsa is a town of two halves.
In the valley lies the modern town, split by two rivers meeting after their journey south from the mountains. The jewel of Ainsa though, is the old quarter, perching on the hill above.
Ainsa's old quarter is packed full of well-preserved medieval architecture, pretty cobbled streets, and gorgeous cafes.
There is a superb Romanesque church there, climb the belfry for incredible views to La Pena Montanesa, a dramatic rocky Pyreneean outcrop to the north.
Stop in the charming Plaza Mayor, where you'll find the best architecture (and coffee!) before heading to the 11th-century Castillo which dominates the town, where you'll also find great views from the restored ramparts.
The Castillo grounds host several live Spanish and international music festivals held over the summer each year and La Morisma, a huge reenactment of an 8th-century battle between Moors and Christians. 
Ainsa is a perfect Spain off the beaten path place to stop as you head into or leave the country on a pan-European road trip.
Where to stay: Hotel Meson de L'Ainsa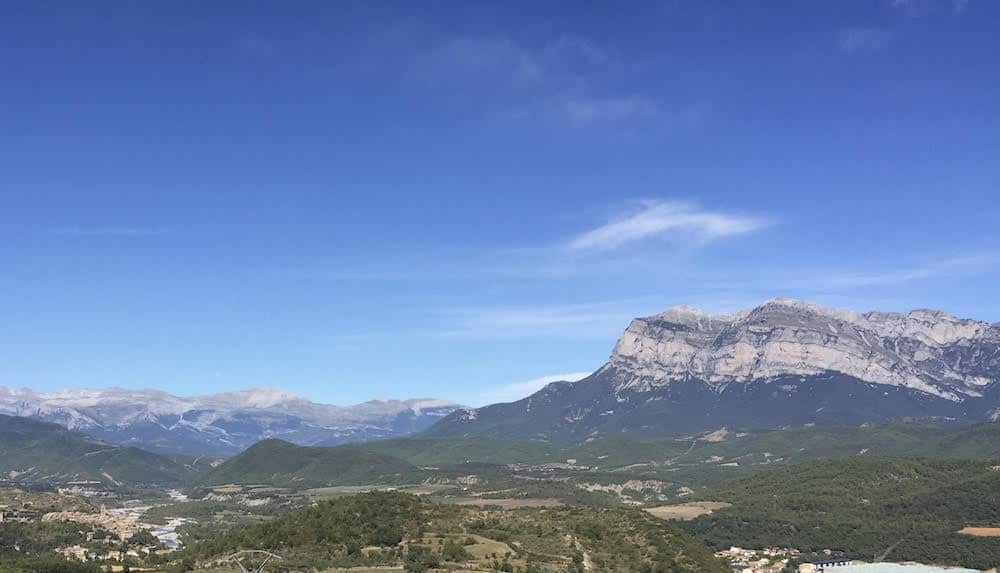 Tarragona (Tarragona Province)
By Elisa of World in Paris
Tarragona is a beautiful city located in the south of Catalunya, bathed by the Mediterranean Sea. The city's perfect location- only one hour from Barcelona by train – and mild weather make Tarragona the perfect weekend getaway from the Catalan capital but it is also possible to visit on a day trip from Barcelona.
The weather in Tarragona is always good, one would say that the sun loves Tarragona! The last time I visited Tarragona was in January and I could wander around the city without a jacket. Obviously, people who also want to spend some time on the beach will prefer to visit Tarragona in the summer.
Tarragona was founded by the Romans under the name of Tarraco and some of the public buildings from the Roman Empire are still visible today. The list of archaeological remains not to miss in Tarragona includes the amphitheater and the Roman walls.
Tarragona has also an important medieval heritage, especially in the old town. Take the time to explore the medieval narrow alleys and Tarragona's impressive cathedral built on the top of a magnificent staircase.
Finally, get a taste of the local cuisine (and its wines!) in one of the traditional restaurants in the city.
Where to stay: Plaça De La Font
As Catedrais Beach (Lugo Province)
By Darek of Darek and Gosia
As Catedrais Beach located near Ribadeo, off the coast of the Basque Bay, is considered one of the most beautiful beaches in the world. The original and official name is Playa de Aguas Santas, or Beach of Holy Waters.
Visiting the beach, which is about 1.5 kilometers long, is only possible at low tide when the ocean level lowers and reveals the sunken beach. The most impressive rock formations, almost 30 meters arches, are located at the eastern end of the beach and are located about 600 meters from the entry point.
Take a walk and admire the natural beauty of one of the most spectacular hidden gems Spain has to offer. It is worth remembering that Galicia is not the warmest place in Spain, so it's not necessarily a great place for sunbathing. Nevertheless, it makes As Catedrais Beach one of the best Spain off the beaten path attractions.
Where to stay in Ribadeo: El Pinar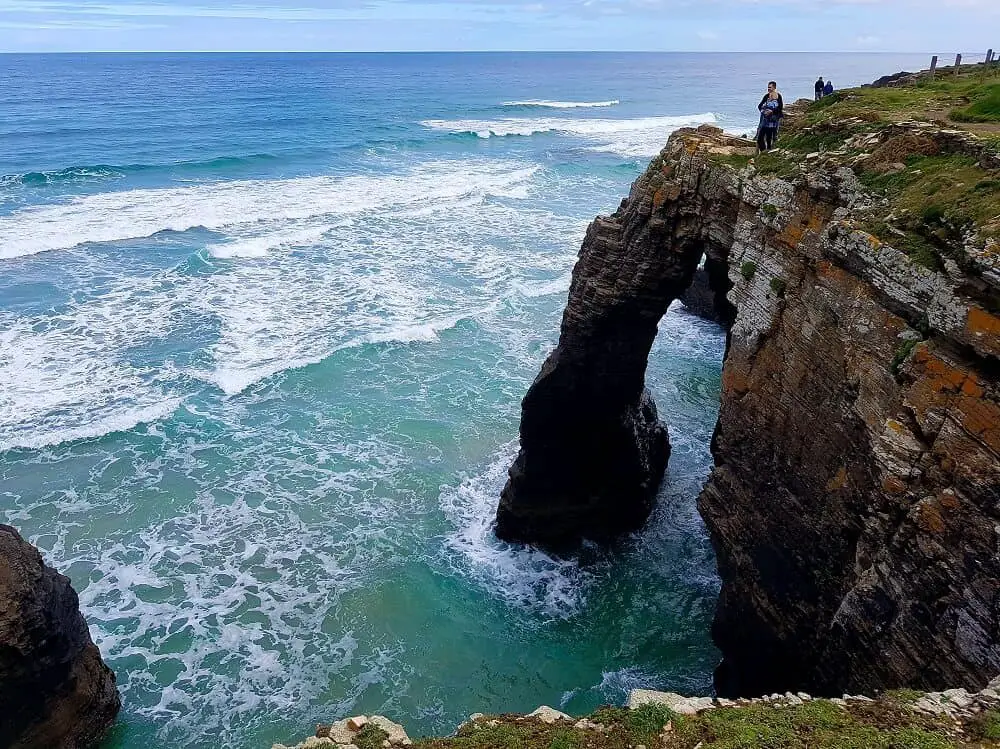 San Juan de Gaztelugatxe (Basque Country)
By Stephanie of Ethno Travels
If you plan to visit the Basque Country, you've certainly heard about San Sebastian on the Spanish side and Biarritz on the French side. But did you know that Game of Thrones 7 was shot in the area? The place I recommend to visit today is San Juan de Gaztelugatxe, the place of GOT Dragons castle!
San Juan de Gaztelugatxe is an island situated between two Spanish villages, Bermeo and Bakio. Park your car in one of the numerous free parking, register for the free visit, and start the 30 minutes hike down to the ocean. No doubt that you will stop on the way to enjoy the landscapes and shot plenty of amazing pics.
Once arrived at the ocean level, you'll be only halfway as you will still have to cross the beautiful stone bridge then take the stairs up to the church. Don't forget your water, especially if the weather is hot!
 From the top, you'll get a 360° view of the ocean, cliffs, nature. You can easily spend half a day visiting Gaztelugatxe. Prefer morning or the end of the afternoon if you want to enjoy the fabulous colors of nature and the ocean. But don't forget a light if you stay after sunset!
There are several accommodation options in Bermeo and Bakio. But you can also stay in Zumaia, where you'll find some other GOT shooting places.
Where to stay in Bermeo: Torre Ercilla Ostatua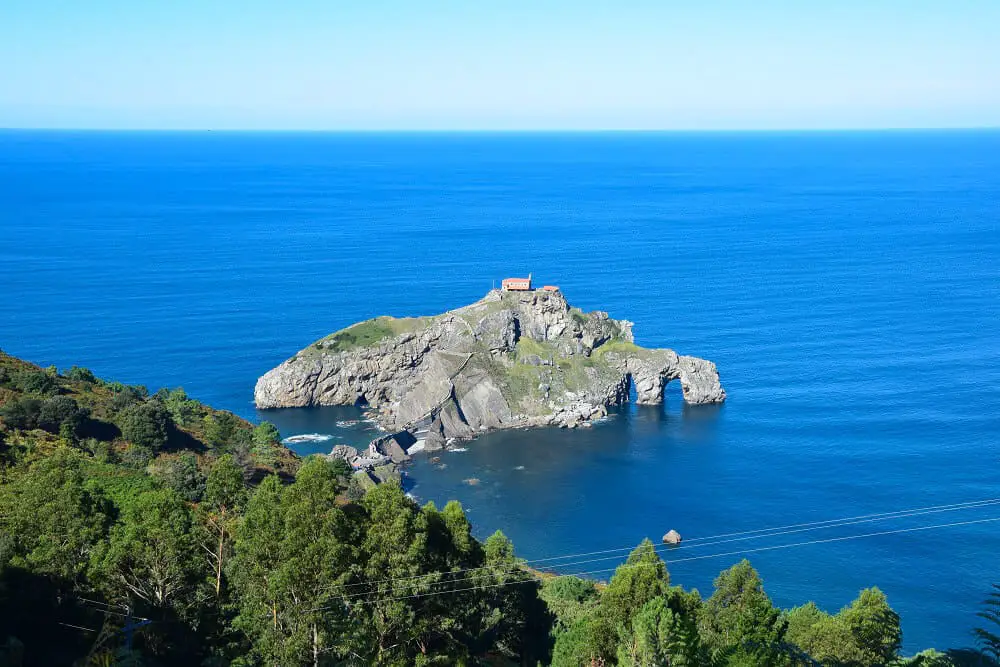 Logroño (La Rioja Province)
By Amber of Food And Drink Destinations
Logroño is the main city used to explore Spain's most famous wine region, Rioja. As the capital of the La Rioja Province, Logroño is the perfect city to explore the Rioja wine region.
With 150,000 year-round residents, the city itself is easily explored on foot. Like most cities across Spain, the centerpiece of Logroño is its cathedral. The Catedral de Santa María de la Redonda dates back to the 15th century and is a shining example of Gothic architecture.
One of the most recognizable attractions in Logroño is the Puente de Piedra or Stone Bridge. Rebuilt in 1871, the Puente de Piedra is one of four bridges that cross the Ebro River.
Only two hours drive from San Sebastian, visitors to Logroño will find the northern Spain tradition of pinchos throughout the city. Paired with outstanding local Rioja wines, Logroño is a food traveler's dream.
Be sure to visit Calle Laurel, the Logrono tapas street, where dozens of pinchos bars offer tasty tapas.
For those not interested in history, food or wine, Logrono is also known by many as one of the cities on the famous Camino de Santiago pilgrimage route.
Logrono can be reached from Madrid by both car and public transport in approximately four hours. Right in the center of the city is Hotel Calle Mayor a luxury, boutique hotel.
Book your stay with Hotel Calle Mayor here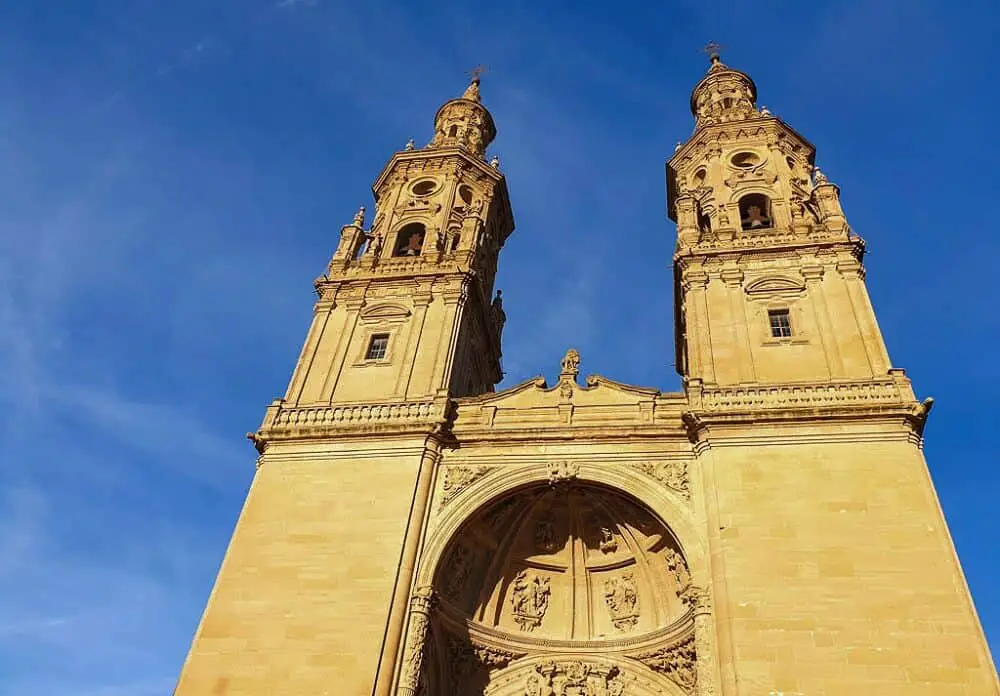 Bagá (Barcelona Province)
By Mayuri of To Some Place New
Bagá is one of the hidden gems in Spain that not many have heard about, especially if you are not living in the European continent.
Bagá is located in Catalonia in northern Spain. And what makes it super interesting is that it can be easily explored from Barcelona.
Barcelona to Bagá is only 1 hour and 15 minutes one way, making it perfect for a day trip. This offbeat medieval town is an amazing opportunity to see the Spanish countryside and go skiing during winters, so definitely add Bagá to your Spain itinerary.
There are quite a few things to explore in Bagá. The old lanes of Placa Galceran de Pinos, are juxtaposed to the Gothic quarter or Gaudi's architecture and will showcase a very unique side of Spain.
The St. Esteve de Bagá is a popular stop in the town – a 14th-century church.
The town was founded in the 9th century, and it sits at 785 meters above sea level. It takes you into the welcoming views of mountains, rivers, fields, and more. The French Pyrenees can be reached within an hour from Bagá.
Bagá's history can be traced back to the Knights Templar, and its central square pays homage to its leader and its alliance with the French.
Bagá is home to only 2200 residents, but this little town is popular during the winter months, as people hit the Pyrenees and Parc Naturel de Cadi-Moixero for winter sports. Bagá is an affordable spot for a night's stay. Winter Solstice is also celebrated in a grand way on Christmas Eve.
Because Bagá is so small, finding accommodation might be a hassle. However, you can easily find hotels a little outside of the village (15 miles or so).
Where to stay in Bagá: Hotel Ca L'amagat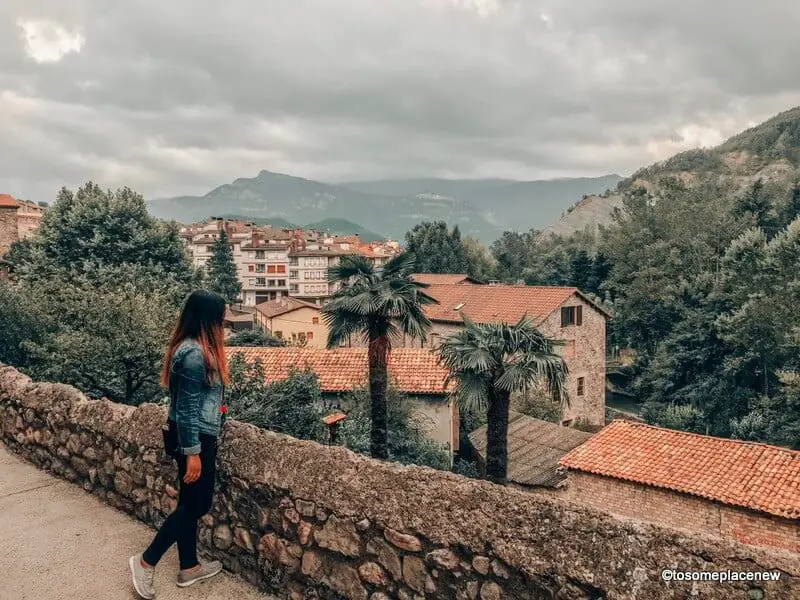 Garrotxa (Girona Province)
By Claudia of My Adventures Across The World
The volcanic region of Garrotxa, in Catalonia, is one of the places to visit in Spain that is lesser known to international tourists; yet a great one to visit for it will offer you a great all-encompassing experience. You can expect to find beautiful nature and adventure experiences; lovely small towns and quaint villages; unique museums and art and delicious food and wine.
The main town in Garrotxa is Olot, which is easily reached by bus from Girona (the main city of Costa Brava) or Barcelona. However, the best way to travel around Garrotxa is by car, as there are many smaller places that are a bit more difficult to visit on public transport.
To make the most of this region, plan to spend a week there. Among the places to visit, make sure to explore La Garrotxa Volcanic Zone Natural Park, where you can enjoy some easy hiking and biking trails that lead you to tiny Romanesque style churches in the middle of nowhere, such as Santa Margarida de Sacot, which is located center of an extinguished volcano crater.
Among the towns you should visit in Garrotxa, make sure to go to Olot, which was built on top of two extinguished volcanoes and is famous for the many art nouveau buildings scattered around its historical center.
Other lovely places are Santa Pau, Which has a well kept medieval historical center; and Besalu (actually, a quite popular tourist destination), which is famous for its Pont Vell (Old Bridge) built in the 12th century in Romanesque style and for its Jewish quarter.
You will find many good places to stay in Garrotxa, but the best ones are La Rectoria, a beautiful bed and breakfast located in a former rectory in Sant Miquel de la Pineda, not far from San Feliu de Pallerols, and Hotel Mas La Ferreria, built right by Romanesque style church in La Vall de Bianya. They are both quite isolated, so you will need a car if you are planning to stay there.
Book your stay with B&B La Rectoria de Sant Miquel de Pineda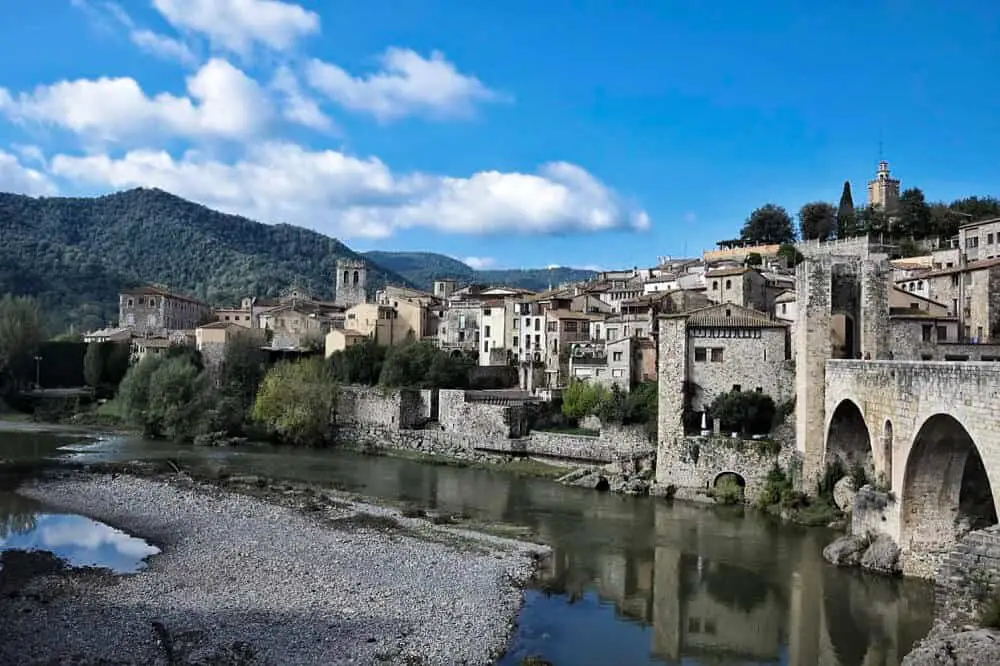 Teruel (Teruel Province)
By Lara of Both Feet On The Road
Most tourists that visit eastern Spain add Valencia to their list, but many do not realize that only 150 km away, you will find a beautiful underrated provincial capital city called Teruel.
It is the least populated capital in Spain, but the relatively small size is immediately compensated by the stunning architecture that can be found in the city.
Because it's such a small city, you can easily see most highlights in 2-3 days. During those days make sure you visit the four world heritage-listed churches that offer a unique view of Mudéjar architecture.
These include the cathedral of Santa María de Mediavilla, and the churches of El Salvador, San Martín, and San Pedro. At the latter, check out the tombs of the lovers of Teruel, a famous, but tragic Romeo and Juliet story from Teruel.
Other highlights of Teruel include the Escalinata de Teruel (stairs), the Plaza del Torico (with the famous bull statue), and the Aqueduct Los Arcos).
When I visited Teruel I did a homestay, so I didn't stay in any of the hostels. However, Albergue Internacional de Teruel City Backpackers seemed to be the most affordable, and a decent option for backpackers.
Teruel is connected to most major cities in Spain by bus or train. From Valencia it will only take an hour and a half by bus, from Madrid a direct bus takes about 5 hours and from Barcelona and from Barcelona you can get to Teruel in around 6 hours.
Book your stay at Albergue Internacional de Teruel City Backpackers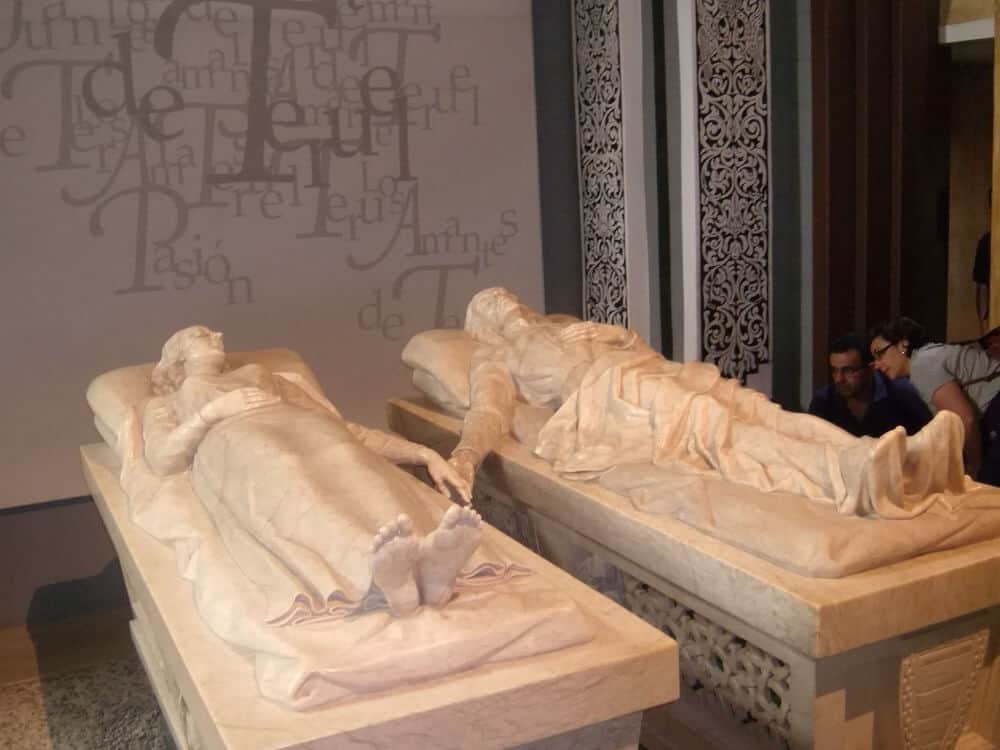 Seek hidden gems in Spain in a responsible way
Seeking hidden gems in Spain or any other country comes with a lot of responsibility from you as a traveler. It's important to be conscious about your footsteps and the impact you have on any destination.
However, a small place that is not used to that many tourists doesn't need to be overflowed by Instagrammers looking for their perfect shot in their fields, gardens, or doorsteps.
Remember to respect the locals as you go, talk with them, ask them for recommendations and let them tell you their stories. Spending time with the locals is often one of the greatest travel experiences and one of the most memorable benefits of sustainable tourism both for you and for them.
If you get really off the beaten path, take an evaluation if you really need to tag the location of that beautiful natural spot you accidentally found. If you have a few thousand followers that go there after you and keep spreading a photo to their in total millions of followers and so on, this little secret place could be seriously destroyed. Just think about it. Is it worth it?
READ: 10 best eco-friendly backpacks
Finally, I guess I don't need to mention not to litter, to bring your own reusable water bottle, and shop locally, because you probably already do that. So, I'll leave it with that!
I hope you have the best trip ever exploring Spain off the beaten track. Let me know in the comments what destination you will pick for your next trip!
READ NEXT: 12 Best Morocco off the beaten path destinations you can't miss!
Did you like this? Make sure you pin it for later!