If you're considering spending a weekend in Lisbon, it can be a daunting task to plan the trip to include all the main sites in only 2 days.
There are so many incredible attractions in this 2700-year-old city where you'll find yourself wandering enchanting old streets, enjoying breathtaking views, and getting amazed by the beautiful tiled houses where soaring fado music spills out from open windows in the late evenings.
When spending 2 days in Lisbon, you want to make sure you get to get the most out of the city. That said, you'll surely want to come back for more no matter how long you spend in this city.
I've spent a lot of time in this vibrant city over the years and fall in love with it a little bit more each time I go, so now it's time to share the best of the city so you can enjoy a splendid 2 days in Lisbon itinerary.
TThere are so many reasons to visit Lisbon, so this itinerary only covers the actual city and not the surrounding areas like Cascais and Sintra as I think Lisbon deserves a full two days. Extend your stay to explore the surroundings if you can. There are a great number of phenomenal day trips from Lisbon worth doing!
Disclosure: This post may contain affiliate links. That means that if you make a purchase through one of those links, I will get a small commission at no extra cost to you.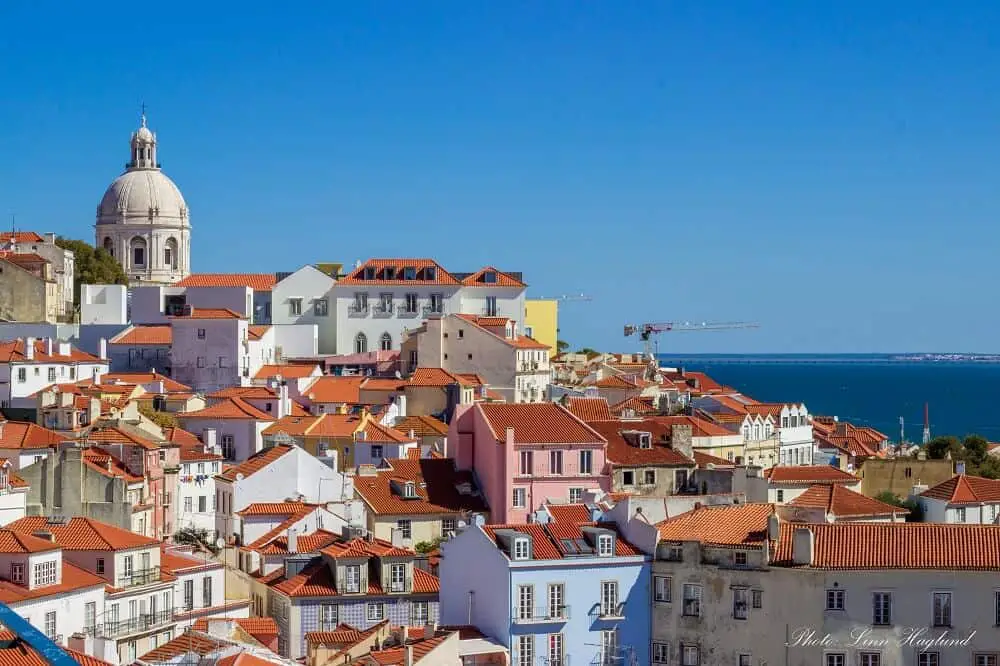 How to get to Lisbon
By plane
Lisbon is well commuted through Lisbon International Airport with other major airports in Europe and beyond. From the airport, the most economical and sustainable ways to get to the city center are by metro or bus.
For both of these options, you'll need to get a Viva Viagem or 7 Colinas card and load it with the amount you need.
Alternatively, you can take a taxi. If your 2 days Lisbon visit is part of a Portugal road trip, you might as well get your rental car straight away. It takes between 20 minutes and an hour to drive to Lisbon from the airport, depending on the traffic.
Note that if you drive, you should also consider getting a hotel outside the historic center and preferably outside the city center that includes free parking.
There's no free parking in the city center – at least not that I've found – it's rather expensive. So it's worth getting public transport into the center for these two days to avoid high parking fees.
By bus
Lisbon is well-connected by bus too and the city's main bus station is Sete Rios. This is where intercity buses stop. For international coach arrivals, Gare do Oriente is a popular bus station. From here, you can transfer to the metro if you need to get to a different place in the city.
Also, Cais do Sodré is a major hub for buses and other modes of transport like metro, train, and ferry.
By train
Traveling by train might just be the most sustainable way to travel to Lisbon. The main railway station is Rossio Railway Station (Estação de Caminhos de Ferro do Rossio.)
However, if you travel long-distance, you'll most likely arrive at Santa Apolónia Railway Station right outside the Alfama district.
From Porto, it takes about 2.5-3 hours by train and from Faro in the Algarve, it takes around 3 hours.
By car
Reaching Lisbon by car is easy from all over the country as well as from neighboring Spain. It takes about 2.5-3 hours from Faro in the Algarve and 3 hours from Porto.
As mentioned above, there's no parking in Lisbon center that's either easy to find or affordable. A lot of street parking only lets you pay for 4 hours at a time, which means you'll have to go back and forth to the car to top up with coins (and yes, you need coins, many of the machines don't take a card.)
Check availability and prices for rental cars here.
Make sure you don't forget any of these road trip essentials!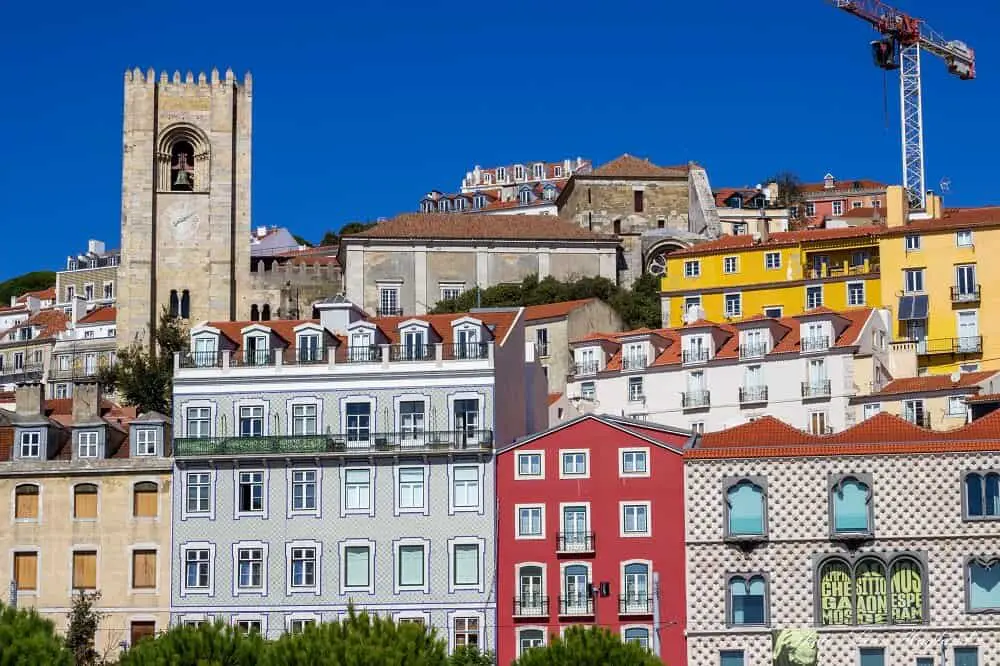 When is the best time to go to Lisbon
Lisbon is one of those places that are wonderful to travel to all year round which makes it an ideal destination for any Europe itinerary. However, there are a few things to keep in mind before choosing when to go.
In the summer months, you can expect daytime temperatures up to 30 degrees celsius which means it can get pretty hot walking around. However, if your trip to the city is part of a larger Portugal itinerary where you plan to get serious beach time, it's absolutely worth it.
To avoid the biggest crowds in Portugal in general, you can opt for the shoulder seasons with a little milder temperatures, but still perfect for beach dwellers. This is a great time to use the city as a base for day trips from Lisbon to the surrounding towns and beaches.
Lisbon in winter is mild with daytime temperatures around 15 degrees celsius in the daytime dropping to around 8-9 degrees at night. This is the perfect time for sightseeing and having lunch outside. If you're planning on a Lisbon weekend break winter is a good time to go.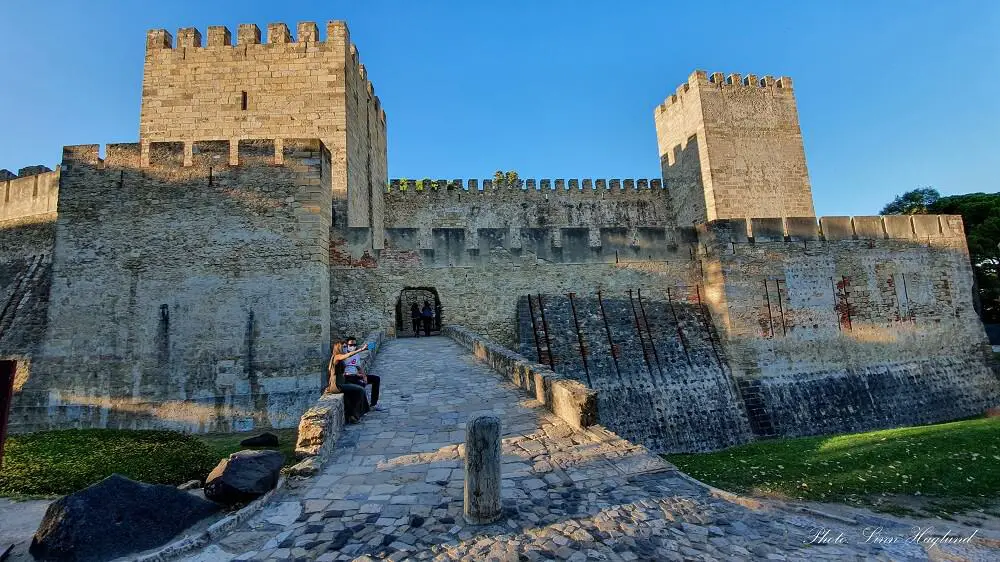 Where to stay in Lisbon
There are plenty of great places to stay in Lisbon, especially in Alfama, Baixa, and Bairro Alto where you are within walking distance from top attractions and in the heart of Lisbon's old town.
⭐TOP PICKS – WHERE TO STAY IN LISBON⭐

LUXURY – Pestana Palace Lisboa Hotel & National Monument – stay in an opulent 19th-century palace with inside and outside swimming pools, a wellness center, and a garden.

MID-RANGE – Lisboa Pessoa Hotel – a fantastic hotel with a spa and wellness center including an indoor pool. There is also a nice rooftop restaurant with sweeping views of the city.

BUDGET – My Story Hotel Rossio – a beautifully decorated budget option with a restaurant and bar. Rooms are bright and stylish.
Pensao Residencial Flor dos Cavaleiros
There aren't many budget options in Lisbon, but this is a simple hotel that allows pets where you can stay within walking distance of all the top attractions you want to explore during 48 hours in Lisbon.
There's no free parking around the hotel, but you find public transport just a few meters from the front door.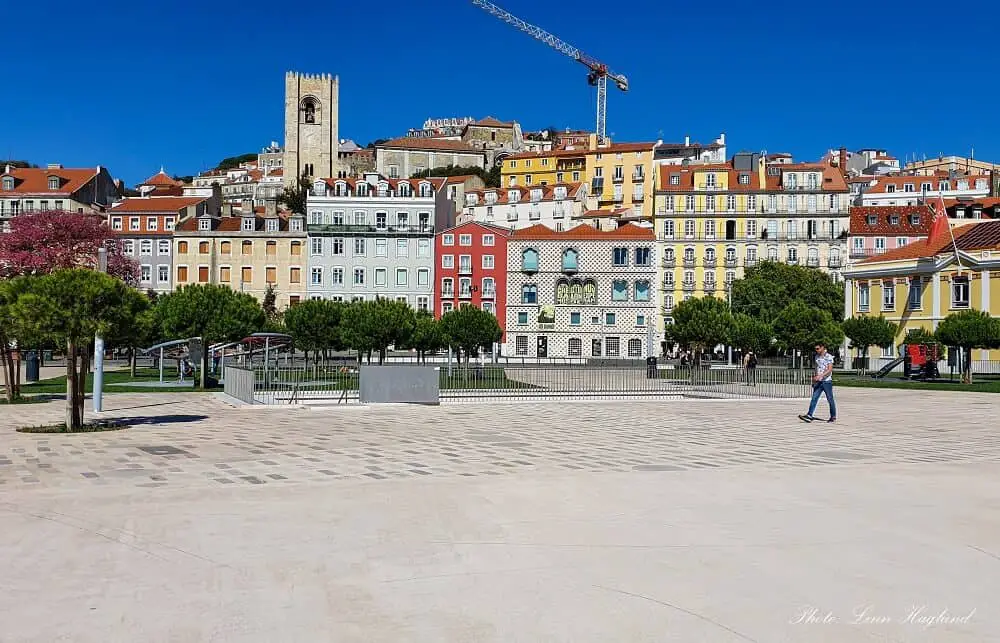 How to get around in Lisbon
Lisbon is a perfectly walkable city, yet full of steep hills, so you'll get a proper workout walking around. If you get tired from walking the cobbled streets, there are the famous trams and buses to get around the city.
There's also a stunning, old lift in Lisbon that takes you up from the Baixa neighborhood to the Barrio Alto. This is a tourist attraction in itself and is well worth it!
Generally, I don't recommend driving around in Lisbon, simply because it's hard to find parking and the spots you find are super expensive.
If you drive, see if you can find a place outside the city center to park for free and take public transport to your hotel unless you're planning on driving while you're there.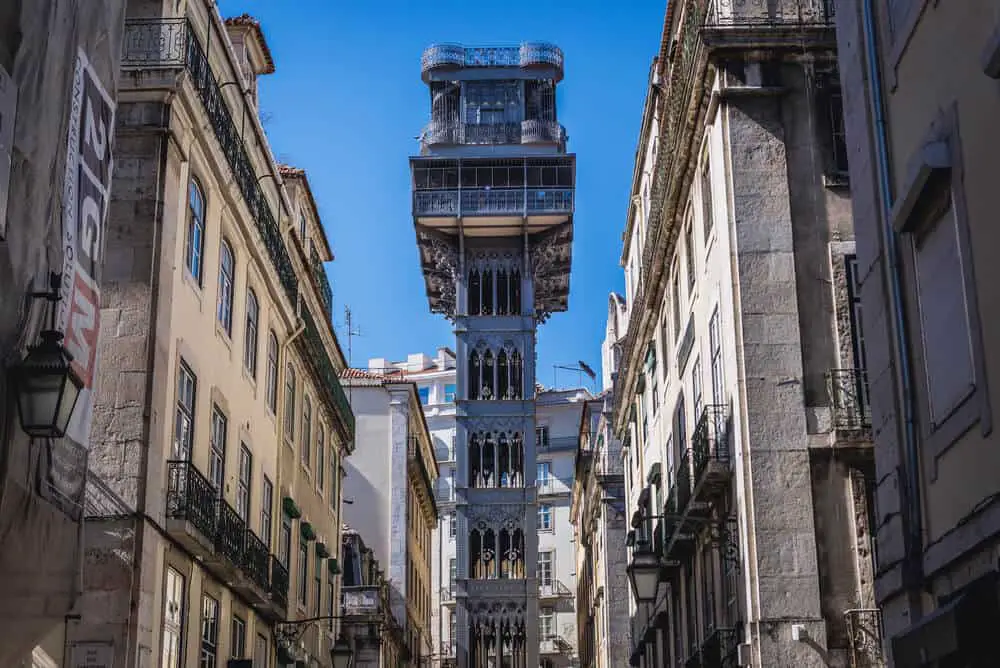 2 days in Lisbon itinerary
Now that we've looked at all the practical details, let's get to the fun stuff. Lisbon is such an amazing city and while you'll get a great outline for spending 2 days in Lisbon in the following itinerary, make sure you leave some time to get lost in the streets and be flexible if a fun opportunity should come up.
In my opinion, no matter the itinerary, Lisbon will leave you speechless and you'll want to come back for more.
Day 1 – Lisbon itinerary
St. George's Castle
Start the first day of your Lisbon 2 day itinerary with a visit to St. George's Castle. Sitting on a hilltop overlooking the city, it impresses not only with the well-preserved castle walls but also with breathtaking views.
This hill housed a fortified castle long before the Romans, Visigoths, and Moorish built there. However, the 1755 earthquake destroyed most of it and today's structure is a restructured version of what the Moors once built.
The castle opens at 9:00 in the morning so you can get an early start to your day.
To get a short introduction from a local guide about the castle's history and save time, you can book your skip-the-line tickets in advance here.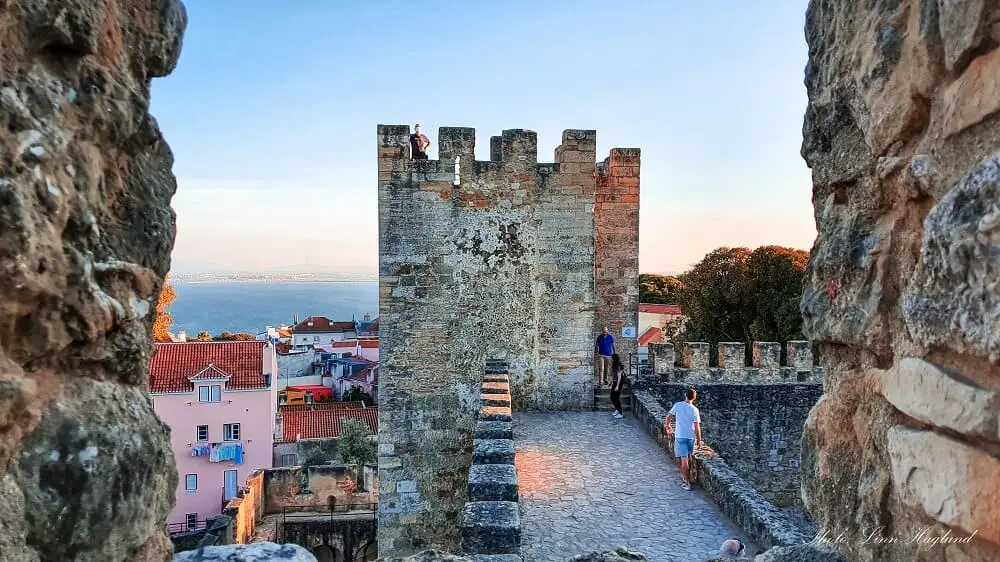 Lisbon Sé Cathedral
Only a ten-minute walk from St.George's Castle through the Alfama district you'll reach Lisbon's Sé Cathedral. The 800-year-old church is the oldest in Lisbon and a must-visit on any Lisbon itinerary.
Admire the astounding interior, where you can find a reliquary coffer with São Vicente, Lisbon's patron saint's relics.
Don't miss out on the sweeping views from the cathedral's balcony. The treasury museum is also worth a visit.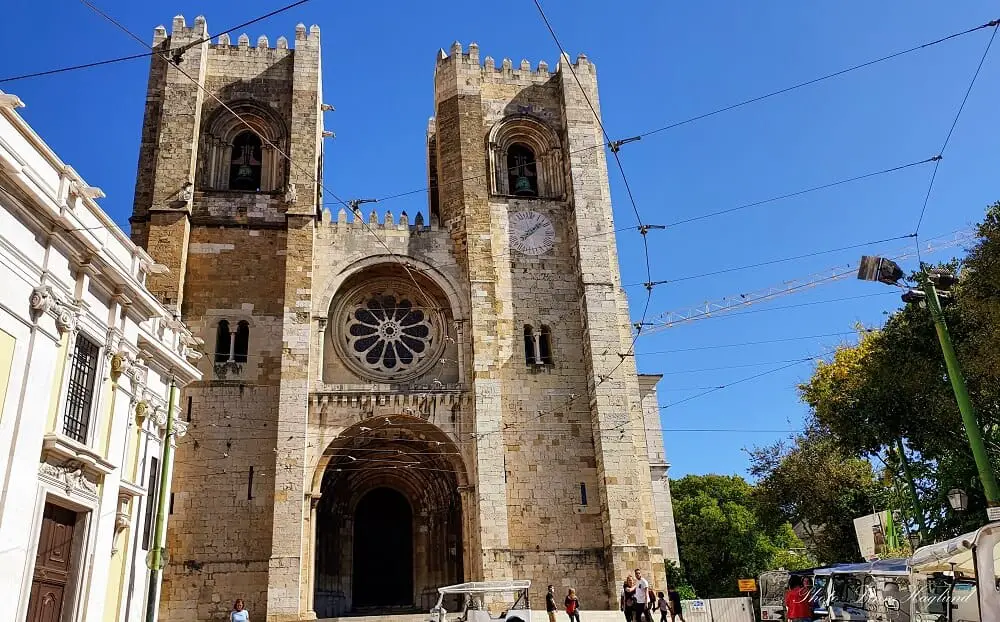 Check out the viewpoints and have lunch
There are a few great lunch spots hidden throughout the Alfama district and while you're there, you might as well check one of them out. There are also a whole lot of fantastic vegan restaurants in Lisbon you should check out.
Walking down from the Se Cathedral, you'll also pass some of the best viewpoints in the city. Whether you want to grab a coffee to go and enjoy the view from viewpoints like Miradouro de Santa Luzia or sit down at any of the bars with a view, you've got epic options.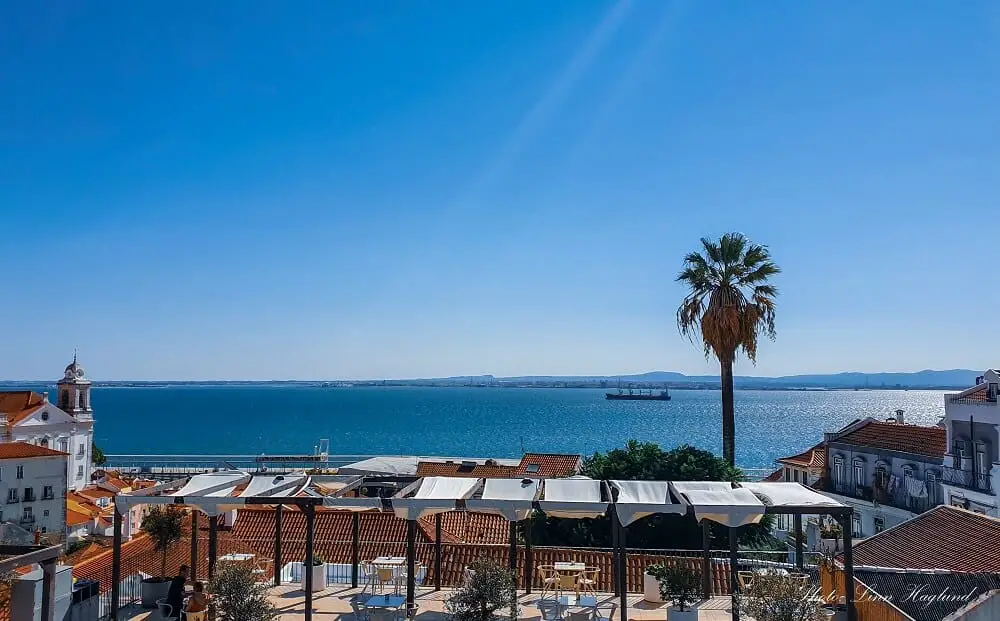 Get lost in the cobbled streets
The rest of the day you can spend getting lost in the streets of the Alfama district and even venture through the Barrio Alto and Baixa district if you want.
This is where you'll find the enchanting narrow cobbled streets lined with cute houses, tiny restaurants, and bars that make Lisbon so special and it's well worth spending a few hours there with your camera.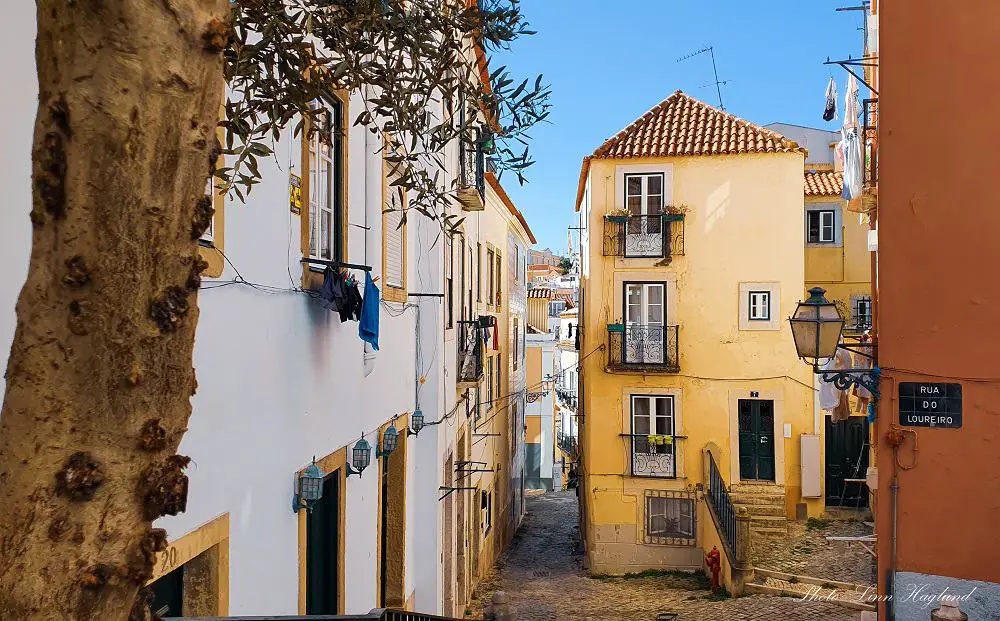 Have dinner with Fado
Any itinerary for Lisbon should include a Fado experience. In the Alfama district, there are numerous restaurants offering live Fado music and with only 2 days in Lisbon, this is your best bet to get an introduction to this soaring traditional music form.
If you want to continue out for a drink after dinner, head to one of the epic rooftop bars of Lisbon for sunset or enter one of the cute bars with live music to round off the evening.
Day 2 – Lisbon itinerary
National Pantheon Church of Santa Engrácia
Start the second day of your 2 days in Lisbon itinerary with a visit to the beautiful National Pantheon Church of Santa Engrácia. The church was made National Pantheon in 1916 and only 50 years later, the dome was finished.
With the building of the church starting in 1682, there's no other monument in Portugal that has taken this long to be built. Today, there's even a saying when something takes forever, they say: "a job like Santa Engrácia."
The Pantheon lacks the gold and tiles of the typical Portuguese baroque style but is still considered the first example of a baroque monument in Portugal. The inside is beautifully decorated with colorful marble inspired by the St. Peter's basilica in Rome.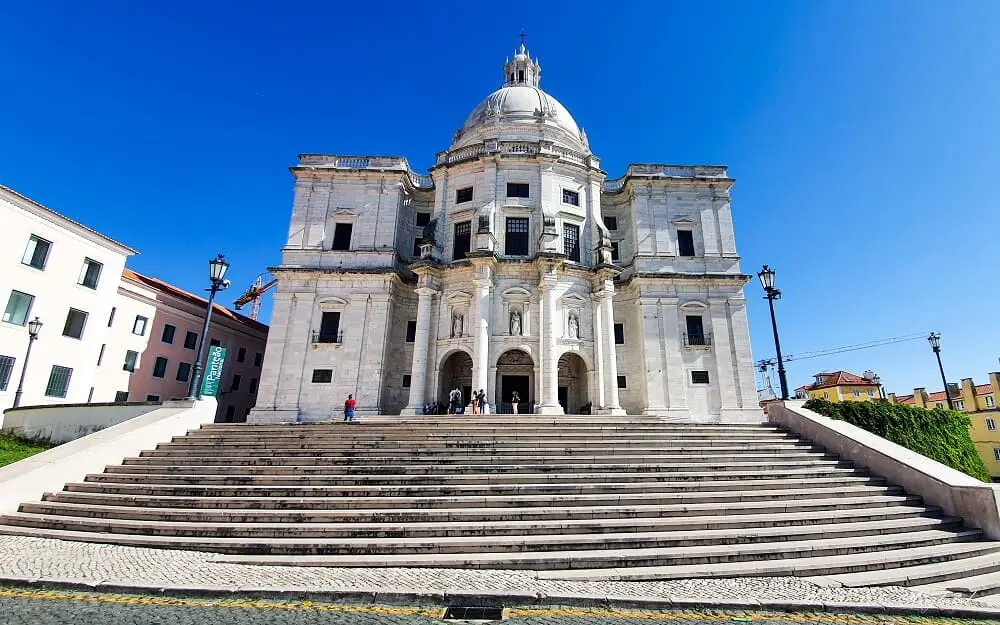 Visit a museum
Not far from the National Pantheon you'll find a few important museums worth visiting on a Lisbon city break.
Museu Militar de Lisboa – The most underrated museum in Lisbon is also the city's oldest, dating back to 1876. You can see one of the largest artillery collections in the world.
National Fado museum – The most culturally important museum devoted to the local music form, fado, and the guitar. Besides the permanent exhibition, there are always temporary expositions, and the best of it all is the audio guide that lets you listen to music while you learn about the history.
National Tile Museum – One of the most important national museums devoted to Portugal's history of azulejos from the 15th century until today. The museum offers a unique collection of tile art worth exploring.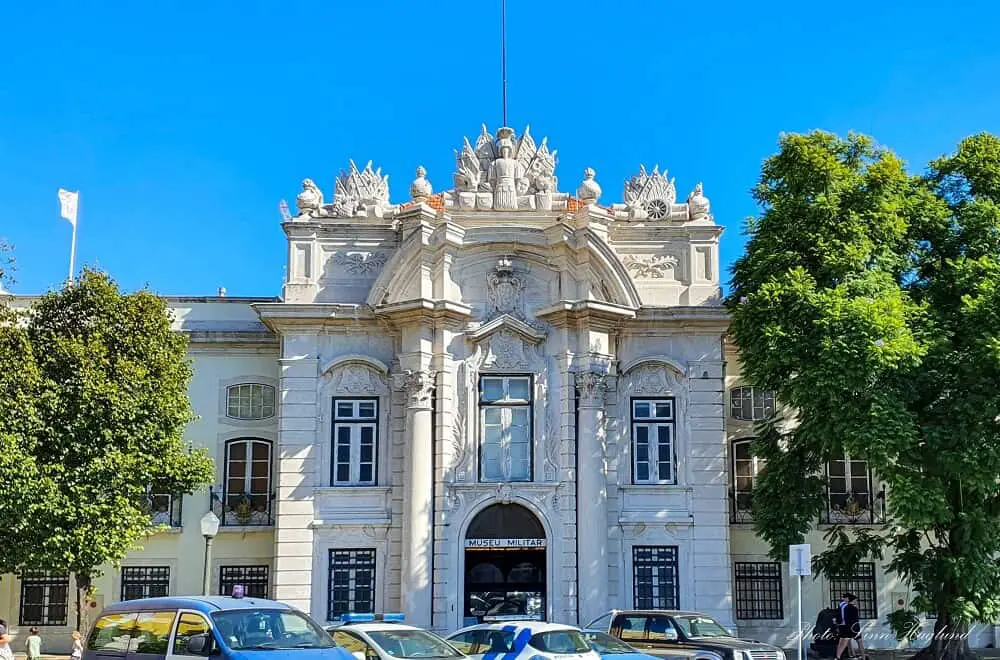 Lunch in the Baixa District
The Baixa district has a whole heap of amazing restaurants promising a tasty lunch even for vegetarians and vegans. If you didn't walk around there on the first day of your 2-day Lisbon itinerary, make sure you at least walk past Commerce square to take a picture.
The square is facing the harbor and used to be the loading place for commercial ships, thus the name. For the same reason, it was also known as the "door to Lisbon."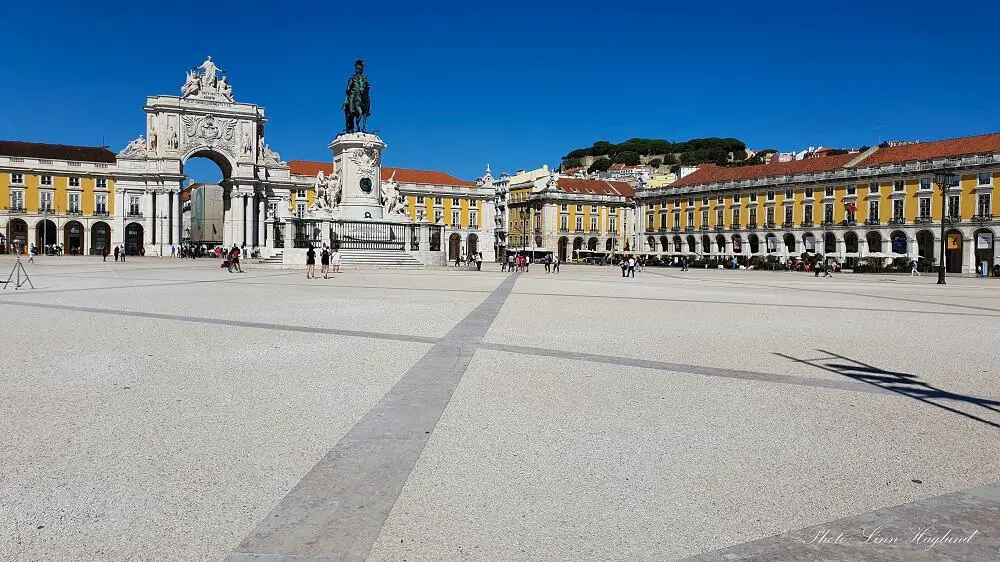 Belem tower
One of the top attractions to see on any Lisbon weekend itinerary is the impressive UNESCO World Heritage site, the Belem Tower. You can reach it by tram E15 from the Baixa district.
The 16th-century fortification was used to protect Lisbon from raids from the Tagus River but was also a symbol for sailors heading out to sea.
It's well worth climbing the three levels of the tower to get an idea of what it would have been like when it was used as a protective fort, but also to maze at the sweeping views of the Tagus River and the city from the top.
If you want to upgrade your experience with a guided tour of the Belem Tower and district plus a river cruise, I highly recommend this tour.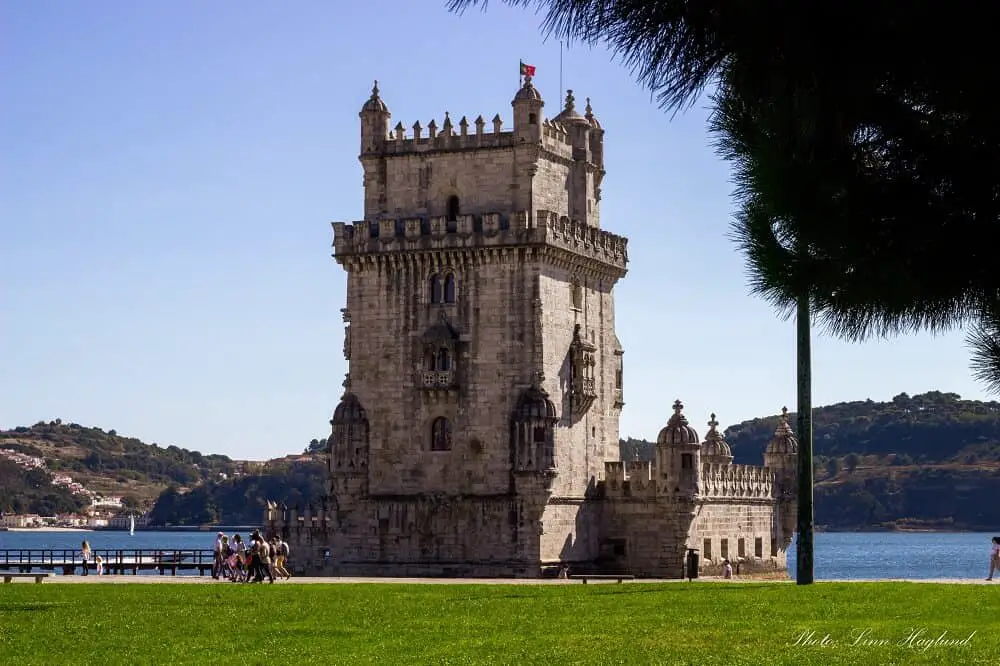 Jerónimos Monastery
While in the Belem district, you don't want to miss out on the Jerónimos Monastery. In 1983, the monastery was declared a UNESCO World Heritage Site.
The monastery is set in the same place as the chapel Ermida do Restelo where sailors, including Vasco da Gama, prayed before sailing to India.
The tomb of Vasco da Gama and the Portuguese poet and writer, Luís de Camões, is found in the church of Santa Maria that's inside the complex.
You should definitely not miss out on this significant attraction when considering what to see in Lisbon in 2 days.
Book your tickets in advance: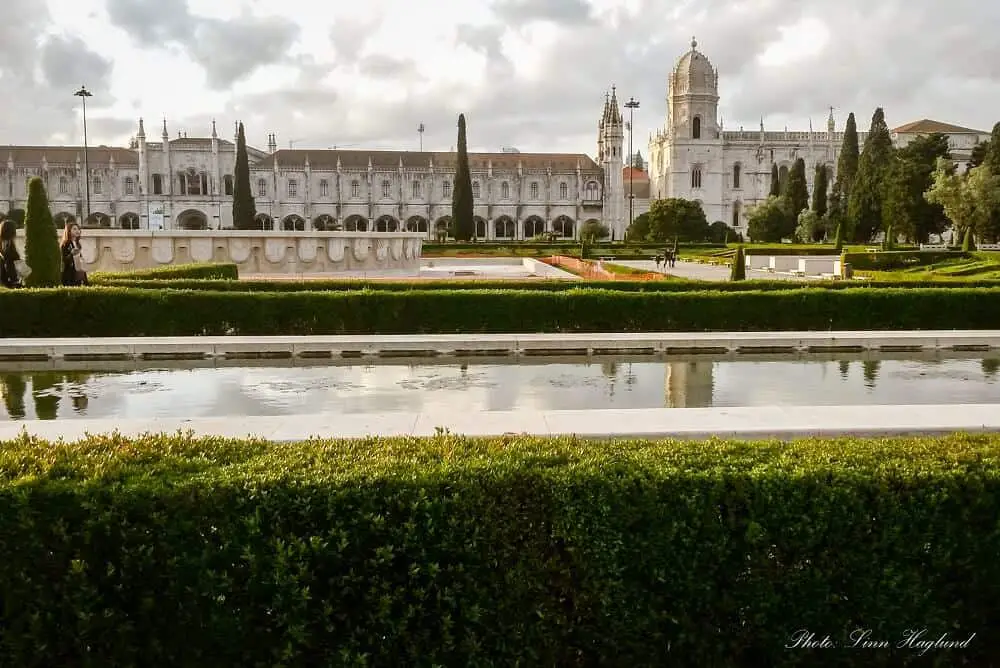 Monument of the Discoveries
Close to the Jerónimos Monastery, you'll see one of the most important monuments in Lisbon, the Monument of the Discoveries. It was erected to commemorate the 500th anniversary of Henry the Navigator's death. He was the discoverer of islands like Madeira, Azores, and Cape Verde.
The 52-meter-tall statue is a wonderful reminder of the age of discoveries in Portugal. In front of the monument, lays a mosaic compass rose, meeting a whole of 50 meters in diameter, that was gifted from South Africa. In the middle, you can see a world map.
Take the elevator to the top of the monument for panoramic views of the Tagus River, the Belem district, and the iconic Ponte 25 de Abril bridge.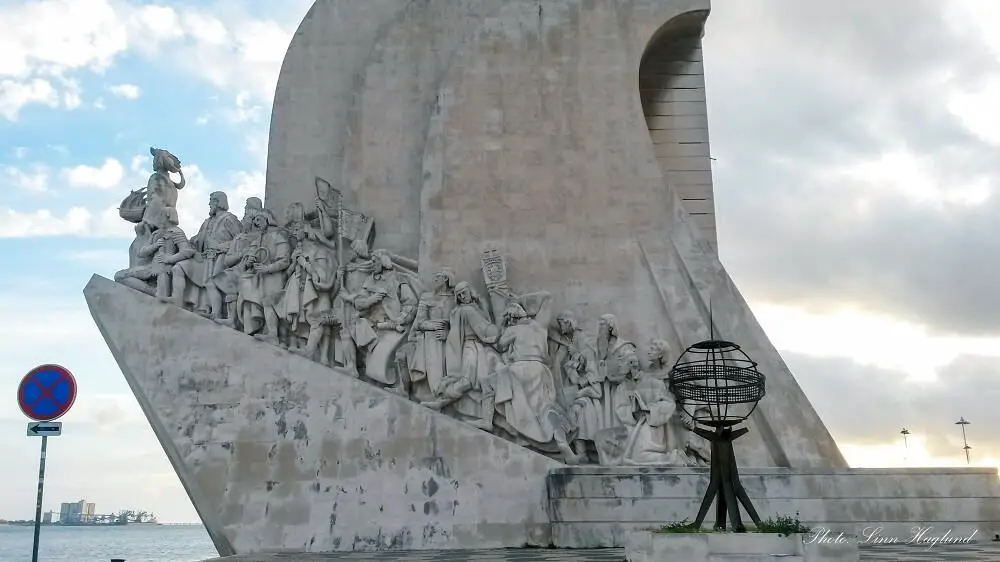 How to be a responsible traveler with two days in Lisbon
There are a couple of specific things to consider as a responsible traveler when going to Lisbon. Besides, remember to leave no trace, try to learn a few basic words in Portuguese, show respect to the locals and other travelers, and all in all, be a good human being.
Avoid the 28 tram
Why? You might ask. Riding the no. 28 tram in Lisbon is usually listed as one of the top things to do in Lisbon in 2 days. However, what people tend to forget is that the tram is not primarily running as a tourist attraction.
The no. 28 tram in Lisbon is one of the main transportation for locals to get to and from work, to reach their homes, to get to the shop, and so on.
When overtourism takes over the tram, locals experience that they can't find space in the tram when they need to get to work or to get back home. Because the tram is full of tourists snapping pictures of the scenic route.
If you want to take the tram in Lisbon, which I absolutely suggest you do, take any other tram and use it as a mode of transport instead of just checking off a bucket list.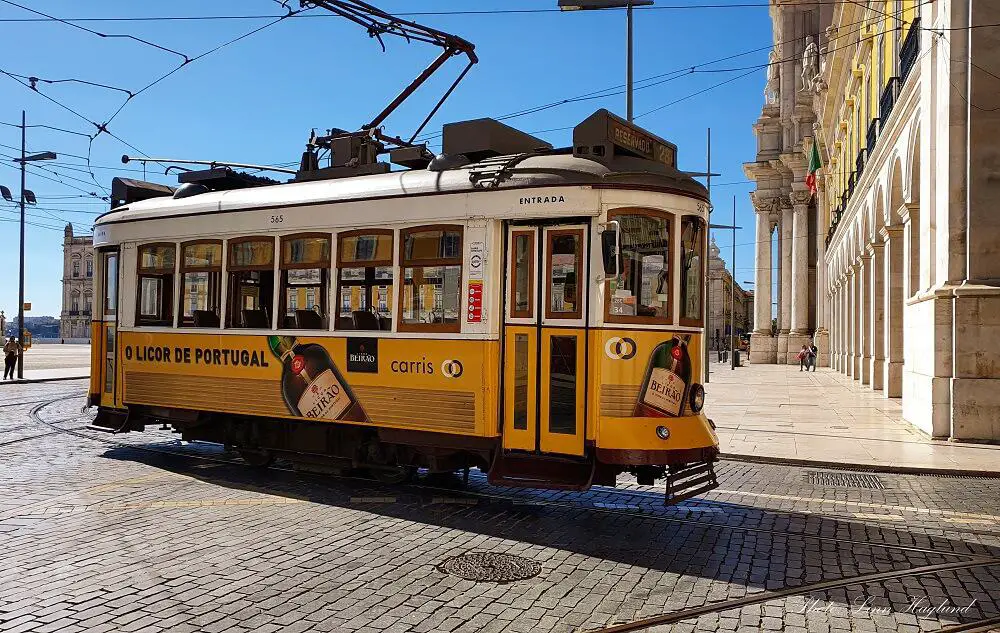 Don't visit Lisbon Zoo
Lisbon zoo is another popular tourist attraction in the city. As always, I don't recommend visiting any place that uses animals for tourism purposes or for profit reasons.
As a responsible traveler, you should always consider the consequences of your actions, and visiting zoos results in more and more animals suffering as they breed and take in more animals in a space where their well-being is prioritized behind the tourists' interest.
Lisbon is also home to one of Europe's largest aquariums which I for the same reasons would avoid.
You can read more about ethical animal tourism and why you should avoid zoos altogether in my dedicated post here.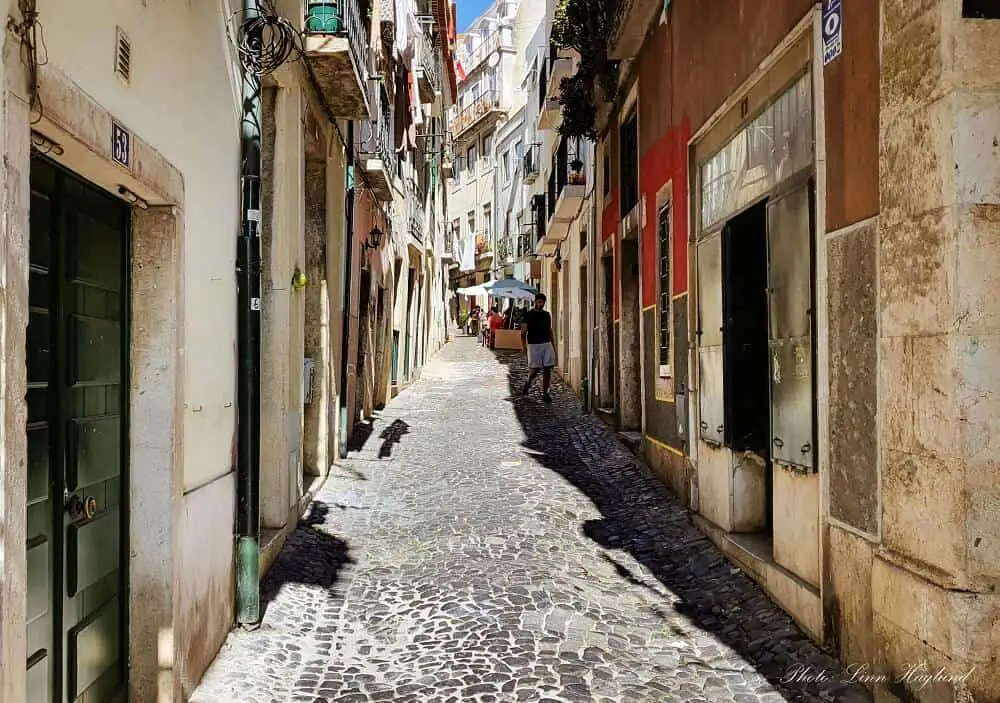 Leave no trace
This might seem like common sense. But there are more things you can do than not throwing rubbish. Bring your own eco water bottle to avoid creating more plastic waste during your stay in Lisbon. You can also bring your own reusable coffee cup and ask for a refill when you grab a coffee to go.
You can also choose eco-conscious restaurants and cafes for your meals. A great place to get pastel de nata is Vegan Nata. They even serve their hot chocolate in edible cups!
Reflections on a weekend in Lisbon
As mentioned in the beginning, if you want to press in Sintra and Cascais in your Lisbon itinerary, 2 days might not be enough if you at the same time want to get a good feel of the city itself.
However, you can easily, compress this itinerary and travel faster if that's your style, or cut down on certain attractions and take half a day to see the Pena Castle or walk around Cascais.
That said, I highly recommend at least 2 days in Sintra and the same in Cascais, but nothing less than a day in each place as there's so much to see and do.
For a 2 day itinerary, Lisbon makes the perfect city break in my opinion. But be warned, you'll want to come back for more!
Happy travels!