If you're considering a city break this winter, Lisbon is the perfect destination to enjoy mild temperatures with a warm atmosphere. The enchanting city of Lisbon embraces travelers all year round with its narrow cobblestoned streets, the old yellow trams, the soaring fado music, lively bars, and exceptional viewpoints.
With all this, winter in Lisbon adds an extra cozy vibe to it once the Christmas decorations come out, streets and trees across the city are decorated with lights, the major squares house large Christmas trees, and the Christmas markets bring extra life to the city after dark (which is early in Portugal!)
I've spent a few winters in Lisbon and it's one of my favorite times of the year there. Read on to find out the best things to do in Lisbon in winter and what to expect from a trip there at the darkest time of the year.
Disclosure: This post may contain affiliate links. That means that if you make a purchase through one of those links, I will get a small commission at no extra cost to you. As an Amazon Associate, I earn from qualifying purchases.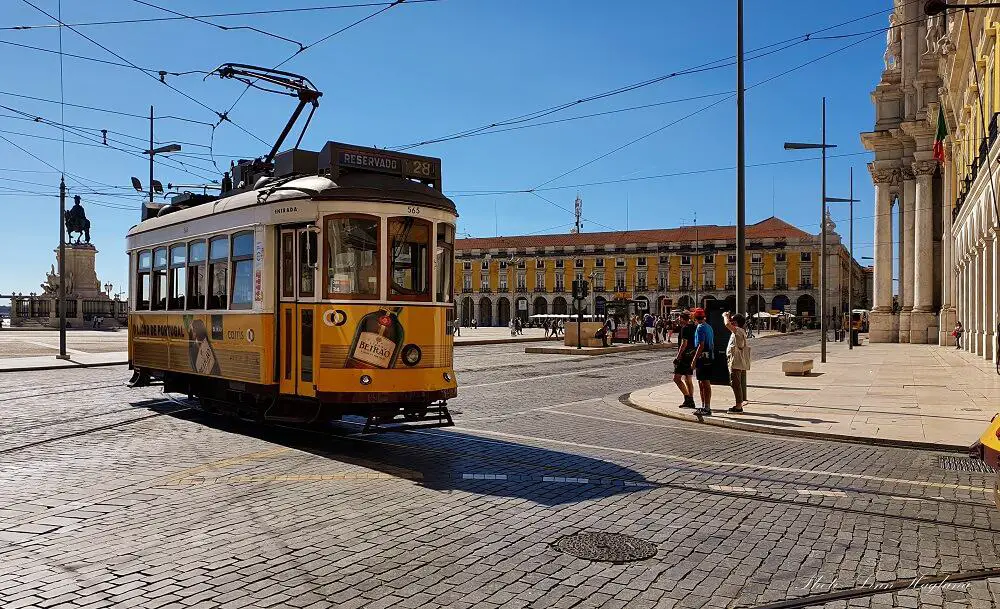 Lisbon winter weather
While winter in Lisbon is mild and you are likely to be met by nice, sunny days, there's also a fair chance of rain, so make sure you bring your umbrella and keep a few indoor activities up your sleeve in the case of rain.
In general, you can expect 8-16 degrees Celsius in Lisbon during the months of December, January, and February which are considered the winter months.
That said, 8 degrees at night can feel pretty chilly, while 16 degrees with sun in the daytime can feel pretty nice and warm. Thus your best bet is to always dress in layers so that you can take off and on clothes during the day.
If you walk out without your coat in the daytime, make sure you get time to go back to your hotel before sundown to get changed, or you might regret it!
There is a chance of rain too. About 10 days of rain a month in the winter to be exact. I've experienced both pouring rain where it's impossible to be outside without getting soaked – umbrella or not – and other times when it's been drizzling more or less constantly for days, but it's been perfectly possible to walk around.
But for this reason, Lisbon's cafes are the perfect hideaway in Lisbon's winter months!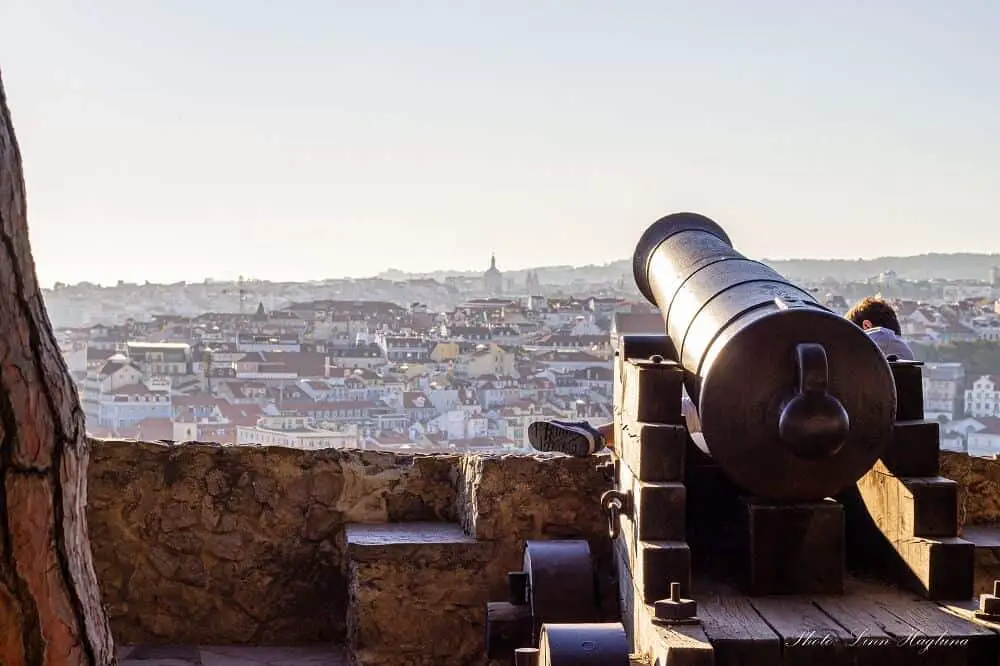 What to wear in Lisbon in winter
If you wonder what to wear in Lisbon in winter, this is for you. As mentioned, you should wear layers of clothes so that you can take on and off layers if needed.
A jacket, scarf, beanie, and mittens are a must for walking around at night, so make sure you always carry them with you in your bag together with an umbrella.
For a walkable city like Lisbon, a pair of comfortable trainers are the best shoes to wear. Heels are definitely not a good match with the steep cobblestoned streets.
Here is the minimum you must bring to Lisbon in winter:
umbrella
jacket
comfy sneakers
scarf
beanie
mittens
pants
t-shirt
sweater
a thin, middle layer sweater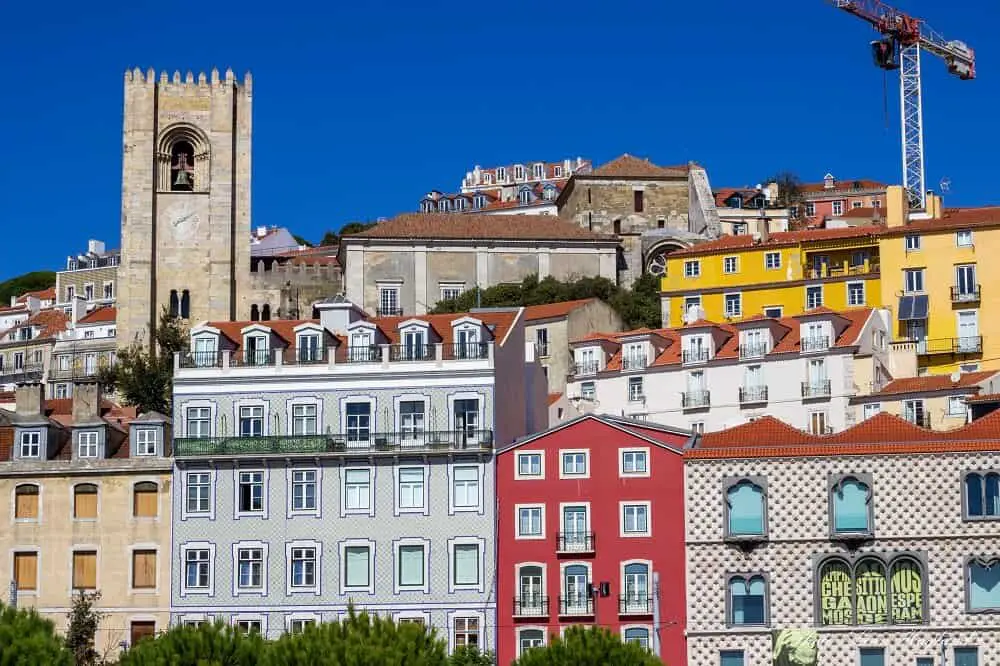 Where to stay in winter in Lisbon
Lisboa Carmo Hotel
This is a lovely centrally situated hotelwhere you can easily walk around Lisbon, this is your place. Situated in the Barrio Alto district of Lisbon, you have a myriad of restaurants and bars on your doorstep with a vibrant nightlife.
As with other hotels in Lisbon old town, there isn't anywhere to park (and parking in Lisbon is extremely expensive AND inconveniest!) However, the hotel offers airport shuttle and accessibility for disabled persons.
Jardim da Lapa by Shiadu
If you're visiting Lisbon as part of a Portugal road trip, you need a place with parking. This hotel is situated outside the city center and is perfect for families with its garden and outdoor swimming pool.
There is public transportation you can take into Lisbon old town near the hotel.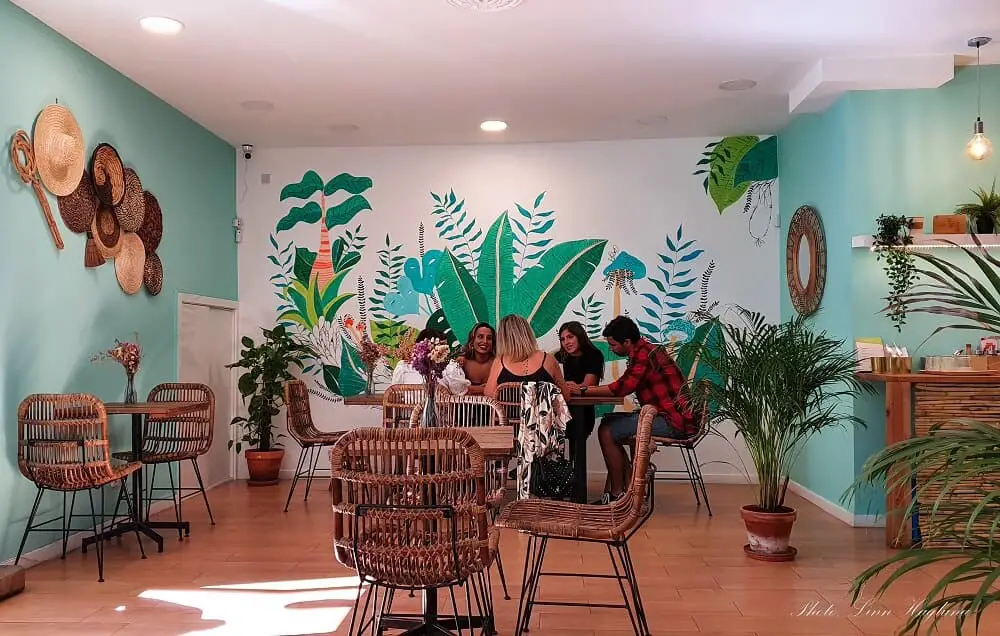 Reasons to visit Lisbon in winter
Before we get to the best things to do in Lisbon in winter, I'll make a quick summary of the advantages of visiting the city of the 7 hills in winter. Lisbon is one of the most popular cities in Europe and I dare to say one of the most beautiful.
Thus, it's no surprise that the city is prone to overtourism and especially attractions like riding the No.28 tram, which gets overcrowded while locals that use this tram to transit between work and home struggle to get a seat.
In winter, however, the crowds are a little lighter and you might have a shot at taking the tram outside of rush hours if it's something you really want to do. That said, you could easily opt for one of the other trams in Lisbon too!
Whatever you do, make sure you keep in mind responsible tourism. Here are the top reasons to visit Lisbon in winter.
Fewer crowds
Cozy Christmas lightning
Mild weather destination
Rain is the perfect excuse to have hot chocolate and (vegan) Pastel de Nata
Cool nights are perfect to sit inside for a Fado performance
Explore the Christmas markets
Munch grilled chestnuts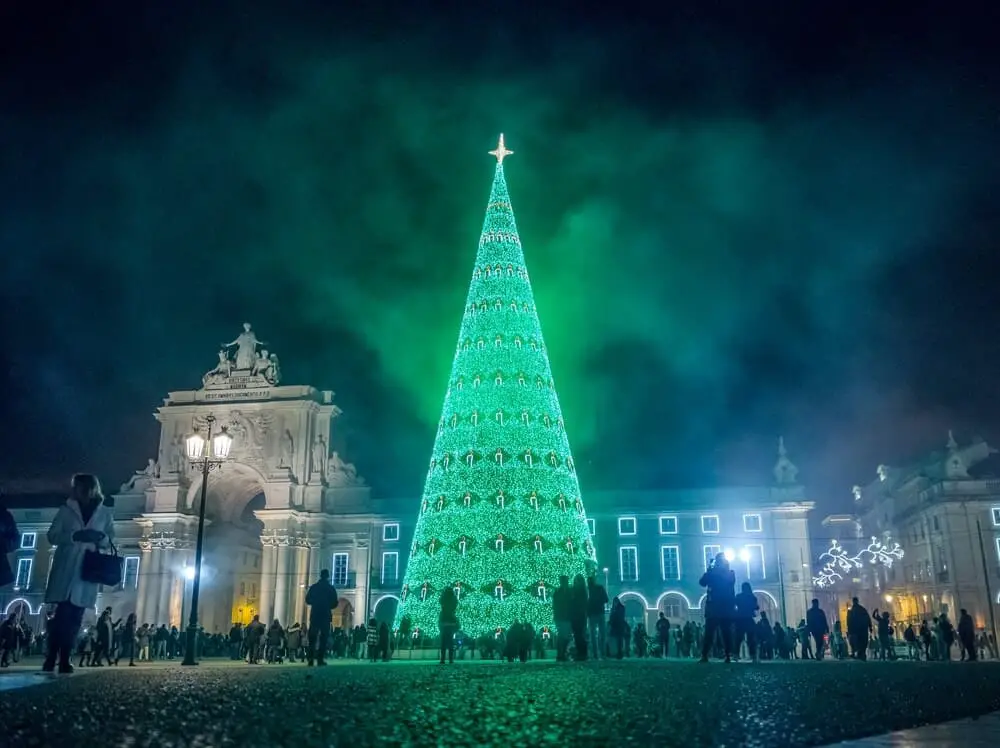 WHY YOU SHOULD GET THE LISBON CARD
Free entrance to Lisbon's top attractions
Free public transport
Discounts on numerous shops and restaurants
You can choose between 1, 2, or 3 day passes depending on the length of your stay
Things to do in Lisbon in winter
Now that you have all the practical information about Lisbon during winter, let's dig into the things you should add to your Lisbon winter itinerary.
Most of the things to do in Lisbon can be done all year round due to Lisbon's winter temperature and the fact that you won't encounter snow or ice.
Nonetheless, there are a few things that are just so much better in winter, and of course, the Christmas markets and lights won't be up all year round. Now, let's dive into what to do in winter in Lisbon, Portugal's quaint capital city.
Hit the Christmas markets
First of all, as in any European city in the winter, you should not miss out on the Christmas markets. They usually set up in mid-late November and take them down in mid-January.
The most popular Christmas market in Lisbon is the one in Rossio Square, where you can find holiday cheer with handicrafts, mulled wine, and typical Portuguese sweets.
But you will find Christmas markets in other places too like Eduardo VII Park where the Wonderland Lisboa takes place.
Further, if you're looking into day trips from Lisbon, I found Cascais the most Christmassy and cozy place of them all with little stalls by the beach and an abundance of Christmas lights and Christmas cheer.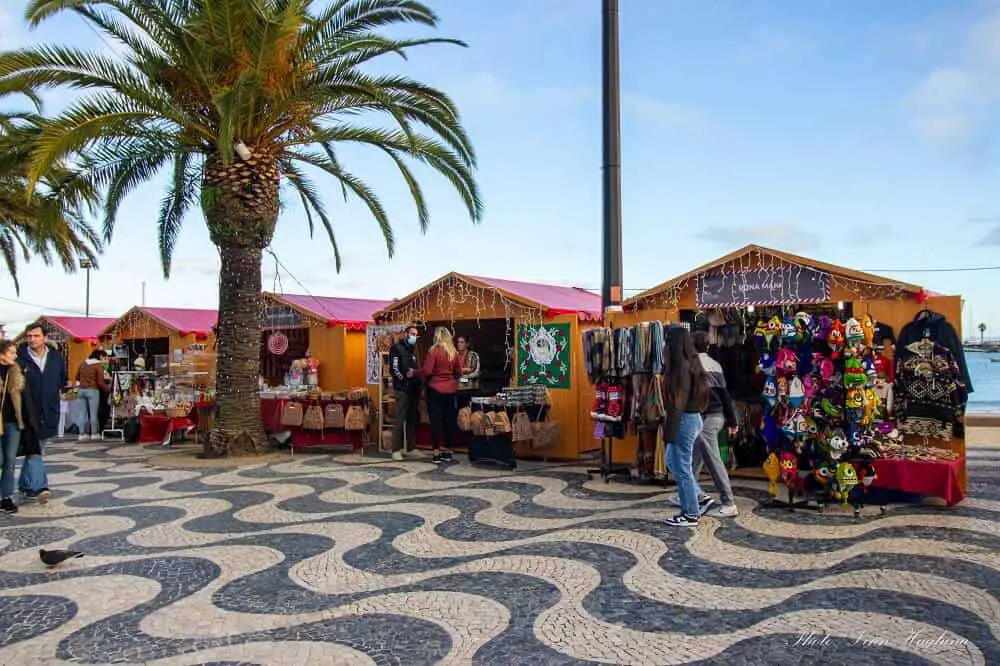 Have Pastel de Nata and hot chocolate at Vegan Nata
While any day is a good day for a yummy Pastel de Nata, Portugal's most popular pastry, winter in Lisbon has the perfect setting for a hot chocolate and a yummy Pastel de Nata.
If you want to contribute to sustainable tourism, even though you're not a vegan, head to Vegan Nata and I promise you that you won't be disappointed.
They specialize in vegan Pastel de Nata, in fact, it's the only thing they sell other than drinks. They are absolutely exquisite and you won't notice that they're vegan (if that's what holds you back.)
They sell mouthwatering hot chocolate in edible cups, which in my opinion aren't the tastiest – it was weird to chew on your cup in general – but the fact that the cups are biodegradable is a big step!
It was thanks to my friend Wendy from The Nomadic Vegan that took me there the first time that this lovely little bakery came to my attention and has turned into a must-visit every time I go to Lisbon!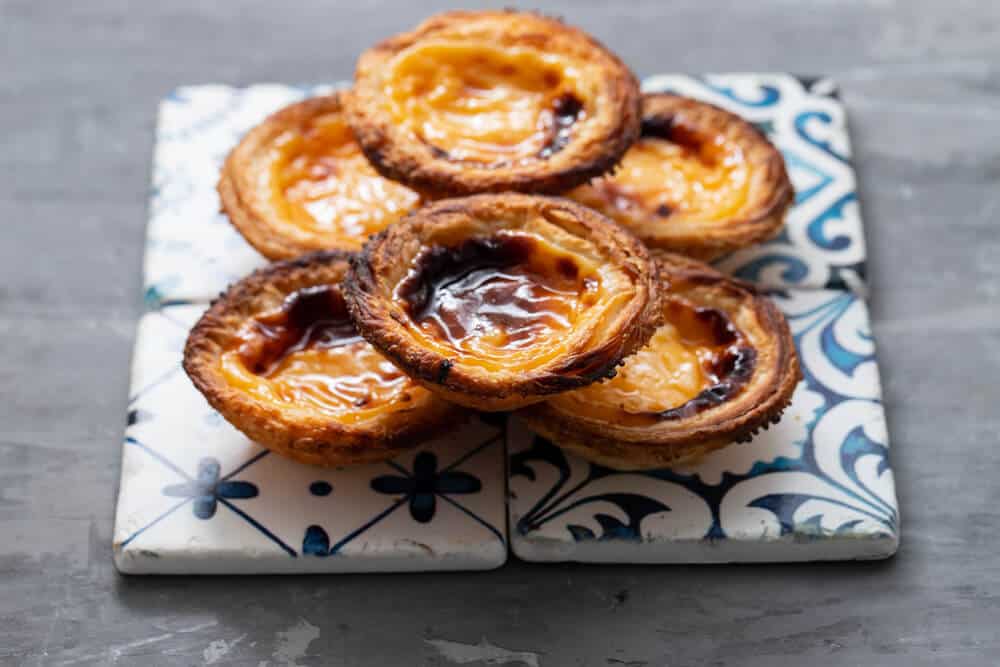 Chase the best views of Lisbon
Nicknamed the City of the 7 Hills (yup, just like Rome,) it is self-written that there are multiple epic viewpoints in Lisbon!
Make sure you make it to as many as possible during your stay, though your Lisbon itinerary will most likely take you past quite a few of them naturally.
Among the ones you should not miss you find the Miradouro de Santa Luzia which is elegantly lined with traditional Azulejos and colorful flowers. Also the Miradouro das Portos do Sol is worth a visit.
São Jorge Castlealo boasts spectacular city views while Miradouro de São Pedro de Alcântara in Barrio Alto offers the best views of the castle itself.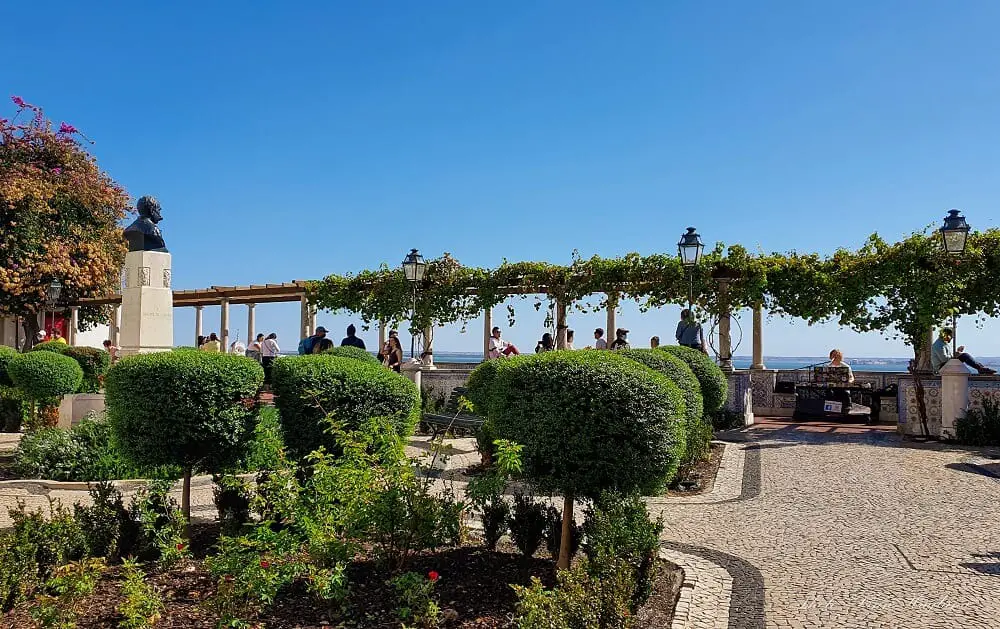 Visit the Belem Tower
One of the top attractions to visit in Lisbon is the Belem Tower and the winter is just as good a time to go as any other.
The UNESCO World Heritage site dates back to the 16th century and was an important component in protecting the city.
Climbing 5 stories of narrow, circular stairs will take you to the top of the tower where you can enjoy beautiful river views. Visiting the tower is free with the Lisbon Card, which I highly recommend you get if you plan on staying at least 2 days in Lisbon.
If you don't purchase the Lisbon Card, you can save time by pre-booking tickets for the tower here.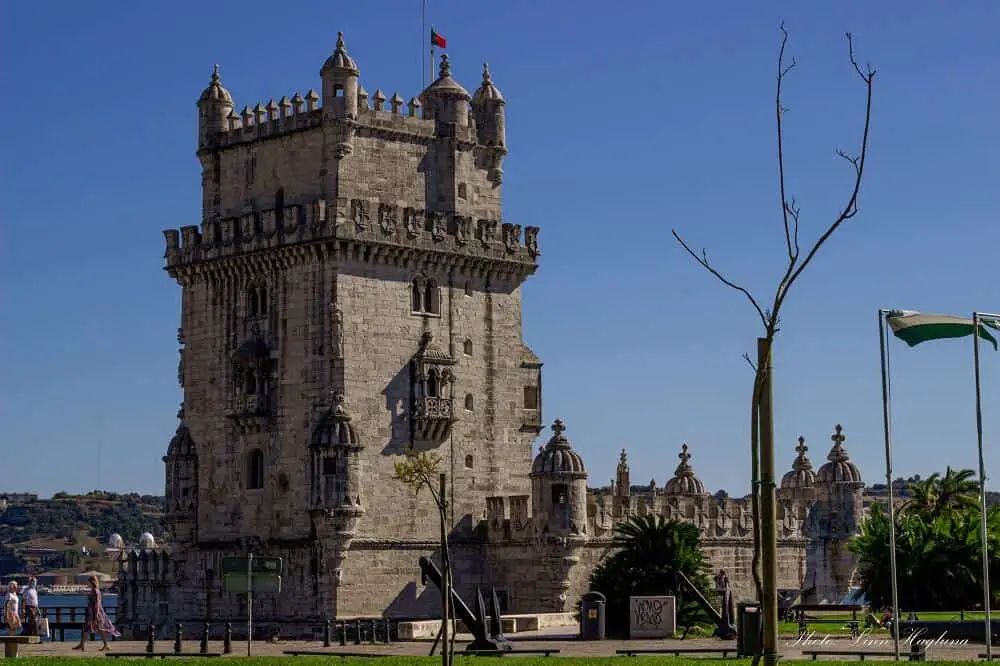 Stroll around the Alfama district
As one of the most famous touristic districts in Lisbon, the Alfama district delivers everything you expect from the quaint city.
Narrow (and steep,) cobblestoned streets, clothes hanging outside the windows of pastel-colored houses, some of them decorated with traditional tiles, steep hills, sorrowful fado music flowing out of the windows of tourist venues at night, and altogether a lively atmosphere.
Among the top attractions in the Alfama district, you find Lisbon Cathedral, the São Jorge Castle, and the Roman Theater and Museum.
Further, it's home to some of the most spectacular viewpoints and restaurants with a view that you can find in the city.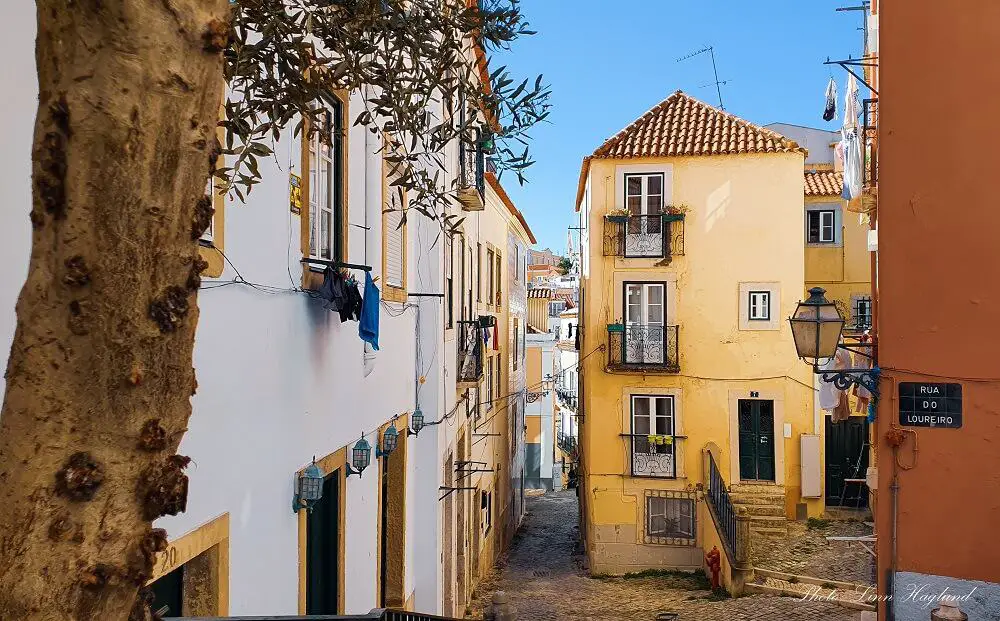 Visit the Jerónimos Monastery
The 16th-Century UNESCO site Jerónimos Monastery is one of Lisbon's major landmarks and used to be the most prominent symbol during Portugal's ear of Discovery.
The majestic structure lines the Praça do Imperio gardens that elegantly separates it from the Tagus River.
Opening hours in summer: 10:00-18:00
Opening hours in winter: 10:00-17:00
The entrance is free with the Lisbon Card. Alternatively, you can pre-book tickets here.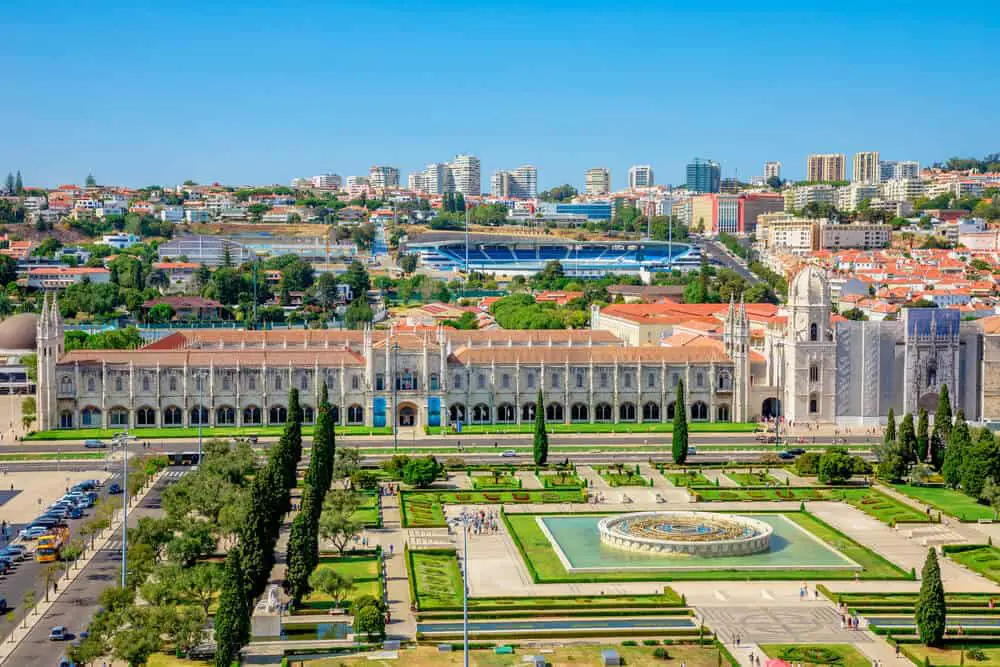 Take a tour of the São Jorge Castle
The most prominent landmark in Lisbon is the majestic São Jorge Castle sitting on one of the city's hilltops overlooking the river in the Alfama district.
It's definitely one of the top sites to visit in the city. Especially due to the pleasant Lisbon winter weather, you can stroll in the castle gardens, walk on top of the fortified walls, and enjoy spectacular views from different angles.
The castle is one of the best spots for sunset and you can enjoy a hot drink in the little on-site cafe.
The castle ticket is included in the Lisbon Card. If you don't opt for that, save yourself time by pre-booking your entrance ticket here.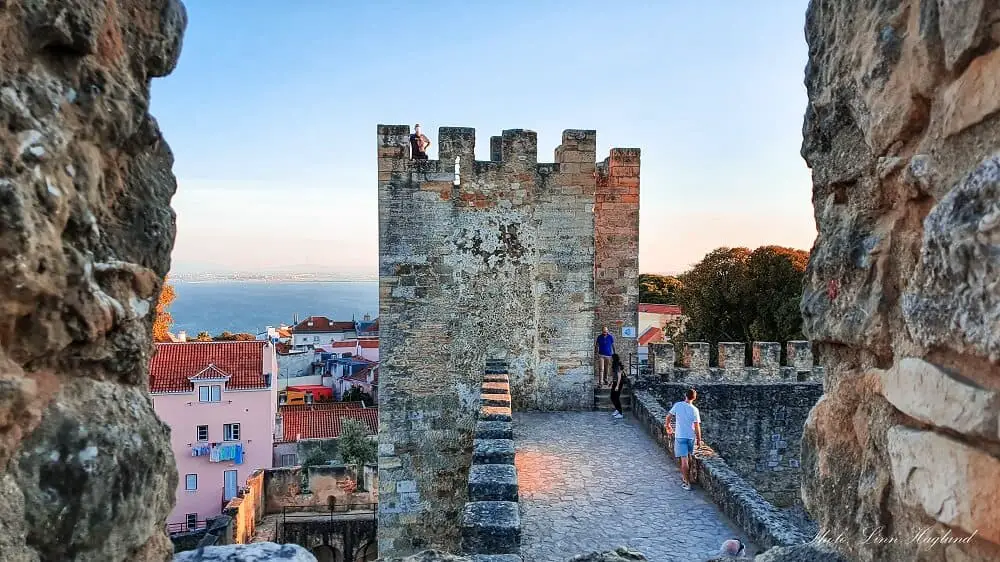 Go for drinks in Bairro Alto
One of the most vibrant districts for going out at night is the Bairro Alto. There, you will find restaurants and bars full of life, live music, and DJs.
If you prefer a quiet glass of wine, you will surely find a little wine cave to hide out for the night whether you travel alone and want to read a book or you're up for hours of chatting with your friends or partner.
In the steep hills of Bairro Alto, you'll also find the famed tram sitting in a steep, cobbled street which is particularly cute at night lit up by the warm streetlights.
Take the Santa Justa Lift
The distinct Santa Justa Lift connecting the lower Baixa district and the higher Carmo Square has turned into one of Lisbon's most unique landmarks.
Not so surprisingly, it was designed by one of Gustave Eiffel's (who designed the Eiffel Tower in Paris) students, Raoul Mesnier du Ponsard. However, in my eyes, the architecture is a lot more beautiful and fits perfectly into the enchanting streets of Lisbon.
One of the best things about the winter in Lisbon is that you easily can take the Santa Justa Lift without any crowds. In the summer months, you often have to stand in a long queue of tourists to get on this beautiful lift from the early 1900s, while I've never experienced this in winter.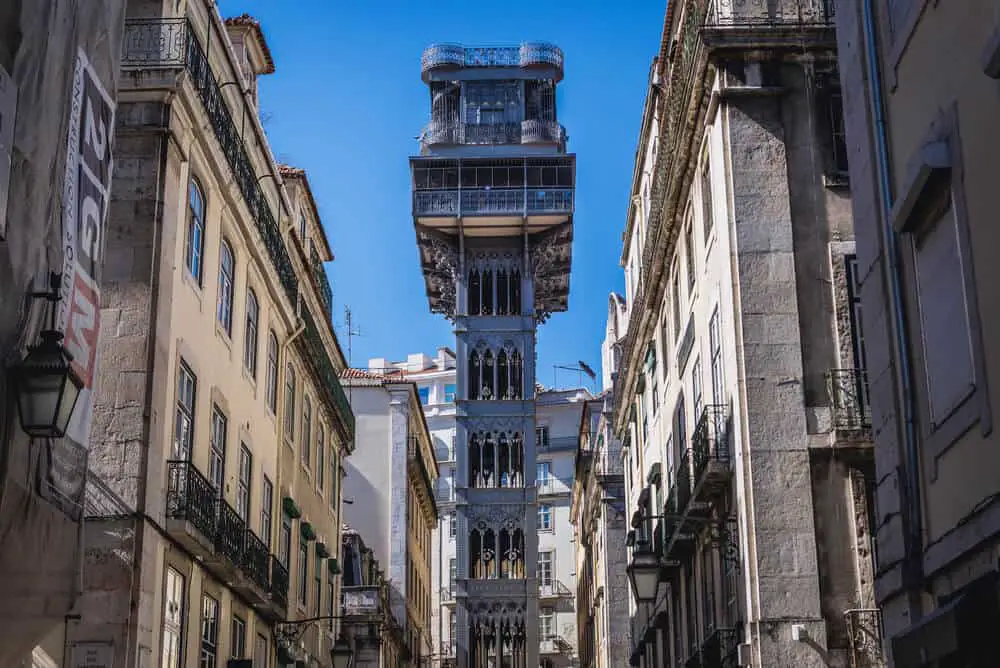 Christmas vibes in Cascais
Winter in Portugal is so charming, so it's worth heading out of the city to Cascais to take in the Christmas vibes in one of the most enchanting coastal towns in Portugal.
The town boasts a magic Christmassy feel to it and the little Chrismas market is perfect for finding locally made handicrafts by individual artists.
There are many lovely things to do in Cascais from walking the enchanting marina, visiting the Santa Maria Lighthouse, strolling from beach to beach, and admiring the Boca do Inferno.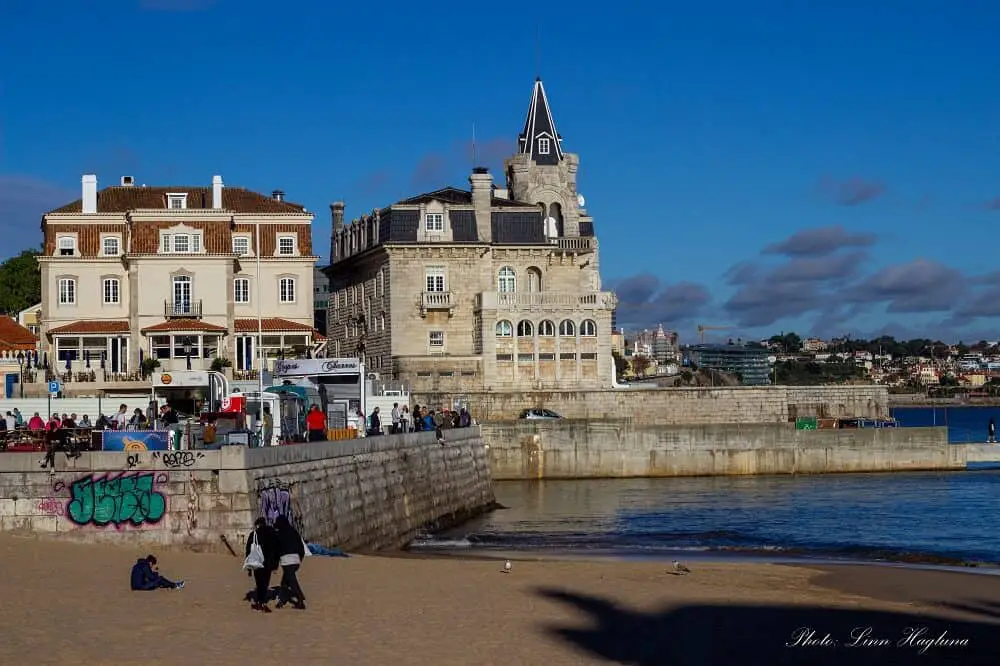 Pena Palace
One of the best day trips you can do in winter in Lisbon is to see the Pena Palace in Sintra. The colorful fairy tale castle that put Sintra on the map is just as cool in real life as it looks on the pictures.
So if you haven't been yeat, I highly suggest you take a trip. If you don't have a car, you can take the train to Sintra from Rossio train station. You can check the train times here.
Further, book your entrance tickets to the Pena Palace in advance to save time when you get there.
If you want to save yourself the hassle of going independently, there are also tours available that include other attractions like Quinta da Regaleira or Cascais.
CHECK AVAILABILITY FOR TOURS OR BOOK ENTRANCE TICKETS:
Reflections on a Lisbon winter vacation
You can easily tell that there are incredibly many reasons to travel to Lisbon in winter. Besides the mild weather, the city is booming with Christmas cheer throughout December and mid-January.
Further, it's a good time of the year to hit the museums that you might not get the time to visit at other times of the year.
May I also remind you about the incredibly cozy cafe culture in Lisbon which is perfectly enjoyed on wet days as any other day.
There is no question, Lisbon is one of the best places for a Europe city winter break! Together with Porto, Lisbon is one of my absolute favorite cities in Portugal.