There are so many fun things to do in Algarve Portugal that you could gladly spend a month or longer without getting bored. The glittering water, steep, rugged cliffs, sand-swept islands, and friendly locals attract millions of travelers to Portugal's south coast.
With so much to do and so many beautiful towns and natural spaces to visit it can be hard to know exactly what to do in Algarve. And the worst thing is when you learn about a place you want to visit after your trip! Happened to me more than once!
Having spent a lot of time in southern Portugal and traveled the region extensively, I'll show you the best things to do in the Algarve so that you can make sure you can include everything you want to do in your Algarve itinerary.
Disclosure: This post may contain affiliate links. That means that if you make a purchase through one of those links, I will get a small commission at no extra cost to you. As an Amazon Associate, I earn from qualifying purchases.
MORE FROM PORTUGAL
Best things to do in Algarve Portugal
Take surf lessons in Arrifana
As a hot spot for surfing, there is no doubt one of the absolute best things to do in Algarve is to take surf lessons. The astounding Arrifana beach is a popular surfing spot on the west coast of the Algarve and a great place to learn how to surf.
There are surf schools all around the coast that take you here for lessons, but there are also a couple of surf schools by the beach and in the nearby town of Aljezur.
If you've been tempted to try surfing but not done it yet, there are no more excuses! And the best thing? Algarve has great surf all year round.
See other thrilling water sports here.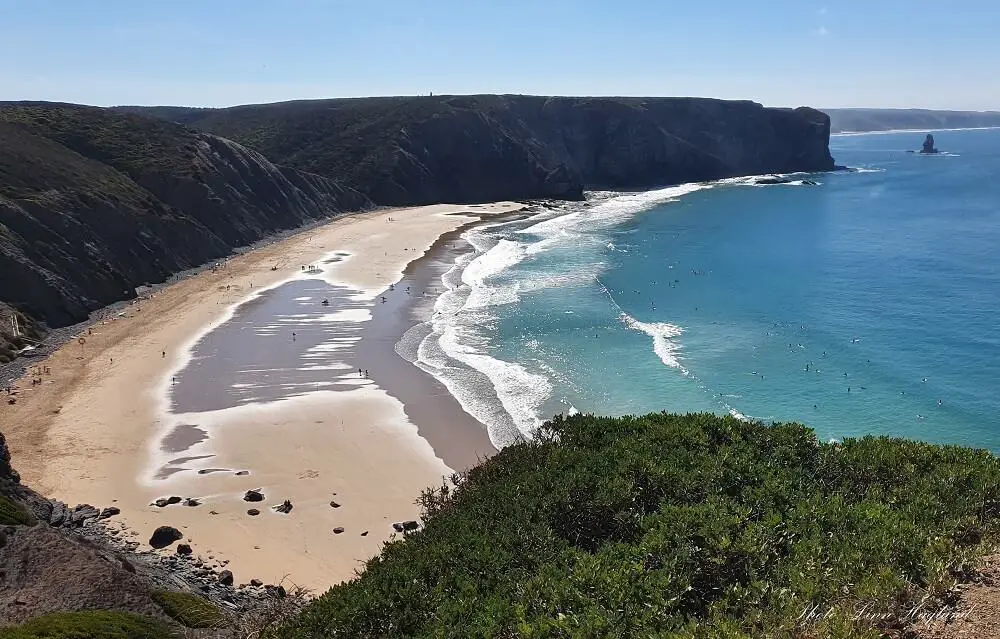 Scuba diving in Lagos
The Algarve is also amazing for scuba diving. With endless under water cave systems, there is a lot to discover under the ocean and whether you're an experienced diver or you want to try it for the first time, the Algarve coast is wonderful.
You can go scuba diving from Lagos where they take you to the best dive spots by boat. You can also take PADI courses from Open Water to Dive Master.
Explore Ria Formosa Natural Park by boat
The stunning Ria Formosa Natural Park is a must visit when in southern Portugal and one of the most beautiful places in the Algarve. The natural park covers 60 kilometers of coastline crisscrossed by canals, swamps, and sandbanks that are protected by its 5 islands, Tavira island, Culatra island, Armona island, Cabanas island, and Barreta island.
The islands hide some of the most beautiful beaches in Algarve and except from a bridge to Tavira island, you'll have to get on a boat to explore the rest of them.
There are various boat trips you can take from Faro, Tavira, and the less-touristed town of Olhão to explore this incredible part of the Algarve.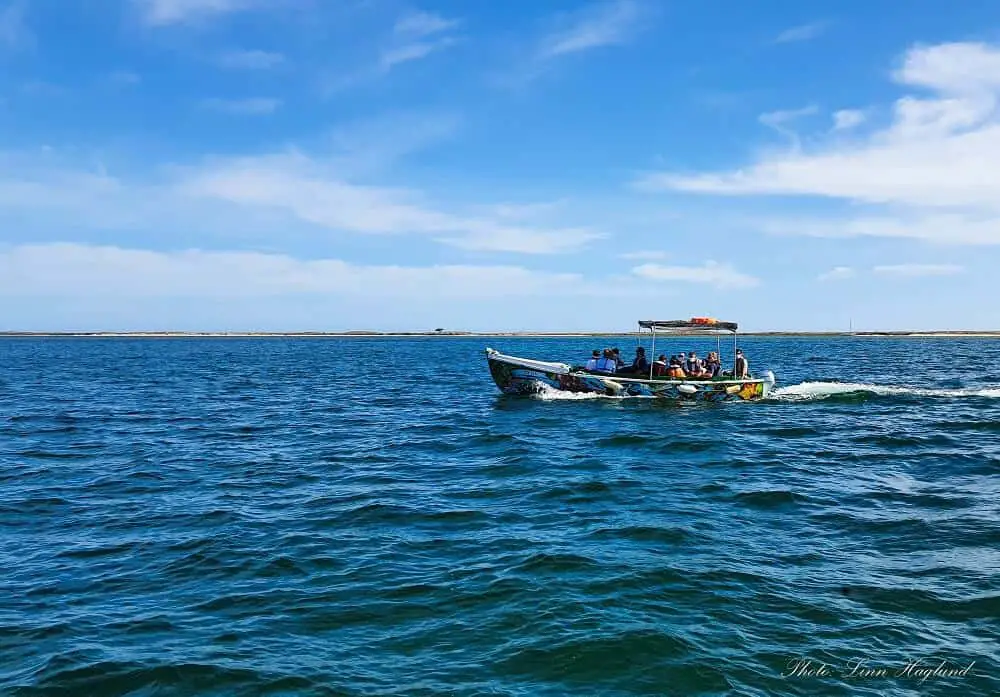 Get lost in the colorful streets in Tavira
The incredibly charming fishing town Tavira is one of the most beautiful places to visit in Algarve. The colorful, tiled houses bring you back in time to a time where the livelihood of the inhabitants was primarily fishing. Today, you have to walk out of the center to avoid all the tourists.
But it's really nice to get out of the most frequented areas and wander the streets, admire the different tiles and colors that someone chose for their house ages ago. This is also one of the best things to do in Algarve in winter, as you avoid the crowds of the busier months of the year.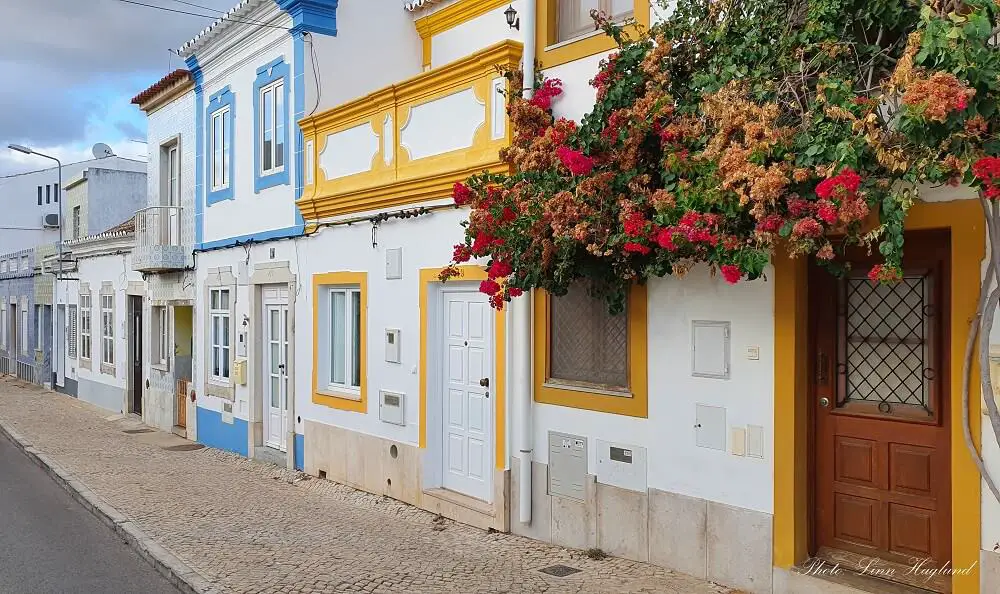 Explore the coast on stand up paddle board
The mesmerizing coast of Algarve is full of cliff formations and sea caves that you can get a unique sight of from the sea side. Getting on a stand up paddle board to explore the coast is one of the best things to do in Algarve.
Some of the highlights are the Benagil Cave, Ponta da Piedade, and the natural twin rock arches. Inbetween there is a myriad of caves and hidden beaches that will take your breath away.
There are many SUP rental places along the coast, especially in Albufeira, Benagil, Portimão, and Lagos.
Make sure you bring a Go Pro so that you can document your adventure without risking to ruin your phone.
Kayak to Benagil Cave
Benagil Cave is easily the most spectacular cave in the entire country and renting a kayak to enter the cave in the early morning before all the boats head out is one of the most rewarding things to do in Algarve.
The beach in the cave is stunningly lit up by the light shining through the sink hole in the cave ceiling and has become an extremely popular attraction the latest years.
Luckily, boats are not allowed to let tourists off at the beach any more, but they still drive pretty close to the beach so passengers can get a peek of the beach and the sink hole. So there are usually boats queuing outside the opening throughout the day.
Boat tours usually start at 09:30 so if you manage to paddle out before that, you might get some peace and quiet. You can bring the kayak onto the beach and stay there for a bit before heading back.

For this activity you'll also want to bring your Go Pro and a dry bag.
See the shipwreck at Patacho Beach
Patacho beach is a small pebbled beach west of Vila Nova de Milfontes. The beach wouldn't be anything worth seeing if it wasn't for a rusty Duch shipwreck, Klemens, that's stranded there.
The beach is actually a little north of the Algarve in Sudoeste Alentejano e Costa Vicentina Natural Park, but definitely worth a day trip if you're in the western Algarve.
The 17 meters shipwreck was stranded on the 12th of December 1996, other than that there is very little information to be found about it.
To reach the beach, you need to climb down the nearly vertical sand bank so you need to be careful both down and up. There is an arch in the rock next to the wreck where you can get through to the next beach which is beautiful to hang out at.
Visit the anchor cemetery at Tavira Island
Tavira Island is one of the stunning islands of Ria Formosa Natural Park and the anchor cemetery is probably the most unique place on the island. Situated across the only point where the island is connected to the mainland with a bridge, you can get there either by walking or by a tourist train.
The anchors were left behind by tuna fishers when the amount of fish declined and the fishermen gave up their profession. No one really knows who started lining them up on the current location. The hundreds of rusty anchors now attract tourists from all over the world to visit the area.
You can combine seeing the anchor cemetery with a day on the astounding Barril beach. There are bars and restaurants to eat in and umbrellas and sunbeds for rent.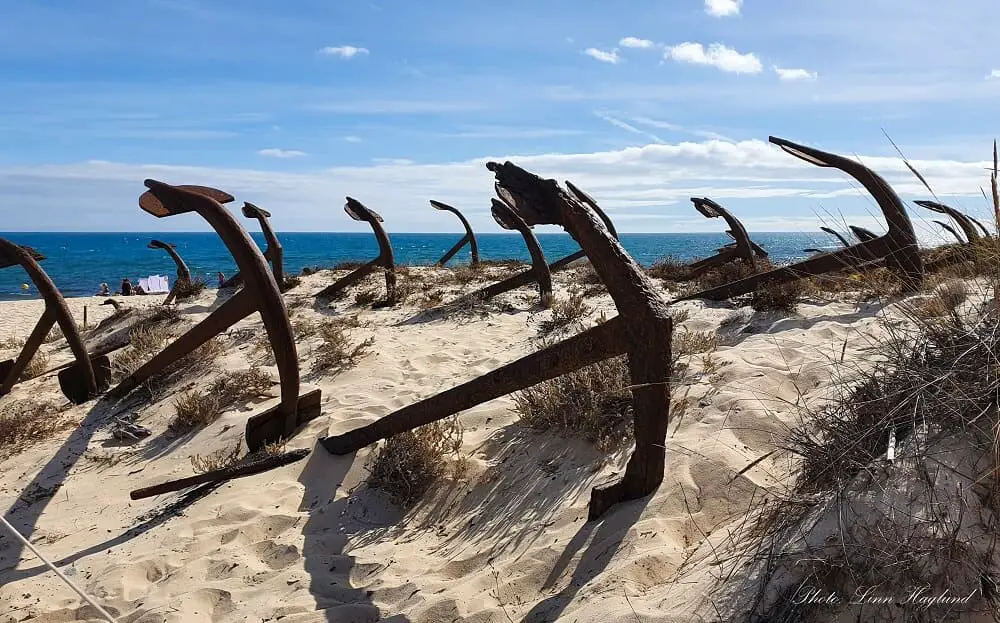 Hike along the cliffs in Sudoeste Alentejano e Costa Vicentina Natural Park
The Sudoeste Alentejano e Costa Vicentina Natural Park stretches along the west coast of the Algarve and is an incredible area to walk along the cliffs for astounding views. The park is very well preserved and the grandeur of the cliffs makes you feel in awe.
There are beautiful trails going from Aljezur and from Sagres that you can do. It's especially beautiful at sunrise or sunset. Particularly if you go in the summer months, as it can get too hot during the day if there's no wind.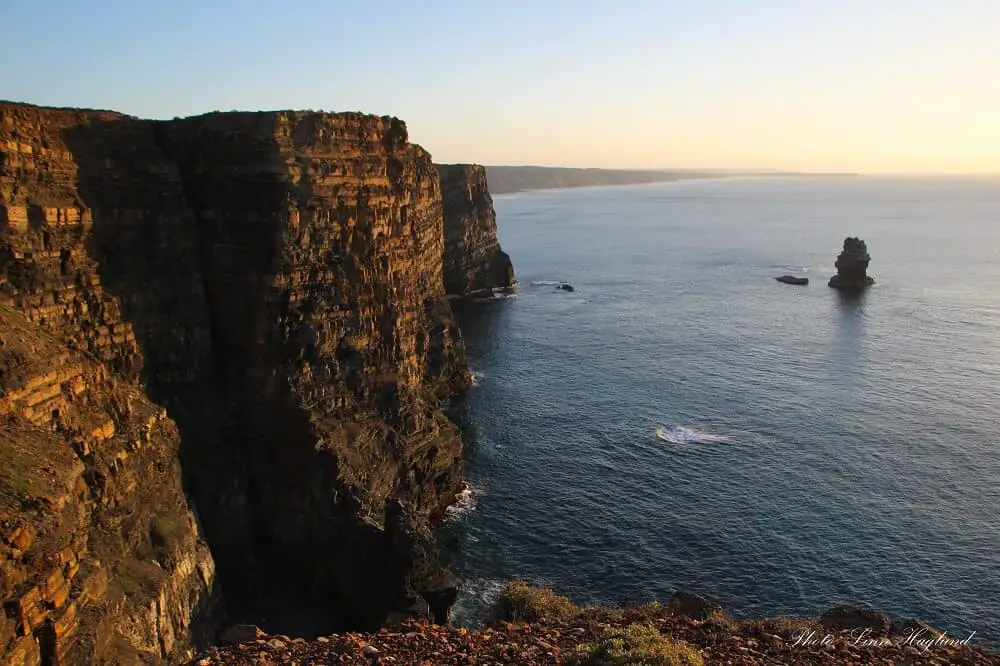 Boat trip to see the caves
One of the top things to do in Algarve is without a doubt to take a boat trip to discover the caves along the rugged coastline. A day out on the boat on a hot summer day is hard to compete with!
The boat trips will typically take you to a number of caves only seen from the seaside and maybe even a hidden beach or two. I recommend that you choose a boat trip that includes Benagil Cave if you haven't explored it individually.
You can get boat tours all across the coast, but a few popular alternatives are Lagos, Portimão, and Albufeira.
Hike Seven Hanging Valleys Trail
Hiking the mesmerizing Seven Hanging Valleys Trail is not only one of the best things to do in the Algarve, but also one of the absolute best hikes in Portugal. The hike stretches 6 km from Carvoeiro boardwalk to Marinha beach along the rugged cliffside and takes about 6 hours return.
You'll pass mesmerizing beaches, cliff formations, massive sinkholes, caves, and natural pools. The trail is easy to follow, but when you reach Benagil beach, you'll have to walk on the road for a short stretch before you get back to the path.
Make sure you have good footwear and enough water and food in your backpack. The trail is highly exposed to the sun so you should also wear a hat or caps and bring sunscreen.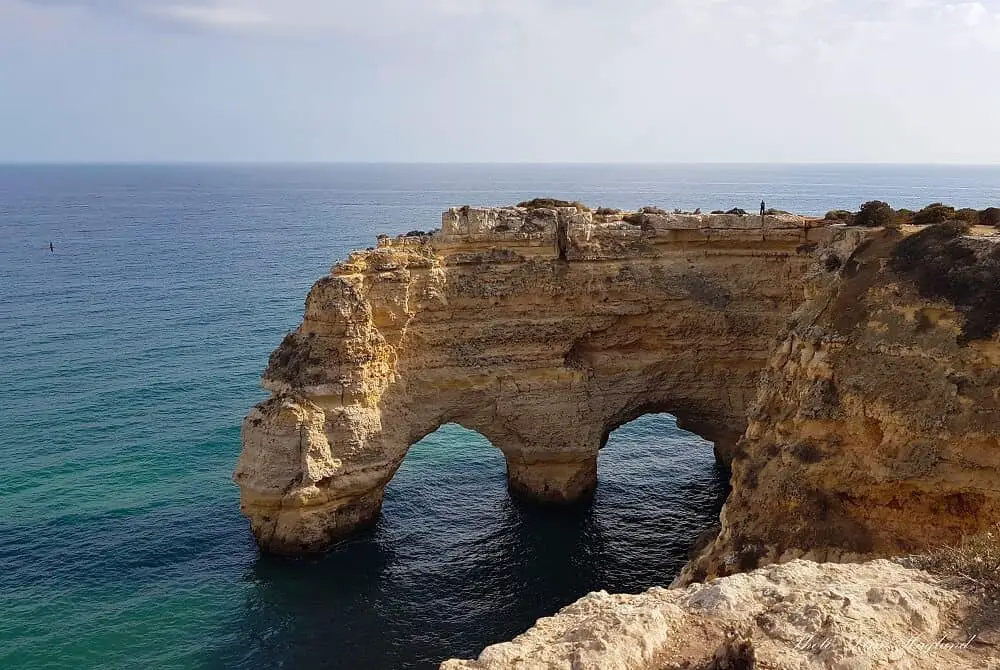 See street art in Olhão
Olhão is one of the lesser visited towns on the coast that definitely deserves a visit. Especially unique is the street art you find in the streets behind the marina. Whole walls are painted telling the history of the fishing town and they are really great work.
Walk the main street straight up from the port and turn first left and you'll find them on Largo and Rua da Fábrica Velha. The artists used old photographs to create the artwork which means the people you see on the paintings are actual locals from Olhão.
Explore Algar Seco
Algar Seco is without a doubt one of the best places to visit in Algarve. There is a restaurant where you can enjoy the ocean views from with a cold drink, but the best views are from the cave with the twin windows.
A walk on the cliffs here is spectacular and there is even a natural pool where you can go for a dip. But if you do, make sure you stay near the edges so you can hold on to the cliffs. I've seen some brutal underwater currents here as the pool is fed by the ocean and heavy waves affect the pool currents. Also, if you travel alone, it's probably safest to avoid it.
This astounding spot is part of the Seven Hanging Valleys Trail and can easily be reached by car or walking from Carvoeiro.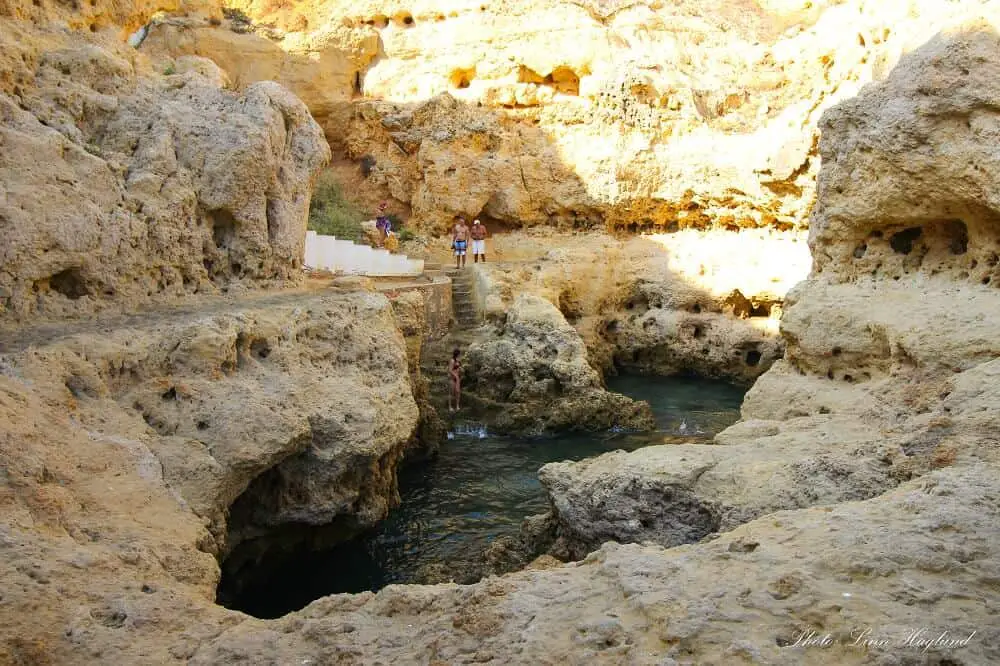 Sun bathe at Camilo Beach
Sunbathing at the beach is probably one of the most classical Algarve activities you can think of, and Camilo Beach is one of the most beautiful beaches in Lagos and well worth it if you want to relax a day on the beach.
With a set of 200 steps to get down there, you can enjoy the views of this short beach wrapped in cliffs on both sides and rock formations towering in the water. There are no parasols or sunbeds on the beach so you need to bring everything you need yourself.
To the left, you can slip through a tunnel in the cliff wall to the neighbor beach. Make sure you bring food and enough water for the day. There is only an overpriced restaurant at the top of the stairs, so you're better off having what you need.
There is plenty of parking but they fill up quickly in the summer months so you better get there early if you want a spot. Otherwise, it's easy to walk from Lagos.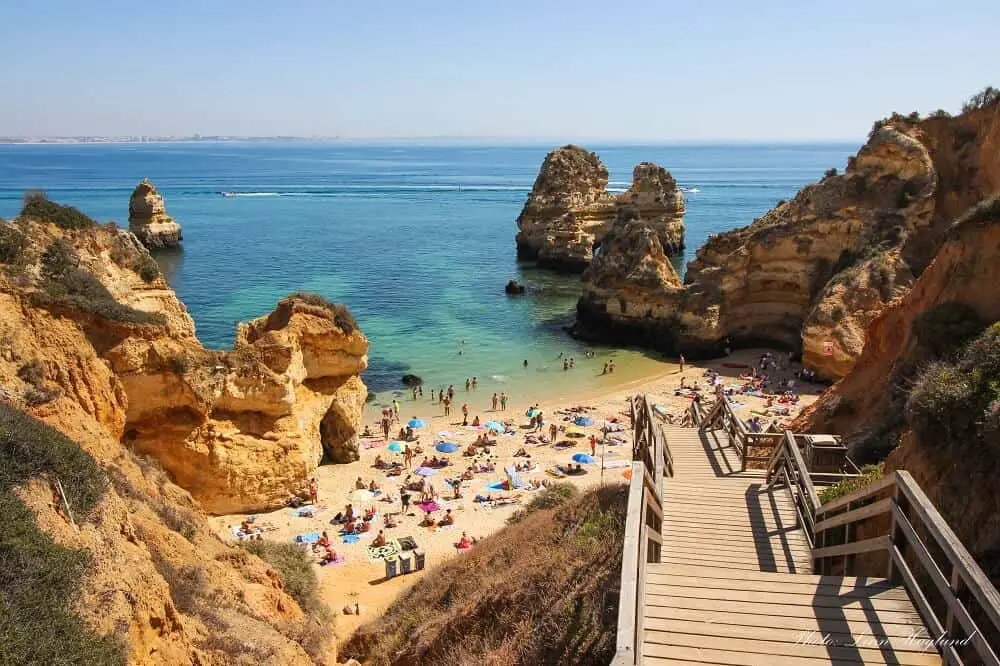 Explore the cliffs off Carvoeiro Boardwalk
If you walk Carvoeiro boardwalk, you can get off the boardwalk through a tunnel to explore the amazing cliffs beneath. There are marked paths, steps, tunnels, and caves you can walk and it's absolutely breathtaking.
Locals fishing on the cliffs and others having their lunch in the shade, this is a wonderful corner of the Algarve that barely gets enough attention.
You can easily get there from Algar Seco or Carvoeiro where you can park your car if you're on an Algarve road trip.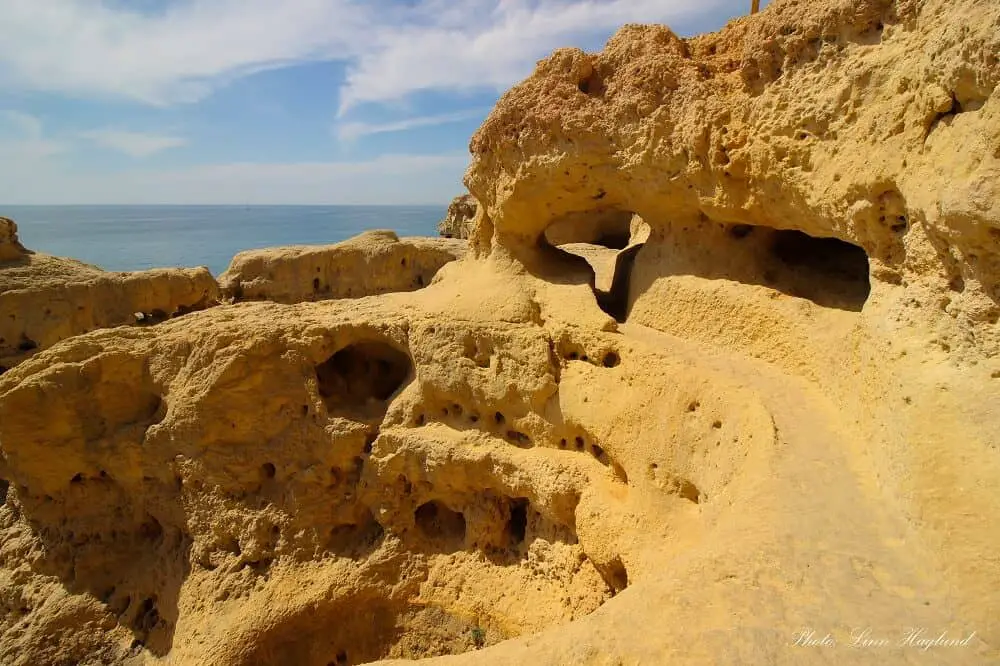 Walk along the cliffs in Sagres and see Sagres Fort
Head to the most extreme western tip of Algarve to Sagres for some of the region's most dramatic cliffs. A walk on top of the cliffs is mind blowing. This raw nature that has evolved as a result of raging waves, reckless wind, and the fierce sun.
And it keeps changing. So make sure you stay away from the edges of the cliffs as there may be loose parts and you don't want to slip down those edges.
Instead, follow the paths and let the views sink in. This is one of the most amazing things to do in Algarve as it's one of the most dramatic places on the coast.
The simple Sagres Fort is also worth visiting, where you can also access a cliffside walk, a grotto, Sagres Lighthouse, and a wind compass.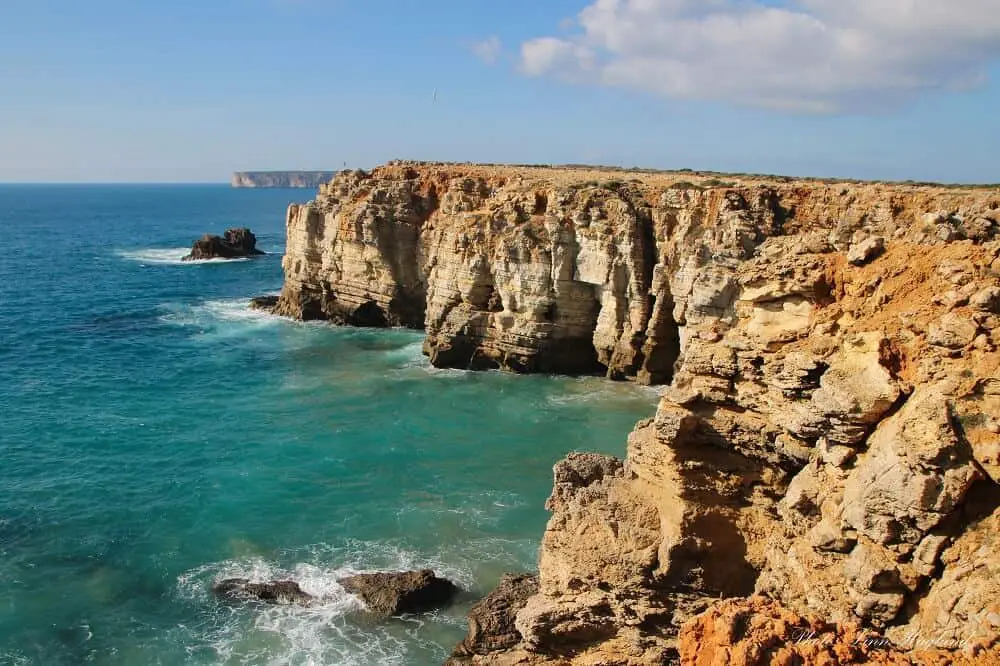 Go on a dolphin safari
Going on a dolphin safari is a must for any animal lover and a perfect way for families to experience wildlife. There are many companies offering tours to see dolphins all over the coast and a lot of them combine it with cave tours.
Lagos, Portimão, Albufeira, Faro, and Tavira are only some of the towns where you can book a tour. Nonetheless, even smaller places usually have boats heading out. Just make sure you go with an ethical company that doesn't chase the animals or disturbs them in any other way.
Visit Ponta da Piedade
Ponta da Piedade is one of the most beautiful rock formations in Algarve and a visit there is a must. Only a 10-minute drive from Lagos, you'll get to these spectacular natural compositions, without a doubt my favorite rock formations on the Algarve.
With 20-meters tall rock towers, natural arches, and caves, this is a popular destination, so I recommend getting here early in the morning or just before sunset, especially in the high season, if you want to find parking.
Walk down the steps to see the arches from there. You can also walk around to different viewpoints, but be careful not to step on the edges because there are loose rocks and you don't want to slip. There is also a scenic boardwalk you can walk on top of the cliffs.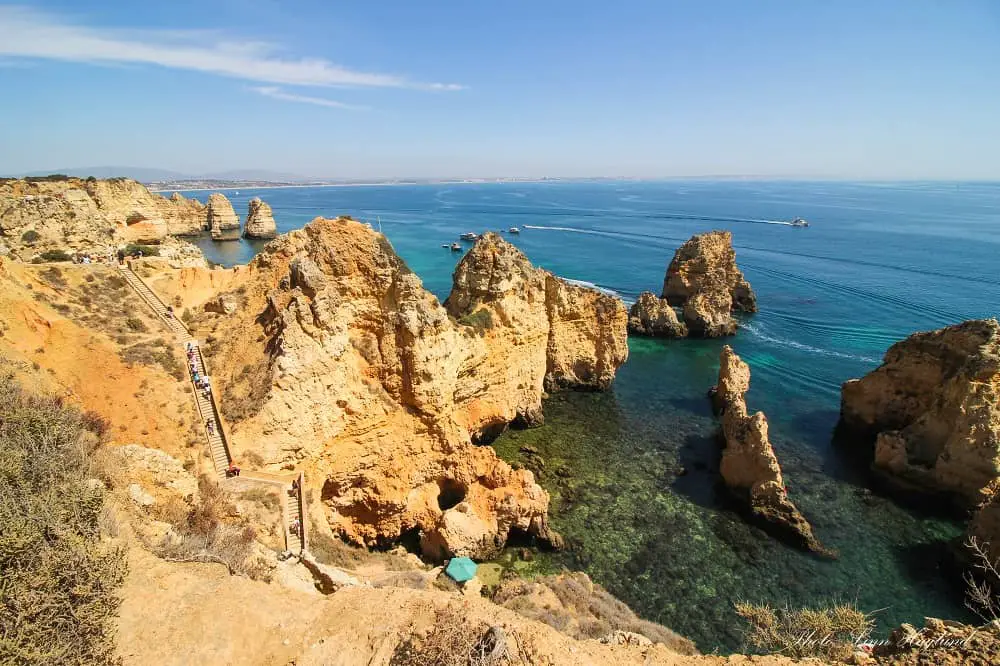 Wander the streets of Albufeira
Albufeira is the most popular town on the Algarve coast but it's really beautiful. Walking around the cobbled streets, eating ice cream, and soak in the coastal vibe is one of the best things to do in Albufeira. The whitewashed town is built on the cliff with structures reaching down to the beach, so be prepared to walk those steep streets.
There are breathtaking views everywhere on top of the cliffs and once you get a little lost in the streets you'll find cute restaurants and bars. Walk to the main shopping street and get your souvenirs before you leave.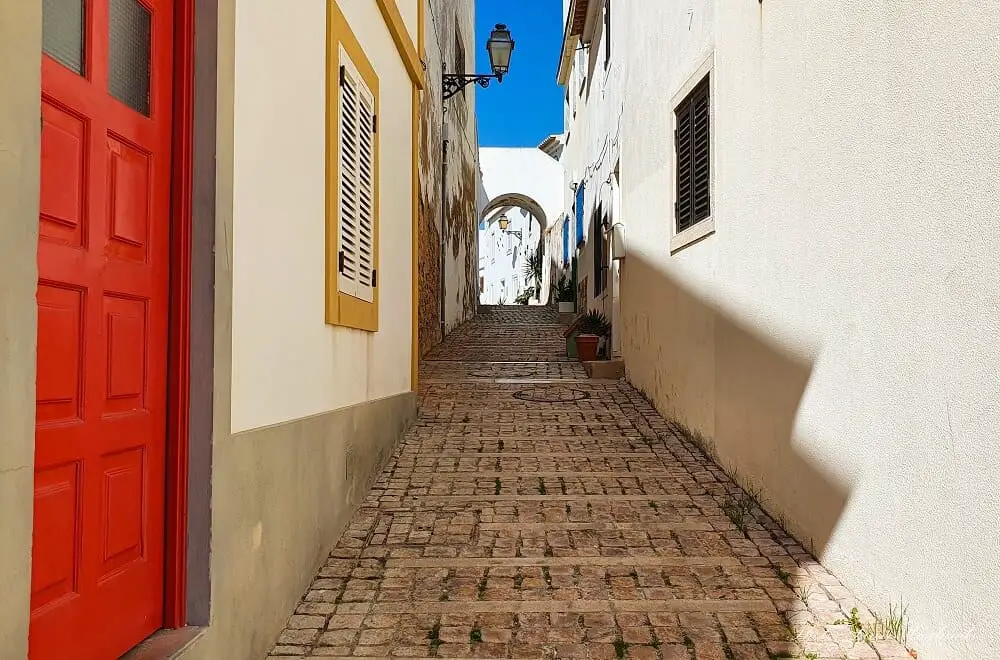 Chill at Marinha Beach
Marinha beach has been nominated the world's most beautiful beach several times, so you can only imagine it's worth going there. As the start or end destination of the Seven Hanging Valleys Trail, you can walk a bit on the trail above the beach before or after your day at the beach. You'll be mesmerized by the views!
Sitting at the bottom of the cliffs with astounding rock formations on the beach and in the water, it's like a live painting. There is also a small tunnel through the rock wall on the left once you get down to the beach where you can enter a hidden miniature beach with space for only a few people.
There is a restaurant at the beach with toilets, but no parasols or sunbeds so you'll need to bring your own shade and towel to lay on. But I assure you, this is one of the absolute best beaches to chill at! There is also a lot of parking on top of the cliffs.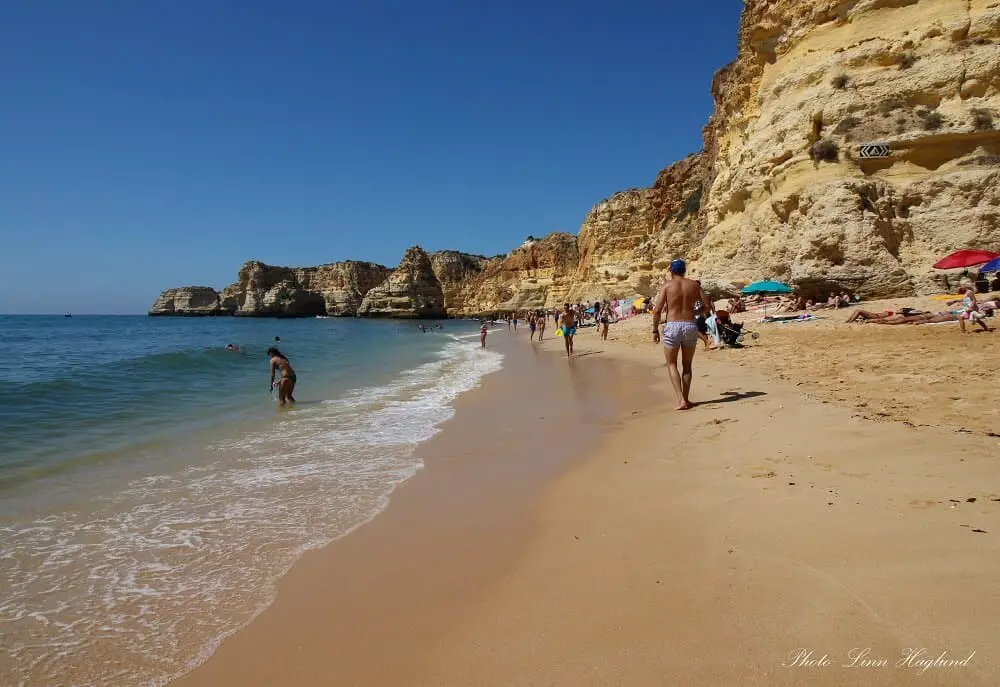 What to do in Algarve as a responsible traveler
Now that you know what to do in the Algarve, it's time to make sure you travel as responsibly as possible too. Here are a few tips to keep in mind when visiting the beautiful Algarve coast to help protect nature, people, and animals.
Travel off-season
Algarve gets extremely busy in summer and if you have the choice, you could set your vacation to the off-season to help alleviate the pressure of mass tourism.
Just before and after summer are wonderful times to travel to Algarve without the crowds and you can enjoy beach and water activities until October. For surfing, the whole year is popular – and you'll see people swimming even in winter on a hot day. For me it's a bit too cold, but I guess it depends what you're used to.
Another good thing about going to the Algarve off-season is that it's not too hot to go hiking on top of the cliffs or to explore the towns.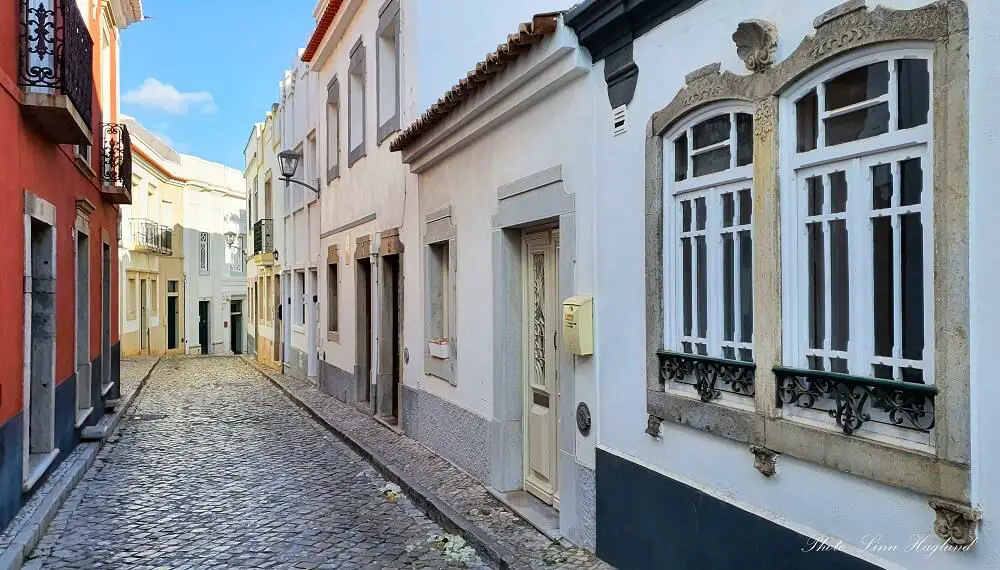 Avoid unethical animal tourism
This is one of my big passions. And Algarve is, sadly, one of the places that still offers swimming with captive dolphins. And even more unfortunately is that I see that most bloggers and travel sites actually recommend the activity!
Please think twice before you spend your money on a place like Zoomarine that exploits wild animals for tourist's amusement.
Dolphins swim up to 100 km in the wild. They aren't able to do that in the small pools they have available at places like Zoomarine. Dolphins are fed a diet that isn't natural to them and they lack the natural variation in their surroundings that they get from underwater vegetation and other marine life that they have in the wild.
It's no secret that captive dolphins get signs of distress and anxiety and often get served anti depressive medicine.
Having to perform on command and have people hanging onto them can't be a healthy addon to all of this. Dolphins belong in the wild and not in a tank.
In general, all activities that include touching wildlife is something you should avoid. You can read more about animal tourism, what to avoid and what's okey in my complete post about animal tourism here.
If you want your children to have an experience with dolphins and learn more about the animals, take them on a dolphin safari instead! The Algarve is packed of boats heading out to see these incredible animals in their natural environment doing what dolphins actually do.
Leave no trace
Leave no trace is probably the most popular pillar of sustainable tourism these days. The attention to plastic waste is great! The Algarve is an area that's exposed to wind and with the cliffs, any rubbish getting left behind flies straight out to the ocean and becomes fish food.
Make sure you keep your rubbish with you at all times and even where there are open rubbish bins in nature, consider if you can take it with you and throw it in the nearest town instead. There is a bigger chance it doesn't fly off there as the rubbish bins usually get changed more often.
You can also easily pick up after others if you see any pieces of rubbish on the trails. Remember that even fruit rests can disturb the eco system if you leave it in nature.
The fruit you eat is usually not part of the natural environment and there is no need to plant a tree that doesn't belong there. Animals and bugs will eat something that's not natural in their diet instead of eating what they should, which in turn can create a negative domino effect in the ecosystem.
But another thing that's just as important is to not take any natural sources with you like sea shells and rocks. These are important parts of the eco system too and need to stay where they are to make sure that it doesn't affect anything.
Respect the locals
Finally, the most logical things of them all! But sometimes, tourists get caught up in the act and forget that they are actually the visitors.
Take your time to get to know the locals, ask about their culture and even though you don't agree with something, listen and observe. Nothing good will come out of a foreigner telling a local that what they've been doing for generations is wrong.
Treating others with respect usually makes people respect you back. Simple as that. The perfect ingredient for a perfect trip!
Pin it for later!