Lisbon is the perfect city to base yourself with so many lovely things to do, vibrant nightlife, and charismatic cobblestoned streets climbing up the city's hills to the city's best viewpoints.
If you plan on staying a while, you might want to head out for a few day trips from Lisbon to discover the rest of central Portugal too.
But where do you even begin?
Throughout the last few years, I've spent a lot of time in Lisbon and that means I've also explored a number of the absolute best day trips from Lisbon that you can take.
Whether you're driving or prefer to go on day trips from Lisbon by train or bus, there are incredible places to discover like great cities, small charming towns, and nature destinations.
If you're curious about where to go, make sure to read on to find out more about my absolute favorite Lisbon day trips.
Disclosure: This post may contain affiliate links. That means that if you make a purchase through one of those links, I will get a small commission at no extra cost to you. As an Amazon Associate, I earn from qualifying purchases.
Best day trips from Lisbon
Cascais
One of the most quaint coastal towns near Lisbon is Cascais. Only 30 kilometers west of Lisbon, this is certainly one of the most popular day trips. Lisbon is so close, you hardly realize you exit the city.
Being such a small town, there are so many great things to do in Cascais, like relaxing at the beach, heading to Boca do Inferno, and walking along the promenade back to the town.
You should consider visiting museums like Museu Condes de Castro Guimarães which looks like a fairy tale castle with its stone tower. Just across the street, you find Santa Marta Lighthouse and Museum.
The old town of Cascais is also incredibly cozy with small shops, cafés, and restaurants. You can easily find vegan eats there too. Particularly Tanah Vegan captured my tummy!
You will not regret going on a day trip to Cascais from Lisbon!
HOW TO GET THERE:

By car: 30 minutes by car, you can park for a fee in town or at any outdoor parking lot, but it can be hard to find space, especially in the summer months.

By train: Trains from Lisbon to Cascais leave every 20 minutes approximately from Cais do Sondré train station and the journey takes about 40 minutes.

By bus: N/A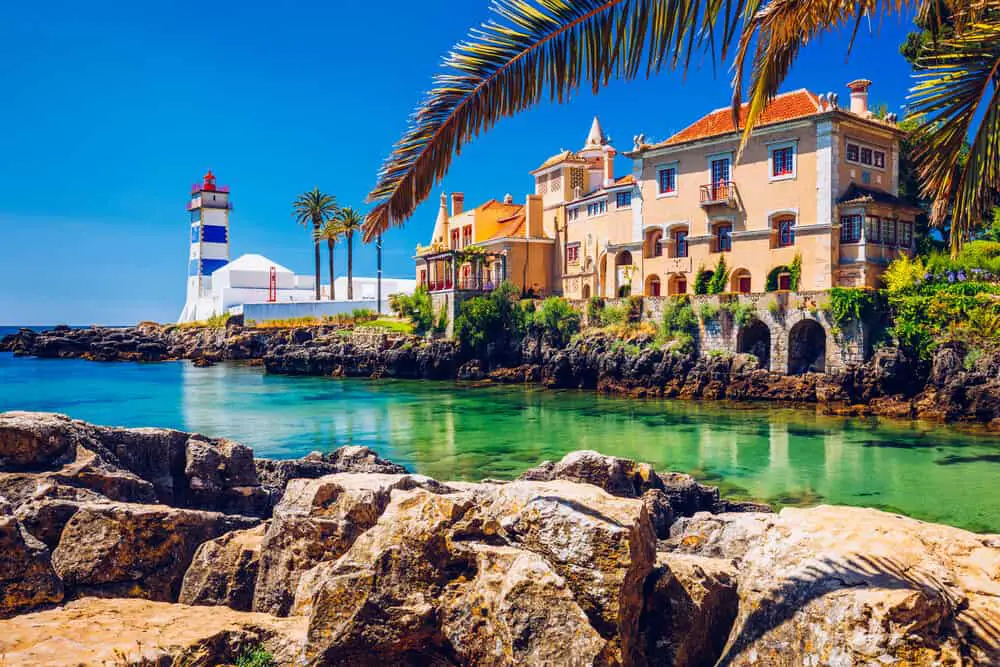 Sintra
One of the most hyped and best day trips from Lisbon by train is Sintra after the colorful fairytale Pena Palace gained Insta-fame. Yet the whole area is declared a UNESCO World Heritage site. Is it worth it though, a day trip to Sintra from Lisbon?
Absolutely yes.
While you won't be able to experience all the things to do in Sintra in only a day, you can easily explore the Pena Palace and one more.
If you travel by car it is a lot easier to get around to the different castles. There are not many parking places near them, but personally, I have never had problems parking.
If you prefer to go by public transport, there are local buses in Sintra taking you past the different sites. Take the 434 bus that loops from Sintra train station past both Castelo dos Mouros and the Pena Palace.
Bus 435 passes Quinta da Regaleira and Palacio de Monserrate.
An alternative is to go on a guided tour to get the most out of the day without the hassle. Check out this tour that includes the Pena Palace and the Quinta da Regaleira.
No matter which way you choose to travel or which castles you decide to see, get ready for a day of fairytale castles, impressive gardens, sweeping views, and a journey back in time.
Few places are as magical as Sintra so if you only have time for one day trip from Lisbon during your stay, this should be it!
HOW TO GET THERE:

By car: 30 minutes drive on the A37 or A16, though it can take more time to get out of the city during rush hours.By train: Around 40 minutes train ride from Rossio Station and Oriente Station. The trains leave every 30 minutes.By bus: There are no direct buses from Lisbon to Sintra. You can take the bus to Cascais and change there to get to Sintra. However, I recommend going by train if you don't have a car.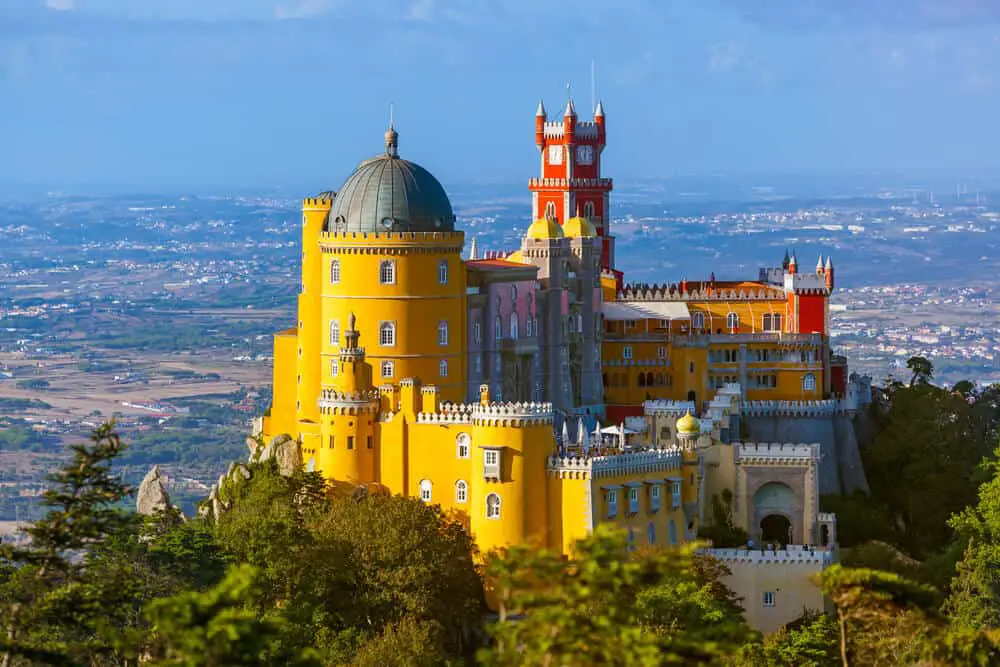 Ericeira
One of the most underrated one day trips from Lisbon is to the charming surf town of Ericeira. Being Europe's first World Surfing Reserve, you can only imagine the amazing surfing opportunities there.
For the same reason, it has also achieved a status as one of the most sustainable travel destinations to visit.
Besides surfing, there are a lot of wonderful things to do in Ericeira. Wander around the cobblestoned streets between whitewashed houses where laundry is flopping in the wind.
Walk along the waterfront taking in the impeccable views and grab a drink in the sun while you watch surfers ride the waves. There is also cool rock art and street art to be seen.
If you plan on spending the day on the beach, make your way to Foz do Lizandro beach where the Rio Lizandro flows out into the ocean. This makes it perfect for paddle boarding.
HOW TO GET THERE:

By car: It takes around 45 minutes to drive to Ericeira and parking is easy in the little town.

By train: N/A

By bus: Buses run every hour from Campo Grande and take between 45 minutes and 1 hour and 30 minutes.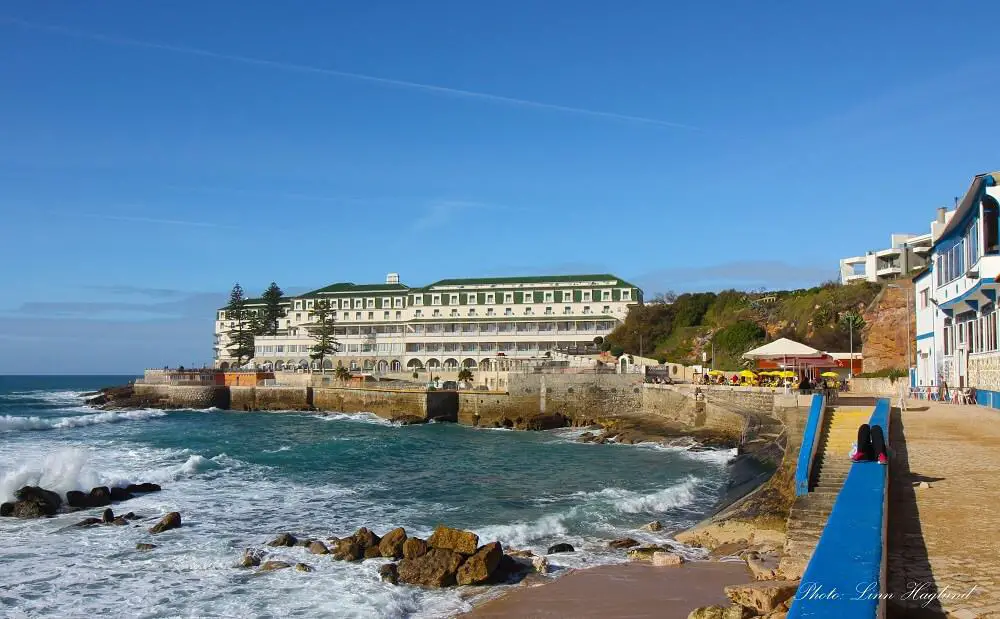 Mafra
Another epic one day trip from Lisbon is to Mafra. Many tours will take you on a tour of Ericeira and Mafra in one day as the main attraction there is the Mafra National Palace.
However, if you travel independently, you can visit the impressive palace before lunch and head to Tapada Nacional de Mafra, a former royal hunting ground.
Now, there are trails throughout the park and wild roaming deer and boars. There is a visitor center once you arrive where you buy tickets for entering and you can get information about the different trails.
Both the palace and the Tapada are declared UNESCO World Heritage Sites.
HOW TO GET THERE:

By car: 44 minutes drive along the A8, you can park for free in some streets or for a fee at the public parking by the palace.

By train: N/A

By bus: There are frequent buses to Ericeira that stop in Mafra. The journey takes about 30 minutes.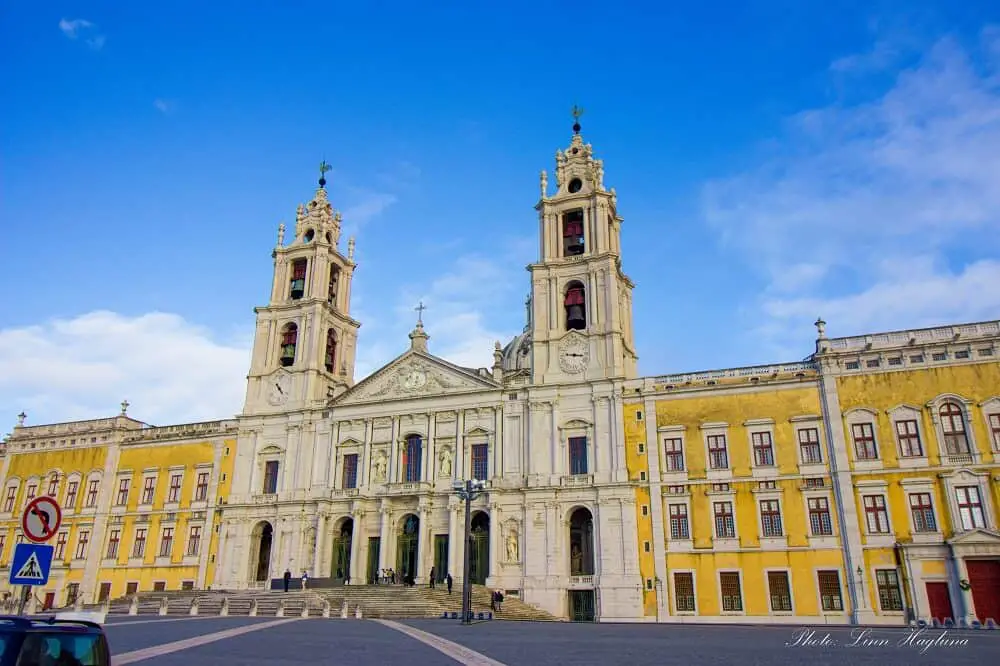 Fatima
When looking for day trips around Lisbon, Fatima is a wonderful option. The town is an important pilgrimage destination as devoted from all over the world come to the Fátima Sanctuary.
Especially between the 13th of May and the 13th of October is busy since it was during this period that Mary appeared in front of six shepherd children several times and led up to the Miracle of the Sun that was witnessed by thousands of people.
This resulted in building the sanctuary and in my opinion, religious or not, you should take the trip to this place. Pictures simply don't do this place justice.
Its grandeur reminded me of the St. Peter's Church in Rome (which I've been visiting since I was a child as my family is from the Italian capital.) I would clearly say that pictures don't make this place justice.
If you prefer to travel on an organized tour, check out this full-day tour from Lisbon to Fatima and Obidos.
HOW TO GET THERE:

By car: 1 hour and 25 minutes. There is a large, free parking lot behind the sanctuary where you should be able to park easily. However, it might fill up during the most important dates which is the 13th of each month from May to October.

By train: N/A

By bus: There are buses that take 1 hour and 20-35 minutes from Lisbon Sete Rios and Santa Apolonia bus stations.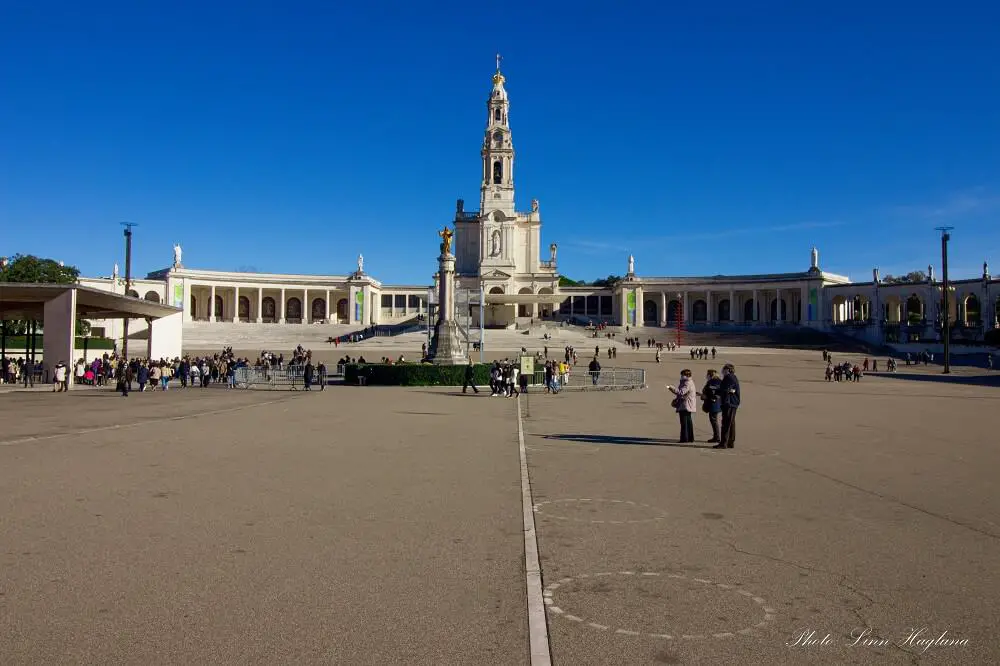 Pegadas de Dinossáurios da Serra de Aire Natural Monument
This is one of the top day trips from Lisbon for small and big kids (like myself!) I couldn't believe it when I found out that I could see real dinosaur footprints only a day trip from Lisbon. This is truly a hidden gem in Portugal!
To see the dinosaur footsteps you must embark on a 2-kilometer roundtrip to the quarry where the 175 million years old footprints of sauropods are. In fact, they are the longest sauropod tracks ever recorded. There is a wooden walkway taking you alongside the footprints and it's truly amazing that they are left by the giant extinct creatures.
The interpretation center has more information about the dinosaurs and how the footprints were found as well as a little gift shop where you can get everything dinosaurs for the kids in the family.
This site is only reached by car and can easily be combined with a visit to the nearby Sanctuary of Fatima or exploring one of the lesser-known hikes in Portugal along the trails from the interpretation center.
HOW TO GET THERE:

By car: 1 hour and 30 minutes. There is parking at the site.

By train: N/A

By bus: N/A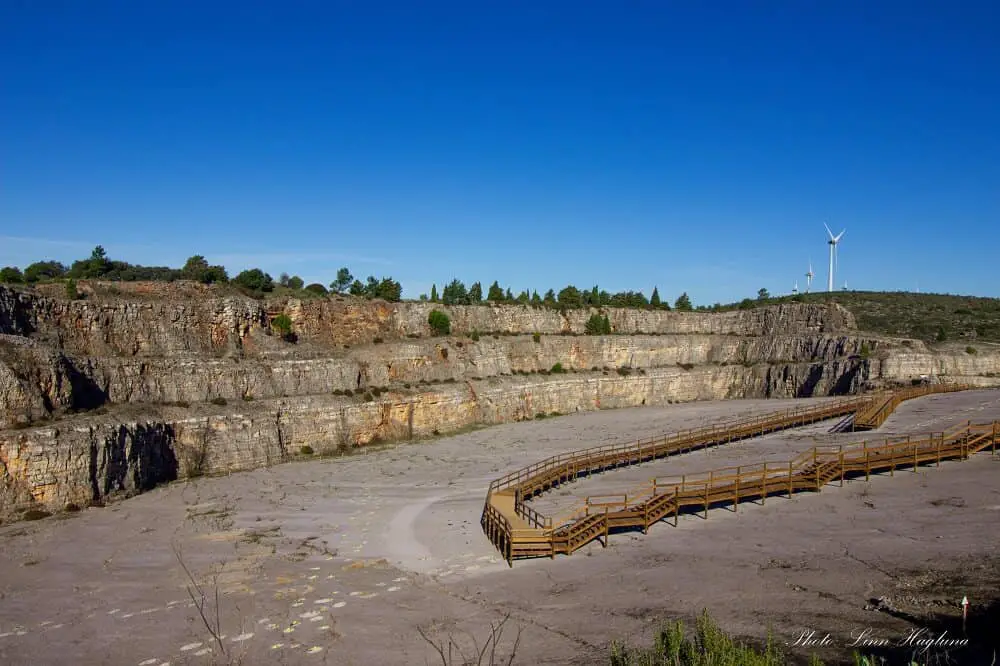 Nazaré
Famed for its big waves, Nazaré is the best day trip from Lisbon for those who want to see big wave surfing. In the winter months, the waves can reach 30 meters and it's an incredible experience to witness a big wave surf competition whether you are a surf fanatic or not.
In fact, Nazaré has the biggest waves in Europe due to a large underwater canyon reaching thousands of meters below sea level. This creates a swell swirling up the giant waves that have put Nazaré on the surfing map of the world.
But there are other things to do in Nazaré than surfing giant waves. The traditional fisherman's town still uses traditional fishing techniques and dries fish on racks outside. Walking along the seaside you will witness women drizzling salt on the drying fish.
Take the funicular to the upper part of town where you will be rewarded with sweeping views of Nazare's moon-shaped beach protecting one of the best coastal towns in Portugal.
HOW TO GET THERE:

By car: 1 hour and 30 minutes by car. You can usually find parking along the streets is usually easy outside the summer months and the big wave competitions in winter.

By train: N/A

By bus: Buses leave regularly from the Sete Rios bus terminal in Lisbon and the journey takes 1 hour and 50 minutes.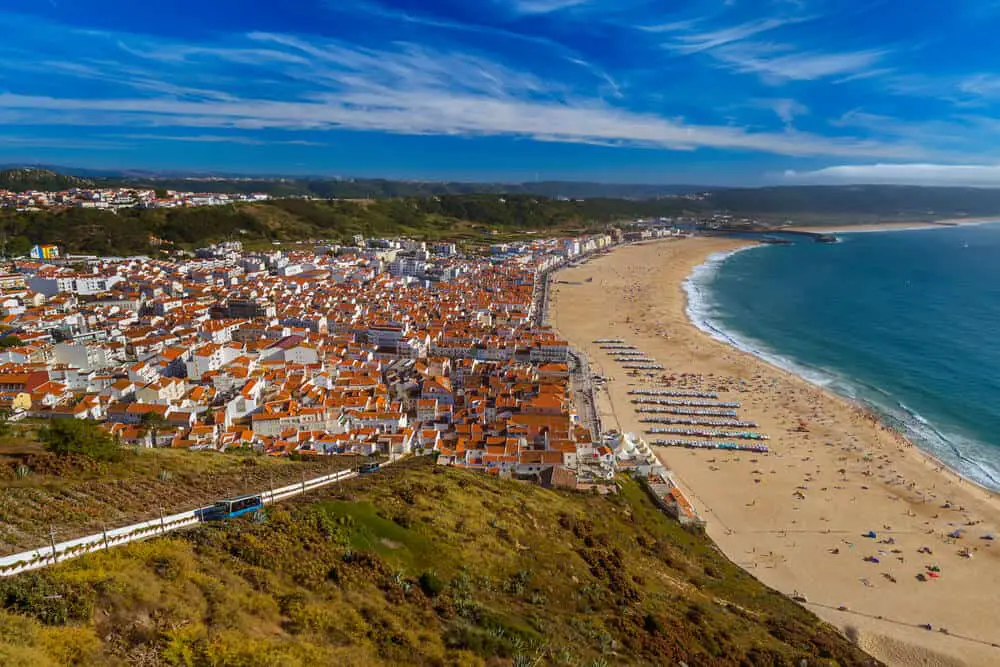 Leiria
One of the most beautiful day trips from Lisbon is to the enchanting town of Leiria. With a hilltop castle and cozy cobbled streets leading through old white buildings to quaint squares full of restaurants and bars, there is nothing not to like about Leiria.
There are many things to do in Leiria, but on a day trip you should not miss out on Leiria Cathedral. If you drive, I suggest you make a stop at the Monastery of Batalha on the way there or back.
The UNESCO site is an impressive melting pot of archaeological styles that King John I ordered built to commemorate the victory of the 1385 Battle of Aljubarrota against the Moors.
HOW TO GET THERE:

By car: Just over 1 hour and 30 minutes drive. There is free parking along the street below the castle and take the funicular up.

By train: Train journeys take from 3 hours and 30 minutes and up, so I don't recommend taking the train for a day trip.

By bus: Buses to Leiria take between 1 hour and 30 minutes and 2 hours from Sete Rios bus terminal.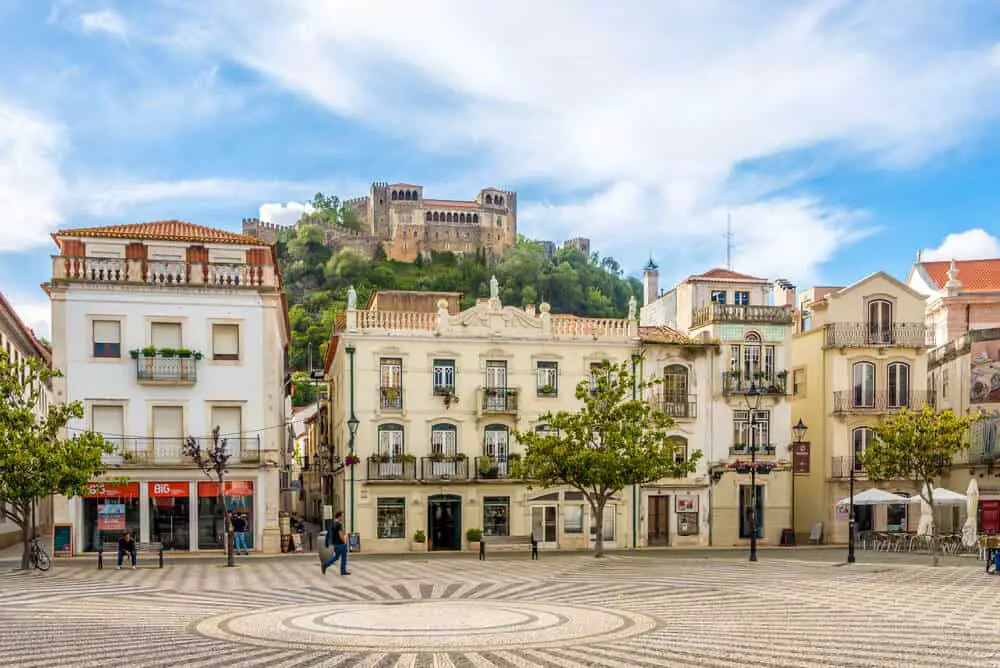 Évora
Yet another of the most popular Lisbon Portugal day trips is to the town of Évora. Famous for its bone chapel, there are more things to do in Evora.
The main church of Sao Fransisco, which is next to the Bone Chapel's entrance, is beautifully decorated with white and blue azulejo work and, though not as gruesome, just as much worth seeing as the Bone Chapel itself – where the bones and skulls of over 5000 monks make out the ornaments on walls, altars, and columns.
Évora Cathedral is a stunning blend of Romanesque and Gothic and it's a must to climb up the winding stairs to the rooftop for epic views of the town and surrounding countryside.
You can also see the remains of the Roman Temple that has possibly stood there since the 2nd or 3rd centuries AD and visit the Roman Baths from the 1st century.
There are enough things to see in the charming town to keep you busy on a Lisbon to Evora day trip. You can also visit the megaliths of the Cromeleque dos Almendres outside Évora if you drive or join a group tour from Lisbon to Évora that includes the interesting archaeological site.
I recommend this tour if you don't hire a car.
HOW TO GET THERE:

By car: It takes 1 hour and 30 minutes to drive and it is fairly easy to find parking close to the old town, considering it is walkable.

By train: The train journey takes around 1 hour and 30 minutes. They leave from both Entrecampos and Santa Apolonia

By bus: 1 hour and 30 minutes journey with 1-2 departures an hour.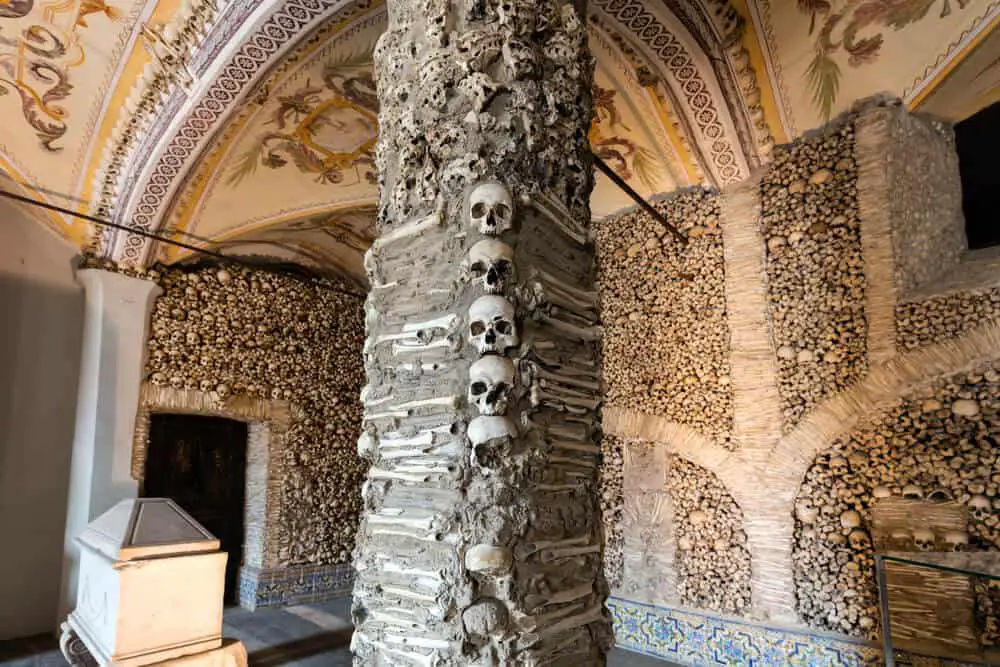 Aveiro
One of the most incredible day trips from Lisbon by train is to Aveiro, also recognized as Portugal's Venice. Charming and welcoming with its canals and colorful Moliceiros it is surely one of the most attractive towns in Portugal.
Besides taking a river cruise in a Moliceiro, there are a few nice things to do in Aveiro like visiting the Sé Cathedral and Aveiro Museum.
You can go shopping in small, eco shops in the charming cobblestoned pedestrian streets and cross the river for a lovely lunch. Pay attention to the beautiful Art Nouveau houses along the canal.
If you drive, it's worth taking an evening stroll along the Passadiços Ria de Aveiro to take in the calm saltwater rivers and bird life surrounding the wooden boardwalk.
HOW TO GET THERE:

By car: 2 hours and 30 minutes drive. It is easy to find parking in Aveiro either in paid street parking or in underground parking lots.

By train: By high-speed train, you can reach Aveiro in 2 hours and 8 minutes. Trains leave from Santa Apolonia station direction Porto- Campanha

By bus: The bus to Aveiro takes a minimum of 3 hours and is the least recommended option for a day trip.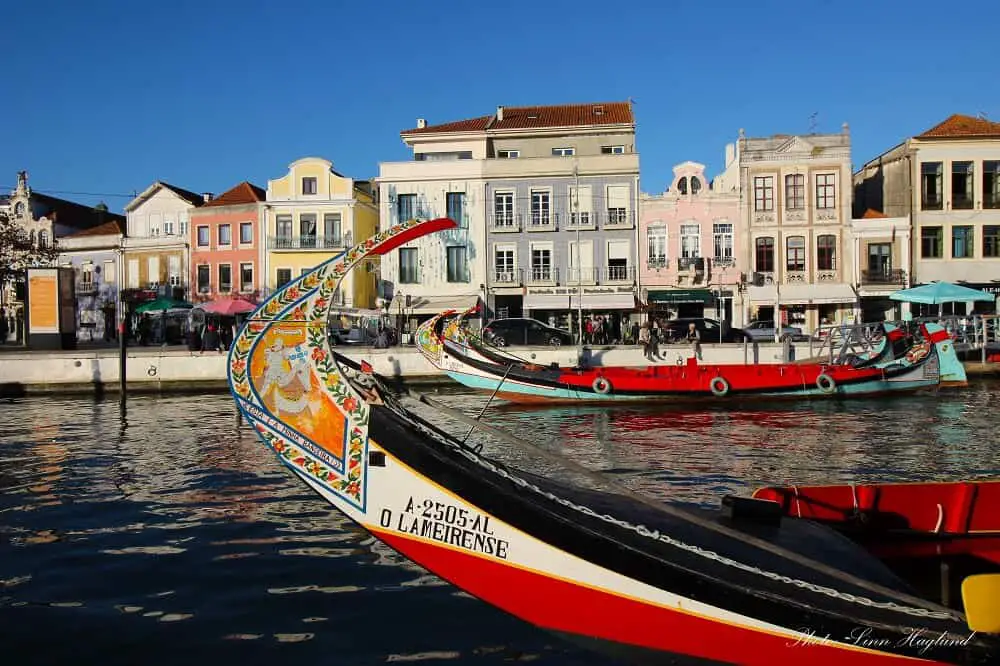 Rio Maior
Rio Maior is one of the most underrated, yet best day trips from Lisbon that you can take by bus or by car. I highly recommend taking this day trip by car as the most popular things to do in Rio Maior are spread around – also outside the town.
See the Villa Romana de Rio Maior and take a stroll around the town before heading out of town to see the Salinas de Rio Maior. These are the only inland salt pans that produce enough salt to make it a business. It is a cute little space of wooden shacks selling salt in different ways as souvenirs.
During the Christmas period, it turns into a lovely little Christmas village and even Santa appears on his sleigh. They also host a yearly nativity scene made of salt.
Next, discover the medieval storage chambers at Silos de Alcobertas and the interpretation center of the Forno Medieval de Alcobertas which was the community kiln where ceramics would be baked back in the day.
There are also many grottos in the Serras de Aire Natural Park that you can include in your day trip, like Gruta de Alcobertas.
HOW TO GET THERE:

By car: 1 hour and 10 minutes by car on the A1. The sites in Rio Maior are spread and are easiest reached by car. Parking is available on all sites.

By train: N/A

By bus: The bus takes from 1 hour and 10 minutes from Terminal Rodoviário de Sete Rios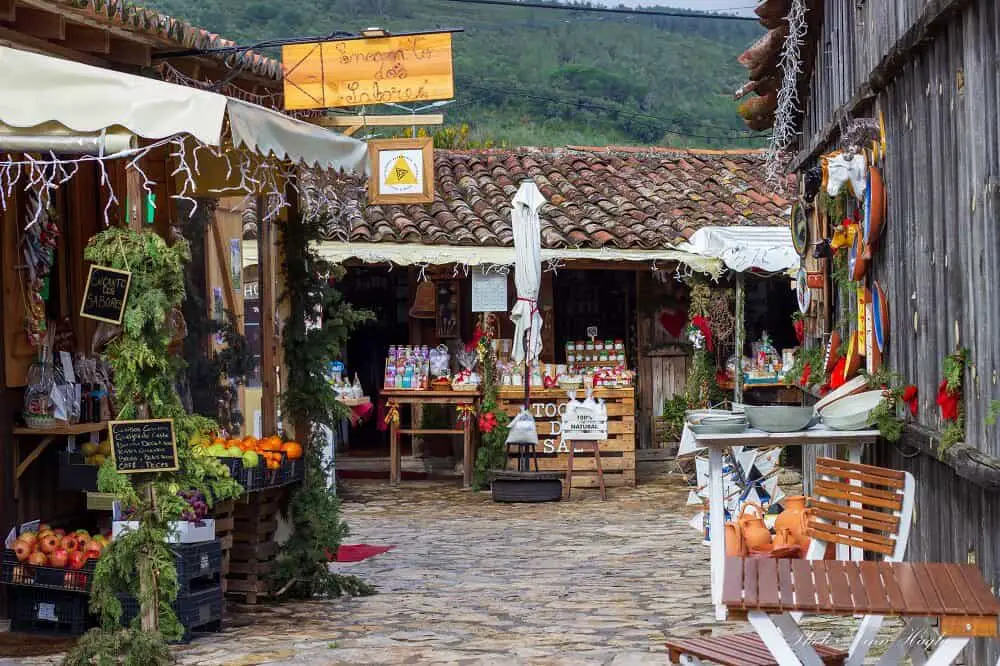 Porto
You might think it's crazy to consider doing a Lisbon to Porto day trip, but you would be surprised how many travelers opt for this if they don't have the time to spend a few days in both cities.
This is surely a Lisbon day trip that will be long and you should plan your Porto itinerary carefully before you reach the city.
Due to its size and numerous incredible attractions, it's a good idea to focus on sites that are close to each other – because you won't be able to see nearly as much as you want from Porto in a day.
Among the best things to do in Porto that are close to the train station (I recommend taking the high-speed train for a day trip from Lisbon) are climbing the Clerigos Tower, visiting the Lello Library, and entering the Carmo Church.
Around there, you can get lunch or you can walk down to the Ribeira district by the Douro River to grab a bite on the riverfront.
Cross the Louis I Bridge to visit one of the port wine cellars and museums on the other side of the river or take a Douro River Cruise before heading back to the train station – which is a tourist attraction on its own with its incredible azulejos artwork.
You can alternatively take an organized day tour by bus with a guide that takes you through Nazaré and Óbidos on the way to Porto. This tour will get you through a lot of places and you will get a feel of Porto, but at the end of the day, you only get a couple of hours in a city that in my opinion deserves an entire week.
HOW TO GET THERE:

By car: Driving to Porto takes around 3 hours. However, it can be complicated to park for free or cheap in Porto.

By train: High-speed train only takes 2 hours and 35 minutes. There are multiple daily departures from Oriente train station.

By bus: The fastest bus trips take 3 hours and 15 minutes and most buses depart from Sete Rios or Oriente bus terminals.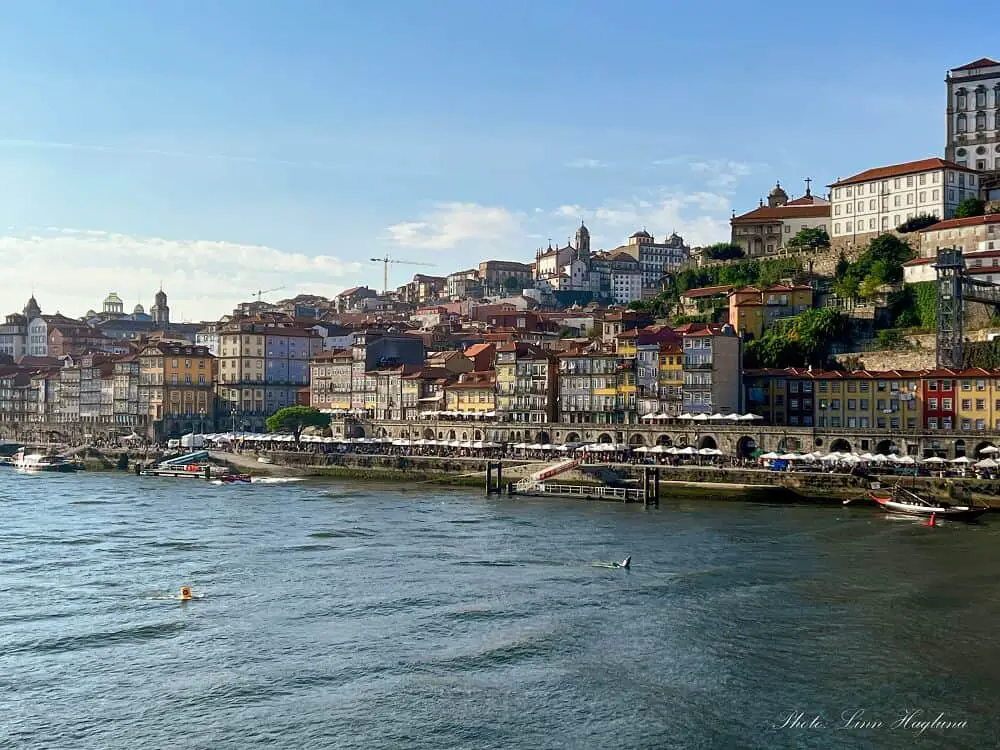 Algarve
One of the longest day trips from Lisbon that is surprisingly popular is to the far southern region of the Algarve. The best way to travel down on a day trip to Algarve from Lisbon is by car or by high-speed train to Faro, depending on what you want to explore.
By train, explore Faro old town, the bone chapel, Faro beach, and go for a hike in Ria Formosa Natural Park where you might spot flamingos. You can also take a boat tour to explore the incredible Benagil Cave.
If you go on a road trip, you are free to visit different towns in Algarve like Tavira, Albufeira, or Lagos. Exploring the incredible beaches and walking the golden cliffs (my favorite hike is the Seven Hanging Valley's Trail!) are just some of the many things to do in Algarve, so make sure you plan your itinerary carefully so that you get the most out of the day.
HOW TO GET THERE:

By car: Driving to the Algarve takes 2 hours and 40 minutes and is the best way to see the most of Algarve during a day.

By train: The high-speed train to Faro takes 3 hours one way.

By bus: There are hourly buses from Lisbon Sete Rios and the journey takes from 3 hours and 15 minutes.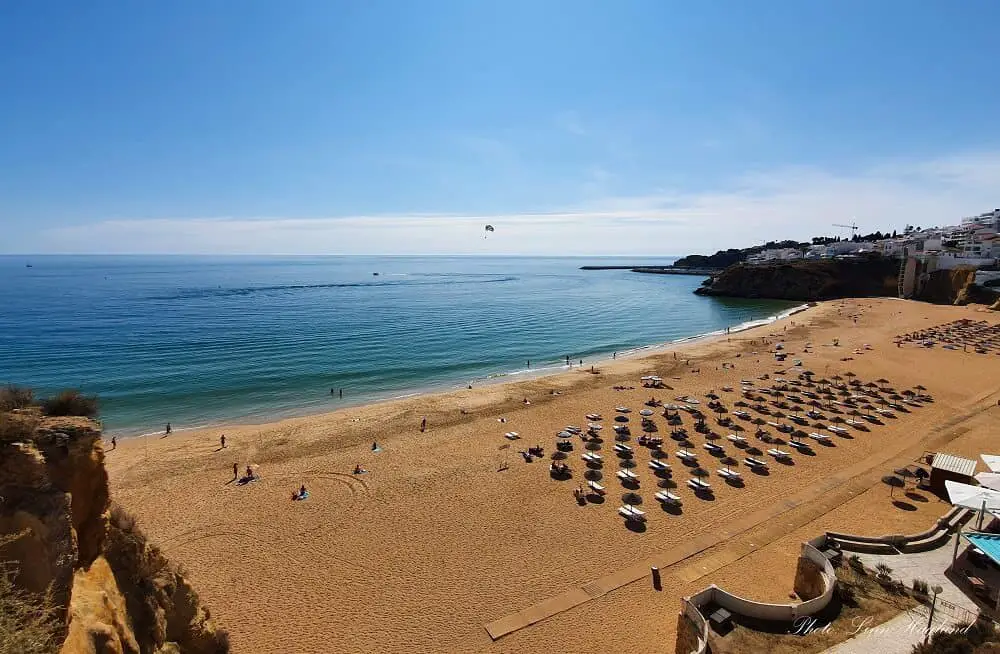 Reflections on Lisbon day trips
As you see, there are so many spectacular day trips from Lisbon that you can take that you can easily use this wonderful city as a base taking advantage of its vibrant nightlife, listen to the best Fado shows, and immerse yourself in dreamy sunsets from Lisbon's many viewpoints.
Lisbon has, and will always have a special place in my heart, even though I totally fell in love with Porto too!
Make sure you read my 2 days in Lisbon itinerary and complete guide to Lisbon in winter too. If you travel with a drone, you might want to check out this post to find out what you need to know.