Morocco is often being related to busy bazaars, eager vendors, and romanticized camel rides through the desert. Most travelers don't venture far beyond Marrakech, Fez, and Casablanca. Except for the desert, that is. Oh! And another place that has become extremely popular with the years is the blue city of Chefchaouen. But if you look beyond that and explore Morocco off the beaten path you will discover that it's got so much more to offer. From quiet bays, impressive national parks with abundant wildlife, incredible hiking opportunities, and undiscovered villages and ancient ruins. To cover the best of Morocco off the beaten track, I asked for tips from other travelers and bloggers that also have explored the more remote areas of this astounding North African country. But first, let's look at some practical tips for travel to Morocco.
Disclosure: This post may contain affiliate links. That means that if you make a purchase through one of those links, I will get a small commission at no extra cost to you. If you have any questions about these services or products, feel free to ask me.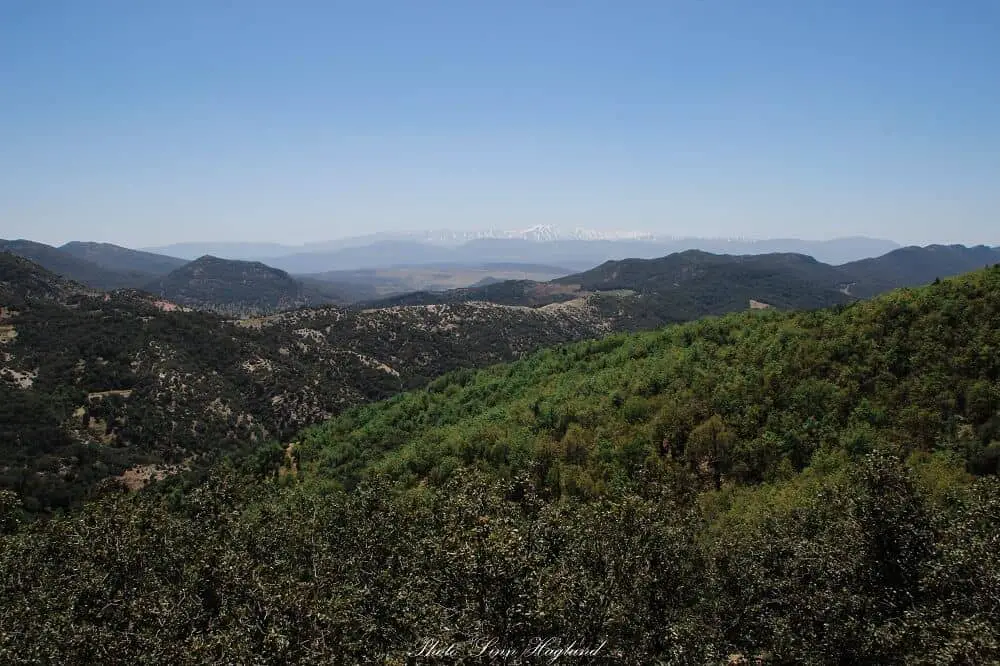 How to get to Morocco
By plane
It is easy to get to Morocco by plane as the country has several international airports. The most frequented airports are the ones in Casablanca, Marrakech, and Fes. This also makes them the cheapest to get to from most destinations. However, there are many to chose from and you can pretty much fly into any part of the country, including the infamous capital, Rabat.
---
If you haven't booked your flight yet, you can do it here!
---
By ferry
To Tangier
There are frequent ferries to Tangier from Spain. The most popular routes are from Algeciras and Tarifa. They are also the shortest transfers. Depending on the ferry, the trip takes 30 minutes to 1 hour and 30 minutes.
From Barcelona to Tangier there are 5-6 ferries a week that take up to 30 hours.
You can also take a ferry from Gibraltar to Tangier, but remember that this is a British territory, so if you travel from Spain you need to cross two borders, first from Spain to enter Gibraltar and then from Gibraltar to Morocco. This crossing is mainly worth it if you are already in Gibraltar and want to travel further to Morocco.
Book your ferry ticket to Tangier here.
To Nador
There are ferries to Nador from Almeria and Barcelona in Spain. From Almeria, the trip takes approximately 9 hours. With 3 ferry companies running a total of 25 times a week, this is a good option to get to Morocco by boat. From Barcelona, there is only one crossing per week which takes 26 hours.
Book your ferry ticket to Nador here.
By land
The conflicts on Moroccan borders to neighboring countries make it difficult to travel to Morocco over land. The border to Algeria has been closed since 1994 and there is nothing that indicates that it will open again in the near future.
However, the relation between Morocco and Spain is good, and Spain has two autonomous cities in northern Africa, Ceuta and Melilla, both bordering Morocco. By catching a ferry to any of those, you can easily cross the border to Morocco. The lines are usually long and you can expect to stand in line a couple of hours or longer whether you come by car or on foot.
There are daily ferries to Ceuta from Algeciras and Tarifa. The crossings take between an hour and an hour and a half.
To Melilla, you can cross from Malaga and the journey takes 6 hours.
Book your ferry ticket to Ceuta or Melilla here.
How to get around Morocco off the beaten track
Buses and trains in Morocco are good transportation methods to get around most places. However, some of the Morocco off the beaten track destinations you find in this post are only reached by car.
Whether you go straight from the airport or choose to spend a day in Marrakesh or Casablanca before heading to offbeat destinations, you can either rent a car or get a shared taxi or private driver to take you to your destination.
Find rental cars here
Travel safety in Morocco
Morocco is a fairly safe country to travel in and there are no real threats to tourists. However, in the big cities, you must be aware of dishonesty, scams, and pickpockets as in any big city. Once you get off the beaten path, though, there are fewer dishonest people and you will be able to relax more. My personal experience is that locals are friendly and honest once you get out of the hustle of the major tourist places.
Typical scams you can experience, are people following you to a shop where they charge you extra to give a tip to the person that got you there. Others might ask for money after they show you around or take you to the hotel. Some might ask for higher prices, and others might try to give you the wrong change back. Altogether, nothing you shouldn't be aware of anywhere you travel in the world.
Though there are no major chances of getting serious illnesses in Morocco, I suggest you check with your vaccination center if they recommend any shots.
As in any other country you travel to, you should get yourself good travel insurance to be safe in case anything doesn't go as planned. For me, it is important to choose a travel insurance company that has a strong focus on responsible tourism as well as it needs to be easy and pain-free to book and communicate with in the case of an insurance claim.
World Nomads is all that, and I opt for them wherever I travel. When you book your travel insurance with World Nomads you can add a micro-donation towards a community development project of your choice.
---
Get your travel insurance with World Nomads here
---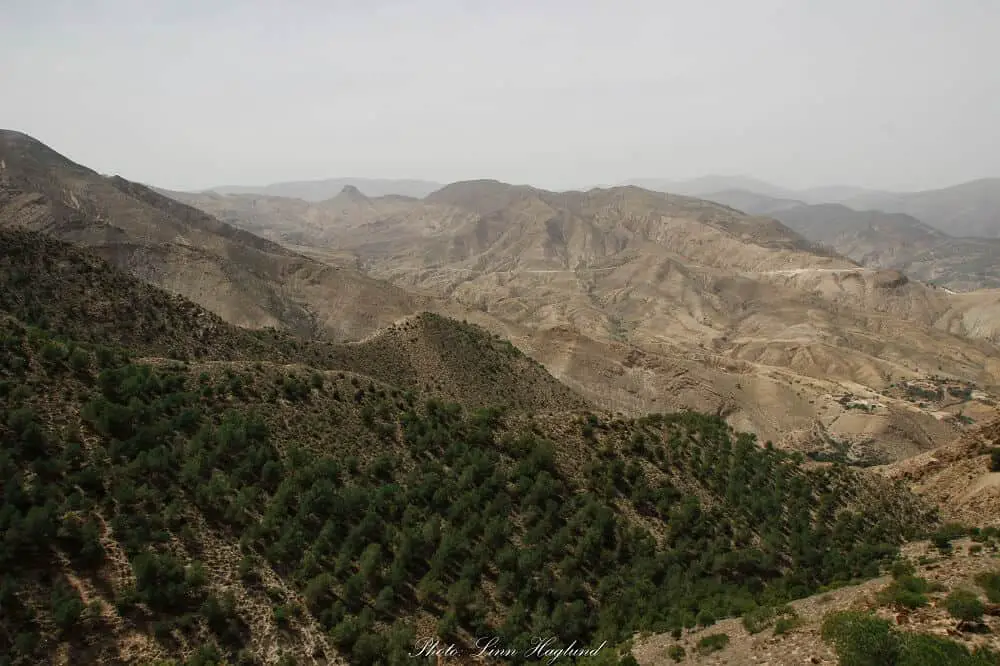 Animal tourism in Morocco
Unethical animal tourism is widely spread in Morocco as in so many other countries. Rule of thumb, if the animal is not in its natural habitat, if it's held captive, if it's used for the sole amusement of tourists, skip it. Being a responsible traveler is your choice.
Typical things you might encounter throughout Morocco are people asking for money for selfies with chained monkeys and snake charmers. I also recently learned that many places farmers chain goats up in the trees to charge passing tourists for a photo. So guys, if you see those Tree Goats, make sure you don't pay anyone for photographing them. They should be up there because they want to, not so that tourists can get that cool photo. Make sure your photo is authentic!
A romantic ride through the desert on camelback? You might want to skip it. Why?
Think about it, the camels are actually just used for the amusement of tourists. They should roam free instead of carrying tourists all day. Often they are attached together with a rope so they will walk in a perfect line. You know that classic camel caravan photo (with tourists on their backs) in the sunset? Not natural for camels at all.
Some argue it's ok because camels can be trained to be ridden like horses. Some argue it's ok because the locals have used camels for transportation for centuries, thus it must be a cultural immersion.
Yes, there are locals that use camels in their daily life and have done so for centuries. But that doesn't mean we as tourists have the right to contribute to those animals riding back and forth day in and day out only so that we can tick one more thing off our bucket list.
Do we really know what those camels go through so they will obey and walk tourists safely through the desert? Do we really know what those camels go through so they lay down, stand up and walk on demand when we are watching?
You can read more about animal rides to skip and why here.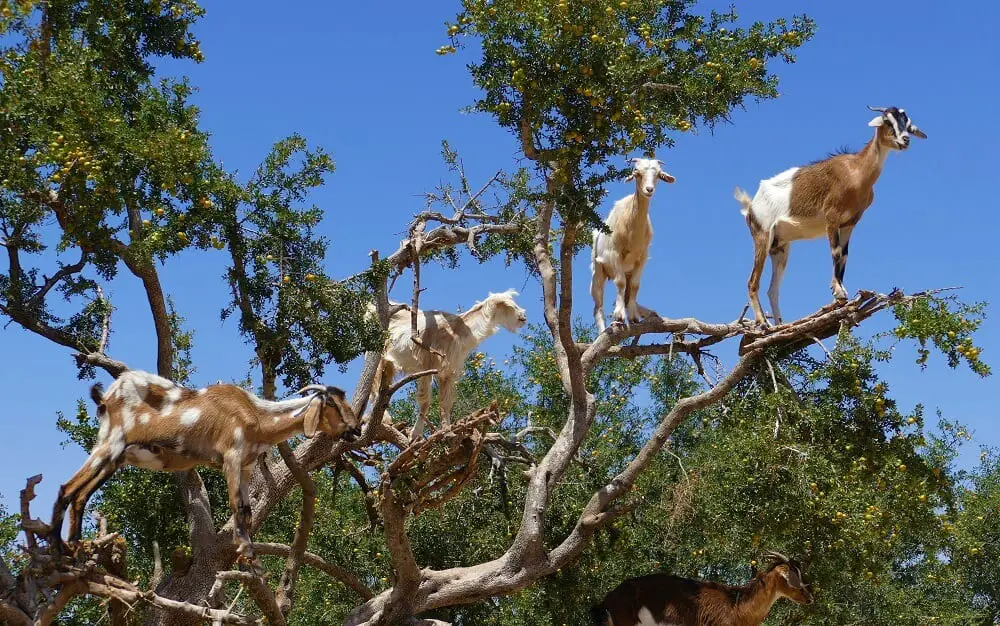 Morocco off the beaten path
Tazekka National Park
Tazekka National Park is a true Morrocco off the beaten track gem. Rich in wildlife and abundant fauna, the park is a haven for bird watchers! Some of the wildlife that live in Tazekka is Red Fox, Algerian Wolf, North African Boar, Golden Jackal, and Small-spotted Genet. And of experience, scorpions!
With the Jbel Tazekka towering 1980 meters high above sparkling rivers, intriguing caves, deep canyons, calm lakes, and vivid cascades, there is something for any nature lover. As part of the Middle Atlas Mountain Range, there are hikes through lush green forested areas and rugged mountain scenes.
There is no public transport to Tazekka National Park, which makes it necessary to go by car. This also means hardly any tourists!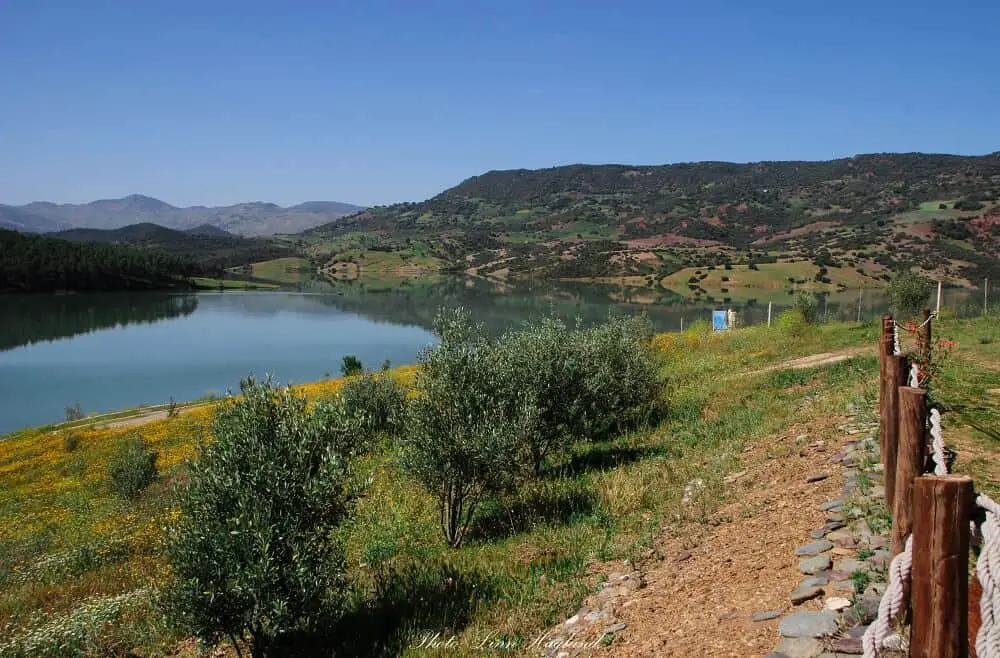 Al Hoceima National Park
Covering 40 kilometers of the Mediterranean coastline next to Al Hoceima town, Al Hoceima National Park was only created in 2004. Connected with dirt roads, the park is spotted with cute Berber settlements.
While you can drive through large parts of it, there are also a great number of hiking paths to explore. Yet, it's nice to walk along the dirt roads for spectacular views.
Al Hoceima National Park covers 480 square kilometers whereof nearly 200 of sea. Rocky mountains meet the Mediterranean and hide some spectacular beaches.
If you are lucky you can see groups of dolphins playing around. In the park, there is a colony of osprey, which is a threatened species as well as a large variety of fauna that in turn creates a habitat for different wildlife.
A nice attraction is Bades Island which is connected to the mainland with a narrow line of sand.
Unless you have your own car, the only way to get to the park is by grand taxi from Al Hoceima town.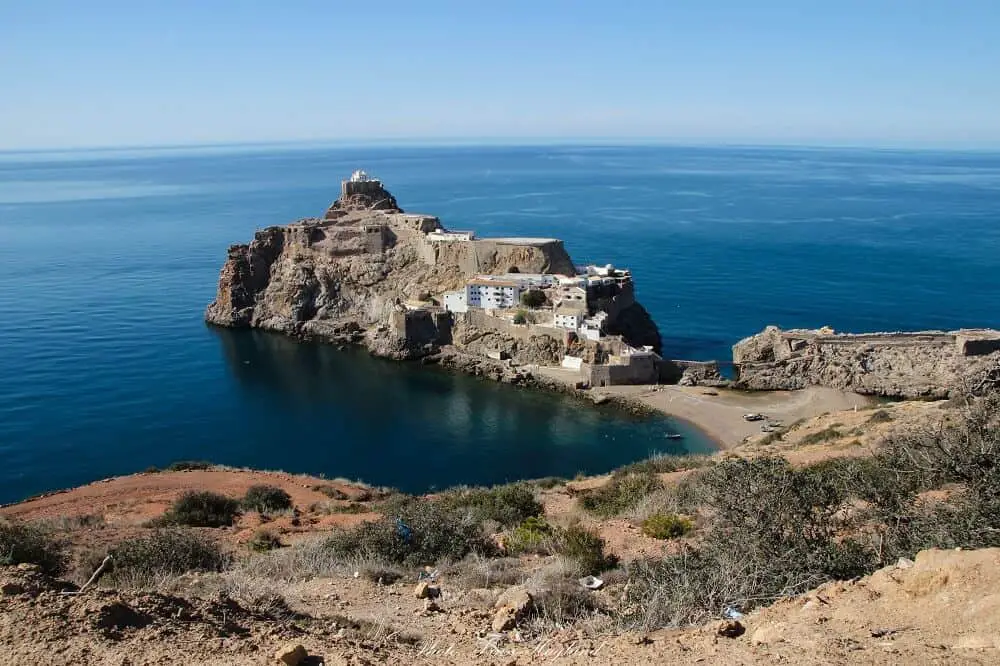 READ: Eco friendly camping gear and packing list
Asilah
Situated on the Atlantic coast just south of Tangier, Asilah makes a great escapade for anyone wanting to explore Morocco off the beaten path. The small coastal town is popular among local tourists that look for a quiet beach destination.
The medina is known as an art hub with its picturesque streets, blue doors, and striking wall paintings. The defensive walls and gates were built in the 15th century, by colonial Portuguese.
Be aware, cat lovers! You will stop at every corner, they are everywhere just waiting to charm you to death! Also for non-cat-lovers, there are things to be charmed by. Cute little art shops, artifacts, and charming Moroccan doors, to mention some.
There are cute cafes and restaurants spotted around or you can try nice street food at the promenade.
The easiest way to get to Asilah is from Tangier, where there are frequent buses running all day. If you drive, it only takes 45 minutes. From Rabat, there are trains (4 hours 45 minutes) and buses (5 hours 50 minutes). However, if you drive, it's only about 2 hours and 15 minutes to get there. Once in Asilah, it is easy to park along the street.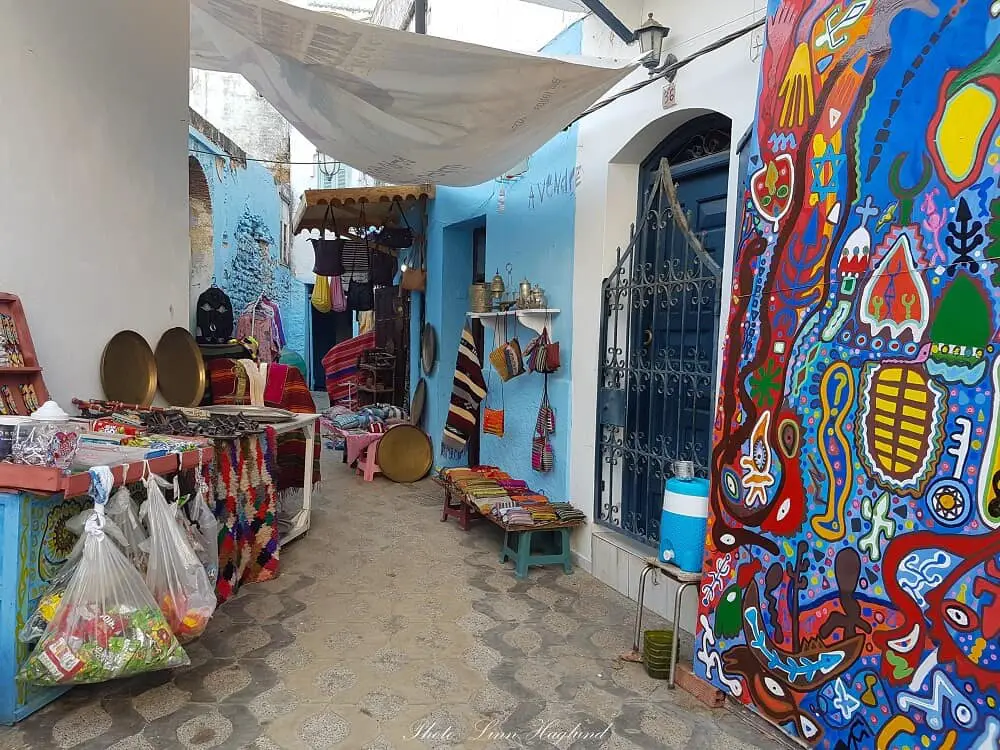 Ait Benhaddou
By Izzy and Phil of The Gap Decaders
Ait Benhaddou is a red-brick mud ksar (fort), literally raised out of the ground it stands on. This small UNESCO protected Berber village sits on the old desert caravan trail from Marrakech to Timbuktu and appears frozen in time, as it might have looked to the nomads making the long trek south. So authentic is this place that a number of films have been made here including Lawrence of Arabia and Jewel in the Nile. The ksar consists of three towered kasbah (castle), a mosque and lots of smaller dwelling houses. Many are unoccupied but a handful of local people still live there, practicing the traditional ways and crafts.
 While away an afternoon soaking up the heat and atmosphere, exploring the colorful souks and narrow lanes, you can visit a restored Berber house for a small glimpse of what life here was, and often still is, like. Climb up to the 11th-century agadir (grain tower) for fantastic views of the village below and sweeping vistas of the Oued Ounilla and the hamada (desert) beyond. After all that climbing, head down to Maison d'hote Dar El Haja for a glass of mint tea on their charming roof-terrace. To get there, head south-west from Marrakech on the N9, which takes you over the awe-inspiring  Tizi n'Tichka pass, which we drove on our recent motorhome tour of Morocco. For a real Morocco off the beaten track adventure, follow the redundant desert caravan trail along the P1506 from Telouet, through the beautiful Ounilla Valley to Ait Benhaddou.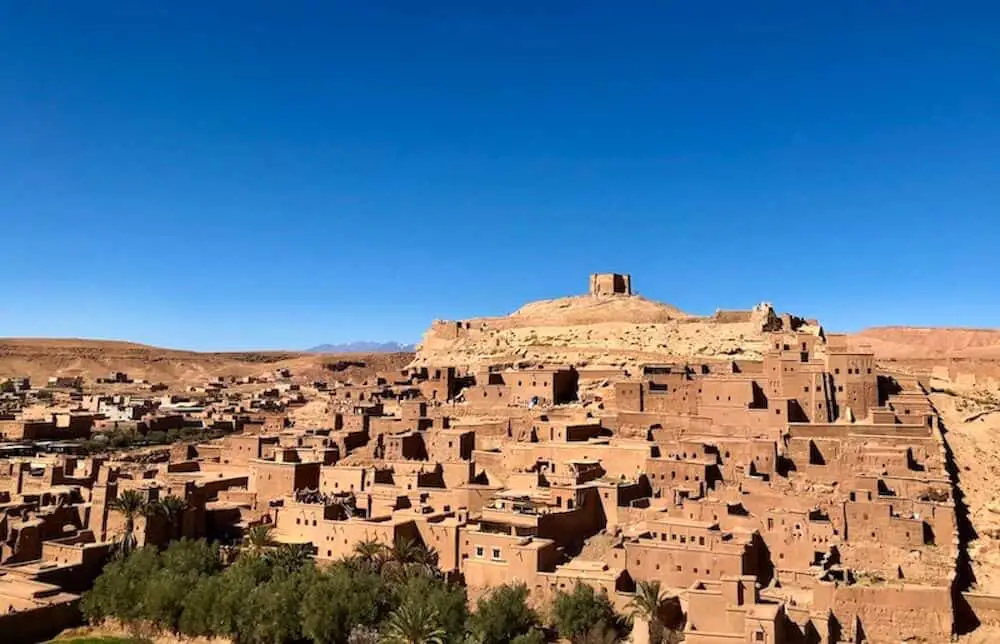 Climb Mount Toubkal
By Suzanne of Meandering Wild
Imlil is a small village in the foothills of the High Atlas Mountains and is the starting point for treks to the summit of Mount Toubkal. The village has a number of restaurants and riad as well a National Geographic Lodge – Kasbah Du Toubkal, but it is as far from the bustle of nearby Marrakech as it is possible to get.  The village is reached by road from Marrakech and the journey takes about 2 hours depending on how many stops are made to view the valleys and small villages on the way.  This journey can be made by private car or on a car share from Marrakech.
Whilst the village is small, the landscapes surrounding it are spectacular.  Dominating the skyline is Mount Toubkal. This is the highest peak in North Africa, the Atlas Mountains, and Morocco and stands at 4167meters.  It takes two days of trekking to reach the summit, but it is not a technical climb in the summer months and can be achieved by anyone who is fairly fit. It can be reached all-year-round but is more of a technical climb in the winter months when crampons are essential. 
In Imlil, mountain guides can be easily found to take you through the walnut groves following the river to the waterfalls and Berber villages before heading out into the mountains towards the summit.  The nights are spent in mountain lodges which are basic but adequate and are worthwhile to reach the summit and watch the sunrise.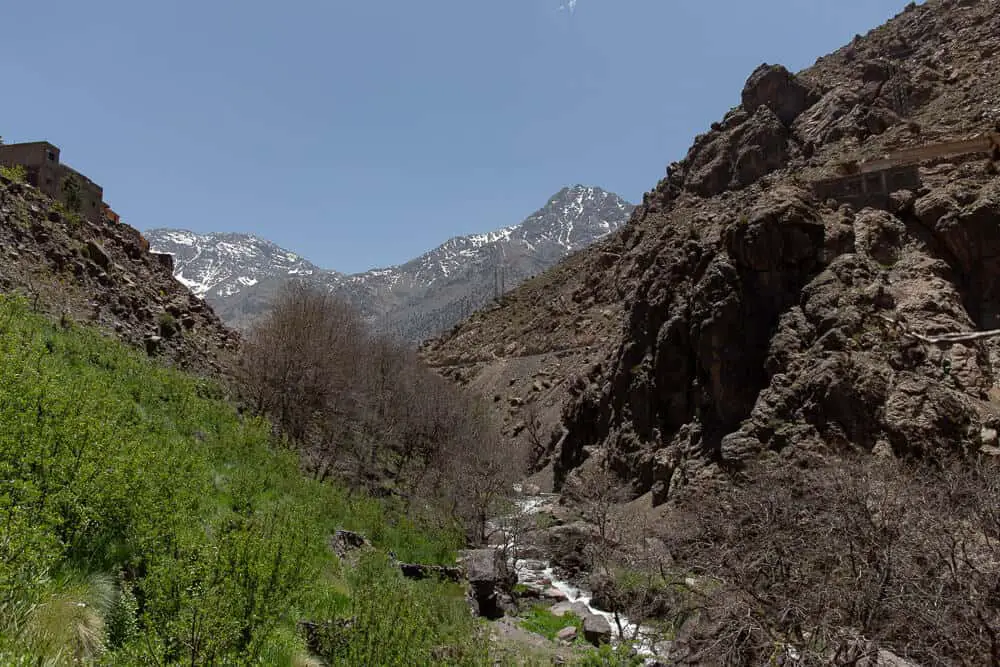 Moulay Idriss
By Amber of Food And Drink Destinations 
Located 40 miles west of Fes, the hillside village of Moulay Idriss is an off the beaten path destination for many Western tourists on a tour of Morocco. For Moroccans, Moulay Idriss has long been a historic pilgrimage destination.
Situated across two hills at the base of Mount Zerhoun, Moulay Idriss is named after Idris I, the first prominent Muslim ruler of Morocco. The king's tomb is located in Moulay Idriss attracting many locals.
With only around 12,000 year-round residents, the village can easily be explored in a day. Two must-see attractions in Moulay Idriss are the Zawiya of Moulay Idris I and the Sentissi Mosque. Featuring a mausoleum and mosque, the zawiya or religious school, is located in the center of the village. According to locals, the Sentissi Mosque is the only mosque in Morocco to feature a cylindrical minaret. The village is also interesting because of its green-painted walls and colorful alleyways and stairwells.
For many travelers, Moulay Idriss is the jumping-off point to explore the Roman ruins at Volubilis. Staying in guest homes in Moulay Idriss, travelers can easily reach Volubilis, which is only 15 minutes away by car. With its close proximity to Volubilis, guests who overnight in Moulay Idriss can beat the tour buses and crowds coming from Fes. Most travelers to Moulay Idriss arrive in group tours because public transport is limited and often inconsistent.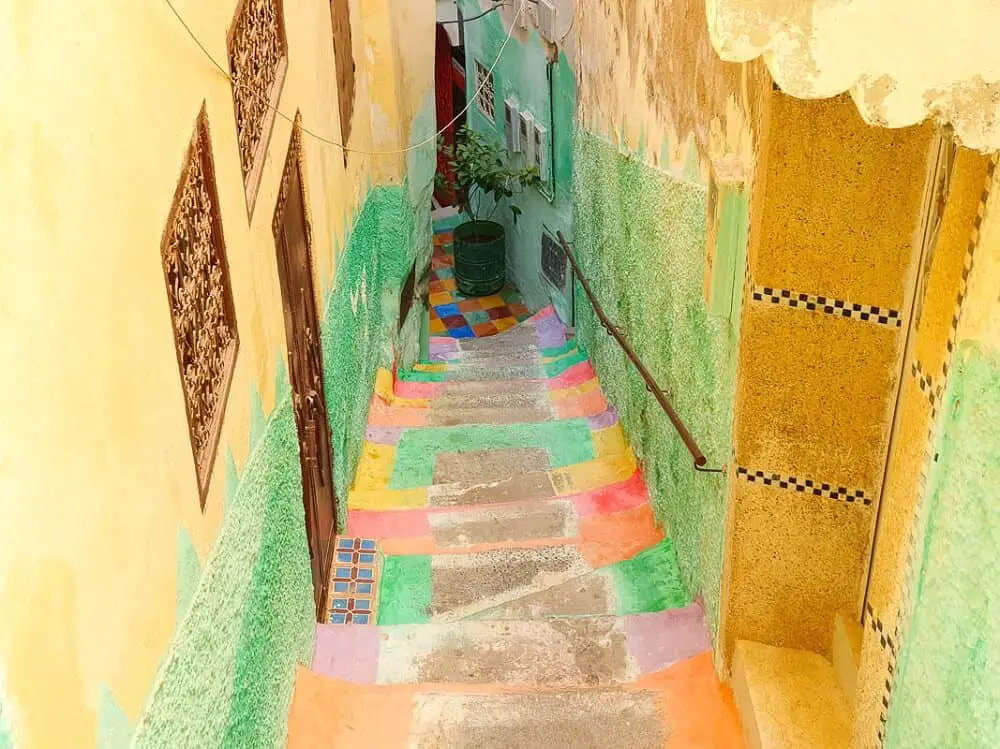 El Jadida
By Wendy Werneth of The Nomadic Vegan
You'll love El Jadida if you're a history buff, or if you're just looking for a chilled out place to relax on the coast. The Portuguese captured the city in 1502 and ruled it for more than 200 years, leaving behind some impressive buildings and fortifications that look very different from typical Moroccan architecture.
El Jadida's walled Portuguese City has been listed as a UNESCO World Heritage Site since 2004. The most imposing part of the fortifications is the bastion of St. Sebastian, and the vaulted underground cistern is also not to be missed. Also keep an eye out for the minaret of the Grand Mosque, which used to be a lighthouse. Its pentagonal shape is unique in Morocco.
While El Jadida is popular with Moroccan holidaymakers, not many Westerners come here. Consequently, there's very little of the hassle that foreigners experience in more touristy parts of Morocco. If you're tired of the usual couscous and tagine, La Grillardière is a nice restaurant that faces the ocean and has a large and varied menu. Vegetarians and vegans can opt for the vegetarian pizza or the assortment of Moroccan salads, one of the best-kept secrets for eating vegan in Morocco.
El Jadida is located on the Atlantic coast, about 100 kilometers south of Casablanca. Buses heading up and down the coast between Rabat, Casablanca, and Agadir all pass through El Jadida, but they usually do so at night. If coming from Casablanca, the train is probably a better option, taking about an hour and a half and costing just eight dirhams.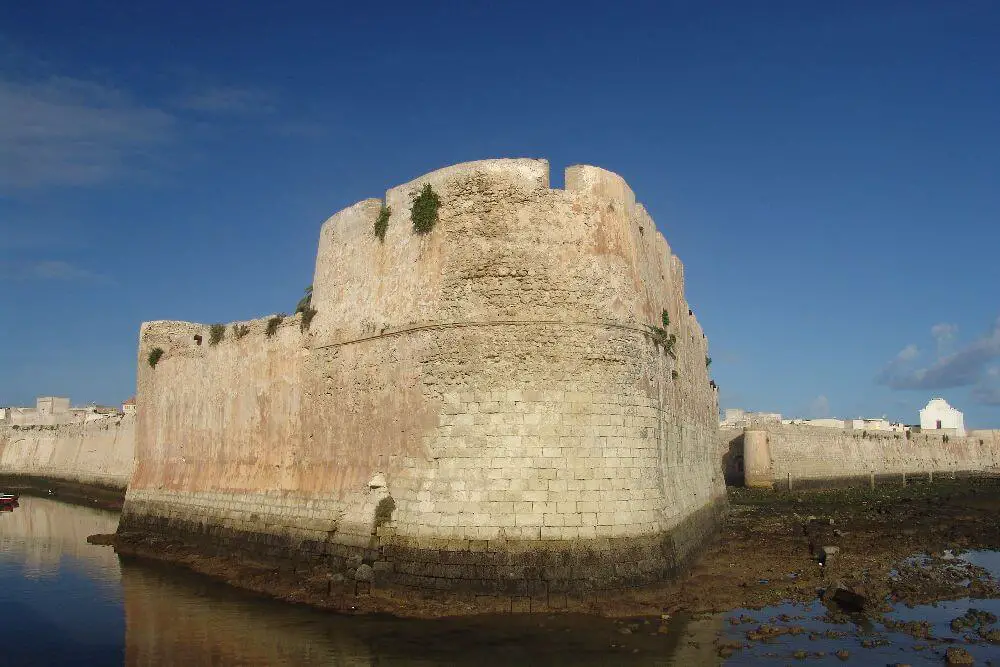 Todra Gorge
By Bella of Passport & Pixels
Todra Gorge is possibly one of the most stunning places to visit on a trip to Morocco – and this is a country that encompasses the Sahara Desert and the Atlas Mountains so that's saying something!
The Gorge is a canyon in the High Atlas mountains, where, over millions of years, the Todra and Dades rivers have carved a 300-meter deep cleft through the orange limestone. In some places, the ravine is only a few meters wide, with cliffs towering steeply overhead. 
A series of well-kept paths and dirt roads provide options for several different day hikes. The most popular is the 3-4 hour walk along the base of the gorge and then up to the top of the cliffs before heading back down to the valley floor. It continues through farms and palm groves to the nearby Berber town of Tinghir.
Start early, and you'll get to enjoy the stunning glow as the morning sun spills down into the canyon and illuminates the gigantic orange rock walls.
Todra Gorge is also a Mecca for rock climbers – it's one of Morocco's premier sport climbing destinations with around 400 climbing routes to choose from.
To reach the gorge, you can take a bus or drive from Marrakech or Fes to Tinghir.  From Marrakech, the drive takes about 6 hours over the famously twisty Tichka Pass in the High Atlas. From Tinghir, it's about a 15-minute drive or taxi ride to the Gorge.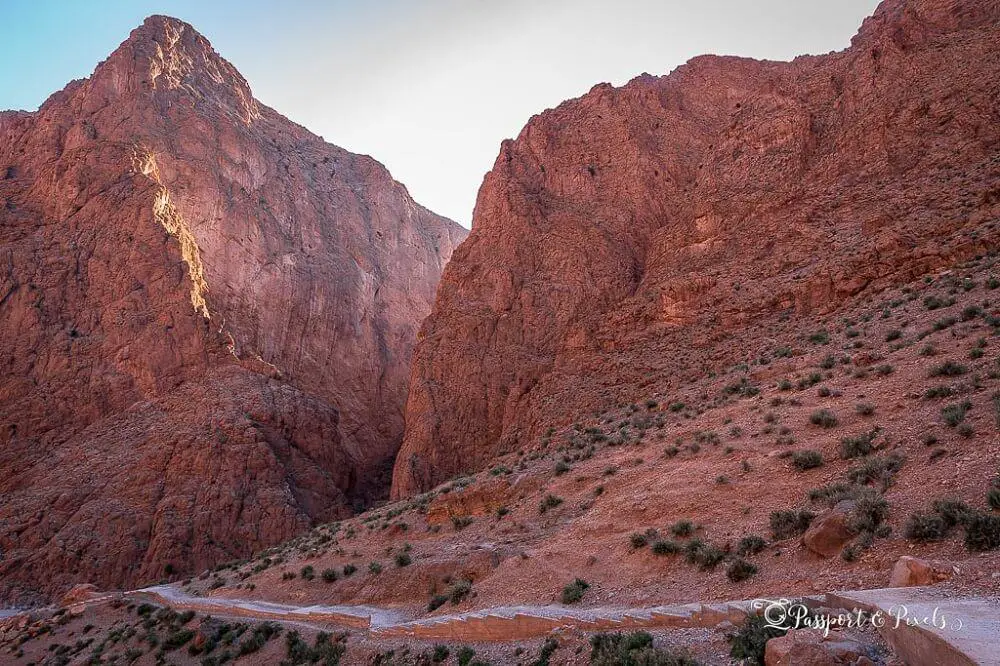 Tamnougalt
By Abbie of Speck on the Globe
Tamnougalt is an essential place to experience life in rural Morocco. Located in the Draa River Valley, Tamnougalt is a true Morocco off the beaten path destination within the Atlas Mountain region.
What makes this worth visiting is the traditional Kasbah village amongst a complete oasis of date palms, an authentic glimpse of Moroccan living. The fortified city is one of the oldest preserved communities in the country, with remnants of architecture dating back to the 16th century.
History buffs will acknowledge the strategic location for the Berbers and can appreciate the tales that Tamnougalt holds. Nature lovers will marvel at the beauty of the Atlas Mountains that surround the date fields. It is a trip that will delight any type of visitor.
Tamnougalt is a 5-hour drive from Marrakesh, but makes a great location for a quick trip en route to a Sahara stay in Merzouga or a day jaunt from Ouarzazate. With extra time, there are a few homestays in the area, which gives travelers a chance to spend a night in Moroccan villa with a delicious home-cooked meal. Because of the location, it is best to visit Tamnougalt by private car or with a tour operator.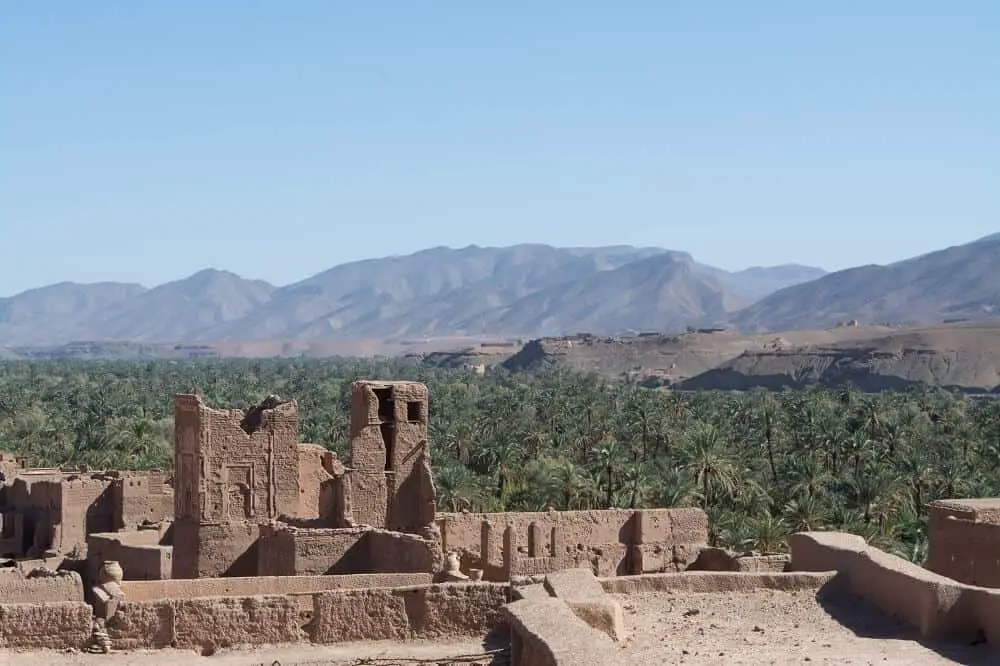 Painted Rocks in Tafraout
By Carine and Derek of We Did It Our Way
If you're really looking to get off the beaten path in Morocco, we highly recommend you check out the Painted Rocks in Tafraout (or Tafraoute, depending on who you ask). Not only is this whole town not on the tourist trail, but the famous painted rocks are often completely devoid of any foreign visitors. Sure, you'll see some locals hanging around, but that's about it!
Tafraout is the heart of Berber land in the Anti Atlas mountains, and home to only 5,000 people. Located in an oasis and surrounded by majestic mountains, the best way to get here is to drive here from Taroudant or Mirleft. 
There is not a ton to do in Tafraout, you could check out the famous rock formations like the Lion's head or Napoleon's hat. But the best rocks you will see are the Painted rocks from Belgian painter Jean Veran.
Located about 4 km away from the city, the best time to go here is around sunset. The light hits the sand and the rocks beautifully, making the whole place seem unreal. Get ready to have your mind blown! Just be sure to go with a 4×4 because the terrain is quite rough.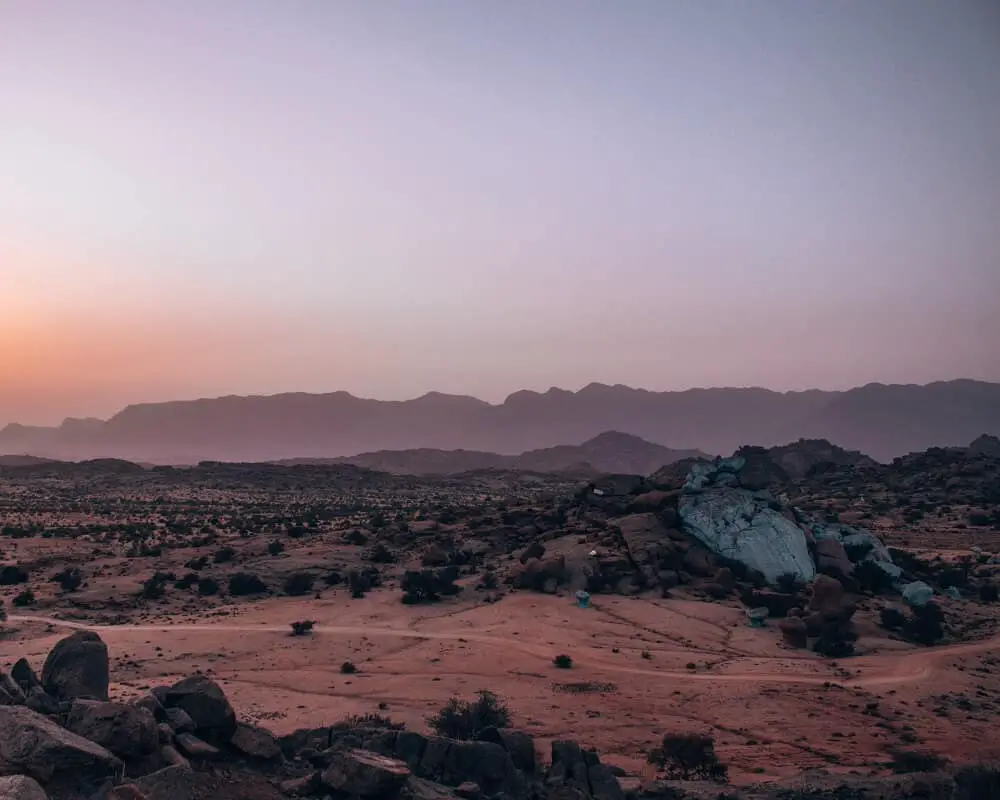 Hike to Aroumd – High Atlas
By Priya of Outside Suburbia
You probably think of colorful souks, sand dunes, camel rides through the desert when you think of Morocco. Many seldom think of the mountains in Morocco! The High Atlas Mountains runs diagonally across Morocco for almost 1000 kilometers. It encircles Marrakech and is hard to miss from the red city.  You can do an easy day trip to the Atlas Mountains from Marrakech.  It is a unique experience especially in the winter months with snow on the peaks and the trails.
Mount Toubkal, known as Jbel Toubkal, isn't so well known to non-mountaineers but at 4,167 meters (13,671 ft), it is the highest peak in the Atlas Mountains. It is popular with serious hikers and mountaineers from spring through autumn when they come to summit the peak. But you can also do day hikes, among them a stunning trek from Imlil to Aroumd.
We stayed nearby in a Kasbah nestled in the foothills of the Atlas Mountains and decided to check out the trail one afternoon. The staff at the resort assured us that it would be easy to do and arranged for a guide. We met our guide, Mohammed at the start of the trail at Imlil valley.  He was waiting for us with a couple of mules.  We hiked past rustic homes in the village of Aroumd for a traditional Berber lunch and sweet Moroccan mint tea on the highest rooftop terrace. We enjoyed endless views of the surrounding mountains it turned out to be an incredible Morocco off the beaten path experience!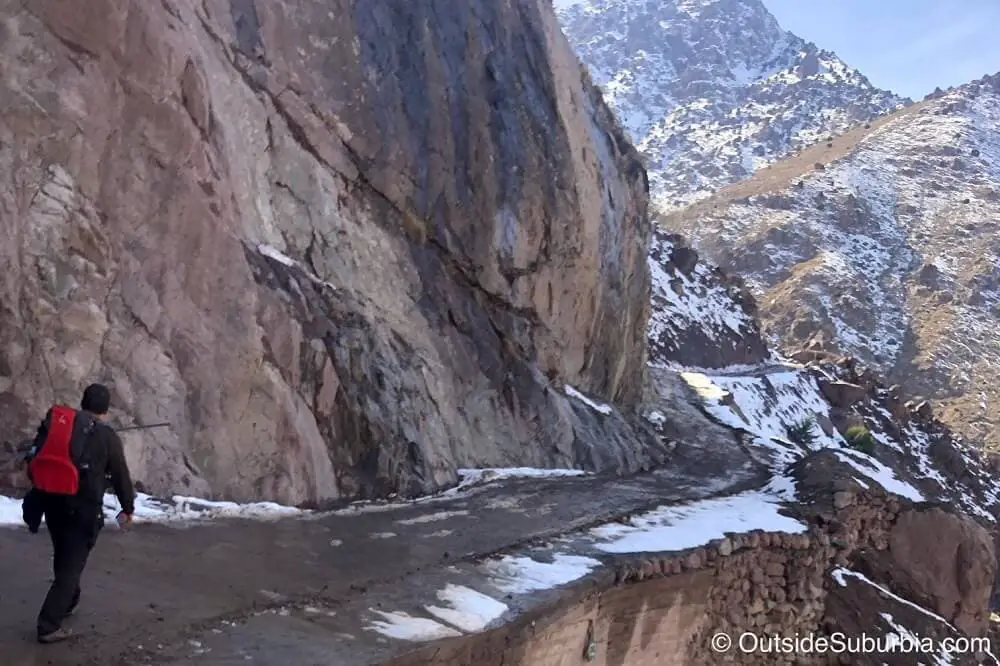 Rabat
By Liza of Tripsget
Despite being Morocco's capital, Rabat doesn't get much attention from visitors. It's often overlooked in favor of more famous places like Marrakech or Fes. However, Rabat was the friendliest city we visited in Morocco – people were amazing, friendly and helpful.
Like the majority of cities in Morocco, Rabat has an old town – a Medina which is incredible. Rabat's coastline is only about 10 minutes walking distance from the center of the Medina. It's especially nice in the evening when you can feel the fresh breeze while walking along the water-front.
Rabat has a huge street food market which is a haven for trying out local specialties. The prices are 3 times lower than in Marrakech and the food quality is way better.
Rabat is a perfect place to feel the atmosphere of local city life yet it's Morocco off the beaten track. As I mentioned before, people in Rabat are very friendly and not used to tourists, so they will be happy to chat with you and even help to find your way back to you Riad if you happen to be lost.
Some of the main attractions of Rabat include Kasbah of the Udayas, Hassan Tower and Chellah. Rabat is a perfect place to spend a day or a weekend. It's easy to travel from Rabat to Marrakech by train.
Find the best riads in Marrakesh here.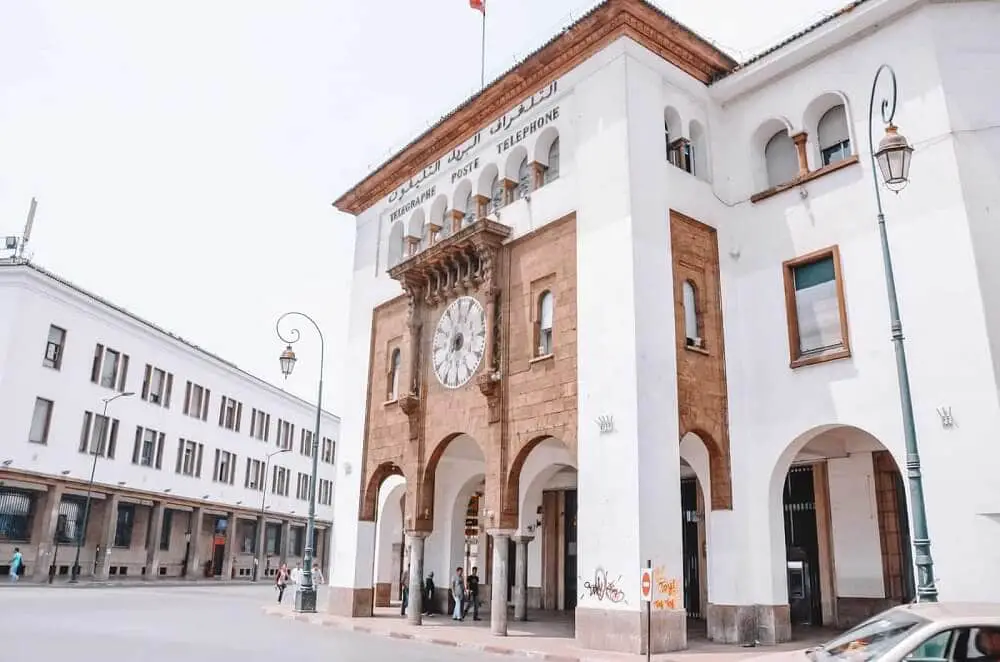 You might also like: How to hike to Akchour waterfall
Get ready for your trip!
Did you get convinced to travel Morocco off the beaten path? Well, then it's time to get ready for your trip!
I love the feeling of a physical book when I travel, so what about getting Lonely Planet's Morocco guidebook?
If you haven't booked your flight yet, you can do it here!
Once you have the flight tickets fixed, I recommend you get your travel insurance too so you are all set to explore Morocco off the beaten track!
Get your travel insurance here.
Have you traveled off the beaten path in Morocco? Let me know where you went and what you think about the experience in the comments below.
Pin it for later!