Chefchaouen is a must-visit for anyone traveling to Morocco, and it is easy to notice the increasing amount of tourism the charming blue city is undertaking. Overtourism is a dangerous issue that is slowly taking over the popular cities and landmarks in the world.
It is still possible to visit this blue pearl, though travelers should think of things to do in Chefchaouen that don't harm the locals, buildings, or animals. Because we want to keep this place for future generations, right? In other words, it is time to be responsible travelers.
After visiting this amazing destination a couple of times, I have put together this list of things to do in Chefchaouen as a responsible traveler.
Disclosure: This post may contain affiliate links. That means that if you make a purchase through one of those links, I will get a small commission at no extra cost to you. If you have any questions about these services or products, feel free to ask me.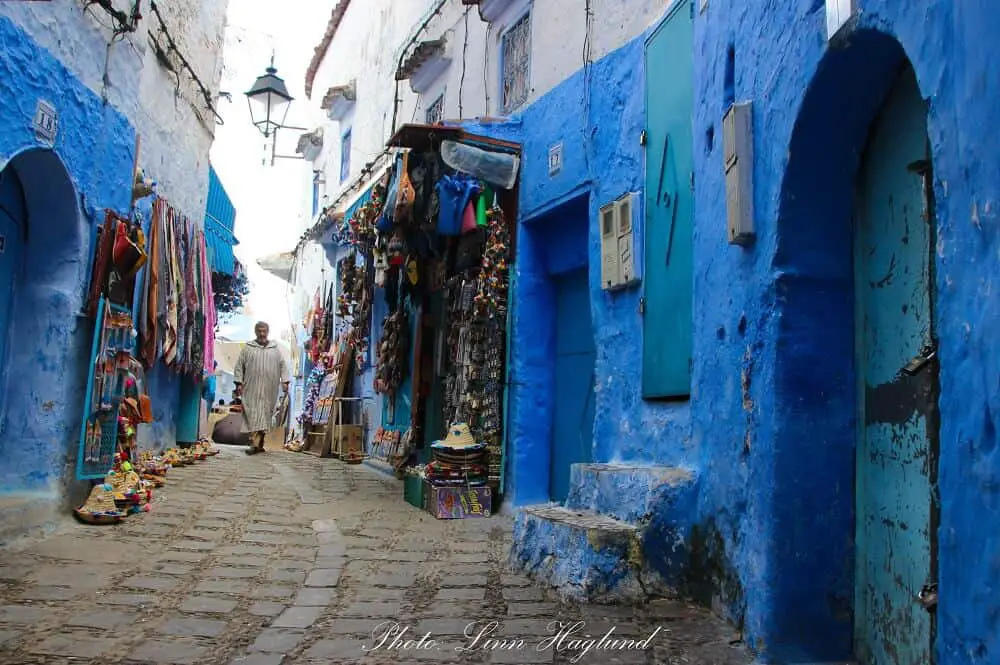 How to get to Chefchaouen
Plane
There is no airport in Chefchaouen, and the closest one is in Tetouan or Tangier. From either airport, you can get a public bus or a grand taxi.
It is also fairly easy to drive in Morocco, so if you want to explore the mesmerizing countryside and stop where you please, I suggest you rent a car at the airport.
From Tangier Airport it takes about 2,5 hours and from Tetouan Airport the drive is about 1,5 hours.
Note that it is not possible to drive inside the medina where most accommodation is situated.
---
---
Train
There is no train station in Chefchaouen, but there are trains running from Marrakech and Casablanca to Tangier and from there you can get a bus or grand taxi. The trip from Marrakech can take about 10 hours with a change of trains in Casablanca. From Casablanca, it takes around 6 hours.
Bus
It is fairly easy to get to Chefchaouen by bus, and the only means of transport (except for driving) where you don't have to change on the way. There are daily buses from major cities like Marrakech, Fez, Meknes, Casablanca, Tangier, Ceuta, and Tetouan.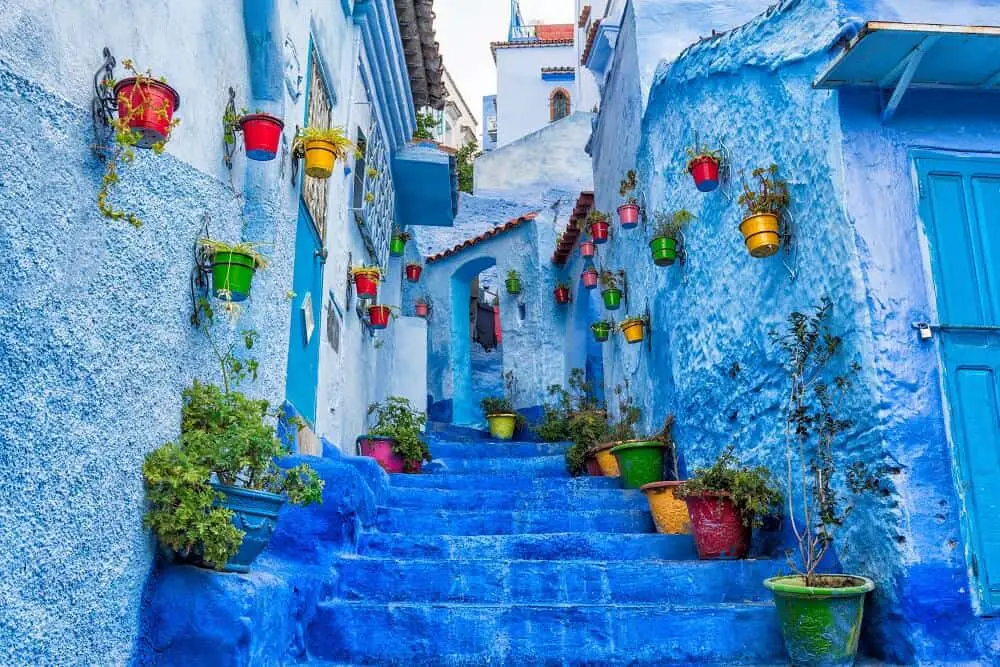 You might also like: Best riads in Marrakesh
Best time to visit
Surrounded by the Rif mountains and its green, wet climate, Chefchaouen is fairly pleasant to visit all year round. For this reason, there is not much difference in what to do in Chefchaouen during the different seasons and you can enjoy the city and surroundings just as much.
However, the high season is June to August, when local tourists come from warmer parts of the country. For this reason, it can become fairly crowded and not the best time to go.
Also, during Easter week, there are many tourists coming from Spain and other parts of Europe.
If you choose to travel in any of the above periods you should book accommodation upfront as it fills up pretty quickly.
March to May and September to November is probably the best time to visit considering the temperatures do not drop too much at night and it is noticeably less crowded.
During the winter months, it is also a great time to go, though temperatures drop more at night time. However, daytime temperatures are still enjoyable.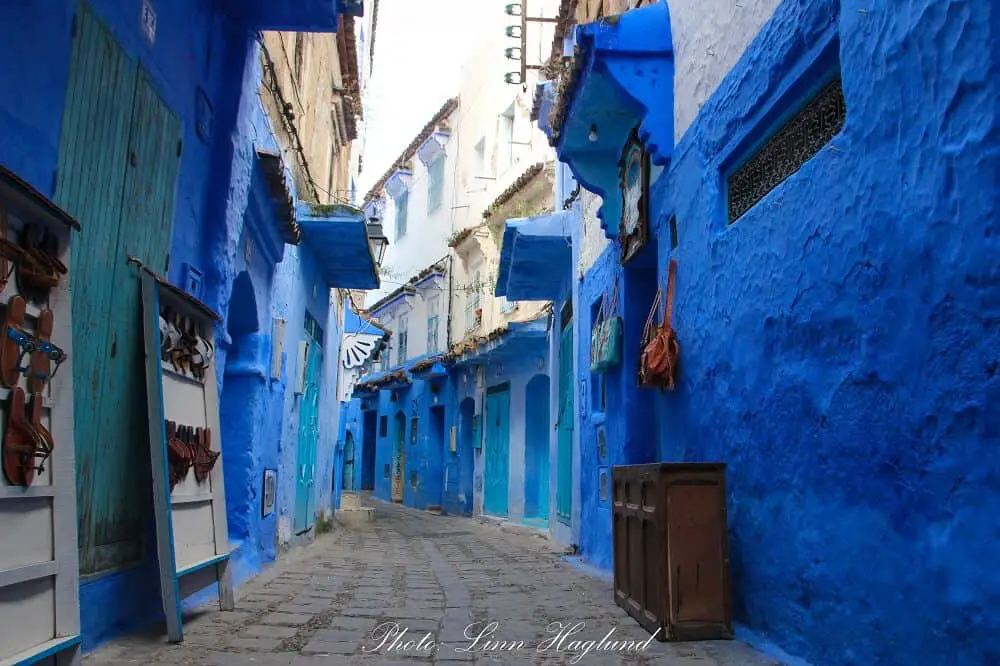 READ: How to explore Al Hoceima National Park
Things to do in Chefchaouen
There are plenty of things to do in Chefchaouen including eating amazing Moroccan food and drinking excellent Moroccan tea of infused fresh herbs (and lots of sugar). I have listed 5 things to do as a responsible traveler simply because I loved this place so much and noticed a slight edge of soon-to-be overtouristed and soon-to-be exploit by the tourism business. We need to look after this beauty in the Rif mountains so it doesn't get destroyed by tourism.
Buy local handicraft
Chefchaouen is an important center for craft production in Morocco. Because of its proximity to Europe, it has become a popular place for Europeans to go shopping, especially tourists from Spain.
Numbers of shops selling local handicraft are immense. Colorful settings in the streets outside the shops look inviting and all you need to do is choose.
The main goods you can expect to find are beautifully painted ceramics, woolen and woven clothes, and leather. Personally, I would never recommend buying leather anywhere as it is a direct product of animals. There are numerous other products we can use that don't harm/kill the animals.
While shopping in local stores it is always nice to buy from different shops to spread your tourist money. I am terrible at that sometimes. I have a serious problem choosing and ended up with three scarves from the same shop. All the same but different colors. I need to improve on that.
The good thing about shopping in Chefchaouen is that there is no need to bargain too much on the prices as you do in other parts of the country. That comes in handy if you are like me and don't like the bargaining part too much.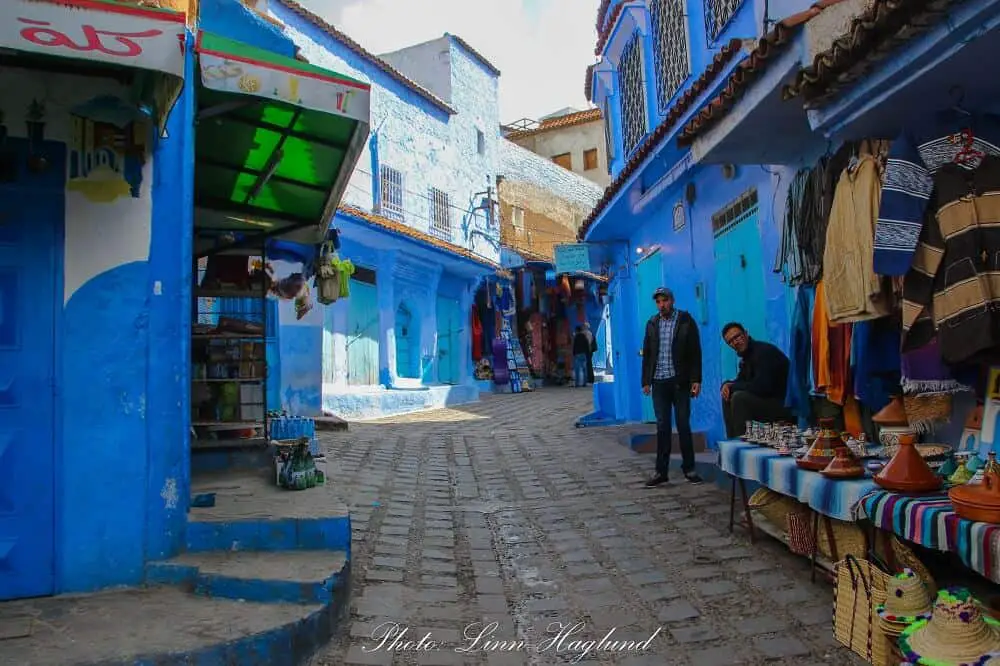 Take beautiful photos
Chefchaouen is full of beautiful photography worthy corners. Make sure you take a lot of photos. However, you should always be respectful to the locals when photographing the tiny streets.
In Morocco, taking a photo of someone means taking their soul away. Therefore, it is very important to respect the locals in Chefchaouen and not take photos of them while doing their daily rituals. Those people live there. Every day. The streets are full of tourists and locals struggle to walk to the shop without standing in a queue for people taking their Insta-worthy photos.
Especially the kids should be spared for our camera lenses. How would you feel if some stranger came up to your 5-year-old and snapped a photo or two and then walked away?
If you really want to take a photo of someone, be kind to ask. But remember to take no for an answer. And if that someone is a child, their parents should be the ones approving the photos.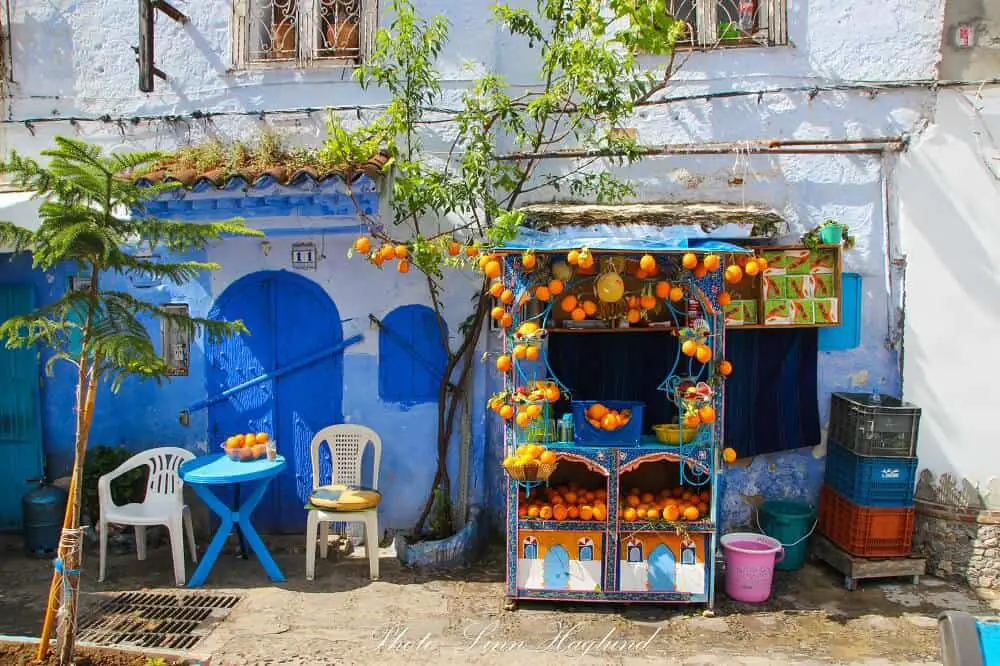 Hike to the Spanish mosque and the Rif mountains
Overlooking the Blue City, you find the ruins of a Spanish mosque. It is a 30-45 minutes hike one way. The trail starts from the Medinas eastern gate by Bab Al Ansar.
The mosque was built by the Spanish for the locals but was not used and therefore left abandoned. The building is still standing, though nothing of major interest for most people.
The views, though, are spectacular. You see the whole city of Chefchaouen and the surrounding Rif mountains. A popular time a day for this trek is at sunset.
There are also numerous hikes in the surrounding Rif mountains for the adventurer. Even though there is no problem hiking on your own, hiring a local guide will give money to the local society. Further, you will learn a lot about the area and see this place from the eyes of a local.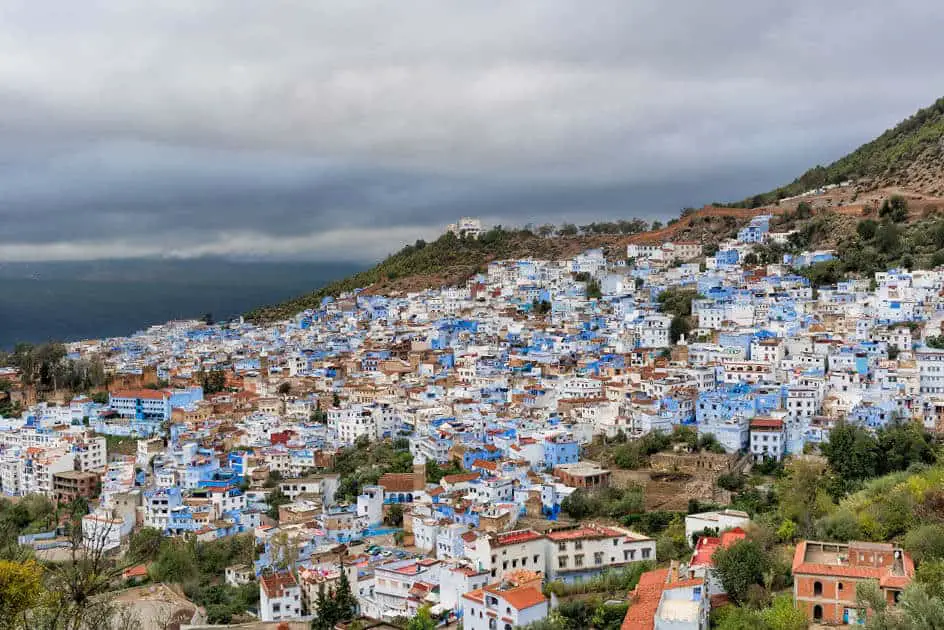 Day trip to Akchour waterfall
One of the most amazing things to do in Chefchaouen is a day trip to Akchour waterfall that is only a 45-minute drive from the city. The hike to the waterfall does only require basic hiking skills.
There are numerous places to stop on the way to have a drink and food. On a hot day, you can also go for a swim in the crystalline pools along the river trail. The hike crosses the river several times and ends up in a mossy, green fairytale forest with running water along large parts of the trek.
You can expect to spend half a day on this hike. However, if you want to take longer breaks to go swimming or have a Tajine (traditional Moroccan way of cooking) along the way, you are more likely to spend the whole day.
Once you get to the big waterfall at the end of the trail, you will probably be left breathless. It is a fall like no other I have seen before. So beautiful and so unique. You can go for a swim in the main pool or have a Moroccan tea with a view. You can walk behind the waterfall as well if you continue around the pool.
Make sure to bring all your rubbish with you from your trek. I have seen rubbish bins on the way, though they are practically made of sticks and the waste fall out on the sides. Also, it does not seem like people in general pick up anything, so you would make this wonderful place a favor to not leave anything more there.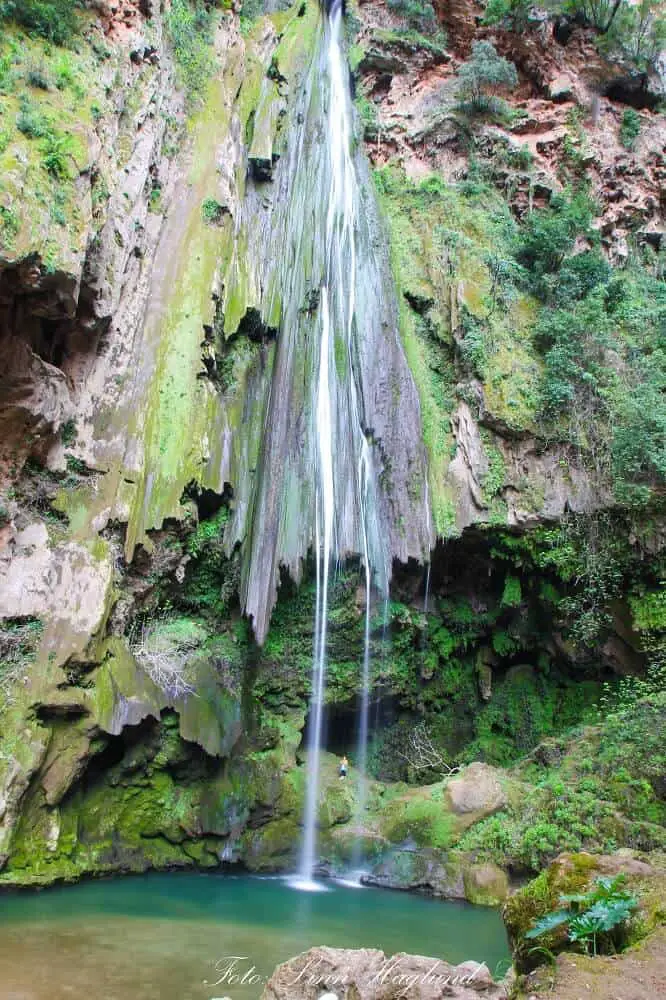 Consider staying outside of the city
It is something special about living in the middle of the medina and experiencing the blue city straight out of your window. However, if you have the time, you should consider staying out of the city to support locals with fewer visitors. This could also make it a true adventure.
We stayed at Hostel Meharchen 4 kilometers outside of Chefchaouen. It is a small rural house only surrounded by green fields and the Rif mountains. The only way you can get there is by 4×4, but there is a guy driving back and forth with the locals that live in the area and will take you.
The hostel is run by a man called Ali, and he paid the 4×4 to pick us up whenever we needed to. He also speaks fluent English, Spanish and French. He rents out a couple of rooms and tents.
Ali and his cook (who spoke no other language than Arabic though he greeted us with a massive, charming smile and impressive sign language) were incredibly welcoming and did everything to make us feel good and enjoy our stay to the fullest. This place will give you a simple life with some of the best home-made Moroccan food you will ever taste.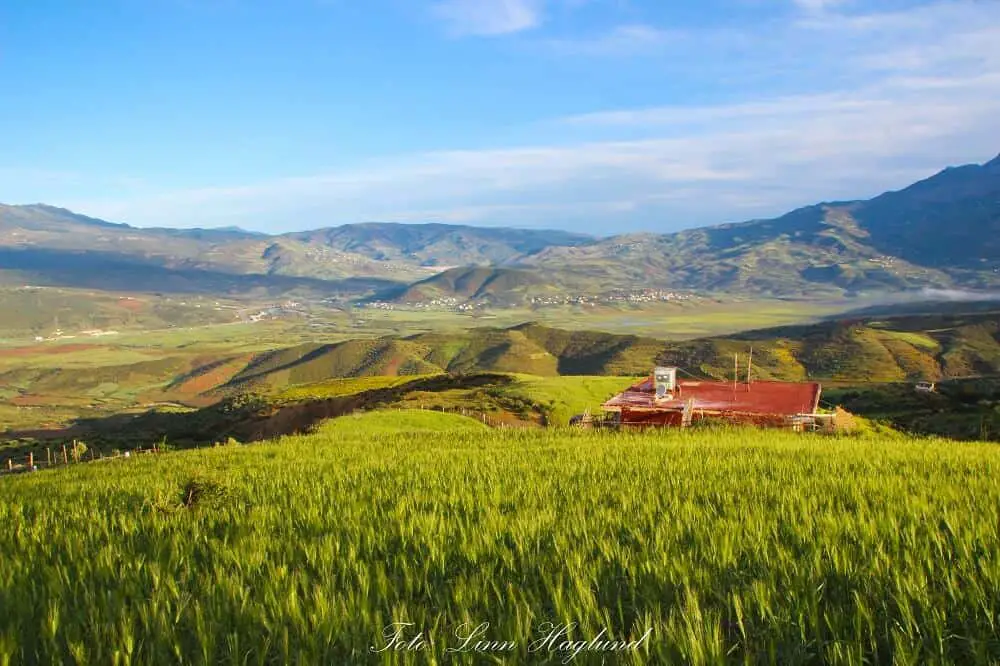 Plan your trip to Chefchaouen
When you travel to Morocco, I recommend buying a local SIM card. They have different companies offering the same prices for a SIM card and then you can top up with internet, minutes and SMS. It is fairly cheap (a couple of Euros to top up for a week) and you are much freer to check things online during your trip.
Whatever way you plan to travel to Chefchaouen, I recommend bringing Lonely Planets travel guide to Morocco. It is always a good way to keep up to date with things even when there is no internet reception.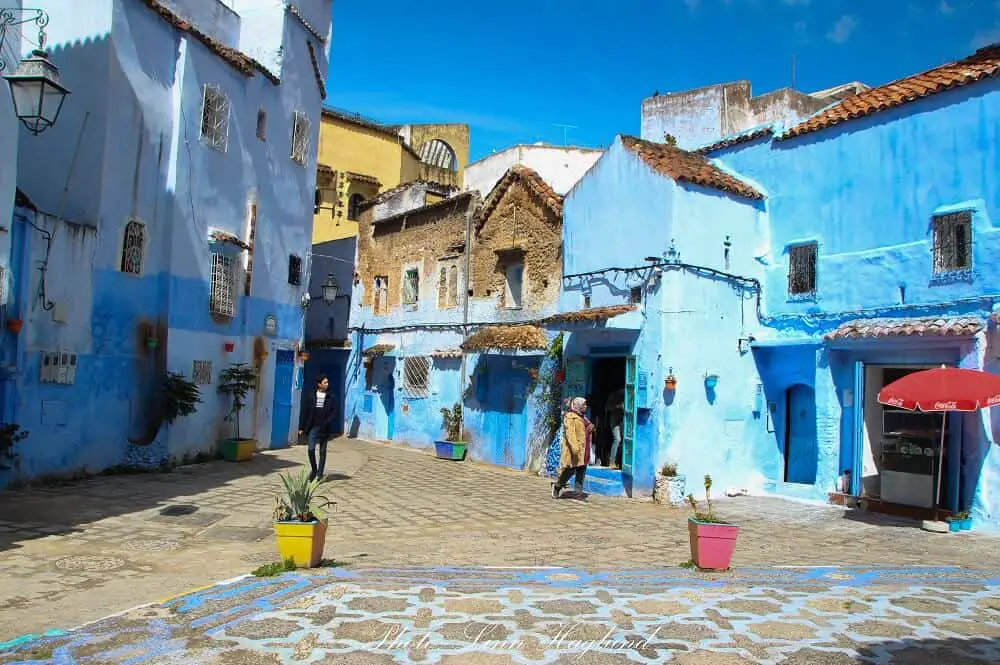 If you want to go on a road trip to get to the Blue city, Rentalcars is a good reasonably priced company to use. I have used them several times and have always been happy. The last time I traveled to Morocco I brought my own car as I live just across the pond in Spain. I find the country safe to drive in. Only make sure you follow the speed limits. There are usually police barriers to get in or out of every city or village. I was never stopped, though.
If you want to book accommodation easy and carefree use Booking.com.
For the best flight deals, my favorite resource is Skyscanner. They search for the cheapest and best flights to your destination. All you have to do is to choose which one you want to go with.
Read next: Morocco off the beaten path destinations
Do you have any experience or suggestions on what to do in Chefchaouen as a responsible tourist? Feel free to share your thoughts and experiences in the comments.
Pin it for later!