A mild scent of pine trees mixed with the salty aroma from the sea, the sound of countless bird species trilling in their own languages takes you along a craggy coastline. Covering an area of approximately 180 square kilometers on Morocco's Mediterranean coast, Al Hoceima National Park is an extremely underrated destination that covers both land and sea.
Home to various wildlife, majestic canyons, secluded beaches, and pine forests the park is dotted with small Berber villages connected with a crisscross of dirt roads and paths.
Al Hoceima National Park is ideal for hiking and mountain biking and a paradise for nature lovers and those who want to explore Morocco off the beaten track. After spending some days there last year, I want to share with you all you need to know to go there yourself.
Disclosure: This post may contain affiliate links. That means that if you make a purchase through one of those links, I will get a small commission at no extra cost to you. If you have any questions about these services or products, feel free to ask me.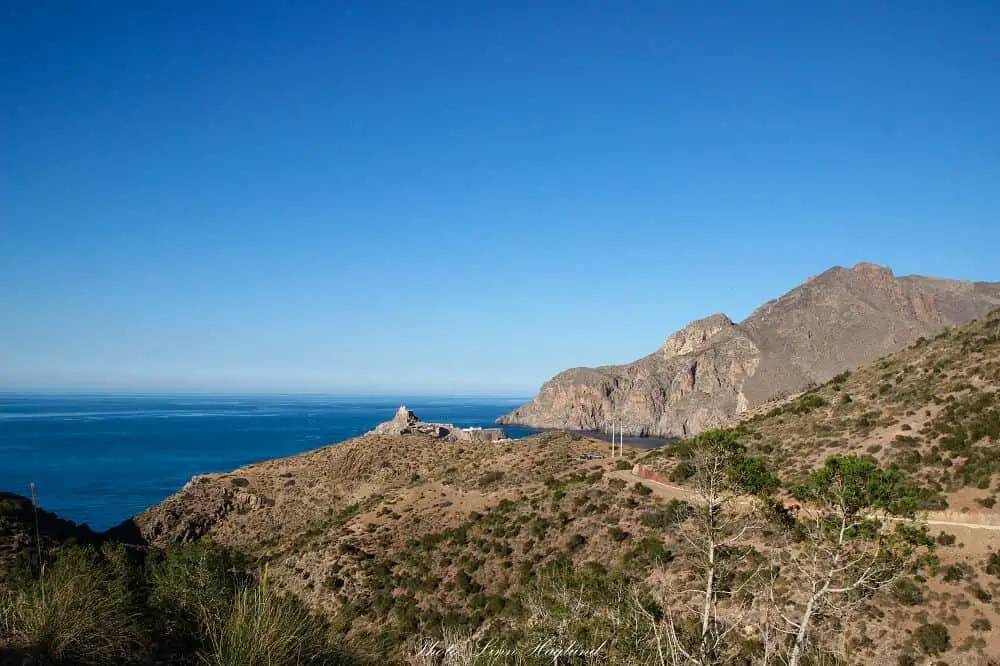 How to get to Al Hoceima National Park
Al Hoceima National Park is situated just outside the Mediterranean town of Al Hoceima in northern Morocco. There is an international airport in Al Hoceima, Cherif Al Idrissi Airport.
---
Book your flight to Morocco here
---
There is no public transport to Al Hoceima National Park. From Al Hoceima, you can either go by grand taxi or you can drive yourself.
Another option is to stay in the secluded Cala Iris on the other side of the national park. However, getting there, it's necessary to go in your own car.
If you come from Tangier or Tetouan, as I did, your best bet is a car. the route is a good 5 hours drive from tangier and 4 hours from Tetouan through a breathtaking landscape that deserves more than one stop!
If you're off for a Morocco road trip, find the best deals on rental cars here.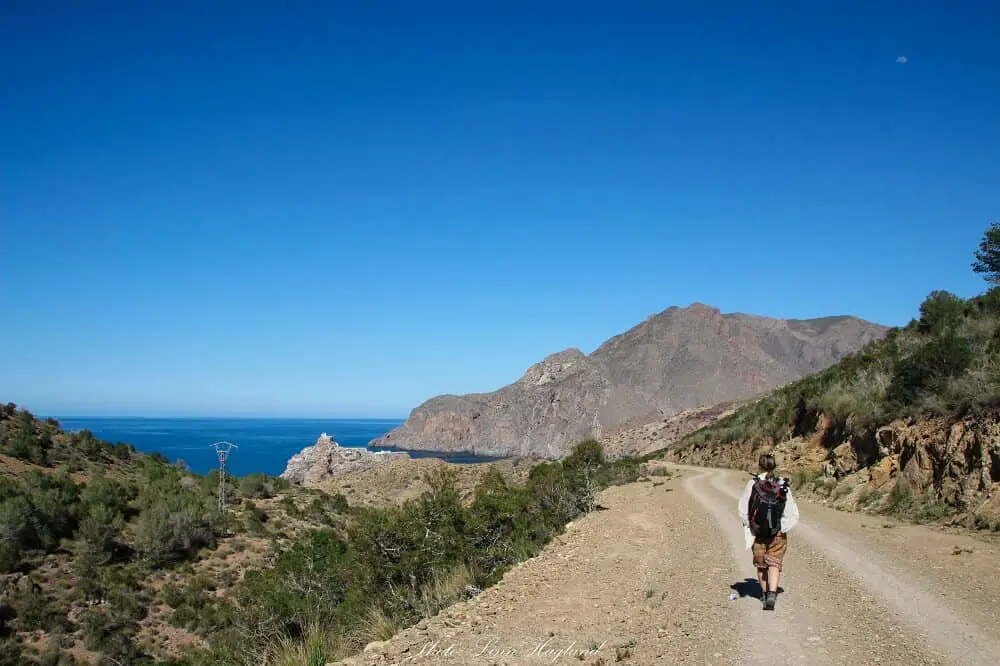 If you come from Marrakesh, find the best riads in Marrakesh here
Best time to go to Al Hoceima National Park
The summer months, June to September is the hottest period of the year, and it can get extremely hot for hiking.
The best time to go hiking is April, May, and October, when the temperatures stay between 20 and 25 degreed Celsius and days are generally sunny.
In the winter months, November to March, temperatures are normally pleasant, but there is a chance of rain, especially in February.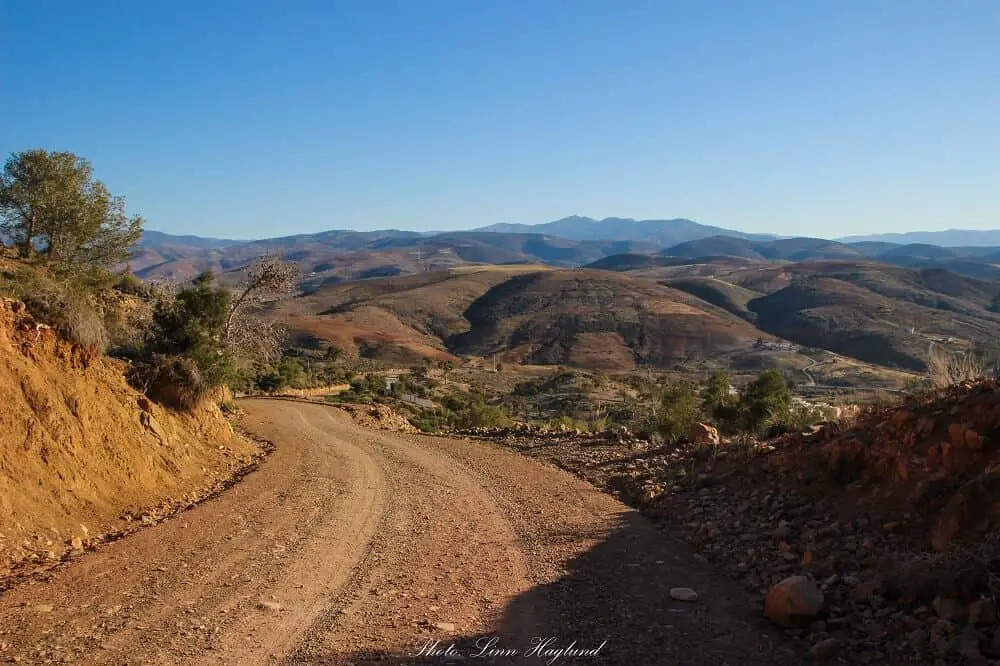 How to choose the best eco-friendly backpack for your trip.
Where to stay around Al Hoceima National Park
The closest town to stay around Al Hoceima National Park is Al Hoceima. This is also the best place to stay if you don't have a car.
Places to stay in Al Hoceima
Rif Apartments
Rif apartments have modern, clean apartments for an economical price. Since you get an actual apartment with a private kitchen, you can cook yourself and prepare your own sandwiches for your day out in the national park.
Book your stay at Rif Apartments here
Mira Palace
Mira Palace is perfect if you want to chill by the pool after a day of hiking in the national park. The hotel is only a short walking distance from Al Hoceima city center and the beach, yet in a tranquil area. If you have your own car, they offer free parking. The hotel also has free Wifi and breakfast.
Book your stay at Mira Palace here
Casa Paca Alhucemas Guesthouse B&B
Casa Paca Alhucemas Guesthouse B&B is 5 kilometers outside Al Hoceima center and is situated in a beautiful natural environment with beach views. This place is ideal if you have your own car to get around with. They offer free parking, Wifi, and breakfast. In the case that you don't have a car, they have free airport pick up.
Book your stay at Casa Paca Alhucemas Guesthouse B&B here
Places to stay in Cala Iris
Cala Iris is only an option if you have your own car. There is no town, really, so you won't be able to go out for dinner or do any grocery shopping. At least I didn't find anything while I was there. However, the place is incredibly tranquil and the views are to die for!
READ:
Eco friendly camping gear list & accessories
Eco-Camping Amis De Cala Iris
Eco-Camping Amis De Cala Iris is a secluded, cute campsite with astounding views. Other than a few camping spots, they offer small simple bungalows with shared solar-powered toiles and showers as well as bungalows with bathroom inside.
They have a web page which is in French where you can book in advance.
Otherwise, you can contact them through their Facebook page here.
The staff spoke perfect English when I was there and they were extremely friendly and helpful.
Oh! And did I mention they make the most amazing vegan tagine on request?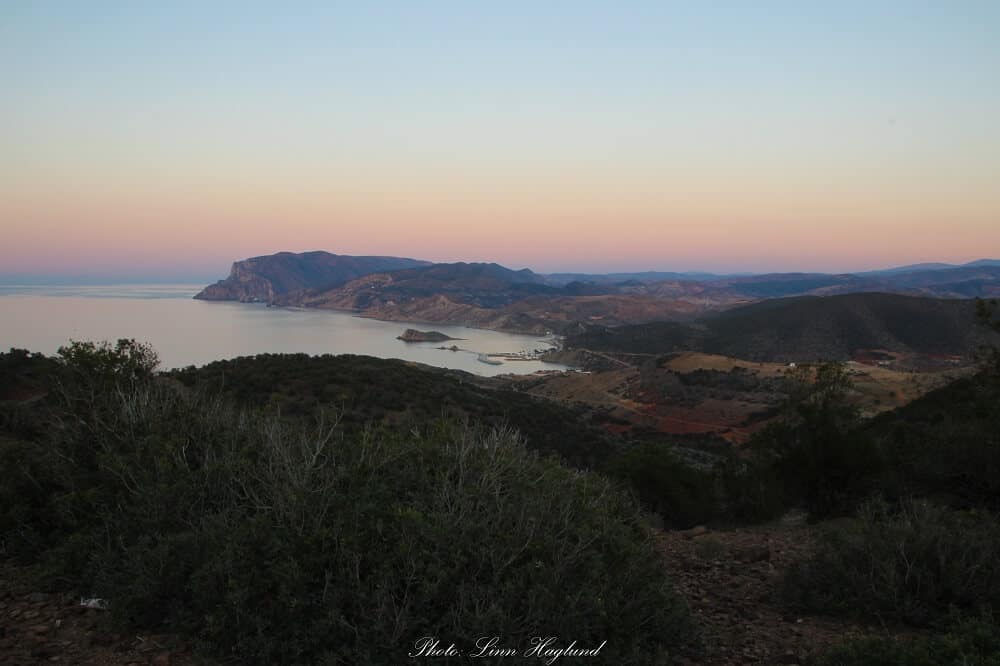 Other places to stay
There are also several Berber villages in Al Hoceima National Park where you can stay if you opt for multi-day treks.
Al Hoceima National Park
Al Hoceima National Park is not only the scent of fresh pine trees and dusty roads. The salty breeze takes you to 196 square kilometers of protected sea. While different species of seabirds patrol the coastline, the water is dominated by sea turtles and 3 different species of dolphins. If you are lucky, you can spot them playing near the shore.
Endangered Monk Seals hide out in sea caves while a threatened colony of Osprey nest above sea level where they have easy access to nibbling on bypassing fish.
One of the biggest threats of the Osprey population is the fishing with dynamite and poison.
While the park protects a large Thuya forest, you can explore ancient caves huddled between olive groves, palm trees, oaks, pines, and oleanders. With some luck, you can spot pink flamingos.
One of the highlights is Bades Island, a small Spanish territory connected to the mainland with a slim strip of sand. From the path, the views are mesmerizing of this tiny rock in the Mediterranean.
While there are endless possibilities of day hikes in Al Hoceima National Park, you can also hike for several days spending the night in some of the Berber villages in the park.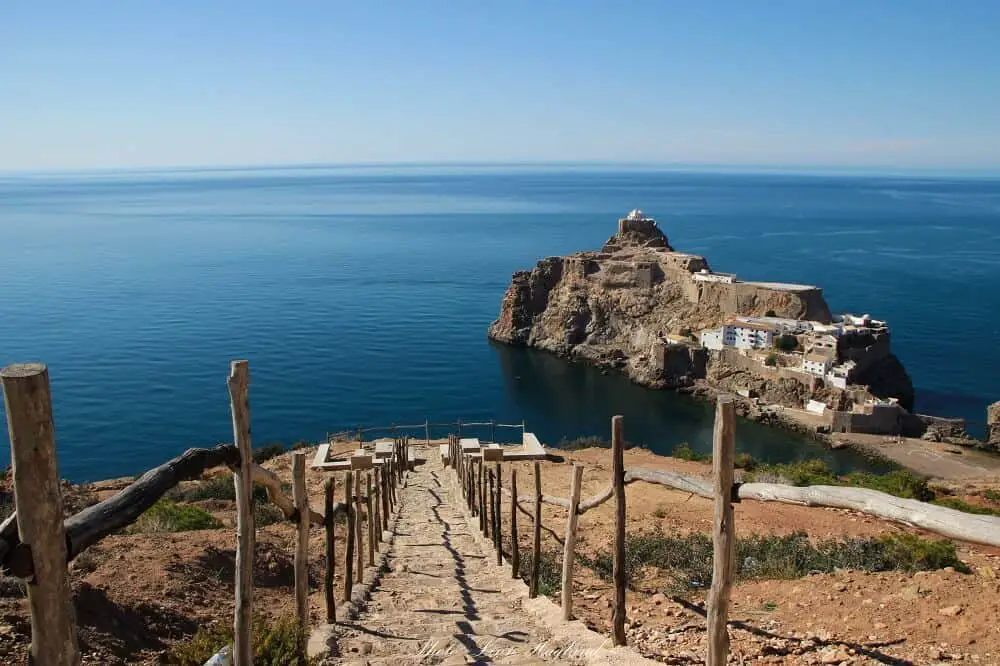 You might also like: How to hike Akchour waterfall
Reflections of responsible tourism
After my visit to Al Hoceima National Park, I was left with a few thoughts on responsible tourism in the area. Not all so positive, considering this is a protected zone.
Rubbish
First of all, the amounts of rubbish were pretty scary! There were huge amounts of rubbish all through the park, but also in the Berber villages at the edges of the park. For me, it looks like they don't have a proper landfill and no place to dump their trash. My assumption on this comes from observing large areas along a dirt path where the locals seem to carry their rubbish bags and throw them on the ground.
As an eco-conscious traveler wanting to make a difference by picking up rubbish in the park during a hike, it is still hard to know where to throw it afterward. I mean, if I pick it up from one place in the park and then the locals throw it in a different part of the park, there is no difference if I picked it up or not, right?
I am a bit stumped by this issue as I still haven' t found a solution for it other than bringing it with me home to Spain. I can imagine the faces of the border controllers checking through my car for bags of rubbish!
In some places, it is a bigger issue which is the governments and the communities in the country you travel to that need to make a change to truly be able to make a difference. But what can we do?
Well, we can create as little waste as possible.
Bring a reusable water bottle
One of the things that will help reduce the waste problem in places like Al Hoceima National Park is to avoid the usage of single-use plastic bottles.
Simple as this, bring your own reusable filtered water bottle.
If you don't have one, I recommend LifestrawGo! It filters 99,9% of all waterborne bacteria, as well as your purchase supports clean water for communities that need it. And you can drink 1000 liters of water through one filter before you need to change it!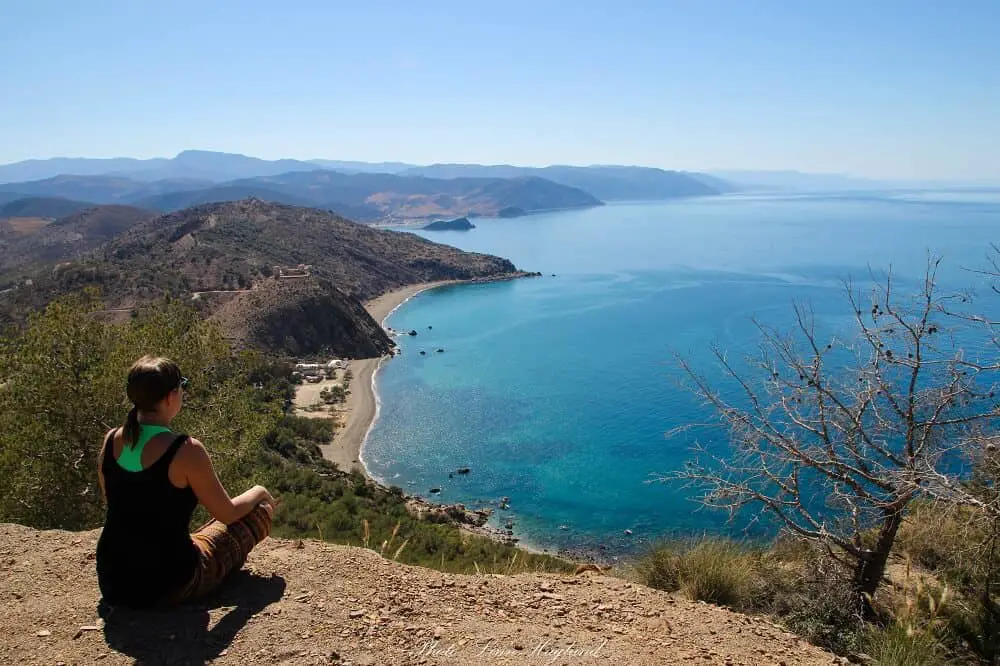 Respect wildlife
While I just mentioned the massive rubbish problem in Al Hoceima National Park, it's hard to stick with the principles of not feeding wildlife and throw fruit rests in nature. Still, I suggest you don't do it. If we are fewer people contributing at least we don't make it worst.
Dress code
Ok, this is mainly for all you fellow women out there, but yet I would recommend you guys to at least wear a t-shirt on a hot day.
In Morocco, people don't show too much skin and since the park is rural and locals are not that used to meet tourists, you should take extra care of how you cover-up.
While a day hiking can get pretty darn hot, I suggest you bring a shawl that you can cover your shoulders with when you see people on the path. Your shorts should not be too short either.
When I hiked in Al Hoceima National Park, I wore a singlet because it was super hot and sunny. There weren't many people along the trail, but I did keep the shawl handy so I could easily throw it across my shoulders when I did. I can add that all the locals on the road were men so it felt completely right to do so.
Have you been to Al Hoceima National Park? Feel free to share your experience in the comments!
Read next: Things to do in Chefchaouen as a responsible traveler
Did you like this? Make sure you pin it for later!