Denmark's vibrant, bike friendly and liberal capital city is hard not to fall in love with. More than once, I've ended up having only one day in Copenhagen either on my way to Sweden or as a layover when flying somewhere exciting. There is so much to see and do in the city and it can be hard to pick out what to fit in your Copenhagen itinerary for the day.
That's why I picked out my favorite things to see in Copenhagen in one day so you can get the most of your stay there. I have concentrated on a few neighborhoods, so that you can enjoy the city and not just rush from place to place.
Disclosure: This post may contain affiliate links. That means that if you make a purchase through one of those links, I will get a small commission at no extra cost to you. If you have any questions about these services or products, feel free to ask me.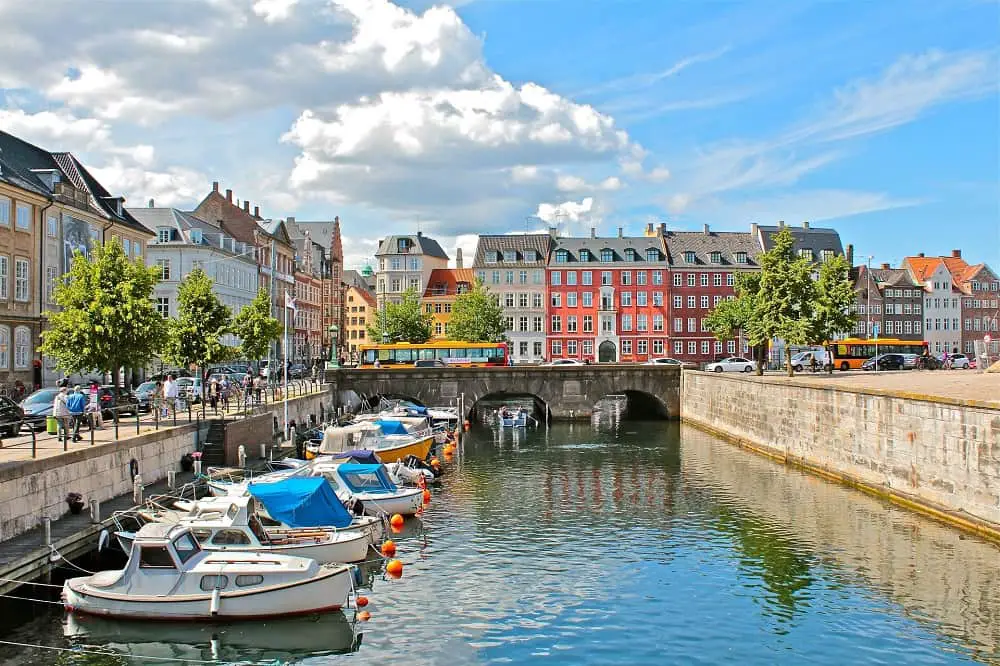 How to get to Copenhagen
Copenhagen's airport is well connected to most of the European cities and beyond so the city is easily accessible from large parts of the world. But you can also reach Copenhagen by train, bus, and boat from the neighboring countries.
---
---
How to get around in Copenhagen in a day
Copenhagen is easily managable on foot and you can walk around from place to place.
However, if you want to cruise around the city like a local, you can rent a bike. It is a great city to explore by bike and the Copenhagen has been known to be among the most bicycle friendly cities for years!
There are plenty of bike rentals in Copenhagen but you can get one easily with your phone at several pick up places in the city or you can go on a guided bike or walking tour.
And of course, there is a well running bus service too.
Donkey Republic – 24/7 Bike Rental
Donkey Republic – 24/7 Bike rental has bikes several pick-up places in the city, but is also situated by the train and bus station in Copenhagen and is perfect if you come by public transport.
It's available 24 hours so no matter when you arrive, you can rent a bike here. All you need is the app and you can rent a bike with your phone. Lock and unlock the bike during the day with your phone and end the rental when you deliver the bike to any drop-off location.
---
---
Getting around Copenhagen by bus
It's fairly easy to get around Copenhagen by bus too. The primary buses are the A-buses which run with a maximum of 10 minutes in between at all hours.
It's easy to pay for the bus too. Here are the options:
Use the DOT Billetter App
Pay by cash on the bus
Buy from ticket machines with card or cash – you find them at train/metro stations, 7-Elevens, and at the airport
Do you need travel insurance for a day trip to Copenhagen?
Absolutely! You never know what can go wrong on your day trip to Copenhagen, especially if it's part of a longer trip. Luggage can get lost, flights delayed or you could trip over and hurt yourself.
It's always better to be safe than sorry when you travel and as a responsible traveler I'm sure you want to use a responsible travel insurance company too.
I choose World Nomads. They are reliable, easy, and highly engaged in spreading knowledge about responsible tourism. When you book through World Nomads you can choose to give a micro donation to one of the many community based projects they support around the world.
---
Book your travel insurance here
---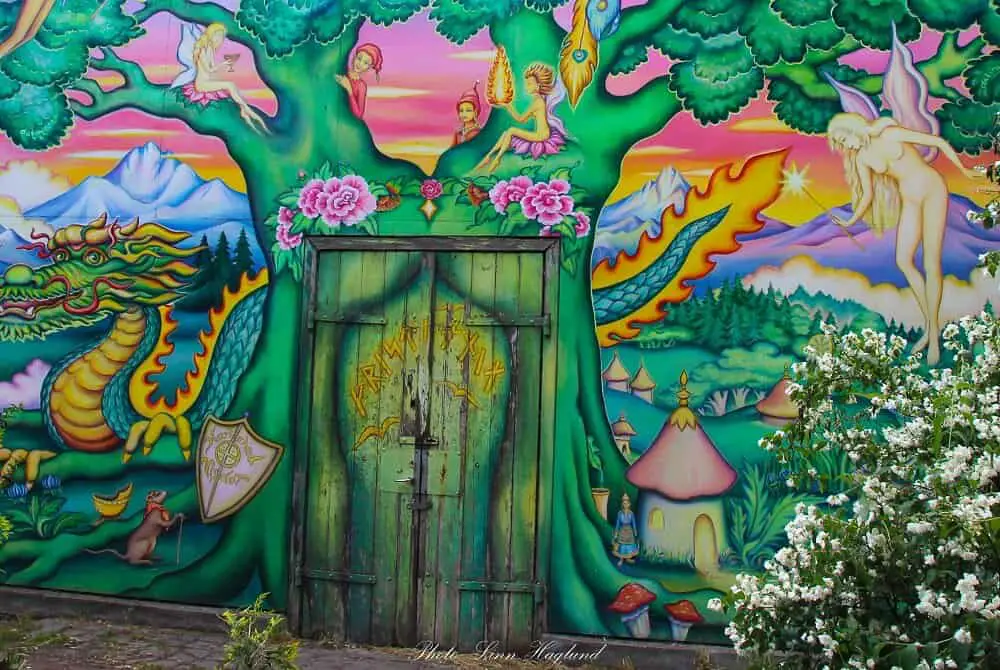 Where to stay in Copenhagen
If you have one night in Copenhagen, there is a great amount of places to stay. I've been at a couple of hostels I've been happy with but here are also a couple of hotel options if you prefer that.
Generator Copenhagen
This hostel is situated in the center with great service and clean dorm rooms. I have stayed here a couple of times and only have positive experiences. They do have private rooms too.
They have free WiFi and are well connected with power supplies in the communal area as well as breakfast.
The dorms have drawers under the beds where you can lock your belongings and they sell padlocks in case you are just as hopeless as me and leave all your 50 padlocks on the shelf at home.
---
Book with Generator Copenhagen here
---
Danhostel Copenhagen City
This is also a centrally located hostel with friendly staff, free WiFi, and great breakfast. They offer private and dorm rooms and the facilities are clean.
There is an ATM on the premises.
---
Book your stay at Danhostel Copenhagen City here
---
CitizenM Copenhagen Radhuspladsen
This is a colorful and modern hotel which is centrally located. Clean, friendly staff, and comfortable. WiFi and breakfast plus a restaurant.
---
Book your stay at citizenM Copenhagen Radhuspladsen here
---
71 Nyhavn Hotel
For a cozy hotel in Nyhavn, stay at 71 Nyhavn Hotel. Prices are a bit higher, but the location is amazing and it's built in two 1800s buildings which gives it a lot of charming personality. Staff is super friendly, and there is nothing that says you won't have an excellent stay here.
Breakfast is included here and they have restaurant, bar, and of course WiFi.
---
Book your stay at 71 Nyhavn Hotel here
---
One day in Copenhagen itinerary
I have put together the best things to see in Copenhagen in a day here. There are plenty of more things to do, but this way you'll get a good taste of what the city has to offer.
And you might even start planning your next trip to Copenhagen before you leave.
---
RELATED: Best day trips from Copenhagen
---
Stroll around Freetown Christiania
Start the day by strolling around Freetown Christiania. This part of the city is one of my favorites. Its history goes all the way back to 1971 when a group of hippies and free spirits took over an old military area and built an international community with its own rules and currency.
Today there are close to 1000 residents that live there. Make sure you respect the inhabitants and their properties.
While the sale of cannabis flows freely in Christiania, this is still illegal in Denmark. In earlier days, Christiania was known for "The Green Light District" or "Pusher Street".
Unfortunately a lot of conflicts came from drug dealers and the street has now been closed down and inhabitants are campaigning for drug dealers and buyers to go elsewhere as they don't want fights in their otherwise congenial community.
I love strolling through the colorful streets painted with creative street art. There are bars and restaurants where you can enjoy a drink or two either on the premises or on the grass of the surrounding parks. Bustling street markets fill the streets and there is all together a chilled and pleasant vibe to the place.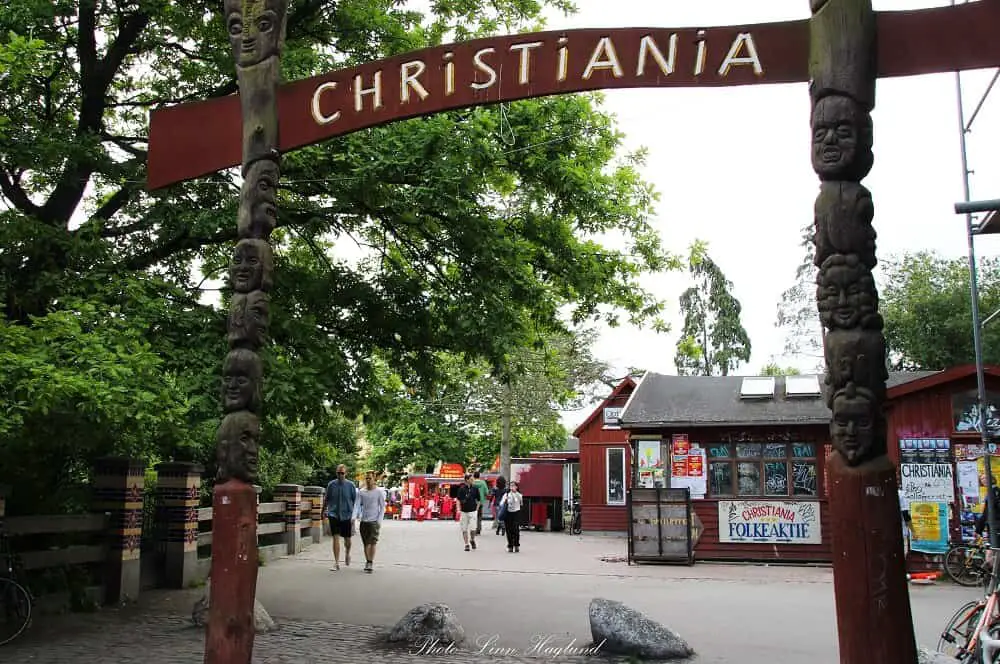 Have lunch at Nyhavn
The iconic, colorful port, Nyhavn, once used to be packed with filthy sailor's bars and brothels. Now, on the other hand, it has turned into one of the most quaint places in Copenhagen with the picturesque houses featuring vibrant restaurants, live music venues, and souvenir shops.
But there is more to Nyhavn's history. Nyhavn Canal was built by Swedish war prisoners between 1670-1673 by the orders of King Christian V and functioned as a maritime port for centuries.
This is also where the famous Danish writer H. C. Andersen lived most of his life. In 1835, he wrote his first fairy tale in house number 20.
While you get an amazing view from the other side of the harbor (because let's be honest, you do want that classical photo too), there is nothing like chilling at one of the restaurants with a nice lunch watching the sail boats.
If you want a bit of adventure you can even hop on a boat trip.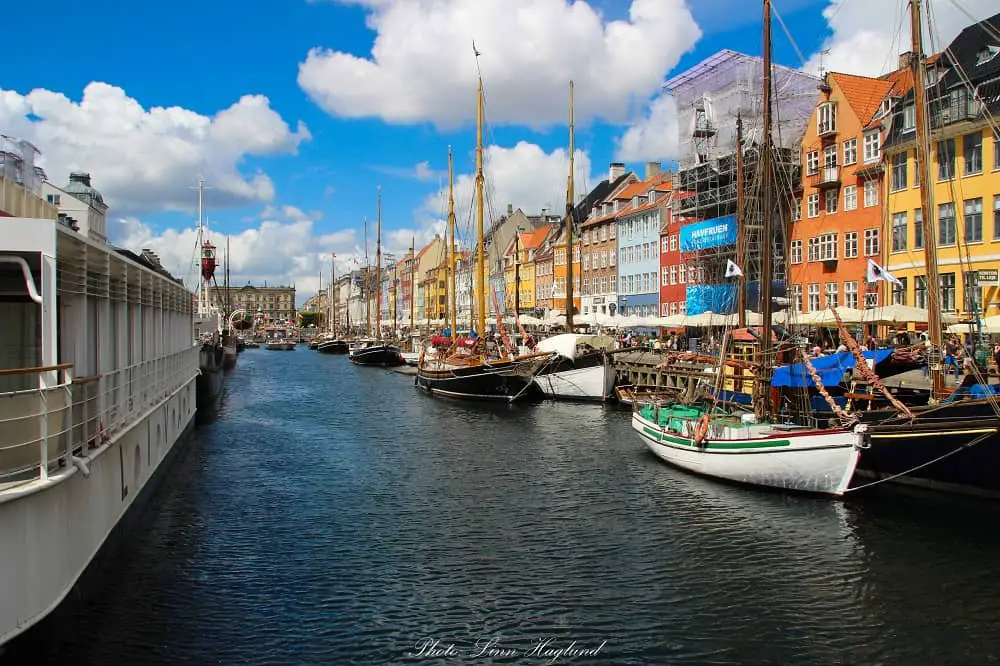 Walk around Langelinie
No Copenhagen itinerary is complete without paying a visit to The Little Mermaid which is sitting on a rock at Langelinie. The statue by Edvard Eriksen has become an emblem of Denmark's capital city and a symbol of H.C. Andersen's famous fairy tale "The Little Mermaid".
However, there is more to Langelinie. To be honest, the famous statue tends to be flocked by tourists wanting a photo and it's not as serene as she looks on the photos. I love spending a few hours walking around the park, chilling by the fountains and exploring the church.
The locals also like to stroll around this area, and if you take your time, you might get to chat about the city's history and culture.
The quay at Langelinie was built in 1894 when they expanded the harbor of Copenhagen and it is fairly deep so even the largest ships can dock there.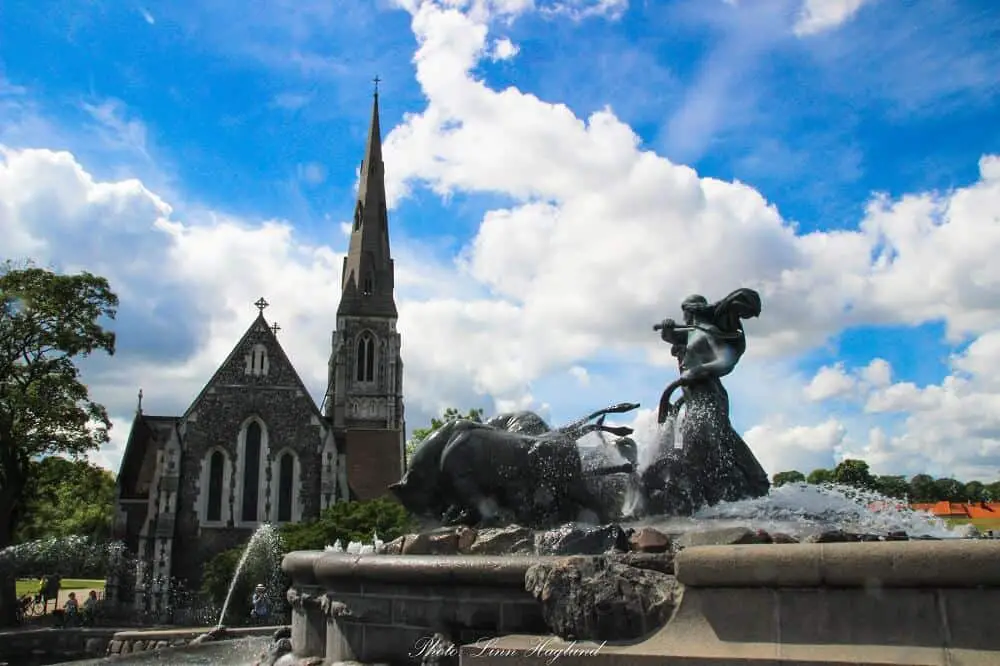 ---
YOU MIGHT ALSO LIKE: The most beautiful places in Sweden
---
Have dinner at Stroget
Stroget is one of the longest pedestrian shopping streets in Europe, with its 1,1 kilometers, and can't be missed. If you want to do a bit of shopping before dinner, this is the place to be. You'll find shops for any budget, even many of the world's most luxurious brands.
There are also quantities of restaurants in the area so you can pick and choose what you want to have for dinner. If you have the time to go out for drinks after dinner, Copenhagen won't disappoint!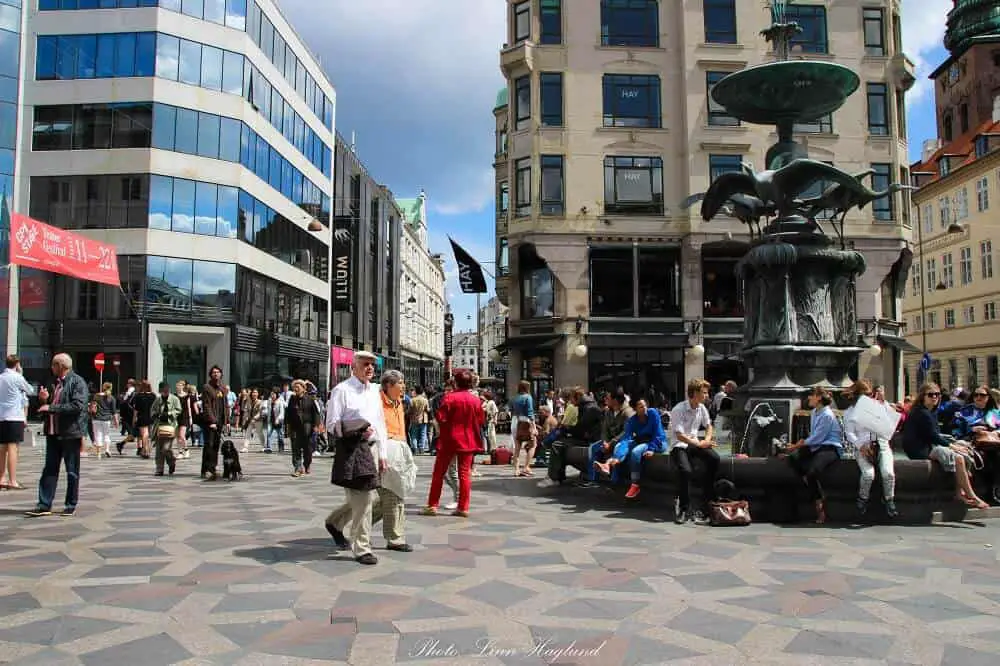 Make your day trip to Copenhagen a responsible one
No travel should be irresponsible, but as always, I'll give you a few remainders to make sure you act like a responsible tourist on your day trip to Copenhagen.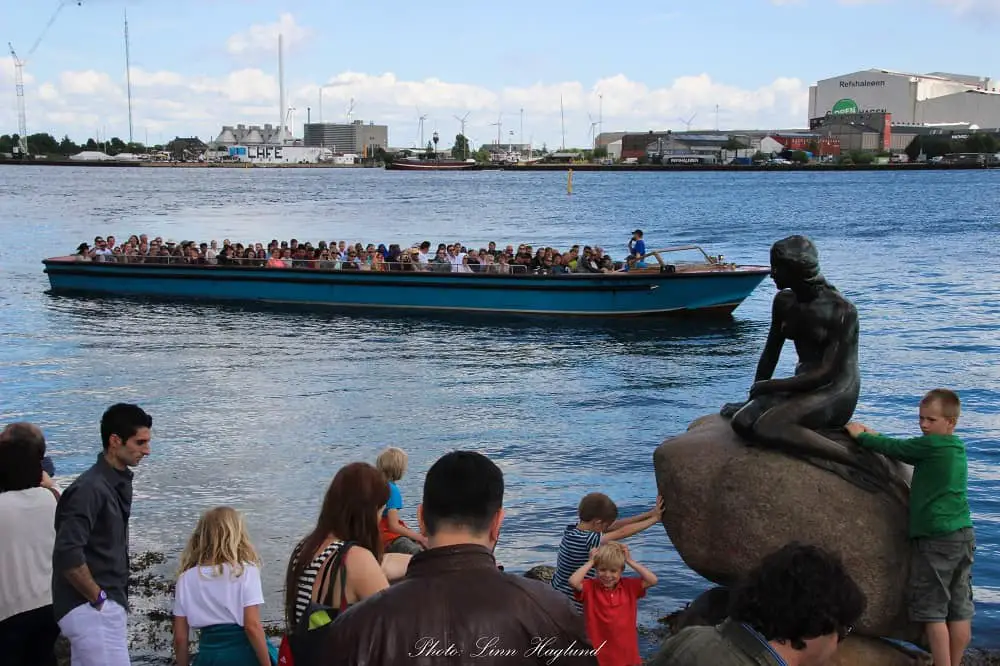 ---
Need an eco friendly backpack for your trip? Find the best ones here
---
Avoid animal tourism
There are zoos and aquariums in Copenhagen and if you have hung around Brainy Backpackers for a while, you know I don't encourage any of those activities. You can read more about why you should avoid animal tourism here.
Bring a reusable water bottle
Tap water in Denmark is safe to drink, so there is no need for a filtered water bottle when exploring Copenhagen in a day. I love this water bottle from Greens Steel as it keeps the water cold all day.
Respect the locals
I know this shouldn't be necessary to mention, but especially in Freetown Christiania tourists have been disrespectful at times and it is particularly important to respect the rules they have there and be kind.
Use the litter boxes
Copenhagen is a clean city and by using the litter boxes you help the locals in keeping their home beautiful. There are pretty much litter boxes everywhere so you won't have to carry your waste for long before you find one.
---
READ NEXT: The perfect 4 days in Paris itinerary
---
Like this? Save it for later!