Brevard in North Carolina is known as the "land of waterfalls." There are over 250 named cascades in the surrounding forests and mountains, and countless smaller falls. You could spend a lifetime exploring all the waterfall hikes near Brevard NC. This area has some of the best hikes on the East Coast. But if you only have time for a short visit you'll have to narrow down your options. This post contains the top hikes to waterfalls near Brevard NC so that you can get the most out of your visit – recommended by a local!
Disclosure: This post may contain affiliate links. That means that if you make a purchase through one of those links, I will get a small commission at no extra cost to you. As an Amazon Associate, I earn from qualifying purchases.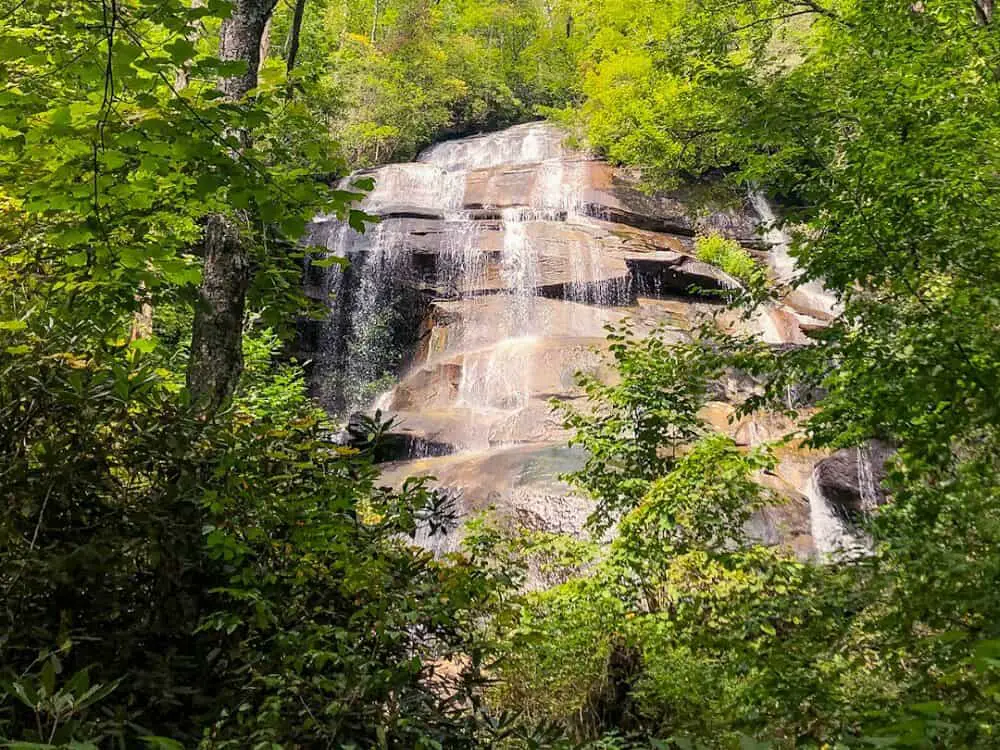 Written by Carrie of Planes Trains and Tuc Tucs
How to get to Brevard
Brevard is a small town in the Blue Ridge Mountains. It borders Pisgah National Forest on one side, Dupont State Forest on the other. And it's just a few miles from Panthertown Valley and Gorges State Park.
The easiest way to reach Brevard is by flying into Asheville Regional Airport. From here, it's a 30-minute drive south on I-26.
If you're coming from elsewhere in the Southeast, Brevard is 3 hours north of Atlanta, an hour north of Greenville, SC, and 4 hours west of Raleigh.
You have to rent a car to explore the waterfalls near Brevard, and a high-clearance vehicle would be best. If you really, really don't want to drive, you could take a tour through Pura Vida Adventures, but these will only take you to the most popular (read: crowded) waterfalls.
As you see, the best option when going hiking in Brevard NC is to take your own car so that you get the most out of it and can experience the waterfalls off the common tourist trail too. You can book a rental car here.
Where to stay in Brevard
Brevard is a bit of a charmless town. The real magic is in Pisgah National Forest just down the road. So naturally, camping is the best accommodation option.
Davidson River Campground is the #1 camping spot for these waterfall hikes. It's just over a mile down Route 276, along the namesake river in Pisgah.
Wild camping is very popular in Pisgah National Forest, and it's a great way to see many of these waterfalls. An easy-access option is along the Cat Gap Trail near the Pisgah Center for Wildlife Education (you'll find campsites less than 0.5 miles from the parking area). Daniel Ridge Falls also has great backcountry spots. You must be at least 1,000 feet from a road, and camping is banned in the immediate vicinity of most waterfalls.
If you prefer something a little more comfortable, Brevard has the gamut of budget hotels and affordable downtown AirBnBs. book your accommodation here.
Those hoping for mountain views may be disappointed. Brevard is in the valley, so you won't get mountain views anywhere near town.
---
IF YOU GO CAMPING, MAKE SURE YOU READ THE FOLLOWING POSTS:
Complete guide to eco friendly camping gear
Best tents for camping with dogs
---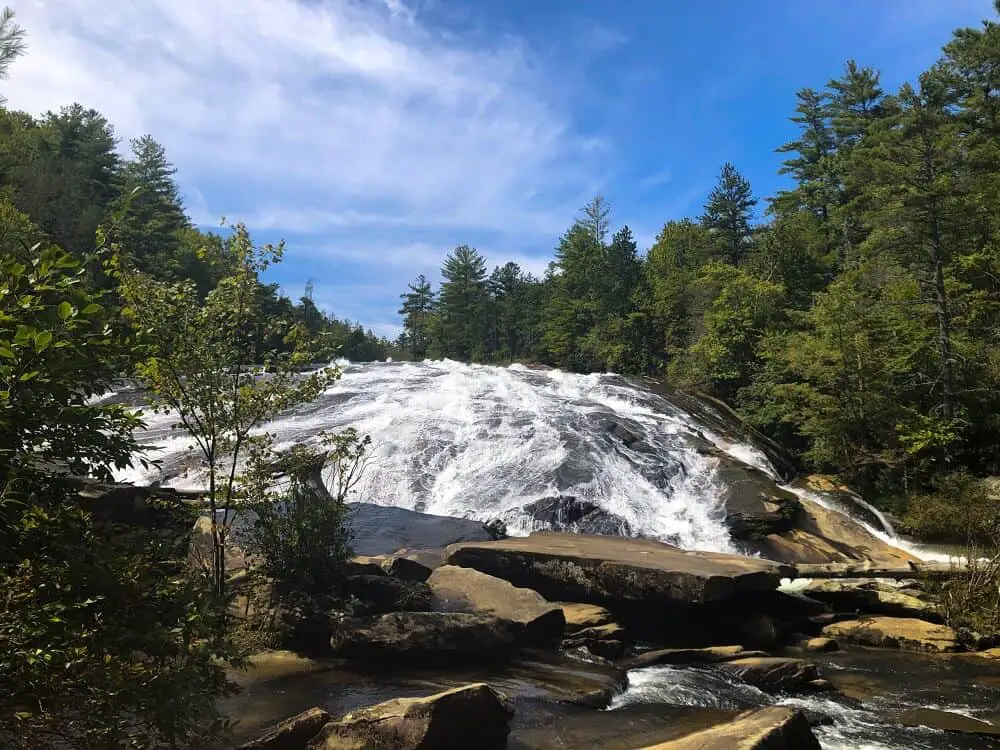 Best time for waterfall hiking in Brevard NC
Western North Carolina is a year-round hiking destination. So the best time for hiking near Brevard NC is really anytime you can go!
However, the Carolina mountains' waterfall hikes are especially spectacular in the spring, when the cascades are at peak flow. Wildflowers bloom starting in mid-April through late June. The only downside is it's very rainy and muddy. This leads to unpredictable trail closures in Dupont State Forest and dangerous driving on Forest Service roads. You have to be flexible with your itinerary to visit in spring!
For those who don't mind the cold, winter is the second-best waterfall hiking season in Brevard NC. Some of the falls listed below slow to a trickle – but then they freeze over to create "ice volcanoes" at the base, lumps of ice in the rivers below, and magical icicles dangling from rock shelves. Most Forest Service roads close in winter, so Cathey's Creek and Log Hollow Falls become longer road walks.
Of course, if you visit in summer or autumn, you'll still be impressed by Brevard's waterfalls. But flows can be much lighter, the trails are more crowded, and some of the smaller cascades are hidden by vegetation.
---
READ: Best eco friendly travel products and accessories
---
The best waterfall hikes near Brevard NC
Moore Cove Falls
Moore Cove Falls is one of the best wildflower hiking trails near Brevard NC and the entire Carolina mountains. Even if it didn't have the prettiest waterfall near Brevard, this hike would still be 100% worth it for the scenery. But this trickle of a cascade never fails to win hearts.
The out-and-back hike starts from a large parking lot on Route 276 two miles up from Looking Glass Falls. It climbs gradually along a wide trail that gets very muddy even in dry weather. After about 0.6 miles, you'll reach a cliff with a light flow of water pouring over the side — that's Moore Cove Falls.
There is a ton to explore in the vicinity. If it's not not too icy and you have good footwear, you can safely walk through the cave behind the falls. The two other notable cascades in the area are only suitable for experienced off-trail backcountry travelers. (See Kevin Adams' Waterfalls book for details.)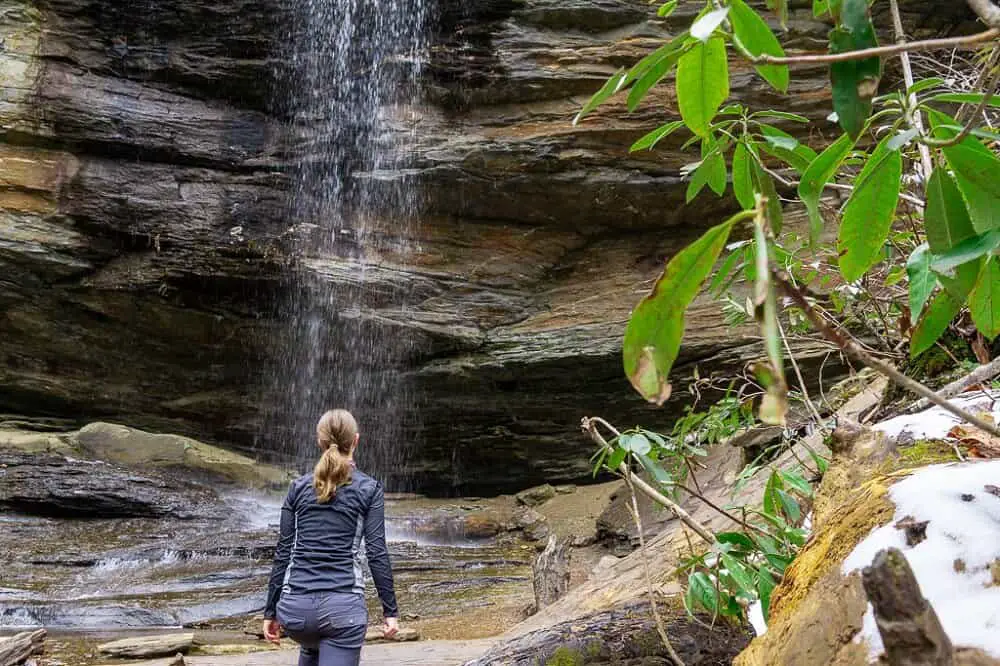 Daniel Ridge Falls
There are two options for visiting Daniel Ridge Falls. One is a very short hike, while the other is a moderate trek. Either way, this hike starts from a parking area half a mile past Cove Creek Group Campground. The road is gravel, but low-clearance cars can handle it just fine.
The easy hike to Daniel Ridge Falls involves crossing the bridge and taking a right on the gravel road. It's less than a quarter-mile to the cascade, which is on your left. You can get good views by scrambling up to the base of the first tier, or from along the road directly in front of it.
If you're up for more of a challenge, the Daniel Ridge Loop is one of the prettiest hikes near Brevard, on the lower slopes of Pisgah. From the parking area, cross the bridge and take a left, following signs for the loop trail. You'll walk on a gravel road past campsites for a short bit, then the trail turns to single-track. It climbs for about 2.5 miles along a gorgeous, rushing creek. It's not steep but you do gain almost 1,000 feet in elevation.
At about the 2.5-mile mark, you'll reach an intersection. Take a right to stay on the Daniel Ridge Loop. The trail descends, very steeply at first, then more gradually. You'll reach some switchbacks right at the top of Daniel Ridge Falls (there is no safe place to get a view of the waterfall from here — do not go off the trail). This stretch is shared with mountain bikers so keep your ears open and let them pass if they come up behind you.
Finally, you'll come out on the gravel road to the falls. Take a left and you'll reach the cascade almost immediately. Return to your car by walking along the gravel road and crossing the bridge.
Dupont State Forest's three waterfalls hike
If you're looking for an easy hike with a huge payoff, the Three Waterfall Hike in Dupont State Forest is perfect. You can also mountain bike or horseback ride this trail.
Start from the High Falls Access Area, which has restrooms and maps. Parking on the road is illegal (and enforced). If the lot's full by 8 am on summer weekends, you're out of luck.
The trail winds through beautiful low-elevation forests on a series of boardwalks before dropping to High Falls. From late fall to early spring, keep an eye out for trees covered in ice from the spray. A little further along, you can take a side trail to the base of High Falls. You won't really be able to see the waterfall from here, but it's a popular swimming spot in summer.
Next up is Triple Falls – the crown jewel. It sneaks up on you. At first, it'll look like a small, unremarkable drop. But take the stairs down to the mid-point and it reveals its true beauty; two drops above you and one below. You can wander out onto the rocks for great photo opportunities. Back on the main trail, you'll get a spectacular view of all three drops from a bit further down.
The last of the three waterfalls is Hooker Falls. It's much smaller than the others, at only 12 feet. But it's one of the best swimming spots in the Carolina Mountains. The fall foliage here is eye-popping.
The total length of the Three Waterfall Hike is 4.5 miles. Most of the trail is wide, flat and gravel, although it's muddy in places. You'll be on the High Falls Loop most of the way except for the short diversion to Hooker Falls.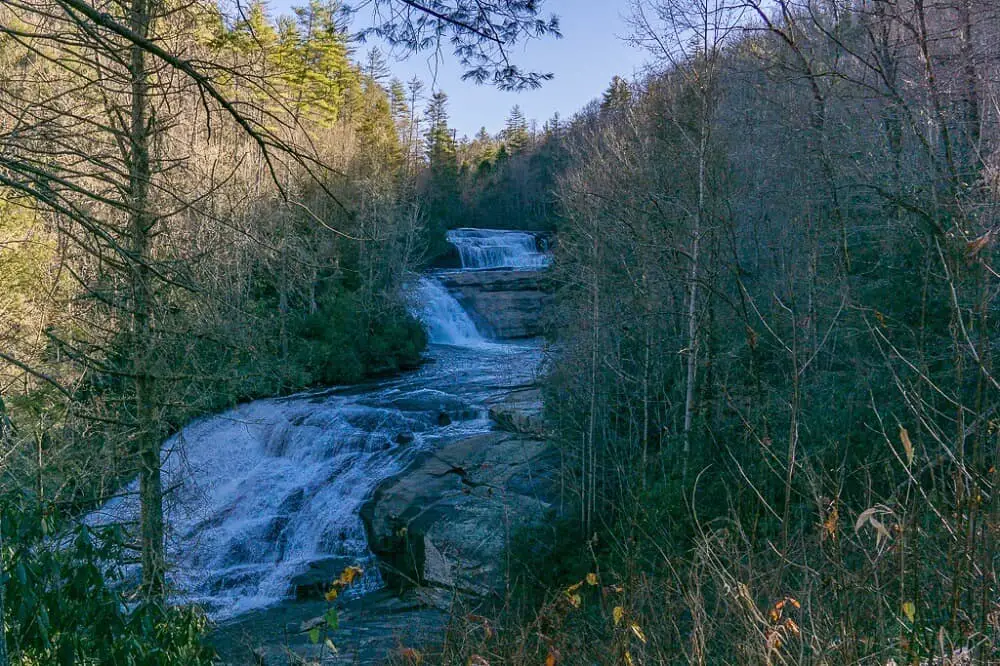 Cove Creek Falls
The hike to Cove Creek Falls shares many of the characteristics of the Daniel Ridge Loop. In fact, you can even combine them for a long (10+ mile) day for some of the best hiking near Brevard NC. But Cove Creek is a bit more isolated and doesn't require you to drive on gravel.
Park at the pull-off across from the Cove Creek Group Campground and walk along the road into the campground across the bridge. In summer this road is open to cars, but it requires a vehicle ford that is very dangerous for anything except trucks, Wranglers and Land Rovers.
After about 0.2 miles of road walking, you'll reach an intersection with a single-track trail to the left. This trail is clearly marked as taking you to Cove Creek Falls. Follow it and climb moderately for 0.2 miles.
The manway to Cove Creek Falls itself is not marked, and it's quite hard to spot. I'd recommend using AllTrails to find it. It's a steep, 0.2-mile bushwhack to the base of the falls through thorns and stinging nettles.
There are tons of possibilities for viewing and photographing Cove Creek Falls. The pool at the base is an awesome swimming hole. You can explore the left bank, which has good rocks for tripod setups. But the clearest view is from the opposite bank — it's a thigh-deep but safe crossing (there is no way to rock-hop it).
After you've visited the falls, you can return to the parking lot or continue along the trail to form a loop with the Caney Bottom Trail. This is one of the most fun hikes in Pisgah due to the series of increasingly questionable log bridges along the way. You'll also get two bonus small waterfalls! It's a 5-mile loop if you do the whole thing.
Cathey's Creek Falls
Even though Cathey's Creek Falls is nearly-roadside, it's still way off the beaten path. I've never encountered another soul at this magnificent waterfall. Perhaps that's because it's a brutal drive to reach it.
From downtown Brevard, take Highway 64 for 3 miles and turn right on Cathey's Creek Road. The road almost immediately turns to gravel. My little Honda made it on a rainy, icy morning, but I can't recommend trying that if this is your first foray on Forest Service roads.
The pull-off to the falls is 3.2 miles in. It's unsigned and tiny – you'll need to watch your odometer. In winter you'll see the falls through the trees immediately before the pull-off. When the leaves are on the trees, note where the road takes a hairpin turn to the right, and climbs a series of steep switchbacks. The pull-off is shortly after that.
The good news is once you reach the pulloff, you're only 0.1-mile from the falls. It's not a maintained trail, so expect blow-downs, erosion, steep drops, and stinging nettles.
I promise the reward is worth it. The waterfall is an 80-foot drop across a few ledges into a crystal-clear pool below. It's a perfect swimming hole in summer. And you'll really feel like you're out in the wilderness, with dense vegetation on all sides.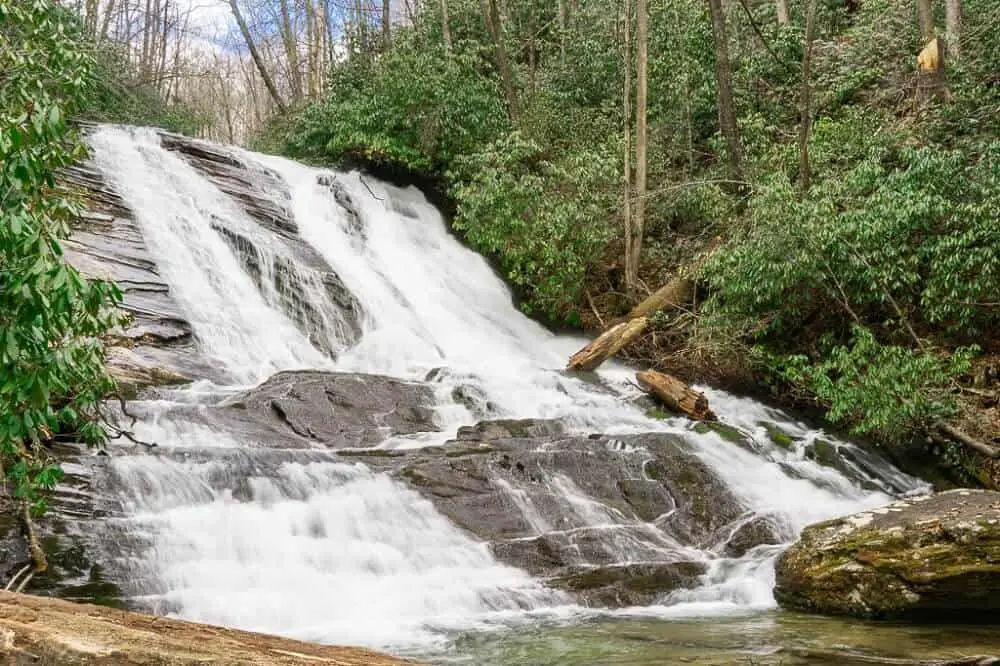 Rainbow Falls
Rainbow Falls, in Gorges State Park, is a little further away from Brevard than the other waterfall hikes on this list. But it's widely considered the most impressive waterfall in North Carolina. And it's an easy, family-friendly hike.
The trail starts from the large parking area at the bottom of the hill from the main entrance to Gorges State Park. It's a 700-foot drop over about 1.5 miles, but the trail is beautifully maintained and wide, so it's not difficult even on the way back up.
The final 0.2 miles to Rainbow Falls is a moderately steep climb. You'll reach a platform with an open, 180-degree view of the cascade. This is the best view. You can also continue to the other side of the viewing deck and climb down to the base of the falls. Hikers with children or dogs should turn around here.
Two other waterfalls are upriver from Rainbow Falls. They're worth the additional 1-mile round trip. You'll reach Turtleback Falls, slightly off-trail, first. Then the very scenic Drift Falls is at the end of the trail. If you head out onto the rocks for a better view, be quick – you're on the border of private property and the owner is likely to greet folks lounging here with a shotgun.
If you venture upriver from Rainbow Falls, be extremely careful. This is one of the most common areas for hikers to need rescues and a site of several fatal accidents. Stay on the trail (which skirts the river right above Rainbow Falls). Don't attempt this section in slippery or icy conditions, with dogs, or with children below teenage years.
This might just be the best of the Brevard waterfalls.
---
READ: Best hikes in Northern California
---
Looking Glass Falls
Looking Glass Falls hardly counts as a waterfall hike. This easy trail runs less than 0.1 miles from Route 276 (although on summer weekends you may have to hike a mile for parking!). But it's Pisgah's most iconic waterfall. And since it's on the way to many of the other trails, it makes for an easy photo stop.
The waterfall drops 60 feet through a small gorge on the lower slopes of Pisgah. The size may not blow you away, but the flow will – you can feel the spray all the way from the road.
There are three viewing decks at Looking Glass Falls. The first is right along the road. From there, a staircase winds down to the best view of the cascade and the gorge. Finally, a ramp to the right takes you to the base of the falls where you (and your camera) will get drenched.
Looking Glass Falls can get outrageously busy, but you can get lucky and have it to yourself. Your best bet is to go early (like 8 am or earlier), go late (after 4 pm), go on a weekday, or go in off-season.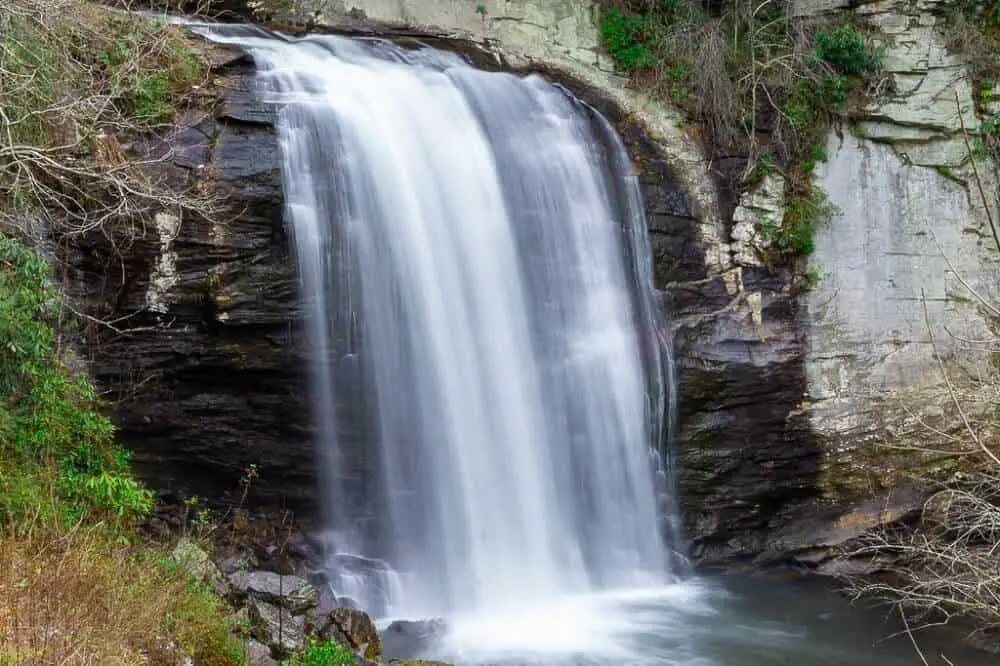 Bridal Veil Falls
Can't get enough of Dupont State Forest? I don't blame you! While the vast majority of visitors stick to the Three Waterfall Hike, the forest actually has three other amazing waterfalls, which get a fraction of the traffic. You're up for one of the most unique Brevard NC waterfalls!
The hike to Bridal Veil Falls is longer, 4.7 miles, but it's very easy. From the High Falls Access Area follow signs to the Covered Bridge. Then, take a right on the gravel road. This flat path passes through wildflower tunnels and pine forests, crosses the river, and then intersects the short trail to Bridal Veil Falls.
Film buffs will recognize this cascade from the Last of the Mohicans or the Hunger Games. It's a unique sliding drop, never steep, but quite high. You'll have to do some light rock-hopping to get a good view at the base of the falls.
You'll see people climbing on the rocks alongside the waterfall, but it's not safe. The rocks are slippery and the current is stronger than it looks. If you want better views of the upper drops, your best bet is to park at Fawn Lake and hike to Upper Bridal Veil from there. Note that Fawn Lake is often inaccessible in wet or icy conditions.
Log Hollow Falls
Buried deep in Pisgah National Forest, Log Hollow Falls is a local favorite. You may get it to yourself anytime except summer weekends. And it's a short, easy hike from March-November.
To reach Log Hollow Falls, drive up Route 276 until you reach FS 475B on your left. Take this bumpy, rough gravel road 1.6 miles to a sharp turn to the left. Park in the curve, making sure you're 100% off the road. There's a large Forest Service management sign right in the parking area. Small cars can do this drive with caution.
From the parking area, walk down the gated FS 5043. You'll stroll half a mile along this overgrown logging road and cross two bridges. Log Hollow Falls is visible from the second bridge. You can reach the base of the falls on the far side of the bridge.
When you get back to your car, you could continue driving FS 475B four more miles to reach Slick Rock Falls. This pretty cascade is almost roadside. Continue 1 more mile down 475B to reach the Center for Wildlife Education. The middle four miles of this drive are steep and rutted and best attempted in a high-clearance car.
FS 475B closes in winter due to snow and ice. To reach Log Hollow Falls when it's closed, park in one of the pull-offs on 276 near the gate. It's about a four-mile walk on the gravel road to reach the waterfall.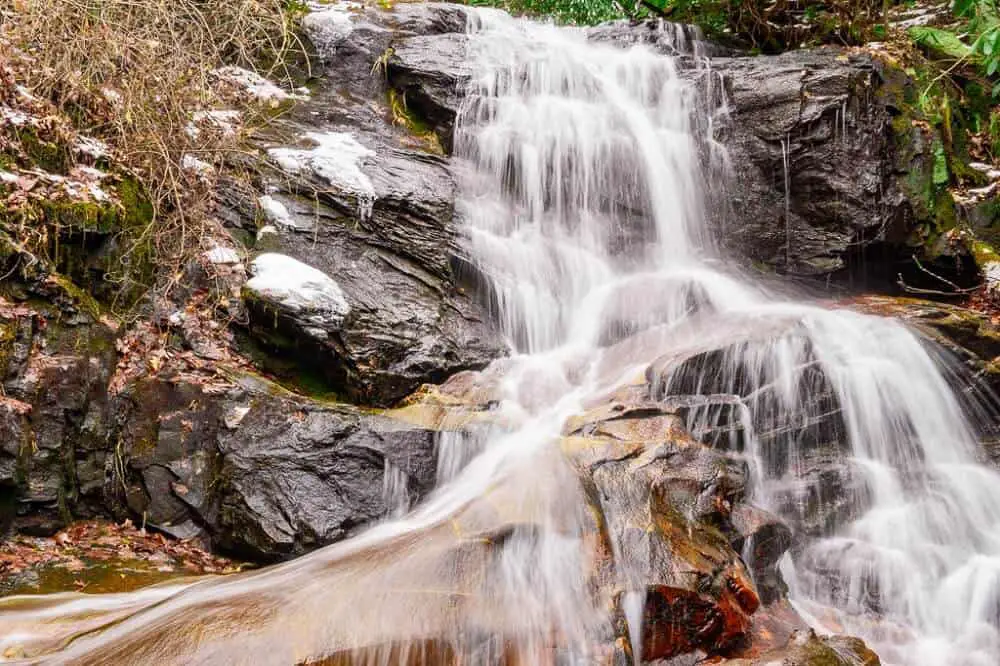 Sliding Rock Falls
Last on the list of top waterfall hikes near Brevard NC is a summertime classic. Sliding Rock Falls won't impress you with its views or solitude. But it's perhaps the most fun waterfall in the area to visit. The reason? The cascade creates a 60-foot natural water slide!
This isn't much of a hike – you'll spend most of your time waiting in line to go down the water slide. You'll only have to walk about 0.1 miles from the parking area. The whole thing is well-developed, with stairs, boardwalks and ropes.
This is the only waterfall near Brevard where you have to pay an admission fee. It's $4 per person and gets you access to changing rooms and restrooms, as well as unlimited rock slides. You can pay with cash or credit card. Picnicking is not permitted here to keep crowds down.
Sliding Rock gets crazy-crowded on hot summer days — even weekdays in July can be mobbed. Avoid visiting between noon and 4 pm in the summer.
If you plan to swim, be forewarned that the water is very cold. Consider wearing an old t-shirt and shorts instead of a swimsuit, since sliding on the rock face can be a bit uncomfortable with bare skin. Kids under 7 years old have to go down with an adult. The pool at the bottom is 8 feet deep so it's not safe for people who can't swim.
---
YOU MIGHT ALSO LIKE: How to hike Half Dome in Yosemite
---
Tips for responsible waterfall hiking near Brevard NC
North Carolina's waterfalls are extremely fragile environments. Many of our native endangered species live in the unique microclimates surrounding these cascades and rivers. One wrong step and you could contribute to wiping out a plant or amphibian species that only lives in our mountains.
Here are a few tips for visiting our waterfalls responsibly:
Stay on the trail unless you have a deep background in identifying safe and responsible off-trail routes in Southern Appalachia's ecosystems.
Don't step in standing water, especially in spring. Those puddles on the trail are popular places for endangered frogs to lay their eggs.
Never, ever, ever pick wildflowers.
When you're exploring a waterfall, be especially mindful to not touch anything green. Moss, fungus, and overgrowth is the backbone of our river ecosystems, and it's extremely sensitive.
Pack out everything you pack in. This includes pet waste.
If you're hiking with a dog, keep it on a leash the whole time.
If you have to pee while hiking, make sure you're 100 feet (70 large steps) away from a water source. If you step off-trail be extra-cautious not to step on wildflowers.
Don't litter, carve initials into trees or rocks, graffiti, or otherwise leave a mark.
Additionally, part of hiking safely in WNC means knowing your limits. If you get into trouble and a search and rescue team has to come get you, that puts them at risk too. A few tips for exploring waterfalls safely:
No photo is worth getting killed or killing wildlife for. Keep this in mind everywhere, but especially at Rainbow Falls.
Never climb on the side of a waterfall.
Don't enter a river upstream from a waterfall. If you plan to swim at the falls, bring a topographic map — often the waterfall you're visiting is only the first in a series. The current may pick up immediately below the falls.
If you enter the rivers of WNC, wear water shoes and bring trekking poles. The rocks are super slippery, and in winter, usually icy.
Tell someone where you're going and when you'll be back. If you're hiking alone, leave your trip plan in your glove compartment in addition to alerting someone to your whereabouts.
If you venture to an off-trail cascade, make sure you have (and know how to use) a good topographic map. I.e. not one you printed off the Internet. One of the riskiest parts of visiting off-trail waterfalls is coming out on slick steep muddy banks slightly upstream, directly above a drop into the river, in the strongest part of the current. Thick dog hobble and mountain laurel cover, means you often won't know you're in trouble until it's too late. Don't attempt your first bushwhack on a casual vacation. (And remember, if you do bushwhack, the bushes are supposed to whack back — never cut down or break branches or other vegetation!)
Final reflections on visiting the waterfalls near Brevard
These ten waterfalls near Brevard are only the beginning of the waterfall exploration in the Carolina mountains. There are literally hundreds or more cascades in Transylvania County alone. And further afield, some of the most spectacular waterfalls on the east coast are just a couple of hours from nearby Asheville.
And beyond waterfalls, Brevard NC is a fantastic base for hiking and backpacking to epic views. It's just a few miles from the Blue Ridge Parkway, Shining Rock Wilderness, and Great Smoky Mountains National Park.
In short, this little slice of Appalachia makes for a fantastic outdoorsy getaway — whether you have a week, a month, or a decade to explore.
READ NEXT: Best hikes in Southern California
Pin it for later!