The chaotic, colorful city of Marrakesh is probably the most visited city in Morrocco and one of the places most travelers first set foot when they arrive in the country.
Whether you're heading to the desert, to the blue city of Chefchauen, or to destinations more off the beaten path in Morocco, Marrakesh is often the start and end stop.
While there, you want to make sure you stay at a riad to get the feel of being in Morocco.
In this post, you'll find some of the best riads in Marrakesh, tested and recommended by travelers so that you can enjoy an amazing stay in this vibrant city.
Disclosure: This post may contain affiliate links. That means that if you make a purchase through one of those links, I will get a small commission at no extra cost to you. If you have any questions about these services or products, feel free to ask me.
Best riads in Marrakesh
There are so many great things to do in Marrakesh, so you want to make sure you stay in a central and nice riad when visiting this incredible city. Here are some of the best riads in Marrakesh so that you can enjoy your stay there as much as possible.
Rodamon Riad Marrakech Hostel
Recommended by Kelly of Hostelgeeks
Easily the best riad in Marrakesh is Rodamon Riad Marrakech Hostel. This traditional house has a riad style, hotel quality, and hostel fun. Boasting a sunny rooftop terrace, courtyard swimming pool, and budget-friendly prices; it's the ideal place to wind down just 10-minutes from Jamaâ El Fna Square. Rodamon is, in fact, located in the heart of la Medina and the souks, right next door to Mosque Ben Youssef.
Drop your bags in one of the many cozy and perfectly intimate rooms. From female dorms to budget-friendly family rooms and more. What about A/C, ensuites, and privacy curtains? It's all there! We just love the spacious and minimalist design.
When you're ready to explore, speak to the friendly staff. They can help book tours including camel rides, desert adventures, and trekking. Just make sure you fill up on a courtyard breakfast first!
Best bits: Personally, my highlight is the pool! The on-site restaurant is serving up really good food. Enjoying a Moroccan beer on the rooftop overlooking the Atlas Mountains before ending the night in your very own privacy pod.
Cons? You'll find the tours on offer here are more expensive than elsewhere. That's because they handpicked the tour operators and guarantee a great experience. Especially in Marrakesh, this is actually a big advantage! 
Book your stay at Rodamon Riad Marrakech Hostel here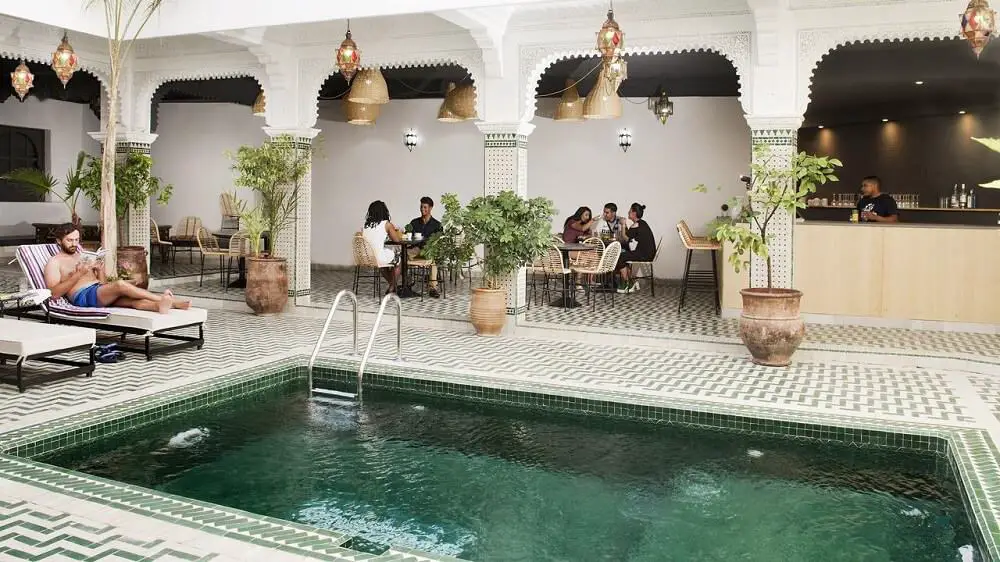 Riad Ajmal
Recommended by Abbie of Speck On The Globe
Down a small street in a quieter part of the heart of Marrakech Medina is Riad Ajmal. Located within walking distance to many of the major attractions of the medina, yet in a peaceful side street, this 5 suite guesthouse is situated perfectly to have a relaxing respite from the bustle of the souks and vendors.
Riad Ajmal is a mid-range option for budget-conscious travelers who are still looking for chic, comfortable rooms at an affordable price point.
The staff is attentive and welcoming, and are available to help you with whatever you need. Ajmal rooftop is a highlight of the property, a place to lounge and relax while looking over the sprawl of the old city.
Getting to Riad Ajmal is easy, you can set up an airport pick up with the staff that is reasonably priced or they will provide easy to follow directions if you're looking to get there on your own. If you plan to continue your trip to other destinations like Essaouira or Casablanca, they will help you organize that too.
Book your stay at Riad Ajmal here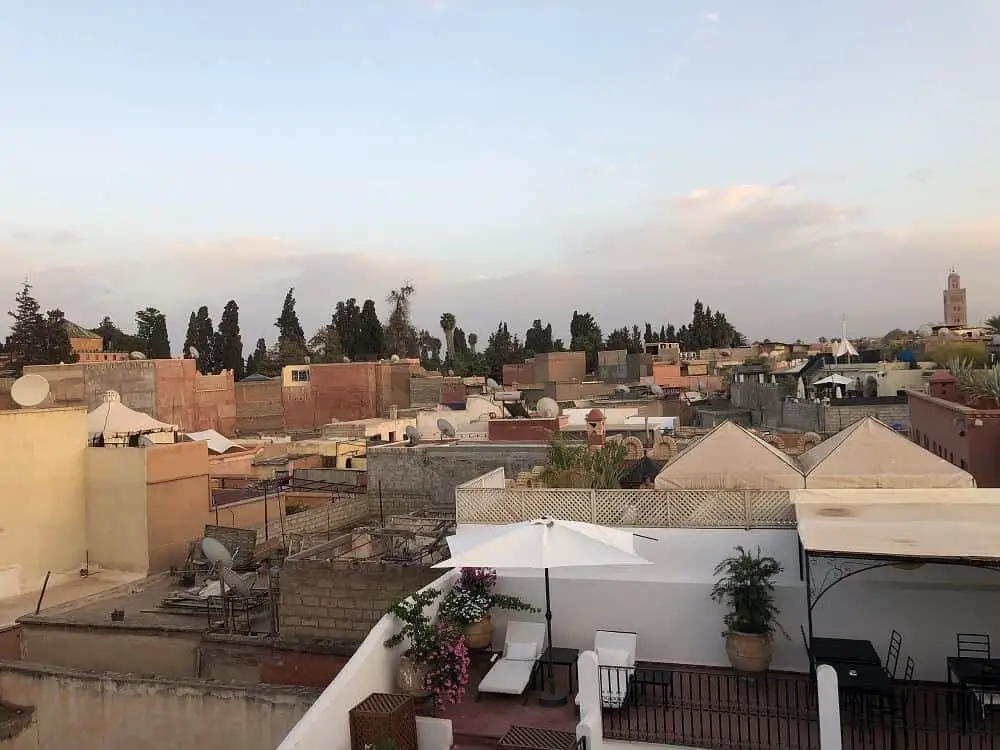 Riad Hotel Essaouira
Recommended by Pauline of Bee Loved City
The Riad Hotel Essaouira is located in the heart of Marrakech Medina, only 5 minutes walk from the main square, Jemaa El Fna.
This very cute riad is perfect for travelers on a budget. You can stay there for less than $20 per day, breakfast included.
It's a very cute establishment, particularly well located but the things I loved the most about it were the staff and breakfast. The staff is particularly helpful. They do everything they can to make sure you have the best possible stay. Don't hesitate to hit them up for local tips and recommendations! If you wish to go on a day-trip they will also sort that for you.
The Riad Essaouira offers also a very good breakfast with orange juice, tea, coffee, pancakes, baguettes, homemade yogurts, fruit, and cakes. Perfect for a great start to your day!
If you are looking for a luxury riad, this might not be the place for you but if you are after a nice and pleasant place in the medina, it's the place to go!
Book your stay at Riad Hotel Essaouria here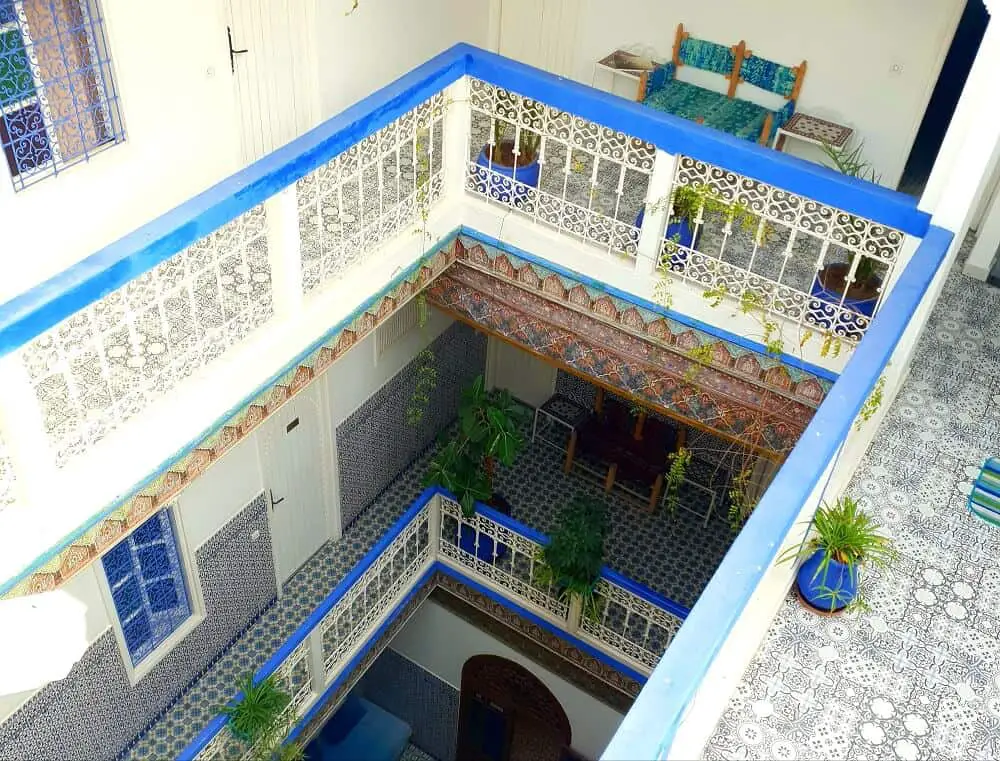 El Fenn
Recommended by Sandra of Greece Travel Secrets
El Fenn is an incredible Riad deep within the walls of the Medina, that was one of the first to offer large scale luxury accommodation as well as amenities such as 3 swimming pools, a restaurant, day spa, and boutique.
Owned and operated by Richard Branson's sister, Vanessa, and her friend, El Fenn upholds the high standards of the Branson family enterprises and extends impeccable service and attention to its guests.
There are 28 guest rooms, each with a different color scheme and it can be found tucked down a side alley right next to Bab El Ksour, which means it is only a short walk to the gate and easy access for taxis.
Housed in a former palace the Riad has been beautifully restored and includes an extensive art collection, a rooftop terrace with a pool, and Zellige tiles throughout. It is a tranquil oasis in the madness of the Medina and is worth a visit even if it is just for a meal or a drink. There is no doubt this is one of the best riads to stay in Marrakesh.
Be sure to keep an eye out for the little tortoises that roam around the courtyard!
Book your stay at El Fenn here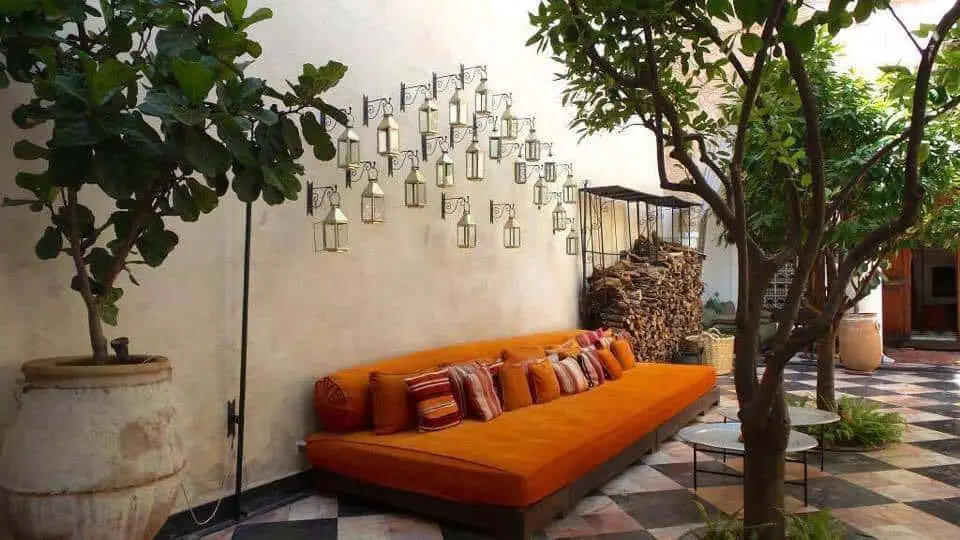 Riad Dar Les Cigognes
Recommended by Mary of Calculated Traveller Magazine
Located on Rue de Berrima in the Jewish quarter of Marrakech directly facing the gates of the Palais El Badii Royal Palace, Riad Dar Les Cigognes is a 5-star boutique hotel by Sanssouci Collection.
Renovated by celebrity French architect Charles Boccara, the century-old riad was once the home of a wealthy merchant; it now boasts 11 beautifully decorated suites showcasing traditional Moorish art and décor.
We found the location in Marrakesh to be ideal since it was far enough away from the crowds and noise of Jemma el Fna but an easy 7-min walk should we wish to join in on the fun in the main square.
Hotel amenities at the riad include a hammam spa on-site (Fassi Beauty Spa), an award-winning restaurant (Salt) with intimate dining for ten guests, cooking classes by their resident chef, daily afternoon tea service, and a roof-top terrace for relaxing in the sun, morning breakfast or lunch.
Beautifully decorated and luxuriously appointed yes, but it is the impeccable service that stands out the most. From the first welcoming cup of mint tea served with fresh-baked cookies at check-in, to the scrumptious breakfast served on the terrace, and turn down service complete with a hot water bottle for your feet; what makes Dar Les Cigognes stand out the most is the concierge and staff who attend to your every need.
Book your stay at Riad Dar Les Cigognes here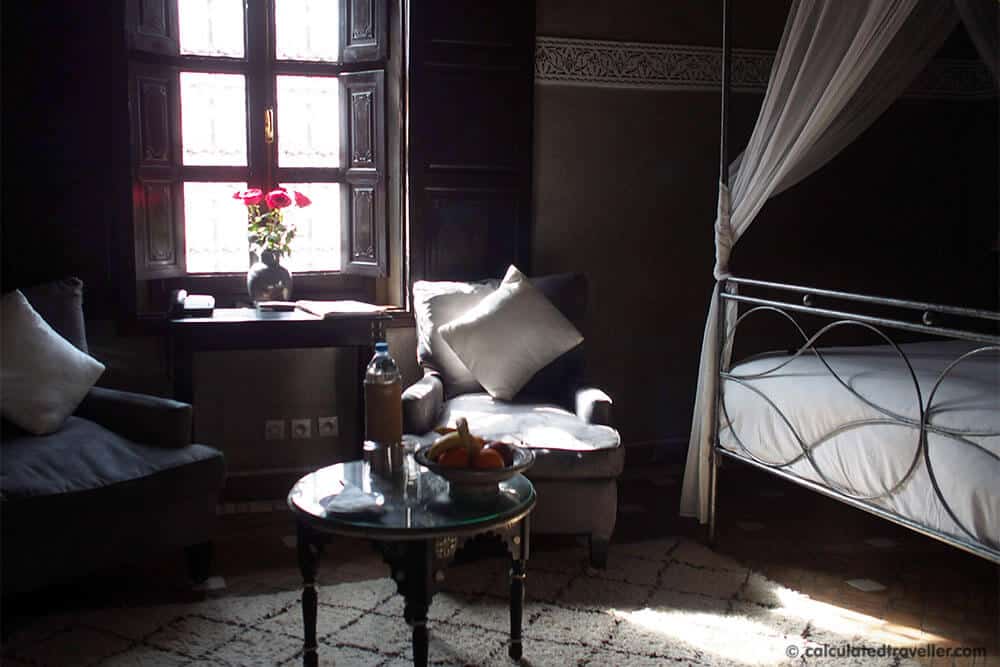 Riad Bijoux
Recommended by Eva of Not Scared Of The Jetlag
Riad Bijoux is my favorite place to stay in Marrakech. It is a beautiful, traditional Riad with a central courtyard and a rooftop terrace. There are 6 rooms available with 2 or 3 beds each, all very nicely decorated.
They serve breakfast in the courtyard or the adjacent sitting room and if you want you can also have dinner there. Food is always fresh and very tasty. Last year I was there during Ramadan and the very lovely team invited me to join their fast-breaking in the evening.
The rooftop terrace is a nice place to enjoy a little bit of quiet in all the busyness of Marrakech. There are sunbeds as well as cozy corners in the shade, so it's a nice place no matter the weather.
The best "thing" about Riad Bijoux, is actually the team working there. They are so welcoming and are happy to arrange trips and transport or store your luggage for a few days.
While it is a 20-minute walk from the main square, it is in a very quiet and safe location close to Bab Aylan and other things to do in Marrakesh.
Book your stay at Riad Bijoux here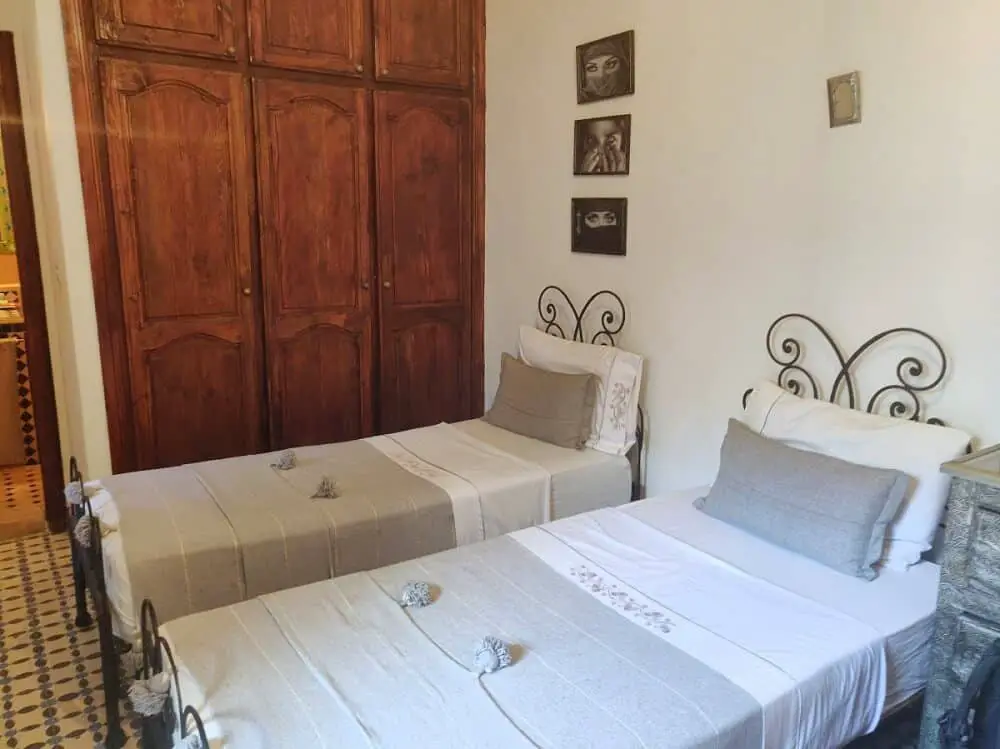 Conclusion
As you can see there are a lot of wonderful riads to stay in Marrakesh for all budgets. I hope these recommendations made it easier for you to choose one that suits your needs for your upcoming trip.
Have you stayed in another great riad in Marrakesh? Don't be shy, share your experience in the comments!
READ NEXT: Morocco itinerary – One week in northern Morocco
Pin it for later!