Northern Morocco is not where most people set foot on their first trip to the country, yet it's tremendously beautiful! There is so much culture and the Berber villages are spotted all over the astounding Atlas and Rif mountains. The deep blue Mediterranean Sea dominates the coastline while you can visit the fascinating Blue city in the inland. Come with me, and discover the best of the north in this one week in Morocco itinerary.
There are some true hidden treasures of Morocco here that will show you a different side of the country than the crowded Medinas. Whether this is your first trip to Morocco or your fifth, you will love this part of the country! Get ready and pack your backpack!
Disclosure: This post may contain affiliate links. That means that if you make a purchase through one of those links, I will get a small commission at no extra cost to you. If you have any questions about these services or products, feel free to ask me.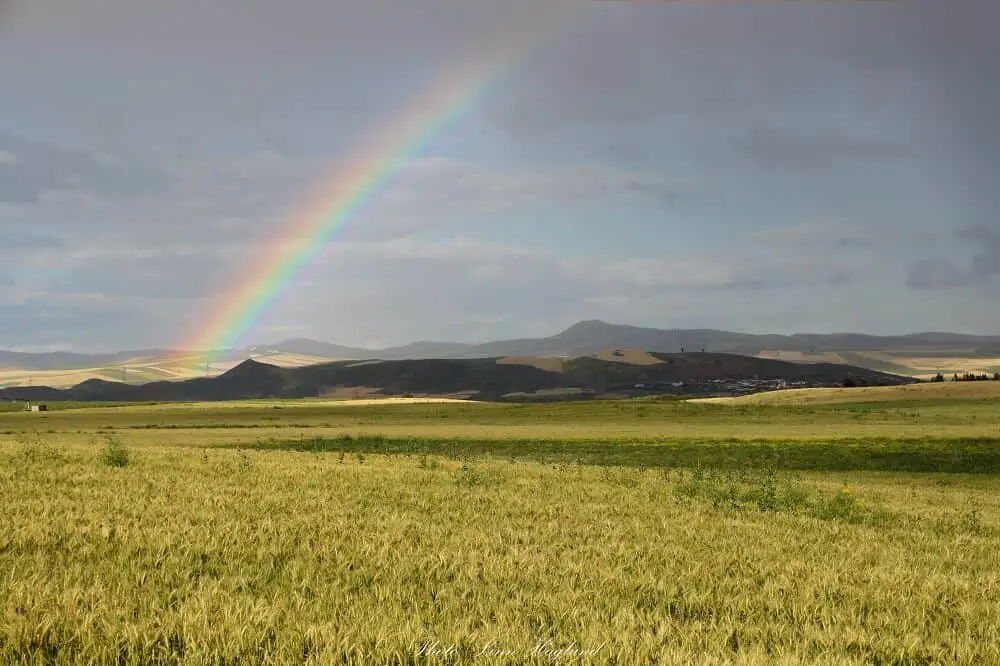 How to get to Morocco
Morocco is easily accessed by plane and you can fly straight into Meknes where this itinerary starts and fly out of Al Hoceima where it ends; unless you want to return from Meknes.
If this is part of a longer trip to Morocco, Marrakesh and Casablanca are the most frequent airports to fly to.
Best time to travel to Morocco
The best time to travel to Morocco is during spring or autumn. This is when temperatures are pleasant but not too hot. Especially for this northern Morocco itinerary, it can get extremely cold in the winter months between November and mid-March.
The summer months, June to August can get very hot, especially in the lower altitude destinations and if you plan to go hiking.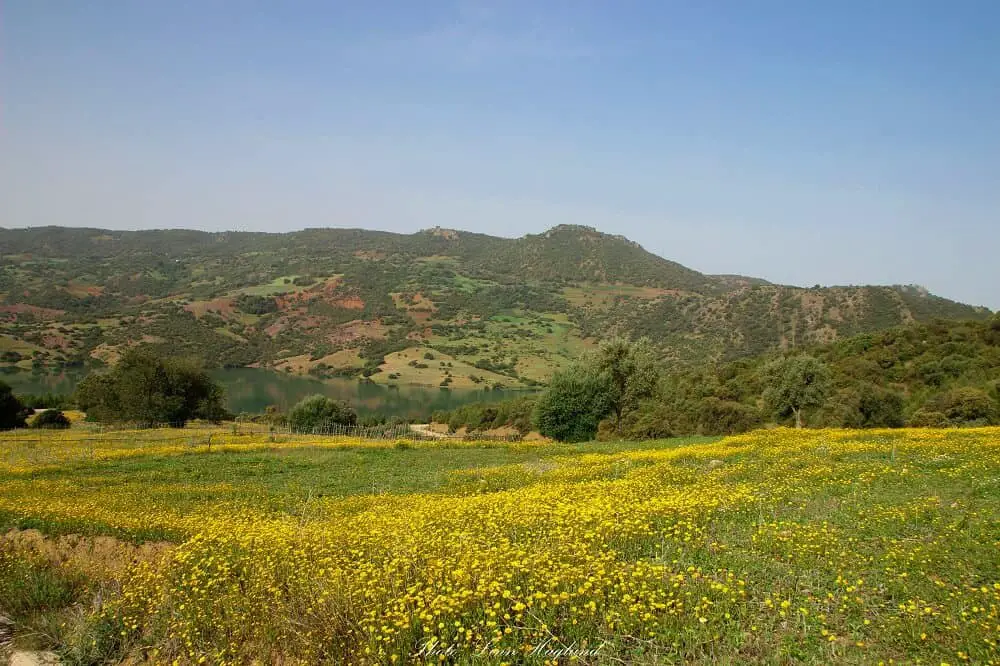 Travel insurance for 1 week in Morocco
You should definitely get good travel insurance for 1 week in Morocco. There are so many things that can go wrong, even though Morocco is a safe country to travel in. Your bags could go missing, you could have an accident or something could happen so you need to cancel your trip.
I choose World Nomads Travel Insurance. Not only are they easy to buy before or during your trip, they are also extremely focused on responsible travel! Both of these are things I put high on my list.
I hate spending time on things like this, so the fact that it's only a few clicks, straightforward, and has no hidden cost, is enough for me to go back every time!
However, that they have the same values as me, makes me actually recommend them and feel I'm doing the right choice by using them!
Book your travel insurance with World Nomads here
One week in Morocco itinerary
This is a suggestion for spending 7 days in Morocco if you want to experience some incredible places in the northern part of the country. This is also the safest part to travel to Morocco with kids, as you will not spend a lot of time in large, busy cities.
To manage the suggested destinations with only one week in Morocco, you should either get a rental car or a private driver as there are no good public transport options to all of these places.
This northern Morocco itinerary starts in Meknes and ends in Al Hoceima. Feel free to use parts of the itinerary and stay longer or shorter at any destination.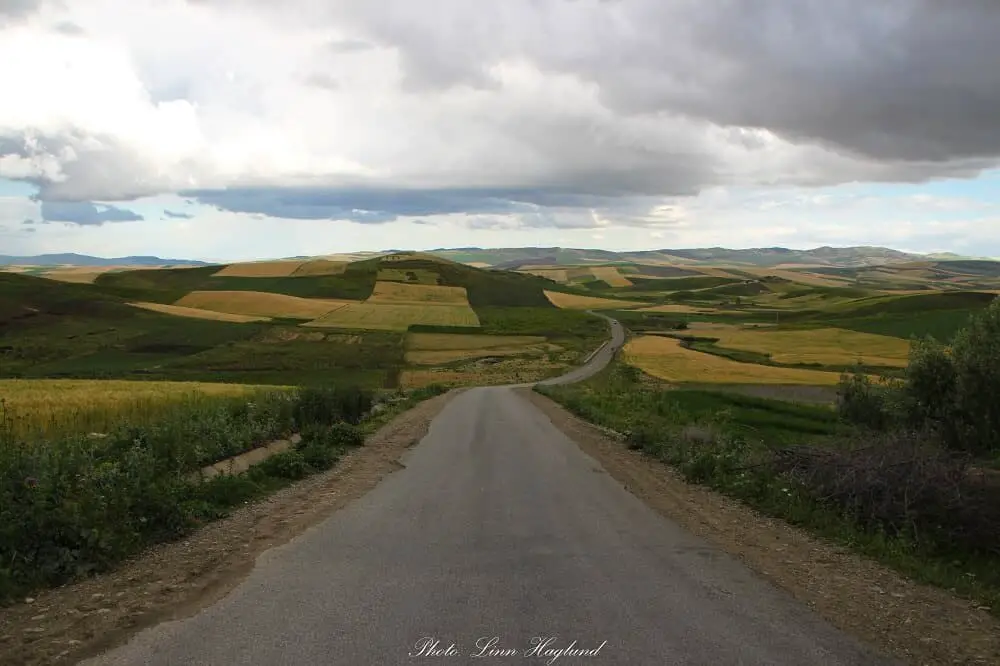 If you start or end your trip in Marrakesh, find the best riads here.
Day 1: Meknes
Start your Morocco 1 week itinerary in the imperial city of Meknes. It is incredibly beautiful and underrated by tourists, which is good, right?
Where to stay in Meknes
When you arrive in Meknes, you might want to install at your accommodation straight away before you start exploring the medina. So. Let's start to look at where to stay in Meknes.
Dar Merzouga
I stayed at the shared dorm at Dar Merzouga and found it good. There are no lockers, so you'll need to keep your valuables with you at all times. However, they do have private rooms too and the free breakfast is delicious. The Riad is situated just inside the walls of the medina and is beautifully decorated with friendly staff! They have free WiFi.
Book your stay at Dar Merzouga here
Dar Meknes Tresor
Dar Meknes Tresor has excellent reviews and is situated in the medina with a rooftop terrace that has breathtaking views of the city. Rooms are beautifully decorated. They serve breakfast and have free WiFi.
Book your stay with Dar Meknes Tresor here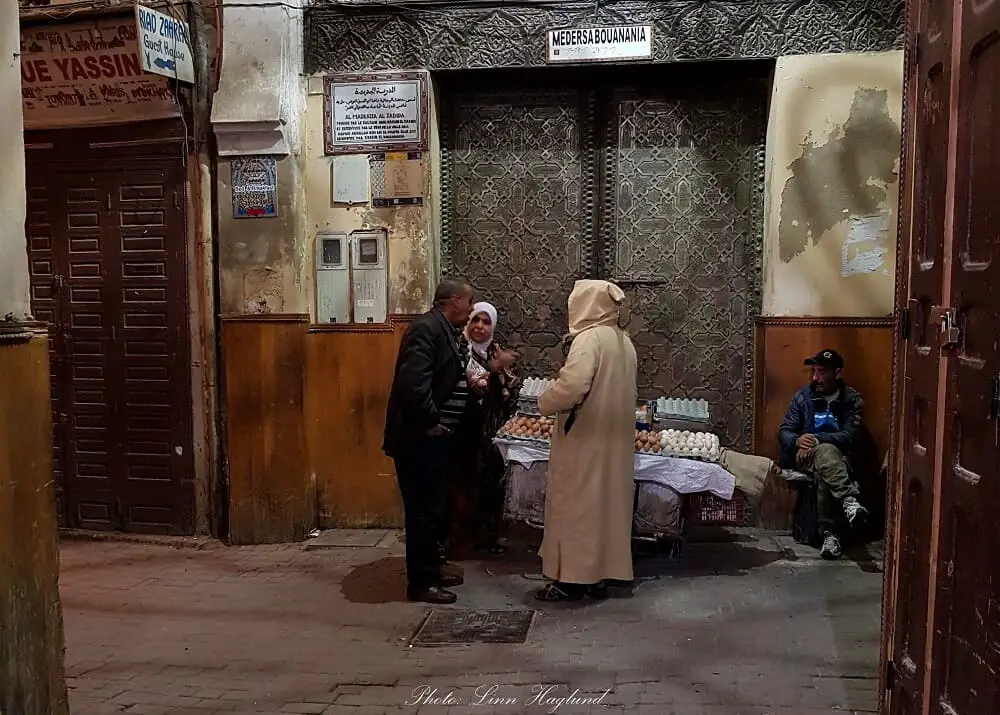 Explore the medina
Depending on how much time you have the first day after you have installed yourself in your Riad, you can use half a day of a whole day exploring the medina. You find everything you can imagine between the medina walls from traditional leather slippers to craft shops.
Make sure you download an offline map so you find your way back to your Riad. If you opt for asking for your way back, most locals are friendly and will point you in the right direction. However, be aware of those who will follow you the whole way and ask for a tip after.
There are also plenty of places to eat in the medina. A nice place to eat, even for vegetarians and vegans, is Aisha. They serve delicious, traditional food, and I don't know if that's the whole restaurant, but we were placed in what looked like their living room set up with a couple of low tables. TV showing Moroccan soap operas and mama chilling in a couch, eagerly watching it. The day after, I noticed a Trip Advisor recommendation sign for the place outside.
If you have the time, make your way to the Souk of Meknes, an overload for your senses at this incredible bazaar.
Day 2: Meknes
With a whole day in Meknes, you have the time to explore the top attractions. Here are my top picks.
NOTE! I do NOT recommend horse carriage tours in Meknes! You can read more about unethical animal tourism here and especially animal rides here.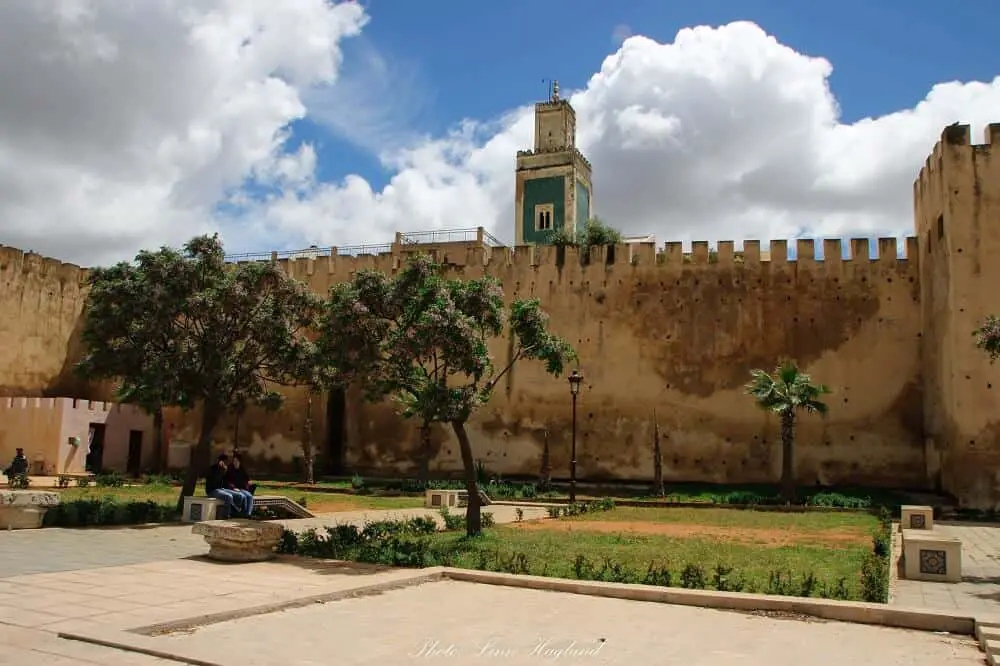 Grand Mosque
After breakfast, if you didn't see it on your first day when exploring the medina, make sure you go to the Grand Mosque. The 12th-century religious structure is easily recognized by its green-tiled roof.
Bab a-Mansour
Head out of the medina and go to Bab al-Mansour which is said to be among the finest remaining gateways in North Africa. And it really is beautiful. Though you can't enter, make sure you get a photo or two of this artistic piece of work.
Mausoleum of Moulay Ismail
This is the tomb of Sultan Moulay Ismail who, in the 17th century, made Meknes an imperial capital. It's possible to enter the tomb hall which is resplendently decorated with colorful tilework.
Lunch at Ya Hala Meknes
Have a delicious tagine for lunch at Restaurant Ya Hala Meknes. They also have vegetarian and vegan options.
Norias Basin
For a calm escape, take a stroll to Norias Basin. It's a bit of a walk from the medina and you will find a huge water basin surrounded by local families hanging out and spending time together. Let the relaxed breeze fill you as you experience a true local place of Meknes.
The Royal stables
While you are at Norias Basin, you are not far from the Royal Stables. So if you want to take a look at the ruins this is the time to go.
Lahdim square
Round off the day by spending the evening at Lahdim square. Have a hot mint tea and something to eat at one of the many stalls and soak in the busy vibe of Meknes' largest square.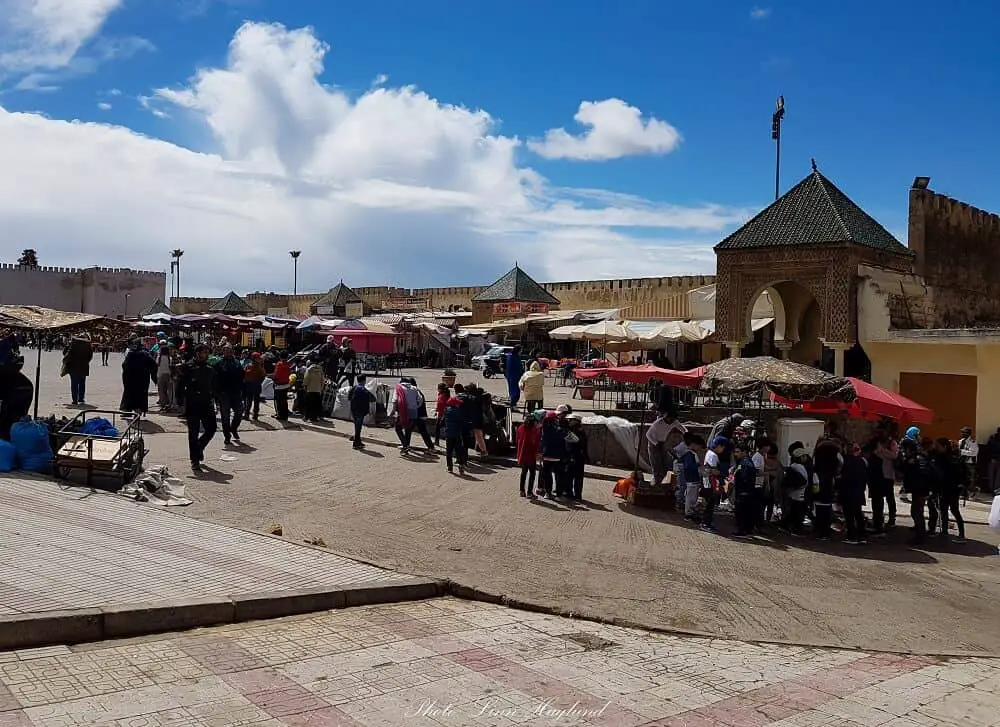 Day 3: Volubilis and Chefchaouen
It's time to move on to new places for our Morocco 1 week itinerary and I suggest you do a little stop on the way to Chefchaouen. So make sure you leave early just after breakfast.
Volubilis
Just north of Meknes, you find some of the best-preserved Roman ruins in Morocco. Volubilis is a UNESCO World Heritage Site and not only the ruins themselves, but also the surrounding scenery of green rolling hills will take your breath away.
There is an admission fee to enter, and you can choose to pay additionally for a guide.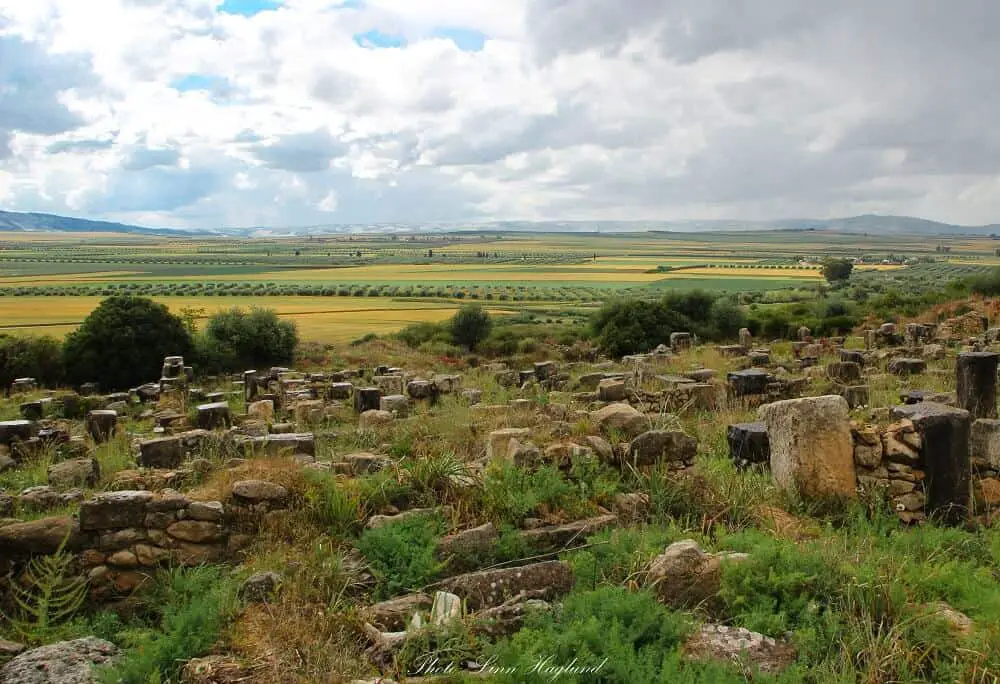 Head to Chefchaouen
Where to stay in Chefchaouen
Once in Chefchaouen, get to your hotel. You can easily park on the streets outside the medina if you come by car. Here are a couple of suggestions to where you can stay in Chefchaouen.
Dar Zambra
Dar Zambra has a rooftop terrace with some of the best views in Chefchaouen! Situated in the medina's historical center, this establishment has traditionally decorated interior, free breakfast, and WiFi in all rooms.
Book your stay with Dar Zambra here
Casa El Haouta
Casa El Haouta is situated centrally in the medina. With beautifully adorned rooms, a rooftop terrace, free breakfast, and WiFi, this is a great place to stay.
Book your stay with Casa El Haouta here
Have lunch at the main square
Head to the main square and have your lunch with mountain views. There are plenty of restaurants to chose from.
Walk around the medina
When you have finished your lunch, walk around the blue streets in the medina. Take photos of beautiful doors and shop for spices. Points of interest are the Grand Mosque and Kasbah Fortress Museum.
Make sure you read my guide to responsible tourism in Chefchaouen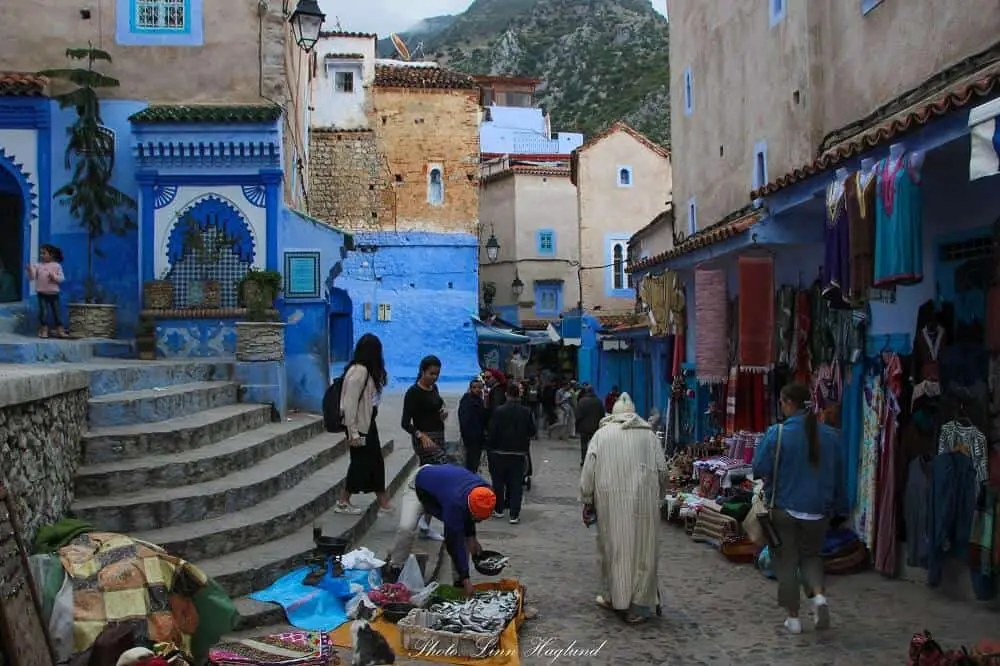 Sunset hike to The Spanish Mosque
Walk the 30 minutes up to the Spanish Mosque for stunning sunset views over the Blue City. It is the best way to finish off your day before a late dinner.
Day 4: Hike to Akchour Waterfall
Get up early and aim to hike the Akchour Waterfall just after breakfast. It's a 45-minute drive to the trailhead and once you get there you cross the little bridge to start walking on the other side.
The hike takes 3-4 hours, but I suggest you bring cash and eat by the waterfall or on your way down. There are plenty of little restaurants along the way serving delicious tagine and mint tea for lunch.
The hike goes along the river and several smaller waterfalls along the way. But the actual top waterfall is nothing but mesmerizing. If it's a hot day, you should bring your swimwear!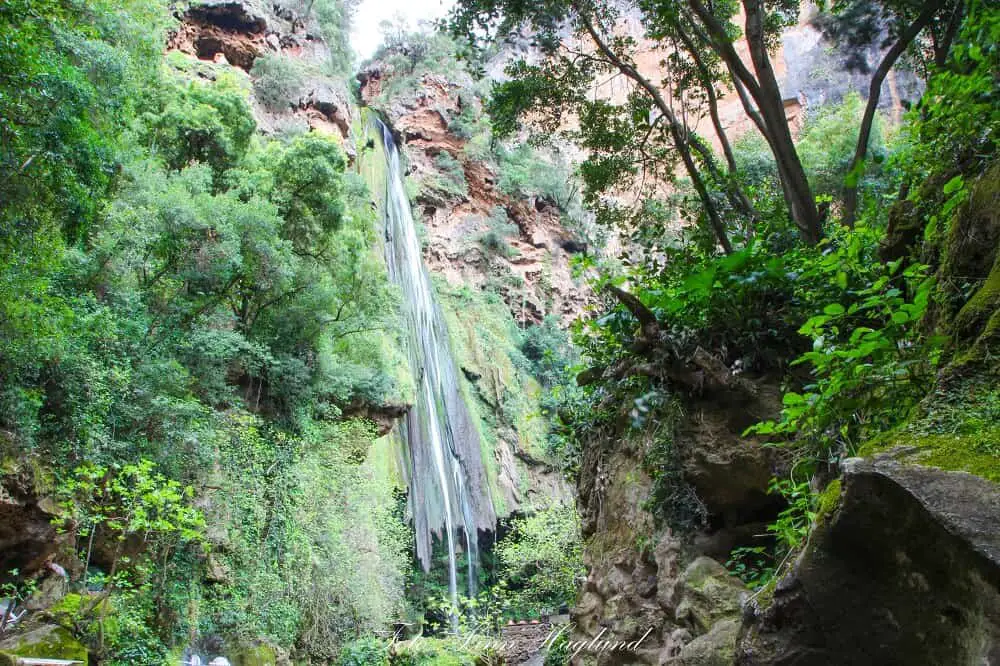 Visit a Hammam or go shopping
If you have the time when you come back from the hike, you should visit a hammam to soothe your sore muscles after the hike.
If this is not your thing, spend the rest of the day shopping spices and shawls in the medina and look for a nice place to enjoy your dinner.
Day 5: Chefchaouen to Al Hoceima
Get up early to drive to Al Hoceima. This is a good 4 hours drive, so make sure you bring some snacks in the car with you.
Where to stay in Al Hoceima
Rif Apartments
Rif Apartments are modern, clean apartments for a reasonable price. If you would like to have your own apartment with a kitchen for the last couple of days of your 7 day Morocco itinerary, this is the place for you!
Book your stay with Rif Apartments here
Mira Palace
Mira Palace is situated in a tranquil area within walking distance from Al Hoceima and the beach. It has its own pool if you want to relax there the last bit of your one week in Morocco.
Book your stay with Mira Palace here
Prefer camping? Check out Eco-Camping Amis de Cala Iris. Here is a complete eco friendly camping check list.
Explore Al Hoceima
Head out for a quick lunch before you explore the beautiful Mediterranean beaches of Al Hoceima. They are all within walking distance so you can just stroll around, go for a swim and move your legs after the long drive.
There are quite a few restaurants for dinner in the small town.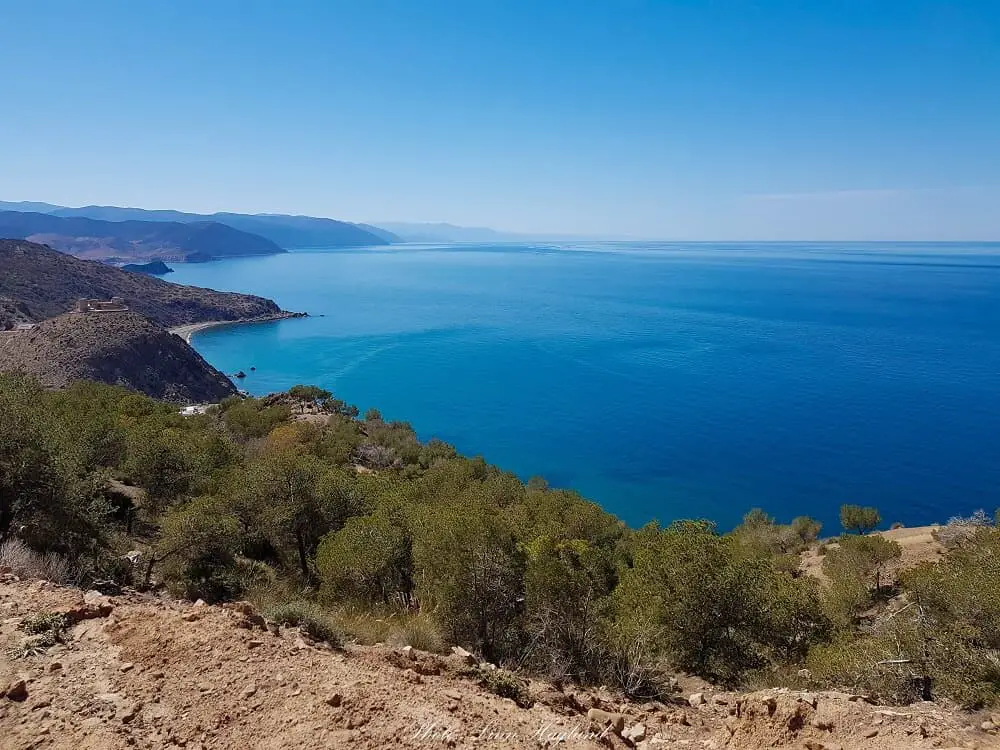 Day 6: Go hiking in Al Hoceima National Park
Get up early and head to Al Hoceima National Park after breakfast. The national park is crisscrossed with hiking paths connecting tiny Berber villages and protecting threatened wildlife both on land and underwater.
Bring snacks and a lunch pack and tie your hiking boots. This is going to be a wonderful day hiking along the Mediterranean Sea.
If you are lucky you will spot dolphins playing in the seafront!
I did a hike from the other part of the national park, as I was staying at a camping in Cala Iris. The hike was from a small Berber village to Bades island. If you opt for this, you'll have to drive around the park to the other side.
Otherwise, ask at your hotel where they recommend you go from Al Hoceima.
Day 7: Fly home from Al Hoceima
The end of your 7 days in Morocco is here, and you can use the hours you have left to chill at the beach or walk around the streets of Al Hoceima nipping mint tea at one of the tea houses to soak in the last bit of northern Morocco.
Final thoughts about 7 days in Morocco
As I mentioned at the beginning of this 7 days in Morocco itinerary, feel free to change around on whatever suits you the best. This is meant as a northern Morocco suggested itinerary if you want to explore other than the trodden path in this incredible country!
I did pick out some of my absolute favorite spots to see with just a week in Morocco. That said, I do recommend you spend a lot more time in Morocco if you really want to experience the country.
I hope you enjoyed this Morocco 1 week itinerary. Let me know in the comments!
---
Still haven't booked your flight? Book it here now!
---
Pin it for later!