Rolling hills covered in vineyards, and dotted with charming villages is a dream for a road trip. You're in Tuscany, one of the most glorified regions in Italy. And it undoubtedly lives up to its reputation!
I've traveled around large parts of Tuscany and loved every bit of it. It's surely a region you'll go back to again and again!
A Tuscany road trip is the best way to explore the region and I'm here to help you with the route so that you get the most out of your trip.
This 10-day itinerary takes you through some of the best places to visit in Tuscany by car, but feel free to mix things up, shorten it, or prolong it with more destinations if you have the time. You can also check out my post with some of the best Tuscan towns here.
Disclosure: This post may contain affiliate links. That means that if you make a purchase through one of those links, I will get a small commission at no extra cost to you.
Prepare for a Tuscan road trip
Before heading out on a road trip in Tuscany you need to make sure you have all the essentials. You can read my complete road trip packing list here.
Then you'll need a car and travel insurance.
Rental car
Since Tuscany is such a popular road trip destination, I do recommend that you book a rental car a good time in advance of your trip so that you don't risk paying extra for the most expensive cars or even worse, that there are no cars left at all.
Some tips for renting a car in Italy is to consider how much space you'll need in the car for luggage and how many people you are. It's always recommendable to have enough space for all your belongings in the boot so that you can leave the car without anything to be seen when you park.
If there is anything in the car that indicates that the boot could be full, there are more chances for anyone breaking into your rental car. And you don't want that.
---
---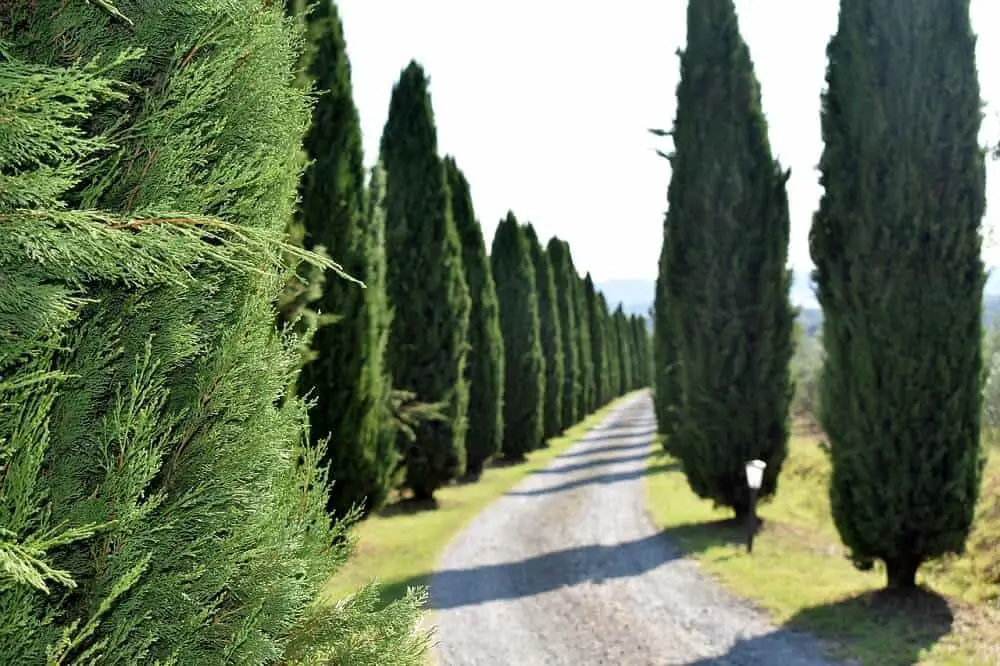 When is the best time to go on a road trip to Tuscany
You can enjoy road trips to Tuscany all year round, but the spring and autumn are particularly beautiful and the temperatures are pleasant. That said, they're also the busiest tourist months.
The winter can get cold with temperatures as low as 3-4 degrees Celsius in the hills and usually 3-4 degrees warmer by the coast. In the mountains, you're likely to get snow. However, daytime temperatures can be much higher in the sun, so I do recommend dressing in layers if you travel to Tuscany in winter.
The hottest summer months are July and August and temperatures can easily hit 30+ degrees Celsius and are best enjoyed where you can cool down in the sea or a pool. But if this is the only time you're able to go on a Tuscan road trip, don't let it stop you!
The region is absolutely mesmerizing in summer too and the hills tend to be a little bit cooler. Keep the air-con on in the car and walk in the shade of medieval buildings in quaint Tuscan towns while eating gelato, and you'll love it nonetheless.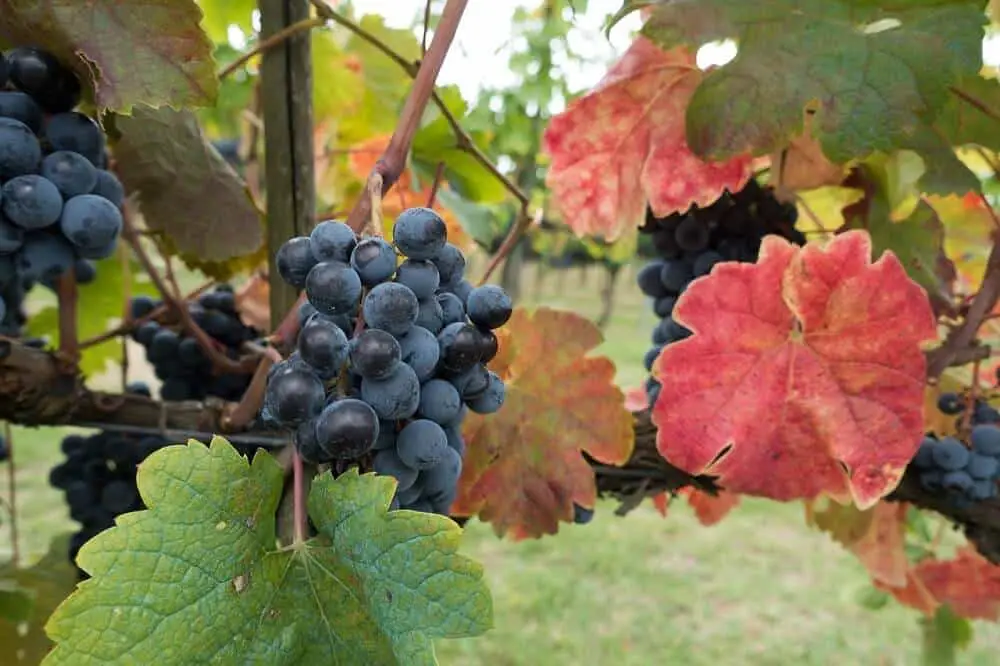 Driving in Tuscany
Driving in Tuscany is absolutely lovely, especially through the mesmerizing countryside. There are only a couple of large roads on this road trip and it's the motorways connecting Florence and Siena and Florence and Pisa. These are toll roads.
However, if you're not used to driving on small, narrow roads it might feel a bit overwhelming at first, especially when meeting other cars. Then a smaller car can be a good idea for you so that you feel more comfortable.
One thing that I notice every time I've been road tripping in Tuscany is that a few months later, I get a fine sent to me for some traffic infringement that I haven't been aware of. I've got them sent both to Norway when I lived there, and to Spain where I live now. So there is no hiding if you live in Europe.
So take note of the speed limits. In rural areas and small roads, it's usually 50 km/hr unless other is marked. When it says end of 50 km/hr, usually it goes up to 70 km/hr. There are both fixed and mobile speed cameras, so the best advice I can give you is to drive within the speed limit at all times and if you're unsure, drive slower rather than faster.
But there are also parking tickets. I do recommend that you always ask a local if you're allowed to park for free or if you need to pay as well as where and how to pay if you are unsure.
Those things aside, I've never had any bad experiences with driving in Italy, let alone Tuscany, and it's really all about following the rules (even though it might seem that the Italians don't.)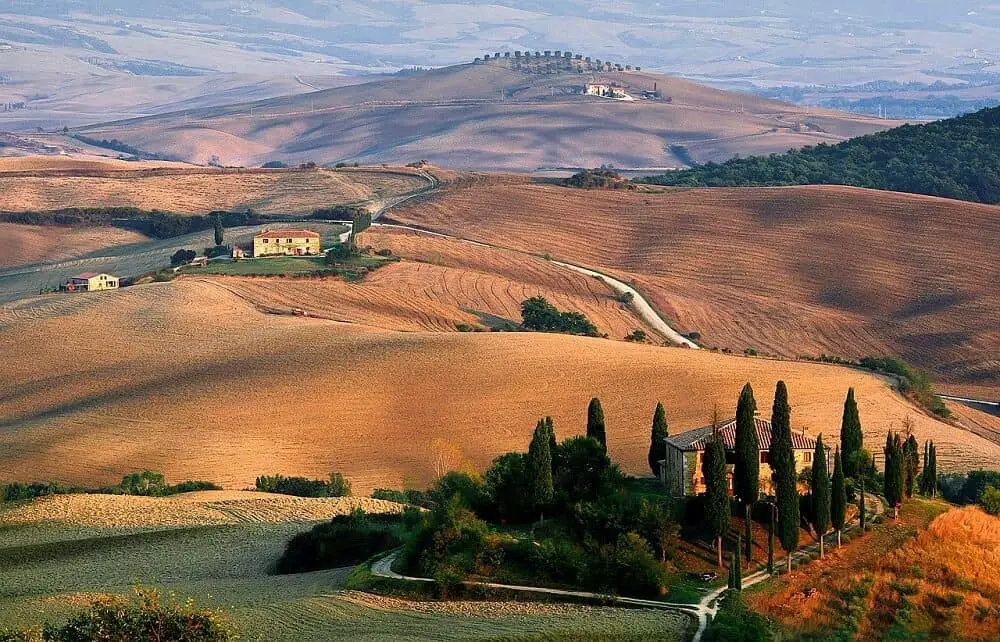 Tuscany road trip itinerary
This Tuscany road trip itinerary starts and ends at Florence airport, but you can easily start or end it in Pisa airport too, as it's only an hour away. For each town you'll stay at, I've included a few hotel alternatives with parking for different budgets so that you can choose what fits you best.
The places we'll cover in this Tuscany road trip itinerary are the following:
Florence
San Gimignano
Siena
Monteriggioni
Volterra
Pisa
Lucca
Day one – Florence
Make sure you read my guide to where to stay in Florence before you go.
The first of your 2 days in Florence, start off with heading up to Piazzale Michelangelo for the iconic city views. There is paid parking there if you come by car, otherwise, take bus 12 or 11 if you're not walking.
After having a coffee and enjoying the staggering views, leave your car at the hotel if you brought it and head to the Cathedral of Saint Mary of the Flower, known as Duomo di Firenze in Italian. The most prominent landmark in Florence is not to be missed.
Appreciate masterpieces of Michelangelo, Donatello, and other amazing artists in the Opera Duomo Museum and climb the dome for the day's second winner view.
For lunch, check out the food market, Mercato Centrale, or find a cute restaurant in the old town.
Spend the rest of the day exploring the Uffizi Museum. Among the Renaissance masterpieces, you can expect to see is the Birth of Venus by Botticelli. But you can also admire art from a large number of Italy's most famous artists as you wander through corridors lined with sculptures and paintings.
The Giardino di Boboli garden is also a must-visit while at the Uffizi. The museum and gardens deserve at least 2-3 hours but if you find that you have spare time, it's perfect to wander around the streets soaking in Tuscany's capital city before dinner.
Round off the day with a nice pizza or pasta in a nice restaurant.
If you want to swap out anything on the itinerary for something more adventurous, why not embark on one of the epic cycling tours of Tuscany's breathtaking countryside with some wine tasting or a Tuscany Vespa tour?
For affordable luxury, stay at Alfieri Signature Suites – Alfieri Collezione, a short stroll from Ponte Vecchio and Florence's old town. However, if your budget isn't quite there, check out Guest House L'Aranceto only a couple of kilometers from the center. This cute guest house has a free bike rental and a bus stop right outside that takes you into the main sights.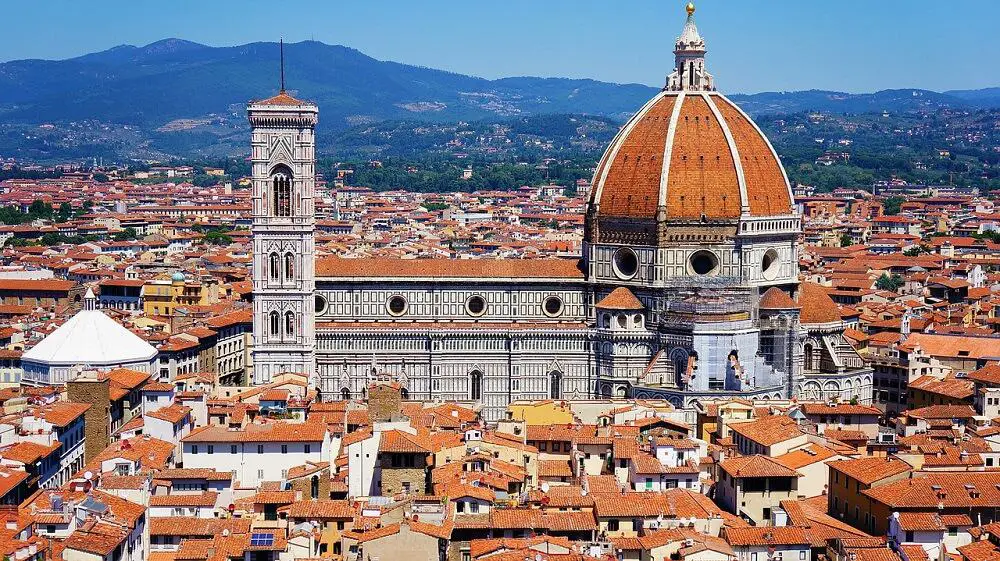 Day two – Florence – San Gimignano
After breakfast, start your second day of this Tuscany road trip itinerary by heading to the Basilica di San Lorenzo and the Medici Chapels. The church once used to be Florence's main basilica and dates back to the year 393.
The highlight is the Medici Chapel where the Medici family is buried. Michelangelo himself built the sculptures of Giuliano and Lorenzo Medici's tombs in the New Sacristy, which is one of three parts, the others being the Chapel of Princes and the crypt.
You should also explore the Cannon's Cloister and the Museum of St. Laurence Treasure and Cellar, Donatello's burial place.
After this cultural visit, have some lunch before it's time to get the car and head to San Gimignano. But don't worry, you'll be back in Florence for the last day of this Tuscany road trip to explore more.
READ MORE ABOUT FLORENCE
---
It takes one hour to drive from Florence to San Gimignano, but if you're in the city center, you might take a little longer to get out of the city chaos. Drive south towards Siena and follow the signs right towards San Gimignano just before you get to Poggibonsi.
You can either walk around San Gimignano and soak in the medieval town before dinner or stay at a vineyard and drink nice wine and wander in the Tuscan countryside to relax a bit after a couple of culturally rich days in Florence.
If you're going to spend extra money on one hotel and one experience during your Tuscany road trip, I highly recommend you spend your evening in the countryside surrounded by vineyards tasting the local produce.
Nothing can really compete with that and this is the place to do it! I've recommended a place to stay that I loved for just this below and you can take a leisurely walk through the vineyards in the morning to reach San Gimignano in under an hour.
For a true Tuscan experience, stay at Fattoria San Donato in the middle of the vineyards 3,5 km from San Gimignano. You can stay for dinner and as they produce their own organic wine and olive oil, there is no reason to go anywhere else for the night. There's even an outdoor swimming pool. However, if you prefer staying in the heart of town, try Hotel Bel Soggiorno. For smaller budgets, stay centrally in the historic 1300's building Locazione Turistica Totti.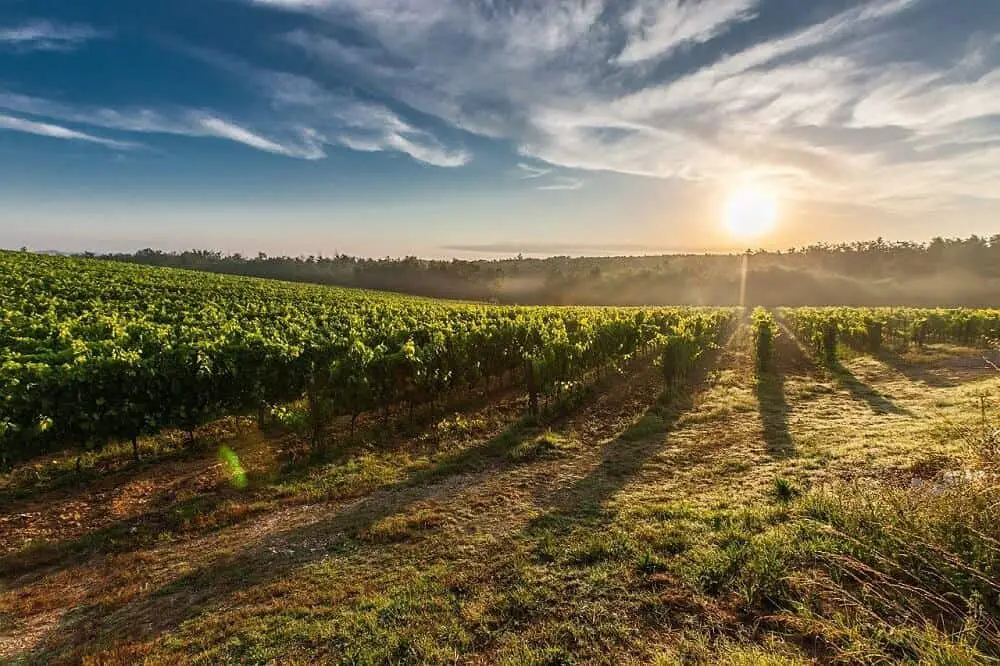 Day three – San Gimiginano – Siena
Spend the day exploring the highlights of the medieval hilltop town. For being such a small place, there are a lot of things to do in San Gimignano.
Head into the heart of the historic center to Piazza della Cisterna where you can see an ancient stone wall in the middle of the square, surrounded by medieval houses and towers.
San Gimignano is famous for its towers. Now there are only 14 remaining, a reminder of the once-wealthy community that featured 72 towers built by the patriarch families to show off their wealth.
The highest of the remaining towers is the 54 meters tall Torre Grossa that's worth a climb to get a bird's eye view of the village and surrounding vineyards.
Then head to Piazza del Duomo where you find the Duomo di San Gimignano and Palazzo del Popolo where you can admire frescos painted by some of Tuscany's leading artists.
Finally, make sure you check out the ancient fortress ruins of Montestaffoli which once protected the town from Siena. Also, make time to stroll around the cobblestoned streets and have a nice lunch at one of the restaurants during the day.
---
When you've explored San Gimignano, it's time to continue your Tuscany road trip to Siena. The drive takes about 45 minutes past Colle di Val d'Elsa and Monteriggioni.
After you've settled in at your hotel, go for a stroll in the old town while looking for a nice place for dinner. The cobblestoned streets are super charming at night and bustle with life.
For a serious luxury experience next to Piazza del Campo, stay at the Grand Hotel Continental Siena – Starhotels Collezione. The 5-star hotel is almost like staying in a museum with beautifully decorated walls and ceilings covered in frescos. For a mid-range budget, stay at Hotel Athena and for a budget stay, try B&B La Verbena 3 km outside town or Villa Socini at walking distance from the historic sites.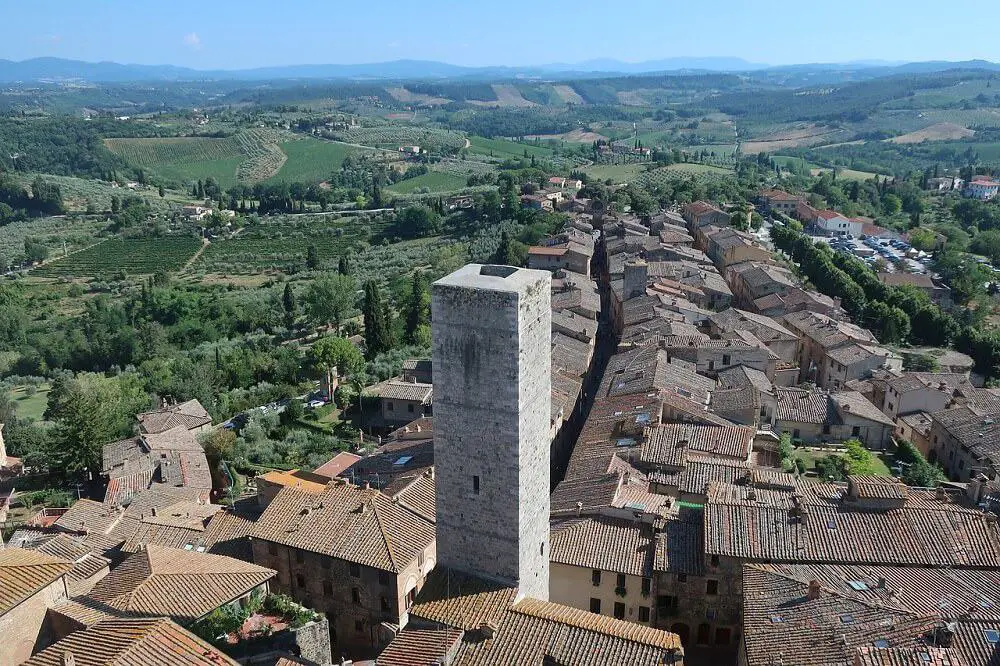 Day four – Siena
It's fully possible to see Siena in one day and still leave a bit of time for enjoying a nice lunch at one of Italy's most famous squares, Piazza del Campo.
The shell-shaped square is home to a few of Siena's main attractions, like Torre del Mangia, where you can climb the top for a bird's eye view of the square, The Civic Museum, Palazzo Publico, and the Fonte Gaia fountain.
You can easily explore all of that before lunch and after lunch, you can head to the Duomo of Santa Maria Assunta, Siena's mesmerizing cathedral where you also can visit the Baptistery of San Giovanni, the Crypt, Museo dell'Opera, and the astounding library, Libreria Piccolomini.
If you have any remaining time before dinner, spend it getting lost in the streets and soak in the medieval feel this amazing town still breathes.
RELATED: Siena from Florence day trip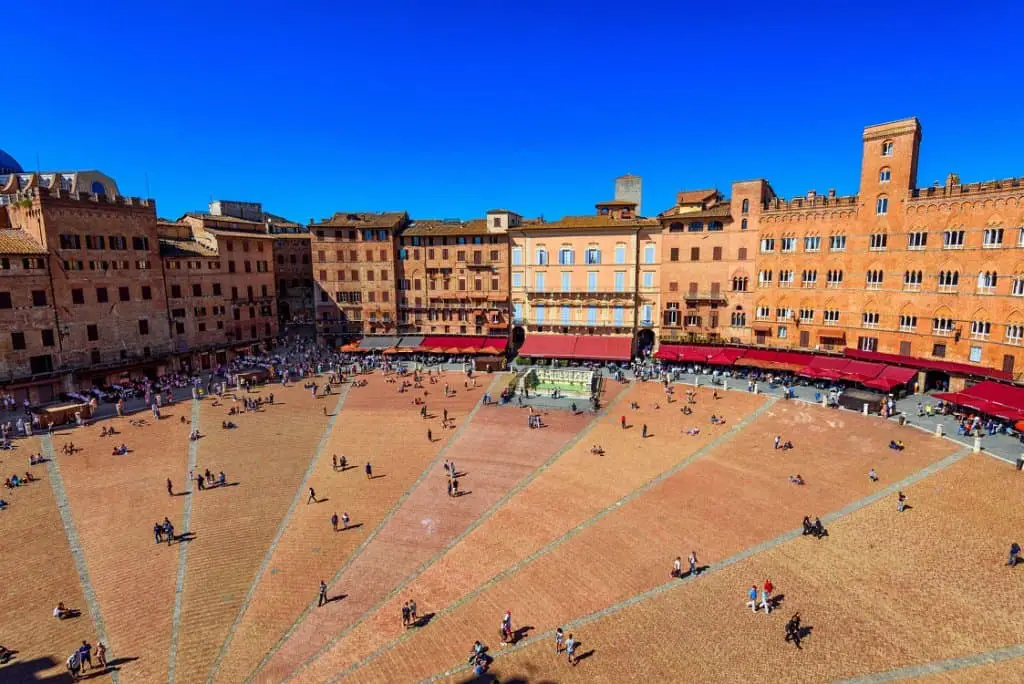 Day five – Siena – Monteriggioni – Volterra
On day five of this Tuscany road trip, you need to get up early as you'll be starting the day, after a good breakfast and aromatic Italian coffee, with driving to the walled town of Monteriggioni. The drive only takes 20 minutes and there is a big paid parking lot outside the walls with a short walk up a set of stairs to enter the gates.
Monteriggioni might just be the smallest town in the whole of Tuscany, but that doesn't mean it's a grand place to visit and with its proximity to the main road it's become a popular stopover.
The dramatic history of the fortified town started in 1213 when it was built as a Siena defense strategy to protect the region against the Florentine. From the early 14th century, the Monteriggioni served as the Italian Brotherhood of Assasins' headquarters. Further, the world-famous video game Assasins Creed is among other Tuscan destinations, set in Monteriggioni.
With this history, it's hard to pass on this tiny corner of Tuscany. Walk through the town to the main square Piazza Roma, where you'll find the Romanesque-style church of Santa Maria Assunta. There are also a few restaurants where you can have lunch before continuing on your road trip through Tuscany – or you can wait until you arrive at your next destination.
But before you leave, this unique place, make sure you climb the city walls. There is a small entry fee of 1,50 Euros (at the time of writing) but it's absolutely worth it.
---
When you're ready to leave, you have a 45-minute drive westwards, to the bigger walled town of Volterra.
When you've settled in your hotel and had lunch if you didn't eat in Monteriggioni, head to the Pinacoteca and Civil Museum. Take in the astounding paintings and sculptures from different artists featured in the 15th century Renaissance structure. You'll also find ancient ceramics and even the Medici coin collection.
The rest of the evening you can wander the streets and find a nice restaurant for dinner and wine.
Stay in the historic center of Volterra at Hotel La Locanda or for lower budgets, check out Chiostro Delle Monache Hostel Volterra set in a 15th-century monastery and only a short walk from the city walls.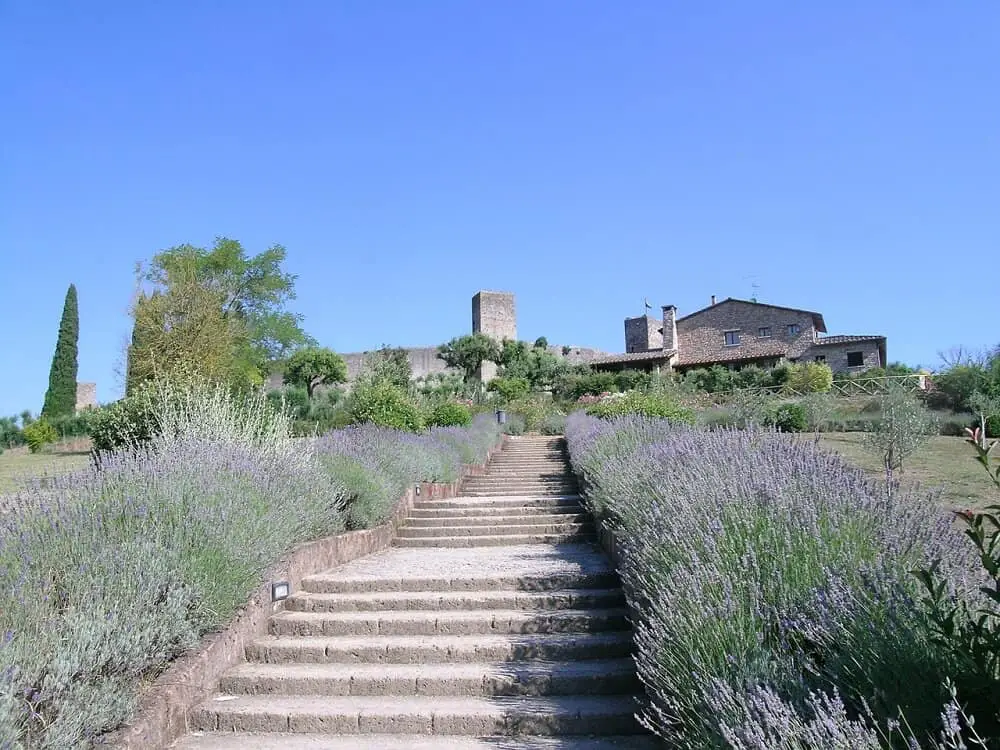 Day six – Volterra – Pisa
Start the morning early with a good breakfast and head outside the city walls to see the Teatro Romano, a large archaeological site where you can maze at the remains of a Roman theater dating back to the first century. You should also visit the Parco Archeologico Enrico Fiume to see the remains of a second-century Etruscan Acropolis.
Nearby, you can see the Medici Fortress, though not open to visitors (it's actually a prison now,) it's still a unique structure with a dramatic history.
For lunch, head to Piazza dei Fiori where you also find the 13th-century Palazzo Pretorio and the oldest Town Hall in Tuscany, Palazzo dei Priori, built between 1208 and 1257.
After lunch, head to Palazzo del Popolo and visit Duomo Santa Maria Assunta which is a beautiful blend of different architectural styles from different centuries.
The 13th-century baptistery is the most prominent structure in Volterra and stands individually from the cathedral. You can also visit the Diocesan Museum of Sacred Art that's found in the monastery next to the baptistery.
Before continuing your Tuscany road trip to Pisa, make time to wander the cobblestoned streets of Volterra to soak in the dramatic history that lived in the medieval walls. Make sure you don't miss out on the Arco Etrusco, and the ancient gate in the walls that was later rebuilt by the Romans.
---
The drive from Volterra to Pisa only takes about an hour, but if you plan on having dinner in Pisa, you shouldn't leave it for too late so you get time to get settled at your hotel too.
In Pisa, stay centrally at B&B Di Camilla, a wonderful and homely feel. For lower budgets, check out My Way. It's a super friendly hotel within walking distance from the Leaning Tower of Pisa – great value for money!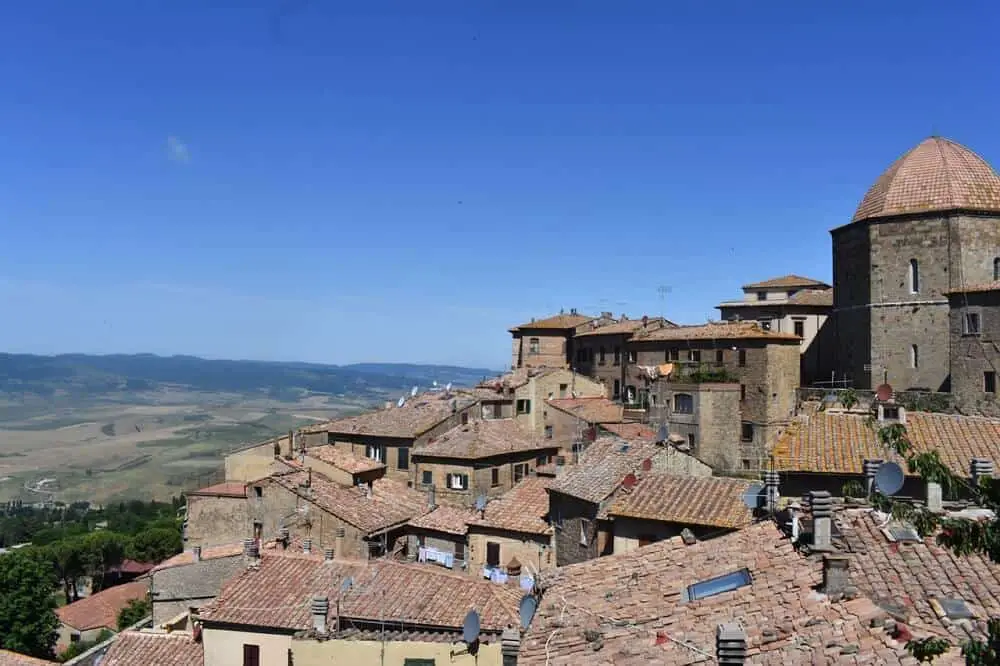 Day Seven – Pisa-Lucca
You're on the seventh day of your Tuscany road trip and in the city of one of the world's most famous landmarks, the leaning tower of Pisa. So get up early, have a breakfast of champs, and head to Piazza dei Miracoli and this iconic tower.
On top of taking fun pictures of the tower, make sure you climb to the top. It's a steep price of 18 Euros, but I'd say it's a bucket list experience. You can see all updated information about tickets and opening hours on the official website here.
Next to the Leaning Tower of Pisa, you can visit the Cathedral of Maria Assunta, an astounding Romanesque basilica.
Make sure you head to Museo dell'Opera del Duomo to admire impeccable pieces of ancient art such as paintings, sculptures, tombs, and embroideries.
The Sacred Field, Campo Santo, is another great site on Piazza dei Miracoli worth seeing.
The cloister was built towards the end of the year 1200 and has an astounding courtyard lined with beautifully decorated arches.
According to legend, it was built on imported soil from Golotha so that the citizens could be buried in sacred ground. Today, the floor is a mosaic of tombs belonging to Pisan patricians.
After exploring all the sites at Piazza dei Miracoli it's time for lunch and there are numerous restaurants to choose from. I do recommend removing yourself a little from the square as prices tend to be higher than necessary.
After lunch, it's time to explore some of the lesser-known yet wonderful attractions in Pisa. The cutest church in Pisa deserves a visit, the Santa Maria della Spina, is a lovely, small Gothic church.
It was actually taken down and rebuilt at the current location in 1871 due to water damage from the river where it used to be.
Head to Piazza dei Cavalieri to maze at the beautifully decorated Palazzo della Carovana and visit the Church of Santo Stefano.
Finally, if you get the time, you should not miss the 10th-century Basilica Romantica di San Pero a Grado. It's said that St. Peter landed in Italy on the exact spot the basilica is built in the year 44 AD when the Mediterranean reached that far up.
---
Driving from Pisa to Lucca only takes half an hour, so you can have dinner in Pisa or Lucca as you please.
For a Tuscan feel, stay at the medieval B&B Villa Corte Degli Dei just a short walk outside of Lucca's city walls. For a charming stay inside the city walls, you can stay at B&B Relais Inn Lucca.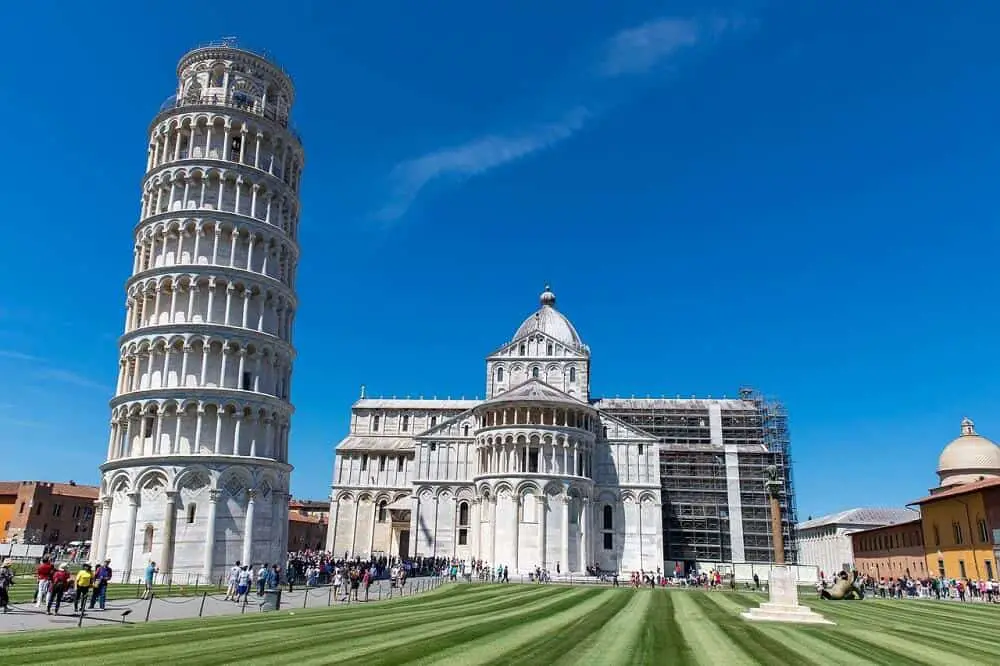 Day eight – Lucca
There are a lot of things to do in Lucca so get ready for yet another jam-packed day of medieval history and intriguing legends. Though you can see Lucca in one day, I've left two days to soak in this town as we're getting close to the end of the Tuscany road trip and you do want to take the time to walk the streets and feel Tuscany when you're there.
So why not start the day by walking on top of the city walls? This is a popular place for locals to jog or cycle so pay respect when you stop for pictures so you don't block the road for others.
After your stroll, head to Lucca Cathedral, one of the most unique in Tuscany where all the columns are unique. It's said that the city held a competition to choose the artist that was going to design the columns, but the citizens couldn't choose among the finalists, thus they used all the different columns.
Next, get a bird's eye view of the old town from the top of Torre delle Ore before lunch at one of the restaurants at Piazza dell' Anfiteatro. The unique square is built on top of an amphitheater that now is buried under the ground. Only some arches are above ground and are incorporated in the pastel-colored, round-shaped buildings shaping the outlines of the structure below.
After lunch, explore the impressive basilicas of San Michele in Foro and Basilica of San Fernando. Then spend some time walking around the cobblestoned streets eating gelato. Maybe you see a nice hidden restaurant where you want to come back for dinner later too.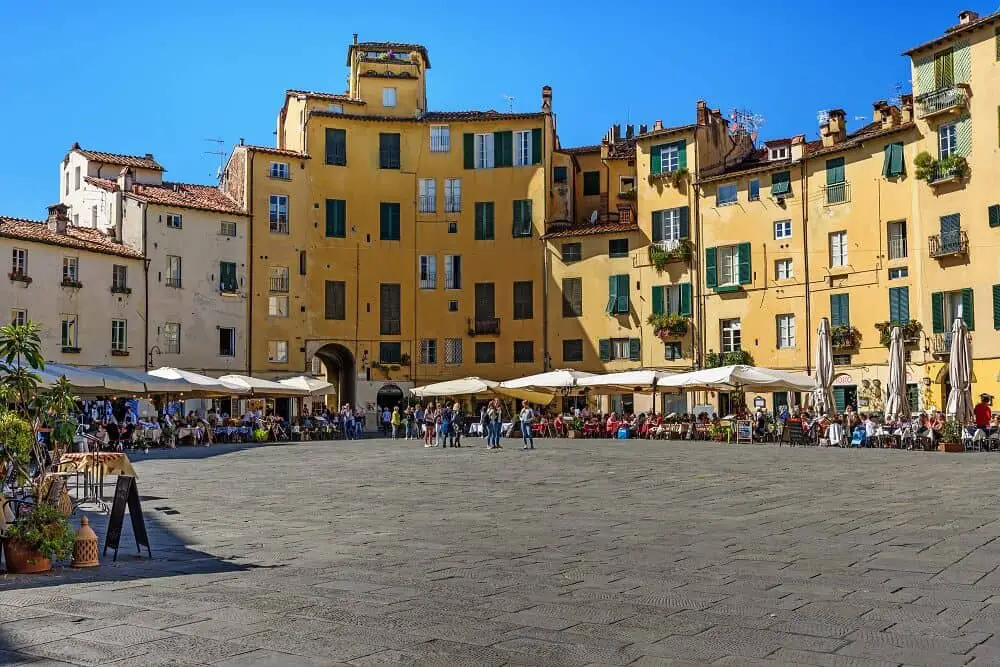 Day nine – Lucca – Florence
Start the day with an abundant breakfast with an aromatic Italian coffee before heading out to soak in more of wonderful Lucca.
Begin with another startling view of the old town by climbing the 14th-century Guinigi Tower. This is one of the few remaining towers in Lucca from the era when affluent Tuscan families competed to build the highest towers to show their wealth.
You should also explore the Museum of Villa Mansi where you can admire Flemish tapestry collections and other pieces of art. Especially beautiful are the Hall of Mirrors and the Music Hall.
Next, head to Piazza Napoleone where you find Palazzo Ducale di Lucca, a political and administrative center over the last 8 centuries where you can appreciate frescoes and statues.
After lunch, you can either spend a few hours wandering the streets of Lucca or head straight to Florence and wander the streets there.
It's about an hour's drive from Lucca to Florence and you might want to return to the same hotel you stayed at last time, or you can check out the options I outlined on day one of this itinerary.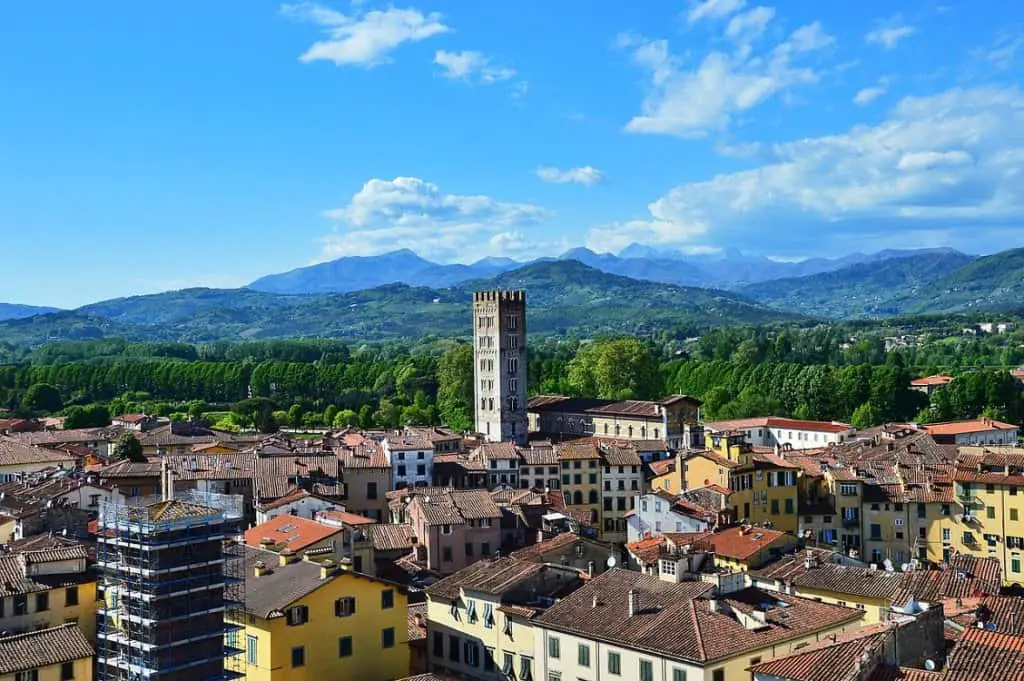 Day ten – Florence
This is the last day of your Tuscany road trip itinerary and you'll spend it in the incredible capital of Tuscany. After breakfast, I recommend that you go straight to the Ponte Vecchio, one of the most unique bridges you'll ever see.
Crossing the Arno river, Ponte Vecchio was the only bridge in Florence that survived World War II. Back in the day, it used to be a defense bridge. Now, it's one of the most photographed sites in Florence. The charming pastel houses with little Mediterranean-style windows look like little dollhouses from afar.
Crossing the bridge, you'll find lines of jewelry and antique shops competing with art vendors to get tourists' attention. Once across, you'll step into Florence old town full of gelato bars (because you HAVE to have more gelato before you leave Tuscany!)
The rest of the day, let yourself get lost in the charming streets of Florence Old Town, eat as much pasta and pizza as you can before you leave, and take lots and lots of photos!
If you would prefer to visit one of the beautiful towns near Florence instead on this last day, you can easily take a day trip from Florence.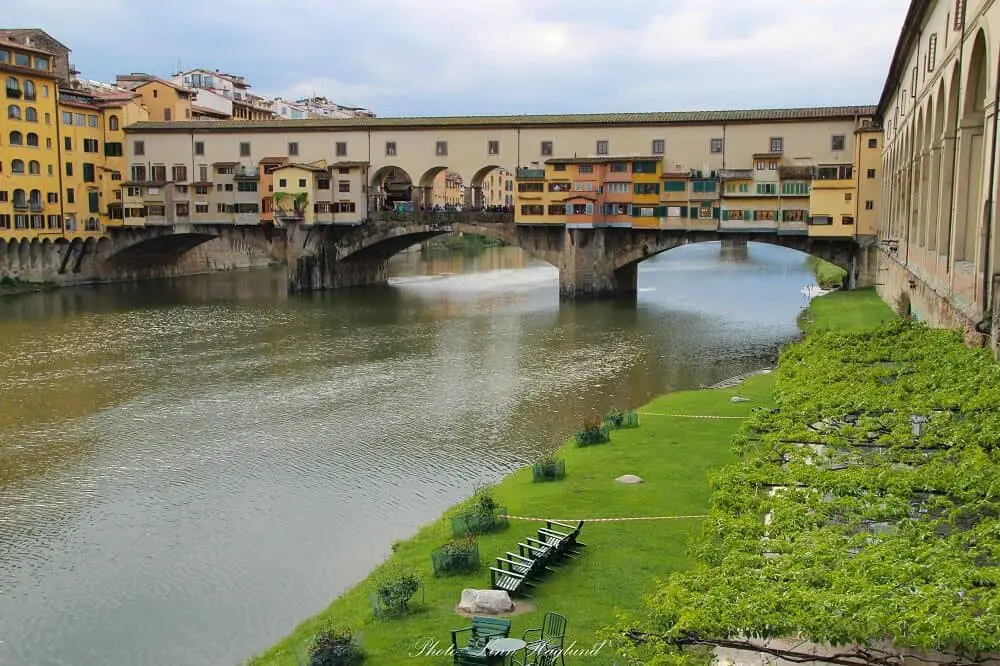 Reflections on this road trip in Tuscany
This is by far the best Tuscany road trip with only ten days in my opinion. You get to see the highlights of both larger and smaller towns as well as a couple of days to discover Florence.
If you don't have a whole week, you can still explore quite a bit of Tuscany on a long weekend break in Italy.
There is no end to the beauty of Tuscany and I really hope you enjoy this road trip through Tuscany as much as I did!
Still haven't booked your rental car? Make sure you do it straight away so you don't risk they're all sold out! Book here.
---
Heading to Rome next? Make sure you read my complete 4 day Rome itinerary before you go!
---
Pin it for later!