Paris is not only an amazing European city that deserves your time, it's also a great hub for day trips to stunning castles, charming towns, other cities, and to a few of the neighboring countries. With the fast trains running these days, there are so many day trips from Paris by train you can choose from so you don't have to get stuck in traffic. Trust me, you just don't want to waste your time on that.
I've driven into Paris before and it's such a waste of time. You can literally take the train to London and back in the same time you try to get out of Paris by car during rush hour. Not to talk about the environmental impact of driving in those queues.
You should at least spend 2 to 4 days in Paris to get the most out of the city, but if you have more time after that, make sure you take at least one of these train trips from Paris.
As the city is situated in the northern part of France, you can easily get on train rides from Paris to the neighboring countries, explore, and be back the same day.
Disclosure: This post may contain affiliate links. That means that if you make a purchase through one of those links, I will get a small commission at no extra cost to you. If you have any questions about these services or products, feel free to ask me.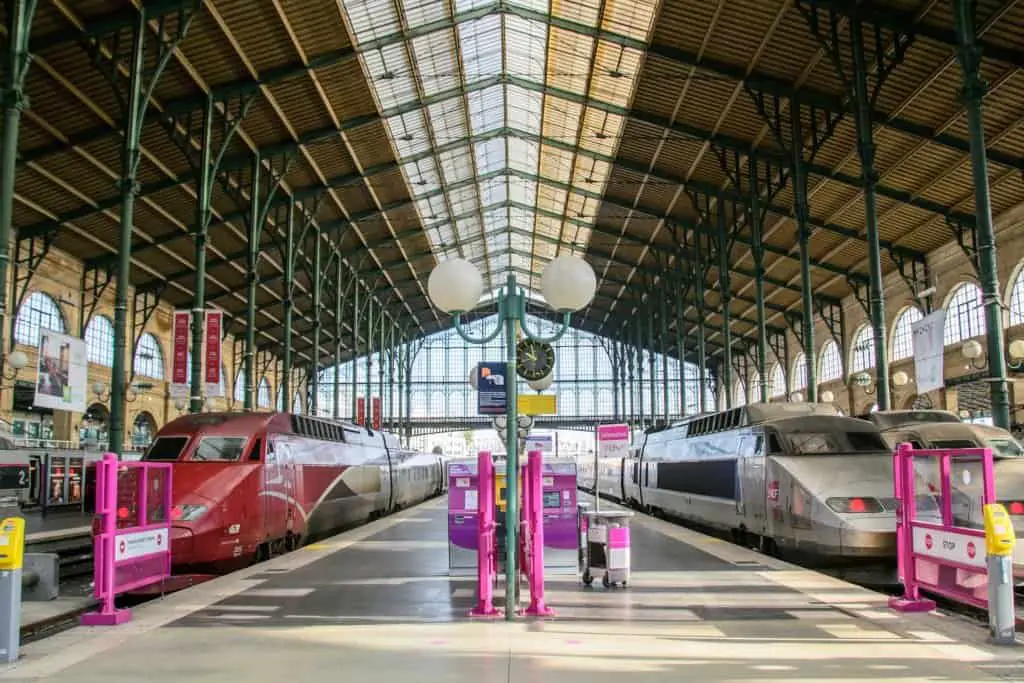 How to take the train from Paris
There are many big train stations in Paris and I'll go through the main ones. You can buy your tickets at the train station on ticket machines with cash or card, in the ticket office, or online.
Remember to check if your ticket is pre-validated of not. You have to validate your ticket before you board your train. In case you forget, look for the conductor before he or she finds you, to make them validate it for you.
Gare du Nord
Paris has several large train stations, Gare du Nord being the main train station and Europe's busiest. From here, you can take the high-speed trains Eurostar to London, or TGV to pretty much all over France and beyond.
Gare Saint-Lazare
Gare Saint-Lazare is the oldest train station in Paris and second busiest. The train station serves trains to the north-west of the country.
Gare de l'Est
Gare de l'Est is mainly known for the Venice-Simplon Orient Express, known from Agatha Christia's crime book "Murder on the Orient Express".
But the train station serves most of north-east of France and neighboring countries.
Gare de Lyon
Gare de Lyon is the third busiest train station in the country and serves trains towards the southeast and east. Dijon, Lyon, Switzerland, Italy, and Spain are some of the destinations from there.
Gare d'Austerlitz
This train station has a dark history. It was used for transporting Jews to the camps during World War 2. On the other hand, it was also where they evacuated children to safety in the countryside.
Gare d'Austerlitz is the train station serving central and southern France.
Gare de Montparnasse
Gare de Montparnasse is said to be the world's second-ugliest building. How is that for being Paris?
Nevertheless, it's a useful building. It gets you to all of western and southwest of the country and as far as northern Spain.
---
Pre-book your train tickets here
---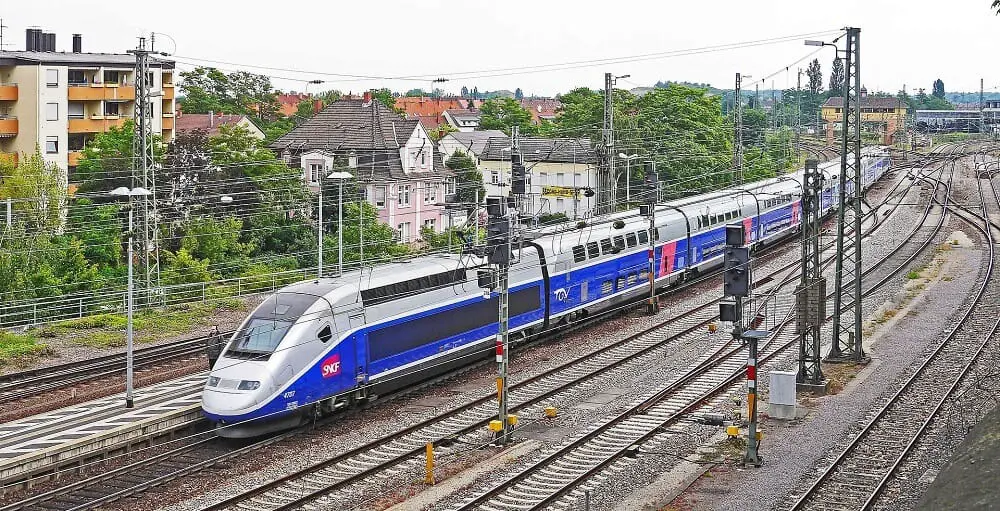 Best day trips from Paris by train
Are you ready to check out train trips from Paris? There are some pretty cool destinations here that you might not have thought about.
Metz
The amazing city of Metz, mainly recognized for the astounding cathedral, is one of the best train trips from Paris and the perfect day trip. The charming city is flourishing with flowerbeds and green spaces, especially along the river and there are plenty of things to do in Metz.
The Gothic Saint-Etienne Cathedral is one of the tallest in Europe, with its 42 meters and can be seen all the way from the highway when passing the city. Its construction started in 1220 and tok more than 300 years to finish.
Stroll through the charming Imperial Quarter or visit the permanent covered market, Marché Couvert, a must for any foodie.
Another basilica worth visiting is the Église St-Pierre-aux-Nonnains, one of Europe's oldest churches dating back to 380 CE. However, the structure was first declared a house of God in the 7th century. Originally it was built to be the gym of a Roman spa.
Visit Metz Art & History Museum or marvel at the medieval architecture at Place Saint-Louis, in the old town. Close to the square you also find the church of Saint-Maximum which is well worth a visit.
Take the train from Gare de l'Est to Metz.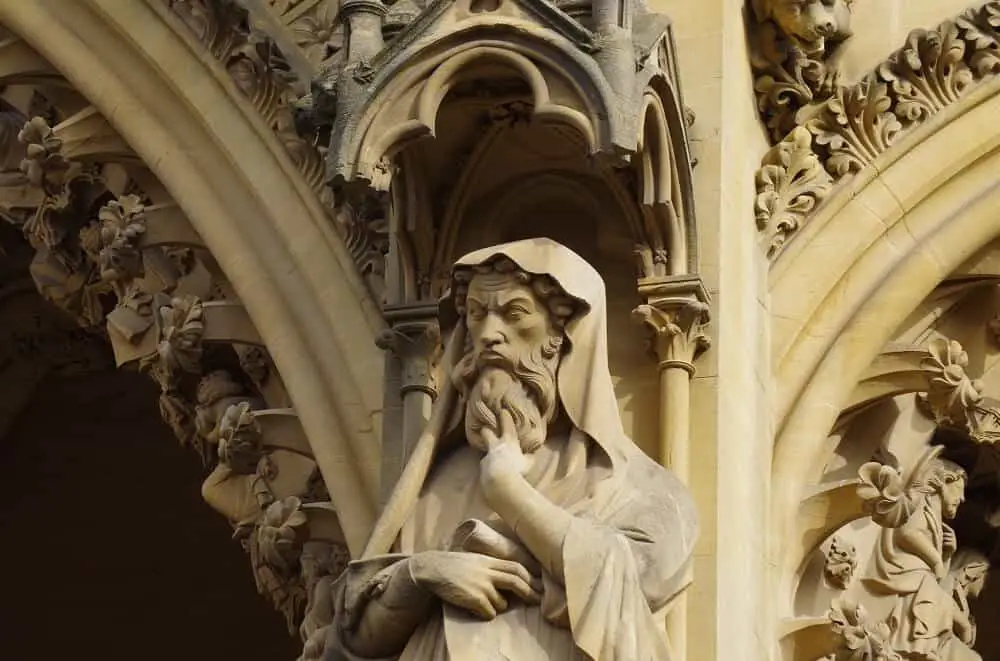 Dijon
By Lily of Imperfect Idealist
Dijon, France is the capital of Burgundy and the birthplace of Dijon mustard. The town is small but charming, and is easily explored by foot in one day.
There are multiple trains from Paris to Dijon daily; the cheaper regional train (TER) takes 3 hours one way, and the faster train (TGV) takes 1,5 hours.
Dijon is perhaps best-known for its mustard, which you can sample in the Maille or Edmond Fallot mustard shops. Edmond Fallot is especially fun, as they have a mustard vending machine.
The architecture of Dijon is also famous, featuring half-timbered houses and colorful tiled roofs. For best examples of this traditional Burgundian architecture (and a great spot for those Instagram pics), visit Place François Rude and Hôtel Aubriot.
Rue Verrerie is another beautiful place to wander and admire, as it's full of half-timbered houses, dessert shops, and unique stores.
If you're a fan of museums, you can visit the nearby Musée des beaux-arts for free; be sure to at least walk around the courtyard, as the museum's white stone architecture is beautiful – the building actually used to be a palace for the dukes of Burgundy!
Before heading back to the train station at the end of the day, stop by at the Jardin de l'Arquebuse, a nearby botanical garden with a free museum of natural history.
Strolling through the garden is always pleasant, but is especially nice in the spring, with the flowers and wisteria-covered archway.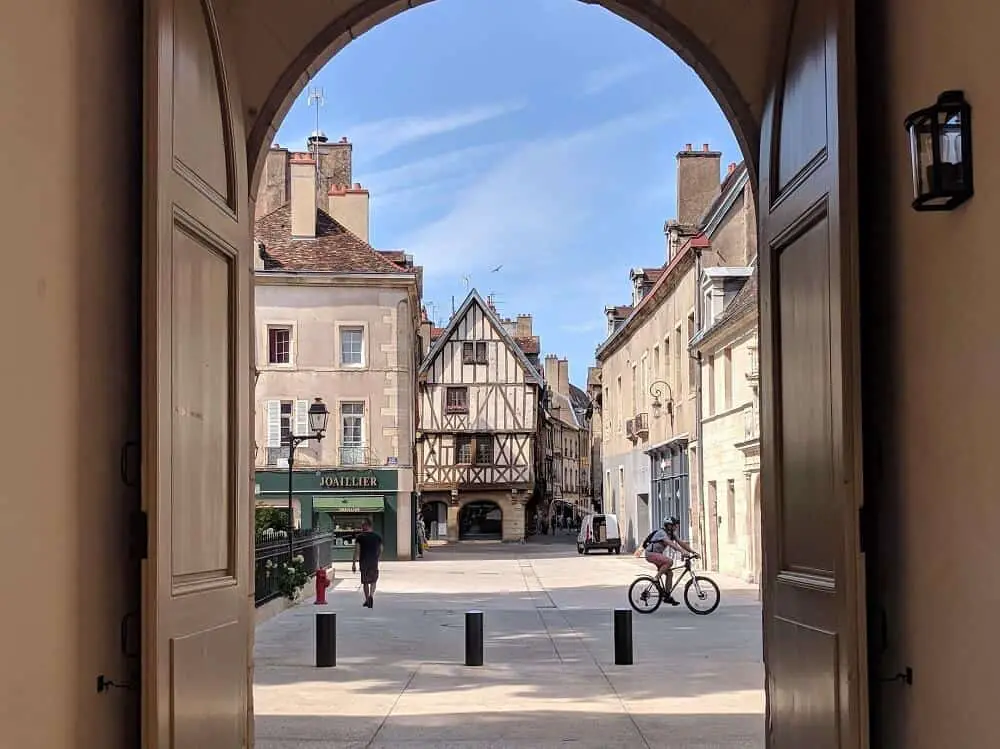 Colmar
By Elisa of Travel France Bucketlist
Colmar is one of the most beautiful towns in the French region of Grand Est and a must-stop of the Alsace Wine Route in Eastern France. It is also one of the biggest towns so there are plenty of things to do in Colmar to keep you busy for a while.
Colmar is located 500km south-east of Paris, with fast connections by TGV train. The train ride from Paris Gare de l'Est to Colmar takes less than 3 hours, and is one of the most beautiful places to visit near Paris by train.
People visit Colmar mainly for sightseeing, the town has a beautiful traditional architecture of half-timbered houses. Colmar also has water canals which make the town even prettier.
It is possible to navigate some parts of the canals by small boats but the lines to get one are always long!
Colmar is the birthplace of Auguste Bartholdi, the French sculptor who designed the Statue of Liberty in New York. The town has a small museum dedicated to him where visitors can learn more about this artist and his masterwork.
A day trip to Colmar is also a good opportunity to taste the regional cuisine and do some wine tastings and perhaps buy some bottles of your favorite wines.
Rambouillet
By Lucile of LucileHR
Located only one hour west from the capital, Rambouillet will be among your favorite day trips from Paris by train and a great way to travel locally. It truly has something for everyone from nature, to culture, and even delicious cheese.
There are so many hikes you can do for all levels in the forest and whether you prefer a light stroll or long-distance running, you are sure to find a circuit you enjoy.
One of my favorites is the one going from Le Perray train station to Rambouillet's, passing through beautiful lakes and rivers and going along a 17th-century aqueduct. It takes between 3 and 4 hours depending on the route.
The forest hosts a wide range of wildlife and is a protected natural space. If you're lucky, you might even see one of the few Wallabies that chose Rambouillet as their new home after escaping from a nearby zoo.
After you're done hiking, you can head to the Bergerie Nationale for some snacks. You'll find fresh cheese made on-site, as well as all kind of dairy products. If you have kids or really like animals, you can also visit the farm and play with really cute goats.
If you are into culture, Rambouillet is also the place for you, as it used to be a residence for Kings, Emperors, and the summer residence of Presidents until 2009. Make sure you plan for a visit of the gardens, as they are really gorgeous.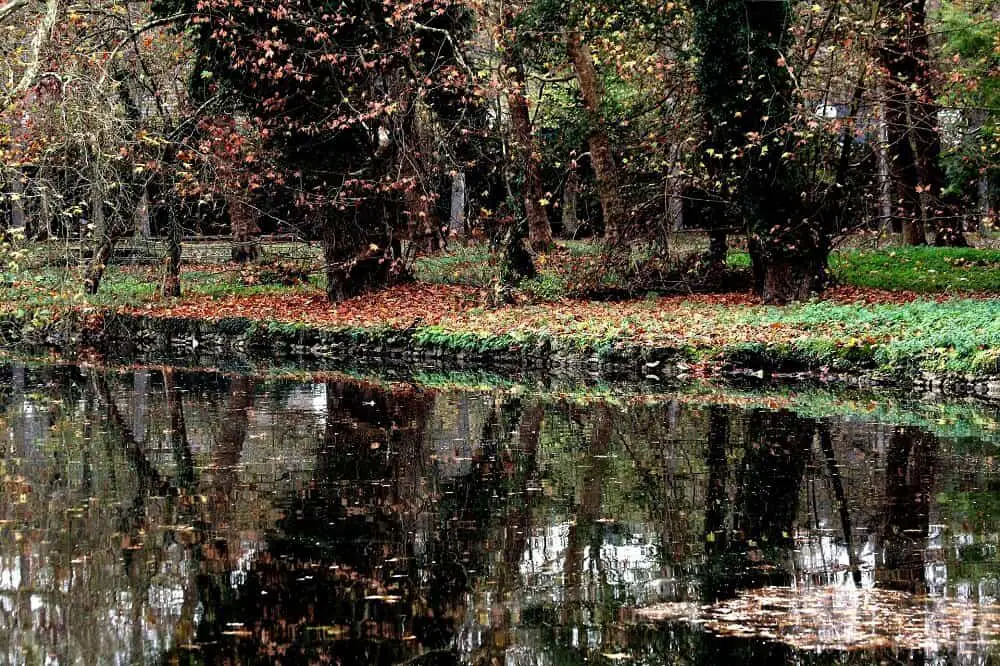 Chartres
By Wendy Werneth of The Nomadic Vegan
The name "Chartres" is virtually synonymous with the town's magnificent Cathedral, which is undoubtedly the main attraction of any visit here.
It's been recognized as a UNESCO World Heritage Site since 1979 and is often referred to as the high point of French Gothic architecture. Built in the 12th and 13th centuries, the Cathedral is remarkably well preserved, considering how old it is.
The two main highlights of the Cathedral are the fine sculptures on both the interior and exterior and the colorful stained glass windows.
Most of the windows were created between 1210 and 1250, while the sculptures range from the 12th to the 18th centuries. Those on the façade date from the construction of the original Gothic Cathedral, while the ones on the choir screen inside were a much later addition.
Once you've thoroughly explored the Cathedral, climb to the top of the tower for gorgeous views of Chartres town and the French countryside surrounding it. Supposedly you can even see the Eiffel Tower from here on a clear day, though you'd have to be pretty lucky with the weather.
Strolling through town, you'll see plenty of picturesque half-timbered houses with flower pots in the windowsill.
There are several restaurants serving traditional French cuisine, and the Thai restaurant Le Pailin is probably the best option for vegetarians and vegans, though it can't compare to the great vegan restaurants in Paris. Trains run regularly between Paris Montparnasse and Chartres and take just over an hour.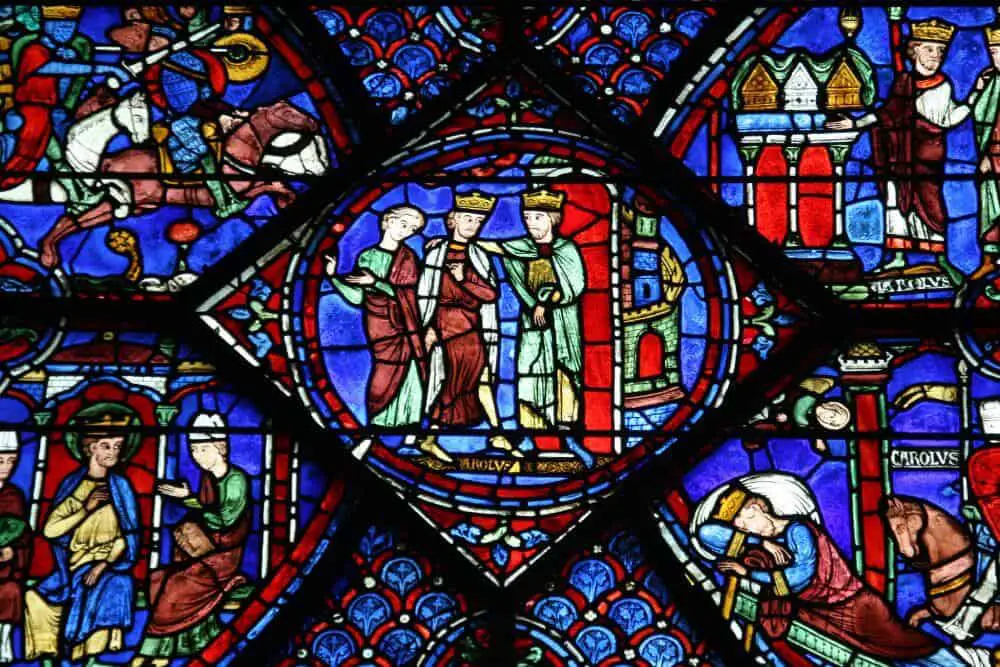 Blois
By Leyla of Offbeat France
If you plan on visiting the best-known chateaux of the Loire Valley, the city of Blois is the perfect jumping off point. Less than 1h 30 from Paris-Austerlitz, it's the kind of day trip from Paris that can satisfy your yearnings for history, culture and discovery all in one.
Blois is known for its royal castle, first and foremost, the residence of kings for centuries and if you're coming for a day, half of it should be spent exploring this extraordinary castle, with four distinct architectural styles and where, rumor has it, Catherine of Medici plotted and planned the downfall of her enemies.
With only a day to spend, you have a choice: you can explore Blois, or you can jump on the chateau Navette bus and spend the afternoon in either Chambord or Cheverny.
If you stay in Blois, walking around is the ideal way to see this town, with its many religious buildings and half-timbered houses. For the best photograph of the city, start walking away from the center of town and cross part of the bridge over the Loire, then look back.
The city as seen from the water is stunning, and if you can be there at sunset, even better.
Should you decide to visit another chateau, then Chambord will give you greatness and space, while Cheverny will entertain you (a museum in honour of Tintin plus a kennel with 150 hunting dogs) and delight you with its perfect decor.
Either way, you'll return feeling you've been on a real journey, not only in space but in time.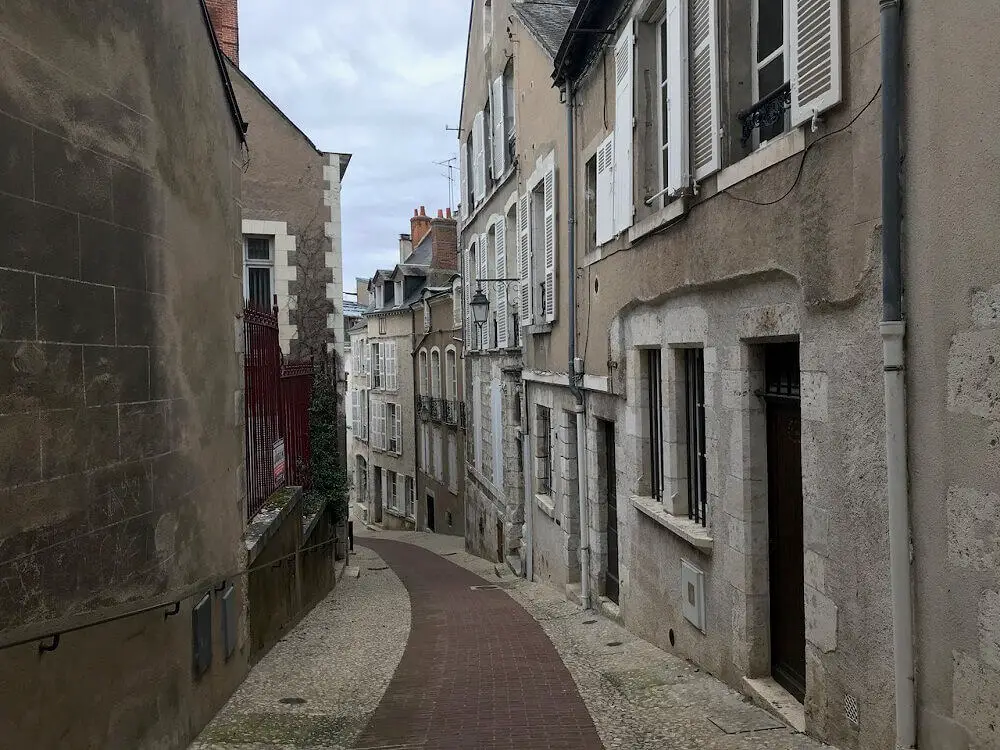 Château de Chantilly
By Norbert of World in Paris
Château de Chantilly is one of the best castles near Paris to visit, a fairy-tale castle located in the town of the same name. It is not a royal castle but it is so pretty that it was admired (and sometimes envied) by Kings and Queens.
In addition, Château de Chantilly is surrounded by magnificent French-style gardens designed by André Le Notre, the same landscape designer who worked on the Gardens of Versailles.
Chantilly is very easy to reach by train. Trains to Chantilly Gouvieux train station leave hourly from Paris Gare du Nord for a train ride of 25 minutes. From the train station, it's a pleasant 10-minute walk through the forest to reach Château de Chantilly.
Château de Chantilly was built in the 19th century by Henri d'Orleans, Duke of Daumale and grandson of King Louis-Philippe I, to replace a medieval construction which was destroyed during the French Revolution.
Henri d'Orléans was the greatest art collector of his time and used the château to display all his artworks and show them to his guests.
His collection of antique paintings is very large – only second after the Louvre – and visitors can see it displayed exactly like when the Duke was living in the castle.
Not far from the château, the Great Stables of the Princes de Condé with the Horse Museum are also interesting to visit. The entrance ticket to the Great Stables usually comes with an equestrian show.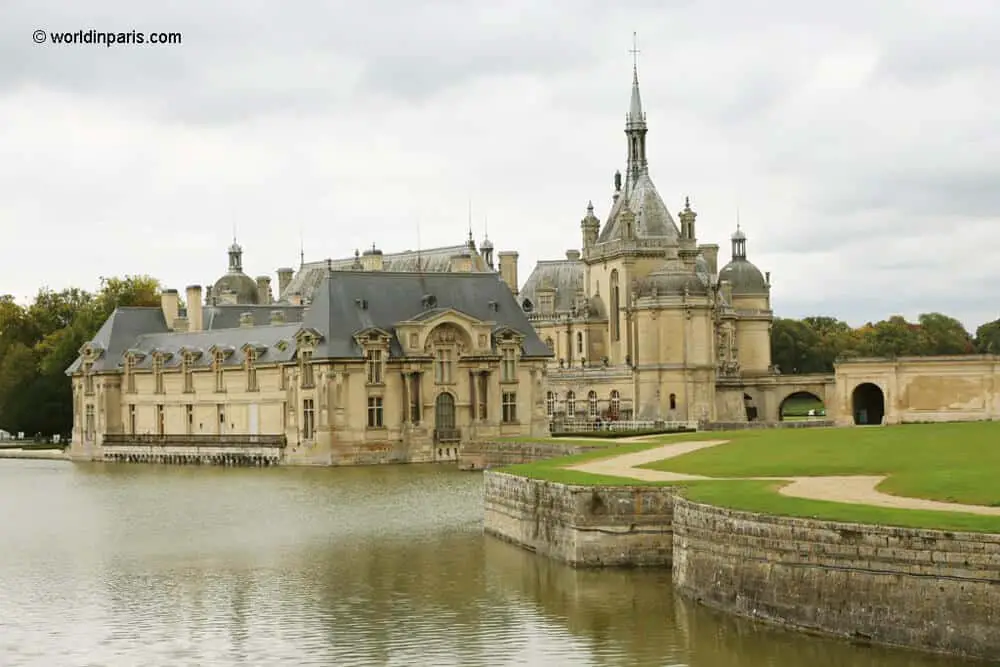 Reims
By Larch of The Silver Nomad
The pretty city of Reims is just a short 46-minute train journey from Paris' Gare de l'Est to the north-east of Paris. Full of history, four UNESCO World Heritage sites and the unofficial capital of the Champagne region, it is not to be missed.
The gothic Cathédrale Notre-Dame de Reims is the first of the UNESCO World Heritage sites to be visited. For more than 1,000 years, the kings of France were crowned at the Cathedral. Famed for its stained-glass windows and statues, including the Smiling Angel, the 13th Century Cathedral saw the crowning of 33 French kings.
Next to the Cathedral is the Palace of Tau. The Palace which was once the residence of the Archbishops of Reims is now a museum which hold many of the items used in the coronations of the kings as well as statues and tapestries.
The Mars Gate, built in the 3rd Century AD, was a Roman-built set of four arches. Only one remains intact today, but at 32 metres long and 15 metres high and is highly decorated.
Reims is also the home to the St. Remi History Museum, the Reims-Champagne Automobile Museum, the art-deco Carnegie library, Gallo-Roman cryptoporticus, the 15th century Hotel Le Vergeur Museum, Reims Planetarium and the Reims Opera House.
No trip to Reims is complete without a visit to one of the champagne houses. There are many to choose from including Veuve Clicquot-Ponsardin, Taittinger, Pommery and Mumm. The perfect way to round off your day in Reims.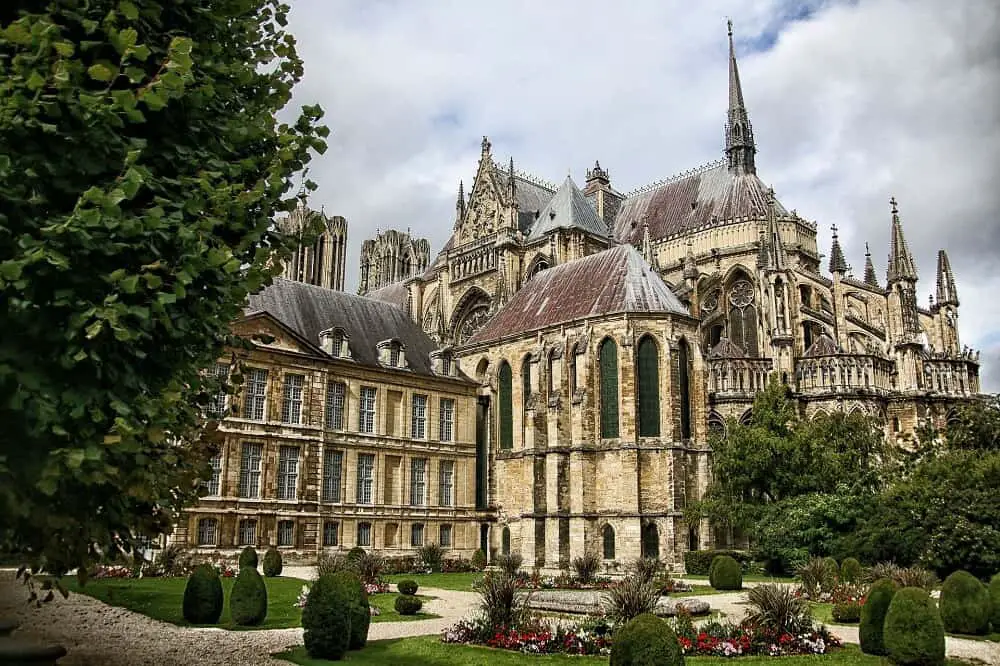 Lille
By Jonathan of Journey Maxx
As the last stop before going through the Channel Tunnel, Lille is perfectly situated almost equidistant between Paris, London and Brussels. It makes it to the list of the best Paris day trips by train, and can be reached in only an hour.
What is most striking about this city is how much closer it feels to Flemish rather than Gallic in influence and especially when looking at its buildings. This most notable in the Place Charles de Gaulle in the heart of Lille and the ornate details of La Vielle Bourse and the Belfry Tower.
If there is one unique thing to Lille you must try then it has to be the glorious sweet treat known as a Merveilleux. This concoction of what happens when you combine a meringue with a chocolate gateau cake is the pride and joy of this region and no better place to sample one than in the Aux Merveilleux bakery.
There is also the Palais des Beaux Artes which is also an essential place to visit to see a wide selection of artworks from the 15th Century to the 20th, and a natural history museum as well worth checking out too.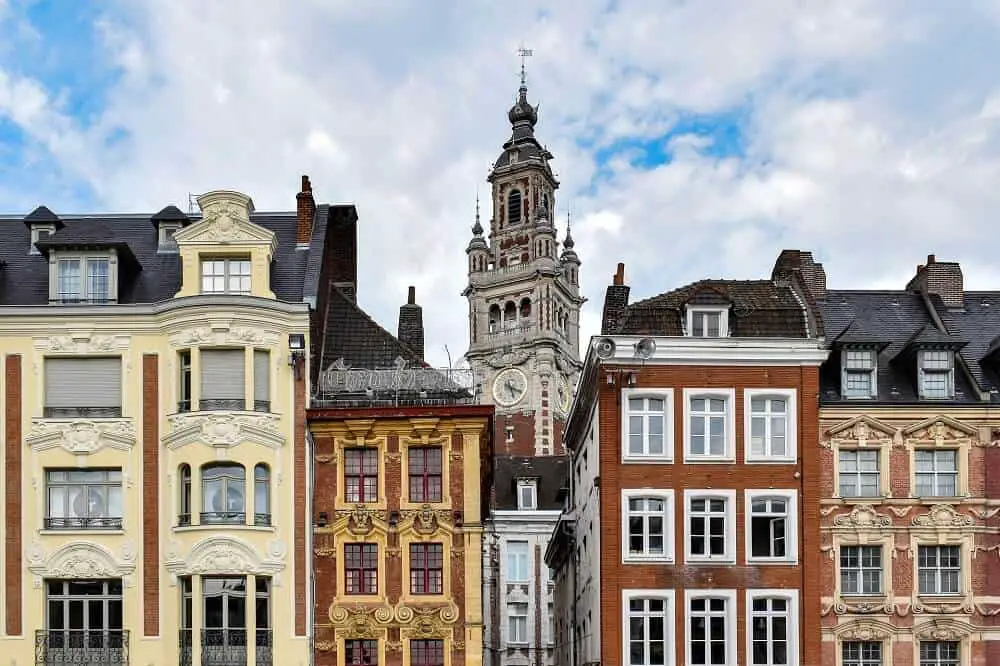 Strasbourg
By Brianna of Curious Travel Bug
Sitting on the border of France and Germany, Strasbourg is a fantastic day trip from Paris by train. The city can easily be reached by high-speed train in only 2 hours. Being on the border, you get an interesting blend of culture that makes up this Alsatian city.
One of the highlights here is the massive Gothic style Strasbourg Cathedral. It's one of the tallest churches in the world and can easily be seen while walking around Strasbourg's Petite France historic district.
Petite France is full of beautiful half-timbered buildings that line canals branching from the Rhine River. One of the popular things to do here is to take a river cruise along the canals to see the city.

If you are visiting France in the winter, this is the perfect day trip to explore a traditional Christmas Market. Strasbourg hosts a massive Christmas Market every year that is spread across the old town and is lit up by Christmas Trees and lights.
While in Strasbourg, you should be sure to try some of the traditional foods. There are plenty of bakeries, candy shops, and restaurants set around Petite France that are worth popping into.
Strasbourg has a completely different vibe than Paris and feels more like exploring a fairy-tale village than a city. Its compact historic district is perfect to spend a day in to explore more of France.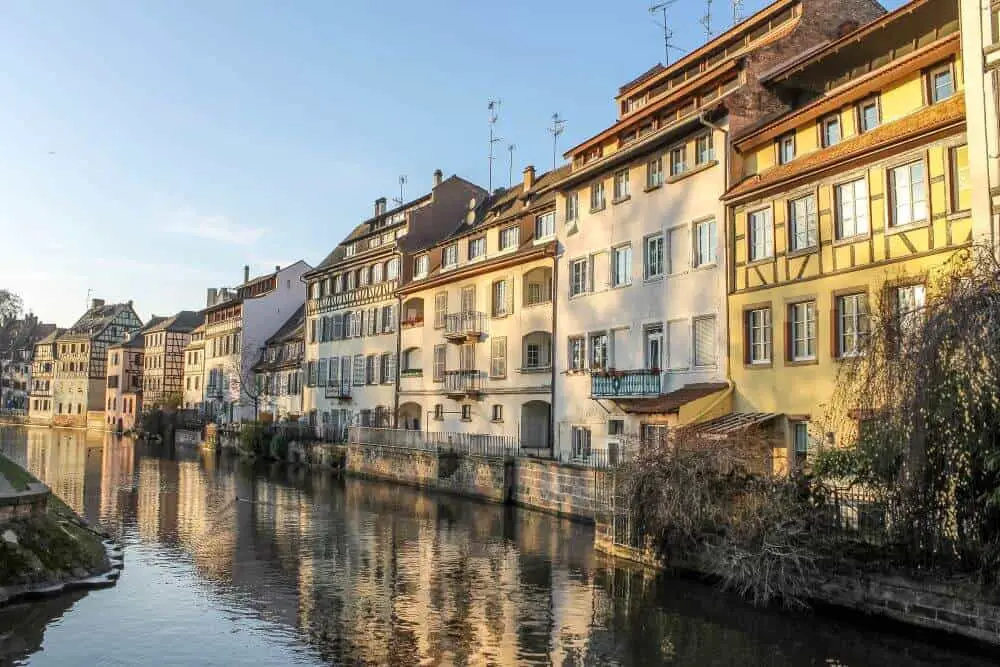 Versailles
By Stephanie of History Fangirl
Perhaps the most popular day trip from Paris by train, visiting Versailles is easy and, quite simply, a must-do on your trip.
If you're learning anything about the French Revolution during your time in Paris, you need to see the opulent palace for yourself to understand the inequality the people of France were facing leading up to it.
To get to Versailles by train, you will need to buy a ticket to the Versailles-Chateua Rive Gauche station. The cost to get from Paris to Versailles on this train line is less than eight Euros per person for the round-trip fare.
When you get your ticket, you will receive two tickets, one for each way of the destination. Hold on to the second ticket!
Once you arrive in the town of Versailles, you have a quick fifteen-minute walk to get to the palace. You should purchase a skip-the-line ticket if you're arriving after the park opens.
Getting a skip-the-line ticket, which you can purchase ahead of time or in the office, allows you to go straight in and avoid spending what could be hours in line!
While here, tour the main palace, little Versaille, and Trianon, as well as the gardens. I encourage you to spend your entire day here since there is so much to see and do at Versailles.
If you drink, you can purchase a small bottle of champagne to enjoy on the grounds. You can also spend time pursuing the gift shop, which is a great place to look for souvenirs from your trip to France!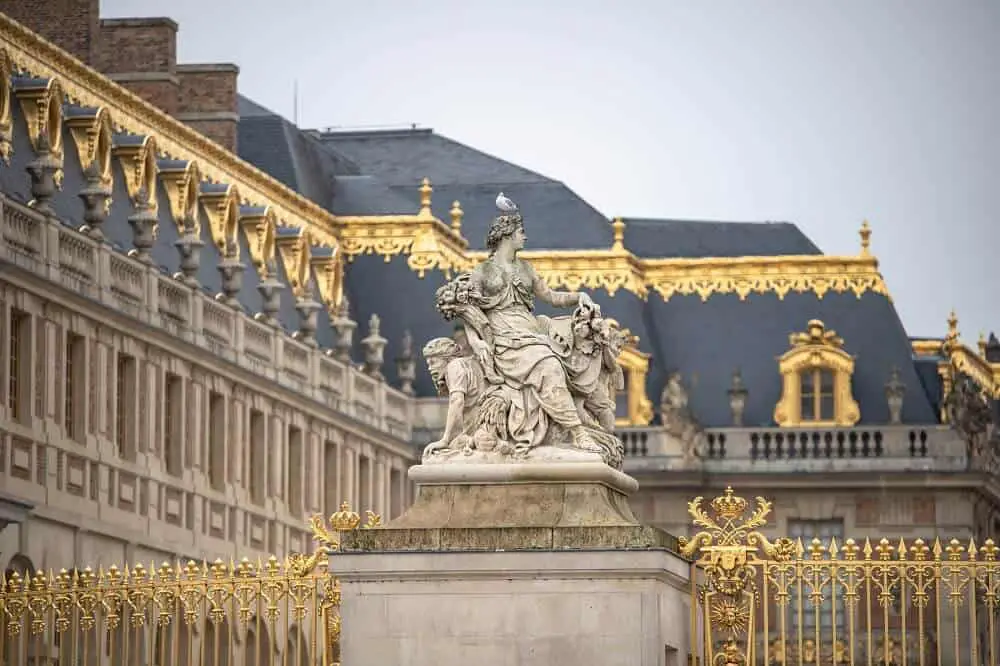 Disneyland Paris
By Krisztina of She Wanders Abroad
If you're planning to visit Paris and you're a Disney fan, you can't miss out on visiting Disneyland Paris! It's only a one-hour train ride away from the city, which makes it one of the best day trips from Paris.
In order to get to Disneyland Paris, you need to board a RER A train at Gare de Lyon and it will take you directly to the entrance. If you have a Navigo Pass or any other type of passes that are valid for Zone 5, you can use them for the train and you don't even need to buy a separate train ticket.
However, if you don't have such passes, you can buy a one-way or return ticket at one of the ticket booths at the station.
There are two parks right next to each other, Disneyland Park and Walt Disney Studios Park.
You can buy a combined ticket which is valid for both parks or you can buy tickets separately as well. Depending on the number of parks you want to visit and your selected dates, you can usually get an adult ticket between 59-109 EUR for one day.
There are many interesting rides inside the park and it's impossible to visit everything in just one day, so if you have more time, you can buy a multi-day pass as well. For an even more memorable experience, stay at one of the hotels onsite!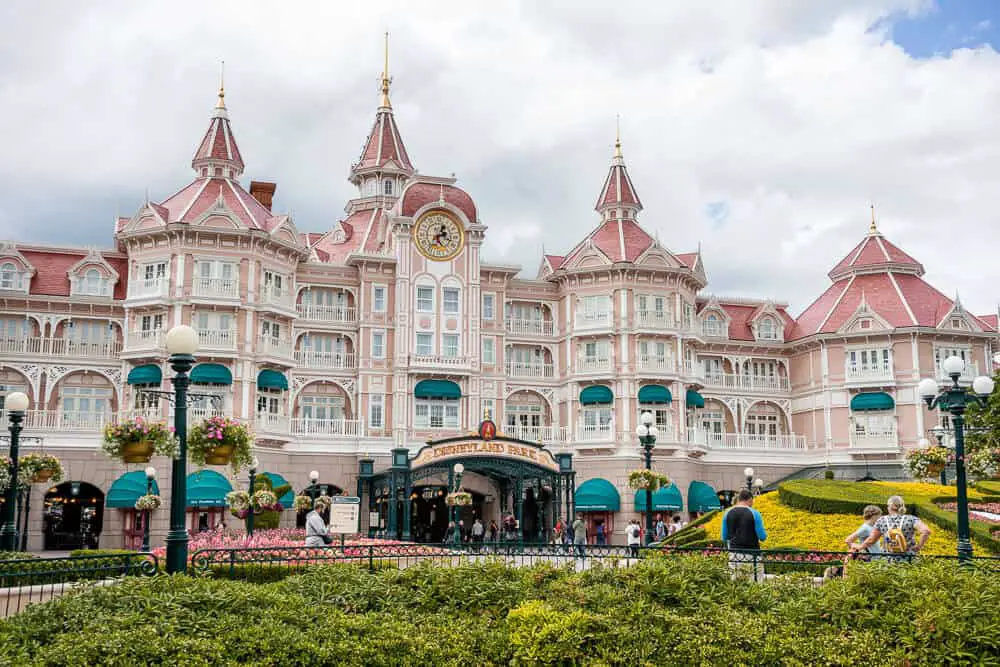 Day trips from Paris by train to other countries
There are also a whole lot of amazing day trips from Paris by train to other countries you can take. Here are some of the best!
London, England
By Sarah of ASocialNomad
Taking the Eurostar from Paris to London for a day trip is quick and easy, the train takes less than 2 hours and 30 minutes and you can maximize your time by planning for your day out in London ahead, having breakfast or a snooze if you get up early for the trip! 
There are 17 trains a day taking this route!  The train takes you right into the center of London where you can kick off your day by taking a tour on one of London's iconic red double-decker buses. 
Once you've seen things from ground level head to the top of St Paul's Cathedral for an awesome view. 
You can easily add some museums to your London itinerary as so many of them are free to enter and we recommend the Natural History Museum for a great exploration on a quick trip.
Wrap up your your day in London with a cruise on the Thames or a trip up the London Eye to see darkness fall over the city and then zip back to St Pancras Station and catch your train back to Paris!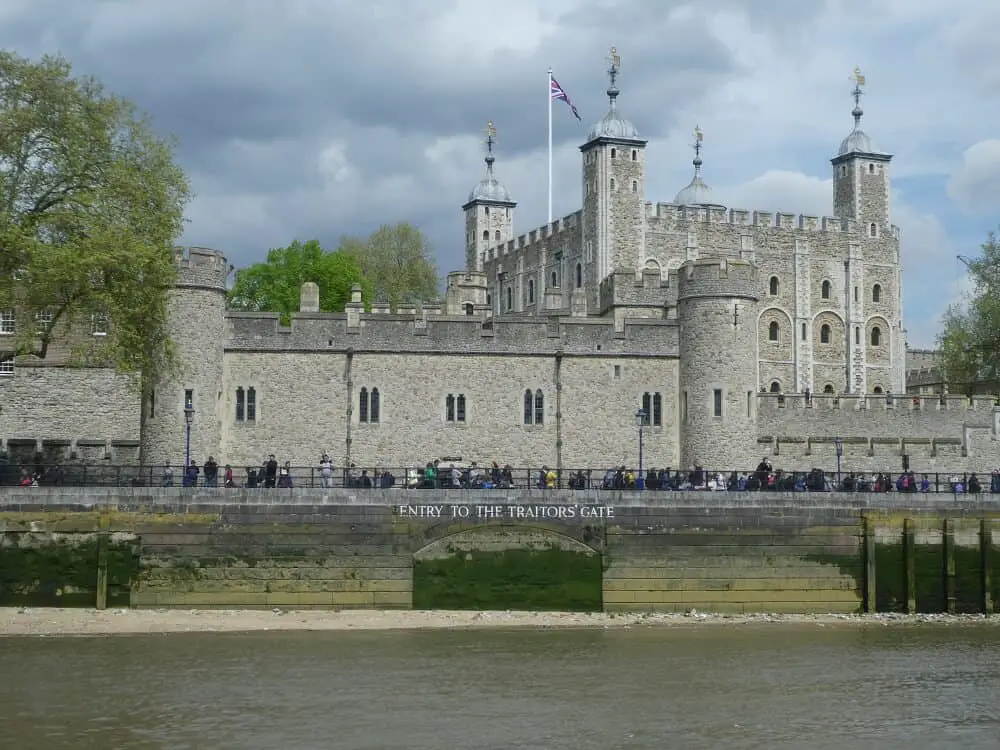 Luxembourg, Luxembourg
By Sharon of Dive into Philippines
Only two hours away by TGV from Paris is the Grand Duchy of Luxembourg, one of those small countries that only European history seems to throw up. Bigger than a city-state (it's Europe's largest mini-state) there's a lot to cover in a day trip.
That said, it is dominated by Luxembourg City in terms of things to do. By far the biggest city, it was once a strategically important fortress and one of the attractions of the city is to walk around the still impressive city fortifications, walls and casements.
My favourite attraction to visit in Luxembourg City is the Grand Ducal palace. They may not be the most well known royal family going around but they are nice enough to let people tour their palatial home over the summer months when they are taking their holidays or staying at their castle just out of town. As a real life palace, it is cool to visit.
For a small city, Luxembourg City has a lot of art galleries and museums. The Nazis stole a lot the country's best historical works but there are some worthwhile contemporary galleries to visit if you enjoy art.
Of significant historical interest is the American war cemetery, located in Hamm on the edge of Luxembourg City, where General George S. Patton was buried following his death in 1945.
There's more to do than just Luxembourg City in Luxembourg and the country has a good network of trains with frequent services. The station in Luxembourg City is the terminus for all the country's lines and this also serves as the stop for TGV services departing from Gare du l'Est. From there it's only a short walk into the heart of the city.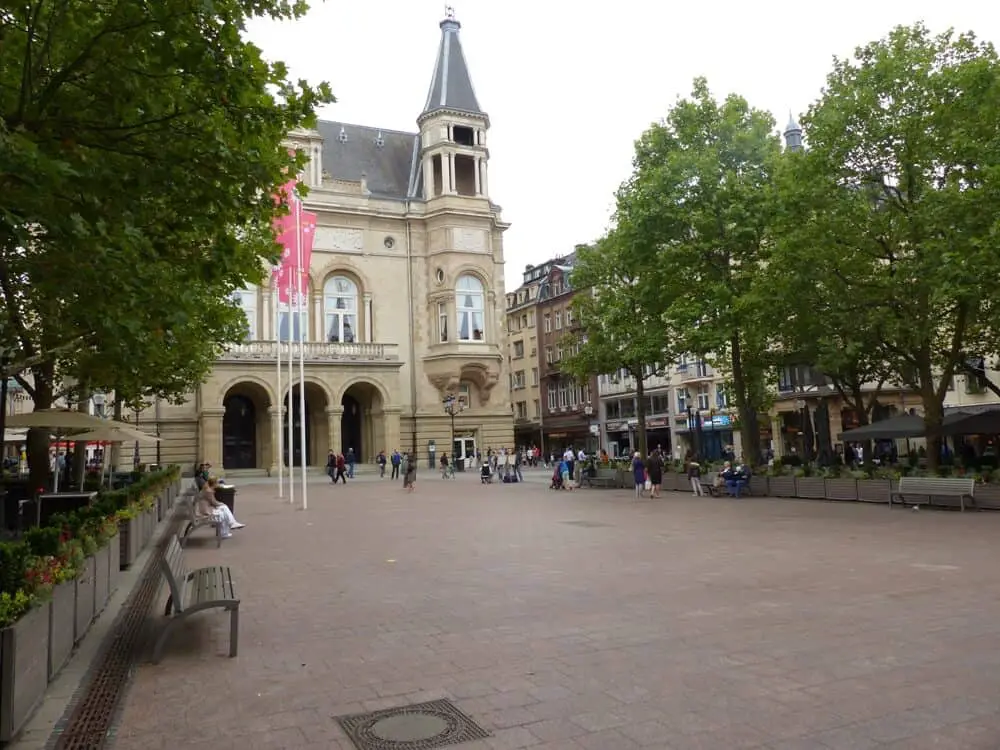 Brussels, Belgium
By Paula of Paula Pins The Planet
One of the best things about Europe is the ability to travel around quickly, easily, and cheaply. One of the best day trips from Paris by train is to Brussels. It's only about 195 miles (314 km) direct from Gare du Nord in central Paris to Brussels-South Station in 1:25 hours. 
The best option is the high-speed Thalys train that you can book directly on their website. I recommend booking it as soon as you know your plans, as the standard class tickets start at $32 but can shoot up to $100 if you purchase them last minute. 
There are many amazing things you can see and experience on a day trip to Brussels, Belgium's incredible capital. The good thing is that Brussels is a very compact town and the main sights can be visited on foot.  
Start your visit to Brussels at the Grote Markt (Grand-Place), considered one of the most important squares in Belgium. While there you can also visit the city museum and the Brussels Town Hall.
The cathedrals of St. Michael and St. Gudula, with the stunning gothic architecture, are so worth a visit too. Take a picture of the famous Manneken Pis Statue, it sounds weird, but it's a classic tourist attraction. 
You can't miss tasting Belgian waffles, they are to die for, and don't forget to buy a large bag of Belgian chocolate to bring home, it is definitely the best chocolate in the world.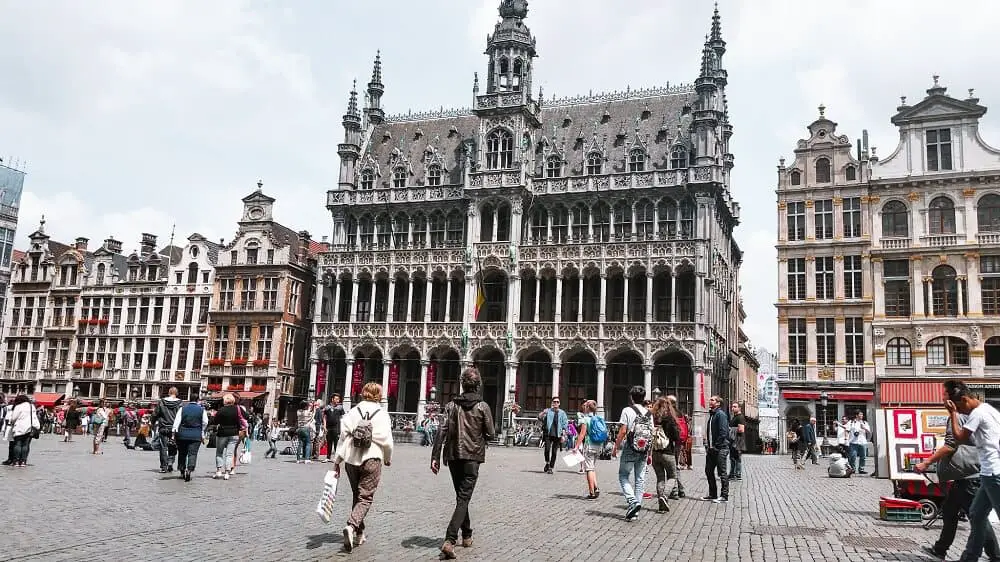 Namur, Belgium
By Philipp of Journication
Destinations in Belgium? I'm sure that Brussels, Antwerp or Liège will be in the top 5. But certainly not Namur. You should reconsider: The capital of Wallonia offers great conditions for a nice city trip: Exciting history, a great old town and picturesque views.
You can reach Namur by train from Paris in around 3 hours – a reasonable distance for a day trip if you don't have the time for a Wallonia road trip.
The old town can be easily reached on foot from the train station. Here you can experience the old splendor of Wallonia. The Place du Vieux Marché with the old stock exchange and the belfry, which is a UNESCO World Heritage Site, is particularly worth seeing. Funny sculptures in front of the stock exchange show the characters Joseph and Francois, the heraldic animal of Namur: The snail!
From there, you can stroll at a leisurely pace through the old town, over old marketplaces, past splendid merchants' houses and for refreshment in one of the many restaurants and bars. Because what is Belgium famous for? – Right: good beer!
The huge citadel shows the strategic importance of Namur at the confluence of the Maas and Sambre rivers. From above you have a magnificent view of the old town and the entire region.
There is a lot to discover in the extensive fortress area. Old gates, defense towers and the castle of Namur. The guided tours in the underground facilities and exhibitions, which provide a lot of information about the history of the city and the citadel, are particularly exciting.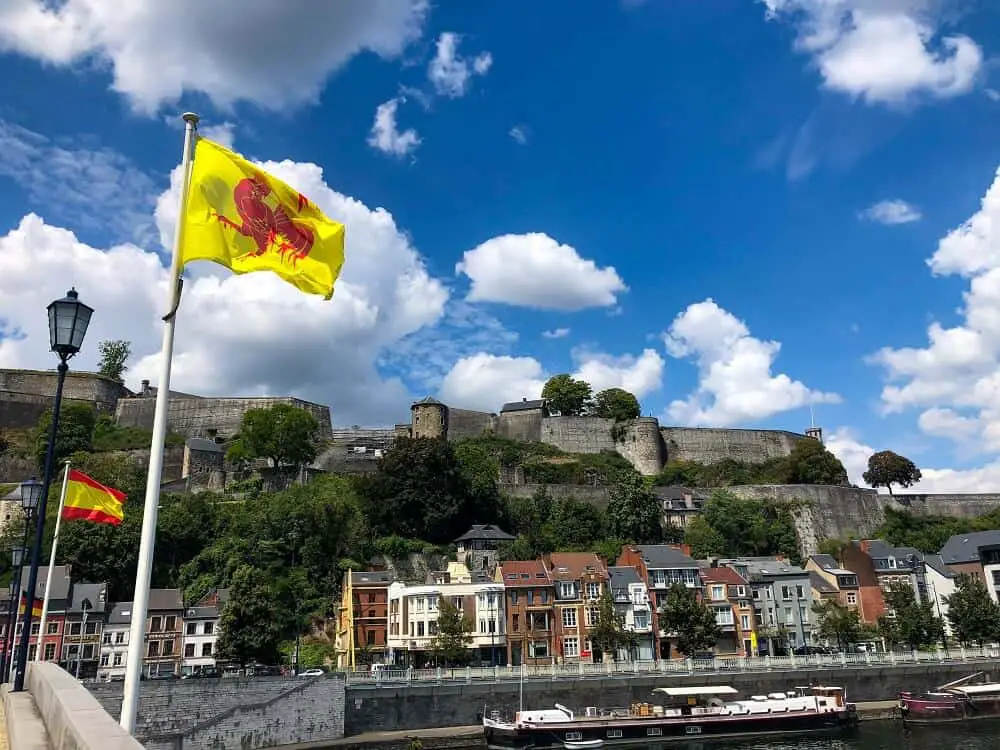 Liege, Belgium
By Paulina of Paulina on the Road
If you're planning for day trips from Paris by train, make sure to book a ticket for Liege, Belgium. It is the third-largest city of Belgium in terms of population and likewise is an attractive tourist place. 
It's worth visiting Liege, Belgium, because of its unique style of churches, buildings, museums, art galleries, and many more, all designed like-heaven.
This city is also recommended for offering treats and amazing food such as chocolates, waffles, and Belgian fries. Of course, you'll indulge in the best Belgian beer too! Additionally, various events and festivals operate throughout the year in Liege. 
Alongside this, there are various things to do in Liege, Belgium. It includes touring historical places, like the Musee Des Beaux-Arts de Liege, Archeoforum of Liege, St Paul Cathedral, Church of St Bartholomew, Palace of the Prince-Bishops, Grand Curtius, and so on. Besides that, you can explore outdoor-activities, like climbing the Montagne de Bueren or marveling at the Liege-Guillemins Station.
For a day trip to Liege, Belgium, from Paris, it's best to take a train as it covers more distance (approx. 373.1km) in a shorter time-duration (of 3hr and 50 min), as compared to a bus/car. Also, trains are readily available for this route as there are around 26 trains per day and two direct trains to Liege. 
Though, if you want to avoid paying a hefty amount, you need to book tickets beforehand, which generally costs almost $98 (€83). The best time to visit Liege, Belgium, is from May to October when the weather is exceptionally soothing, lively, and less humid.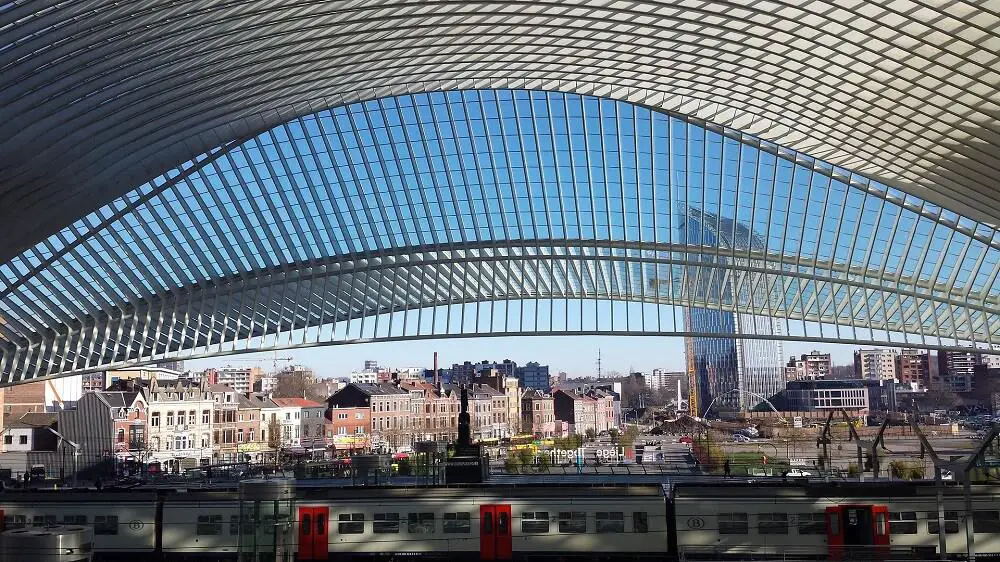 Bruges, Belgium
By Kat of World Wide Honeymoon
If you are dreaming of medieval architecture, romantic canals, and incredible food, then Bruges in Belgium should be on the top of your list of day trips from Paris by train!
A day trip to Bruges is perfectly do-able as it is only about 2,5 hours from Paris. One of the first things to do in Bruges is the Grote Markt, or the market square. This is home to the 12th century Belfry that you can also go inside and the Provincial Court. During the holiday season, the whole square turns into the most charming Christmas market too! 
After visiting the Grote Markt, a canal ride is a must to take in the stunning scenery, and, of course, a visit to a waffle shop like House of Waffles is necessary. Then, you'll want to either visit a brewery like Bourgogne de Flanders or sip some tasty Belgian beer at a pub. 
Next up is a stop at the Church of Our Lady, and then you cannot leave without admiring the city at night with the bridges and trees lit up. Bruges is a stunningly beautiful place and small enough to make it the perfect spot for a day trip.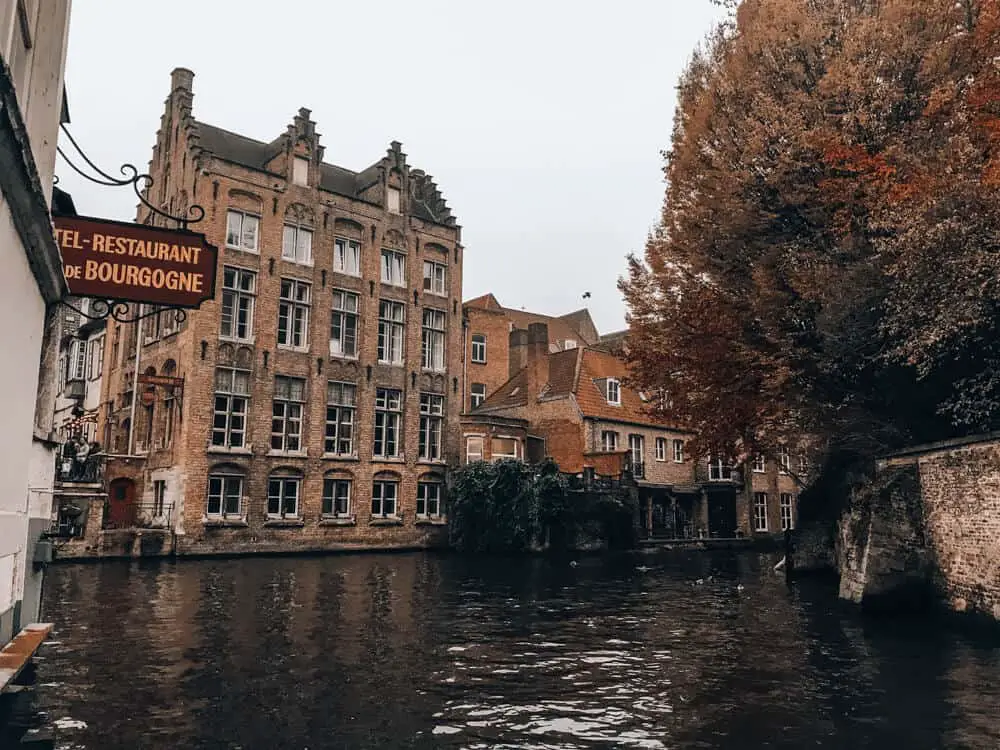 Rotterdam, The Netherlands
By Maartje of The Orange Backpack
One of the best day trips from Paris is the Dutch city of Rotterdam. The city is known for its modern architecture, street art and must-visit hotspots. One day should be enough to get to know this must-visit in the Netherlands, but you'll for sure want to come back.
The best things to do in Rotterdam is walking around to spot the beautiful architecture and street art, stopping at some nice coffee and brunch places along the way. Or even better: rent a bike and bike around as the locals do.
One of your first stops will be the train station where you'll arrive. The train platforms are beautiful during sunny days because of the light play from the glass ceiling. The main hall is a sight as well.
Then head to the yellow footbridge where you could stop at the rooftop of Op het Dak for breakfast or lunch with a view. The historic City Hall and Post Office will be along your route to the immense Markthal with its impressive ceiling painting and great food.
You might want to visit one of the yellow cube houses, have some drinks at the old harbor ('Oude Haven'), go shopping at the Pannenkoekenstraat or Meent street or visit one of the museums at the museum park.
You can easily get to Rotterdam from Paris with the direct Thalys train. It takes just over 2,5 hours.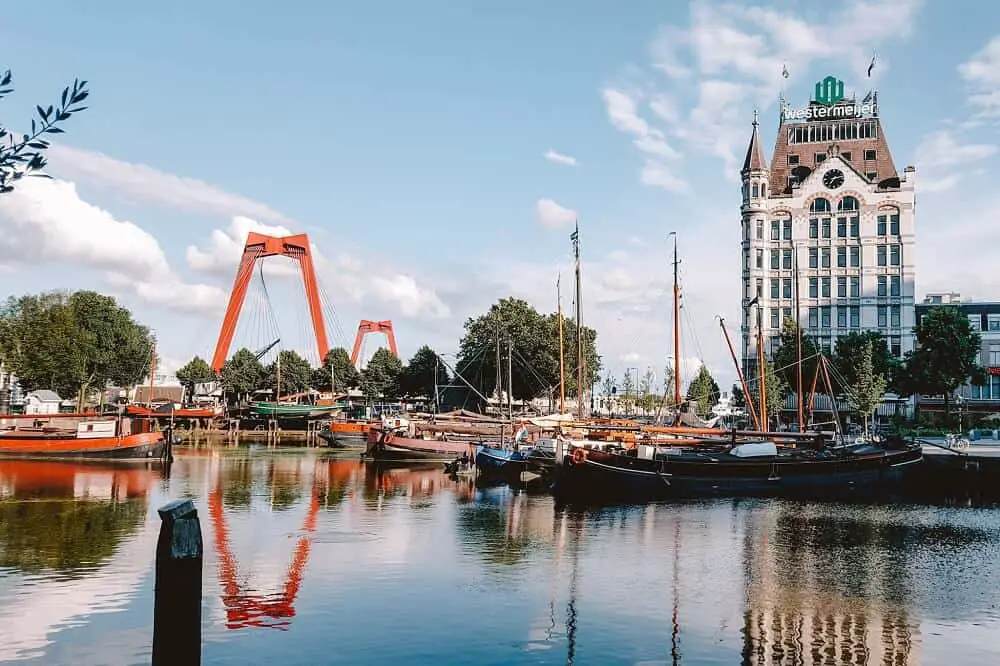 ---
READ NEXT: Best weekend trips from Paris
---
Responsible day tripping
Let's not forget to be responsible travelers when going on these amazing train rides from Paris. Make space for respecting and talking to the locals to learn more about the place you're visiting. This will make the trip much more pleasant for the locals, especially in popular destinations like Colmar and London.
Take with you a reusable water bottle on your day trips from Paris so that you don't have to buy single use plastic bottles on the way. If you're an addict of coffee on the go, why not bring en eco-friendly reusable coffee cup too.
Book your train trip from Paris online now
Here are some of my top Amazon picks for day trips from Paris:
Pin it for later!