While many countries in the world are experiencing overtourism, there are countries that are actually in need of more travelers. The countries that receive a lot of tourism do for a reason, and I'm absolutely not saying you shouldn't visit your bucket list destinations.
Even popular countries like Peru can be explored off the beaten track, even though the majority of travelers find their way up to Macchu Picchu or Colca Canyon, including myself!
However, there are plenty of completely off the beaten path travel destinations that are just as incredible and surely will surprise you positively.
While exploring lesser-visited countries, let's make sure to be responsible travelers and be kind to the locals, wildlife and the environment so we don't destroy these gems.
To bring you this great list of intriguing yet underrated countries, I have partnered up with some of my favorite travel bloggers and friends that have all enjoyed traveling off the beaten path!
Disclosure: This post may contain affiliate links. That means that if you make a purchase through one of those links, I will get a small commission at no extra cost to you. If you have any questions about these services or products, feel free to ask me.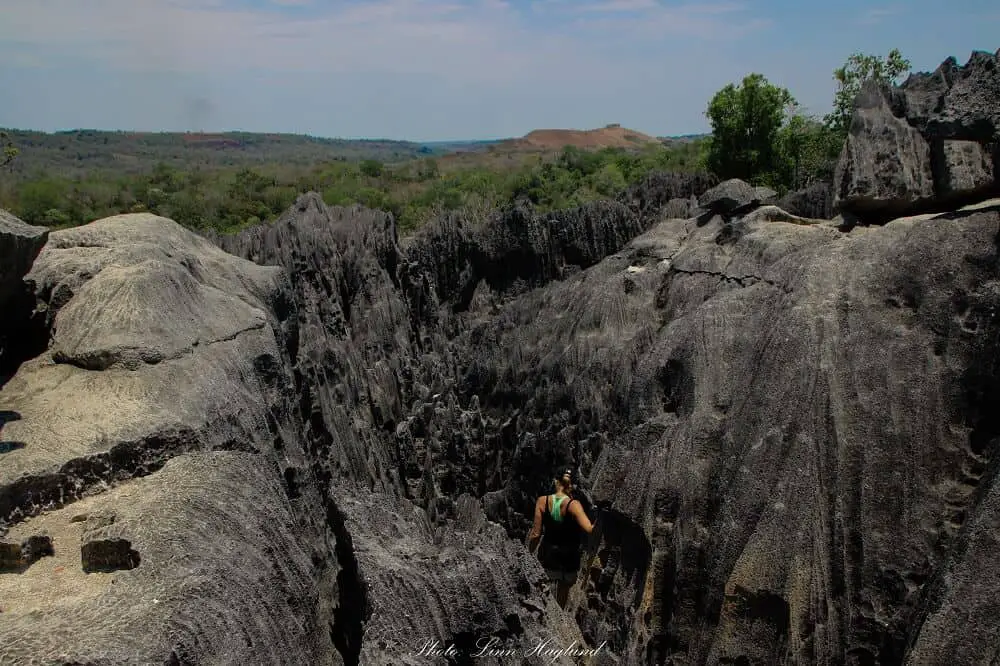 Safety tips for travel off the beaten path
Before looking at off the beaten path travel destinations, I want to talk about travel safety. Before booking your trip to an offbeat destination, make sure you always check travel advice from local authorities.
Some countries might be subject to conflicts at times and precautions should be taken in the whole country or in parts of the country.
I always recommend traveling with a good travel insurance. There are many good travel insurance companies out there, but my personal preference is World Nomads. Their whole process is simple and quick from getting a quote to buying and even making a claim.
However, I realize that they don't cover all off the beaten track destinations, so I found IATI travel insurance to be pretty good too, and they covered offbeat travel destinations like Iran.
Book your travel insurance here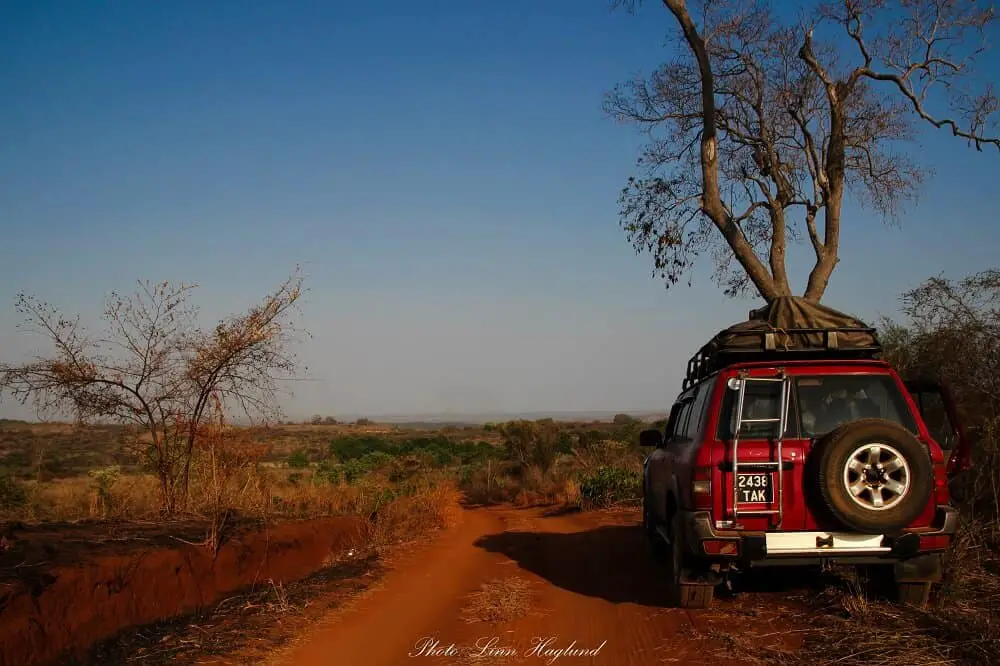 Responsible offbeat travel
When you travel to offbeat destinations it is important to remember that these countries are generally speaking not as used to tourism as for instance Spain or Thailand.
This makes your role as a respectful, curious visitor even more important since you don't want to create negative effects of tourism on your destination. Am I right?
Simple rules of thumb are:
Ask before you take photos of people, especially children (ask adult family members and preferably take photos of the children with their family members or other children playing – and NEVER tag the exact location of the children on social media)
Don't leave any waste behind
Avoid any form of unethical animal tourism
Buy locally-made craft, but never buy from children
Stay in locally-owned accommodation
Attend local workshops like cooking classes, local handicraft classes, and language courses that bring income to the locals
Bring a reusable (if needed filtered) waterbottle
TO LEARN MORE READ: Things NOT to do as a responsible traveler
---
Make a difference!
Plant trees to create habitat for animals from the convenience of your home
---
Off the beaten path travel destinations
Madagascar
One of my favorite off the beaten track travel destinations is Madagascar. This unique African country is definitely worth a visit but be prepared for long and uncomfortable travel hours if you choose to travel around by bus. Or taxi-brousse as they call the local minivans that transport tourists, locals, chickens, and all kinds of other goods you can only imagine. The roads are pretty bad but the experience is totally worth it!
While the country is famous for its lemurs, there is a whole lot of incredible wildlife in Madagascar, like whale sharks, whales, and the unique Fossa. The islands in the north are great bases for scuba diving and if you stay at the private island and eco-resort, Ankazoberavina, you might be lucky to see sea turtles nest on the beach in a responsible way.
There are also a large number of National Parks to spot wildlife and incredible rock formations like the Tsingy of Bemaraha in the west. To get there you drive past the famous Baobab Alley and the Kirindy Park.
There is a lot of poverty in Madagascar, so if you want to give back, go for a visit to Akany Avoko Faravohitra in Antananarivo.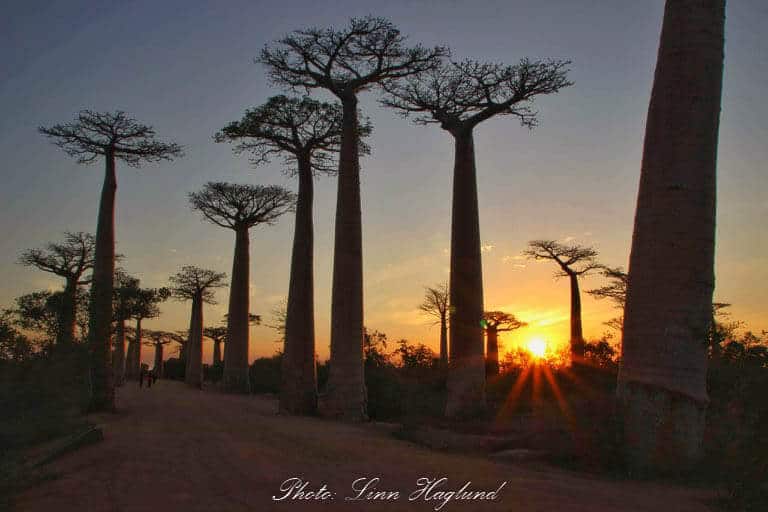 READ: Why is sustainable tourism important?
Iran
Iran is without a doubt worth a spot on the list of off the beaten path travel destinations that deserve more (responsible!) tourists to visit.
The country is known by travelers as the friendliest people on earth, yet I was overwhelmed by their friendliness! Wherever I went someone tried to help me out, if it was in perfect English, sign language and smiles, or Google Translate and laughter. It also turned out to be one of the easiest and most comfortable countries to travel as a solo female traveler.
But Iran is so much more than its people. The country has a unique cultural heritage and some of the most incredible mosques I've ever seen. You can safely say that Iran has some of the most captivating landmarks in Asia!
To mention a few cities with mesmerizing architecture that should be on your Iran itinerary, there are plenty of things to see and do in Isfahan, Yazd, Kashan, and Shiraz.
The small remote mountain village of Abyaneh is also worth visiting. It is actually one of the oldest villages in Iran, and the villagers still wear traditional clothes, speak the original language and continue with the old customs.
As the icing on the cake, Iran's natural scene is from another world! The country is home to the highest mountain in the Middle East, Mt. Damavand (5610 m), but has several peaks above the 4000-meter limit so there are unlimited hiking opportunities for the outdoors enthusiast.
Further, there are multiple deserts, rainforests, salt lakes, waterfalls, islands, national parks, and unique wildlife to explore. Iran is a huge country that deserves plenty of time to tour.
You can read more about the reasons to travel to Iran here.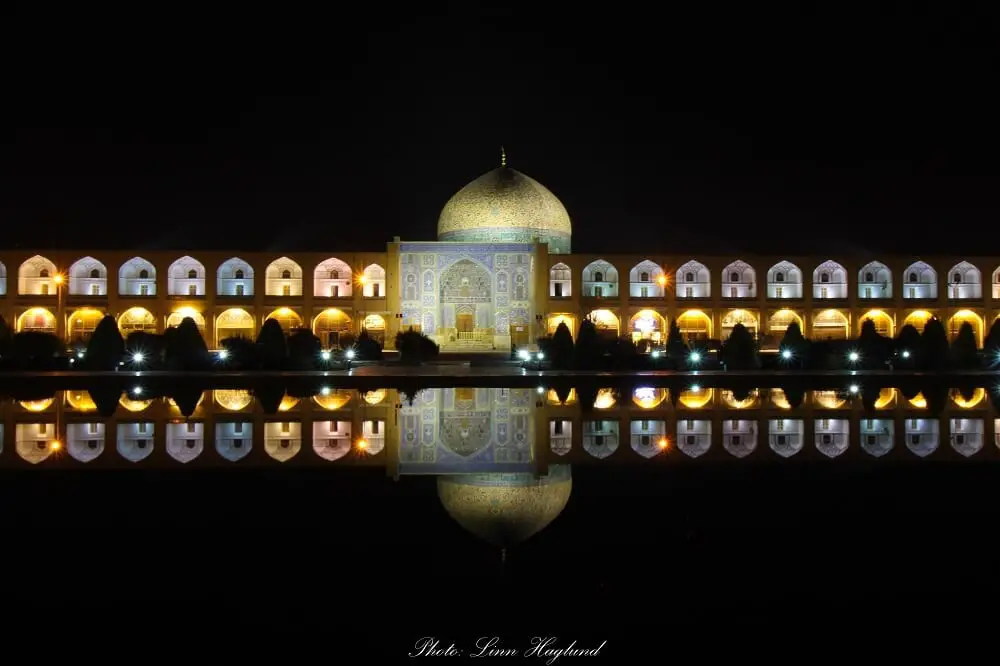 READ: All you need to know before you travel to Iran
Kazakhstan
Contributed by Ankurman of Wandering Minimalist
Kazakhstan is one of the most interesting countries that I visited last year and is an excellent option for your off the beaten path vacations. It contrasts with rich natural scenic beauty in the most westernized cities in Central Asia.
This less populous, enormous country has mountains, canyons, rivers, lakes, and a dead sea. Generally, two types of tourists visit Kazakhstan.
The ones who love outdoor activities like trekking, climbing, camping, and others who want to explore the cities and villages. Almaty and Nur-Sultan are the two major cities, whereof the latter used to be called Astana.
Kazakhstan is not often sought among top traveling destinations. Now, after visiting this extravagantly beautiful place I regret not considering to travel there before.
The people of Kazakhstan speak Russian better than their own Kazakh language. "Kazakh tenge" is the currency of Kazakhstan, whose value is a small fraction to the US dollar.
Food and accommodation are cheap depending on where you stay and where you eat. Backpackers like me who stay in hostels can get a decent dorm for $10.
For transportation, you can use trains and taxis. Yandex taxies are popular here as well as in most of the Soviet countries.
Big Almaty Lake, Kolsai Lake, The National Museum of Kazakhstan, and Charyn Canyon are only a few places worth exploring.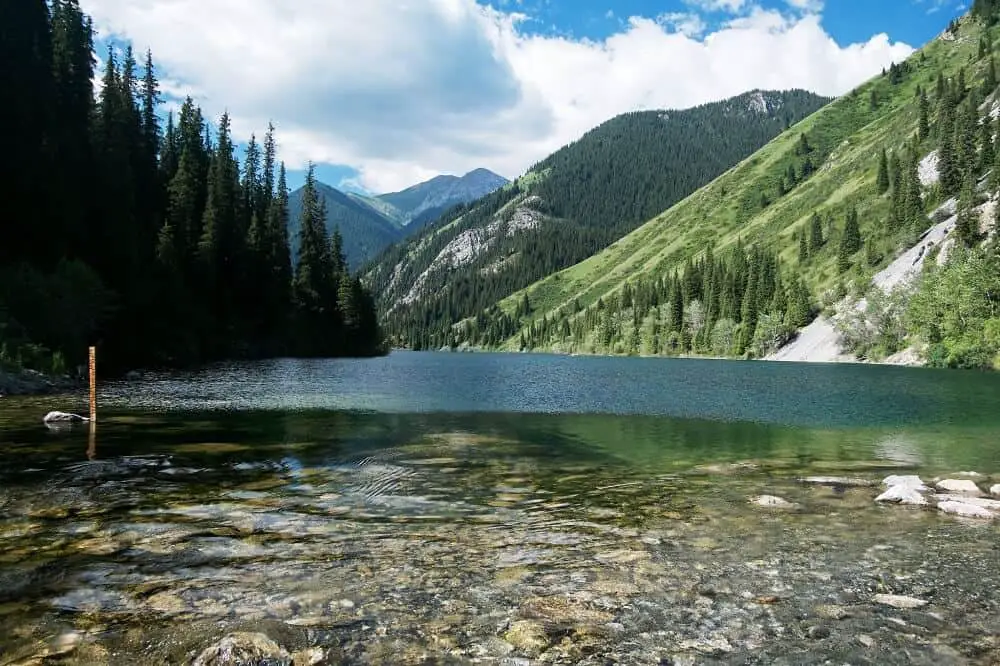 Kosovo
Contributed by Emily of Wander-Lush
Europe's youngest nation, Kosovo declared its independence in 2008 and is now recognized by a majority of UN member states. Many people automatically associate Kosovo with conflict and civil war – but rest assured, it's a safe place for tourists. Still very much an off the beaten track destination in Europe, it offers a wealth of meaningful travel experiences.
For such a small country, Kosovo really packs a punch. Every visit should include a stop in Prishtina. One of the most dynamic capitals in the region, the city boasts an incredible food, coffee, and bar scene.
Other things to do in Prishtina include visiting the National Library of Kosovo (once dubbed 'the ugliest building in the world'), the Cathedral of Saint Mother Theresa (she had family roots in Kosovo and is much-beloved here), and visit the Newborn monument, a symbol of Kosovo's independence and a top selfie spot.
Prizren is the cultural heart of Kosovo. Here, you can walk old stone bridges, visit beautiful mosques, and shop for filigree.
In Gjakova, you can visit the huge bazaar (one of the largest in all of Europe) and see craftspeople plying the same trades they have been for generations.
The small city of Peja is the gateway to Kosovo's rugged north and the sublime Rugova Gorge, where you can enjoy hiking, white water rafting and zip-lining.
Adventurous types can even trek over the border to Albania's Accursed Mountains. I highly recommend stopping off at Desan halfway between Prizren and Peja to visit one of the four monasteries that make up the UNESCO-Listed Medieval Monuments in Kosovo.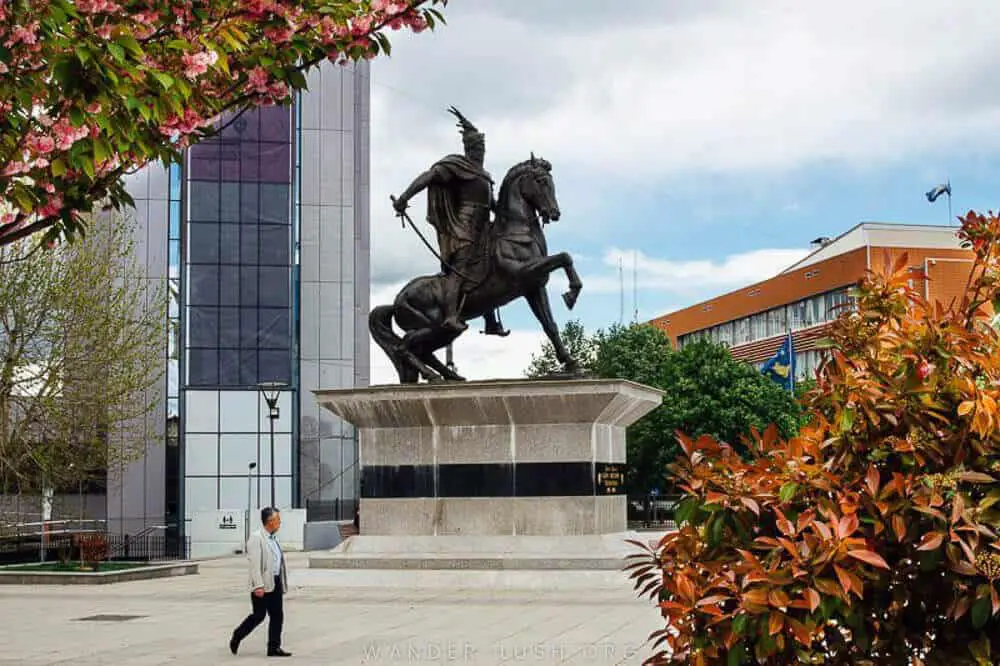 Lebanon
Contributed by Arzo of Arzo Travels
One country that is highly underrated is small but yet gorgeous Lebanon. 
I am not going to lie: Lebanon had a very violent history with wars taking place that lasted until 1992 which have left scars very visible for tourists and locals.
And currently, the political situation is tense and demonstrations and protests are common.
However, Lebanon is one of the best countries to visit in the Middle East and except from the demonstrations, Lebanon is actually one of the safest countries to see in that region.
But of course, it is not only about safety – Lebanon is gorgeous, Lebanon is beautiful and Lebanon is amazing.
Explore the capital of Beirut and spend 2 days there to see the most famous attractions in the city.
Beirut is also perfect for a few day trips. The historic place of Balbeeck is surely one of the best places to visit in Lebanon (though this is not really a hidden gem anymore) but also places like Jeita Grotto, Harissa or Byblos are great places to see.
If you are looking for an even more offbeat travel destination, add Tyre to your Lebanon itinerary. 
And to top it all, Lebanon has some of the best food in the world (catering to vegans as well as non-vegans) and it also is quite affordable to other countries in the Middle East. 
So, there are many reasons to visit this small yet gorgeous country.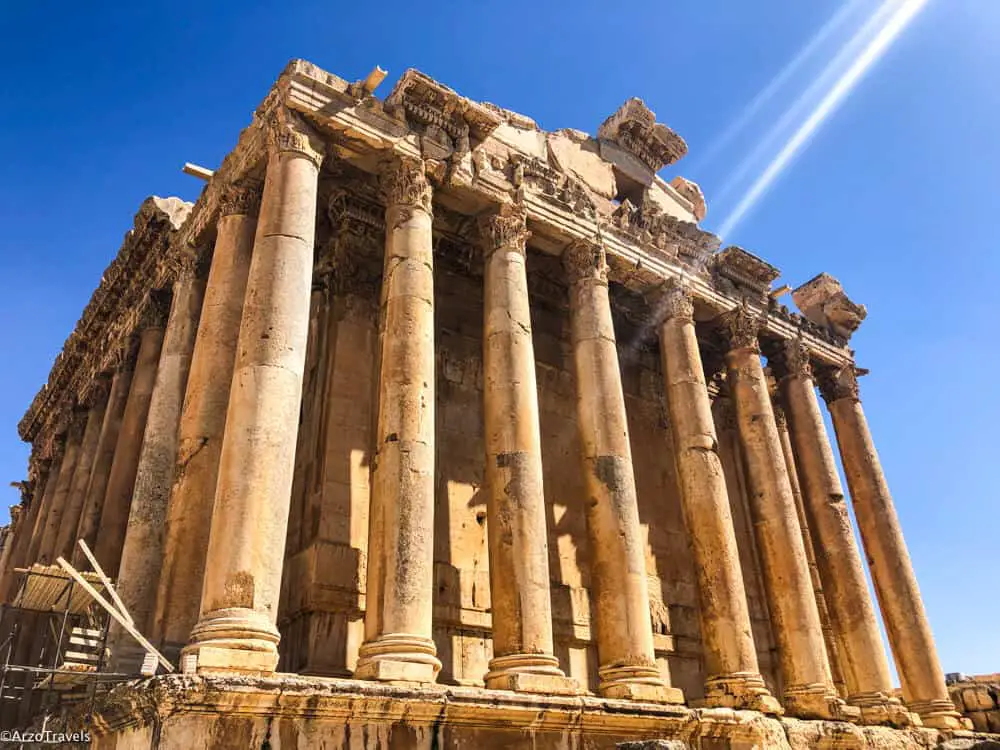 El Salvador
Contributed by Audrey of Gumnuts Abroad
The tiny nation of El Salvador is one of the least visited countries in Central America. But travelers who make the effort are richly rewarded with some truly offbeat destinations, warm smiles, dark-sand beaches, volcanoes, and unique Mayan ruins.
The world-class surfing of El Salvador's Pacific coast has been attracting international surfers for years. But the secret is out and the surfing town of Player El Tunco is firmly on the backpacker trail. Offering value for money accommodation, nightlife, cafes and the best sunsets I've ever seen, Tunco has a fantastic chilled vibe.
Like most countries in Central America, El Salvador is home to some top-notch Mayan ruins. Tazumal is a group of flat-topped stepped pyramids that are still being studied by historians today. Its gruesome name means "Pyramid where the victims were burned."  Joya De Ceren is an amazingly well-preserved Mayan village that was buried in volcanic ash and offers a rare glimpse into the culture's ancient past.
No visit would be complete without hiking the incredible Santa Ana volcano. Famous for its panoramic views of Lake Coatepeque, steam constantly rises from the active volcanoes jewel green lagoon. Easily visited as a day trip from the town of Santa Ana this is one of the most popular climbs in the country.   
With its natural and human-made marvels, people and ancient culture El Salvador will not disappoint.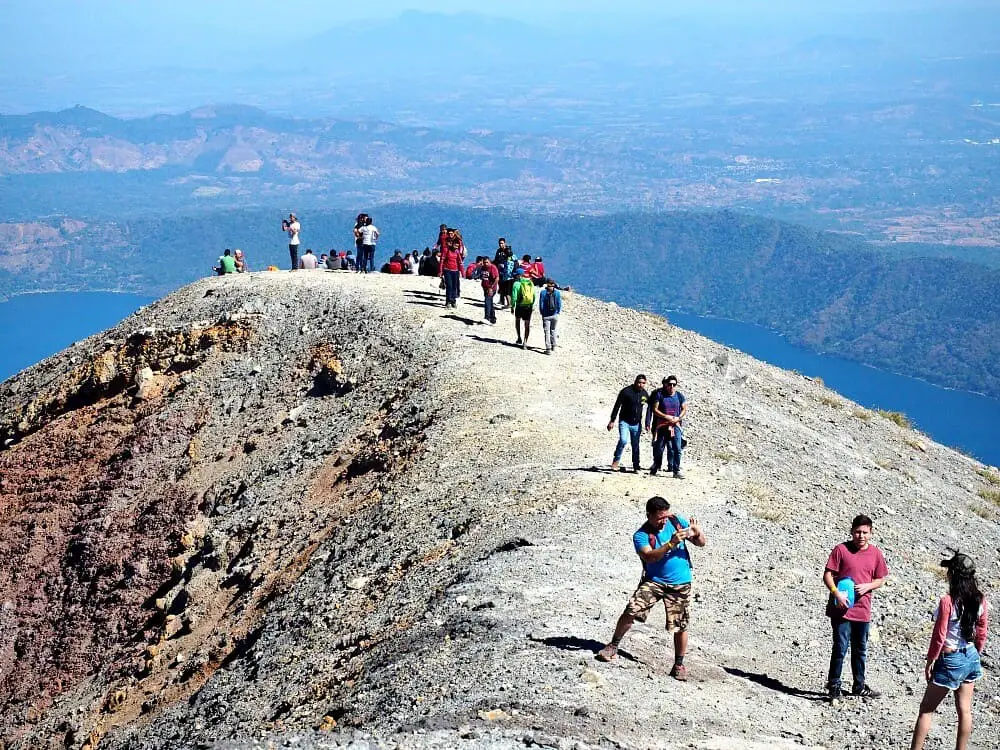 Azerbaijan
Contributed by James of Travel Collecting
Azerbaijan is a fascinating country that is sometimes called the land of wind and fire.  Hundreds of years ago, people worshipped fire, and at the Ateshgah Fire Temple, you can see a flame that has been burning continuously for centuries.  Other attractions include Mud Volcanoes and Yanar Dag (Fire Mountain) with naturally burning fires on the sides of earth hills.  
The capital city, Baku, is the main attraction, however.  Set on the Caspian Sea, with a wide pedestrian promenade, the setting is beautiful, albeit often windy.  The city has several over-the-top modern architectural marvels, including the famed Flame Towers.  These three towers are shaped like burning flames and at night, moving flames are projected on the sides of the buildings so they really look like enormous burning flames. 
There are other incredible buildings including the sparkling Crystal Palace, built to host the Eurovision Song Contest; the almost completed Caspian Waterfront Mall that looks like a cross between a flower and the Sydney opera house; and the curvy Heydar Aliyev Cultural Center with a minimum of straight lines.  There is also the carpet-shaped Carpet Museum that has interesting displays on traditional textiles. 
To contrast with the modern architectural opulence, Baku has a somewhat sanitized Old Town, with the mysterious maiden Tower (no one knows who built or even when) and the eclectic Museum of Miniature Books.  It is worth taking a food tour, too, and sampling some local specialties such as Shah's Pilaf and the ubiquitous sweet tea with cherry jam.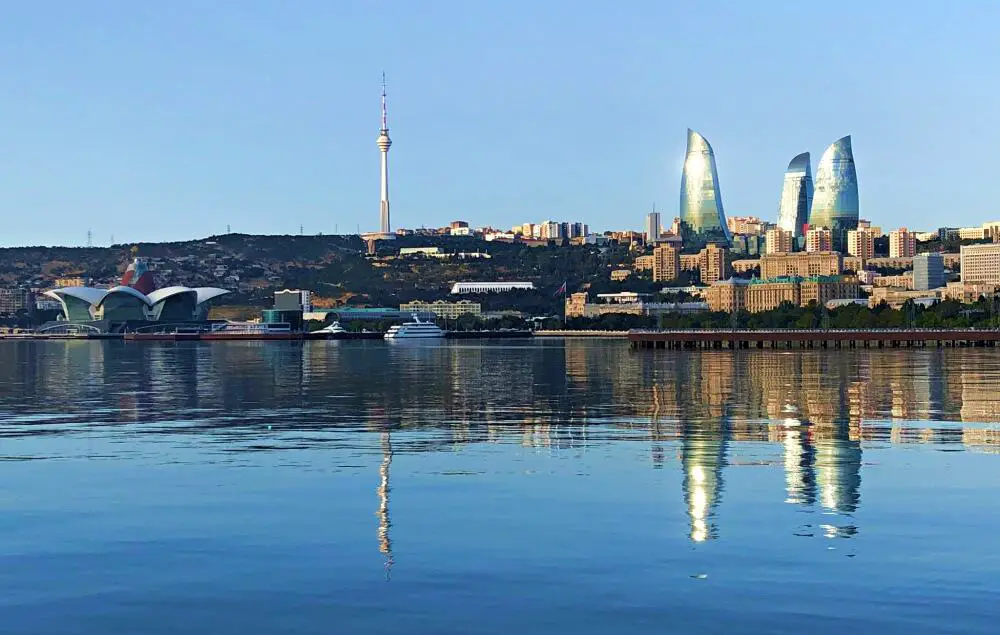 Oman
Contributed by Greta of Greta's Travels
In 2019 I spent one week in Oman and was blown away by the natural beauty of this country. Oman is one of those off the beaten path travel destinations that is not often featured on travelers' bucket lists, but it really should.
If you love hiking, being outdoors, and exploring stunning natural landscapes, Oman is the place for you! In just seven days we saw a huge variety of natural and manmade landscapes, from sand dune deserts to ancient forts, and from rocky canyons to pristine beaches.
My personal favorite thing to do in Oman was hiking the Jebel Shams Balcony Walk. The Jebel Shams is known as Oman's Grand Canyon, and it's easy to see why! The balcony walk is a trail that goes all along the edge of the canyon, with the steep rock face on one side and the 500m drop on the other. There are stunning views all throughout, with a waterfall at the end for a cooling down dip!
The Wadi Bani Khalid and Wadi Shab are also a must-see in Oman. The Wadis are basically freshwater rivers and lagoons that go through small canyons that you can hike and swim in. They have similar views and are both incredibly fun places to explore. What better way to end a hike than swimming in a clear lagoon surrounded by palm trees and rocky canyons?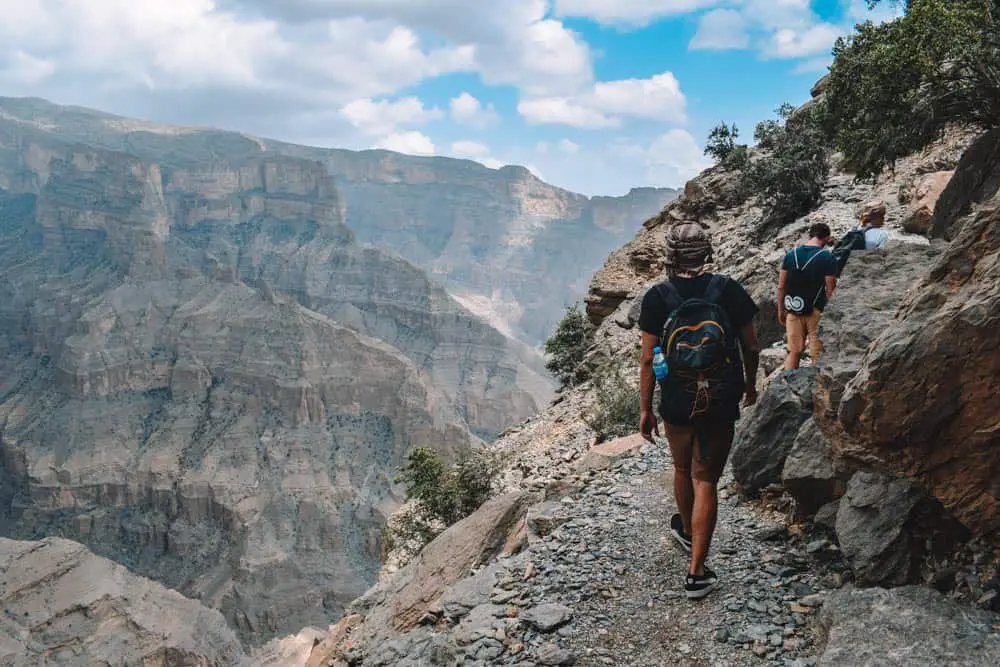 Guyana
Contributed by Claudia of My Adventures Across The World
Guyana is a unique country that has yet to fall on the mass tourism radar. Located in South America, bordering with Venezuela, Brazil, and Suriname, this is a country blessed with lush nature, unique culture, and incredible sights.
Among the places to visit in Guyana, the region of Rupununi is a must. In the southern part of the country, this is Guyana's Amazon outpost. Villages are tiny there – 300, 500 people living in each at the most.
Things such as electricity, tv, and even the internet are luxuries. The local communities run lodges that provide very basic accommodation and help visitors experience the region, its beauty, and culture.
Kaieteur Falls is probably the best-known attraction in the country. It's an incredible waterfall that is completely isolated and can only be reached via a strenuous 5 days hike in the jungle, or via plane. As the runway can only accommodate one plane at a time and planes can't carry more than 12 passengers, this means that visitors have the entire site to themselves.
Georgetown is an interesting city, which much of a Caribbean feel and a few interesting sights – the market is a great place to explore to discover the delicious flavors of the country.
Traveling around Guyana is not easy. The road conditions are poor even inside Georgetown, the capital – where the majority of the population is concentrated.
Going to other places often requires several hours of traveling even if the distances are short. The sticky heat, combined with the bugs (mosquitos and chiggers) makes it uncomfortable. Yet, this is a gorgeous offbeat travel destination that deserves being explored.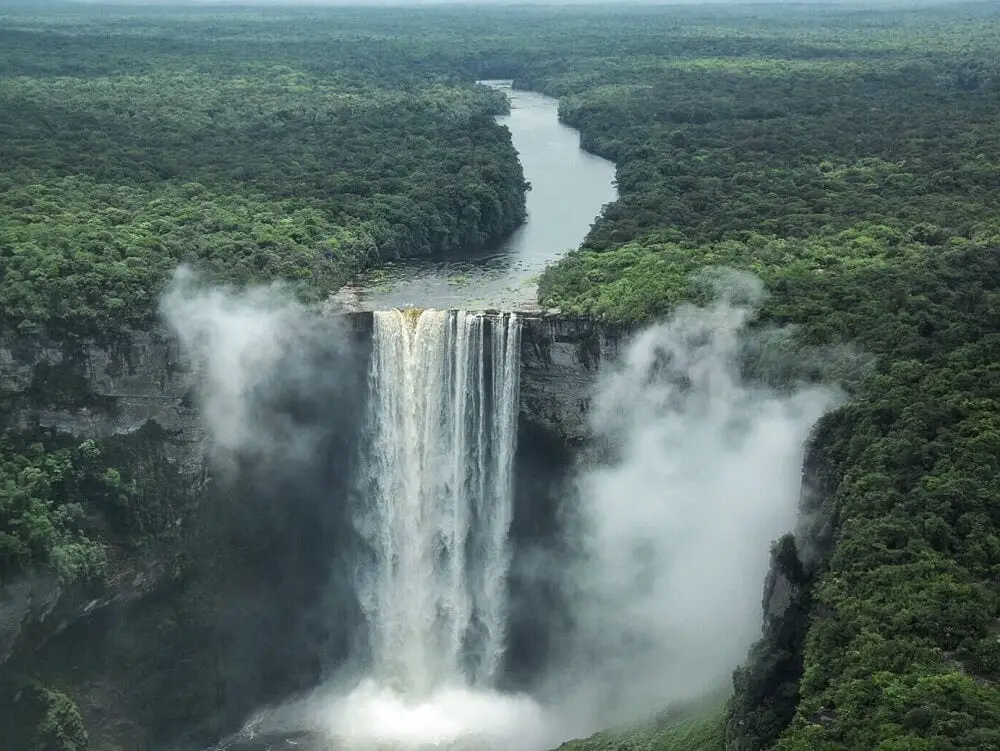 Mauritania
Contributed by Trina and Tim of Team Hazard Rides Again
Mauritania is not an easy country to travel in, but it is an interesting one and offers true off the beaten track travel opportunities.  
Two main roads that run north to south meet in the southern capital of Nouakchott. Other than within the cities, these are the only paved roads in the country. The only connection between them in the north is the infamous Iron Ore Train that itself is a challenge to board and ride. Everywhere else requires a 4×4, or a camel. 
The Sahara Desert runs right up to the coast where beaches in Nouadhibou used to be covered in hundreds of rusted out, derelict ships abandoned there by irresponsible corporations, and a corrupt government that allowed them to.  
As of December 2018, you could still go see some of these shipwrecks, but they're disappearing fast as the new government is working to get them cleaned up. If you want to see them, get there soon. 
That was our first priority on our visit to Mauritania. 
Then we headed to Atar and Chinguetti in a Saharan region known as the Adrar.
The great monolith, Ben Amera, resides out among the sands toward Choum. It's only rival in size is Uluru in Australia. This is a great day trip out from Atar and while you're there, you can visit another nearby monolith, Aïsha, where artists gathered at a week-long millennial event to sculpt the rocks at its base. 
Deep in the desert at Chinguetti, there are ancient libraries that hold the wisdom and knowledge of the ages. Their caretakers are happy to share a glimpse of their holdings with you.
Even further out, there are oases that spring up out of the harsh desert to delight and amaze you. 
Mauritania is a great place to travel for someone who doesn't mind a little challenge and likes to see places as they truly exist before the tourists arrive.

Timor-Leste
Contributed by Leyla of Women On The Road
Until recently, few people visited Timor-Leste unless they were aid workers: the country was engulfed in a violent conflict with Indonesia and only became independent in 2002 and changed name from East Timor to Timor-Leste.
Visitors are starting to make an appearance but there are still few… Timor-Leste is hard to reach, expensive and with very limited infrastructure, so fewer than 100,000 people visit each year, which makes this a top destination for travel off the beaten path.
Yet it is a stunning destination, worth the difficulties and expense, especially now, when you can travel around without running into any foreigners, or rarely.
Picture this: admirable beaches, recent and fascinating history, intriguing traditional houses and handicrafts, stunning sunsets and a country full of people whose poverty can be eased by tourist dollars.
The capital, Dili, is home to the fascinating Museum of the Resistance, which traces the conflict with the former Indonesian rulers from its beginning. You can climb to the statue of Cristo Rei in time for the sunrise, or visit Tais Market, a sadly uncrowded but filled with high-quality crafts.
Atauro Island, an easy day trip from the capital, has glorious beaches and coral reefs and is a birdwatchers' paradise. Further afield, Jaco Island is not only picture-perfect but sacred to the locals. And throughout the country, enjoy your coffee – Timor-Leste is an exporter of fine coffee, most of it organic. And delicious.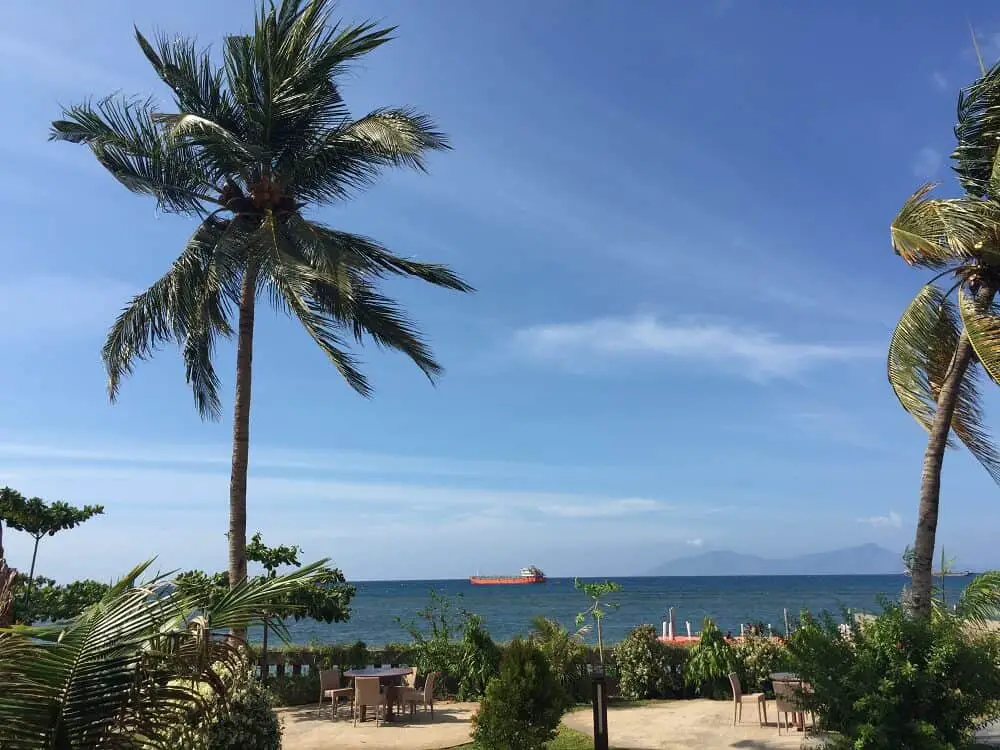 Greenland
Contributed by Kristen of Yonderlust Ramblings
If it's the allure of the unknown and unfamiliar that calls to you, then Greenland needs to be on your radar!  No other offbeat travel destination more perfectly embodies that description than this magical island!
In Greenland, off the beaten path travel, and off the grid are still a regular part of daily life, as exhibited through its unique culture, history, and natural surroundings.
For those looking to reconnect with nature in its most simplistic yet surreal form, Greenland is brimming with opportunity!

Greenland's remote location and icy reputation have long kept it off the beaten path, which will greatly benefit those that make the journey here!
In Greenland, cultural tradition is still alive and well, as exhibited by residents who still dog sled and snowshoe for transportation, fishermen who still feed their families with the fish they catch from holes in the surface of frozen lakes, and locals who still dress in outfits woven from musk ox wool.
Visitors can experience this unfiltered way of life simply by intermingling with those welcoming individuals who call Greenland home. 

In addition to its unique culture, there is no shortage of invigorating, natural explorations to be had in this country.  The best things to do in Greenland are clearly centered around its unrivaled wealth of outdoor adventures.  Here you can witness reindeer and musk oxen, Arctic foxes and hares, walruses and whales, even polar bears, all in their natural habitat. 
Greenland has a generous amount of otherworldly geography, from glaciers, to ice fjords, to tundras, even the world's second-largest ice sheet!  All these stunning formations can be seen and experienced up close and in person, from buses, kayaks, dog sleds, or on foot!
And to top it all off, Greenland remains one of the premier locations on the planet to view the dancing greens, blues, and purples of the Northern Lights!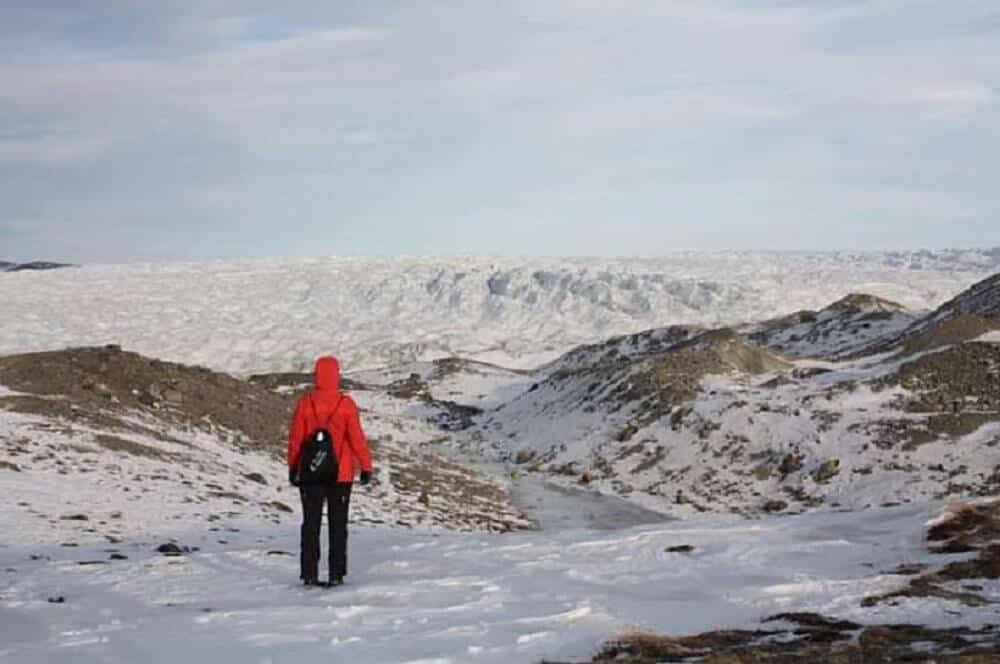 Mongolia
Contributed by Ming of Flyerism
For reasons that are beyond me, Mongolia is not particularly popular among travelers. In my humble opinion, this amazing country should definitely be in everyone's bucket list destinations! Here's why:   
First of all, Mongolian people, especially the nomad, are incredibly friendly and accommodating. Unlike some people in touristic areas, they are not pushy and confrontational at all.
In fact, they may appear to be shy and reserved. However, if you take the first step, they are often welcoming and genuinely helpful. Here's a tip: try staying with a local nomadic family in a ger, the experience will be totally worth it!
Further, Mongolia is home to unique and incredible landscapes. It's made up of a diverse combination of unspoiled beauty, consisting of mountains, grassland, waterfalls, valleys, deserts, and pine forests.
Specifically, you will want to visit the sand mass of Gobi Desert, glacier-capped mountains in the west, Bayanzag the flaming cliff in the southern part, Lake Khovsgol (largest freshwater lake in Mongolia), and Yolin Am Ice Field.
As mentioned, Mongolia is one of the most off the beaten path travel destinations. A blessing in disguise really, as it remains undisturbed by mass tourism. You will get to avoid the crazy crowds and learn more about the local culture. Not to mention, it's also easier on the wallet!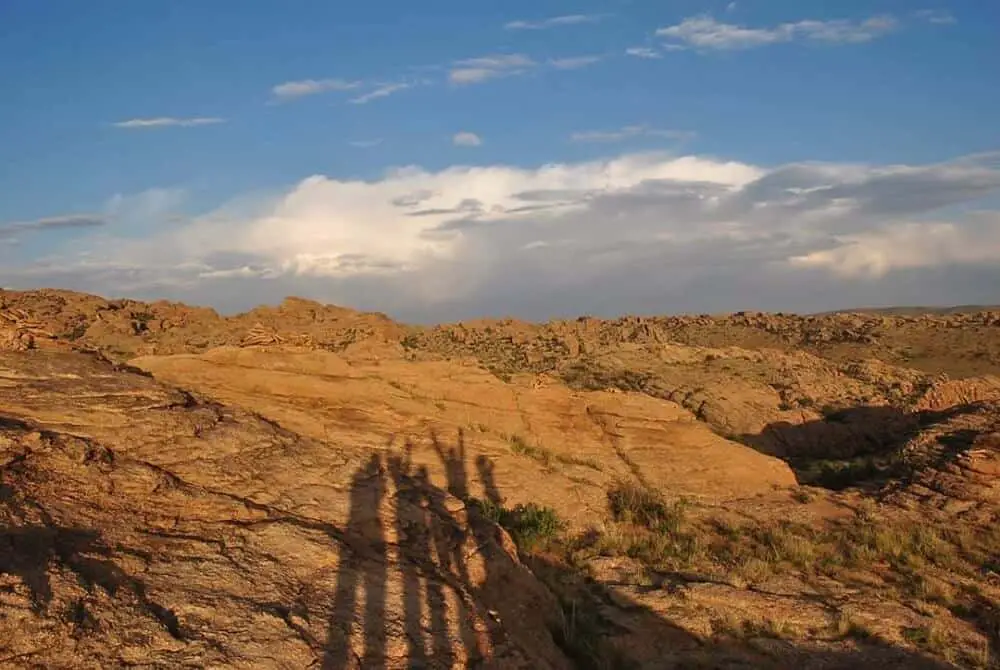 Gabon
Contributed by Rebecca of KwaFare
Let's face it, Africa is the continent off the beaten path. But if you're looking for a unique offbeat travel destination for tourists in the world's second-largest continent, Gabon is one of them.
This is one of the smallest countries in Africa, but it packs a tropical punch with 85% of the country being covered in rainforests. This central African country boasts a whopping 13 national parks for such a small nation, which covers at least 10% of the country. 
Needless to say, Gabon is carpeted in an array of contrasting terrains from emerald forests to sweeping savannas. It boasts a coastline where elephants and hippos walk along the same beaches where children play and fishermen fish.
Gabon is home to humpback whales, sea turtles, gorillas, elephants, and even lions among many others. Day safaris and longer can be booked in the national parks at ecotourism lodges, hotels, and resorts. Ecotourism is something Gabon is striving to bring to the fore in hopes to conserve the precious biodiversity and local culture.
The Gabonese capital of Libreville is situated on its sweeping coastline. Busy, but not too busy, this African capital offers accommodations and restaurants for all budgets and tastes.
Although it is not heavily frequented by tourists you can find some very nice Airbnbs and hotels. And the cities close proximity to nearby national parks makes it ideal for day trips.
In addition, the people of this small nation are welcoming, kind and a delight to get to know. Tourism is an industry that is still developing here.
However, what is already in place in Gabon could prove to serve you a rich cultural experience, teeming with opportunities to get up close and personal with a wild and natural habitat.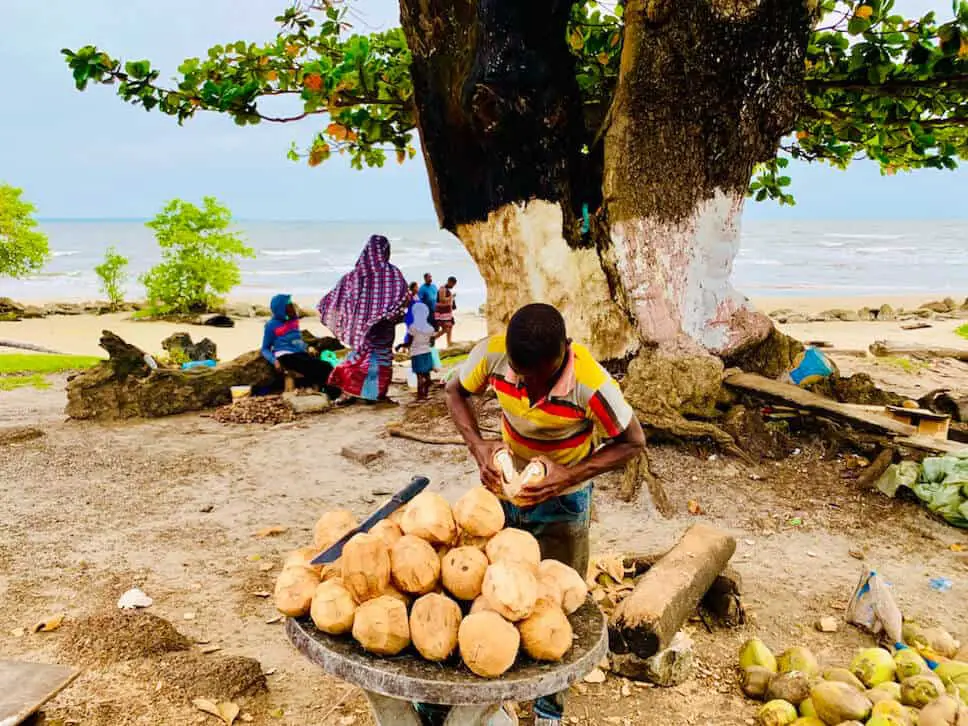 Uzbekistan
Contributed by Carly of Carly's Adventures Afar
Wanting to visit somewhere unique and a little unusual? Then look no further than Uzbekistan!
This Central Asian country was once the heart of the fabled Silk Road and today it is home to three of the most incredible Silk Road cities of Samarkand, Bukhara, and Khiva.
These three cities are historical and architectural wonders that are simply breathtaking. 
Within them, you will find soaring mosques and medressas, and magnificent tombs all encased in tiles every shade of blue imaginable. I was and still am, completely obsessed with these beautiful tiles.
Exotic dome-covered bazaars can be found in Bukhara and Khiva feels like a living museum sitting snug within impressive solid sand-colored walls.
In stark contrast is Uzbekistan's capital, Tashkent, where the country's Soviet past is evident in the brutal, communist architecture. It can also be experienced by riding the efficient metro complete with mosaics from the USSR era – this is a must!
My favorite place in Taskent was Chorsu Bazaar housed in and under an unusually shaped dome, which is the perfect place to take in the local culture. I especially loved how the local women dressed in colourful, patterned long dresses over trousers.
My other distinct memory of traveling in Uzbekistan is traveling by shared taxis. This is a unique experience in itself – negotiating with the locals, sharing the taxi with the locals and seeing the countryside roll by. 
And today visiting has become easier with the introduction of e-visa. Previously getting a letter of introduction and applying for your visa was part of the unique experience! No longer. So what are you waiting for?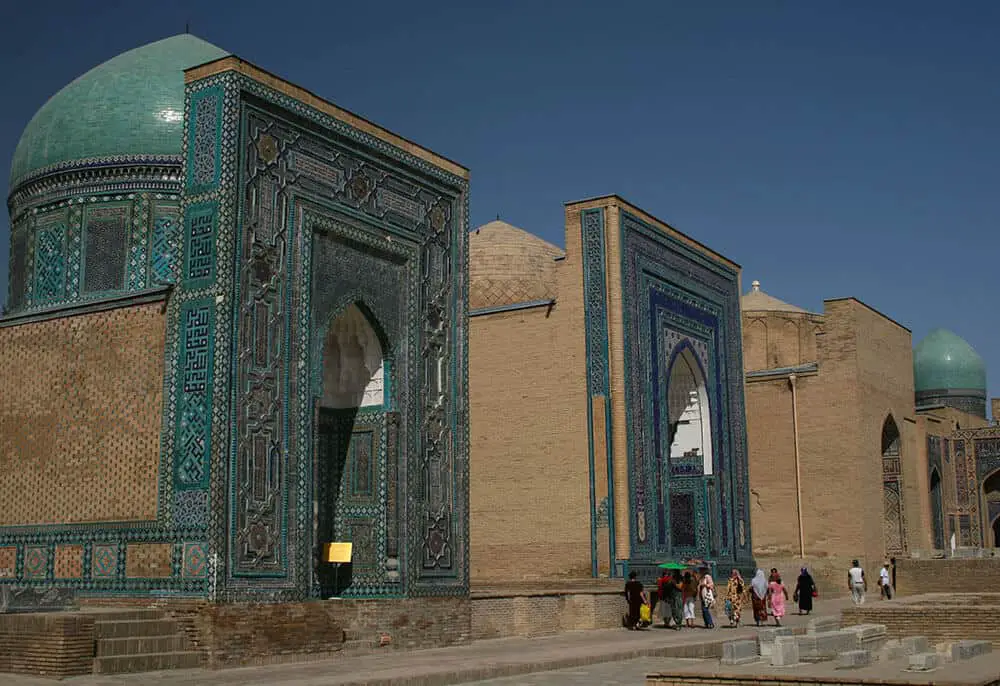 Marquesas Islands
Contributed by Luke of Culture Shock Adventure
Full-body tattoos, stone carvings and the birthplace of the haka; the Marquesas Islands offer a unique taste of French Polynesia. Te Henua 'Enana (the place of men) lies between Pitcairn and Hawaii, just south of the equator. I spent time on Nuku Hiva in 2018 after a trip to Tahiti. The warm, humid climate provide the islands with some of the lushest bush in Polynesia. A hiker's paradise.
Anahoe Bay is connected to Hatiheu village by a walking track. You will probably meet commuting locals crossing the hill on horseback.
After a steep incline, you're greeted with views of one of the world's most stunning bays. Head down the hill to visit the lovely beachside village. My tip, head to the next bay, Ha'ataive'a. With welcoming waters, it's a true paradise. You'll probably have the beach to yourself.
From the capital, Taioha'e head to Sentinel Rock. Taioha'eis littered in rock carvings, including the massive Tiki Tūhiva. Once you reach Sentinel Rock, look back and enjoy the view of Taioha'e. Or look down; even at this high altitude, you might spot some enormous manta rays below.
The track to Vaipō waterfall from Hakatea Bay is steeped in legend. You can see the rocks where the first settlers crashed their canoe. These same rocks which staged the world's first haka.
The Marquesas festival is a celebration of music, haka, arts, crafts, and carvings. It's held on odd years and alternates between the big islands, and small islands (2021 will be on the small island, Fatu Hiva).
From Tahiti, you can reach the Nuku Hiva (daily) and Hiva Oa (most days) with Air Tahiti. Other islands are accessible on the Aranui (about twice per month).  It's also popular with sailors using their own transport.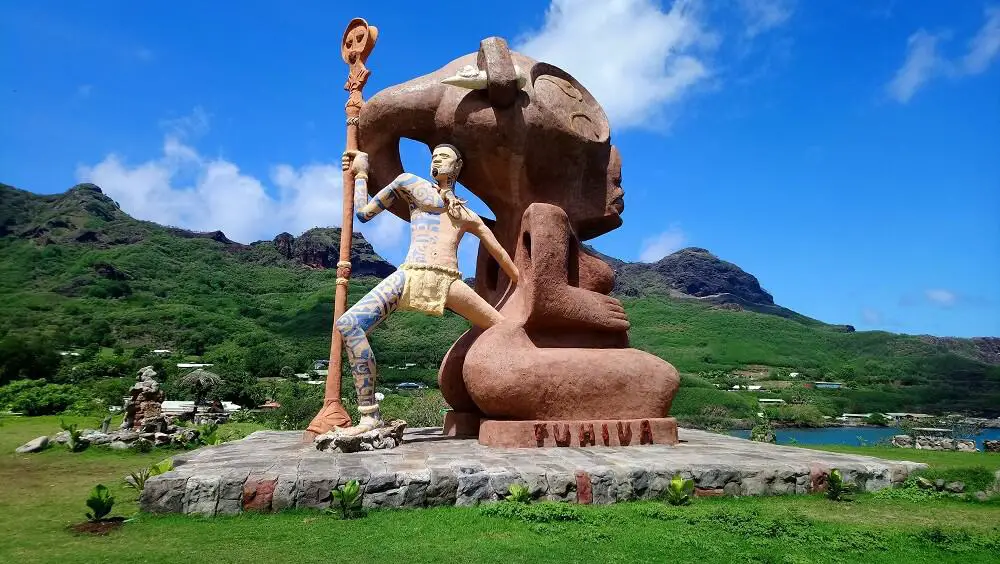 Georgia
Contributed by Elisa from World in Paris
Despite being part of the European Community, the Eurasian country Georgia is still a laid-back nation living in a kind of nutshell, where things go slowly, English is rarely spoken and it offers a true feel of off the beaten path travel.
Georgia is an ex-Soviet Union country, surrounded by the magnificent Caucasus mountains and with a rich history and heritage. In addition, wine and food (especially the staples) are great in Georgia so it is the kind of country which seems to have it all on a relatively small surface.
Tbilisi, Georgia's capital, is a lively city with a rich past and a cool vibe. The city has many interesting sights to keep visitors entertained for a while but also fancy restaurants, trendy bars, and art galleries. From Tbilisi, there are many interesting places to explore on day trips from the capital and it is relatively easy to travel around thanks to its system of shared vans.
In Georgia visitors are never far from the mountains and there are many possible day or multi-day hikes. Amongst them, the Svaneti multi-day hike is always very popular giving the opportunity to explore this secluded area classed Unesco Heritage thanks to its defensive towers.
The main entrance to Georgia is through the Tbilisi international airport but the connection Tbilisi – Yerevan (Armenia) by land is also very popular.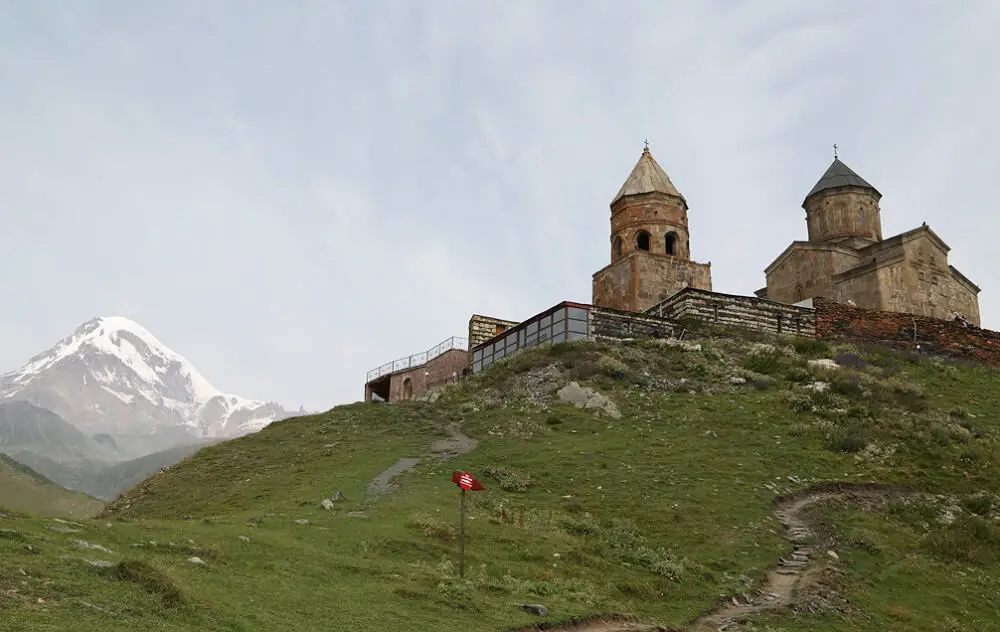 Rwanda
Contributed by Wendy of Empty Nesters Hit The Road
With three beautiful national parks, an abundance of rare wildlife, and vibrant culture, there is no doubt Rwanda is one of those off the beaten path destinations that should be on everyone's bucket list. This small country in East Africa is warm, welcoming and eager to share their country with visitors.
One of the highlights of any trip to Rwanda is gorilla trekking. These large primates have never lived in captivity, and can only be found in three countries; Rwanda, Uganda and the Congo. The chance to hike into the rainforest and watch a gorilla family interact is unforgettable.
Other wildlife viewings in Rwanda include golden monkeys, chimpanzees, and many rare species of birds. Most visitors hire a tour company to organize their transportation, accommodations, and activities. 
Most people arrive in the country in the capital city of Kigali. Don't rush off to the national parks, but allow a day or two to explore the attractions here. Start with a visit to the Kigali Genocide Museum. The museum is a sobering experience but helps visitors understand how much the current citizens have overcome in rebuilding their country. Then continue on to one of the local markets to purchase handmade souvenirs like baskets, shopping bags, and wood carvings. Or head to a local cafe to try the excellent Rwandan coffee.
Finally, don't leave the country without experiencing a demonstration of traditional dance and music.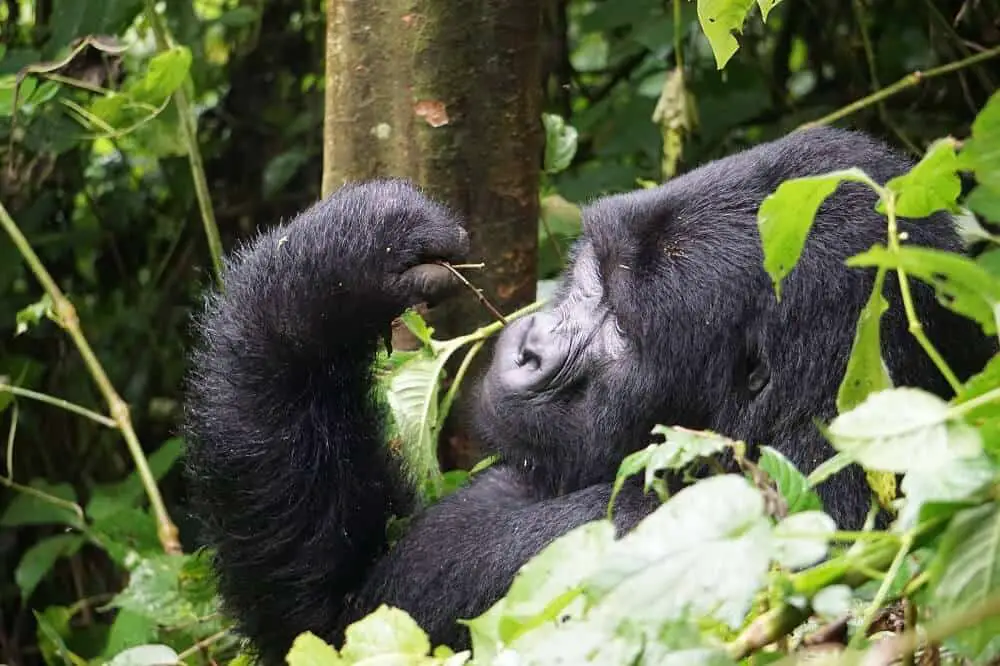 Falkland Islands
Contribution by Izzy and Phil of The Gap Decaders
The Falkland Islands is a British Overseas Territory deep in the South Atlantic Ocean around 300 miles east of South America's Patagonian coast.
The islands are the same distance north from the Antarctic as the UK is south from the Arctic, making them a fascinating, unspoiled and dramatic haven for wildlife.  The islanders will tell you that you can experience four seasons in a day; this is not a place for those seeking five-star luxury but a destination that will invigorate and excite you.
What makes this archipelago of 778 islands so special is the infinite wilderness, the vast soft sandy beaches untouched by tourism and the welcoming hospitality of the Falkland Islanders. The perfect blend for your off the beaten track holidays. 
The population of 3,400 people is centered around Port Stanley (known locally as Stanley), with a few hundred people choosing to live and work in 'camp'.
Camp describes anything that is not Stanley and often involves a long and challenging 4WD trip or a quick hop in a local six-seater Islander plane, where you might land in a field full of sheep!
Getting to this off the beaten path travel destination is not easy and involves a flight from the UK via Cape Verde or Chile, often taking over 24 hours.
But the Falkland Islands is a once-in-a-lifetime destination and so these challenges are easily overcome.  People visit for the wildlife, which you will find in abundance.
Orcas, Elephant Seals, Sea Lions and five breeds of penguin are a daily occurrence; be within touching distance of some of the most fascinating creatures on earth.
Watch king penguins waddle past you as they saunter down the beach at Volunteer Point, looking for all the world like two people having a chat!
Fly over to Sea Lion Island for up-close views of Elephant Seals and Sea Lions; visit at the right time and you can watch the Elephant Seal bulls bloodily fighting for their lady loves on the beach.
Head out on a whale-watching trip across the endless ocean; no fewer than seventeen species of whale have been recorded here.
If you love nature in the raw, huge vistas and enormous skies, star-gazing with zero light pollution, and travel off the beaten path, then you should visit the Falkland Islands. Visit once and this place will stay with you forever.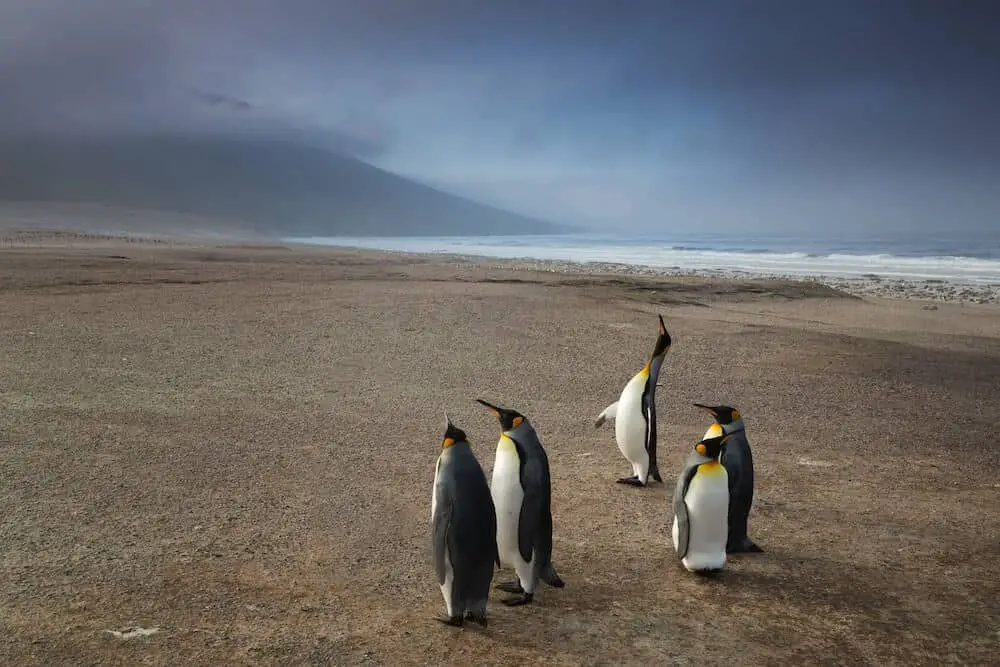 Eswatini
Contributed by Wendy of The Nomadic Vegan
Eswatini is so far off the beaten track that most people have never even heard of the country. Of course, that's in part because it's only been officially called that since April 2018, when the king changed the name of the country from the British colonial name of "Swaziland" to the equivalent in the local language, "Eswatini", which also means "land of the Swazis".
But even before the name change, this tiny country of 1.3 million people nestled between South Africa and Mozambique was not on most travelers' radar.
It wasn't on mine either, and I consider myself to be a pretty intrepid traveler. When my husband and I planned our three-month trip around southern Africa, the itinerary we made included South Africa, Mozambique and six other countries in the region, but not Eswatini.
It was only once we were already in South Africa and someone told us about an incredible festival coming up in Eswatini that we decided at the last minute to go there.
That festival was Umhlanga, sometimes called the "Reed Dance" in English, and it was indeed spectacular and offbeat travel experience.
Up to 100,000 girls and unmarried young women come from all corners of the country to pay homage the Queen Mother and dance in traditional costume before the royal family. If you are in the area around late August or early September, don't miss it!
But even if your travel dates don't coincide with Umhlanga, it's still worth visiting this largely unknown country to experience Swazi culture.
Local hostels and hotels offer plenty of activities to explore the culture and the landscape. You can even hike up Sibebe Rock, the second-largest granite monolith in the world after Uluru in Australia.
Just be warned that it's very steep, and going up is much easier than coming back down, especially when it's raining!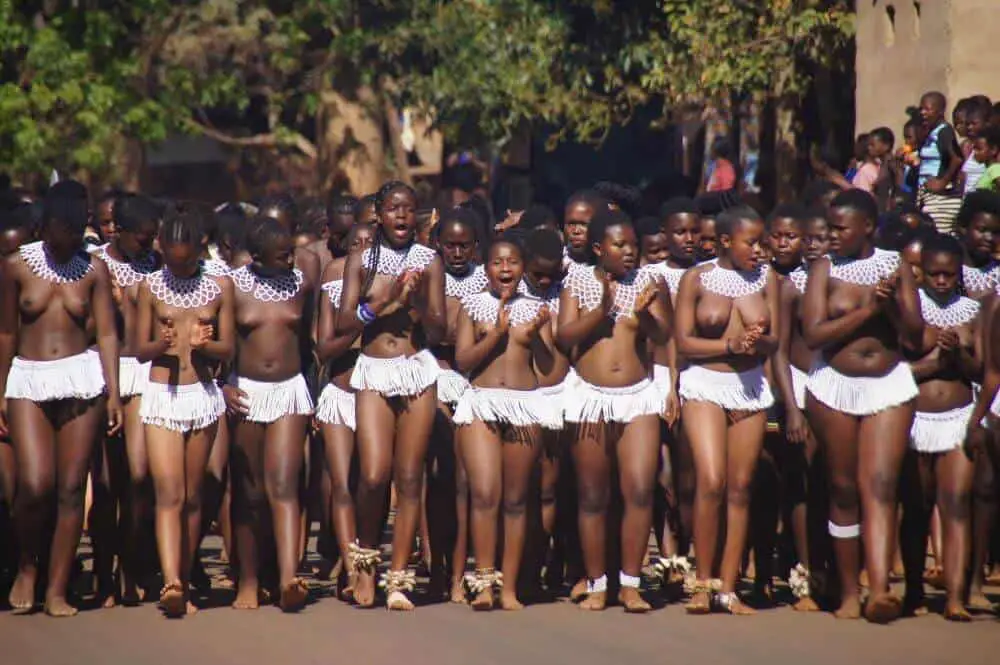 Pakistan
Contributed by Samantha of Intentional Detours
Until Spring 2019, visiting Pakistan was difficult. Visas could cost upwards of $300 for a measly 30 days, and many parts of the country were off-limits to foreign tourists- or required one to be accompanied by a security guard at all times.
These days though?
Visas can be obtained for YEARS at a time, significantly more of the country is open to foreigners, and many new hotels and hostels have been opened to accommodate backpackers. But why else should you visit Pakistan?
Though I haven't been to every country in the world, I can soundly say that it will be hard for anywhere else to come close to this one.
First and foremost, Pakistanis are some of the most hospitable people I've ever encountered. During my four months in the country, strangers offered my partner and I everything from conversation, to places to sleep, to multi-course meals on holidays.
A deep rooted cultural belief is that "guests are a gift from Allah (God)"  and trust me- there was not a day that went by where we weren't treated as such.
Pakistan is also blessed with insane natural beauty and more historical sites than you can imagine. Lahore is a can't miss city- it's bursting at the seams with centuries' old forts, shrines and mosques AND happens to be a foodie heaven. Lahore's thousands of street carts and restaurants can often be found open late into the night.
As for the mountains, Pakistan's most popular region is Hunza, a district in Gilgit-Baltistan and home to some epic sights like Nanga Prabat (the 9th highest mountain in the world), the Passu Cones, Attabad Lake and more. The Hunza region is quite liberal and used to seeing tourists – making travel there easy and straight forward.
I also highly recommend visiting the Khyber Pakhtunkhwa (KPK) province, which is home to dreamy places like Swat Valley and the yet-to-be-explored villages of its Upper Chitral district.
Though the districts of KPK are much more conservative than those of Hunza, their inhabitants might be some of the most hospitable in all of Pakistan! Plus, you'll see a fraction of the number of tourists you'll see over in Gilgit-Baltistan.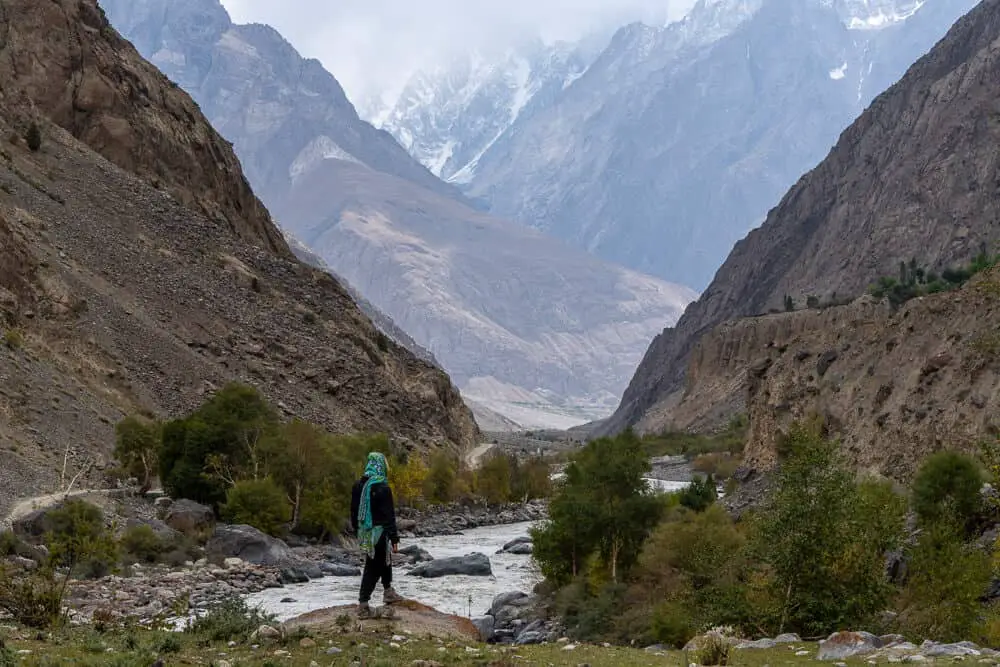 Armenia
Contributed by Kami of My Wanderlust
Armenia is one of the most beautiful yet not so popular off the beaten track destinations in the Caucasus that offers so much to tourists. There are so many great places to visit in Armenia.
Yerevan, the cosmopolitan and vibrant capital, numerous old monasteries, quirky attractions, and stunning landscape! When you go to Armenia be sure to spend at least two days in Yerevan to enjoy interesting museums, amazing cafe scene, and cool city life.
Armenia was the first country in the world that adopted Christianity, in the year 301. This is why you will find so many beautiful monasteries all over the country. My personal favorites are Noravank, south of Yerevan, and Sanahin and Haghpat, in the north of the country. But no matter which one you decide to see, you will be impressed for sure.
The country also has its own alphabet, a very pretty but confusing one. On the side of the road north of Yerevan, you can find the monument with massive Armenian letters – it is such a fun place to see!
However, the vibrant capital or amazing monuments aren't the only reasons why it's worth visiting Armenia. You can eat some of the most delicious food you will ever try!
Armenia is known for its fresh ingredients making each dish simply amazing. The country is getting more and more popular, especially now, with low-cost airlines flying there. Go there as soon as possible and fall in love.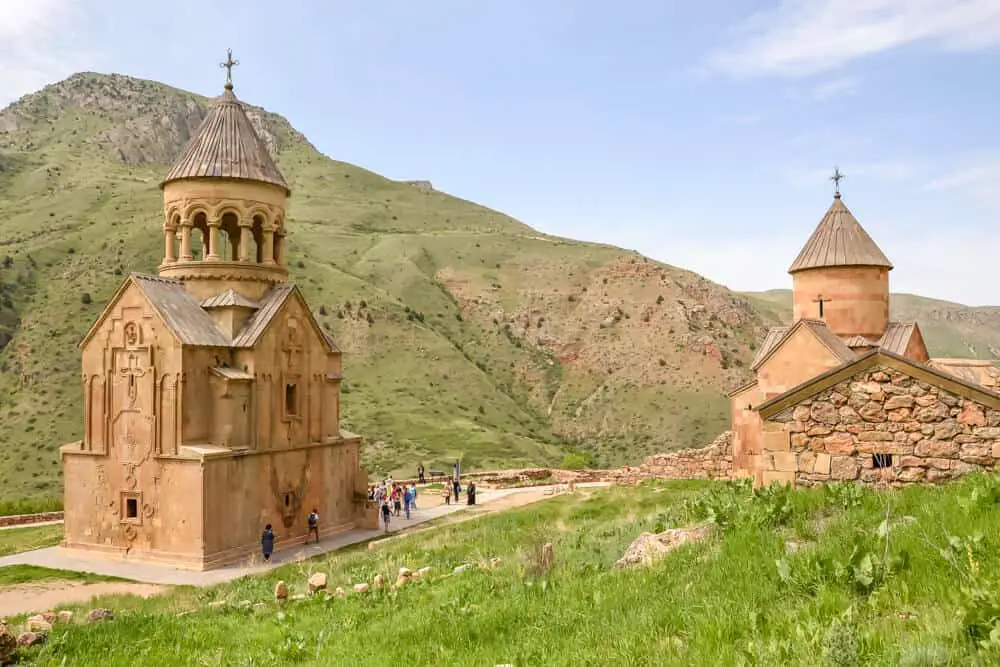 Tajikistan
Contributed by Amit of OutKite
Tajikistan is known for its high mountain chain, nature, Tajik culture and civilization, and delicious Tajik cuisine. One of the highest mountain ranges in the world – Pamir range has been attracting travelers for its trekking.
Pamir Highway will give you the best of driving and adventurous experience. This country is a must-visit for all those who want to take a break and unwind themselves in the solitude of the natural wilderness.
The capital city of Tajikistan, Dushanbe, is home to a rich culture and it's also the economic and the political hub of the entire country apart from being the largest city in Tajikistan.
Tajikistan has always been a prominent country because of Pamir highway, the world's second-highest international highway, which has been in use for thousands of years and a part of the ancient silk road. The road that goes through the Pamir mountains is the perfect gateway for cyclists and road trip lovers. The Pamir Highway refers to a section of the M41 that runs only between Khorog and Osh.
Khujand and its surrounding mountains were a welcoming change of scenery from Uzbekistan's desert landscapes, it is an interesting place for those that love history and culture. Currently, it is the second-largest city in Tajikistan after Dushanbe.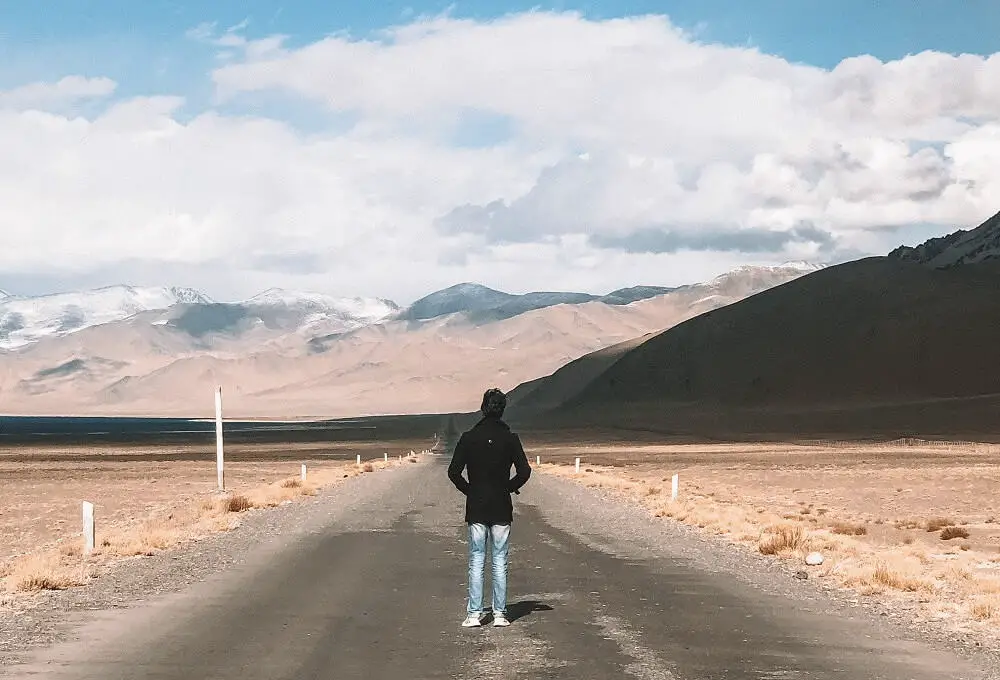 Ethiopia
Contributed by Margherita of The Crowded Planet
Ethiopia had been on my radar for ages, so I was very surprised when I hardly saw any tourists around the country. Ethiopia has so much to offer, that with two full weeks in the country I barely had time to scratch the surface.
The country is also tremendously big, home to stunning landscapes, millenary culture, churches, and more. The 'big-ticket' attractions in Ethiopia are the UNESCO-listed rock-cut churches of Lalibela, but even nicer are the rock churches in the Tigray region, close to the Eritrean border.
A favorite was Abuna Yemata Guh, built on top of a rock spire, and only accessible if you rock-climb! Needless to say, there were only about a dozen other tourists visiting. 
Another unmissable place in Ethiopia is the Danakil Depression, a desert located below sea level, where you can spend a night camping next to an active volcano, then see geysers, hydrothermal pools, acidic springs, and crazy rock formations the following day. 
Infrastructure and accommodation in many parts of Ethiopia are still pretty basic. Locals are actively involved in every aspect of tourism, from guiding to hospitality, and very few foreign operators work in the country. As a result, you can be sure that your tourist dollars will benefit locals directly – which is reason enough to visit!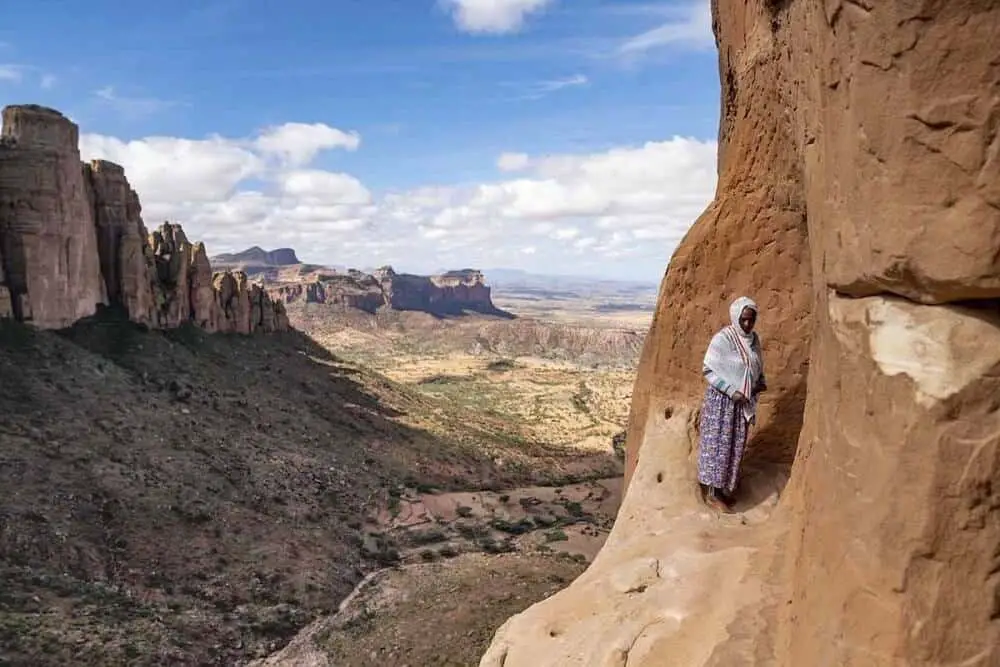 READ: Benefits of sustainable tourism
Bhutan
Contributed by Liza of Tripsget
One of the most unique off-the-beaten-path destinations to visit in 2020 is Bhutan. Bhutan is a small Buddhist country located between Tibet and India. Most of the famous landmarks in Bhutan are located on the elevation of at least 2 km above the sea level.
Bhutan also has one of the most dangerous airports in the world and only about 12 pilots are allowed to land in Paro airport. However, don't let it put you off from visiting this beautiful country. 
Bhutan has beautiful nature (yes, you can also go trekking the Himalayas in Bhutan, not only in Nepal); architecture and amazingly friendly people.
Bhutan is also very authentic – you can travel around the country and see people wearing traditional outfits and keeping their traditions and customs alive.
Bhutan also has great food – it's not similar to Indian or Tibetian food and it's also extremely spicy. If you love spicy food – Bhutan would be your heaven! 
The most famous and impressive place in Bhutan is Paro Taktsang or Tiger's Nest – a monastery, located on top of a cliff, at over 3 km above the sea level. To get there, you need to hike for about 3 hours, but the experience and the views are well worth it. 
To visit Bhutan, you need to buy a tour in advance (unless you're from India or Bangladesh). Long tours could be pricy, however, even 4 days in Bhutan are great to get a grasp of the country and fall in love with Bhutan.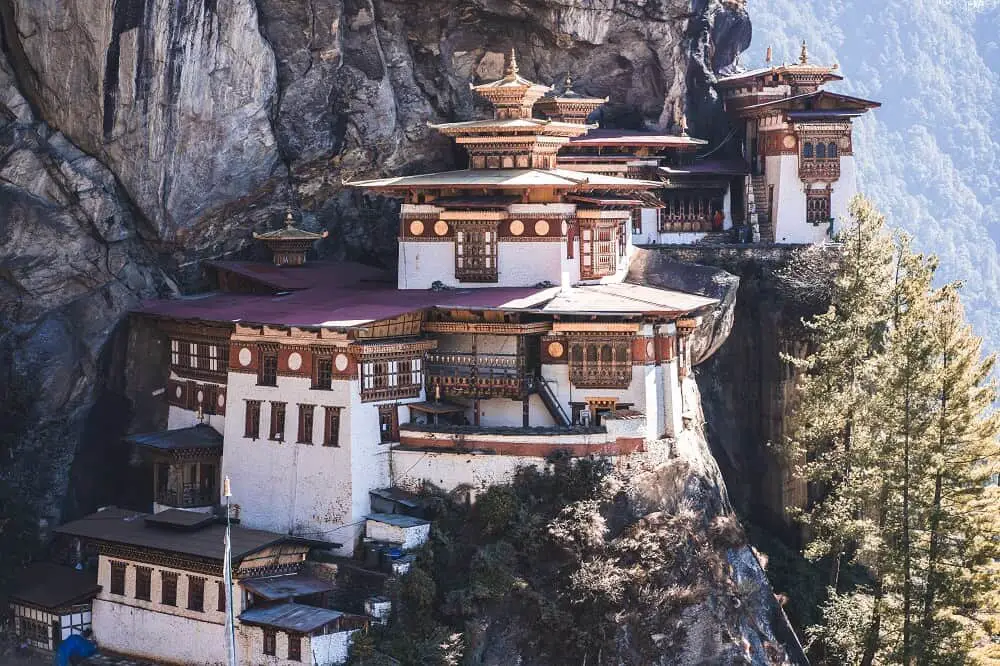 Find the best eco-friendly backpacks for your trip here.
Takeaways from traveling off the beaten path
After reading about all these incredible offbeat destinations, there are a few takeaways I would like to highlight.
First of all, there is so much unbelievable undiscovered beauty around the world, so I don't understand why everyone has to travel to the same few places and create overtourism while other places like the above hardly receive any tourism at all.
Why people's travel habits are so clustered to certain destinations while others remain unexplored, remains a myth to me. Though I'm guilty of it too!
Traveling off the beaten path will give you a lot of positive surprises and incredible experiences. People seem to be more friendly as they are not experiencing the negative effects of mass tourism. Locals like to help travelers and show them the best part of their country.
With fewer tourists around it's easier to immerse yourself in the real local culture as there are not too many tourist shops and staged cultural shows stealing your attention.
Often you hear bad things about a country in the media while traveling there shows a completely different story.
When traveling off the beaten path you will enjoy outer-worldly places without the crowds! Can you imagine anything better?
---
Are you ready to book your flights? Go ahead and do it!
---
Do you have any other takeaways to share, or have you been to another less-visited country that deserves more responsible travelers to visit? I would love to hear about it in the comments!
Pin it for later!