Nestled between the picturesque Appennine Mountains in western Abruzzo, you find the quaint mountain town of Ovindoli, Italy. A thriving ski resort in winter and a summer paradise for active travelers with a wealth of hiking trails, lakes, and cute little villages nearby like Celano, Rovere, and Rocca di Mezzo.
You would think the town is a popular tourist destination, but truth is, there are mostly Italians that visit this pearl which makes it one of the most enchanting hidden gems in Italy.
Situated only an hour and a half from the capital, Ovindoli might just be one of the most underrated day trips from Rome.
There are so many great things to do in Ovindoli, all year round and in this guide I'll share my favorite things to do in what I think is one of the best towns in Abruzzo, Italy.
Disclosure: This post may contain affiliate links. That means that if you make a purchase through one of those links, I will get a small commission at no extra cost to you.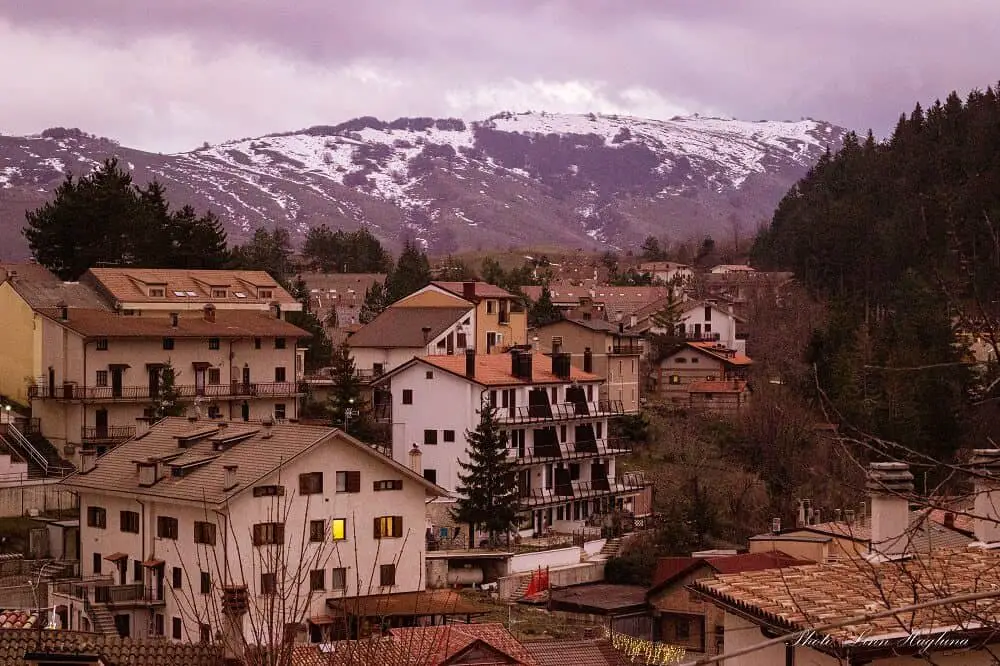 How to get to Ovindoli Abruzzo
The easiest way to get to Ovindoli is to drive. No matter where you come from, the roads are good and you will drive through beautiful scenery once you get closer to Ovindoli.
It takes about one and a half hours to drive from both Rieti and Rome to Ovindoli, making this one of the best weekend trips in Italy. If you need a rental car to do the trip or are planning on a larger Italy road trip, make sure you book a rental car in good time so that you get the best deals.
Check availability and prices here.
There are also trains to Celano-Ovindoli from Rome Tiburtina that takes around 2 hours with one train change in Avezzano. Check availability here.
Best time to visit Ovindoli Abruzzo
Ovindoli is beautiful all year round. So you just have to decide what kinds of activities you want to do. In the winter, Ovindoli turns into a vibrant skiing town and you might find it snowcapped.
Even when the town itself isn't covered in snow, the snowcapped mountains serve as the picture-perfect backdrop. Though the temperatures drop to near zero, you can still do some hiking, but in my experience, it is more restricted, especially if you are not well prepared.
The rest of the year, Ovindoli is a haven for hiking, horse riding, and cycling enthusiasts as you can uncover the endless trails and tracks surrounding this little oasis.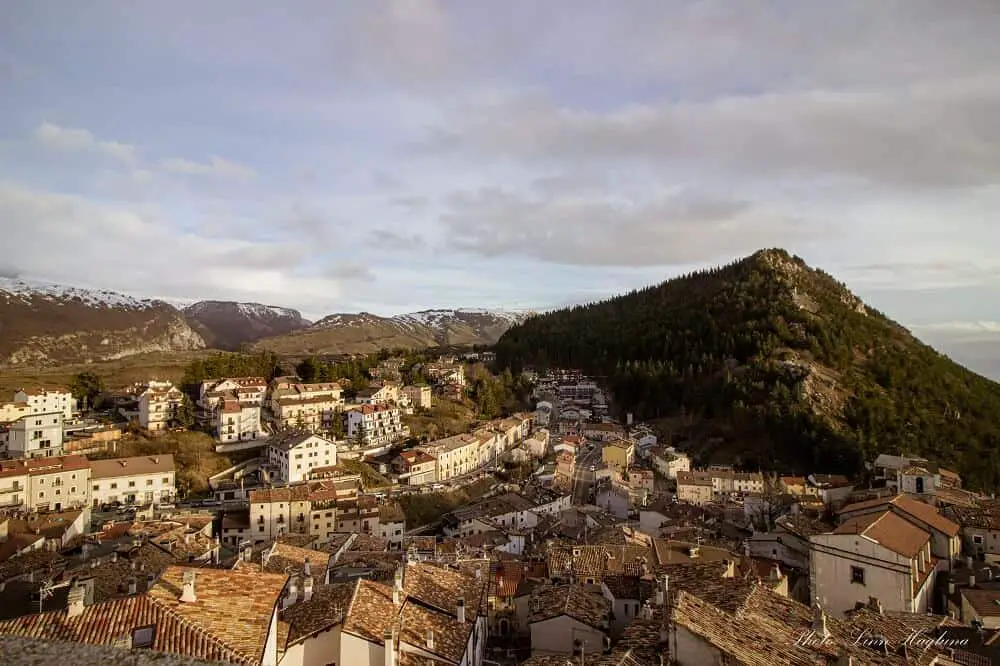 Things to do in Ovindoli
Stroll through the town center
The narrow streets through the town center of Ovindoli are so charming! You can still see the cracks in some buildings from the earthquake that hit central Italy in 2016, but most of the houses are repaired.
Narrow streets take you through, up, and around, ending in beautiful viewpoints. Grab a drink at a bar on the main square, Piazza San Rocco, or shop in one of the small local artisan shops.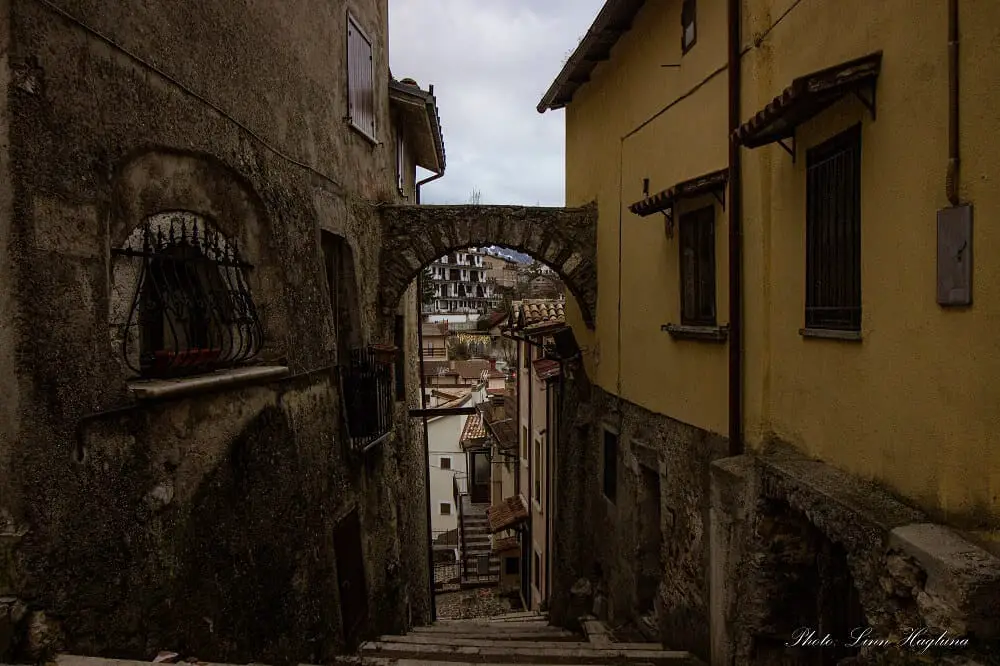 Hike Pizzo di Ovindoli for epic views
Pizzo di Ovindoli undeniably offers the best views of Ovindoli, but it is a steep and grueling climb, especially if you are not used to hiking uphill.
However, it shouldn't take you more than an hour to the top and back down again (trust me, it goes a lot faster back down!)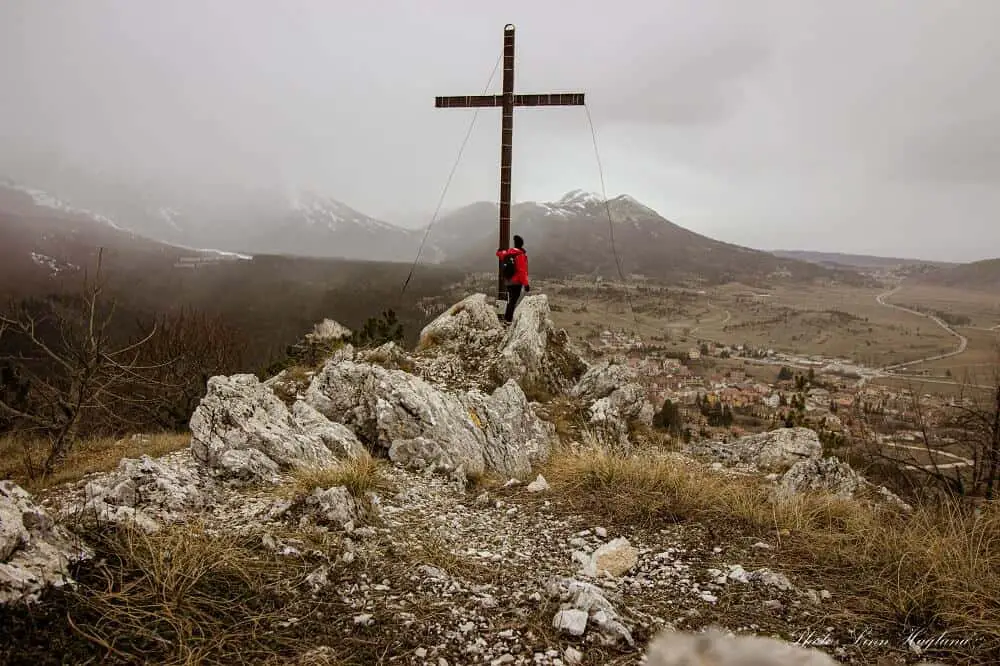 You will need good hiking shoes or boots for this one. Note that in autumn and winter, it's easy to slide on fallen leaves that cover the forest ground. Once you come out of the forest, take in the impressive mountain views on your left before continuing up the trail to your right for the last few minutes.
There is a chance for a little scramble to get to the tip, at least I didn't find a clearer route to get there. This is a great hike all year round, but I believe it might be complicated if there is ice, so if you do go when there's snow and ice, make sure you bring spikes for your shoes and hiking poles to support yourself. Because when I say steep, I mean steep.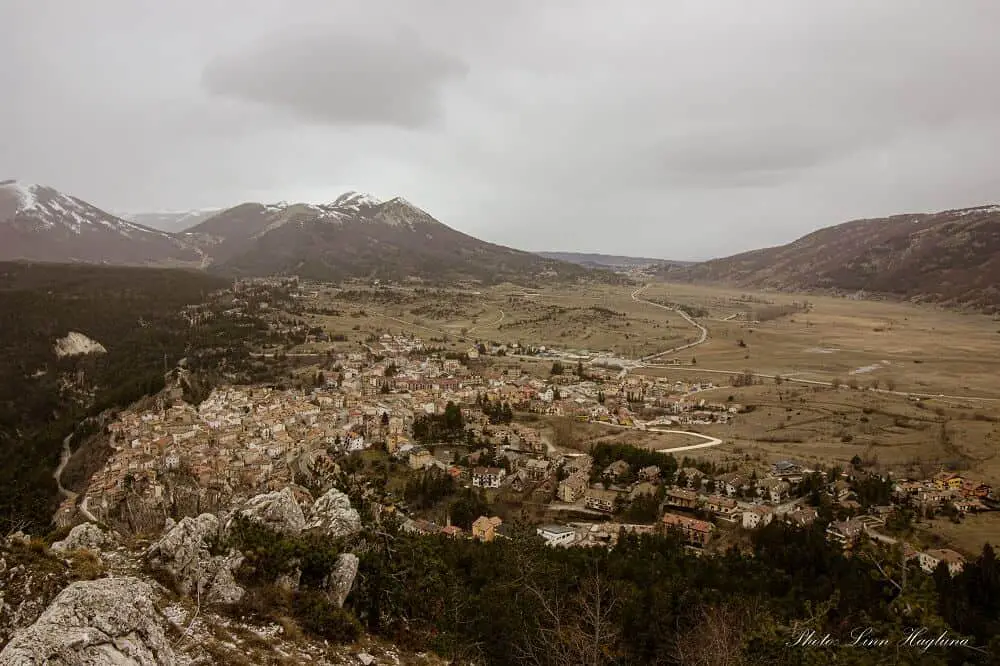 Visit Monumento dell'Alpino
One of the best things to do in Ovindoli is to walk up to the Monumento dell'Alpino where you will find yourself in front of incredible 360 views without as much effort as you would by hiking to Pizzo di Ovindoli.
It is a little walk up on top of the town, but it is absolutely worth it and basically the main attraction of Ovindoli town if you don't count the main square.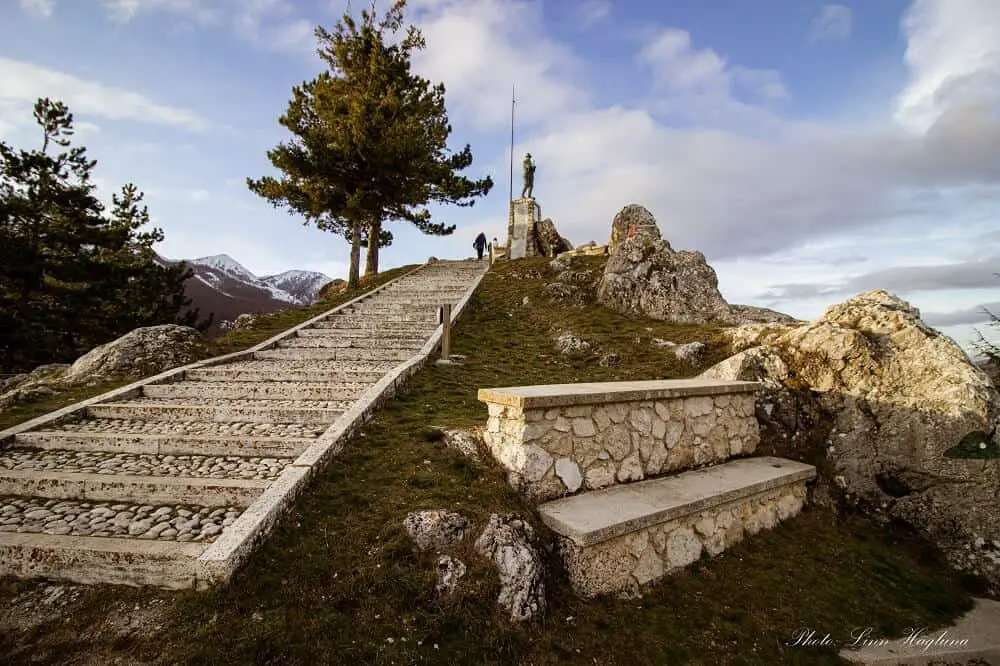 Hike Gole di Celano
One of the best hikes surrounding Ovindoli is through the mesmerizing gorge of Gole di Celano. This is a great hike to do in summer as it gets icy in winter and can be dangerous in some parts. Nonetheless, it is said to be the most beautiful gorge walk in Abruzzo.
Walk through the narrow gorge, across boulders, and past glittering waterfalls. It is a hike that the whole family can take on which lasts about 4-5 hours. The hike is 5 kilometers one way and many people choose to leave one car on each end to avoid hiking both directions.
MORE FROM ITALY
Things to do in Orvieto
Best towns in Tuscany
Best towns on the Amalfi Coast
Italy off the beaten path
Florence 2 day itinerary
Rome 4 day itinerary
Walk to Piani di Pezza
Piani di Pezza is a gorgeous flat glacial and kartic plateau surrounded by the mountains of Sirente-Velino Regional Natural Park and makes for a lovely place for hiking.
Whether you decide to take on the one hour hike from Ovindoli or you drive there and pick any of the hiking trails that start there, you will be mesmerized by the stunning nature.
If hiking is not in your plans, this is still a wonderful place to go for sunset and just take a few pictures.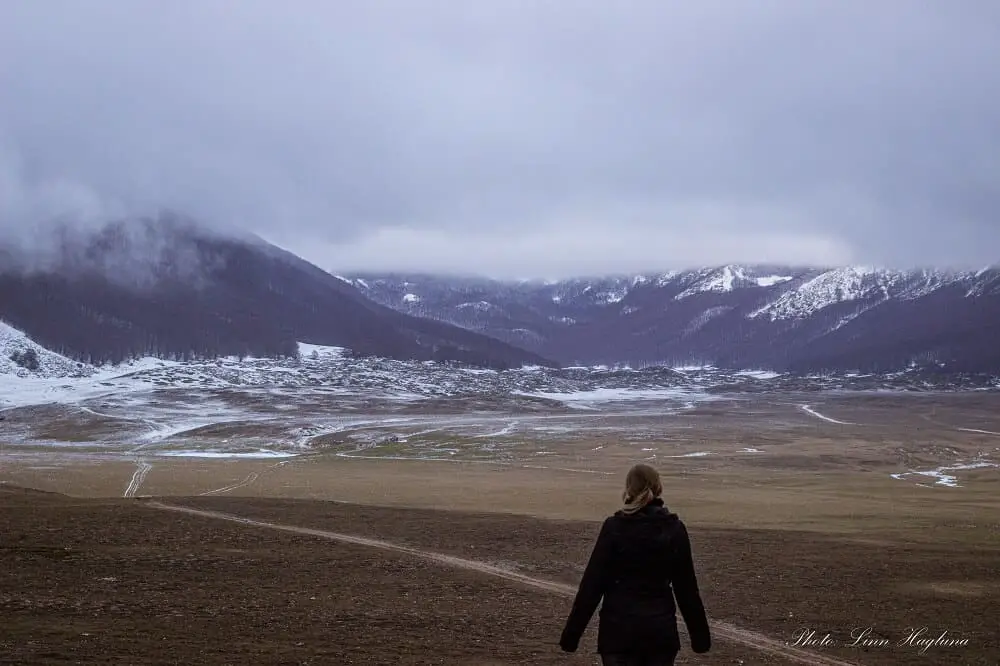 Hike to Serro di Celano
Another epic hiking route that does not take too much effort (when there is no snow that is!) is the Serro di Celano hike. Taking you from Ovindoli across farmland to beautiful views in the mountains, you will have an unforgettable day hike without too much effort.
The trail is well marked and you can download the route on any hiking app like Wikiloc to follow the trail too. I tried to do this hike in winter and had to abort just before I reached the top as I wasn't wearing the right footwear (I left for Italy without any intentions of hiking in the snow.)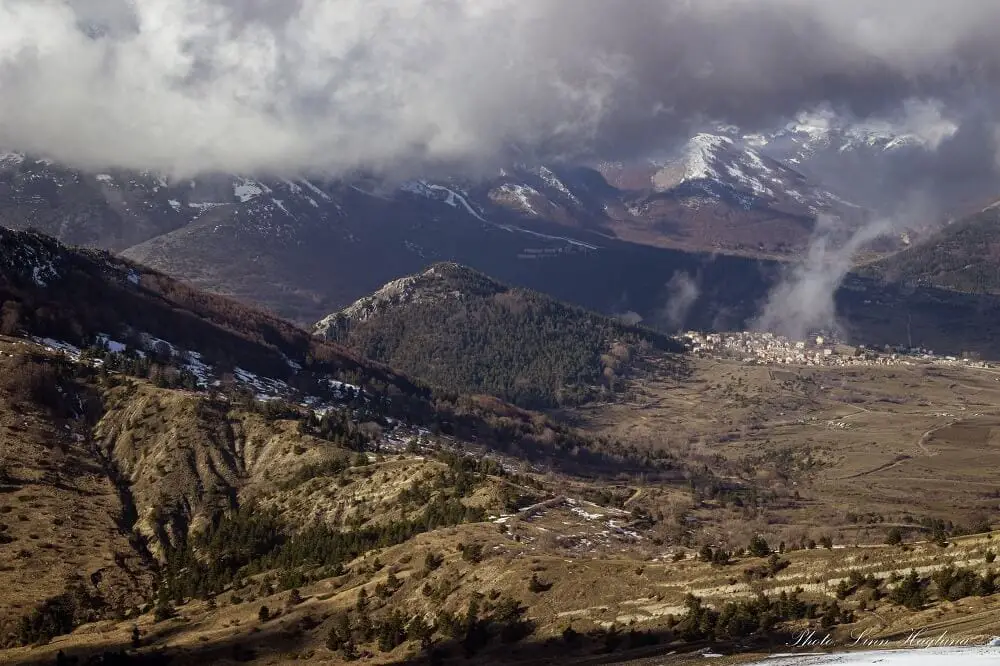 Rent a bike
Ovindoli is situated in wonderful settings with bike paths pointing in every possible direction. So one of the top things to do is to rent a bike and explore the picturesque surroundings.
Whether you prefer crossing flat, green fields taking in calm mountain lakes or you want to get adventurous and hit the forest trails to experience some of the absolute best views, is completely up to you.
No matter what you choose, you are sure to be rewarded with incredible mountain views and natural beauty.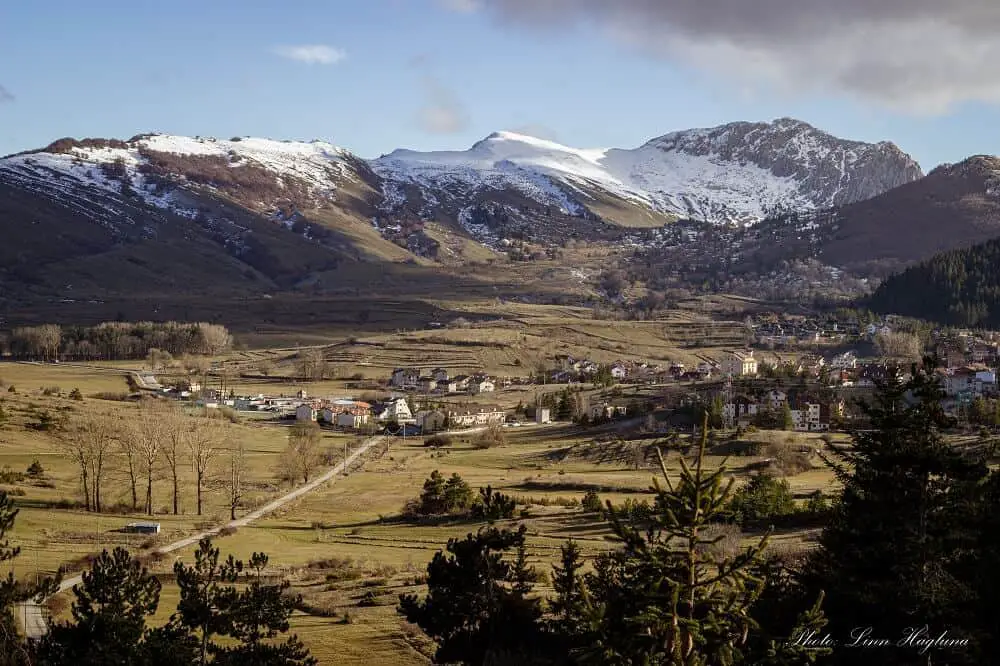 Go skiing
Ovindoli boasts some of the best ski resorts in central Italy and in the winter months, you can have a whole lot of fun at the 30 kilometers of downhill slopes in Monte Magnola which towers over 2000 meters above sea level.
There are 7 lifts that take skiers and snowboarders up the slopes for thrilling downhill experiences for all levels. If you are new to downhill skiing and snowboarding, there are a few ski schools there where you can get an instructor.
Reflections on visiting Ovindoli, Italy
Ovindoli has been part of my family's vacations since I was around 14 and I have been there several times at different times of the year.
There is so much fun to have had in this little piece of nature paradise and I am sure that if you head out for any of the above adventures, you will not get bored and you will surely find a lot more things to do once you get there and start exploring.
Ovindoli is without a doubt a nice surprise in the Apennines mountains that should not be overlooked.
Happy travels!