If there's one positive thing the coronavirus pandemic has brought, it is a greater understanding of the importance of looking after the environment, supporting small local travel businesses, and taking care of wildlife. While people can't travel, it seems like they spend a lot of time searching for information about the importance of sustainable tourism and off the beaten path places. I find this a great time to watch sustainable travel documentaries to broaden my knowledge. Since I see such an increase in interest in the topic, I decided to gather 10 of the travel documentaries I found specifically interesting and valuable. Not only showing the negative sides, but also some happy stories about successful community tourism.
Disclosure: This post may contain affiliate links. That means that if you make a purchase through one of those links, I will get a small commission at no extra cost to you. If you have any questions about these services or products, feel free to ask me.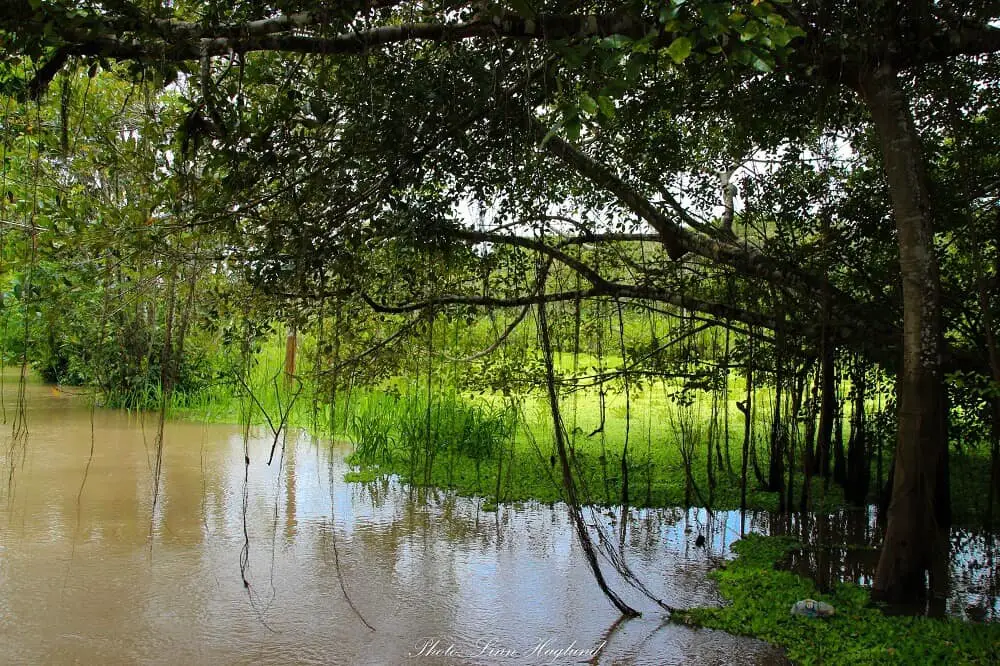 ---
Plant trees to create habitat for animals from the convenience of your home
---
Sustainable travel documentaries
These travel documentaries are great for expanding one's knowledge and awareness about different pain points in tourism like unethical animal tourism, overtourism, and the paper-thin balance between supporting local communities and destroying the environment. I also included a couple of really great examples of how tourism can be used as a tool to good, done the right way. That's where we want to get, right?
Get ready for some ethical armchair travel with some of my favorite sustainable tourism documentaries.
Gringo Trails
Are you dreaming about backpacking the world? This impactful documentary will make you want to do it in a responsible way. It is with great embarrassment that I recognize those beaches in Thailand after a night long beach party. I would never contribute to that again.
Gringo Trails shows the god, bad, and the ugly of tourism. A good starting point to decide what impact YOU want to have on destinations when you can start to travel again.
See the whole documentary on Vimeo.
Bye Bye Barcelona
Bye Bye Barcelona is a strong documentary taking us straight into the struggles of locals in one of Europe's most over touristed cities. This goes straight to the heart and might make you re-think where you chose to travel to next and whether Airbnb always is the right choice for you.
You can see the full documentary here. Remember to turn on English subtitles.
A Plastic Ocean
You can probably easily guess what A Plastic Ocean talks about. And you're completely right. This deep dive into the huge consequences of plastic pollution in the world's oceans will make you reevaluate your plastic usage and maybe even consider a future towards zero waste.
This documentary has really had a strong impact on my choices, though I still have a long way to go.
See the full documentary here.
Vendemmia
Vendemmia is a documentary of the struggles of Cinque Terre in Italy to balance the economic benefits of tourism and the preservation of their old traditions and nature. It's an interesting look behind the scenes of how sudden large numbers of tourism affects a small, traditional local community.
Get the whole documentary here.
On Our Terms: Responsible tourism in the Maasai Mara
This is a short but insightful story told by the Maasai Mara beautifully describing how they choose their own terms of tourism on their land so it works well for them and for the wildlife. It's a great reminder that community tourism done right makes a good experience for all parts, the locals, the travelers, the wildlife, and the environment.
A short and happy story from Responsible Travel.
The Cove
The Cove is an extremely strong documentary of how activist Ric O'Barry (who used to be a dolphin trainer for the Flipper TV series) together with a group of scientists dangerously find the ugly truth of local Japanese fishermen's brutal slaughter of dolphins in a secret bay. It is seriously well made and will keep you alert throughout the whole 1,5 hour.
See the full documentary here.
Uganda; Sustainable Tourism
Another great short documentary showcasing how community-based tourism can make a huge difference for the wildlife and its habitat. A positive documentary that really shows the benefits of sustainable tourism.
See the whole documentary here.
Crowded Out: The story about overtourism
Crowded Out: The story about overtourism is truly interesting to watch now so you can choose a better way of traveling after the coronavirus pandemic is over. This is a great reminder that we have got a new chance now, to prevent overtourism from growing back to what it was.
Remember, you can make your own choices and don't have to support overtourism coming back.
Watch the whole documentary here.
2.5% The Osa Peninsula
This is a documentary of one of the poorest areas in Costa Rica with some of the most untouched rainforest in the country. The Osa Peninsula has 2,5% of the world's biodiversity! How would the building of an international airport affect the area and its people?
See full documentary here. It's for free during lockdown so hurry up. You can also leave tips if you have the opportunity.
Exploring Sagada Philippines (Sustainable Tourism Mountain Town)
This short documentary shows how a little mountain town in The Philippines has focused on sustainable tourism. It is a great reminder of respecting the destination, its religious sites, and its people. It talks about traveling with the right mindset and listening to what the locals tell us.
See the whole documentary here.
Conclusion
There are so many inspirational and impactful sustainable travel documentaries. I hope you enjoyed some of them. If there is any great travel documentary you think is missing from this list, please let me know in the comments, and I'll make sure to add it.
Did you like this? Pin it for later!