A chill surf town only 30 minutes from Lisbon is the perfect setting for a day trip from the Portuguese capital city to get away from the hustle of the city and other touristy day trips from Lisbon.
There are just enough things to do in Ericeira to enjoy a lazy day. But if you're a surfer or you want to learn how to surf, you should spend more time!
Ericeira is not only the top surfing destination in Portugal but in 2011, Ericeira was declared the first and only World Surfing Reserve in Europe by the surfer-based ocean conservation organization, Save the Waves Coalition. This is also contributing to Ericeira being one of the top eco tourism destinations out there.
If you want to learn how to surf, the best months to go are between May and September since the rest of the year the waves are often too big for beginners. However, the rest of the year is heaven for seasoned surfers!
While Ericeira used to be one of the best-hidden gems in Portugal, it is starting to get the recognition it deserves as more and more travelers stop by, especially as a stop on a road trip from Lisbon to Porto.
Find out what to do in Ericeira, Portugal in this post!
Disclosure: This post may contain affiliate links. That means that if you make a purchase through one of those links, I will get a small commission at no extra cost to you.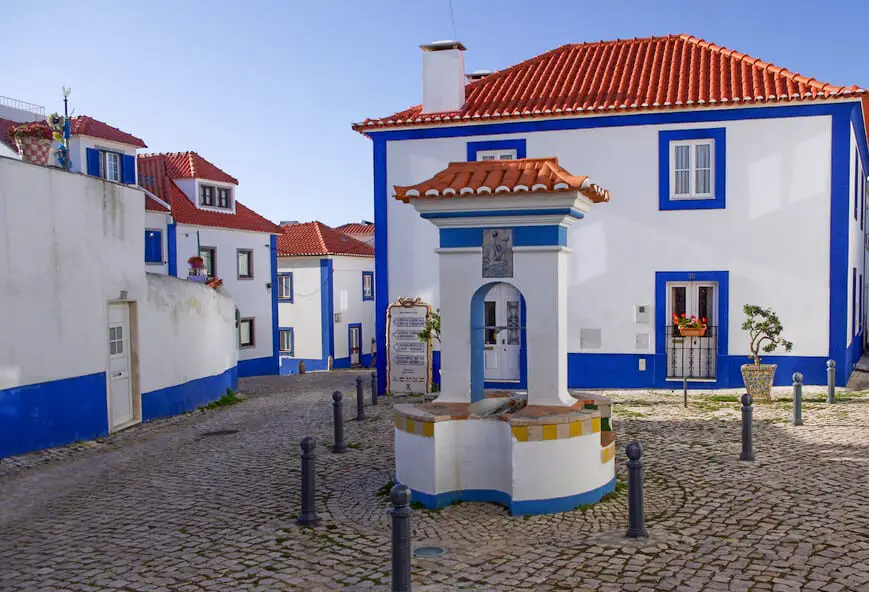 How to get to Ericeira
Ericeira is situated only half an hour outside Lisbon and you can easily get there by car and by bus. Here is how.
Driving from Lisbon to Ericeira
Driving from Lisbon to Ericeira is easy. You find parking in the streets or designated parking areas by the different viewpoints and beaches on the coast.
That said, the toll roads add to the cost of driving. Be aware that some toll roads don't accept foreign cards so you need cash to pass.
The buses from Lisbon to Ericeira take about 1 hour 30 minutes passing through Mafra. They leave from Campo Grande Terminal by the yellow and green metro line. The cost of the bus is 8 Euros. You can find bus times here.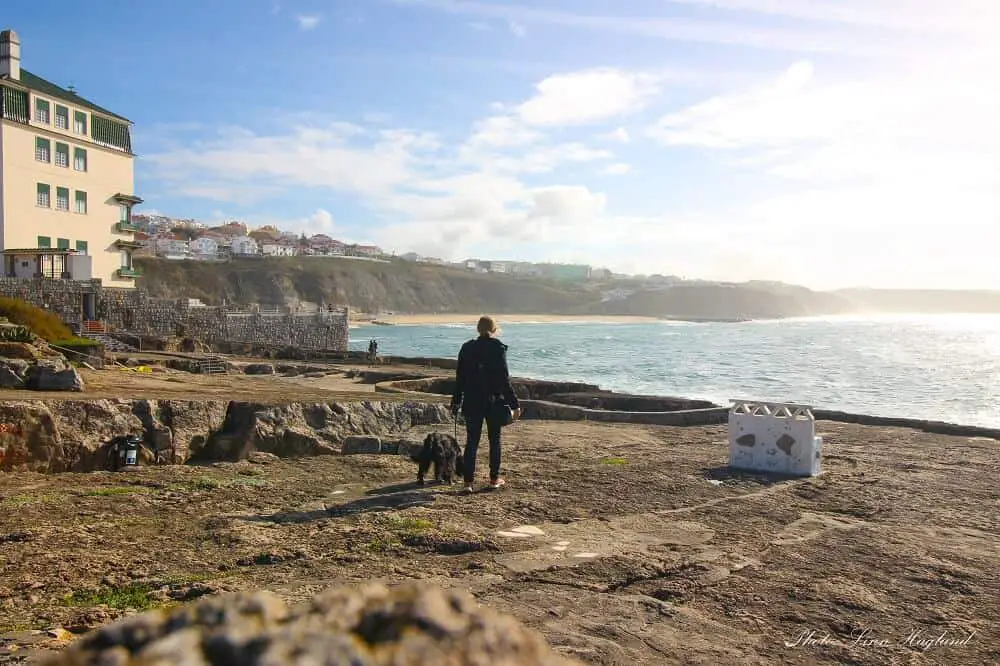 Where to stay in Ericeira
For being such a small place, there are surprisingly many places to stay in Ericeira from hotels to AirBnBs. I have listed a few hotels to choose from here.
Chill in Ericeira Surf House – A charming and chill guesthouse within walking distance from both the beach and town center. You can book surf lessons and rent equipment there. I love this place, especially for the social and chill environment, but also for the price. I would recommend it any time.
Reserva FLH Hotels Ericeira – This is a spacious and clean hotel at a slightly higher price range, but so worth it. It's situated within walking distance from some of the finest beaches in Ericeira and all the bars and restaurants.
Casa das Aguarelas – This is an excellent mid-range hotel in the heart of Ericeira. You have everything you need at a hand's reach from the hotel and the rooms are clean and welcoming.
Things to do in Ericeira
As mentioned, there are some wonderful things to do in Ericeira, Portugal's surf town. So let's start with the obvious.
Surfing
As one of Portugal's most prominent surfing towns, it would be sad to leave Ericeira without catching one single wave.m Whether you're a beginner or a seasoned surfer, there are spots to enjoy.
Ericeira boasts numerous surfing schools and surf retreats where you can learn from scratch or join other experienced surfers.
As mentioned in the intro, the months between May and September are the best ones for beginners.
It is also popular to go on yoga and surf retreats in Portugal, and Ericeira is the perfect destination for it!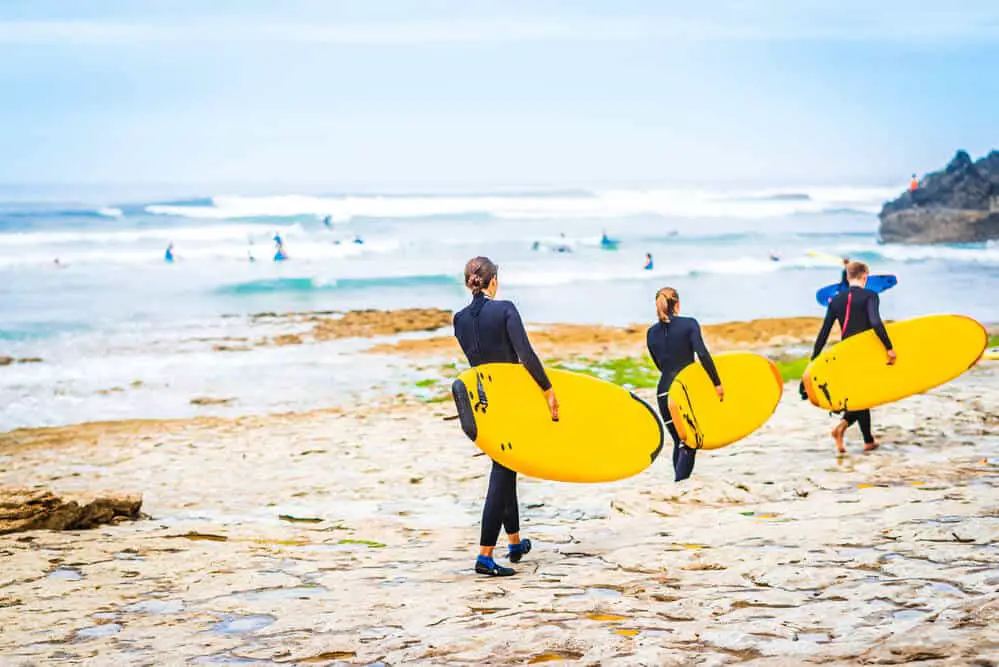 Stroll through the cobbled streets of Ericeira
The charming cobbled streets of Ericeira are perfect for a leisurely walk. The white and blue houses are typical of a fisherman's village and you can find hidden street art among them too.
However, I'll make a shoutout to all Instagram tourists out there, please don't geotag people's front doors. We really don't want to ruin this chill place with millions of Insta tourists running down people's houses. Let's keep it real, folks! Respect people's privacy – just as you'd like your own privacy in your own home.
To add to that, smile and say hello to the locals you meet on the street, they're so lovely!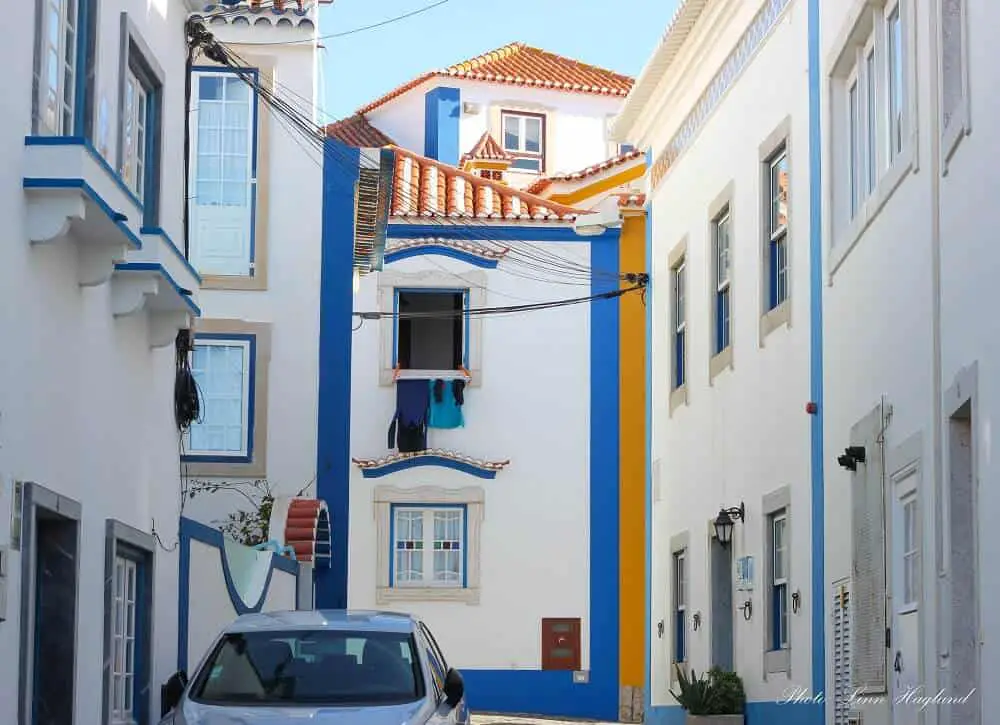 Have lunch with a sea view
There are a few restaurants with a perfect sea view where you can entertain yourself by watching surfers catch waves on a good day.
By strolling along the coastline, you'll bump into them so you can choose one that resonates with you. If you're not hungry, it's possible to have a drink and enjoy the views as well!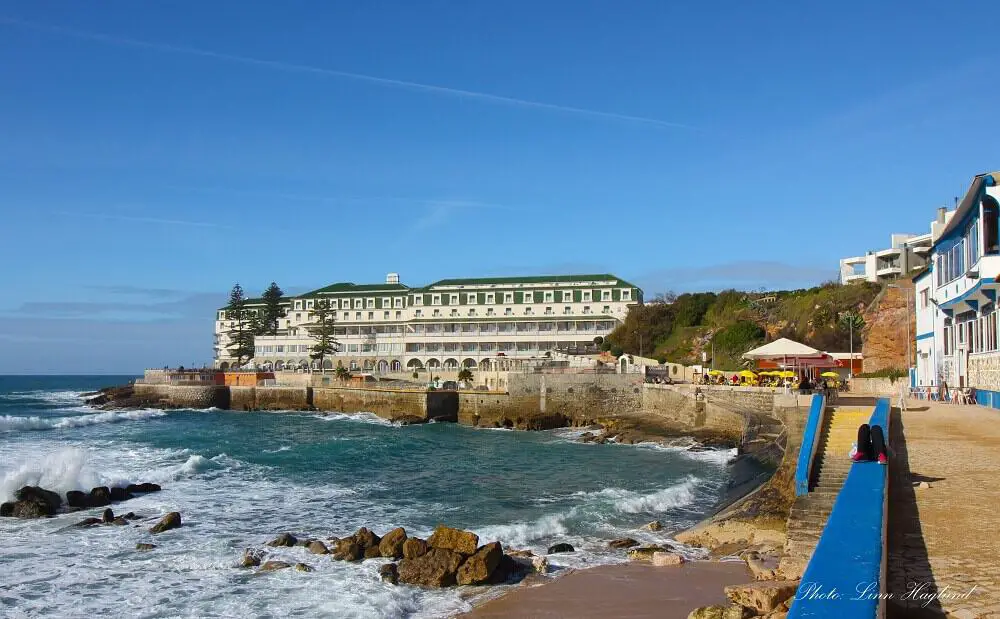 Go for a walk from Praia dos Pescadores to Praia do Sul
The paseo from Praia dos Pescadores winds south along the coastline past beaches and rock formations. It's a lovely walk where you can watch the waves smash along the cliffs, walk down to the seaside, chill on a bench, or grab a cold drink along the way in any of the bars.
Follow the surfers riding the waves along your walk or go down for a swim on a hot day. This walk is entertaining and full of variation. Ending with the viewpoint of Praia do Sul, this is one of the best things to do in Ericeira besides surfing!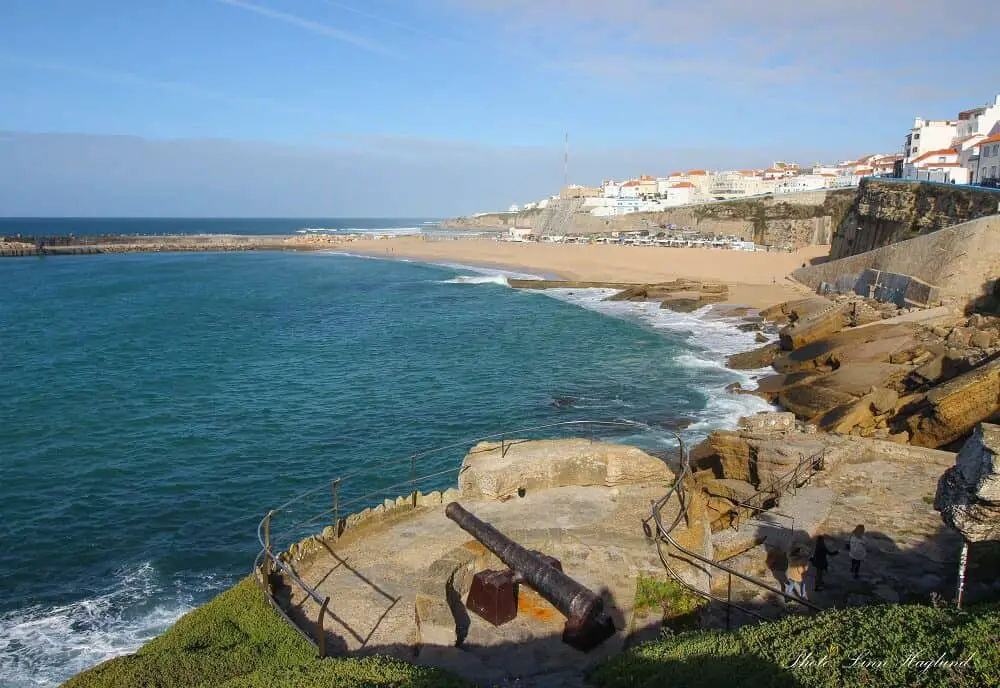 Check out rock art at the coast
South from Praia do Sul, there is amazing rock art carved in the rocks that you can explore. It's definitely not something you'd expect to see there, so it's worth the walk for a different experience.
Top adventure activities in Ericeira:
Check out Foz do Lizandro, Ericeira's finest beach
One of the finest beaches in Ericeira is Foz do Lizandro. It's situated a little bit south of town and is situated right where Rio Lizandro mounts out into the ocean.
This makes the beach ideal for paddleboarders as you can cruise up the river if there are too many waves for paddle surfing in the ocean.
There are bars and restaurants near the beach too so you can easily make it a day out and it's without a doubt one of the top things to do in Ericeira.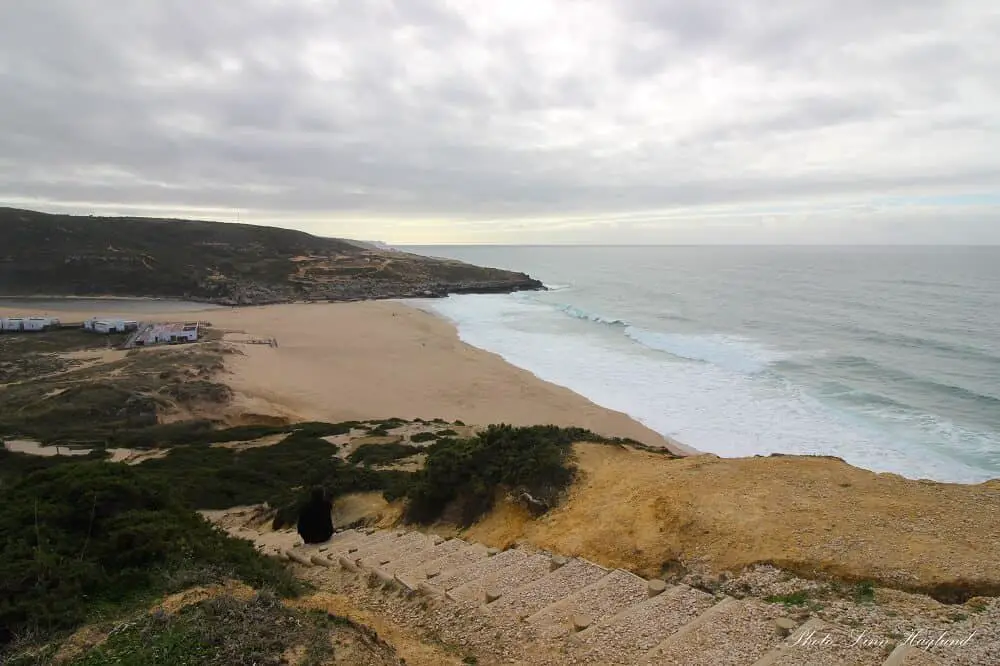 Explore the remains of Forte do Zambujal
Just a 10-minute drive from Ericeira, history buffs can explore the remains of the Zambujal Fort. There isn't much left of it, but with a beautiful drive and great views of the surrounding countryside, it's a nice variation from the coast.
Personally, I wouldn't recommend heading there unless you've got extra time to kill as there are so many other fantastic things to do in Ericeira.
Reflections on Ericeira Portugal
Ericeira is without a doubt a must-visit when around the Lisbon area in Portugal. The tiny coastal town boasts life yet isn't overtouristed, so there's no reason not to love it!
Ericeira has enough charm to not only attract surfers, but with cute cafes and a mesmerizing coastline to explore, it's a local favorite as well as a traveler's favorite.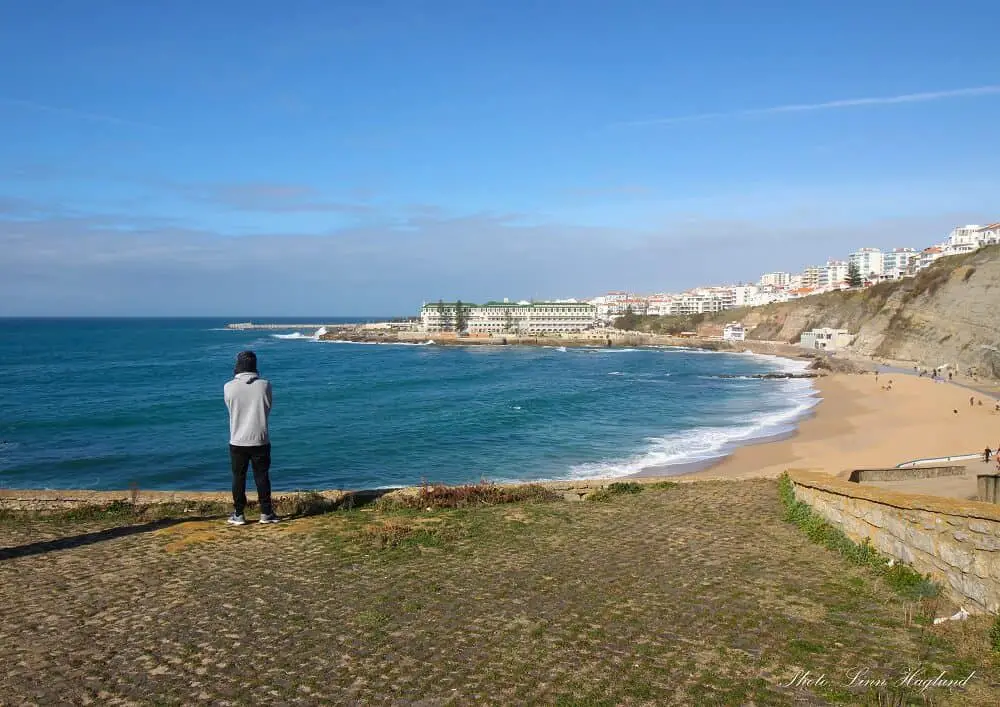 No matter why you decide to visit Ericeira, make sure you travel responsibly and protect the ocean from any waste. Dispose of your own waste, but if you see anything laying around, you're welcome to pick it up and leave it in the nearest rubbish bin. This way you contribute to less waste flying into our oceans.
With this in mind, generations to come will enjoy Ericeira. Things to do for anyone that enjoys adventure combined with a chilled vibe is guaranteed.