Rome in winter invites for a quaint café and restaurant scene, walks through ancient history wrapped in a warm scarf and cute mittens, the scent of warm, grilled chestnuts, Holiday lights, and a warming winter sun in the crisp air.
Throughout my life, I've spent countless winters in Rome visiting family during the Holiday season and it's one of my favorite seasons to spend in this amazing city.
If there's any low-season in Rome, it's winter – this means fewer tourists. That said, Rome is always jam-packed with people and a popular destination for a weekend trip to Italy. Locals and tourists alike! But this is Rome and part of its enchanting vibe are all the people.
There are not many reasons why you shouldn't visit Rome in the winter months. But if you're not sure if it's for you, then you should read on to find out why it's a wonderful time of the year to explore one of the most spectacular historical centers in Europe and what to expect from winter in Rome, Italy.
Disclosure: This post may contain affiliate links. That means that if you make a purchase through one of those links, I will get a small commission at no extra cost to you. As an Amazon Associate, I earn from qualifying purchases.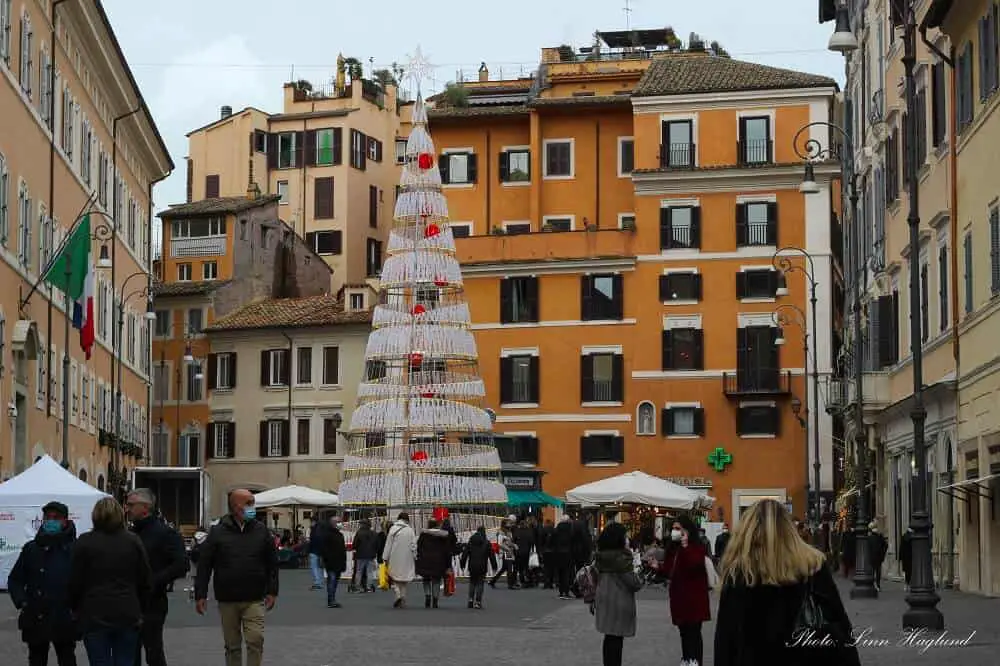 Rome winter weather
Rome winter weather is quite pleasant compared to other destinations on the continent and not only a great escapade for winter sun in Europe but also one of the best places to visit in Italy in winter. But you need to know that Rome can also get a horrible northern wind from the north which makes it feel way colder than the meter tells you.
There's also an average of 8-9 days of rain/month in Rome during the winter months – but hardly ever any snow. To put it that way, if you experience snow in Rome, you're up for a treat, because most locals have only experienced it once or twice in their lifetime.
With this information, it's good to pack layers so that you can put on extra clothes if you're unlucky to go during those windy days, yet be able to enjoy the warm sunny days.
Average temperatures in Rome during winter range between 3 degrees at night and 14 degrees in the day. Yet a sunny day can give you the feeling of it being much warmer.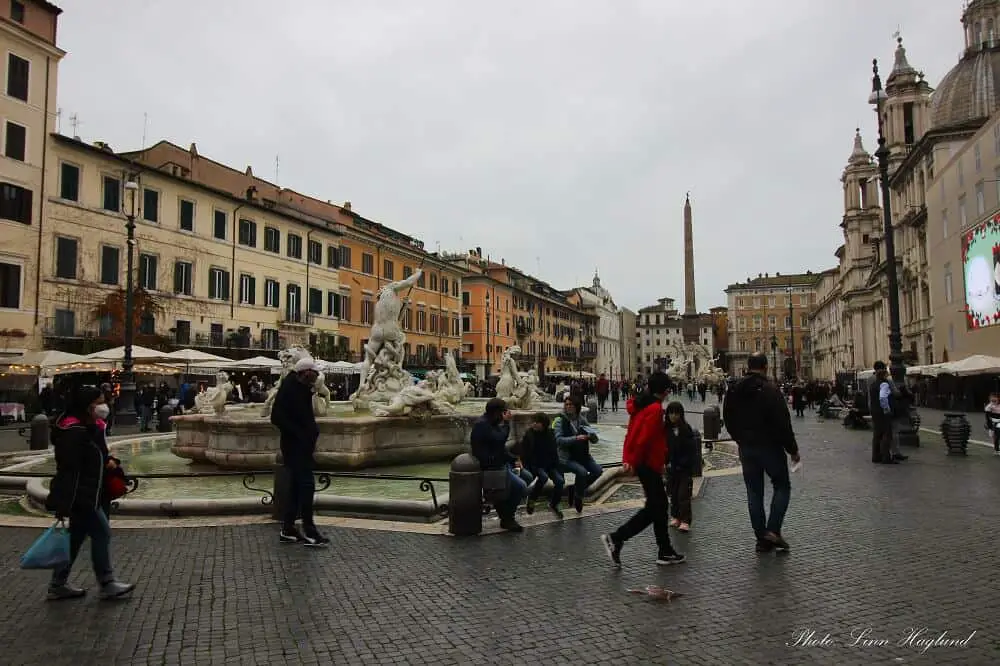 What to pack for winter in Rome
As mentioned, the weather in Rome can be a bit capricious during the winter. Even though it's more often nice than not, make sure you bring an umbrella and layers of clothes, comfortable shoes, and a warm winter jacket.
Here is my basic packing list for Rome in winter:
Comfortable shoes
Jeans
T-shirt
Warm sweater
Mittens
Beanie
Scarf
Underwear
Winter jacket
Umbrella
Camera
Toiletries
With these items, you should be set!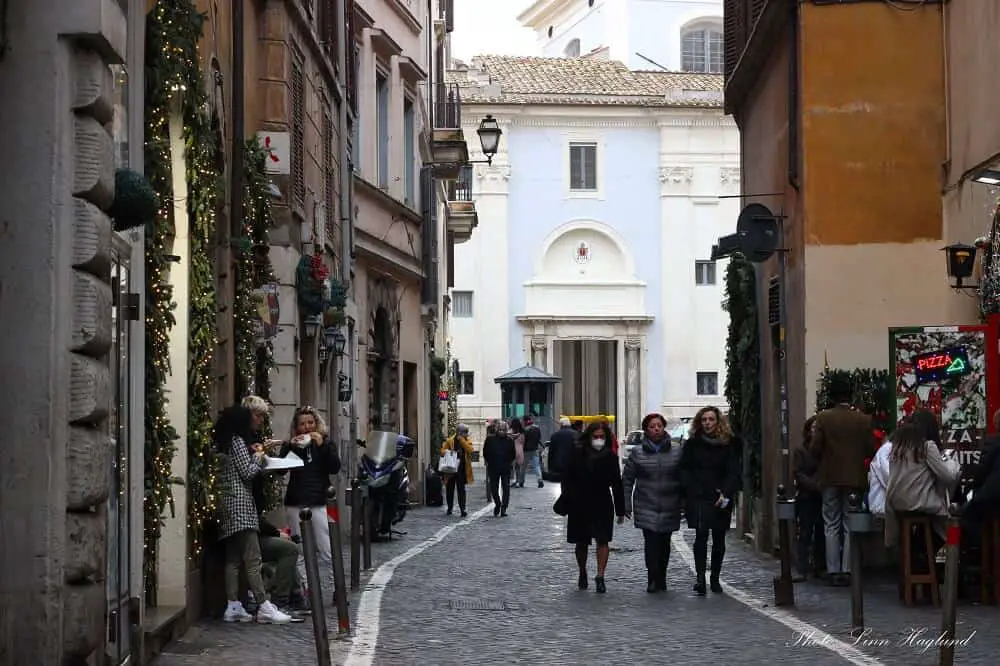 Things to do in Rome in winter
Now that you know what to expect from winter in Rome, let's have a look at what to do in Rome in winter. The good news is that all the tourist attractions in Rome are perfect to visit in winter and on top of that, there are some extra winter treats!
If you have extra time, check out some of these Rome hidden gems too.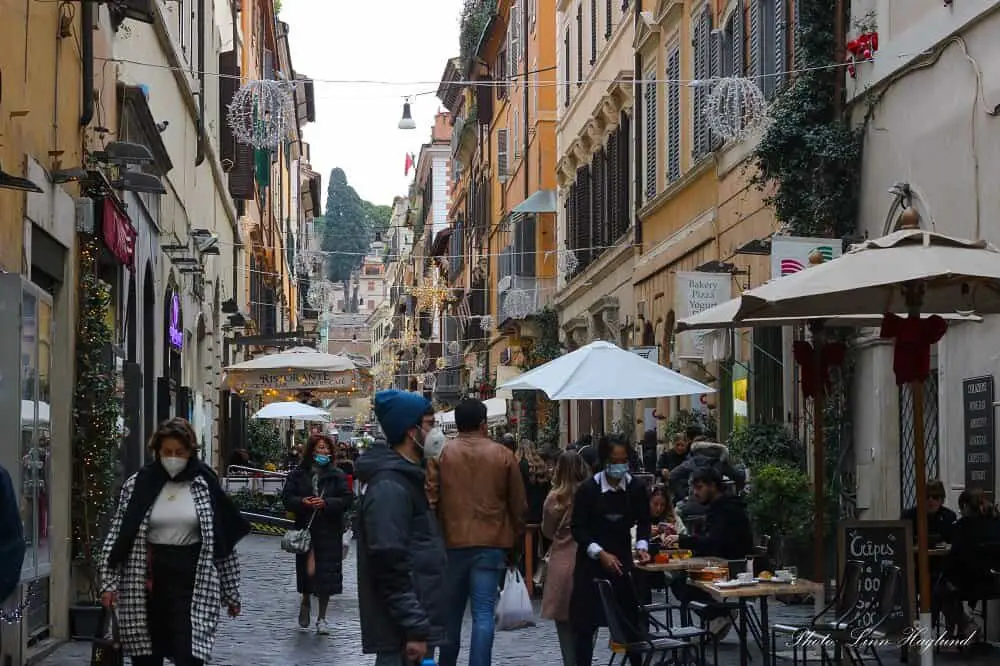 Visit the Colosseum
No trip to Rome is complete without a visit to the Colosseum, one of the most iconic landmarks in Italy. Jam-packed with history, the Colosseum is the largest ancient amphitheater (it had a capacity of 70 000 people!) and probably the world's most famous.
Dating back to the 70s AD, the Colosseum hosted major spectacles from gladiator fights, animal hunts, to mock sea battles throughout the years it was in use.
There's usually a long line to enter the Colosseum, but if you haven't been before, I highly recommend doing it. Opening hours are from10:30 and the last entry is at 18:15. You should allow at least an hour to walk around.
In 2018, a new section underground opened to the public which gives a picture of how the backstage was at the Colosseum for the participants before the games. This is a perfect way of escaping rainy days.
To avoid the worst queues, you can get a skip-the-line ticket here.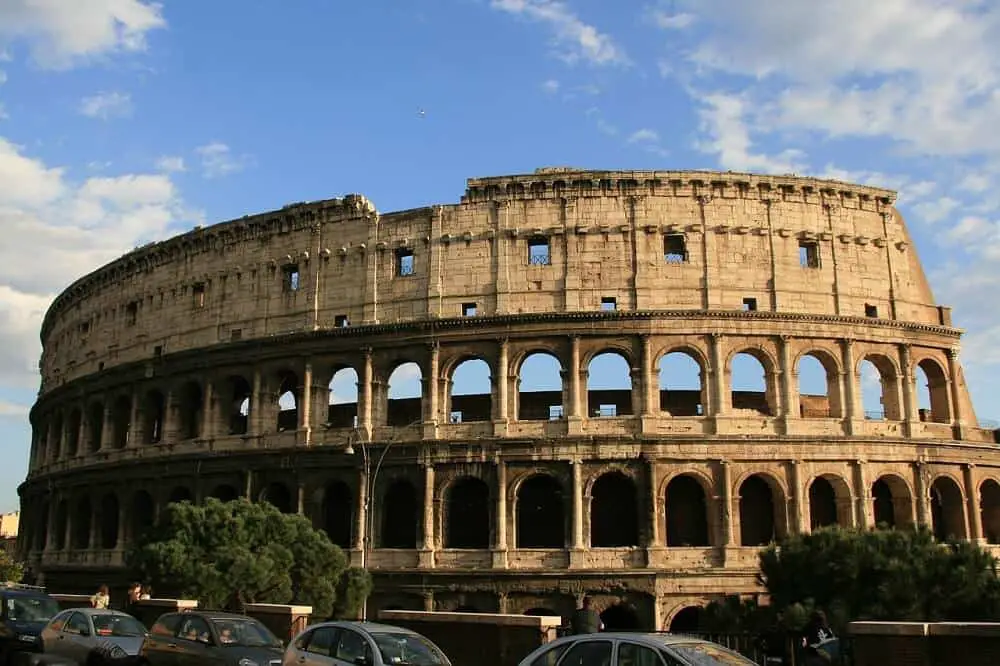 Foro Romano
Just a stone's throw away from the Colosseum, you can walk the ancient Foro Romano which is one of the best-preserved forums.
The first forum, the Temple of Saturn, was built already in 497 BC, and in the coming millennia, more forums accompanied by political buildings were built around it.
This place was a meeting ground for people, bustling with life. Now, you can walk the same streets and see the remains to only imagine what it once represented for the Romans.
The opening times are the same as the Colosseum and you can get joint skip-the-line tickets for Colosseum, Palatine Hills, and Foro Romano here.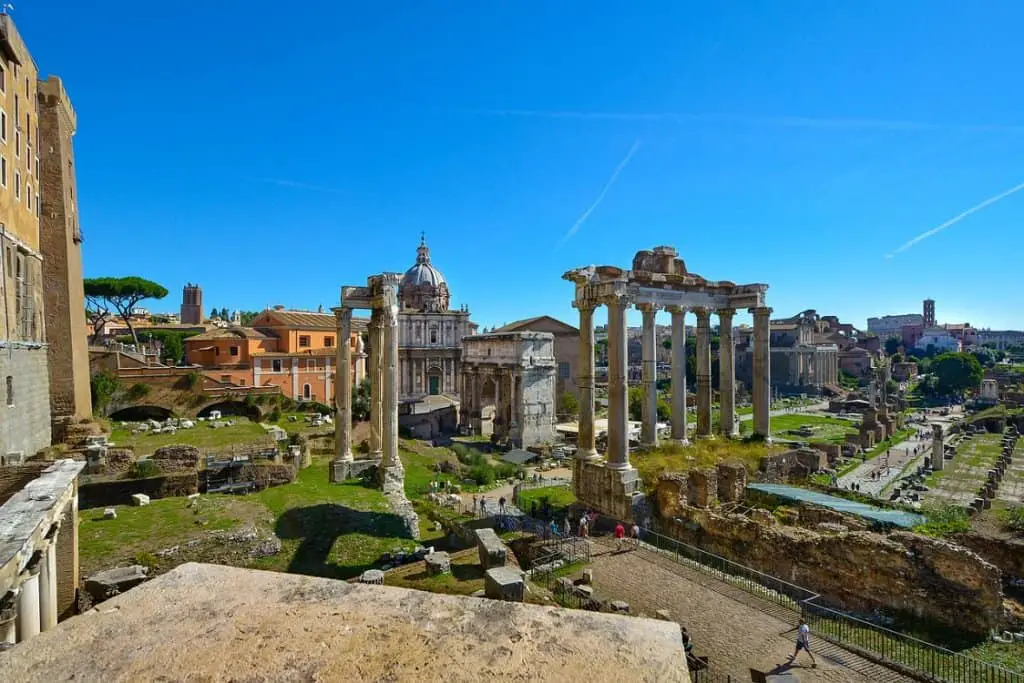 Arch of Constantine
Between the Colosseum and the Foro Romano, you find one of the most popular triumphal arches in Rome, the Arch of Constantine.
The arch was built between 312 and 315 AD to commemorate Constantine's victory over Emperor Maxentius at the Milvian Bridge. But it's also a symbol of one of the greatest emperors in Imperial Rome, showcasing Constantine's great leadership through the pictures carved in the arch.
It's impressive to walk on these ancient cobblestoned streets knowing that the Roman emperors were riding through them in their horse carriages more than 2000 years ago.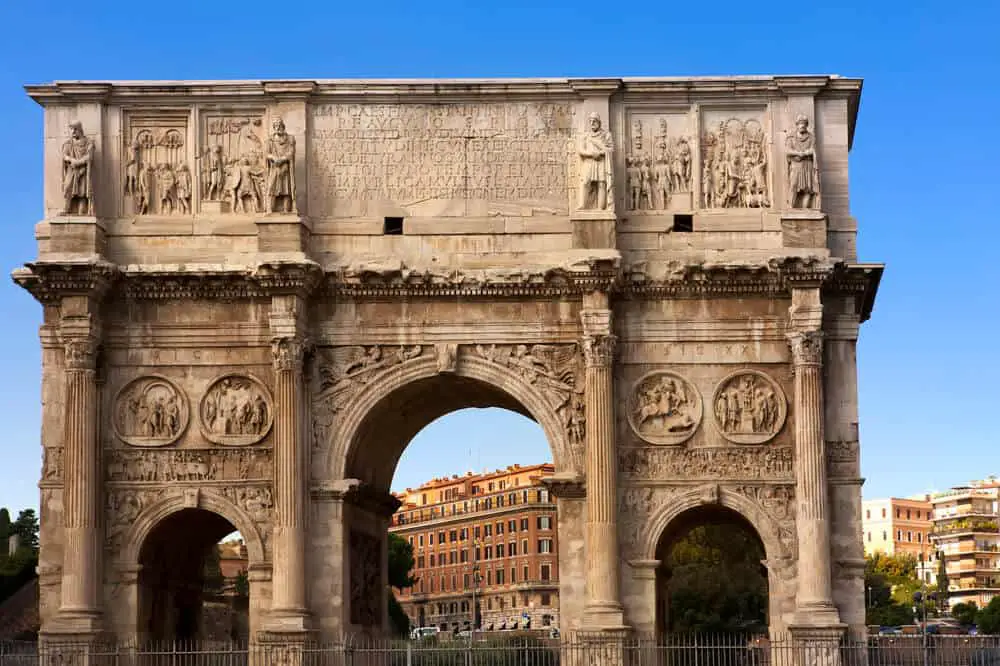 Bocca de la Veritá
The "Mouth of Truth" is one of the top attractions in Rome that you should see. Legend says that if you put your hand in its mouth and tell a lie, it will close its mouth and crush your hand.
The crack in the stone is "evidence" that it's a true legend. Do you dare put your hand in there and tell a lie? I probably don't – I was super scared of it when I was a kid! True story.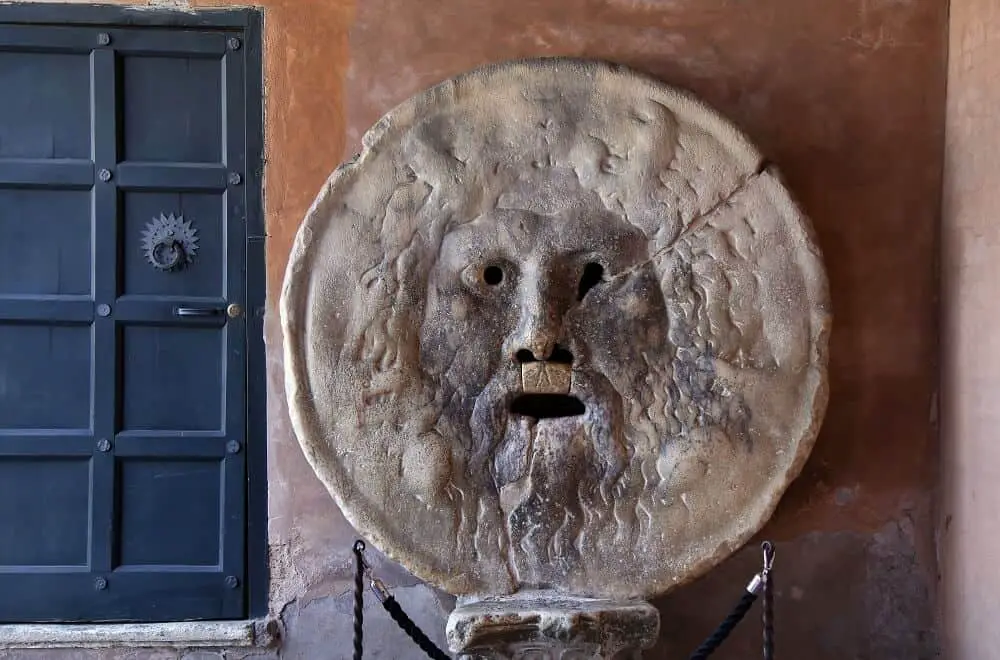 Stroll through the streets and take in the Christmas lightening
Christmas lightning in Rome is super romantic and getting lost in the streets taking in the Holiday spirit is one of the best things to do in Rome in winter.
From Via del Corso to the narrow back streets are lit up with wonderful lights and walking around when it starts to get dark to admire them is one of my favorite things to do in Rome in December.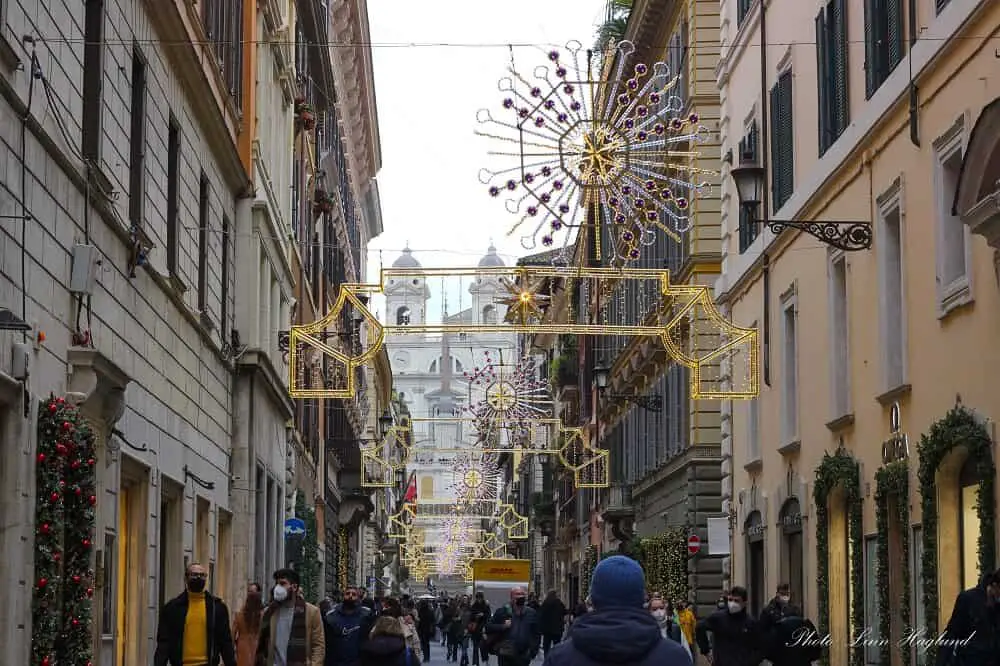 Munch warm, grilled chestnuts
Warm chestnuts! Do I have to say anything more? Around every corner, you'll find chestnut stands where you can buy warm chestnuts to munch on when you wander the historical streets of Rome.
It's hard to find a better indication of winter in southern Europe than grilled chestnuts. The scent fills the streets and if you're getting a little cold on your hands, it's perfect to hold a warm chestnut before you crack it open to eat it.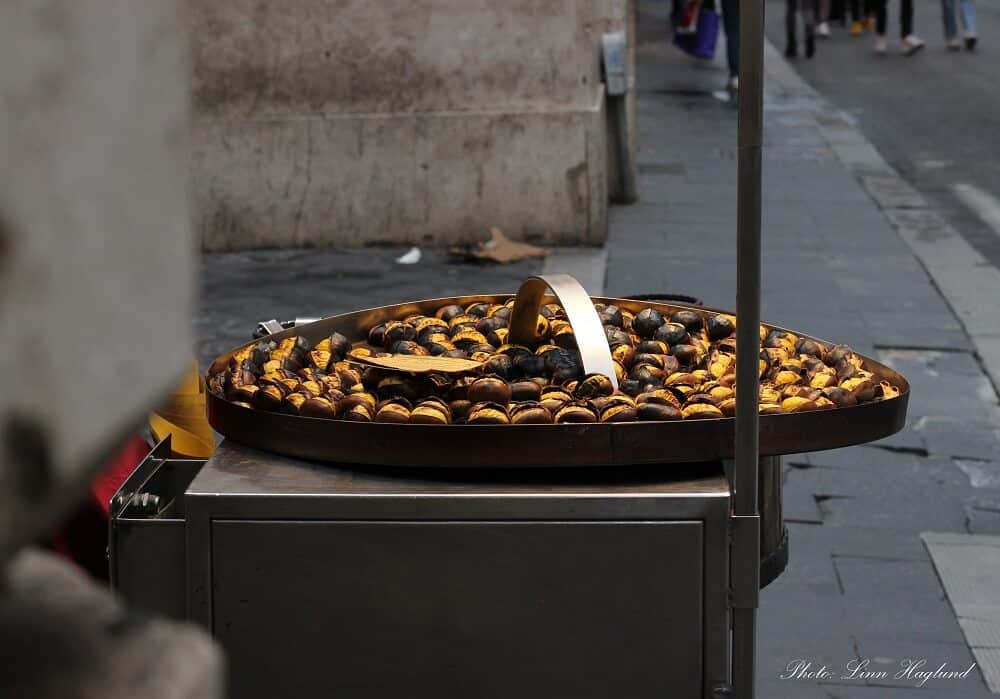 Visit Castel Sant'Angelo
One of the most astounding structures in Rome is the Castel Sant'Angelo along Lungotevere not too far from the St. Peter's Chruch and the vatican.
Truth is, there's a passage between the two as Castel Sant'Angelo was used as a safe place for the Pope to escape in case of attack.
Originally, when it was built in 135-139 AD, it served as a mausoleum for Emperor Hadrian and it wans't before the 5th century that it served as a fortress.
You can buy tickets in advance here.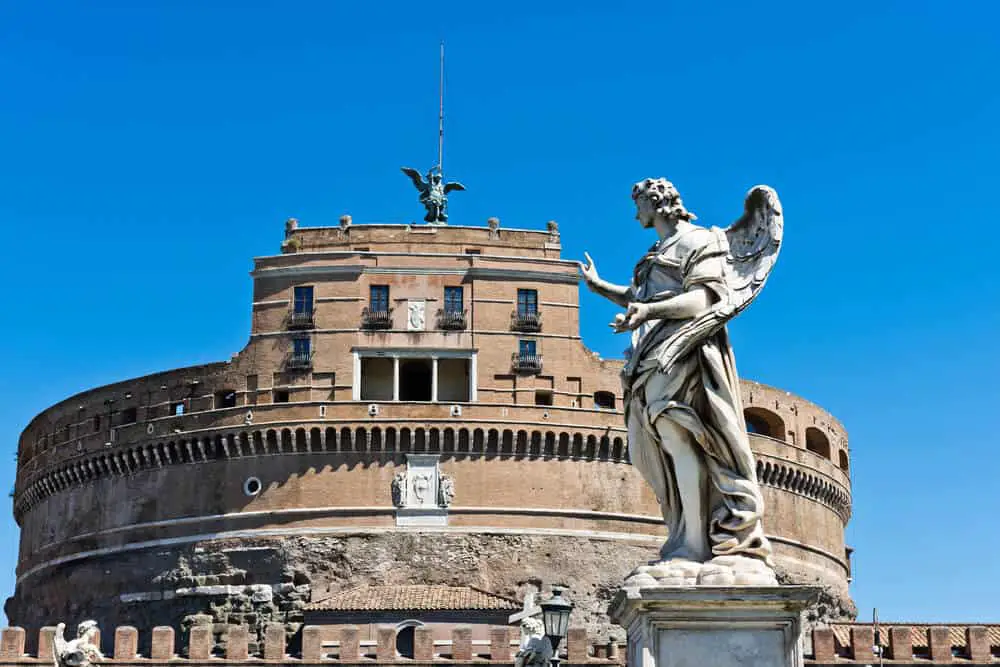 See the nativity at the St. Peter's Church and visit the Vatican
Another iconic place to visit in Rome, is the St. Peters Church and of course the Vatican. You should set aside a whole day for it as the queues to enter can be 2-3 hours long.
Entering the church is free, but if you want to save time, get skip-the-line tickets to the Vatican and Sistine Chapel where you can enter the church without standing in a queue as well. Check availability here.
What's special with this site in December, is the nativity on Piazza San Pietro. It's made in human size and is absolutely stunning. At night it's even lit up.
If you're in Rome for Christmas, you can also take part of the Pope's speach. The whole square is jam-packed with people and if you don't make it inside the church (which is truly magical,) you can see the pope during his speach on large screens set up on the square.
Stroll through Villa Borghese
A stroll through Rome's most central park, is a wonderful way to get away from the busy streets, long queues to enter sites, and eager street vendors.
In winter, Rome as any other place can feel hectic with the Holiday rush and Villa Borghese is just as beautiful as any other time of the year making the perfect hide away in a small patch of nature.
Other than walking around and taking in the freash scent of pine trees, you can take a lookin the Borghese Gallery or the Carlo Bilotti Museum.
Responsible travel tip! There's a zoo in Villa Borghese. Please avoid visiting it as it's a hihgly unethical activity. You can read more on unethical animal tourism here.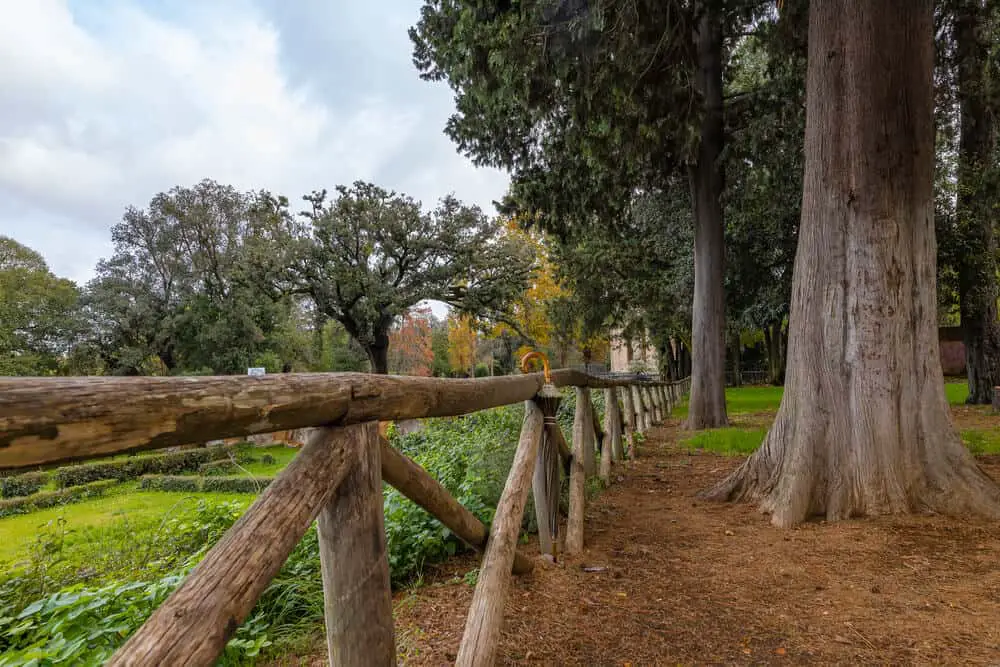 Discover the catacombs – Rome underground
Especially, if you happen to be in Rome on a rainy day, getting underground is the best way to get the most out of it. There are multiple catacombs – underground burial sites – in Rome. You just have to choose which one you want to visit.
The Catacombs of Sal Callistto, also known as Callixtus, are the largest catacombs in Rome housing half a million buried citizens, martyrs, and early Popes. You can get a guided tour here.
The Domitilla Catacombs are among the oldest and biggest catacombs stretching over 17 km. It even has its own basilica underground.
The Catacombs of Saint Sebastian are also among the oldest catacombs that are open to the public. This is where Saint Sebastian himself is buried – one of Rome's greatest martyrs.
The Catacombs of Priscilla was used between the 2nd and 5th century AD but was vandalized by thieves that wrongly expected to find rich possessions in the graves. For this reason, the catacombs were locked up for a long time until they were discovered in the 16th century.
Here are some popular tours of the catacombs: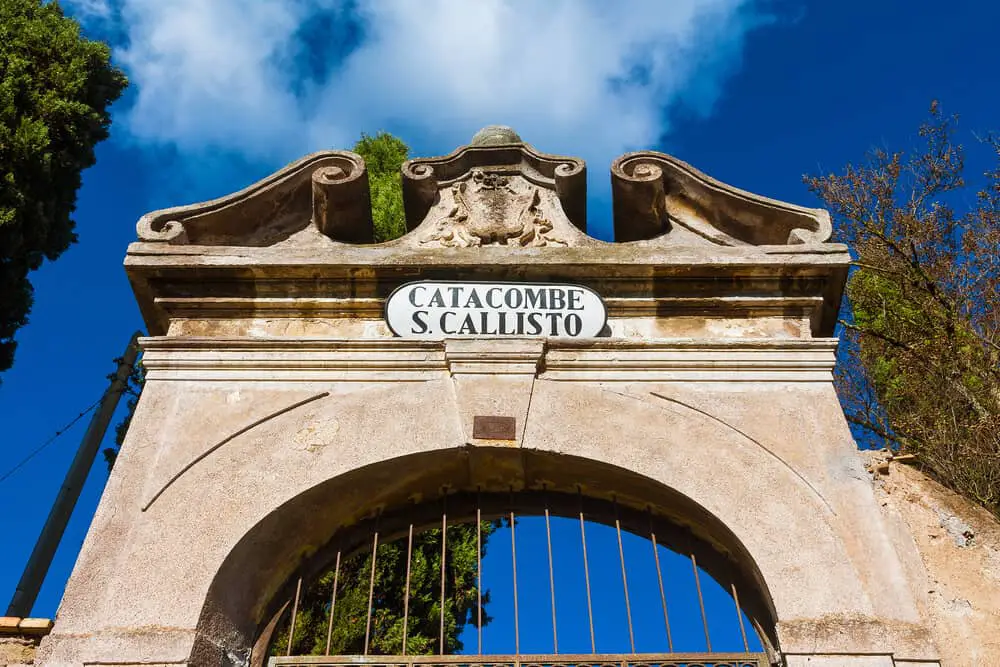 Chase Christmas Markets
Rome is not exactly famous for its Christmas Markets. Once, it had a massive one at Piazza Navona which was awesome for all ages. But according to locals, a mafia dispute resulted in it closing down for good.
But there are still a few around where you can take in the Christmas spirit, get last-minute Christmas presents, or give back to charity. Here's an updated list of this year's Chrismas Markets.
The good thing about the Christmas Markets in Rome (and Italy in general) is that they're open until January as they celebrate the Befana on the 6th of January.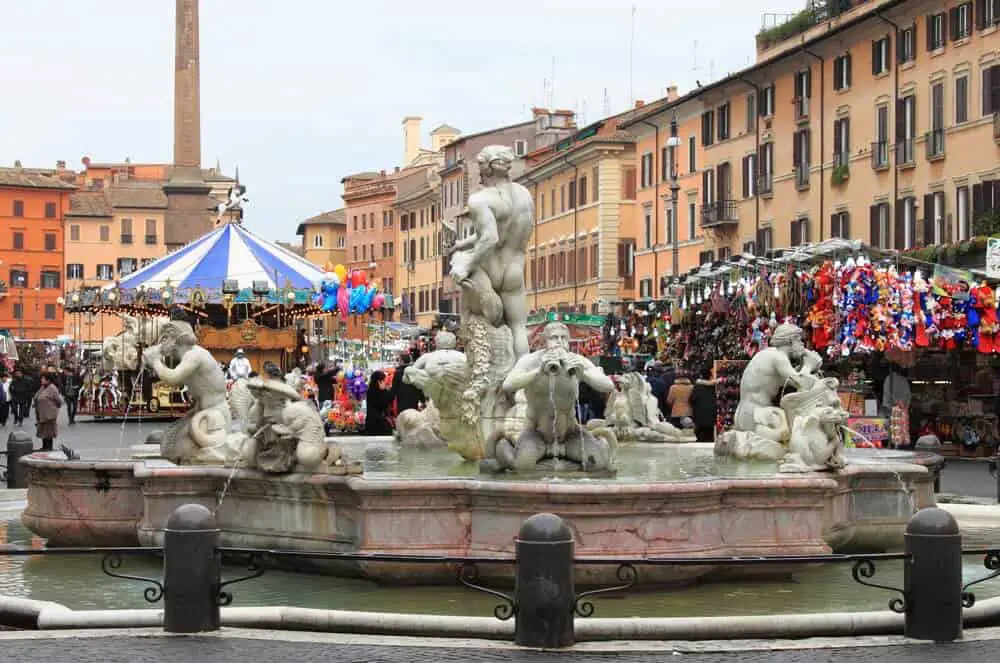 Have a Pizza all'taglio at Piazza del Popolo
Pizza all'taglio is one of the best things to eat on the go! There are many places to get it and you literally choose how big of a pizza slice you want, or slices if you want different types.
There are also many naturally vegan and vegetarian pizzas to choose from. One of my favorite places to sit down and people watch while I munch on a Pizza all'tagio is Piazza del Popolo.
Through Porta del Popolo, former Porta Flaminia, you can sit down by the fountain in the middle of the square with the view of the three famous shopping streets in Rome, dominated by Via del Corso in the center. On your left, you can look up towards Villa Borghese, and a short walk to your right you'll reach the Tiber river.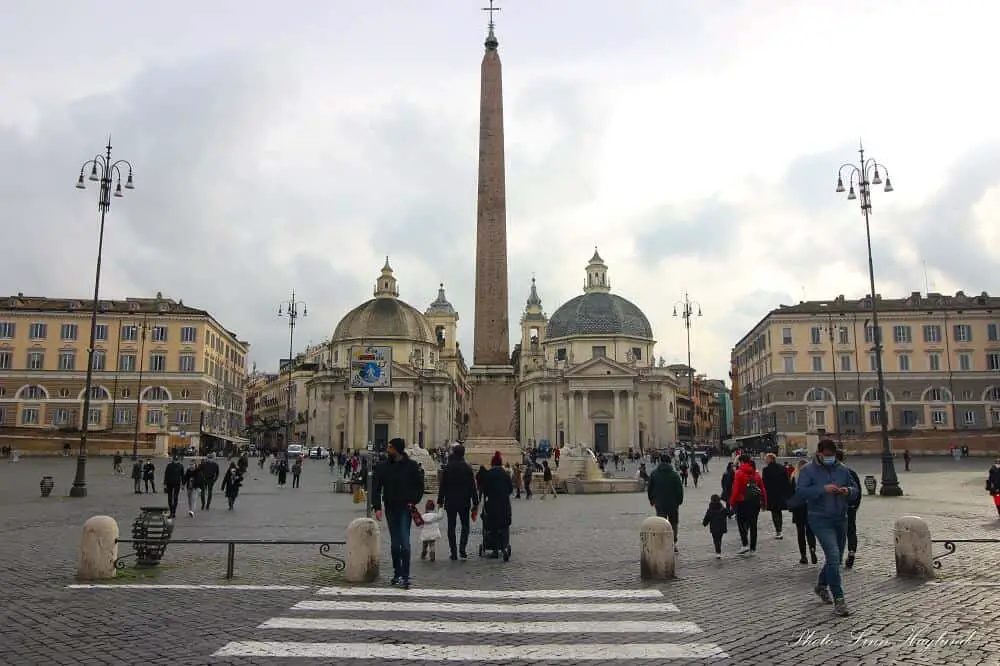 Buy a painting at Piazza Navona
Piazza Navona isn't what it used to be in winter. Years back, it used to be the most festive place in Rome, with a huge Christmas market dominating the historic square. After it was closed down a few years ago, it looks much like the rest of the year.
But luckily, there are still lights at night from the many restaurants that line the square, reminding you that the Holidays take place and there are occasionally light displays on the walls which are pretty cool.
The square is still filled with street artists and you can buy anything from funny portraits to paintings of Rome. Some of these are pretty good too and makes a fantastic memory to put on your wall while supporting local artists.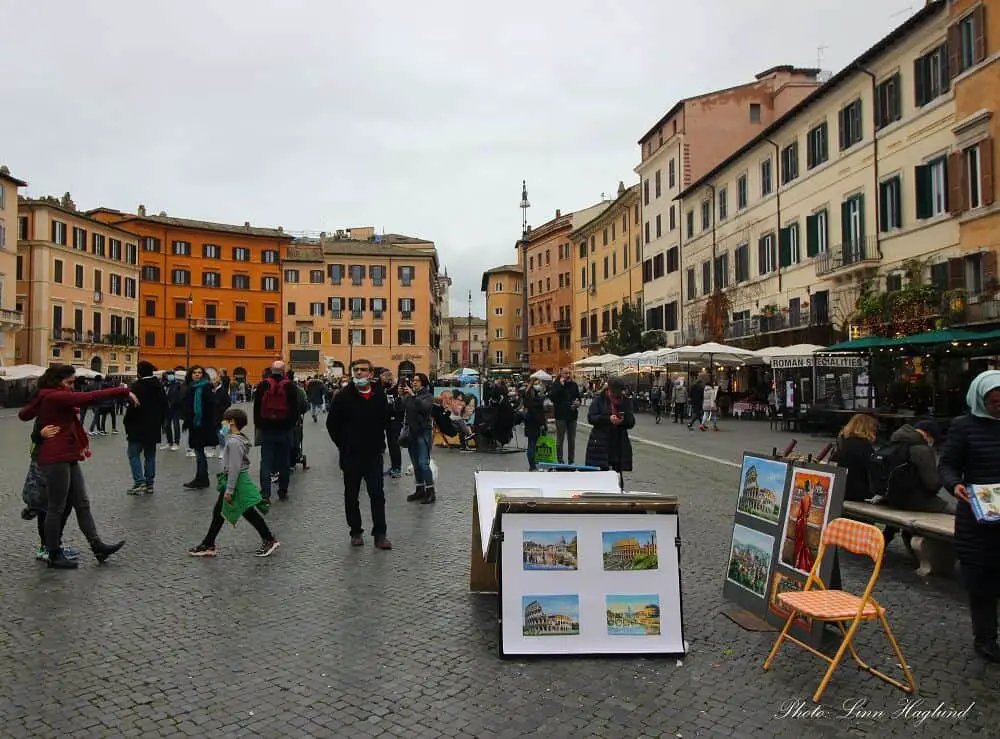 Visit the Pantheon
When visiting Rome in winter, the Pantheon is a must. The incredible structure with a hole in the dome has mesmerized travelers for centuries. Personally, I think this is the coolest building in Rome. Maybe because it originally was a temple "devoted to all gods."
Entry is free, but you can get guided tours or audioguides if you want to learn more about this fascinating temple. Check options here.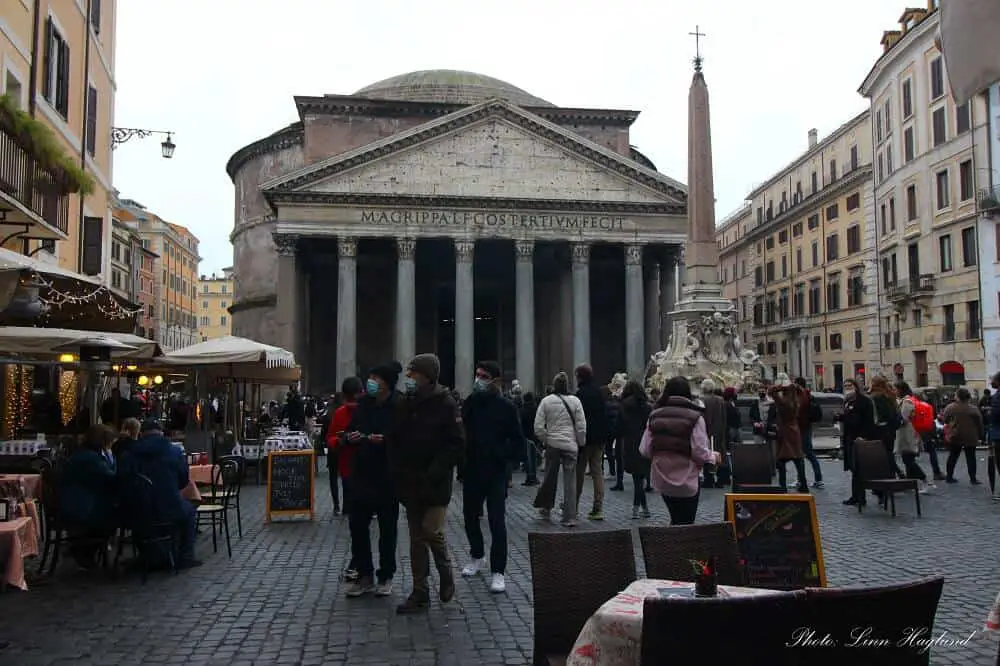 Reflections on a Rome winter getaway
A Rome winter getaway is without a doubt worth it. There's so much more touching your senses that the other times of the year. Especially around the Holidays.
As you can see, there's nothing you cannot do in Rome in winter, but there are plenty of things you can only experience in this season.
So pack your umbrella and sunglasses and discover what this beyond incredible historical city has to offer!
READ NEXT: Rome 4 day itinerary
Pin it for later!