Recognized as the city of love, being the childhood dream of so many girls to walk the streets, hand in hand with their future significant other, kiss in front of the Eiffel Tower, and have a picnic with freshly baked baguettes in the garden of Notre Dame. Pop that bubble, single ladies! Go on a girls trip, solo trip, or with your family. Don't wait! Make Paris yours. Explore Paris in 4 days if you can. Minimum. If you have already met your significant other, then absolutely bring him or her to create memories. But if you haven't, just don't wait.
I'll tell you one thing. I had to go to Paris 5 times (or more, I might have lost count) before I can say I fell in love with the city and wanted to go back. It might have something to do with me getting overly overwhelmed by big cities. I totally prefer smaller places where I can navigate easier, so in general, it takes a while for me to like a bigger city.
What I really love about Paris now, is that after seeing all the major sights several times, climbing the Eiffel Tower by foot twice, even after swearing I wouldn't do it again (Vertigo speaking), and getting lost more than once, I can relax in Paris. It's a great city! I've been there on school trips, girls trips, couple trips, and solo trips. And not to mention accidental trips. Now I can relax. And I probably won't want to go there with a first timer ever again. Secretly because I really don't want to climb that tower again.
I have made this 4 day Paris itinerary so that you can navigate the city and make sure you get a relaxed yet wonderful time in the city of love whether it is your first or fifth visit. Remember, love can be for yourself, your friends, and the city itself.
Disclosure: This post may contain affiliate links. That means that if you make a purchase through one of those links, I will get a small commission at no extra cost to you. If you have any questions about these services or products, feel free to ask me.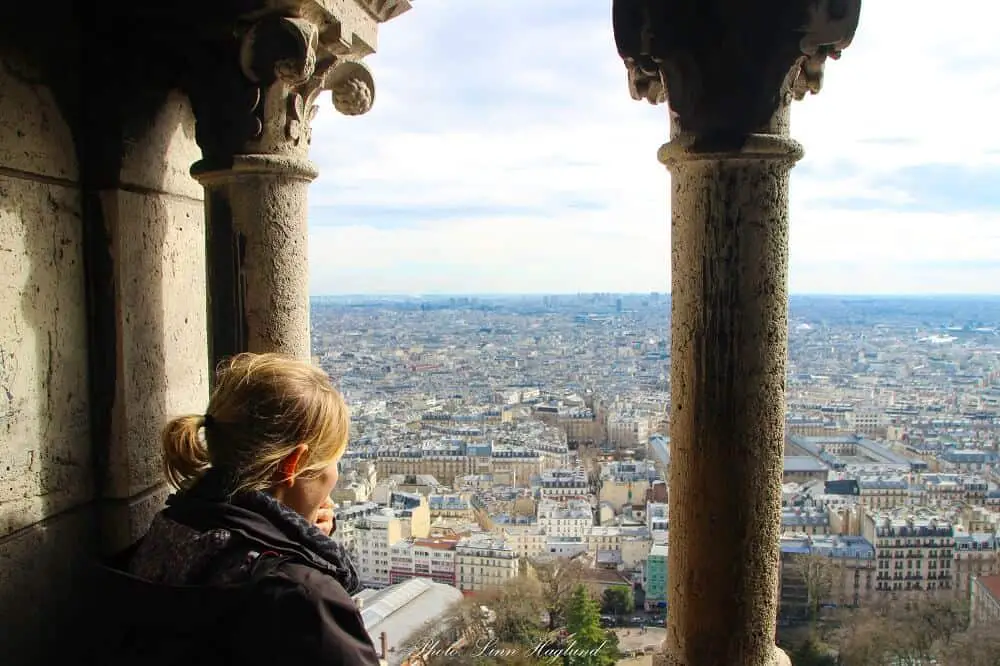 How to get to Paris
Paris is one of the big hubs in Europe and you can easily get there by plane from all parts of the world.
The main airport is Charles de Gaulle Airport (CDG) where there's frequent bus and train connections into the heart of Paris.
You can also take the train or bus from major European cities and make your way to Paris. There are direct buses and trains from London, Brussels, Madrid, and numerous other cities.
Check train and bus tickets here.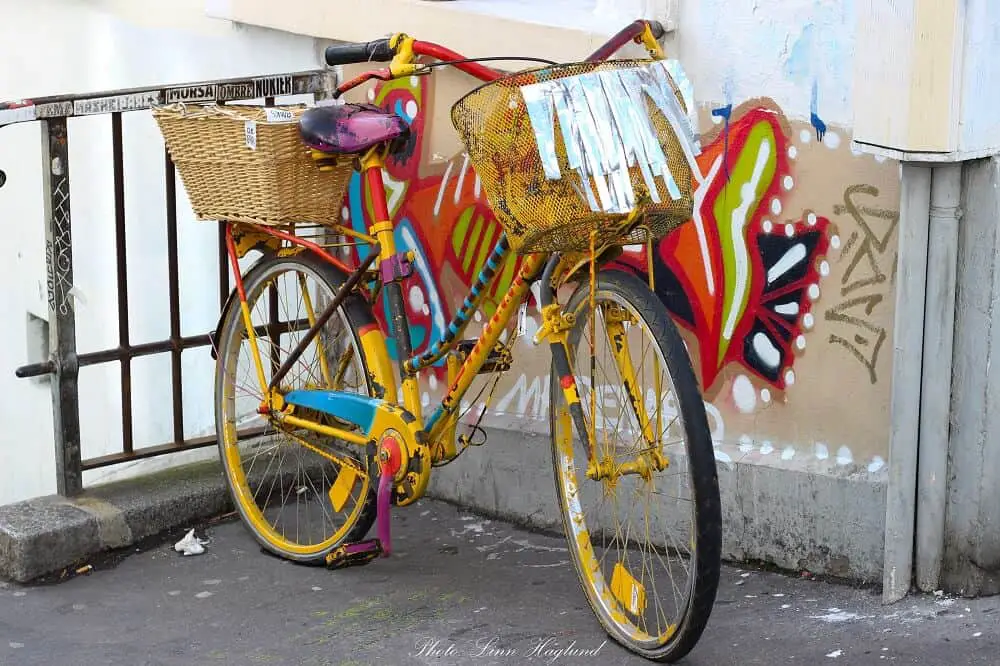 Travel insurance for 4 days in Paris
Do you need travel insurance for 4 days in Paris? Absolutely. Think about all the unforeseeable that can happen from lost baggage, to pickpockets, to a broken arm.
It's always much safer to have a good travel insurance in case something happens. For me, it's important that my travel insurance company makes things easy as I hate to spend time on forms I don't understand and policies written only for lawyers to understand.
My go to is World Nomads Travel Insurance. They aren't just easy to relate to with an easy process. They are also a responsibly conscious company that promote responsible tourism and you can can give micro donations to sustainable development projects supported by World Nomad's Footprints program when you buy insurance.
Right up my lane, and hopefully up yours too!
Best time to visit Paris in 4 days
Paris is really great all year round, but depending on your preferences, I'll go through the seasons with you so you can find the best time for you to go on your 4 day trip to Paris. Every season is different, so make sure you plan your trip to Paris accordingly.
The winter months in Paris can become pretty cold with temperatures down to 3 degrees Celsius. However, it is just as nice to walk around this marvelous city with your winter coat and scarf and you'll see the city in a whole different way as other times a year.
The shoulder seasons between April and June and September to October are mild and usually not too hot. These months you can get nice, sunny days that are perfect for walking the city.
In the summer months between mid-June to August, temperatures are normally in the mid-20s and mostly sunny.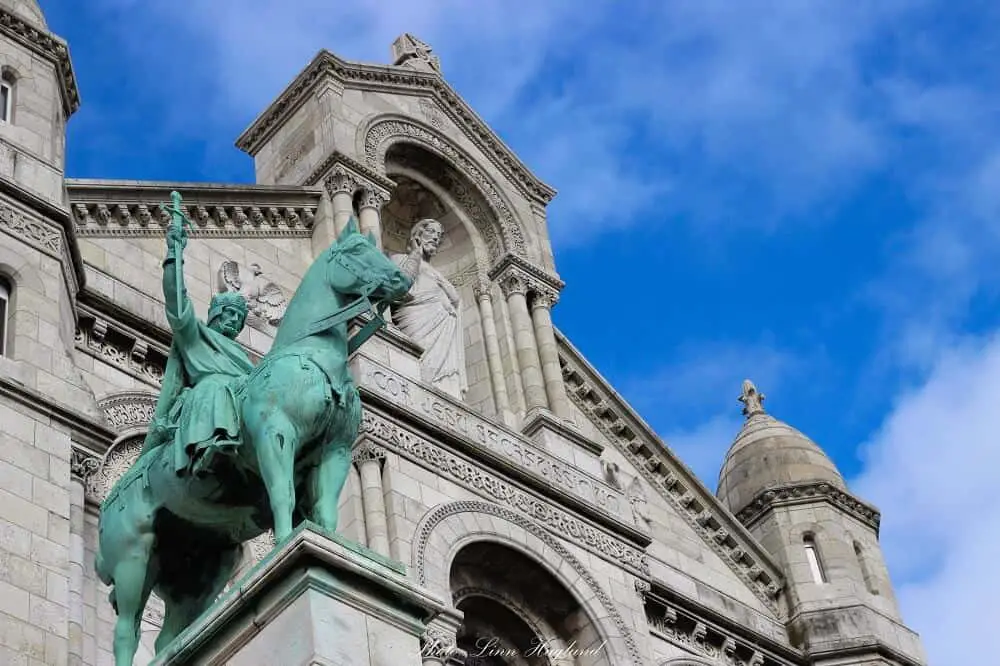 Where to stay in Paris
Elysées Union
Just a few minute's walk from the Eiffel Tower and Arc de Triomphe, this hotel is centrally situated. They offer airport shuttle and facilities for disabled.
Additionally, they offer WiFi, bar, breakfast, and a 24 hour reception.
---
Book your stay at Elysées Union
---
Hotel OFF Paris Seine
For a unique hotel experience, stay at this floating hotel in the Seine river. They have a swimming pool and probably the best river views in the whole city. Airport shuttle, WiFi, facilities for disabled, bar, and breakfast.
---
Book your stay at Hotel OFF Paris Seine here
---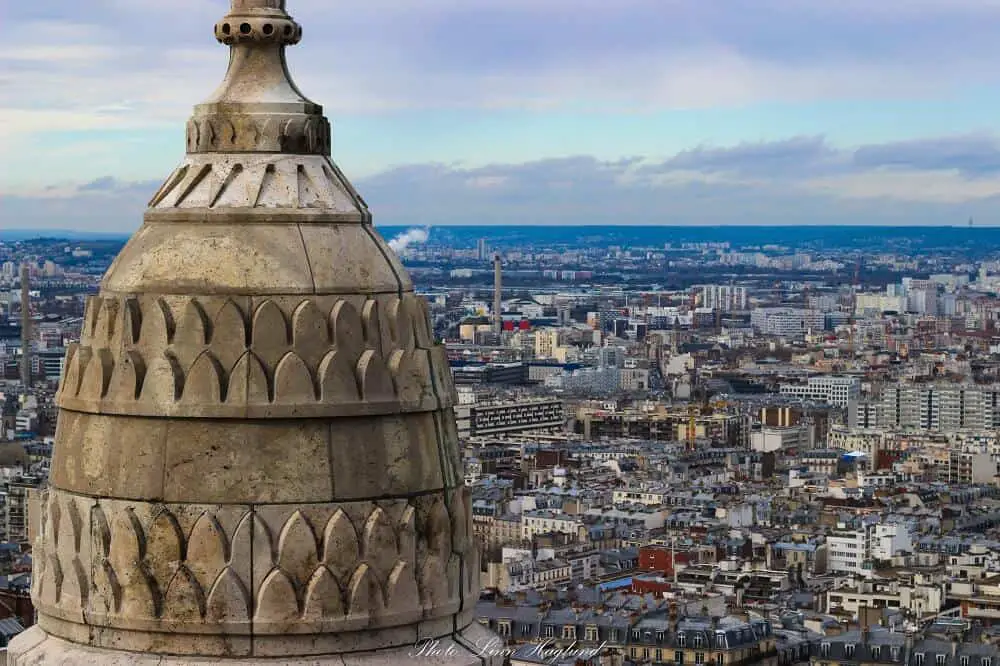 ---
YOU MIGHT ALSO LIKE: Top things to do in Metz France
---
4 day Paris itinerary
Day 1 – Montmartre and Seine boat trip
Start your first day of your 4 days in Paris by exploring the charming Montmartre district.
Sacre Cœur
Am I bold to say Sacre Cœur is one of the most beautiful structures in Paris? The Roman- Byzantine building sits elegantly on top of the highest point in Paris, Butte Montmartre, with its 130 meters.
Not only is the basilica spectacular from the outside, but the architecture and incredible ceiling inside is breathtaking.
Make sure you climb the 300 steps up the dome for some of the best views of Paris.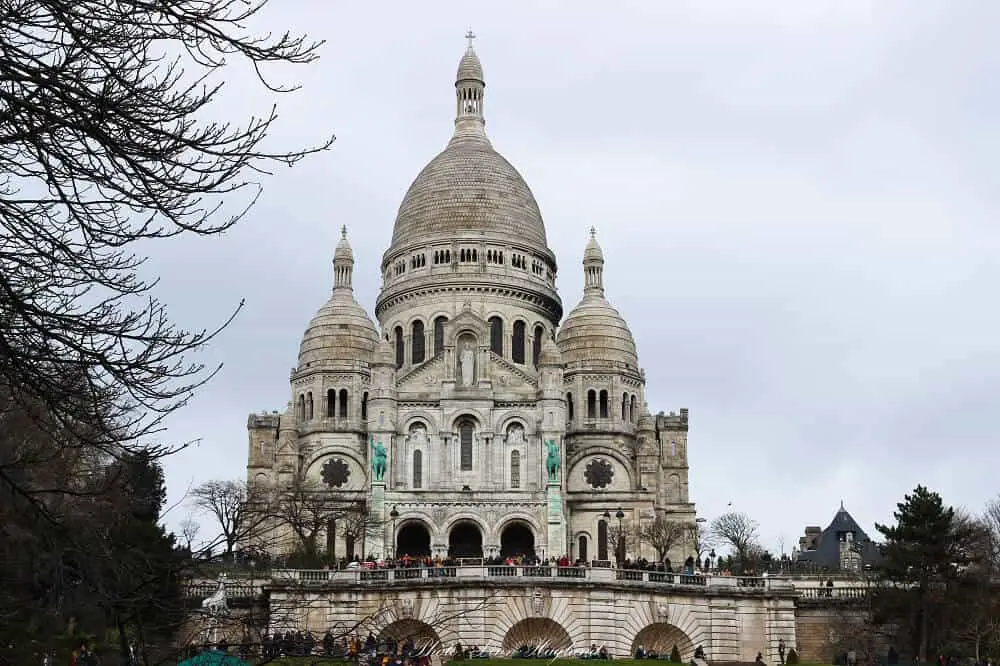 Place du Tertre
Just a few streets down from Sacre Cœur, you find the artistic square, Place du Tertre. If any square screams Paris and all the cliché's we see in movies, it's this square. But in a romantic, relaxed, and down to earth kind of way.
Packed with local artists creating beautiful pieces of paintings and drawings, this is the perfect place to stroll around and maybe even buy some art. Or check out the options if you want your portrait drawn.
There are numerous super cute cafes and restaurants in the surrounding streets for lunch or a coffee.
The Moulin Rouge cabaret is also just a few minute's walk away.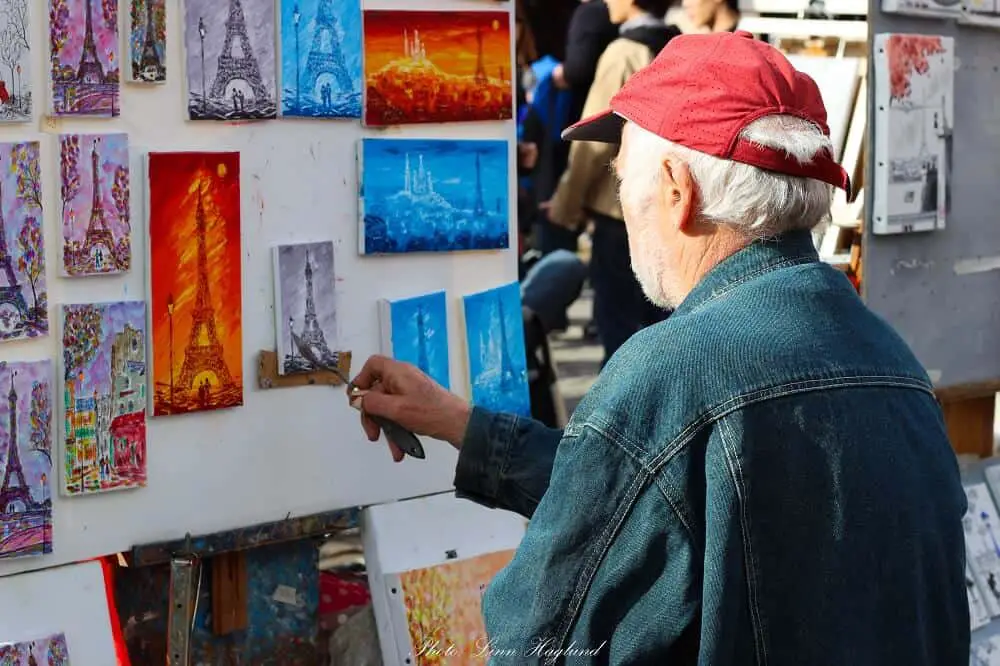 Musee de Montmarte
Musee de Montmartre is one of the must-see museums in Paris, yet it's usually not very crowded. The museum shows the history of Montmartre through photos and artwork. There is also a part of the museum showing temporary exhibitions which are changed regularly.
This was the house of the French artist, Pierre-Auguste Renoir and you can walk in the beautiful garden that inspired a lot of his artwork.
Boat trip along the Seine
End the day either before or after dinner, with a boat trip along the river Seine. Some might say that this is one of the things to avoid in Paris, but to be honest with you, I think it's fully worth the clishé. It is a perfect tour to do at sunset when the colors change in the horizon to orange and pink.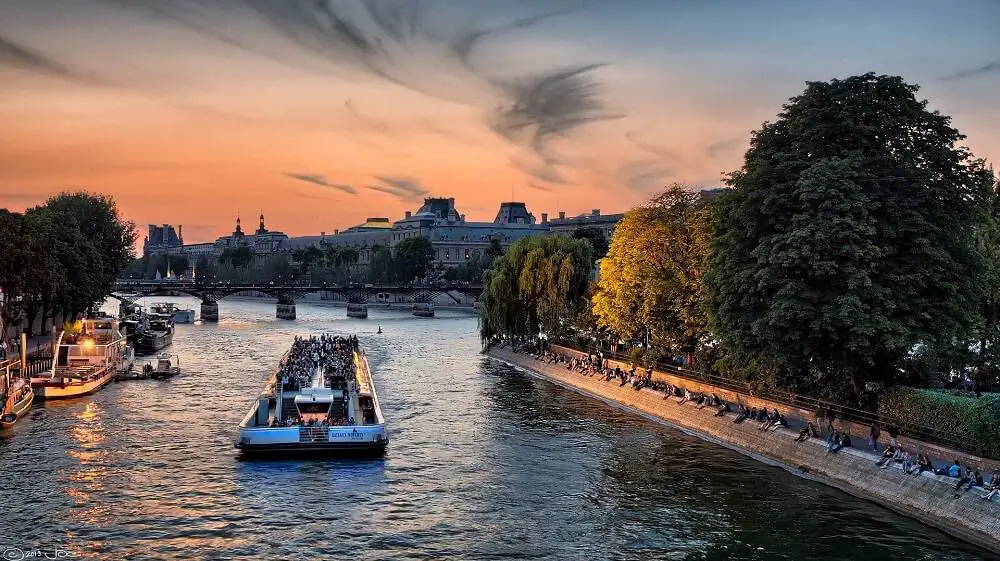 Day 2 – Notre Dame and Louvre
Day 2 of your 4 day Paris itinerary you'll visit some of the most famous landmarks in France, like the Louvre and Notre Dame.
Notre Dame
After the 2019 fire of Notre Dame, it is still not possible to enter the medieval cathedral. Constructions are expected to last until 2024, but in the meantime you can still admire the amazing structure from the outside.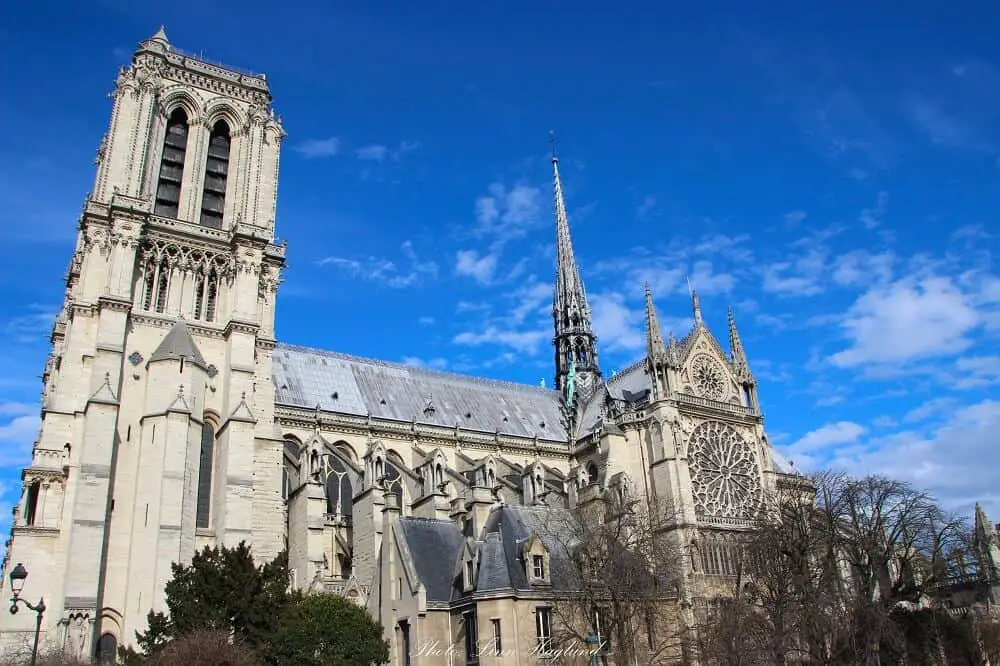 Pantheon
The Pantheon is another amazing landmark that should be included when exploring Paris in 4 days. It was actually the first landmark in Paris, built between 1764 and 1790, before both the Eiffel Tower and the Arc de Triomphe.
The Pantheon is the burial site of many famous French citizens like Victor Hugo, Voltaire, and Émile Zola.
Find ticket information here.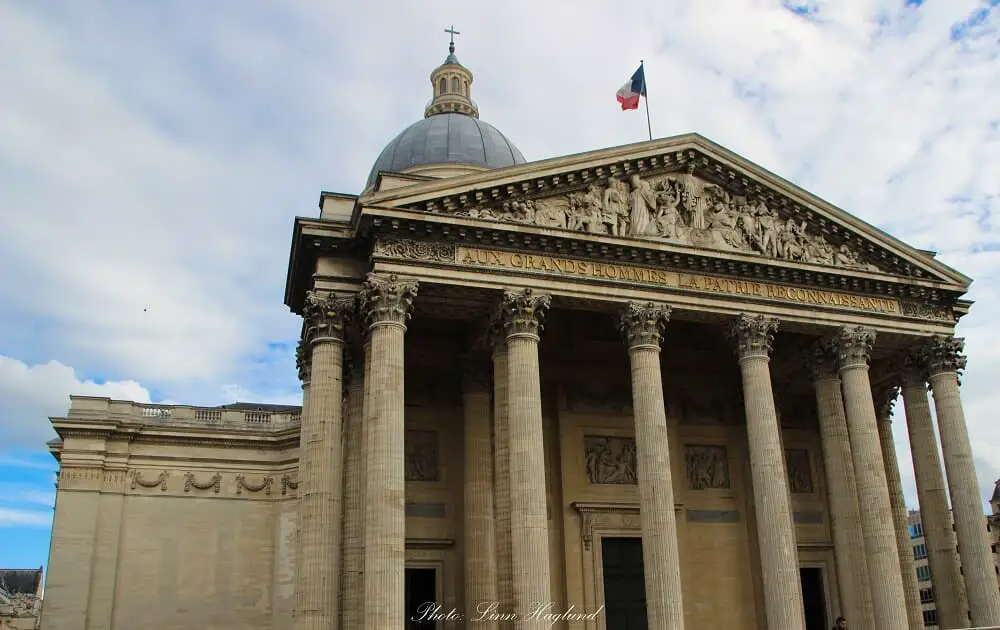 Louvre
Get ready to visit the world's largest art museum. There is no way you can get through it all when visiting Paris in 4 days. It might even be a bit too much for any person that isn't a total museum affectionate. Nevertheless, you'll want to spend at least 2-3 hours.
Mostly known for holding the most famous painting in the world, the Mona Lisa, there are so much more things to see in the Louvre. Worth mentioning are Venus de Milo, Michelangelo's Dying Slave, and the Winged Victory of Samothrace.
Make note that the Louvre is closed on Tuesdays, so if you're in Paris on a Tuesday, make sure you visit the museum one of the other days. Find ticket information and opening hours on their official site here.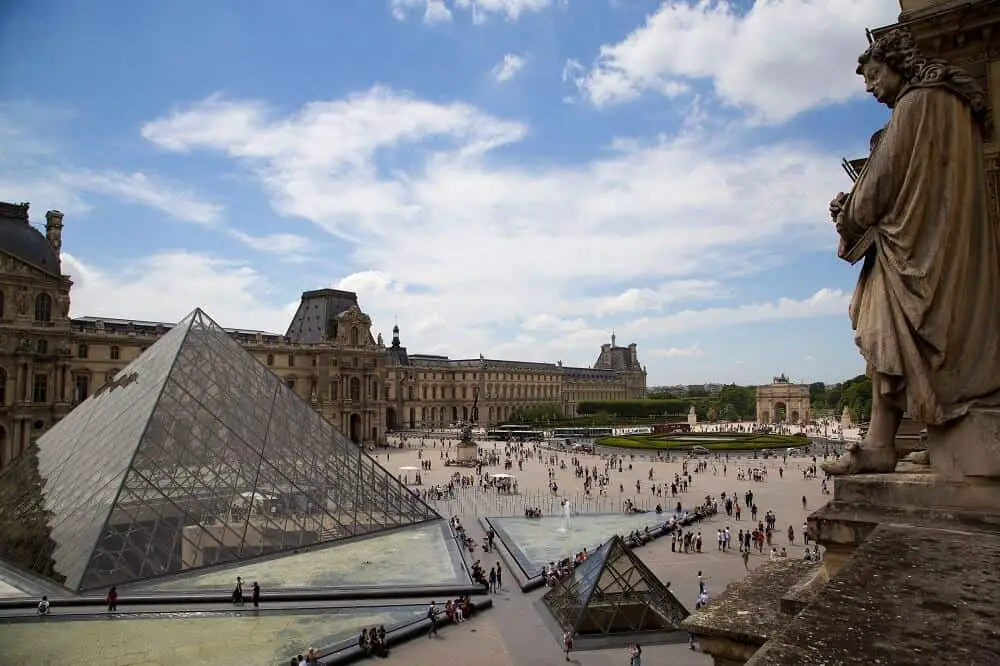 Grand Palais
Depending on how much time you want to spend in the Louvre, you might have time to visit the Grand Palais too. Another great historical monument of Paris and worth a while to check out the exhibitions and the museum.
Sitting along Champs-Elysée, the Grand Palais is easily recognized by the massive glass ceiling and the French flag towering on top.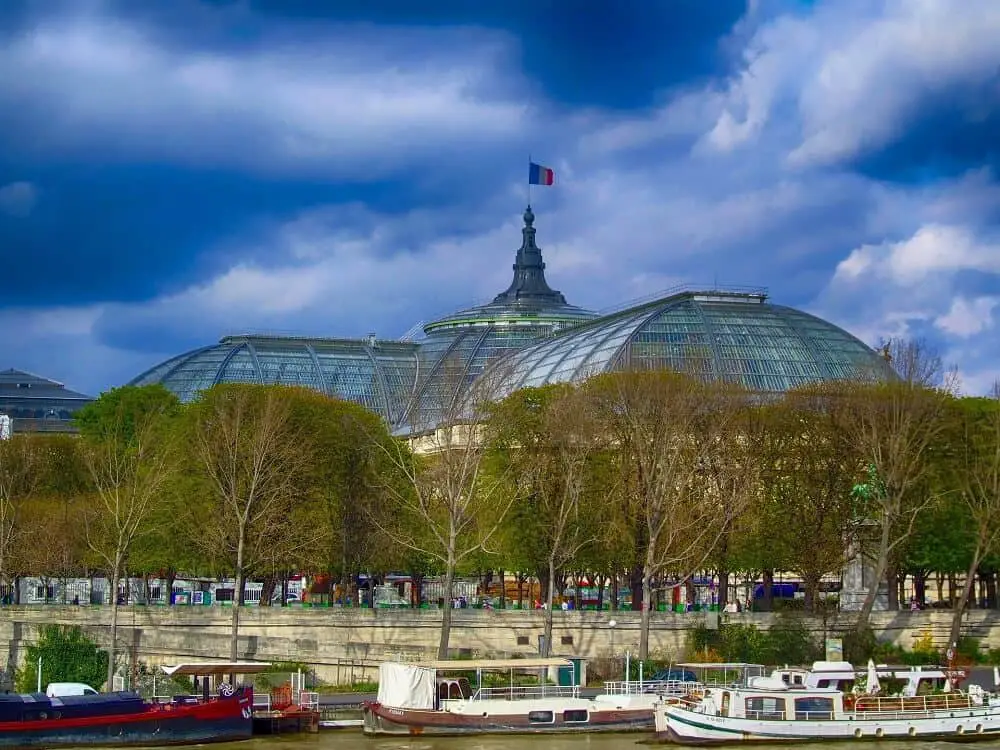 Day 3 – The Eiffel Tower and Arc de Triomphe
Your 3rd day of your 4 days Paris trip is going to be a grand one. Make sure you get started early as the Eiffel Tower can take half a day alone. You might want to find a place to have lunch in the back streets around the tower, there are plenty of restaurants and cafes.
Eiffel Tower
No Paris in 4 days trip is complete without climbing the Eiffel tower! You can either take the elevator up most of the tower or walk the whole way. The last bit isn't accessible with elevator, so you'll have to walk up the rest.
I warn anyone with vertigo. It's scary! You see straight down through the metal bars of the tower and it's not fun if the dizziness takes over. If you are persistent you're going to climb it anyway, just focus on looking up. I did it twice, so you can do it too!
The views that meet you at the top, though! Paris Perfect! There is nothing like it, and a must while in the city of love.
There are also a few spots around the Eiffel Tower where you get nice views if the tower itself for pictures, so spend some time walking around and enjoy the iconic structure.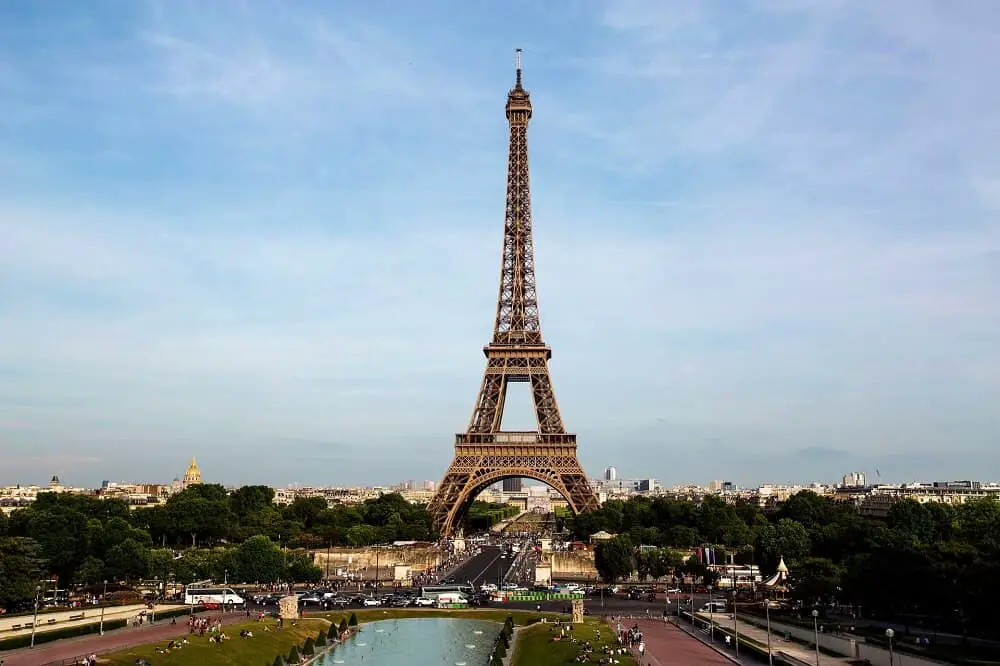 Arc de Triomphe
Another of the must-see monuments during any Paris itinerary is the Arc de Triomphe. Honoring the French lives lost during the French Revolution and the Napoleon War, their names are all engraved in the inner walls.
There is also the burial of an anonymous soldier beneath the structure and a museum.
Though not as spectacular views as from the top of the Eiffel Tower, it is surely worth climbing to the top of Arc de Triomphe too.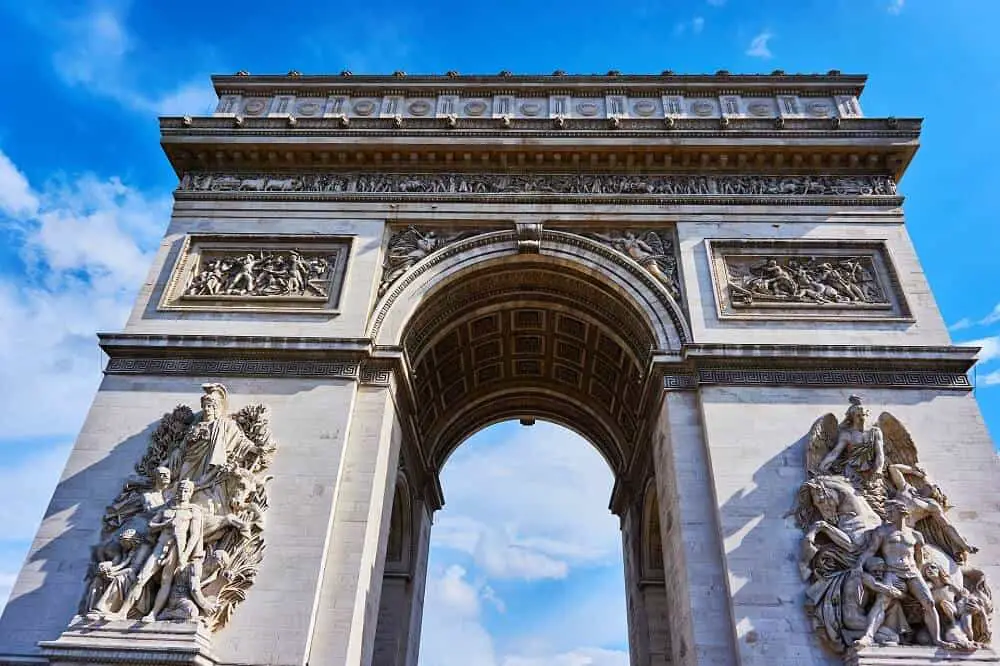 Champs-Elysées
If you want to fit shopping (or window shopping) into your Paris itinerary 4 days in the city is enough to make it happen! Champs-Elysées is the shopping street, lined up with the leading fashion brands.
However, if shopping isn't your thing (it definitely isn't mine!) then make note that the 1,9 kilometer avenue and iconic Paris landmark is one of the world's most beautiful avenues.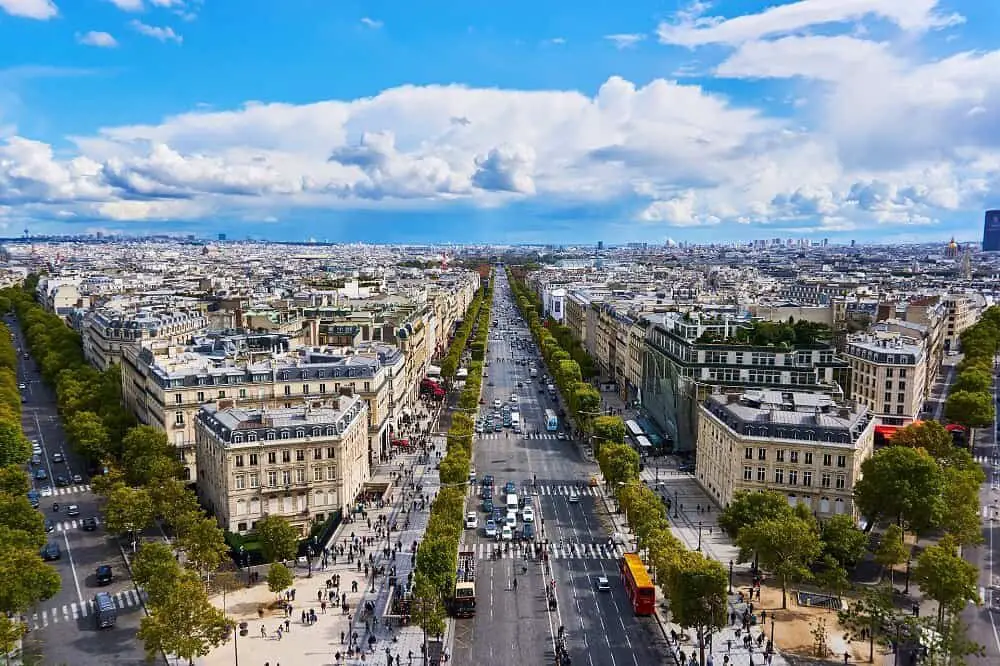 Stroll along the Seine
If you didn't spend the rest of your evening shopping, take a stroll along the Seine and enjoy the river and all the beautiful bridges. Alexandre III Bridge is the most beautiful bridge in Paris and definitely picture worthy.
But you also get to see the Eiffel Tower from the Seine which is pretty magical. Just another reminder you're actually in Paris!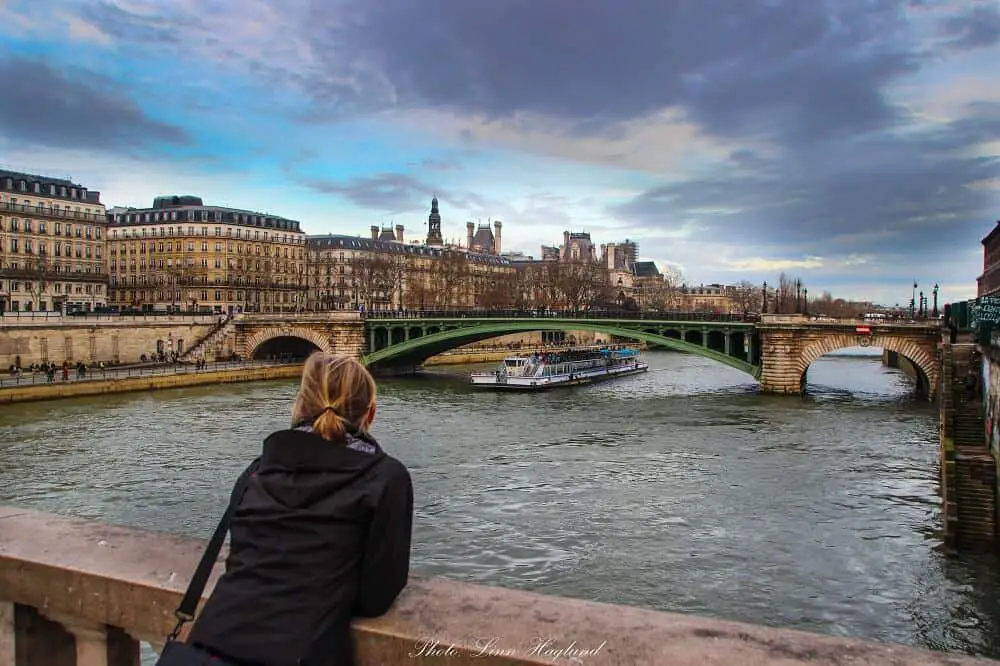 Day 4 – get out of the city to Versailles Palace
On the last day of your 4 day in Paris itinerary, you should get out of the city and head to Versailles Palace. It's a great day trip from Paris by train. Depending on when you get back, you can spend some time strolling around the streets and eat good food and drink wine or coffee. Let these 4 days in Paris sink in and be present before you leave this wonderful city.
Versailles Palace
Among the things to do in Paris in 4 days, you should make the trip to see the Versailles Palace. It's easy to get there by train as it only takes about an hour. Take the PER C train to Versailles-Château-Rive-Gauche station.
Spread over 63 154 square meters, Versailles Palace has a total of 2300 rooms. The World Heritage site is a masterpiece of French art from the 17th century and an amazing experience. It also features some of the most astounding gardens in France.
NOTE! Book tickets in advance here so you are sure to get a time slot.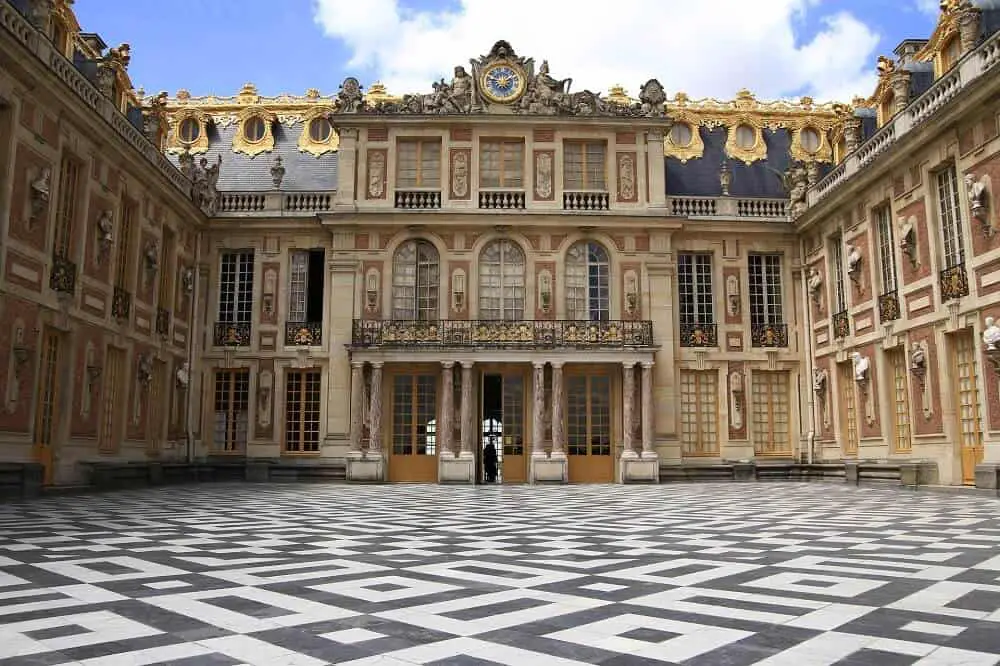 ---
READ: Awesome weekend trips from Paris
---
4 days Paris responsible travel advice
When exploring Paris in 4 days, make sure you travel responsibly so you leave no negative impact on the locals or the environment.
A good thing to start with is to bring your own reusable water bottle so you avoid single use plastic bottles.
If you're a coffee junkie and need one on the go, then take a reusable coffee cup with you so you can avoid those disposable ones.
RELATED: Best sustainable backpacks
Try, as long as possible, to shop from local artists and in smaller locally owned shops to support the locals in Paris instead of the large brands, often foreign owned.
Learn a few phrases in French before you go, so that you show that you're trying when communicating with the locals.
Here are some of my top Amazon picks:
Finally, have a great 4 day trip to Paris! Feel free to shoot me any questions in the comments below.
---
READ NEXT: How to spend 3 perfect days in Seville itinerary
---
Pin it for later!