You're planning a trip to Portugal's Venice and not sure about the top things to do in Aveiro, well, then you're in the right place! Recently, I spent a week in this wonderful corner of Portugal, and in all honesty, I didn't want to move on that quickly.
Aveiro has it all if you like smaller, walkable cities. Friendly locals, yummy vegan food, charming streets, colorful wooden boats to cruise the canals at sunset, nature walks, and pretty awesome beaches nearby.
While it used to be off the beaten path in Portugal, it is starting to get more recognition as one of the best day trips from Porto and a popular stop on a Lisbon to Porto road trip.
With no further ado, I'll get right to it and show you some of my favorite things to do in Aveiro, Portugal's Venice!
Disclosure: This post may contain affiliate links. That means that if you make a purchase through one of those links, I will get a small commission at no extra cost to you. As an Amazon Associate, I earn from qualifying purchases.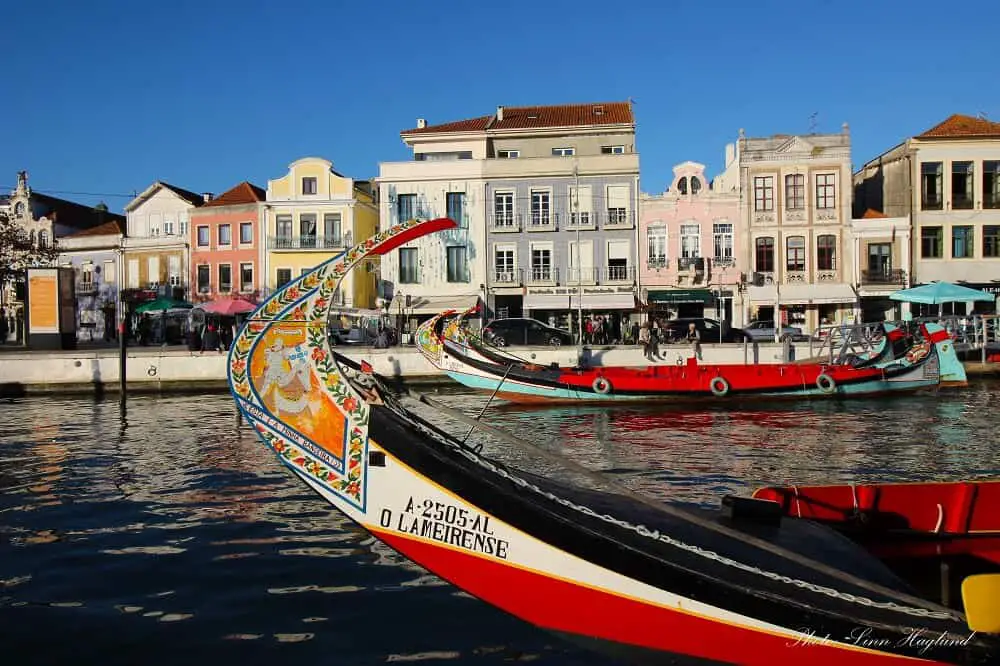 MORE FROM PORTUGAL
Things to do in Aveiro
Cruise the canals in a Moliceiro
The colorfully painted boats filling the canals of Aveiro used to be boats to collect seaweed which they fertilized the soil with before modern fertilizers.
These days, long after the trade has died, the boats are used to take tourists through the Ria de Aveiro canals. It's a wonderful way of keeping them alive, using the canal, and for travelers to see the city from a different perspective.
The guides give a good introduction to the city, and different sights along the canals, like the salt pans.
The cruise takes nearly an hour and my favorite time of the day to go is at sunset. You can buy tickets with cash at the dock or prebook here.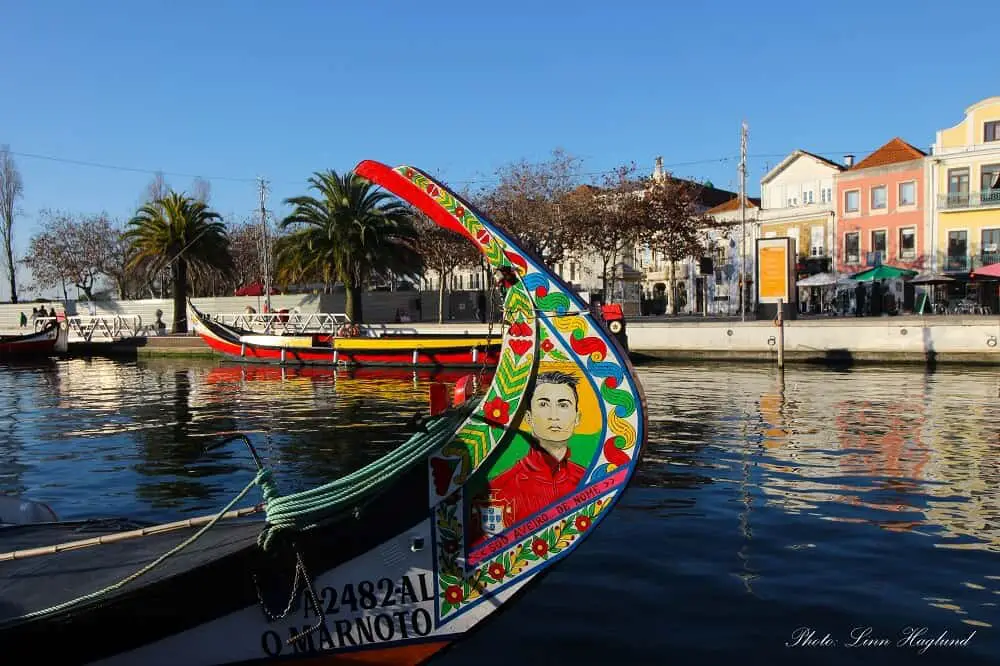 Walk the old town
Aveiro old town is so beautiful! From beautifully paved streets to Art Nouveau houses lining the canals, it's a wonderful place to spend an hour or two just taking random turns in the narrow streets to discover Portuguese charm everywhere.
There are also lots of cute cafés where you can stop for a coffee, tasty Portuguese pastry, and people-watch.
You should also check out the Igreja da Misericórdia de Aveiro (Church of Aveiro's Mercy) that's situated on Praça da Republica that's dominated by a statue and the District Council of Aveiro. You also find the theater there.
A bit further up, you find the Sé Cathedral and Aveiro Museum which are worth visiting, but I'll get back to them later.
Crossing the canal, there are more charming streets and restaurants and cafés.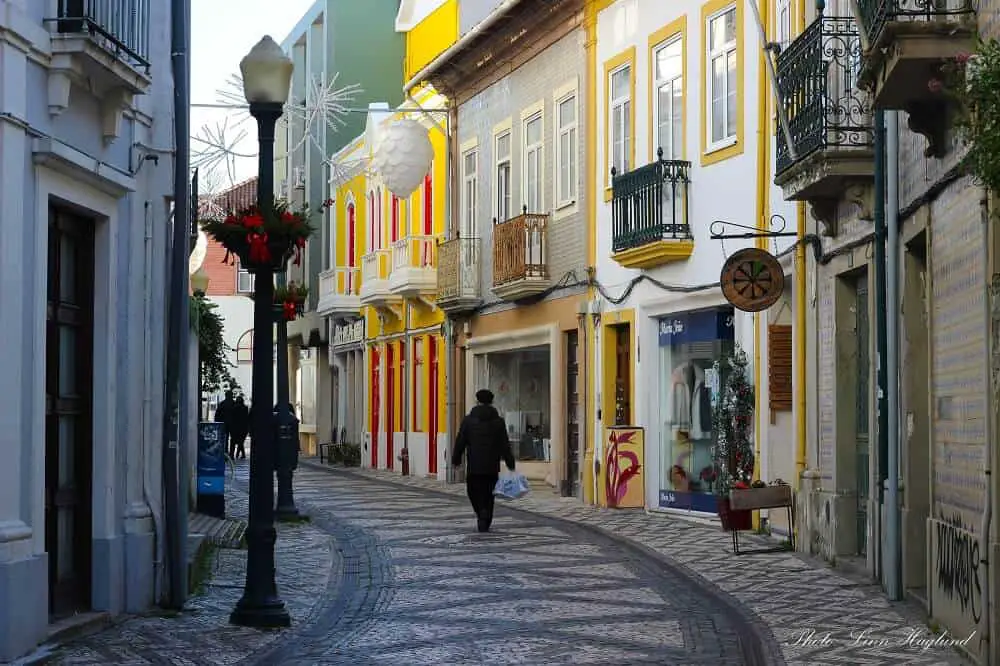 Aveiro's Sé Cathedral
One of the top Aveiro tourist attractions is the Sé de Aveiro Cathedral. I found it a pretty cool structure with the columns lining a walking path on the side.
The interior of the Roman Catholic church is also astounding and has been among Portugal's National Monuments. In 1423, it was founded as a Dominican convent.
Sé de Aveiro is built in a Portuguese Baroque style and is absolutely worth a visit, and the entrance is free! Only a short walk across the street, you'll find Aveiro's Museum.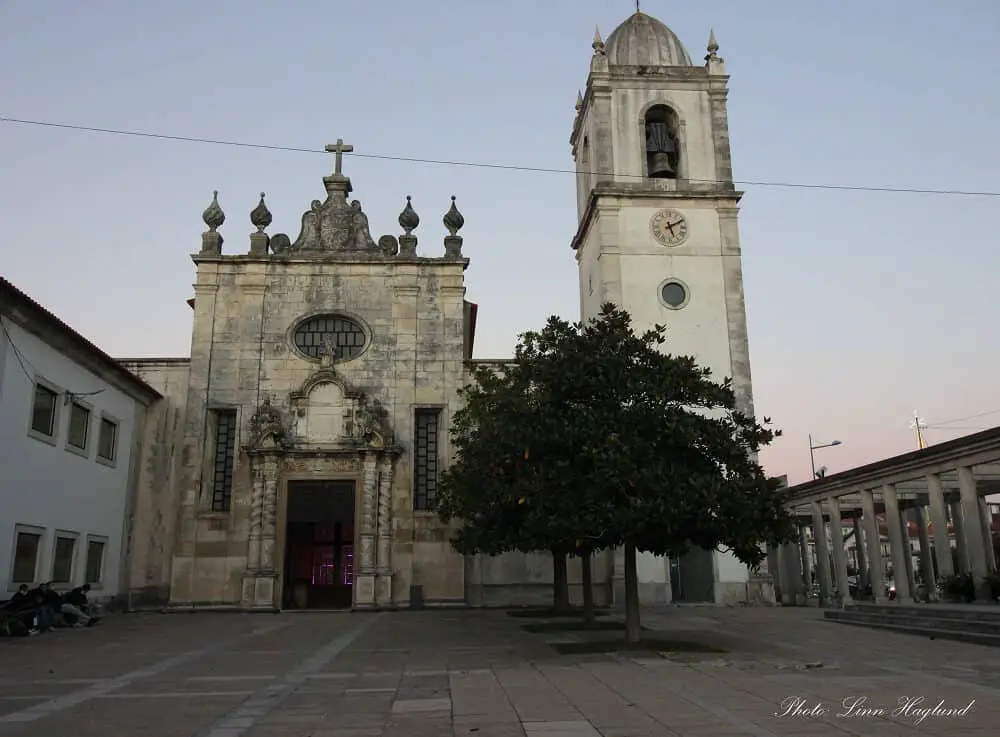 Aveiro Museum
Aveiro Museum is situated in one of the oldest convents in Aveiro, the Convent of Jesus of the Female Dominican Order which makes it one of the most unique places to see in Aveiro.
The convent was built in 1458 and you can visit the church, Igreja de Jesus, and the cloister with the chapels. The details on the walls and ceiling leave you in awe.
The museum showcases a collection of sculptures, tiles, and paintings among other interesting artifacts.
Opening hours are Tuesday to Sunday 10:00-12:30 and 13:30-18:00. Mondays and some public holidays are closed.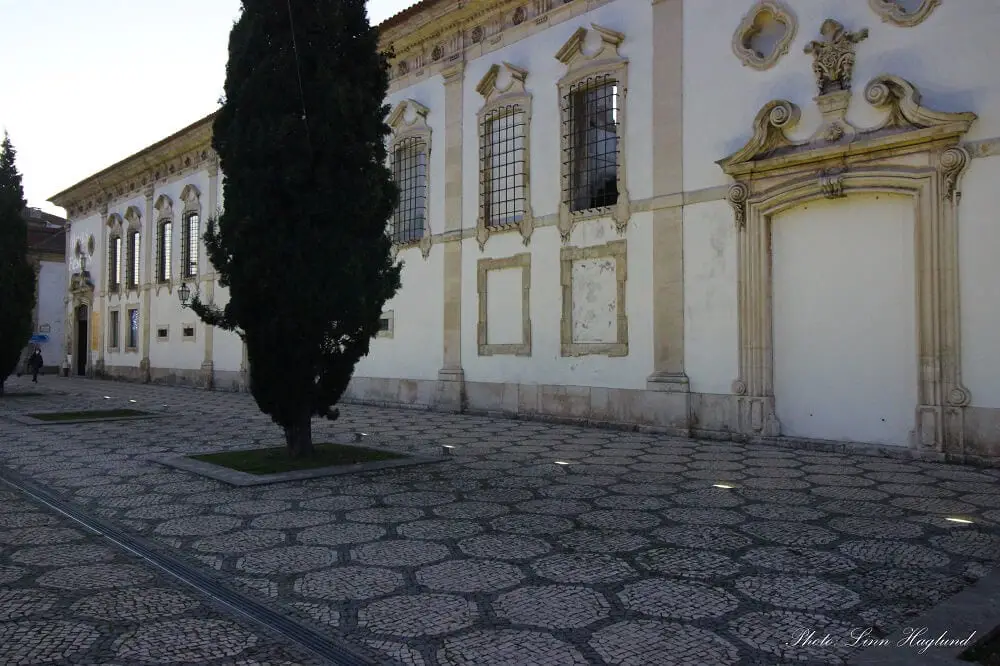 Aveiro Old train station
Aveiro Old train station is one of Aveiro's top attractions and if you arrive by train, you'll love what you see!
The entire building is decorated with azulejos picturing traditional images from all around the region, from canals, moliceiros, salt pans, and people in traditional clothing.
The azulejos are from the Fábrica da Fonte Nova.It's pretty cool, so even if you don't come by train, it's worth going just to have a look at this free, outdoor museum.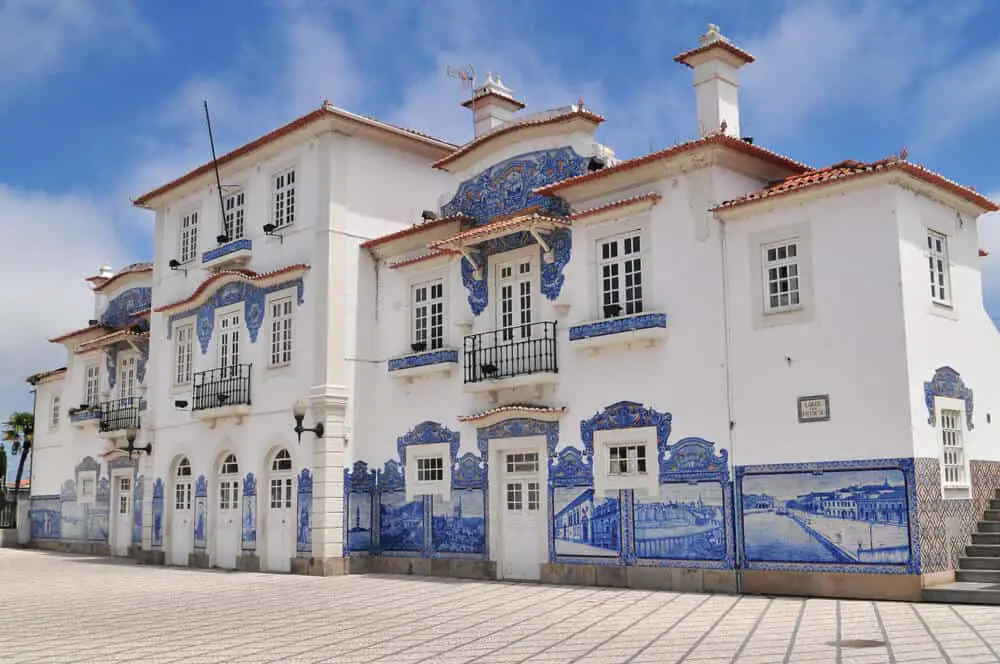 See the colorful houses in Costa Nova
Visiting Costa Nova to see the colorful cottages along the coast is one of the must things to do. Aveiro day trips from other cities all include Costa Nova and not without a reason.
The picture-perfect cottages, vertically or horizontally striped in bright colors, are super charming, but remember responsible tourism practices when you go. I've seen some pretty dodgy behavior with tourists walking into people's porches to take pictures. That's just not okay.
Instead, enjoy them from the street and take a walk along the waterfront too.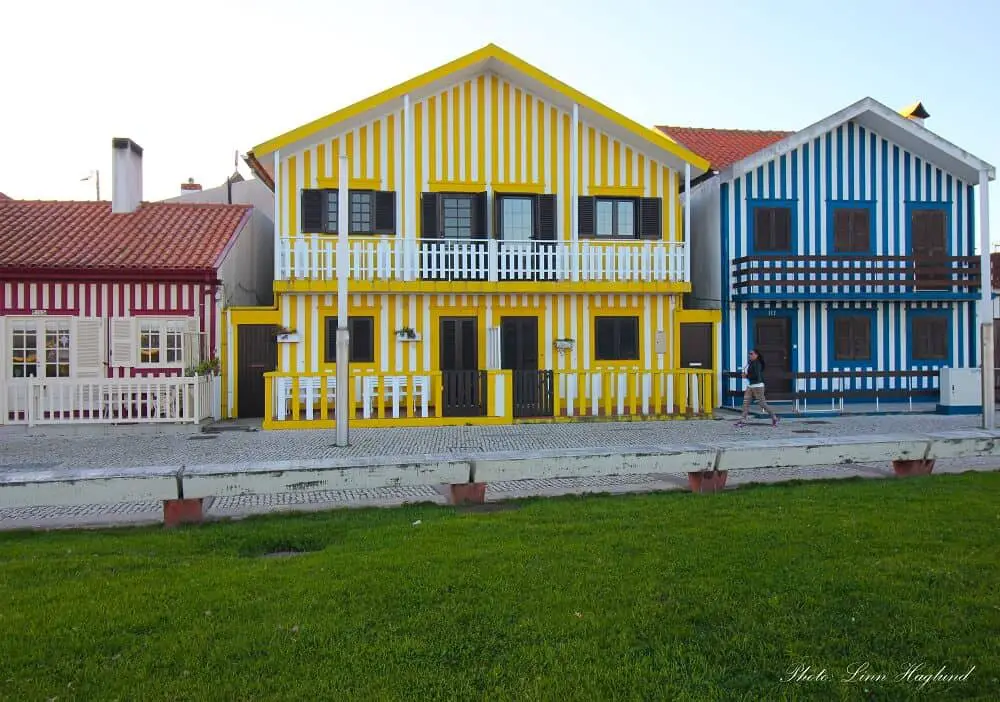 Take a stroll along Costa Nova beach
While in Costa Nova, make sure you go for a stroll on Costa Nova beach too. It's a beautiful, wide, golden sanded beach with a few beach bars to have a drink or lunch.
In the summer months, go for a swim and soak in the sun. Like so many other Portuguese beaches on the Atlantic Ocean, it's awesome! And one of the best beaches in Aveiro.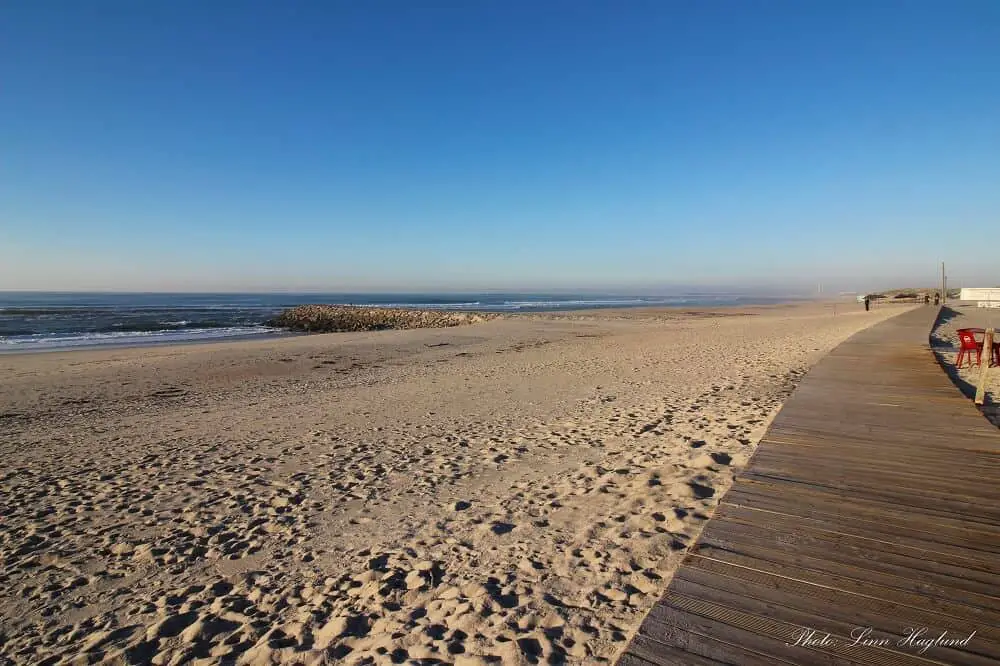 Praia da Barra Lighthouse
The lighthouse in Praia da Barra is the tallest in Portugal with its 62 meters. Since 1893 it's been standing strong on a barrier beach that has seen heavy storms rolling by, guiding sailors to safety.
You can visit the lighthouse today, climbing the nearly 300 steps to the top for sweeping views of the mesmerizing coastline.
While you're there, why not take a stroll along the beach or go for a swim. There are also shops and restaurants nearby if you're up for it.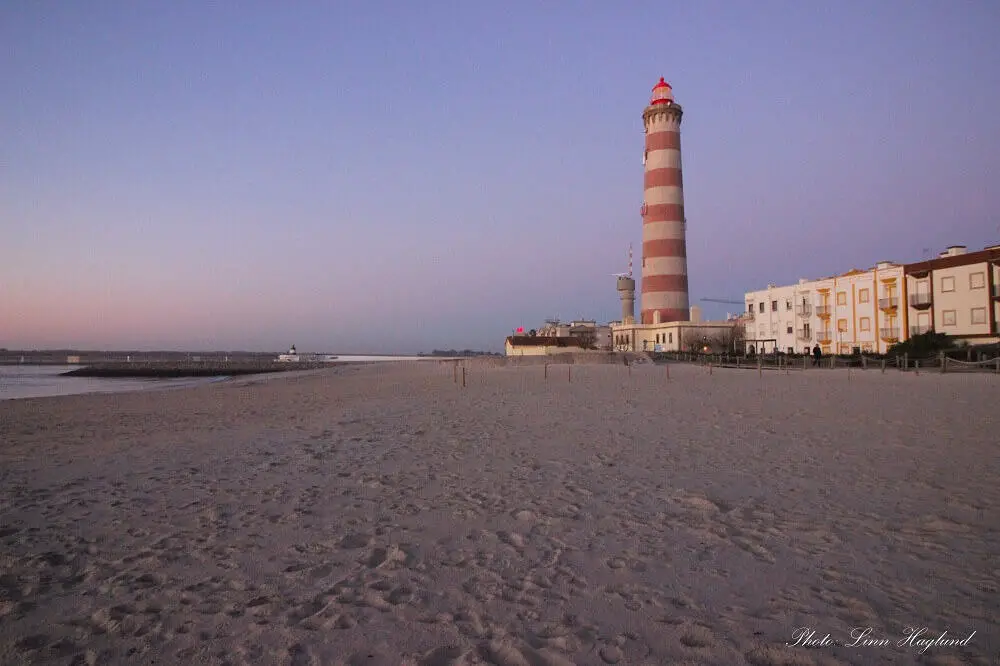 See the salt pans
Aveiro is a massive producer of salt in Portugal and all the way back to the 12th century, the salt produced from Ria de Aveiro was enough to provide for the whole country as well as export salt.
Today, you can visit the Ecomuseu Marinha da Troncalhada where you can buy salt as a souvenir and learn about the salt production history of Aveiro.
It's an interesting addition to your Aveiro itinerary due to its long and dominant history.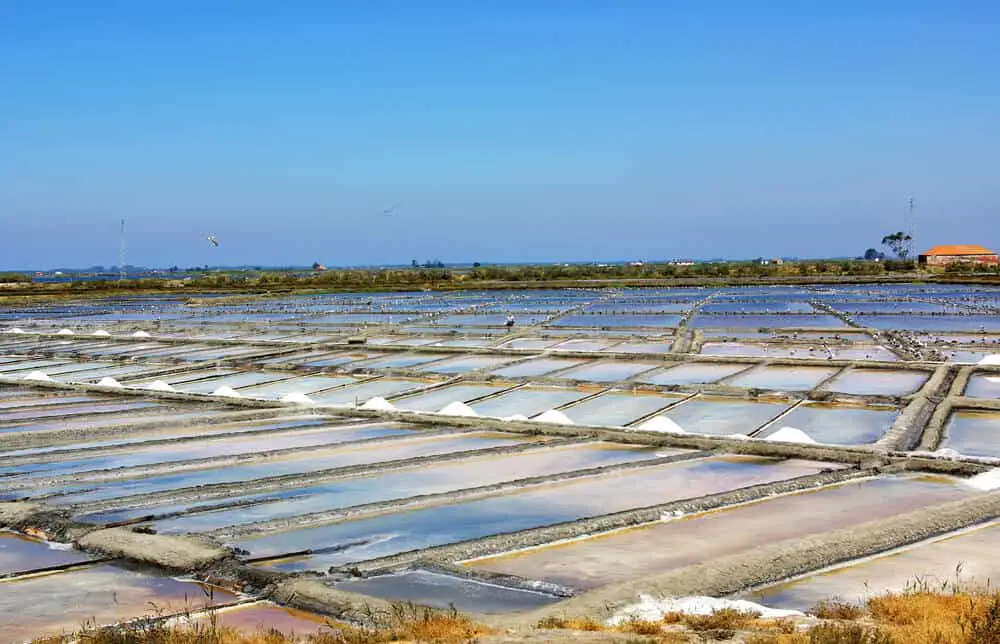 Walk or cycle the Passadiços de Aveiro
Walking along the Passadiços de Aveiro is one of the best things to do in Aveiro for nature and outdoor lovers. The boardwalk goes over and along Ria de Aveiro where you can enjoy a peaceful walk.
If you prefer to cycle it, it's perfect for a bike ride and you can rent bikes in Aveiro.
Birdwatchers will have a blast there too. This is a place where 4 rivers meet and it creates a unique biodiversity where you can see a multitude of birds.
Sunset lovers will especially take this place into their hearts. I can vote for it to be the top sunset spot in Aveiro, and I've checked out quite a few!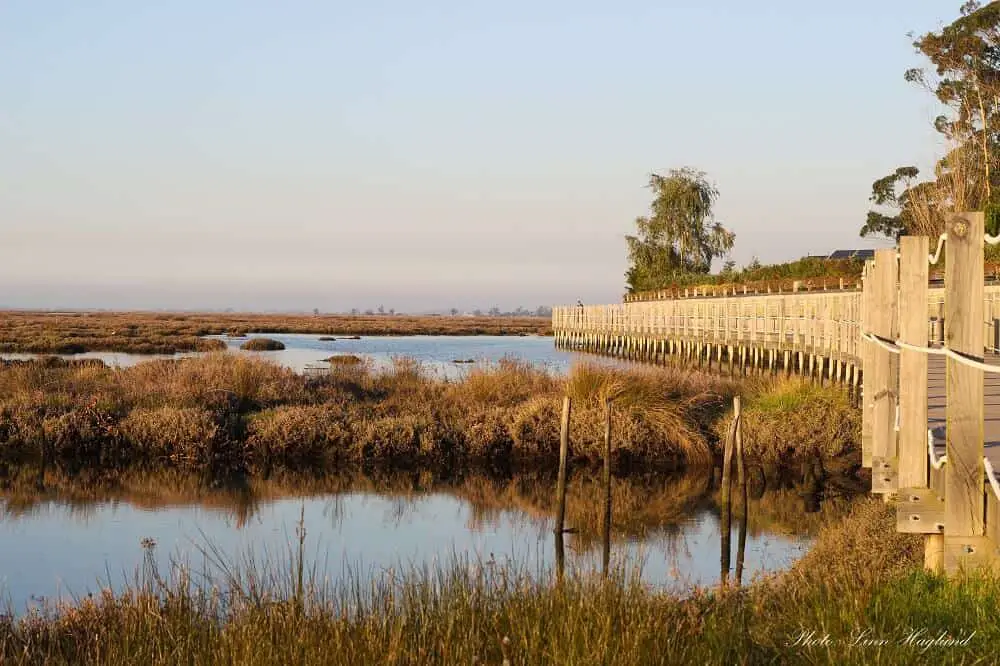 Reflections on what to do in Aveiro
Aveiro is such a charming town and I could have spent a lot more time there exploring the surroundings even more in-depth. Altogether, it's a calm town to wind down after spending time in Lisbon or Porto, yet there's enough to see and do not to get bored.
I found it very comfortable to have a car so that I could easily get to the Passadiços de Aveiro, but you don't need a car. There are buses that go to Costa Nova or you can rent a bike in Aveiro and cycle to either place.