Full of history, Metz catches your eye with its iconic cathedral towering above the rest of the town. But there is so much more to the city. With its green river side, gardens, and parks, medieval old town and fabulous museums, there are so many things to do in Metz France and I'll take you through the top sights.
I totally fell in love with the city almost before I had visited. I saw the cathedral as I was driving past. Let's say it ended up with a spontaneous drive off the planned route and later I returned again. Metz is just one of those cities that wrap you in with history and charm so you don't want to leave.
Before looking at what to see in Metz, let's have a look at the practical stuff.
Disclosure: This post may contain affiliate links. That means that if you make a purchase through one of those links, I will get a small commission at no extra cost to you. If you have any questions about these services or products, feel free to ask me.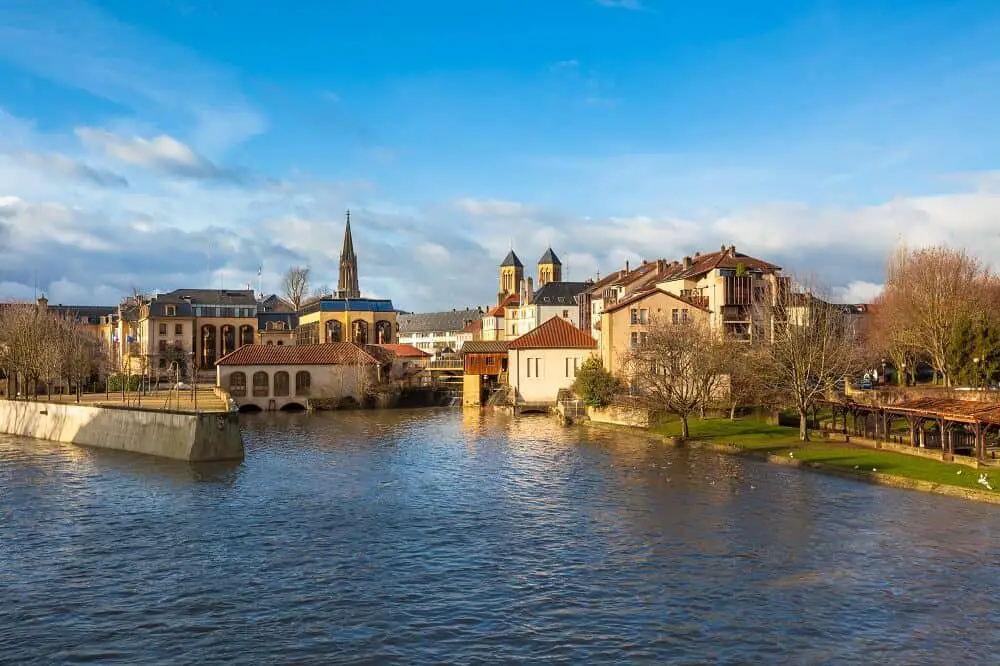 How to get to Metz
Metz is easily reached as a day trip from Paris by train or car, but the enchanting town will surely make you want to stay longer.
Because of it's proximity to the boarder, it's also really easy to get to Metz from Luxembourg or Belgium.
The main train station in Metz, also a historic monument, is Gare de Metz-Ville. It was built for Emperor Wilhelm II as a strategic place in the Germany-France war and transported soldiers and goods during World War I.
Today, you can travel by train from large parts of France to Metz, with some train lines stopping in Paris for a change of train.
But you can also take the bus to Metz. The main bus station is Gare Routière which is situated next to Gare de Metz-Ville.
If you're on a road trip in France, I found it pretty easy to find parking in the streets outside the center. There are also several central indoor car parks.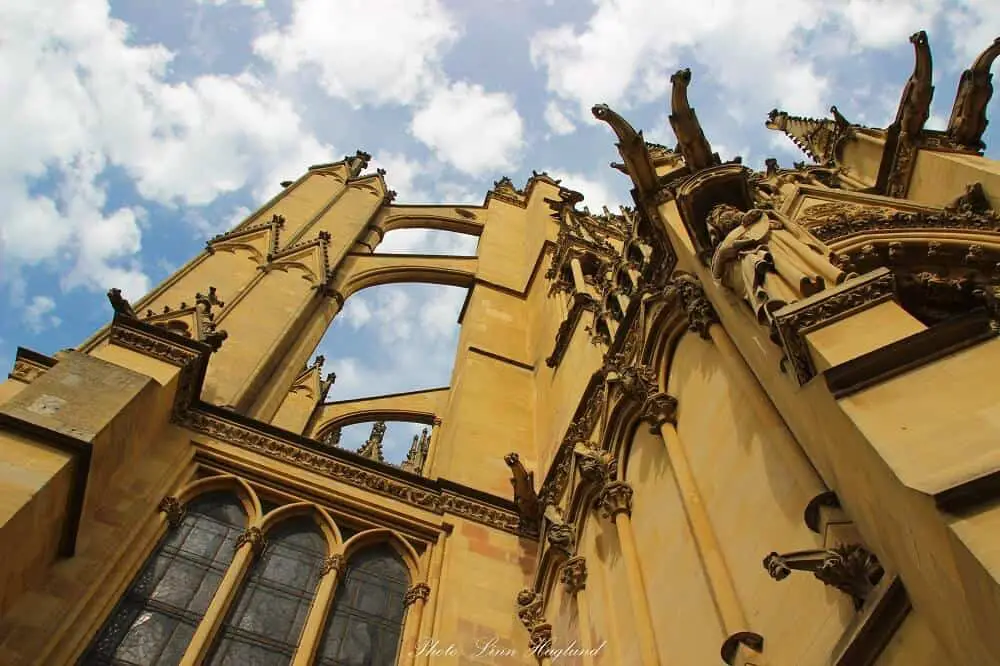 How to get around in Metz
With a lot of green space, walking paths along the rivers, and narrow cobbled streets, Metz is perfect to explore by foot. You can easily get around between the top Metz attractions by foot.
However, the city has become an extremely bike friendly city too and there are more than 1000 spots where you can park your bike.
There is also a good urban bus network. You can buy a bus card which can be topped up for €1,50 per trip. Alternatively, you can get a Visi'Pass (day pass) for €4 if you'll be taking the bus more times during the day.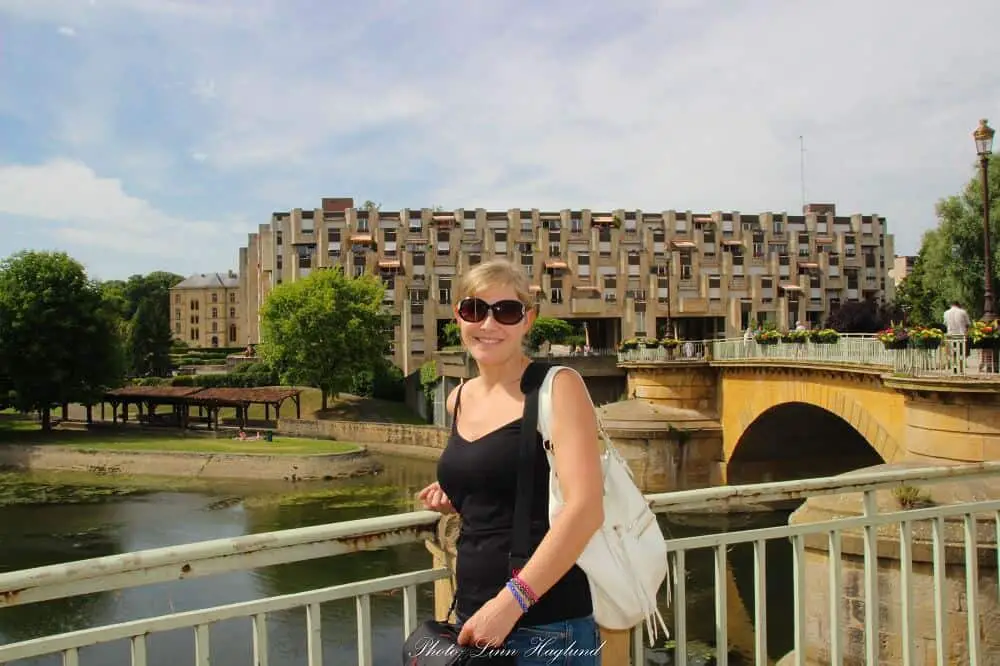 Where to stay in Metz
There are many great places to stay in Metz, especially apartments. I'll list up a few hotels that I find great value for money here.
Flow Hostel Metz
Centrally located, not too far from Metz Cathedral, this hostel features great rooms and a nice common area with fully equipped kitchen. Breakfast included and free WiFi.
---
Book your stay at Flow Hostel Metz here
---
Hôtel de la Cathédrale Metz
This hotel is perfectly situated in the historic center in front of Metz Cathedral. Can you think of any better place? The historical building is furnished exceptionally nice and it's almost like traveling back in time.
There is breakfast and a cute terrace. Pets allowed and free WiFi.
---
Book your stay at Hôtel de la Cathédrale Metz here
---
Les Chambres de l'Ile
This is a modern, yet cozy place a bit outside the center that will make you feel at home. Perfect for families, with a green garden and swings where the kids can play. Breakfast include home made jam! There is free parking and WiFi here and only a kilometer away from Metz Cathedral.
---
Book your stay at Les Chambres de l'Ile here
---
Things to do in Metz
Now, let's have a look at what to do in Metz, France. There is more than enough to fill up a whole weekend in this wonderful city and it's actually a perfect weekend getaway from Paris. With old medieval bridges connecting small islands in the rivers Moselle and Seille to the mainland.
Metz Cathedral
Metz Cathedral is one of the tallest in Europe with its 42 meters. The mesmerizing Gothic and Renaissance structure catches ones eye already before entering the city and was the reason I drove off the motorway to visit this beautiful city.
The cathedral was built between 1220 and 1552, its interior is beautifully illuminated through the many stained glass windows where the sun flows abundantly during the day. For this reason, it's also known as the Lantern of God.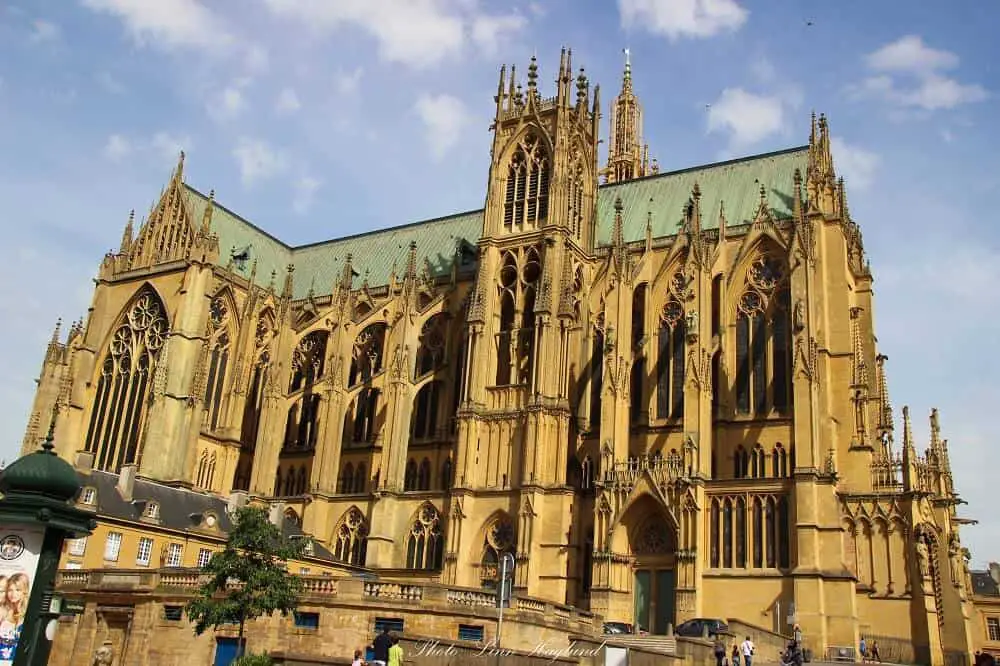 Stroll around the historic center
Taking a stroll around the historic center is one of the top things to do in Metz France. Follow the narrow cobblestone streets and admire the historical buildings.
Have an ice cream or coffee on the 14th century Place Saint-Louis. The beautiful square is surrounded by pastel houses with Mediterranean-style windows. Can you think of anything better?
Oh, it gets better! This square is where the charming Christmas market takes place every year.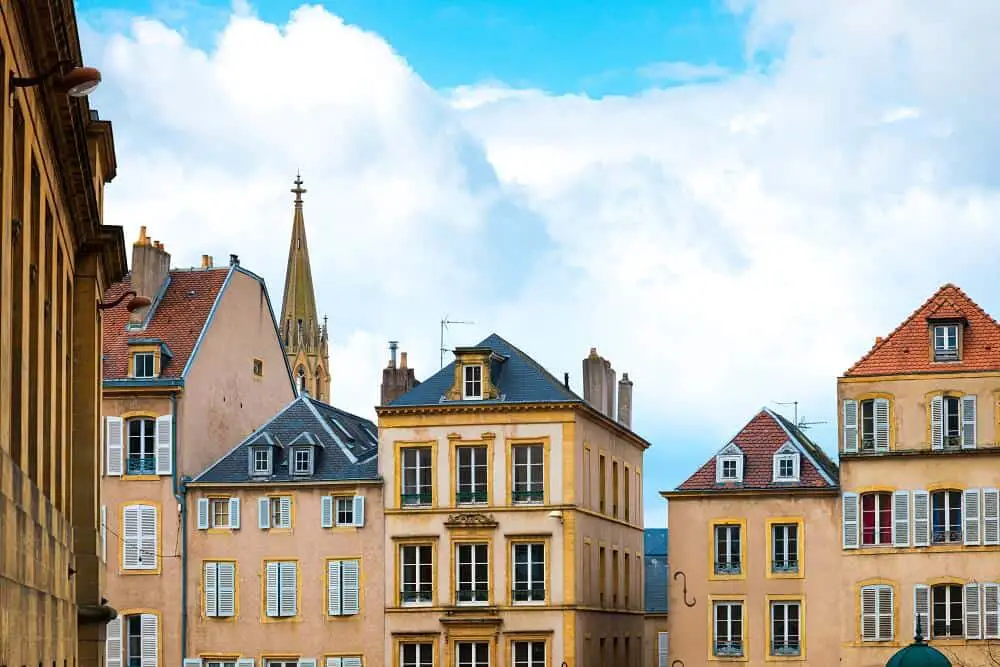 Admire Porte des Allemands
Another one of the most prominent tourist attractions in Metz is the medieval Porte des Allemands. The ancient towers, once protected by the fortified gate and ancient bridge, are now open to the public. You find multiple information boards and there's a nice walking path you can enjoy.
Around Porte des Allemandes you can stroll through charming cobblestone streets with small boutiques and artisan shops.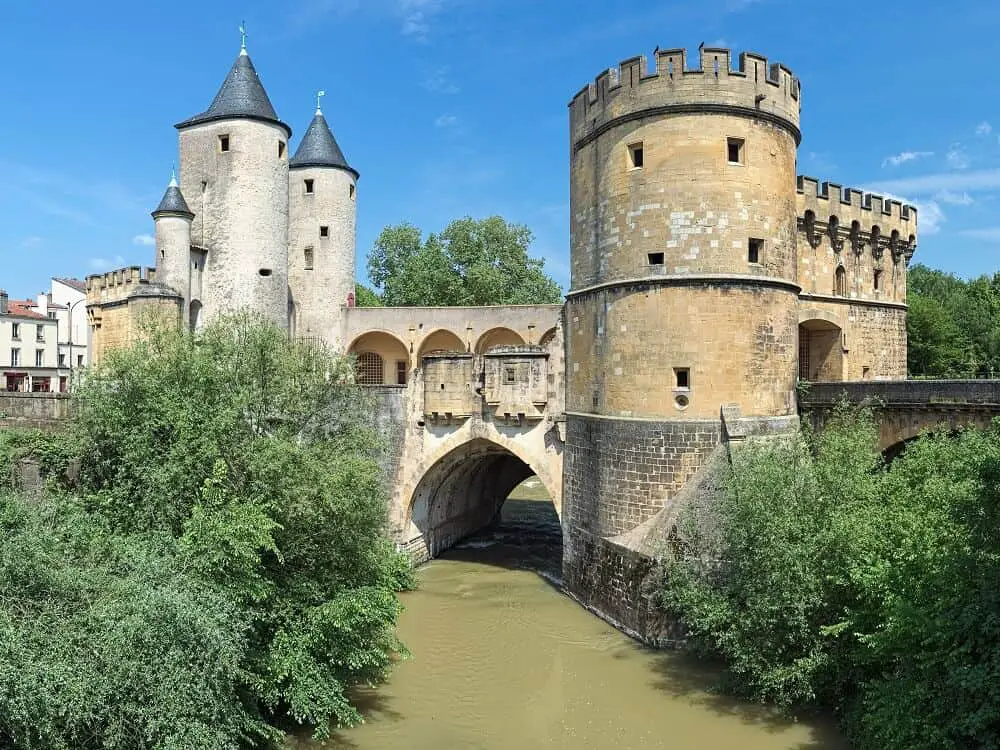 Visit Centre Pompidou-Metz
Centre Pompidou-Metz is an interesting museum showcasing artwork from 1905 until present day. As it is connected with the Centre Pompidou Musée National d'Art Moderne in Paris, it gets its exhibits from the more than 100.000 art pieces in Paris.
There are three great galleries spread around the 10.700 square meters museum and you should definitely check it out if you have the time.
Find opening hours and tickets here.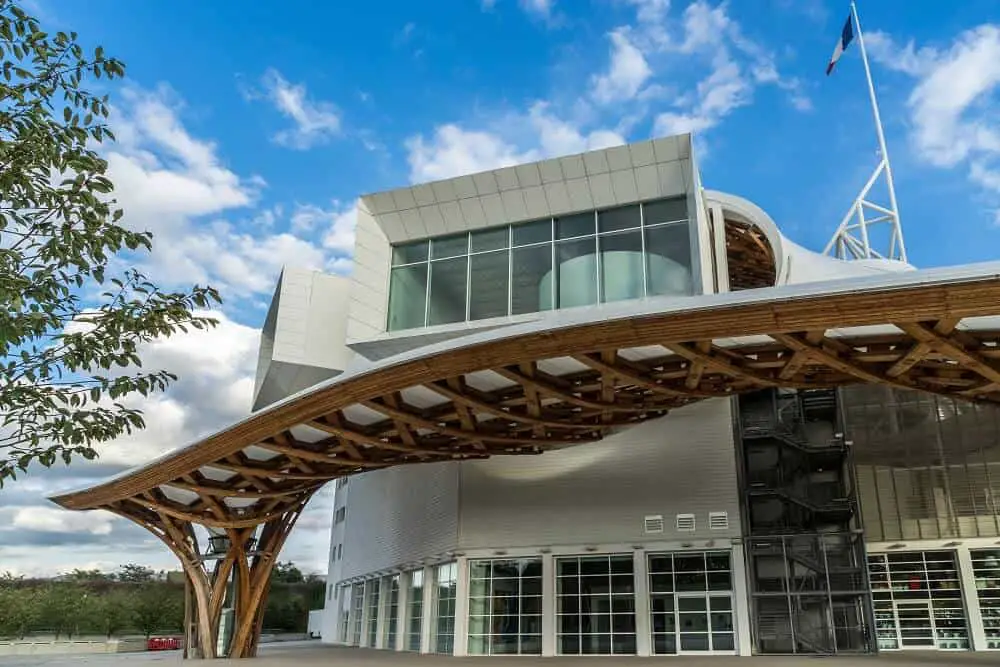 Stroll along the river
A stroll along the river is a must while in Metz. The path is covered in greenery and the river is home to duck families swimming around doing their cute daily ducky things.
You can see amazing city views, Metz cathedral, and the astounding Temple Neuf from the river. Don't miss out on the sunset reflecting in the green water.
Visit Opéra-Théâtre de Metz Métropole
This 18th century building is the oldest functioning opera house in France. If you have the time, you should definitely experience a classical opera performance in Opéra-Théâtre de Metz Métropole.
The area around the theater is also stunning, starting with the square Place de la Comédie which is surrounded by Neoclassical buildings from the 18th century.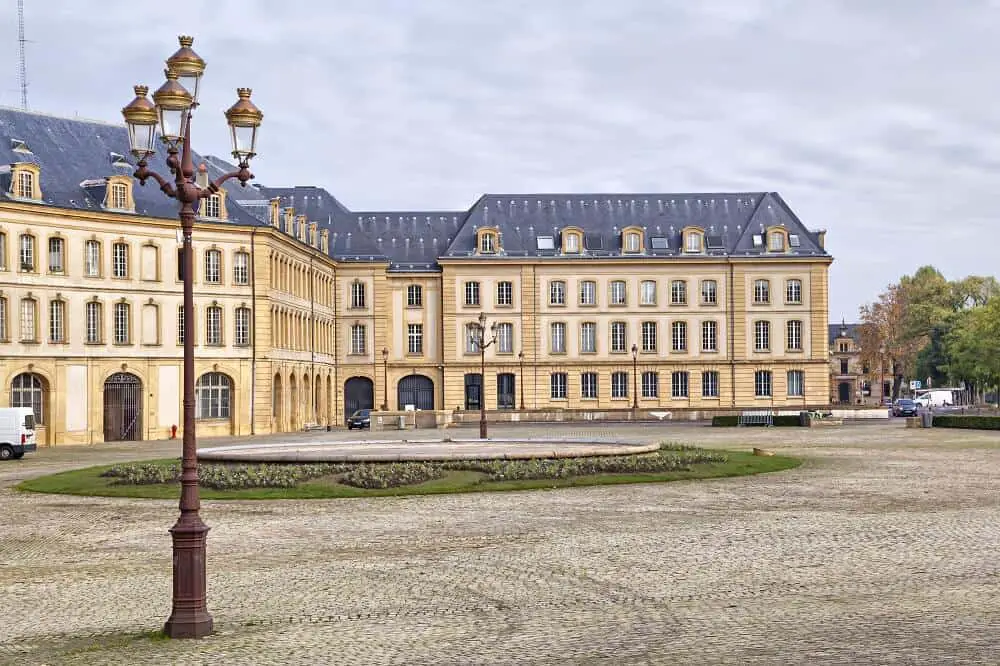 See the Basilica of Saint-Pierre-aux-Nonnains
What is one of the oldest churches in Europe, started off as a Roman school back in the 4th century AD and originally built as part of a Roman spa complex in the year 380 AD.
The basilica has now been turned into a cultural center and is open to the public daily between 14:00-18:00.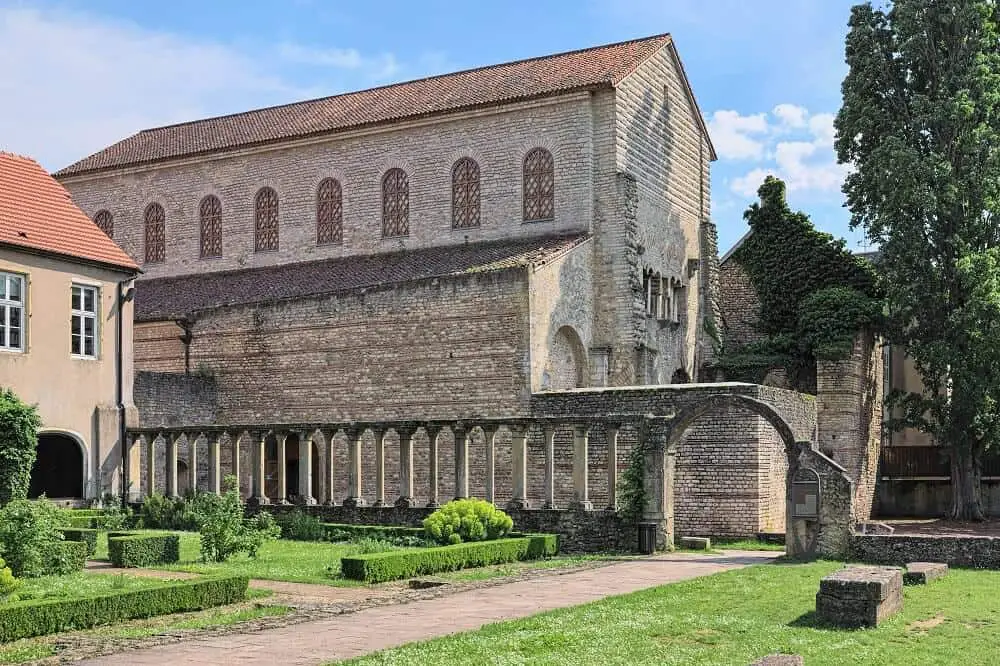 Walk in the Esplanade
The Esplanade is one of the finest gardens in the city and going for a stroll in the 19th century park in one of the best things to do in Metz.
Enjoy the astounding views of Mont Saint Quentin and look for the remains of the 16th century citadel.
Explore Temple Neuf
Surrounded by the Moselle river, Temple Neuf stands tall on the little island,  Île du Petit-Saulcy. It's actually sitting in the Garden of Love right next to the Opera House by the Place de la Comedie. Connected by bridges from both sides, the little island is well connected to the main land.
The church was built in a Romanesque Revival style in the beginning of the 1900s when Metz was still ruled by Germany.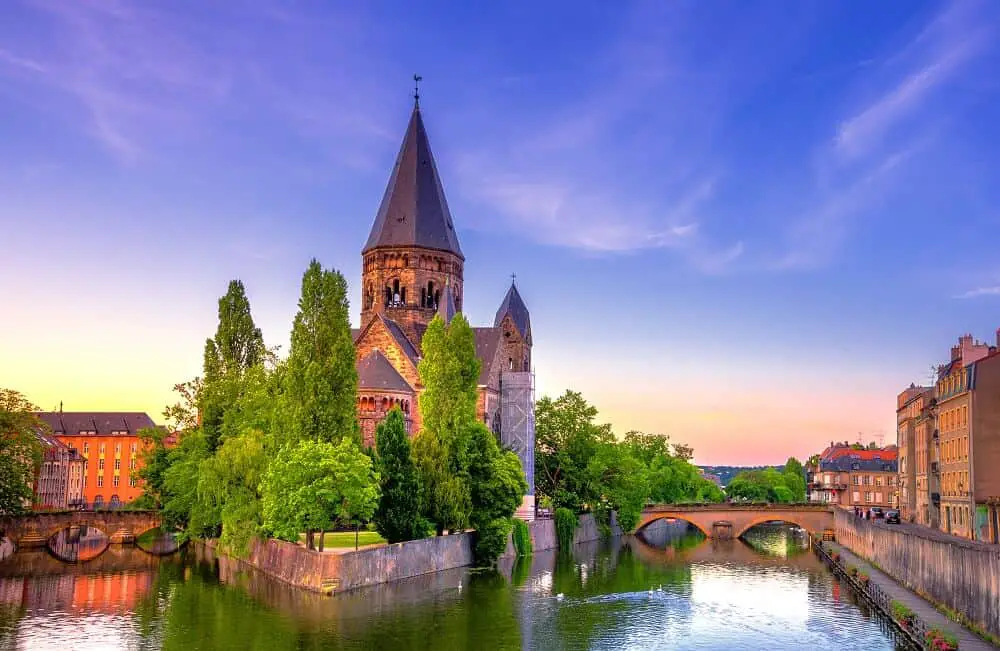 What to do in Metz as a responsible traveler
In Metz France things to do are plentiful, and as mentioned before, you'll fill up a weekend without any problem, or even more!
Make sure you leave no other than positive trace in the city. Bring your own water bottle to avoid single use plastic bottles and use the trash bins. Spend money on local markets and shops instead of internationally run businesses.
There are plenty of markets all year around in Metz, and with all the cute locally owned boutiques, there shouldn't be a hard thing to find unique souvenirs from the city.
Try to learn some basic French sentences so you get around easily and simply respect the language barriers. I found the French are very eager to help if you approach them in a friendly way.
Bon voyage!
---
READ NEXT: 4 Days in Paris Itinerary
---
Pin it for later!