If you're considering setting your winter break to France, you're going to have a great time for sure, but it can be hard deciding on where to go in France in the winter.
It's such a big country with different destinations offering anything from snowy ski resorts to mild temperatures and winter sun.
Cities with art and impressive architecture and small towns with vibrant Christmas markets make for completely different vacation spots, so where should you go?
In this post, I'll share some of the best places to visit in winter in France so you can find out which ones speak to you the most.
Get ready to explore France in winter from north to south.
Disclosure: This post may contain affiliate links. That means that if you make a purchase through one of those links, I will get a small commission at no extra cost to you.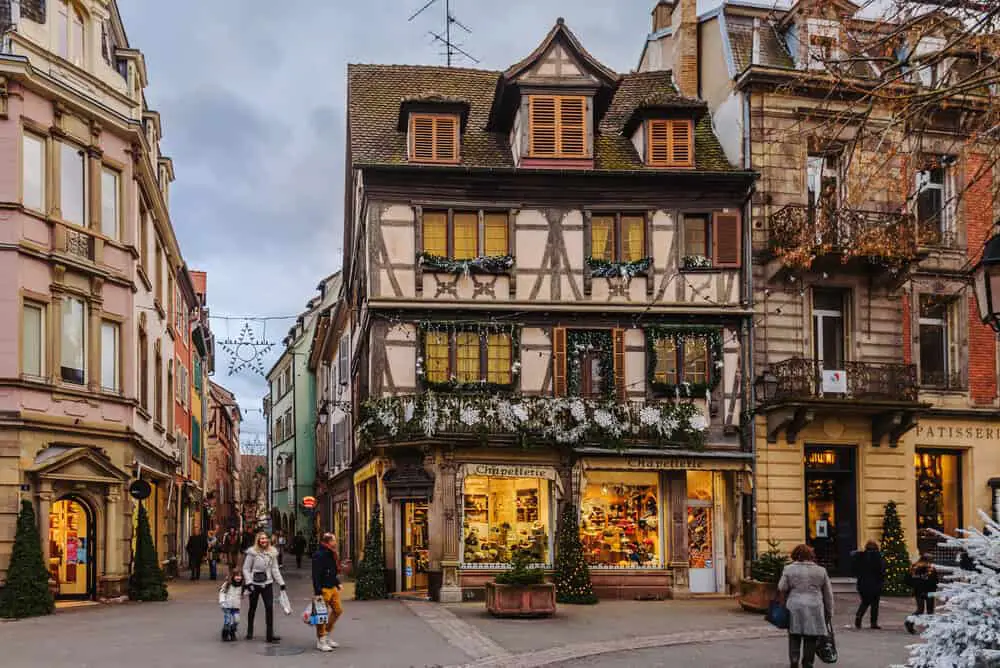 Best places to visit in winter in France
Paris
Paris is one of my favorite cities to visit in France in winter. Mainly, because it's a lot fewer crowds than in the high season. It's fairly mild in winter, though you'll need a coat, especially in the evenings.
Whether you spend 4 days in Paris or prefer to see Paris in one day to head off to other destinations, the city of love will not disappoint.
From taking pictures of the Eiffel Tower to climbing Sacre Coeur and having crepes at one of the food stalls in the center, Paris in winter has a lot to offer!
The colder months are also great for spending hours inside the Louvre taking in all the incredible art exhibited.
If you visit Paris in December, you're up for a treat, as Champs Elyssee has heaps of Christmas market stalls and you can go ice skating in the Eiffel Tower. It's easy to tell that the city embraces the festive season!
It doesn't snow very often in Paris, but if you're lucky, you'll get a romantic snowfall, though it's rare that it stays. I'd rather be prepared for showers, so make sure you bring an umbrella.
The city is also a great base for weekend trips from Paris and the train connection is super good if you are looking for day trips from Paris by train.
Where to stay: Relais Hôtel du Vieux Paris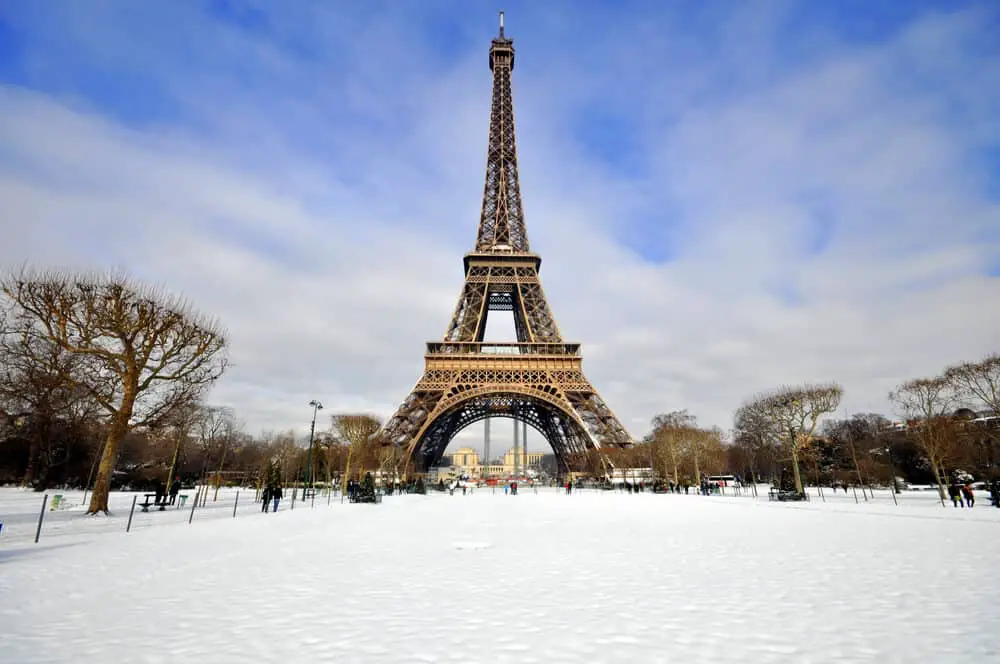 Metz
Metz is another great place to spend your winter holidays in France. The medieval old town brightens up in the festive season with Christmas markets where you can get anything from Christmas ornaments to handmade decorations, and vin chaud.
Being in the north of France, temperatures drop to around zero at night and in the daytime, they rise to 5-7 degrees Celsius. There are chances of snow in December and Januar, but it's very rare.
There are plenty of things to do in Metz like visiting the impressive Metz Cathedral, which is one of the tallest in Europe, walking through the medieval Porte des Allemands, and crossing the Moselle River to Temple Neuf.
Art lovers will also enjoy the Centre Pompidou-Metz and maybe an opera show at the oldest functioning opera house in France, Opéra-Théâtre de Metz Métropole.
Where to stay: La Citadelle Metz MGallery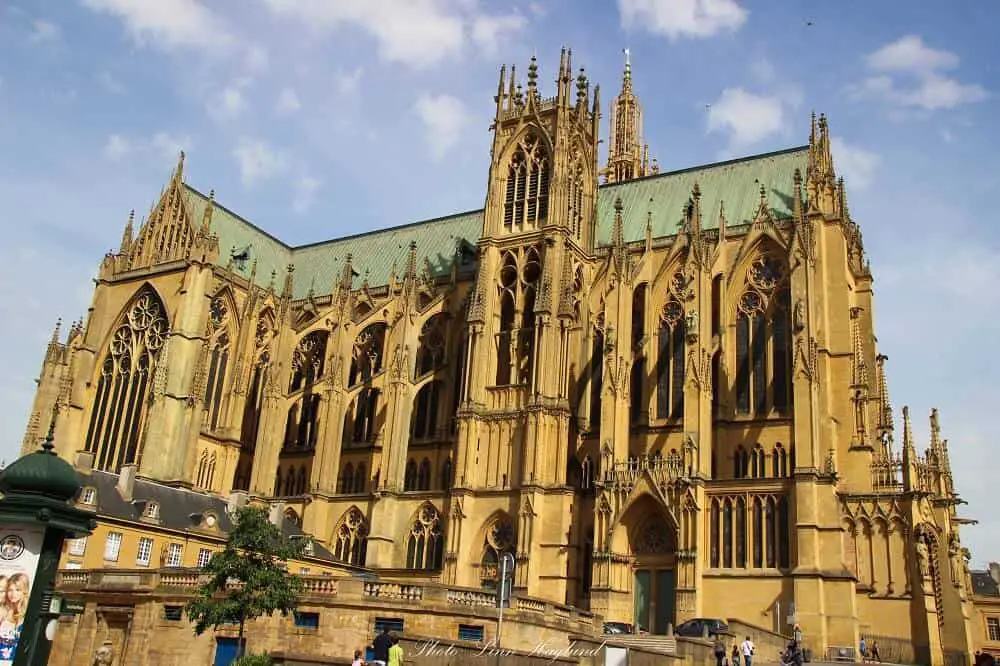 Chamonix
By Steff of Just Travelous
The infamous ski town certainly lives up to the hype! Chamonix is a lovely French ski town that is straight out of a romantic comedy.
The town is right at the border of France, Switzerland, and Italy. The town lies in a valley surrounded by mountains in every direction making it one of the best winter destinations in France for skiing.
Chamonix is at the base of Mont Blanc, the highest peak of the alps! The town is very well connected by ski lifts that can be used either for skiing or just to enjoy the view!
The largest lift has a great restaurant, Le Panoramic, at the top to enjoy the view at a slower pace with fabulous French food!
The town is one of the best for skiing in Europe with so many options, it is easy to fill a week of skiing with a different peak every day.
The food is fantastic with enough options to eat somewhere new for every meal but book in advance, especially during ski season.
Similarly, book your hotel well in advance, especially in a big group. The area is also fantastic to visit during the summer and hike the Tour du Mont Blanc.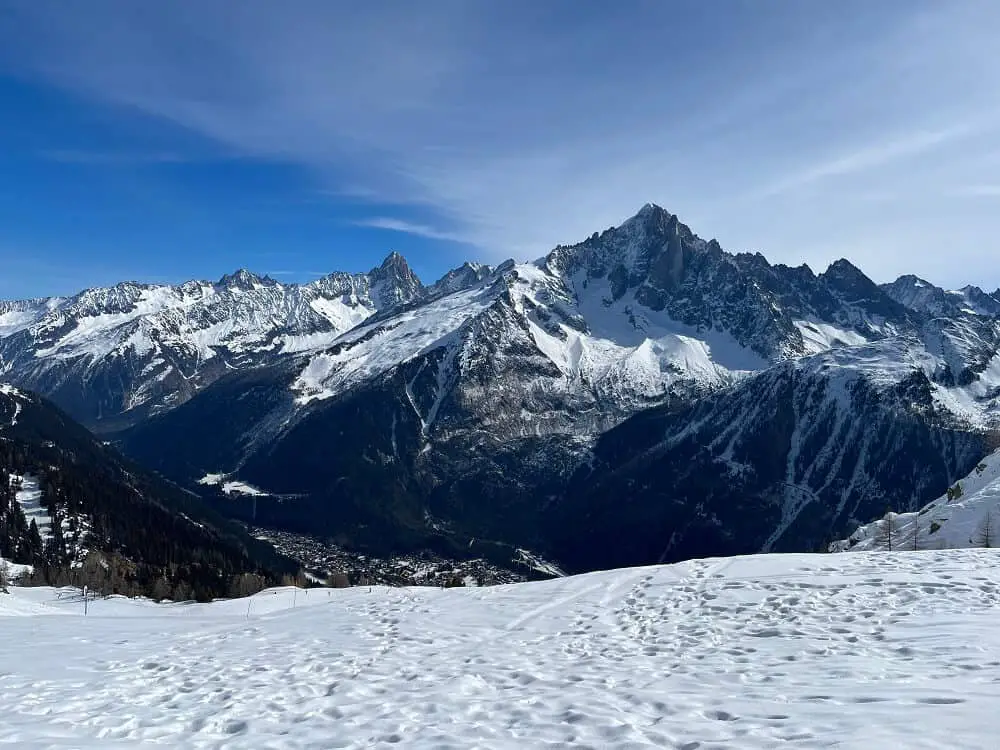 Riquewihr
By Laura of Laure Wanders
Riquewihr, a charming town in the Alsace region, is one of the best places to visit in France during Winter. This picturesque town is often featured in lists containing the most beautiful villages in the country and it is easy to understand why.
During Winter, Riquewihr becomes even more magical, as there will be a Christmas market and the streets will be decorated with twinkling lights and other beautiful decorations.
One of the best things to do in Riquewihr is to pay a visit to the 13th-century Dolder Tower and its museum. Here, you can learn more about the history of the town.
Some of the other things that cannot be missed are the Tour des Voleurs (Thieves' Tower), the place where criminals were interrogated and imprisoned, and Maison du Vigneron (Winemaker's House), where you can see where the town's winemakers lived and worked.
On top of that, Riquewihr's fortifications and the Place des Trois Eglises (Square of the Three Churches) are worth visiting as well.
If you have more time in the region, you can also visit the nearby towns of Kaysersberg, Eguisheim, Ribeauvillé, and Hunawihr or hike along the Alsace Wine Route. The latter stretches over a distance of 170 km in total.
Riquewihr can easily be reached by car, bus or bicycle from Colmar and it's full of cosy hotels. One of the most famous ones is Hôtel de la Couronne.
Bordeaux
By Nes of Kevmrc
Bordeaux, located southwest of France, is best known as a summer destination due to its proximity to the Atlantic Ocean. Yet, Bordeaux also has many reasons to visit during the winter season.
Bordeaux's historical heritage is captivating, with lots of UNESCO-listed landmarks. The old town is a true gem, featuring medieval gates like the Porte Cailhau, lively squares, and picturesque narrow streets.
This is where you'll find the city's magical Christmas market from late November to late December. 
The stunning Bordeaux Cathedral and its bell tower, the Tour Berland, are monuments not to be missed.
For a warm break, a walk down Rue Sainte Catherine (Europe's longest pedestrian street) will lead you to charming cafés where you can have a delicious Cannelé, these traditional little cakes from Bordeaux.
And make sure to capture the winter charm of the Water Mirror by the Garonne River in your photos.
Winter in Bordeaux is the perfect time to indulge in museum visits, and the city has no shortage of them. The wine capital has a whole museum dedicated to wine, the Cité du Vin. It's the best spot to taste the finest wines and discover the world's biggest wine cellar. 
But Bordeaux's winter offerings don't end there.
You can also explore one of France's largest flea markets on Place des Quinconces or join in the festivities of the Mardi Gras carnival.
And if you're looking for a day trip, you'll be spoilt for choice: from vineyards to medieval towns like Saint Emilion. The whole region is incredible making it a great France winter destination.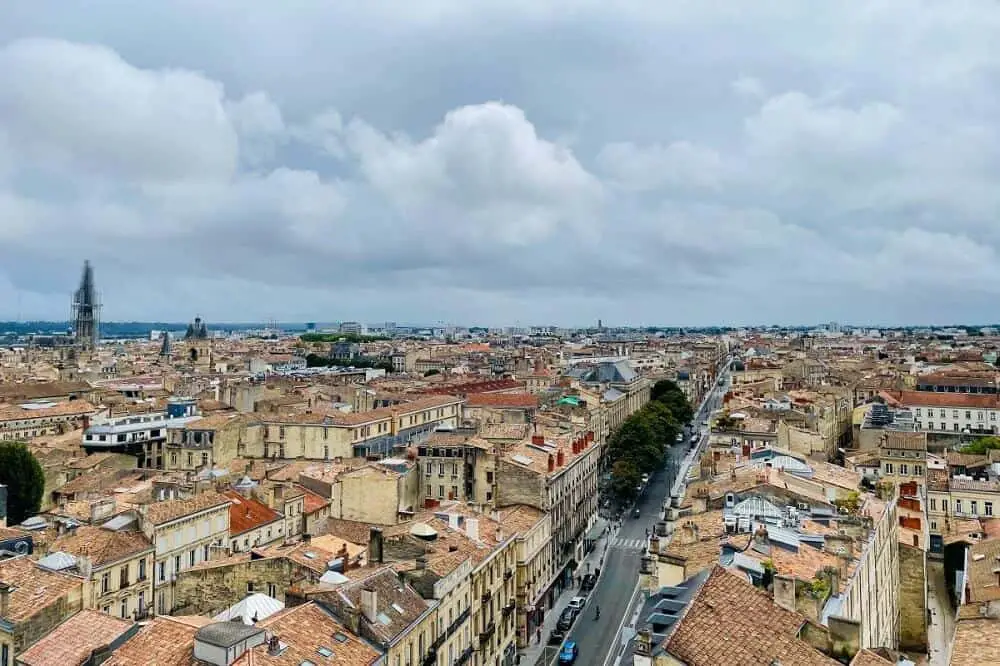 Arles
By Leyla of Offbeat France
Arles is one of those cities that is wonderful in winter: most tourists are gone, and so is the crushing heat that makes the city unbearable in July and August.
This is not a prime destination for Christmas spirit and hot mulled wine. It is a Mediterranean city, facing south, with the bright sunshine and blue skies that go with it.
Don't be fooled by the sunshine, however: Arles in winter can be cold, coat and scarf-wearing cold, but warm enough to sit in a café in the sunshine making it a nice place for winter sun in France.
The city is most popular for its fantastic Arles amphitheater and other Roman ruins, ranging from the cryptoporticus, or foundations beneath what was once the forum, to the baths of Constantine.
The city also has a fantastic Museum of Antiquities, which includes the only known bust of Julius Caesar, and an entirely restored Roman-era flat-bottomed boat.
Arles was also the home of Vincent van Gogh for several years, and the city is the subject of many of the 187 works he painted here. There's a van Gogh trail you can follow with a map from the Tourist Office to see the sights he saw.
Arles is also now the proud home of the LUMA Arles, a contemporary art museum whose exterior, designed by Frank Gehry, is every bit as stunning as the collections inside.
Bright sunshine, museums for cold-weather days, and uncrowded monuments and attractions all make Arles an ideal France winter destination.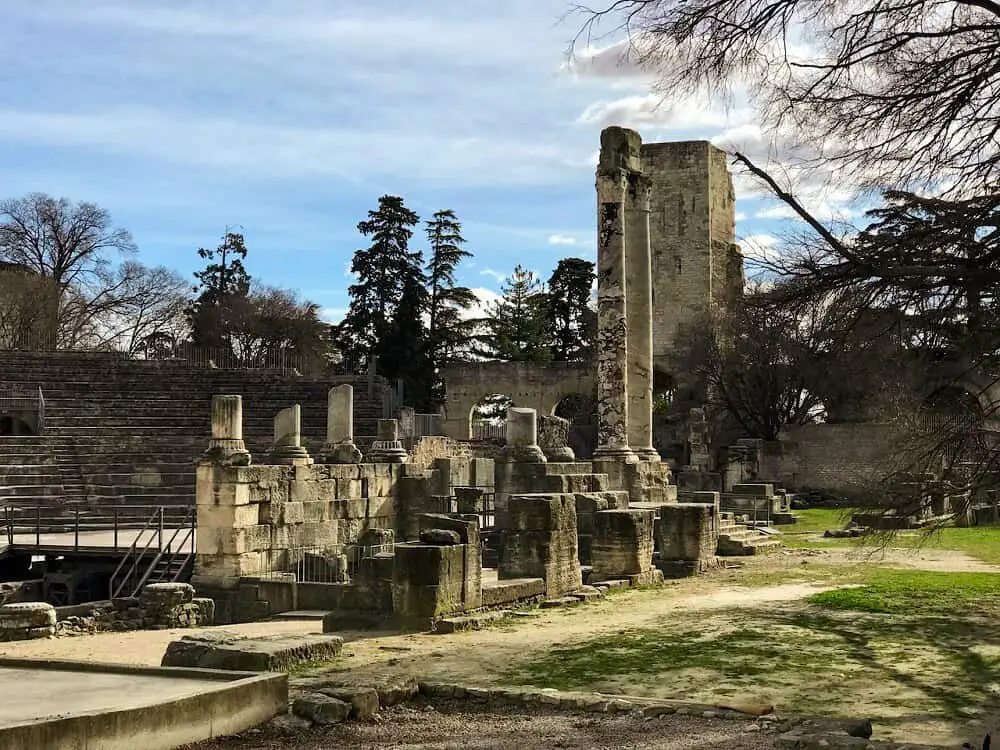 Annecy
By Samantha of Continuous Roamer
Annecy is a charming town in France located near to Geneva. It can be accessed from Lyon Airport, Geneva Airport, Chambery Airport, and Grenoble Airport.
However, the latter two airports are only open during the ski season. The quickest way to get to Annecy from all these airports is to rent a car. Although, it is possible to take the train. 
La Vieille Ville (old town) is one of the best places to explore in Annecy in winter because it is so picturesque.
Walking around Annecy's old town offers plenty of opportunities to shop for souvenirs or snacks, plus the town presents photo spots on every corner.
It is also recommended to walk to the iconic Lake Annecy to see the impressive water and the mountains as a magnificent backdrop.
Winter is one of the best times to visit Annecy because there are fewer tourists than in summer, and it will mean you can explore the streets without worrying about large crowds. Additionally, you may be lucky enough to see Annecy under a blanket of snow transforming the town into a winter wonderland.
During the festive period, Annecy welcomes visitors to its Christmas Festival, where the streets are adorned with lights. Plus, there is a concert and an ice skating rink to enjoy.
Where to stay: Auberge du Lyonnais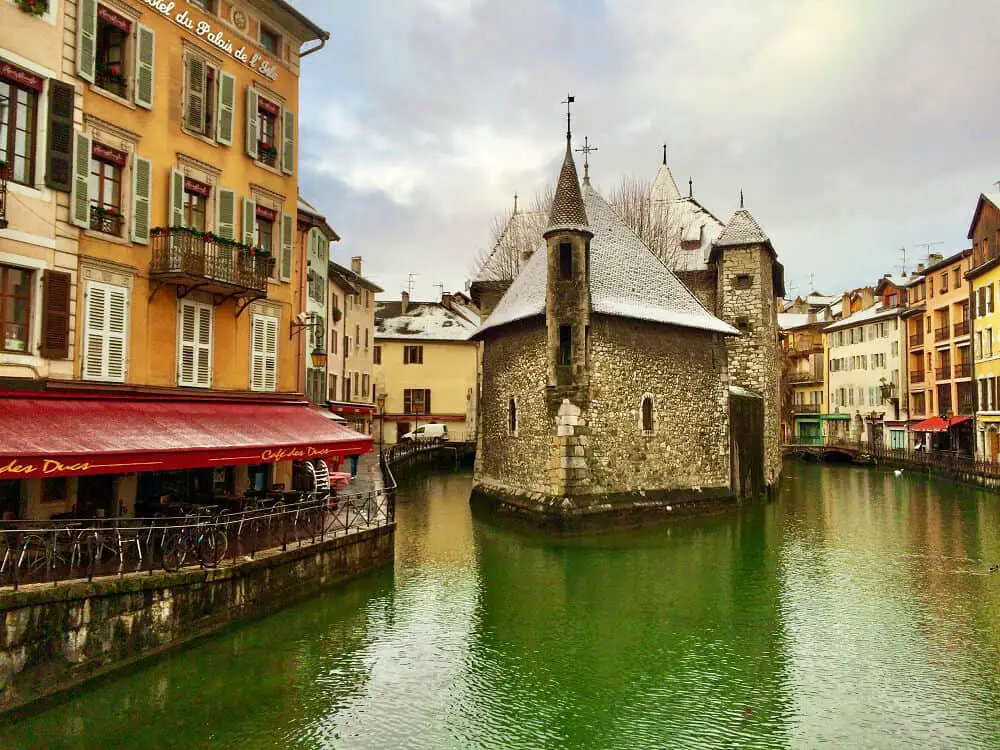 Colmar
By Adriana of Wanderlicious
Colmar is, quite frankly, one of the most amazing spots in France, known for its super colorful half-timbered houses, the quaint streets made of cobblestones, and a charming, cozy village vibe.
It's said that this place inspired the story of Beauty and the Beast, and honestly, it looks just like it!
The whole town feels like a Disney movie, with folks walking around carrying fresh-baked bread, but it's got a modern touch too.
A visit to Colmar is great for everyone, whether you're with your family, friends, or your special someone; there's something for everyone here.
There is no more spectacular time to visit in winter, during the Colmar Christmas Markets; the Christmas lights are really something special and every single building is decorated in extravagant Christmas decorations; there are teddy bears, reindeer, and letters to Santa for everyone to admire.
And not to mention, Christmas trees in every corner, making this one of the most enchanting places to go when visiting France in winter.
The most famous part of Colmar is an area they call 'Little Venice' because the town has lots of interconnecting canals that absolutely must be strolled down during the Christmas season.
Be sure to find a restaurant along the waterways. My favorite part was sipping on delicious Alsatian red wine, munching on warm, fresh bread, and watching the sun go down in the most charming place in France.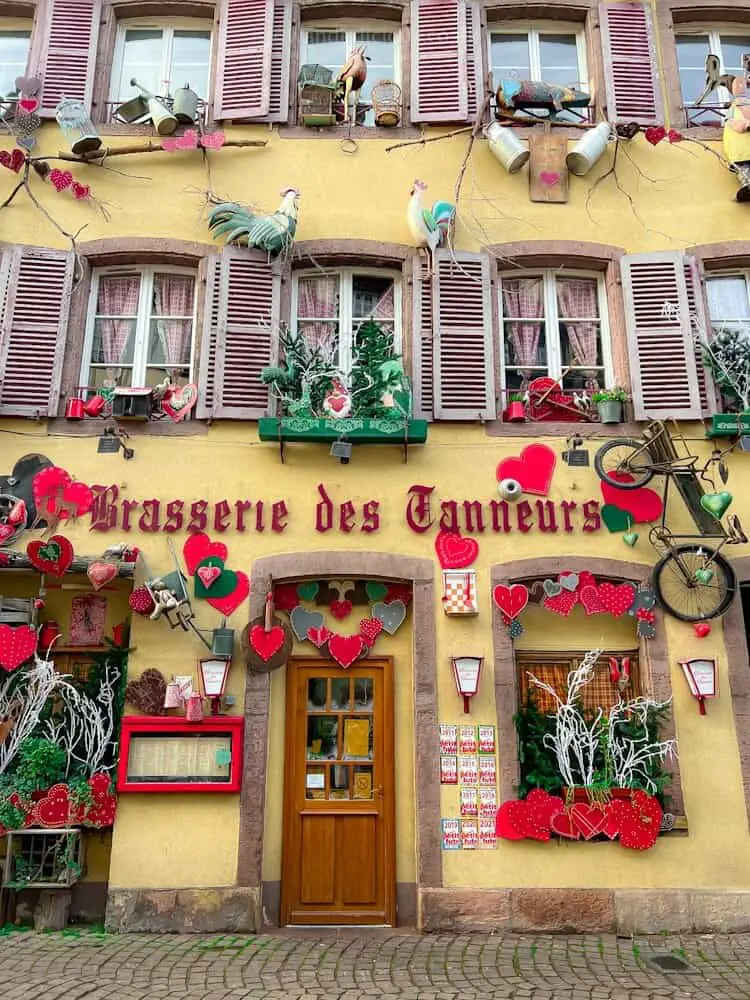 Reims
By Kylie of Life in Rural France
Just an hour's train ride from Paris, Reims is not only the champagne capital of France, but it also plays host to the country's 3rd largest Christmas Market.
With 150+ snow-covered wooden chalets selling all sorts of artisan products, from woolly hats and gloves to Christmas ornaments and jewelry, it's like stepping into a winter wonderland. 
Stroll through the market with a steaming mug of Vin Chaud (mulled wine) in one hand and Pain d'Épices (gingerbread) in the other.
And don't forget to visit the Veuve Clicquot stall for something a little stronger.
There is also a spectacular sound and light show, Rêve de Couleurs. It completely transforms the Gothic Notre Dame de Reims Cathedral with images projected onto it telling a Christmas story.
If you're visiting with the kids, you should definitely go to the Foire de Noël et des Rois, the Christmas funfair with over eighty rides. There is also a chance to visit Santa in his igloo at Royaume des enfants, Children's Kingdom.
If you have a head for heights, the Christmas Ferris Wheel is 55ft tall, providing fabulous views of the city of Reims and the surrounding countryside.
A visit to one of the champagne houses is a must, as many of them offer winter-exclusive tours and tastings, such as Veuve Clicquot and Taittinger.
If you're looking for somewhere to stay, Les Crayères is a chateau in the middle of the big champagne houses. With a Michelin-starred restaurant set in beautiful parkland, often covered in snow, it's the perfect setting for a winter break in France.
Where to stay: Domaine les Crayères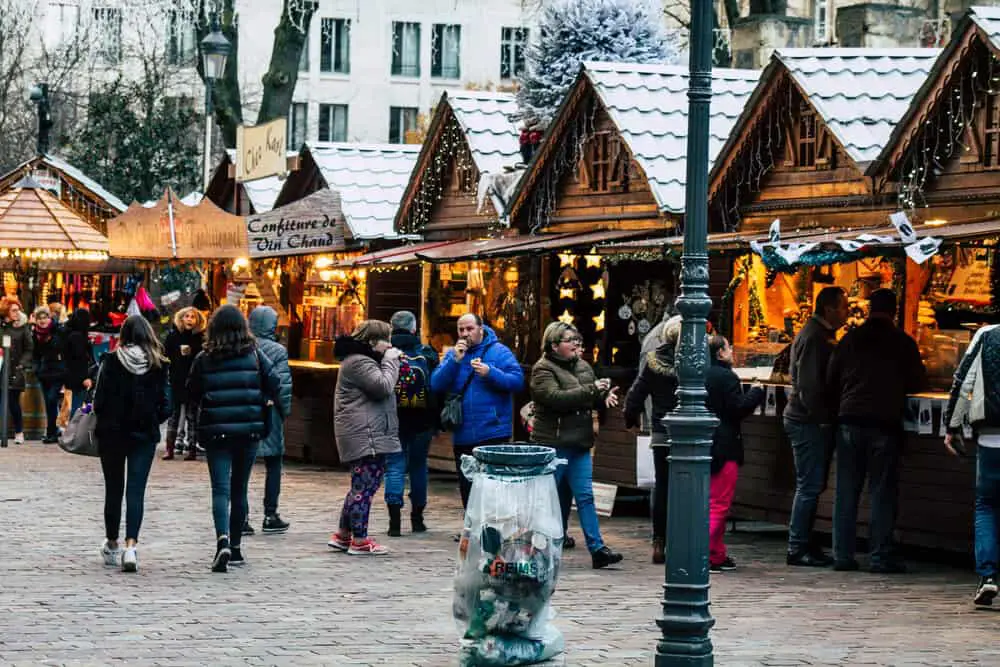 Strasbourg
By Jess of Sightseekr
Strasbourg may just be the most magical city in France in winter. The half-timbered houses, chill in the air, serene river walks and stunning architecture make this a destination any traveler would love. 
Strasbourg isn't a standard, modern winter city break in Europe. This quaint city holds some of the oldest bridges in Europe, Ponts Couverts, which have been standing since the 13th Century!
The blend of French and German culture in Strasbourg means that everything is unique, from the buildings to the food, and even the wine.
Take a sightseeing trip by boat to see the city from the water and hear about the fascinating history of Strasbourg, or take a guided cycle tour to see the main attractions up close. 
Visit Strasbourg in the festive season to experience their Christmas Market which lines the streets of Petite France, and attracts around 2.5 million tourists every year.
The twinkling Christmas lights make the atmosphere even more enchanting, and you'll be sure to find gifts for your loved ones that they'll absolutely adore.
Wrap up warm, as the temperature can drop as low as 0 degrees Celsius. It will definitely make you appreciate your rich, European hot chocolate even more than usual. This year, the Christmas Market will be open from the 24th November to 24th December. 
Where to stay: Hôtel Tandem – Boutique Hôtel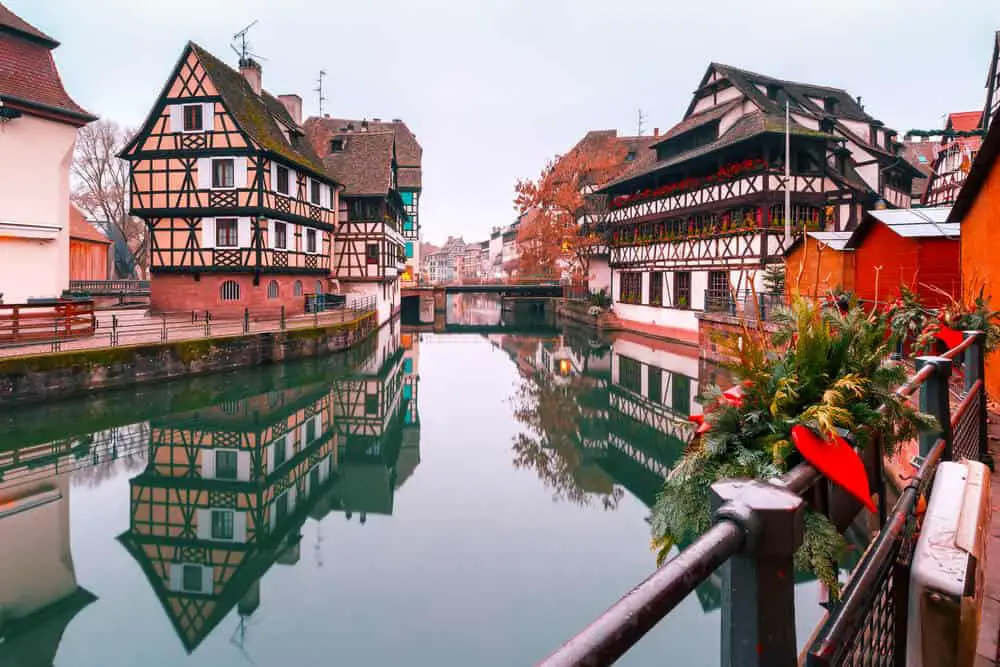 Luberon
By Jenny of The Luberon Spy
The Luberon area of Provence is famous for hilltop villages, lavender fields, and vineyards. While it's packed in the summer, you'll find that a Luberon winter holiday reveals a quiet charm you'll almost never see in peak season.

Gordes, the most popular Luberon village and one of the most beautiful villages in France, sees around 10,000 daily summer visitors.
In winter, you can enjoy its cobblestone lanes and viewpoints without the crowds (or the stress of finding a parking spot).

To make your trip extra special, stay at the chic Airelles Gordes, La Bastide. You might recognize its Clover Gordes restaurant as the fictional L'Esprit de Luberon in season 3 of "Emily in Paris".
Another great off-season activity is truffle hunting. Forage with a guide and a hunting dog to find these pricey 'black diamonds.'
Or savor truffle dishes at Maison de la Truffe et du Vin (House of Truffle and Wine) in the village of Menerbes.
For a unique souvenir, look for santons (or "little saints") at Christmas fairs. These are handmade nativity clay figurines, often in the form of traditional villagers.
Santon-making is a cherished savoir-faire in Provence, so you'll rarely find santons in other French regions (or the rest of the world).
To visit the Luberon, fly into the Marseille Provence airport, roughly an hour's drive away. You can also take the train to Aix-en-Provence or Avignon. Don't forget to rent a car as it's the best way to explore the villages.
Where to stay: Airelles Gordes, La Bastide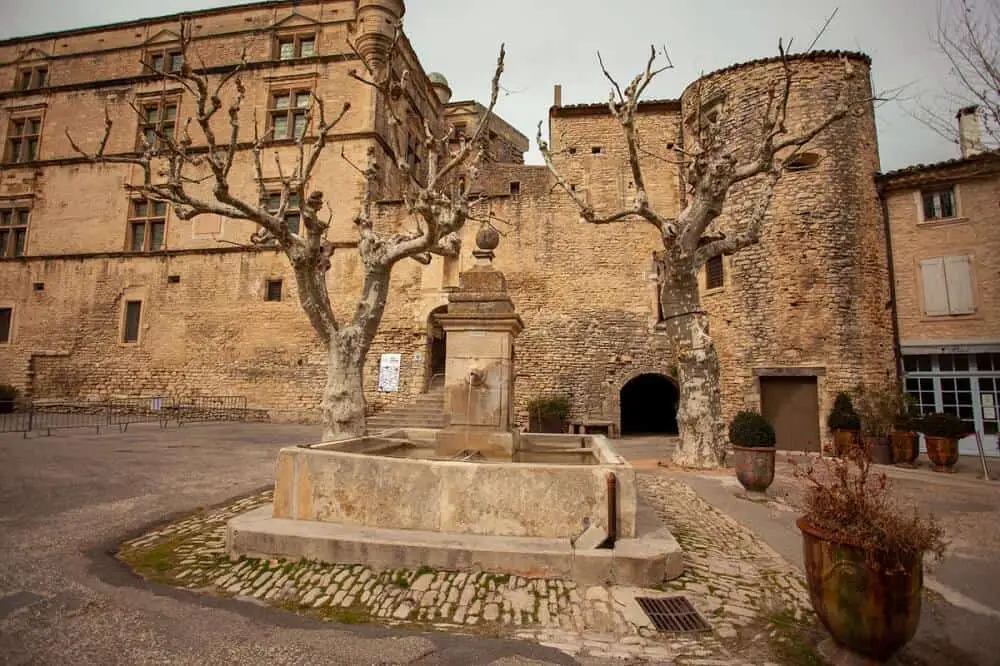 Menton
By Gillian of Scotland Bucket List
Known as the "Pearl of France", Menton is the perfect destination for those seeking sunshine and milder climates during the winter months.
As one of the best towns on the French Riviera, a stone's throw from the Italian border, Menton is a picture postcard town of pastel-colored buildings, lush gardens, and impressive architecture.
Its unique microclimate ensures mild temperatures even in the coldest months, making it one of the top France winter destinations to escape the cold.
It's also famous for its "Fête du Citron", a festival that takes place during the last two weeks of February and celebrates the region's citrus heritage.
Started in 1934, the event features citrus-themed floats, intricate sculptures, and mesmerizing gardens, all adorned with countless lemons and oranges. 
Located an easy 30-minute drive from Nice, Menton is the perfect choice for a winter escape and one of the best places to stay on the French Riviera.
Must-visit experiences include strolling through the colorful old town, wandering along the Promenade du Soleil, dipping your toes in the sea at the Plage des Sablettes, exploring the Jardin Botanique Val Rahmeh, admiring the Basilica Saint-Michel-Archange and sampling barbajuan and socca, local delicacies at the Marché des Halles.
Fans of Jean Cocteau can visit the "Bastion" museum as well as the "Salle des Mariages", a wedding room decorated by the artist in the Town Hall.
You can also admire the impressive architecture and design of the Jean Cocteau Museum collection Severin Wunderman building (there is no access to the inside due to a serious storm in 2018).
And for a touch of luxury, why not indulge in a stay at the former summer residence of Prince Antoine I of Monaco at the Best Western Premier Prince de Galles Hotel. Menton is a true gem a great choice when looking for where to spend winter in France.
Where to stay: Best Western Premier Prince de Galles Hotel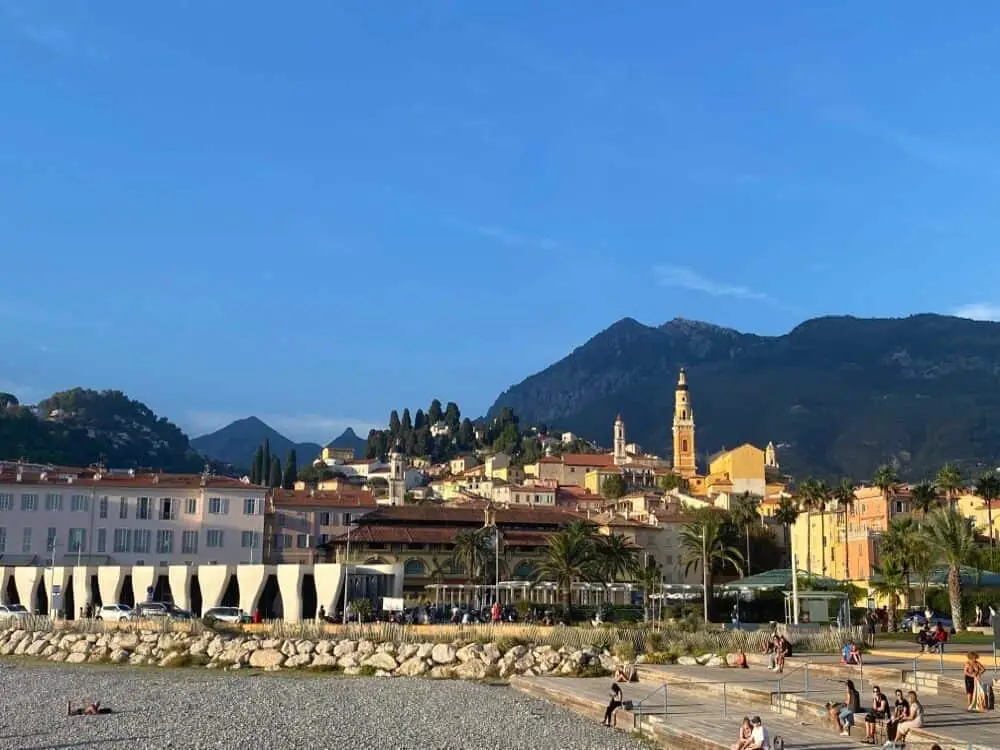 Alpe d'Huez
By Goya of Goya Galeotta
If you're planning a snowy escape in winter, France is blessed with snow-coated mountains and dreamy panoramas.
Consider heading to the Alpe d'Huez, perched high in the French Alps. Renowned for its extensive ski slopes and sun-soaked terrains, this resort is an idyllic destination where snow-laden slopes meet azure skies. 
The ski domain here is divided into several areas, each with its own unique charm and range of slopes, giving you plenty of opportunities to explore and find your favorite runs.
The resort's wide, sun-drenched slopes are perfect for beginners and intermediates. But, advanced skiers need not fret, as it also boasts the Sarenne, the longest black run in Europe.
It provides an adrenaline-pumping descent of over 16 km, and the Tunnel run, a challenging black slope dropping steeply down the north face of the mountain.
Looking for something more serene? You can opt for ice skating, indulging in local delicacies, snowshoe walking around the picturesque Sarenne Gorge, or just enjoying some well-deserved TLC at one of the amazing spas in the area or soaking in the festive atmosphere that fills the crisp alpine air.
The nearest airport is Grenoble, less than 2 hours drive away. Lyon Airport is a bit further, around 150 km away, but offers more international connections. 
If you're dreaming of a winter escape that's equal parts thrilling and cozy and feels like stepping into a real-life snow globe, Alpe d'Huez is calling your name!
Where to stay: Grandes Rousses Hotel & Spa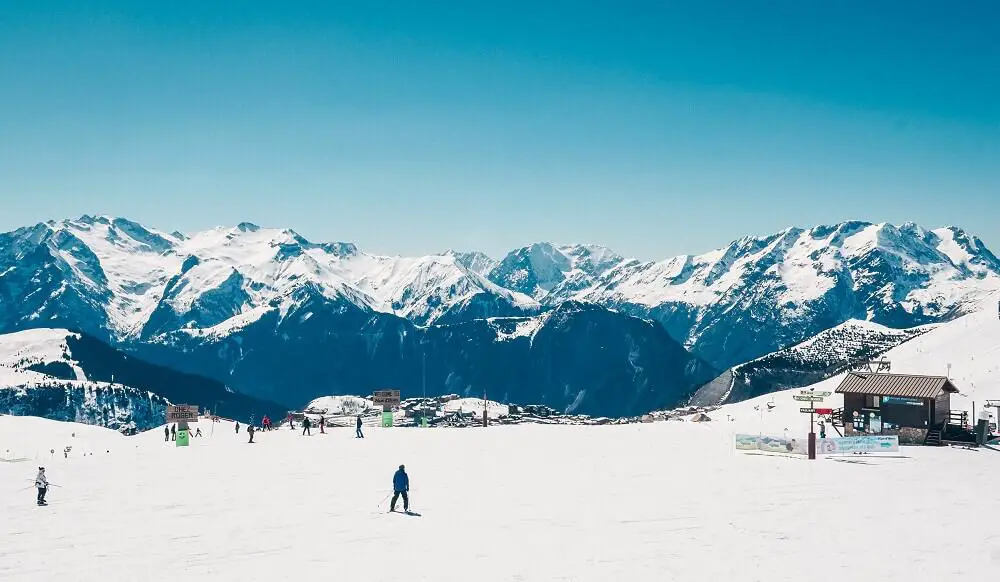 Lyon
By Eleanor of Elevate Your Escapes
Lyon, France, is a charming destination in the winter! The city takes on a magical atmosphere during the colder months, with festive lights on the streets and cozy restaurants.
One of the main attractions during winter is the traditional Christmas markets scattered throughout the city. These markets, such as the one in Place Carnot, host vendors with cute local crafts, seasonal food, and warm drinks.
In addition to the markets, Lyon hosts various winter festivals and events, including the Festival of Lights in December, where the city is illuminated with cool light displays.
This time of year is a great time to experience the famous culinary scene of Lyon and French comfort foods.
The delightful Chez Grand-Mère is the perfect cozy spot. This traditional restaurant is located in a cellar – bringing all the cozy vibes to your meal.
Apart from the festive celebrations in Lyon France, winter is a great time to explore the renowned art scene in the city.
The street art is worth taking a tour of. Additionally, Lyon has indoor attractions, like museums and art galleries.
To get to Lyon from Paris, visitors can take a high-speed TGV train. It's about a 2-hour ride. From Geneva, Switzerland, travelers can also take a train with a direct connection.
The train journey offers scenic views of the countryside, which is quite beautiful in the winter, too.
Where to stay: Bayard Bellecour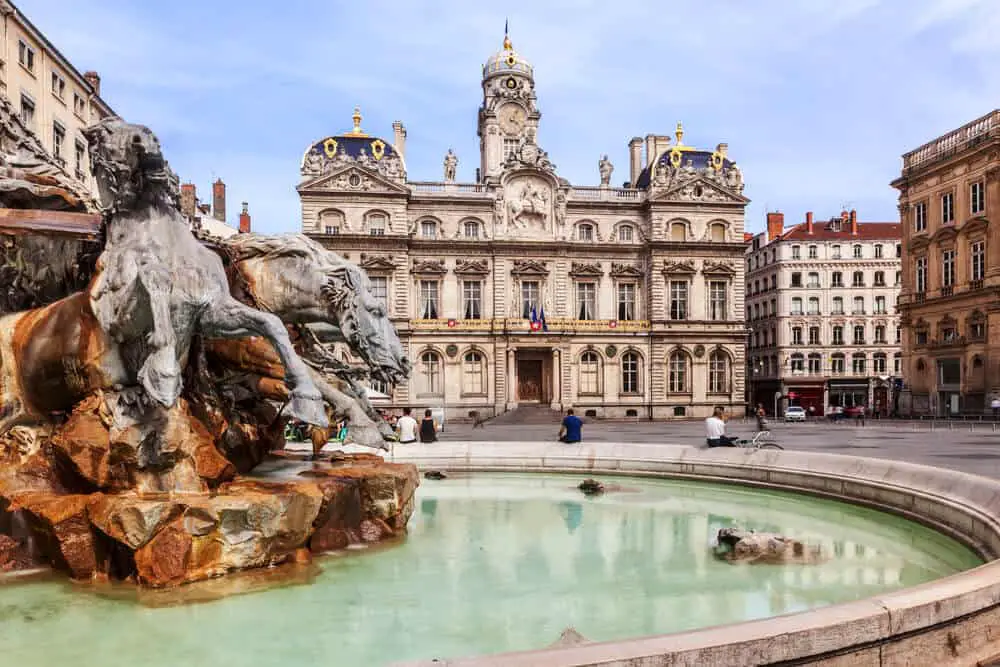 Dieppe
By Lena of Salut from Paris
Dieppe, situated on the beautiful Alabaster coast in the Normandy region, is a real gem during the winter months.
Because it's only during the colder months, that the otherwise bustling seaside resort transforms into a haven of tranquility.
Letting you explore the steep limestone cliffs and wide beaches without the thousands of Parisians, that are usually flocking the location.
In Dieppe, where you find the nearest beach to Paris, and with it an easy getaway to get some fresh air, sample regional cuisine, and enjoy nature. 
The winter season is your best opportunity to do so. And even though the French coast along the English Channel isn't known for the most charming weather, nothing beats a warm Crêpe to heat up.
Apart from enjoying the magnificent coastline and the local specialties, you also should set aside some time for a walk through Dieppe's old town.
Here you can visit the Église Saint-Rémy, a 500-year-old gothic church, stock up on regional treats, or visit the Château de Dieppe. From here you have a fantastic view of the town. 
Thanks to the many summer tourists, Dieppe has a plethora of hotels and holiday flats to choose from. The best locations are along the promenade or the harbor, though. By staying at the Hotel L'Échappée, you have good access to both, plus an impeccable sea view.
Where to stay: Hotel L'Échappée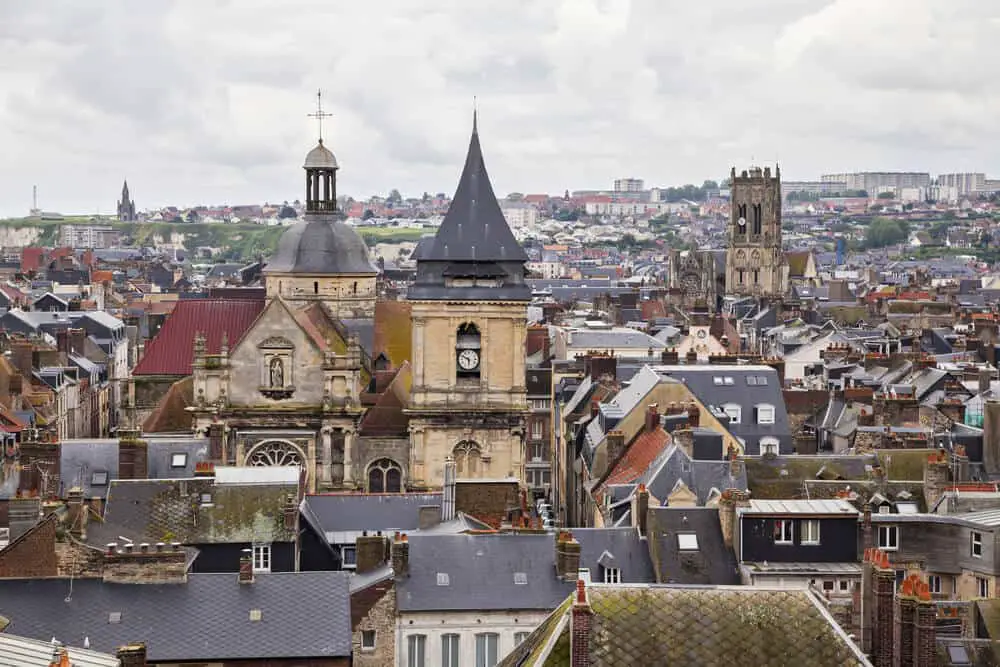 Disneyland Paris
By Grace of Pixie Dust and Passports
If you're on the hunt for incredible places to visit in France in winter, you can't beat Disneyland Paris.
Considered the most magical place in France (by most people's standards!), the House of Mouse becomes a winter wonderland during the holidays.
Yup, it's not just Disney World and Disneyland in the States that get decked out for Christmas! Not only are both Paris parks utterly covered with festive décor, but you'll even get faux snow falling throughout the day to add to the holiday magic. 
Aside from the uber-decked halls of Main Street, Disneyland Paris offers several seasonal treats to guests.
There's a Christmas Market-themed set of stalls that you'll find in Walt Disney Studios Park serving everything from winter velouté to roasted chestnuts.
Plus, you can't beat a piping-hot cup of cocoa or a glass of mulled wine (that's right, you can drink at Disney!)
And it's not just food where Disneyland Paris goes all out for Christmas. Each year, the parks get unique festive parades, a special fireworks display called Disney Dreams of Christmas, and themed shows.
Mickey's Big Band is usually a crowd-pleaser and features everything from old-school holiday carols to Mickey playing the drums.
So, whether you're a fully-fledged Disney lover traveling to the parks with young kids or a skeptic looking for a hint of magic, Disneyland Paris has got you covered.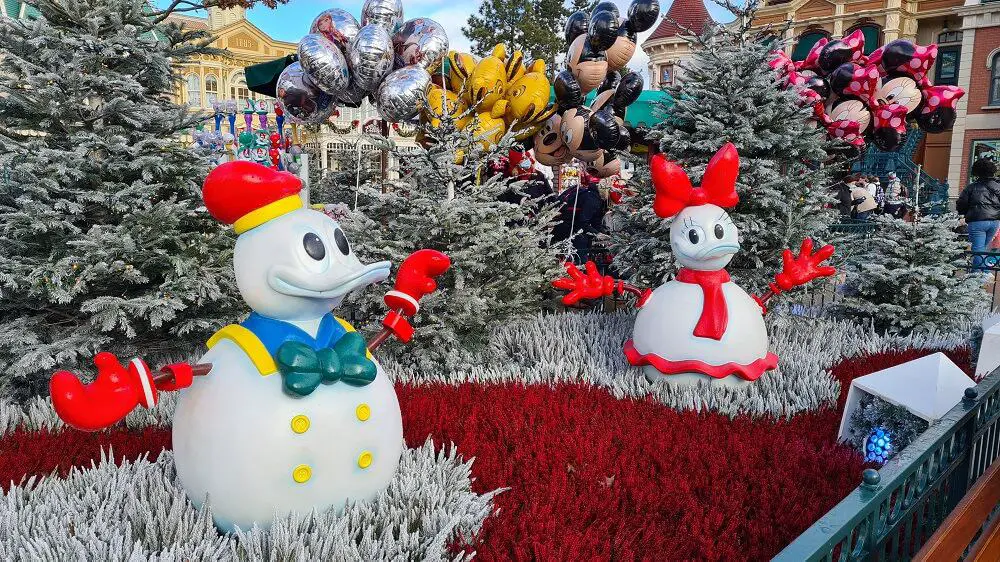 Nice
By Imee of Journey To France
Situated in the Southeastern part of France on the French Riviera, this charming city is one of the most popular places to visit in France in the winter months.
Visiting Nice in winter is a  wonderful experience, with various activities. There are plenty of must-see and things to do in Nice in winter.
You can enjoy a leisurely walk along the stunning promenade des Anglais that offers a picturesque view of the Mediterranean Sea, and the city is also a perfect place for a coffee by the sea.
Explore Vieux Nice or the Old Town Nice is one of the popular and must-visit places for visitors, a prominent place to wander; its narrow streets and colorful buildings are home to cafes, shop boutiques, and hotels. Be sure to visit Cours Saleya, a lively square with a daily flower and food market.
If you visit Nice in December, you can explore the vibrant Christmas markets, wherein you can shop for local products from different artisans.
Winter is also a perfect time to witness the impressive festivals of Nice. Carnaval de Nice is one of the most famous and world's oldest festival events – and occurs in February. It features a fabulous and colorful parade with giant floats.
There are many ways to get to Nice; from the main international airport, Nice Côte d'Azur Airport (NCE) you can, you can take a taxi, airport shuttle, or public transportation to the city center.
Where to stay: Hotel Windsor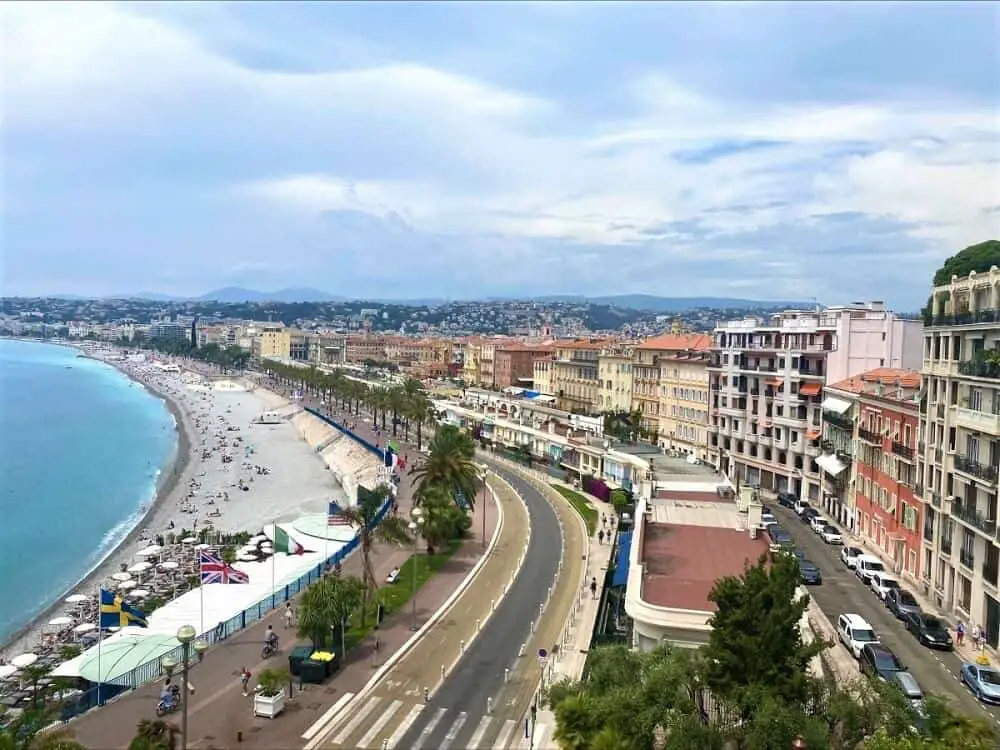 Antibes
By Denise of Chef Denise
If you're looking for a winter destination in France with plenty of Mediterranean sunshine, delicious Provençal cuisine, and lots of holiday spirit, head to Antibes.
Located on the gorgeous Côte d'Azur, Antibes is a wonderful destination known for its charming old town, Musée Picasso, and Le Fort Carré.
The harbor houses some of the most impressive yachts on the Riviera and the views are always stunning. However, this seaside city really comes alive during winter in France.
At the Marché de Noël Antibes (Antibes Christmas Market), you'll find rows of wooden chalets filled with Christmas decorations, handicrafts, and small gifts.
Come hungry because vendors will also be offering regional specialty foods like raclette, crêpes, and all kinds of sweet treats.
You won't want to miss the Christmas village in Parc de la Pinède complete with ferris wheel, carousel, and other rides.
For children, there's nothing better than the 525-square-meter ice skating rink. Come prepared with gloves (mandatory). Everyone will enjoy the Show of Lights at Place des Martyrs de la Resistance.
Where to stay: Hôtel La Villa Port d'Antibes & Spa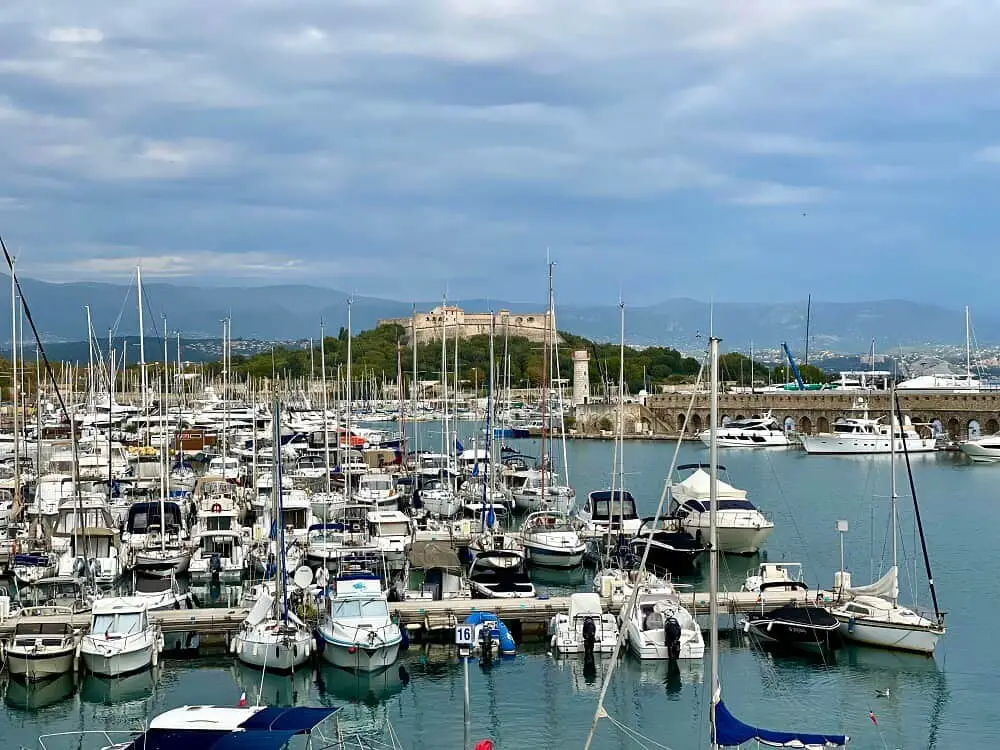 Reflections on France winter destinations
Summing up this list of amazing destinations to visit in winter in France, I'm sure you'll find something to your taste whether you prefer a sunny winter vacation in France or a snowy winter wonderland during your winter holiday in France.
The winter months in France are ideal for escaping the crowds – unless you seek the busy ski resorts of course. There are just so many things to do in France in winter and I love that you can get the best of both worlds.
Happy travels!