Geckos singing out loud competing with the vivid songs of birds echoing between the trees in the dense jungle. Towering trees tangled up in lush green plants and wildflowers wrap the narrow trail down to Vegas Grande waterfall, one of the most beautiful hikes in Cuba.
Early in the morning, the squeaking sound of bats flying out from the caves behind the waterfall drowns out the sound of heavy water falling down into the crystalline pool below. A pool surrounded by thick green carpets of wild plants covering the rock walls all around it.
You find yourself in the middle of the majestic Topes de Collantes National Park in Cuba.
This is only one of many incredible things to explore in Cuba. If Vegas Grande waterfall isn't on your Cuba itinerary yet, you know what to do!
Disclosure: This post may contain affiliate links. That means that if you make a purchase through one of those links, I will get a small commission at no extra cost to you. I only recommend services and products that I have used myself and that I am 100% satisfied with.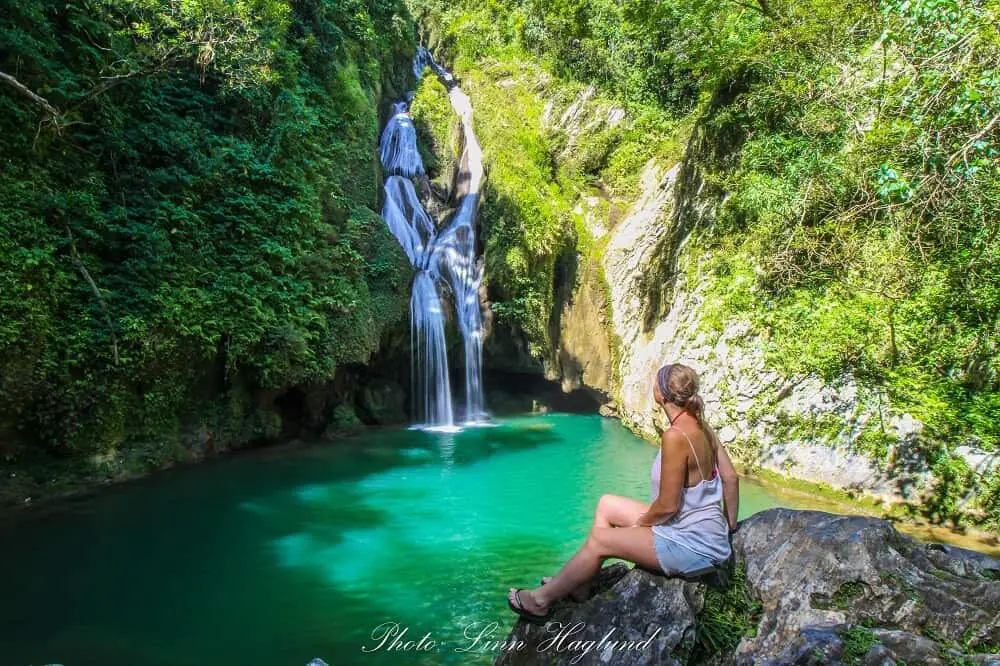 How to get to Vegas Grande waterfall
The closest city is Trinidad. It is approximately an hour drive to where the hike to the waterfall begins. The easiest way to travel is to get a shared taxi. Make sure you get a private taxi so you support a Cuban family instead of only the government.
---
---
The driver will normally wait for you, though he might drive other tourists meanwhile and tell you a pick-up time.
The hike itself takes approximately an hour each way. Walking down, you need to keep left at all the path divisions until you get to a dirt road. Take left on the dirt road as well. When you get to the end of it you get to a shack where you pay your entrance fee of 10 CUC.
From this point, you have a steep path in front of you that is well marked and only about 20 minutes to arrive at the mesmerizing falls.
Make sure you save water for the return, as this steep downhill trail will become steep uphill on your way back. In Cuba there is no such thing as cold weather and the need for water will be greater on your return.
If you have bad knees or any other injuries that affect mobility, this is not a good hike for you. The steep trek is hard on your knees both on your way down and up.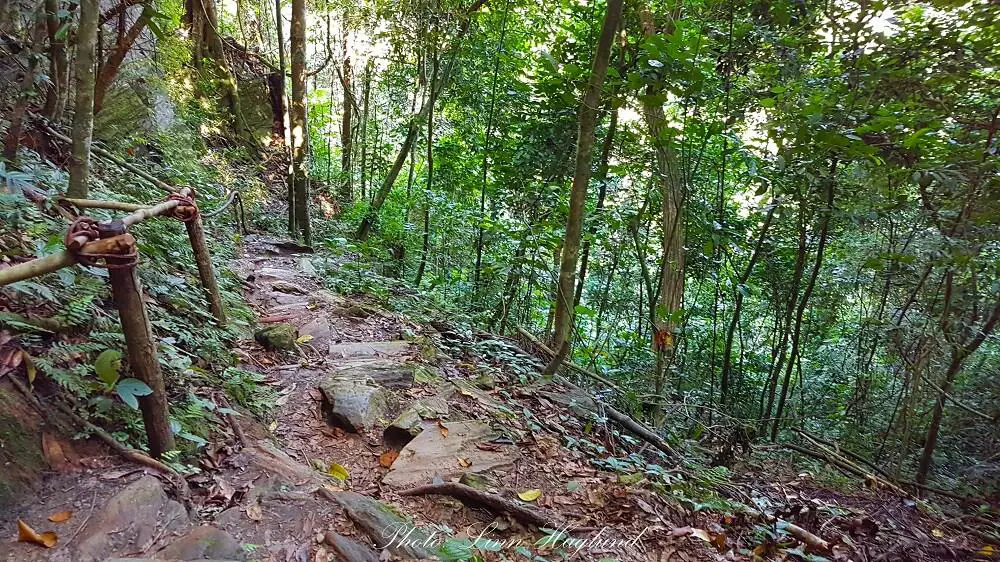 READ: La Batata Hike – discover Cuba's underground river and cave system
When is the best time to go
The high season is normally between late November and mid-April. This is also the cooler period with temperatures ranging from 13 degrees Celsius at day time to 23 degrees Celsius.
The wet season, and also the hottest time a year is mid-April to mid-November. The humidity is extreme, though it normally only rains in the early evenings. This makes it a good time to venture to the waterfall as there are fewer tourists, and the hike is short enough that you can make it back by midday and avoid the rain. It is also extremely rewarding with a swim once you get to the waterfall.
Whatever time a year you choose to go, I recommend getting an early ride there. If you leave Trinidad at around eight in the morning, you can be lucky to be the first one to arrive at this magical spot. It is well worth getting up early for.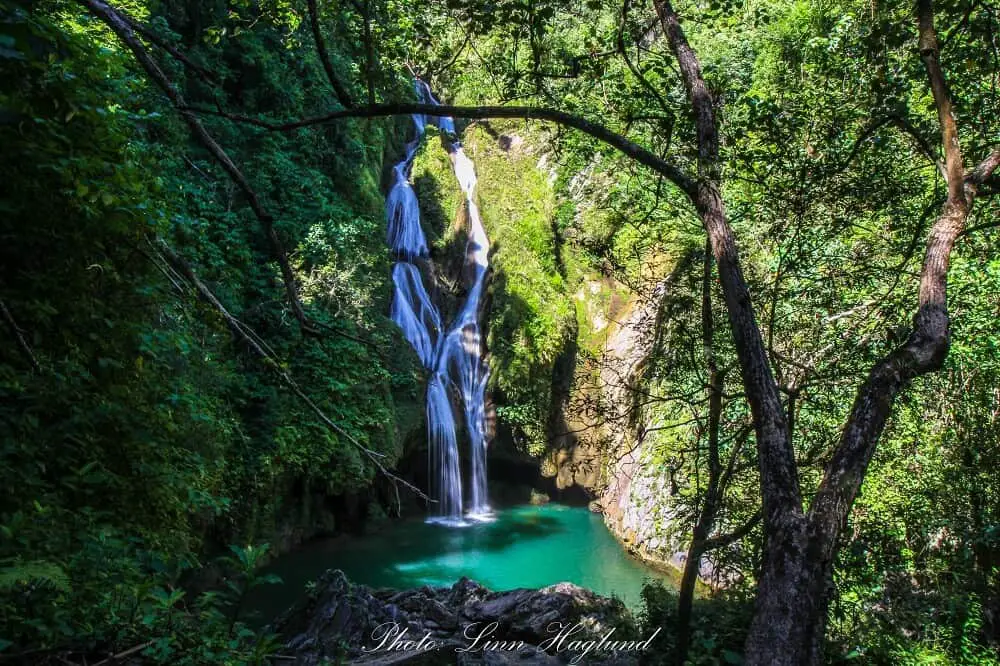 You might also like: El Nicho waterfall
What to bring to Vegas Grande
For a day trip to Vegas Grande, you should make sure you bring the essentials so you can enjoy your trip at the most. I am totally unorganized and wish I had made this list before I went and not as a result of a few things I wish I had brought. In short, I had no towel, sun protection or adequate shoes as well as I went hungry.
Here is a list over the most important things to bring on your hike:
Swimwear
Good shoes or hiking boots (I wore flip flops as usual, and cannot really recommend it – as usual)
Lots of drinking water
Snack (fruit and nuts etc.)
Hat/caps
Sunscreen
Towel
Camera with fully loaded batteries
Waterproof sports camera with fully loaded batteries
Cash
Vegas Grande waterfall
Vegas Grande is a single waterfall towering over a pool of pristine, cool water. There are two places you can walk into the water. Either on the left side when you get down, or to the right across the rocks. You have to be careful, though, as the rocks are slippery when wet, and it is easy to fall over.
You can also dive into the pool from the rocks, though I would make sure to check the depth of the water first in case the pool has less water in periods.
Behind the pool, there is a small cave you can swim to. It is from this cave the bats fly out from in the morning before the place gets too crowded.
You can stand on the rocks behind the waterfall and jump right through it into the pool.
There are not many places to lay down and sunbathe around the pool, but if you get there early there is a big rock you can lay on. Otherwise, you will have to conform with sitting on the rocks watching the mesmerizing waterfall in front of you. Which is not that bad, to be honest.
You will probably be more in the water than out of it anyway.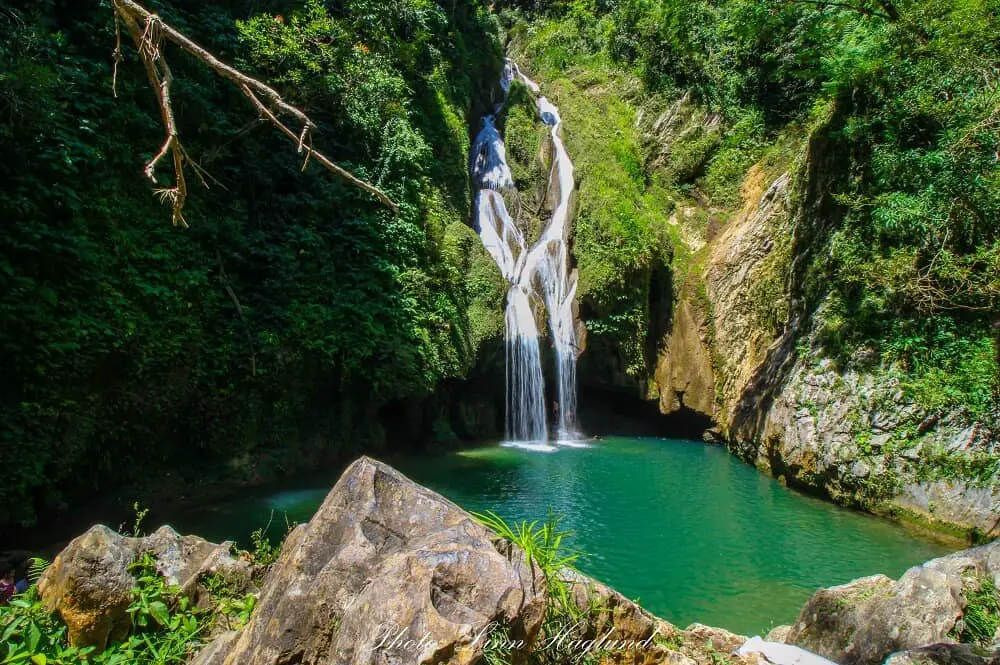 Suggested reading: Things to bring to Cuba and other ways to support the locals
Be a mindful hiker
Like so many other magic natural spots, Vegas Grande is experiencing increasing popularity among tourists. For this reason, it is more important than ever that each one of us hiking to this waterfall take our part of the responsibility.
There are a couple of rubbish bins along the trail. Or, they are more like wooden mailboxes made of planks without a lid.
This means that whatever you put in there that is smaller than the gaps between the planks will fall out eventually and fly into the jungle. Anything that is not heavy enough to stay down with the wind will fly out into the jungle.
I have no idea who empty these bins and where they throw what's in them. The best thing is probably to bring your own trash with you back to Trinidad.
Bring a reusable filtered water bottle like LifeStraw Go. Get yours here.
By the ticket booth, you can sometimes buy some drinks and fruits. By buying here you will support the local families that live in the area, so make sure you bring some extra cash.
However, I suggest you don't accept a horse ride from any of the locals. Even though it supports them economically, higher demands of horse rides will only create a market for animal tourism in the area. Once the horses become a source of income, they will not be looked after the same way anymore. It is important to think about the consequences before you make any choices.
You can also get Lonely Planet Cuba guidebook for travel tips
Did you like this post? Make sure you pin it for later!