Nestled in the Karkas mountains, at 2235 meters of altitude, you find the red city Abyaneh, Iran. One of the oldest cities in the country and one that has maintained its old customs in many ways. Arriving in the village, I couldn't other than question myself if this place had become yet another tourist trap. Iran, being a country off the beaten path, still has its traditional tourist route among those who travel there.
Once an offbeat village, Abyaneh was discovered by Lonely Planet, and now it sees high numbers of tourists visiting on their way between Kashan and Isfahan. I was there in the low season but also in a period when the country had seen a few demonstrations which resulted in negative media coverage abroad which again resulted in fewer tourists.
Truth is, except for one group of Irani tourists I didn't see any other tourists in Abyaneh when I was there. Still, I got the impression that this small mountain village was treated as a living museum. Why?
Before leaving my driver, he handed me a leaflet with some information about Abyaneh and a little tourist map with the trail I should follow through the village.
It was the same leaflet I had seen at my guesthouse in Kashan and the same that I would see the next day at my guesthouse in Isfahan. It did contain a lot of useful information about the history and culture of the village.
Still, it made me feel like I was entering a tourist attraction and not a super remote mountain village. Should you have Abyaneh on your Iran itinerary?
The main attraction in Abyaneh is the people. Their traditional clothing drives the attention of anyone from outside the village. The locals have maintained the original clothing, language, and customs dating back to before Islamic times. The fact that the village is 2500 years old makes it quite unique. But how is tourism really influencing it?
Disclosure: This post may contain affiliate links. That means that if you make a purchase through one of those links, I will get a small commission at no extra cost to you. If you have any questions about these services or products, feel free to ask me.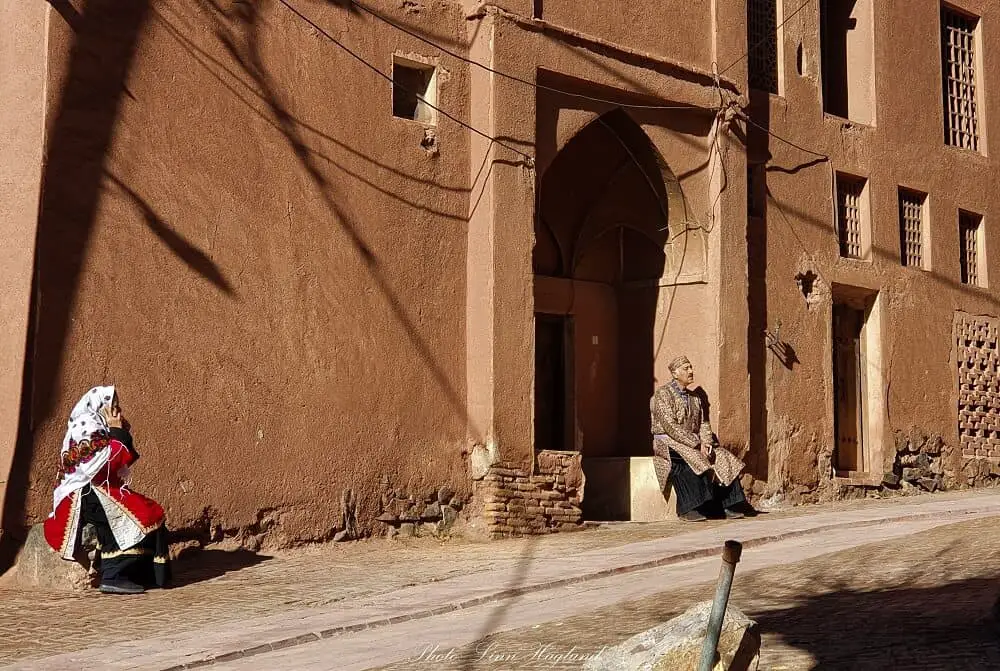 READ: Iran travel tips: All you need to know before traveling to Iran
How to get to Abyaneh Iran
Abyaneh is easiest reached by car, as there are no buses that go all the way up to the village. From Kashan, it's only an hour's drive and you can easily get a driver for a decent price.
From Tehran, you can get a bus to Natanz and ask the driver to drop you off at Abyaneh road and from there you need to get a taxi the rest of the way.
From Isfahan, you can get a bus to Kashan and ask the driver to drop you off at Abyaneh road and get a taxi from there.
There is an entrance fee to enter the village which was 100 000 IR in December 2019. The money goes to maintain the village.
---
Still haven't booked your flight to Iran? Go ahead and do it now!
---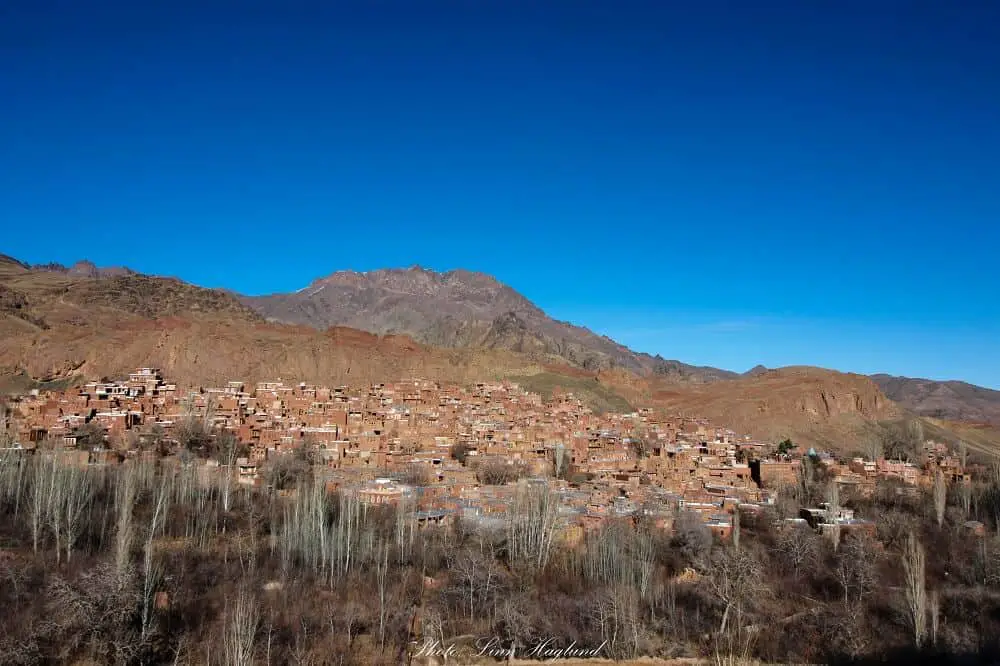 When is the best time to go to Abyaneh?
The summer months are the busiest months in Abyaneh and the time with the most life. Spring and autumn are great times to travel as the temperature is good and it's slightly less busy.
Winter is cold. However, it is extremely beautiful with the whitecapped mountains surrounding the red village and the contrasts of the deep red clay and the white snow are magical. While it is beautiful, the village is also empty for tourists and you only see the odd local hanging around chatting or doing some outdoor work.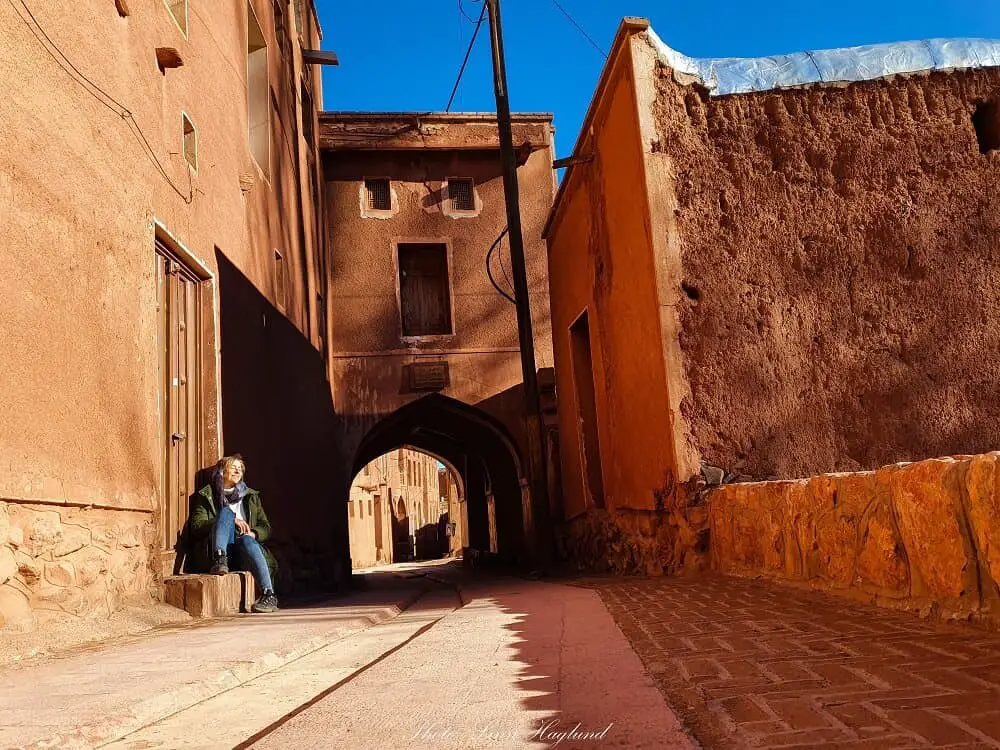 Where to stay in Abyaneh
There are only a couple of hotels in Abyaneh as most visitors go there on day trips, but if you want to stay the night, here are your options. Reviews are mixed. Remember that you are in the middle of a remote mountain village in the Middle East and not in any sort of luxury resort in the Bahamas.
Hotel Abyaneh
A friendly and traditional hotel that also serves food. You get free parking, Wi-Fi, and breakfast included in the price.
Viuna Hotel
Most rooms have a balcony with spectacular views. There is free parking, Wi-Fi, and basic breakfast included.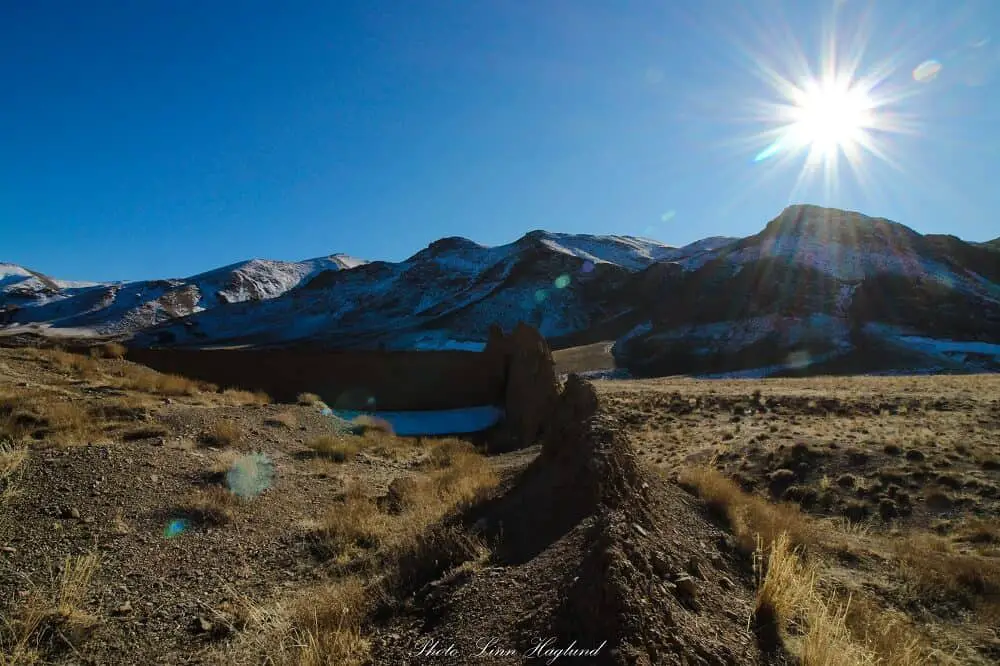 ---
YOU MIGHT ALSO LIKE: How to spend 2 days in Garmeh: A desert oasis
---
Palahamoona Fort and surroundings
A short walk across the valley from Abyaneh you get to the ruins of an old fortress dating back to the Sasanid era. It's from the Palahamoona Fort, also called the Takht-e-Haman Fort, where you get the iconic photo of the red hillside village.
However, the highlight of walking up to the fort is surprisingly not the view of the village. Up the hillside along the path, there are several ruins and cave houses. Some of them don't have doors so you can enter and have a look. It truly feels like going back in time! I never got a good answer about whether these are used today or not.
The fort itself only holds the remains of the walls and the skeleton of the four watchtowers all surrounded by raw nature and rugged mountains. Honestly, I just wanted to walk and walk and I nearly forgot about returning to the village (the story of my life while out in nature).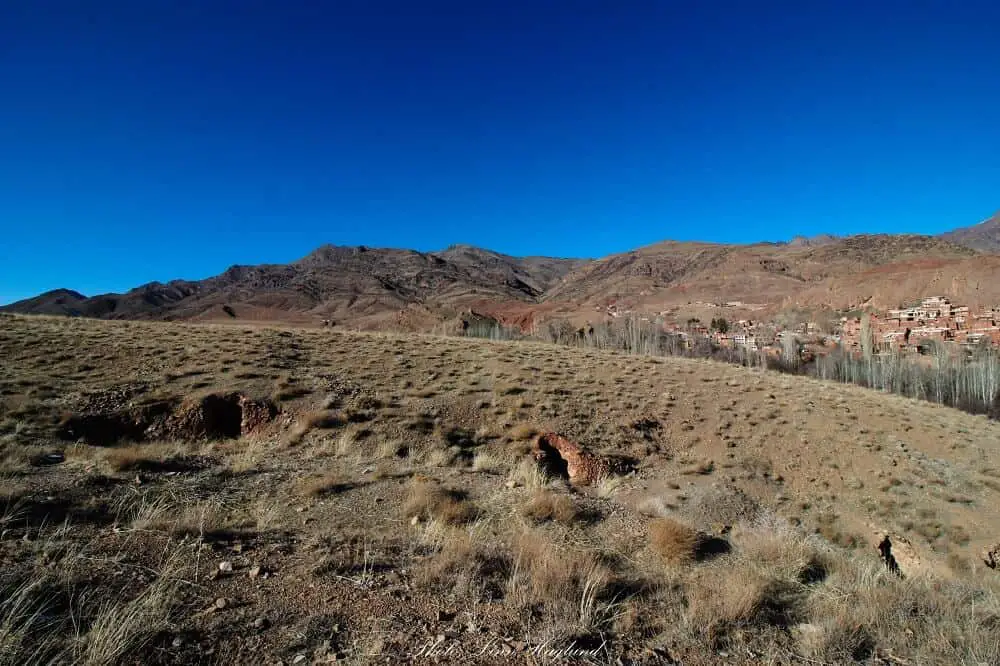 Exploring the village
The village is best explored on foot as it is pretty small. You'll need to park at the entrance of the village if you come independently by car, otherwise, your driver will drop you off and show you where to go.
Get ready to get lost in cute streets between red wooden and mudbrick houses and not to speak about the breathtaking views of the surrounding mountains. Except that, there are also a few attractions worth mentioning.
The Great Mosque, built in the early Islamic ages of Iran, is remarkable with its wooden floor and flower decorations. It dates back to the Seljuk era, though it was restored not that long ago.
There are also a few shrines and mausoleums worth a visit. The most memorable is the mausoleum of Bibi Zobeideh.
Further, you should not miss the Harpak Fire Temple which, unlike other buildings, is made of stone. The building dates all the way back to the Achaemenid era but rebuilt in the Safavid period.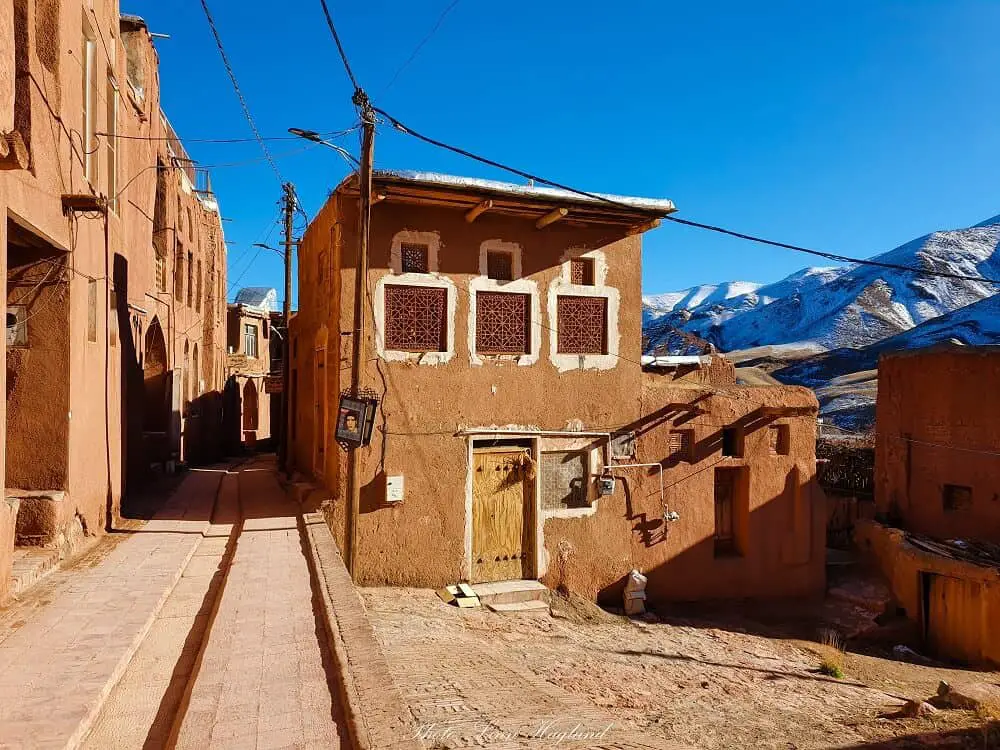 Afterthoughts and responsible tourism in Abyaneh Iran
Visiting the red village, pictured on leaflets in every guest house I stayed a tin Iran, left me with some afterthoughts. Tourism can do a lot of harm, while it can make a lot of good done in the right way.
While Abyaneh has become a big attraction along Iran's tourist route, the village collects entrance money from all tourists entering the village.  As this income is meant for maintaining the village, it has a positive impact on the economy and the cultural heritage of the village.
Even though most tourists go to Abyaneh on a day trip, there are a few that stay overnight, which bring an income to the two hotels. Do the villagers appreciate the amounts of tourists visiting them? It's hard to say. Especially for me, as I was pretty much the only one there and only saw a few locals out in the cold streets. They seemed friendly and welcoming to me, but again, I haven't been there on a busy day. And what is a busy day in Abyaneh? Maybe not that bad with the number of tourists in Iran at the moment? But how many more tourists can they handle to still perceive their quality of daily life?
There are a couple of things you can do as a responsible tourist to make sure you don't have a negative impact on the locals when you visit Abyaneh. Make sure you always ask if it is ok that you take photos of the locals. Smile and show respect. That will make anyone happy. Show respect and curiosity when entering traditional and religious buildings and don't draw on the ruins. It's all common sense, really, but it makes such a big difference.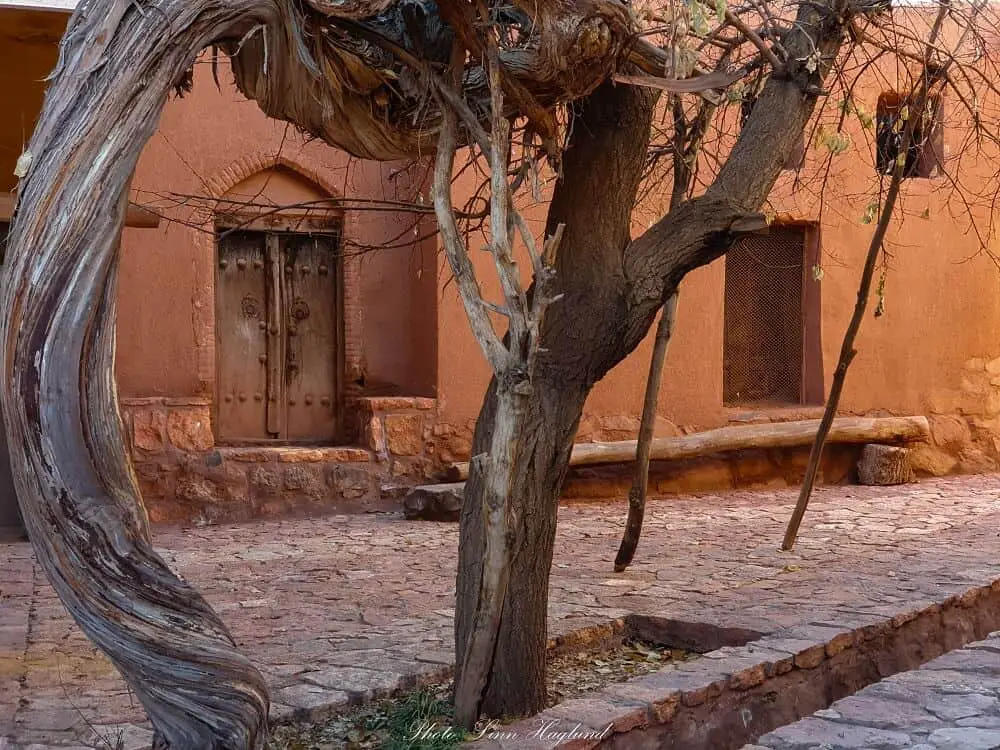 Also, if you have the time, why not stay the night instead of going on a day trip? This way you won't only contribute to the local economy. You will also have more time to explore the village in-depth and communicate with the locals. I'm sure they think it is just as interesting to get to know you as you think it is to get to know them.
Personally, I thought it was worth a visit, but I wish I had more time there to get the time to explore the village and surroundings even more.
Have you been to Abyaneh Iran? Tell me what you thought of the village in the comments.
READ NEXT: 10 Reasons why I fell in love with Iran: Why you should travel to Iran now!
Pin it for later!